It's common for people to head to the grocery store and grab the first bag of potatoes they see in the produce section. A potato is a potato, right? Actually, there are more potato varieties in the world than you probably realize, and their appearance, flavor, and texture vary.
These vegetable roots are one of the most popular and versatile foods. They are common for baking and grilling, but they also make mashed potatoes, French fries, and potato au gratin, and they are perfect for adding to soups and stews.
There are so many potato varieties to choose from. When someone says the word potato, words like starchy, mealy, waxy, and creamy come to mind.
We picture all purpose potatoes with brown skin and white flesh, but there are also potatoes with purple skin and red skin and heirloom all blue potatoes. With so many surprising choices, it's no wonder these veggies are a favorite.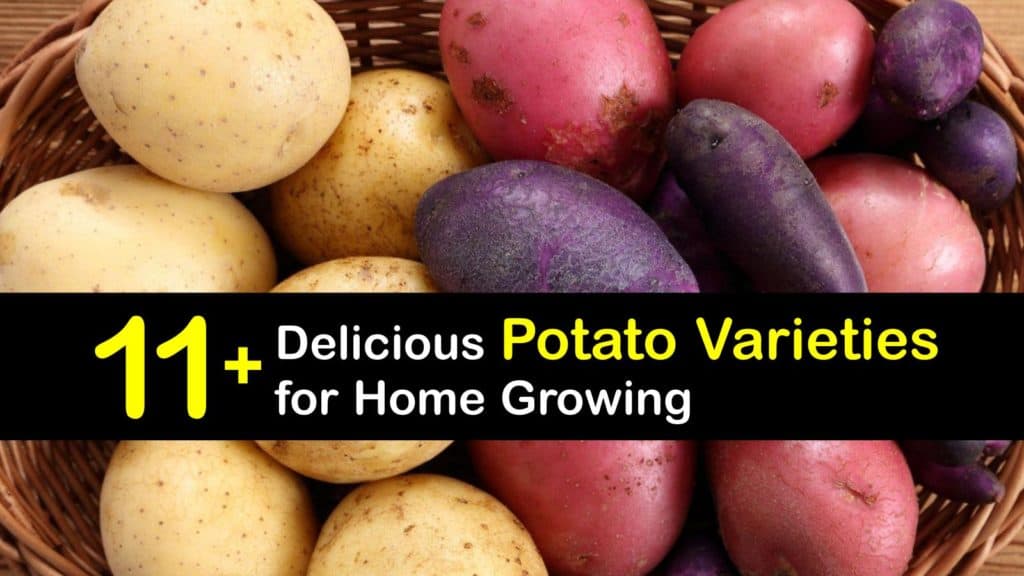 Potato Types and Ways to Grow and Prepare Them
Potatoes are an everyday staple in just about every home, and their versatility makes them ideal for a wide range of dishes.
We discuss some popular and unique potato varieties, along with their health benefits, ways to use them in recipes, and how to grow your own at home.
How Many Varieties of Potatoes are There in the World?
Are you aware that over a billion people eat potatoes worldwide? These tubers are so popular that it's hard not to find bags stacked at any grocery store you visit. So, how many varieties of potatoes are there?
Believe it or not, there are over 4,000 varieties of potatoes in many shapes and sizes produced in 100 countries across the world and over 180 wild potato species. However, there are three main groups – all purpose, starchy, and waxy potatoes.
The differences between potato types and uses vary. Some produce high yields, like the Kennebec potato.
Some hold up well cooked in a soup while others, like the Burbank russet, disintegrate, so it's essential to understand which potato type you are using when preparing dishes.
Potato Varieties in USA
While there are so many types of potatoes throughout the world, not all are available locally. Some of the more exotic tubers require specific growing conditions and are more difficult to find at the market. Here are some of the most common potato varieties in USA.
Over 200 types of potatoes are sold throughout the United States, including red, white, russet, yellow, blue, purple, petite, and fingerling.
However, some are grown in this country, and they include the Norland red potato and several russet potato varieties. Idaho, Minnesota, Maine, North Dakota, Washington, Wisconsin, and Oregon are the top seven states that produce them.
Are All Potato Varieties Easy to Grow?
Out of the thousands of potato types, many of them are native and grown in the Andes. However, many potatoes are relatively uncomplicated to grow, as long as you understand their growing needs. Learn which types are the easiest to grow and the ways to plant them.
New potatoes are an easy grower, especially if you're a beginner. Depending on your regional climate, just about any potato grows well under the right conditions.
Growing potatoes in a bucket, garden bed, raised bed or growing bags is easy as long as you give them the care they need.
There are two main ways to grow potatoes, from seeds and scraps. Seed potatoes aren't actually seeds but tubers. It's also convenient to grow potatoes from the cuttings of an old potato. Find out beforehand whether you should be planting potatoes eyes up or down so they grow correctly.
Are Russet Potatoes the Most Popular?
While browsing through the varieties of potatoes at the grocery store, you notice that one is more prevalent than others, and this is the russet potato. This type is produced in large quantities and one of the most inexpensive potatoes at the store.
Out of all the potato varieties names, this one is the most well-known in the United States. These spuds have rough, brown skin, and the flesh is white.
Some varieties of russets, such as Butte, are dry and mealy. Baking them makes the thick skins crispy, and these types disintegrate in soups.
Are White Potatoes the Same as Russets?
With all the potato varieties in USA, white potatoes are one of the most popular, but are they the same thing as a russet potato? No, white potatoes generally have lighter and thinner skin than russets.
White potatoes are all purpose potatoes with a smooth, thin, and light-colored skin. They hold their texture while boiling and baking and the flesh is creamy. White potatoes are ideal for recipes when you're unsure which types to use.
The Unique Shape of Fingerling Potatoes
Fingerling potatoes have a shape that resembles, you guessed it, fingers. However, the unique shape of these tubers is not the only interesting quality about them. These small potatoes are delicious, and there are many uses for them in recipes.
Fingerling potatoes are small and oblong shaped. They have tender, thin skins, and they do not absorb too much water while boiling. There are many varieties of this potato type.
The Russian Banana cultivar has yellow flesh, while the Purple Peruvian has purple skin and flesh, the Ruby Crescent has pink-colored skin, and some of them have a nutty flavor.
What do Colorful Potatoes Taste Like?
We wouldn't be surprised if you've never heard of colorful potatoes since they are not the type you usually find in a grocery store. They have an exotic appearance that is startling, especially if you've never seen one.
Colorful potatoes are types that have red and pink or purple and blue flesh. They are somewhat mealy with a dense texture and a nutty taste. Boiling them causes the flesh to fade, but baking them retains their rich color.
What are New Potatoes?
The name new potato is a bit misleading. Were they just invented, and why are they new? We explain what new potatoes are, how they grow, and ways to use them in recipes.
New potatoes are actually immature potatoes of any variety. Harvesting potatoes early in the summer before the vines die back and the potatoes mature provides you with a crop of these potatoes.
They have thin, tender skins and a shorter storage life than mature potatoes.
Do Some Potatoes have More Benefits than Others?
For the most part, all potatoes contain similar nutrients, but some of them have more or less than others. Discover how different potatoes vary in nutrition to help you choose the right ones for your diet.
All potatoes are rich in complex carbohydrates and contain iron, fiber, and vitamins such as C and B6.
However, the potatoes that offer the most in nutrition are those with dark-colored flesh, such as Ruby Crescent and Yukon Gold, since the pigments contain carotenoids and flavonoids.
They are responsible for the potato's vivid colors and are antioxidants with immune system and anti-inflammatory benefits.
Using Different Potato Types for Cooking
Potatoes are highly versatile in the kitchen, but the texture and flavor vary between types. Can you use potatoes that have started to sprout? It's best to save these older potatoes for planting.
Some potatoes are perfect for making French fries, while others are more suitable for mashing.
Russet potatoes contain a lot of starch, making them perfect for French fries and mashing and baking. White potatoes hold their shape well while boiling and are ideal for soups.
Carola potatoes and waxy potatoes, such as Yukon Gold, have low starch, are dense with a waxy texture, and delicious in potato salads and stews.
Colorful potatoes like the Adirondack blue are suitable for baking, frying, and microwaving. Fingerling potatoes are fantastic when roasted, and new potatoes are a good choice for boiling whole.
How to Grow Potatoes at Home
Now that you understand the different types of available potatoes, why not grow your own? Not only are these veggies simple to plant, but they regrow from old potatoes you normally toss in the trash can.
The way to regrow potatoes starts with cutting a potato into two-inch pieces while ensuring that each section has at least two eyes or sprouts. Set the potatoes in a warm area of the kitchen for three days before planting.
How deep do potatoes grow? Prepare a garden bed and plant the potatoes four inches deep in the dirt with the sprout facing upward. Cover it with soil and give it a good watering. Be sure to follow proper potato plant spacing to allow the tubers to spread out.
After five weeks of growing, hill the potatoes by raking soil up around the stems, creating a one-foot incline on both sides. Water your plants so they receive one to two inches of water each week. How long does it take to grow potatoes? Harvest potatoes in 70 to 100 days.
How to Make Homemade Potato Chips
Growing your own potatoes or purchasing potatoes in bulk from the market is a fantastic way to stock up and save money, but how are you going to use up all those spuds? Learn how to preserve a potato or two and use some recipes for the rest. Here is how to make homemade potato chips in a few simple steps.
Start by using a vegetable peeler to cut the potatoes into very thin slices, and then soak them in ice water and salt for half an hour. Drain the slices, pat them dry with a paper towel, and set them aside.
Heat two inches of oil in a heavy-duty skillet until it reaches 375°F. Fry the potato slices in batches for three to four minutes or until golden brown and crispy.
Combine celery salt, garlic powder, and black pepper in a small container and sprinkle the seasoning over the chips.
Wouldn't life be a bit bland if the only potatoes that existed were russet potatoes? Fortunately, nature offers more potato types than we realize, from white and fingerling to waxy and colorful, and many of them are easy to grow at home.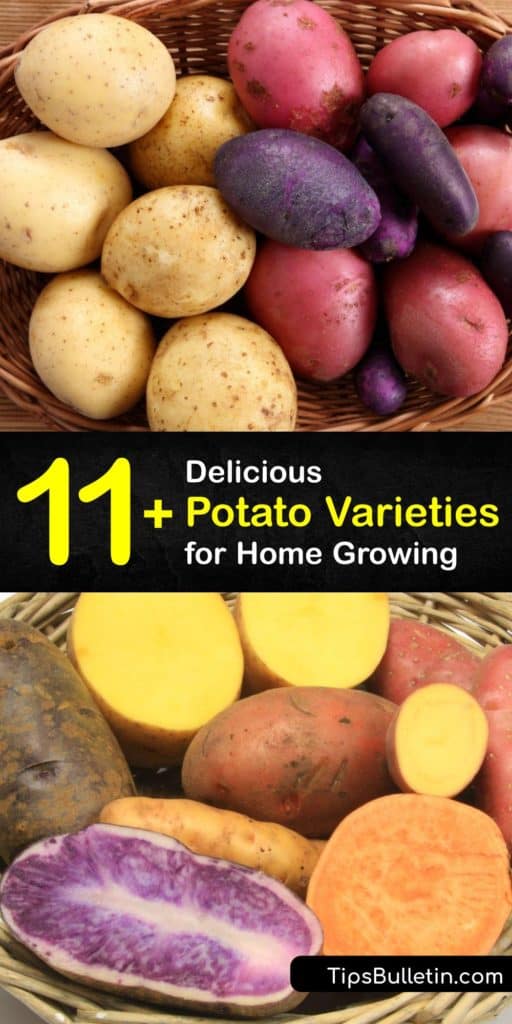 The best thing about having so many potato varieties to choose from is that your potato recipes never get boring, so why not share our potato guide and growing tips with the potato lovers in your life on Facebook and Pinterest?