Do you have nosy neighbors who are getting a little too intrusive, peeking over your fence? Are you seeking a solution to stay away from the commotion on a busy road? If you need a little less noise and a little more secluded yard, growing privacy plants is the best solution.
Privacy shrubs not only separate your yard from your neighbors but add beauty and promote fresh air in your backyard space, as well. Whether it's for an afternoon tea party with friends or your kid's playground, your yard can become a safer and private place with the help of fast growing privacy plants!
But, to enjoy that secluded environment you wish to have, you need to know how to pick a plant that best suits your needs. Right now, you do not need to browse hundreds of pages to run through each plant species.
If you are searching for the right deciduous shrub or looking for information about tall plants for privacy in pots, look no further.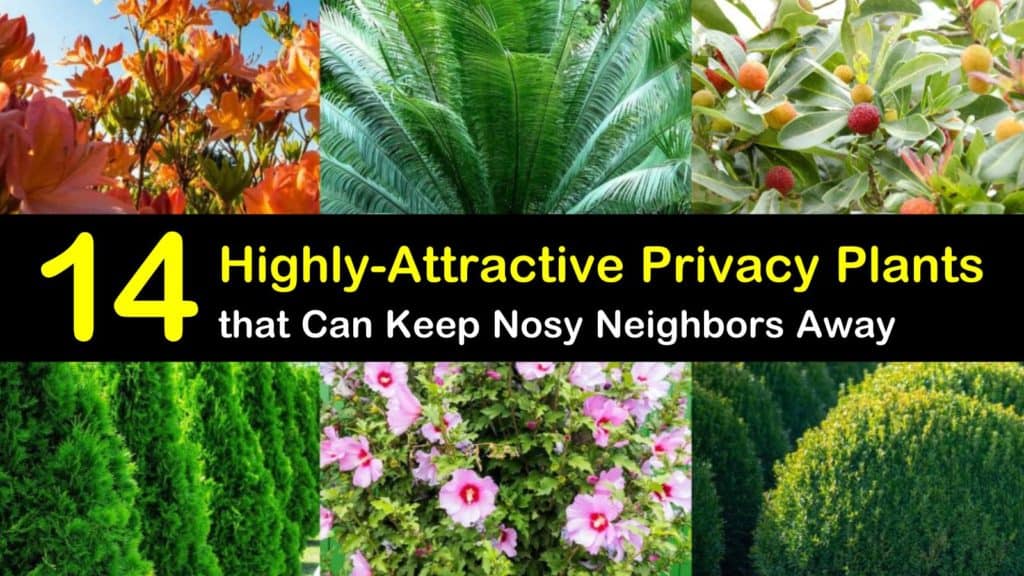 Where to Plant Privacy Trees or Plants
The most crucial factor to consider is where to plant your privacy trees or shrubs. While it might be evident in some cases, a careful assessment won't hurt.
You may have the right to plant on your property line, but keep in mind that some plants grow suckers and other plant extensions such as branches and roots that can travel where they aren't wanted.
Before planting privacy plants for your fence line, note that these plant extensions may extend to your neighbor's yard, overcrowd sidewalks, and crawl into sewer systems, so be sure to check all aspects before deciding where to place your trees or shrubs.
Planting Privacy Plants with Other Benefits
Another thing that you should look into when planning to add privacy shrubs in your yard is why you are growing such trees. Yes, it is for privacy but will it also provide a pleasant view or windbreaks for your backyard?
Or will they only provide a green backdrop? Knowing these things helps you make the most out of your privacy plants and choose ones that are best suited for your purposes.
To further deter nosy neighbors and even thieves from looking at your home, you could also plant some pricker bushes. While these plants are not covered in this list of privacy plants, investing in a couple of these shrubs will keep even the most persistent individuals away from your house and your property.
Caring for Privacy Plants
Each plant has critical needs of its own. In general, most privacy plants thrive best in moist soil. But, if you live in a place that does not have an ideal planting environment, you may need to get planting mix and organic alternatives.
Adequate watering is also essential. Some privacy trees may be able to resist drought conditions, but they will need sufficient amounts of water to survive.
Lastly, be sure to check if the plants that you selected prefer full sun or shady areas. The majority of plants for privacy need plenty of sunlight. Others thrive in partial sunlight.
Whatever plants you decide to put on your property, ensure that you follow the instructions that come with them so that they will not only grow but thrive in the location where you plant them. Privacy shrubs and bushes often require a little different care than some other plants in your yard and garden. It would be a shame for them to wither and die from inappropriate attention.
Trimming, Pruning, and Clipping Privacy Hedges
Almost every tree can be shaped into a hedge or a small tree. Hedges are perfect if you prefer low shrubs for screening purposes. For tall plants and fast growing trees, pruning may be necessary. If you have ample outdoor space, consider letting your trees grow.
If you do clip, maintain the top hedge narrower than the bottom part. Otherwise, the plant will thin out and cause open spaces underneath, where you want the leaves as dense as possible.
Amazing Privacy Plants For Your Garden
While most of these plants do better when planted in the ground, you can choose some of the plants for container gardening, as well. Look over the care requirements for the plant you want to put in a pot to ensure that it will grow well there. Use these plants in pots to screen your patio or balcony and move them around if the mood strikes.
Thuja Green Giant (Thuja standishii x plicata) – Fast Growing Privacy Screen Trees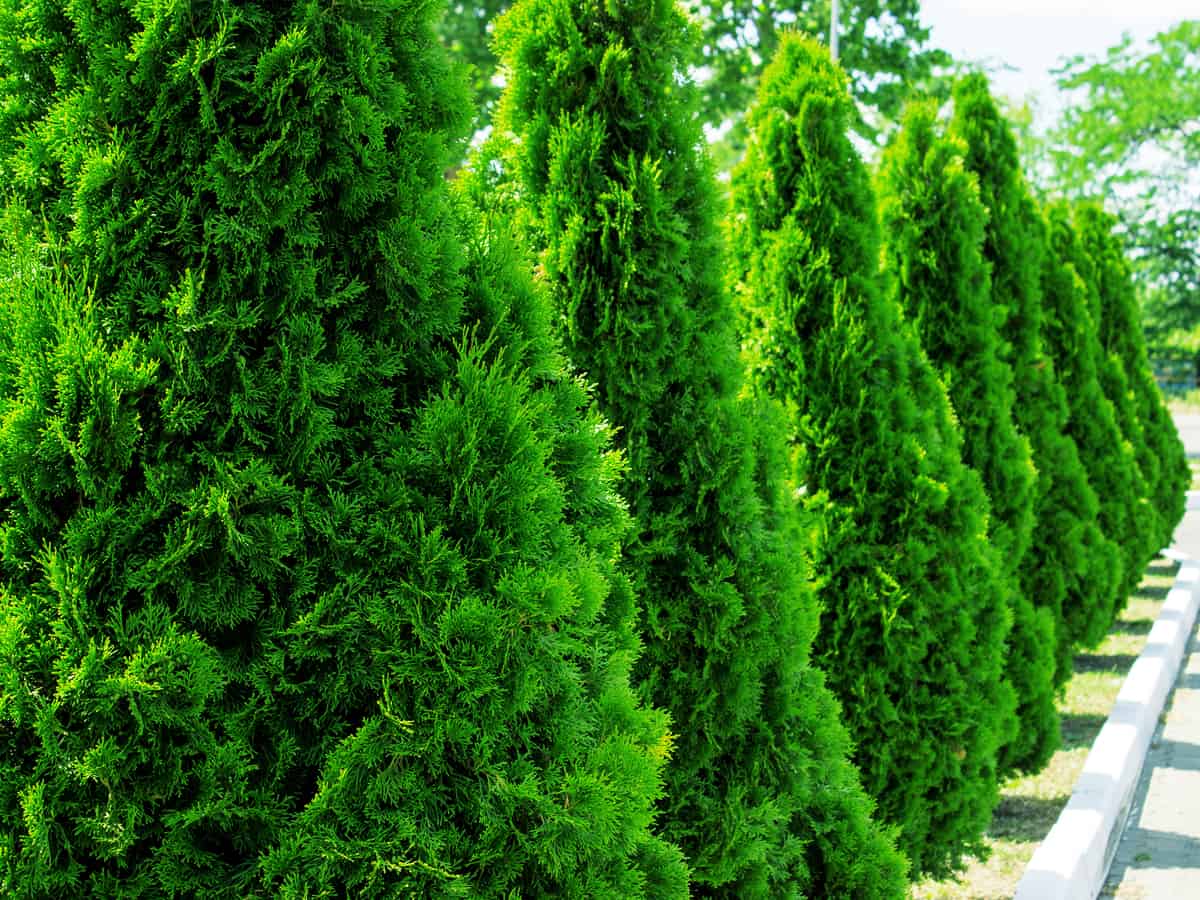 Thuja green giants are evergreen trees with luscious leaves that make some of the best privacy hedges. These trees are gaining popularity as perimeter plants because they are low maintenance shrubs.
They can cover spacious yards, and mature close together, forming a screen fence to conceal anything inside the enclosure. Aside from its top-notch performance in providing privacy, they are disease resistant and are adaptable to any soil or weather conditions.
Green giants are also fast growing privacy plants that require little water. They can quickly provide secrecy for your yard without asking for frequent watering. Pruning is not an issue either; just put them about six feet apart, and they'll grant you a concealed backyard.
Emerald Green Arborvitae (Thuja occidentalis)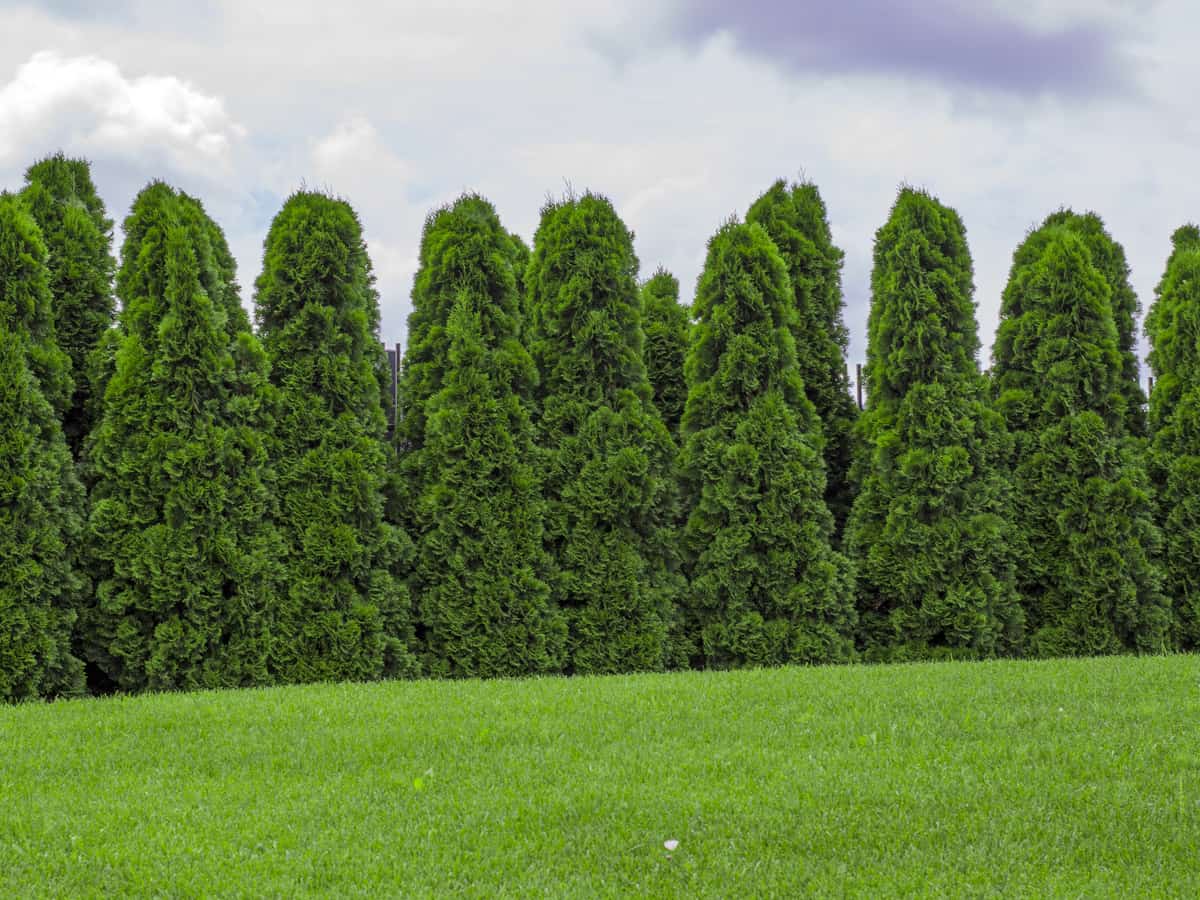 The Emerald Green Arborvitae is a smaller version of Thuja green giants. These beautiful evergreen privacy trees only grow up to eight to twelve feet, so they are a good pick if you are hoping to fill a tighter space and don't need as much height as some of the other plants on this list.
These trees provide you with a private outdoor space without the hard work of regular clipping and trimming. Just plant them about three feet apart to have a coordinated, beautiful, and captivating backyard hedge to keep you from prying eyes.
Clumping Bamboo (Bambusoideae) – Cold Hardy Privacy Plants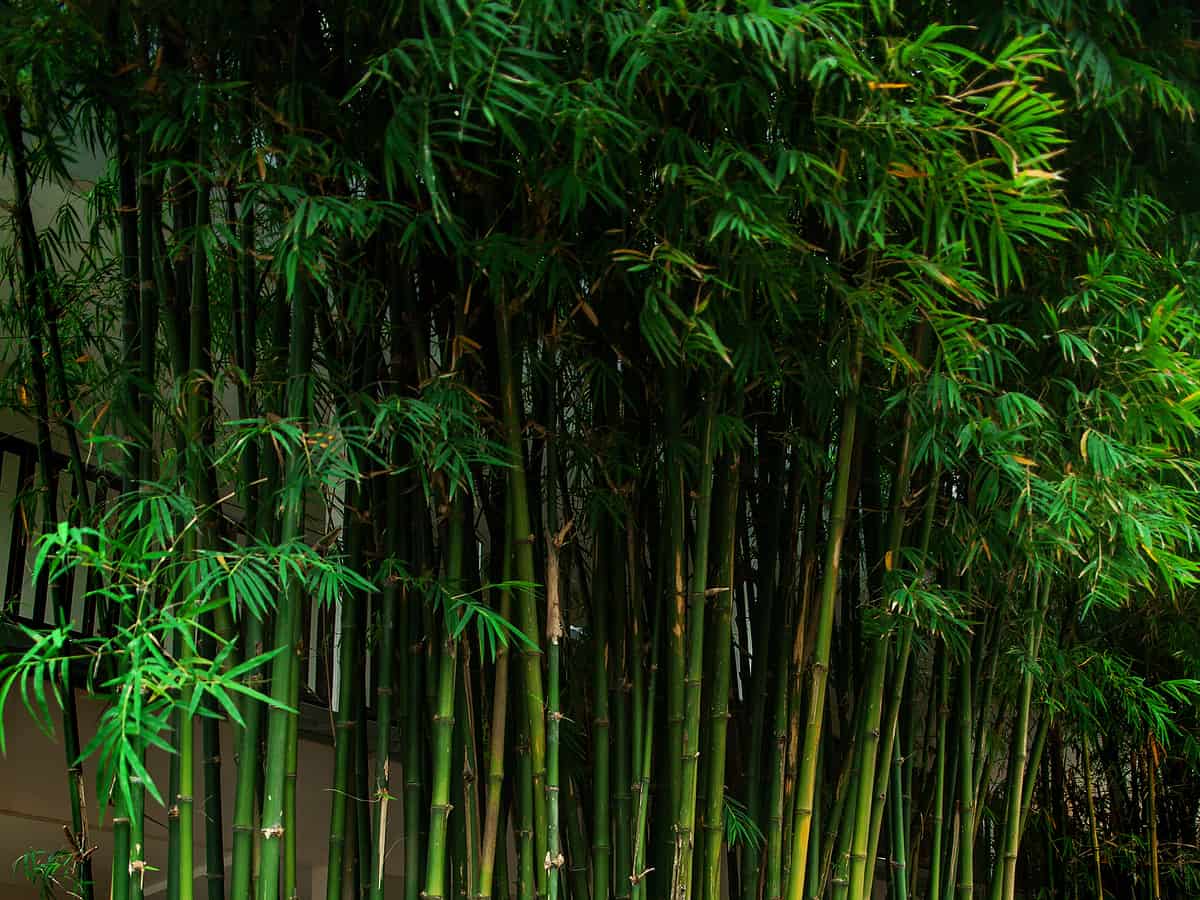 Clumping bamboo is a cold hardy, attractive, and graceful privacy plant, often used for bamboo floors. They are rapid-growing trees that mature vertically. These hedge plants also form dense clumps without invading the surrounding areas, which means that you can grow them in smaller spaces.
Using bamboo as shrubs is advantageous. They peak at ten to fifteen feet when mature – high enough to provide an incredible privacy screen. If you want a plant that does not invade nor spread too much, then this one is for you. It grows well in containers also, and you can use them as patio privacy plants.
Jack Frost Privet (Ligustrum japonicum)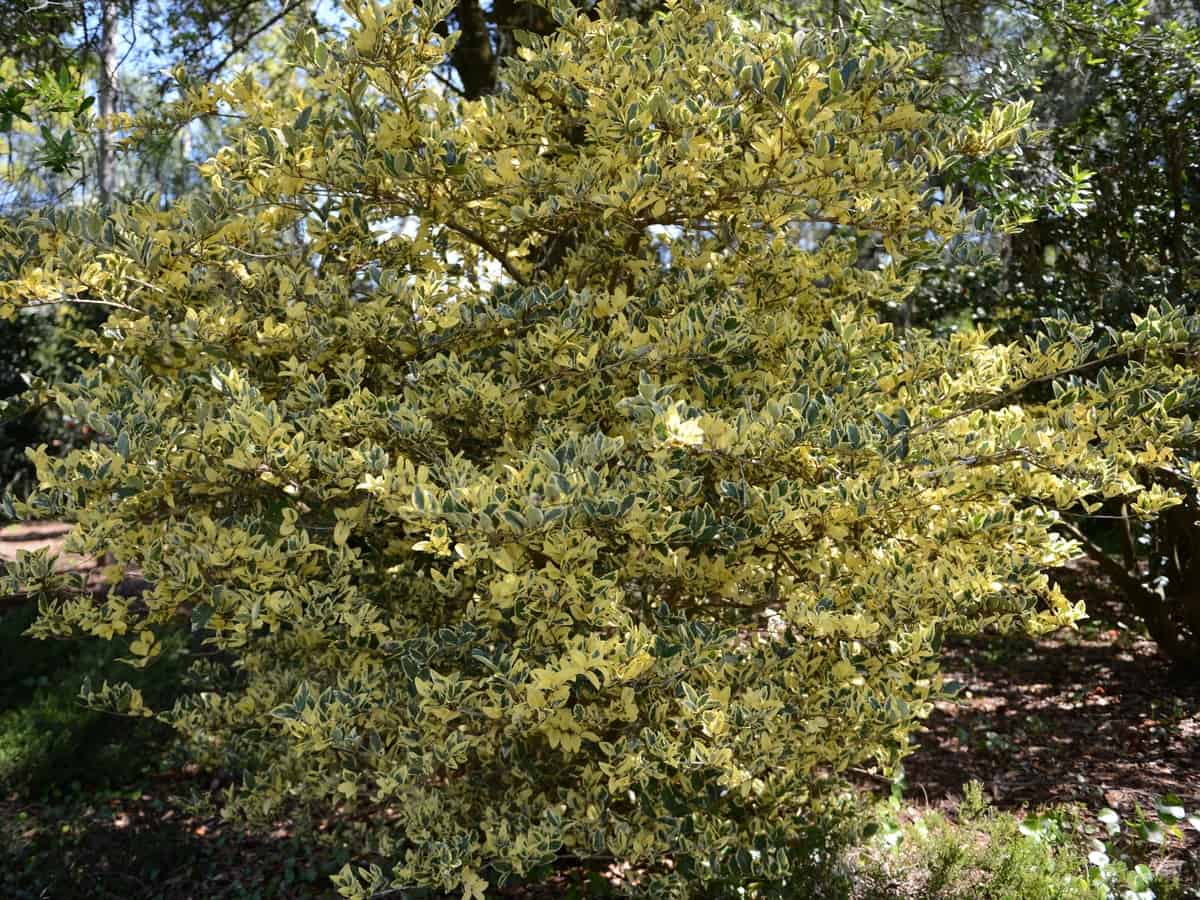 The Jack Frost privet, also known as Japanese privet, is one of the large evergreen shrubs that has bright, variegated leaves that have an irregular margin of white. They grow at a rate of six to ten inches per year and only reach about ten feet tall. The Japanese privet grows well in partial shade and full sun, and ais an excellent example of deer resistant shade plants.
If you are looking for privacy shrubs and hedges that do not have dull green leaves, look no further than this privacy screen plant. With occasional trimming, you can turn this bush into a detailed, precision hedge plant.
Leyland Cypress (Cupressocyparis leylandii) – Fast Growing Hedges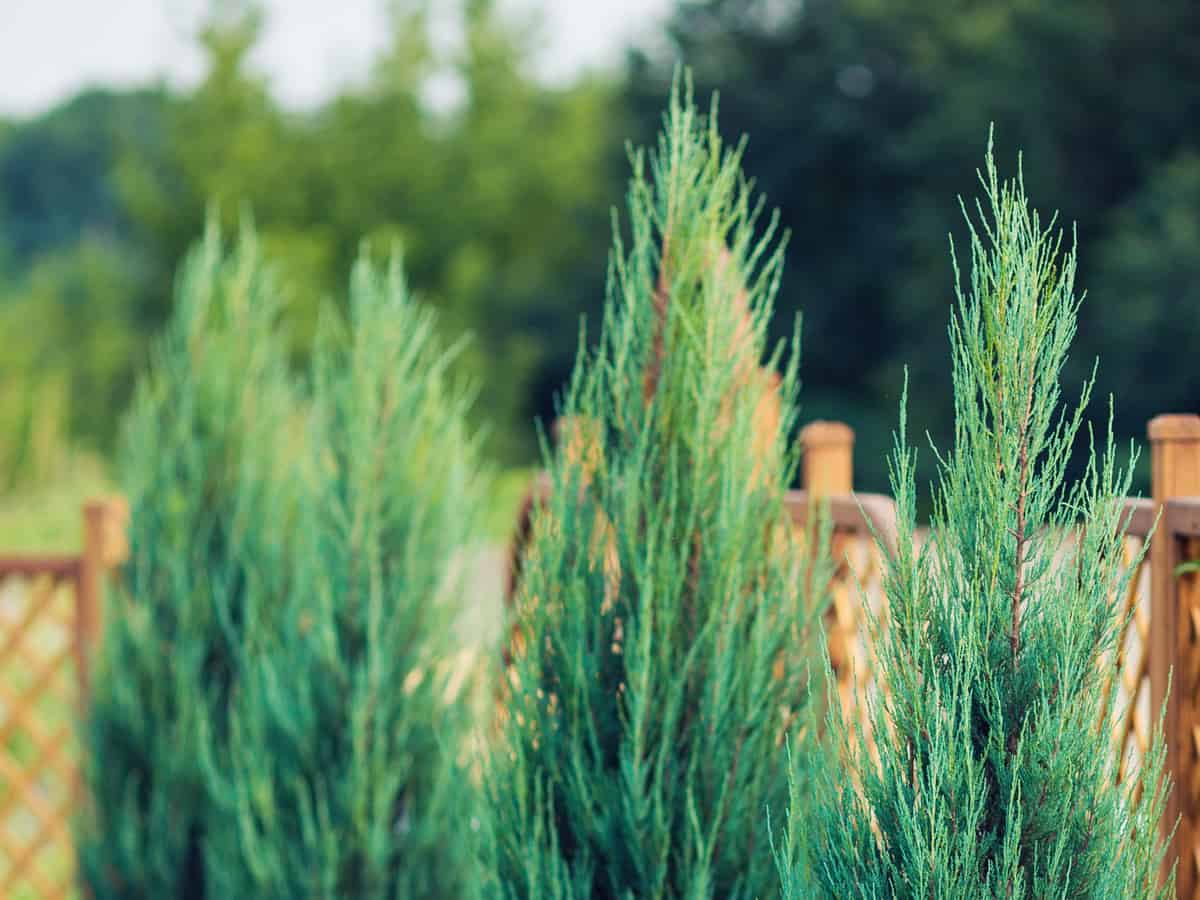 The Leyland cypress is one of the fast growing privacy plants that gives you your desired seclusion. It is one of the most popular screen plants in the United States. Not only does it grow around three to five feet a year, but provides your backyard with a soft, pleasing, feathery evergreen that matures uniformly and symmetrically.
Leyland cypress trees are drought tolerant and usually prefer full sun, but they can grow in partial shade, as well. Plant them about six feet apart, and in no time, your yard fosters the growth of this rapid growing privacy hedge.
Azalea flowers (Rhododendron indicum)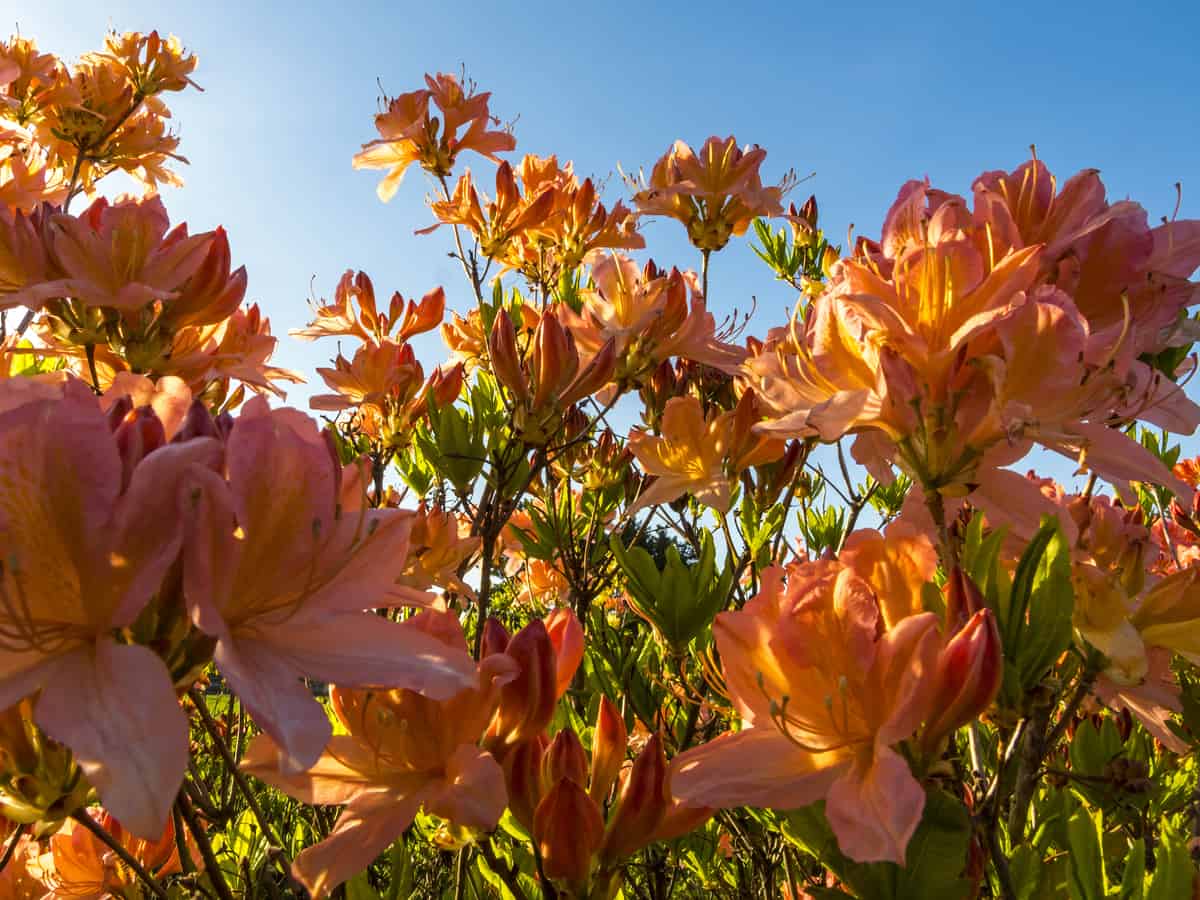 Azalea shrubs are plants that have orange-pink, purple, pink, or white flowers. The compact shrub can be three to four feet tall and wide, making it perfect for edging paths.
It may not grow as tall as other plants in this list, but it is ideal for privacy plants in planter boxes and not directly planted in yard soil. To enjoy azaleas, plant them in bigger privacy planters and put them side by side for a more concealed yard.
American Holly (Ilex opaca) – Stunning Privacy Trees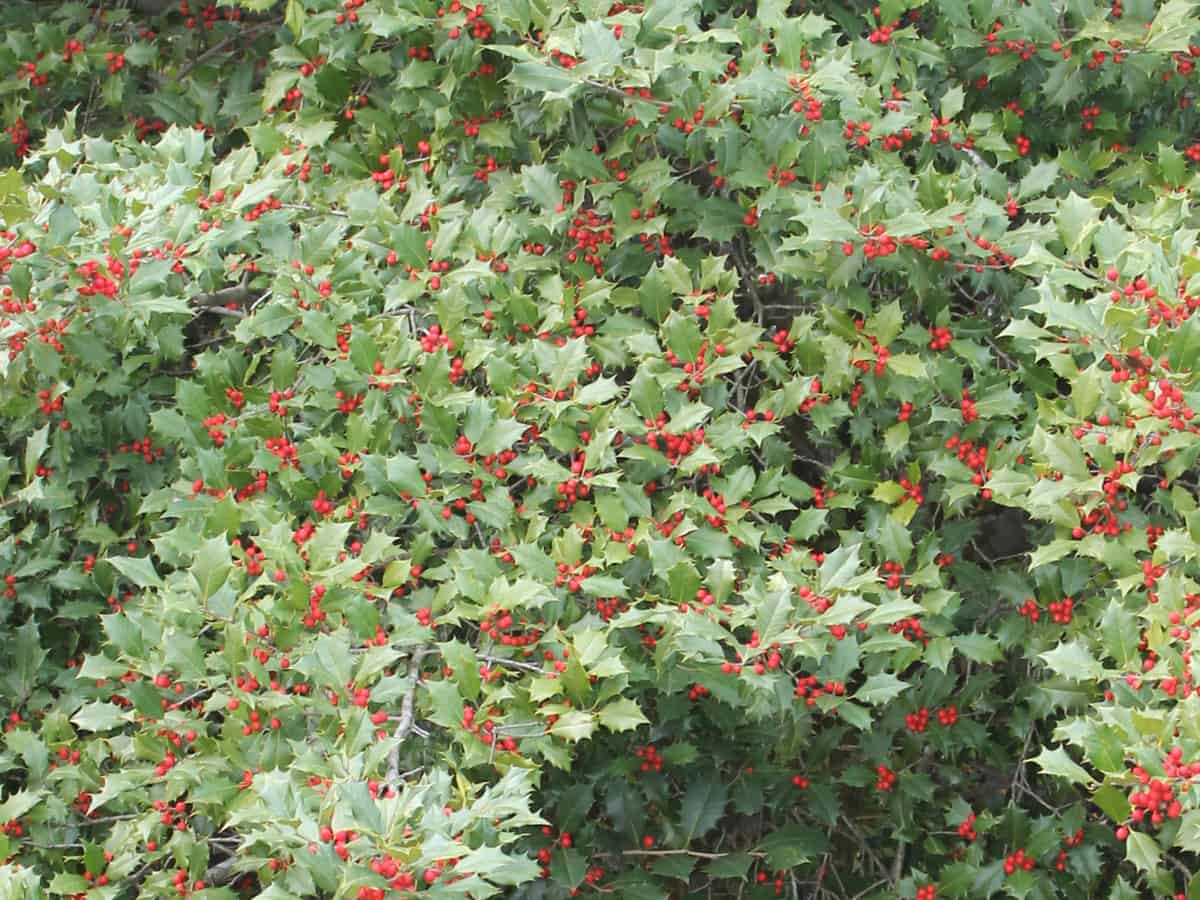 American holly is a beautiful tree that gives color to an otherwise monotonous yard. It is pest resistant, disease free, and capable of forming a hedge if planted four to five feet apart. As an added bonus, the prickly leaves of the holly bush keep stray cats away, as well as other creatures who may like to visit your yard.
Unlike other hedge plants, the American holly is relatively low maintenance – requiring minimal pruning or trimming annually. Although adaptable to various soil conditions, this tree grows best in southern, western, and lower northeast/midwest regions.
In early spring, this tree bestows your gardens and yard with elegant, lovely white flowers. During cold months, stunning red berries form. No doubt, American holly is a perfect year-round tree that offers a delightful garden design.
Willow Hybrid (Salix x matsudana x alba)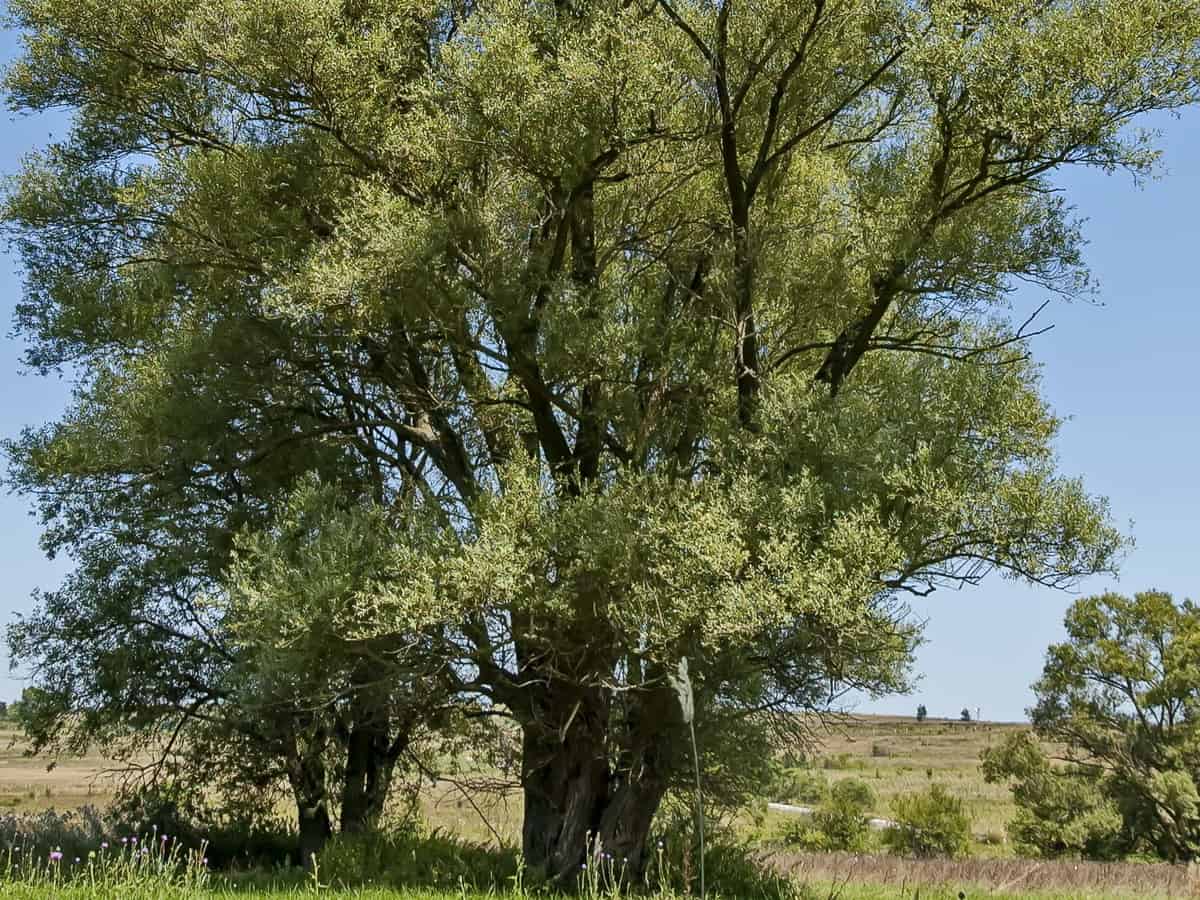 If you are searching for backyard privacy landscaping ideas that do not involve planting evergreen plants, consider the willow hybrid. These trees, also known as American willow hybrid, can grow into full border plants that will keep away nosy neighbors and hide unpleasant sights like highways.
This tree reaches up to seventy-five feet in height, efficiently providing you the seclusion you deserve. You will add more value to your home, and you'll also love the look of this living fence in the form of gorgeous trees.
Baby Gem Boxwood (Buxus microphylla var. japonica) – Evergreen Shrubs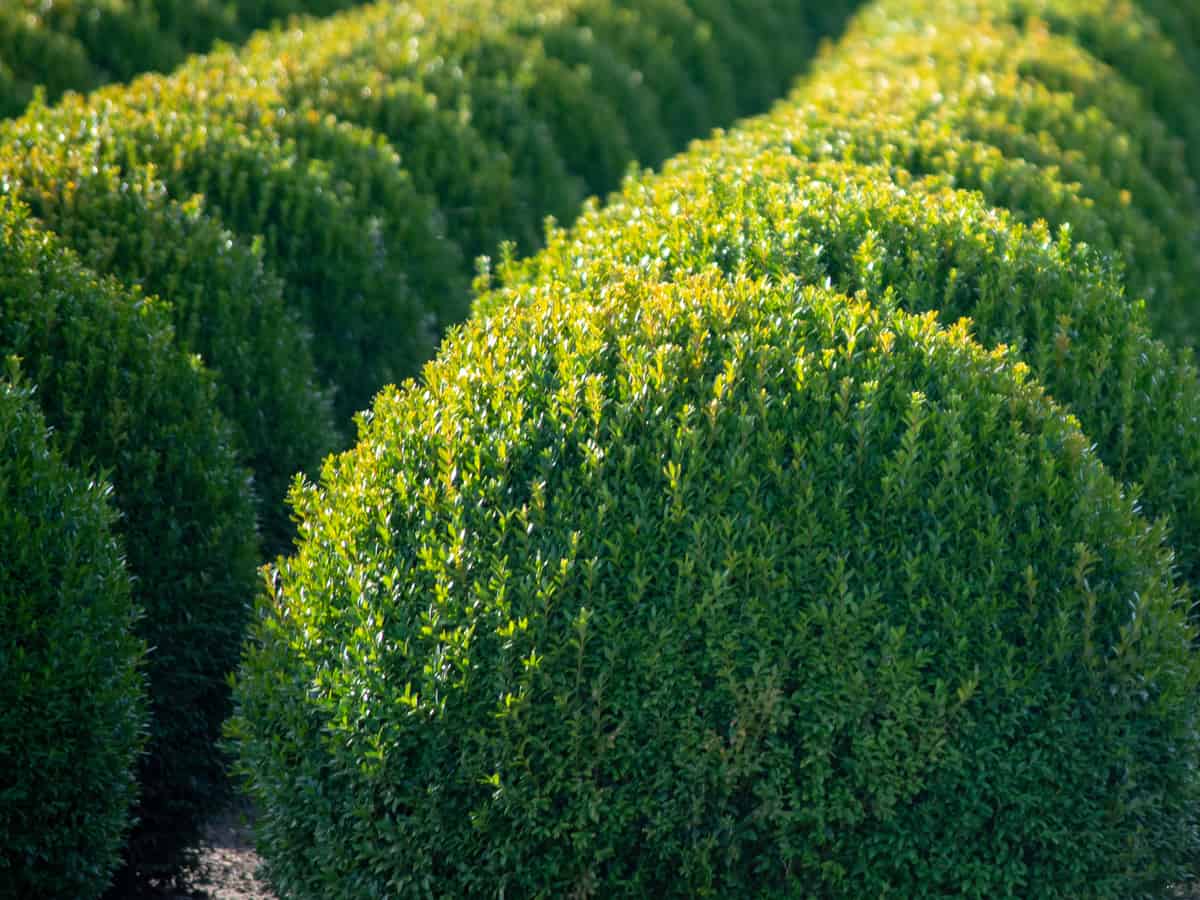 Boxwoods are common evergreen shrubs that are mainly used as garden hedges and foundation plantings. They are perfect for homeowners and gardeners who prefer small to medium-size plants that can still provide privacy of up to three or four feet high. These shrubs are low maintenance privacy plants.
The dark green foliage tends to be naturally-dense but can be trimmed into conical or rounded forms. Boxwoods can also be planted with evergreen ground cover plants to add interest to the landscape in broad areas throughout the yard. Because they grow so tightly, they provide a neat way to garden.
Fruit-bearing Privacy Plants – Sea Buckthorn (Hippophae rhamnoides)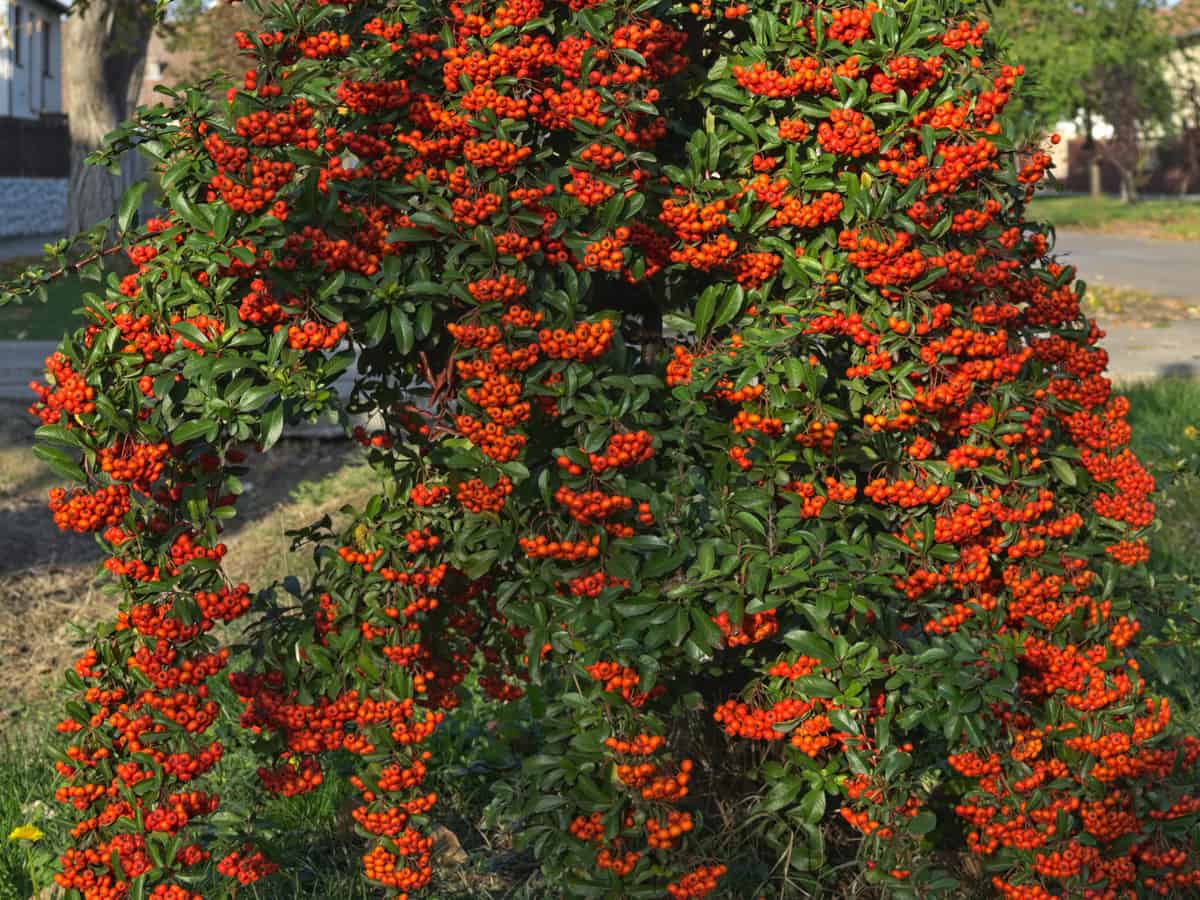 If you prefer not having ornamental grasses or broadleaf evergreens, you can still have a privacy fence by putting sea buckthorn shrubs in your yard. Aside from providing luscious silvery-green foliage that blocks your neighbor's view, this shrub produces delicious berries packed with vitamin C.
They stand out in the landscape because of their unique visual beauty and height of up to ten feet. Indeed, this is one of the best plants for privacy that can be a welcome addition to any garden.
King Sago Palm (Cycas revoluta) – Privacy Palm Tree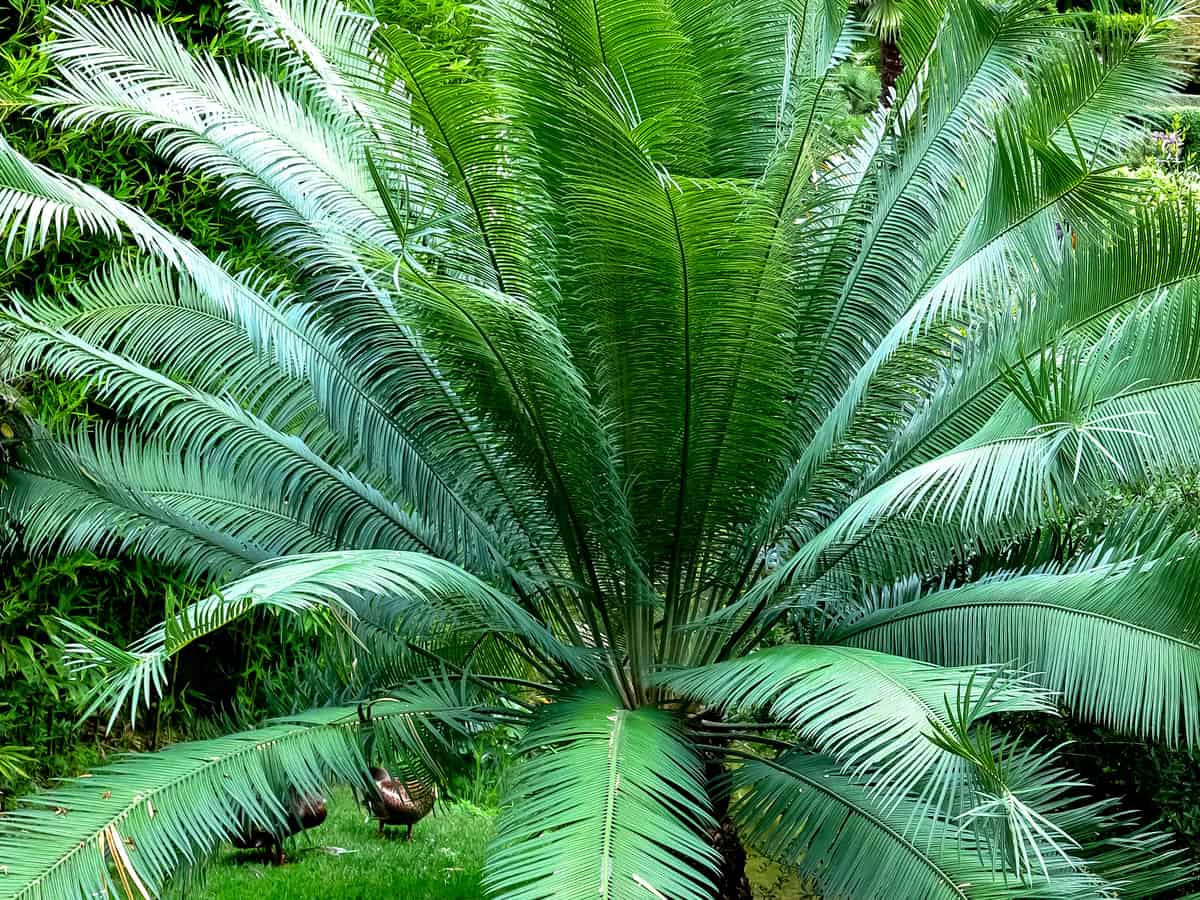 King sago palm is a beautiful, small tree specimen that beautifies any garden, especially in warmer areas. They can be grown in containers and placed indoors during winter. The maximum mature height that these trees can reach is five to eight feet, making a gorgeous clump that can cover a wide area of any yard.
To grow a king sago palm, plant it in a lightly-shaded spot or a sunny area with well-drained soil. It is pest and disease free and grows with a minimum of care.
Wax Myrtle (Myrica cerifera)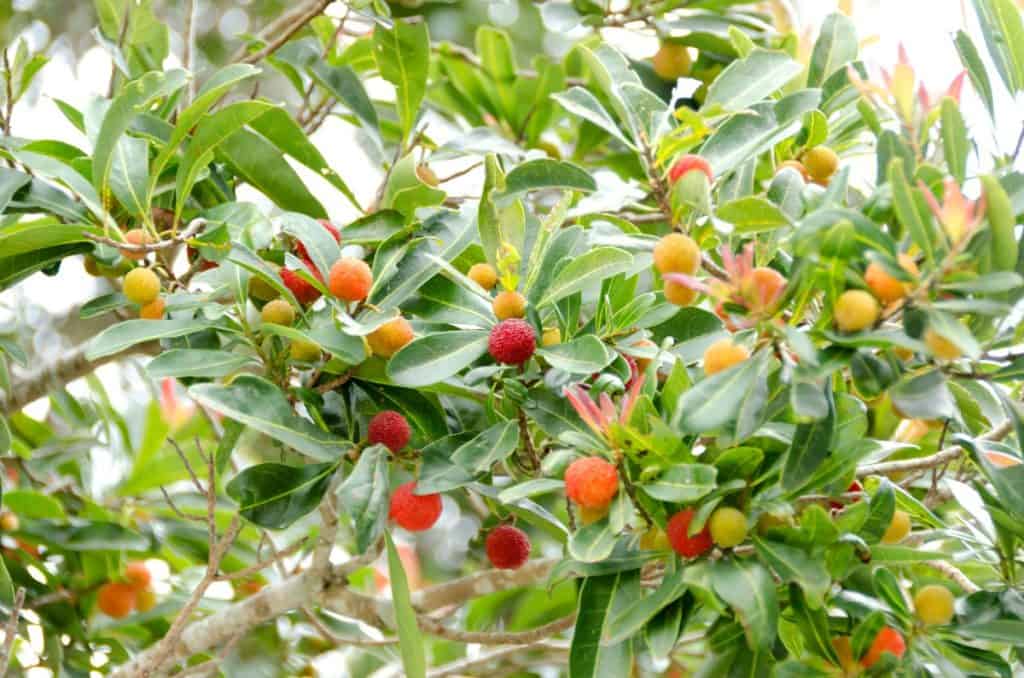 Wax Myrtle, also termed the bayberry tree, is one of the fast growing shrubs that resist drought, beach exposure, sandy soil, and salt-spray. They shoot up to around twenty feet tall since their growth rate can be up to five feet per year, so if you need a quick fix to your medium-sized hedge, wax myrtle is a great choice.
If you live in a sandy coastal area and are interested in planting an attractive evergreen shrub or hedge, be sure to pick wax myrtle from your garden center. Its visually appealing and glossy, fragrant evergreen leaves will provide privacy all year round.
Soft Foliage Privacy Tree – Canadian Hemlock (Tsuga canadensis)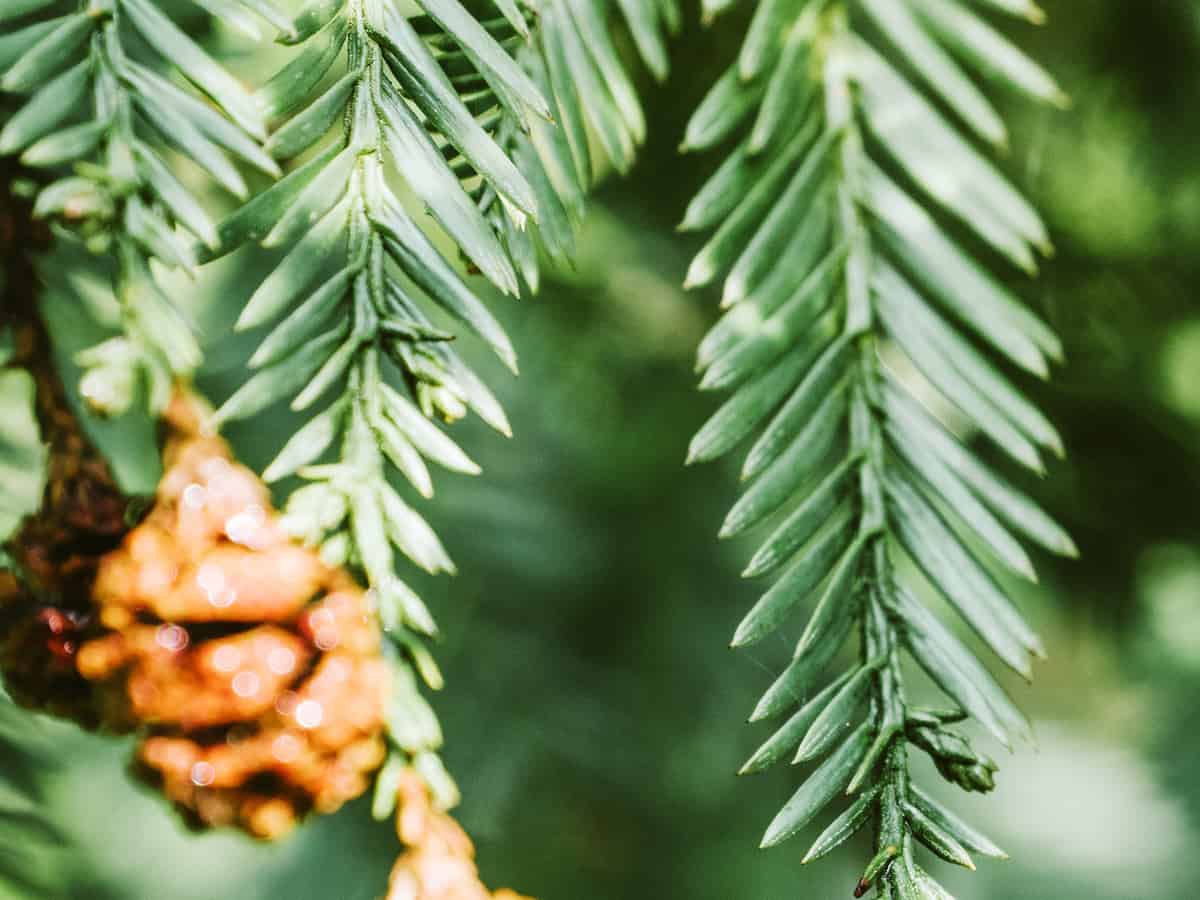 Canadian hemlocks are fast growing trees that thrive in shady locations. They grow into a tall tree in an instant and can be seventy feet tall and thirty feet wide. These trees also serve as durable hedges or boundary markers for property lines.
Unlike other evergreen trees, their needles are soft to touch, so you can plant them anywhere without worrying about causing prickles. To plant Canadian hemlock, place each tree three to four feet apart in an even row so they can grow appropriately into one of the best plants for privacy.
Althea Shrub (Hibiscus syriacus) – Summer Hedge Plant
Althea shrub, otherwise known as Rose of Sharon, is a deciduous hibiscus shrub that is a typical summer hedge plant. The Rose of Sharon can be shaped into different forms to make it an ideal candidate for hedges. Because altheas respond well to yearly trimming, it is useful as privacy planters or foundation plantings.
However, as beautiful as it is, althea plant is prone to beetles, gnats, and insect infestations. But, there are home remedies to get rid of gnats and other pests you can employ. Monitoring them for early signs of a pest infestation before extensive damage is done to your shrubs.
Comfort and privacy at home are important. Whether you prefer to use shrubs, trees, or hedge specimens, privacy plants give you peace in a secluded place.
Some proliferate and with ease, while others mature over time. Either way, these spectacular plants save you the hassle of putting up an unwieldy and expensive privacy fence.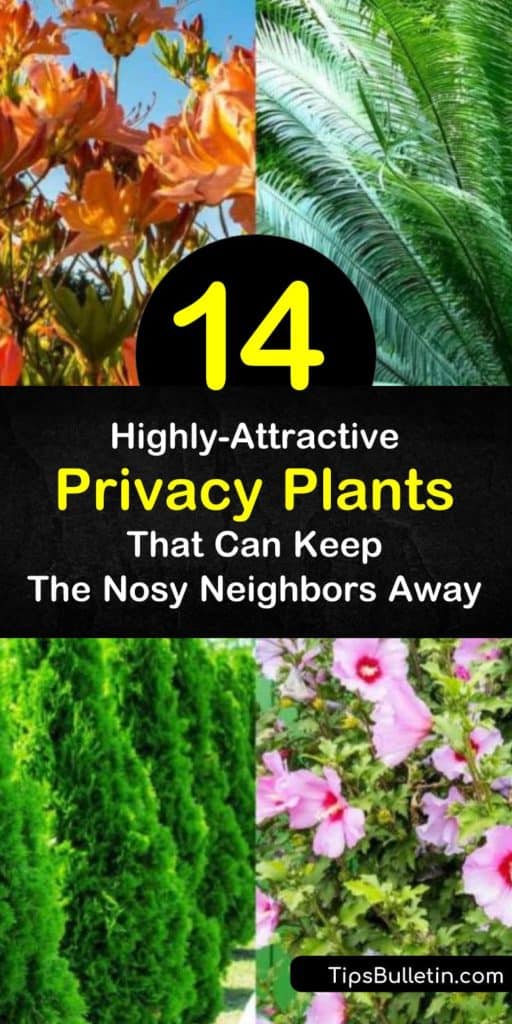 We hope you enjoyed reading about the best plants for privacy that you can bring to your property lines. If you found these privacy planting tips useful, please feel free to share them with everyone you know.