Everybody wants to be able to separate their domain from those of their neighbors. While fences do the trick at a basic level, sometimes they can either be eyesores or still leave you feeling a little exposed, especially if you have a metal gate fence as I do.
Or maybe, you have too much land, so a wooden or metal fence is not a practical solution. This is where privacy trees come into play. Whether you choose trees that are tall, full, or quick growing, privacy trees have many characteristics that are sure to not only improve your landscaping but also be of use.
Whether you want to block out a nosy neighbor or reduce road and traffic noise, investing in some fast growing privacy trees can help you achieve that goal.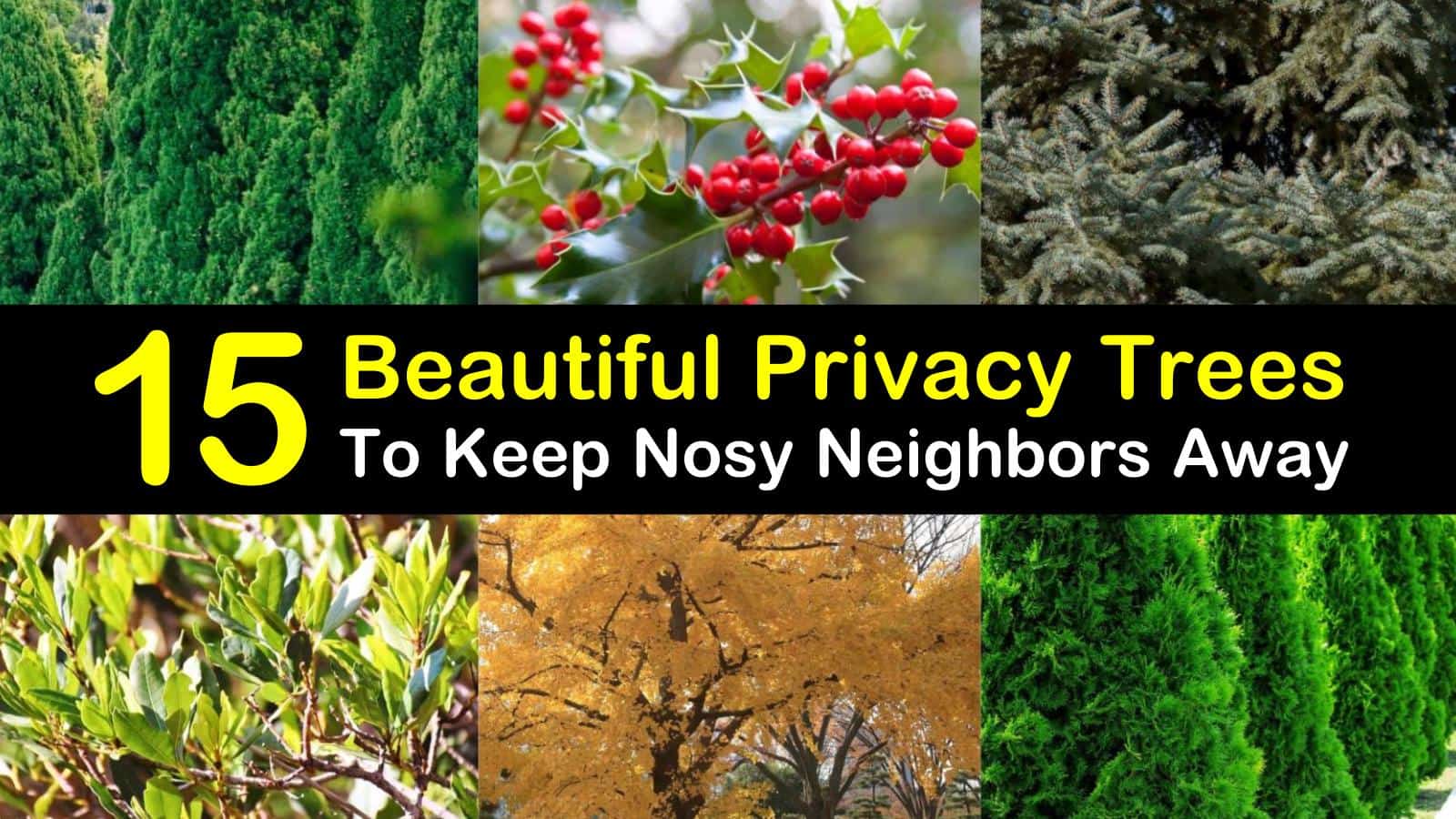 Why Plant Privacy Trees?
It depends precisely on why you need the coverage. If you want to build a natural perimeter, then plant the trees just inside your property line. If you have a large yard and plan on using more significant trees, make sure you allow for the appropriate space in between each tree.
If you want to cover a few open spots in your yard, there are several smaller trees for landscaping, such as the cypress trees or holly trees listed in this article. There are dozens of varieties of privacy trees and shrubs that provide the necessary amount of coverage you need to feel completely secure in your yard.
There are also some trees with far-reaching branches that bud and bloom in the spring and summer when you are more likely to be spending time outside.
If you don't want to create a definite barrier, but want to have a little more privacy in those warmer months, choose one of the seasonal trees and enjoy their colors and scents when you relax or barbeque on the patio or deck.
One of the uses of palm trees is to add privacy to a pool area in your yard. The fronds add some tropical elegance and shade to this popular summer spot.
What are the Fastest Growing Privacy Trees?
Almost every tree here is a privacy tree has a relatively quick growth rate. While some are faster than others, you will see progress quickly with any tree you choose on this list.
However, some of the fastest on this list are the Leyland Cypress, Thuja Green Giant, and Wax Myrtle, all growing at 3 to 5 feet per year, and the Willow Hybrids as much as 12 feet per year.
Which are the Best Evergreen Trees for Privacy?
The type of evergreen trees you plant depends solely on your situation. If you need broad coverage, you might want to go with a gigantic tree such as a Concolor Fir or a Douglas Fir. If you want an accent piece, or only need to cover a smaller section, then the Norway Spruce or the White Pine might be a better option.
The benefit to using evergreen trees for privacy is that they provide color all year and do not lose their leaves like deciduous trees. You will have some green in your otherwise barren landscape in the winter and your privacy screen will not diminish with the change in seasons.
Preparing to Plant Your Privacy Trees
Make sure that you clear the land where you will be planting. Start by determining if you need any tree stump and root killer. Once you move everything out, you are ready for the next step.
Determine where each tree will go. Make sure that you allow for the proper amount of space in between each tree. Then, dig the holes. Most trees need a hole that is roughly two times the size of their root ball.
After you dig the holes to their appropriate size, plant each tree and fill each hole back in with dirt. Some trees need fertilizer or mulch, and some may not. This is also true for waterings.
Sometimes, this depends on your hardiness zone or soil environment, so consult with local horticulturists about what your new tree may need. Once everything is set, you'll quickly realize that most privacy trees are relatively low maintenance. You can sit back and relax as you watch your landscaping come to life around you.
What If You Have a Small Space?
For privacy at your condo or on your apartment balcony, you can still add some smaller varieties of trees to create a screen between you and your neighbors. There are many tiny trees for small spaces available that you can put in pots in strategic locations so that people won't be seeing you in your bathrobe on the porch while you are drinking your morning coffee.
Amazingly Beautiful Privacy Trees
Choose one variety or two or three as fence line plants for your property border. A natural fence always looks better than a man-made one.
Leyland Cypress (Cupressus leylandii)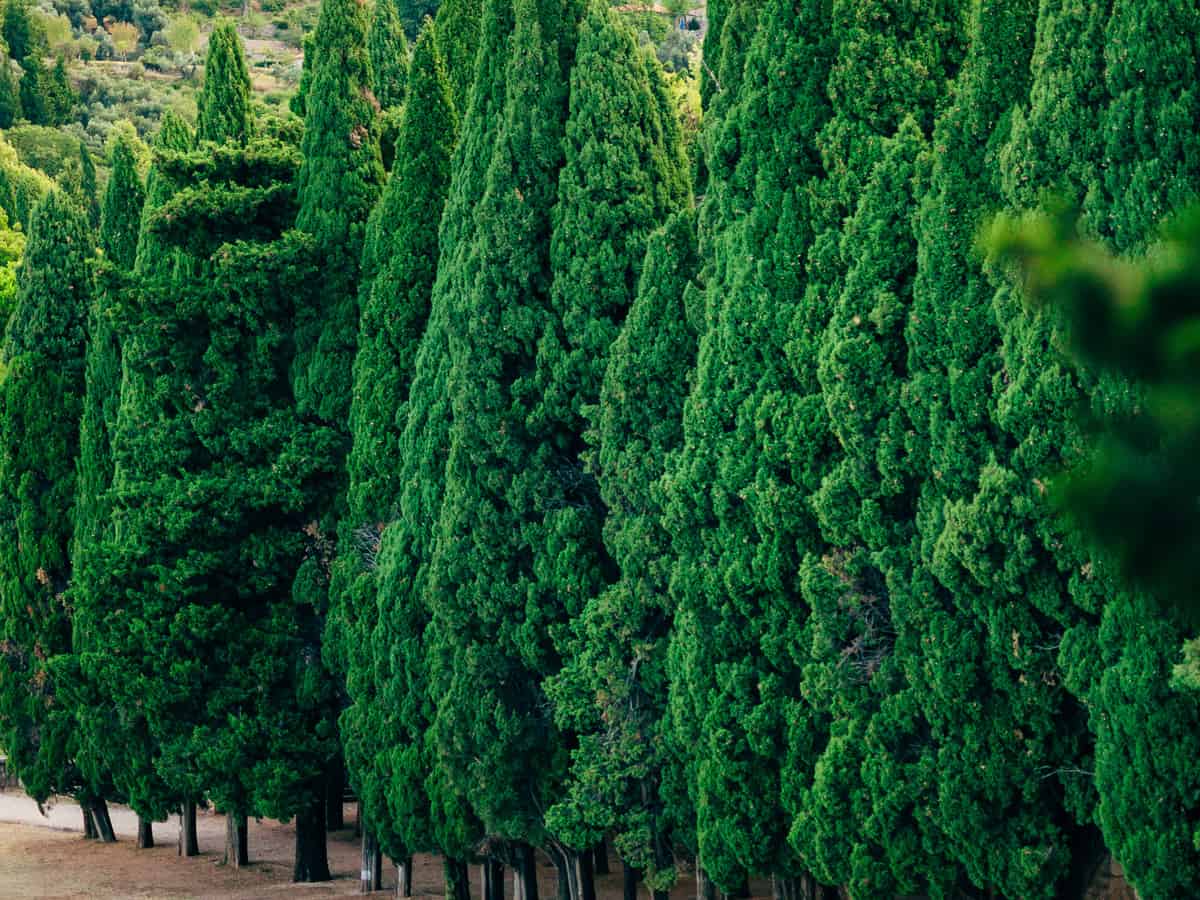 A relatively low-maintenance tree, the Leyland Cypress is a perfect choice for those looking to create a privacy fence. The dark green foliage also adds a fresh appearance to your yard. Cypress trees do best in warmer climates with just about any soil base, as long as the soil drains well.
Make sure you plant your Leyland Cypress trees at least 6 feet apart. A fast growing evergreen, the Leyland Cypress has a growth rate of three to five feet per year. However, this tree can also be easily trimmed down into a hedge if you'd prefer.
Italian Cypress (Cupressus sempervirens)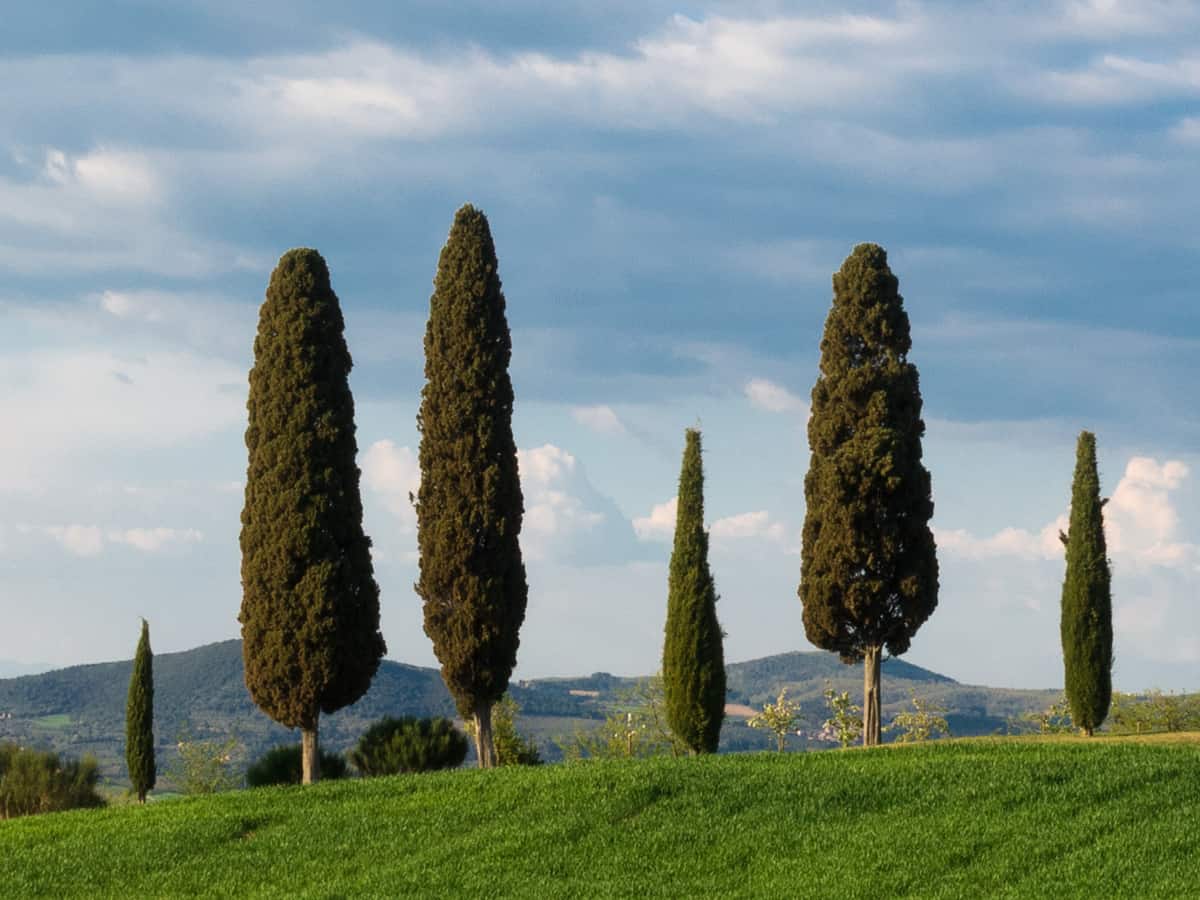 While the Italian Cypress is known for being very tall and skinny, which makes it a favorite privacy tree, is its adaptability to various soil environments is the big draw. They are just as happy planted in the ground as they are in a container.
The first month after planting an Italian Cypress is crucial. The tree should be watered once a day; otherwise, it will never reach its mature height of 60 feet. However, after that first month, the tree needs significantly less water to be healthy and happy.
Thuja Green Giant (Arborvitae) – A Fast Growing Privacy Tree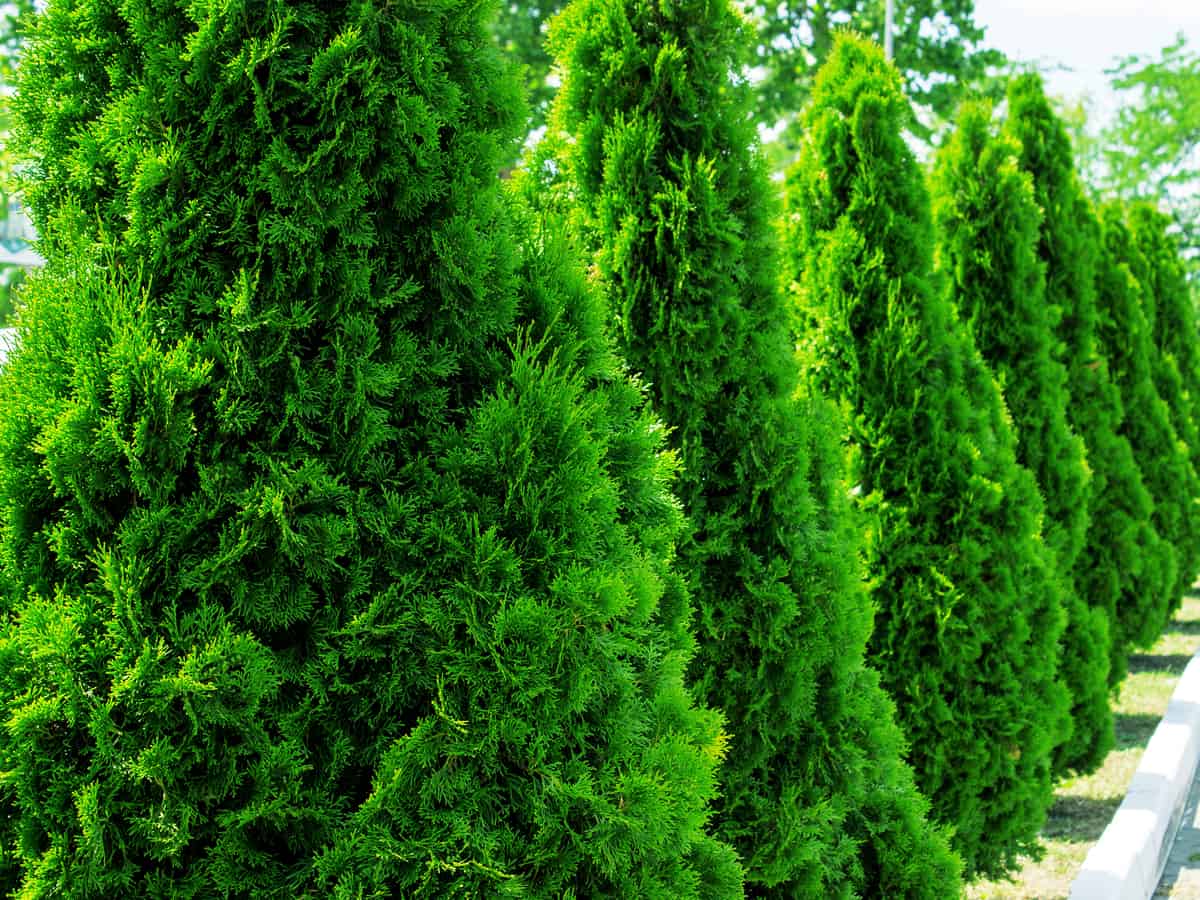 One of the most resilient trees, the Thuja Green Giant is one of the most popular privacy trees for backyard landscaping. A fast growing privacy tree, the Green Giant Arborvitae creates a seamless tree fence along your property line thanks to their growth rate of three to five feet a year and the mature height of 30 to 40 feet.
The Green Giant is also cold hardy and resistant to most botanical diseases, so it thrives in almost any climate setting. However, if you live where there are deer, this may not be the plant for you because the leaves of the Green Giant are soft, and deer tend to devour them.
Emerald Green Thuja (Arborvitae)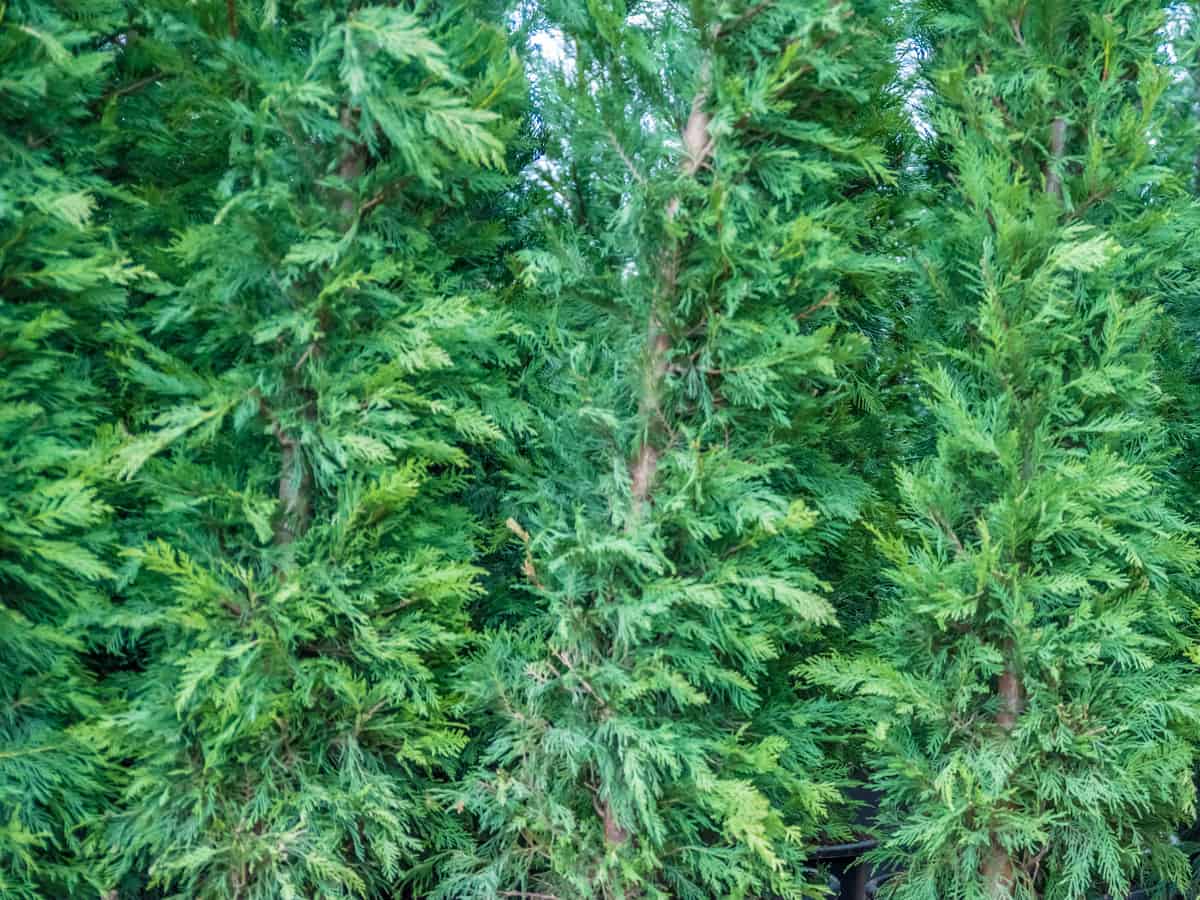 With a similar build to the Green Giant, the Emerald Green Arborvitae is one of the best privacy trees for small yards. The Emerald Green only needs three to four feet of growing space and reaches a mature height of about 14 feet.
These hedges for privacy also have a slower growth rate at just under a foot a year. The Emerald Green Thuja is also just as adaptable to varying soil conditions as the Green Giant, as long as the soil drains well.
Sky Pencil Holly (Ilex crenata)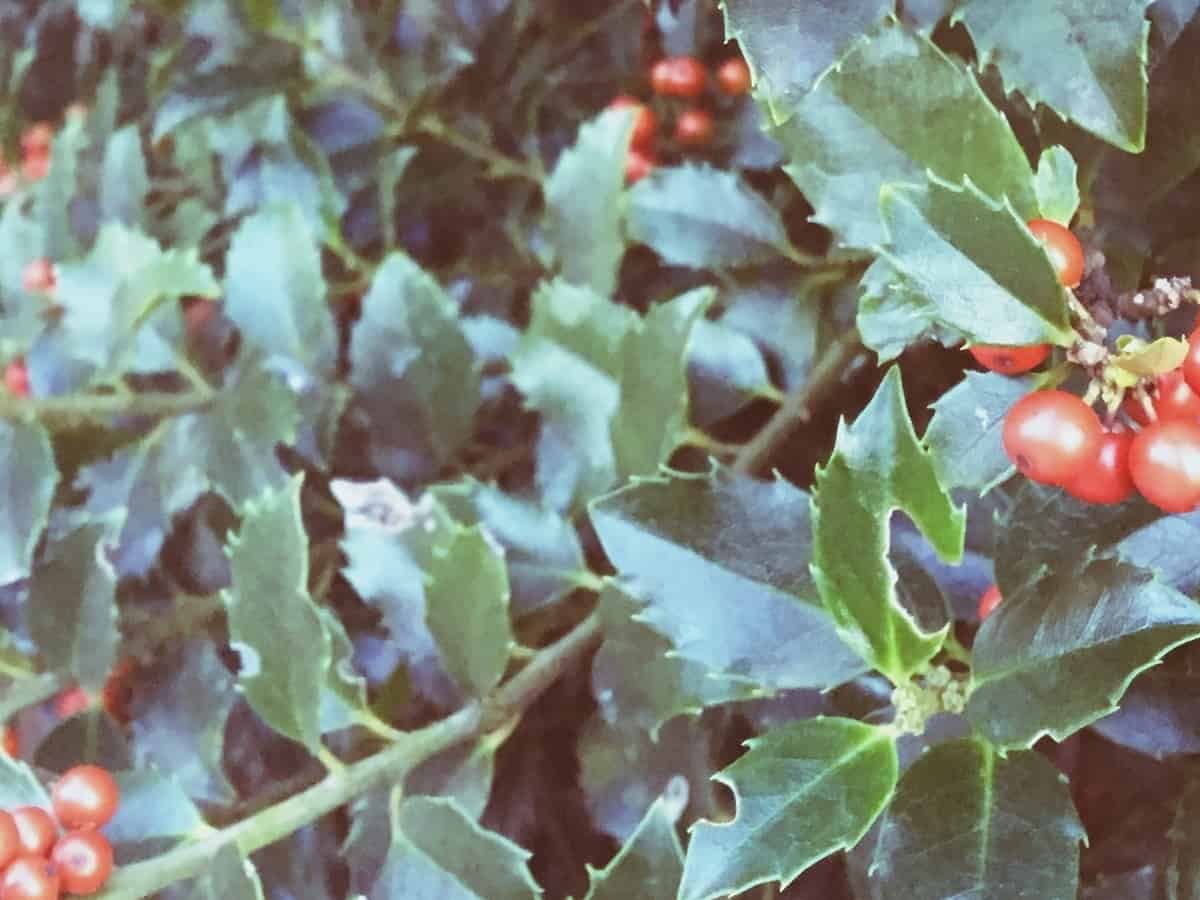 Another excellent option for a smaller yard, the Sky Pencil Holly is a beautiful evergreen privacy tree. With their constant green leaves, the Sky Pencil Holly is a reasonably low maintenance plant as long as it resides in a well-draining soil environment.
Not only that, if you have a small patch of your yard where you need to put up a privacy screen, the Sky Pencil Holly thrives in a container, too.
The Sky Pencil Holly is happy with both full sun and partial sun, so if you do place it in a container, you can move it around the yard without worry. The Sky Pencil Holly is one of the best evergreen trees for privacy.
American Holly (Ilex opaca) – The Festive Evergreen Trees for Privacy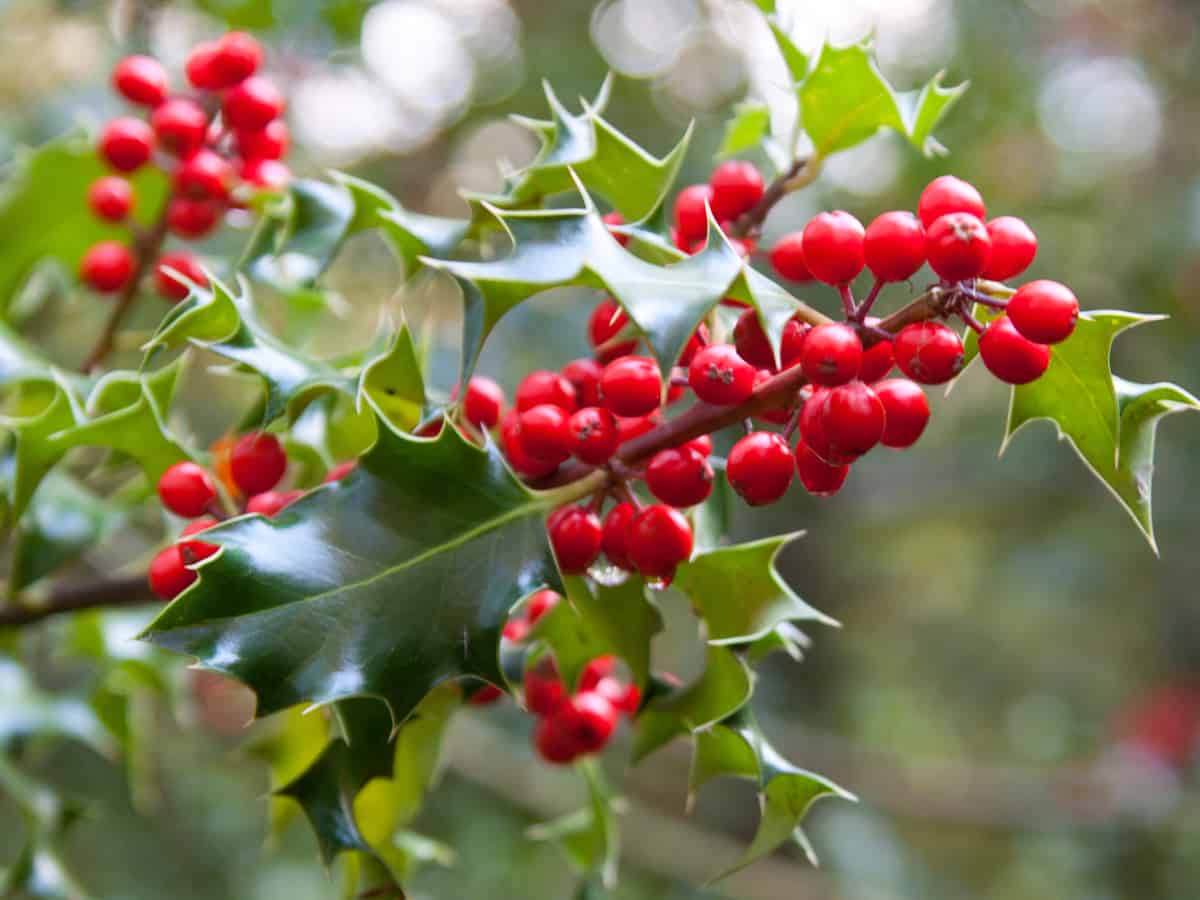 American Holly is an easy-to-work-with-tree that you can let grow to its mature height of 20 feet or you can prune and trim it down to more of a privacy hedge. Because the American Holly is an evergreen tree, it has green leaves year-round. There are also beautiful white spring flowers and bright red berries in the winter.
With a hardiness zone that spans most of the country, the American Holly is hardy well below freezing at temperatures as low as 0°F. Not only that, but this bright and colorful tree is also resistant to diseases, pests, and mold and mildew.
Willow Hybrid (Salix)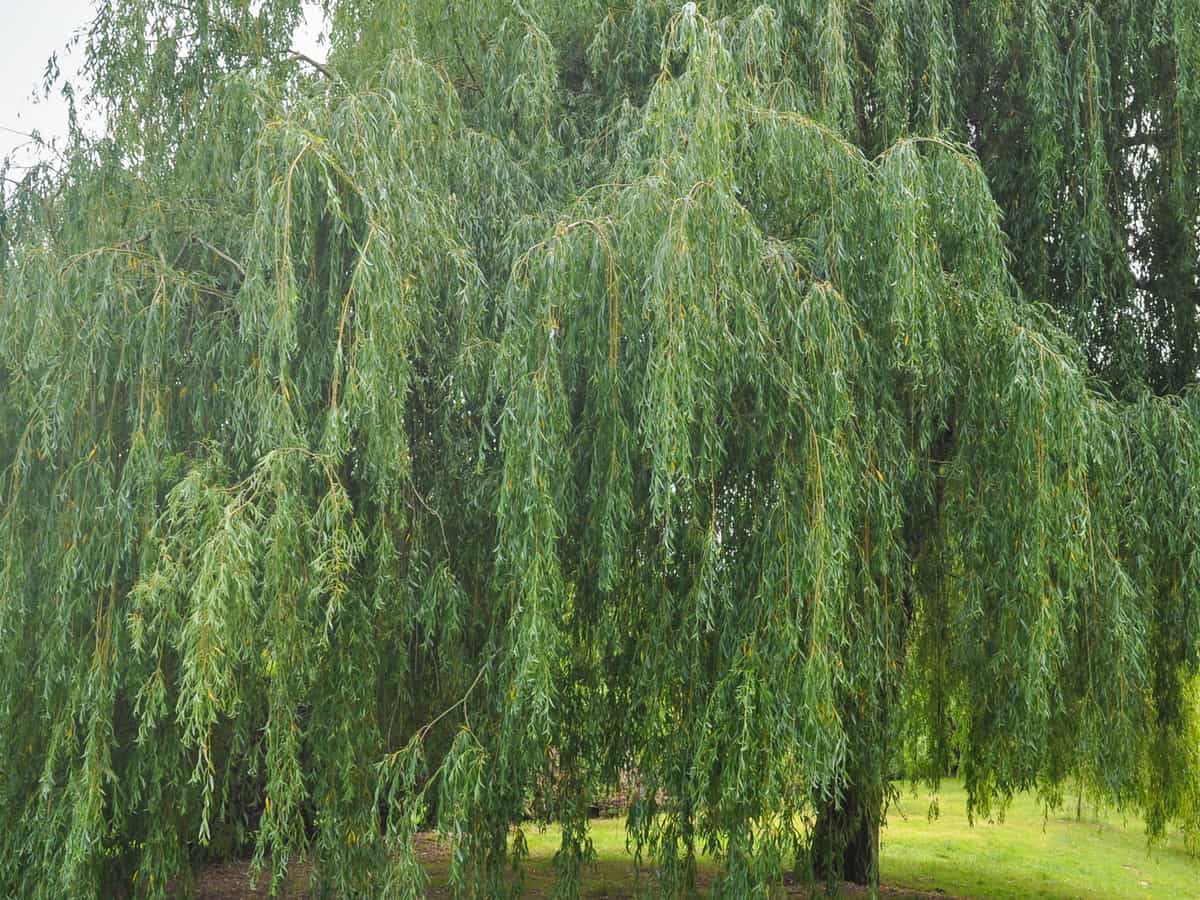 Because the Willow hybrids used as privacy trees are hybrids and have a complex and hardy genetic profile, they are very resistant to pests and diseases. However, willows require quite a bit of water, so these plants thrive in wetter environments or water them regularly.
Because willows are deciduous trees, they lose their leaves in the winter. However, that also means they require less water in the winter. Despite losing their leaves every year, the fact that they are fast growing privacy trees makes them a popular choice with gardeners and landscapers.
White Pine (Pinus strobus)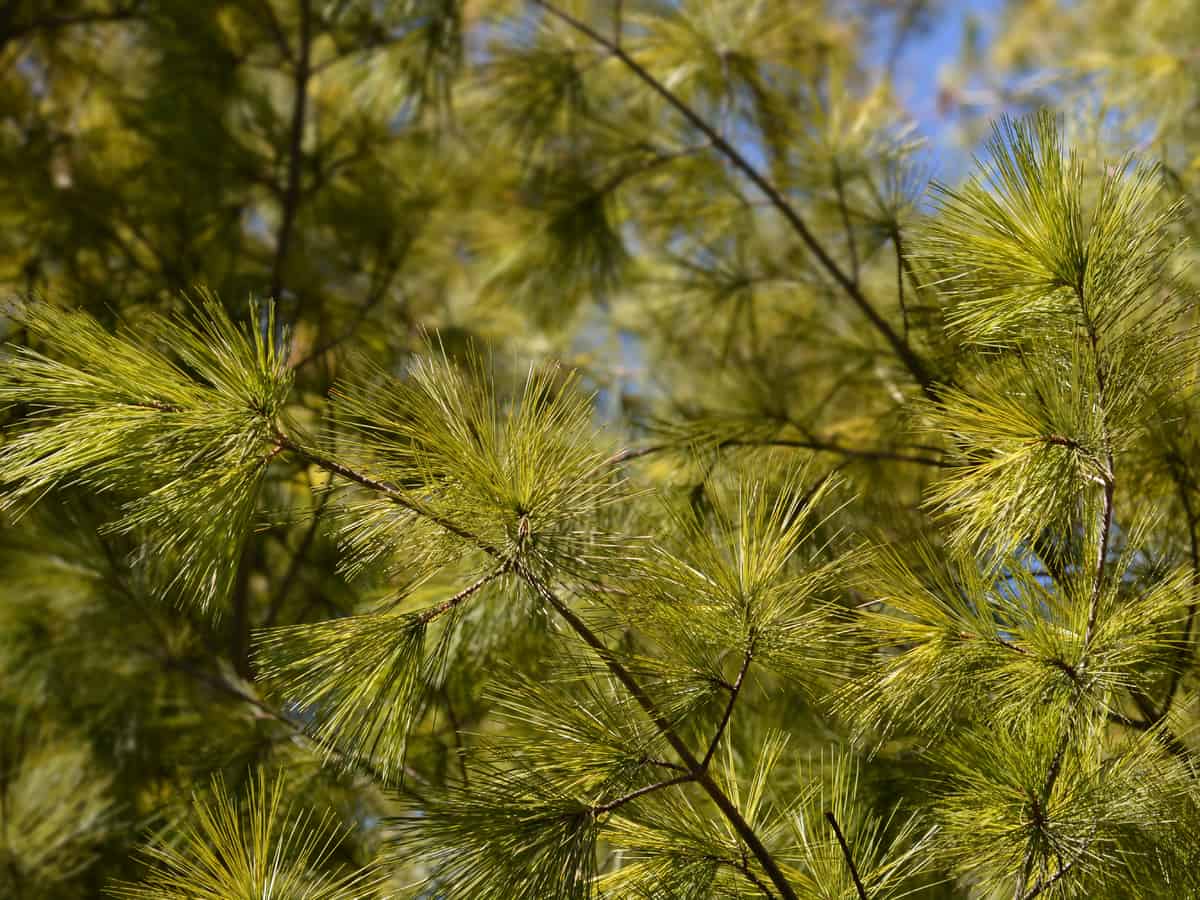 Pine trees are known for their height. The White Pine, specifically, has a mature height of more than 80 feet. However, there are columnar varieties that only hit a mature height of 20 feet.
These columnar varieties make for some of the best evergreen trees for privacy. The White Pine grows quickly and gives you the privacy fence you want.
Another attractive characteristic of the White Pine is its needles. Unlike other evergreen trees, the White Pine needles are a little softer and bend more in the breeze, creating a much softer feeling environment.
Concolor Fir (Abies concolor) – The Best Evergreen Trees for Privacy for Large Areas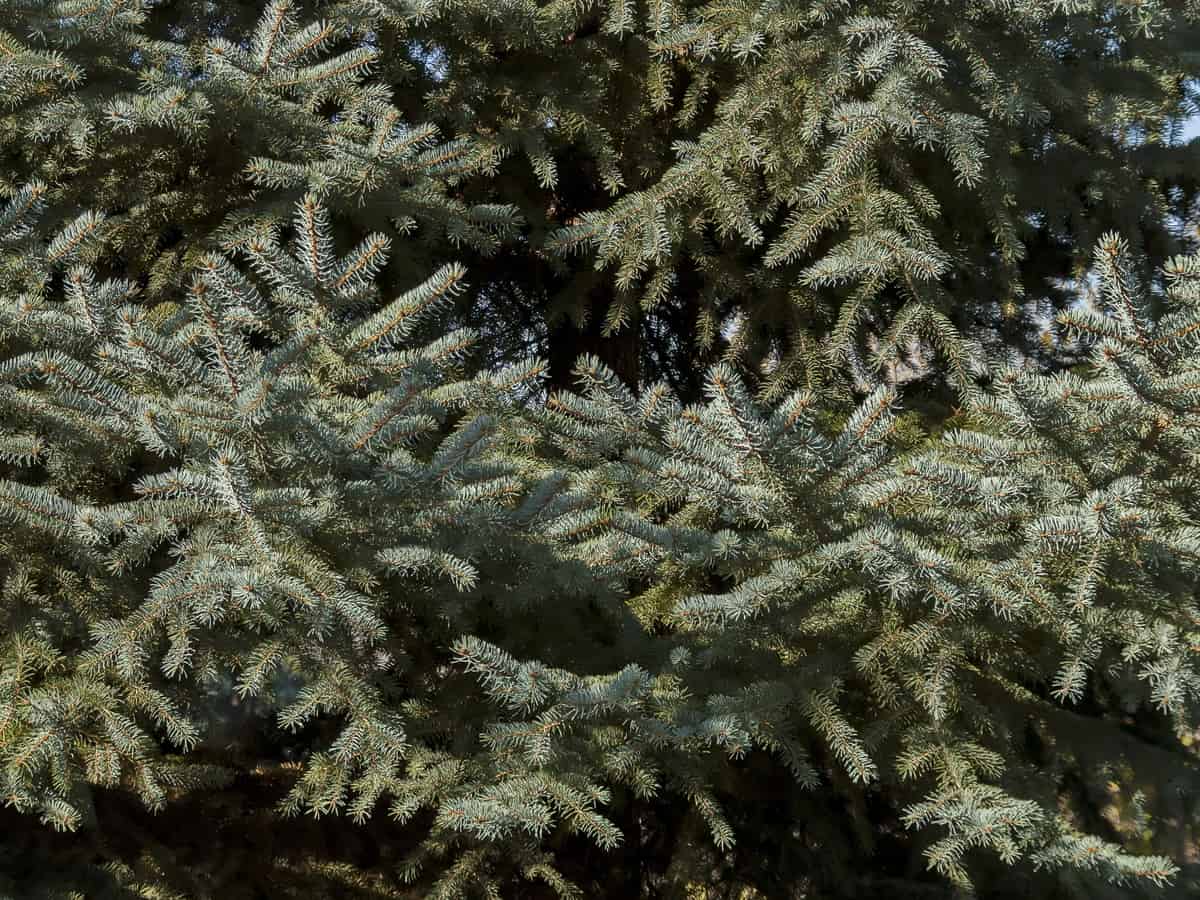 The Concolor Fir has a lot of similarities to the White Pine. It is also adaptable to almost any environment or climate, ranging from cold to hot and wet to trees for dry sites. As long as the soil that the tree has proper drainage, the Concolor Fir will thrive.
The Concolor Fir can grow as tall as 80 feet at mature height. It is also a reasonably full tree, thus making it an ideal selection for those with larger yards.
Douglas Fir (Pseudotsuga menziesii)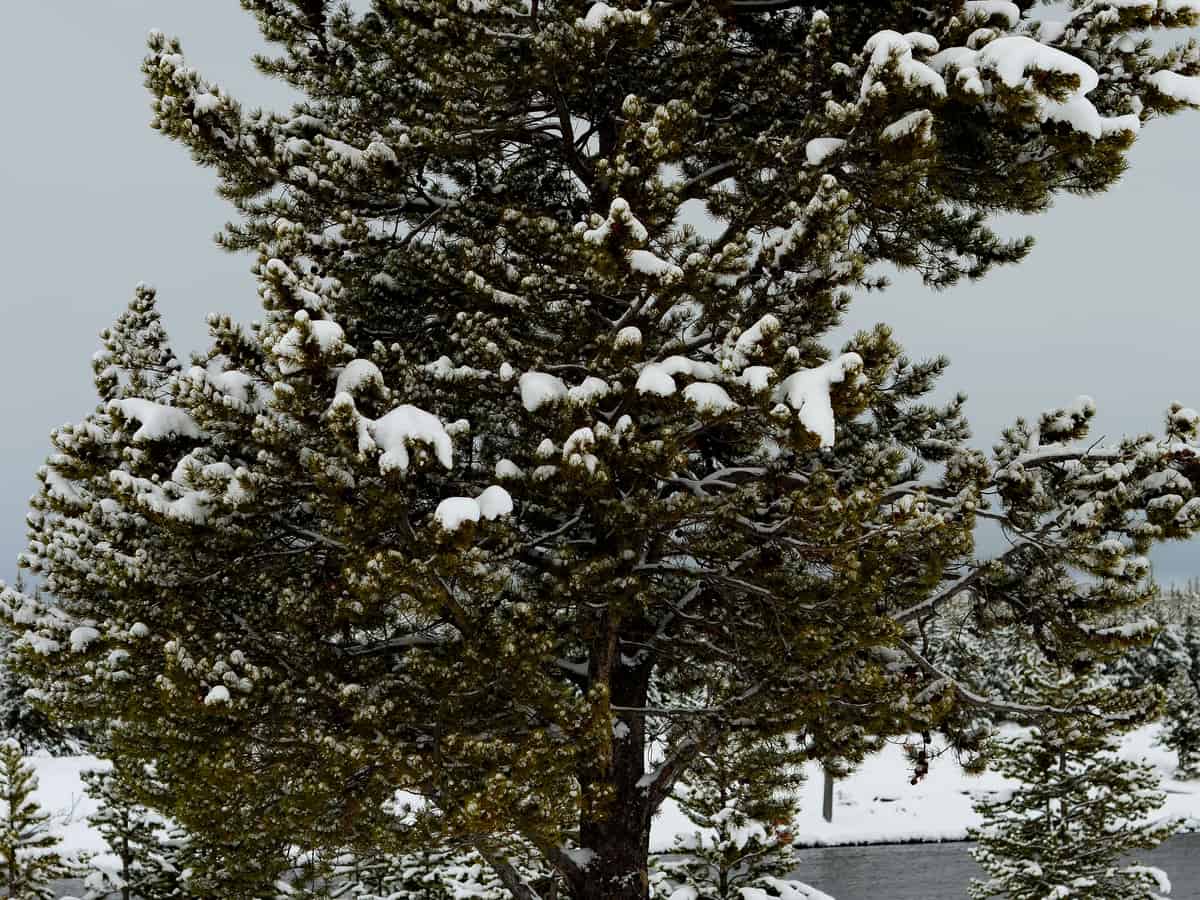 If you have a large yard, the Douglas Fir will serve as the perfect privacy landscaping tree. With a mature height that can reach up to 80 feet tall, the Douglas Fir provides ample cover and protection, making them some of the best trees for privacy.
Additionally, Douglas Fir trees have all of the favorite evergreen attributes that make them so attractive. With their blue-green foliage and spiral shape, you will feel as though you are in a mountain hideaway right in your backyard. Keep in mind, however, that the Douglas Fir does not thrive in hot, dry climates.
Norway Spruce (Picea abies)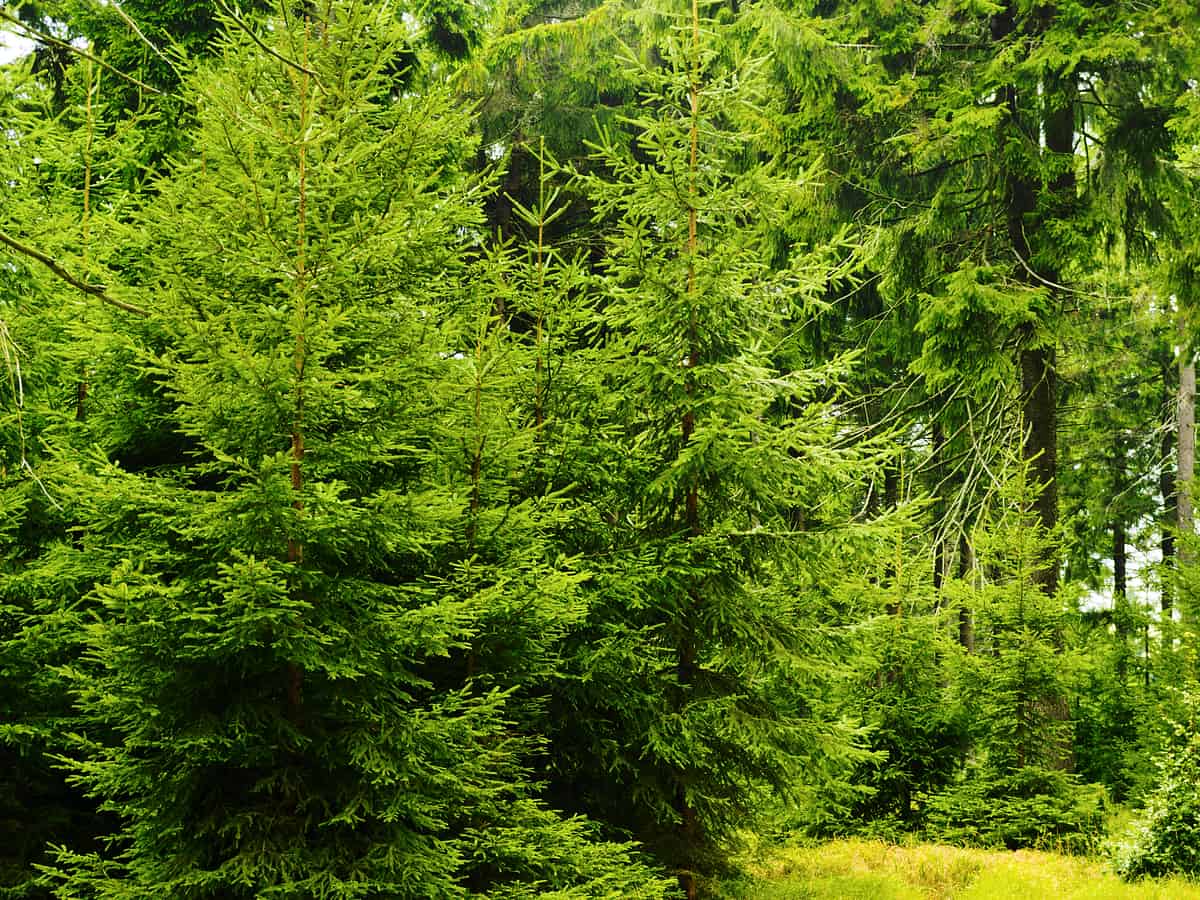 The spruce tree is one of those quintessential evergreen trees. One key difference, however, is that the branches of the Norway Spruce hang down, creating an almost weeping willow effect. This unique shape helps differentiate the Norway Spruce from other evergreen trees.
However, the Norway Spruce still has the pyramidal, cone shape that is so characteristic of towering evergreens. The Norway Spruce's dense foliage cover makes it one of the best evergreen trees for privacy.
Upright Juniper (Juniperus virginiana) – Privacy Trees for Every Environment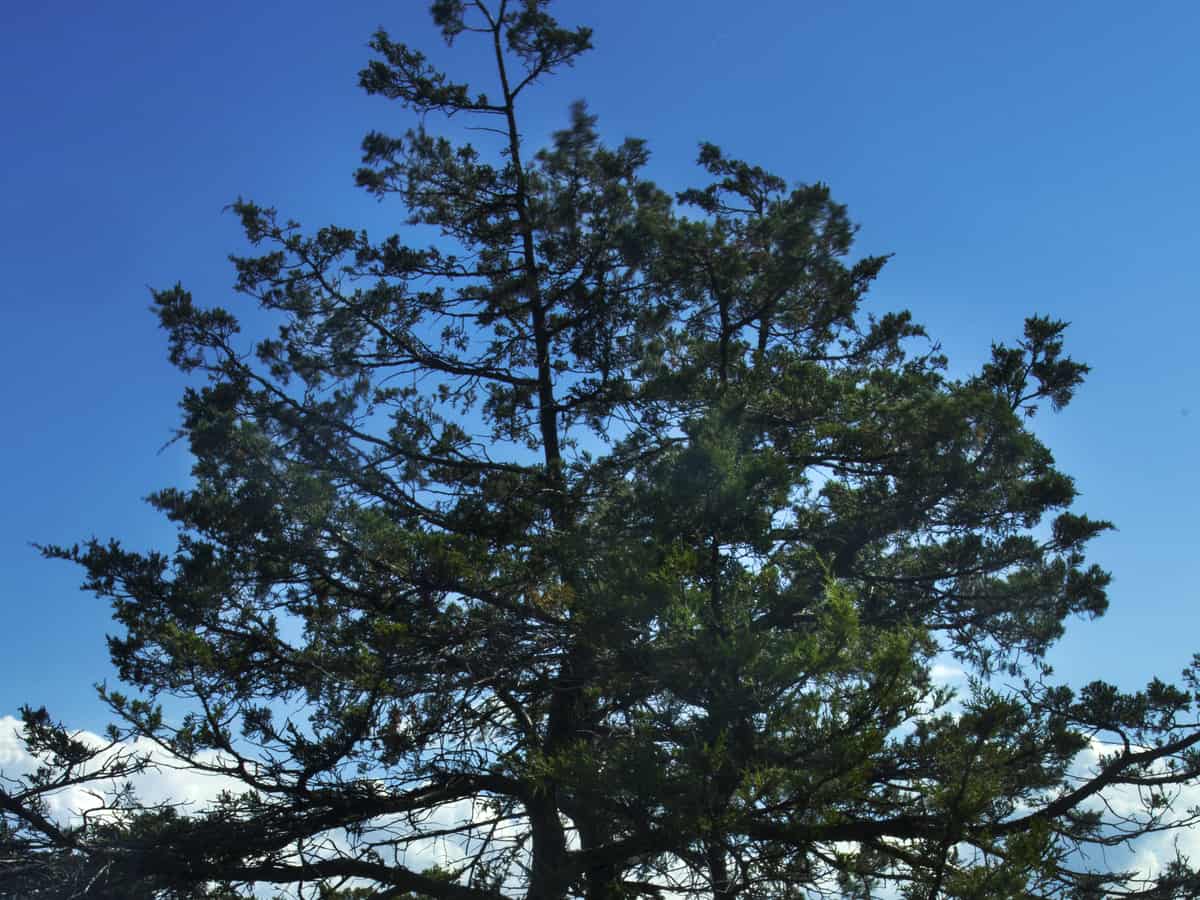 For those living in more extreme climates, such as swamp-like conditions or even in dry regions with little rainfall, there is a unique, highly adaptable tree perfect for your yard: the Upright Juniper. This relatively tall and skinny tree makes a wonderfully dense privacy screen, and its conical shape has that classic evergreen look.
With dark, evergreen year-round foliage, the Upright Juniper provides a beautiful emerald hue in your backyard. In some areas, the tree may get duller in the winter, but it does not lose its foliage.
Goldspire Ginkgo (Ginkgo biloba)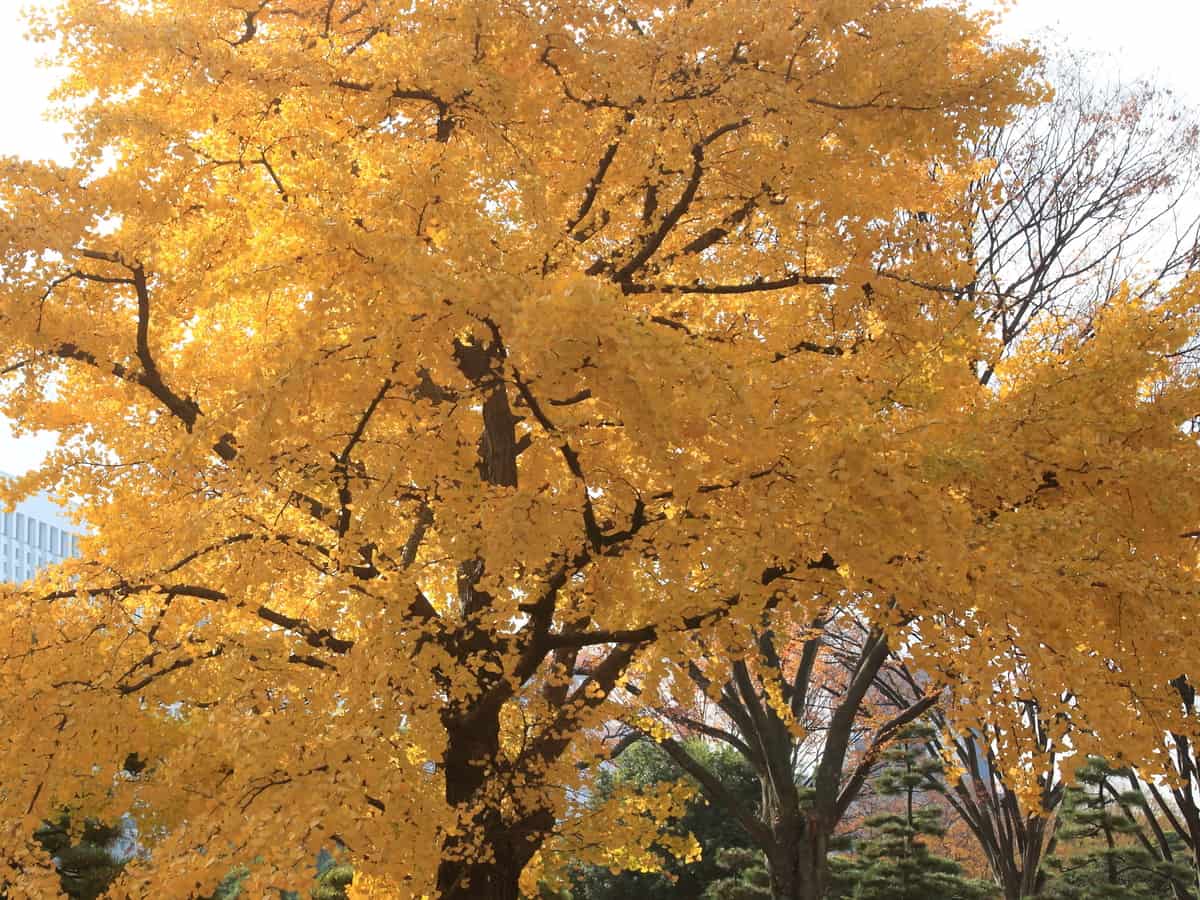 For a little bit of color in your privacy fence, consider the Goldspire Ginkgo. The ginkgo trees have bright green leaves in the summer and golden yellow leaves in the autumn, which eventually fall the ground.
While you may not make your entire privacy fence out of ginkgo trees, having a few add that beautiful pop of color with the changing seasons. Additionally, their pyramidal shape provides an interesting textural contrast with your other landscaping center points.
Ginkgo trees are unique in another way. The Ginkgo is considered a living fossil, meaning that there has been little to no evolutionary change in the plant in the hundreds of millions of years it has appeared in the fossil record.
Flowering Dogwood (Cornus florida)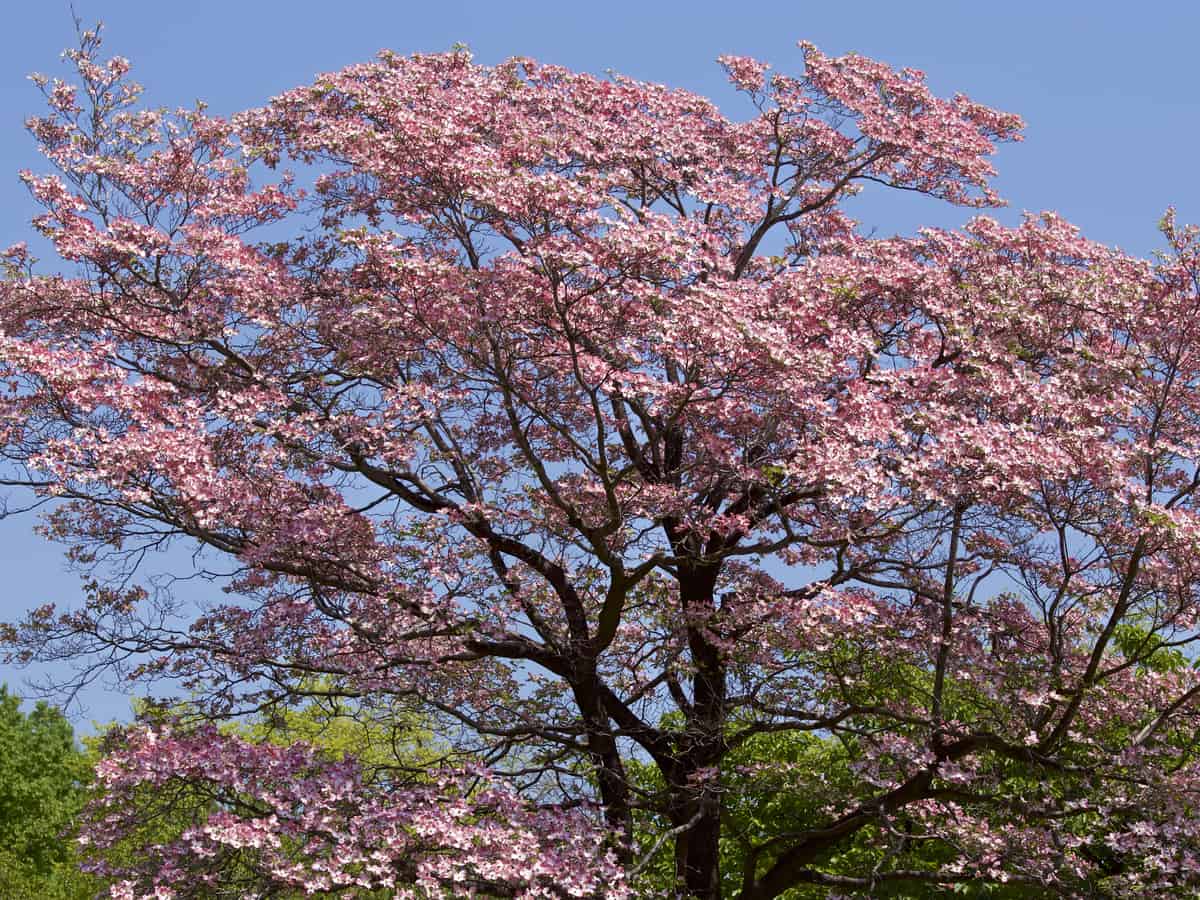 Another fun way to add a variety of color to your landscaping designs, adding the Flowering Dogwood is a beautiful choice for your privacy screen. However, the Flowering Dogwood is also a seasonal selection. In the spring, you will enjoy some of the most beautiful spring flowers.
Hues of pink, white, or red decorate your yard (depending on which variety you choose). With the flowers come berries. These berries attract a variety of songbirds and other land birds, which bring your yard to life after the winter.
Wax Myrtle (Myrica) – The Versatile Privacy Tree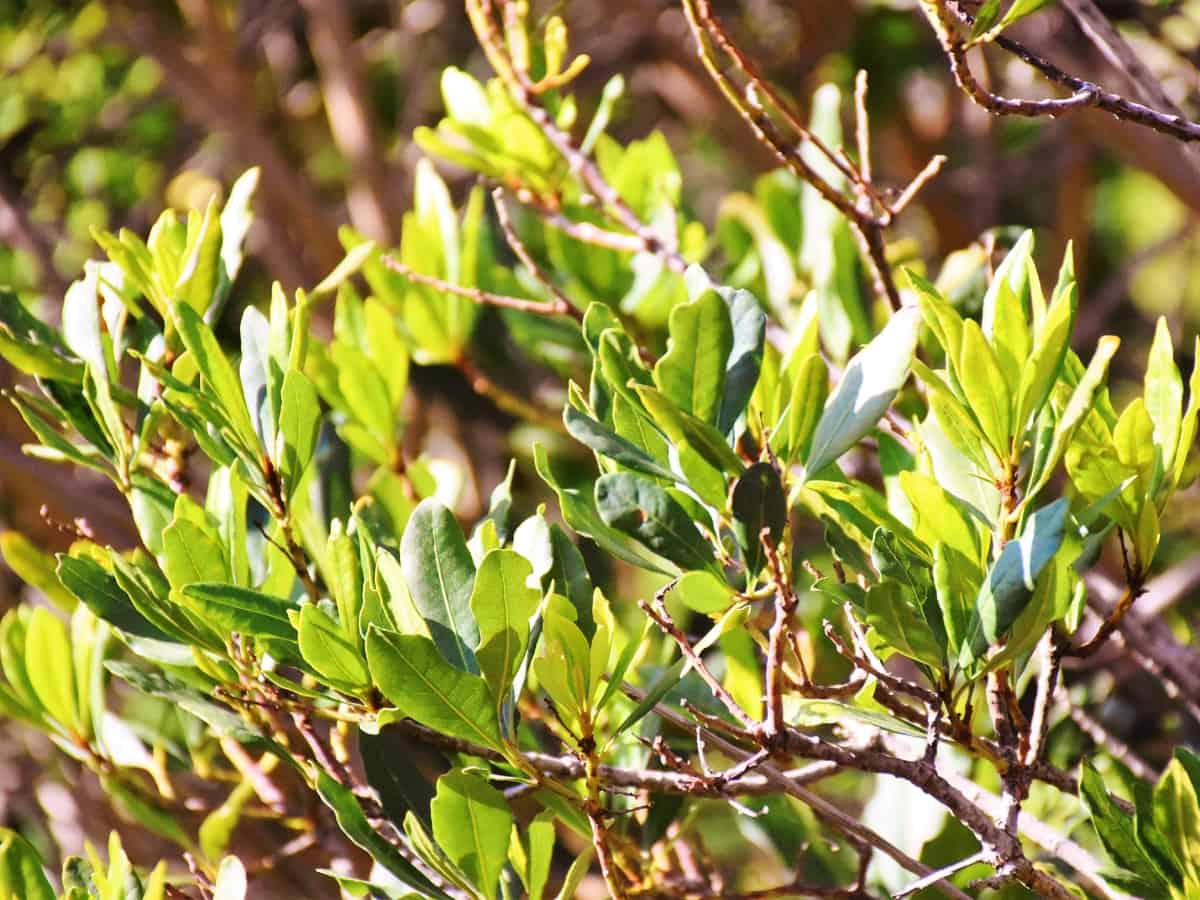 If you're looking for some evergreen shrubs, the Wax Myrtle is a great option. The Wax Myrtle can act as if it is a tree or a shrub, depending on the space you are looking to fill. If left alone, the plant grows as tall as 20 feet. These fast growing privacy trees are relatively low-maintenance; only occasional pruning is necessary.
The Wax Myrtle grows in a variety of light, soil, and environmental conditions. Its hardy characteristics make it a great option to create an entire privacy fence.
With all these different potential landscaping options available, your backyard landscaping project just got that much easier. Whether you're looking for tall trees, fast growing trees, or the best evergreen trees for privacy, hopefully, you found a couple of ideas to turn your backyard into the perfect magic garden.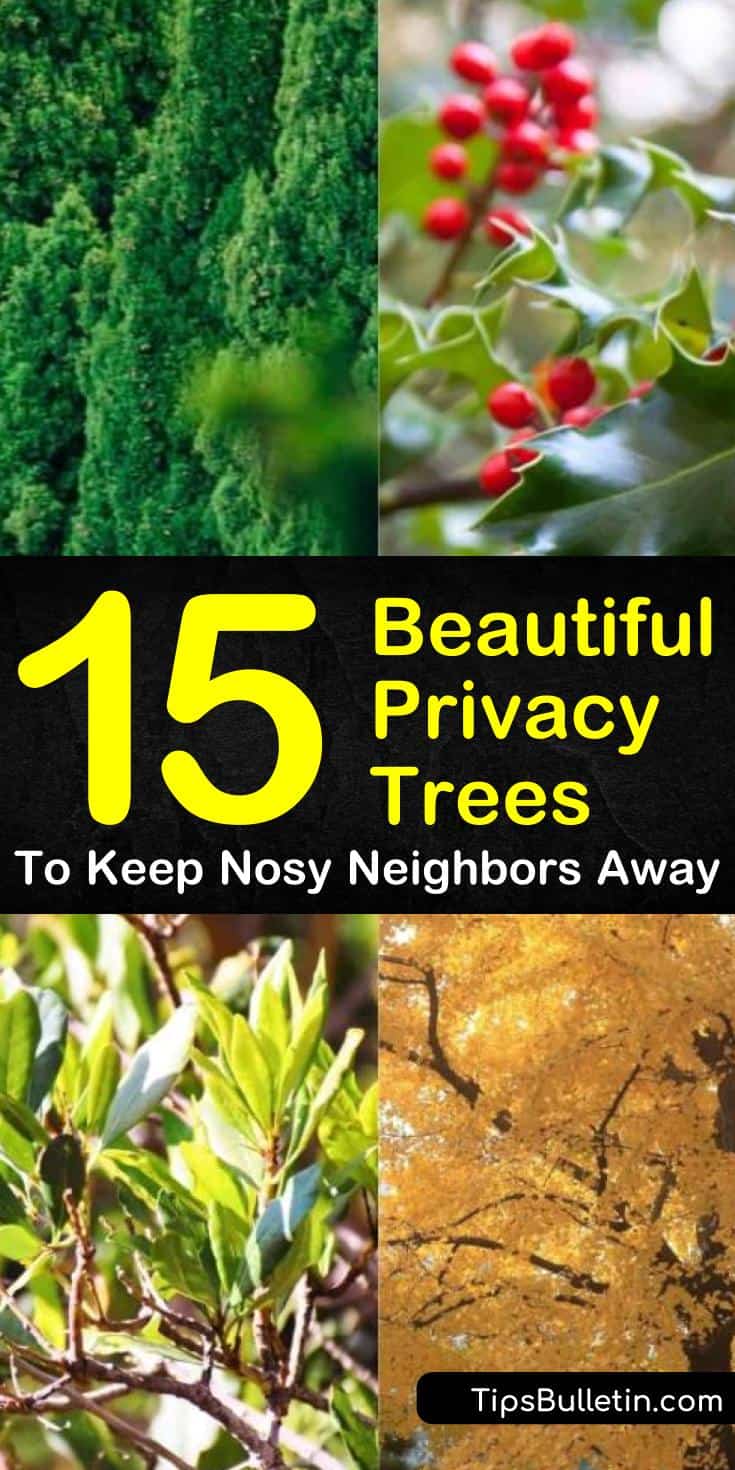 If you found this article about privacy trees enjoyable, please share these privacy landscaping ideas with others on Facebook and Pinterest so everyone can have a beautiful garden.