Cauliflower is grown similarly to cabbage, although it takes more attention. Many growers encounter problems with growing cauliflower from brown spots on cauliflower blooms to cauliflower turning brown. Despite the challenges, growing cauliflower in the garden is a worthy undertaking.
Cauliflower plants produce tasty cauliflower heads rich in nutrients, low in calories, and delicious when eaten raw as a snack or enjoyed in cauliflower cheddar soup.
Cauliflower needs to start indoors until after the last frost date to ensure germination before transplanting and has a diverse growing season. If planted early spring, it experiences cool temperatures early and heat later, making growing cauliflower more challenging.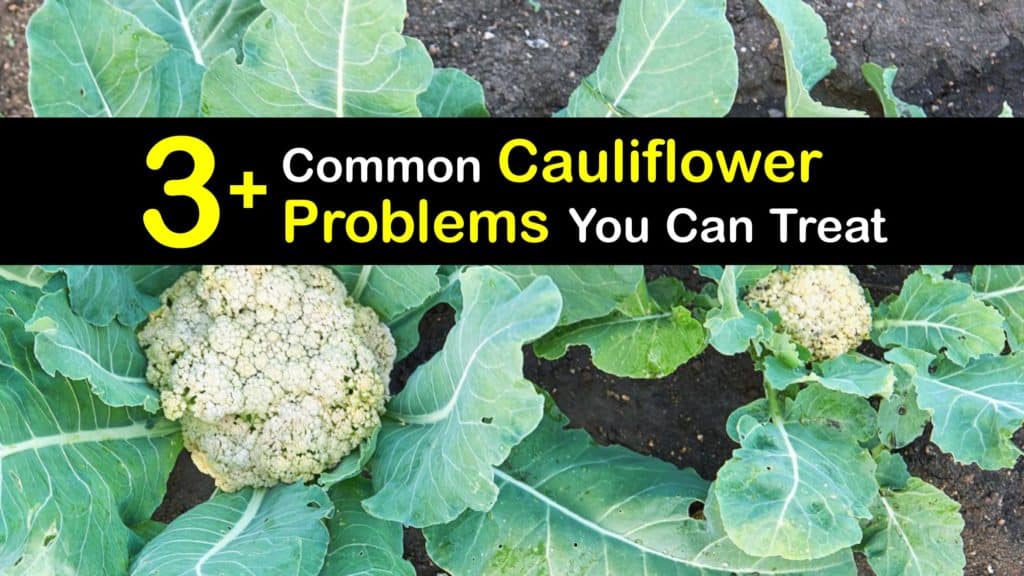 Common Treatable Problems with Growing Cauliflower
Cauliflower is a member of the Brassica oleracea family, like cabbage, Brussels sprouts, kohlrabi, and kale. Growing cauliflower produces large edible curds surrounded by healthy outer leaves.
The best time to plant cauliflower is the summer for fall harvest, and it is more straightforward to grow and tastier when picked as a fall crop. Cauliflower prefers to mature and go through the stages of cauliflower growth slowly in cool weather. As they are cool-season vegetables that thrive at 60-68°F, cauliflower is one of the cole crops.
If you're growing cauliflower and having issues with loose cauliflower heads, dark spots on cauliflower, cauliflower bugs, or black spots on cauliflower, rest assured these issues are treatable, and problems with growing cauliflower do not have to mean a failed harvest.
Curds are the dense white-colored heads often chopped and roasted, boiled, or used in soups. Cauliflower has high potassium and is rich in flavor, making it an excellent addition to the garden for a grower with some experience.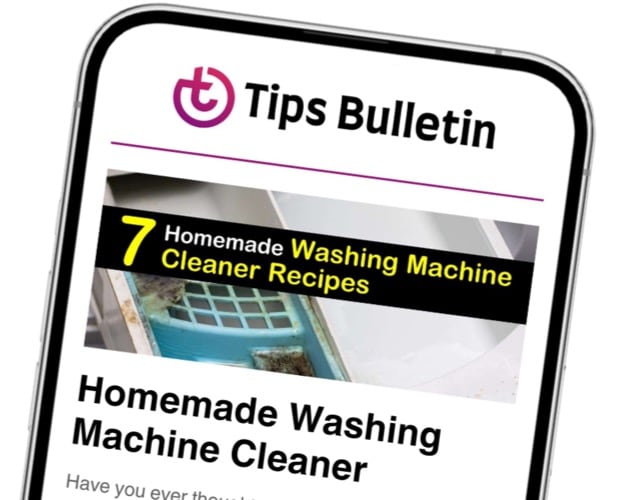 Finally, an email that Transforms Your Home.
Get the latest home and garden tips from our experts, delivered straight to your inbox.
When you plant cauliflower seeds, know that the cauliflower needs consistent moisture, mulch, timely blanching, and protection from fungal and insect larvae infections to thrive. If your cauliflower is turning brown or you notice brown spots on cauliflower, follow this simple guide to identify and resolve your problems with growing cauliflower.
Downy Mildew May Lead to Brown Spots on Cauliflower
Downy mildew is a fungus-like microbe affecting nearly all plants in the Brassicaceae family and overwinters in roots or infected plant debris and organic matter. Tiny lesions appear on the leaves and heads.
These lesions grow and become irregular, and you may find yellow to brown spots on cauliflower, with dense spores emerging on the leaf undersides. Leaf undersides have a grayish purple, downy look due to the thick covering of fungal spores giving downy mildew its name.
Remove plant debris and infected organic matter to combat downy mildew, and rotate non-brassica crops every season as a preventative measure.
Fungus thrives with moisture. Improving air circulation around plants, watering early in the day, and spraying fungicides are helpful. Air circulation helps the leaves and heads of your cauliflower plants remain dry, and watering early in the day gives the sun chance to dry any surface moisture before sunset.
If you have brown spots on cauliflower, make a homemade fungal spray to destroy downy mildew without harming your cauliflower plants.
Spray the combined ingredients on all heads and leaves of infected plants as a remedy for any powdery mildew (like downy mildew). If brown spots on cauliflower are persistent, consider planting cultivars resistant to downy mildew.
Problems with Growing Cauliflower – Clubroot
Of all the problems with growing cauliflower, clubroot is probably the worst since it may live for up to 10 years in soil and decaying organic matter, rendering the garden area it infects unusable for cultivating vulnerable cruciferous crops.
Clubroot is characterized by swollen, distorted, club-shaped roots and poor growth. The enlarged roots eventually turn black and emit a rotten odor. Although the infection isn't usually visible above ground, it may cause wilted, yellowing, or purple leaves in some circumstances.
Clubroot is exceedingly difficult to control, and the only way to do it is to rotate your crops, which means planting cruciferous plants no more than once every three or four years in the same area of the garden.
If clubroot infects your garden soil, your only option is to promptly remove and discard infected plants, as this is the only method to prevent the illness from spreading.
Boron Deficiency – Cauliflower Turning Brown
Cauliflower turning brown is usually caused by a deficiency in boron, a vitamin required for optimal cell growth. A deficit leads to a cascade of problems, resulting in discoloration, deformation, and an unpleasant bitter flavor. There are, however, numerous reasons why a well-developed head may abruptly begin turning brown.
Although boron deficiency usually precedes cauliflower turning brown, exposure to full sun could be the culprit, too. It's also conceivable aphids are creating trails and attracting infections like downy mildew to inflict injury to your plant, which may start as a color change.
Before transplanting cauliflower to the garden, a soil test is best to avoid a mineral deficit. Mineral deficiencies cause many problems like browning and buttoning, resulting in a less robust harvest.
Cauliflower plants are heavy feeders, and boron is an essential micronutrient for their growth. Supplement with boron if your cauliflower turning brown is an issue in your garden.
Additionally, consider planting your cauliflower crop under floating row covers, using diatomaceous earth as a preventative step, and keeping the garden weeded to reduce insect damage and help prevent cauliflower disease spread.
Growing Condition Problems with Growing Cauliflower
Full sun exposure causes loose cauliflower heads, but thankfully, you can quickly blanch your cauliflower to fix this. Blanching shields the cauliflower heads from the sun using their outer leaves.
When your cauliflowers are about the size of a doorknob, wrap the outer leaves around the white curd of the cauliflower and tie them in place with string or a rubber band. The leaves form a natural and breathable protective layer to keep the curd out of full sun and ensure tasty and tender florets come harvest time.
Young plants blossom and generate seeds without producing heads when exposed to cold. Cauliflower plants are bolting when they flower and focus on seed production rather than making edible cauliflower heads.
Protect young cauliflower plants from the cold with floating row covers, and transfer transplants to your garden no earlier than about two weeks before the forecasted last frost date in the spring. Use mulch as a barrier to help maintain soil temperature by providing insulation from hot and cold weather.
Various problems with growing cauliflower occur beyond those mentioned here, even for the seasoned gardener. Aphids, the cabbage looper, flea beetles, cabbage worms, and other insects may visit your brassicas, or bacterial infection may ravish the garden.
The best strategy for catching problems with growing cauliflower, such as brown spots on cauliflower or cauliflower turning brown, is to check your crops often.
By examining curds, florets, and outer leaves regularly, you ensure you notice any issues early and treat them before they become serious. Rotating crops every year and not growing brassicas in the same spot also helps reduce problems with growing cauliflower.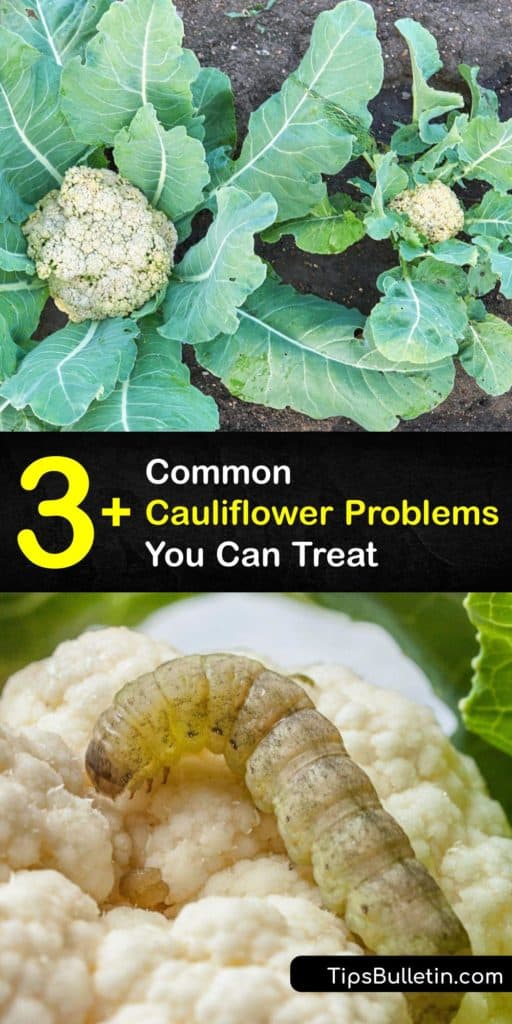 If you loved this article on problems with growing cauliflower, please share these brilliant tips for cauliflower turning brown with your family and friends on Pinterest and Facebook.