Growing a garden of summer squash (Cucurbita pepo), gourds, and giant pumpkins is a satisfying experience. However, that feeling quickly fades if you check on your plants and find the pumpkin vines covered with white fuzz or the pumpkin leaves turning color. There are various reasons for pumpkin leaves turning yellow or white, and we explain the causes and provide tips for prevention.
While gardening is a rewarding task, a lot of hard work and time goes into the process. The last thing we want is to discover that it was all for nothing. Finding wilting, yellow leaves on a pumpkin plant is cause for concern. While there are many explanations for the yellowing or discolored foliage, often, the reason is not readily apparent.
Some of these problems are caused by bacterial or fungal disease, other times, it's the result of an insect infestation, and sometimes it's as simple as nutrient deficiencies. It's essential to understand what you're dealing with to remedy the situation.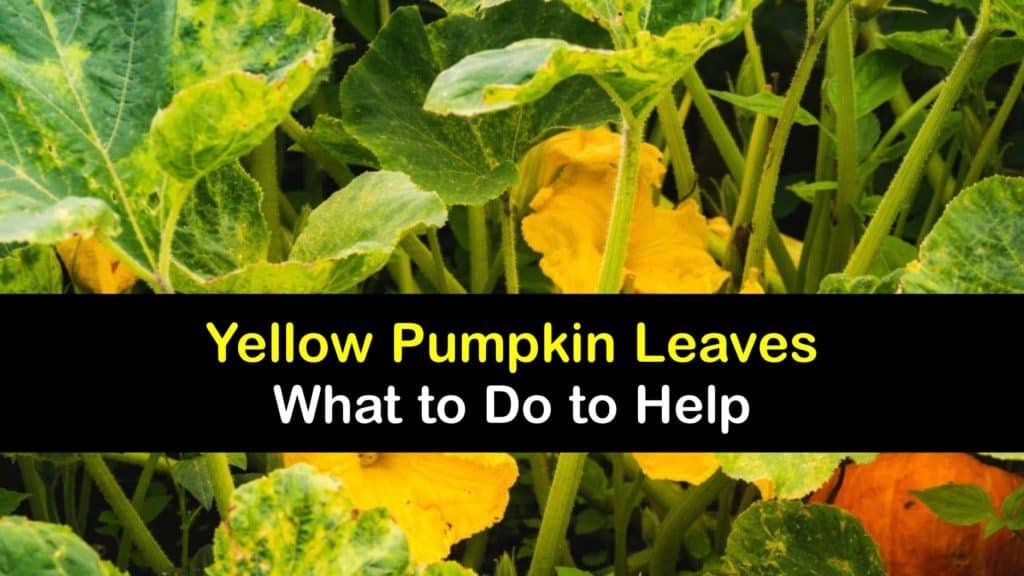 Common Pumpkin Plant Problems
There are different reasons that a healthy pumpkin patch begins to struggle. Since pumpkins take up to four months to grow, a lot can happen. Sometimes wilting or discolored pumpkin leaves result from overwatering or poor soil. However, pumpkins are slow growers, and there are other things to contend with throughout the growing season, including pumpkin bugs and diseases.
Learn common causes for pumpkin leaves turning white or yellow and how to stop them from ruining your entire plant or crop. While there is a difference between squash and pumpkins, they have many of the same issues. In addition, find out how to get rid of harmful insects on your pumpkin plants and take preventative steps to ensure that disease doesn't spread through the garden.
What's Wrong with My Pumpkin Plants?
Many conditions affect garden plants, and pumpkins are no exception. Even though there are so many different varieties of pumpkins, they can all be susceptible to growing issues.
Fortunately, these plants have a way of telling us that there is a concern with their yellowing leaves or wilting vines. Here are some of the most common issues you may encounter with pumpkin plants.
Growing pumpkin plants is challenging if you do not provide them with the right conditions, and overwatering or underwatering your plants causes them to suffer.
Watering your plants too much leads to mold growth and root rot, and not giving them enough water causes them to wilt and die. To avoid yellowing leaves, plant your garden in full sun and give your pumpkin plants an inch of water each week.
Fungal and bacterial diseases are other issues, and many affect pumpkin plants. Pumpkins encounter common diseases like downy mildew, fusarium wilt, bacterial wilt, and Phytophthora blight.
The best ways to prevent plant disease are to perform crop rotation, sterilize garden tools after each use, keep your garden free of plant debris, water your plants at ground level, and plant disease-resistant varieties.
Many diseases are present in the soil, and it's helpful to have your garden dirt tested at your local cooperative extension office before planting time. Doing this also ensures that you have the proper soil type for growing pumpkins.
Pests like squash bugs, aphids, cucumber beetles, and the squash vine borer are insects that cause havoc on these plants. They eat the pumpkin vines, roots, and leaves and cause plant distress, leading to disease.
Pumpkin Leaves Turning White
Pumpkin leaves turning white is a sign of disease, and it affects just about any type of plant, from grass and weeds to shrubs, vegetables, and gourds. Discover what this disease is and how to prevent it from taking over your plants.
Powdery Mildew
The leading cause for white leaves on your pumpkin plant leaves is powdery mildew. It makes its presence known by covering the stems and leaves with a fine white powder, and while it looks unpleasant, a mild case of this disease is not fatal.
However, if you do not treat your pumpkins, the mildew spreads and may affect your pumpkin flavor and yield. This foliar disease is most common in areas with high humidity, and cucurbits are highly susceptible.
The simplest way to take care of this issue is through prevention. To get rid of powdery mildew on squash leaves, prune dead plant material and infected plants, avoid growing plants too close to each other to allow air circulation, and apply a fungicide if necessary.
Pumpkin Leaves Turning Yellow
While white pumpkin leaves signify disease, pumpkin leaves turning yellow is a different concern since there are many causes. You may find some zucchini plant leaves start turning yellow as well. Find the main reasons for yellowing foliage to help you determine your next plan of action.
Downy mildew and verticillium wilt are diseases that affect pumpkins, turning the leaves yellow. Verticillium wilt turns the crown leaves yellow, and then the plant eventually falls over and dies, while downy mildew causes yellow lesions on the upper, older leaves and fuzzy growths on the leave's undersides.
Like spider mites, squash bugs, and whiteflies, pests turn the leaves yellow as the larvae and insects eat sap from the stems and leaves. Yellowing cucumber leaves are a similar problem. A sign of spider mites is fine webbing beneath the foliage, and whiteflies are tiny bugs that fly up in a cloud when you disturb your plants.
Squash bugs are brown and flat on top, and they lay clusters of reddish-brown eggs on the vegetation. It's vital to remove the harmful bugs by hand or use natural pesticides or insecticides as soon as you discover their activity.
Another culprit of yellow pumpkin leaves is poor nutrition. Pumpkin plants require high levels of nutrients, and spreading a three-inch layer of aged manure around the base of the plant and using an 18-18-21 fertilizer diluted with water each week gives them what they need to thrive.
Eliminate Pumpkin Bugs in the Garden
If you discover that your plant's yellow leaves are due to pumpkin bugs, it's time to take immediate action to prevent the pests from destroying your entire garden. Prepare a DIY bug treatment to keep your pumpkin patch free from squash bugs and other harmful insects.
The female flowers on your pumpkin plants require pollination from bees and other pollinators to produce fruit, and many commercial pesticides kill all insects, including beneficial ones.
To make a pollinator-friendly insecticide, pour a liter of water into a spray bottle and add a teaspoon of mild liquid soap. Close the container and shake it carefully to avoid creating too many suds.
After you make a spray for squash bugs and other pests, spray the homemade insecticide directly on bugs when you see them to kill them on contact or slow them down for easy hand removal. Use this treatment at dawn or dusk when pollinators are not active.
Growing your own pumpkins at home is fun and rewarding, but it's vital to provide your plants with adequate water, proper soil, and nutrition to ensure they stay healthy. It's equally important to watch for pumpkin pests and take preventative steps to stop the spread of plant disease.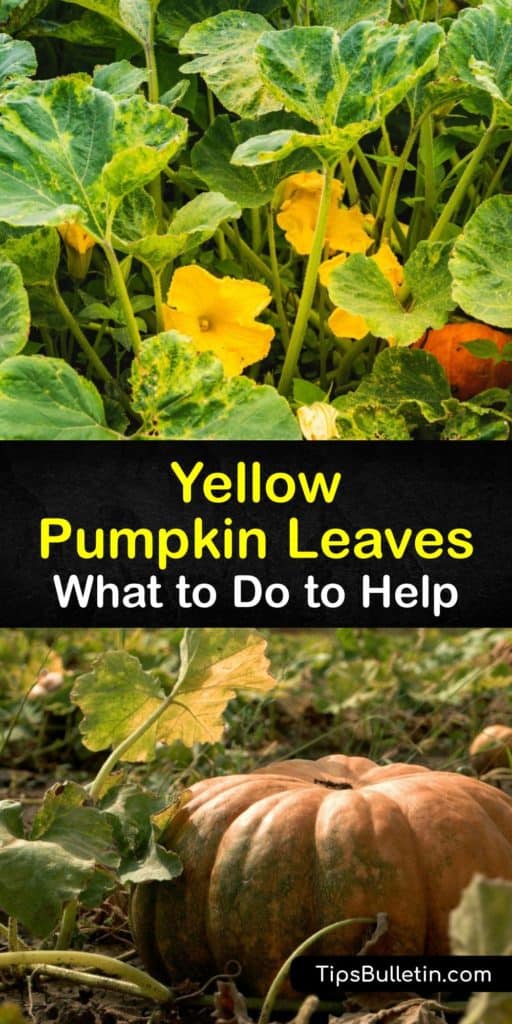 While pumpkin leaves turning yellow is cause for concern, there are ways to remedy the situation and save your pumpkins, so why not share our pumpkin plant disease and pest prevention guide with your friend and family circle on Facebook and Pinterest?