Pumpkins and gourds are both bushy plants common in the northern United States. They have nearly identical features, posing the question of what are pumpkins vs gourds? Both plants have a maturity time ranging from 100 to 129 days, and gourds and pumpkins are both members of the Cucurbitaceae family.
The gourd's primary use is for decorative purposes as vessels or containers in home decor or to make musical instruments like drums and string instruments. Pumpkins are edible fruits used when ripe for several sweet and savory dishes, such as flavorful and creamy pumpkin soup or sweet pumpkin puree dessert pie.
Due to their similar characteristics and appearance, confusion over differences between pumpkin and gourd or how to tell the difference between pumpkins and squash is common among growers. Understanding a few of the different qualities of the members of the Cucurbitaceae family makes identifying a gourd vs pumpkin a breeze.
The Common Difference between Pumpkin and Gourd
According to the Missouri Botanical Garden, squashes, gourds, and pumpkins are all members of the Cucurbitaceae family. With almost 900 species, it is a relatively extensive fruit group.
Pumpkins, spaghetti squash, honeydews, watermelon, cucumbers, and beautiful decorative gourds that dominate tablescapes and porches are all members of this family. Most growers put gourds, pumpkins, and squash together as one difficult-to-peel fruit, but though they are related, they aren't the same.
Appearance Difference between Pumpkin and Gourd
Pumpkins vs gourds are different in their physical appearance, which helps tell them apart. A pumpkin is a winter squash cultivar. Pumpkins range in hue from yellow to orange, and their shapes vary from oblate to globular to rectangular, with some having white skin.
The rind is smooth with a few little furrows or ribs. The fruit stem is ridged and angled, firm and woody. These fruits ripen in early fall and may be stored in a dry place above freezing temperatures for a few months before consumption.
Hard-skinned gourds are usually shades of green at first, with white mottling. They mature to a tan or brown tint after drying or curing. Soft-skinned gourds come in a rainbow of colors: orange, yellow, green, white, and blue. Gourds grow in various shapes, frequently covered in bumps and warts.
Plant gourds in the spring as soon as the risk of frost has passed. They are slow-growing, taking 75 to 110 days or longer to mature or up to 180 days after planting if you leave them to dry on the vine.
The difference between pumpkin and gourd is apparent from studying a few of the characteristics of the fruit. Next time you're considering pumpkins vs gourds, take a look at the fruit's shape, skin, and coloring and its harvest time and grocery store availability to get your answer.
Pumpkins vs Gourds Uses
The many types of pumpkins are primarily used as a table fruit and enjoyed for their rich, nutty flavor, versatile as a sweet and savory ingredient. In creamy soups, smooth pumpkin pie, or salty pumpkin seeds, the pumpkin is a delicious cooking ingredient, and they also feature in decoration.
Pumpkin patches are a much-loved part of autumn, and their fall colors provide a picturesque backdrop for fun and photos to celebrate the season. Pumpkins are a crucial feature of Halloween and part of the age-old tradition for this holiday.
Revelers scoop out the fruit's soft flesh and use a sharp knife to carve their hard shells to create a decorative jack-o-lantern.
Most pumpkins are excellent kitchen ingredients and make delicious soups, pies, and other dishes. Heirloom pumpkins are a popular decorative variety, larger than winter squash and more distinctive and attractive than typical orange pumpkins.
All heirlooms are unique and one-of-a-kind, so they make perfect decorations. Add white pumpkins and acorns to a tablescape or a centerpiece for Christmas. Miniature pumpkins are painted fall colors and create an aesthetically pleasing addition to many kinds of decor.
There are two types of gourds; Cucurbita gourds, such as bottle gourds, are smaller and have a softer rind, while the Lagenaria gourds are more extensive and have hard shells with more flesh inside. Gourds are good for fall decor, as they come in various sizes and shapes and are associated with the fall harvest.
Gourds' primary uses are decorating, making musical instruments, carvings, and birdhouses, among other things. Consider gourds for both indoor and outdoor decoration. This fruit is popular as part of tablescapes and makes a striking DIY centerpiece paired with ribbons in fall colors and themed foliage.
Growing Pumpkins and Gourds
Warm-weather plants, gourds and pumpkins prefer fertile, well-draining soil, plenty of water, and long days under the sun. The best way to grow pumpkins and gourds is to give them a lot of space. Even the tiniest pumpkin cultivars grow vines as long as six feet, and vines as long as 20 feet are standard. Gourd vines grow ten to 15 feet long.
Growing pumpkins in pots and planting gourds in containers is an option as long as you choose the appropriate smaller-size cultivar. A trellis is a must to encourage the vines to grow upward instead of out.
The harvesting seasons for pumpkins and gourds are somewhat different. Pumpkins are ready for picking when the rind is firm, and the skin turns orange, while gourds are left to mature as long as possible. The older they are, the better. However, protect gourds from frigid temperatures while still on the vines.
Both crops are susceptible to pests like pumpkin bugs and illnesses. Aphids, cucumber beetles, and squash bugs are particularly damaging. Add some companion plants for gourds and pumpkins like nasturtiums and broccoli to deter insects naturally.
Fungus such as powdery mildew may also be a problem. Consider your local climate, available garden space, and any pest challenges in your area when deciding to plant pumpkins vs gourds in your garden.
How to Tell the Difference between Pumpkins and Squash
Many people are perplexed by how to tell the difference between pumpkins and squash. The misunderstanding stems from the fact both fruits grow on vines and belong to the same Cucurbitaceae family. Knowing a few key traits of both the squash and pumpkin help growers differentiate them.
Pumpkins have firm, stiff stems feeling sturdy to the touch, while squash stems are hollow and feel loose. Pumpkins are harvested in September and are generally only available in grocery stores during fall, while the squash is harvested in winter and is typically available to purchase year-round.
China produces most of the pumpkins we enjoy in our fall recipes, while butternut squash, acorn squash, and more are grown in the United States.
There's no doubt that the fruit and vegetables members of the Cucurbitaceae family are delicious. With favorites such as acorn squash, summer squash, zucchini, spaghetti squash, butternut squash, Delicata squash, and turban squash, there's no shortage of variety and versatility.
Pumpkins are an excellent option when you're looking for a tasty soup or pie base or some Halloween spirit. Turn to decorative gourds for an impressive tablescape or a unique vase.
In-home decor, gourds are primarily utilized as centerpieces or containers, but can also be used to make musical instruments, birdhouses, and other DIY projects.
Pumpkins become jack-o'-lanterns at Halloween and a delectable element in many fall recipes. Pumpkins are ready for harvesting when the rinds are firm, the skin becomes orange, and gourds are left to mature as long as possible.
By understanding differences in appearance and uses of pumpkins vs gourds, growers choose the best crop for their needs and add it to their garden.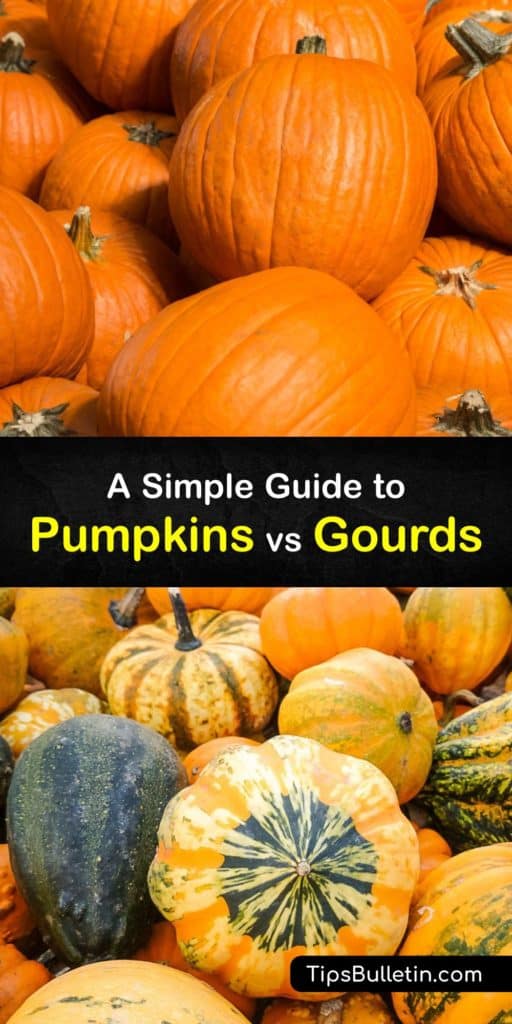 If you enjoyed this article on pumpkins vs gourds, consider sharing these handy tips on how to tell the difference between pumpkins and squash and gourd with your family and friends on Pinterest and Facebook.