Daylilies are a beautiful and vibrant flower that is a favorite among gardeners. Many daylily plants have a short bloom time, but some daylily flowers rebloom throughout the growing season. While each flower only lasts one day, filling your yard with reblooming daylilies, provides you with colorful flowers all summer long.
The daylily is a flower from the genus, hemerocallis, and tetraploid daylilies have an intense color with larger flowers. Each plant has many scapes, and each scape produces many blooms.
While each flower only blooms for a day, a plant with numerous scapes produces hundreds of flowers each season. Reblooming and everblooming daylilies are a variety of flower that produces a continual flow of blooms for a non-stop display of color.
Many of these flowers bloom throughout the entire growing season with little or no space between bursts of color. These types of daylilies are easy to grow and available in a wide variety of colors, shapes, and sizes.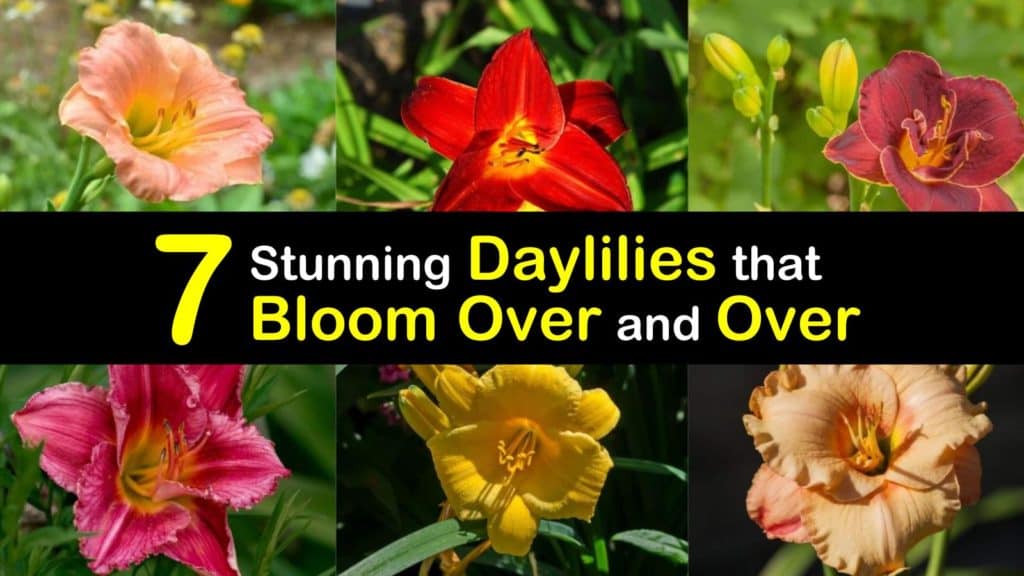 Growing Daylilies that Bloom All Summer
It's easy to fill your garden with constant blooms from spring through fall as long as you choose the right plants for the job and plant them in the perfect location.
Pick your favorite flower, plant it in an area of the yard with the required conditions, and give it the water and food it needs to enjoy colorful flowers for months.
Daylilies are pretty common perennial flowers that add a lot to the yard. Choose several different varieties for extra interest and expanded blooming times.
How do I Get Daylilies to Bloom All Summer?
If you want your flowers to blossom all summer long, then it's essential to choose the right daylily. Many of these flowers only bloom once during the spring, and only for a few short weeks.
However, rebloomers such as Stella de Oro and happy returns fill the garden with flower color from spring through fall. The only job required to keep them blooming is to plant them in well-drained soil in part to full sun locations.
Are Daylilies Hard to Grow?
Daylily flowers are one of the easiest plants to grow. They are a perennial plant, so they grow back year after year on their own.
They also spread as they grow and fill the space with colorful blooms with ease. These flowers are also drought tolerant, so forgetting to water them occasionally suits them just fine.
Can I Plant any Daylily in My Garden?
There are a wide variety of daylily flowers. There are so many that it is hard to choose which ones are best for your yard. The key to having continuous blooms is to select a reblooming variety.
The next thing to look for is the type of conditions your new flower requires. Does the flower need full or part sun?
Does the plant's USDA hardiness zone match the area where you live? Answering these questions helps you decide which daylily type is the right one for your yard.
How do I Care for Reblooming Daylilies?
Plant bareroot daylilies in well-drained soil and water them once a week during the growing season. Cover the dirt with a thick layer of mulch to prevent weed growth and retain moisture.
Divide these flowers every couple of years to keep them in a contained area of the yard. Prune the old flowers as soon as they wilt to encourage more blooms, and cut back the entire plant to the ground after it dies off during winter.
Happy Returns (Hemerocallis 'Happy Returns')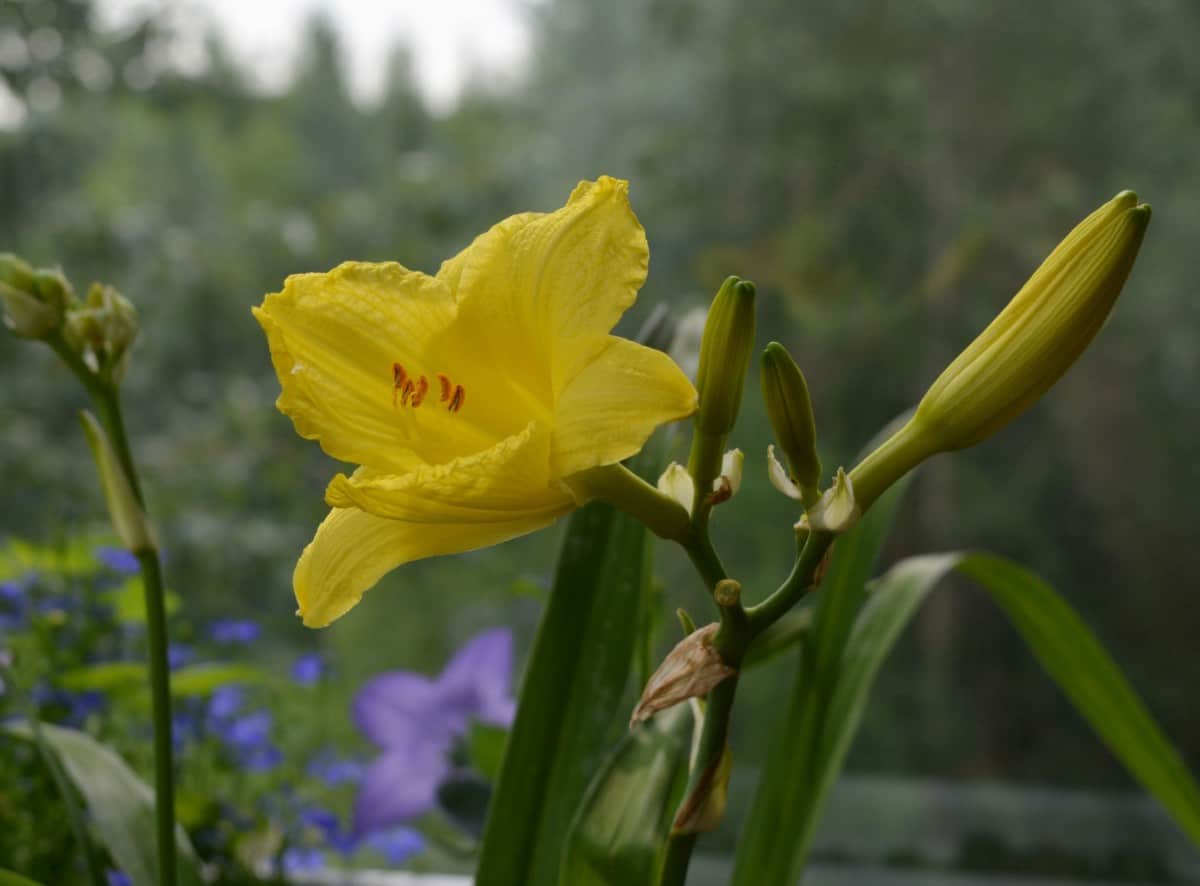 This daylily has buttery yellow flowers that produce non-stop blooms from May through the first frost. The fragrant flowers are 3 inches in size, perfect for a perennial bed or container, and attract hummingbirds to the yard.
Happy returns is deer and rabbit resistant. What are deer resistant flowers? This doesn't necessarily mean that deer won't nibble on them but that they won't find them as yummy as other plants. After a taste, deer usually go on to another plant.
This easy to grow flower thrives in full or part sun in zones 3 through 9. It has a mature plant size of 1 to 3 feet tall.
Apricot Sparkles (Hemerocallis' Apricot Sparkles') – Hardy Daylily with Showy Flowers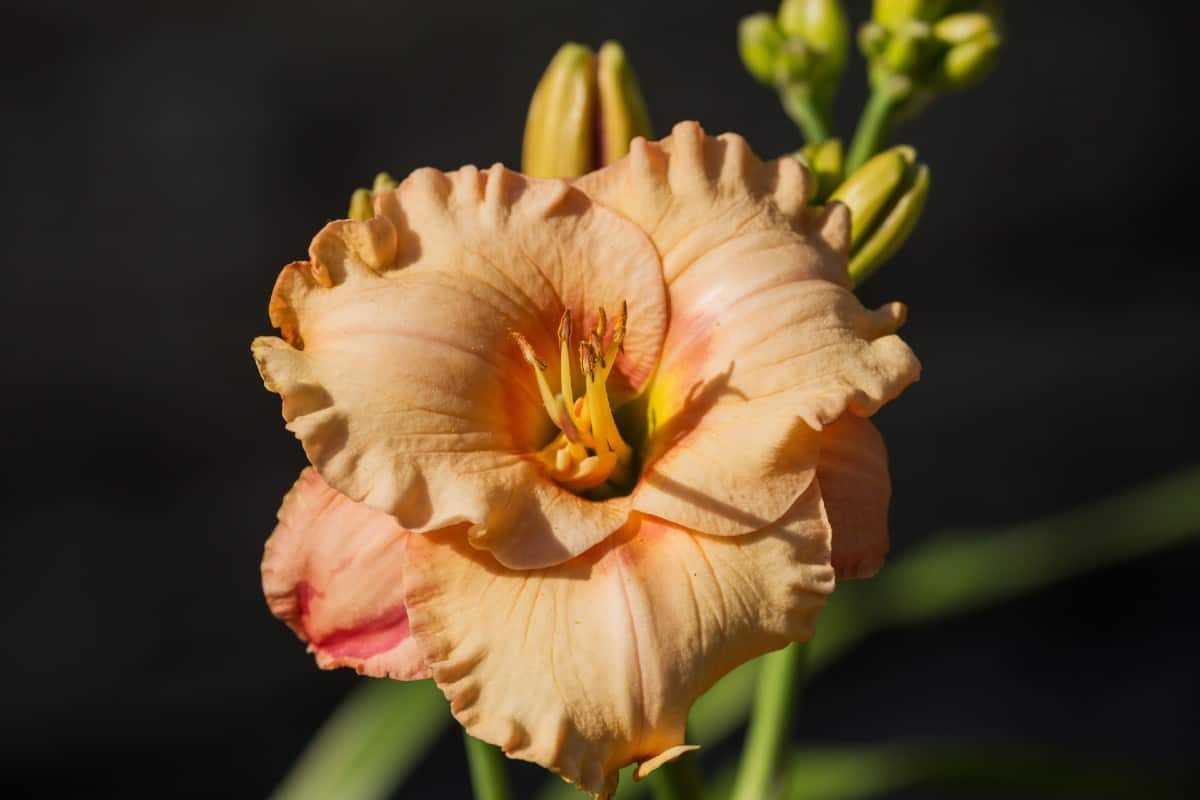 Apricot sparkles has a long bloom time from early summer to the first frost. It produces perfectly formed apricot-colored trumpets with ruffled petal margins and golden throats.
This hardy daylily is drought and heat tolerant and relatively pest-free. These flowers thrive in zones 3 through 9 and enjoy part to full sun. This type grows to a mature height of 1 to 2 feet and requires well-drained soil.
Pardon Me (Hemerocallis 'Pardon Me')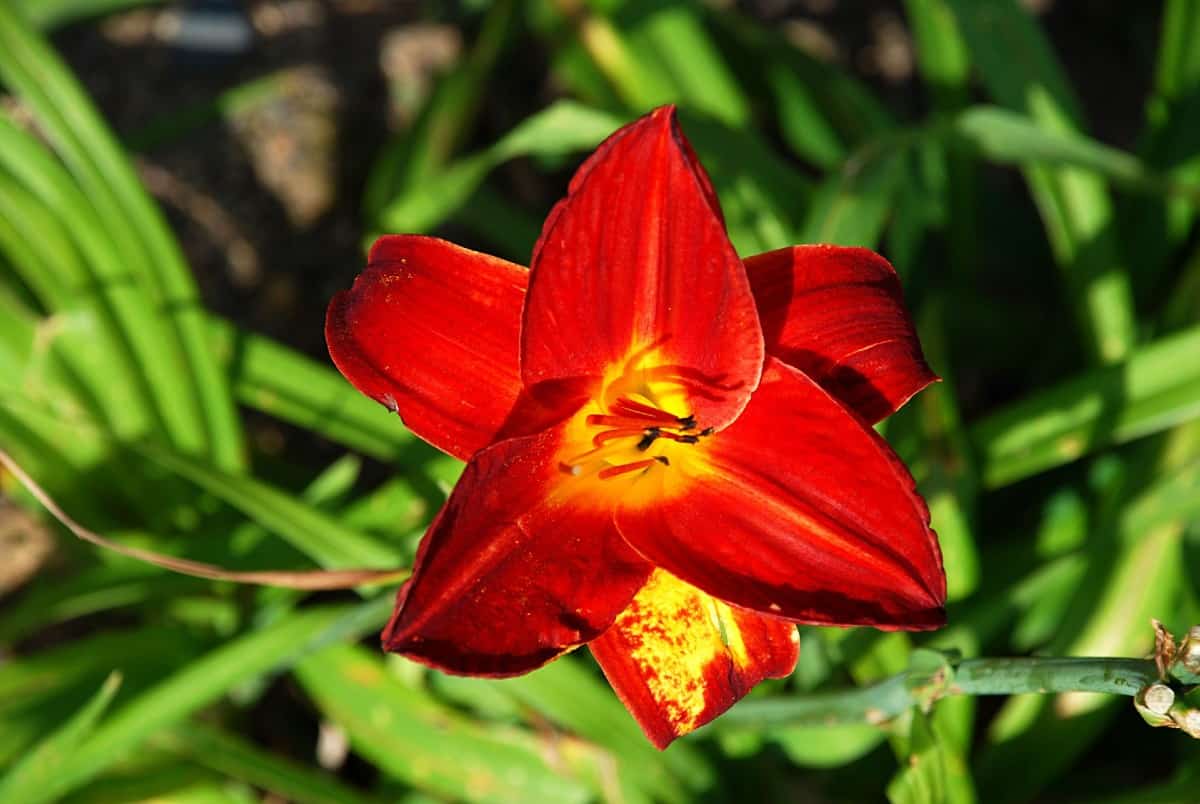 This compact, vigorous daylily produces profuse fragrant blooms of burgundy red daylilies with a greenish-golden throat from mid-summer through fall. The flowers open in the afternoon through the evening.
The Pardon Me daylily has a mature height and spread of 1 to 2 feet and attracts all types of pollinators to the yard. It thrives in partial to full sun areas of zones 3 through 9 and is drought and heat tolerant.
Dynamite Returns (Hemerocallis 'Dynamite Returns') – Dwarf-Sized Reblooming Daylilies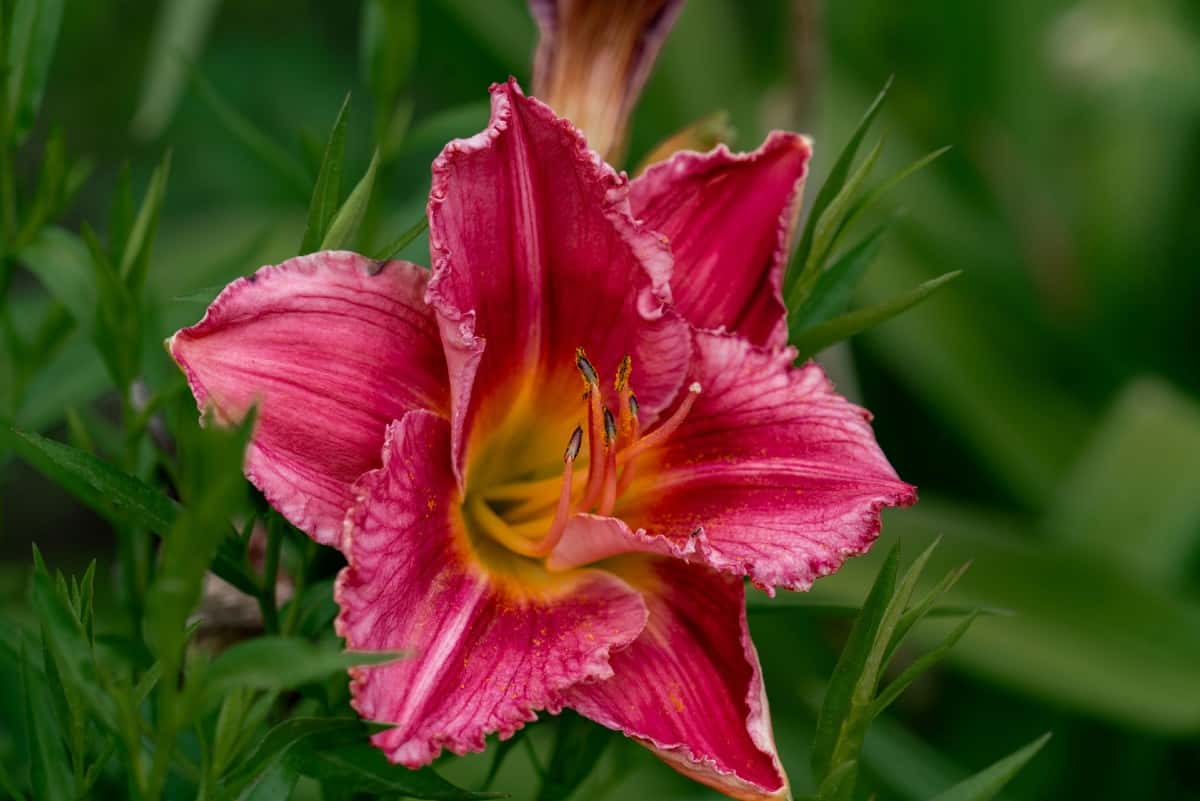 This dwarf daylily has deep pink flowers and a chartreuse throat with deep green foliage. It blooms from May to the first frost.
Dynamite Returns has a mature height of 18 inches with a spread of 16 inches. It grows best in zones 4 through 9 and is one of the full sun flowers in the daylily family. This drought tolerant plant is rabbit resistant and requires very little care.
Fairy Tale Pink (Hemerocallis x 'Fairy Tale Pink')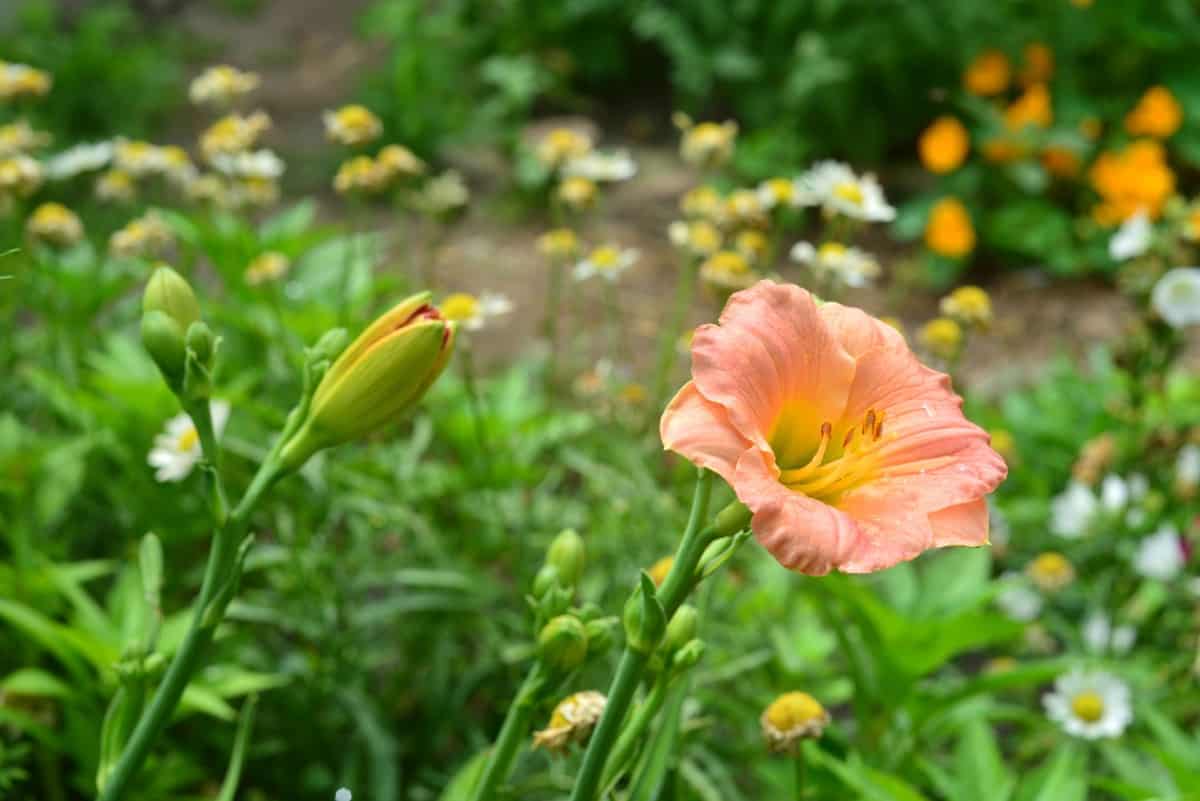 This midseason flower produces an abundance of orchid-pink flowers that are over 5 inches wide with a lime green throat. The petals have wavy ruffled edges and bloom from mid to late summer.
This semi-evergreen daylily grows up to 2 feet tall and has a slow spread of up to 3 feet. It is low maintenance, drought and heat tolerant, and thrives in full to part sun in zones 3 through 9.
If you find that rabbits seem to like this pretty daylily, you may try coffee grounds. Do coffee grounds repel rabbits? The odor does sometimes work to deter rabbits from an area where the grounds are spread.
Night Embers (Hemerocallis x 'Night Embers') – Exotic Daylily with an Abundance of Blooms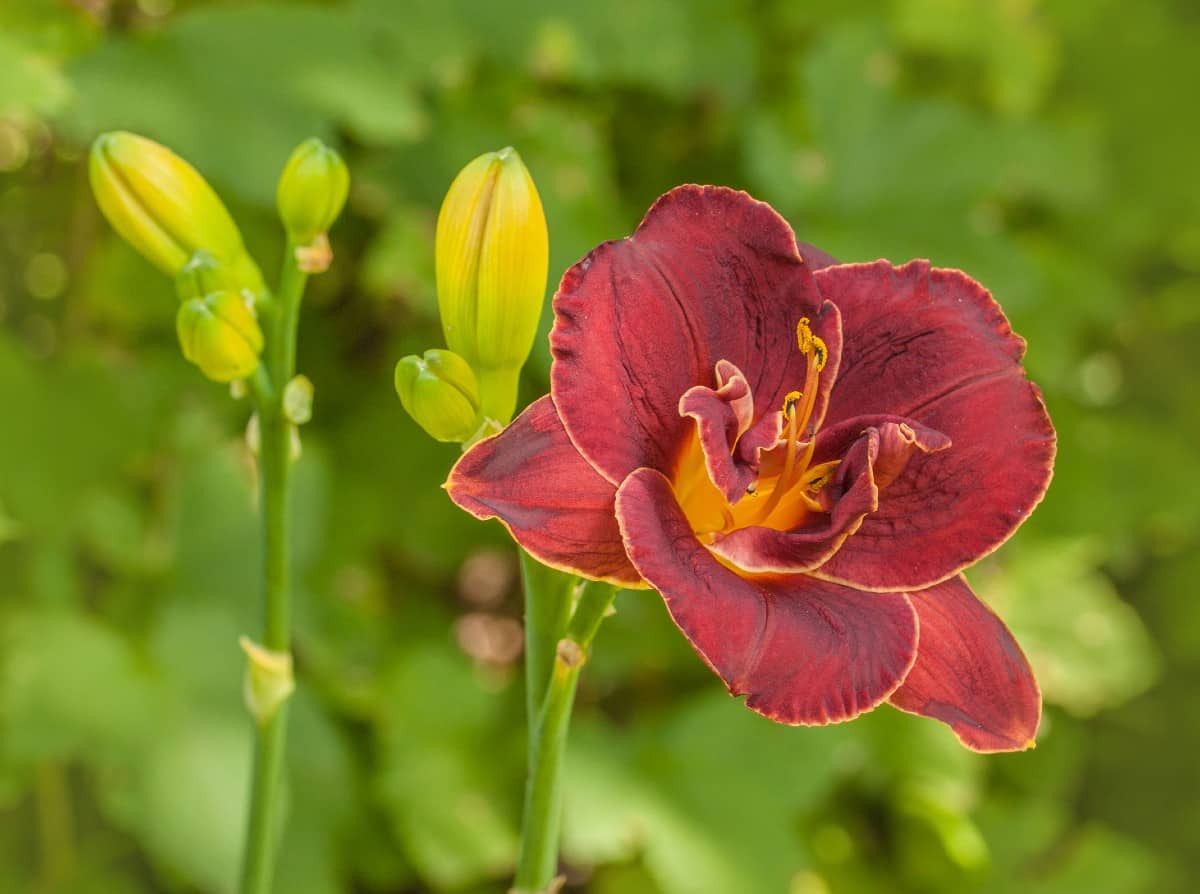 The deep double maroon blossoms of this daylily are striking with their glowing yellow throat. It has a long bloom time from mid-spring through frost and attracts butterflies to the garden.
Night Embers enjoys part to full sun and has a mature height of over 2 feet. This daylily grows best in zones 3 through 9 and prefers well-drained soil.
Stella De Oro (Hemerocallis x 'Stella de Oro')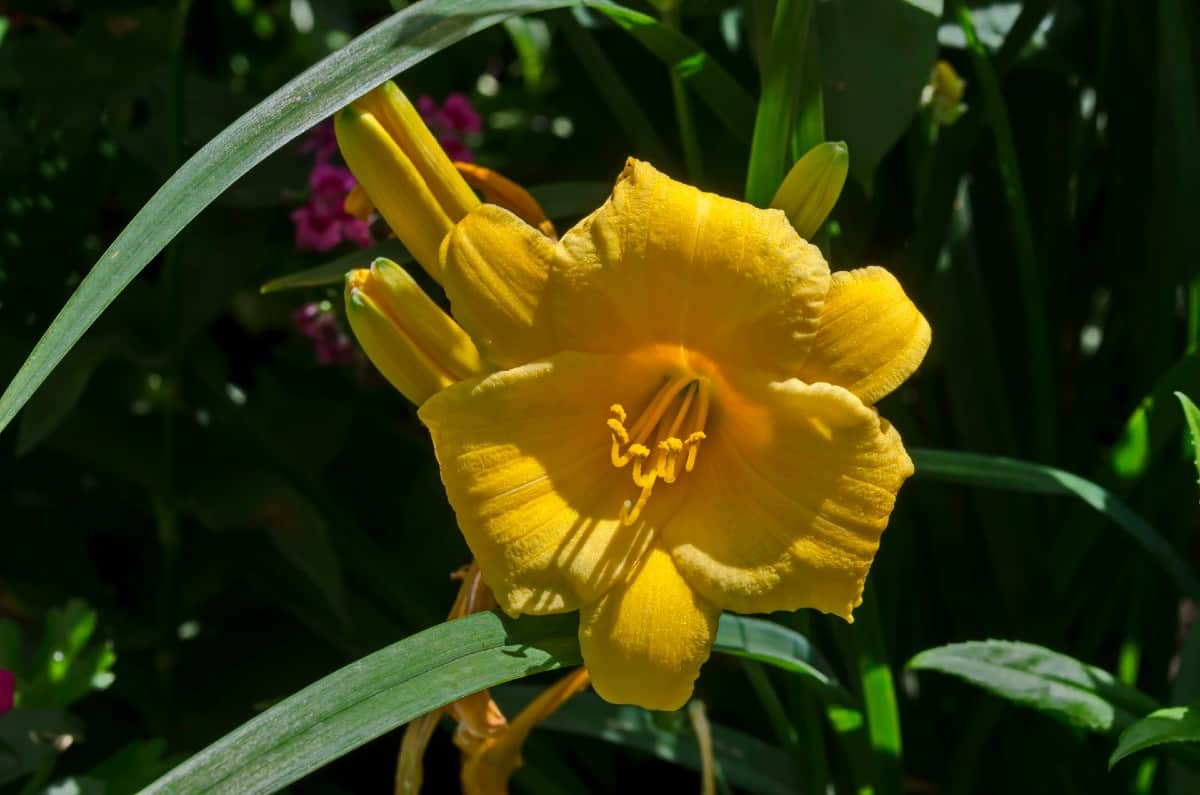 Stella de Oro produces masses of gold trumpet flowers with green throats over mounds of arching leaves. The fragrant blooms have petals with ruffled edges, and each flower lasts up to 16 hours.
This perennial flower is drought and heat tolerant. As a low growing daylily, it has a mature height and spread of up to 1 foot. Stella de Oro grows best in part or full sun and thrives in zones 3 through 9.
A garden filled with peonies, morning glory, daylilies, and other flowers brings delight to the yard, and who would want the blooms to end?
Well, they don't have to when it comes to a daylily rebloomer. These flowers seem to have a never-ending display of color throughout the growing season.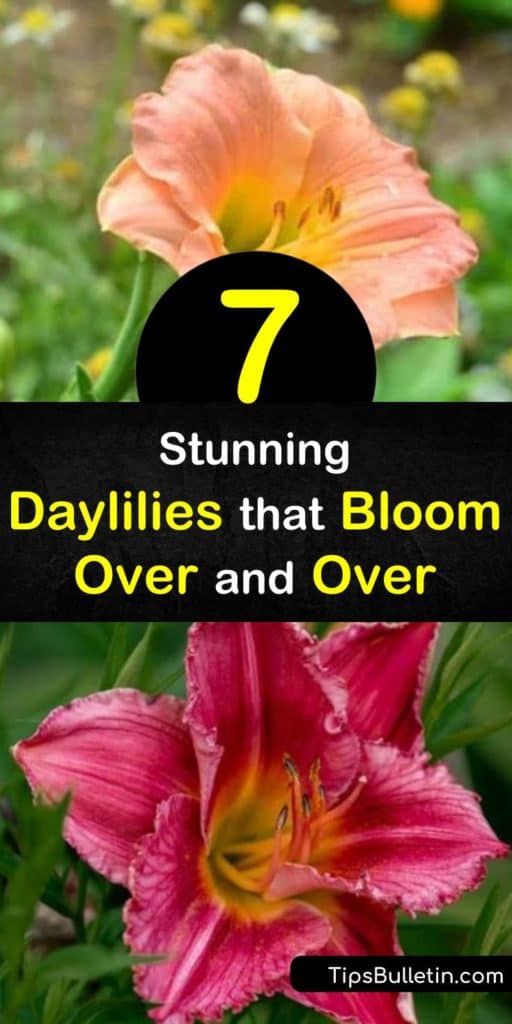 We hope you find the best reblooming daylilies to add to your favorite daylily collection for months of garden color, and we'd love it if you'd share our reblooming guide with your family and friends on Facebook and Pinterest.