We all have accidents from spilling a rack of ribs on ourselves to crumbs of cheese caught in our collar. We've also seen our friends drop a whole plate of nachos on themselves, making a terrible mess. But we aren't born with the knowledge of how to remove a grease stain from a shirt. That's where this guide comes in, with our tips to remove that cheese grease.
Of course baking soda or cornstarch can be involved, after all, they are delicate ways to treat a precious t-shirt. Make sure you have talcum powder or baby powder on hand. Liquid dish detergent, liquid dish soap or other dishwashing liquid will be essential too, as we've had to use all of them before.
Be prepared to hand wash the shirts, especially white shirts. You'll also have to be aware of the care label if there are special instructions on it.Now, let's get to the recipes for removing grease stain from shirt.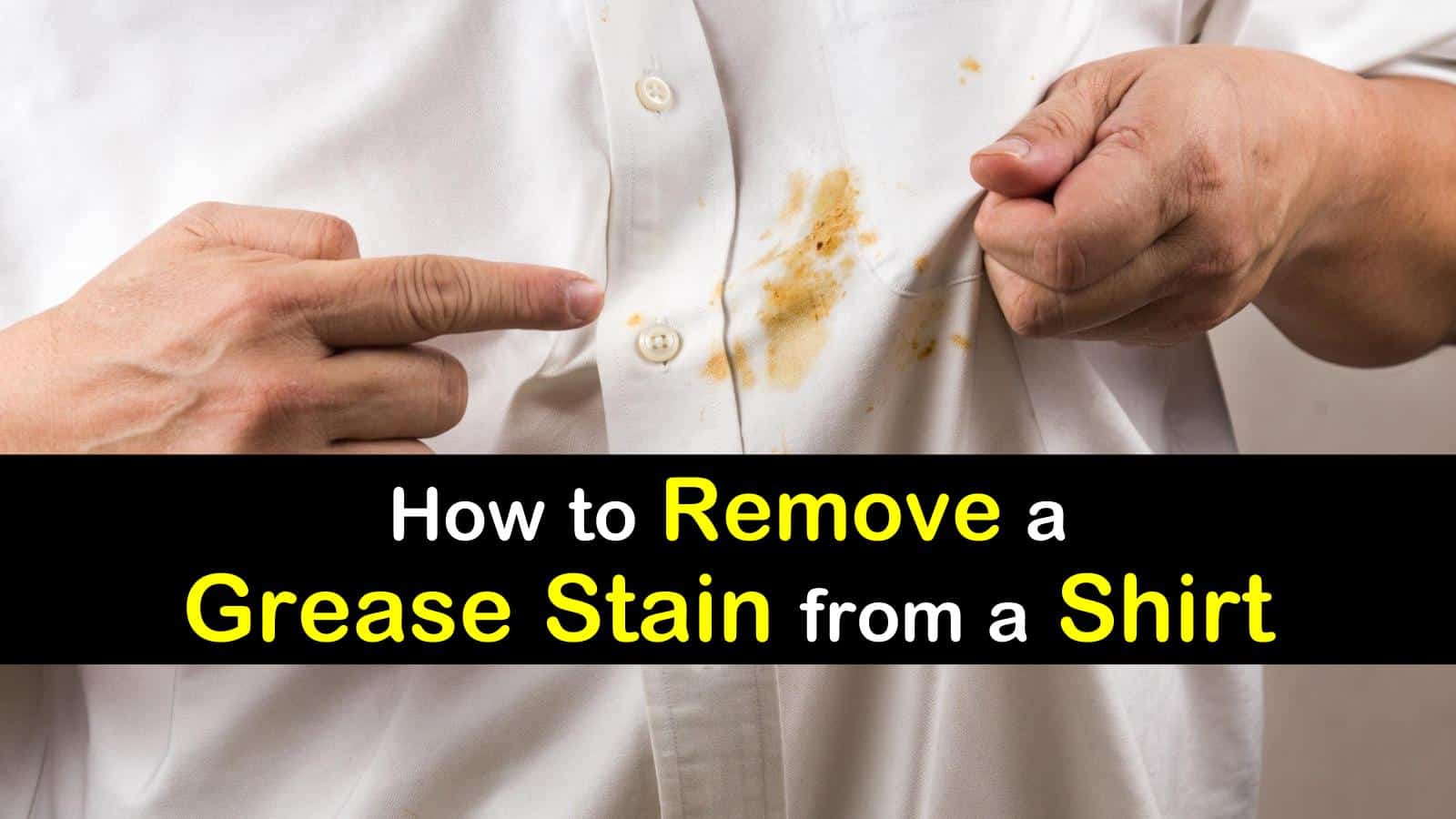 Tips to Remove Grease Stain from a T-shirt
Many of the solutions to get rid of grease stains are the same ones you can use for other stains, too. Get deodorant stains out or bloodstains with some of the remedies we have listed here.
After your chosen stain treatment option, launder the garment as usual per the care tag label. If you will be shrinking shirts so they fit better, use hot water and a high heat setting on the dryer.
Remove a Grease Stain from a Shirt Using Dish Detergent
One of the easiest ways to remove grease stain from shirt is by using dish detergent. Read the care label first, and follow the instructions. If there aren't any special care instructions, place about two tablespoons of dish detergent in a small dish, and dip a soft cloth in it.
Using circular motions, rub it into the stained spot on the t-shirt. Rub it into the backside of the stain, to avoid setting the oil stain. That way, it will come out in your washing machine.
Hand wash the stain in hot water in a bathroom sink. Check the water temperature before you put your hands into it, so you don't burn them. The dishwashing detergent and the hot water should have lifted off the grease. If you need a way to get blood out of a shirt or have some other type of stain, follow these instructions.
Removing a Grease Stain from a T-shirt Using Baking Soda
If you don't think you can remove grease stain from a t-shirt with dish soap like Dawn, try this baking soda based recipe instead. As a cleaning bonus, baking soda not only removes the stain, but also will get grease smell out of clothes at the same time.
Mix the ingredients and rub the paste on the shirt as a pre-treatment. Completely cover the excess grease stains with the paste using a soft brush. The baking soda should soak up the greasy stains, and the hot water and soap should clean it.
Once again, wash it in a sink using hot water to remove the stubborn stains or splatter.If you have an oil stain, getting an oil stain out of a shirt requires a different method than this one. Follow it to the letter, and you should have no oil stains left.
How to Remove a Grease Stain from Shirt with Alcohol and Salt
If you don't want to take your shirt to dry cleaning, or don't trust baking soda, mix this recipe. The alcohol will remove grease stain from a t-shirt, and the salt will act as an absorbent. Try this remedy to get lipstick stains out of clothes, too. You'll be pleased with the results.
Once you mix the two ingredients, pour the solution into a spray bottle. Check it out on an inconspicuous area first, as we don't want to damage the shirt. Then, spray the mixture over the stains on your shirt.
Make sure it mixes well with the stain. After the alcohol is in the shirt, rinse it off with cold water. Use a paper towel to lift the liquid off the shirt. You may have to do this more than once to remove tough stains, like for the way to get ink off a shirt or another piece of clothing.
If you have stains on your floor, try out this recipe for home remedies for carpet stains.
Removing Grease Stain from Shirt with Vinegar
One of the best hints for stain removal is vinegar. Instead of dishwashing liquid, acidic white vinegar will eradicate cooking oil with a little time and effort.
After you mix the water and vinegar, use a toothbrush to get it into the fabric using circular motions. After it's thoroughly worked into the fabric, rinse the vinegar and grease mixture out with warm water in the laundry room. The grease and vinegar should wash right out and down the drain.
This should even work to remove grease stain from shirt after washing. If you have other unrecognizable stains or mustard stains and are unsure if laundry detergent will work, follow this guide on how to remove mustard stains. If the mustard stains are on baby clothes, use laundry detergents for baby clothes.
If none of these removing grease stain from shirt tips work for stains on your clothes, you may have no choice but to take them to a dry cleaner to remove the grease spots.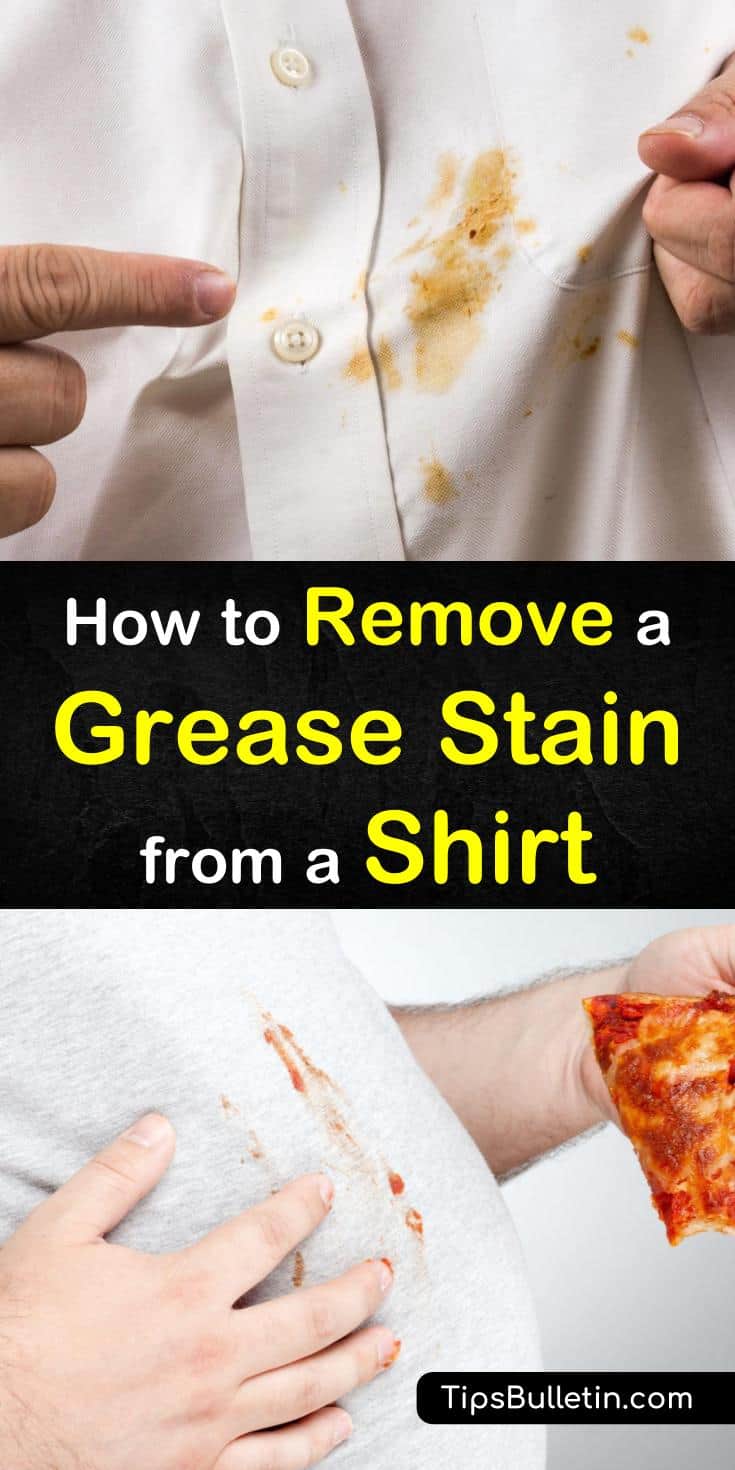 Since you've now learned how to remove a grease stain from a shirt, and it is easy for you, pass the information about grease stain removal along to your friends and neighbors on Pinterest and Facebook.