Many growers are tapping into the advantages of using rice water for plants. If you've ever wondered is rice water good for plants, the answer is yes. Rice water is made from boiling or rinsing rice in tap water to create a valuable byproduct for the garden. Rice is nutrient dense with large quantities of starch.
When we boil uncooked rice in water, a portion of the nutrition and starch transfers to the water from the rice and is usually discarded as a waste product. Saving nutrient-rich water and using it to irrigate or foliar spray your plants gives them several rice water benefits.
Rice water is a natural fertilizer to aid your plants in growing taller, fuller, and producing more flowers or fruits. Plants receiving rice water are well nourished with more robust roots, a better ability to retain moisture, and are more resistant to pests and diseases.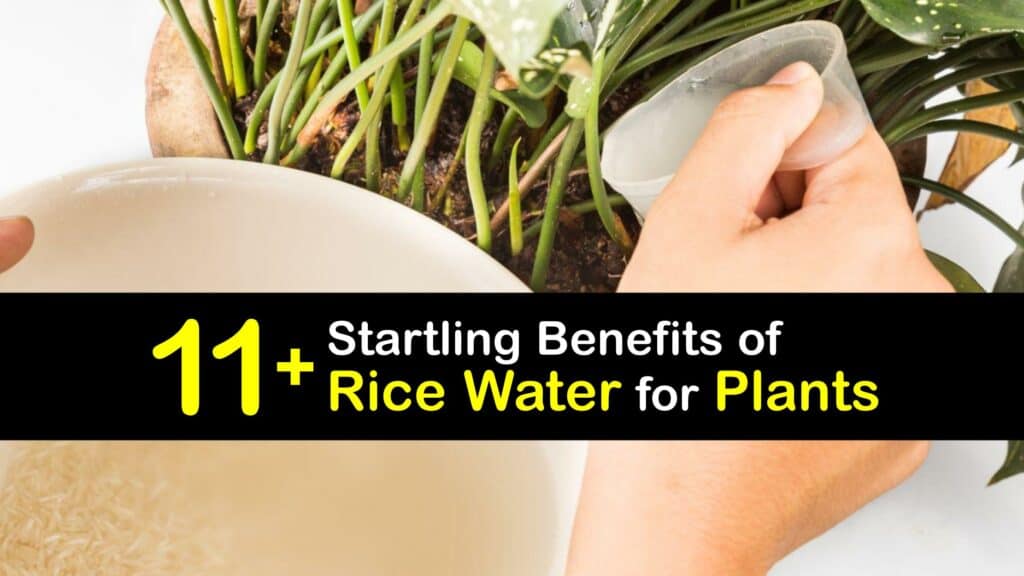 Rice Water Benefits for Your Plants
Repurposing rice water rather than discarding it reduces waste and offers a green and natural tool for gardening. Organic Epsom salt is also a very good houseplant fertilizer. Use your rice water as is, or ferment it for added benefits, and watch your houseplants and garden thrive.
If you're considering using rice water for plants, you likely want to know is rice water good for plants? Boiled rice water has many benefits and can be an essential tool for every gardener.
Whether you keep a vast garden or have a few cherished potted plants in your home, rice water helps plants grow, thrive, and resist pests and diseases. Be aware of any mold on your indoor plant soil and treat it promptly. Resist the urge to overwater.
For fruit and vegetable gardeners, a rice water mixture supports crop production and increases yield.
What is Rice Water?
Rice originates from a rice plant cultivated by rice farmers in a rice field, sometimes known as a paddy field. To achieve a good rice yield, farmers keep their rice fields full of standing water to foster the ideal conditions for growth.
Rice is a much-loved staple food source in the United States and many other parts of the world. It's traditionally cooked by submerging it in water and boiling it until soft.
Many discard the water the rice cooks in, yet rice water has advantages for plants. As organic and natural gardening gains popularity, gardeners are saving their rice water from cooking and using it to assist their gardens.
Is Rice Water Good for Plants?
What is rice water good for? Rice water is one of the latest trends in green living and upcycling. It has applications in beauty and hair care, as well as being helpful for raising flowers and food crops.
Rice is nutrient dense and contains high levels of starch. When we boil rice in water to prepare it for eating, much of the nutrients and starch are transferred to the water, leaving a valuable byproduct to be repurposed.
How to Prepare Rice Water for Your Plants
When preparing uncooked rice, it's effortless to save your rice water to use on your plants.
It's acceptable to use non-organic or organic rice to make rice water. Add uncooked rice and water to the pan per the instructions, and boil for the recommended time. Pour the cooked rice and water through a strainer with a container to catch the rice water.
After you rinse rice, the washed rice is ready to eat; set aside your rice water to cool before you use it to water plants.
After you finish using eggs for a recipe, use egg shells to fertilize houseplants and those in the garden, too. Or, make eggshell tea to pour on your plants.
Create a Rice Water Foliar Spray
A foliar spray is applied directly to the leaf tissue of a plant so it absorbs the nutrients into its system. Like using baking soda as fertilizer, rice water is an ideal foliar spray as it's rich in nutrition and contains all-important starch, which plants use to store energy for growth, flowering, and fruiting.
Pour your cooled rice water into a sprayer or spray bottle and apply generously to the foliage of your plants, including the undersides of the leaves. Starch and beneficial compounds are absorbed through the leaf tissue for use by the plant.
Don't use rice water more than once every two weeks due to its high carbohydrate levels and the potential to harden your soil.
Rice Water for Plants Promotes Lacto Bacilli
A beneficial bacteria, Lacto bacilli, sterilizes the soil around your plant, prevents the build-up of harmful bacteria, and makes the earth more favorable for supporting plant life.
Use rice water to give your plant this beneficial bacteria. Lactobacilli live in the air and move into rice water under the right conditions, allowing growers to harness them for their gardens.
Add a cup of rice and a cup of water to a jar or container, cover, shake well, and let the rice and water mixture sit for about 20 minutes. Strain the rice and leave the water exposed to the open air for at least 24 hours so lactobacilli colonize it, then use the liquid to water your plants.
Rice Water is an Alternative to Chemical NPK Fertilizer
NPK or nitrogen, phosphate, and potassium fertilizer is a staple for growing plants. These three chemicals are the basic requirements for plant life to develop; hence, most available fertilizers offer them in various rations.
Commercial NPK fertilizers are chemical mixtures made from artificial and often dangerous substances. Rice water fertilizer is created naturally from rice grain and tap water and enriches the soil without harming the ecosystem.
Save your rice water from cooking rice and use it instead of chemical NPK fertilizers to save money, reduce waste products, and keep your garden organic, natural, and safe.
Rice Water Increases Crop Yield and Plant Growth
The purpose of fertiliser is to provide crops with the food they require to achieve good growth, reach their ideal plant height and produce a large crop or grain yield. Rice water is a natural fertilizer that gives plants the nutrients they require for good growth and high production. The same is true when using coffee grounds in potted plants or for those outside in the garden.
Plants receiving rice water have the building blocks to remain healthy and productive. They develop quicker, grow larger, and produce more fruit, vegetables, or grain than their counterparts who don't receive rice water fertilizer.
Strengthen Plant Roots with Rice Water
Plants require water, organic material, and nutrition to thrive. The starch in rice water strengthens the structural integrity of plant roots and improves the overall vitality of the plant.
Per the International Rice Research Institute, rice water helps plants retain water during drought and may extend the time between waterings. To keep your plants hydrated, consider occasionally switching regular watering for rice water.
Rice Water is a Natural Pesticide
Instead of turning to toxic commercial pesticide products, water your plants with rice water and enjoy its natural pesticide properties. Healthy plants are hardier and show more resistance to pests and diseases.
Rice water keeps your houseplants and garden plants healthy from the inside out and protects them against problem insects such as aphids, flea beetles, gnats, and more.
Making Fermented Rice Water
Rice water or rice wine is a more intense version of rice water for your garden. The fermentation process packs in lots of beneficial bacteria and increases the nutrition the solution provides to your plants.
Fill the rice water about 3/4 of the way up the jar and add the other items. Use the cheesecloth to cover the jar and fasten it with the rubber band. Shake to combine and let the container sit for three to four days. When the liquid changes from opaque to clear, the fermented rice water is ready to use to water your plants.
Note fermented rice water has a pungent, sour scent, and while this is a brilliant pest deterrent, it may be unwelcome in your home. If you find the smell too strong, stick to regular rice water for your houseplants.
Does Rice Water Go Bad?
Rice water is a natural product, and since it contains no added preservatives, it does go bad if not used promptly. It's ideal to make your rice water right before you use it in the garden; however, if you need to store the liquid, keep it in an airtight container in the refrigerator.
Lift the rice water out to use it, and return any leftovers to the fridge as soon as possible, as increased temperatures hasten the spoiling process. Rice water lasts for five to seven days when stored correctly and kept cool in the refrigerator.
Concerns about the Rice Water Weevil
If you're researching rice water, you may have encountered information about rice water weevils. Many first-time rice water crafters are concerned about these weevils ending up in their rice water fertilizer and potentially destroying their plants.
Rest assured, your plants are safe, as the rice water weevil is an insect pest that plagues paddy fields, not a pest associated with your rice water fertilizer. Unless you're growing rice at home, rice water weevils do not threaten your garden.
As more people move away from chemical fertilizers, natural alternatives such as banana peel and rice are used to fertilize plants. Next time you're boiling rice, consider saving your rice water for your houseplants and garden to reap rice water benefits.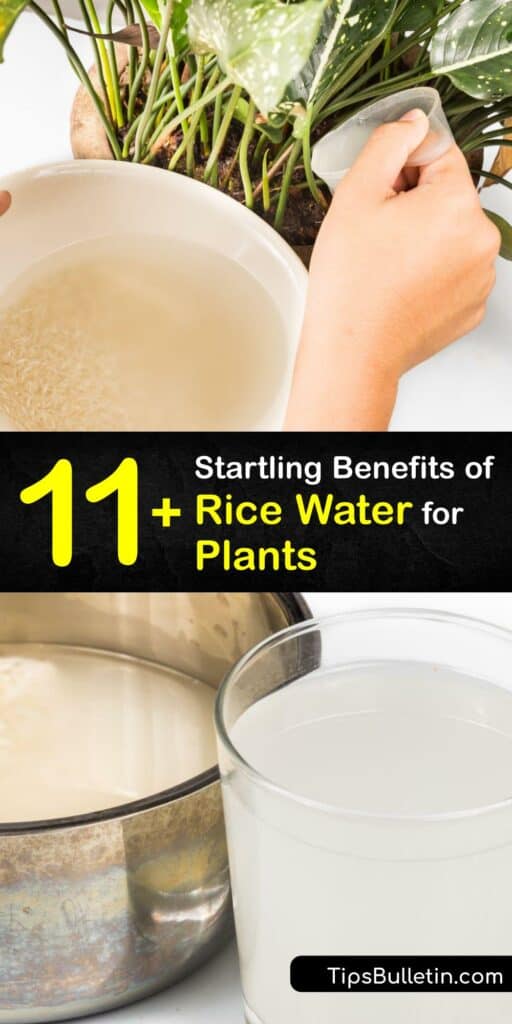 If you loved this article on rice water for plants, please share this brilliant information on rice water benefits with your friends and family on Pinterest and Facebook.