A roach infestation is a nasty surprise and very difficult to eliminate once it has taken hold in your home. It's crucial to have roach deterrent strategies that make your property uninviting to potential pests. Discover how to repel roaches and many other common pests with our tested recipes and tutorials.
Roaches are famous for their ability to multiply. One cockroach quickly turns into an entire family reunion. Before you know it, the American cockroach, German cockroach, and Oriental cockroach turn up at your door, looking for a warm place to stay and a steady food source.
Roaches have chemoreceptors at the end of their antenna, which helps the cockroach detect everything from morsels of food under the stove to intense repellents. The way to win the war on roaches is through smell. We have some incredibly clever methods and scents that keep cockroaches out of the house to beat these pests back to the outdoors where they belong.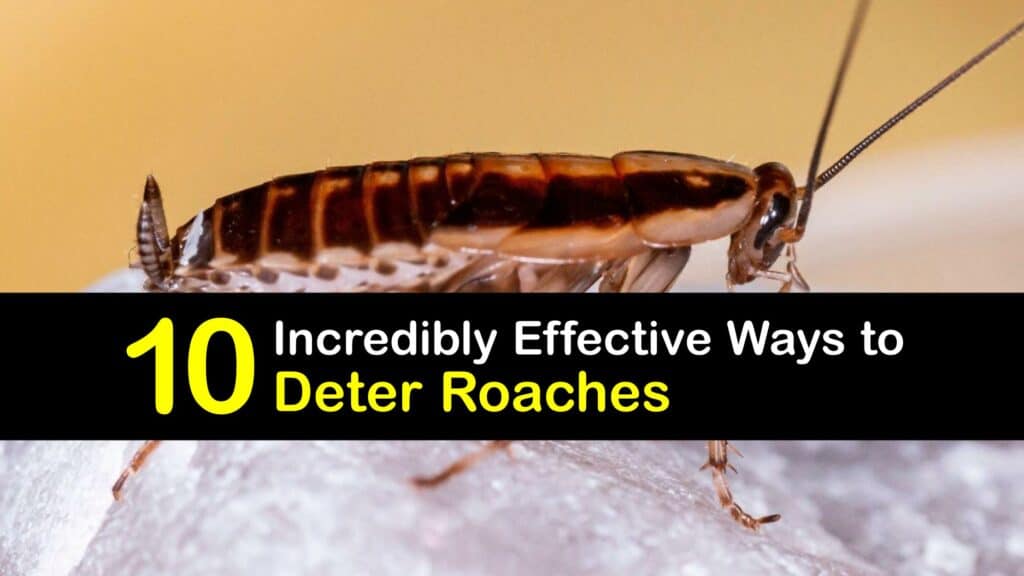 Discover How to Deter Cockroaches
These aren't your grandma's mothballs; this article has innovative and interesting cockroach deterrents. Discover how to use everyday pantry items, such as bay leaves, peppermint oil, and even lime to keep roaches out and your home infestation free.
Or, learn which plants and their oils effectively ward off pests and how to use them to your benefit. Find tips for a more traditional approach to pest management.
Coffee Grounds are a Natural Roach Deterrent
Some states in America are more prone to roach problems than others. Based on pest control data, states like Tennessee, Texas, and Kentucky have more roaches per capita. However, they're a common problem for almost everyone in the lower Midwest and southeastern US.
Prevention is your best strategy if you find yourself in a roach-prone part of the country. Many pest control experts recommend using ground coffee as an effective homemade roach repellent for an infestation in your home and commercial spaces.
Some people might think this is anecdotal, but America's biggest coffee production facilities don't have roach problems. Coffee grounds are acidic and contain caffeine, which is repellent to highly smell-sensitive cockroaches.
To deter cockroaches with coffee, grind some up and put a pinch or two in the corners of your windows, or keep an open bowl under your sink. Don't leave cream and sugar on your countertops; it's a tempting food source and encourages uninvited pests.
Try Catnip as a Roach Deterrent
Catnip is a surprisingly effective to keep cockroaches out of your house because it contains nepetalactone. In 2001, researchers at Iowa State University tested the efficacy of catnip on the German cockroach. They found it more repellent than diethyl-m-toluamide or DEET in many cockroach populations.
Grab a few bowls or shallow containers and fill them halfway with catnip. Place the bowls in your pantry, near the garbage, and under the sink to repel cockroaches safely and effectively.
Consider catnip oil if you're struggling to repel the local cockroach population. It's a vapor-distilled essential oil that produces a much more potent punch. Apply a few drops into several bottle caps and place them in the problem areas. As always, use caution in homes with pets and curious children.
Add a Pop of Peppermint Oil to Repel Roaches
Peppermint is a crisp-smelling, aromatic herb created by breeding strains of spearmint and watermint. Chewing gum, toothpaste, flavorings, and essential oil are made from growing and pressing mint. Peppermint is also an excellent natural roach deterrent and apple cider vinegar kills roaches. They are a great way to get around using chemical pesticides.
Peppermint essential oil has a strong scent that acts as a natural cockroach repellent to protect your pantry. To make a simple peppermint spray, add the water, vinegar, and peppermint oil to a spray bottle, mix well and apply a few spritzes to high-traffic areas.
If you don't have time or materials to make a spray, add a couple of drops of peppermint oil to a clean cotton ball and leave a few in strategic locations. Refresh with new drops every ten days or as soon as required. Use caution when placing peppermint oil cotton balls throughout a home with kids or animals to prevent accidental ingestion.
Bait Stations for Your Roach Problem
A cockroach bait station, or roach motel, is a helpful tool in the fight against roaches. These stations are ideal for use against the American cockroach, German cockroach, Oriental cockroach, and brown banded cockroach, and just about any roach problem you face.
Many bait stations contain active ingredients like hydramethylnon, fipronil, or indoxacarb. These delayed transfer toxins allow the cockroach to escape to the nest and infect others; they eat other cockroaches. The dead roaches become insecticidal bait.
Bay Leaves to Repel Roaches
The bay leaf, or laurel leaf, is a popular herb from the evergreen family. Many DIY pest control enthusiasts and professionals consider this humble herb an excellent home remedy for natural pest repellents. Bay leaves have an herbal, woodsy smell that is ideal for repelling roaches.
To use dried bay leaves as a natural roach deterrent, either ground them up into a powder and sprinkle them in roach-prone areas or set them out in bunches to save time. Put bay leaves in the garbage can, under the stove, behind your fridge, or in the pantry. Bay leaves repel cockroaches as the leaf keeps its smell for more than a year; it doesn't get more low maintenance than that.
Make Boric Acid and Cocoa Powder Roach Bait
Boric acid is a very common household insecticide. It was first synthesized in the 1600s from its close cousin, borax. This roach killer with Borax works quickly when mixed with cocoa powder to deter cockroaches and effectively manage cockroach control.
Put your safety gloves on before handling boric acid. Mix the dry ingredients, and add a bit of water to make a paste-like consistency. Roll the roach bait dough into small circles and distribute them where you know there is roach activity. This method works best if you don't have hungry dogs or children.
Check Out Clovite for Roach Problems
Everyone should take their vitamins, even horses. Clovite Conditioner is a high-potency vitamin supplement marketed toward horses. As it turns out, roaches love the stuff, but it's toxic to them.
To make a batch of roach deterrent, mix a spoonful of Clovite Conditioner with a spoonful of sugar and leave the bait wherever you notice roach activity. Keep this mixture away from kids or pets, and store the leftovers in a clearly labeled, sealed container.
Essential Oil Deterrent Spray for Cockroaches
Since you already know that cockroaches have sensitive chemoreceptors in their antenna, the pungent smells from essential oils are a helpful homemade cockroach killer if you're trying to avoid a full-blown cockroach infestation.
Essential oils are inexpensive and less environmentally impactful than synthetic pesticides and toxins. Discover how to use essential oils like eucalyptus oil, mint oil, oregano oil, and tea tree oil as a formidable cockroach deterrent spray.
This spray is fantastic for those nooks and crannies and works wonders near entry points. Start with the water, add the dish soap, and the essential oils of your choice. Give the spray a thorough mixing to ensure even emulsification, and you're ready to go. Always use essential oils with caution near sensitive pets and family members.
Grow Repellent Plants in Your Yard
An effective roach repellent starts from the ground up; plan your garden to repel unwelcome pests as part of a successful integrated pest management strategy. Certain species of plants are naturally repellent to the average insect; use these benefits in your own home garden.
To protect your home, plant fragrant herbs like rosemary or oregano. Grow fresh catnip bushes or anything from the mint family in cute pots around your doorways or garbage areas.
Try the unique-looking Osage orange bush; it grows large brain-like fruit that emits a deterrent smell to pests. There are many options for an outdoor roach deterrent to meet your needs.
Professional Pest Control for Extreme Roach Infestations
Cockroach populations have a habit of getting completely out of control in a short time. One female cockroach can lay over 800 eggs in a year, and if half of them are female, that's hundreds of thousands of roaches climbing through your walls.
Call a certified roach killer if necessary. Professional pest control personnel have a variety of helpful, practical methods to crush cockroaches where they stand. Many exterminators use gel baits with a syringe applicator to get into dark corners, helping eliminate several generations of roach invaders.
For extreme infestations, inquire about complete tent fumigation. Each exterminator sets prices individually for these services; you should always get a few quotes.
We hope you benefit from our creative collection of roach deterrent ideas and that you can put them to good use in your home and yard. Remember that roaches are sensitive to smells, which means they will locate and consume any food left sitting out.
Roaches are especially attracted to sugar, oils, and fats. Seal up food, wipe down the counters, and take the garbage out regularly. If you live in an area of America with a lot of roach activity, try some of our natural deterrents to help keep your house safe.
Choose repellent plants for your yard. Do a seasonal maintenance check and fill any cracks or entry points. Try diluted essential oils to deter cockroaches and other insects. Many of these scents repulse rodents, as well. Keep things clean, secure the perimeter, and fill your space with all-natural repellent for the best results.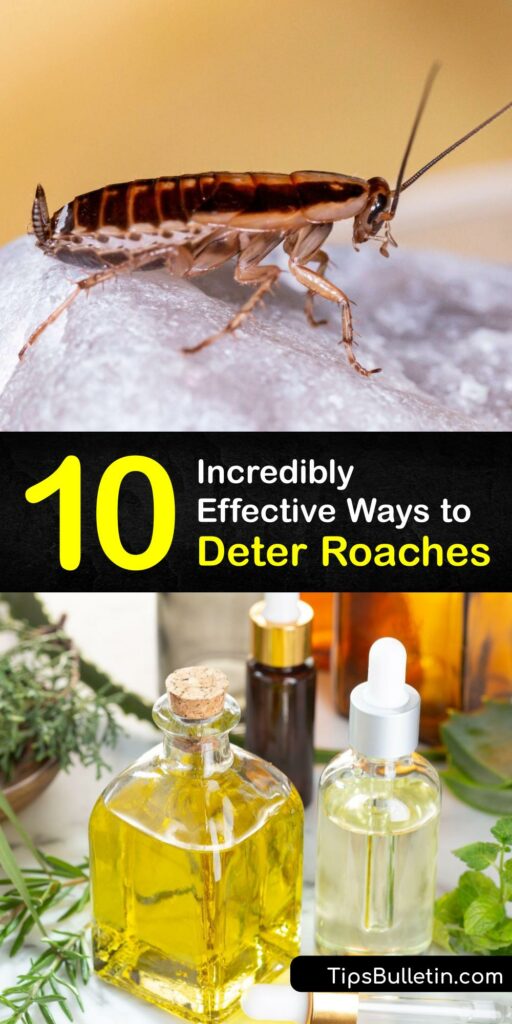 If you enjoyed our easy-to-follow roach deterrent recipes, share this article with friends on Pinterest or Facebook who are tired of dealing with rowdy roach infestations.