Throughout history, roses and rose bushes have often been considered to be the most beautiful flowers. Poets have compared the beauty of an individual to that of a rose, helping further cement the idea that the rose is the epitome of elegance.
Rose gardens all over the world are carefully manicured, cared for, and often the highlights of various palace tours. Why not bring some of that beauty to your very own garden and yard?
Roses have earned the reputation for being hard to maintain. However, don't let that keep you from the garden of your dreams. Growing rose bushes and rose bush trees is not as difficult as you may have thought.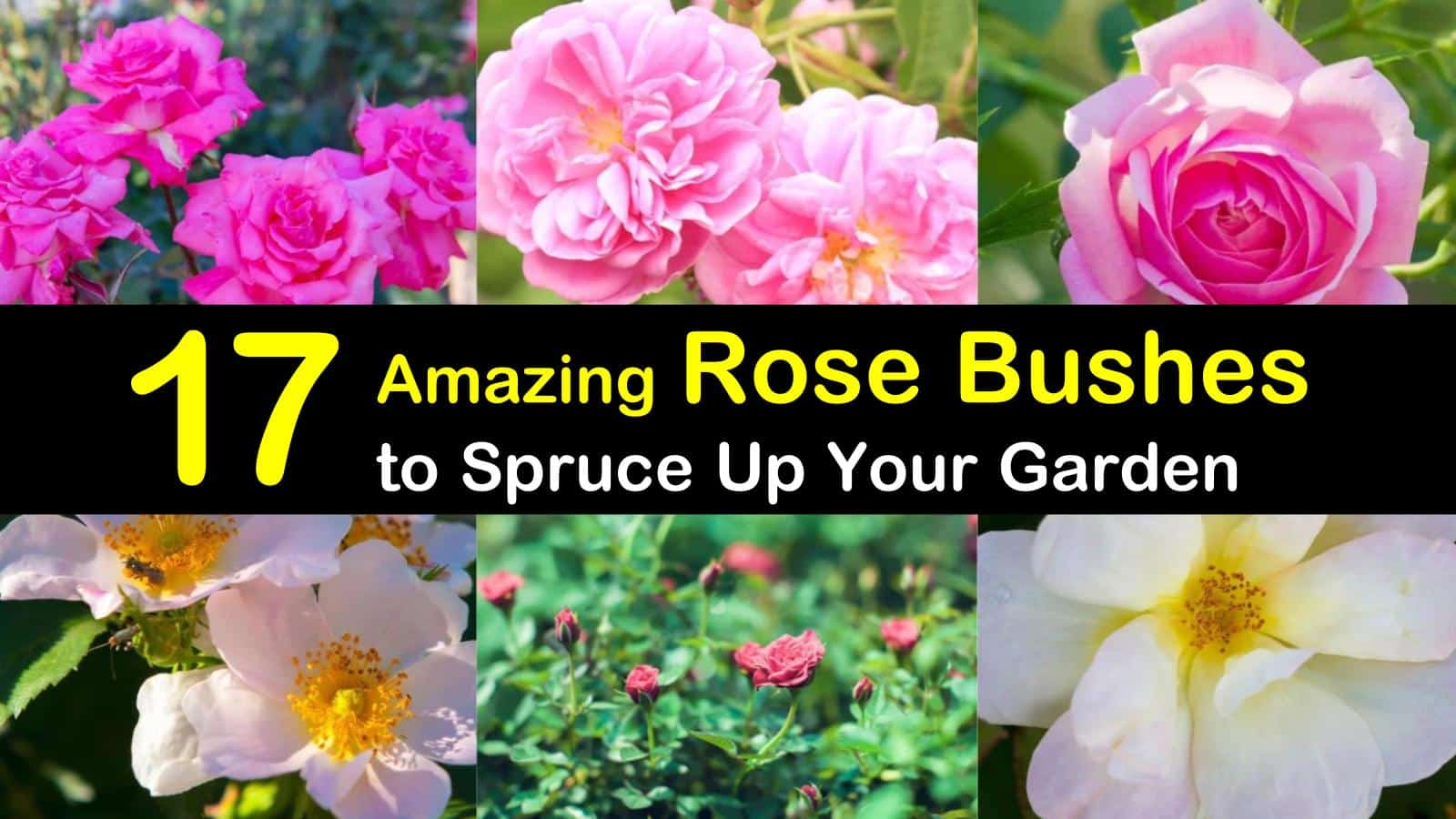 Quick Tips for Caring for Rose Bushes and Flower Beds
Whether you are looking for fragrant roses or low maintenance roses, you will be able to find the rose plant that best suits you, your garden, and your climate.
There is no doubt that as soon as you plant a garden, you will start to see pests and invaders who want to munch on your roses and other plants. However, there are many ways to take care of these issues with relative ease. It's important to get rid of aphids on roses before they multiply into an infestation, which can happen quickly.
An easy way to get rid of harmful pests is with a little neem oil spray for roses. The spray gets rid of the harmful pests but keeps the important ones. If you notice that Fluffy is spending his days in the rose bushes, there are plenty of tricks you can learn to keep cats out of flower beds and keep your garden looking pristine.
Rather than spend time weeding, you can learn about the benefits of using Epsom salt in the garden. When you use Epsom salt for rose bushes it will keep weeds at bay and even act as a fertilizer.
However, if you want an even stronger fertilizer, you can look into using coffee grounds as fertilizer. When you use coffee grounds to fertilize your roses, you reduce food waste and reuse something you would throw away.
Fertilizing your roses is an important part of their care. Use homemade eggshell fertilizer for roses for extra calcium or add some compost at the base of your plants.
Rose Bush Trees
If you are interested in having rose bush trees in your garden as well, you'll be happy to know that many rose bushes can grow into rose bush trees. David Austin, a rose cultivator who often has many exclusive offers online for rose growers, has plenty of tips on how to cultivate your rose shrub into a tree.
Use a rose bush that already has a sturdy central trunk. Cut off the branches and stems and the top of the rose bush, which encourages the rose bush to grow upward.
Add tree stakes along the side for additional support as the tree grows up. As branches and stems grow below where you want the flowering shrub, prune them down, as well.
These varieties make excellent roses as hedges, providing some privacy in a garden space or as a border.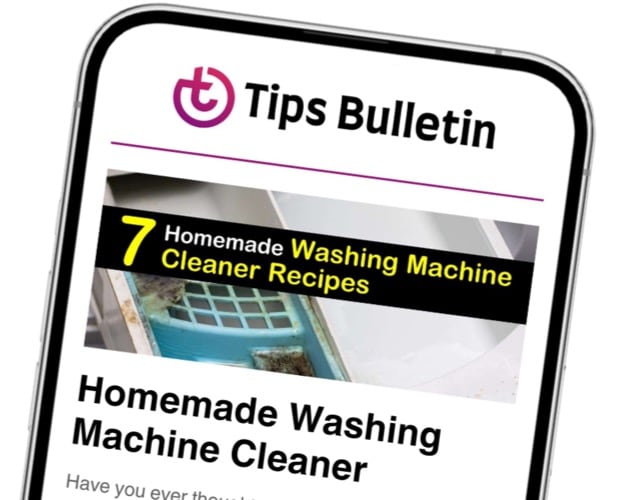 Finally, an email that Transforms Your Home.
Get the latest home and garden tips from our experts, delivered straight to your inbox.
How to Plant Bare Root Roses
Sometimes you will receive bare root roses when you order a rose bush or purchase one from your local garden center. Make sure you refresh the bare roots in water for up to 12 hours before planting. Dig a hole in your garden roughly 12 inches deep and two feet wide.
Layer in about an inch of compost at the bottom and set in the roots. If the weather is warmer, set the bud union approximately one inch above the surface. If the weather is colder, set the bud union roughly one inch below the surface so that it is protected from harsh weather elements like snow and freezing rain.
Refill the hole with the soil a little more than halfway, water it and let it drain, and then refill with the rest of the soil. Tamp down the soil so the rose bush remains upright. For extra measure, prune any branches back on the different types of thorn bushes to encourage new growth.
If you have a pest problem in your yard, whether it is rodents or stray cats, rose bushes are an excellent deterrent for these creatures. The thorns on the branches are ideal to keep feral cats out of the yard. All they need is one or two unpleasant experiences with your rose bushes, and they will go elsewhere.
Beautiful Rose Bushes for Your Backyard
If you only have a small area but can't do without roses, you can try a dwarf variety to create small shrubs. They will need to be pruned more than some other roses but you will be able to enjoy their look and scent just as you would if you had a larger garden space.
If you have a problem with the neighbors' cats or there are strays that wander your street, choose rose bushes with thorns to keep cats away from your property. One brush against the stem will likely eliminate your cat problem for good – at least from that particular cat.
If you live in a climate that may not be conducive for overwintering roses, add roses for pots that you can move indoors during the colder months.
Blush Roses (Rosa "blush noisette")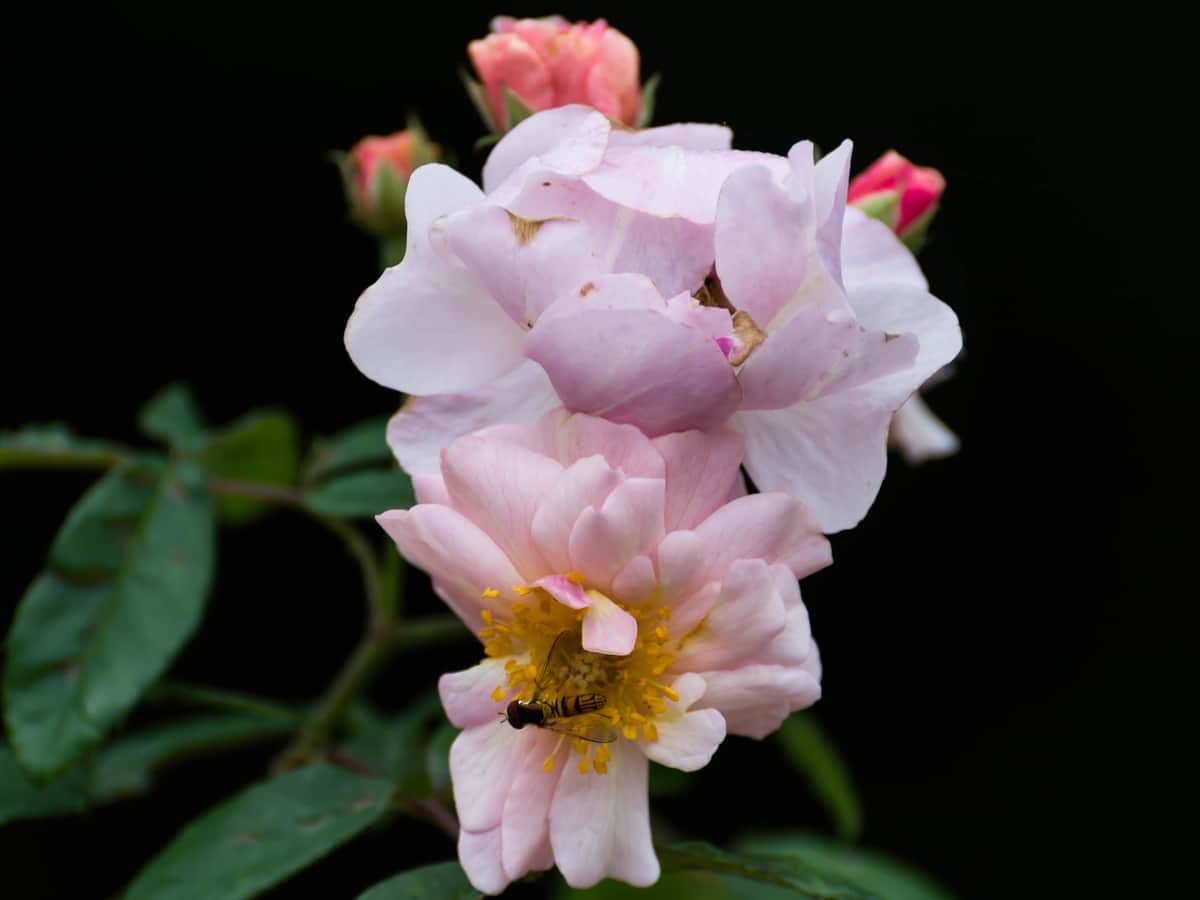 If you're looking for a stunning and bright thornless type of rose, then the Blush Rose is a beautiful selection to spruce up your garden. Blush Roses can also be trained as climbing roses, adding color to the sides of your home, or added to a trellis anywhere you put it.
Growing climbing plants on a trellis or fence adds some height and interest to a garden area and creates a showy scene to highlight plants on the ground and upward.
Their colorful petals range from pale pink to bright fuchsia, which contrasts against their dark green leaves to provide a great a beautiful springtime canvas. Situated in USDA hardiness zones five to 10, the Blush Roses thrive in many climates.
Blush Roses, in addition to being roses with very few thorns or none at all, can also be cultivated to become rose bush trees. Given their sturdiness, they make an excellent selection for diversifying your garden.
Mother of Pearl Rose (Rosa meiludere)
These Grandiflora roses are an absolute delight for those looking for that "classic" rose shape. With pale pink blooms, you'll add a touch of softness to your garden. The Mother of Pearl Rose is fairly disease-resistant, making it a great starting rose for those looking to expand their green thumb repertoire and to add a little excitement to the garden.
These easy to grow rose bushes span across multiple USDA hardiness zones, making them resilient in both warmer and cooler climates. Though the ground cover for this specific rose may not be expansive, the size of the blooms will make up for it.
Gallica Roses (Rosa Gallica) – The Classic Royal Rose Bush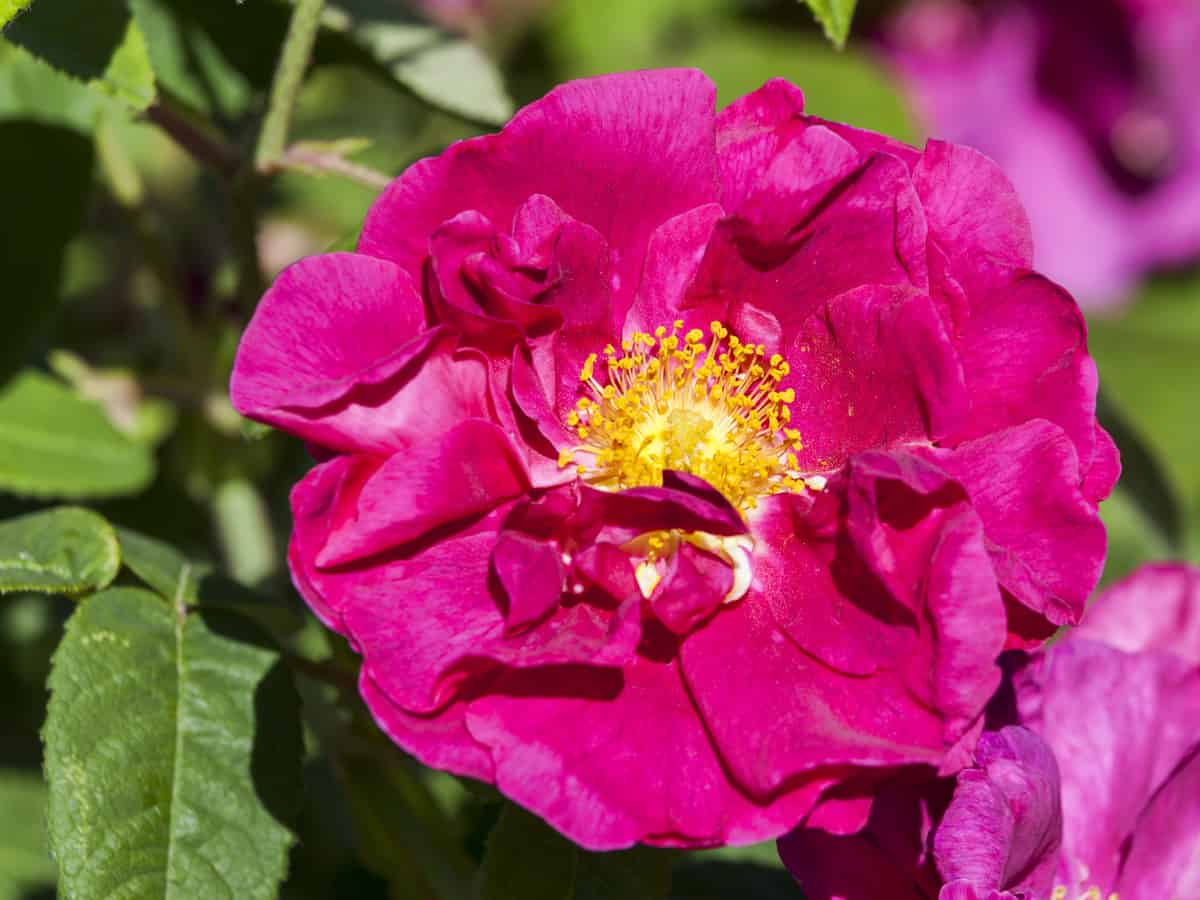 Also known as the French Rose, these unforgettable red rose bushes bloom in the summer to help you feel as though you've escaped to a hideaway country estate. You can also find Gallica Rose varieties in plenty of other colors, such as pink and purple.
Often considered one of the easiest bushes to grow for beginners, Gallica Roses are perfectly happy in small gardens and plots. You can even plant Gallica Roses in a pot and keep them indoors. However, Gallica Roses are prone to mildew problems, so make sure to use a fungicide while caring for your rose plants to ensure that they remain healthy and bloom as long as they should.
At Last Rose (Rosa x HORCOGJIL)
For those who are looking for a tea rose that is relatively low maintenance, then the At Last Rose is a wonderful choice. With the billowy, soft petals and pleasant fragrance characteristic of the hybrid tea roses, the At Last Rose is a stunner. Add to the fact that this is one of the plants that smell good; it offers disease resistant hardiness and a long blooming period. This pale orange rose is a relatively stress-free plant.
However, the At Last Rose will need some pruning to keep the new blooms looking just as brilliant as the year before, helping make it an excellent transition plant for those gardeners with a little bit of experience who are looking to learn even more.
Damask Roses (Rosa damascena)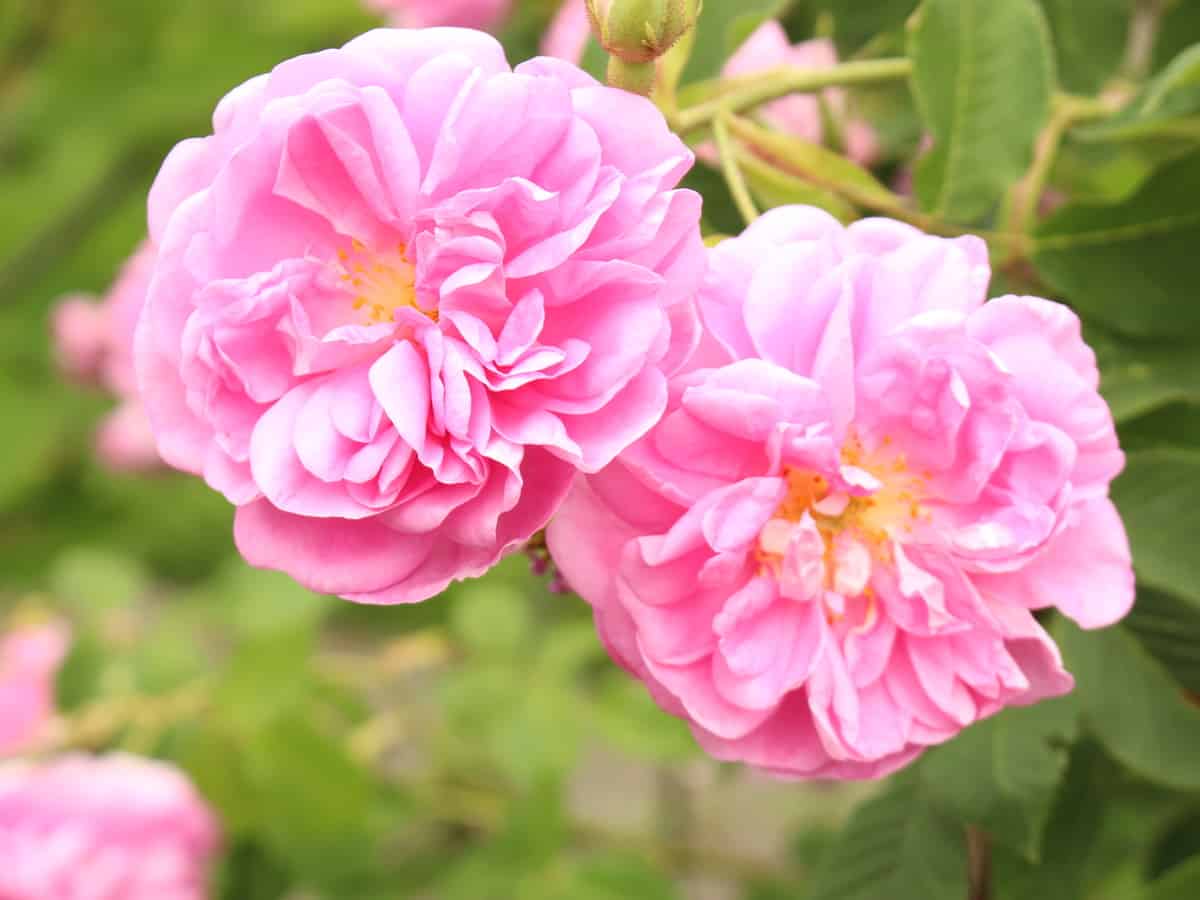 With the different varieties of Damask roses, you can get a pink rose bush or a red rose bush or even one of each for more color in your garden! You can also choose between two other rose varieties: the Summer Damask and the Autumn Damask.
The Summer has a shorter flowering period of just the summer whereas the Autumn blooms in the summer and continues to flower into autumn.
For those who fancy themselves amateur bakers and chefs, the Damask Rose is one of the roses often used in rose tea, rose water, and many confectionary delights. Find yourself some recipes and how-tos on using this new garden staple to change up your cooking.
Beach Roses (Rosa rugosa) – The Hardiest Rose Bush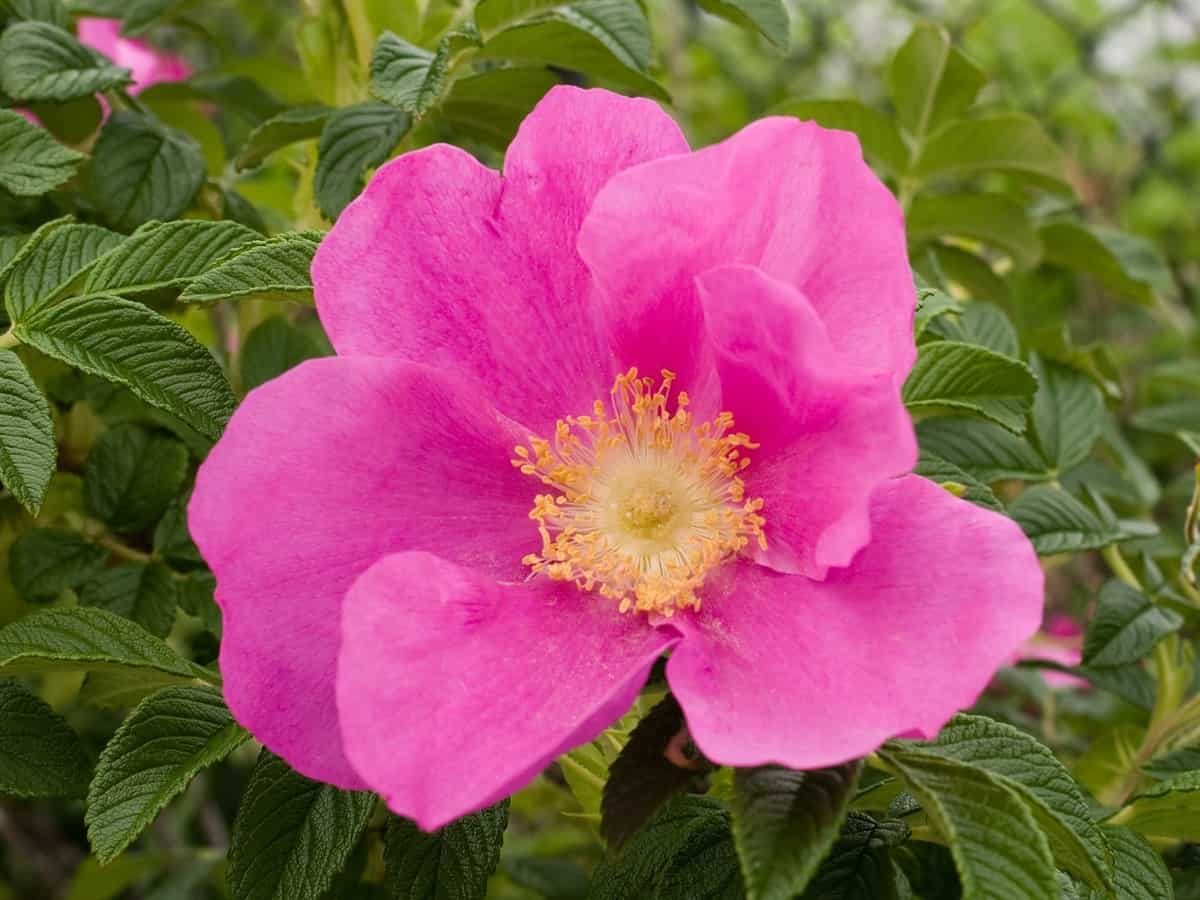 For those near the shore, or in areas with more acidic soil, you can grow roses, too. The Beach rose is one of the trailing roses that is more robust – a stronger species that does well in conditions that many other plants do not.
The Beach rose plant can withstand salt spray from coastal environments, is relatively disease-resistant, and is very low-maintenance, making it an excellent beginner rose plant.
Thanks to their tough exterior, these landscape roses for the beach can give you plenty of healthy ground cover that doesn't need regular maintaining. Beach roses come in a variety of colors so that you can decorate and design with purples, reds, whites, and pinks.
Bourbon and Hybrid Perpetual Roses (Marchesa Boccella)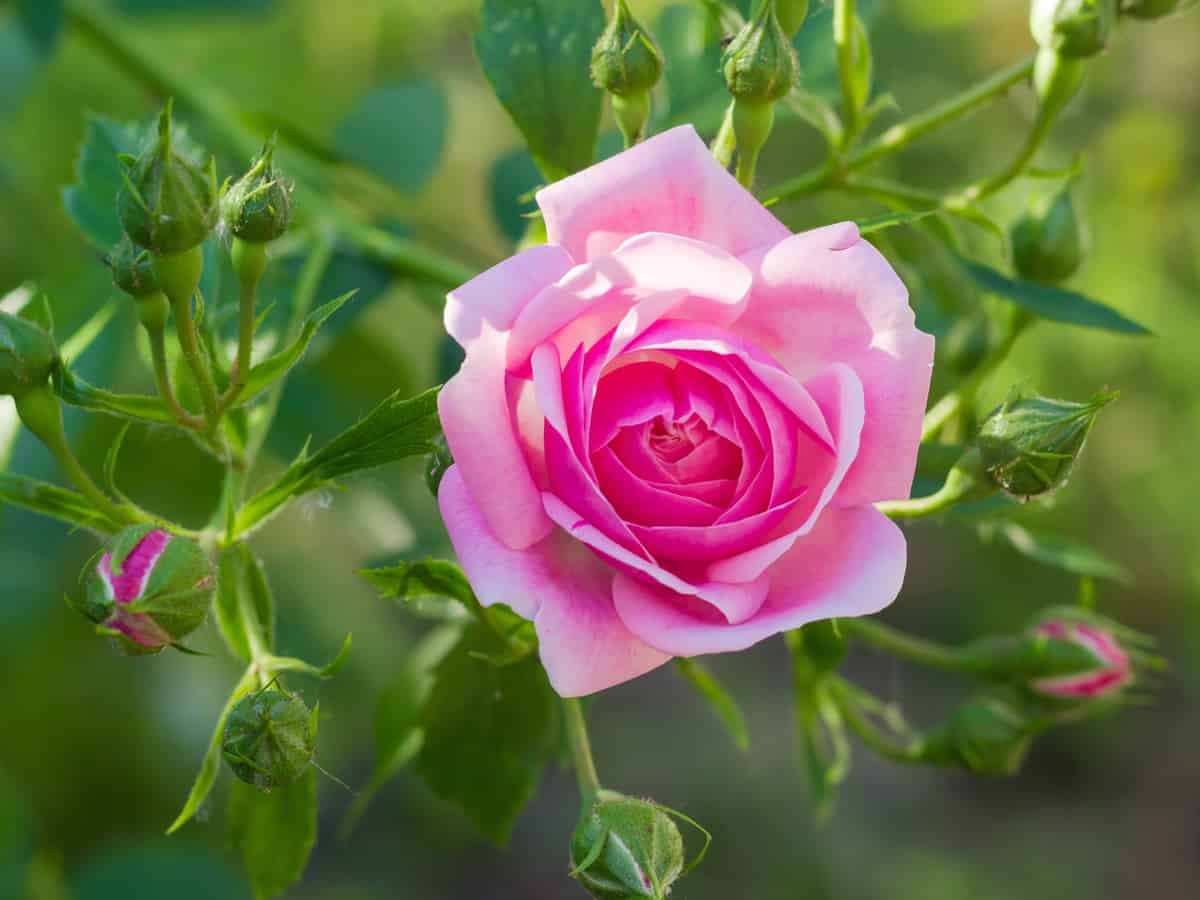 Like the name would suggest, the perpetual rose is a rose that will repeat flower. They have been crossbred multiple times over generations to maintain their classic rose shape while having the ability to repeat bloom.
They are also a relatively robust variety and can withstand colder climates than many other roses could not, therefore the Bourbon and hybrid perpetual roses have a much more extensive USDA hardiness range.
If your full sun roses are happy in their environment, you will see a large bloom in the spring followed by sporadic flowers in the summer and autumn. If you're lucky, you might even get a second large bloom in autumn.
Centifolia Rose (Rosa centifolia)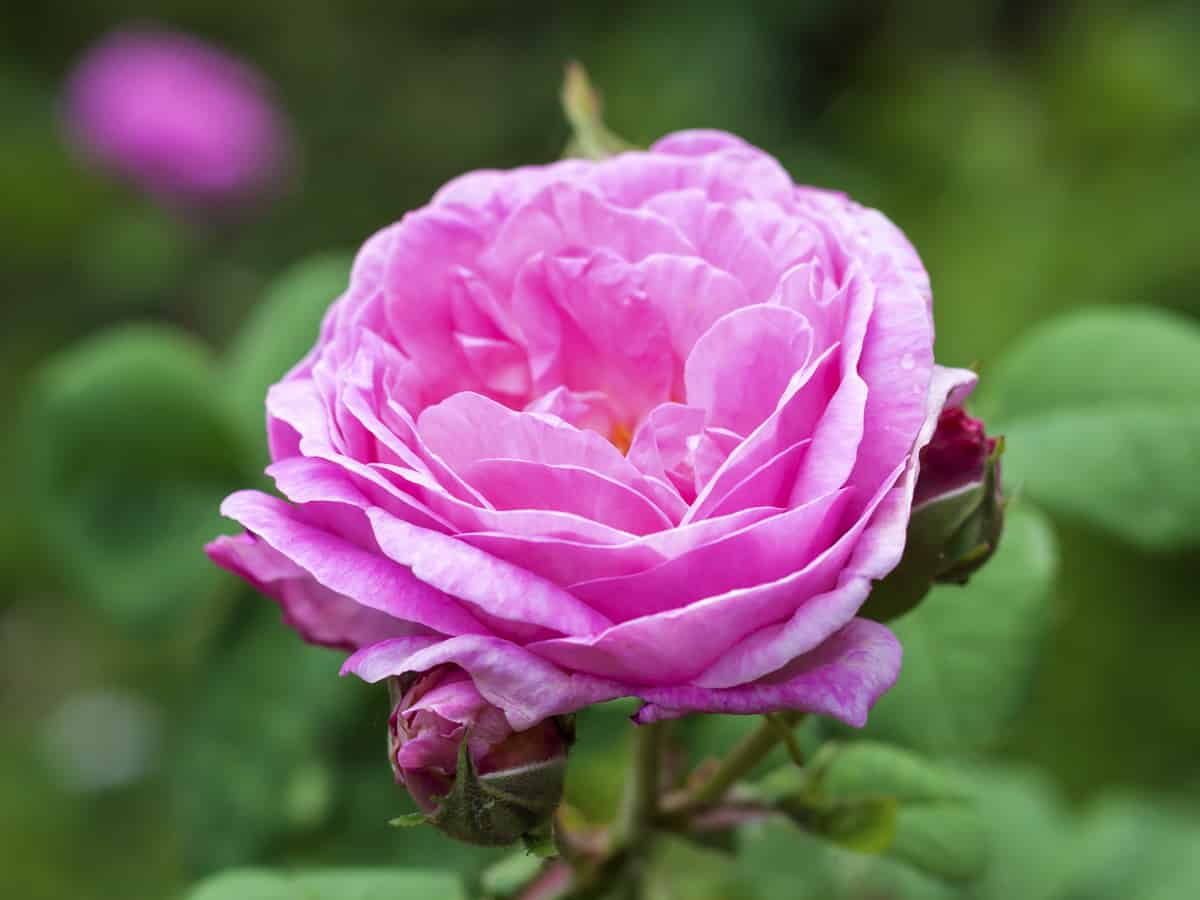 Also known as the Cabbage rose, the centifolia rose is another delicate and feathery looking rose that adds whimsy to your garden. With a complex genetic history, the centifolia rose is quite possibly a hybrid of several different kinds of roses. This large shrub rose adds a splash of light pink color to your garden.
As one of the roses that smell, the flowers of the centifolia rose are incredibly fragrant and add a pleasant and relaxing aroma to your garden. The oils produced by the flowers are common in many luxury perfumes, so your garden will quickly become a place of luxury.
Sweetbrier Rose (Rosa rubiginosa)
With its large, broad petals and bright green leaves, the Sweetbrier rose blooms in the late spring and can even sustain blooms into mid-summer. While the fragrance produced by the flowers may be on the subtle side, the flavor produced by the rose hips is very fulfilling.
Remarkably, a tea brewed with the rose hips of the Sweetbrier rose holds enough vitamin C to meet the necessary daily minimum. The rose hips are hardy and will survive into mid-winter, giving you ample opportunity to brew some healthful tea. When harvesting, be careful because the Sweetbrier rose is a thorny shrub rose.
Louis Philippe China Rose (Rosa "Louis Phillippe") – A Mysterious Rose Bush
These deep, bright, dark pink, almost purple roses are an excellent additional accent to the garden. A type of tea rose, the Louis Philippe is a historic rose that has been cultivated by floral lovers for centuries. If the plants are happy, these small roses for edging can produce multiple blooms throughout their blooming season.
While you will have to spend some time with spring pruning, your efforts will be rewarded with these unique roses. Sometimes, the Louis Philippe will bloom in pairs. Keep in mind when pruning that the Louis Philippe rose bush has thorns.
Knock Out Roses (Rosa radrazz) – A Stunning Rose Bush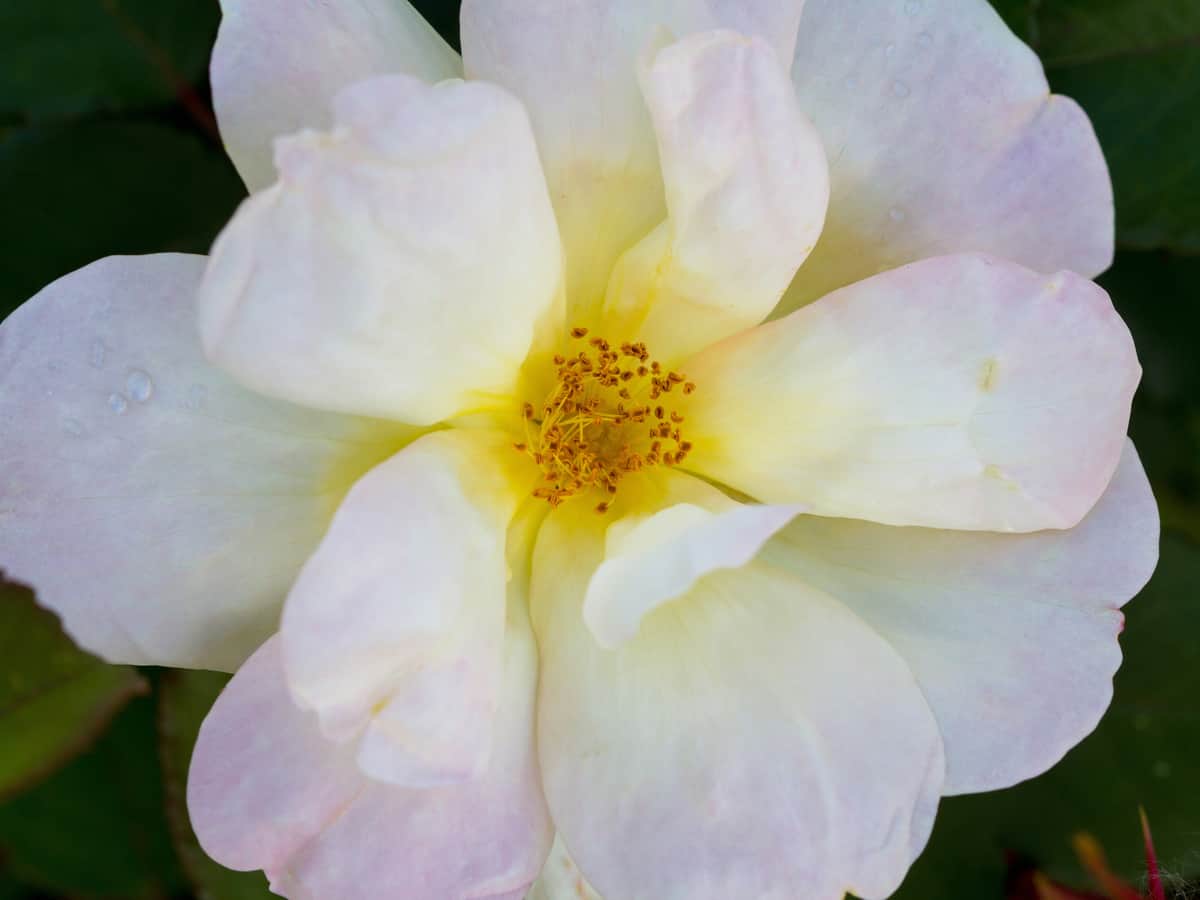 No matter what color you want or feel like you need to help give your garden that extra bit of beauty, Knock Out roses are an excellent choice. Whether you want a white rose, yellow rose, bright fuschia rose, or something in between, you have plenty of options.
The Knock Out rose is a relatively new variety of rose that has proven to be reasonably disease-resistant and climatically hardy, making it a fantastic starter rose for new gardeners.
Knock Out roses also make beautiful landscape roses. You also won't have to worry about preparing for new growth as the Knock Out is a "self-pruning" rose. If you're looking for an even more breathtaking variety, you can choose the Double Knock Out rose for your garden, which will also make sturdy rose bush trees.
Orchid Romance (Rosa "orchid romance")
With some of the fullest blooms, some single blooms may have upwards of 50 petals; the Orchid Romance is a genuinely stunning shrub rose. Belonging to the class of floribunda roses, the Orchid Romance grows to be fairly tall, upwards of five feet in favorable conditions.
Happy in full sun, these shrub roses can bloom throughout spring, summer, and into the autumn, producing soft, pale pink flowers. And when they do bloom, they burst with many fragrant flowers. Their beautiful fragrance attracts bumblebees and butterflies to your garden, helping make it a welcome sanctuary to essential pollinators.
Bonica Rose (Rosa bonica 82)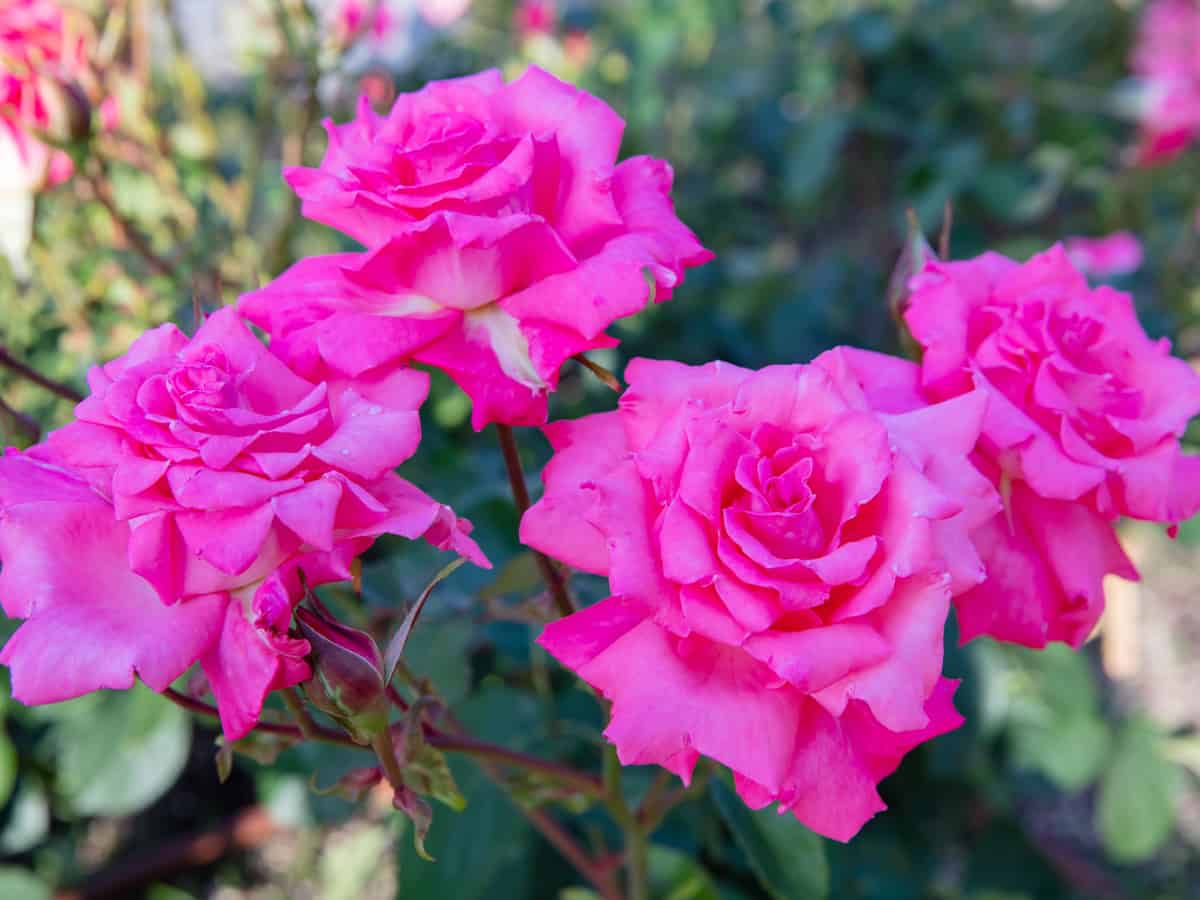 If you're looking for a rose bush that has seemingly more flowers and petals than leaves, consider the Bonica rose. Highly recommended by David Austin, the lead rose breeder, the Bonica rose is disease-resistant and climatically resilient. The Bonica rose covers a large area – four feet tall to four feet wide, in favorable conditions.
Not only that, but the Bonica rose shrub will flower multiple times throughout its flowering season. The delicate flowers, with upwards of 80 petals per flower, and a light fragrance, these wonderfully resilient shrubs are sure to be the centerpiece of your garden.
Honey Perfume Rose (Rosa JACarque)
These creamy yellow roses are true to their name. Their honey color and pleasant fragrance create the most unique rose. In addition to their beautiful floribunda rose shape and fragrance, the Honey Perfume rose is relatively disease-resistant.
What is known as a perpetual bloomer, the Honey Perfume rose blooms once when warm spring days arrive and continues to bloom until the autumn cools down.
Throughout its lifespan, the Honey Perfume rose can change shades from pale yellow to bright gold and even to a creamy white. This truly unique rose will give your garden that splash of variety that you want to add to a beautiful summer landscape.
English Roses (Rosa chinensis)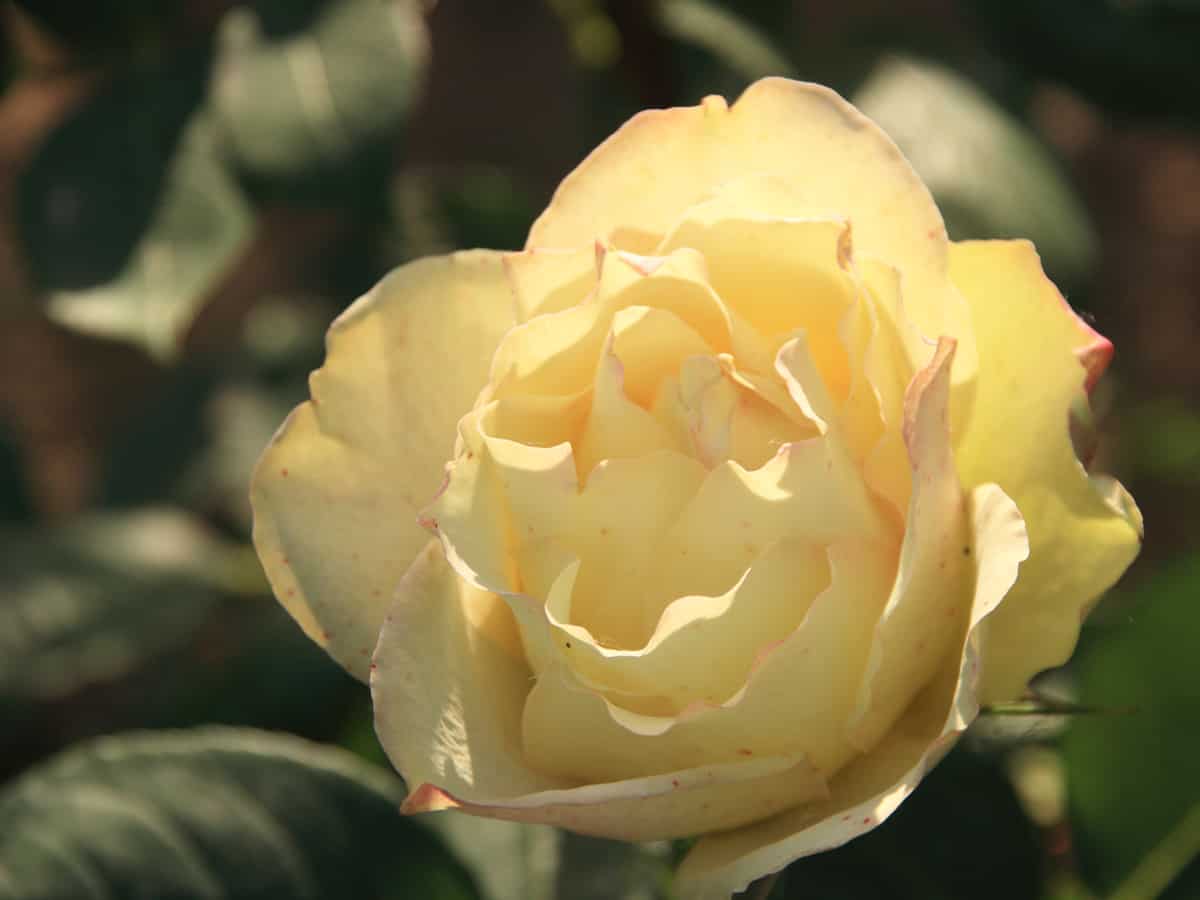 English roses come in many colors, such as pale pink, white, and even a creamy peach. Known for their feathery petals, these old fashioned bushes offer a delicate element to the garden that will make you believe you're in a royal court.
According to David Austin Roses, the English rose is one of the sturdiest roses used to make rose bush trees. The trees can grow to just above 3 feet tall and create beautiful focal points in your garden.
Pink Supreme Flower Carpet Rose (Rosa "Flower Carpet Pink Supreme") – The Best Ground Cover Rose Bush
These ground cover flowers are just what you need when you have a large plot to fill. These summer-blooming roses are complete with hot pink blooms that will instantly brighten up your landscaping designs. The Pink Supreme is also a little bit on the tough side, being both relatively heat and humidity resistant, allowing it to grow in a wider range of USDA hardiness zones.
On top of that, the Pink Supreme needs very little pruning since the plant somewhat self prunes. As long as you make sure you plant this gorgeous groundcover rose in a sunny spot, you will have a show-stopping landscape in no time.
Miniature Roses (Miniature rosa) – The Whimsical Rose Bush
While the large blooms of many classic roses are truly a sight to behold, there's something to be said for the unique size, shape, and look of miniature roses. These petite roses are deciduous shrubs that will burst with color every summer. Miniature rose bushes may only grow to be six inches tall and only an inch or two wide, but the color and quality of the flowers will dazzle.
Thriving best in full sun, miniature rose bushes do best when planted outside rather than kept indoors. However, don't let the size of these flowers fool you. You will need to practice a lot of the same rose care you do with larger roses, such as checking for common diseases and fungal problems, pruning, and watching out for pests.
As you plan your new rose garden, cultivate your design to fit your climatic needs best. By working with your USDA hardiness zones and soil types, you can easily create a picturesque landscape made up of mesmerizing roses of all colors and sizes.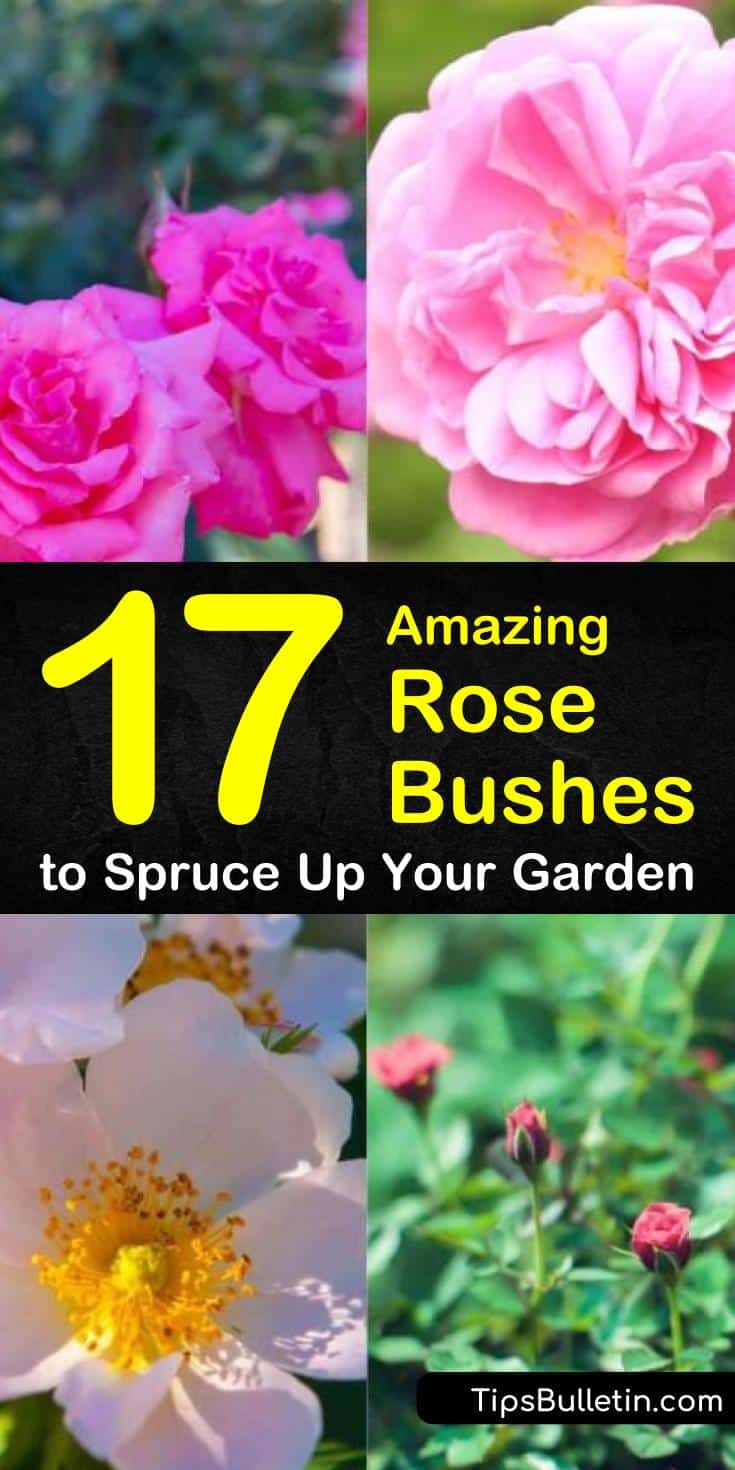 If you came up with some stunning gardening ideas with this rose bush article, please share this list of beautiful roses with your friends on Facebook and Pinterest.