Is it possible to have privacy and beauty all in one? When using roses as hedges, there are creative ways to build striking landscaping features and obtain privacy. Building hedges out of roses wraps color, fragrance, texture, movement, and privacy into an irresistible and low-maintenance package. Choosing hardy plants with built-in pest and disease resistance is one of the smartest steps for using plants for hedging.
Countless rose varieties embody these characteristics and grow healthy hedges that are easy to maintain. It's also too often that we see downright boring hedges planted for privacy.
Using roses as hedges gives you something beautiful to look at, and roses work the same, if not better, than traditional hedging plants. The only thing standing in your way from having the privacy fence of your dreams is learning how to plant a hedge.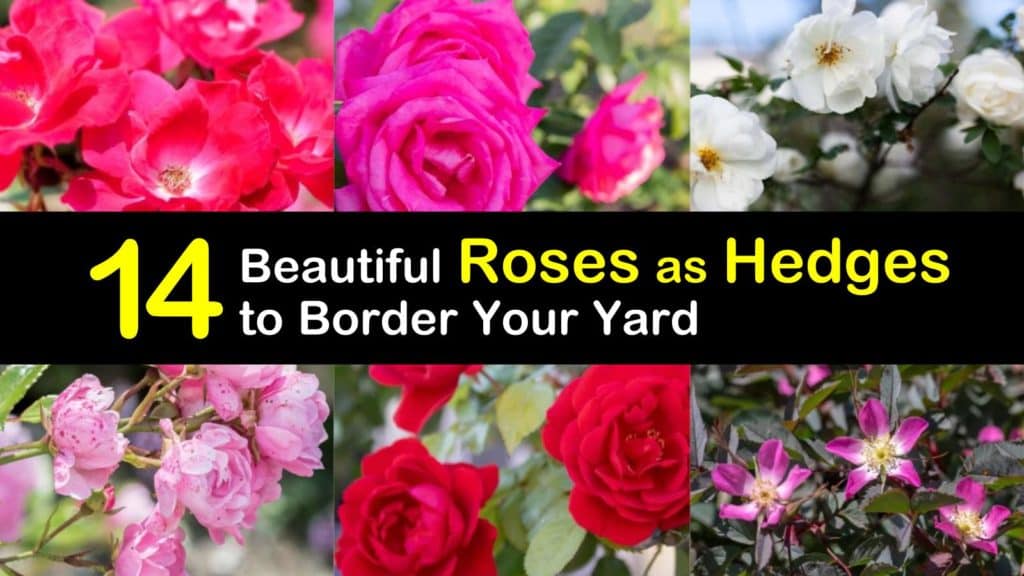 Planting a Rose Hedge
There are a few things you need to do before you have a picturesque privacy hedge. Before trying to grow rose bushes, the first step is to consider what your requirements for the project are.
Think about what height you want your hedge roses to be, how much you're willing to prune the shrubs, and the water and soil requirements. Planning ensures your landscaping project is successful and fits your lifestyle.
After planning, roughly space out the size of your hedge and how far apart the roses as hedges should be. Base your decisions on the width of your shrubs and how dense you'd like the fence. Spacing roses two to three feet apart is generally a safe distance.
Once your plans are mapped out, plant your roses. Digging a straight trench works well for bare root shrubs. Place each rose bush at the desired location, fill the trench back in, and water to gain a rose garden and rose hedge all in one.
Keep an eye on your roses after planting. Black spot is a common problem and learn about killing aphids on rose bushes to keep the bugs from destroying your flowers.
Roses with Coastal Vibes: Beach Rose (Rosa rugosa)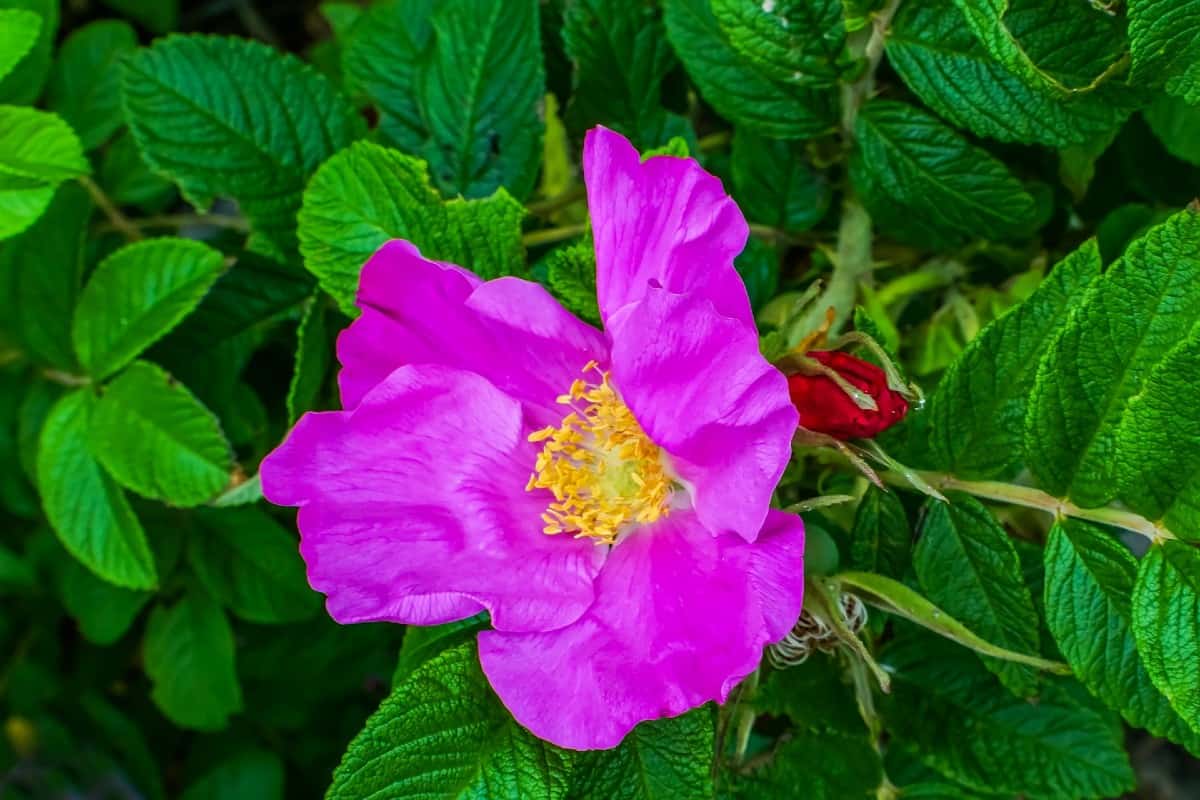 You'll often see a beach rose, or a rugosa rose, sprawling along the coasts of Rhode Island. These are a low-maintenance shrub rose with excellent cold and pest tolerance. Beach roses grow up to eight feet high and six feet wide.
Most of these trailing climbing roses are fragrant and thorny and hardy in USDA hardiness zones three through nine. Beach roses are excellent for hedges because of their ability to grow in unideal conditions like salt, shade, drought, humidity, and cold temperatures.
Place beach roses in a spot with lots of sunlight for an abundance of colorful flowers. They prefer well-draining soil and a pH of 5.6 to 6.5.
Knock Out Rose (Rosa radrazz)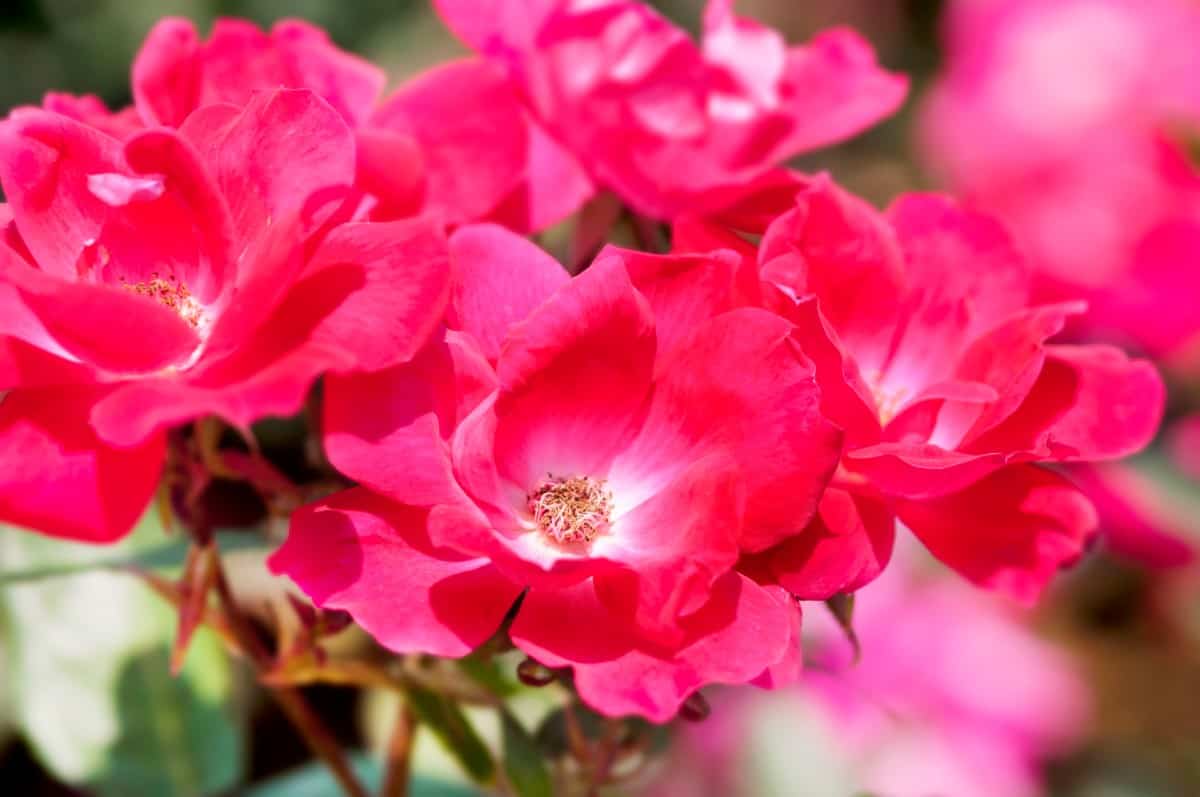 The only thing these roses are guilty of is knocking you out with beauty. These deciduous shrubs have an abundance of cherry red blossom clusters and dark green foliage and are amazing plants for your fence line or elsewhere. They are large-growing bushes that reach four to ten feet tall and wide.
Grow knock out roses in soil containing medium moisture, and that's slightly acidic. They survive in full sun to part shade and enjoy good air circulation. Remove the spent flowers to encourage reblooming.
Dog Rose (Rosa canina)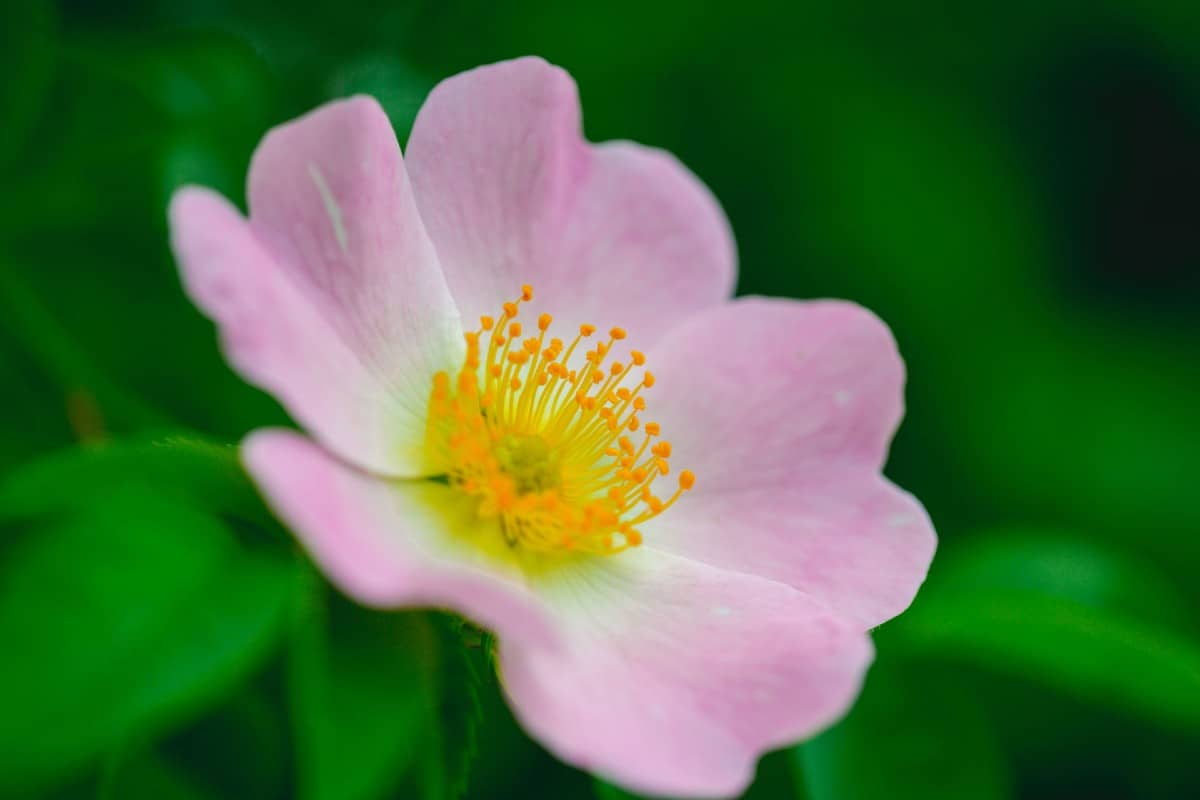 Dog roses are hardy and fast-growing. These shrubs have arching stems and curved thorns. Light pink flowers appear from late spring to midsummer, and they turn to glossy, red fruits that feed birds. It makes an impenetrable hedge with its prickly stems and thick foliage.
Dog roses grow up to 15 feet tall and wide, and they thrive in full sun and humus-rich soil. Apply fertilizer and mulch every year during the early spring. Keep an eye out for rose rust, powdery mildew, and aphids. Treat powdery mildew on roses quickly with a milk spray.
Burnet Rose (Rosa spinosissima) – Hardy Roses as Hedges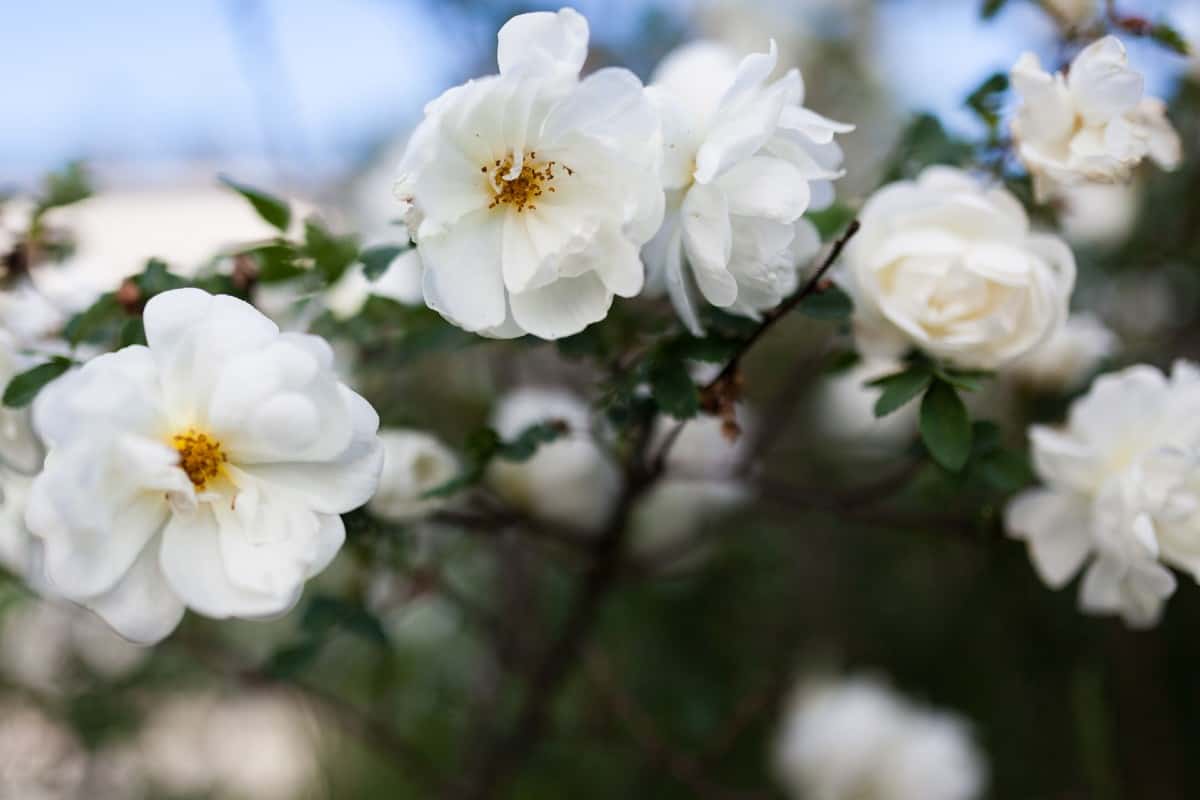 Whether you call it the burnet rose or Scotch rose, these are the perfect roses as hedges. They have a mildly sweet scent with fern-like foliage and white flowers that transition to dark purple fruits. Burnet roses are salt, drought, and disease tolerant and work for a low hedge or groundcover plant.
Burnet roses grow four feet tall and wide. Place them in full sun or part shade to make them happy and supply them with humus-rich soil. Prune every late summer once the flowering finishes.
Redleaf Rose (Rosa glauca)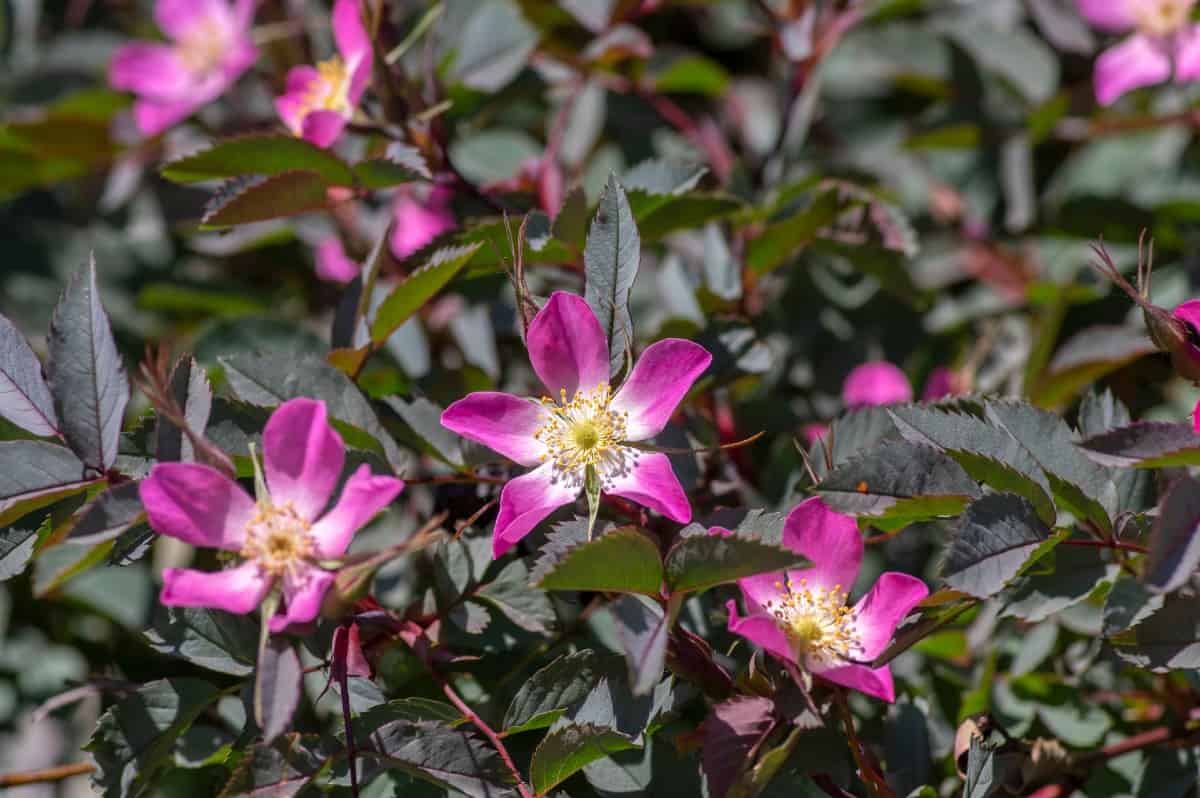 Redleaf roses are exceptionally cold hardy and one of the most unique-looking shrubs on the list. This medium-sized shrub grows eight feet tall and seven feet wide.
They have bluish-grey foliage in the summer and burgundy and purple leaves in the fall. The stems of redleaf roses are red and are one of the nearly thornless varieties of roses. The flowers are a deep rosy-pink.
Redleaf roses grow best in full sun and fertile, well-draining soil. They tolerate light shade, which is better for foliage color, but it increases the chance of poor flowering and diseases.
Bonica 82 Rose (Rosa bonica)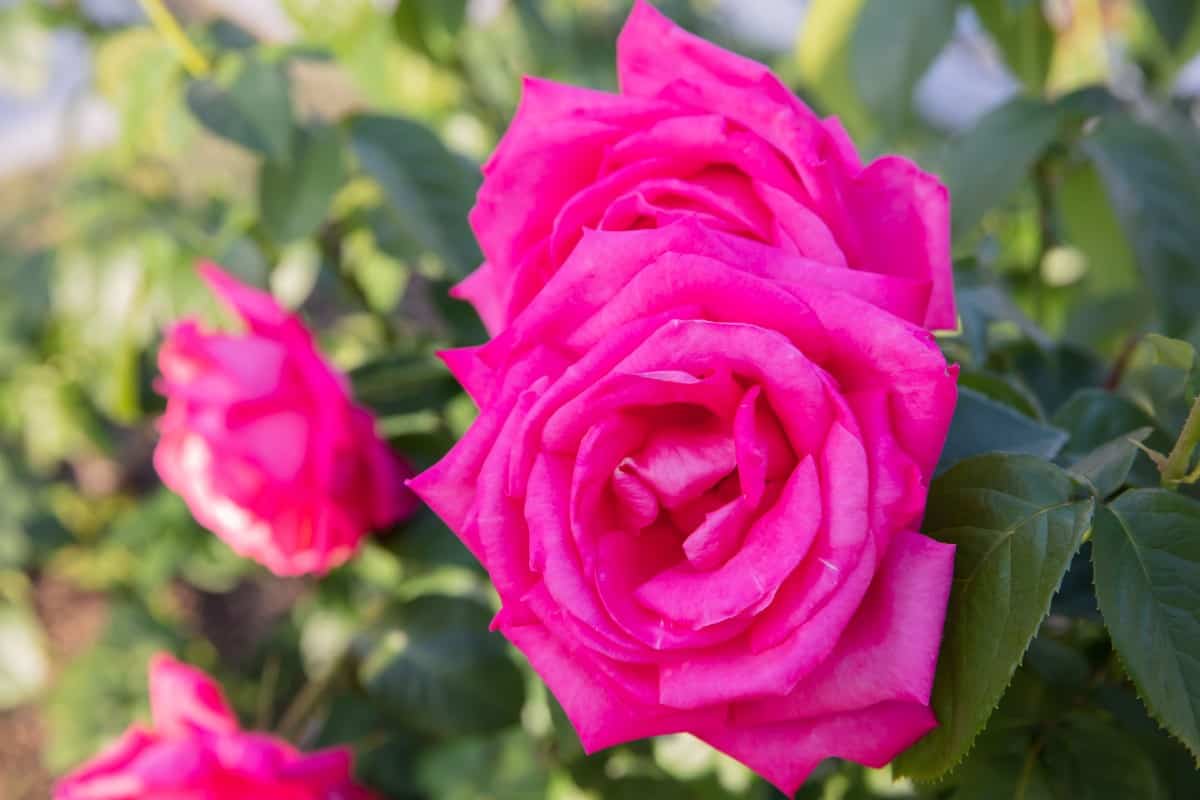 Bonica 82 roses provide visual interest with pink flowers and dark green foliage. They're a go-to for rose gardeners. The plants are bushy, sturdy, and nearly disease-free.
The Royal Horticultural Society gave this rose the All-America Rose Award and was named the World's Favorite Rose in 1997.
Bonica rose blooms last from late spring until the first fall frost. These gorgeous prickly bushes grow four feet tall and five feet wide, making them perfect for hedging. Grow them in full sun or part shade and fertile, moist soil.
Regularly Blooming Roses: Chinese Rose (Rosa chinensis)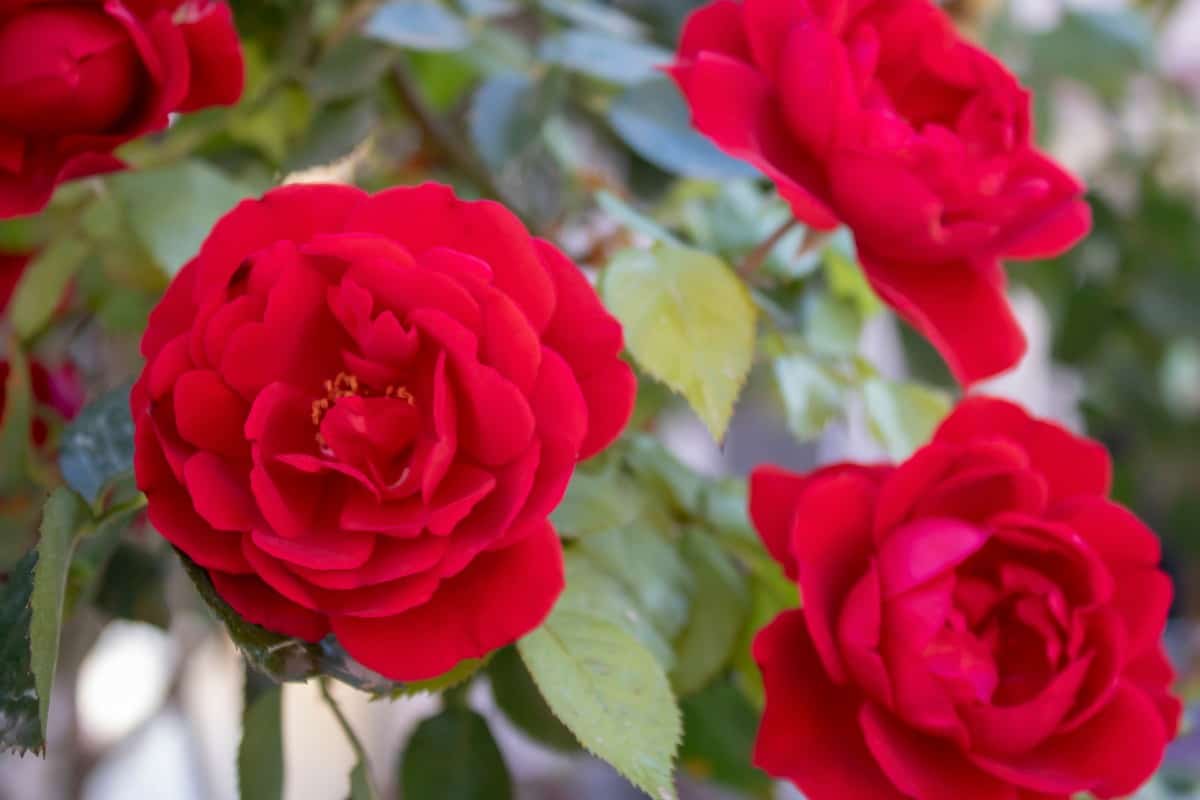 Chinese roses are a little different than your average rose. These shrubs flower periodically throughout the growing season but have smaller blooms.
The bushes are twiggy with daintier foliage compared to most varieties of roses. These work well as climbing roses but can be roses for hedges as well.
Chinese roses like having lots of sunshine and water. Mulch around the roots twice a year to fertilize the soil and keep out other competition. Pay attention to the bark to check for black spots or aphids.
Damask Rose (Rosa × damascena)
Damask roses are powerfully fragrant and beautiful. They are used to make rose water, flavor food, and in essential oils. This rose variety traveled from the Middle East to Europe and became increasingly popular. They grow seven feet tall and have grey-green foliage.
Grow damask roses in any soil with a pH of 5.5 to 7.5. Adding a small amount of fertilizer in the spring encourages healthy growth. Prune the roses after they finish blooming.
Musk Rose (Rosa moschata)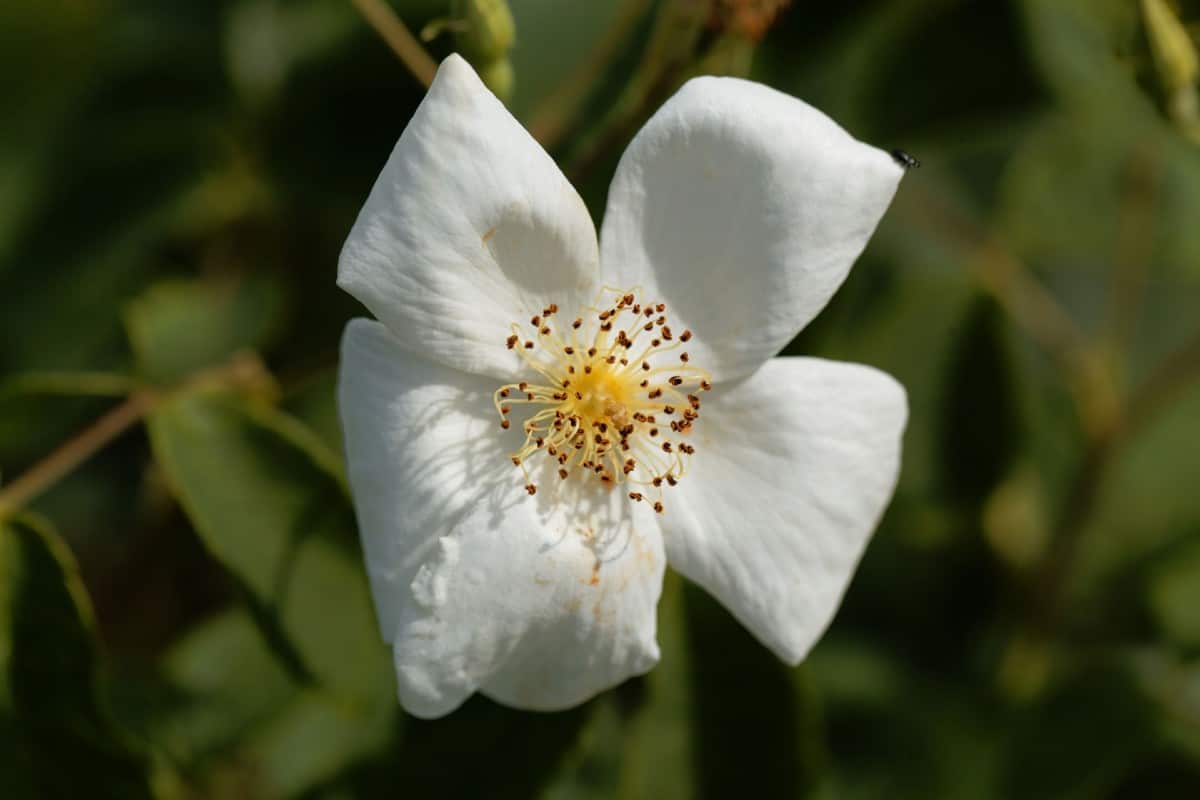 The hybrid musk rose is the winner of an award of garden merit from the Royal Horticultural Society. These bushy shrubs have aromatic, creamy-pink flowers with prominent yellow stamens.
These beautiful roses for scent and utility bloom from summer to fall, have a musky smell, and work perfectly as a flowering hedge or in containers. Musk roses do well in part shade to full sun.
They love soil that is fertile, moist, and well-draining. Add a balanced fertilizer every late winter and early summer. They don't like heavy pruning, so have a light hand when doing so.
Sweet-Briar Rose (Rosa rubiginosa) – Roses with a Surprise Scent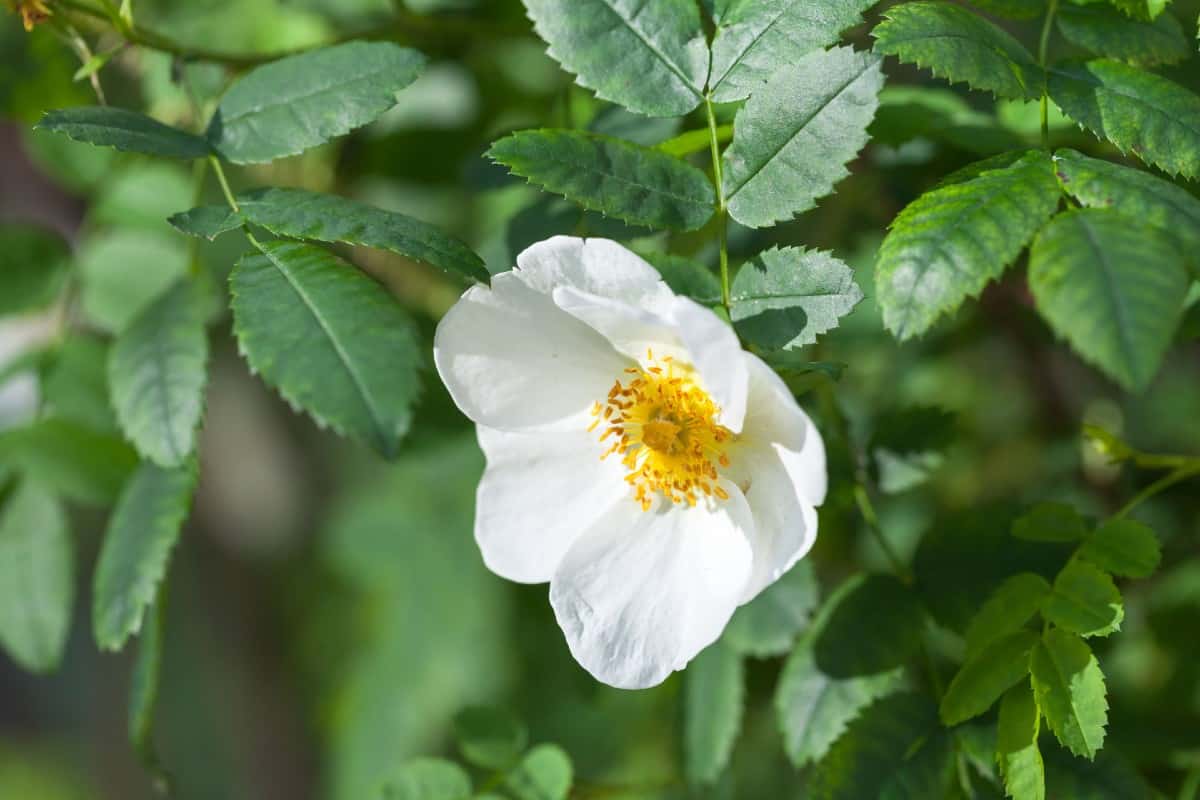 Sweet-briar roses make some of the best roses as hedges. These are roses native to Europe and often naturalize themselves along roadsides and in pastures. It has lush, dark green leaves and a scent similar to apples after rainstorms.
They have long, arching, and heavily thorned stems. The best flowering and resistance to pests happen when planted in full sun and rich, moist soil.
Remove diseased leaves from sweet-briar roses as you notice them and discard dead leaves from the ground as they fall. Prune as necessary in the late winter of each year.
Apricot Drift Rose (Rosa meimirrote)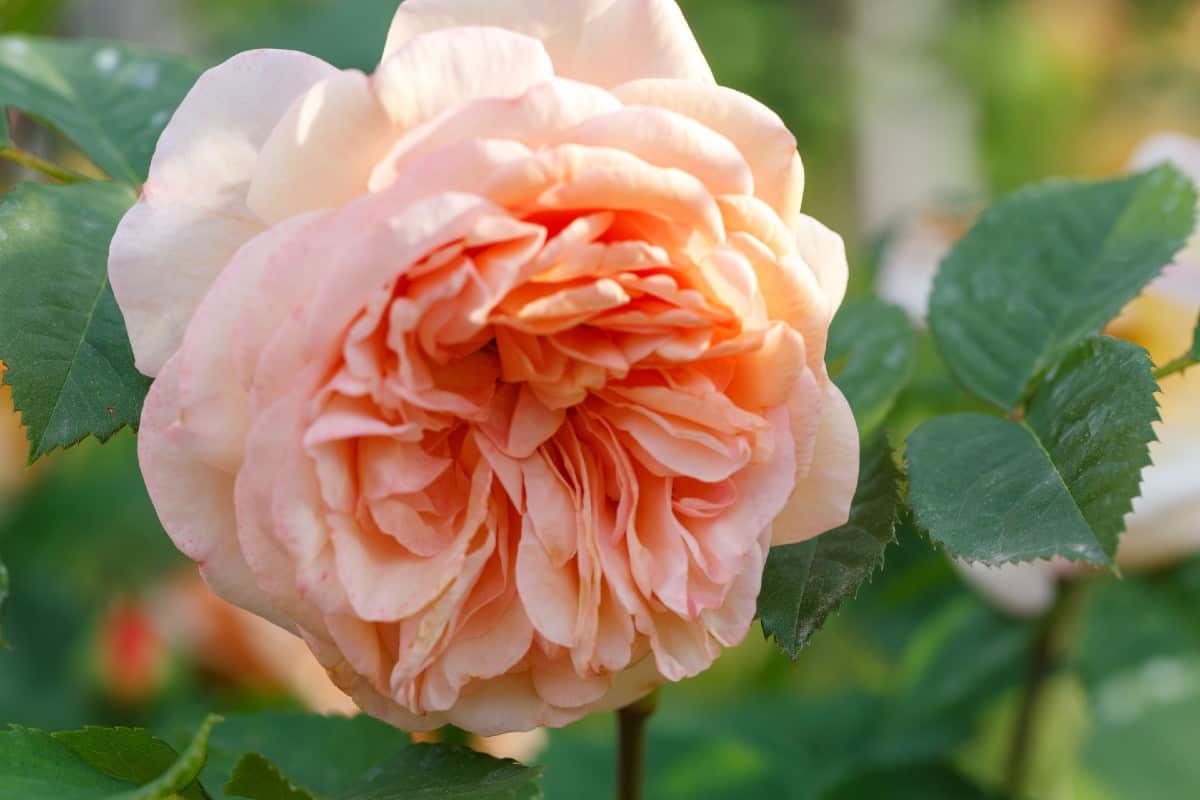 Drift roses bloom with all their might from spring to autumn. They have soft, cup-shaped flowers the color of apricots that pop against the dark green background. These are compact bushes used explicitly for low hedges or along the edge of a bed full of taller shrubs.
Drift roses prefer to be in full sun and average soil with good drainage. Fertilize them every spring with a slow-release fertilizer and much around the plants to reduce weeds.
Floribunda Rose (Rosa floribunda)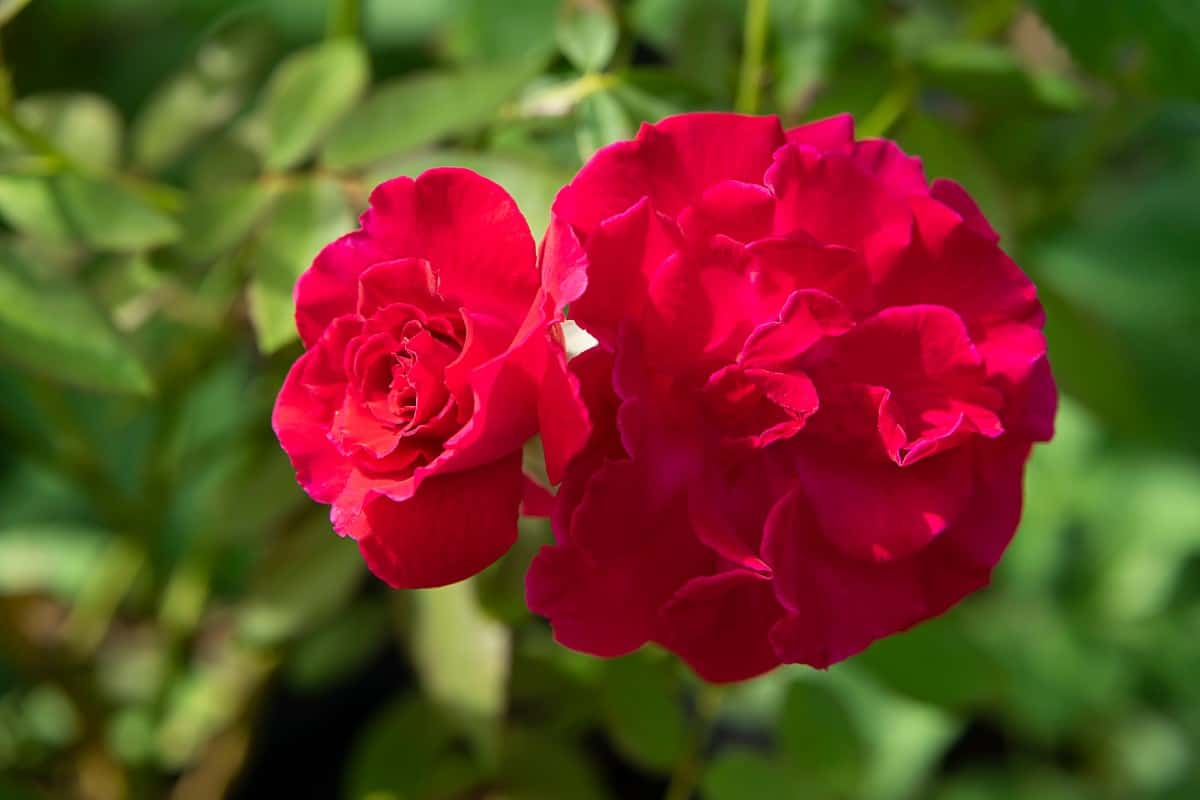 Floribunda roses were created when someone crossed hybrid tea roses with polyantha roses. They generate a mass of color with their large flower clusters. They are great for mixed borders, or large hedges, and are more disease-resistant than most rose shrubs.
Like many rose types, floribunda roses like the sunshine and fertile soil that is well-draining. Mulch around the plants and add fertilizer at the beginning of every growing season. Prune them as often as you see fit.
Plants for Any Support System – Prairie Climbing Rose (Rosa setigera)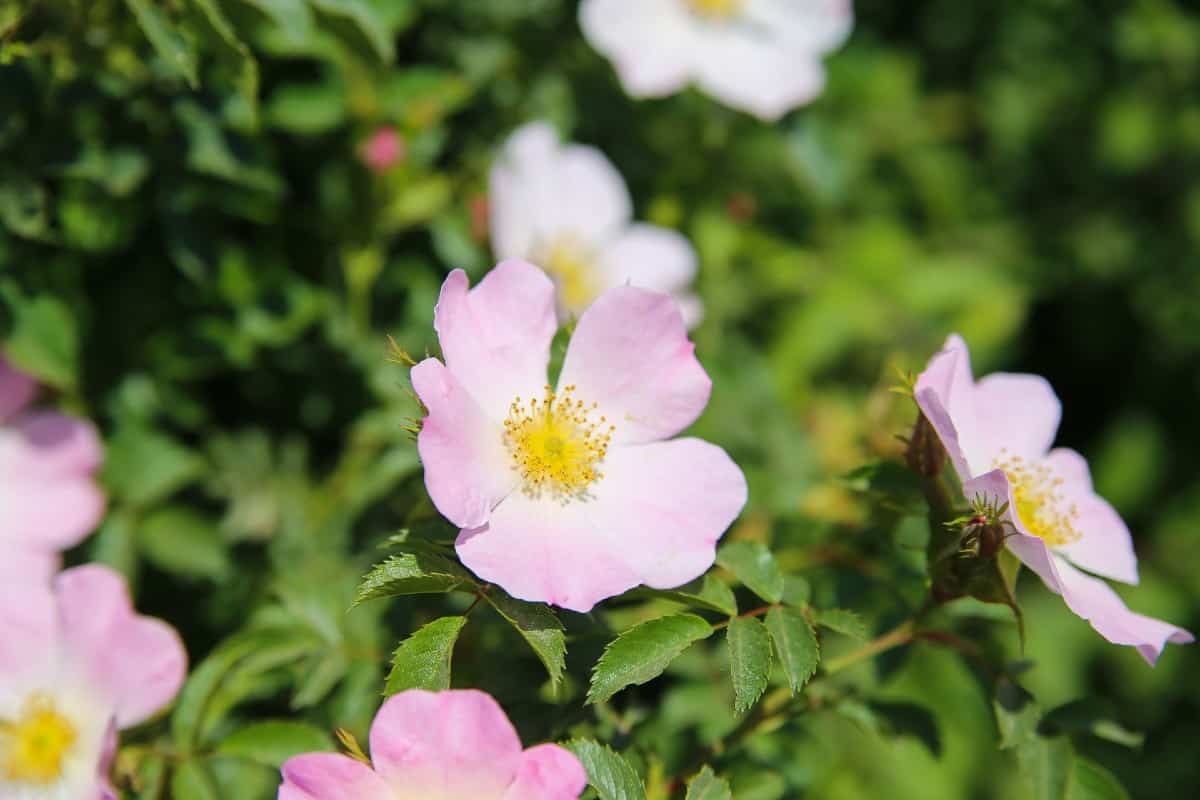 Prairie climbing roses reach heights of 15 feet tall with the right support. The flowers are pink in the middle and fade to white, and they bloom from midsummer to autumn. These climbers are also hardy in USDA zones four through eight.
Plant prairie climbing roses in full sun. They like soil with a pH range from 5.5 to 7.5 and some sand or clay. Keep the moisture level at around one inch of water per week for these easy care climbing roses.
Fairy Rose (Rosa polyantha)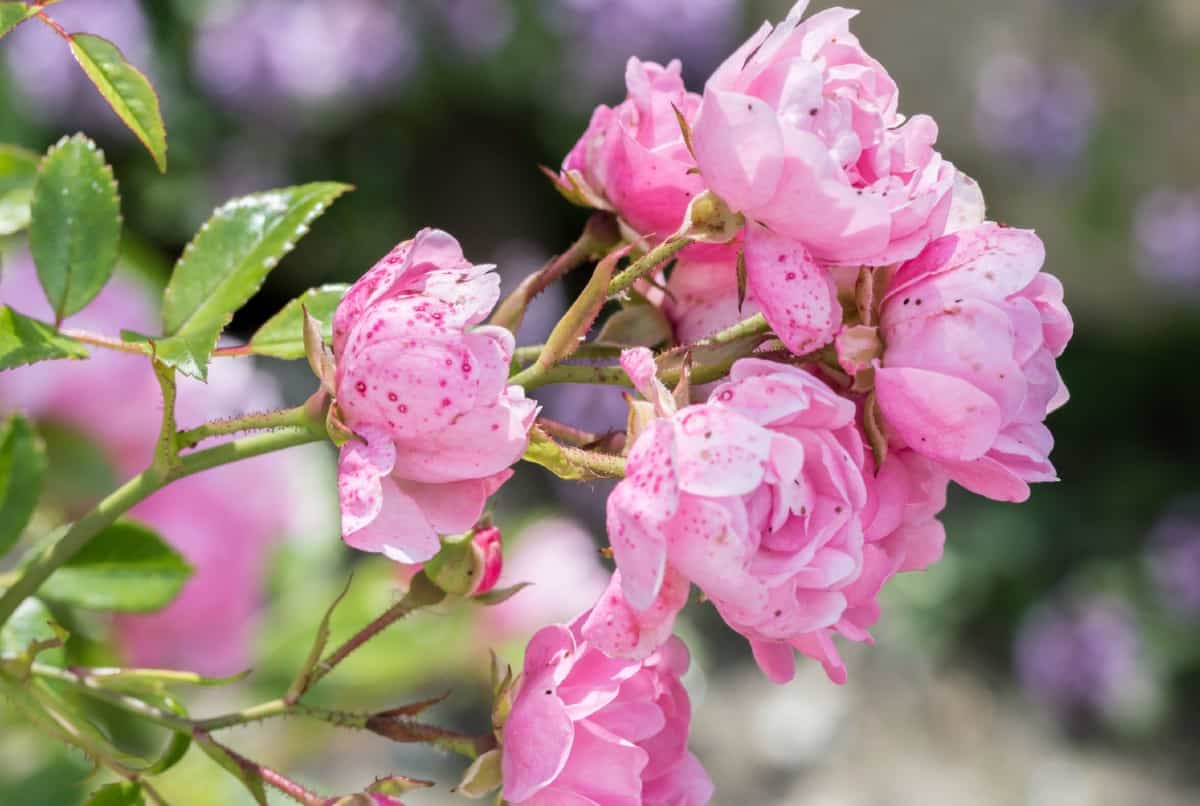 Fairy roses are one of our favorite roses as hedges. The small, double flowers bloom from June until the first frost of autumn and look like they came straight out of a mystical world. This variety is particularly suitable for low hedges, as they only reach three feet high and wide.
Grow fairy roses in fertile and moist soil. They tolerate full sun or part shade. Give them plenty of air circulation by not overcrowding them. Prevent diseases by removing fallen leaves and prune once the blooms fade.
Using roses as hedges is a creative technique that gives your property privacy and well-defined borders. It's not as challenging to do this landscaping trick as you may think.
An individual rose bush makes a statement on its own, but a line of blooming roses transforms your property and your flowering privacy hedge into a real work of art.
Your dedication and time commitment make a strong statement for both you and how you want your home represented in the community.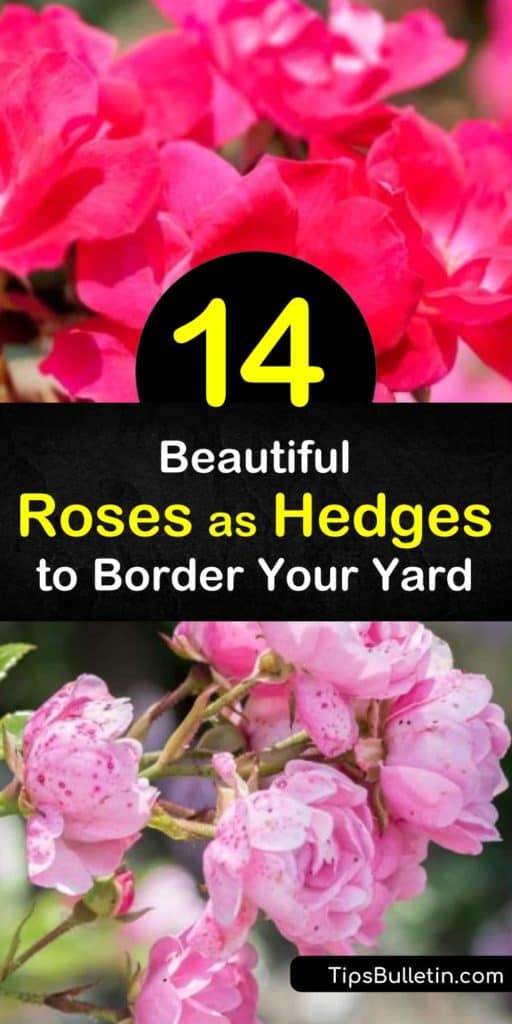 If this list of roses as hedges inspired you to plant your own privacy fence, feel free to share these flowering border plants on Facebook and Pinterest.