Roses are timeless and conjure images of elegance and beauty. There was a time when a rose garden was reserved for the expert gardener, but not anymore. These days it's easy to create a stunning garden by planting roses for edging along a pathway or around your garden.
Unlike many other perennial flowers, roses are diverse in size, color, shape, and fragrance. There are large, showy shrubs, delicate climbing roses, groundcover flowers, and small border plants.
Some grow fantastic flowers with 40 petals, while others are simple with their eight-petal count. Narrowing down your search for the perfect rose by choosing edging shrubs is a great place to start.
These roses do not grow too tall and are ideal around a garden or beside a driveway and walkway. Now all that is left to do is choose one that fits your border space with the flowers you love.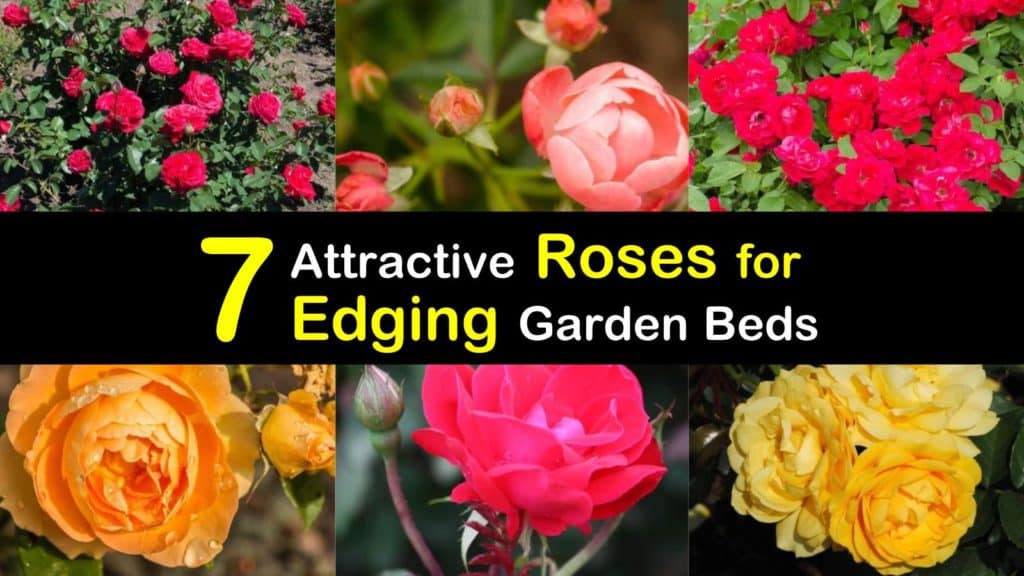 Edging Your Garden and Pathways with Roses
Garden borders are a great way to separate areas of your yard, and natural edging is more appealing than traditional border materials or boxwood hedges.
We often only think about perenial grasses as edging material but many rose bushes are the perfect size for growing as a border or edging plant.
Which Roses are Best for Edging?
Roses grow in all sizes and shapes, from tea roses, hybrid teas, to miniature roses and floribunda roses. Some roses, such as the English rose, have a mature height of 10 feet tall or more and make a great natural fence, but they are not suitable for edging around a garden.
Low growing roses add structure to the border without taking over the area, like grace and princess Anne roses. They have a mature height of 2 to 4 feet and look stunning lining a garden path.
If you have a lot of traffic in the area, consider one of the thorn free roses or almost thornless varieties to keep from getting "stuck" if you brush against the shrubs.
Where Should I Plant Roses?
Rose bushes enjoy full sun, so the first step in determining where to plant them is to locate areas of your yard that are sunny. They tolerate part sun, but the more sun they receive, the more they flourish with an abundance of flowers.
Ideal places to grow low-growing roses are along the walkway to your home, beside a garden path, or as edging for your driveway.
Consider creating a natural border around your flowerbeds to give the feeling of structure. They are even great for creating a border around your property to separate your yard from public spaces.
Do Rose Bushes Require Special Care?
Roses need the appropriate care to grow. Their root system becomes quite deep, and it's essential to water them thoroughly in the early morning. Roses are not one of the best plants for poor soil. If your area lacks important nutrients, amend it before planting these shrubs.
Avoid getting the leaves wet in the afternoon to prevent them from burning or causing fungal growth. Feed your roses with a general-purpose fertilizer after each burst of roses to encourage new growth.
Stop feeding them in August to allow them to go dormant. Place mulch around them to discourage weeds and retain moisture.
Keep an eye out for pests. Try some simple home remedies for aphids on roses if they become a problem.
Do I Have to Prune My Roses?
Yes, it is necessary to prune roses to keep their structure and shape. Inspect your bushes regularly and prune damaged or diseased stems. Cut back old canes after the shrub completes its season blooming, and shape the shrub to open up its center for circulation.
Pruning is also a great way to trick them into producing continuous flowers. Once the flower wilts, trim the stem at a 45° angle and clip it at the first or second five-leaf set.
Red Drift Rose (Rosa 'Red Drift')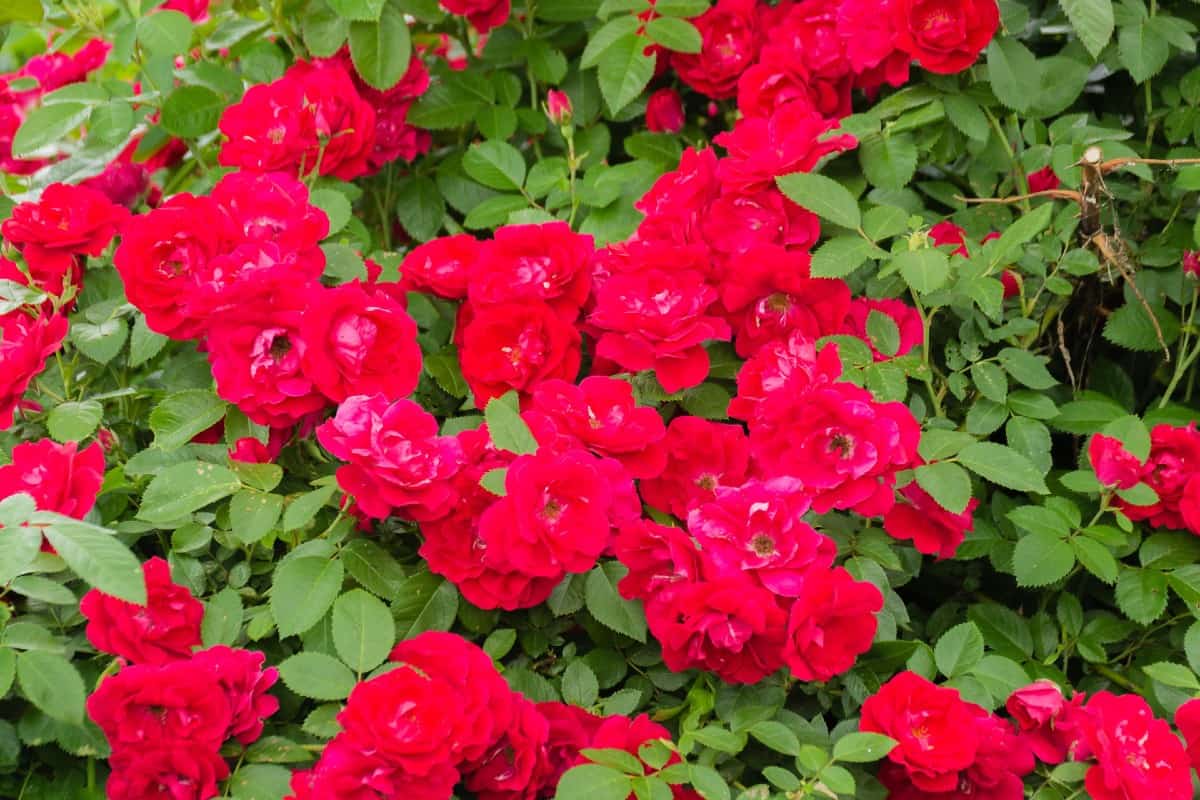 This ever-blooming shrub is a ground-hugger that grows in a graceful and arching shape. It has cup-shaped, cardinal red flowers with 15 petals and deep green foliage that is glossy in appearance.
The red drift rose grows 1 to 2 feet tall and spreads 2 to 3 feet. It is a low-maintenance shrub that is best grown in full sun. It is disease-resistant and flowers from spring until the first frost.
Orange Freedom Rose (Rosa 'Orange Freedom') – Roses for Edging with Beautiful Orange Blooms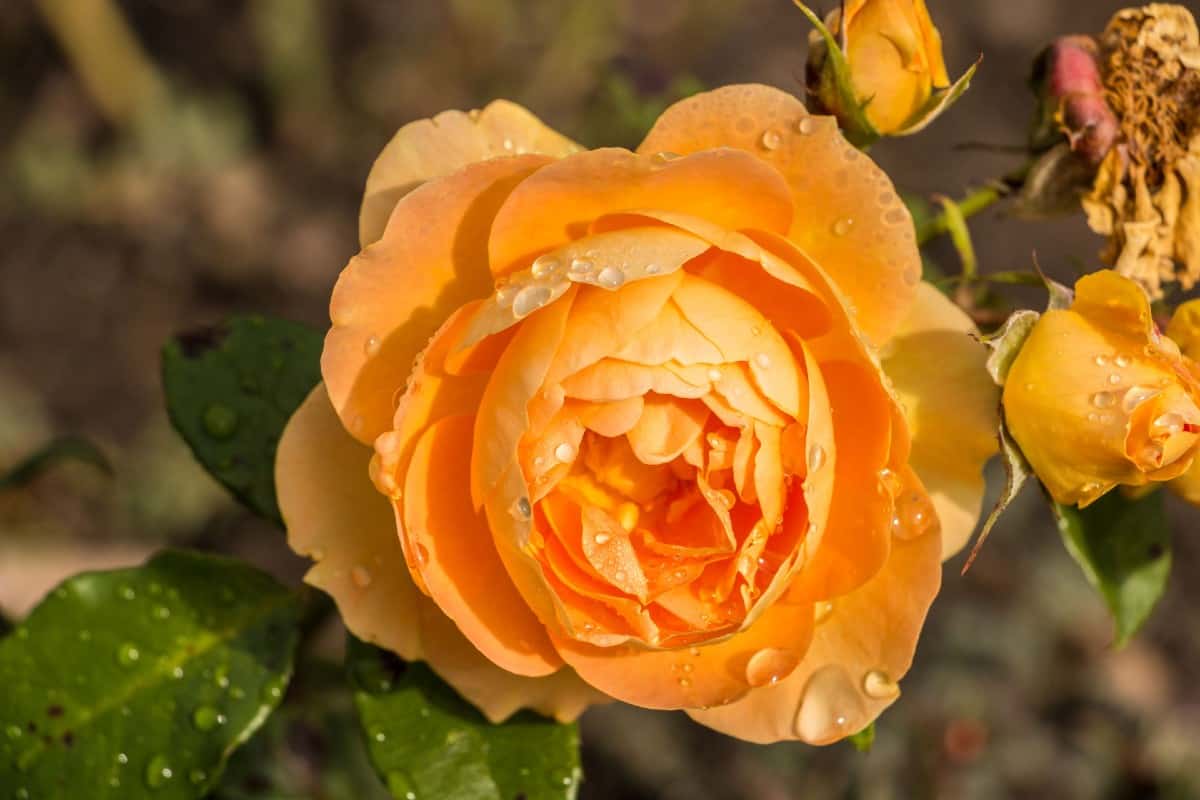 This new variety of rose has clean, rich green foliage and great form. It produces double-flowering, orange-colored flowers from late spring through fall that are over 3 inches in size.
This shrub rose is disease resistant and grows 4 to 6 feet in height, but it is easy to train in a low-growing style. The orange freedom rose is hardy in zones 4 through 10.
Double Knock Out Rose (Rosa 'Radtko')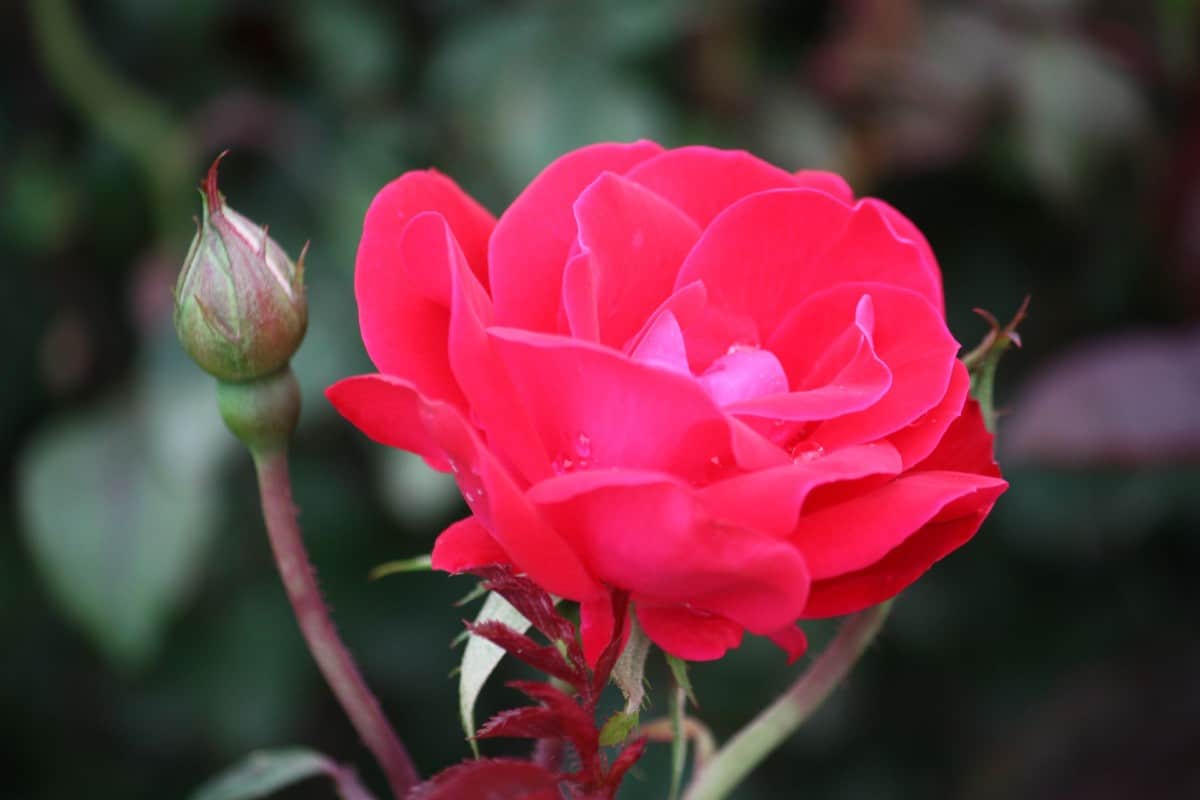 The full, double roses in shades of cherry red make this shrub a show-stopper. It flowers continuously with an abundance of flowers from early spring until the first frost, bursting with aromatic flowers when other roses go dormant.
Double knock out roses have a mature height and spread of 3 to 4 feet. This shrub grows well in hardiness zone 5 through 10. It is cold, heat, pest, disease resistant.
Apricot Drift Rose (Rosa 'Meimirrot') – Low-Growing Border Rose
The apricot drift rose is a very low-growing shrub, ideal for edging along a flowerbed. It produces double flowers in vibrant shades of apricot all season long and has glossy, dark green leaves.
This shrub is tough, cold hardy, and disease-resistant and thrives in sunny zones 4 through 11. This vigorous rose has a mature size of 18 inches tall and 3 inches wide.
Coral Knock Out Rose (Rosa 'Coral Knock Out')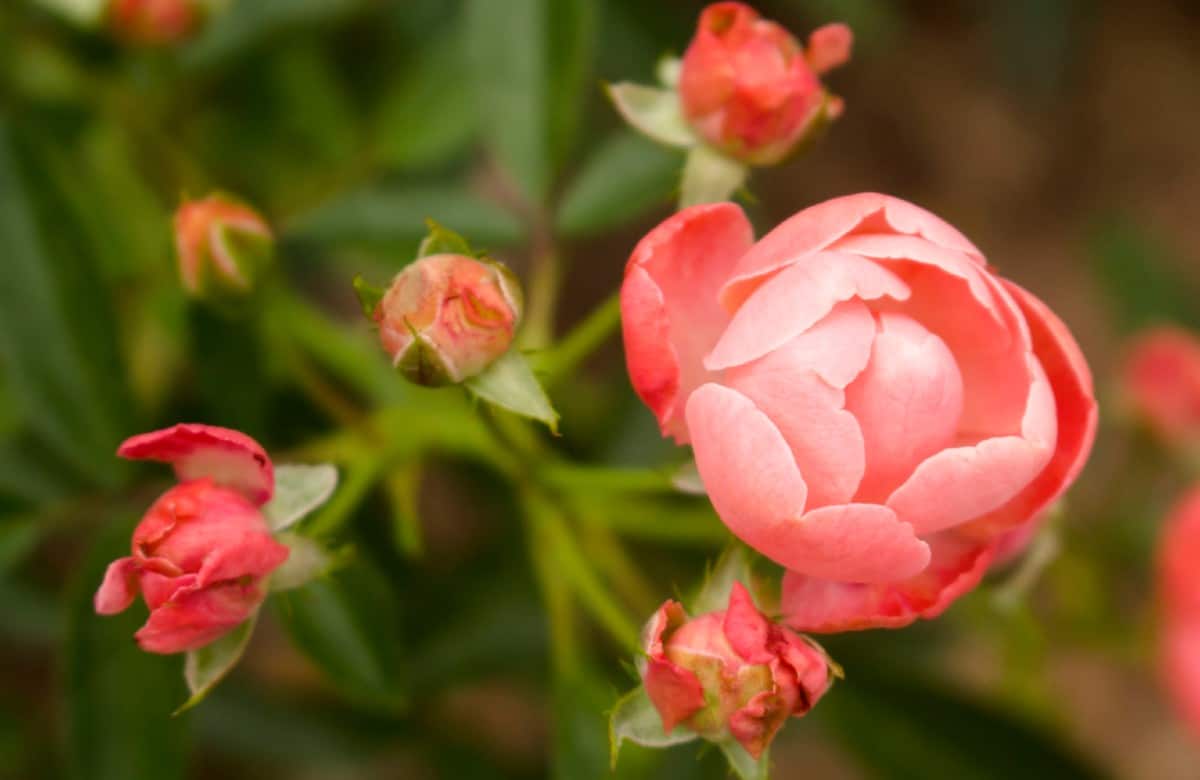 As probably the easiest rose bush to grow, this shrub rose produces double flowers over 2 inches across with 25 petals. The bright coral roses do not fade in heat and stand out against the medium-green foliage.
Coral knock out roses have a compact shape and grow 4 to 5 feet tall and wide. They enjoy part to full sun and thrive in zones 5 through 10. These low-maintenance roses are self-cleaning and drought tolerant.
Julia Child Floribunda Rose (Rosa 'Julia Child') – Floribunda Roses with a Licorice Candy Fragrance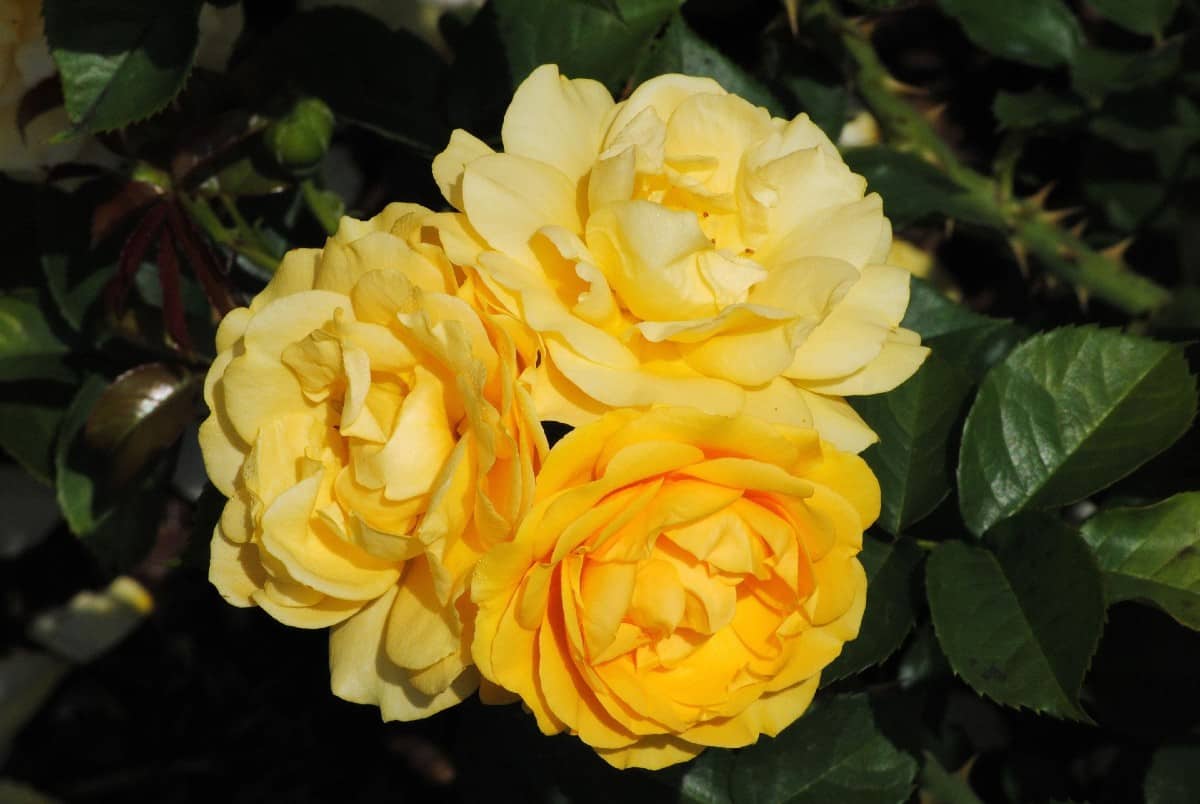 These floribunda roses grow in a rounded habit and grow butter-gold roses with a sweetly fragrant scent of licorice candy. This old-fashioned shrub has glossy leaves and produces medium-sized flowers with over 35 petals.
This disease-resistant shrub is hardy in zones 4 through 10. It grows 3 feet tall and wide and flowers from late spring to fall. It has dark green foliage and compact shape and makes excellent cut flowers for the home.
Ruby Red Miniature Rose (Rosa 'Ruby Red')
This miniature rose is a low-grower that produces high centered, deep red double flowers from late spring through autumn. The roses grow out of glossy, dark green foliage that is eye-catching in a front border.
Ruby red miniature roses enjoy part to full sun and have a mature size of 18 inches tall 2 feet wide. They thrive in hardiness zones 4 through 10 and are disease-resistant.
You work hard on your garden, filling it with geraniums and other beautiful flowers. Why not border it with low-growing rose bushes?
These shrubs are easy to grow, and border spaces year after year with flowers that bloom all summer long in a vast range of colors and fragrances.
Garden borders and walkways are show-stoppers lined with beautiful roses for edging, so why not share our rose border plant guide with your flower-loving family and friends on Facebook and Pinterest?