There is nothing more stunning than beautiful roses, whether they are climbing roses, miniature roses, or rose bushes. Rose gardens are lush, fragrant, and filled with vibrant color, and you don't have to have a large yard to grow-roses. There are many types of roses for pots to create a vibrant rose container garden.
Roses are one of the most spectacular flowers because there are so many different sizes, shapes, and colors. There are over 150 different species with thousands of hybrids, including Grandiflora, floribunda, English, climbing, groundcover, hybrid tea, miniature, rambling, and shrub roses, to name a few.
Extensive formal gardens filled with hundreds of colorful rose shrubs are mostly a thing of the past. These days, there are so many different types of roses that many of them are perfectly suitable for growing in a small container garden. The key is to choose the right rose for the right growing pot.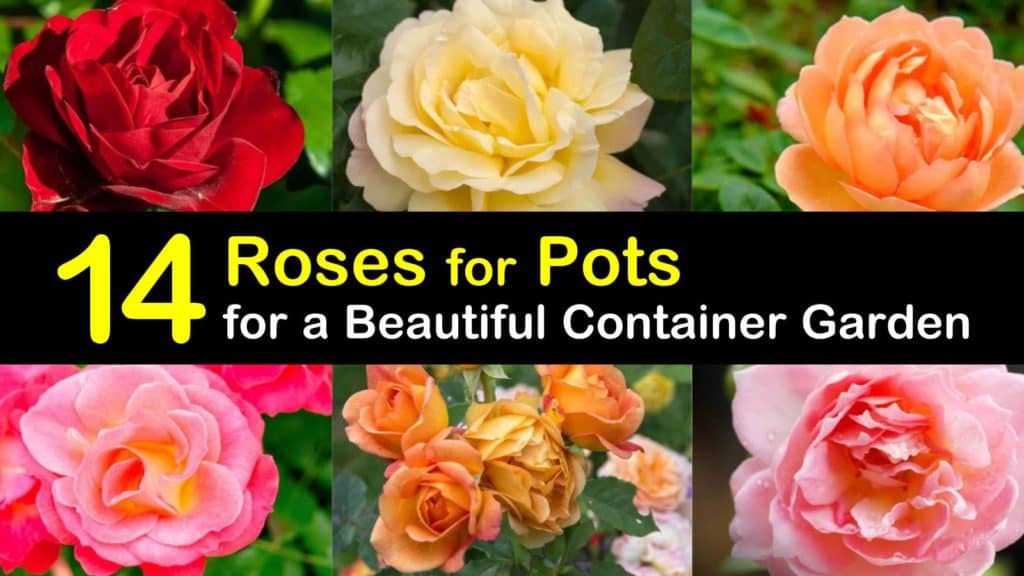 Rose Container Gardening
With so many roses to choose from, you're sure to find a favorite. Yet, which types of roses are suitable for growing in containers? We'll help you choose the perfect roses for your container garden and give you a few tips for how to grow them to perfection.
Most plants respond well to container gardening. There are vegetables you can grow in pots, as well as fruit trees, and a wide variety of shrubs and flowers. If you live in an area that has colder weather, potted plants can be moved indoors in the winter.
Which Types of Roses are Best for Growing in Pots?
Large rose bushes and climbing roses grow best in the yard or garden, although some types grow well in a large container that is two to four feet in depth. Small shrub roses or miniature roses are ideal for growing in pots of all sizes.
Miniflora roses have an ungainly structure and generally do not grow well in a container setting, although they seem to thrive as beach roses. Resist the urge to purchase bare root roses at impulse-sale areas at your local store without reading the plant guide first.
Which Containers are Best for Roses?
When choosing a pot for your roses, bigger is better. Roses are deep-rooted and require a deep pot to thrive, and large pots require less watering. Always choose a pot or container that has drainage holes.
Terra cotta is porous and has good air circulation but tends to dry out faster. Plastic pots are light-weight and easy to move around the patio but tend to tip over in high winds.
Containers made of wood are versatile but rot over time. Ceramic pots are the best choice for long term plantings.
Where Should I Place a Rose Container Garden?
Roses require a lot of sunshine to flourish and gift you with colorful and consistent blooms. They need a minimum of four hours of direct sunlight each day. However, they still perform with less sunlight, just not as well.
Try to position your rose pots in areas of the yard or patio that receive the most sunshine. Pick a spot with some protection from high winds to prevent damage to the branches. Make sure to bury the bud union when planting roses.
Are Potted Roses Hard to Maintain?
Roses are relatively easy to maintain, but it's essential to check the rose care tag for your particular variety to learn about its specific needs. Roses need good air circulation to prevent disease and black spot.
Use a good quality potting mix and avoid potting soil with time-release fertilizer to prevent burning the roots. Roses are heavy feeders, so feed them by fertilizing in the spring and every three weeks afterward.
Prune them as needed to deadhead, control insects, and shape the plant. Use natural remedies for aphids on roses rather than resorting to chemical means. Repot the roses every three years to refresh the soil and add mulch to retain moisture.
Cover the potted roses with burlap during the winter months to protect them from extreme temperatures.
Lady of Shalott (Rosa 'Ausnyson')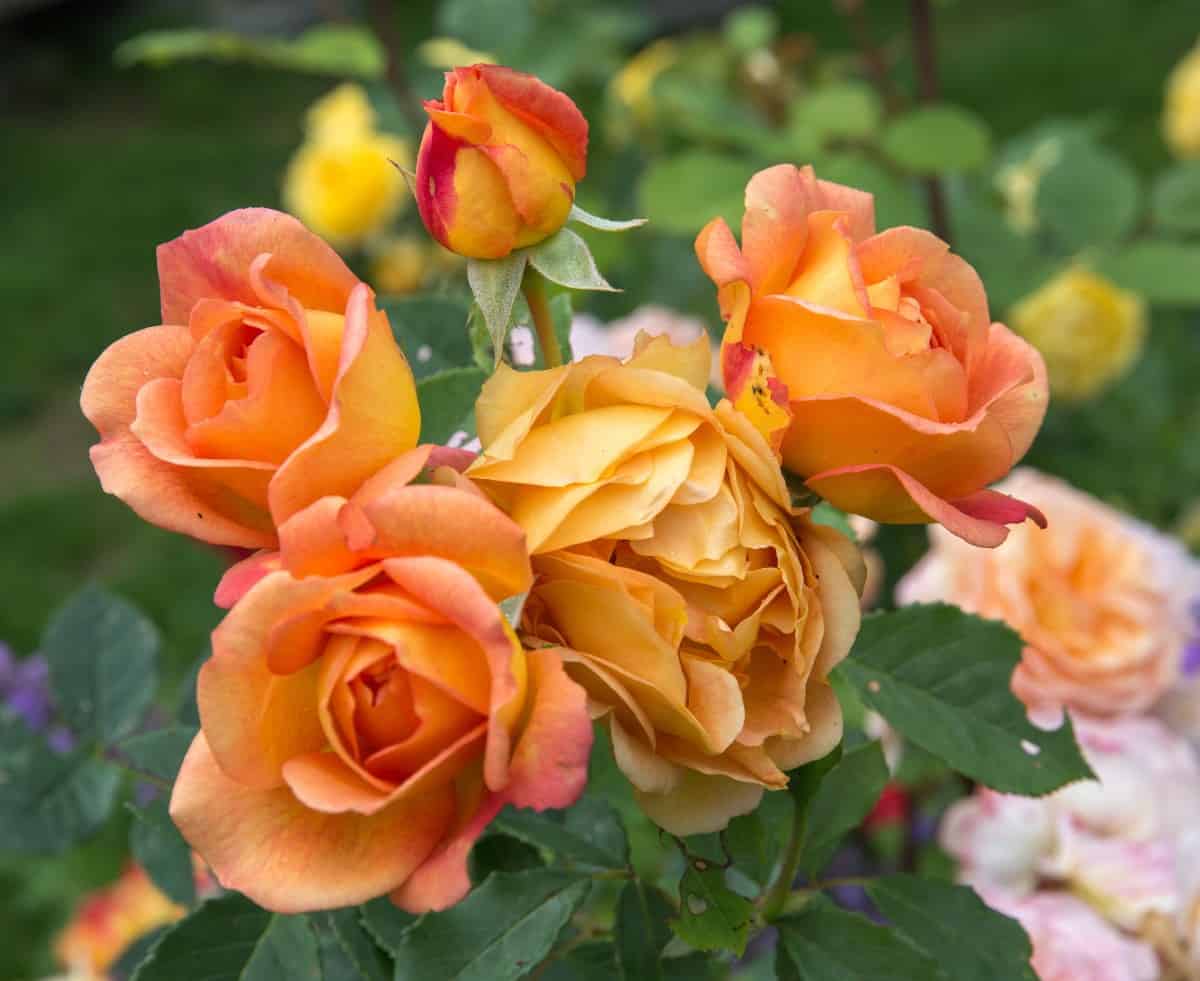 Lady of Shalott is a David Austin rose with chalice-shaped apricot-colored blooms that have a light tea fragrance. The flowers have 60 loosely arranged petals with red-bronze leaves that mature to mid-green.
The shrub has a large and bushy appearance with arching stems. This English shrub rose is a repeat-blooming variety that produces flowers from late spring until the first frost.
This rose has a mature height of 4 feet tall with a 3-foot spread, making it an ideal container rose. It thrives in full sun in hardiness zones 5 through 9.
Katharina Zeimet (Rosa 'Katharina Zeimmet') – Dwarf Roses for Pots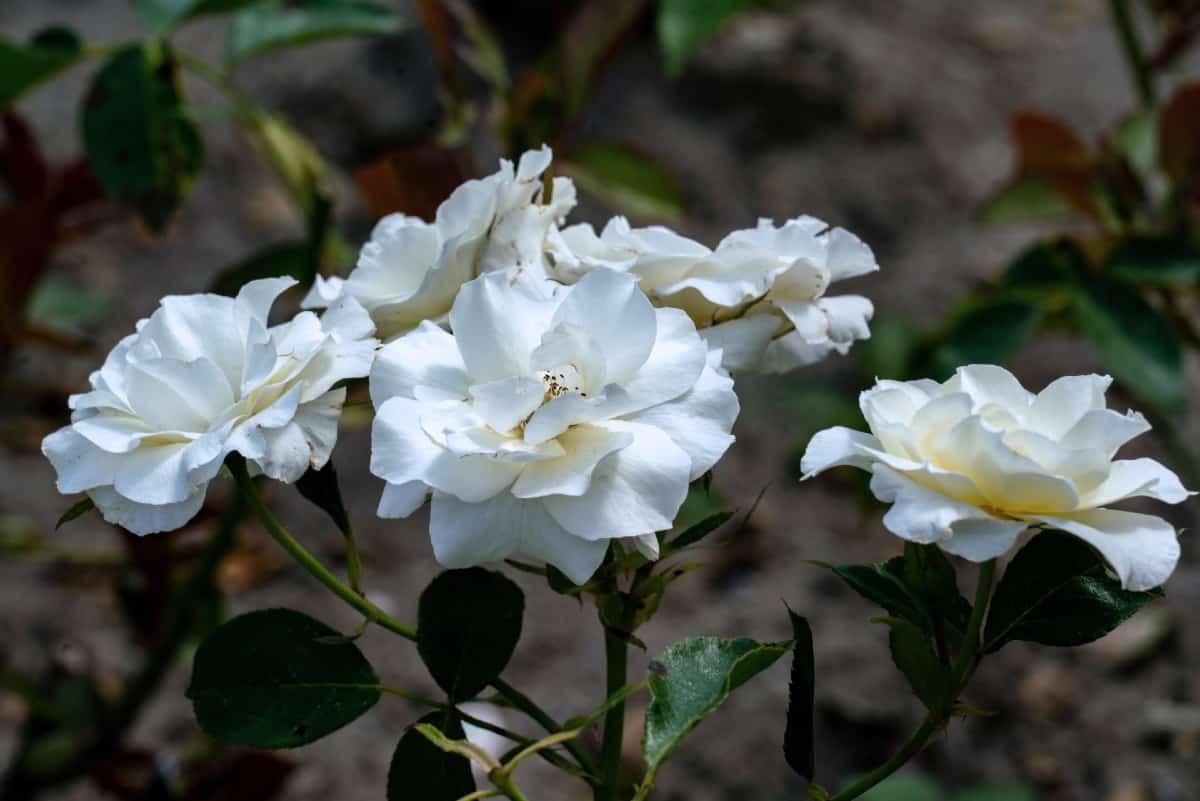 The Katharina Zeimet rose has dense foliage that is medium green and produces small and semi-double white blooms that are moderately fragrant and continues blooming throughout the season. It is a hardy and vigorous plant with twiggy growth.
These polyantha roses are dwarf, low growing shrubs that are a perfect choice for container gardening. This shrub has a mature height and spread of 1 to 2 feet and thrives in full sun. It is hardy in zones 6 and warmer.
Summertime (Rosa 'Summertime')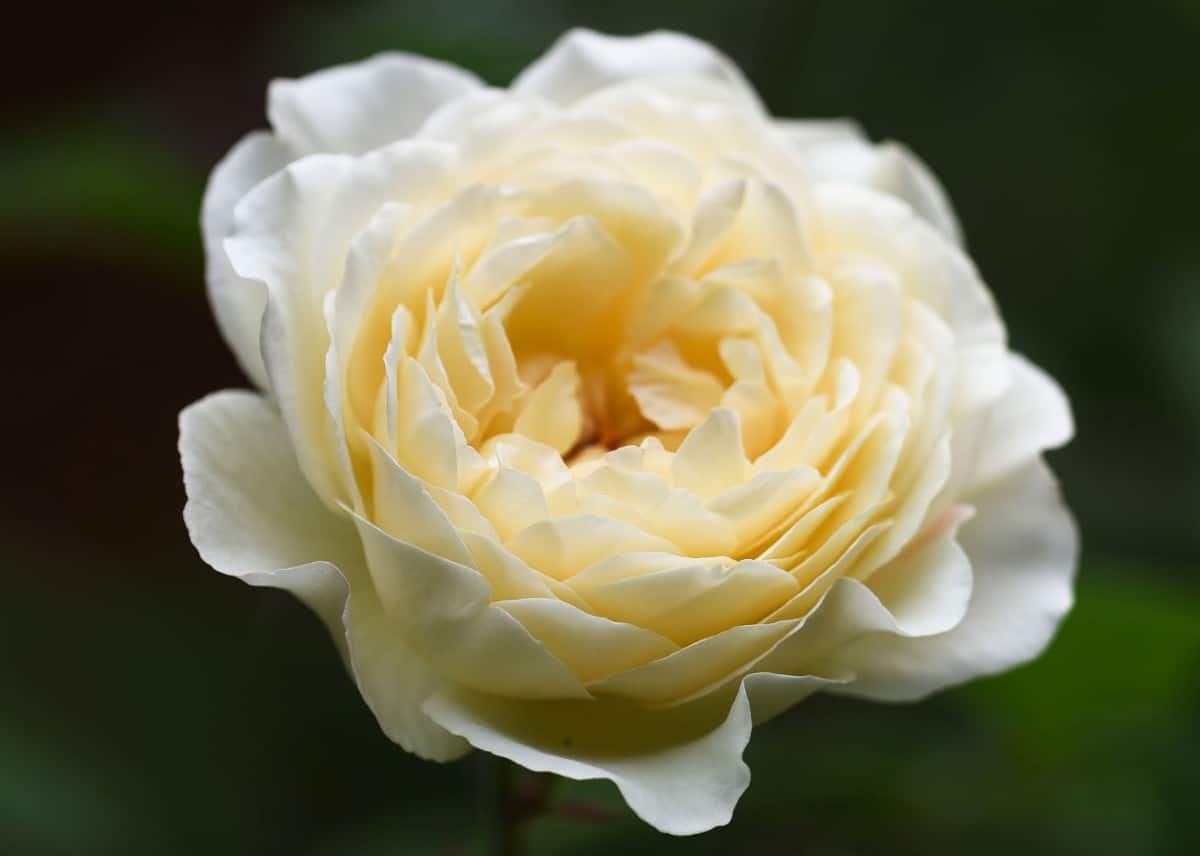 The Summertime rose is a patio climber with a lightly sweet fragrance. It produces small, many petaled blooms that are lemon yellow with a lighter shade on the edge of the petals. The light green foliage has a pleasing appearance against the blooms.
This free flowering climber is relatively disease-free, completely hardy, and thrives in full sun. The summertime rose has a mature height of 6 to 7 feet, and it blooms from June through October.
Ruby Anniversary (Rosa 'Ruby Anniversary') – Container Rose with Dark Red Flowers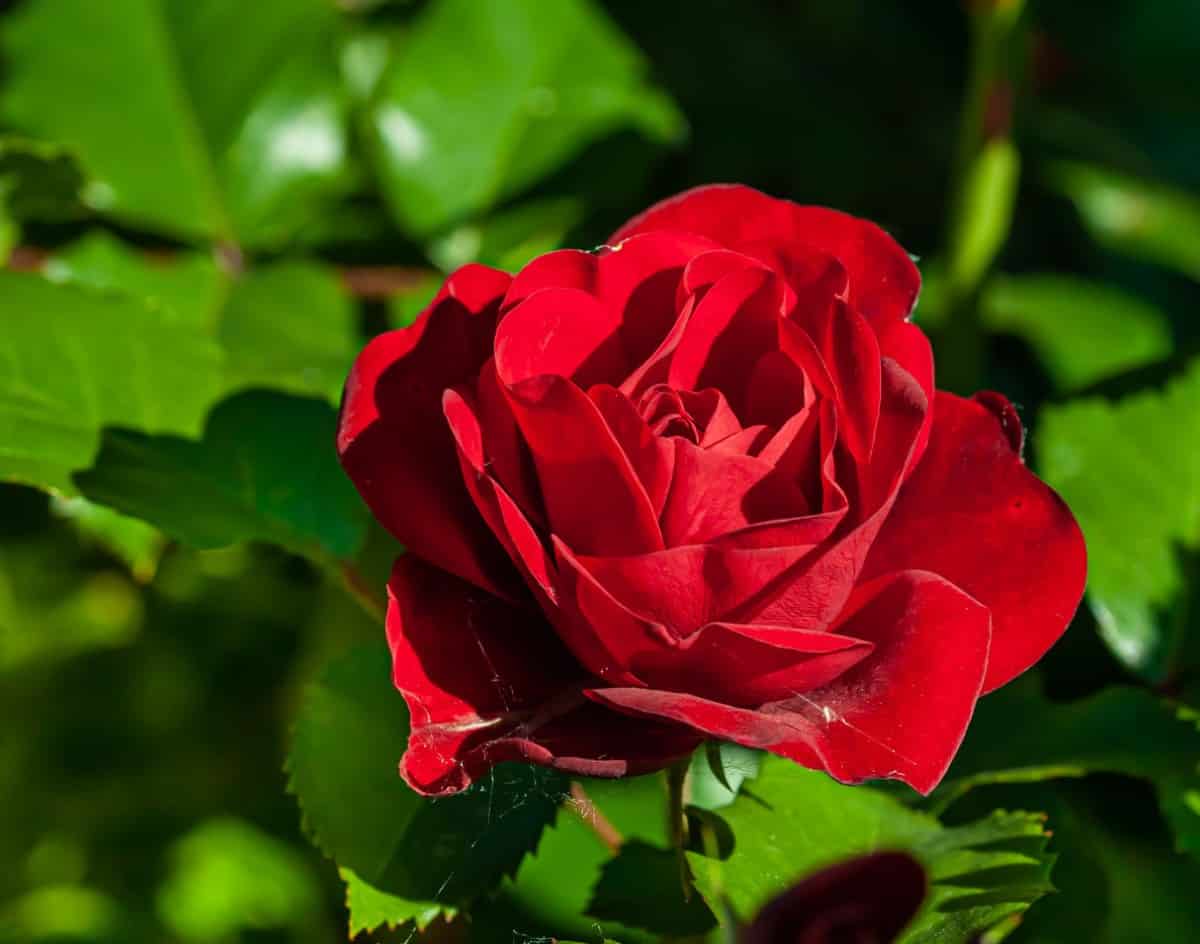 This floribunda rose produces ruby-colored double blooms in medium-sized clusters throughout the shrub. It is free flowering, and regular deadheading encourages flower growth throughout the season.
The fragrant blooms and stunning foliage of ruby anniversary have a mature height of 2 to 3 feet. It grows best in sunny areas of hardiness zones 5 through 9. It is a vigorous repeat bloomer that requires moist, well-drained soil.
Togmeister (Rosa 'Togmeister')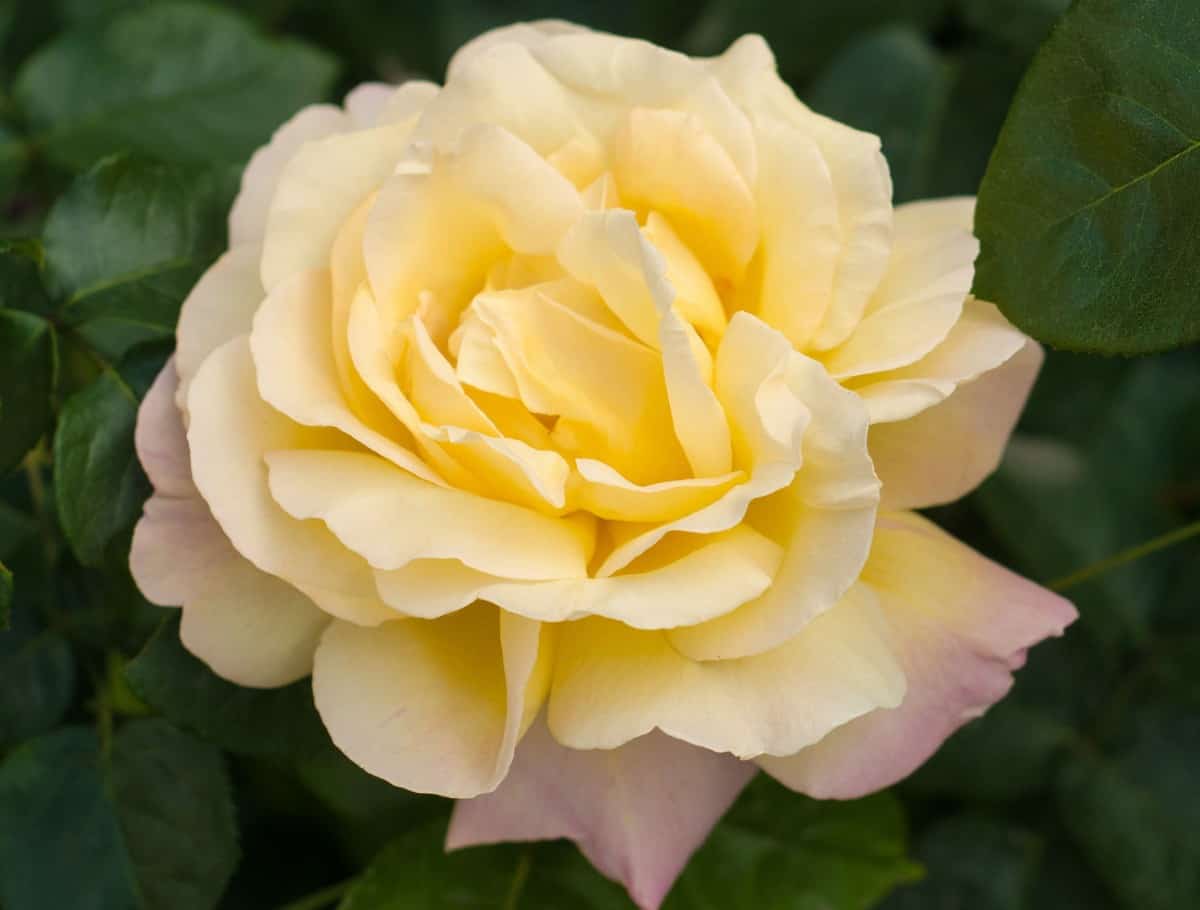 This modern classic rose has bright yellow, lightly fragrant and fully double blooms. It is a compact plant with glossy foliage and produces flowers continually throughout the growing season.
This healthy and hardy rose grows well in pots and has a mature height and spread of 2 feet. This compact plant grows in an upright form, is excellent for cut flowers, and grows best in zones 5 through 10.
Anne Boleyn (Rosa 'Anne Boleyn') – Rosette-Shaped Potted Rose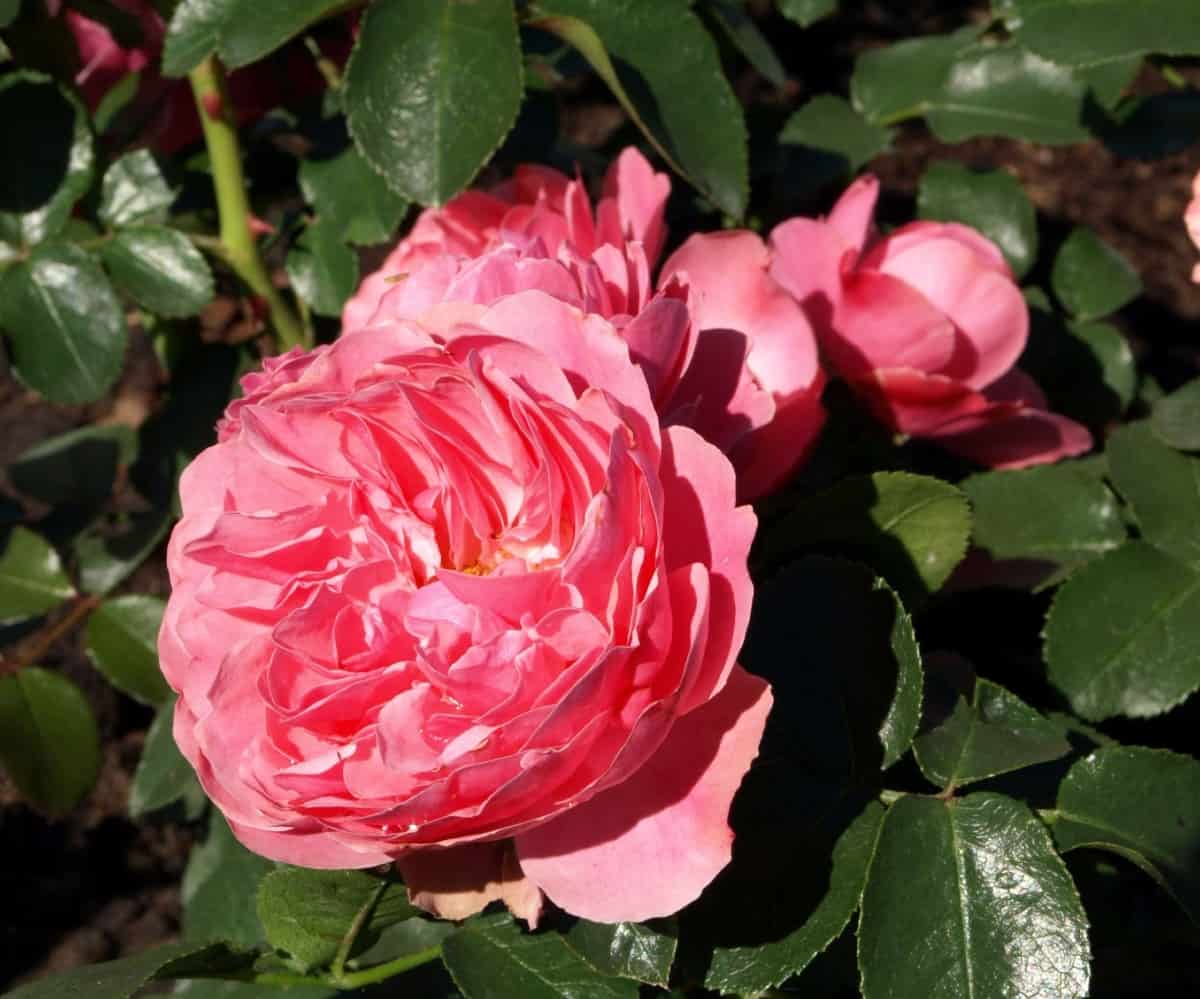 This repeat-flowering English rose bears fragrant, rosette-shaped light pink flowers from spring through late summer. It has an upright and graceful arching form with deep-green foliage.
Anne Boleyn is a shrub rose that has a mature height of 3 feet. It is hardy in zones 5 through 9 and requires moist, well-drained soil to thrive. It is highly disease resistant and free flowering and an excellent choice for planting in pots.
Jubilee Celebration (Rosa 'Jubilee Celebration')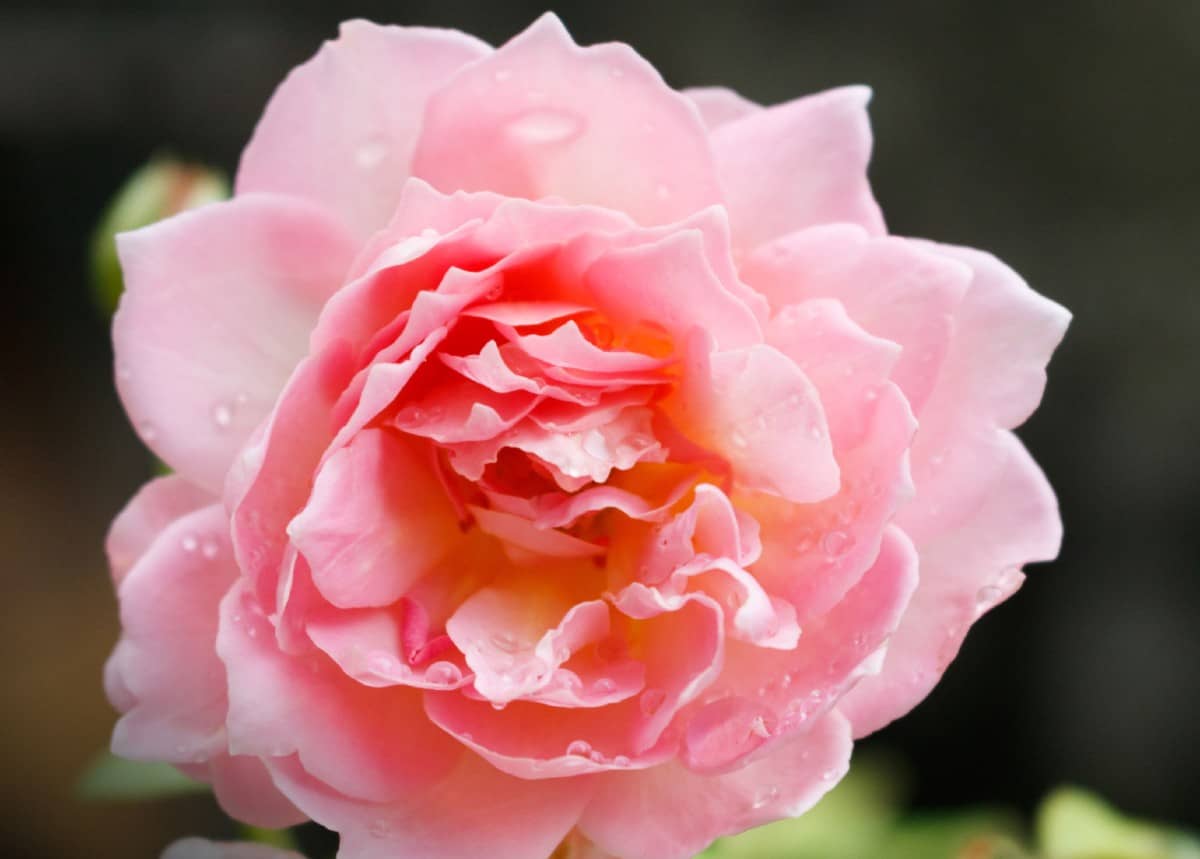 This upright shrub rose produces large domed flowers that have a fruity fragrance. The blooms are vibrant with a salmon pink color and hints of gold on the underside of the petals. It produces flowers from summer through early fall.
Jubilee celebration is hardy in zone 5 through 10 and has a mature height and spread of 3 to 4 feet. It requires free draining soil in sunny locations to thrive. This vigorous and healthy shrub is one of the most fragrant English roses.
Golden Celebration (Rosa 'Golden Celebration') – Exceptionally Fragrant Container Rose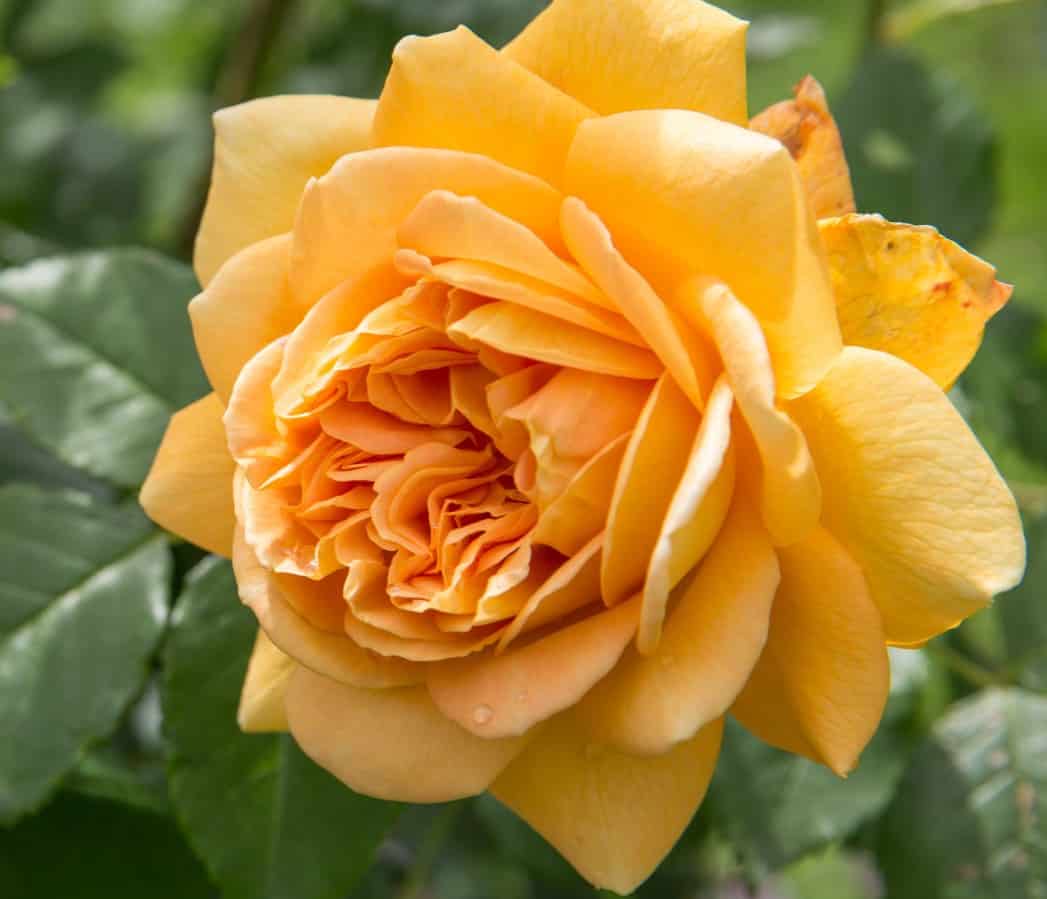 This vigorous, upright, and bushy deciduous shrub produces clusters of large double golden-yellow flowers. The fragrant flowers are set against ovate, glossy, and toothed green leaflets, and they bloom from summer through fall.
Golden celebration roses have a mature height of 4 to 8 feet with a spread up to 5 feet. These repeat bloomers are hardy in zones 4 through 9 and make excellent cut flowers for the patio.
Grace (Rosa 'Grace')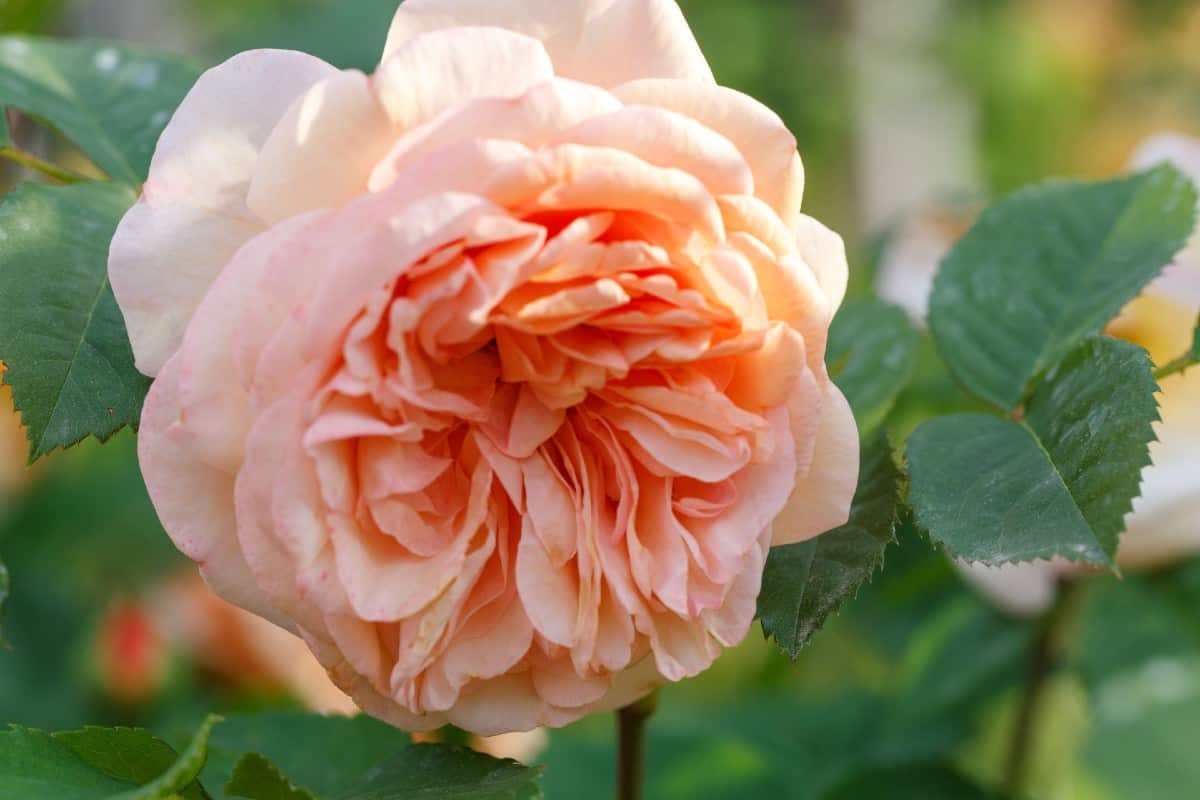 This English rose has an upright shape with mid-green, serrated leaves. It produces fragrant, apricot-colored flowers from late spring through fall. It is a well-branched shrub, and the tidy growth habit makes for an excellent potted rose.
The grace rose is hardy in zones 5 through 10 and has a mature height and spread of 3 to 4 feet. These container plants for shade or full sun require moist, well-drained soil to thrive.
Wildeve (Rosa 'Wildeve') – Potted Rose with Abundant Blooms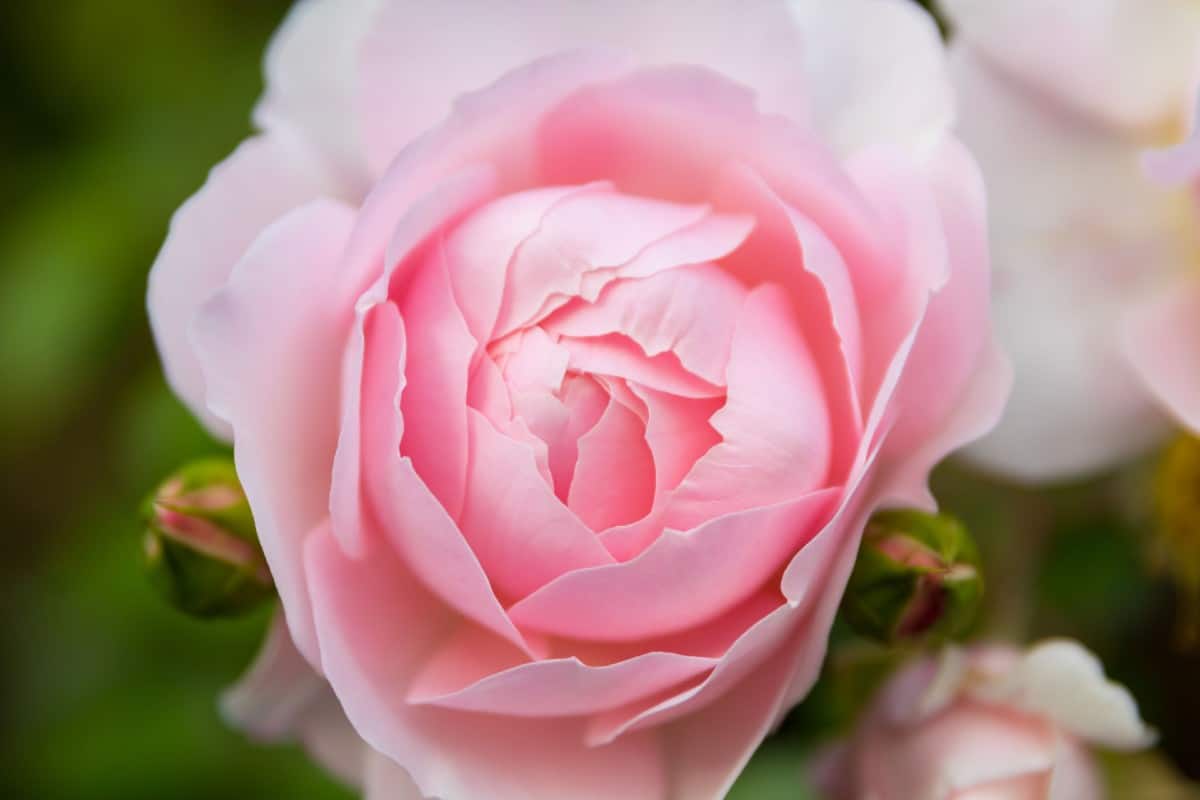 Wildeve is a robust shrub with long arching branches filled with green leaves and double pink flowers. The rosette-shaped blooms are 4 to 6 inches wide, with 70 petals each. The lightly scented flowers have a fresh and pleasing fragrance.
This free flowering and vigorous shrub is rain resistant and hardy in zones 5 through 10. The wildeve rose has a mature height of 3 to 4 feet with a spread of 2 to 3 feet, and grows best in part shade or full sun.
If you discover unwanted insects like aphids on your roses, try neem oil. Is neem oil safe for roses? Yes, this natural oil deters harmful bugs and keeps your rosebushes healthy.
Coral Cove (Rosa 'Baiove')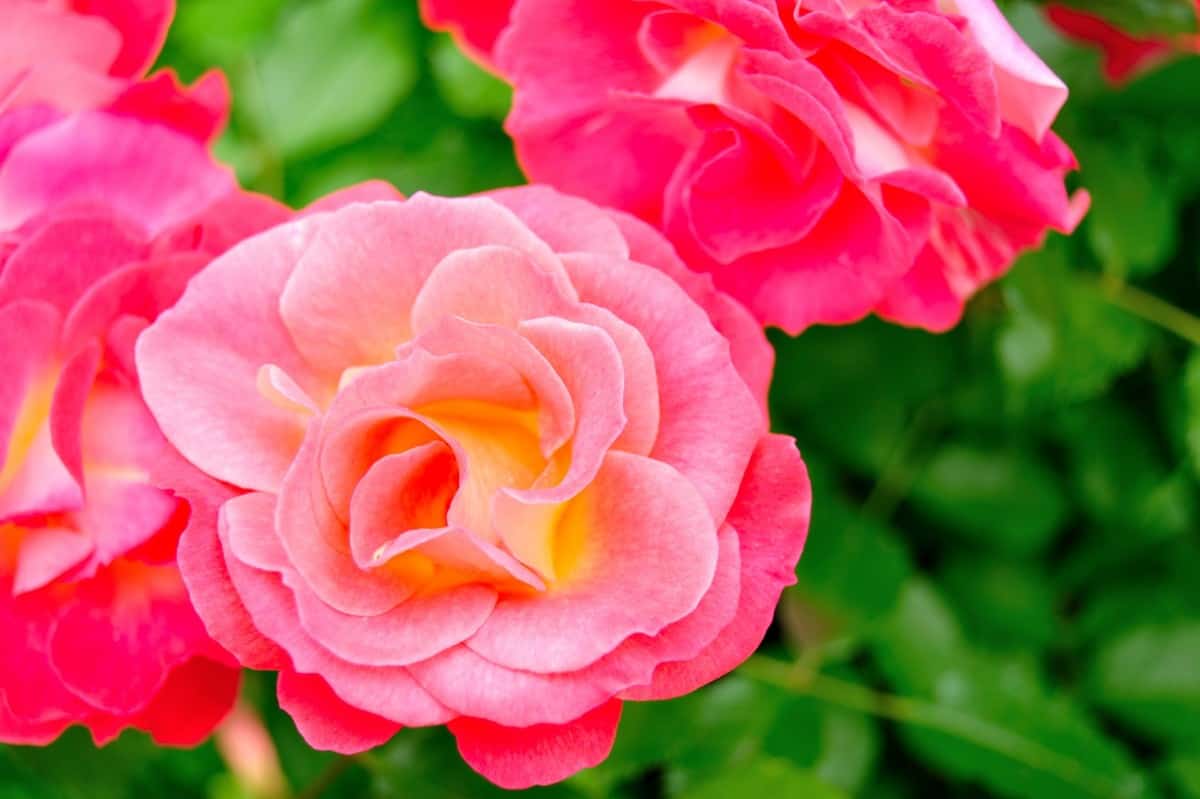 This deciduous shrub has thorny stems that bear pinnate leaves divided into dark green leaflets that are toothed, ovate, and glossy. It produces semi-double, saucer-shaped apricot colored flowers with yellow centers in clusters from June through September.
This compact and upright rose shrub is hardy in zones 4 through 9, and has a mature height of 2 feet tall, making it the perfect size for a small patio. It is prone to mildew, so special care is required.
The Fairy (Rosa 'The Fairy') – Hardy Rose with Cascades of Pink Blooms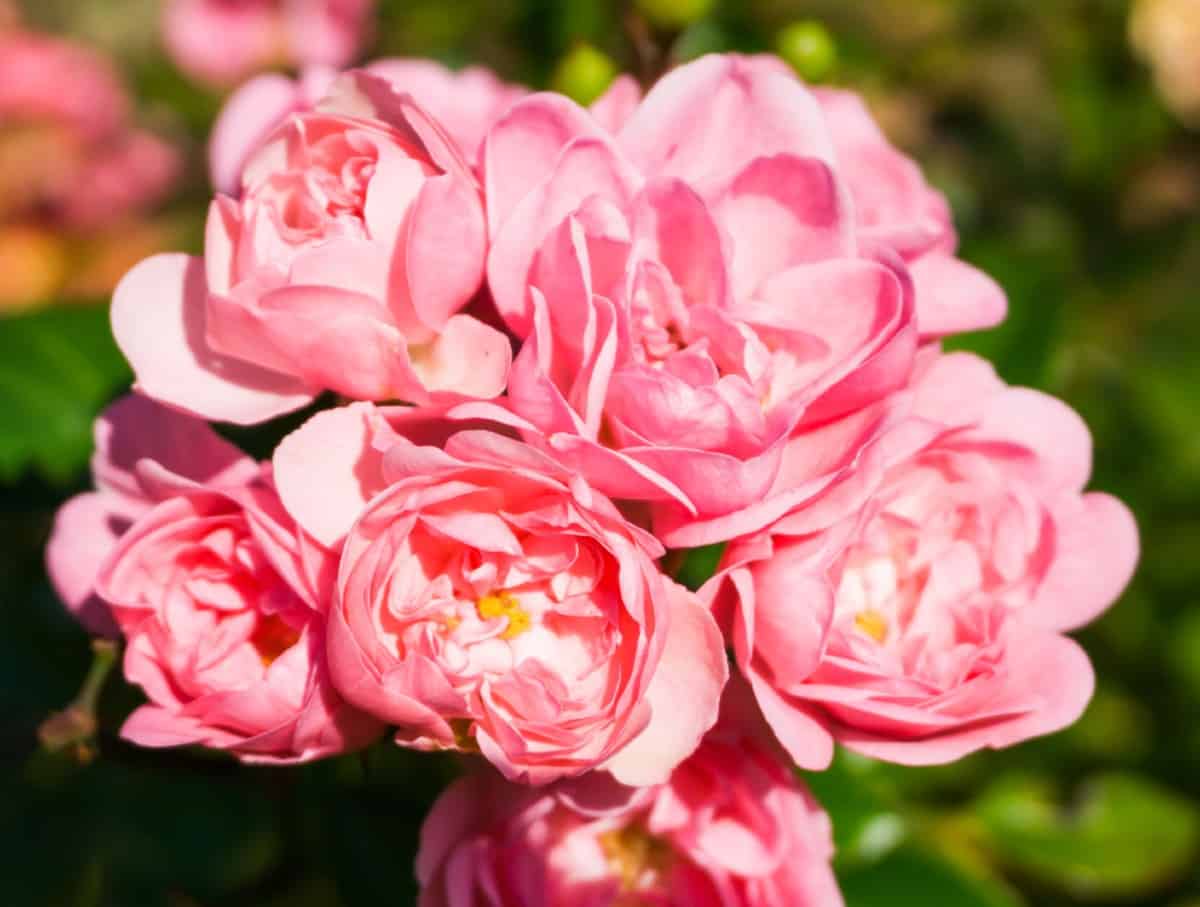 This dwarf shrub rose produces cascading clusters of delicate pink flowers. The small blooms are packed with 25 petals each and have a mild apple fragrance. These shade-tolerant roses have a compact and graceful shape with fern-like foliage that is dark green and glossy.
These plants are easy rose bushes to grow and are disease resistant, and drought tolerant. It is a hardy rose bush that thrives in hardiness zones 4 through 9 and has a mature height and spread of 2 to 4 feet.
Princess Anne (Rosa 'Princess Anne')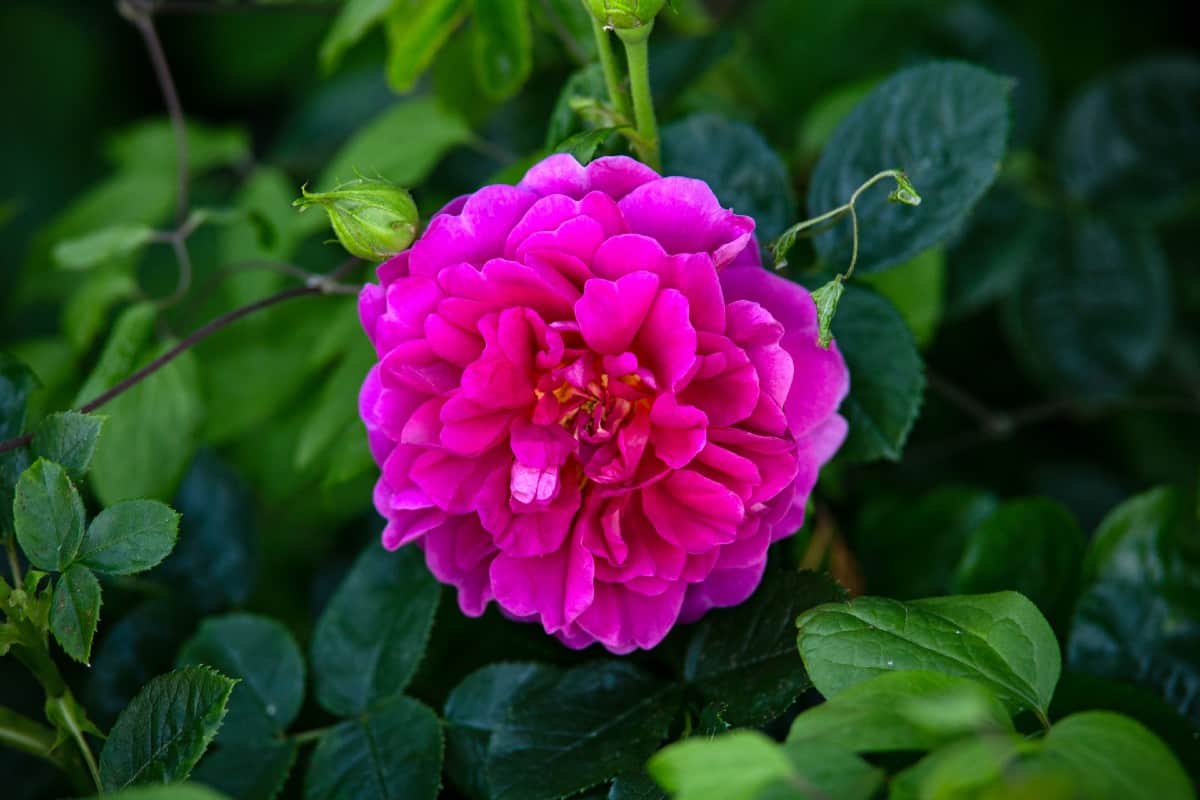 This elegant, compact, and bushy shrub produces bold, cherry-pink flowers that evolve to shades of purple-lilac. The large clusters of blooms perform remarkably throughout the season with heart-shaped petals.
The thick and shining foliage of the Princess Anne shrub opens in succession with the tea-fragrance blooms. The shrub has a mature height of 2 to 3 feet with a spread of 1 to 2 feet. This rose thrives in hardiness zones 5 through 9.
At Last (Rosa 'HORcogjil') – Container Roses that Attract Butterflies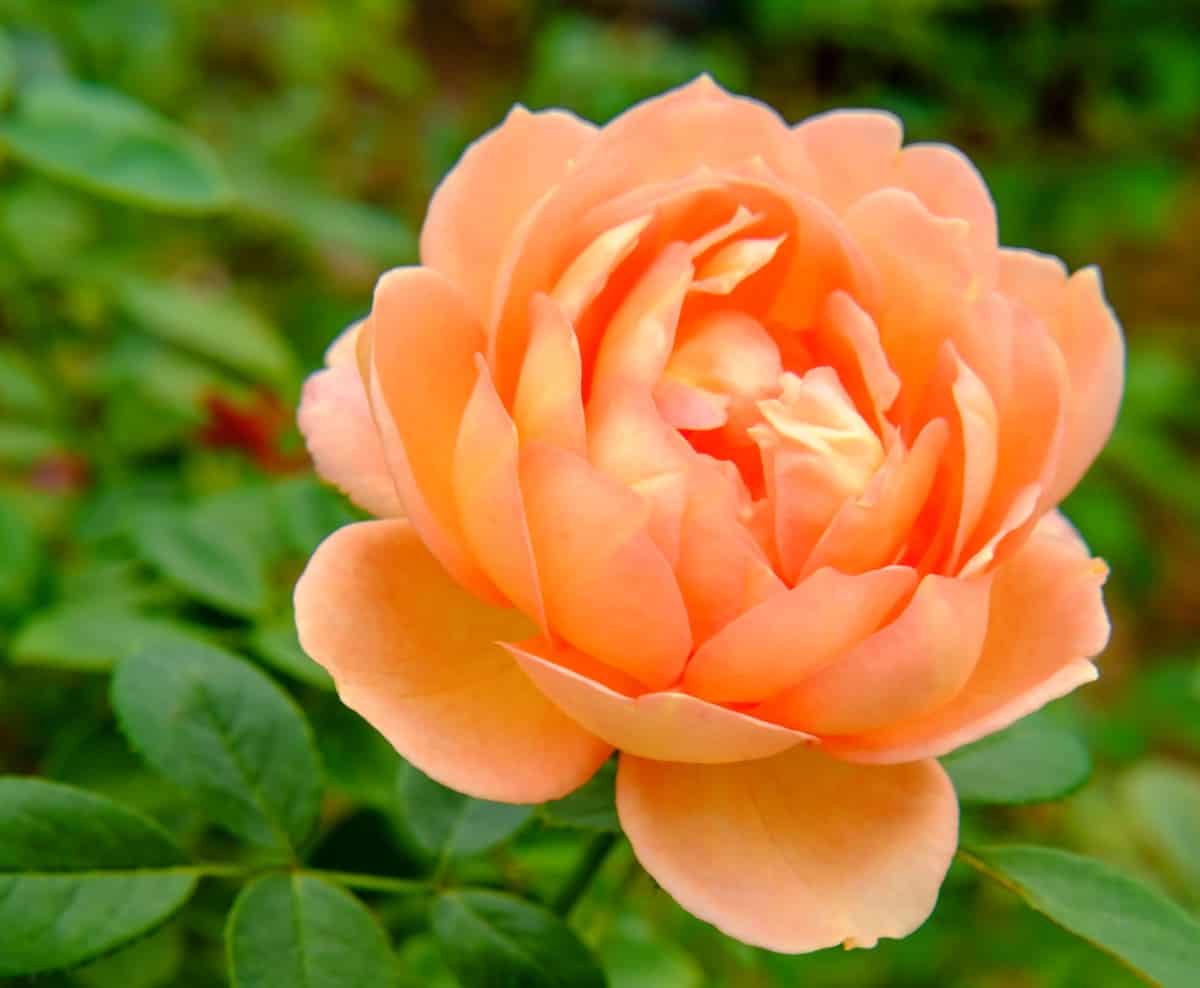 This floribunda rose is noted for its sweet fragrance and fully double, apricot-colored blossoms that fade to pale pink, and it blooms continually from spring until frost. It has shiny green leaves, and the scented blooms attract butterflies.
This shrub is highly disease resistant, and no deadheading is required. The at-last rose is hardy in zones 5 through 9 and has a mature height and spread of 2 to 3 feet. This container rose grows best in fertile, well-drained soil in sunny areas.
It's easy to imagine roses in a large yard setting, but it's just as easy to create a flower garden in small spaces by growing roses in pots.
There is a wide variety of roses that are perfect for both small and large pots, and these flowering plants are easier to maintain than you think.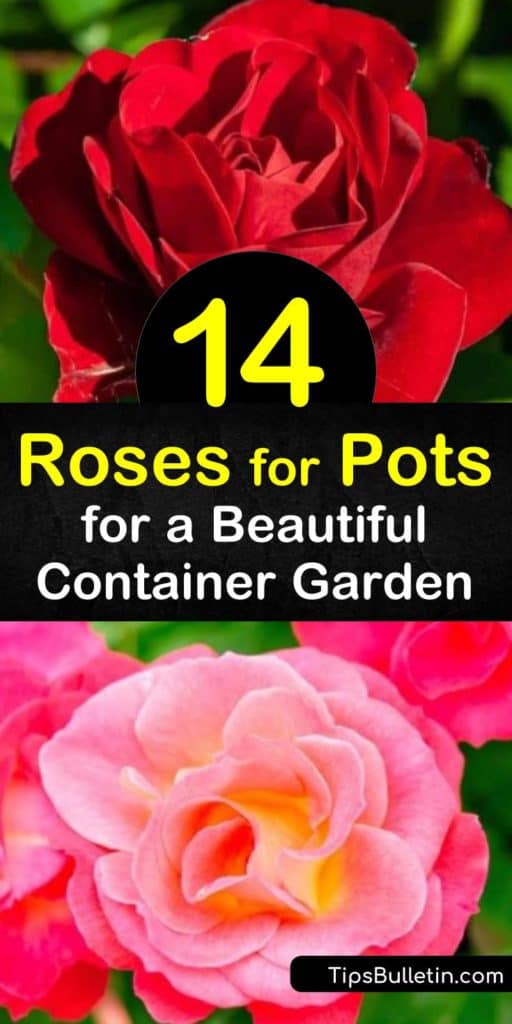 We hope that you fill your outdoor space with roses for pots and create a stunning rose garden, and we'd love it if you'd share our container rose guide with your family and friends on Pinterest and Facebook.