Rutabagas and turnips might look similar, but they're distinct vegetables with unique characteristics.
Rutabagas are typically larger than turnips.
Turnips are slightly spicy raw, while rutabagas are sweeter.
Harvesting times differ: turnips mature faster than rutabagas.
Rutabagas have yellow flesh; turnips often have white.
Rutabaga leaves are waxy and bluish-green; turnip greens are crinkly and dark green.
I find it really easy to tell rutabagas and turnips apart once I know what to look for. When I'm in the grocery store, I remember that rutabagas are usually bigger and have a waxy coating, especially as they're larger and denser compared to turnips. Also, the color is a dead giveaway. If I see a root with mostly yellow flesh, I know it's a rutabaga, while white flesh with purple shoulders usually means it's a turnip.
For their taste, I can expect a sweeter hint from rutabagas, which reminds me a bit of cabbage, thanks to their origins. Turnips kick in with a hint of spiciness when raw but mellow out when cooked. And when I plan my garden, I keep in mind that turnips grow faster – I'll harvest them in just a month or two, whereas rutabagas take a bit longer before they're ready.
In my kitchen, I use rutabagas and turnips in many dishes because they're versatile. Whether I bake, boil, fry, or mash them, they add a delightful flavor and a load of nutrients like vitamin C and potassium. And let's not forget about the greens – both rutabaga and turnip leaves are packed with vitamins, and I love adding them to my dishes for that extra nutritional punch.
Have you ever wondered, "Are rutabagas and turnips the same?" One of the best things about fall is the abundance of delicious root vegetables to make savory soups and stews. In this article, we'll settle the rutabaga vs turnip debate once and for all.
Although they have a similar appearance and culinary use, there are a few key distinctions to be made between rutabagas and turnips. Both develop a large, round edible root and are members of the Brassicaceae plant family. However, this is roughly where the similarities between these two veggies end.
The principal difference between rutabaga and turnip is the size. Other contrasting characteristics include when they get harvested, their flavor profile, and their origins as domesticated crops.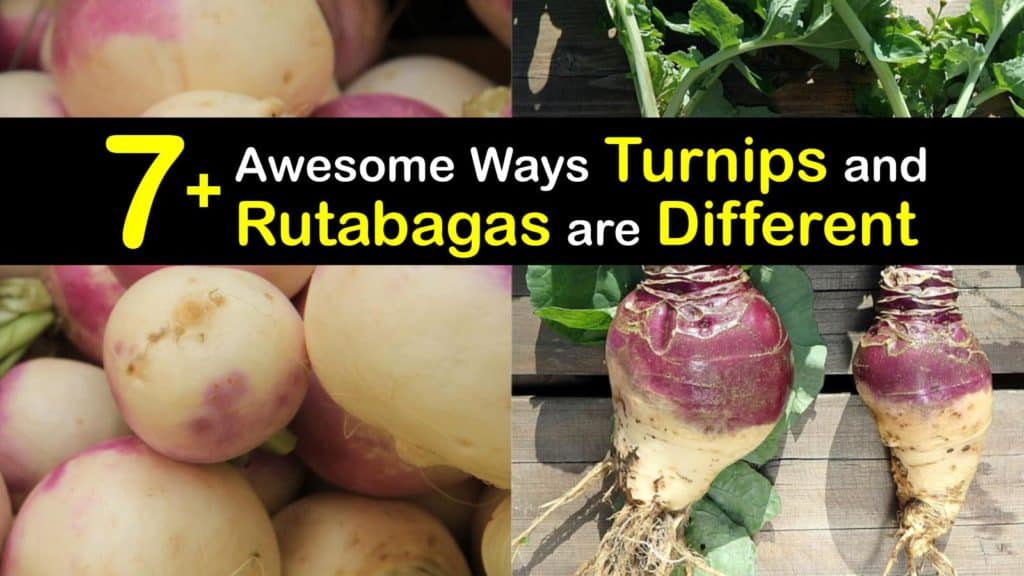 Are Rutabagas and Turnips the Same?
Rutabagas and turnips are comparable enough to make an adequate substitution for each other in a recipe. They're also a fun swap for more common root vegetables like carrots or potatoes.
In short, the simple answer to the question above is – not really. Rutabagas and turnips are distinctive root vegetables. Read on to discover what makes the two of them unique and the best uses for each one.
Technically speaking, the rutabaga is a hybrid cultivar. Rutabagas likely originated in Scandinavia or Russia sometime during the seventeenth century due to crossbreeding turnips and cabbages.
The word "rutabaga" is a derivative of the Swedish word "rotabagge," which translates to "lumpy root."
Like other Brassicas, rutabagas and turnips are cool-season crops that grow best in the spring and fall. In mild climates, it's possible to grow cold-hardy root vegetables throughout the winter.
The plants can tolerate a light frost and even develop a sweeter flavor afterward. However, they tend to suffer when temperatures rise above 75℉.
Both rutabagas and turnips are delicious when baked, boiled, fried, roasted, steamed, or even raw. The leaves are also edible and highly nutritious, like common types of beets. Try this simple recipe for root vegetable gratin for a new twist on classic comfort food.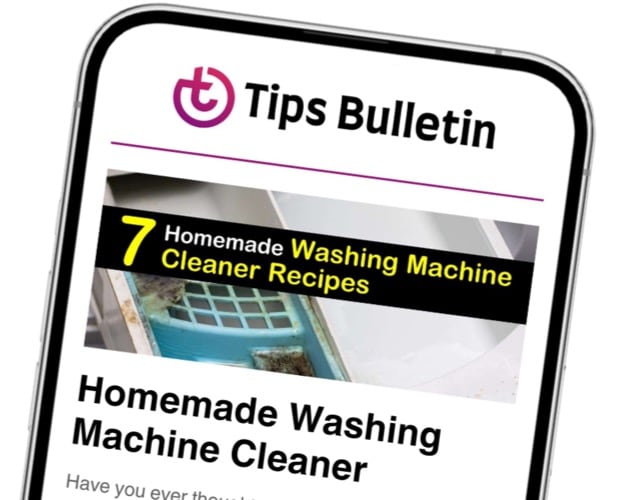 Finally, an email that Transforms Your Home.
Get the latest home and garden tips from our experts, delivered straight to your inbox.
Start by preheating your conventional oven to 400℉ and greasing a 3-quart baking dish with unsalted butter. Peel the vegetables and slice them into quarter-inch pieces.
Place the slices in a large mixing bowl, working in batches if necessary. For a bit of extra color in the dish, try using purple top sweet potatoes.
Pour three-quarters cup of cream over the veggies and top with the minced thyme and three ounces of Parmesan cheese. Season to taste with freshly ground salt and pepper, then toss the veggies so they are evenly coated.
Pour the remaining quarter-cup of cream into the bottom of the baking dish, along with a half-ounce of Parmesan cheese and the minced garlic.
Spread the mixture evenly, and arrange the sliced veggies in rows. Season the top with salt, pepper, and the remaining Parmesan.
Bake the gratin covered in aluminum foil for 30 minutes or until the vegetables are fork-tender. Remove the gratin dish from the oven, uncover it, and top with the shredded Gruyere.
Bake uncovered for another 18 to 20 minutes, or until the cheese melts and the top is golden brown. Garnish the gratin with fresh thyme leaves and serve immediately.
Rutabaga vs Turnip: Same Family, Different Root Vegetables
As members of the Brassica family, rutabagas and turnips are related to bok choy, broccoli, Brussels sprouts, cabbage, cauliflower, kale, kohlrabi, and radishes. These veggies are formally known as cruciferous vegetables.
Turnips, or Brassica rapa by their botanical name, likely originated in Europe and Asia and have been cultivated for thousands of years.
Brassica napobrassica, commonly known as rutabagas, are more cold-hardy than turnips and were crossed with wild cabbage to withstand the harsher climates of northern Europe around the seventeenth century.
There is presumably some influence from wild mustard, or Brassica napus, as well. In most parts of Europe, rutabaga is referred to as a Swedish turnip or Swede.
Like many other members of the Brassica family, rutabagas and turnips are biennial plants. This means that when you plant turnip seeds or rutabaga seeds, they develop roots and leaves during the first growing season, then produce flowers and seeds in their second year.
They're grown as annuals for eating purposes, as the roots become tough and woody once the plant begins flowering.
Taste Difference Between Rutabaga and Turnip
While the taste is similar, rutabagas are generally sweeter than turnips. Turnips are mildly spicy when they're raw and take on an earthy, nutty flavor once cooked.
Rutabaga has more cabbage influence in its flavor profile, and the overall taste is milder than turnips. When cooked, they turn buttery and savory-sweet.
Raw rutabaga and turnip have a crisp, crunchy texture akin to carrots. At the grocery store, look for root veggies that feel firm and dense. The cooked texture depends on the cooking method, but it's generally comparable to a potato.
Which One is Bigger, Rutabaga or Turnip?
Rutabagas are about twice the size of turnips when mature due to the amount of time each crop gets left in the ground. Turnips tend to turn woody and bitter when allowed to stay in the ground too long.
They typically get harvested 30-60 days after planting seeds, depending on the variety. Mature turnips are usually about two or three inches in diameter, and the leaves grow to be 12-18 inches tall.
Meanwhile, rutabagas take 80-100 days to mature. Turnips frequently get planted as a spring crop as soon as the soil is workable.
The optimal time for planting rutabaga seeds is late summer, about three months before the expected first fall frost. Rutabagas ordinarily get harvested when the roots are four to six inches wide. The leaves reach between 12-24 inches tall.
Are Rutabagas and Turnips the Same Color?
As with most other vegetables, the color of rutabagas and turnips depends on which variety you're growing. In general, turnips usually have white flesh and white skin with purple shoulders.
Rutabagas commonly have yellow flesh and yellow skin with slight hints of purple where the root emerges above the soil level.
However, there are also turnips with yellow flesh and rutabagas with white flesh. Other cultivars feature red-stripes or golden skin, but these unusual varieties are hard to find at most grocery stores or farmer's markets.
Growth Habit Distinctions between Rutabagas and Turnips
Since rutabagas are a hybrid of turnips and cabbage, they grow a bit differently than regular turnips. The roots are larger, denser, and more round in shape, with numerous side shoots.
Rutabaga leaves are similar in appearance to cabbage. They're smooth and waxy and usually a blue-green color. The stems grow from the crown of the root that emerges above the soil.
When to plant turnips in zone 7 is between August and October – times vary in each growing zone. Turnips generally have slightly conical roots, although they also sometimes grow rounded. The shoulders, or the tops of the roots which protrude out of the ground, are usually purple, with the rest of the root fading to white or yellow.
Their bulbous taproots don't normally have side shoots. The dark green leaves are slightly savoyed or crinkly in texture.
Cooking With Rutabaga vs Turnip
While both rutabagas and turnips get eaten raw or cooked, it's more common to cook rutabagas since the roots are denser. They're an incredibly versatile vegetable and are enjoyable when baked, boiled, fried, roasted, or steamed.
Rutabaga makes an unusual and delicious addition to soups, stews, casseroles, and side dishes. They're also great in a puree as a healthier, less starchy substitution for mashed potatoes.
Turnips make an excellent supplement for salads as well as hearty soups and stews. In the Middle East, pickled turnips are a popular delicacy.
Whether you're preparing rutabaga or turnip, it's essential to peel the skin first. Rutabagas frequently come with a waxy coating to prolong their shelf life.
Use a vegetable peeler for turnips, which have thinner skin. Rutabagas usually require a paring knife to peel, especially if they have a waxy coating.
Both rutabaga and turnip greens are edible and highly nutritious. Store the greens separately from the roots wrapped with a slightly damp paper towel in plastic bags inside the crisper drawer of your refrigerator.
The roots should also get stored with a moistened paper towel in perforated plastic bags in the crisper drawer.
Eat turnip leaves fresh, incorporate them in soups, and sautėe or steam them as a side dish. Here's one of our favorite recipes for sautėed turnip greens.
Heat a heavy-bottomed skillet on your stovetop over a medium flame. Drizzle the skillet with olive oil and add the diced onions. Cook the onions for about three minutes or until they're tender.
Place half of the turnip greens in the pan with the onions. Allow them to cook down before adding the rest of the greens.
Pour in the water, red pepper flakes, and brown sugar. Stir to evenly coat the turnip greens and sautėe until the greens are just tender. Serve immediately with cornbread.
Nutritional Value of Rutabagas and Turnips
Like other cruciferous vegetables, rutabagas and turnips are low in carbohydrates and rich in many different nutrients. They're a good source of antioxidants, including glucosinolates and vitamin C and E.
These antioxidants play a crucial role in immune health, cell repair, collagen synthesis, and iron absorption. They also help to reduce inflammation and protect the body from oxidative stress.
Rutabagas and turnips are also high in fiber, which is vital for digestive and heart health. It also helps with weight loss. Potassium helps regulate blood pressure, nerve signaling, and fluid balance and reduces the risk of heart disease and stroke.
In addition, turnip leaves are a good source of vitamin A and K, which promote eye, bone, and skin health. They're also rich in essential minerals like calcium, iron, magnesium, and phosphorus.
In short, rutabagas and turnips are among some of the most underrated superfoods and are definitely worth adding to your diet.
Other Names for Rutabagas and Turnips
Depending on where you find yourself in the world, you may hear familiar foods called by unfamiliar names.
Thanks to its origins in northern Europe, rutabaga is called Swede or Swedish turnip in most of Europe, as well as other British Commonwealth countries like Australia and New Zealand.
They also get referred to as "yellow turnips" thanks to their usual golden color. To distinguish between the two veggies, Brassica rapa roots are called "white turnips."
In Scotland, their common name is "neeps." A traditional Scottish dish is "neeps and tatties," or rutabaga and potatoes boiled separately and served with haggis. Another Scottish term for turnips or rutabagas is "tumshie."
A common question in the produce aisle at the supermarket is, "Are rutabagas and turnips the same?" The answer is, not exactly. Rutabagas are an ancient hybrid cross between turnips and wild cabbage. They're slightly sweeter in flavor and much larger in size.
They also tend to be more heat-sensitive and frost-tolerant than turnips, making them an ideal fall and winter crop. Turnips are more frequently cultivated in the spring because they have a much shorter growing season.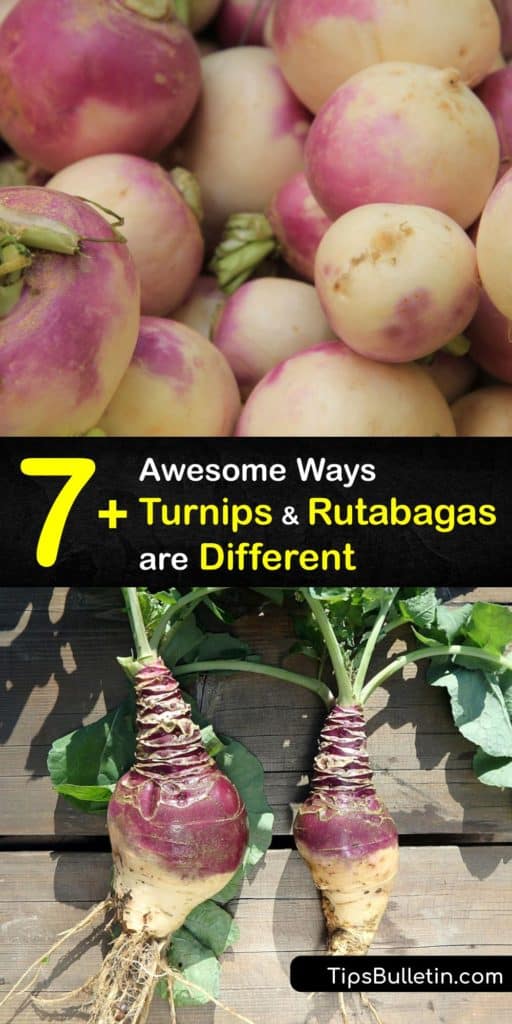 If you enjoyed learning the difference between rutabaga and turnip, please share this article about rutabaga vs turnip with your friends and family on Facebook and Pinterest.