There are many rooms in your home where you spend a lot of time each day, and the bathroom is no exception. While other rooms, such as the living room and bedroom, are associated with comfort and cleanliness, the bathroom leaves much to be desired when it comes to freshness.
Bathroom cleaning is not always top on the list of things we want to do, and it's the one room of the house many people avoid during routine cleaning.
You use the lavatory to take care of business and move on to more comforting areas of your home, dismissing the idea that it's filthy. However, the buildup of grime, soap scum and dirt often leads to mildew. The bathroom is one of the more damp and humid spaces in a house, which creates the perfect breeding ground for mold growth.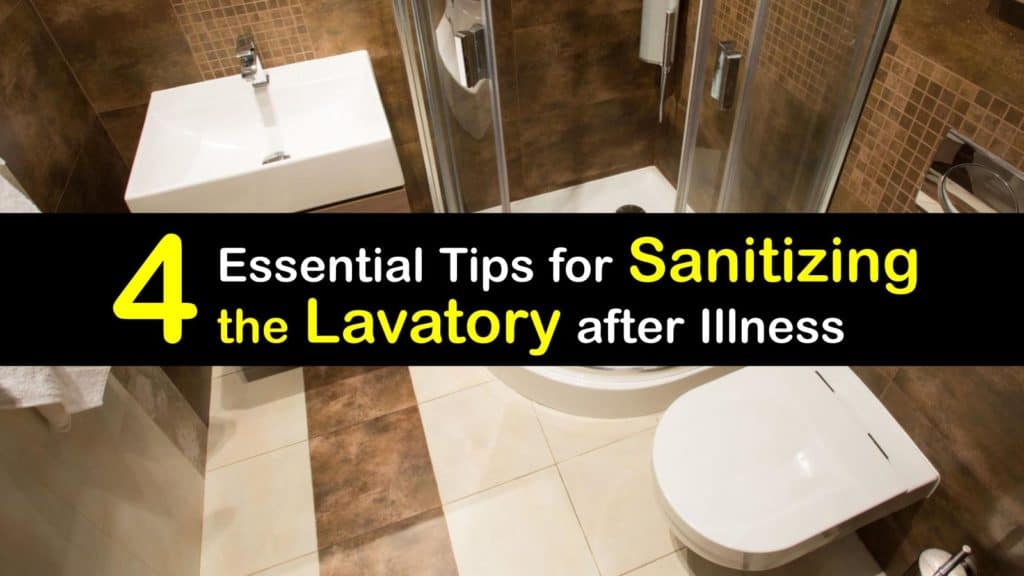 Disinfecting the Bathroom from Toilet Bowl to Countertop
Black mold is notorious for growing in nooks and crannies such as grout, around the faucet, and on the bathroom floor around the toilet bowl. It's not only unsightly but bad for your health.
Sanitizing and disinfecting the lavatory regularly is essential for both cleanliness and personal hygiene, and not keeping the room clean spreads harmful germs, bacteria, and viruses.
Not to mention, a dirty bathroom makes your home stink and is incredibly embarrassing if you have guests.
Have you ever wondered how many germs are in your bathroom, or would you rather not know? Research shows that after only one hour of bathroom use, there are already over 500,000 bacterial cells for every square inch of surface.
Some water and a wad of paper towels do little to nothing to clean away those nasty, invisible germs. If that's not enough to make you grab a bottle of Clorox bleach or a flame thrower, then we don't know what will.
Each time you flush the toilet, a flurry of tiny and nasty particles spread throughout the room and land on whatever surface they contact, such as countertops, bath towels, and even your toothbrush.
On top of that, the dampness of the tiles, grout, and bathroom sink are ideal areas for mildew growth. This often leads to mold, which is harmful if you have asthma or allergies.
This fungal growth is not only disgusting to look at, but it fills your bathroom with a damp and earthy smell.
Another issue we often overlook when it comes to a dirty lavatory is insects. Many types of bugs, such as centipedes are attracted to the dampness of a bathroom, especially if the area is also crawling with germs and bacteria. It also causes silverfish in the bathroom and roaches and ants, as well.
If you spot bathroom gnats or drain flies in the sink while brushing your teeth, it's time to get out the bathroom cleaning products.
While you can purchase products that do the job, natural disinfectants you make yourself are safer and provide the same benefits.
Shiny and Germ-Free – The Ultimate Granite Countertop Cleaner
While your beautiful, shiny bathroom counter looks luxurious, it contains countless bacteria that are naked to the eye.
Granite is one of the top popular materials for bathroom counters, and just like other surfaces, it needs regular cleaning to remove everyday grime and routine disinfection to kill germs.
However, maintaining granite countertops is not as simple as caring for many other types of bathroom counters.
This natural stone is easy to damage if you use a harsh cleanser such as bleach or vinegar and the wrong cleaning methods. Fortunately, there are several cleaners that work wonders to sanitize granite.
Many essential oils, such as tea tree and lavender, have antibacterial properties, and making a homemade spray with these oils is safe and natural.
Not only do they make an ideal bathroom cleaner for granite, but they leave the room smelling fresh with a floral and minty scent.
Roll Up Your Sleeves and Go Bowling – Cleaning the Toilet Bowl
Of all of the areas of the bathroom, cleaning the toilet bowl has got to be the worst job. While some heavy-duty disinfecting wipes or an all purpose cleaner often get the toilet seat clean, the inside of the toilet is another matter and requires a bit of elbow grease.
Oftentimes, there are some unsightly and rather disturbing stains in the bowl, and a toilet brush and your best toilet bowl cleaner are needed to get it clean and sanitized. But, not all cleaners are effective, and knowing what works and what doesn't is key.
It may shock you to discover that your home has several everyday household items that are great toilet cleaners.
It's easy to make a cleaner for the toilet bowl using Borax and white vinegar to sanitize and clean away tough stains, or a homemade organic toilet bowl cleaner with baking soda to scrub away grime and remove foul odors.
No More Nasty Sewer Gnats
What if we told you that a female gnat lays up to 300 eggs in her lifetime? So, if you see one, two, or three drain flies, expect to see many, many more.
These pesky and annoying bugs are tiny, but their size doesn't mean that they aren't a nuisance, and they spend most of their time in their favorite place, the dampness of a lavatory.
There's nothing worse than sewer gnats in bathroom. They fly into your face while washing your hands, hover around your toothbrush, and stick to the sides of the sink.
Not only that, but they seem impossible to get rid of since killing one only reveals there are five more. While splashing these bugs down the drain with hot water is a quick fix to the problem, doing this doesn't solve it.
But, if you add some baking soda to the water, you've got yourself a natural and safe way to kill gnat eggs and prevent an infestation from driving you out of the bathroom.
Say Good-Bye to Foul Bathroom Odors
We all have a particularly stinky room in the house, and we're talking about the lavatory. Not only is this the room where we take care of business, but its nearly consistent high humidity level makes it a breeding ground for smelly mildew and mold.
Fortunately, using an air freshener or odor neutralizer takes care of the problem. However, some air fresheners are aerosols, while others spray unnecessary ingredients into the air.
If you prefer not to use store-bought sprays to freshen the bathroom, try using a homemade odor neutralizer spray to get rid of those common bathroom odors and freshen the air.
There are several ways to make your own air spray, but our favorites often contain essential oils. Not only do these oils work well for aromatherapy, but they eliminate unpleasant smells with ease.
Another natural solution to freshen the air is baking soda, and combining these ingredients works best.
Unfortunately, the lavatory is as germ-infested as you think, and not all cleaners are effective at eliminating the problem.
Using the right disinfectant solutions is key for removing harmful bacteria from bathroom surfaces, and making your own odor neutralizing spray keeps the space smelling fresh and clean.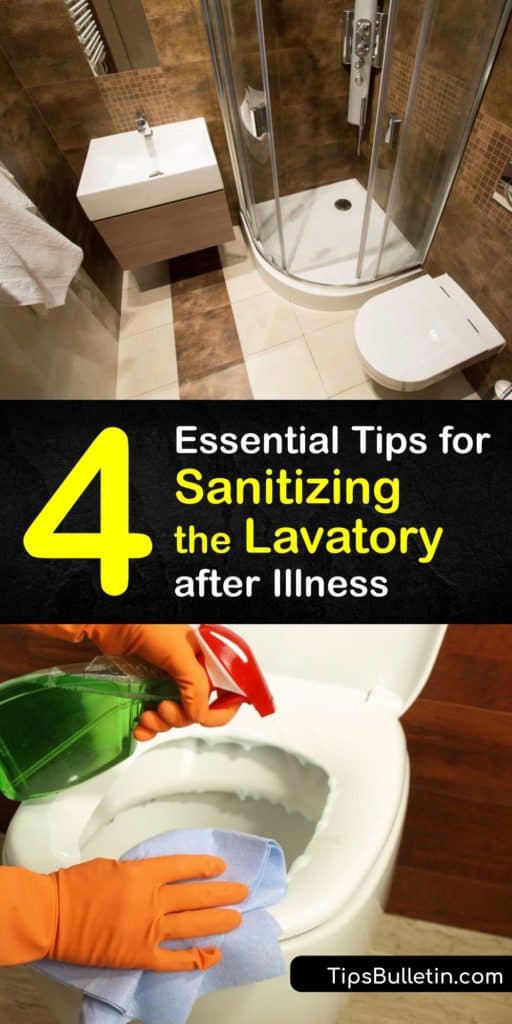 Using the right methods and cleaners to sanitize the lavatory keeps the room germ-free and smelling fresh, so why not share our bathroom cleaning tips with your friends and family on Pinterest and Facebook?