Few things can spruce up your property as nicely as some well-placed plants. However, gardening is hard work, and you might not want to have to re-design and re-plant your garden every year. Additionally, not all yards are full of open space and sun.
That's why we love shade perennials. These adaptable plants grow in conditions that don't work for other plants, and you get multiple years of enjoyment out of them! Even within the category of shade loving perennials, you do need to do some research before determining which plants are most suitable for your climate and soil conditions.
No two plants are the same, so it's important to know what you're getting into before you visit your local garden center. With this list, we can help you find the most beautiful perennial plant to add to your garden or place in your home.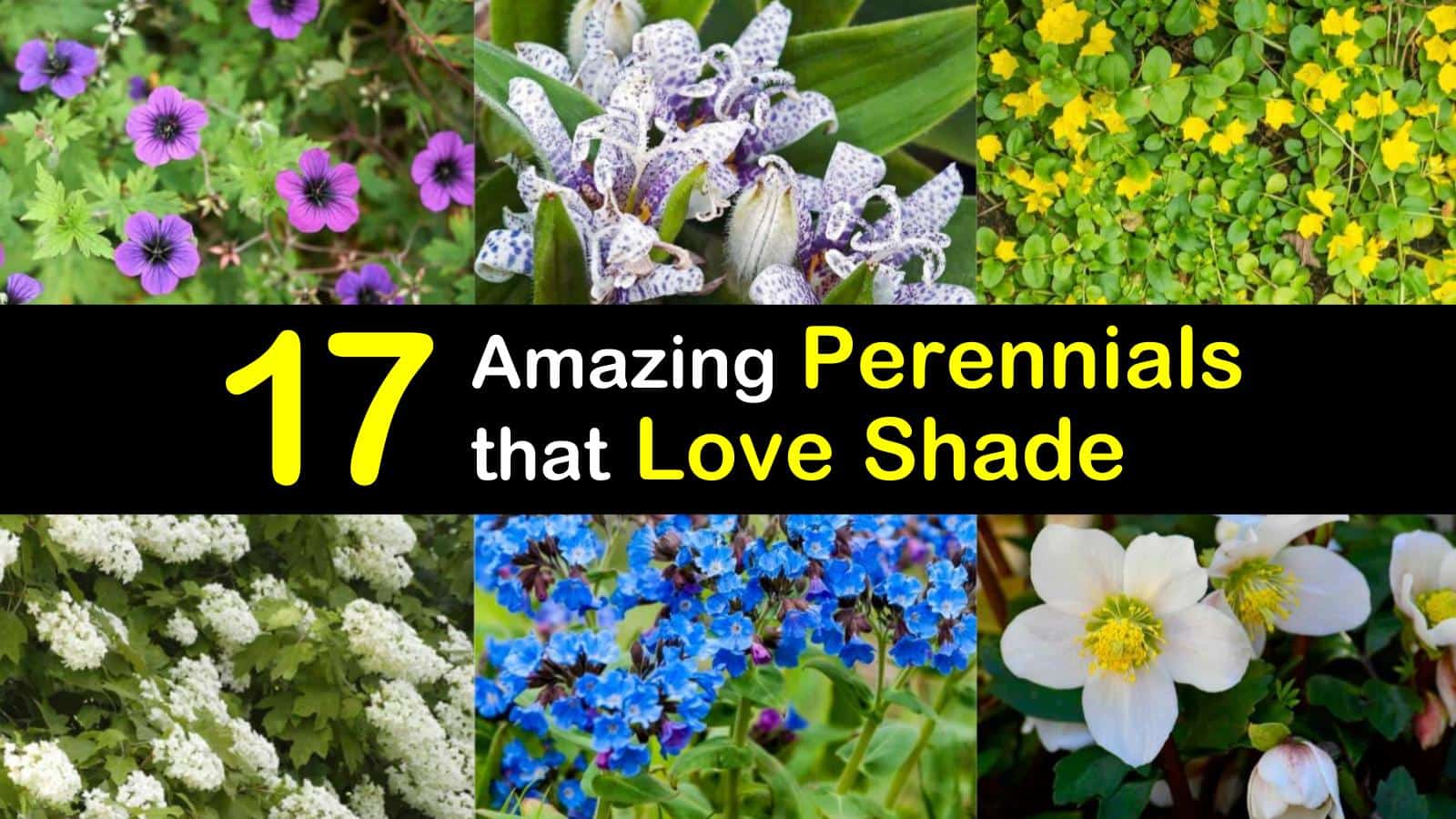 I Plant Shade-Loving Perennial Plants
As with any other plant, the first step to planting shade loving perennials is planning. Figure out the area you want your plants to go and decide how much space you have for planting. Take into consideration how tall and wide the plants will grow and place them accordingly in the garden.
The most important part of perennial plants for shade gardening or even those that prefer the sun is the roots, so be gentle during handling and planting.
How I Plant Shade Perennials
There are three different forms of perennials for shade that you can purchase: container-grown plants, bare-root perennials, or seeds. Seeds are the least expensive option but are also more difficult to grow, so this may not be the best form for beginners.
Growing plants in pots is quite easy and you can even keep them in pots throughout their lifetime, rather than transplanting them into the garden. As they grow, be sure to put them in a larger container and ensure that they get the nutrients they need with fertilizer or by amending the soil.
The bare-root option requires that you soak the roots in water before planting in the ground and requires close attention until they sprout. The easiest way to plant shade perennials is to purchase them in a container, and that is what we'll focus on now.
To plant your perennials, dig a hole that is twice as wide as the container and just as deep. Carefully pull your perennial plant out of the pot before gently loosening the roots.
Place the plant root-first in the hole you dug and fill it with soil and compost. Water the plant well and fertilize a week later.
When I Plant Shade Loving Perennials
Planting perennials for shade at the right time is essential. The two options you have are spring and fall. Spring is a good time for planting because the soil is warm, the sun is out, and the days are getting longer.
Fall is also suitable as it gives spring and summer blooming perennials the time to grow strong roots. One perk to planting in the fall is that most garden centers will have sales at this time, so you'll save money.
Summer and winter are not the right time for planting. The summer weather is too hot and the days are too long for the plants to thrive. Winter is too harsh and cold, and the soil is not soft enough.
How I Care for Perennials for Shade
Perennials are popular because they come back every year, so you don't have to keep planting new shrubs each spring or fall and you don't have to spend money each season to buy new plants like annuals.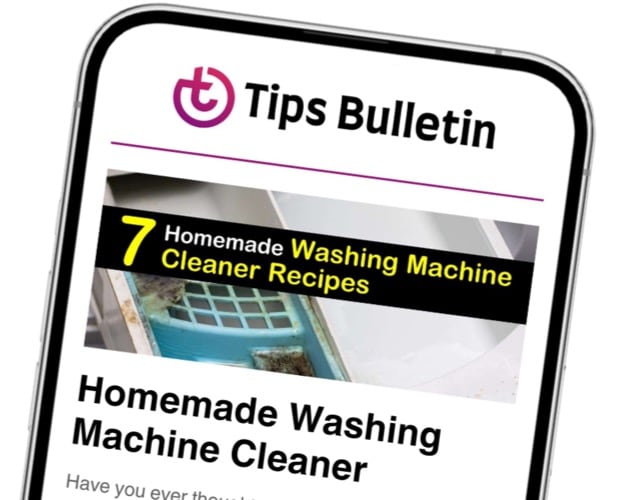 Finally, an email that Transforms Your Home.
Get the latest home and garden tips from our experts, delivered straight to your inbox.
Annuals for dry shade or wet conditions do give you instant color and fill in spaces quickly, whereas perennials take a while to grow and establish.
However, you need to make sure your plants for shade are well-tended if you want them to come back next year. Planting in the shade requires a little extra effort, as well.
As with all gardens, your perennial shade garden needs water. If you're experiencing dry weather, then you will have to water your plants at least one morning a week. In times of drought, check on the leaves to see if they are wilting or turning yellow. They may require even more water.
Get rid of debris and weeds every couple of weeks, check for insect damage and fertilize your garden with 1 to 2 inches of compost once a year. Keeping an eye on your shade loving plants ensures that they not only do well but thrive in the environment in which you grow them.
Colorful Shade Perennials for My Garden
There are many more than seventeen shade perennials from which you can choose. Decide what characteristics you would like your plants to have and choose from those. You may want perennials that repel flies and mosquitoes, or you might prefer brilliant flowers. Check out our list for a few of our favorite suggestions.
Black-Eyed Susan (Rudbeckia hirta) – My Classic Perennial for Shade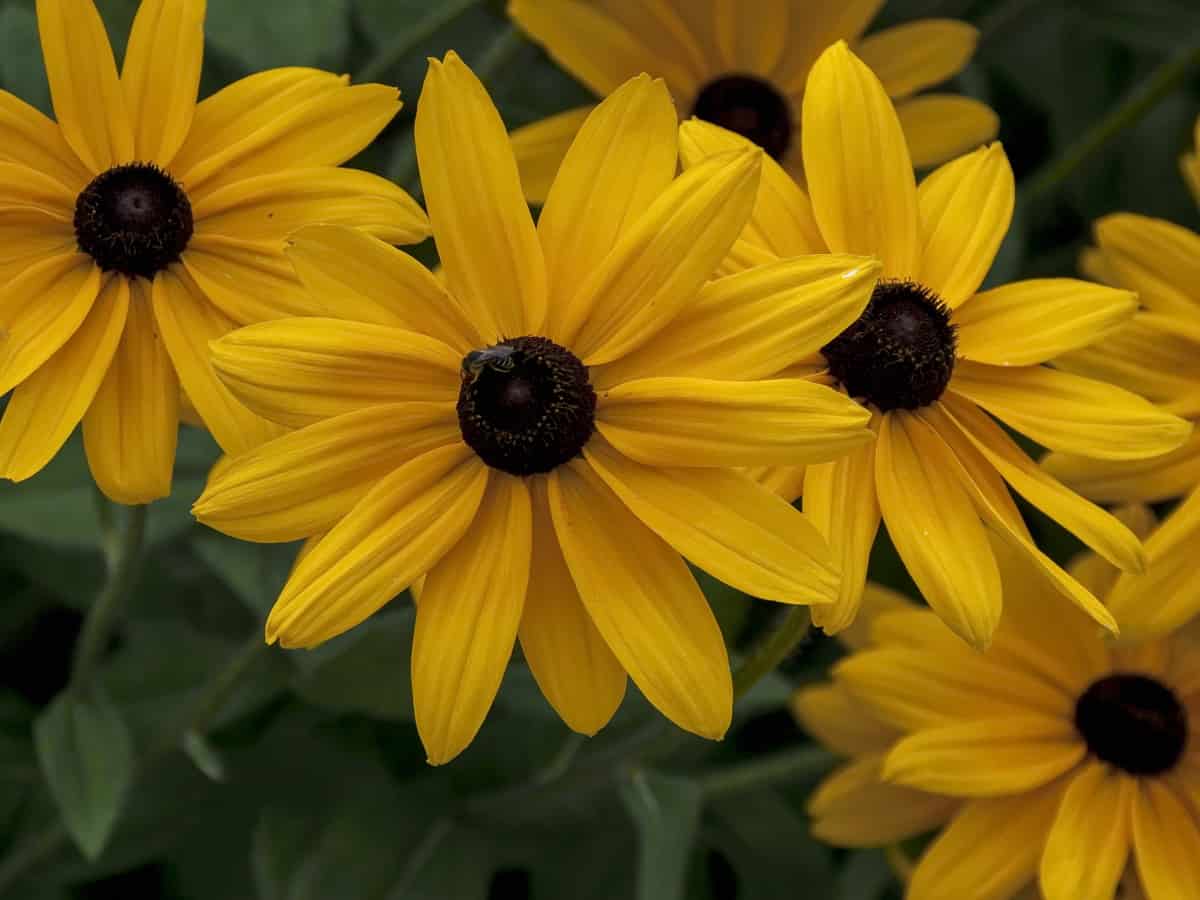 The black-eyed Susan is a herbaceous perennial that is native to the central United States. With bright yellow petals and a black center as the name suggests, this plant is an eye-catcher.
It grows up to 3 feet and spreads 2 feet wide. It is winter hardy and can survive in the U.S. Department of Agriculture hardiness zones 3 through 7.
It is best to plant this perennial in early spring, and you can expect the daisy-like flowers to bloom in the first year. While they are shade tolerant, they produce smaller and fewer flowers, and they do well in full sun, too. It survives in most soil, with wet, poorly-drained conditions the exception (..).
Lungwort (Pulmonaria): My Shade-Lover with Beautiful Flowers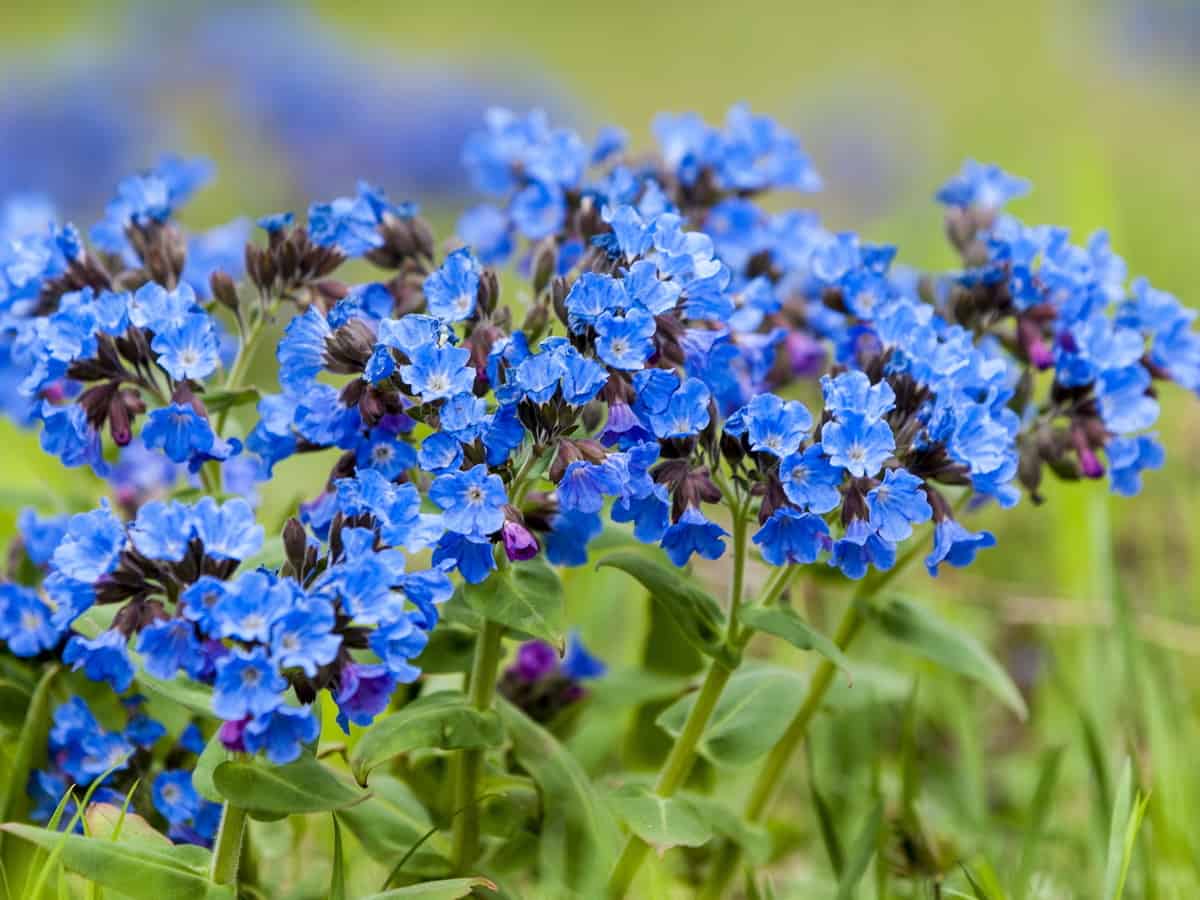 Lungwort is an old favorite that is becoming popular once again, thanks to its multi-colored flowers and longevity. It comes in many varieties with different colored blooms, including blue, purple, red, pink, and white flowers.
This plant is a wonderful addition to containers or spread throughout the yard in strategic locations where it gets at least some shade. These shade loving plants can tolerate many conditions but thrive in moist, well-drained soil when first planted.
Once established, it is more drought tolerant perennial and thrives in partial shade when kept out of the hot sun in the afternoon. Lungwort is typically a short-lived perennial, but dividing your plant or splitting perennials every few years will help keep them going.
My Golden Creeping Jenny (Lysimachia nummularia 'Aurea') Likes a Good Container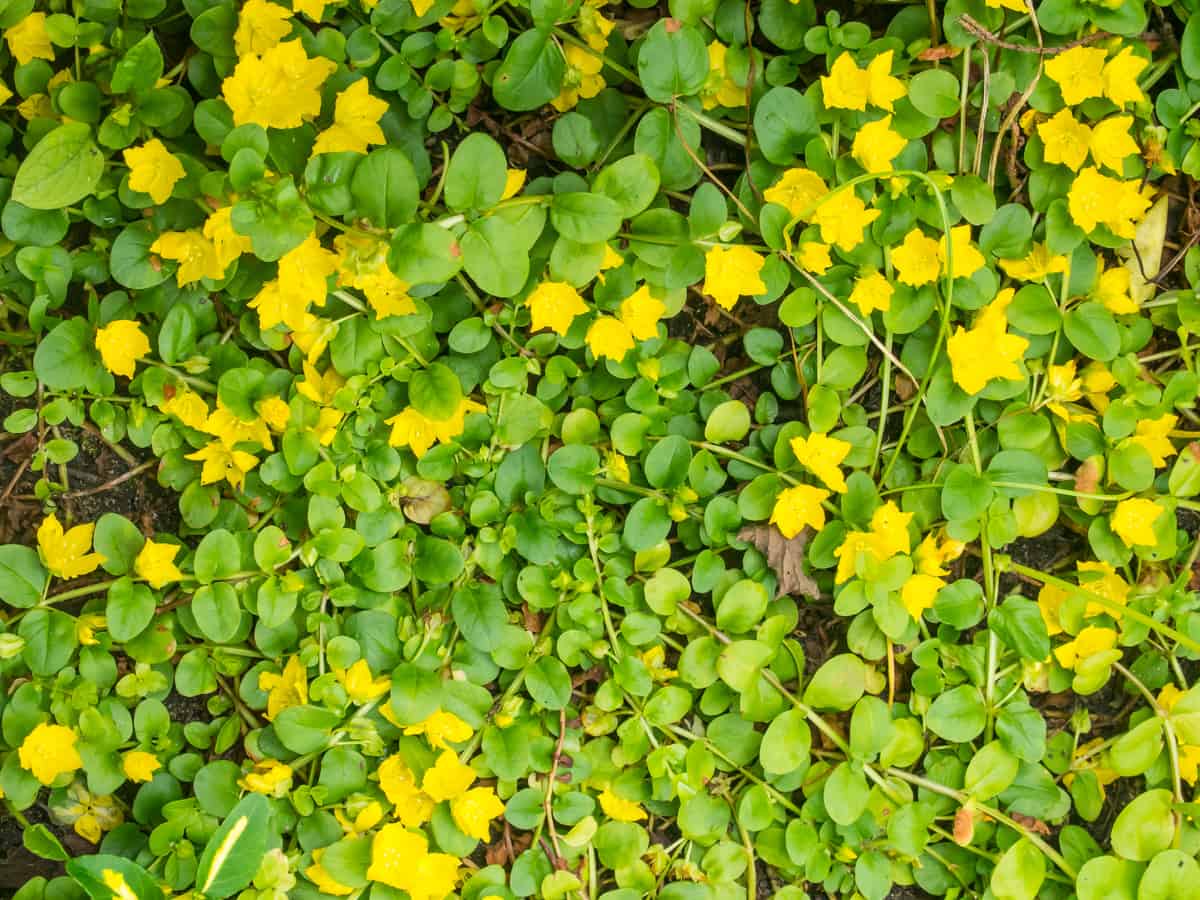 The Golden Creeping Jenny is a creeping plant that is perfect for containers or other areas where you can control the spread. Hang them on your front porch or back deck or in the bathroom to brighten up a corner.
The rounded leaves range in color from a bright green verging on neon to golden yellow or gold. The color shift depends on the light, and the Creeping Jenny turns yellow in partial shade.
These low light plants for outdoors or inside can grow two to four inches tall and wide and occasionally produce small, bright yellow flowers. It is most suitable for hardiness zones 3 through 9 and blooms intermittently starting in early summer through fall.
Bigroot Geranium (Geranium macrorrhizum) – My Fragrant Multi-Season Shade Perennials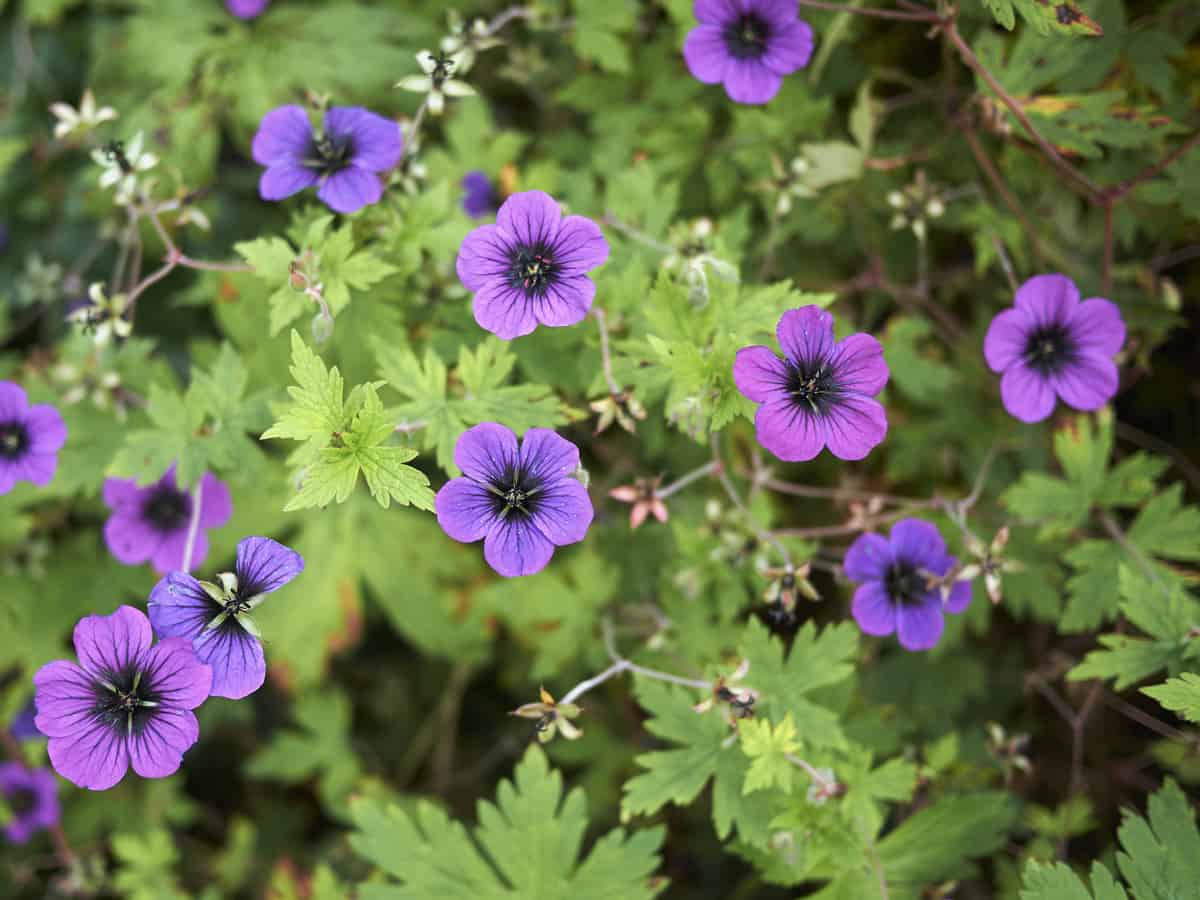 With beautiful pink and purple flowers that bloom in late spring to early summer, this apple-scented perennial plant provides dense ground cover. In fall, the foliage gives hints of red and bronze tips, with red berry-like seed heads remaining once the pink flower petals fall away.
The Bigroot Geranium is the fastest spreading ground cover and spreads quickly in its first season. Because of its speedy growing trait, this geranium should be spaced 14 inches away from other plants.
It can handle both dry shade and full sun and grows in hardiness zones 4 through 8. This geranium typically does not need dividing each year and thrives in well-drained soil. These beautiful deer resistant shade perennials attract pollinators and are an attractive addition to any garden area.
Northern Sea Oats (Chasmanthium latifolium) – My Perennial That Loves Shade and Does Well in Woodland Gardens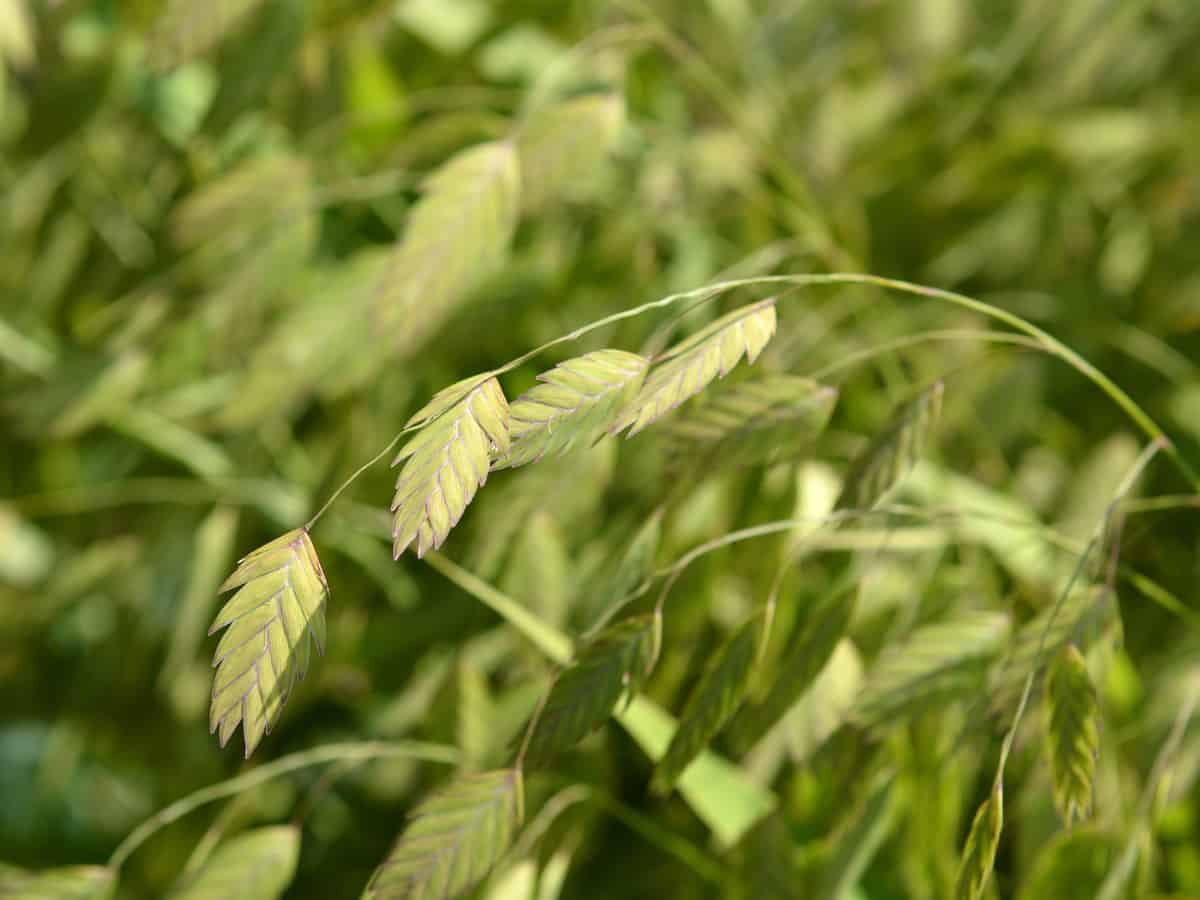 Sea Oats are a low maintenance ornamental grass that grows well in medium to wet, well-drained soil. It survives in full sun to part shade and can grow up to five feet tall.
It works well in shade gardens to add year-round texture and contrast due to its bright green leaves that turn coppery in winter. As perennial grasses for shade, Northern Sea Oats also do well in woodland gardens as they are native to rich woods, along streams, on rocky slopes or moist bluffs along the beach.
It thrives in hardiness zones 3 through 8 and doesn't have any insect or disease problems. When growing in a garden, it may require staking or other support to grow upright and not flop over, especially when it's windy.
Coral Bells (Heuchera) – My Plant with Showy Leaves and Flowers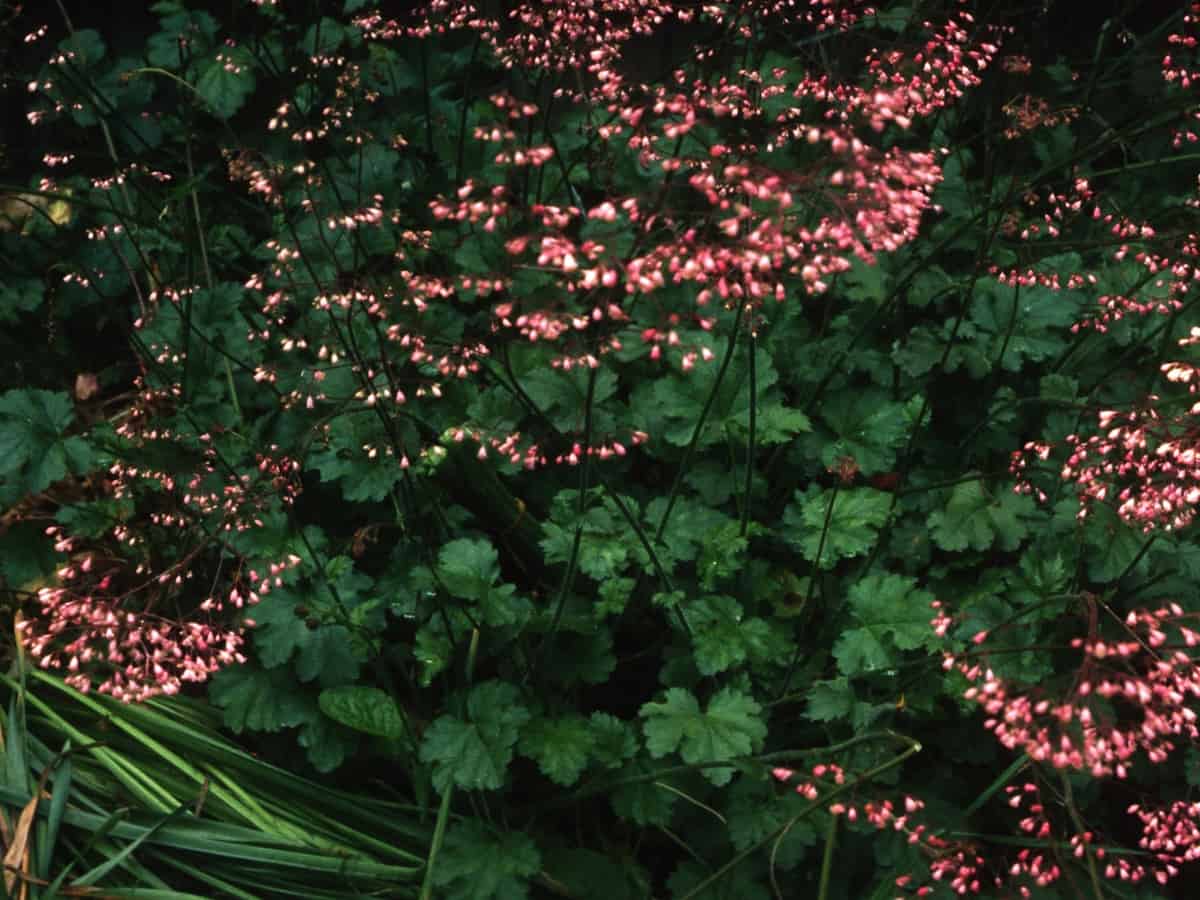 Coral Bells are an excellent choice for any container or woodland garden to add texture and color. Its main draw is its foliage, which can range in color from deep purple or burgundy to red and lime green. The leaves come in many sizes and shapes and are quite attractive.
Some subtle bell-shaped flowers also bloom, serving as a great feature against the large leaves. These long flowering perennials are ideal for the shadiest portions of your garden and yard and still thrive through all seasons.
Coral bells are one of the best shade plants to go for when you're first starting gardening as they are easy to care for perennials. Whether it gets full sun or full shade, Coral Bells can still survive, and they maintain their healthy look even with minimal watering. They survive in hardiness zones 4 through 9 but do best in zones 5 through 7.
Japanese Painted Fern (Athyrium niponicum var. pictum) – My Hardy Shade Loving Perennial
One of the hardiest partial shade ferns, Japanese painted ferns are the perfect perennials for rock gardens, mixed containers, or the edging of the shade border. This unusual plant has attractive dark green foliage tinted silver and olive, and the ferns stand out against the burgundy colored stems.
This fern prefers partial or deep shade and can grow up to 23 inches tall and spread 18 inches wide. The Japanese painted fern is easy to care for, can withstand lots of neglect, and can survive in any soil type, as long as its evenly moist. To make these perennial plants last even longer, divide them in the spring every 3 to 4 years.
Hakone Grass (Hakonechloa macra)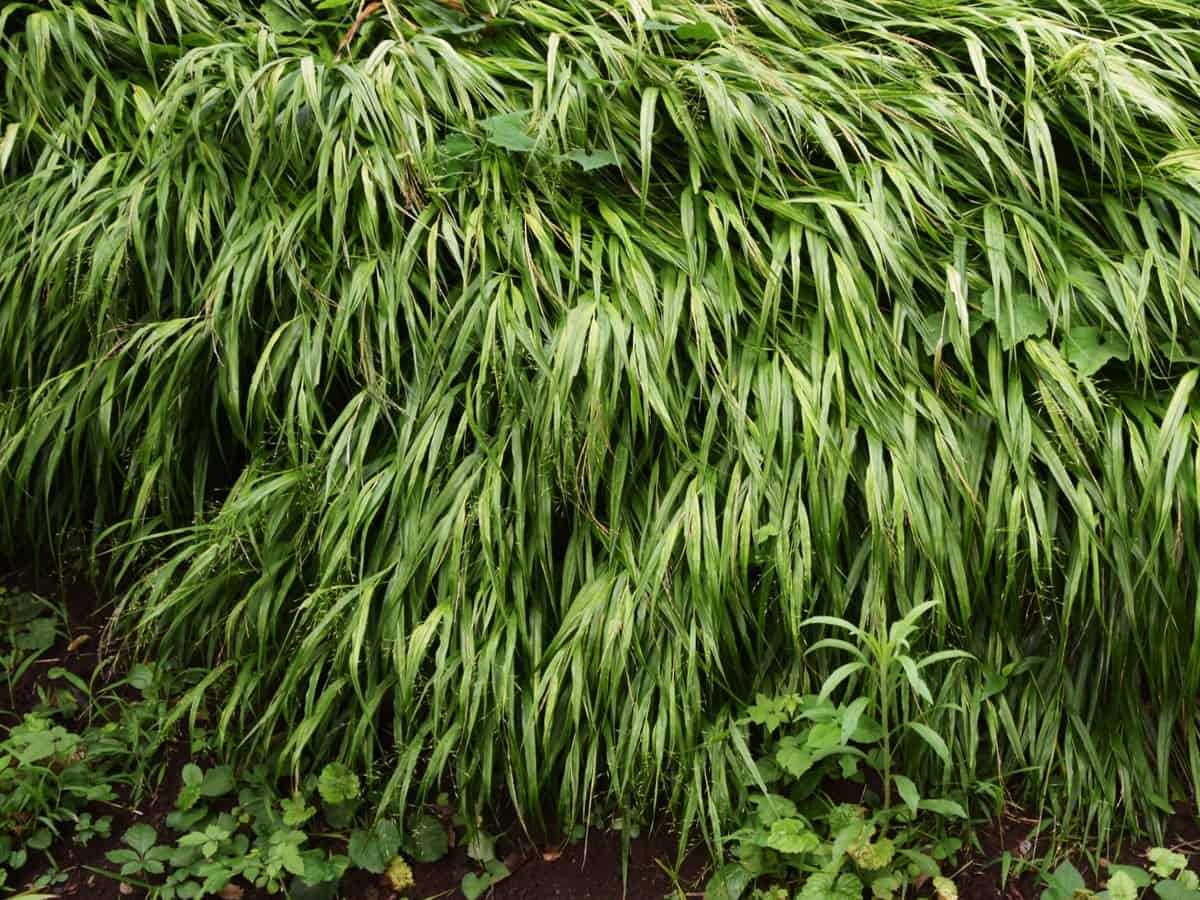 This ornamental grass is great for adding a splash of bright color. This perennial is different from other grasses in that it is a shade loving plant that thrives in moist conditions. Changing from green to gold through spring and summer and then into copper-orange in the fall, it always stands out.
Plant ornamental grasses to add a little something different to your yard and garden. This specimen forms a dense mound, usually reaching only 2 feet tall and wide.
It grows best in part shade and prefers consistently moist, well-drained soil. It requires little maintenance and is resilient to diseases and pests. It is best to divide it in the spring, though it's a slow grower, so it only requires this after many years.
Bluestar (Amsonia tabernaemontana)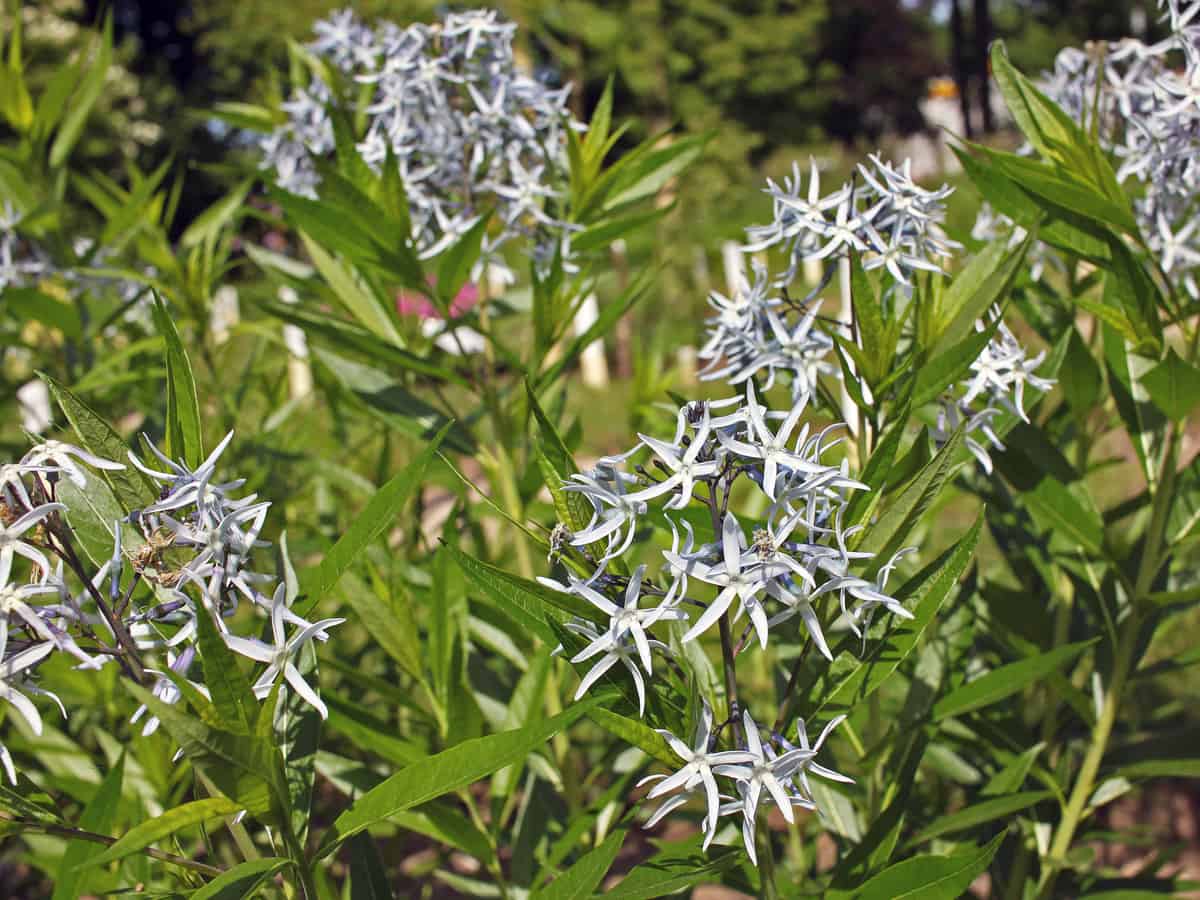 These shade loving flowers offer stunning color year-round. From the beautiful blue flowers of the early season to the bright summer foliage to the golden fall hue, this ever-changing perennial is a favorite for gardeners. It is so lovely that it was selected as one of the 75 Great Plants for American Gardens by the American Horticultural Society.
The blue star is a slow-growing plant that is easy to care for in medium moisture, well-drained soil. It loves part shade or full shade and becomes more drought tolerant as it matures. It is also clay tolerant and deer resistant.
Barrenwort (Epimedium grandiflorum) – My Bright Colored Perennial for Shaded Areas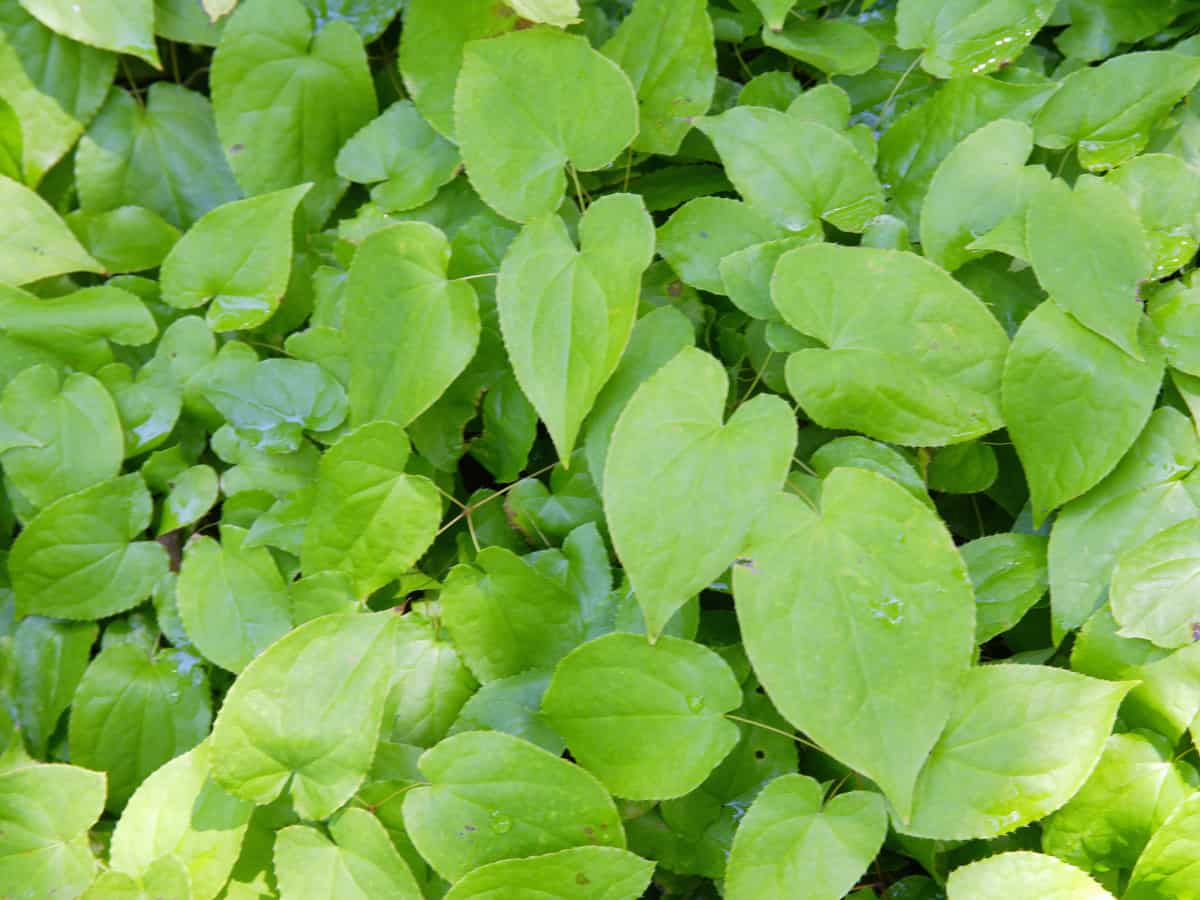 Barrenwort epimedium grandiflorum is a small perennial that grows only up to 1 foot 4 inches tall and 1 foot wide. It grows at a medium rate and produces beautiful purple and white flowers in early spring.
Barrenwort perennials are flowering ground cover plants that bloom from May to June and are suitable for light, medium, and heavy soils, though they prefer them dry and moist.
It grows in light shade and is excellent for ground cover. The aerial parts of the plant have medicinal properties. With antibacterial and anti-rheumatic qualities, it can be used to treat arthritis and numbness, as well as hypertension, chronic bronchitis, and more.
Japanese Pachysandra (Pachysandra terminalis)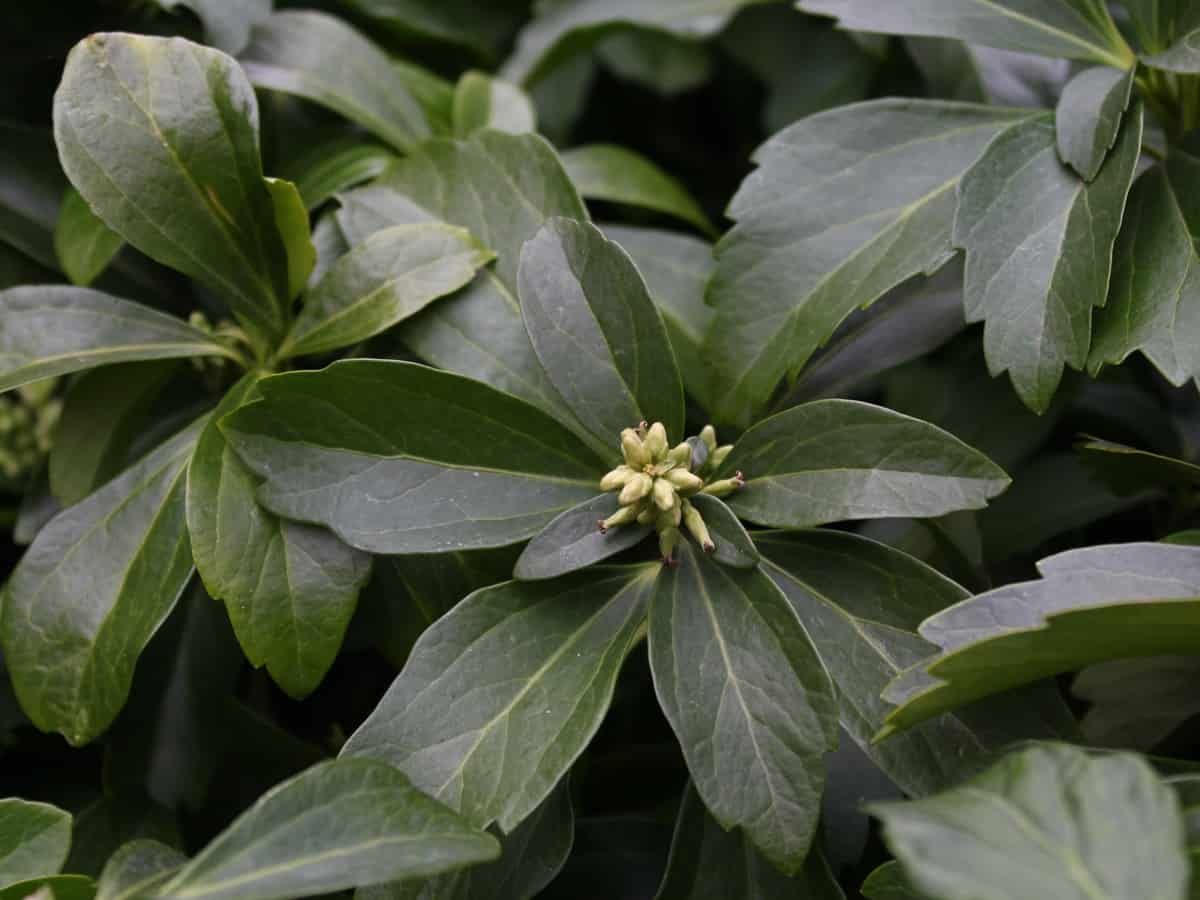 This herbaceous perennial is also one of our favorite evergreen shrubs. Native to Japan and northern-central China, it thrives in light shade to full shade and is low maintenance. It thrives in the sun dappled shade positioned under large trees.
It is one of the dwarf shrubs that are great for ground cover, growing 12 inches high and spreading in a thick carpet.
The oval leaves of the Japanese pachysandra grow to between 2 to 4 inches long, and it produces a tiny white flower in early spring. You should trim these flowering shrubs for shade periodically to promote circulation, and shouldn't water them from overhead.
Goldenstar (Chrysogonum virginianum)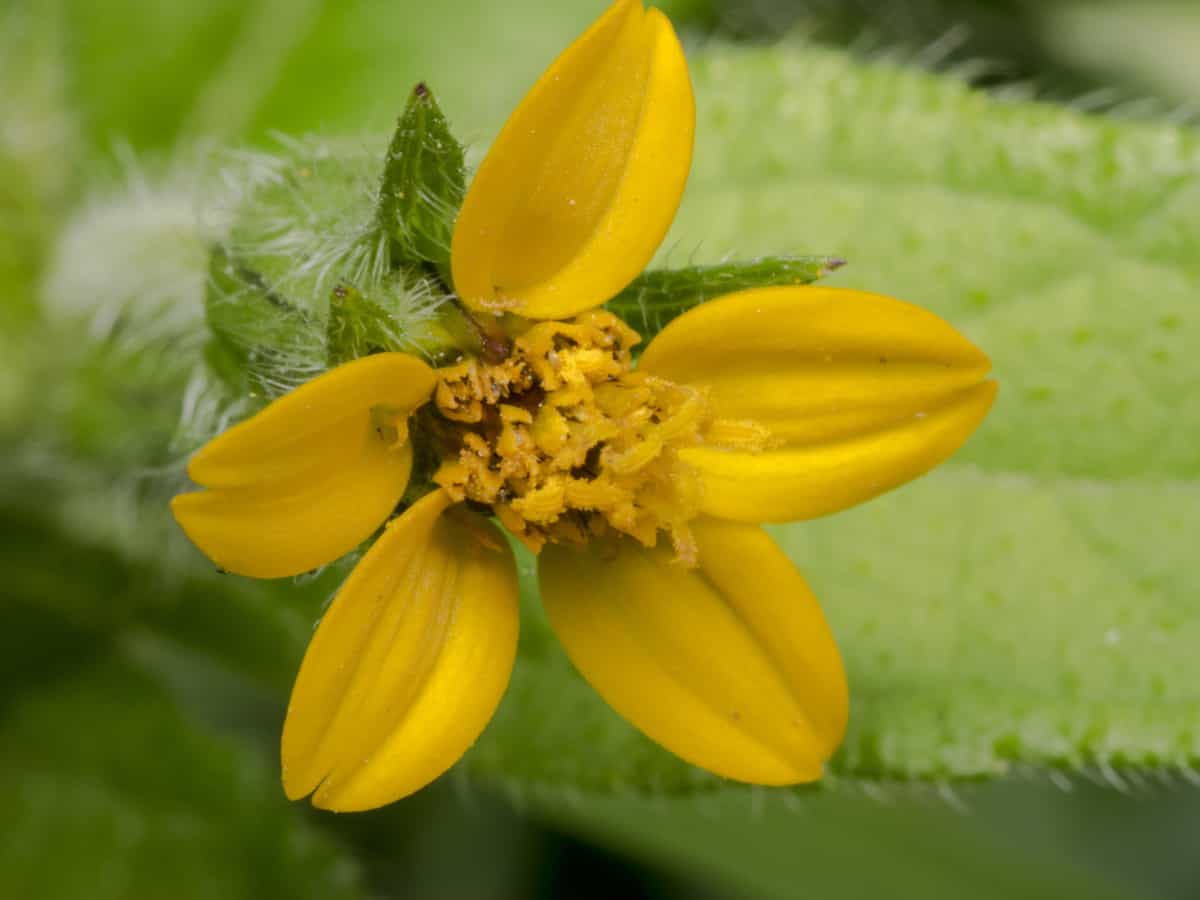 One of the easier shade perennials to grow, this plant prefers moist, organically fertile soil and sun dappled shade. It can also tolerate full sun, but only if planted in consistently moist soil. The Goldenstar is an excellent plant to try growing from seed if you're a beginner, and it may even self-seed after planting.
Goldenstar is native to woodland areas and grows naturally from Pennsylvania to Florida and Louisiana. It has star-shaped bright yellow flowers that bloom spring to fall when in a cold climate. It thrives in hardiness zones 5 through 9.
Toad Lily (Tricyrtis) – The Beauty's in the Details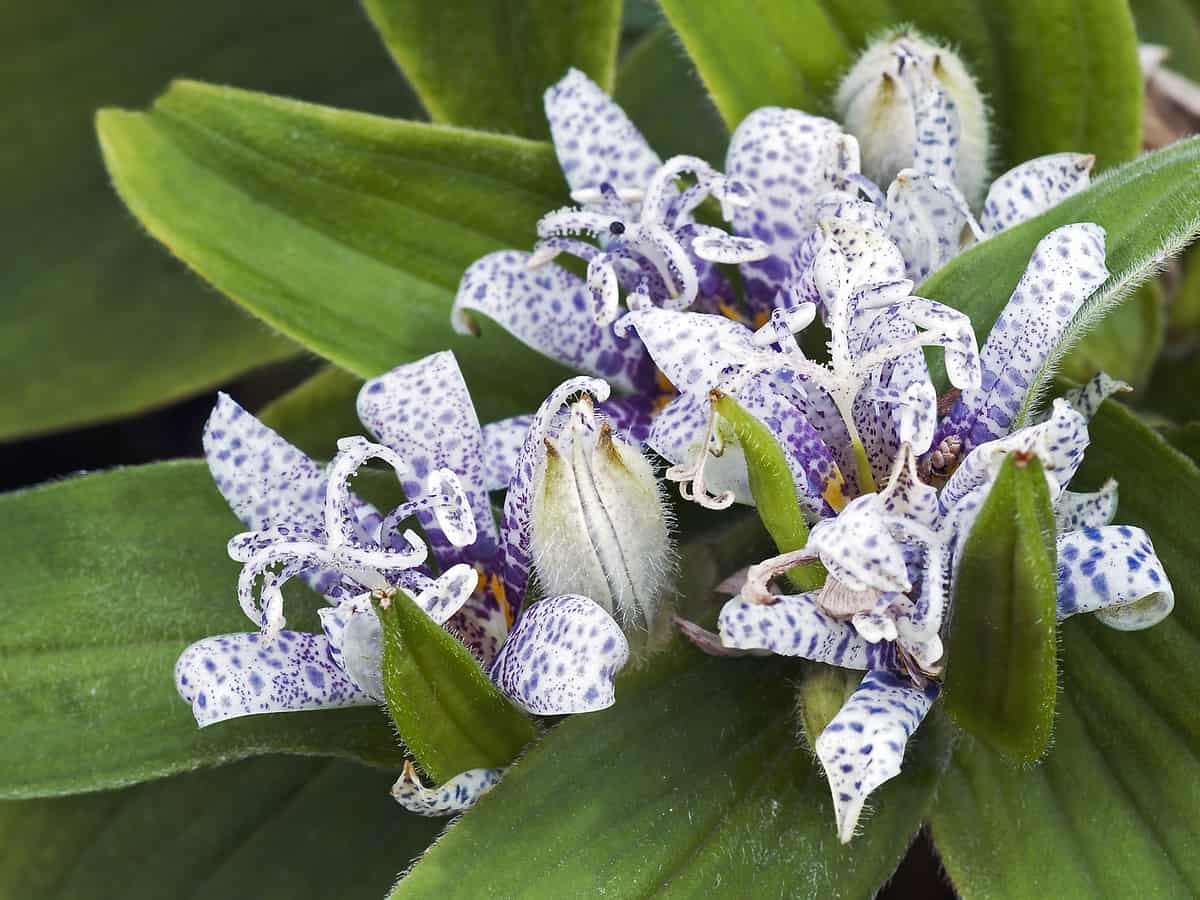 This shade-loving perennial is prized for its small, orchid-like flowers. Though tiny, they have intricate designs that add beauty to any garden. Toad lily thrives in hardiness zones 5 and warmer and grows native in a wide variety of conditions, including sloped ground along creeks, at the edges of roads and trail clearings, and in forests.
The flowers bloom from early summer through autumn, bringing additional attention to them as not many other plants bloom at this time. The blossoms are only about 1.5 inches wide and have six narrow sepals. To see the full impact of the beautiful flowers, you need to look closely at the petals.
Old-Fashioned Bleeding Heart (Dicentra spectabilis)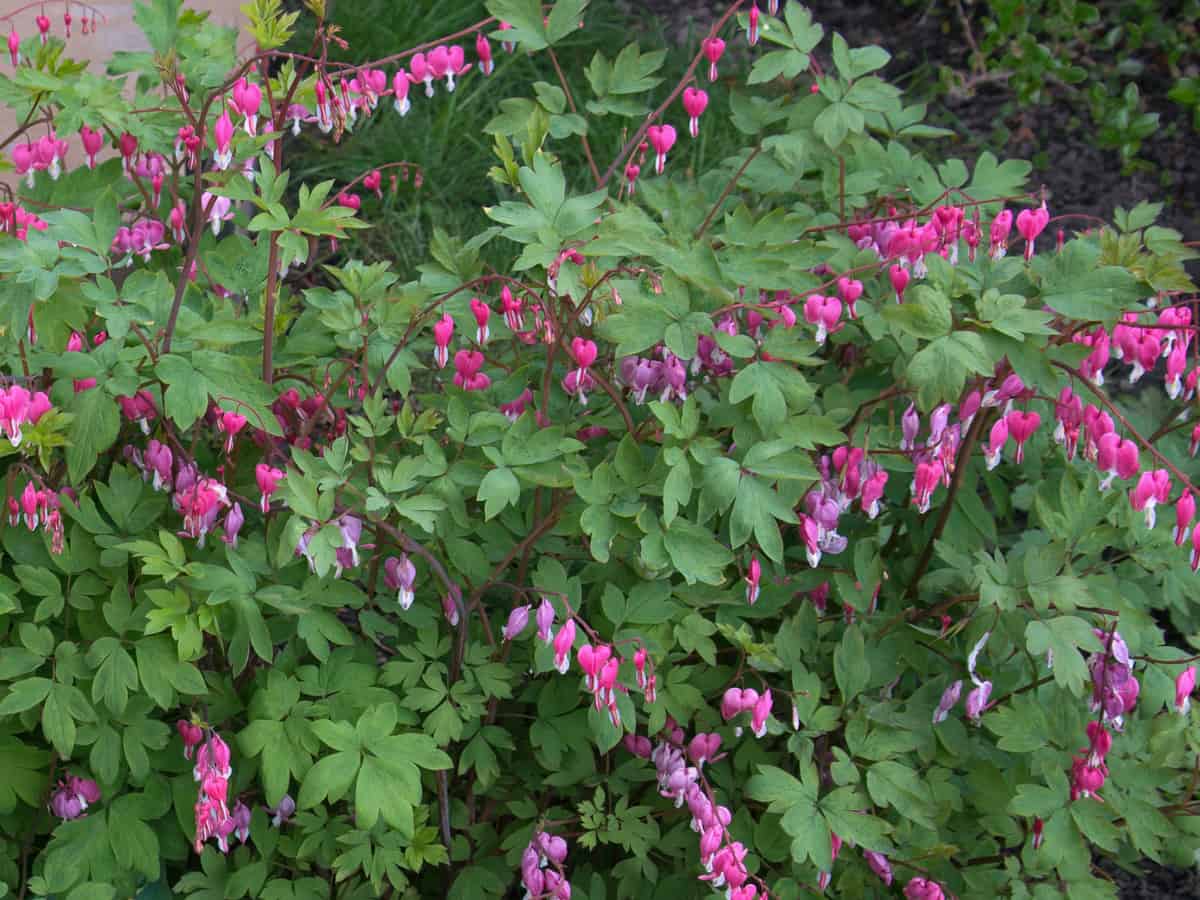 Old-fashioned bleeding hearts are one of the most classic partial shade flowers. With beautiful green foliage and pink flowers that bloom in late spring, this perennial is an excellent addition to any garden. It prefers part shade or full shade and needs consistent water.
As perennial flowers for the beach, woods, or elsewhere, these flowers grow in most soils, whether alkaline or acidic, and thrive in hardiness zones 3 through 9. However, the attractive, heart-shaped flowers only come out briefly.
Blooming during the spring, they can last until late summer or early fall if watered well, before going dormant until the next spring. The flowers work well in bouquets and last about two weeks when cut and put in a vase.
My White Dead Nettle (Lamium album) Has a Long Blooming Season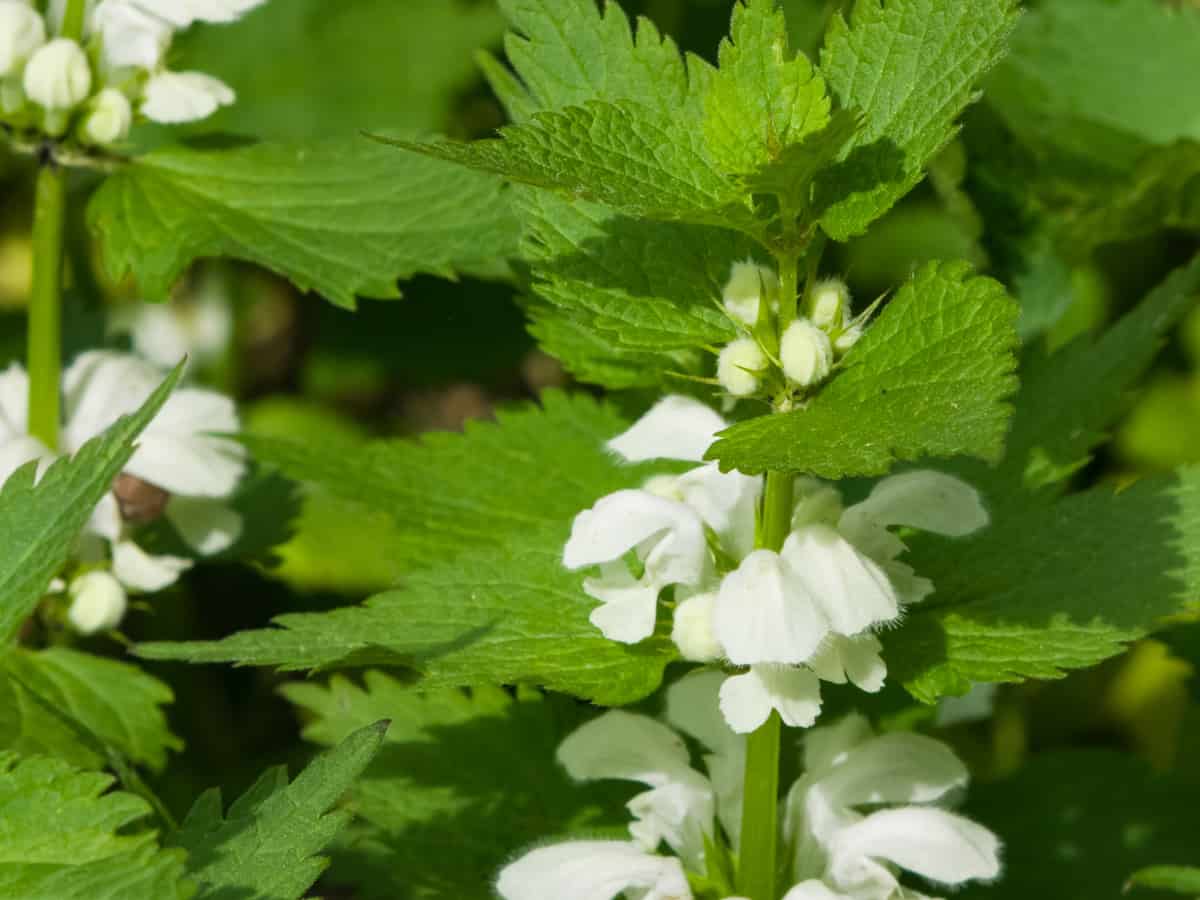 A medium grower that grows to about 3 feet tall, white dead nettle has a long blooming season. The pretty white flowers last from May to December, with seeds ripening from July to December.
It tolerates most soil, including heavy clay conditions, and is one of the easy to grow shade perennials that bloom beautifully and spread easily. Though this perennial prefers sun, it does very well in partial shade and can survive temperatures as low as -13°F.
It is not the best choice for a flower garden, and many consider it to be a weed, but it great for wild gardens, woodland gardens, ground cover, and hedgerows. It also helps attract bees, making it a good companion for many vegetable plants.
Christmas Rose (Helleborus niger) – Color in Winter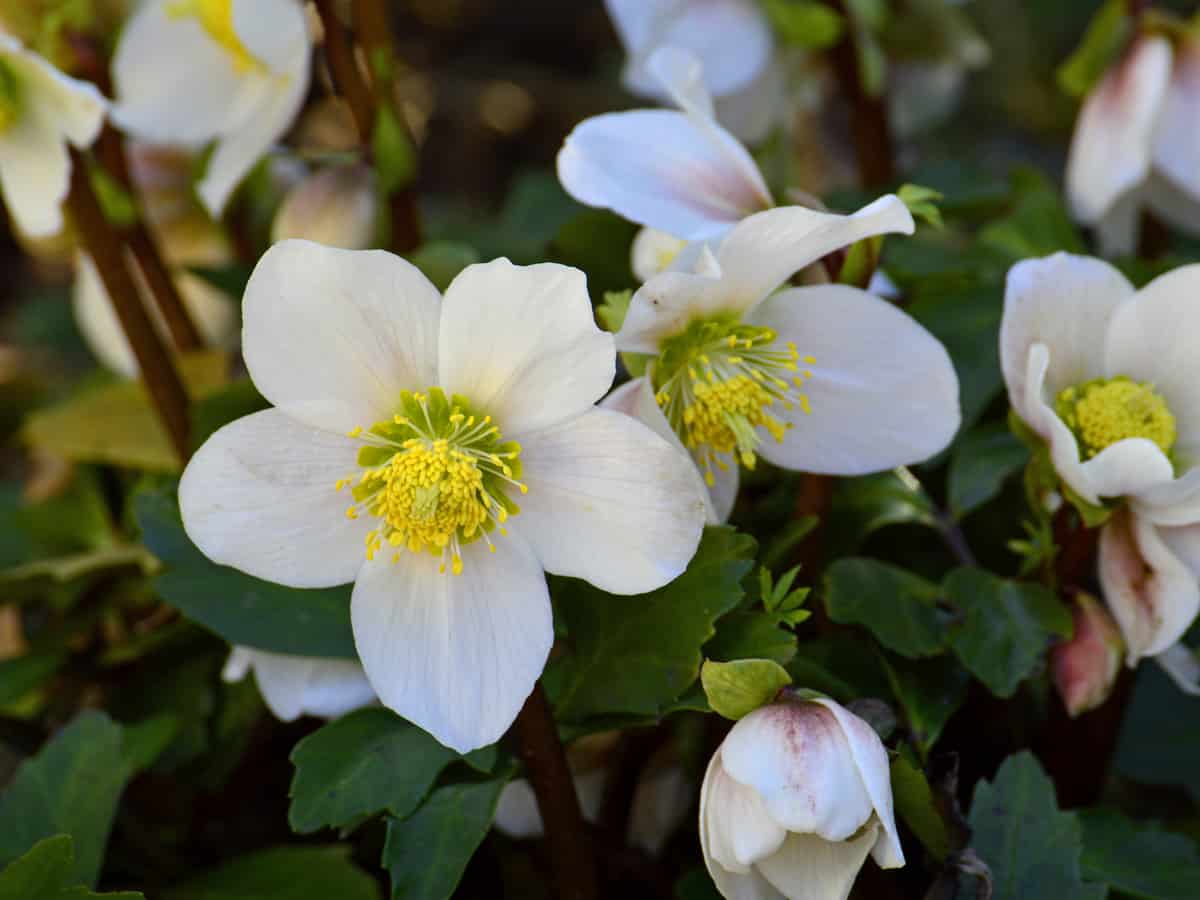 The Christmas rose, also called the black hellebore, is a unique plant thanks to its long flowering period. Unlike other plants that bloom in spring and summer, the white to light pink flowers of the Christmas rose blossom from November to February. That means this evergreen plant brings brightness to your garden just when it needs it most.
Like most drought tolerant plants, the Christmas rose has long roots that allow it to supply itself with water. However, if you have these perennials planted in a tub, it is essential to check the soil to see if it's dry. They prefer partial shade and require hummus-rich, loose soil. They pair very well with deciduous trees.
Oakleaf Hydrangea (Hydrangea quercifolia) – My Deciduous Shrub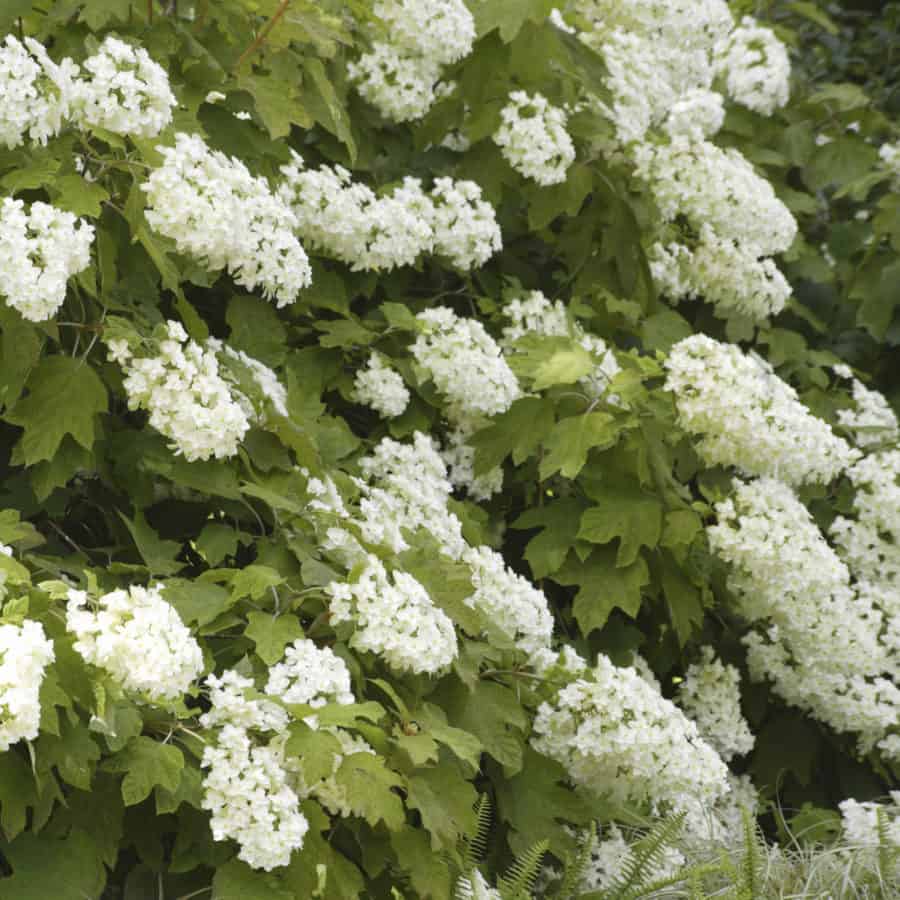 The Oakleaf hydrangea is a deciduous shrub that grows 8 feet high and spreads the same. It grows easily in medium moisture, well-drained soil and prefers full sun to part shade. This plant requires little pruning, but the best time to do so is immediately after the white flowers bloom.
In winter, Oakleaf hydrangeas need a little bit of protection and do best in a location with adequate shelter. They grow in hardiness zones 5 through 9 and bloom from May to July. They work well in informal hedges or open woodland areas.
If you want your home landscape to look beautiful year after year, then perennials are the plants for your gardening needs. Shade perennials can help you lighten up spaces that might otherwise look dark and empty, and many of the low maintenance plants are suitable for beginners. With a variety of blooms and foliage to choose from, there is a perennial plant that will thrive for you.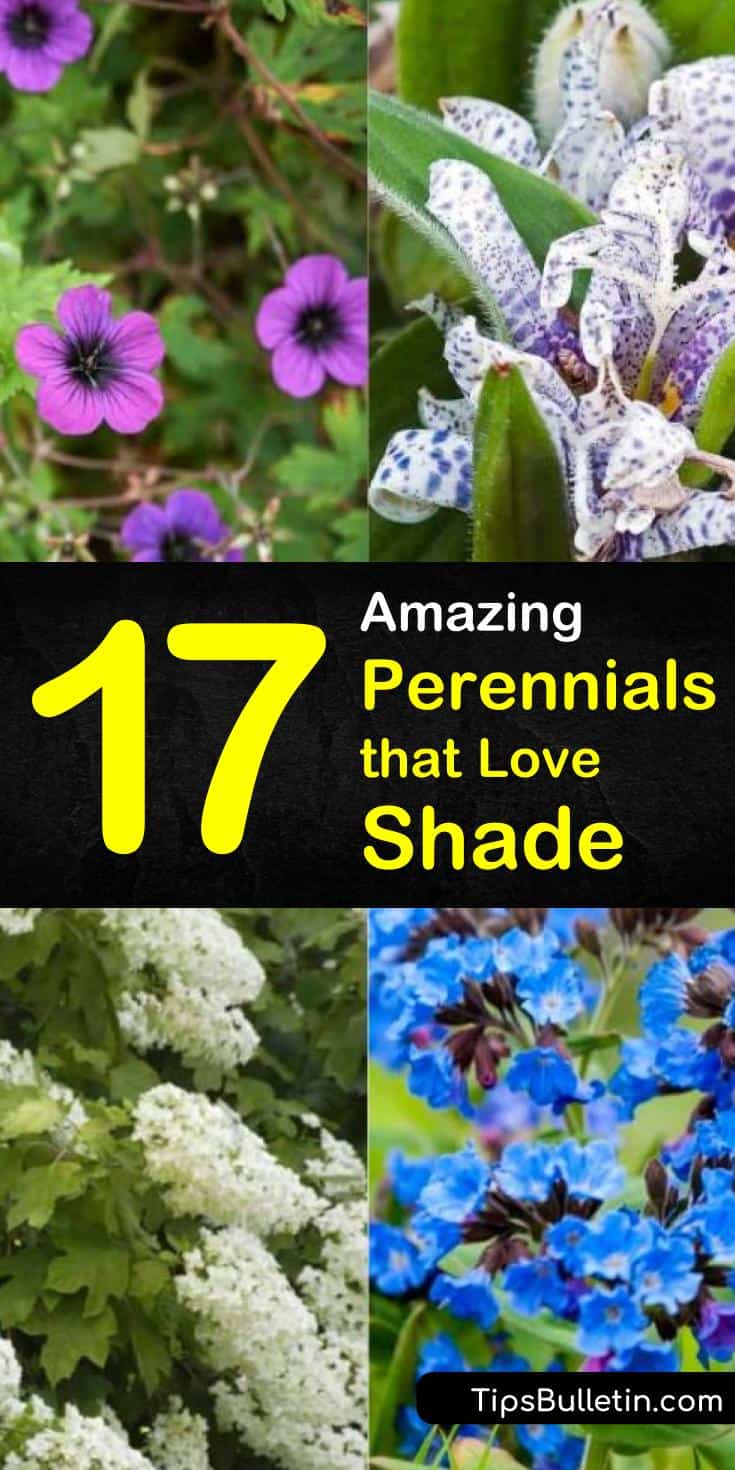 If you found our guide to perennials for shade helpful, then please share our garden design ideas with your friends and family on Facebook!