aShrubs that thrive in deep shade are few and far between. At least, finding shade shrubs with flashy foliage and stunning blooms is. A vast majority of plants love direct sunlight, which leaves houses surrounded by shady areas with limited options.
Finding plants that have adapted to the hardiness necessary for shady spots isn't impossible, however. Shade shrubs add color, texture, and privacy to your yard and flower beds.
Some have variegated leaves and magnificent white flowers, and others have all the characteristics required for specific desires like ground cover or foundation plantings. We've selected the most eye-catching shade shrubs to plant around your home.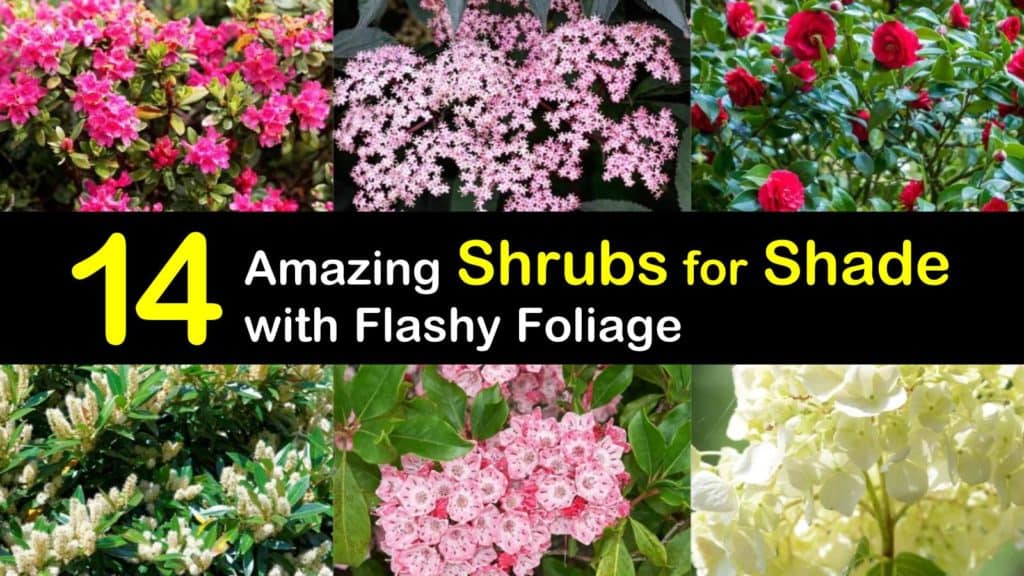 Gorgeous Shrubs that Tolerate Shade
Maybe you splurged last year and planted some of the fastest growing shade trees around. Now you have areas of the yard that are too shady for some of your sun-loving plants. It's time to add some shrubs that prefer the shade.
The foliage density and amount of flowering and fruiting are all directly influenced by the amount of sun and shade that a plant receives. There are many shade tolerant vegetable plants, shrubs, annuals, and perennials that thrive in shady conditions.
Before choosing which shade shrubs or other plants that like the dark you'd like to plant around your home, figure out the location's exact level of shade.
Heavy shade receives absolutely no direct sunlight. This could be on a north-facing exterior wall or behind other dense plants. On the other hand, sights with full sun receive at least six hours per day.
Partial shady spots and light shade obtain reflected light and some direct sunlight. Regardless of the area, understand that planting shrubs in the full shade means that flowering shrubs won't ever be as bushy as shrubs for direct sun.
After you consider these factors, you're ready to choose which shade shrubs best suit your yard.
Impossible to Kill – Hydrangea (Hydrangea paniculata)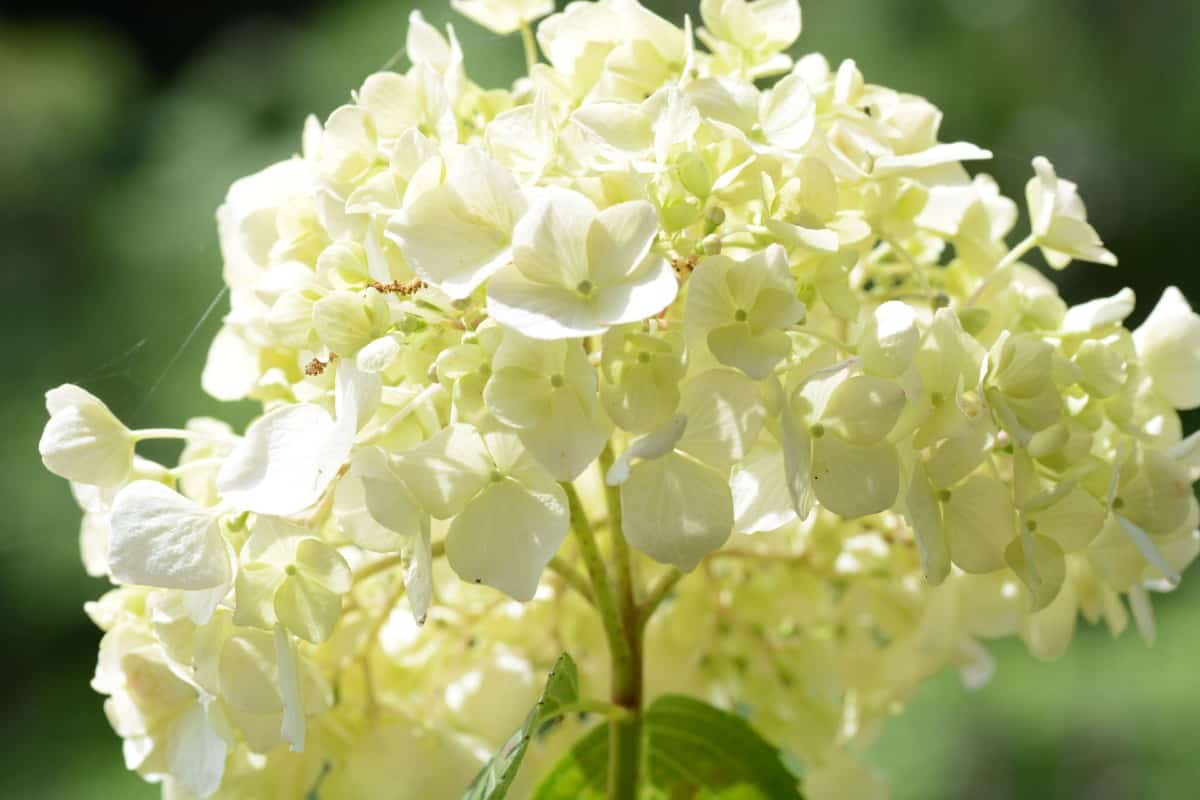 These hydrangeas are known for their hardiness and are great flowering shrubs for shade in your yard. They are easy to grow because they are the most adaptable of all the hydrangea species. They even have the nickname "black thumb" because even those known for killing plants keep this shrub alive.
Hydrangeas aren't too picky about soil type; however, well-draining soil is a necessity. Water them regularly for the first two years until established.
Hydrangeas start to bloom in the late spring and early summer. The blooms are large and football-shaped with dark green foliage. Prune in the late fall to encourage new growth.
Azaleas (Rhododendron indicum)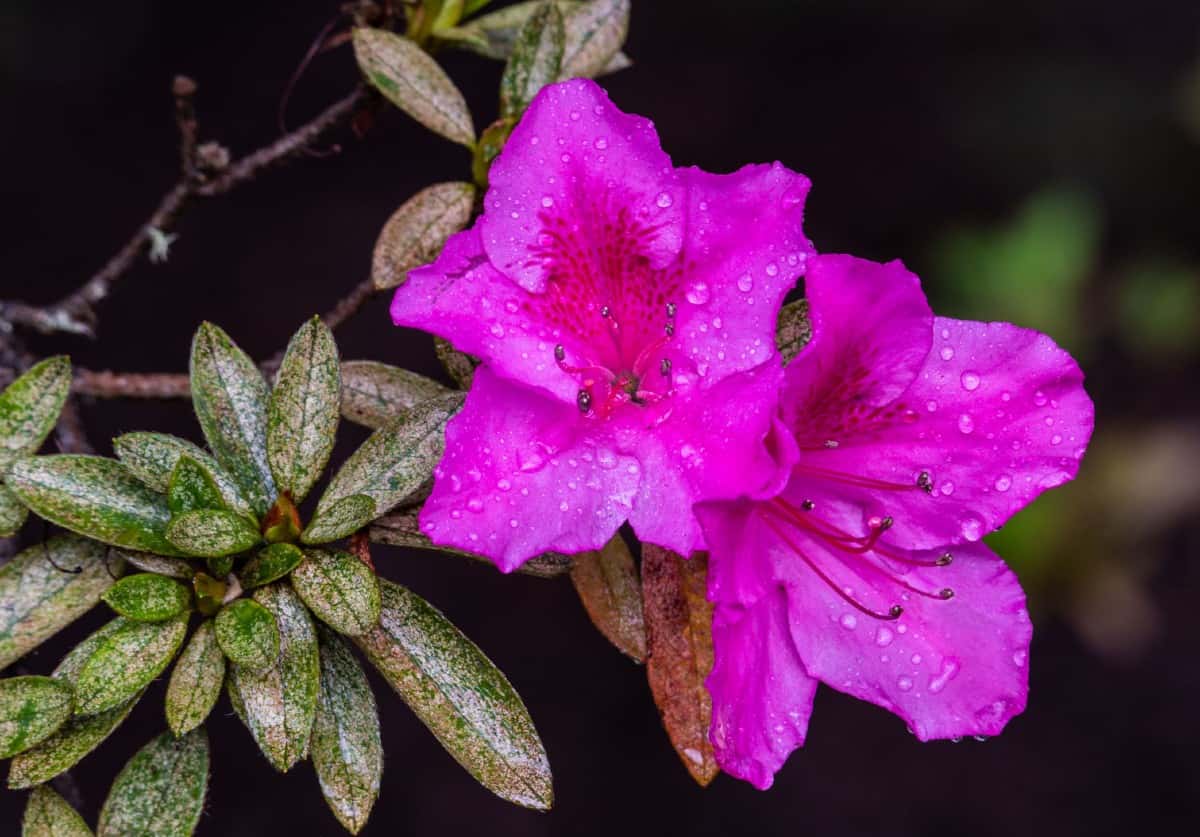 This specific species of azalea is an evergreen shrub. It has shiny, green leaves that show a flash of red in the late fall and winter months. They have bright red and pink flowers that start to bloom in mid-spring.
Evergreen azaleas prefer cooler summers but grow most well in USDA hardiness zones seven through nine. Azalea shrubs like moist, well-draining soil.
Spread a three-inch layer of mulch or other organic matter around the plant's base to protect the roots during the hotter summer months.
Azaleas thrive in dappled sunlight or partial shade, which protects them from the sweltering sun. Prune the evergreen fragrant azaleas leaves and stems as they become damaged or die.
Oakleaf Hydrangea (Hydrangea quercifolia)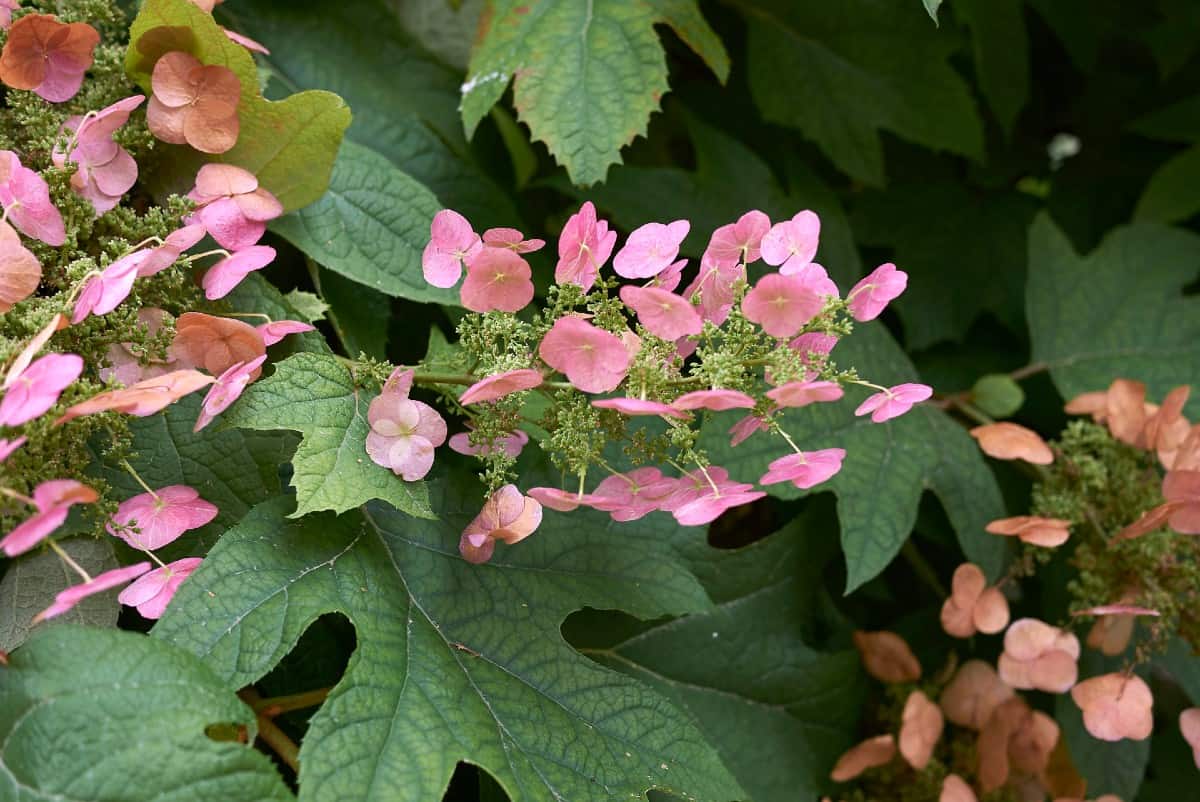 Oakleaf hydrangeas are another species that offer year-round beauty. They have dark green leaves in the early spring that grow up to twelve inches wide.
Cone-shaped flower clusters bloom in the summer. The leaves then transform to display shades of crimson, purple, gold, orange, and bronze.
Oakleaf hydrangeas do best in light shade. They enjoy fertile, slightly acidic soil. Keep the soil damp and let it dry between watering. Feed your hydrangea fertilizer each year in the early spring.
Camellia (Camellia japonica)- Shade Shrubs with Character
It is a myth that camellias are hard to grow and they are thankfully not one of the prickly shrubs you may find in your yard like rose bushes. Camellias are another evergreen shrub with colorful flowers and dark green foliage. They bloom for weeks during the fall and spring months.
If placed in the proper locations, these plants thrive for many years. Camellias like moist and slightly acidic soil. Adding compost to the ground each year helps them become even more healthy.
They do best in part shade where they are protected from the early morning and afternoon sun. Place them in an area where harsh winds won't damage the blooms.
Yew (Taxus baccata)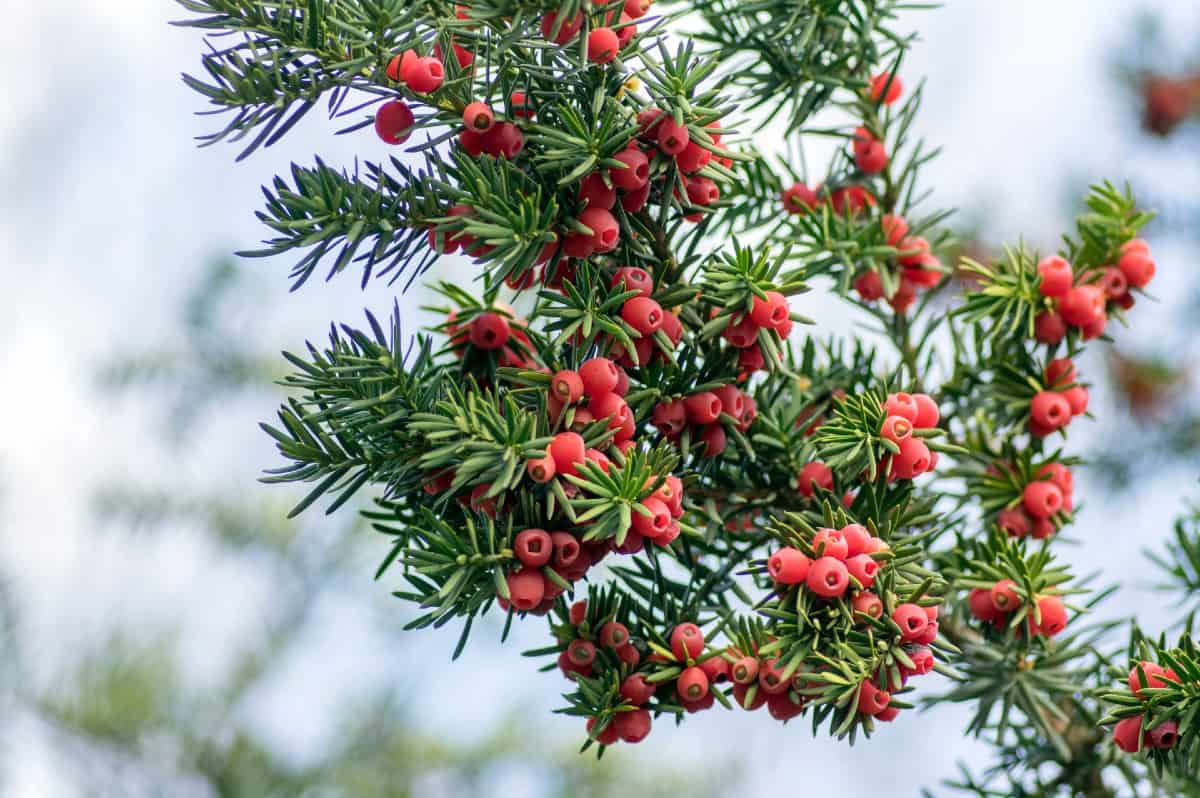 Yew shrubs and bushes make excellent foundation plants around the home. Although they are slow growers, this means that they require less care when shearing and pruning.
In the winter, they provide a flash of small, red berries for added color during a season where most everything else is dead. Yew survives well in full shade, partial shade, or full sun.
They prefer fertile, well-draining, loamy soil. Adding compost to the soil each year helps keep the soil neutralized. Water the yew plant each week for the first year but avoid letting the ground get soggy.
Mountain Laurel (Kalmia latifolia)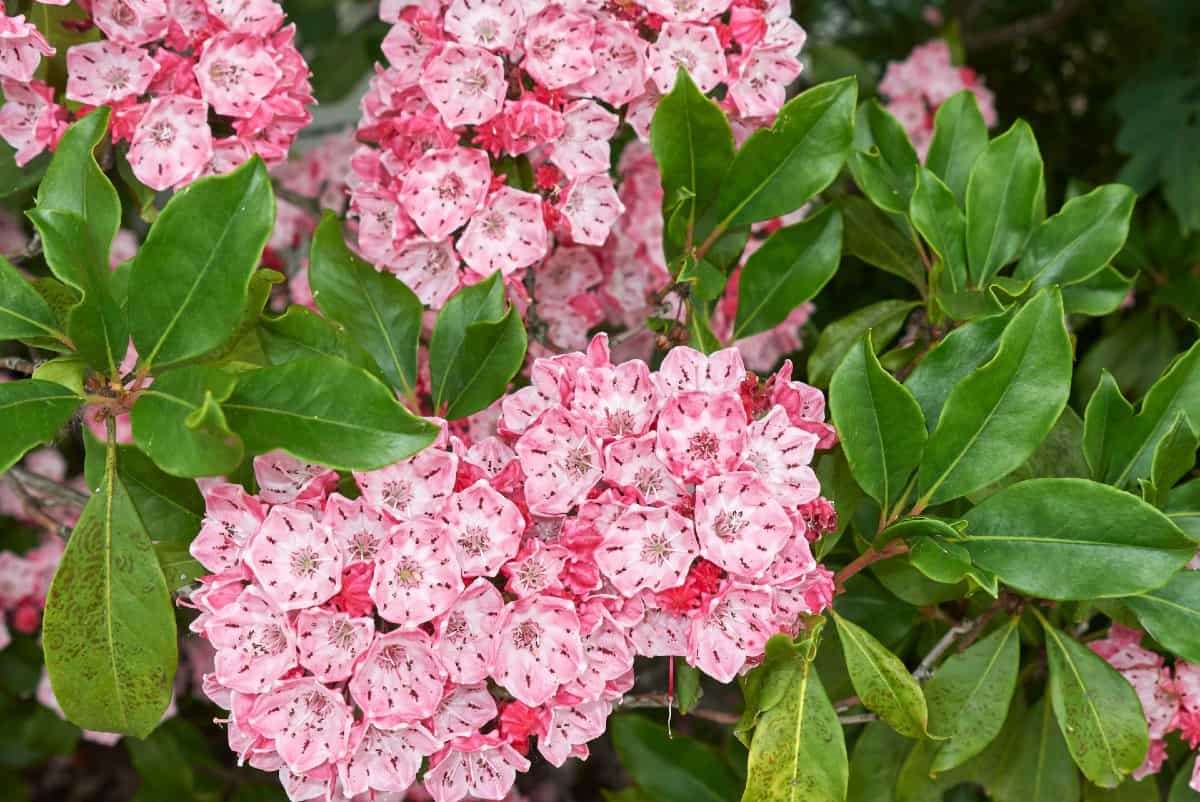 Mountain laurels are famous for their delicate, unique-looking flowers that pop up in the late spring and summer. They have light pink and white flowers with dark maroon markings.
It is hardy in USDA zones five through nine and adds color to borders or as mass or foundation plantings. Mountain laurel grows best in dappled sunlight but handles full sun and partial shade equally as well. They enjoy moist, acidic soil.
Don't give them too much fertilizer, or you may compromise their beauty. Because mountain laurels have a shallow root system, water them for frequently than other shrubs. They require about two inches of water each week during the first planting season.
Rhododendron (Rhododendron ferrugineum): Easy-to-Care-for Shade Shrubs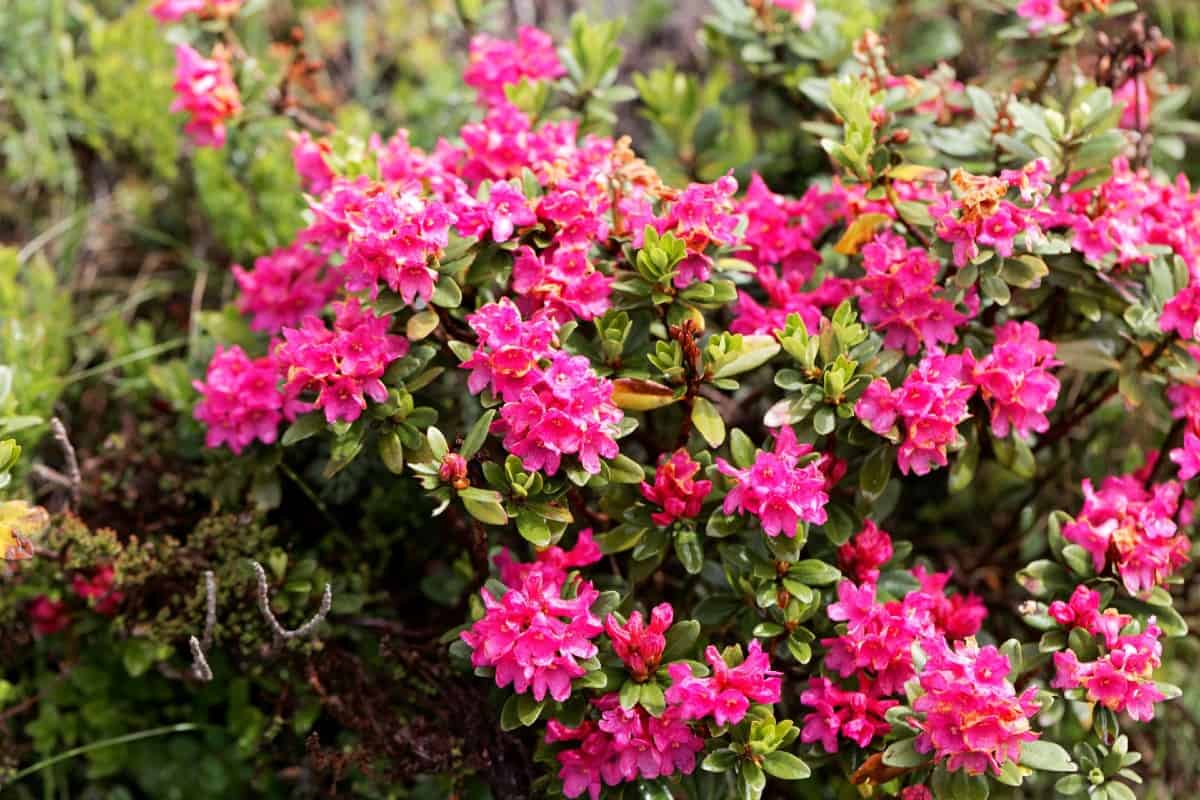 Rhododendrons are a homeowner's favorite because of their beauty and low maintenance. Depending on the species, they have tube-shaped, funnel-shaped, or bell-shaped flowers with a pleasant aroma. The leaves are leathery and pointed.
Rhododendrons enjoy moist climates, but there are so many varieties to choose from that you can pick the right type for the zone you live in.
They are low-growing and make excellent plants for ground cover. Plant rhododendrons in an area that receives morning sun and shade for the rest of the day.
Viburnum (Viburnum dentatum)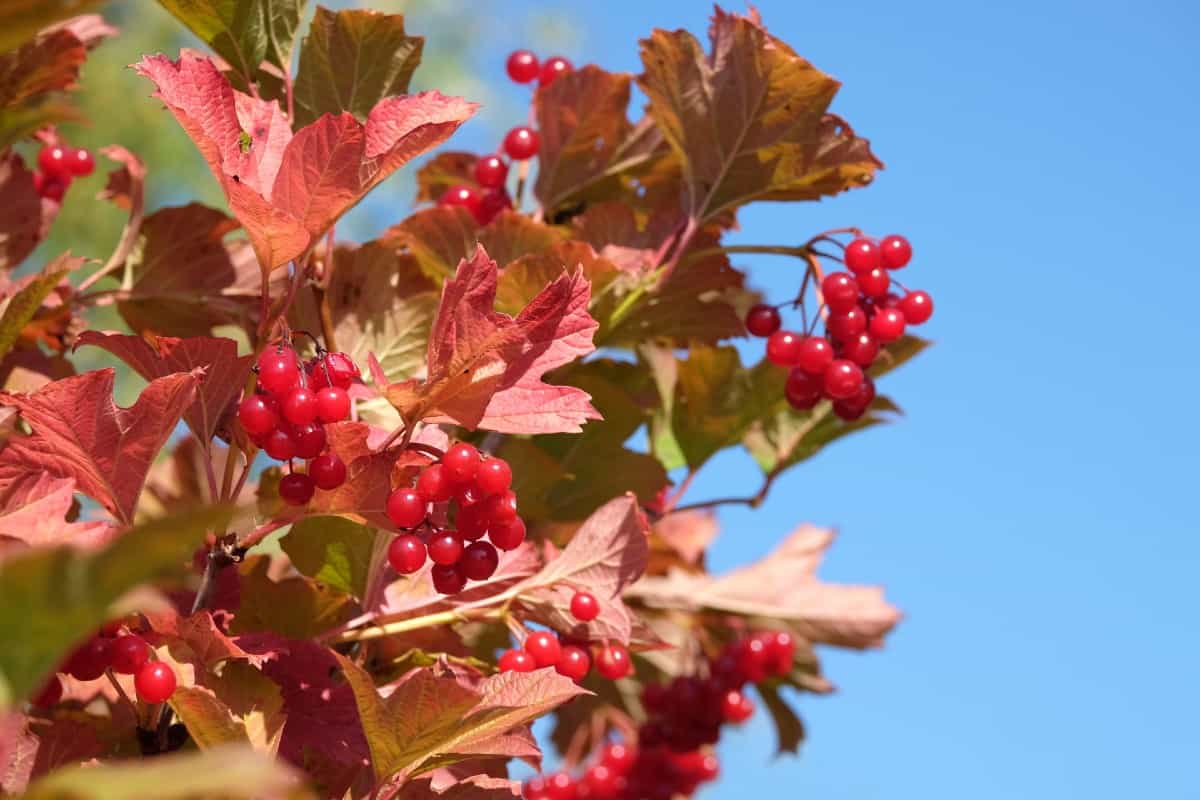 Viburnum is a shrub with stunning, tooth-shaped foliage and red berries. They grow six to ten feet tall and wide; however, they can grow as high as 15 feet tall under ideal conditions.
Once mature, viburnum forms a dense, rounded shape with arching stems. The leaves are dark green during the spring and summer but turn flashy shades of yellow and red during the fall. It is so hardy that it grows in USDA zones two through eight.
Grow viburnum in partial shade, so it receives about four hours of sunlight per day. Water younger plants regularly until established. Spread a one-inch layer of mulch around the plant's base to retain moisture and stabilize soil temperatures.
Dogwood (Cornus florida)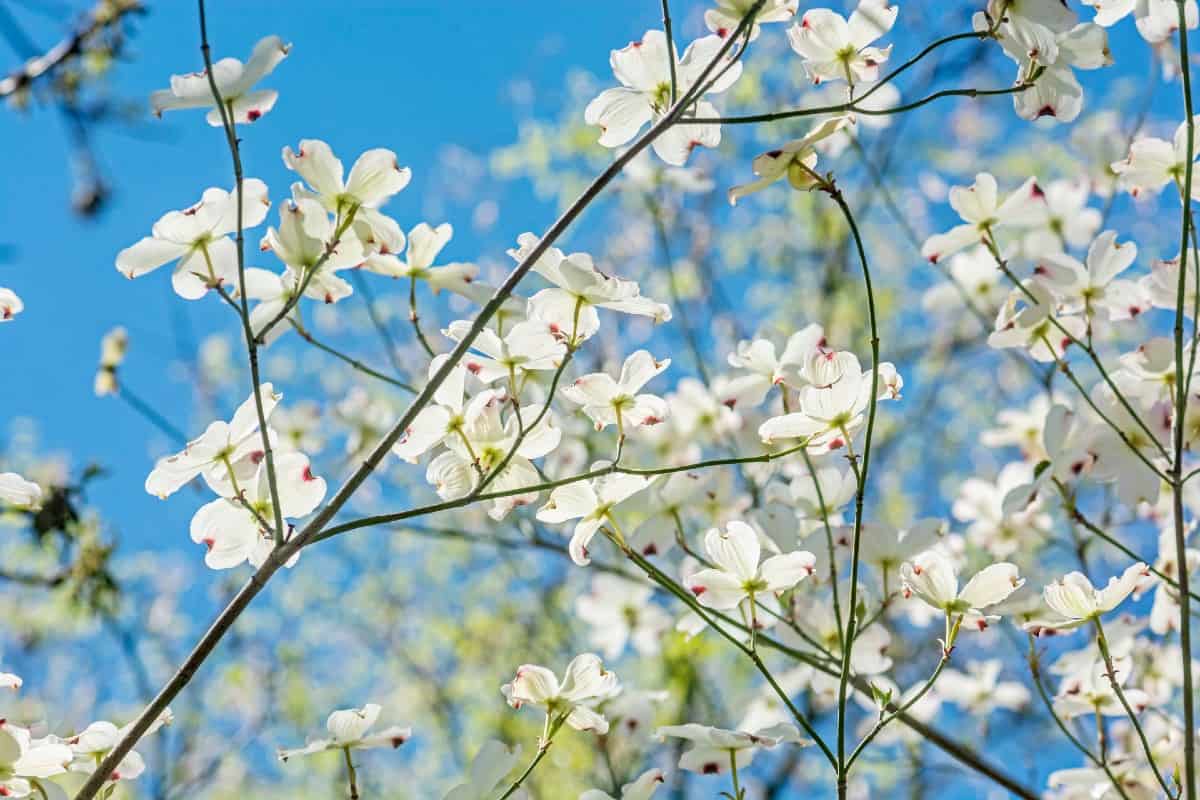 Dogwood is a flowering shrub that is native to the eastern United States. They have white, pink, or red flowers that bloom for two to four weeks. The foliage is vibrant green in the summer and turns reddish-purple each fall.
Sometimes they grow red berries in the winter. Dogwoods are understory plants, meaning they are usually surrounded and protected by other trees.
Plant dogwood in partial shade and water frequently during the hot summer months. They grow best in well-draining, slightly acidic soil. Plant them in the late fall or early spring and apply a mulch layer to conserve water in the ground.
Shrubs with Variegated Foliage – Boxwood (Buxus sempervirens)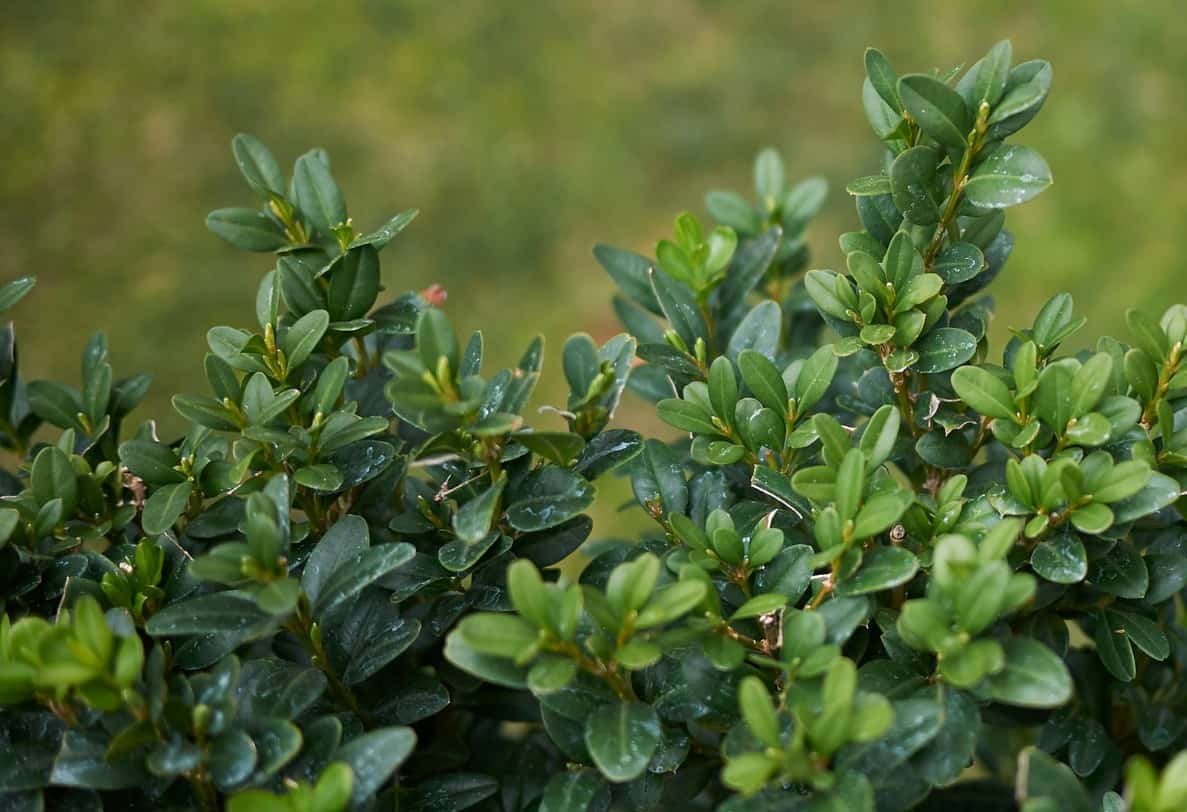 Boxwoods are another dense, evergreen shrub. They are extremely low maintenance, deer resistant, and grown mostly for their variegated foliage. Boxwoods survive in nearly all amounts of sunlight but thrive in part shade.
Place boxwoods in an area protected from winter winds. Water them deeply and frequently to reach all the roots until they are about two years old. Keep a two-inch layer of mulch around the base of the shrub.
Prune them at the beginning of spring and end of fall. If you do all these things, they live a long, happy life in your garden.
Virginia Sweetspire (Itea virginica)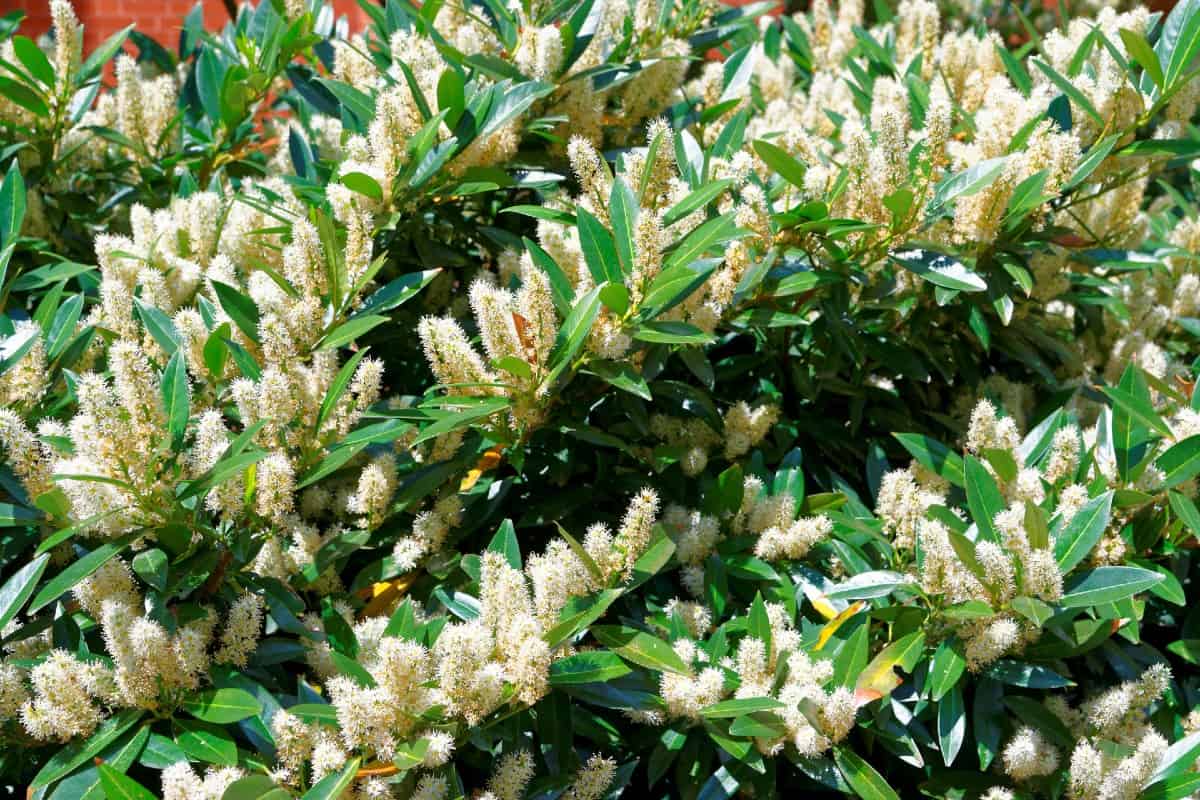 Virginia sweetspires are attractive shrubs with unique flowers. The blooms form tubular clusters of small, spiky flowers and green leaves that turn yellow, orange, and red each fall. They grow six feet high and spread four to six feet wide.
There are also dwarf or miniature shrubs that only grow to 18 inches high if that height is more suitable for your garden space. Sweetspire likes moist to wet soil and part shade.
Although it prefers wet soil, mature shrubs do become drought tolerant. Fertilize them each year to encourage blooming.
Japanese Pieris (Pieris japonica)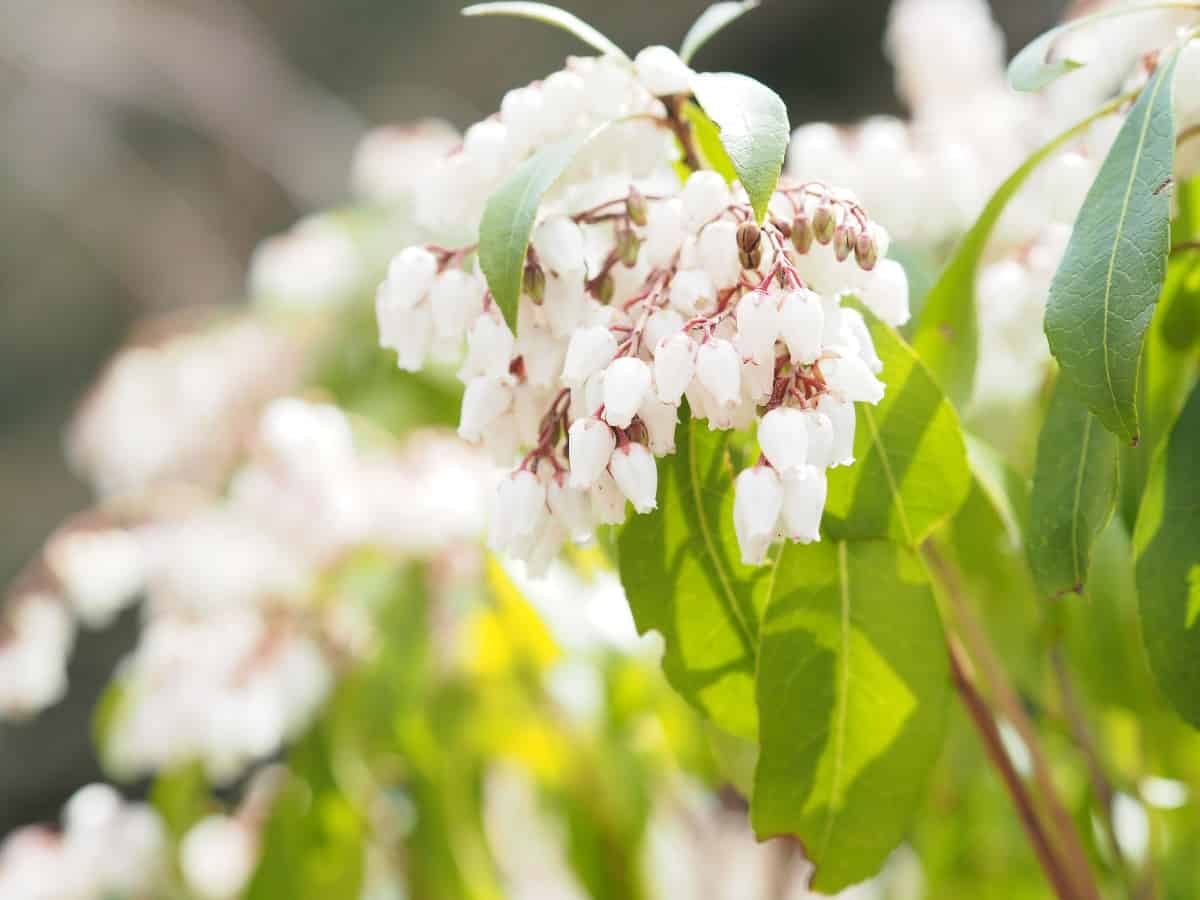 You may know Japanese Pieris because it is a lily of the valley shrub. The creamy white, bell-shaped flowers hang from the light green stems in the late spring and the foliage changes in the late summer and early fall.
Use them in groupings, on their own, or as a foundation plant. Japanese Pieris is hardy in zones five through nine. These easy to grow plants for shade prefer full to partial shade and fertile, well-draining soil.
Add organic matter such as dried leaves or grass clippings to the earth when planting. If adding more than one plant, allow six or seven feet of space between each shrub.
Daphne (Daphne odora) – Aromatic Shade Plants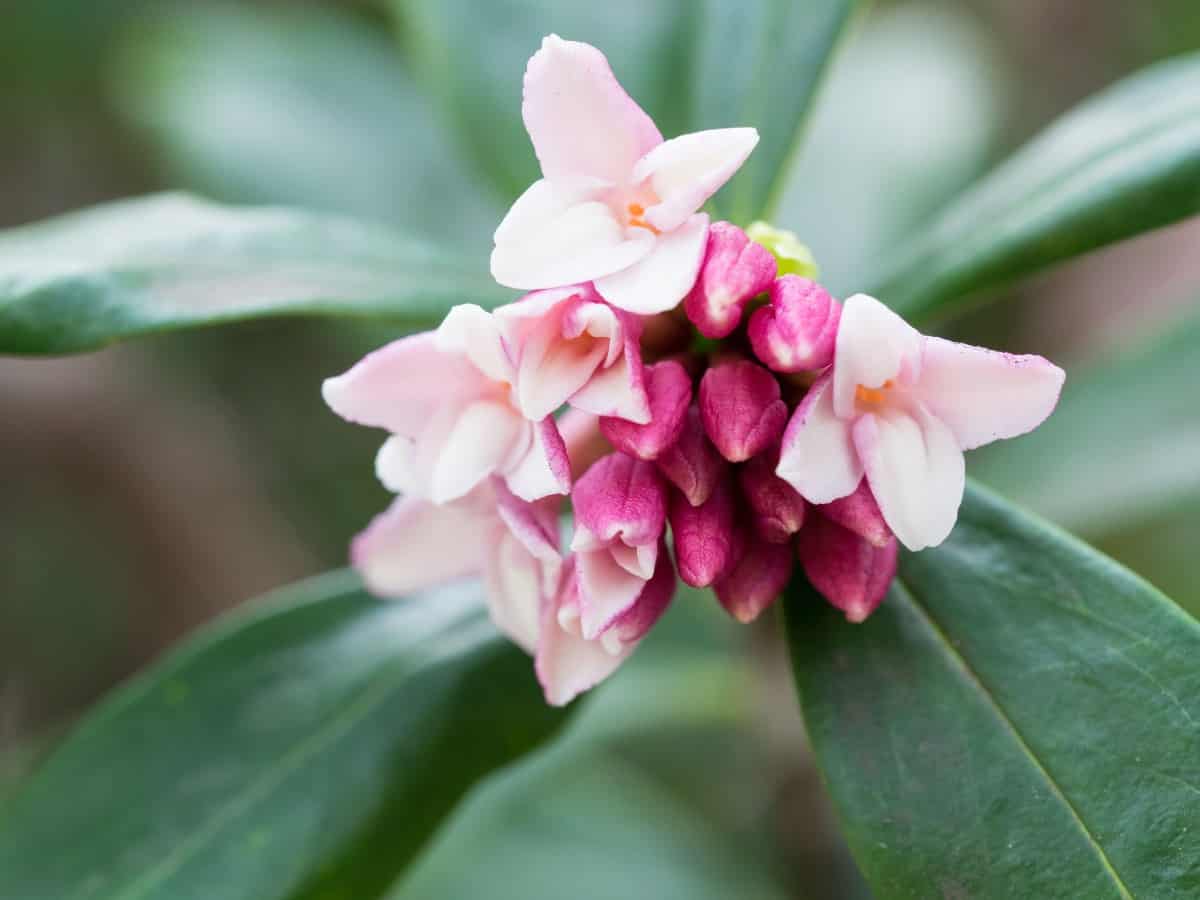 Daphnes are shade shrubs that are more short-lived than the others in this list but have spectacular flowers that look stunning in a flower bed. These evergreen shrubs bloom in the late winter with tubular clusters and small, pink buds.
They have a pleasant aroma and yellow and green foliage. Root rot is common among daphne shrubs, so make sure they have well-draining soil.
They enjoy morning sun and afternoon shade. Lightly prune them as needed and don't water them too frequently. Fertilize the plant as soon as the blooming is complete.
Black Beauty Elderberry (Sambucus nigra)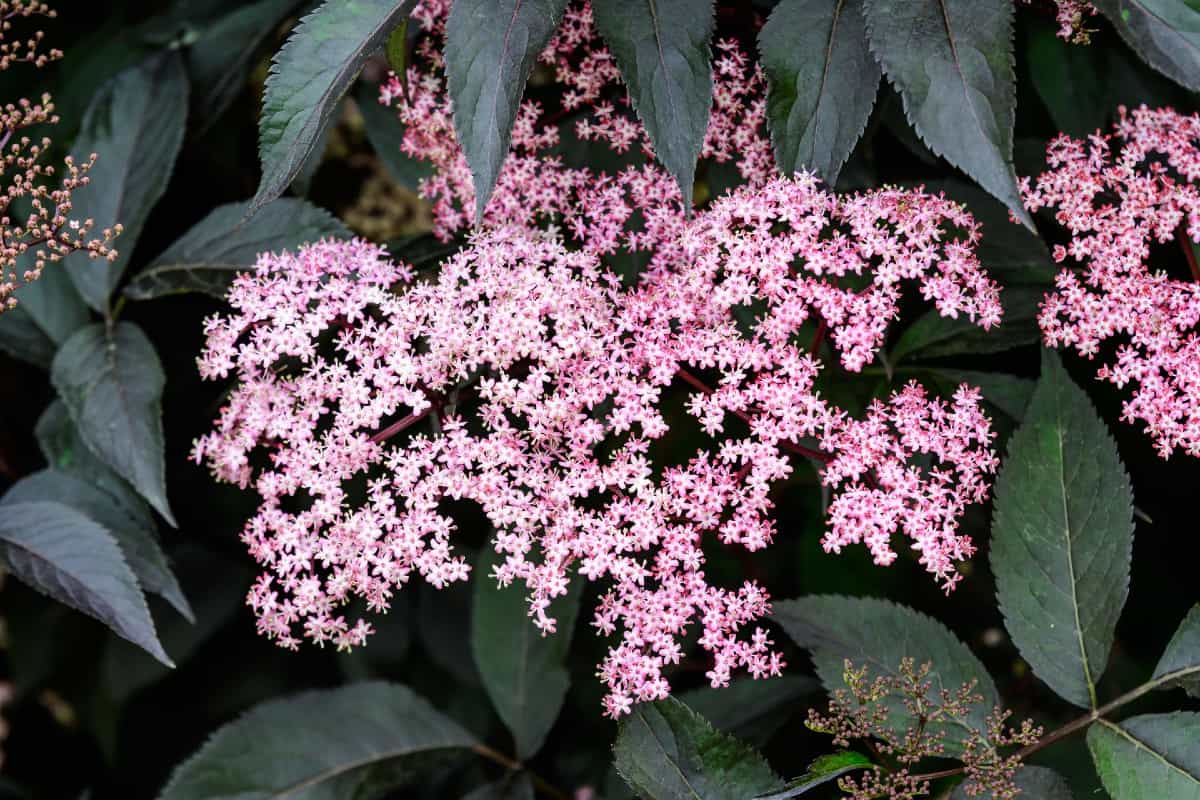 The black beauty elderberry is one of our favorite shade shrubs. They are fast-growing and low maintenance. The foliage is veined and serrated.
Large clusters of flowers bloom in the late spring and early summer, which turn into small, black elderberries that attract a variety of birds. Harvest them and use them to make jam or elderberry pie.
Elderberry shrubs are hardy in zones four through ten. How much sun do elderberries need? They enjoy light shade and fertile, well-drained soil. They are also drought tolerant once they mature.
Picking the perfect shade shrubs for around your yard and garden doesn't have to be a headache. If shady areas surround your home, there are plenty of plant options with attractive foliage and delightful blooms.
After determining how much shade your selected location gets, scroll through this list and match the amount of shade with the right plant. These shade shrubs are both hardy and beautiful and make you smile every time you walk outside.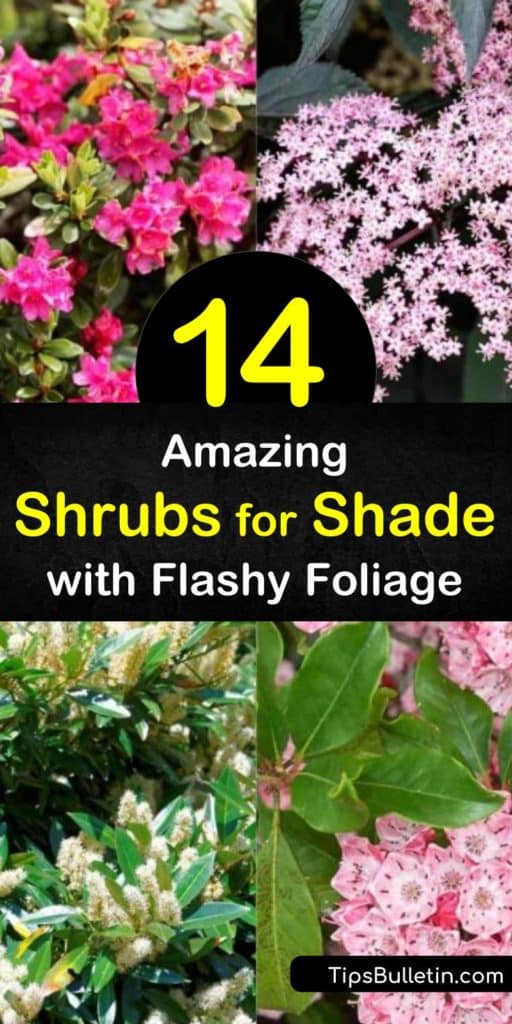 If this list of shade shrubs helped you plan out the perfect landscaping for your house, share these shade-tolerant plants on Facebook and Pinterest.