The allium family often confuses home cooks with its many members with similar appearances and names. There are the long, green alliums like spring onions and chives, then the round ones like onions and shallots. Are shallots and green onions the same? Clear up the question of shallots vs onions for good to confidently choose the most appropriate vegetable when at the grocery store.
The answer to "Is a shallot the same as an onion?" is no. Common onion varieties include yellow onions, white onions, and red onions. Although shallots are a member of the onion family, they're not just a small onion.
Shallots have a milder taste than regular onions and are divided into cloves like garlic. They may be expensive and seem more suitable for a fancy New York restaurant than your kitchen.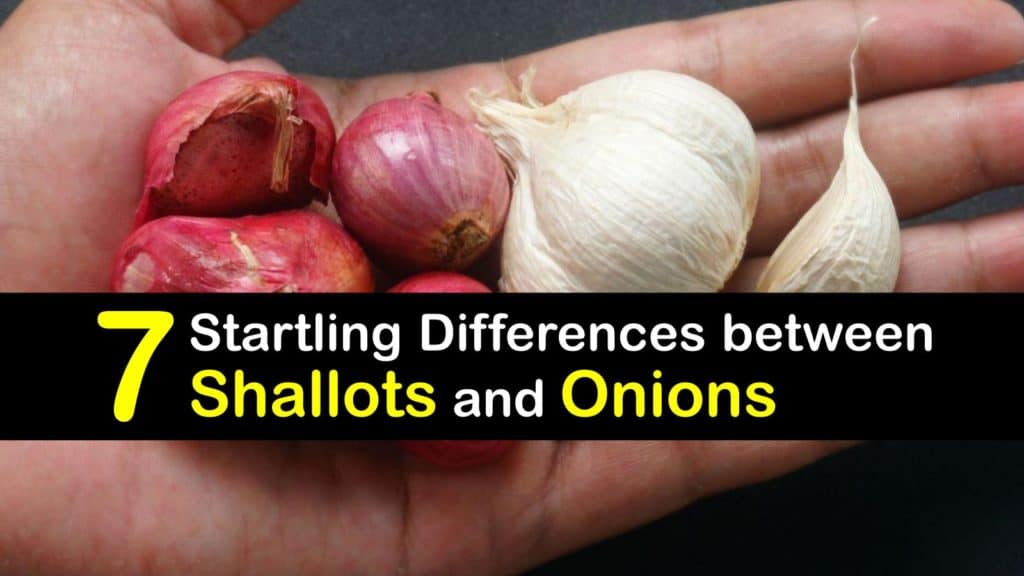 Are Shallots and Onions the Same?
These vegetables are different on several levels, from their appearance and use in cooking to their propagation in the garden.
Although it's possible to use them interchangeably in some cases, learn their unique characteristics to let their flavors truly sing in your cooking.
The same basic principle applies to other varieties of onions. Are white onions and yellow onions the same? While they have color differences, they both have a unique taste.
A Shallot by Any Other Name
Are scallions and shallots the same? An obvious difference between onions and shallots lies in their names. "Onion" probably comes from the Latin word "unus," meaning one. "Shallot" is from the Old French "escalogne," which came from the Latin "Ascalonia caepa."
In the twelfth century, the Crusaders brought shallots back to Europe from the ancient Palestinian city of Ascalon. Although shallots' original botanical name was Allium ascalonicum, the preferred name is now Allium cepa var. aggregatum.
The new name is evidence of their membership in the onion family (the botanical name for onions is Allium cepa). To confuse matters, Australians refer to green onions as shallots. What Americans call shallots, they often call eschallots.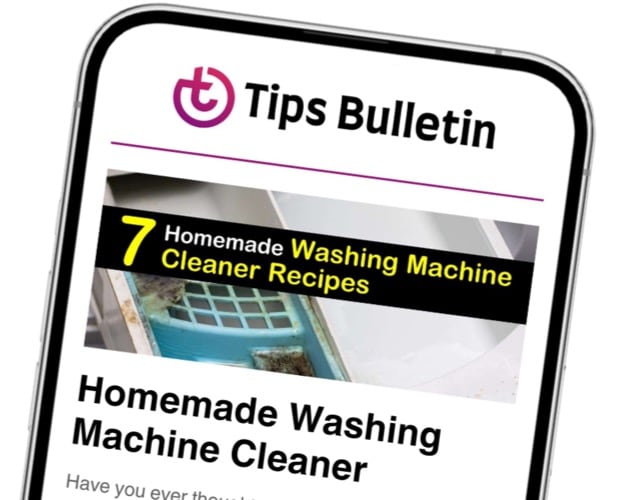 Finally, an email that Transforms Your Home.
Get the latest home and garden tips from our experts, delivered straight to your inbox.
They're worth giving a try since they add a lovely flavor to sauces, salads, salad dressings, and more. Shallots are a common ingredient in French cuisine and various Asian cuisines, including Thai.
Differences in Appearance between Onions and Shallots
When you compare shallots to onions, another obvious difference is their appearance. Onions tend to be larger and rounder. Shallots are usually smaller and tapered, narrowing at the end.
Onions come in different colors. Their skin can be golden brown, white, or purplish-red. Their flesh is often white but is purplish for red onions.
The color of shallots' skin also varies. It may be brown, gray, or reddish. Depending on the variety, their flesh may be purple or off-white.
Although red onions and shallots may be similar in color, there is a lot of difference between red onions and shallots in size and taste.
Differences in Structure between Onions and Shallots
Cutting the vegetables open reveals another difference between onions and shallots: onions are composed of single bulbs, while shallots consist of clusters of cloves.
Leaf bases on onion plants swell to form an underground bulb with multiple layers, the onion.
Shallots also have layers, but they're thinner and arranged in cloves. The cloves are flat on one side and rounded on the other. Small shallots typically have two to three cloves, while larger ones have up to six.
When a recipe calls for one shallot, that generally means one bulb containing several cloves. Shallots' papery skin is more challenging to peel than that of onions. Banana shallots are slightly larger, making them easier to peel.
Propagation of Shallots vs Onions
Are shallots and onions the same plant? No, they are different types of alliums that tend to have different propagation methods.
Gardeners typically propagate shallots using offsets, whether growing shallots in pots or a garden bed. They stick these small bulbs in the soil with the tip sticking above the ground. Growing shallots from seeds is also an option as well, although less traditional.
It's more common and easier to grow onions from seed. Onion seeds are small and black. Some onion growers use transplants or sets instead, which are small bulbs intended for planting. There are ways to grow onions indoors as well as outside in a pot or a garden.
Flavor Difference between Onions and Shallots
Chemical compounds give a characteristic onion or garlic tang to members of the allium genus. Onions' flavor varies depending on the type, ranging from mild red onions to strong and sharp yellow ones.
In general, however, they have a more intense flavor than shallots. Shallots have a sweet, delicate, milder flavor. They taste oniony with a slight hint of garlic.
Shallots have less of an impact on breath odor. They're also more digestible than other members of the allium family, like onions and garlic.
Shallots vs Onions in Cooking
With their delicate flavor, minced raw shallots enhance salads and vinaigrettes. For cooked dishes, shallots tend to cook faster, break down more easily, and lose their flavor more quickly than onions.
They form a subtle base for sauces and delicate dishes like quiche and custard and are lovely sautéed in butter.
It's also common to roast shallots, pickle them, and fry them until they're crispy. Shallots release less moisture than onions when they cook. Fried shallots are a common garnish in Asian cooking.
Diced onions form a solid base for recipes with a long cooking time, like stew or a stir-fry. They're perfect for dishes that require a strong onion flavor, like French onion soup. Storing cut onions and shallots is basically the same, whether you are talking about frozen cut onions, pickling shallots, or another preservation method.
Depending on the type of onion, it's also common to fry, pickle, grill, and caramelize them, or eat them raw. Can pickled onions go bad? Like any food, pickled onions can spoil.
Are Shallots and Onions the Same Nutritionally?
Shallots and onions are not particularly nutritious, although they do contain a few vitamins and minerals. Among other health benefits, these vegetables help reduce blood pressure, blood sugar, and cholesterol levels.
Alliums have antifungal, antiviral, and antibacterial properties. They also contain antioxidants, especially shallots.
Shallots contain more protein and micronutrients like calcium and potassium than onions do. They also, however, contain more calories, carbohydrates, and sugar.
Onions, meanwhile, are rich in the trace mineral chromium, which helps tissue cells respond to insulin.
How to Make Caramelized Shallots
Try caramelizing shallots to transform this tasty vegetable into a sweet yet savory condiment. The difference between white onions and shallots is both in color and in flavor. Shallots are much sweeter and are much better for caramelizing during cooking.
Peel the shallots, then slice them into rings. Heat the butter or oil in a skillet over medium heat. Dump the shallots into the pan and season them with salt and pepper.
Cook the shallots, stirring occasionally until they start to brown—about five minutes. Reduce the heat to low. Fry the shallots for about 10 to 15 minutes until they're softened but not burnt.
How to Substitute for Shallots
If your recipe calls for shallots, you might wonder whether it's okay to use onions instead. That's sometimes an option. Several other alliums also work.
A rule of thumb is to use the same volume of shallots and onions. It's easy to substitute shallots for onions, given their milder flavor. If replacing more than one cup of diced shallots, reduce the quantity of onions.
Do not substitute raw onions for shallots since their flavor is too strong. When using cooked onions, consider adding a little garlic to make their taste more closely resemble shallots.
Add green onions later in the recipe to avoid overcooking them. Add leeks earlier than shallots since they take longer to cook.
Are shallots and onions the same vegetable? No, although they're both alliums with certain similarities like a rounded shape and an oniony flavor.
The difference between onions and shallots lies in their structure, flavor, and use in cooking. Settle the question of shallots vs onions to choose the best vegetable for your recipes and take your cooking to the next level.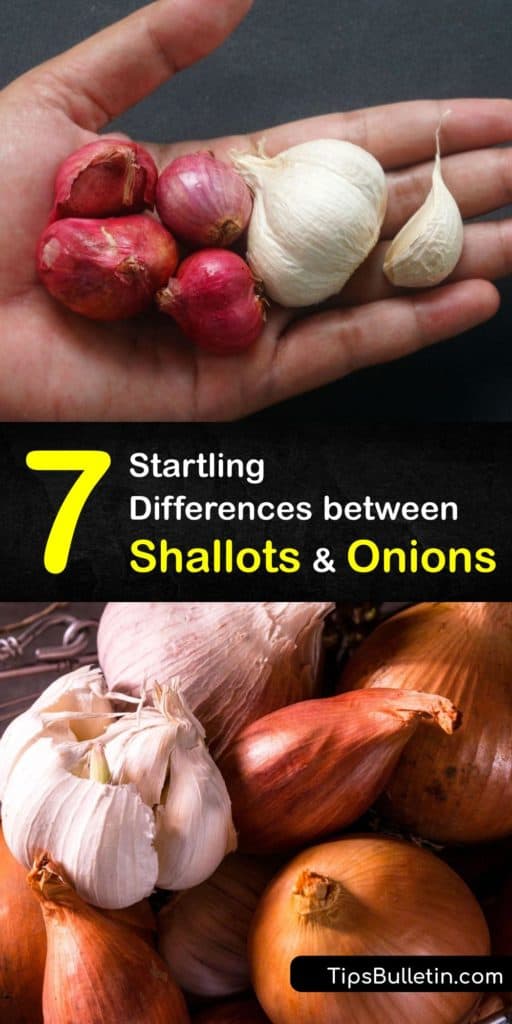 If you found this list of differences between shallots and onions helpful, please share this cooking information with your friends on Facebook and Pinterest.