Most windbreaks you see use a single or double row of deciduous or evergreen trees for wind protection. While this works, you must also consider using shrubs for a windbreak as they add to the layer of protection the trees provide.
Using bushes for a windbreak adds to the protection as they cover the trunks where foliage is often less dense. One thing you must consider before planting windbreak trees or shrubs is your property and what you are trying to accomplish with your windbreak.
For example, if you are trying to protect a single-story home from north winds in the winter, you want a tall windbreak.
To protect your property from strong gusts of winds in rural areas, you should have something more dense than tall. To safeguard from summer winds, shrubs with a few ornamental deciduous trees, such as Cottonwoods, work perfectly.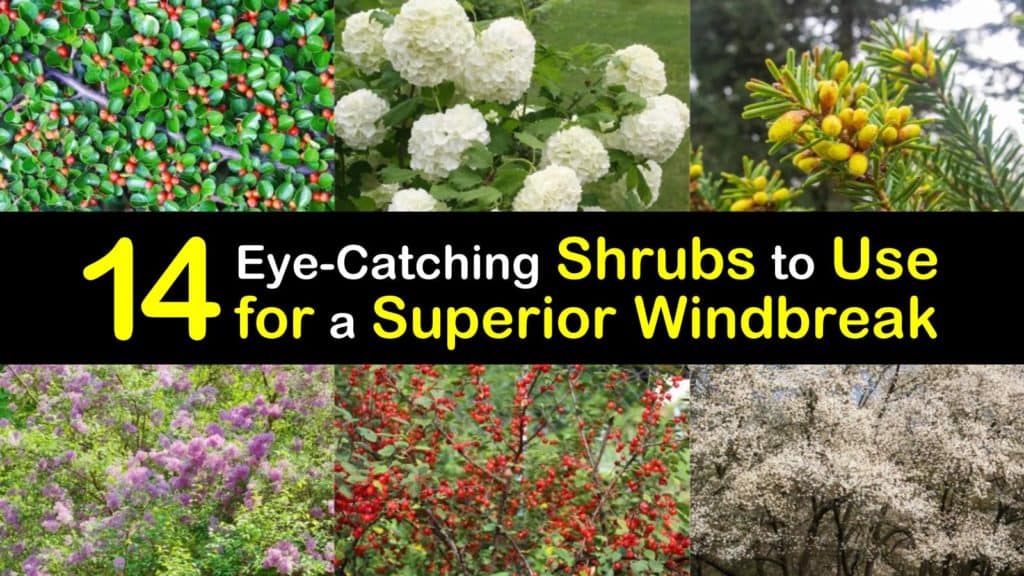 Tips for Creating a Windbreak
When creating a dense windbreak to protect your property in rural or open areas, spruces are a great option. Spruce grows on the faster side and has dense foliage that doesn't die back in the winter.
White Spruce is exceptionally tolerant of strong winds, with flexible branches that sway with the wind rather than break. The Norway Spruce also has flexible branches and tolerates some road salt.
Douglas Fir is another good option for a single row windbreak. Several pine and fir species work well in both single and multiple rows. For single rows, opt for the Douglas Fir as it has stiff limbs that hold up to ice and snow with dense foliage to the ground.
The Austrian and Ponderosa Pine work in multiple rows as they aren't quite as dense as the fir, and they suffer from severe needle drop. Quercus or oak trees also buffer the wind, and they have a longer lifespan than other options.
Shrubs and Trees to Avoid using for a Windbreak
When planting rows of trees to protect your house and property from prevailing winds, wait for everything to grow. It is rather tempting to plant shrubs and trees with a faster growth rate for faster protection.
Avoid fast-growing shrubs and week wood trees because they typically are short-lived, and won't stand up to substantial wind speeds. Be doubly sure that you don't plant invasive shrubs or you will spend all your time in the yard with maintenance tasks.
Shrubs like the Jack Pine and Scotch Pine supply weak wood and root systems, so they topple easily during windy conditions. The Siberian Elm is also fast-growing but is susceptible to losing limbs during wind storms.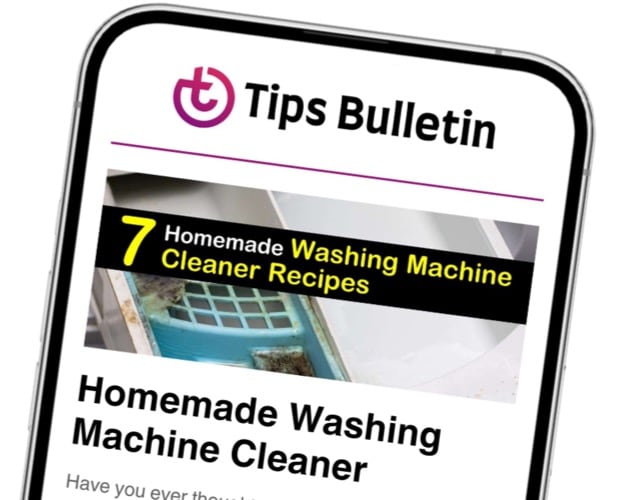 Finally, an email that Transforms Your Home.
Get the latest home and garden tips from our experts, delivered straight to your inbox.
Depending on where your windbreak shrubs will be located, note which bushes that have thorns should not be placed in specific areas, since you don't want anyone accidentally stuck when they brush against them.
Best Eye-Catching Shrubs for a Windbreak
Evergreens for front yard use as well as the backyard take the form of shrubs are commonly used for a windbreak. Dense conifers are used when creating a single row windbreak, while more open conifers require multiple rows.
Stunning Shrubs that also Shelter – Lilac (Syringa vulgaris)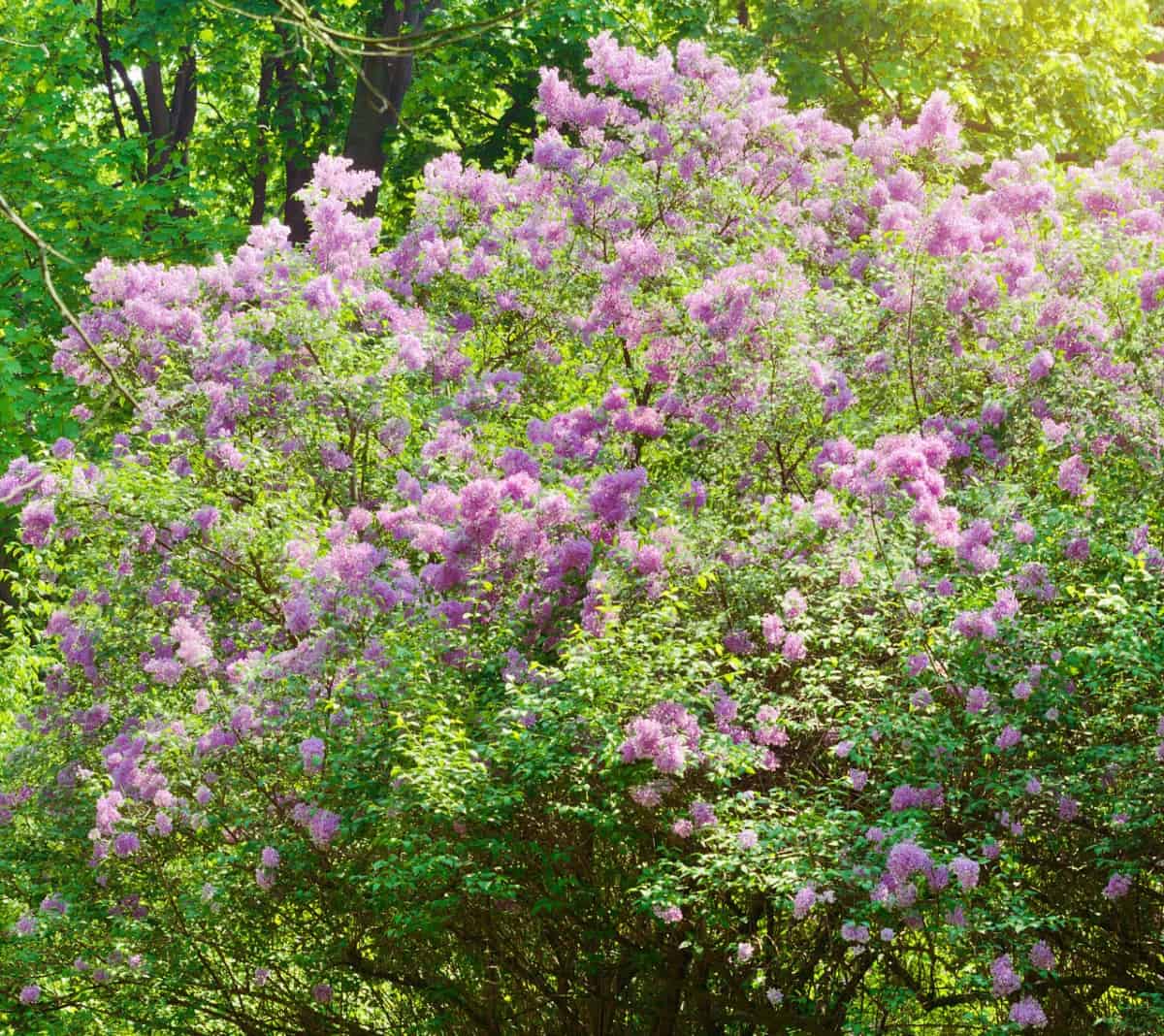 Lilac is a deciduous shrub that grows up to 16 feet tall and 12 feet wide. The actual size of these adaptable shrubs depends on the ones purchased. Keep these shrubs pruned, as they are prone to powdery mildew. Pruning also keeps its size manageable.
When planting Lilac, use well-draining, loamy soil in full sun. This shrub thrives in USDA hardiness zones three through seven. Water them regularly, but let the soil to dry between waterings as they do not tolerate wet or moist soil.
Bowling Ball Arborvitae (Thuja occidentalis)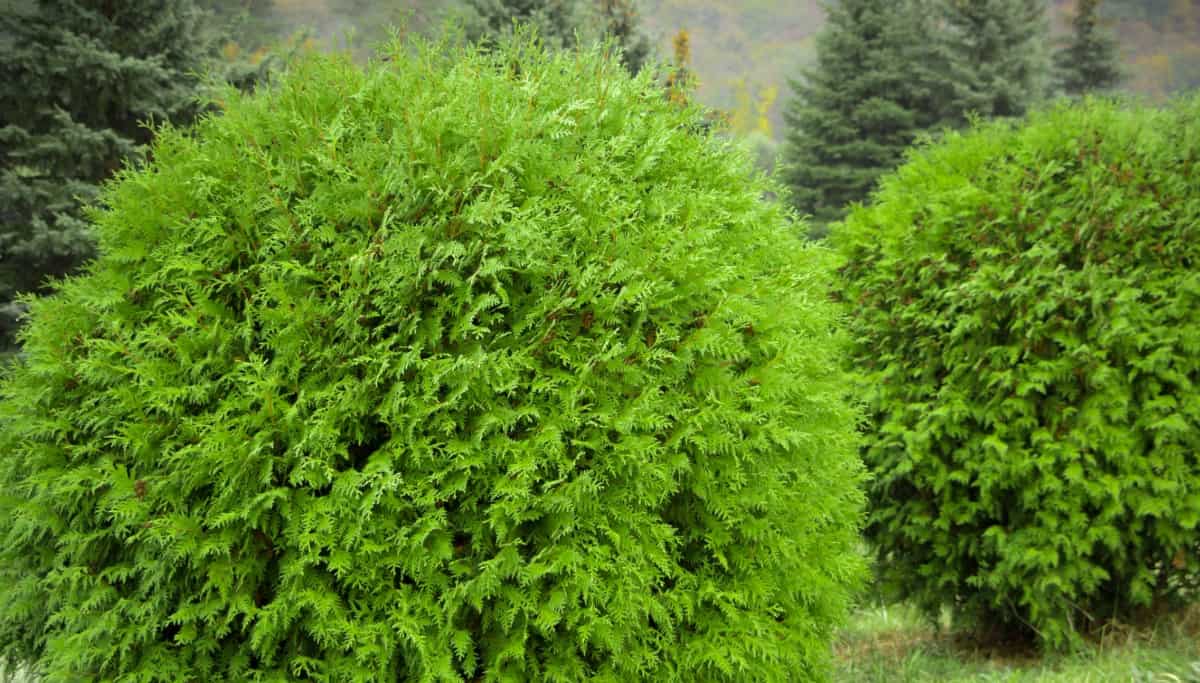 A rounded shrub, Bowling Ball Arborvitae grows about 30 inches tall with about the same width. This compact shrub is ideal for foundation planting or low hedges to protect fragile plants from winter winds.
The rich, green-colored foliage adds year-round color and requires no pruning unless you want to shape the shrub.
When planting this slow-growing evergreen, choose an area with full sun. Water it regularly, as it doesn't like dry soil. In extreme heat, increase the amount of watering to improve its chance of survival.
Eastern Red Cedar (Juniperus virginiana)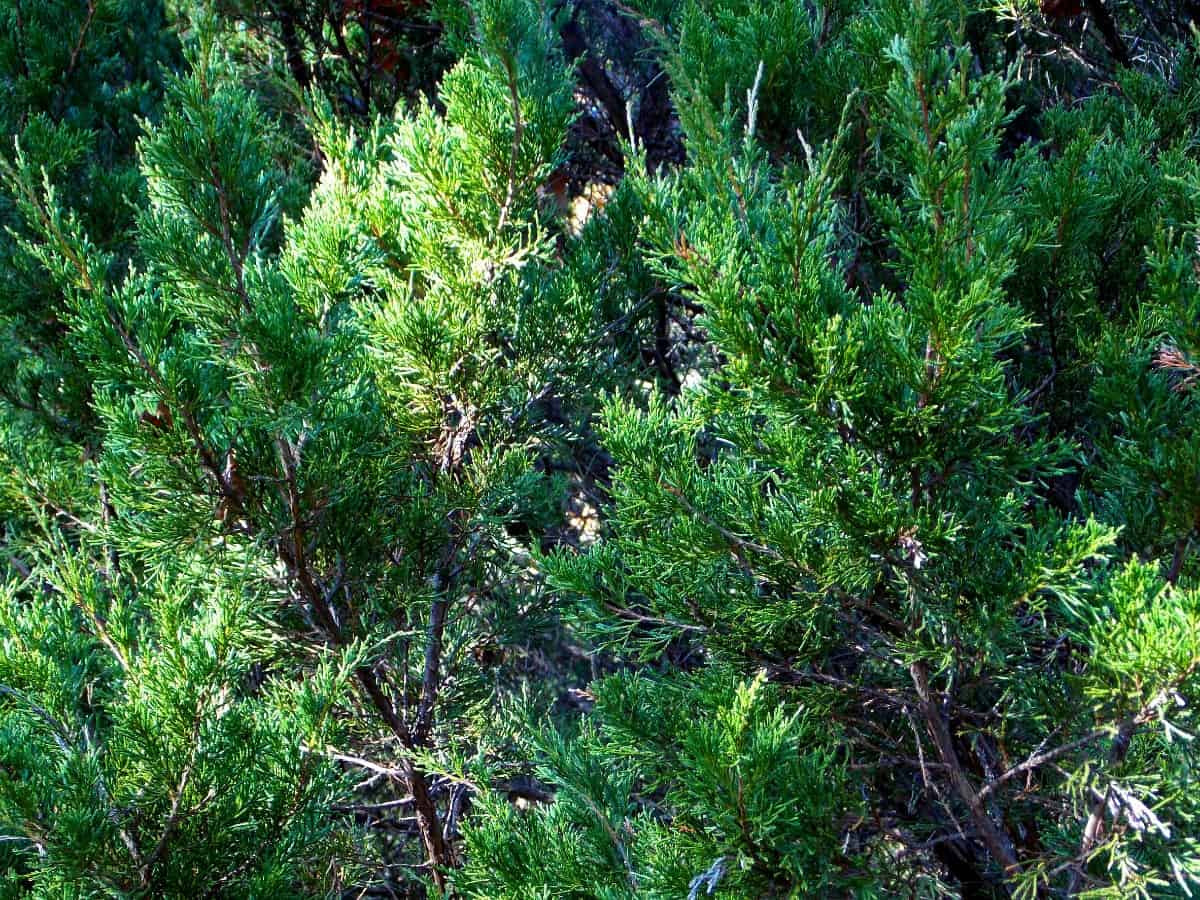 Despite its name, the Eastern Redcedar is not an evergreen tree but a juniper shrub. Its dull green foliage lasts from spring until fall, but as soon as the cold winter temperatures hit, the leaves may stay green or change to a brown or purple color.
With an average type growth rate, this shrub thrives in the worst soil conditions and performs well in zones two through nine. Many homeowners use this as a windbreak as it reaches up to 50 feet tall and 20 feet wide once fully mature.
Mugo Pine (Pinus mugo) – Amazing Windbreak Shrubs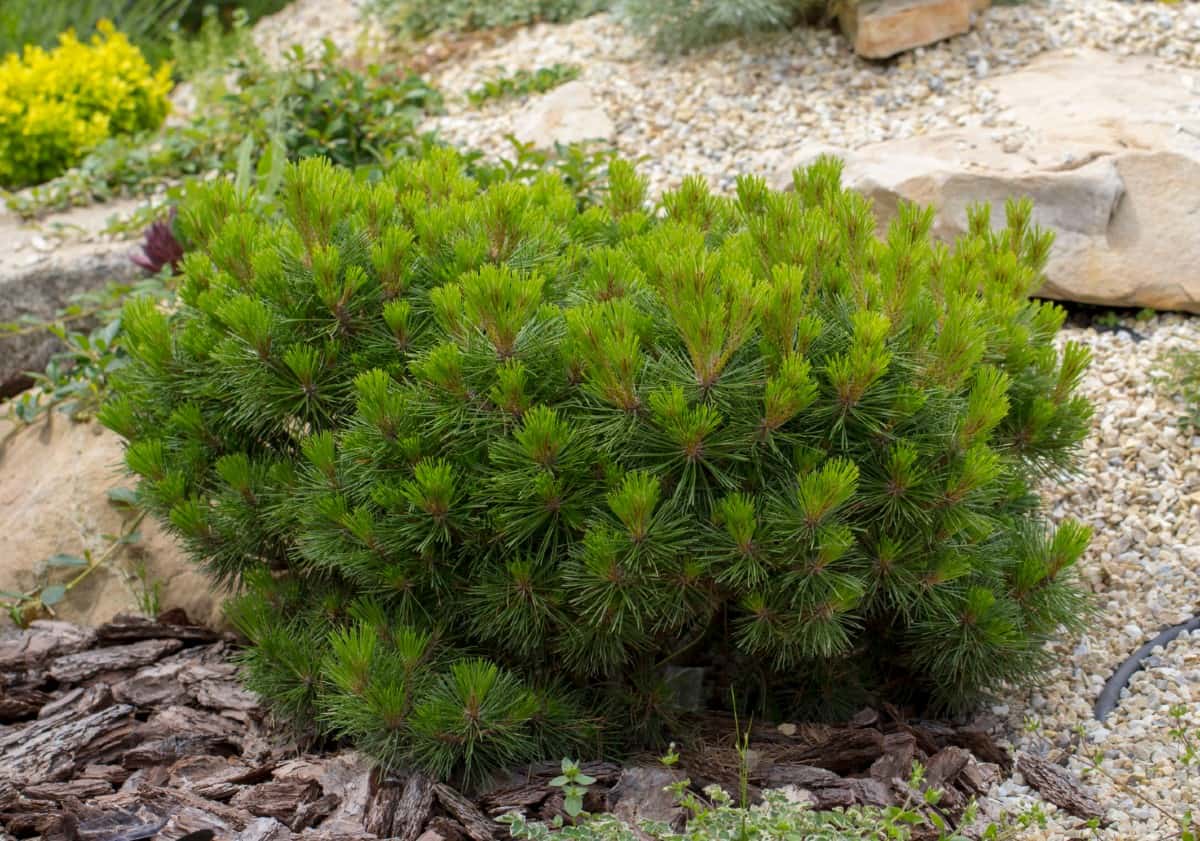 Mugo Pine evergreen trees serve admirably as a windbreak and work beautifully in rock gardens or landscapes with an Asian theme. Classified as a pine tree, Mugo Pine looks more like a shrub, as it stays on the smaller side.
The dwarf Mugo Pine grows about four feet tall and ten feet wide. A drought-tolerant evergreen, these self-reliant miniature shrubs grow best in zones two through eight.
A bird-friendly species, plant this specimen in full sun – Mugo adapts to a variety of soil, including rocky or sandy. The reddish to purplish monoecious flowers give way to glossy brown cones.
Dogwood (Cornus spp.)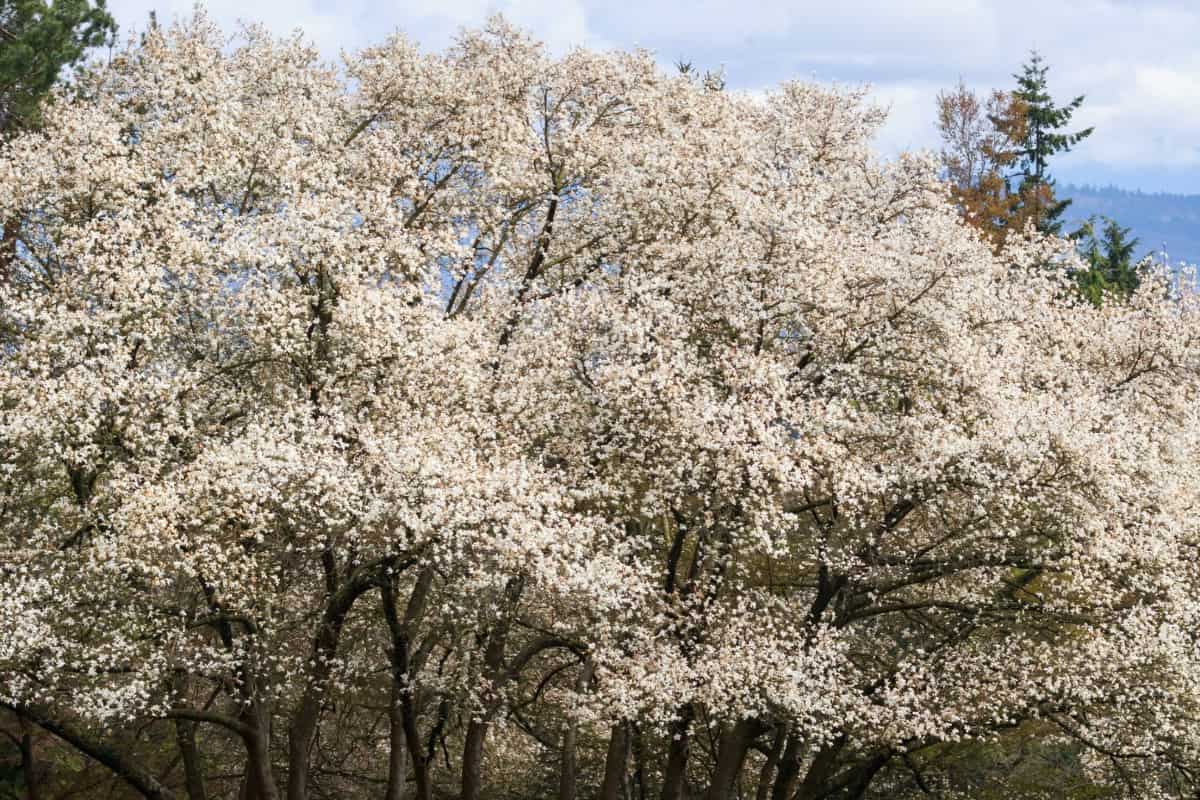 Dogwood not only provides wind protection, but it also adds interest and color to the landscape during the winter – branches on Dogwood range in color from grey to a bright red.
Flowers on Dogwood begin blooming in spring and then again in the fall and range in colors from bright red to yellow.
All Dogwood varieties are incredibly adaptable to their surroundings, making them an excellent choice for windbreaks. They thrive regardless of where you plant them but require pruning of old branches at the start of spring.
Hackberry (Celtis occidentalis)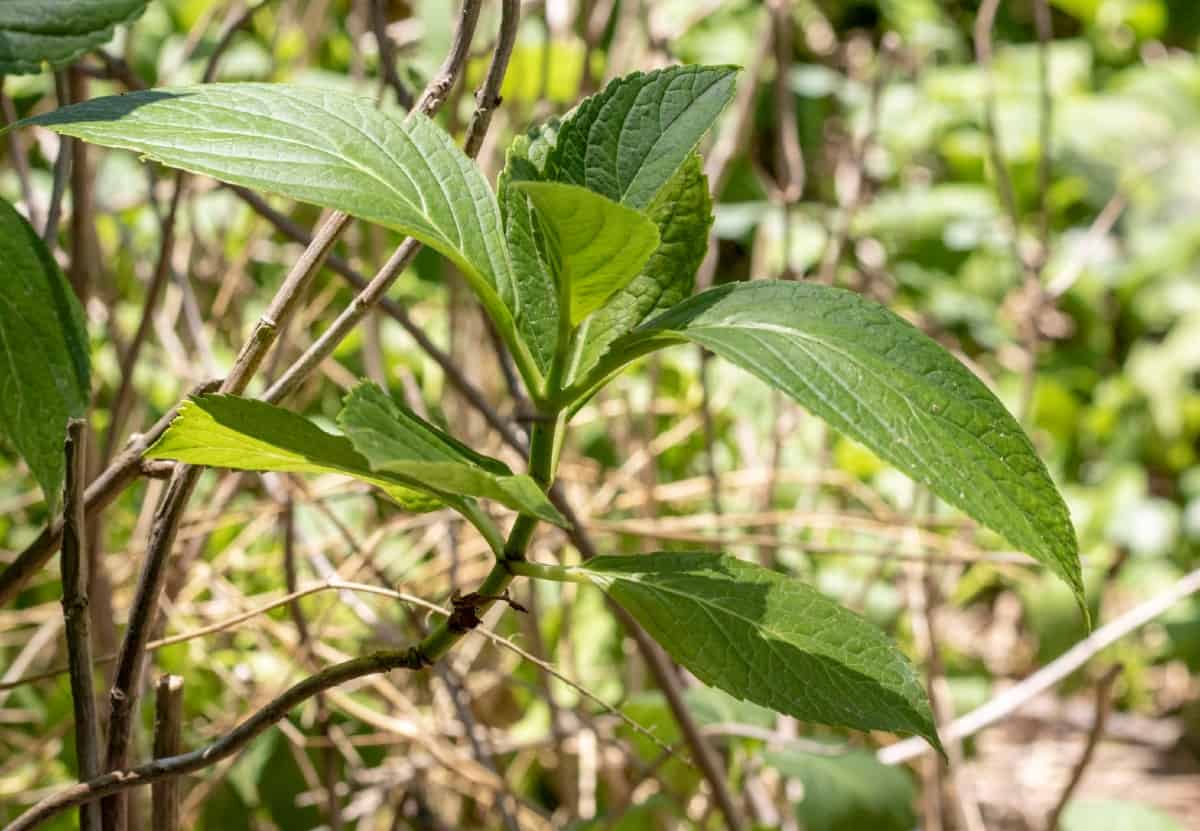 Not only does the Hackberry withstand strong winds, but it can also tolerate air pollution and a wide range of temperatures. The leaves of the Hackberry are shaped like spearheads with a small toothed edge on the top half.
Dark red berry-like fruit appears in the summer and turns dark purple in the fall. When planting Hackberry to block the wind, select a sunny location, as they do best in full sun.
This tree adapts to all kinds of soil types, including wet, sandy, and clay. Once mature, these tall hedge plants can reach up to 60 feet with a similar width.
Shrubs for a Windbreak – Blue Spruce (Picea pungens)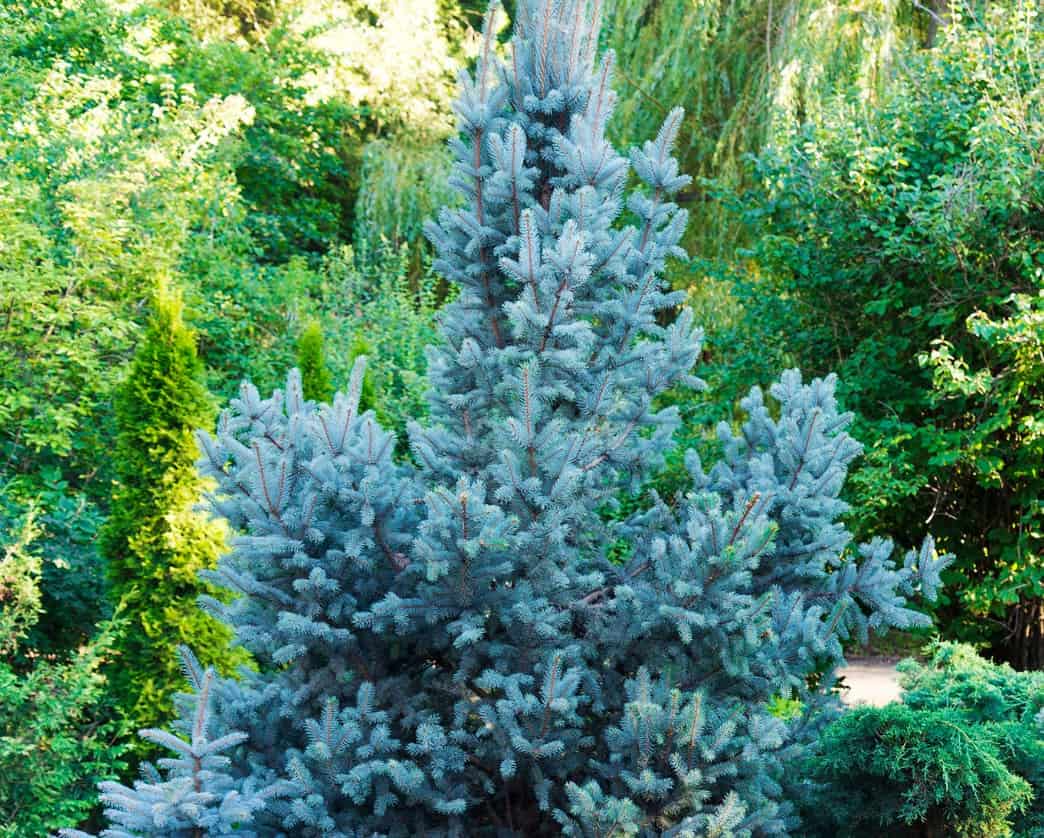 The Blue Spruce offers a pyramid or cone shape and is sometimes referred to as the Colorado Spruce. The horizontal branches are home to stiff green or blue-green needles that supply year-round interest to landscapes and make an excellent barrier.
This evergreen reaches heights up to 60 feet for the larger cultivators, but as short as 25 feet with the medium-sized varieties. Blue Spruce survives in zones two through seven and requires planting in full sun with well-draining soil.
White Pine (Pinus strobus)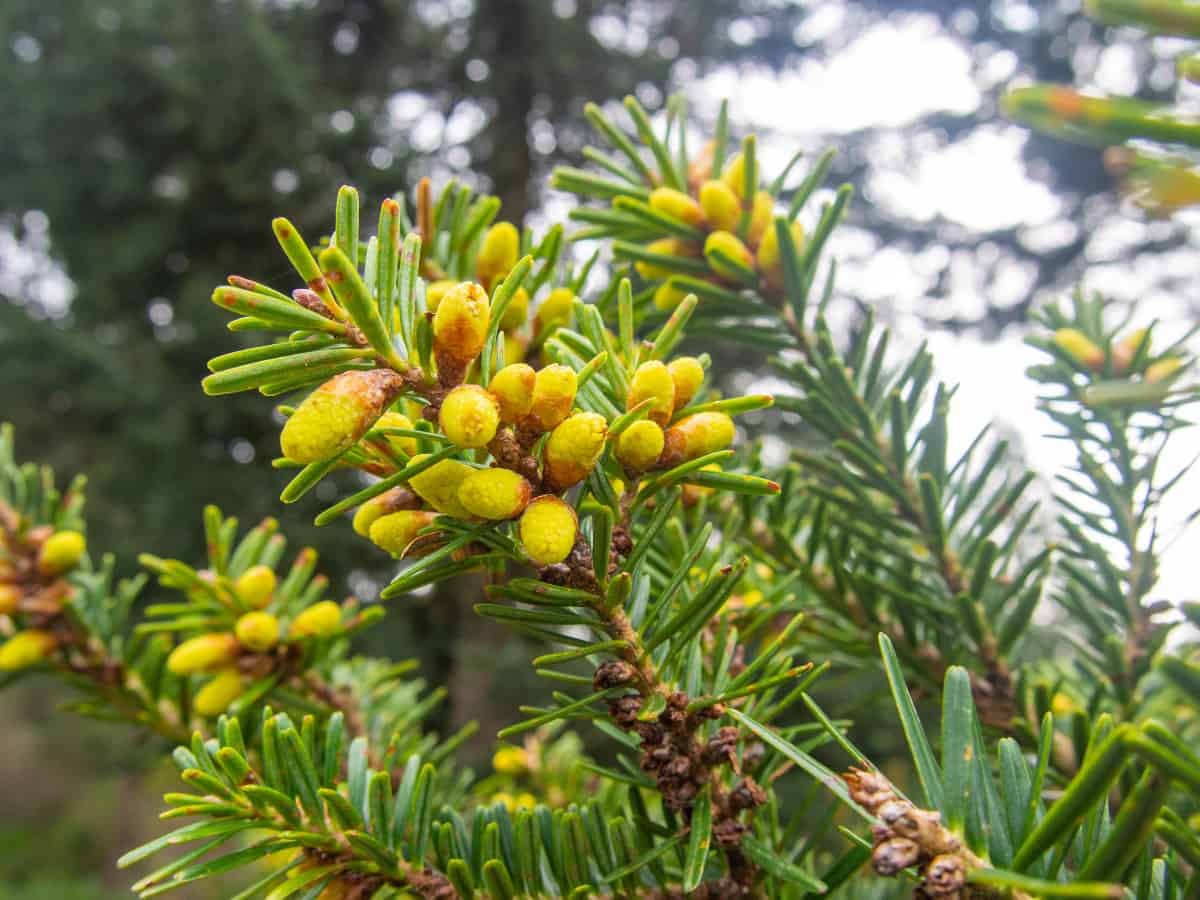 The White Pine is known for its hardiness and is often used in windbreaks for open areas. The blue-green needles form clusters along the substantial branches, and the needles can grow up to five inches long.
It grows in a pyramid shape and produces elongated cones reaching up to eight inches long. White Pine doesn't handle road salt or air pollution well, so use in areas away from the road.
This tree enjoys well-draining soil kept on the moist side but also handles dry soil. Grown in zones three through eight, it reaches up to 80 feet tall and 40 feet wide.
Nanking Cherry (Prunus tomentosa)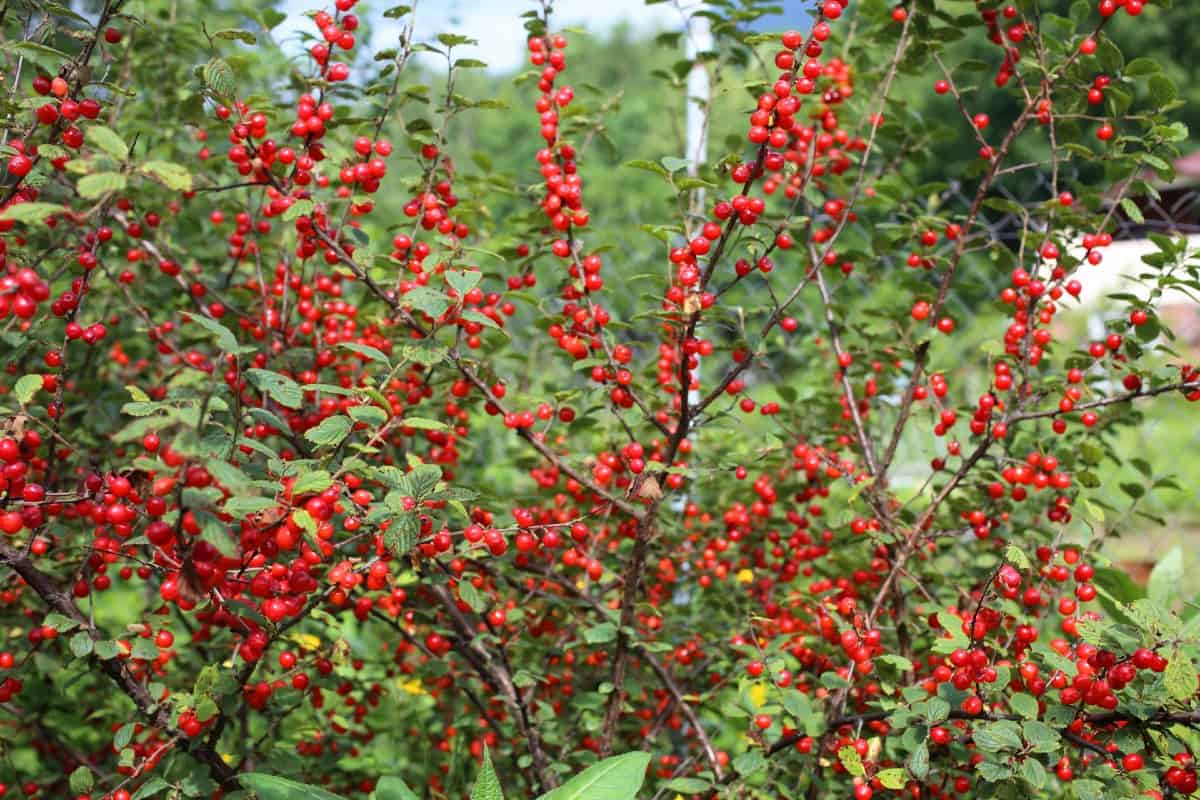 The edible Nanking Cherry shrub blooms with white flowers in the spring that give way to red fruit in the summer. The fruit is useful for jelly or jam, but birds also enjoy making this shrub, making it an excellent addition to wildlife habitats.
The fragrant blossoms are paired with soft green tooth-edged foliage. This hardy shrub grows up to ten feet tall and fifteen feet wide, but as it requires cross-pollination to fruit, always plant more than one. These shrubs tolerate most surroundings and thrive in zones two through six.
Many-Flowered Cotoneaster (Cotoneaster multiflorus) – Flowering Shrubs for a Windbreak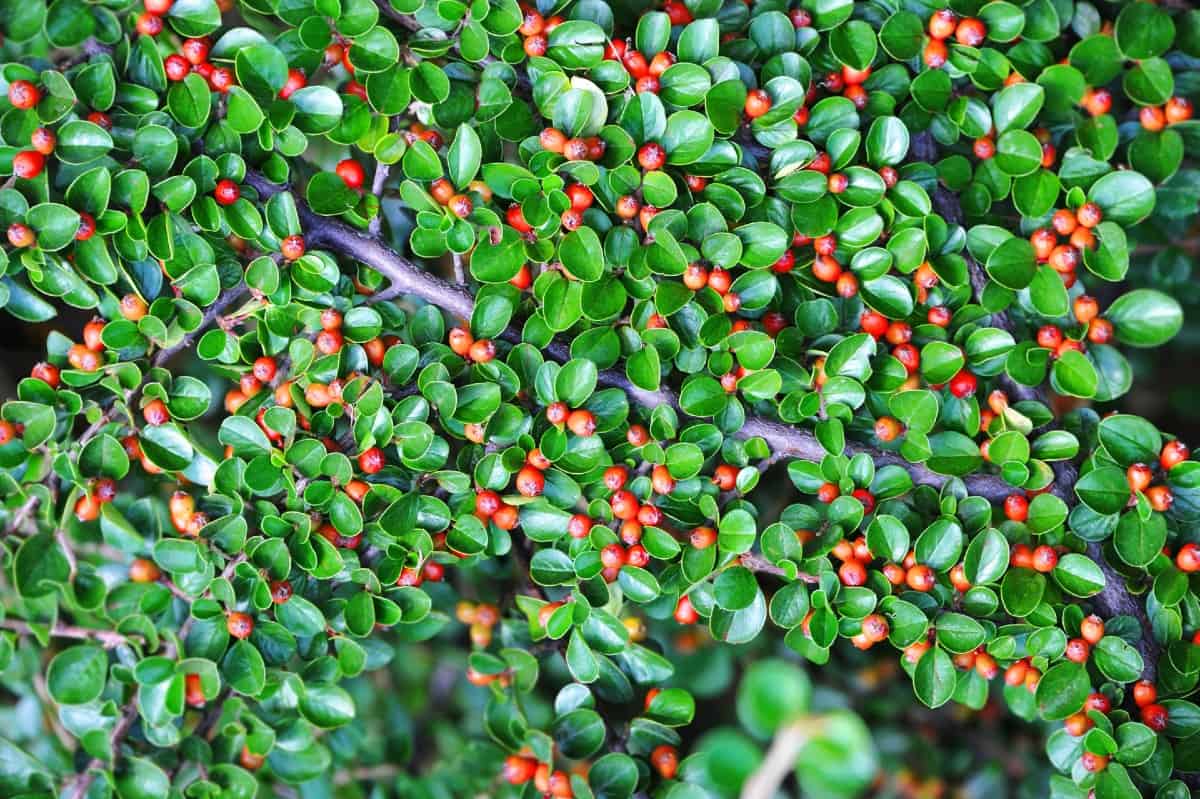 The many-flowered Cotoneaster creates a screening hedge or a windbreak but so does the Hedge Cotoneaster. The Hedge Cotoneaster requires shearing to keep the formal hedge shape, but the many-flowered Cotoneaster doesn't require any pruning.
This beauty takes a round shape that does best when left alone andgrow up to 12 feet when planted in ideal growing locations. They require full sun but do well in partial shade.
The Cotoneaster adapts to just about any soil, as long as it's well-draining. They do not require regular fertilization and only need watering during long periods of no rain.
Viburnum (Viburnum spp.)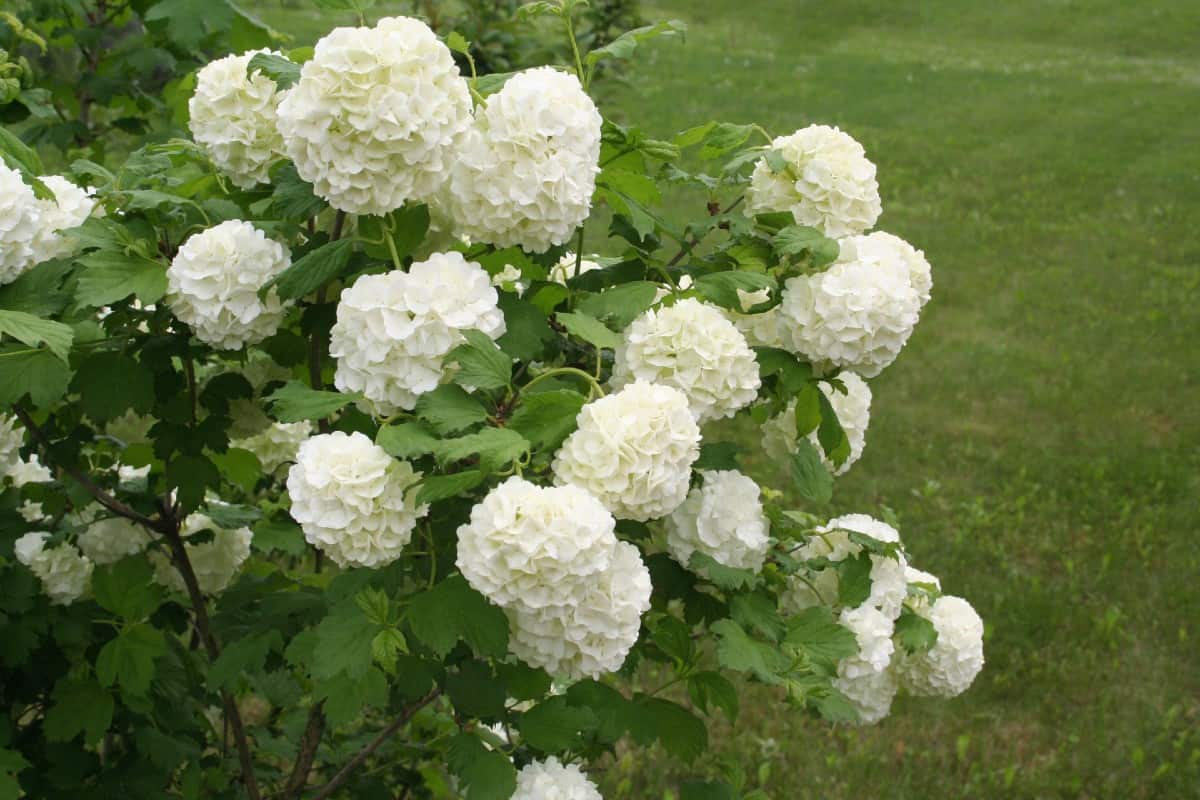 When used as a windbreak, plant the larger Viburnum specimens, which reach up to about 20 feet tall. These flowering shrubs are well-known for their large clusters of flowers that bloom white or pink in the springtime.
One of the most well-known bushes is the Snowball Viburnum, which offers sizable white circular blossoms.
If you grow these shrubs, pay close attention to each variety's requirements, as they vary. The majority require full sun, but some deal with part shade. They often adapt to various soil setups, but all call for excellent drainage.
Hawthorn (Crataegus spp.)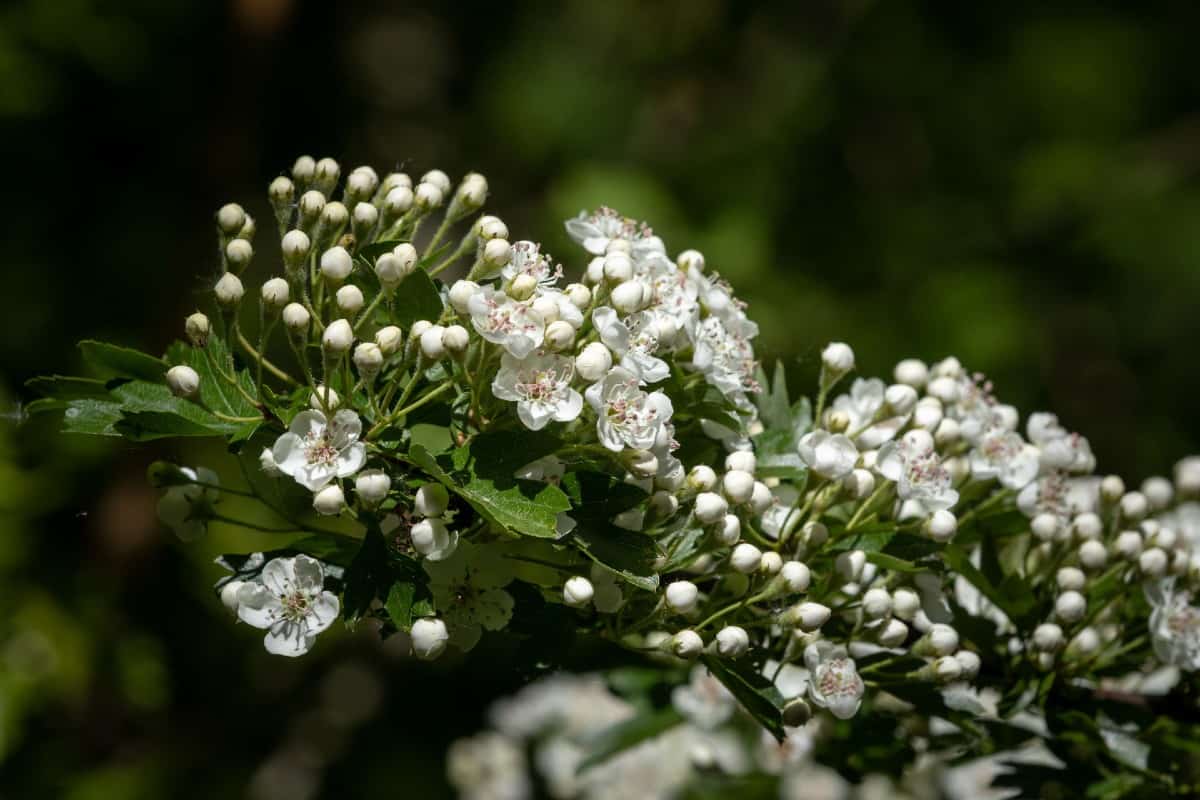 Many gardeners not only plant Hawthorn trees for their shape but also because of the shade they provide. Others pick these trees for their ability to serve as a stunning windbreak with their white or pink flowers in the spring.
In the fall, when the flowers give way to bright berries, songbirds come to visit. As these trees are prone to a handful of diseases, including rust and leaf spots, try to select cultivators that are disease resistant.
All of these trees require full sun with well-draining soil. They adapt to a variety of soils and pH variations.
Breathtaking Windbreak Shrubs – Elderberry (Sambucus)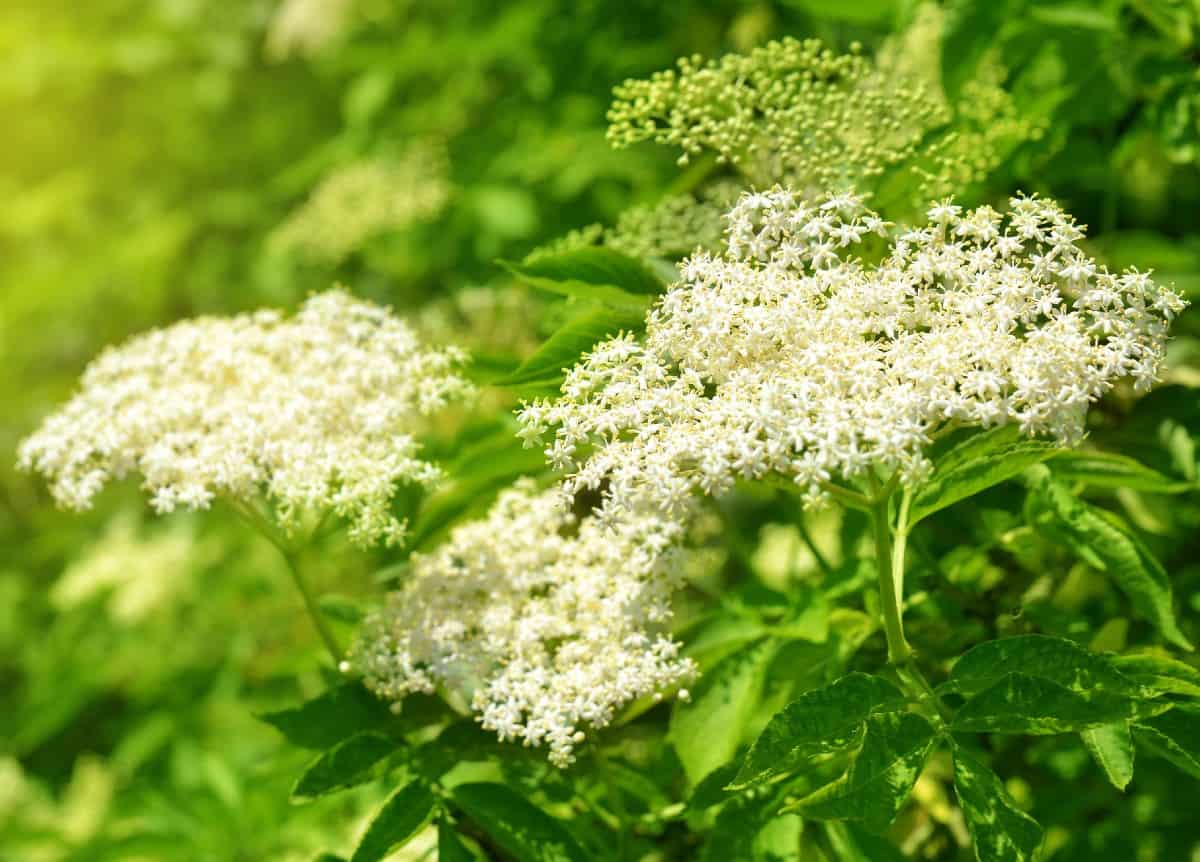 Native to the United States and Europe, Elderberry is a large shrub most often grown for its blue-black fruit. These fruits grow in bunches and are picked for jams, juices, and wines. They are also used for medical purposes.
These shrubs adapt to a lot of growing environments, including soggy and poor soil. The only thing they can't acclimate to is drought.
For optimal growth, plant these shrubs in loamy, well-draining soil in full sun. If using other soils, amend it first with organic compost. Fruit production requires cross-pollination, so plant several bushes in a row about three feet apart.
Smooth Sumac (Rhus glabra)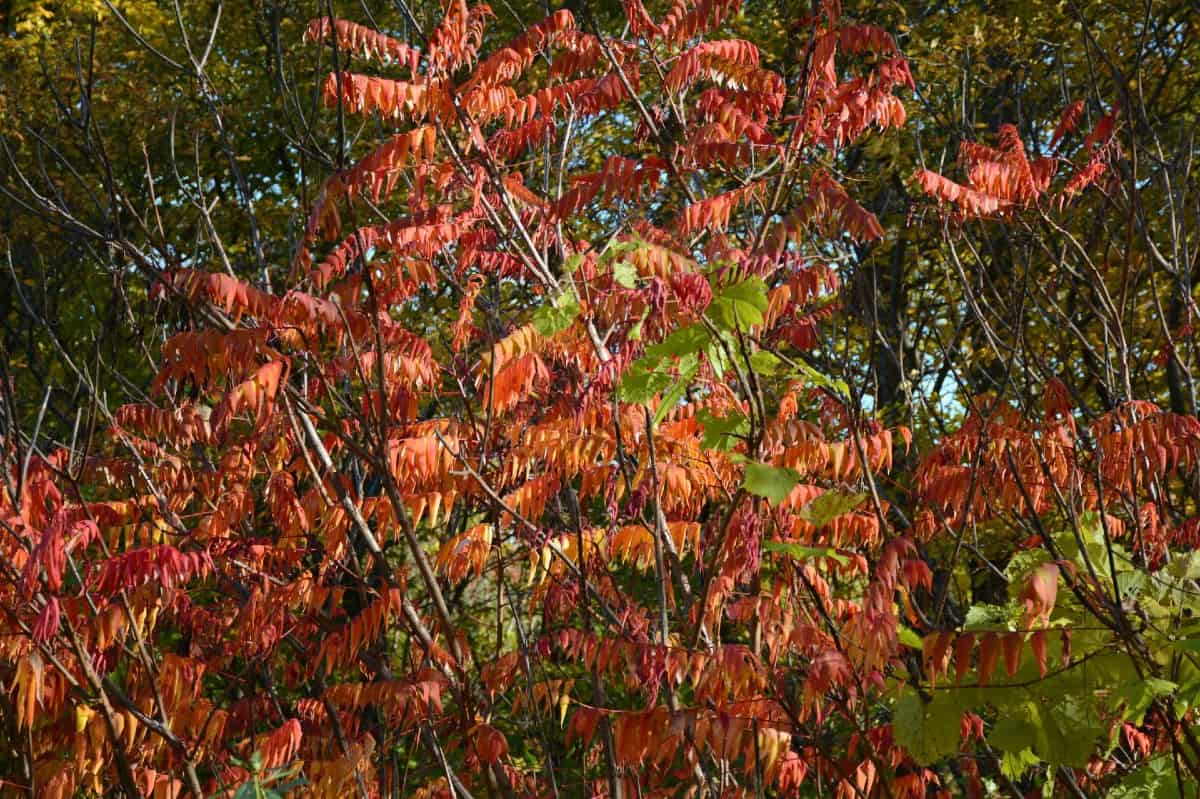 Smooth Sumac serves as a windbreak shrub, but it is also an excellent choice for wildlife. The shrub's clusters of flowers bloom in the spring and give way to bright red berry clusters in the fall.
The flowers are set against green foliage that is home to birds and smaller mammals. Smooth Sumac grows up to 15 feet tall and has a similar width.
This shrub grows well in any kind of well-draining soil. It does prefer full sun but handles partial shade. Although drought-tolerant, they do require regular watering during prolonged periods of dryness.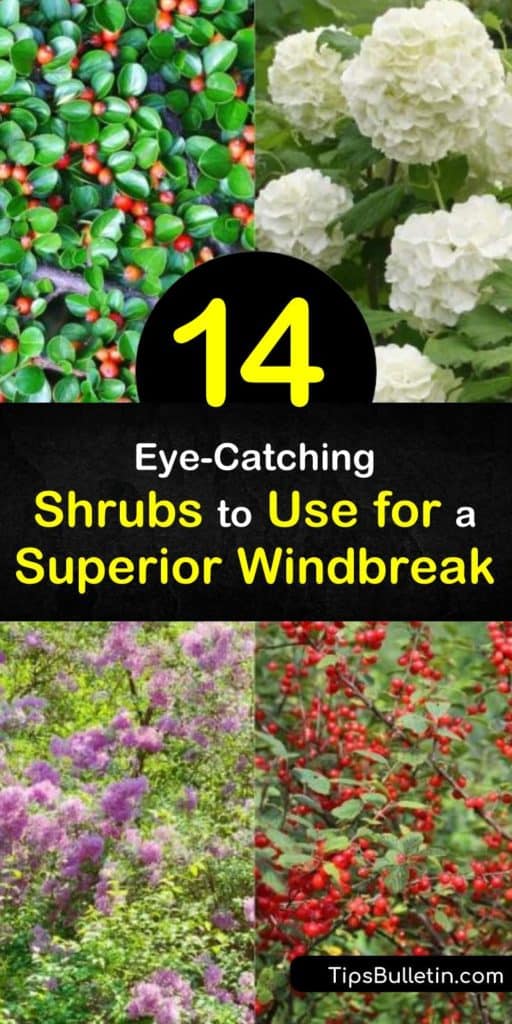 Thank you for taking the time to read our ideas on what shrubs work best as a windbreak. If you found our opinions on what shrubs to use as a wind buffer helpful, please share the best shrubs for a windbreak with others on Facebook and Pinterest.