Shrubs bear the hazy description of being smaller than most trees. In fact, these woody plants also tend to have multiple stems, rather than one trunk. Whether evergreen or deciduous, shrubs for dry sites add colorful or textured flowers, leaves, and berries to sections of your garden that might otherwise be dull.
If you've heard one thing about shrub care, it might be that young plants require a lot of water. While it's true that newly planted specimens benefit from regular, thorough watering, established shrubs often cope during droughts. These hardy plants' roots excel at sucking moisture from the ground.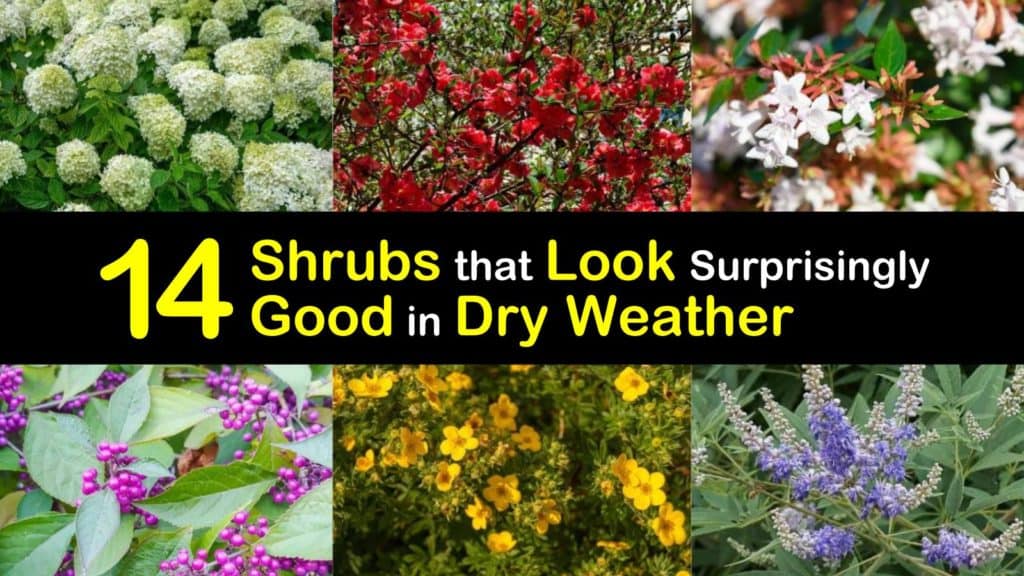 Shrubs that Thrive in Dry Conditions
Besides classics like ornamental grasses and cacti, shrubs are often another option for arid yards. Read on to discover the perfect shrub for your dry garden.
Don't forget to add some trees for arid climates, too. There are a surprising number of plants that do well in drought-like conditions.
Where to Plant Shrubs for Dry Sites
Once you find large or small shrubs for landscaping in your hardiness zone, consider its mature size. These drought-tolerant plants often succeed in rock gardens and xeriscaping – gardening that involves little to no watering.
Ground cover shrubs are ideal foundation plants or shrubs for erosion control. Upright shrubs work well in borders or as hedges, edging plants, or specimen plants, including in containers.
How to Plant Shrubs
For drought tolerant bushes and trees that come in a container or wrapped in burlap, dig a hole two times wider and deeper than the root ball. Encourage drainage by leveling the soil at the bottom and sloping the walls away slightly from the center.
Soak bare-root shrubs' roots for several hours, then dig a hole of the same depth as the plant's roots. Make a small earth mound at the bottom.
In either case, place the plant gently inside the hole, spreading out its roots. Fill the hole partway with soil, pour in water, then fill in the rest of the way.
Autumn Joy Sedum (Hylotelephium telephium 'Autumn Joy')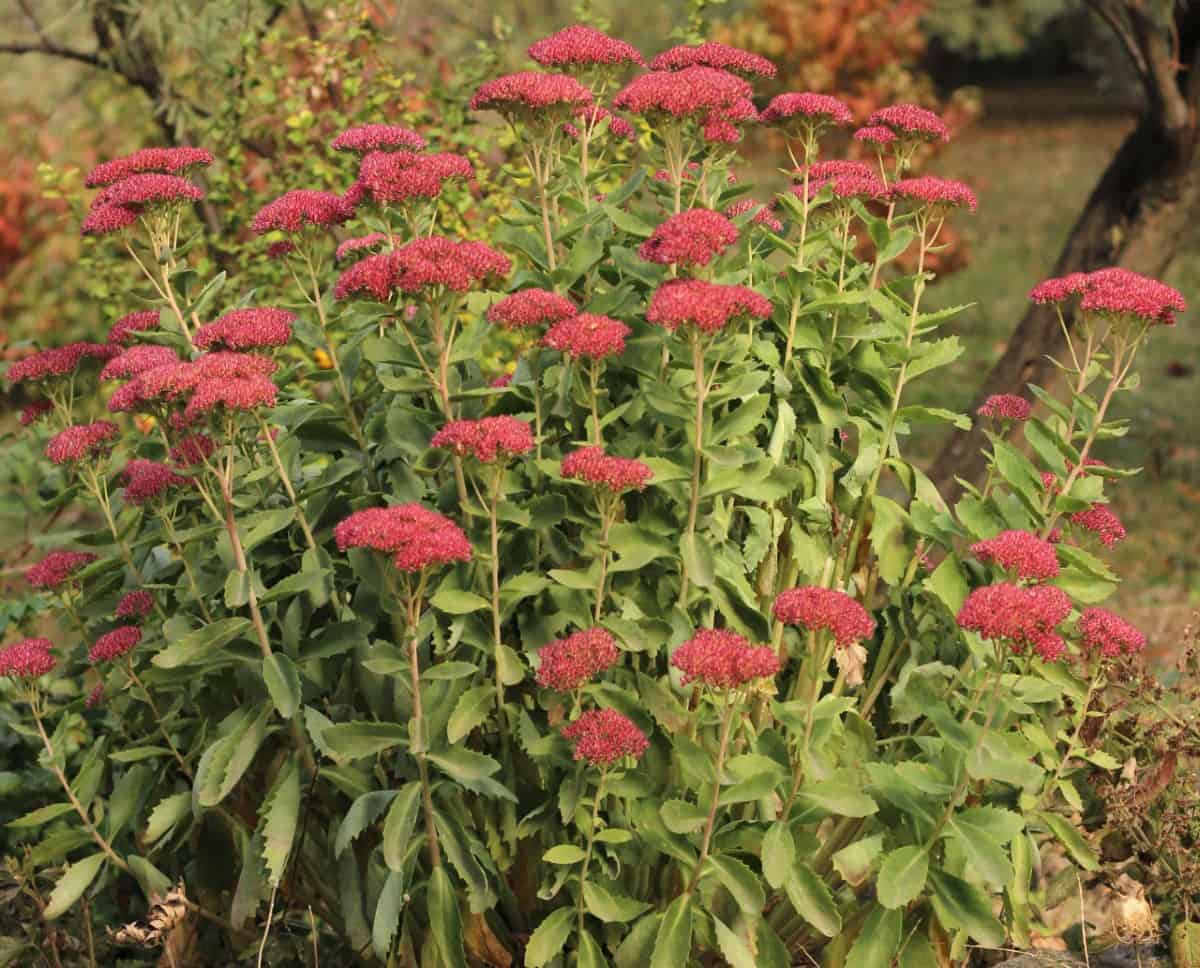 This shrub has succulent leaves and clusters of pink flowers in mid- or late summer and fall. As an upright variety, Autumn Joy suits a plant border.
Buy sedum in plugs or pots, which you plant after the last spring frost. Alternatively, plant sedum seeds in early spring.
Autumn Joy does best in full sun and sandy or loamy, well-drained, average, or fertile soil. Only water these short bushes in arid conditions. It appreciates a little organic compost.
Lilac Bush (Syringa vulgaris)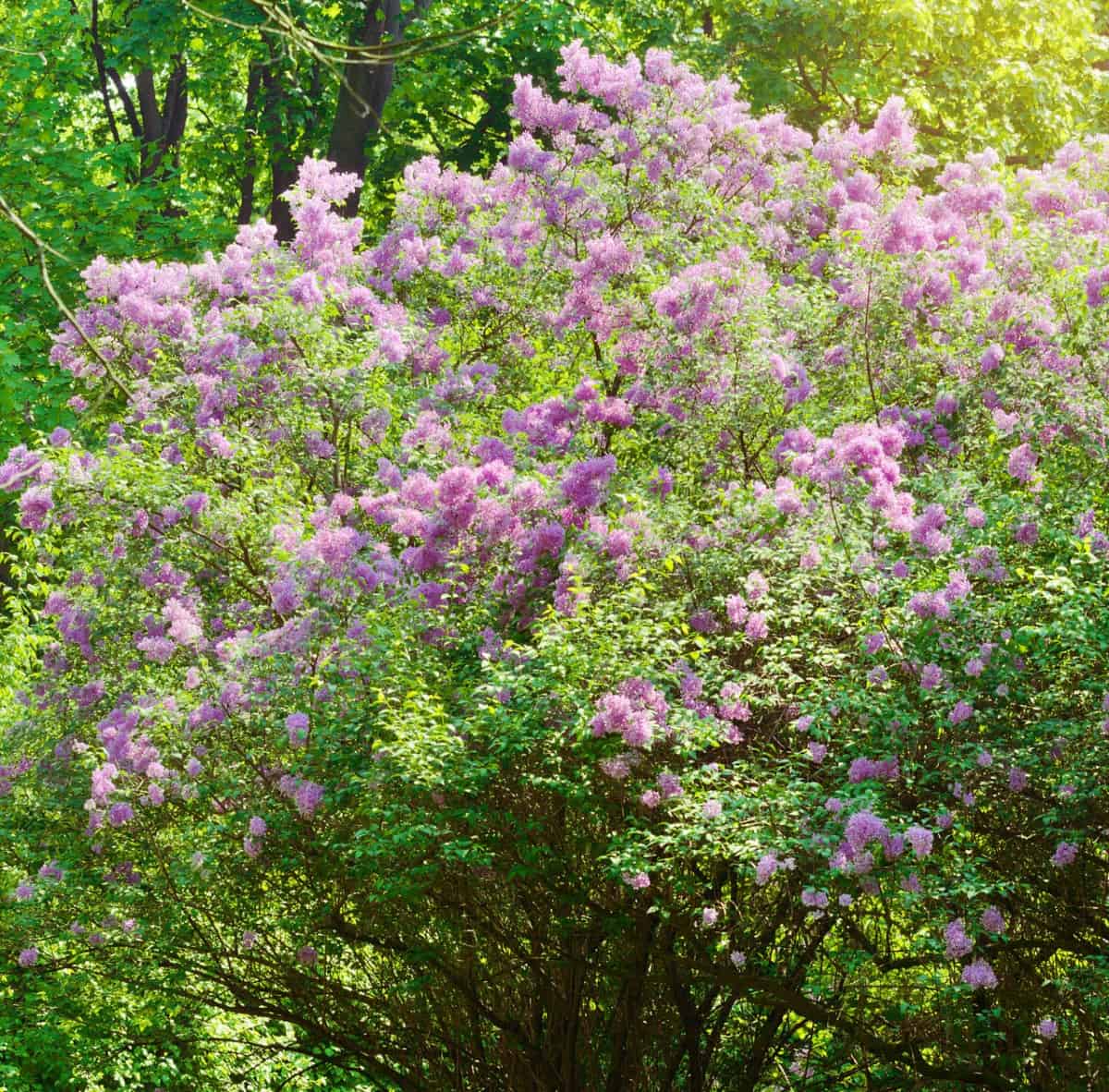 In late spring, this shrub bears highly fragrant flower clusters in purple, white, or burgundy. It grows best when summers are cool and is an excellent choice for a specimen plant, loose hedge, or property border.
Grow lilac in full sun and loamy, neutral, fertile, well-draining soil. To propagate, cut off one of the shoots sprouting from an existing tree. Replant the little lilac and water it well.
This bush requires thorough watering but does not enjoy soggy soil. In the spring, give it low-nitrogen fertilizer.
Adam's Needle (Yucca filamentosa) – A Spiky Drought-Tolerant Shrub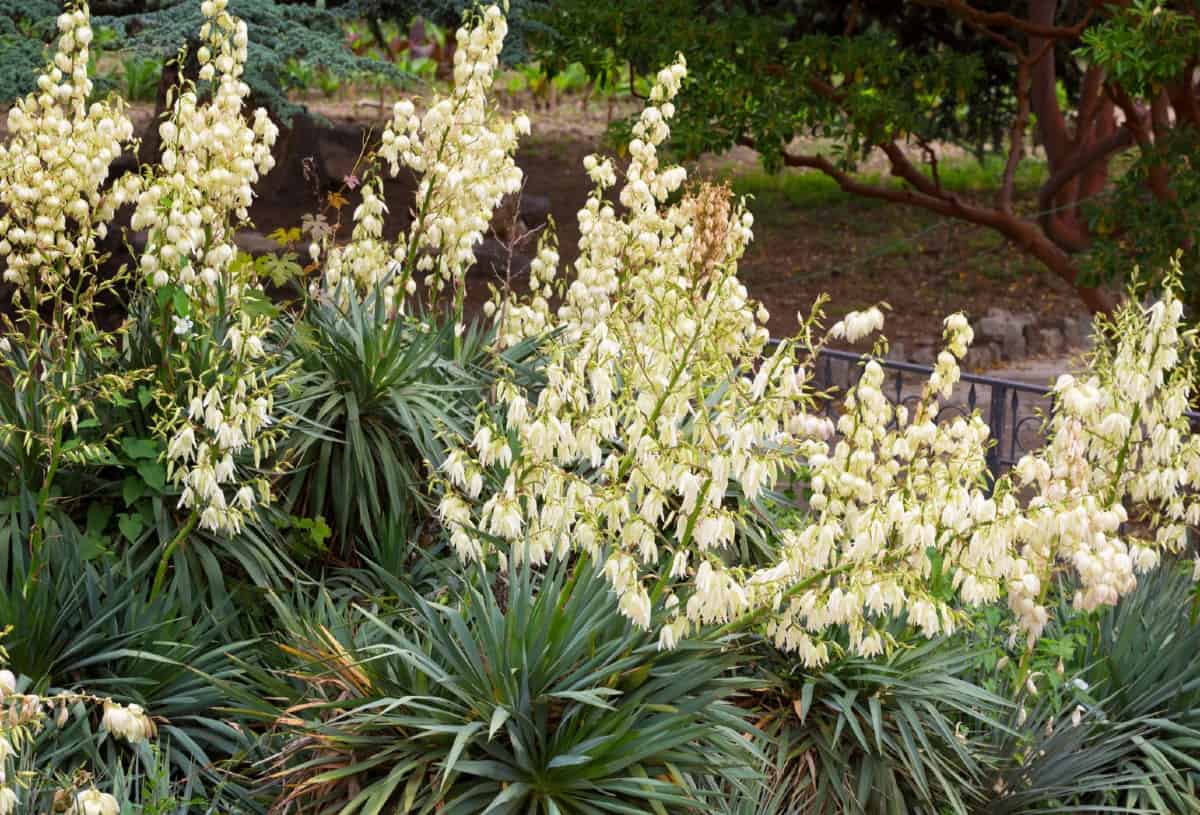 This evergreen has rigid, sword-shaped green leaves and, in late spring, produces white, bell-shaped flowers on tall stalks. Use hardy yucca in a border or large container.
Propagate these almost no maintenance shrubs with basal offsets – miniature plants sprouting off the main plant. Yucca prefers full sun but tolerates partial shade. It flourishes in light, dry to medium-moisture soil that drains well.
Although Adam's needle benefits from water every seven to ten days in dry weather, in rainy periods, it survives on little to no water. Several times a year, give it a low-nitrogen balanced fertilizer.
Spanish Lavender (Lavandula stoechas)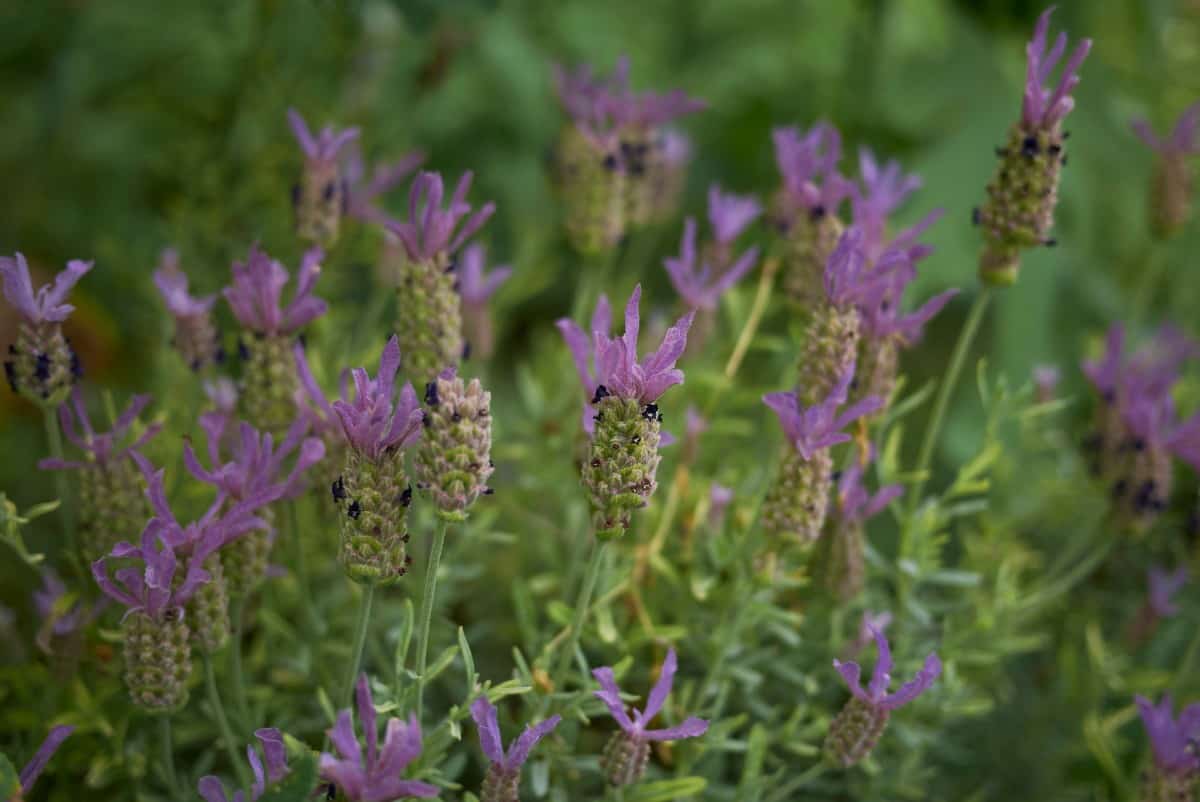 This fast-growing Mediterranean native bears gray-green leaves and spikes of pink-purple blooms in late spring to early summer. Its fragrant oil is popular in beauty and medicinal products, while its flowers are edible fresh and contribute to potpourri and sachets when dried.
Plant Spanish lavender alone or in a group in a full sun location with good air circulation that's protected from winter winds. Well-drained, dry, low-fertility, alkaline or chalky soil is ideal.
Apply compost when planting and mulch after the ground freezes. Water the plant regularly in its first growing season; then, it tolerates drought.
Shrubby Cinquefoil (Potentilla fruticosa)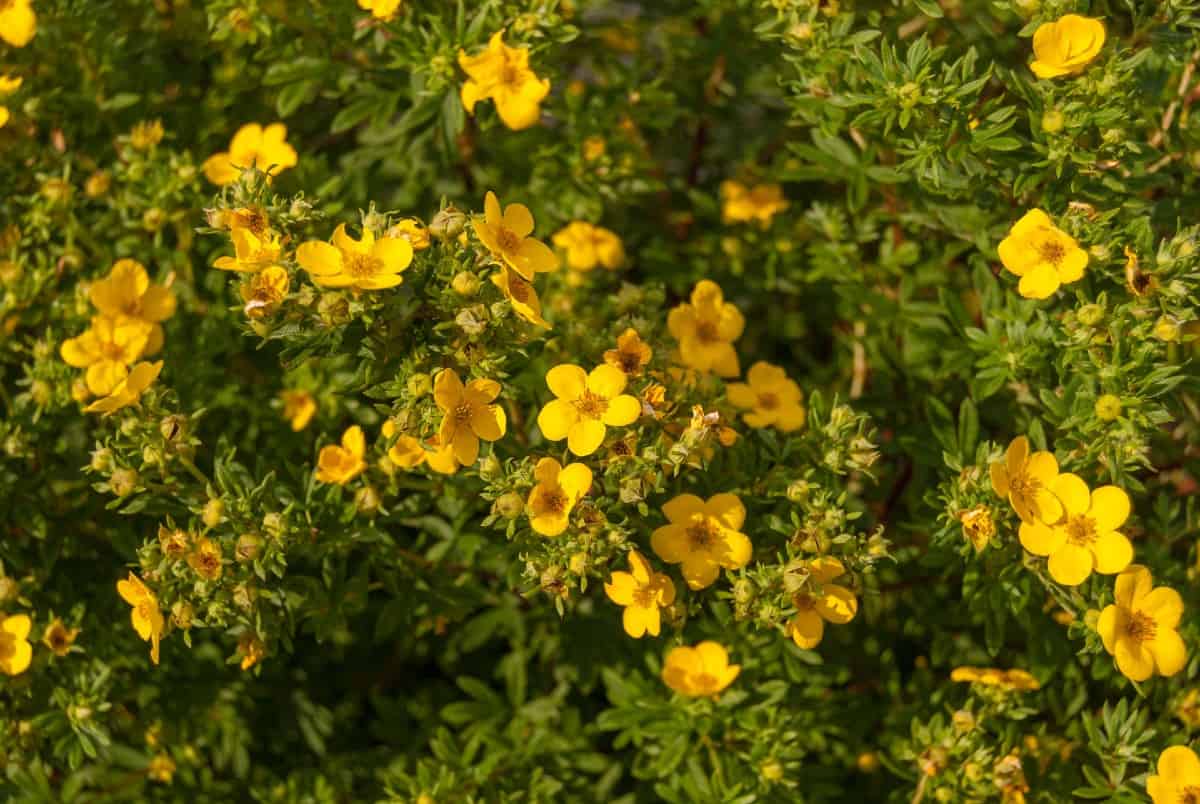 This cheery shrub has inedible fruit and green leaflets. From spring to fall, it bears white, orange, red, pink, or yellow flowers. Use cinquefoil as an edging plant, in a container, or on a slope.
Plant it in spring or fall with compost and mulch, and water it well. Find a site with full sun or afternoon shade in warm climates. Cinquefoil thrives in fertile, well-draining ground but tolerates clay and alkaline, rocky, dry, or poor-quality soil, too.
It needs regular watering in its first growing season, then only every week or two in extreme heat. In the spring, feed your potentilla plant compost or all-purpose fertilizer.
Laurustinus (Viburnum tinus) – A Lovely Drought-Tolerant Evergreen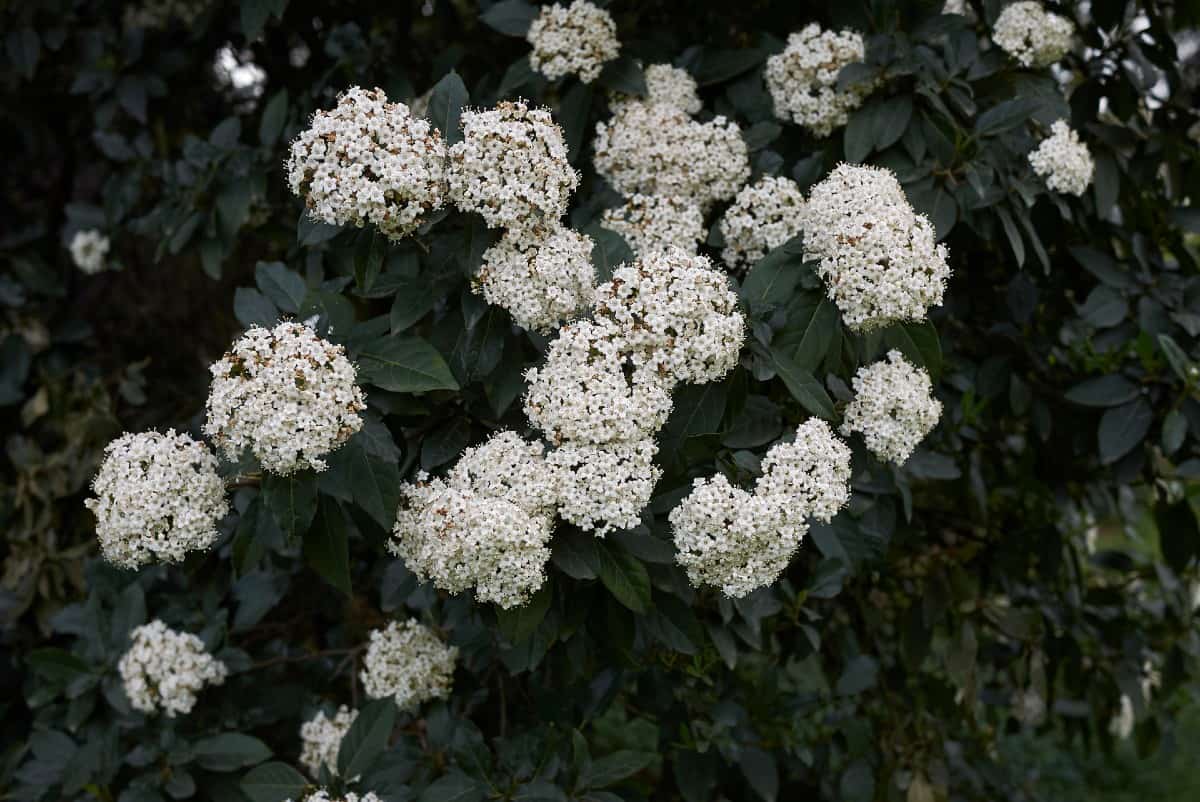 These outdoor plants that need little water have glossy, dark-green leaves and pale pink wintertime buds. In mid-spring, the evergreen boasts tiny, fragrant white flowers, which are followed by inedible metallic-blue berries. Laurustinus shines as a specimen plant or in a hedge or border.
Propagate it from semi-hardwood cuttings in the summer. Site it in full sun or dappled shade and moist, humus-rich soil. It grows in sand or clay as long as it drains well.
Laurustinus is one of many drought tolerant plants but benefits from the occasional watering in dry weather. Young specimens need phosphorus-heavy fertilizer, while established plants only require annual fertilizing.
Savin Juniper (Juniperus sabina)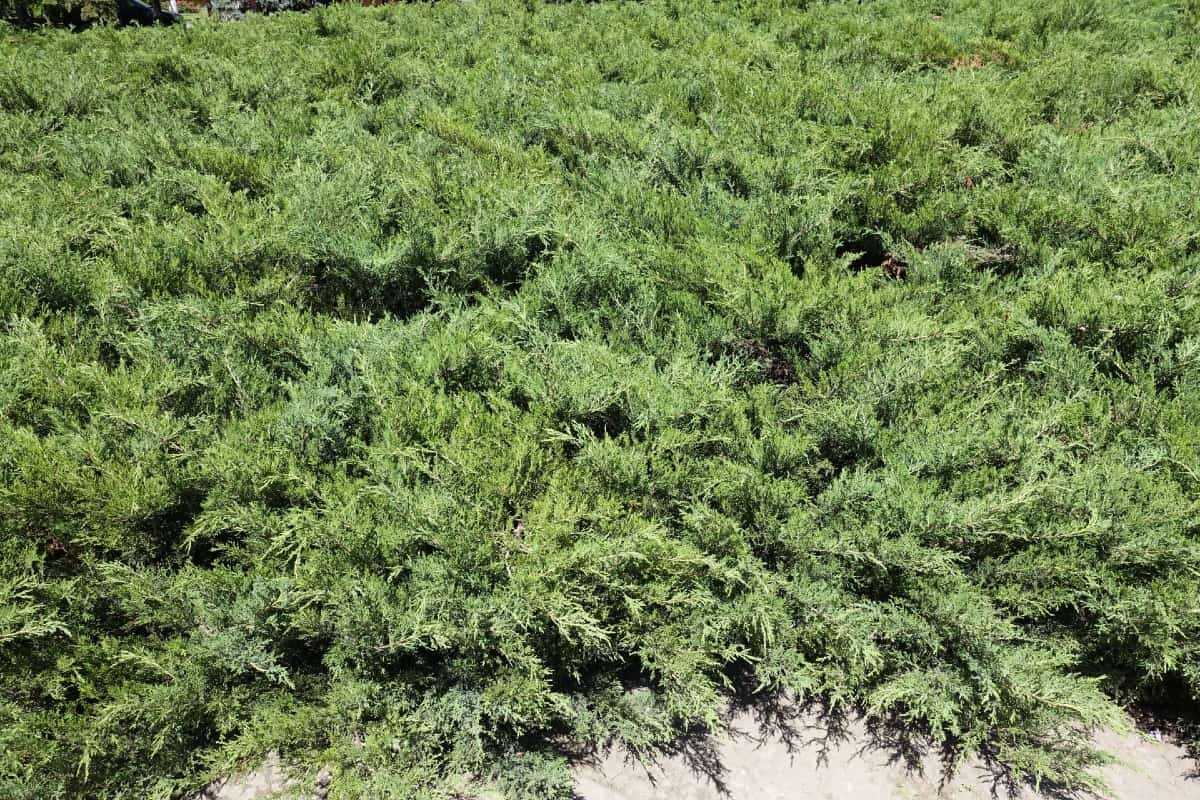 This evergreen plant has dark-green, scale-like leaves, and red-brown bark. It's a spreader that reaches four to six feet tall. Be warned that savin juniper smells unpleasant when crushed.
Nonetheless, it excels as a specimen plant or hedge or on a bank or slope. Propagate savin juniper using semi-hardwood cuttings in full sun and well-drained, average-quality, medium-moisture soil.
Clay and rocky or dry soil are also acceptable. This tough shrub is drought tolerant once settled. Annual fertilizer is enough to satisfy it. These low-growing bushes are some of the best ground cover plants to prevent weeds.
Russian Sage (Perovskia atriplicifolia)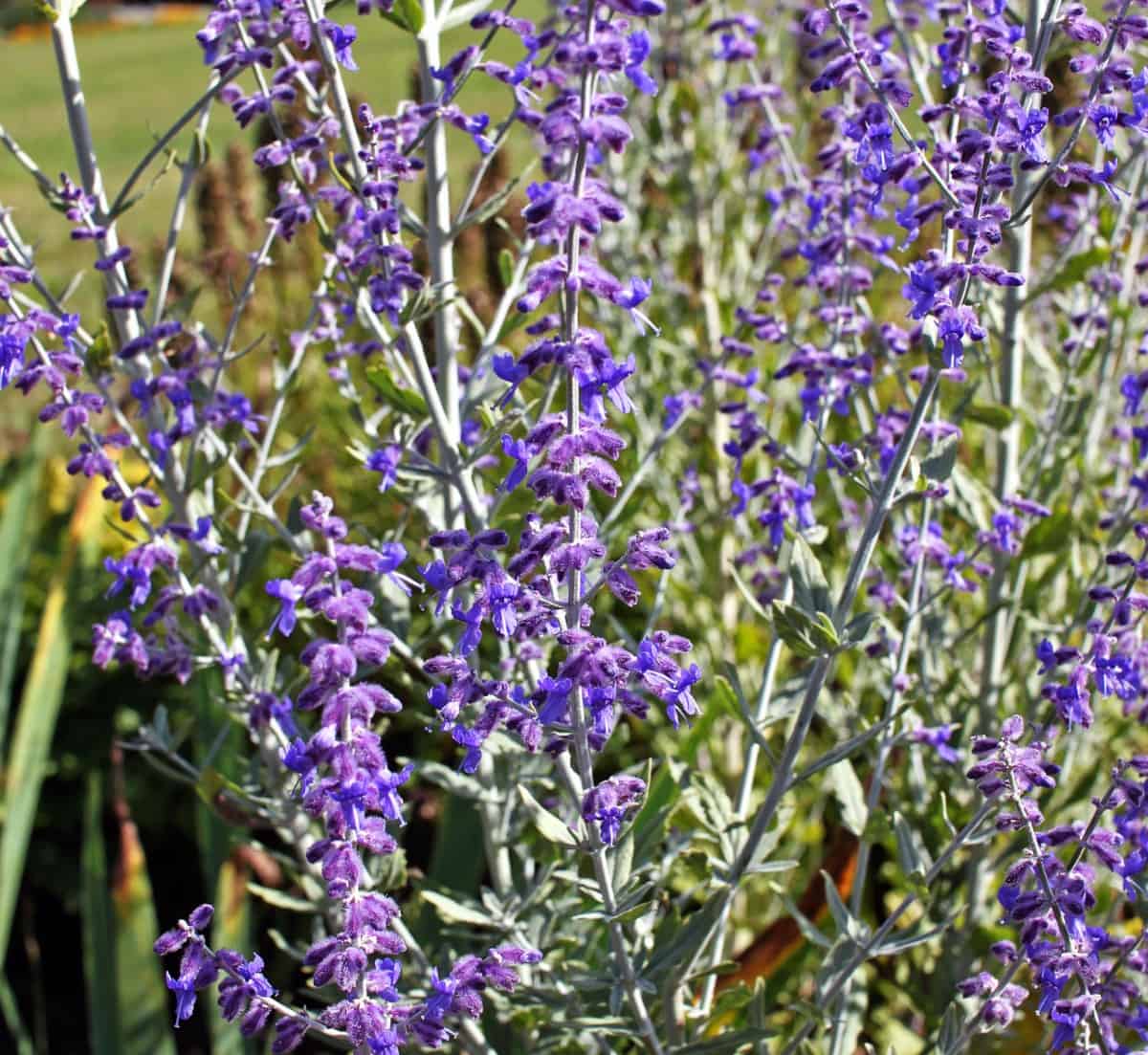 This low-maintenance shrub has silvery stems and leaves and small summertime blue-purple flowers. It attracts hummingbirds. Masses of Russian sage look elegant in borders and rock gardens or at the back of a flower bed.
Plant it in late spring in full sun and well-draining, alkaline, medium-moist or dry, poor-quality sand or clay.
New plants demand regular watering, while older ones are drought tolerant. Both benefit from a little compost in the spring. Watch out for runners and self-seeding.
Flowering Quince (Chaenomeles speciosa) – A Bold and Brightly-Colored Shrub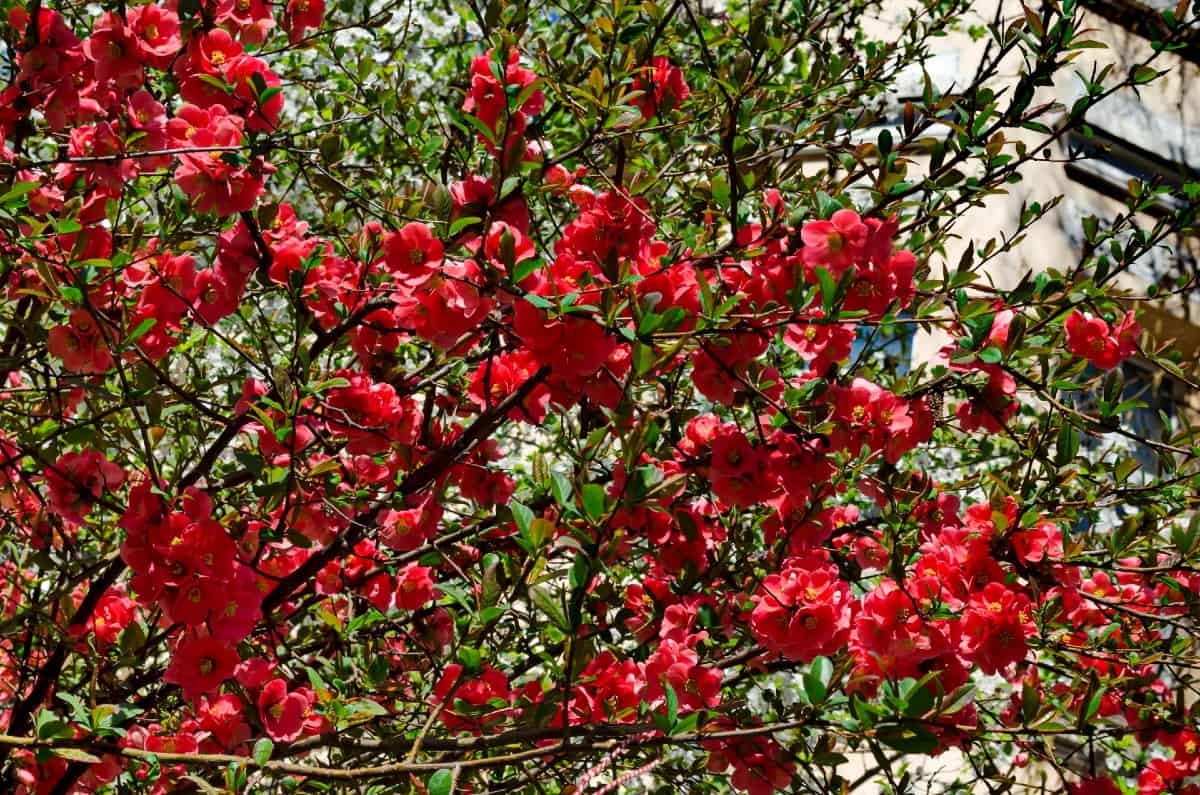 This deciduous shrub's thorny stems bear shiny, dark-green leaves and edible yellow-green fruit. Its red, orange, white, or pink flowers sprawl in late winter or early spring. Plant flowering quince in a border or as one of the small shrubs for hedges.
To germinate, leave its seeds in the fridge for 60 to 90 days, then plant them in plastic-covered pots. Alternatively, grow cuttings in plastic-covered pots. In either case, transplant the seedlings to a full sun location and acidic or neutral loam that drains well.
Partial shade and clay or sand are acceptable. Give the plants mulch and slow-release all-purpose fertilizer or compost in early spring. Though young quince plants need regular watering, established plants tolerate drought.
Chaste Tree (Vitex agnus-castus)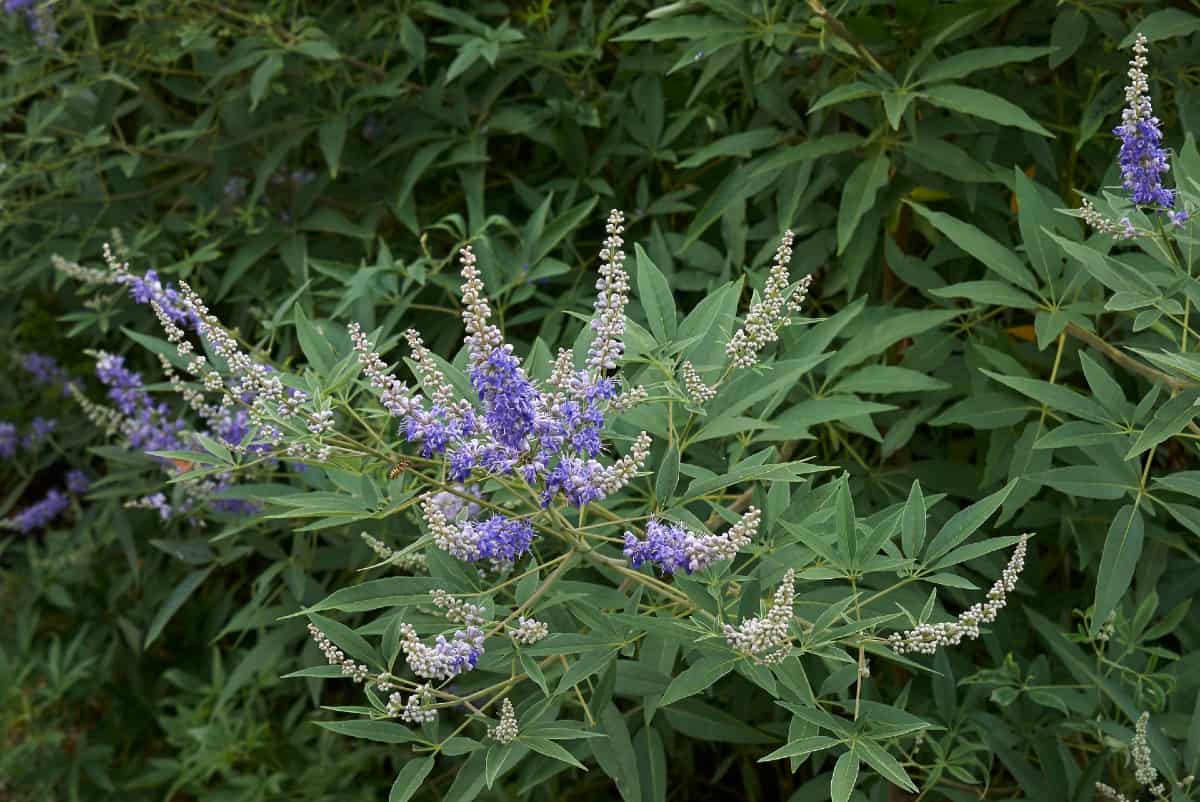 This large shrub bears sweet-smelling pink, lilac, or white flower spikes from spring to early fall. Its black fruit contains seeds that resemble peppercorns and work as spices. The chaste tree survives in xeric gardens.
Propagate this hardy bush using seeds, cuttings, or layering. Check before planting since it's invasive in some parts of the United States.
Grow chaste trees in full sun and well-drained soil that's low on organic matter. Use an inorganic mulch like pebbles. Feed your plant every year or two with a general-purpose fertilizer.
Panicle Hydrangea (Hydrangea paniculata)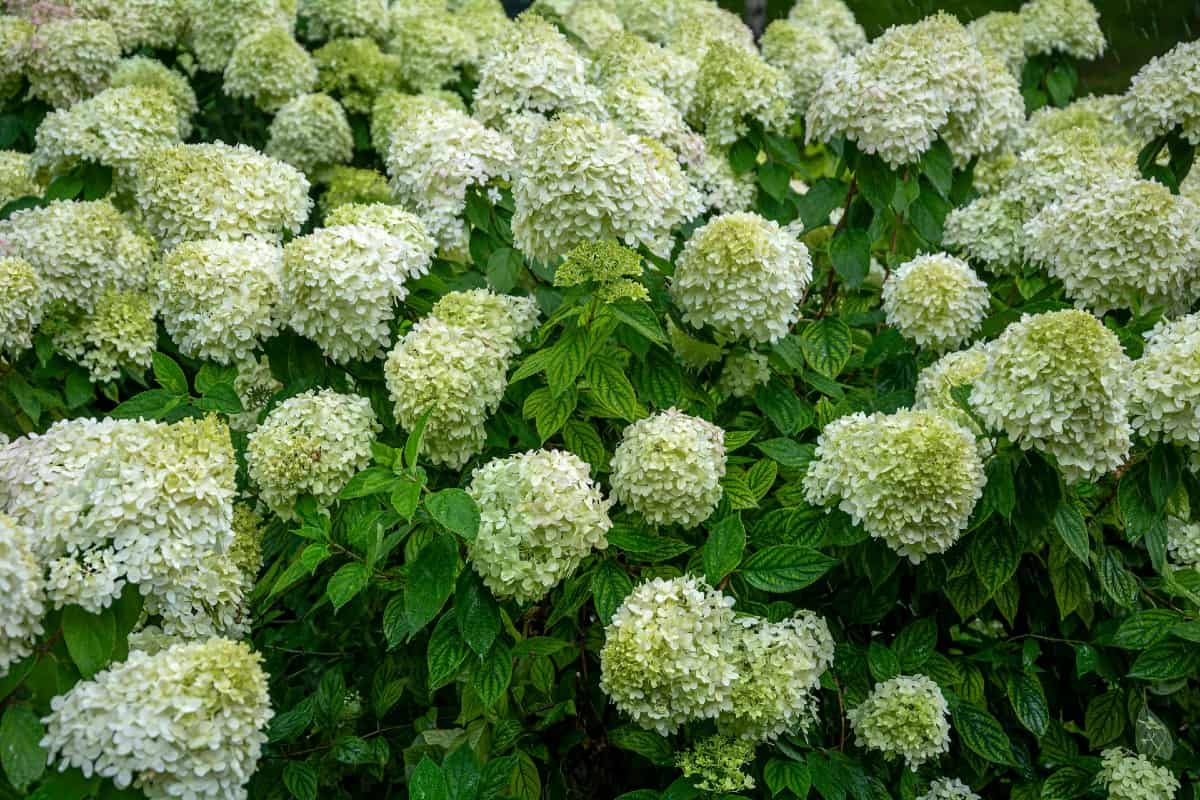 From mid-summer to fall, this tall shrub boasts large, snowy flowers that turn pink then brown and work well as a cut flower. Its dark-green leaves turn red in the fall. The panicle hydrangea excels in beds and borders or as a backdrop plant or hedge.
Full or partial sun and fertile, moist, well-draining soil are this shrub's optimal conditions. Give your hydrangea mulch and water when planting.
Apply granular shrub fertilizer in early spring. Hydrangea plants thrive on regular watering during their first year or two, but once they settle, only if it's sweltering and dry.
If deer are a problem in your area, there are deer repellant plants in the hydrangea family. Do a little research before buying.
Glossy Abelia (Abelia x grandiflora) – A Versatile Drought-Tolerant Bush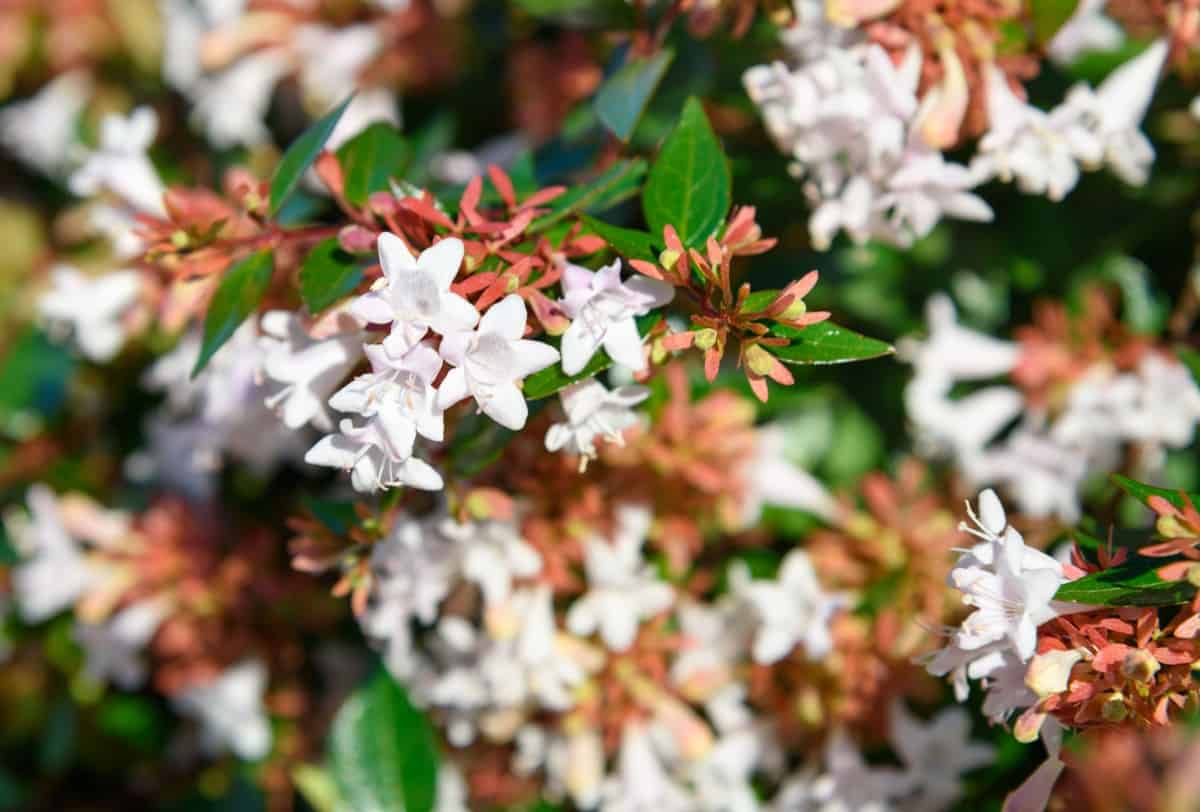 This arching shrub's leaves range from gold to burgundy and often change colors. It bears white, pink, or yellow tubular flowers from spring to fall. Abelia shines as a hedge or backdrop, edging, or specimen plant, besides in a pot, border, or slope.
Plant it in a sunny spot in spring or fall in fertile, slightly acidic, moist soil that drains well. When planting, give it compost, mulch, and water.
Once your abelia settles, give it slow-release fertilizer for woody plants in early spring. It tolerates drought but does best if it receives water once or twice a week in the summer.
American Beautyberry (Callicarpa americana)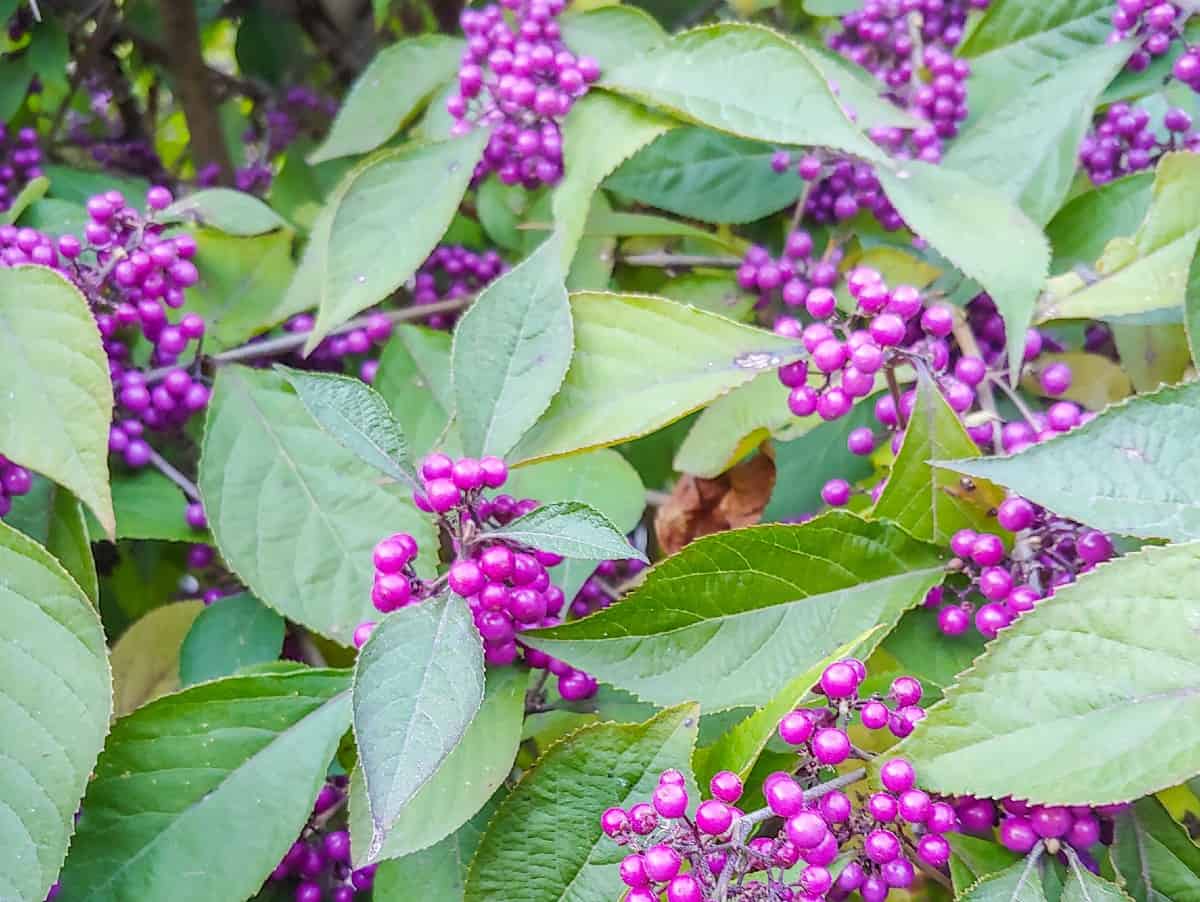 This deciduous shrub boasts lovely bright purple berries, even into the winter. They're edible but not especially tasty. Beautyberry produces light purple or pink flowers from late spring to mid-summer.
Grow beautyberry as a specimen plant or in a border. To propagate, sow seeds in containers indoors, then plant them outside in the winter in full sun to part shade. Choose soil that's moist, fertile, and either clay or crumbly.
It's best if beautyberry receives one inch of water per week, though it survives drier conditions. In that case, slow, deep watering is beneficial. Apply a little compost in the spring.
Heavenly Bamboo (Nandina domestica)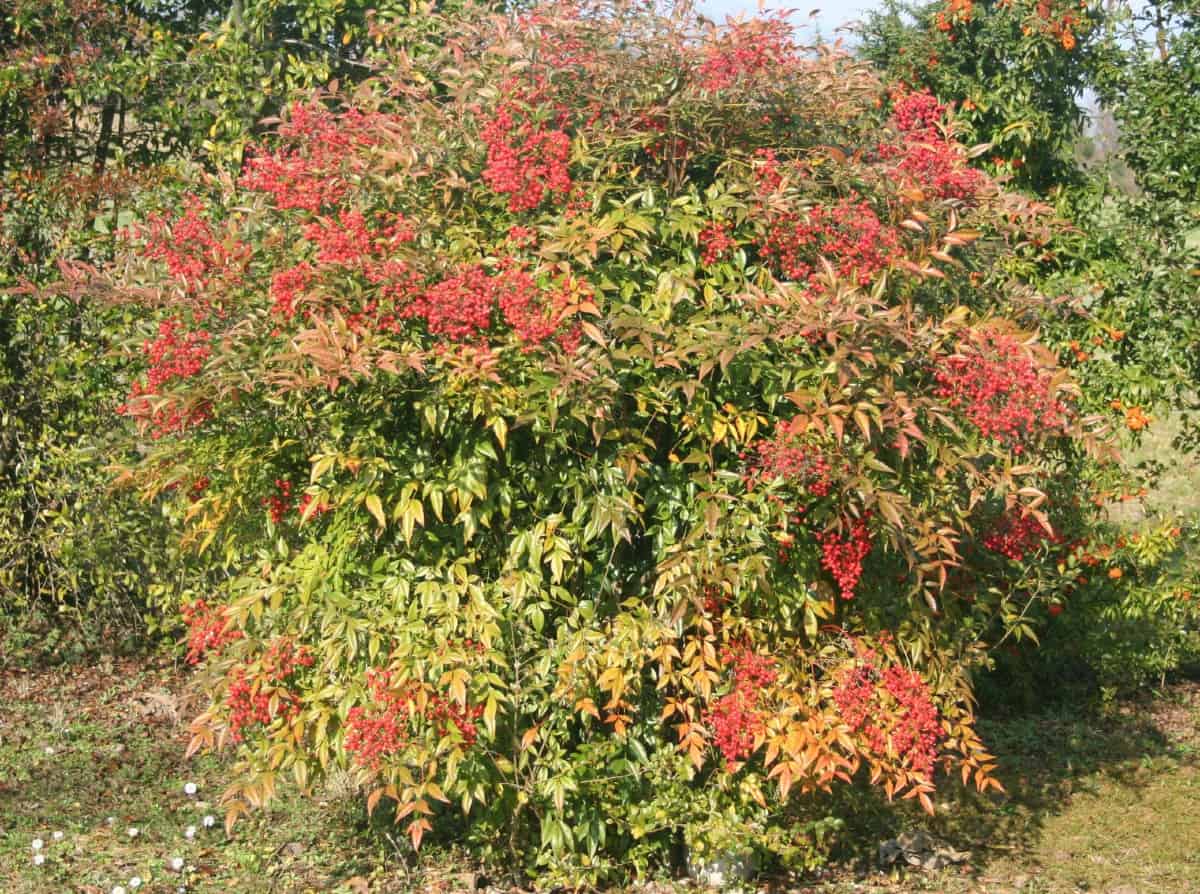 This evergreen has cane-like stems and leaves that change from pink to green to red. It boasts white springtime flowers and red wintertime berries. Heavenly bamboo's leaves and berries are toxic for animals, and it's invasive in some states.
Plant it as a foundation plant or loose hedge or in a border or container. Propagate it using softwood or semi-hardwood cuttings. Heavenly bamboo does best in warm, humid environments but survives brief cold snaps.
Grow it in full sun and moist, fertile soil that drains well. It tolerates drought, other than in its first growing season when it insists on regular, deep watering. Apply ornamental shrub fertilizer in early spring or early summer.
Shrubs display extraordinary variety. Their leaves may be succulent, spiky, or glossy, while their flowers come in purple, red, white, and more.
Select shrubs for dry sites to enhance your dry garden. Whether you want flower spikes or big blooms, or if you are looking for a specimen plant or border, you'll easily find your new favorite.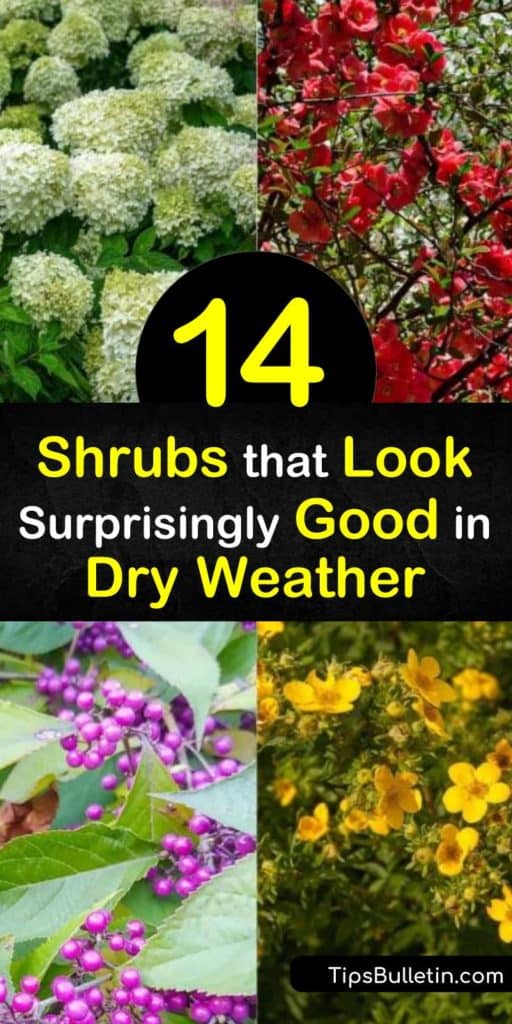 If you found these dry garden tips useful, please share these drought-tolerant shrub ideas with your friends on Facebook and Pinterest.