Not all hedges are created equal, and they aren't always the same size. Some people use hedges for privacy; others use them for windbreaks or as a sound barrier. No matter the case, what shrubs you select will depend on your hedge's overall purpose. Using the best shrubs for small hedges around your yard is the easiest way to give you a little bit of privacy with a whole lot of beauty.
Using shrubs for privacy throughout your yard is a more attractive choice than fences, although they take longer to grow.
Despite their slow growth, using shrubs throughout the yard allows you to quickly define various spaces with a dense border or cover up your home's foundation. When adding bushes for short hedges, think of them as functional walls that create privacy and add beauty.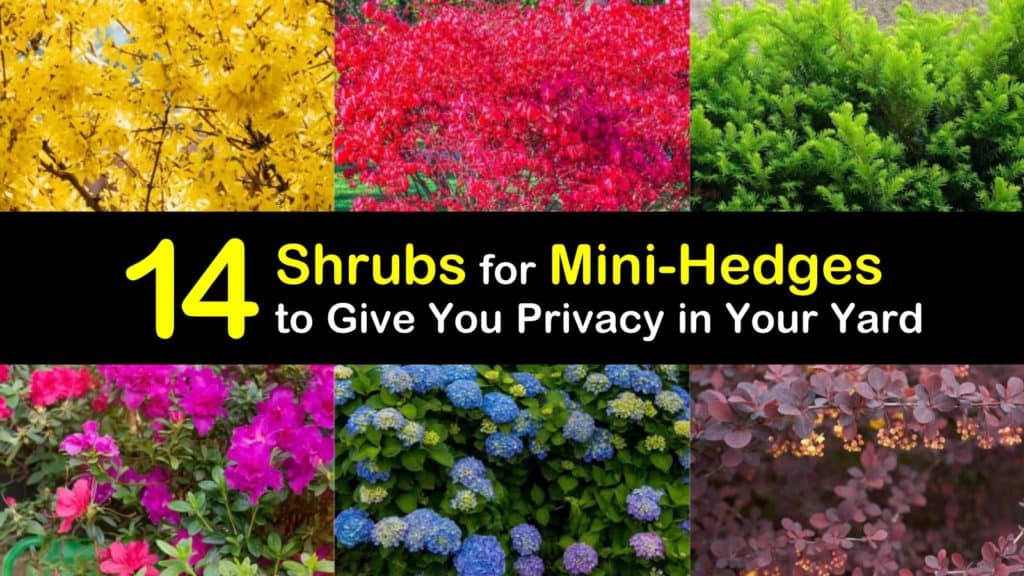 Ensuring your Hedges are a Success
When growing shrubs around our yards and gardens, we want success, not failure. To ensure our planting attempts are successful, and we create the look we are after, there are things to watch out for.
Fast growing hedge plants are always attractive to gardeners because they provide quick results. The downfall is that not all fast-growing shrubs are an amazing choice for every yard.
Before purchasing and planting your shrubs, check for potential invasiveness. Some bushes are harmful to native species, as they overtake yards and crowd out plants that belong.
Even when creating mini-hedges around your yard and home, be careful not to block any views. Avoid planting hedges in front of windows and doors as it prevents the view of people walking or driving by.
It might seem like a great way to increase your privacy, but it also makes it easier for people to sneak into your home. All shrubs require pruning but do so carefully.
The worst way to prune shrubs is to trim up the top and sides, making everything square and neat. Proper pruning does vary for hedge plants based on the specific bush, but there are two things everyone needs.
First, trim the top of the shrub, so it's a thinner width than the bottom and sides. Second, use hand shears to cut inside branches to allow for better light and air circulation.
Amazing Shrubs to Give You Privacy
In reality, any woody shrubs planted closely together form a hedge, but some bushes work better for creating mini-hedges, and others are more suited for taller ones.
Shrubs for Small Hedges – Boxwood (Buxus)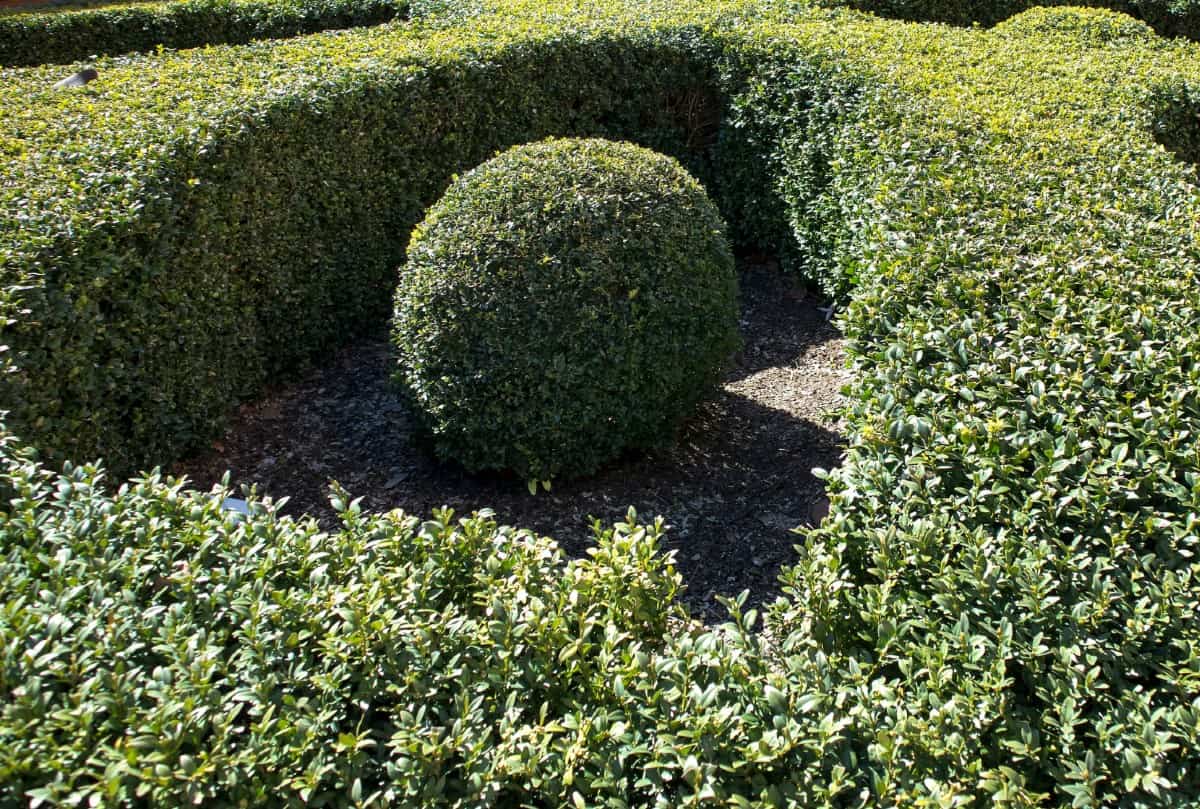 Boxwood works as both a low and regular hedge. Some landscapers grow it in containers or as focal points in yards as it serves as a topiary.
As an evergreen shrub, Boxwood remains bright green throughout the entire year, not just during its active growing season. Growing rates, hardiness, shape, and size vary among the cultivators.
Boxwood adapts to different soil types, including poor soils, as long as it has proper drainage. Overly wet soil increases the risk of root rot. Don't use Boxwood as a windbreak; they require protection from harsh winter winds.
Common Privet (Ligustrum vulgare)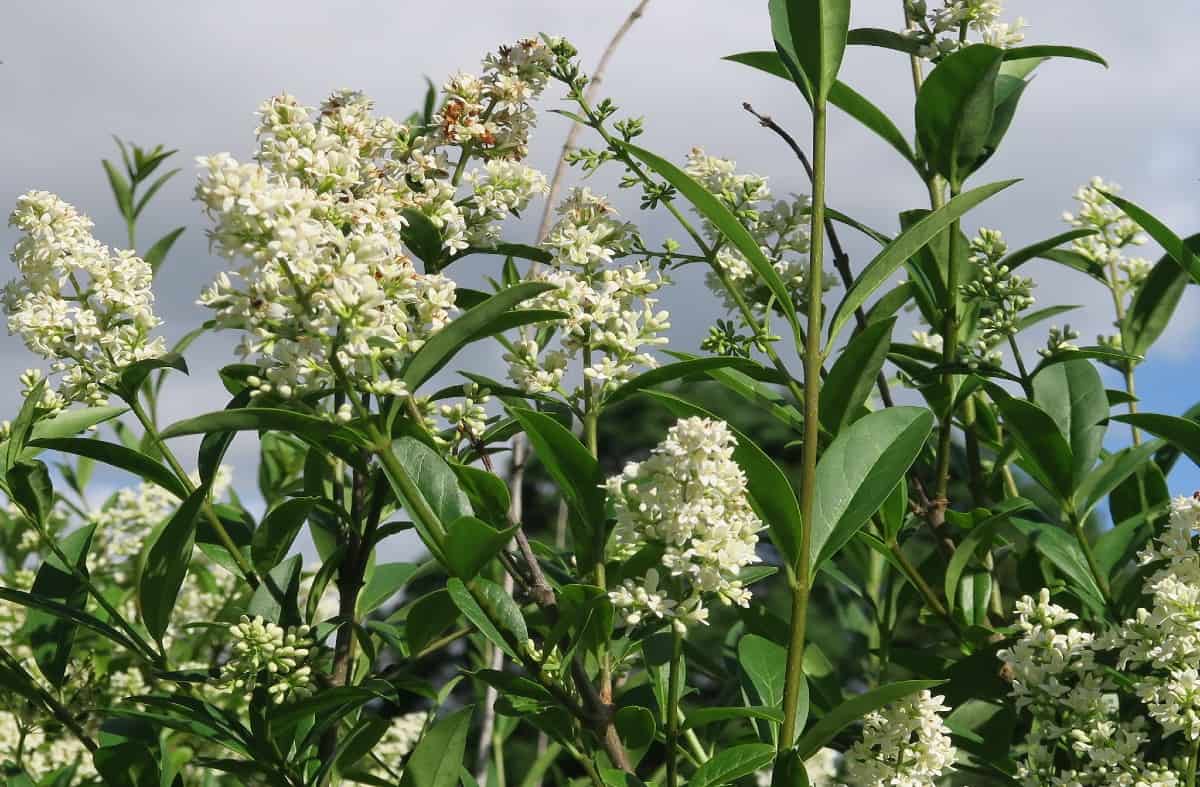 Common Privet is most often used as a topiary but works as a small hedge for some privacy. It also attracts pollinators with its showy, tubular-shaped white flowers. After the flowers bloom, they produce small, dark berries for birds and other wildlife to enjoy.
Some regions consider Common Privet invasive, so check your growing zone before planting. Blooming time begins in the late spring to early summer, and berries appear by the end of the season.
For optimal growth with these small hedges, plant in well-draining soil in full sun and prune back a minimum two times before summer ends.
Yew (Taxus baccata)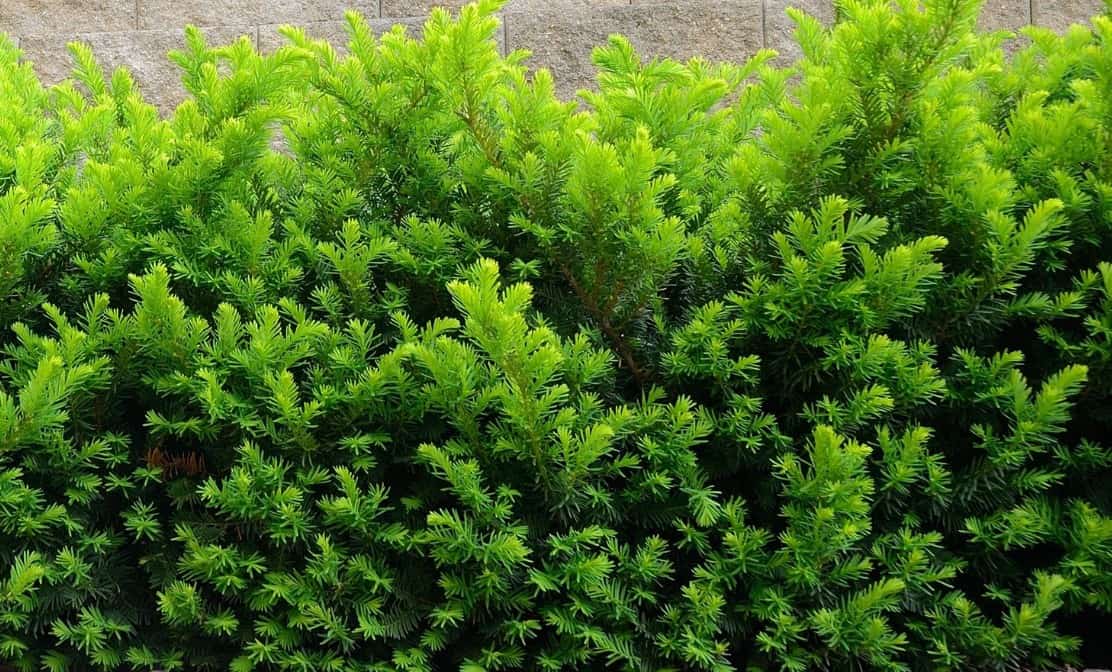 Known for its red berries resting among green foliage, Yew makes a decent small hedge for yard privacy. Before planting in your yard beware – the red berries are toxic to humans, although wildlife enjoys snacking on them with no issues.
Yew's green needles provide color throughout the entire year, even in harsh weather. Most Yew shrubs require well-draining, sandy to loamy soil, but soil types vary among the different bushes.
They prefer locations with full sun but tolerate partial to full shade. Yew is an excellent choice for gardeners just starting with shaping as it's very forgiving and handles pruning and shearing well.
Bowling Ball Arborvitae (Thuja occidentalis) – Evergreen Shrubs for Small Hedges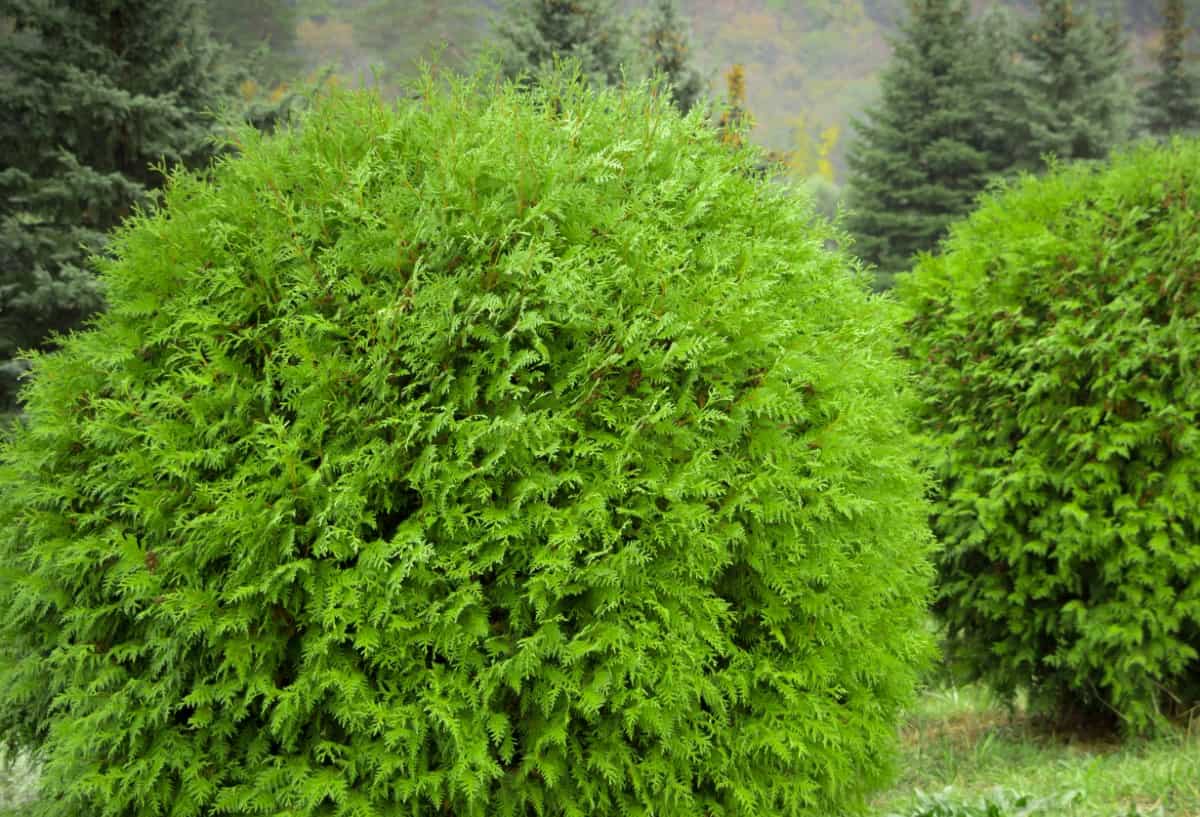 These dwarf, evergreen shrubs grow round, hence the common name "Bowling Ball." The shrubs reach up to 30 inches tall with a similar width, so when planting as mini-hedging plants, grow several together.
With the Bowling Ball Arborvitae, growers enjoy year-round rich green foliage. When planting in full sun, this shrub requires weekly watering.
Keep soil moist in between weekly watering, as it doesn't tolerate dry conditions and increase watering during extreme heat. Plant this shrub in adequately draining soil in areas protected from harsh winds.
Burning Bush (Euonymus alatus)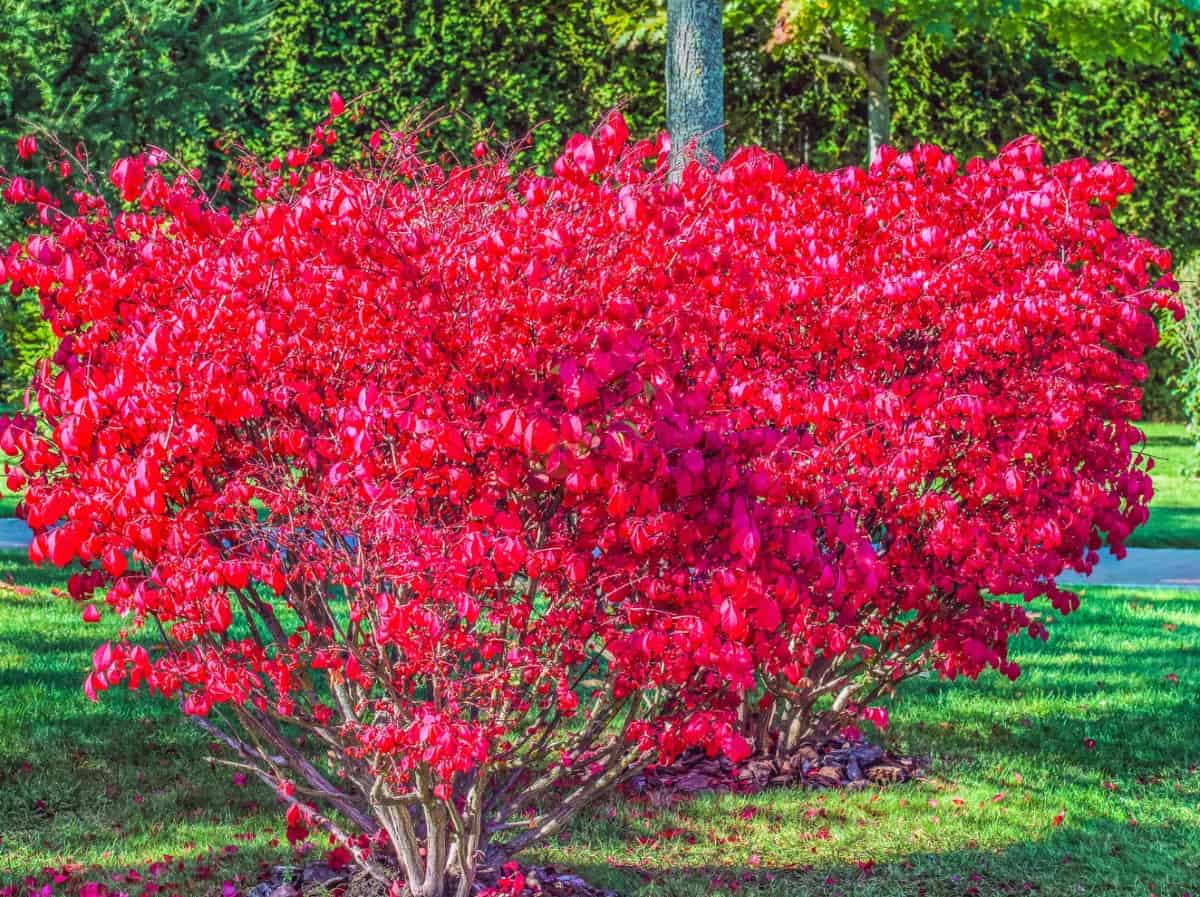 Although there are several other Euonymus flowering shrubs to choose from, Burning Bush is the most popular choice for landscapes. The Burning Bush adds beauty year-round.
In the fall, the brightly reddish to pink foliage gives this deciduous shrub its name. Green flowers bloom in the spring and turn to red berries that fully mature in autumn. Burning Bush grows great in average, draining soil.
For the brightest foliage, plant this shrub in full sun. It tolerates partial shade and various soil types but avoid soils that stay wet. Naturally resistant to multiple pest problems, gardeners must watch for powdery mildew.
Lilac (Syringa vulgaris)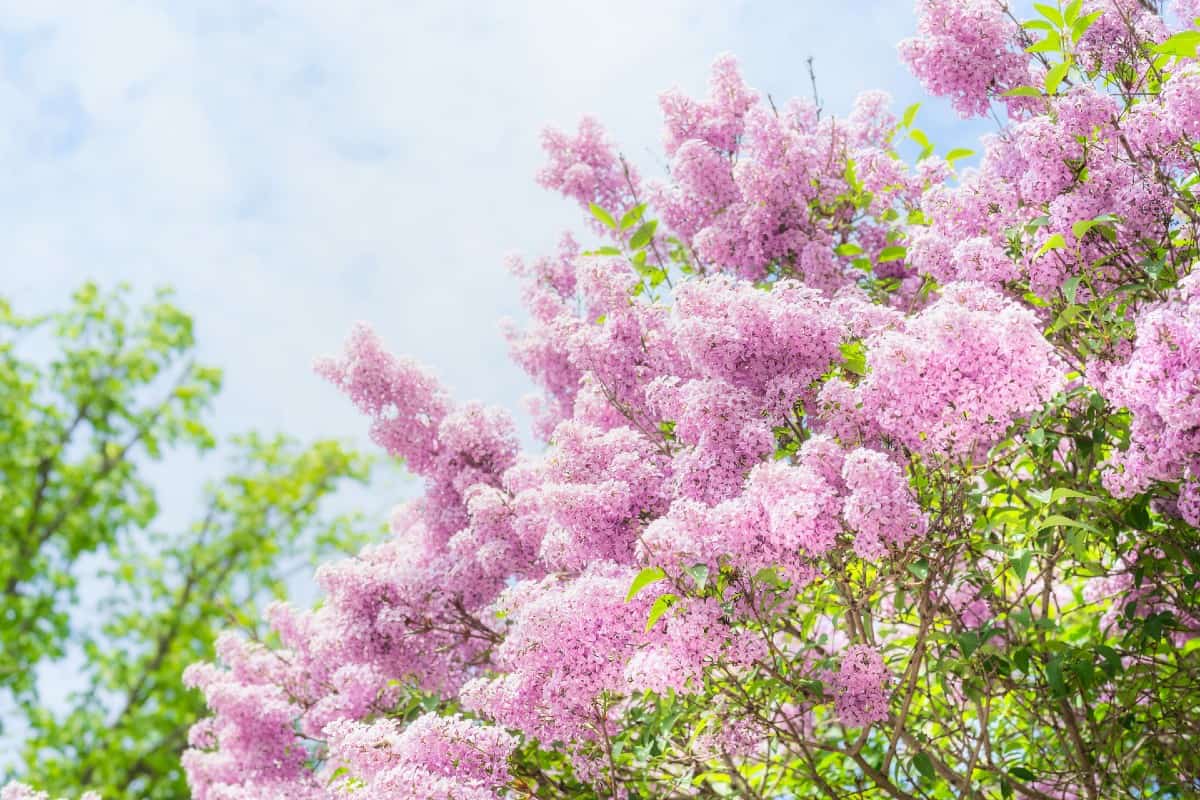 Lilac is an adaptable, deciduous shrub that grows 12 feet wide and 16 feet tall, although sizes vary based on the variety purchased. Lilacs are prone to powdery mildew, but to help reduce the chances, keep them pruned.
Pruning also helps keep growth under control if you are after a smaller hedge. Always plant your Lilac shrubs in the full sun using a loamy and decent draining soil.
These bushes thrive in zones three through seven as long as planting conditions are met. Allow the soil to dry in between each watering as Lilac doesn't like overly wet or moist soil.
Flowering Shrubs for Small Hedges – Hydrangea (Hydrangea spp.)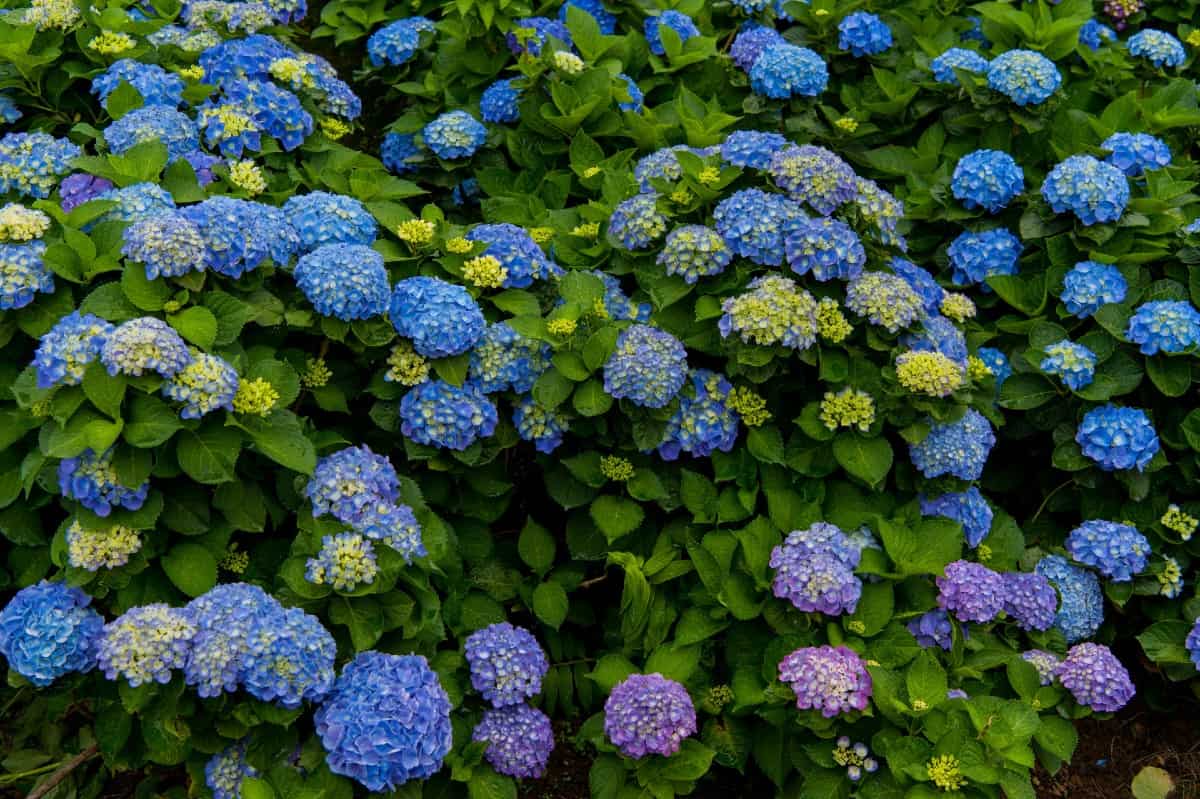 Hydrangeas are low-maintenance shrubs known for their large flowers. These easy to grow shrubs tolerate different soil types and work in containers, along borders, or as a small hedge when planted in groups.
Blue, white, red, green, purple, and pink flowers appear in the summer and fall, some shrubs provide multiple hues on the same bush. Hydrangeas require planting in a location that offers full morning sun, but partial shade in the afternoon.
This prevents the rays of the sun from burning the foliage. Prune back the deadwood at the end of the growing season or before new growth appears in the spring.
Barberry (Berberis)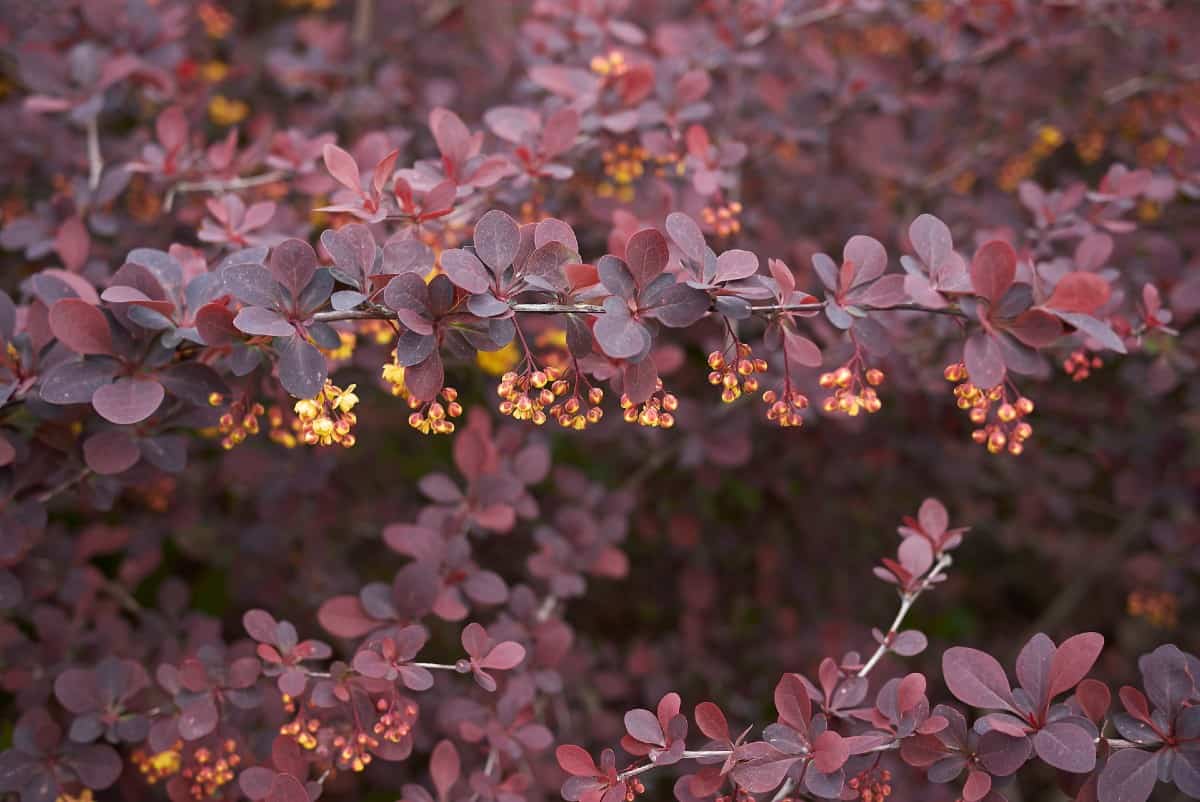 Barberry is available as a deciduous or evergreen shrub, depending on the species. These shrubs provide brilliant fall foliage and bright green leaves in the spring. The orange or yellow flowers turn to purple or red berries with a waxy feel.
As there are over 400 species of these shrubs – choose from little bushes for an excellent groundcover or mid-sized varieties for smaller privacy hedges.
Plant Bayberry in the full sun using average, properly drained soil; specific soil requirements depend on the species.
Spirea (Spiraea)
Eye-catching Spirea gives landscapers a fast-growing, low-maintenance choice for smaller privacy hedges. The spring-blooming Spirea is known for its cascading style branches filled with small white flowers that form in clusters.
The summer-blooming species grows upright with branches spotted with pink, red, or white flowers. Spirea is easy to grow; it thrives in just about every growing zone in the United States.
For optimal results, plant these small shrub plants for borders in the early spring or fall in an area that receives full sun. These shrubs reach heights of two to six feet, so give them room to grow and spread.
Golden Bells (Forsythia x intermedia) – Shrubs for a Small Hedge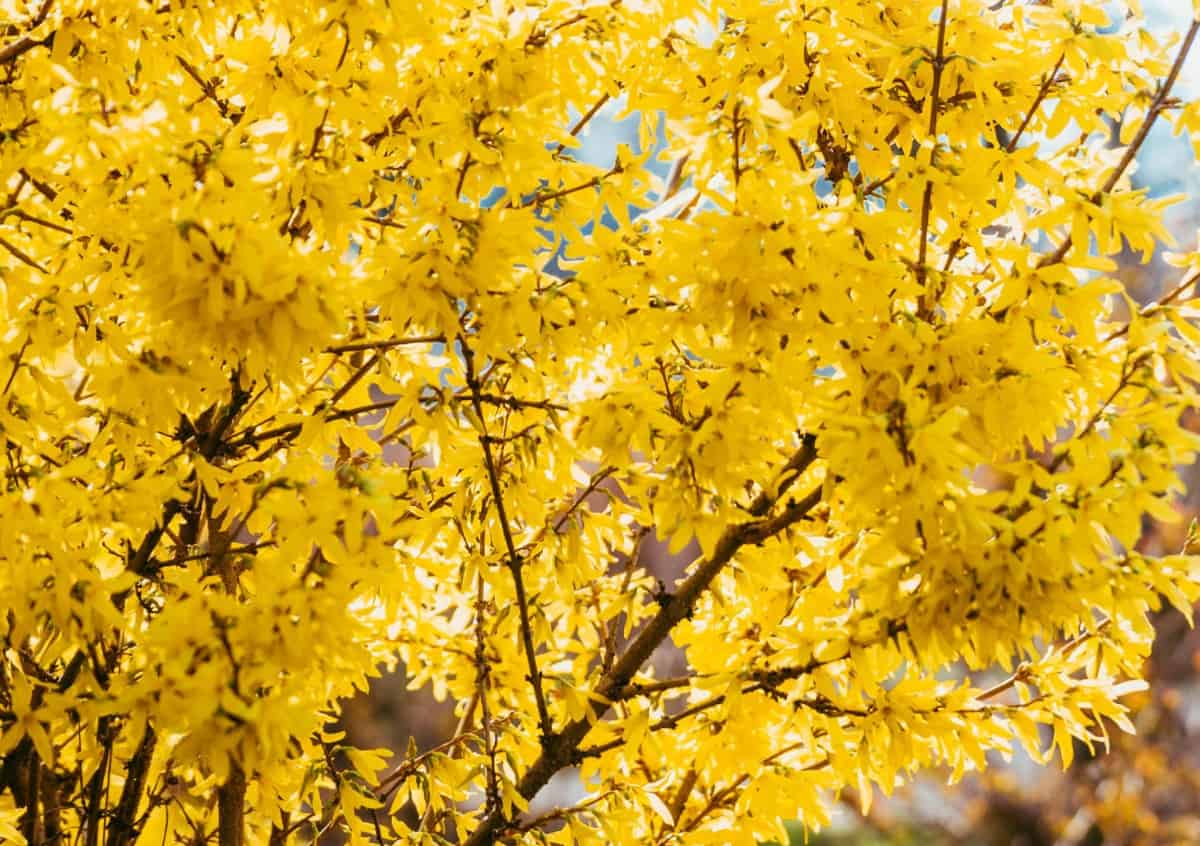 Golden Bells, which belongs to the olive family, is named for the small yellow flowers that fill the long branches in the early spring. The striking flowers and beautiful foliage make Golden Bells an outstanding choice for an attractive and showy privacy hedge, but they also work as a focal point.
When choosing the planting location for Golden Bell shrubs, look for one with full sun and decently draining soil. Mature shrubs grow eight feet tall with a five-inch width. Flowers appear before the leaves begin to bud in the spring.
Mountain Laurels (Kalmia latifolia)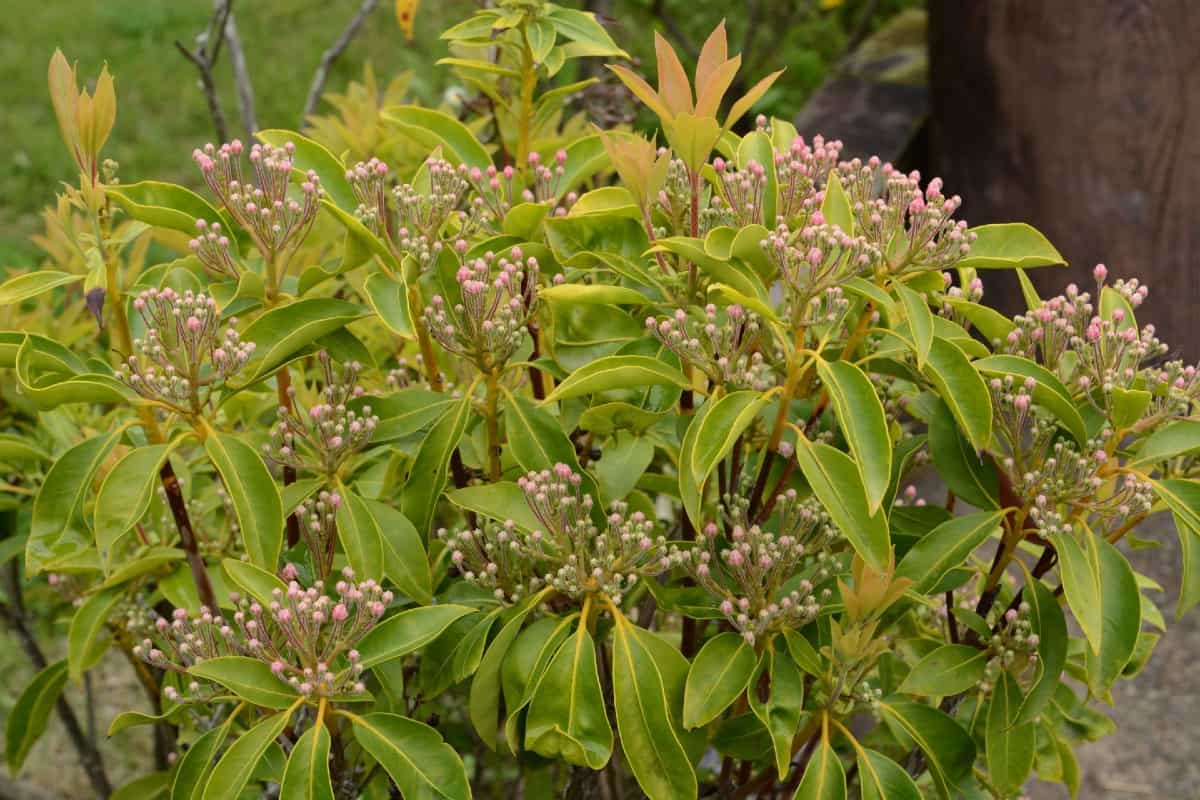 The multi-stemmed growing ability of the broadleaf evergreen Mountain Laurel makes it a popular choice for small hedges. The dark green elliptical leaves sit underneath clusters of pink, white, or rose blooms that appear in the late spring to early summer.
Cut back flower clusters once they finish blooming. When transplanting Mountain Laurels, do so at the beginning of spring after the last frost or in the first part of summer.
When planting in groups, keep these amazing shrubs for hedges six feet apart to ensure there is room to spread. They do tolerate full sun but grow best in partial shade with well-draining acidic soil.
English Holly (Ilex aquifolium)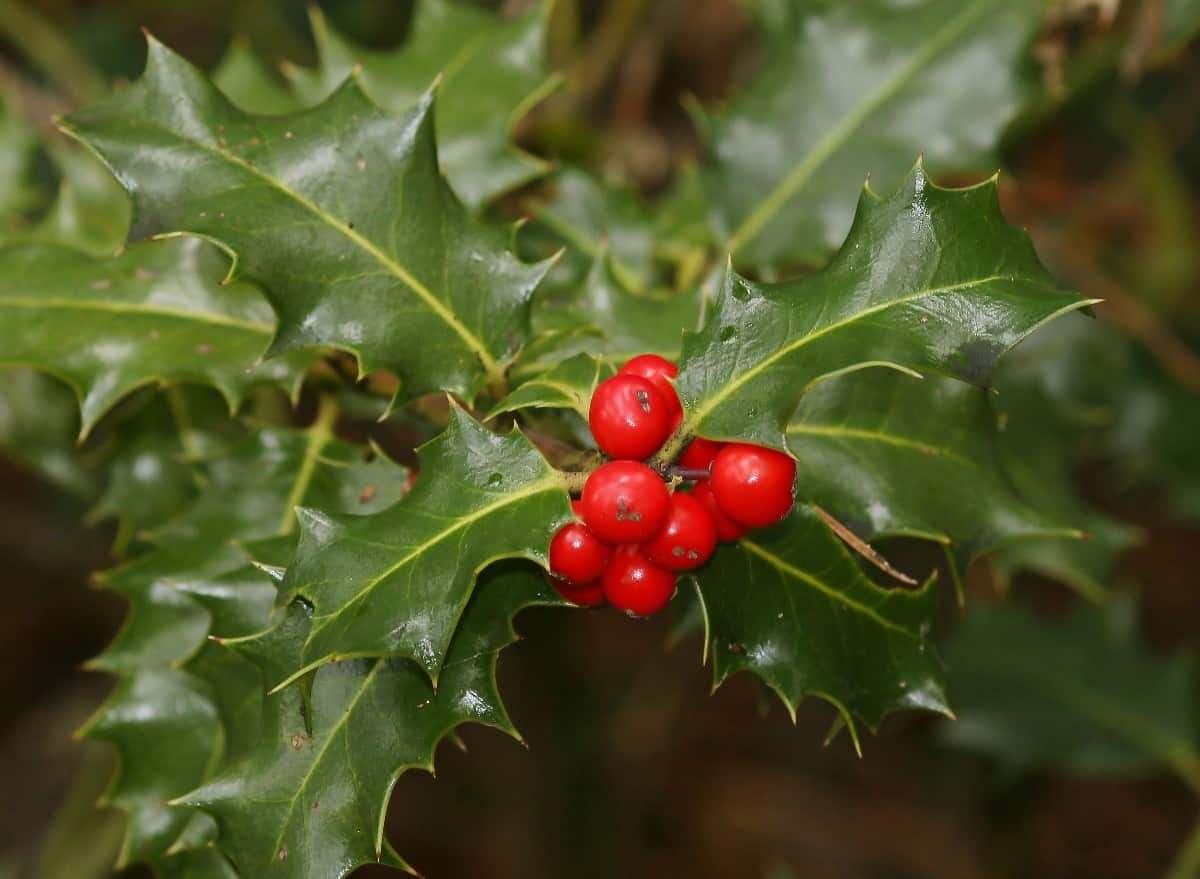 English Holly, especially the variegated ones, provides beauty with their shiny green leaves and bright red berries. They serve as a small hedge but also highlight other flowers during the summer. To prevent a sprawling bush, prune back your shrub each year.
Plant English Holly in the early spring or fall when there is plenty of rainfall and colder temperatures to allow for more natural settling. Holly requires acidic soil with good drainage in full sun, although they tolerate less than ideal growing conditions.
Flowering Shrubs for Small Living Fences – Azaleas (Rhododendron x Gable Stewartstonian)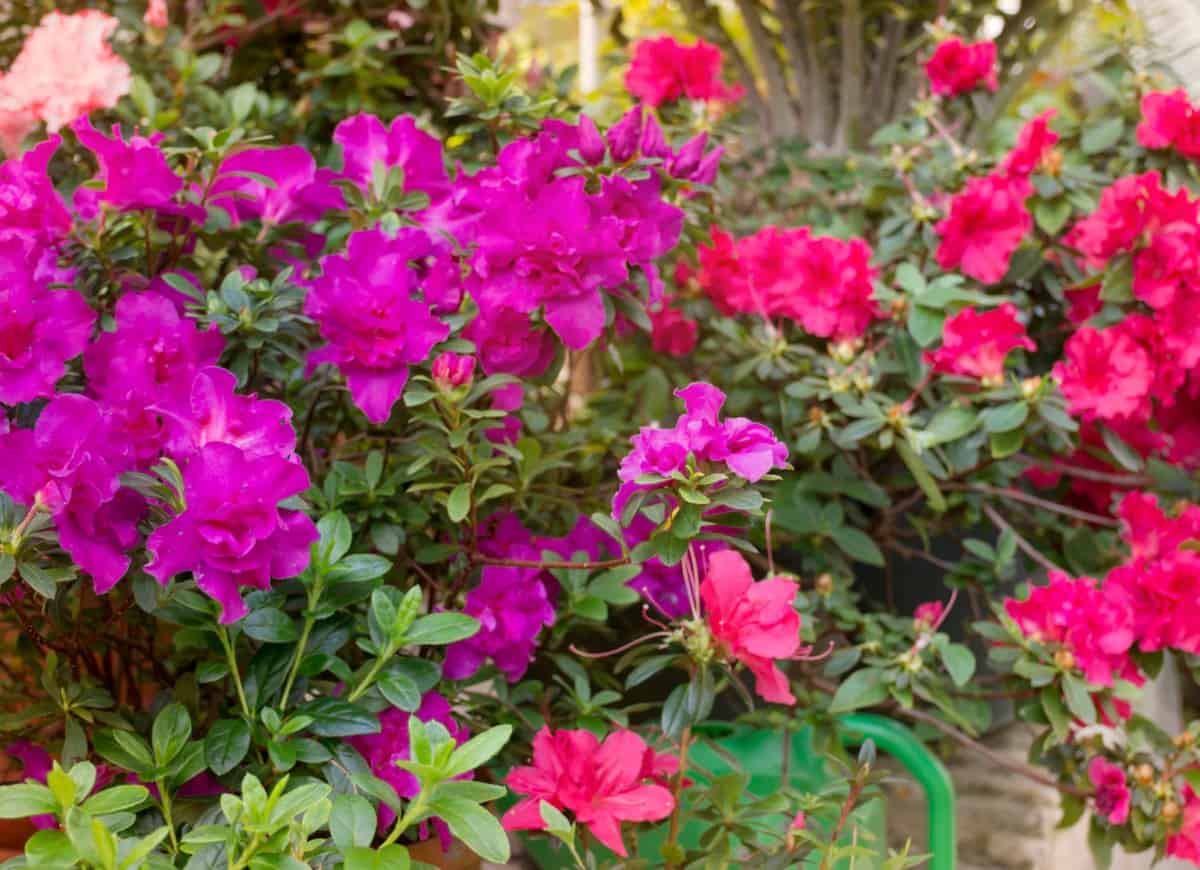 While all Azaleas are members of the Rhododendron family, not all Rhododendron plants are considered Azaleas, so read the labels carefully when purchasing.
Azalea leaves are smaller in size, plus the overall size of the plant is smaller with Azaleas compared to Rhododendrons. Azaleas are flowering dwarf shrubs that feature five stamens compared to ten.
The Stewartstonian features a dense branch structure, making it the ideal choice for privacy hedges, plus it provides brilliant fall color. Yellow, pink, white, red, or orange flowers open in the spring in zones five through eight. Plant in full sun in acidic soil; you can keep it moist.
Rose of Sharon (Hibiscus syriacus)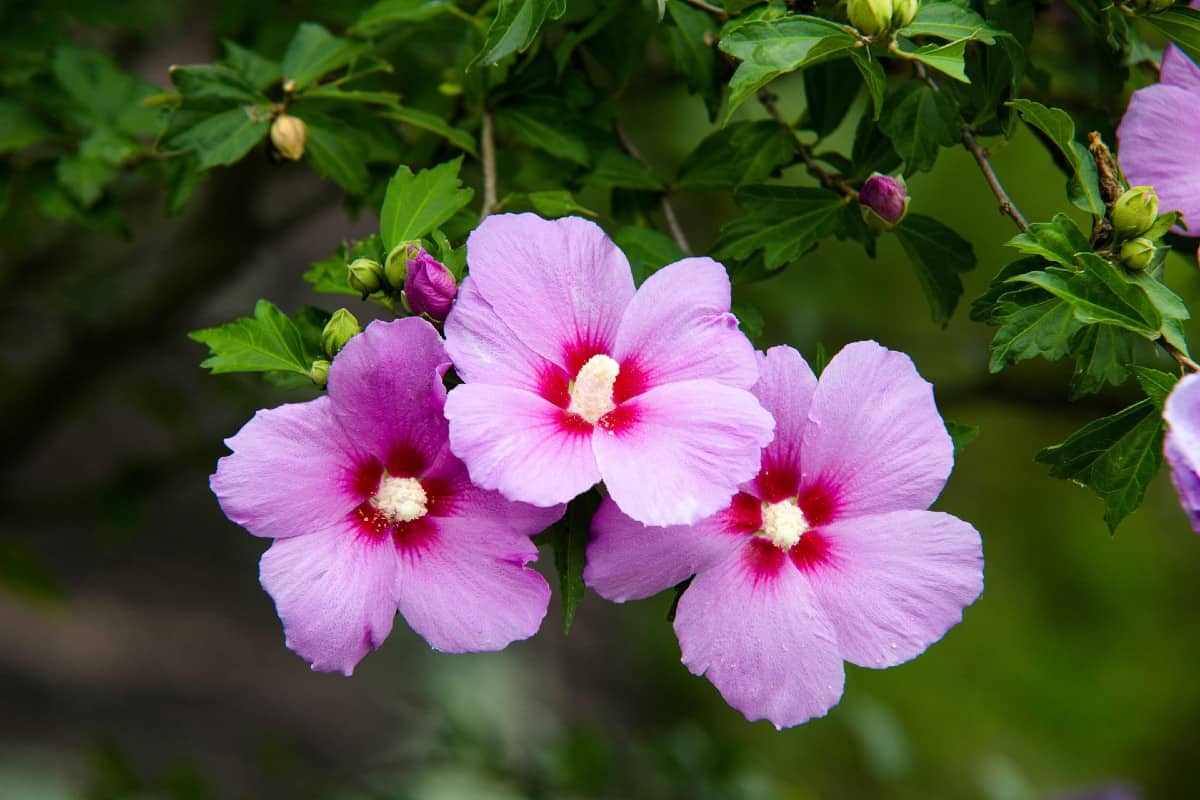 Like several other hibiscus plants, the Rose of Sharon offers attractive flowers with a prominent stamen. It stands out in the United States because it's a late bloomer, and flowers don't start showing up until August.
A deciduous shrub, Rose of Sharon belongs to the mallow family and grows 10 feet tall with a five-foot width. For the best growth, plant Rose of Sharon in proper draining soil; keep it moist.
Always plant Rose of Sharon in full sun to lower the risk of fungal disease, especially in older plants. This shrub naturalizes to various areas and conditions, including pollution, drought, and humidity.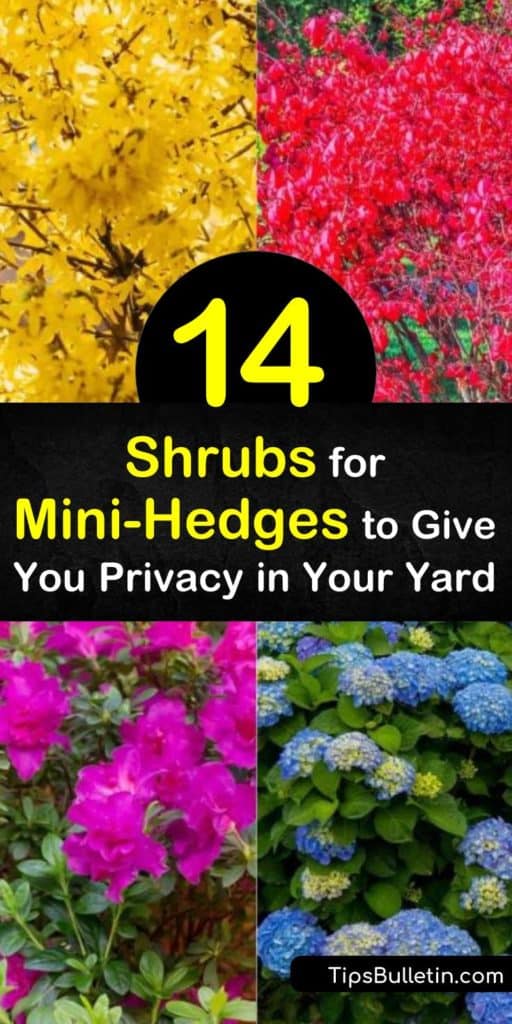 Thank you for reading about the shrubs we feel would make great mini-hedges in your yard. If you found any of our shrub ideas useful, please share our thoughts on the best shrubs for small hedges you can use for privacy in your yard with others on Facebook and Pinterest.