As summer rolls around, our days grow longer, and the temperatures get hotter. The sun is at its hottest during the spring and summer months, and the plants that are best able to withstand the hot, dry conditions are shrubs for sun.
Growing plants in such intense heat is challenging. Although sunlight is essential for most plants, the arid conditions that accompany it leave shrubs dehydrated and cause them to wither and die.
Shrubs for sun are some of the hardiest plants when it comes to surviving the summer heat. A shrub is usually considered a small or medium-sized plant.
They often have woody stems and multiple branches that rise from the ground. Unlike trees, shrubs have shorter heights, generally under 30 feet, and lack a single trunk.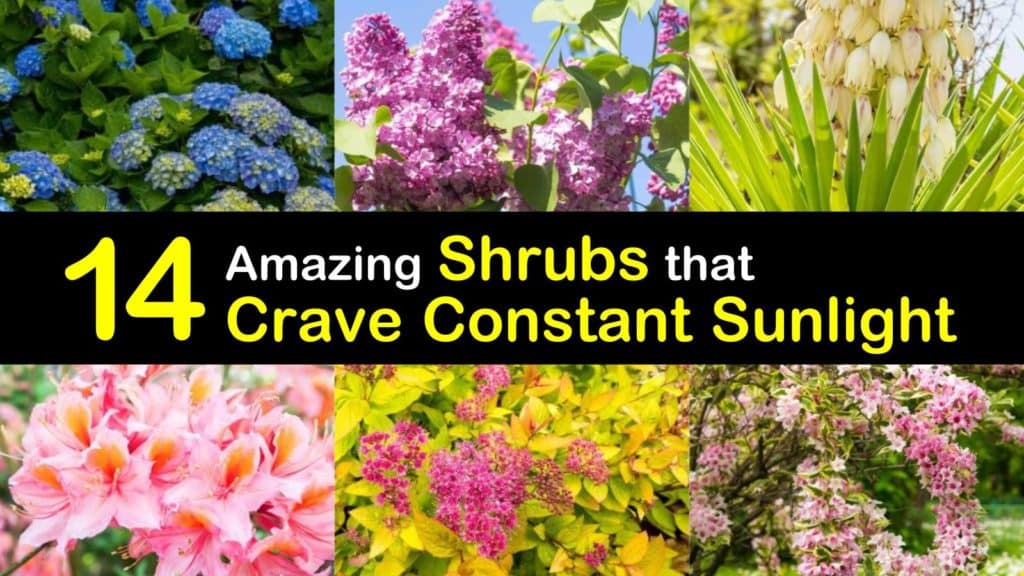 Sun-Loving Shrubs
Sunlight provides plants with the food necessary for growth and reproduction. Plants are autotrophs, which means they make their food source.
The shrubs use energy given off from the sun, combined with water and gas from the air, for photosynthesis to make sugars. Photosynthesis starts when plants absorb carbon dioxide from the air.
The plant's stems, roots, leaves, and flowers have tiny holes that take the sun's energy and assist it in performing this task. The sunlight triggers chemical reactions that break down the gases and water to create their food.
Once they make the food, chloroplast cells turn that food into energy for the plant to repeat the process all over again. Thankfully, there are plenty of shrubs for sun to choose from.
Pink, yellow, purple, red, and white flowers and leaves soon make your house their home and deliver magnificence and texture throughout the growing seasons.
Common Shrubs for Sun: Hydrangeas (Hydrangea macrophylla)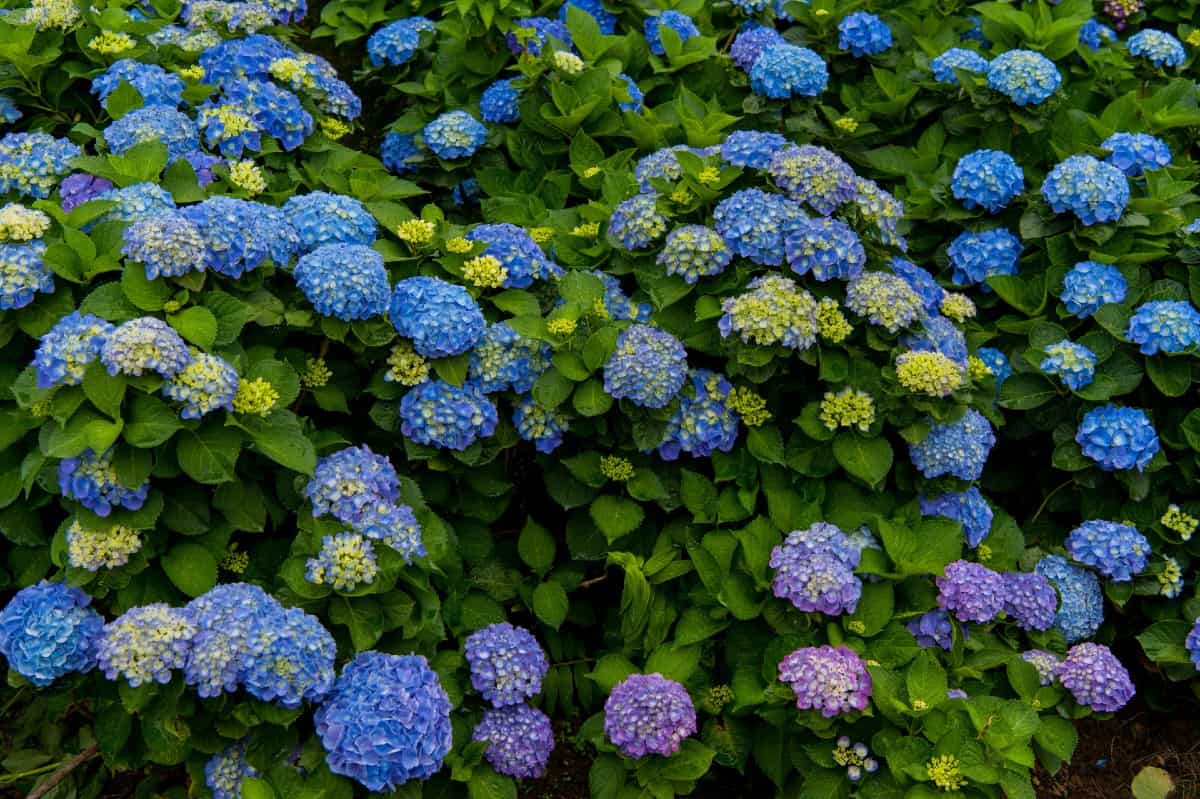 Hydrangeas are some of the most attractive flowering shrubs for sun. These shrubs have large snowball-shaped clusters of flowers that turn white, pink, blue, and lavender, depending on the soil's acidity.
They are hardy, super easy to grow, and resist many pests and diseases. Most hydrangea plants like places with full sun or partial shade. For especially hot weather, giving them afternoon shade is essential.
Plant hydrangeas in the early spring after the last frost is over. Give them a deep watering about once per week during the dry season, and this plant gives you years of eye-catching beauty.
Viburnum (Viburnum dentatum)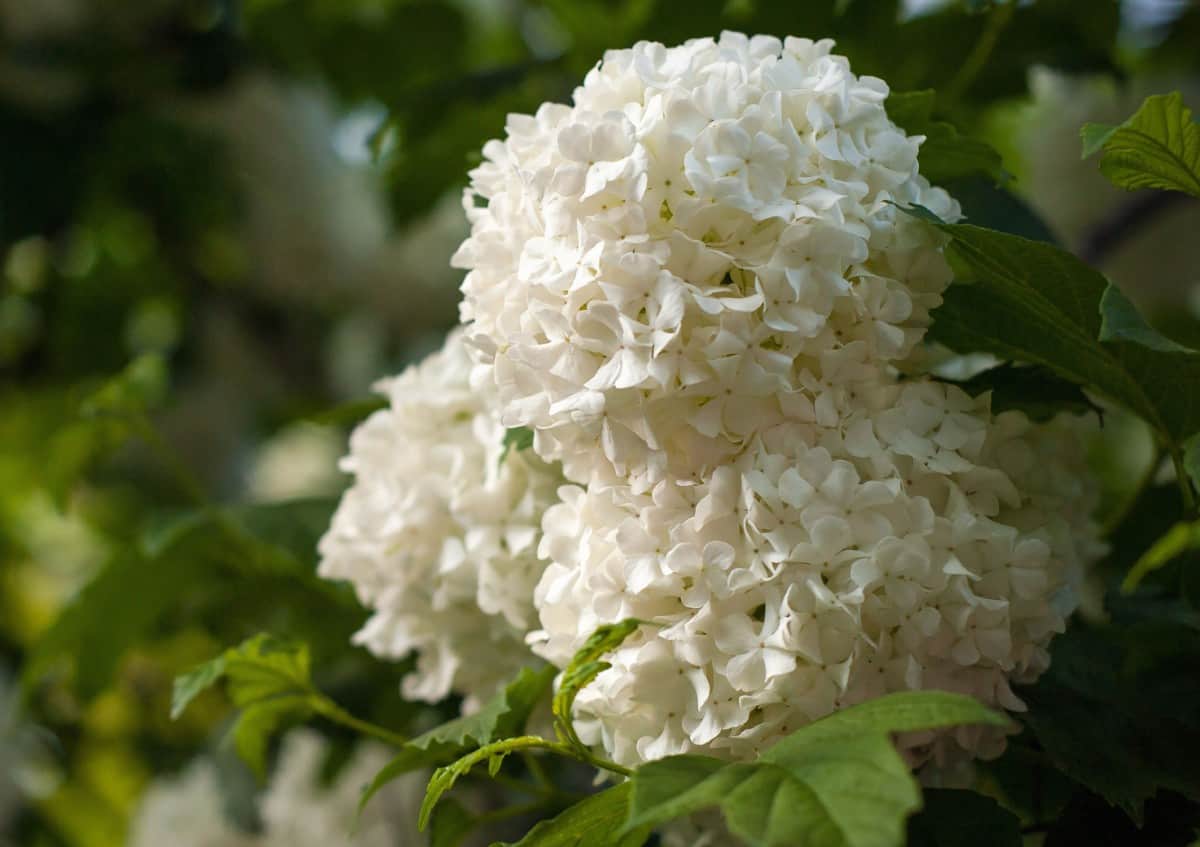 Viburnum is another shrub that offers a unique look to garden beds. They have large clusters of white flowers that provide contrast against the dark green foliage.
Some varieties also produce blue and red berries and vibrant fall color. This shrub has species that grow up to 20 feet high.
Most viburnums are bushes for full sun, but some species tolerate partial shade as well. Space each shrub so that they are five to 15 feet away from one another, depending on the type. Water them during the dry periods of summer and add mulch to retain moisture.
Weigela (Weigela florida)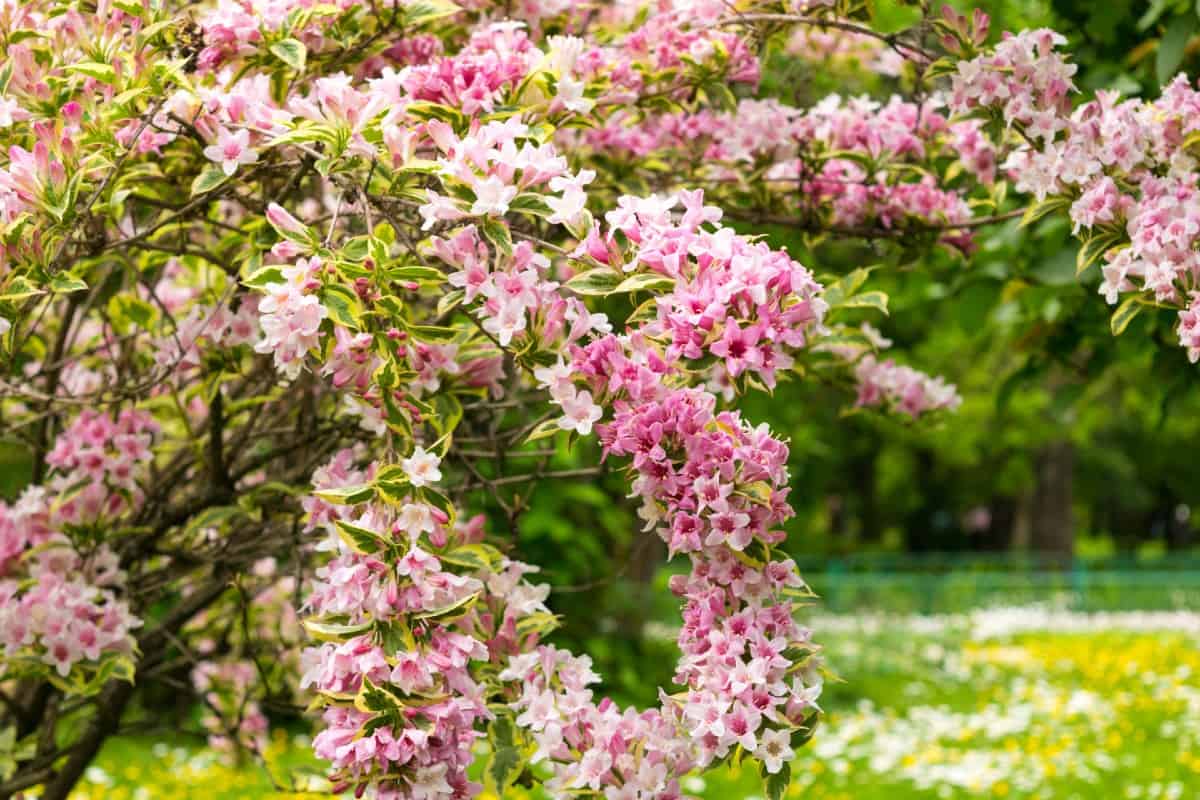 Weigela is a shrub often used for border planting and groundcover. They have star-shaped, white, and pink flowers with variegated foliage.
These bushes bloom copiously in the early spring with several random blooms throughout the summer. A mature shrub grows ten feet high and ten feet across, so it demands a lot of room.
Plant weigela shrubs in full sun or light shade. Place them in moist, well-draining soil with a few full sun ferns in front to cover up the bare spots at the base. At the beginning of the growing season, prune weigela to your desired shape and fertilize them once per year.
Azalea (Rhododendron indicum): Sun-Loving Shrubs with the Prettiest Blooms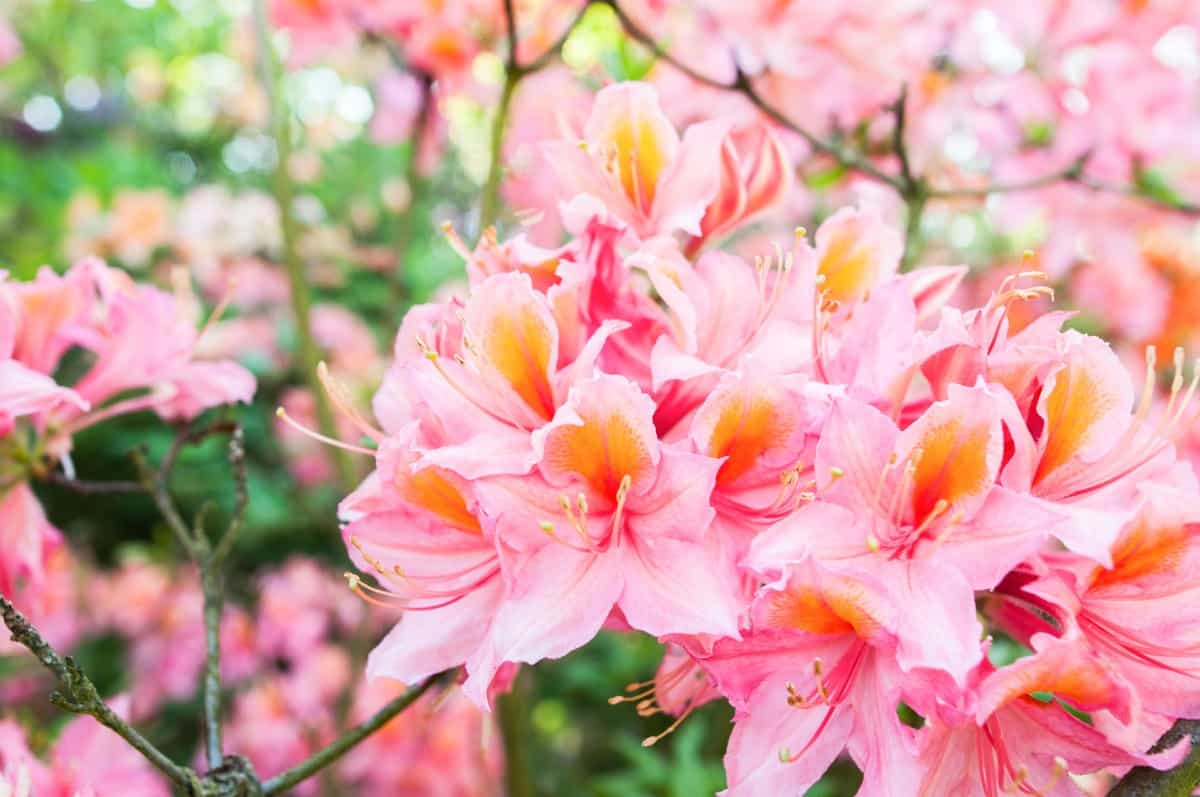 Azaleas have some of the prettiest spring blooms. They also have a reputation for being hardy and low maintenance, making these shrubs for sun a winner for gardeners and homeowners.
The flowers encompass the whole bush, meaning they look best when planted either alone or in mass plantings. Plant azaleas in the early spring in lightly shaded areas. Because they have shallow roots, they require soil that is well-draining and slightly acidic.
Add compost before planting and mulch a two-inch thick layer around the base. If your land is low in nitrogen, applying fertilizer might be necessary.
Forsythia (Forsythia suspensa)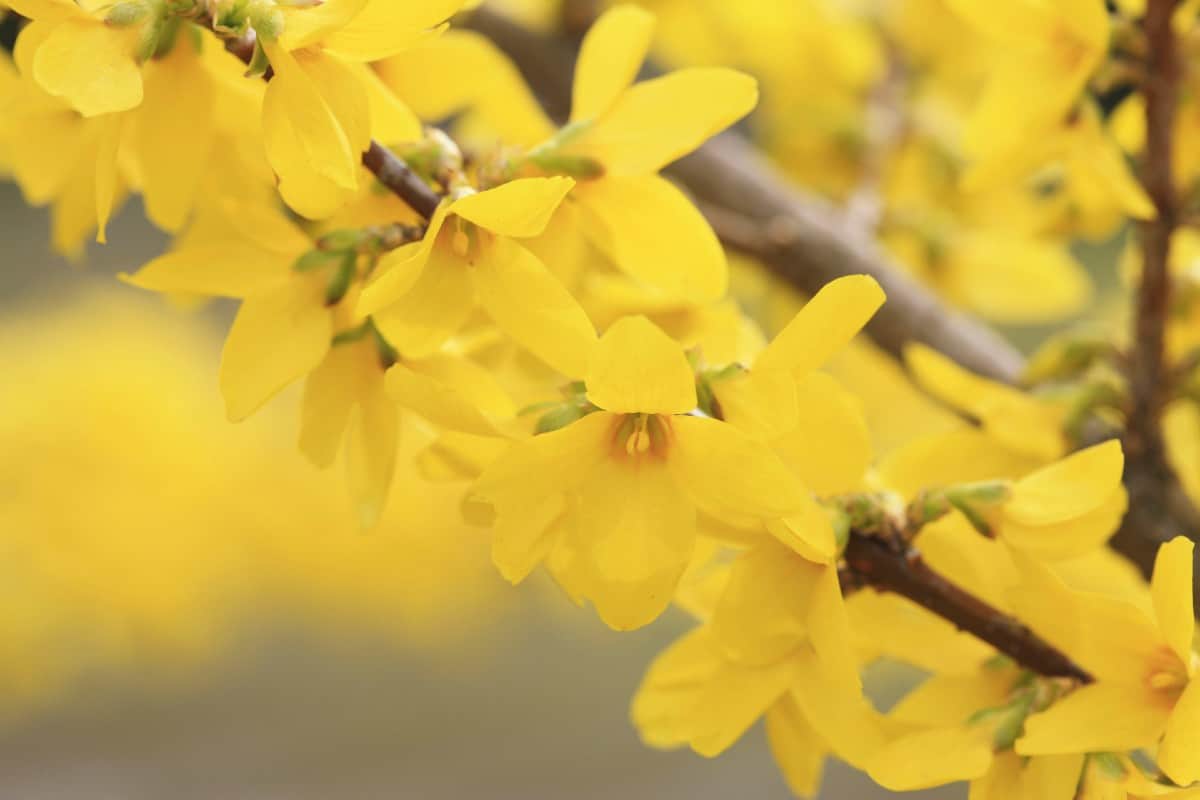 Forsythia bushes add some drama around your flower beds in the early spring with their vibrant, star-shaped yellow flowers. After the flowers fall, these shrubs provide light green foliage throughout the rest of the growing season.
Forsythia bushes enjoy having at least six hours of sun every day for maximum blooms. They also prefer well-draining soil.
Soil that is too wet may cause root rot. Add organic matter to the earth once per year and mulch around the base to retain moisture and keep weeds at bay.
Japanese Meadowsweet (Spiraea japonica)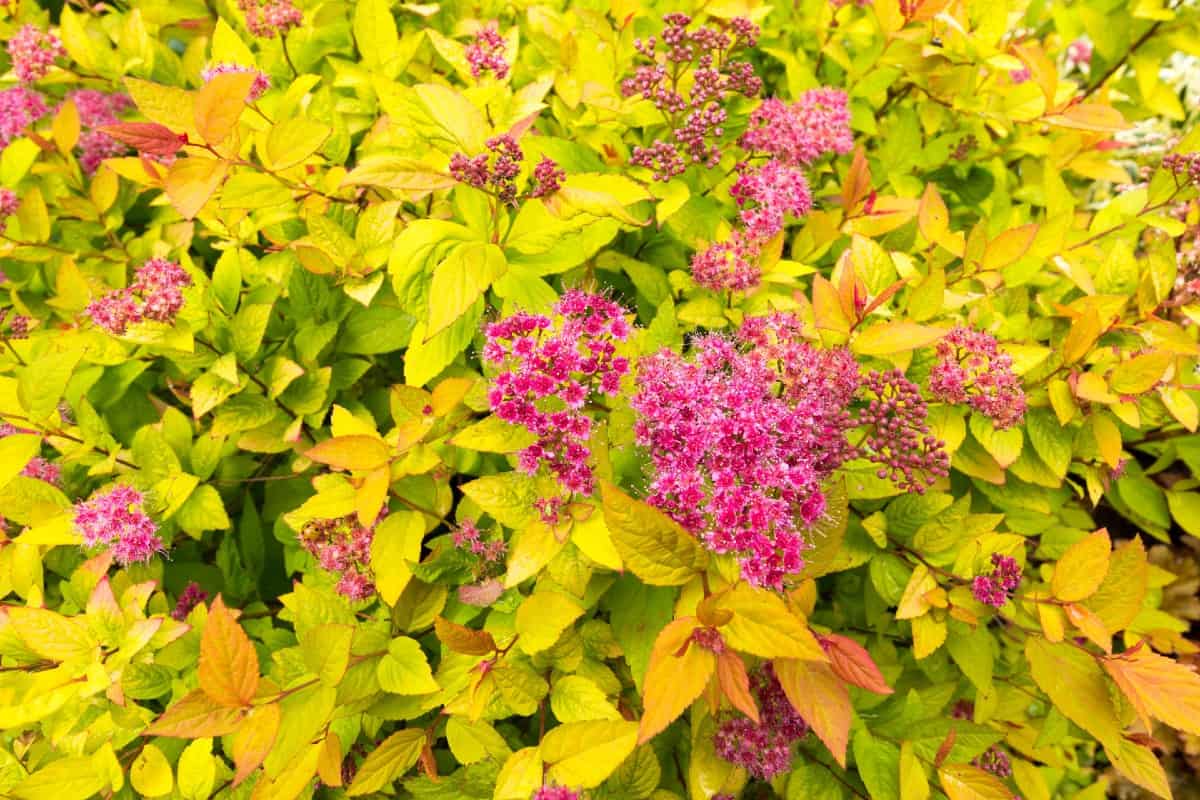 Japanese meadowsweet is a type of mid-sized spirea. It has airy, white and pink blossoms and green foliage that changes to red, orange, and yellow.
Meadowsweet shrubs grow up to six feet tall and six feet wide and are hardy in USDA hardiness zones four through nine. Japanese meadowsweet prefers full sun and soil that is rich in organic matter.
Apply a slow-release fertilizer to these low profile shrubs once every spring and keep the soil moist but not soggy. Prune the bushes back after the last frost. When planting, place them in an area where the roots and branches grow freely.
Aromatic Sun Shrubs – Lilacs (Syringa vulgaris)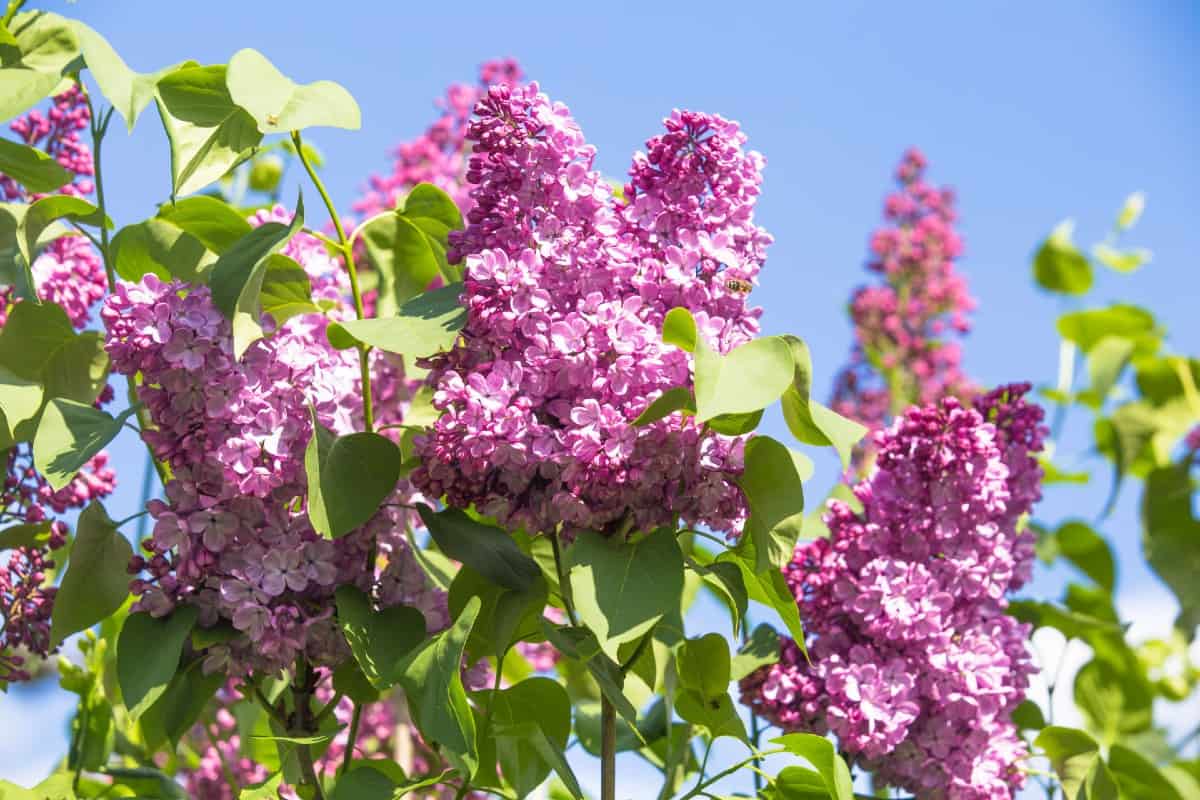 Lilac shrubs produce some of the most appealing aromatics throughout their blooming season. The flowers range from pink to purple that bloom from the early to late spring. Lilacs also attract pollinators like bees and butterflies.
Dwarf species grow to be around eight feet tall, while larger varieties grow to be 30 feet tall. Plant lilac shrubs in the spring or fall. If planting more than one, make sure they are at least five feet apart.
Choose a location with lots of afternoon sun and well-draining soil. Add a layer of mulch around the plant to prevent weeds and retain moisture.
Hibiscus (Hibiscus syriacus)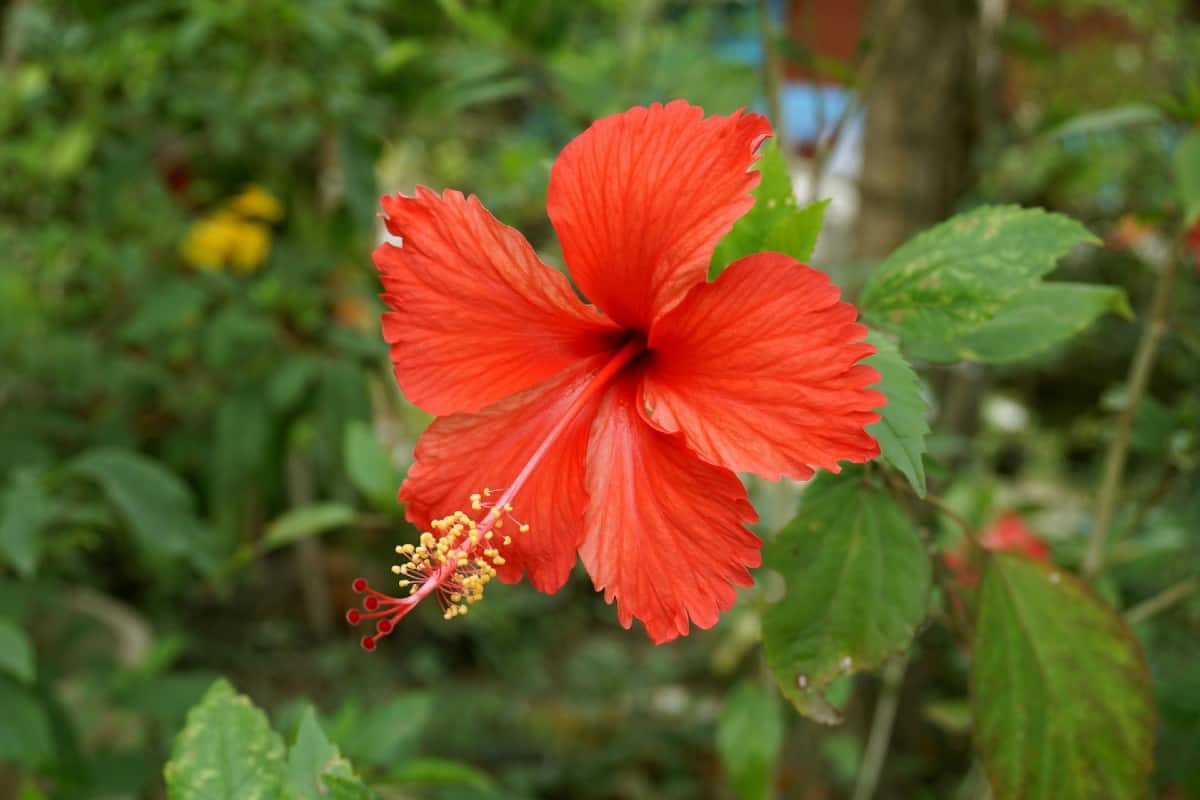 Hibiscus shrubs produce tropical-looking flowers that bring a feeling of paradise to your yard. Lots of people choose to grow these shrubs in containers so that they can move them to suitable locations throughout the year.
The flowers are enormous and come in a multitude of colors. Hibiscus requires at least six hours of sunlight each day, especially if you want to see healthy blooms.
Although hot, humid conditions are ideal for this shrub, afternoon shade is appreciated during the warmer months. They cannot tolerate below-freezing temperatures, however, so they need to be moved indoors if you live in an area with harsh winters.
Butterfly Bush (Buddleia davidii)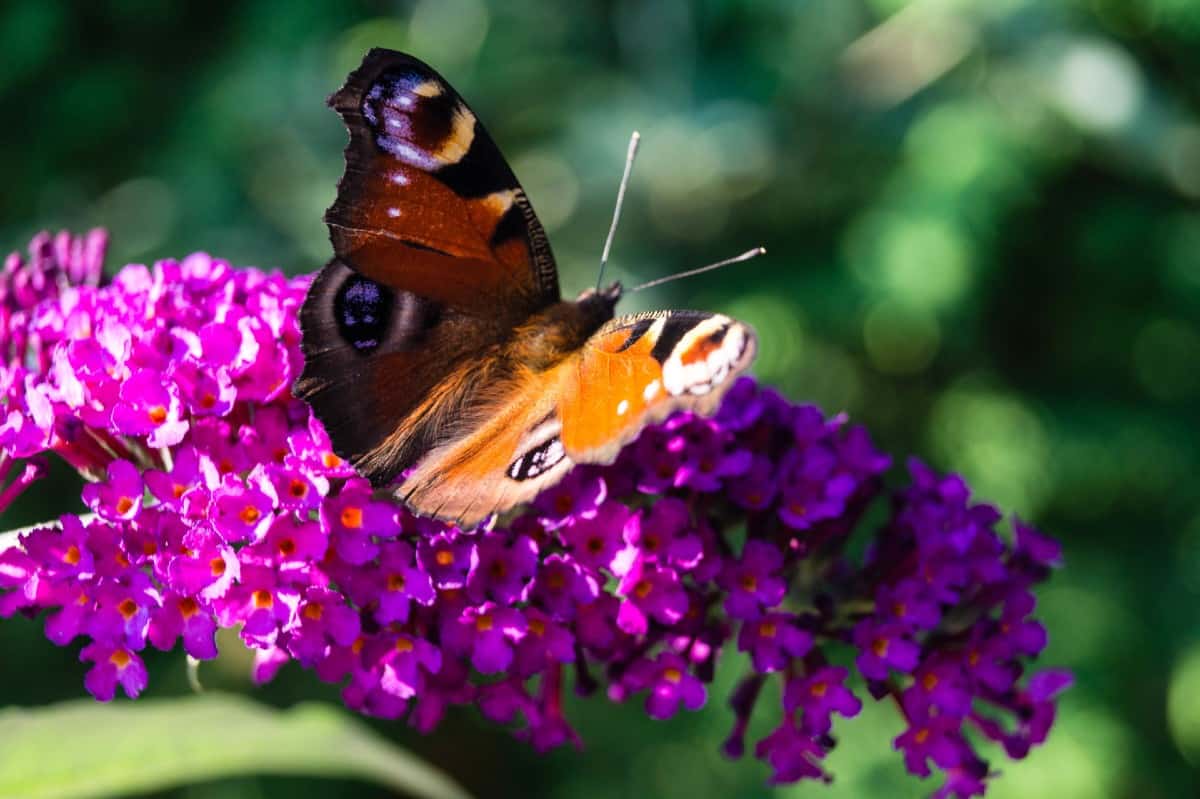 Butterfly bushes are fast-growing shrubs with long panicles of flowers that grow from late spring to late summer. They are hardy up to zone five while keeping their leaves all year in regions south of zone eight.
Keep in mind that butterfly bushes are considered invasive in some regions of the United States, so make sure they are permitted in your region.
Butterfly bushes are evergreen small shrubs for full sun that appeal to butterflies, but they are not host plants, meaning that butterfly larvae are unable to feed off them, despite providing nectar for the adults.
If you want to start a butterfly garden, add milkweed or aster around your beds. Butterfly bushes prefer moist soil. Plant them five to ten feet apart and water regularly.
Ninebark (Physocarpus opulifolius) – Shrubs with Unique Summer Foliage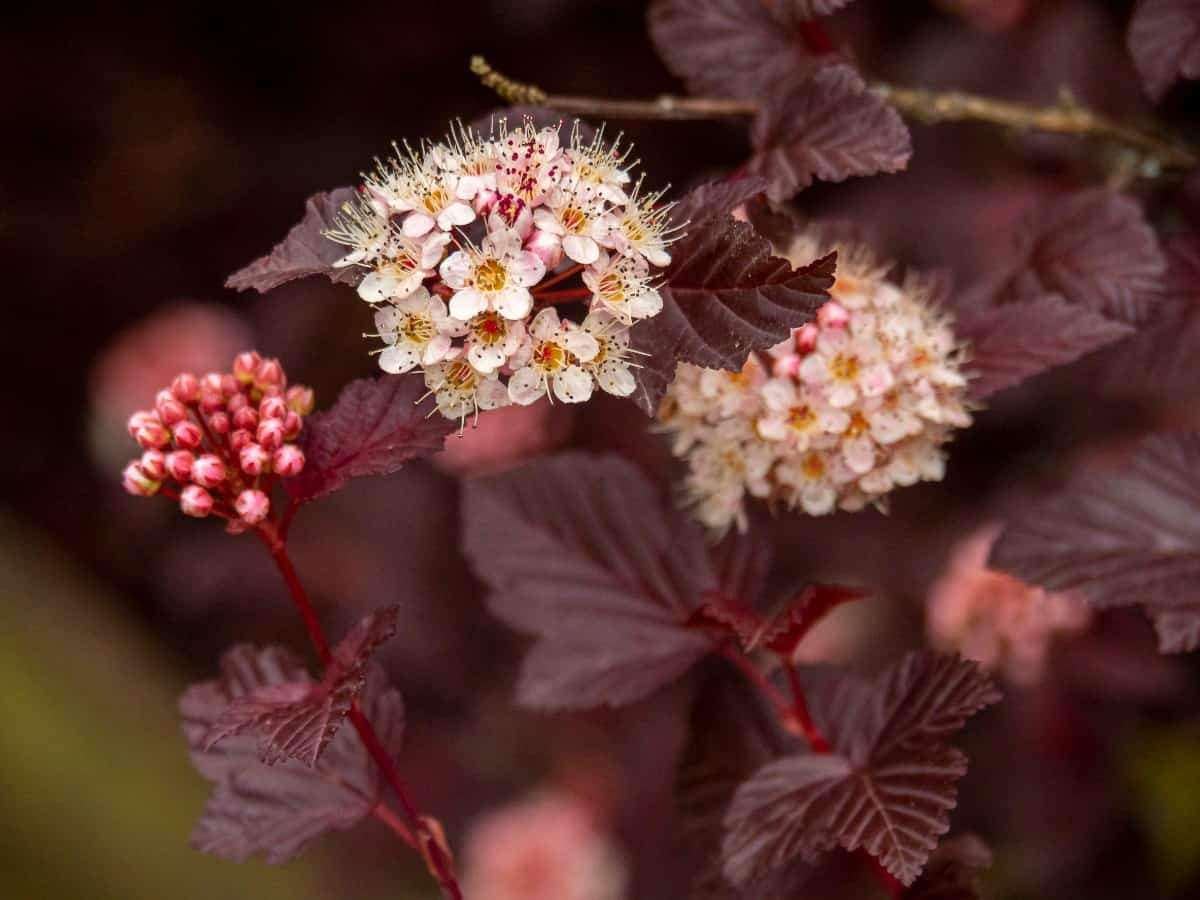 Ninebark is a common shrub used for foundation plantings, hedges, and erosion prevention. The name comes from the bark that peels off in layers.
Reddish, dark-green leaves, pink and white flowers bloom in the late spring, and red fruit appears in late summer through autumn. Ninebark shrubs prefer soil with medium moisture.
If you live in a cold climate, plant ninebark in a location with full sun or areas with partial shade in warmer regions. Ninebark is hardy in zones two through seven and requires pruning around mid-August.
Use these attractive and fast growing flowering bushes for privacy to shield your yard from nosy neighbors or to create a welcome oasis to enjoy after a hard day at work.
Dogwood (Cornus sanguinea)
Adding dogwood shrubs to your garden is a great way to incorporate color during the winter months. This shrub has yellow-green foliage in the summer and fall with gold and red stems in the fall and winter.
Tiny, white flowers appear in late spring and attract pollinators like butterflies and birds. Dogwood grows up to six feet tall. Dogwood prefers full sun to part shade and soil rich in organic matter.
Water the ground regularly to provide a medium amount of moisture. Dogwood is practically pest-free, deer resistant, and easy to maintain.
Flamingo Willow (Salix integra)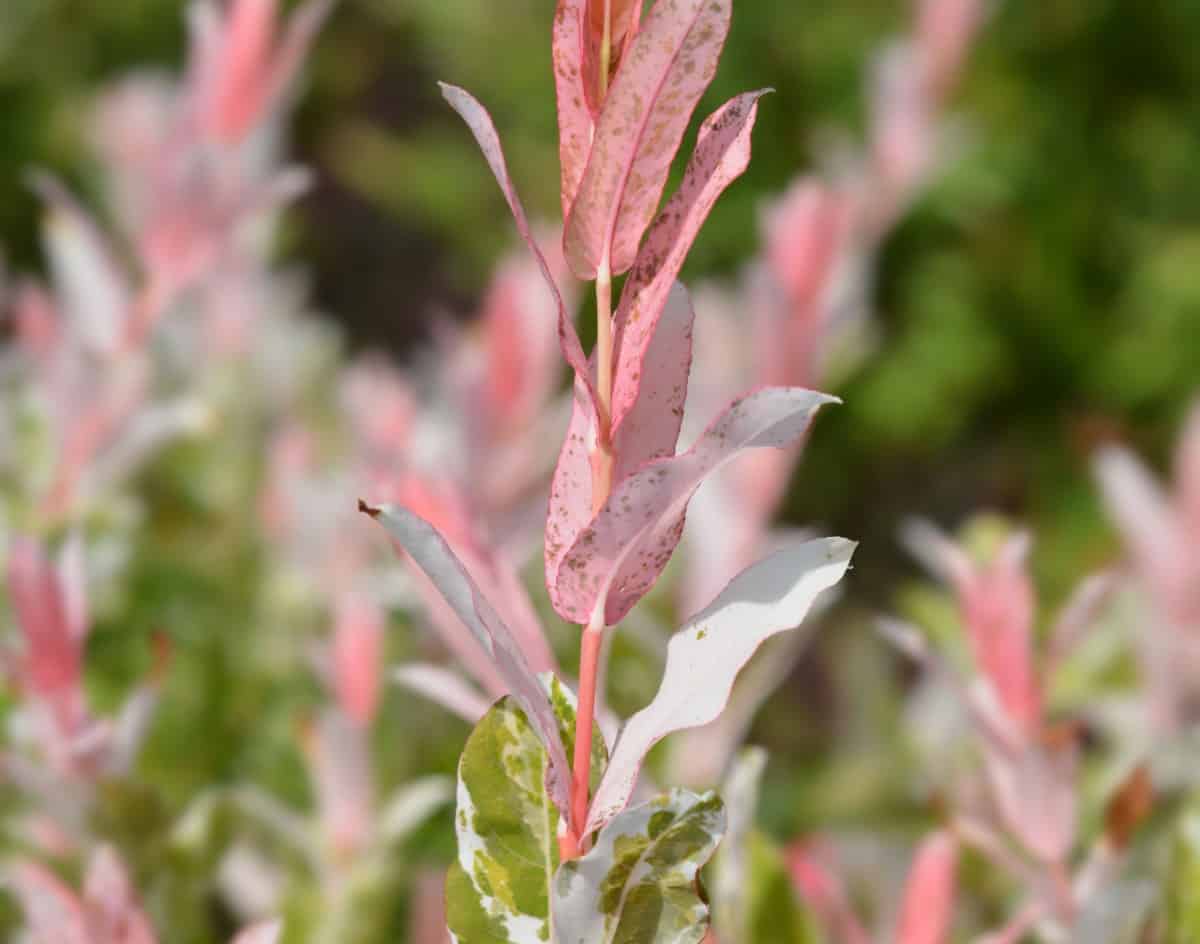 The flamingo willow shrub has variegated foliage with blooms of white and flamingo pink in the spring. It is fast-growing and even offers a pop of red from the stems in the winter.
Because it grows so fast, it requires constant pruning, so keep this in mind when considering adding this shrub to your garden. Flamingo willows like moist, well-draining soil in areas that receive over six hours of sunlight per day.
However, it tolerates part shade if necessary. Water this shrub frequently, especially during the dry summer months.
Adding mulch to the ground around the area of the plant helps lock in moisture. Add fertilizer once per year if desired, but it is not required for a healthy plant.
A One-of-a-Kind Sun Shrub – Beautyberry (Callicarpa Americana)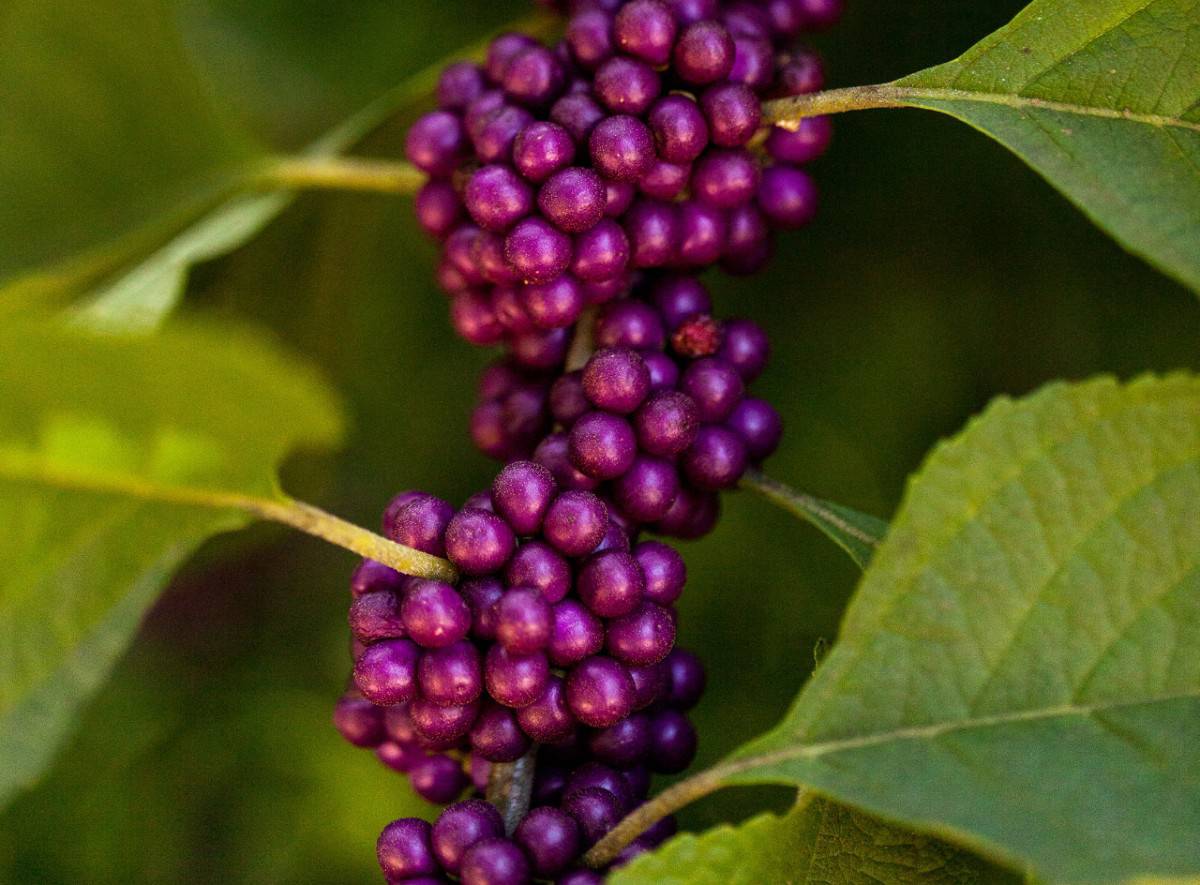 Beautyberry shrubs and plants stand out in a garden. The flowers aren't anything over the top in the late summer. However, the jewel-toned, purple berries are captivating against the yellow fall foliage.
The berries last several weeks, that is, if the birds don't eat them all first. The shrubs grow three to eight feet tall. Plant beautyberry shrubs in well-draining soil and areas with light shade.
If the soil lacks nutrients, add compost to the dirt before planting. Make sure they have an inch of water each week. Once they are mature and established, these shrubs are drought tolerant and easy to care for.
Adam's Needle (Yucca filamentosa)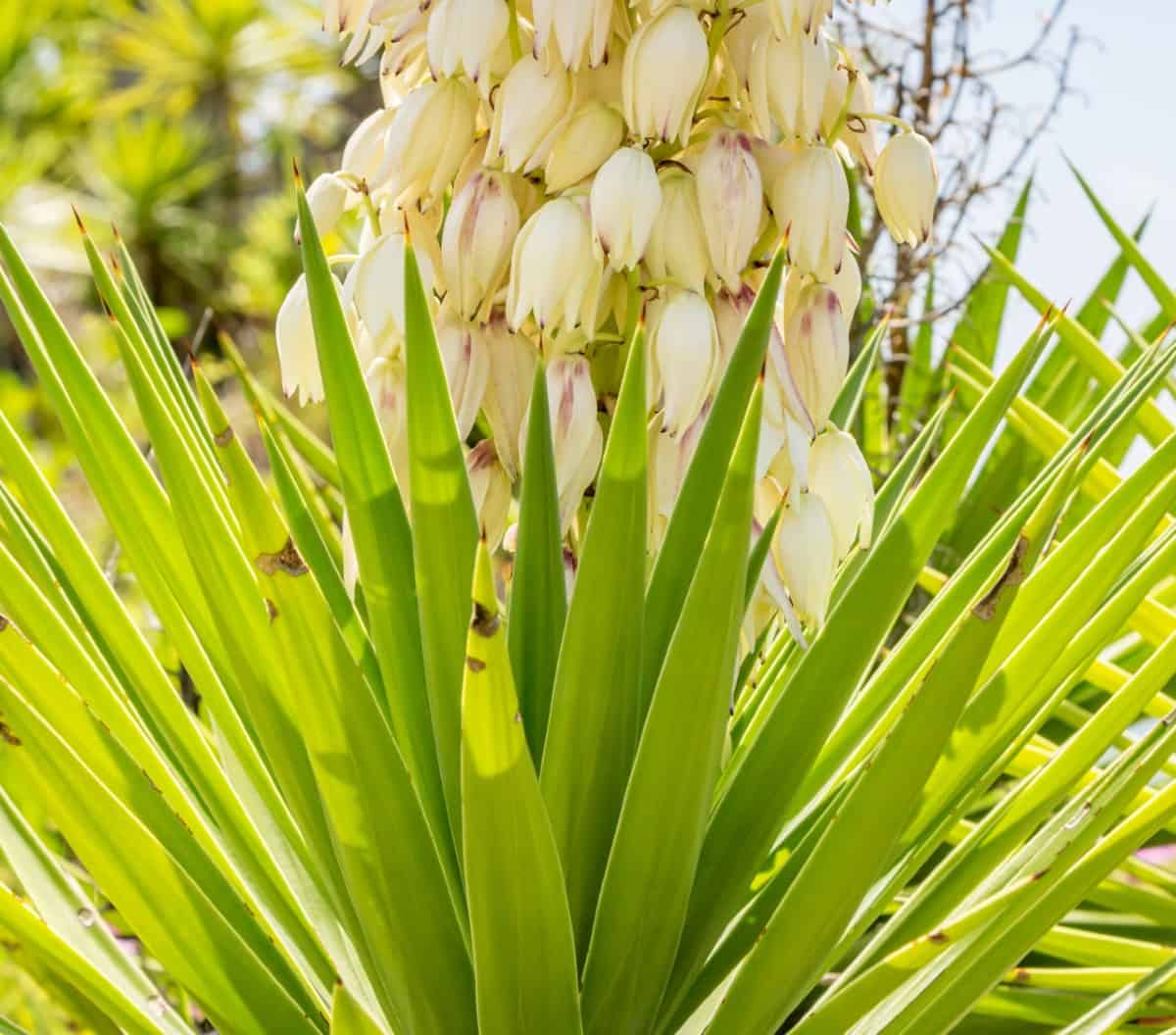 Adam's needle, also called yucca, is a broadleaf evergreen plant. It has close relations to a lot of cacti, succulents, and even asparagus. Not counting the flowers, yucca grows to be about three feet tall.
It has blade-like leaves and a taller flower stalk in the center with drooping, white blooms. The flowers sometimes double the height of the plant, reaching nearly eight feet tall.
Adam's needle shrubs are hardy in USDA zones five through ten. It requires moist, well-draining soil. Because fertile soil isn't necessary, chances are this plant thrives in areas around the home where other plants don't.
Yucca prefers full sun or light shade. Once established, it is drought tolerant, deer and rabbit proof, and attracts butterflies.
Don't let the summer heat beat you down. While there are a lot of plants that prefer a little shade, there are more that enjoy spending time in the sunshine.
Shrubs for full sun are some of the toughest plants out there. Many have spectacular blooms and appealing foliage that change colors with each season. Shrubs are easy to maintain and often become drought-tolerant once they are mature and established.
If these shrubs for sun are tough enough to withstand your region's summer heat, share these flowering shrubs for full sun on Facebook and Pinterest.