When you make the effort to design and plant a garden, you want to make it look as good as possible. Small evergreen shrubs are an excellent option for every garden not only because they are perfect for setting the foundation, but also because they look beautiful year-round.
There is so much variety with this type of plant that you can find evergreen shrubs for all soil and weather conditions. However, choosing the bushes with the look and characteristics that you want and that will thrive in your environment require a little research.
Whether you're looking for a compact shrub, flowering shrubs, or even something that will keep pests out of your garden, there is an evergreen shrub for it!
What I Know About Small Evergreen Shrubs
In this guide, we will tell you everything you need to know about planting and maintaining low growing shrubs. When you reach the end of this list, you'll know which shrubs will work best in your garden.
While shrubs are popular and make a great addition to any garden, not everyone knows how to define one. Some people might consider a shrub to be any compact plant. Others might think they are simply plants that are similar to trees but smaller, but that's not exactly the case.
Shrubs are smaller woody plants that typically have a rounded shape. They have several main stems, as opposed to trees which only have one trunk.
Shrubs come in every shape and size, from low growing shrubs to large bushes. This is why they're a favorite for gardens; they can serve so many different purposes.
From foundation planting and ground cover to simple ornamentation or structure, there is a shrub for every use. Evergreen shrubs specifically are those that live year-round, another reason why they're a favorite of gardeners.
In addition to planting bushes around the yard, some specimens work well in pots, too. There are many shrubs to grow in containers that you can put on your patio or deck or even move them to different places if you like. It's important to pick the appropriate pot size for your shrub and trim it regularly. It may require re-potting later in a larger container, as well.
How I Plant Dwarf Evergreen Shrubs
Planting low growing shrubs isn't hard; in fact, the hardest part is finding the one you like the most! Though the time of year for planting varies by the type of shrub, the early spring or the fall is usually best. Before planting, make sure the soil is ready.
If your soil is hard or is mostly clay, you'll need to break it up and add compost or manure. Make sure you have about a foot of healthy topsoil and that the spot you're planting in has good drainage.
Next, you'll need to dig a hole. Make it as deep as the container your shrub was in when you purchased it. The spot should be about two to three times as wide as the root ball of your shrub.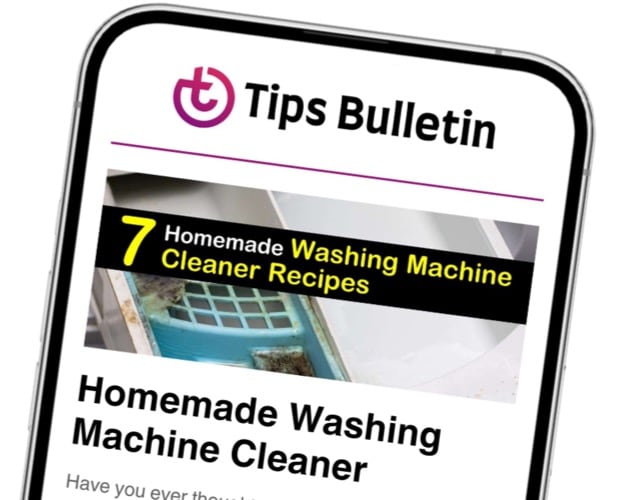 Finally, an email that Transforms Your Home.
Get the latest home and garden tips from our experts, delivered straight to your inbox.
Finally, remove the covering from the root ball and place it gently in the soil, keeping as much as the original soil as possible. Cover the roots with good quality soil and water the ground thoroughly.
How I Choose Low-Growing Shrubs for My Garden
Now that you know what shrubs are and how to plant them, you need to choose the best dwarf evergreen shrubs for your garden. Remember is that you're dealing with various plants that all grow differently. You can plant small green shrubs, low evergreen shrubs, or full flowering shrubs, but you need to make sure they won't interfere as they grow.
If you space them too closely, your plants could swamp each other or produce shade where you don't want it. Shrubs don't like to be uprooted after planting, so think long-term when planning your garden.
After reading this list of our favorite small evergreen shrubs, grab a pencil and paper and plot out where you can place your favorites. Soon enough, you'll be on your way to having the best garden in the neighborhood.
Caring for My Small Evergreen Shrubs and Bushes
Keep in mind that not all of your plants must go into the ground. Choose an evergreen plant for containers, or several of them, to brighten a corner of your patio or deck or for a prominent spot in the living room.
Vary your plants according to height and width, as well as flowering times, and use your dwarf trees for landscaping even the smallest yard. You have endless possibilities.
Bearberry (Arctostaphylos uva-ursi) – An Evergreen Shrub for Wildlife in My Yard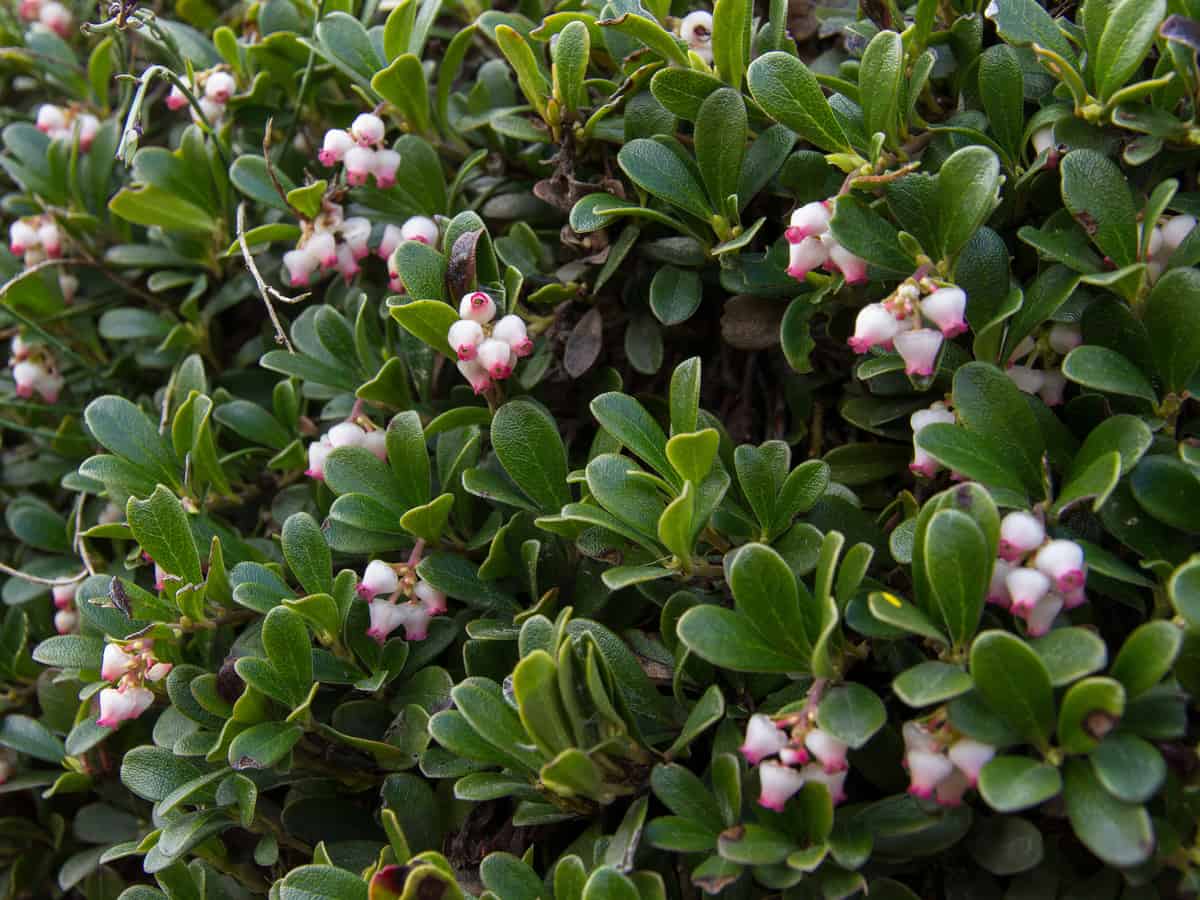 Bearberry is one of the prettiest evergreen low growing shrubs. Not only is this plant great for ground cover, but its dark green foliage, white-pink flowers, and deep red berries make it beautiful for ornamentation in all seasons.
It is also an excellent shrub to plant if you want to give back to the ecosystem. It produces nectar for caterpillars, butterflies, and hummingbirds, and serves as food for several mammals and birds. It thrives in soil low in nutrients and will grow in sandy or rocky areas from sea level to sub-alpine.
Bearberry grows to between six and 12 inches and is so versatile that it could be one of the shrubs for full sun or one of the plants that grow in shade, or at least partial shade.
Flowers typically bloom from April to July, and berries form in late summer, lasting through the winter. You can enjoy bearberry in all seasons, making it an ideal specimen for your yard or in a container on your deck or patio.
Heavenly Bamboo (Nandina domestica)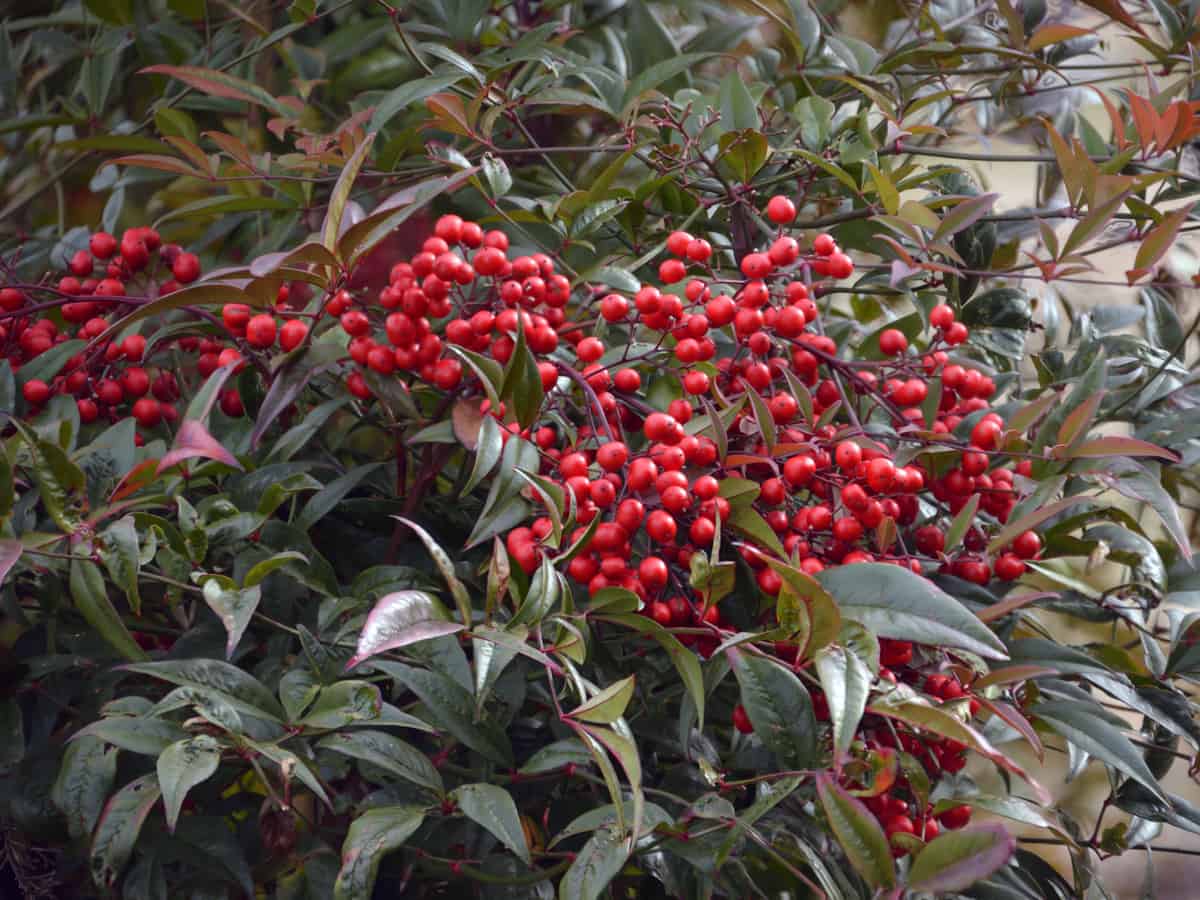 Heavenly Bamboo is a slow to a moderate-growing shrub that can reach eight feet tall and four four feet wide. It prefers full sun or partial shade, but is very hardy and can survive full shade if that's the only place you have for it to grow. It is an easy shrub for beginners, as it grows quickly in average, well-drained, moist soil.
Once established, the Heavenly Bamboo is one of the best low maintenance outdoor plants and shrubs and is drought tolerant. Heavenly Bamboo is a favorite due to its bright red berries and dark green foliage. In the spring, you will find tiny white flowers adorning the golden anthers before green berries start to grow.
Once the berries ripen to red, they last through the fall and winter. Enjoy this pretty plant in every season.
Mugo Pine (Pinus mugo)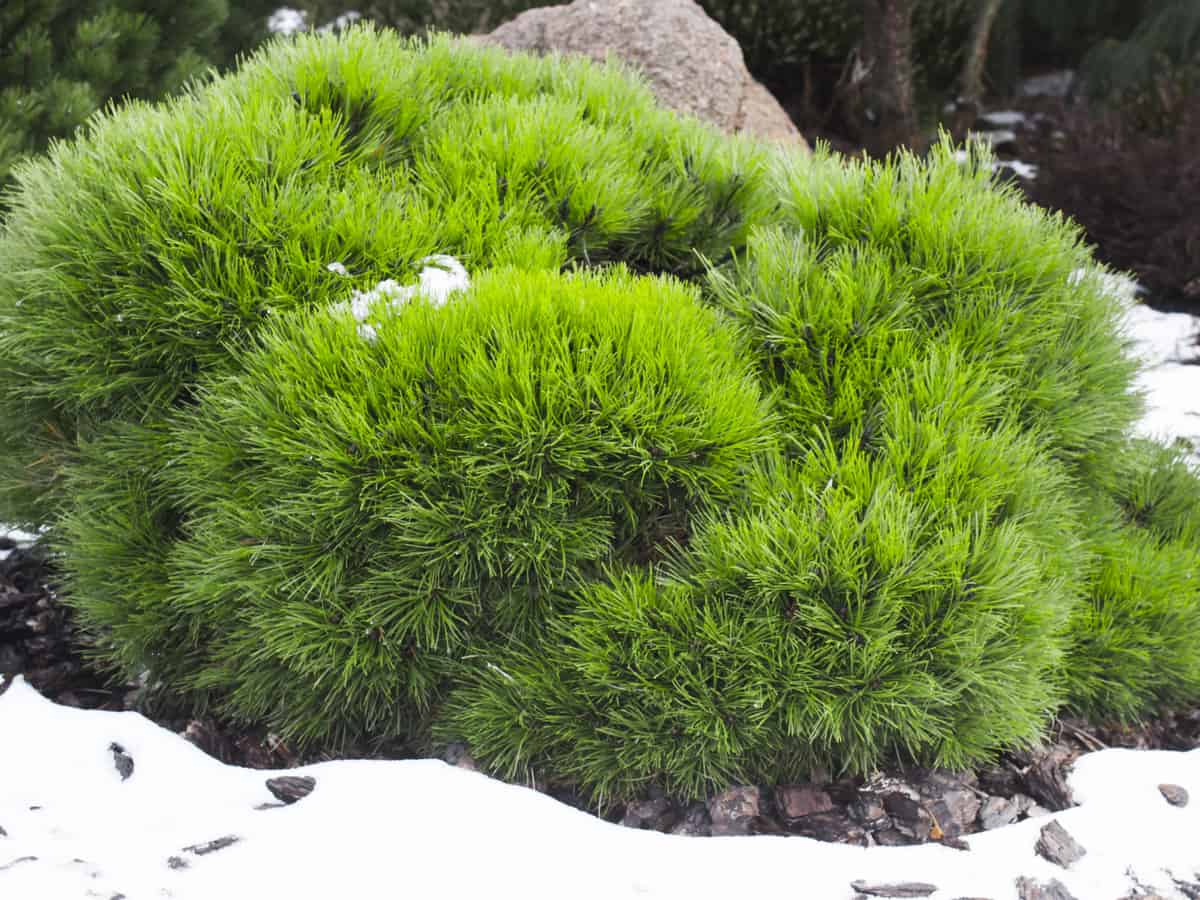 Mugo pines are similar to their pine tree cousins but are much smaller. With deep green needles that give off a fresh pine smell, these shrubs are a unique alternative to the more common junipers.
They grow neatly with needles reaching to within inches of the soil. New growth occurs in spring, and it has foliage that gets darker as it ages.
It is one of the best evergreen shrubs if you're looking to increase privacy in your yard or to separate sections of your garden. They don't tolerate hot summers well and are therefore most suitable for U.S. Department of Agriculture hardiness zones 2 through 7 (..).
Winter Heath (Erica x darleyensis) – A Low-Maintenance Shrub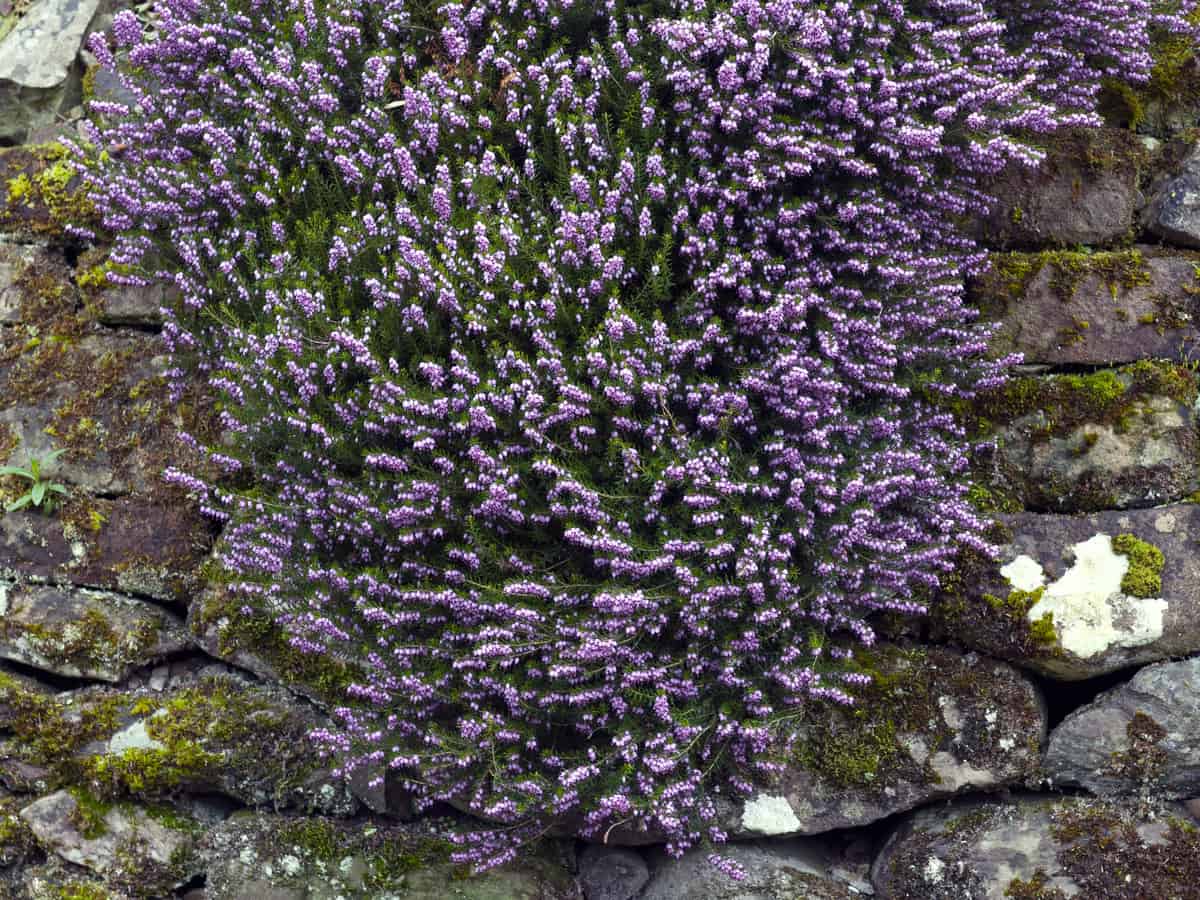 Winter heaths are a type of heather that includes many hybrids. It is very hardy and grows in almost any soil. It also requires little pruning and is excellent for gardens due to its ability to smother weeds. They are bushy and grow a bit taller than carpeting shrubs.
Most winter heaths develop pink or white tips in the spring, with buds forming in late summer or early fall. The color of the flowers deepens as the season progresses, though they start quite pale. They are suitable for hardiness zones 5 and warmer and should be pruned when young.
Dwarf Japanese Garden Juniper (Juniperus procumbens)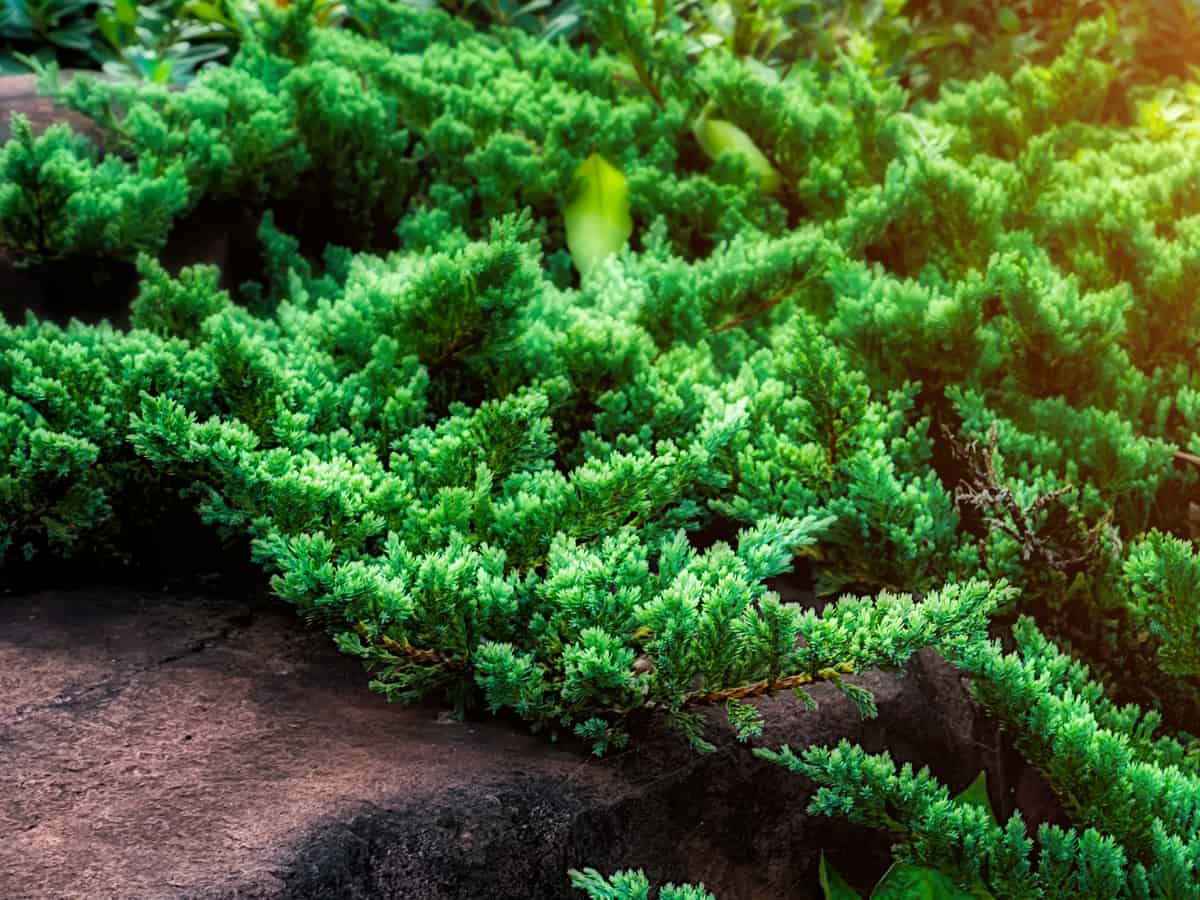 The dwarf Japanese garden juniper is prized for its foliage and is a nice choice for ground cover, rock gardens, or to serve as a border or in a container for your garden. It is straightforward to care for and only needs occasional watering once established. It prefers partial to full sun.
One of our favorite short evergreen shrubs, it only reaches 1 foot in height, though it can spread up to 6 feet wide. With blue-green foliage, it is one of the prettiest shrubs that repel mosquitoes and is also deer resistant.
Minuet Mountain Laurel (Kalmia latifolia 'Minuet')
In its natural environment, the mountain laurel grows up to 20 feet and is one of the large flower shrubs that you can find, but the Minuet or dwarf variety of this cultivar grows to a nice, manageable three feet wide and tall. It has a compact growth habit and grows slowly.
The dwarf mountain laurel has year-round dark green leaves and unique pink-white flowers that bloom in late spring. The mountain laurel thrives in partial shade, making it perfect for a shade or woodland garden.
It is essential to water it during natural dry spells as it is growing, but it becomes more tolerant of drought, heat, and humidity once mature. Plant this beautiful shrub for a delightful addition to your yard and garden.
Adam's Needle (Yucca filamentosa) – My Evergreen Shrub Showpiece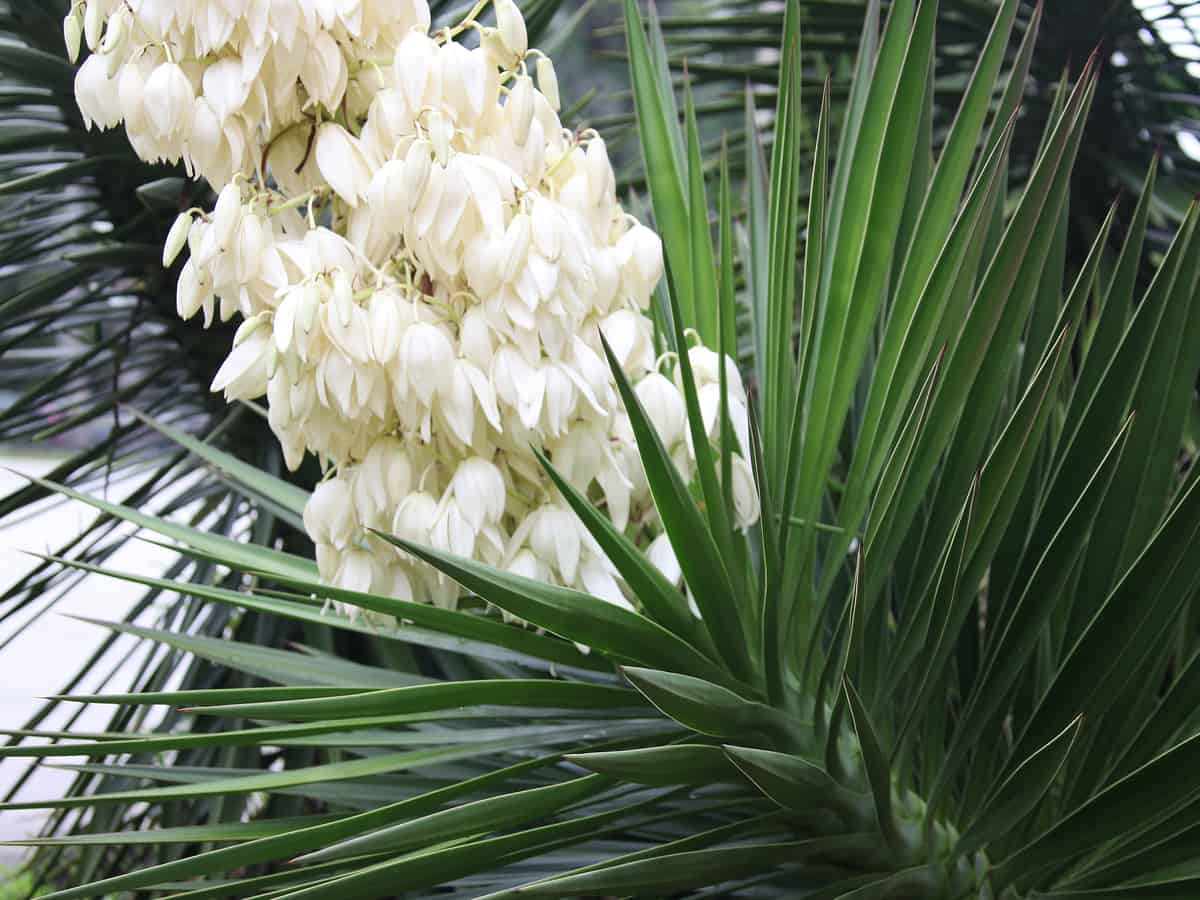 Adam's needle is a broadleaf evergreen shrub that grows to 2 to 3 feet, with a flower stalk growing straight up. With blade-like leaves that can reach a length of over 2 feet, it is a unique showpiece for any garden.
At the beginning of summer, a flower cluster begins to bloom on these dwarf evergreen shrubs for full sun, growing into a white bell-shaped flower that towers over the rest of the plant.
However, you need to be patient for the payoff, as it can take about three years for new Adam's needle shrubs to bloom. It prefers well-drained soils in hardiness zones 5 to 10. Grow Adam's needle as one of the shrubs for the beach house or at your home.
French Lavender (Lavandula stoechas)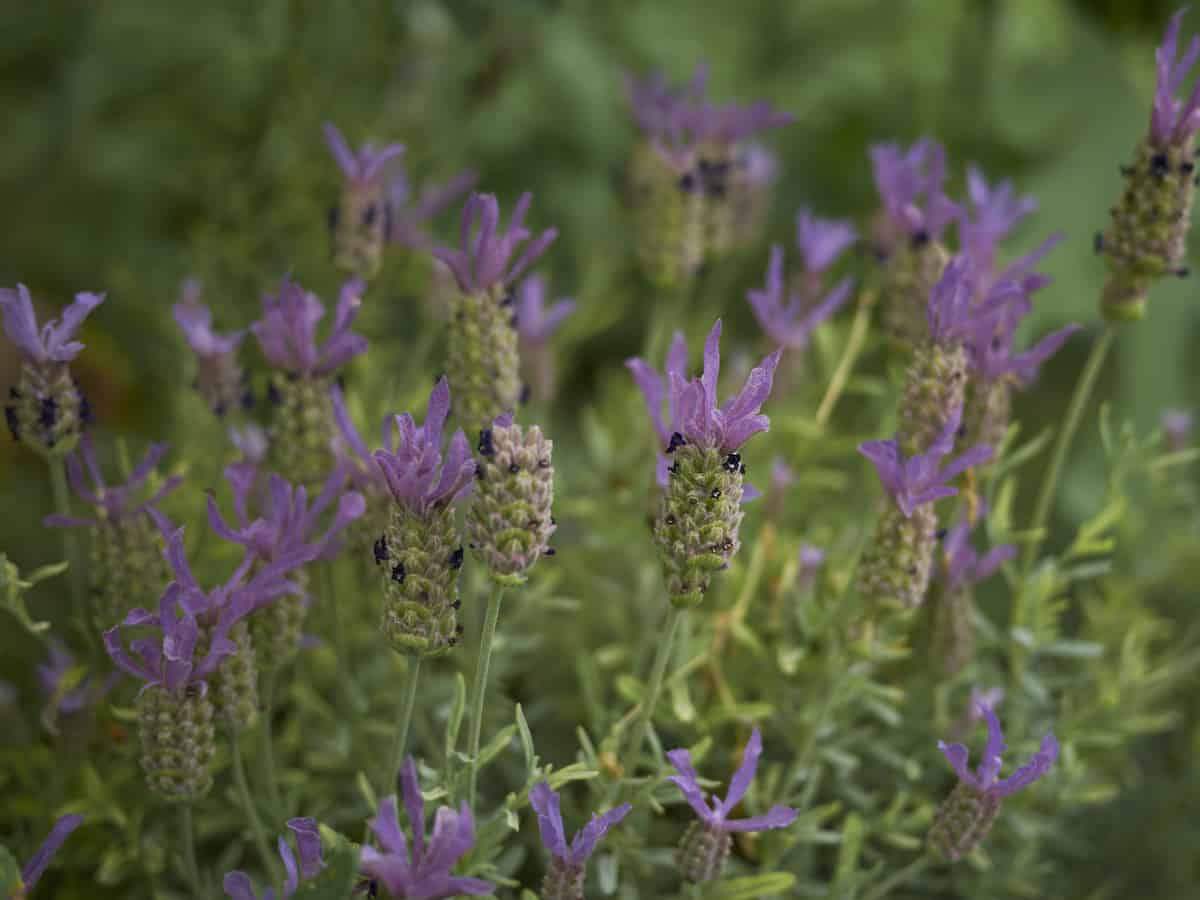 Perhaps the most well-known plant on the list, lavender is one of the most widespread drought resistant bushes. It has lovely silvery aromatic leaves and purple blooms and is commonly used as a fragrance and in essential oils or potpourris. It is suitable for mass planting and works in containers, and also works as a spectacular hedge in the summer.
It has a long blooming season, lasting from mid-spring to late summer with flowering occurring in May or June as well as late summer or fall. It grows from 24 to 30 inches and thrives in full sun. Lavender prefers dry to medium, light, well-drained soils and works in hardiness zones 8 to 9.
King's Gold Cypress (Chamaecyparis pisifera 'Kings Gold')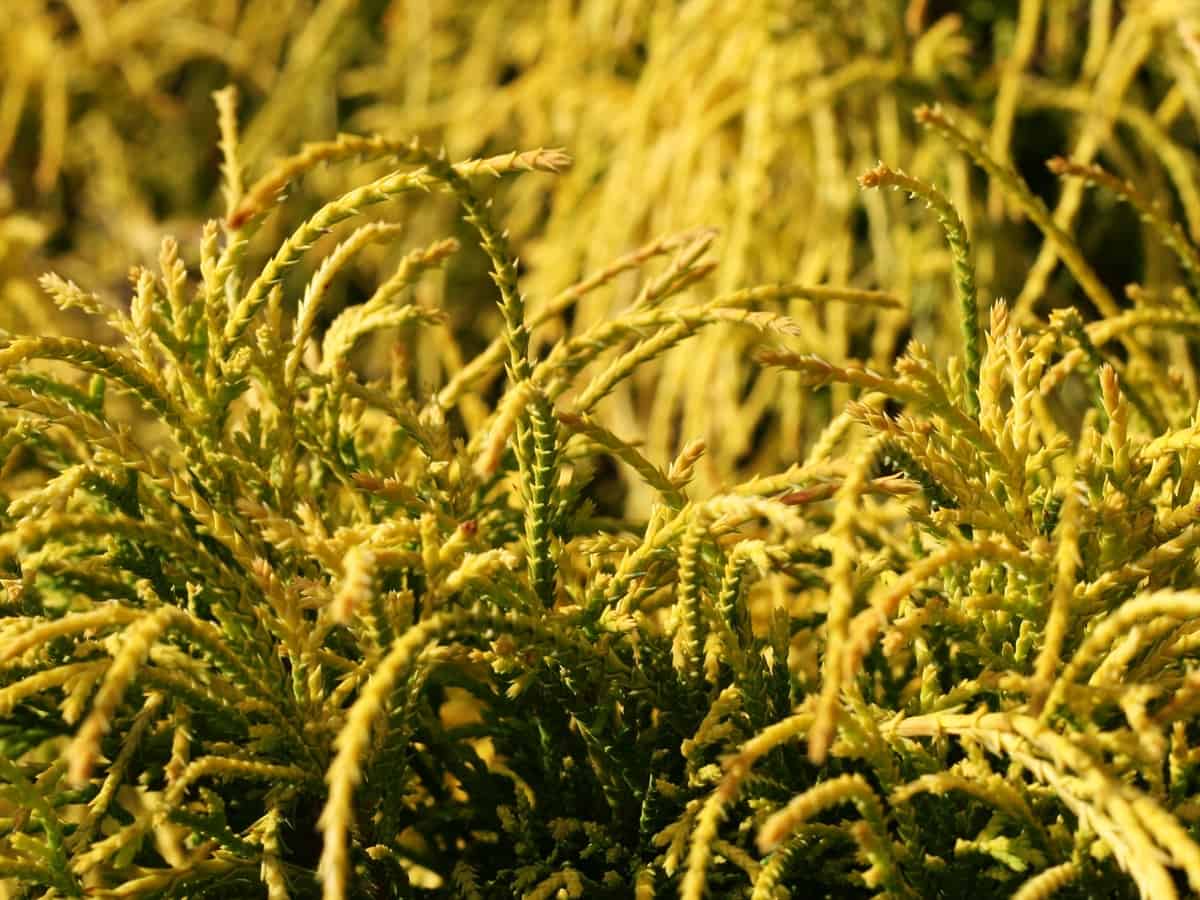 This compact variety of golden false cypress is perfect for mass or accent plantings. It is very heat tolerant, and the foliage turns more golden with the more sunlight it gets so it adds interest to the back of gardens or along a fence.
It likes full sun to light shade and grows up to 4 feet tall. As one of the hardiest dwarf evergreen shrubs, this cypress can survive in many climates, especially hot, humid areas, and is tolerant of a large variety of soils.
The King's Gold cypress is suitable for hardiness zones 4 through 9. It is one of the easy maintenance shrubs and doesn't require any pruning or attract any significant diseases or pests.
Alpine Rose (Rhododendron ferrugineum) – A Beautiful Flowering Evergreen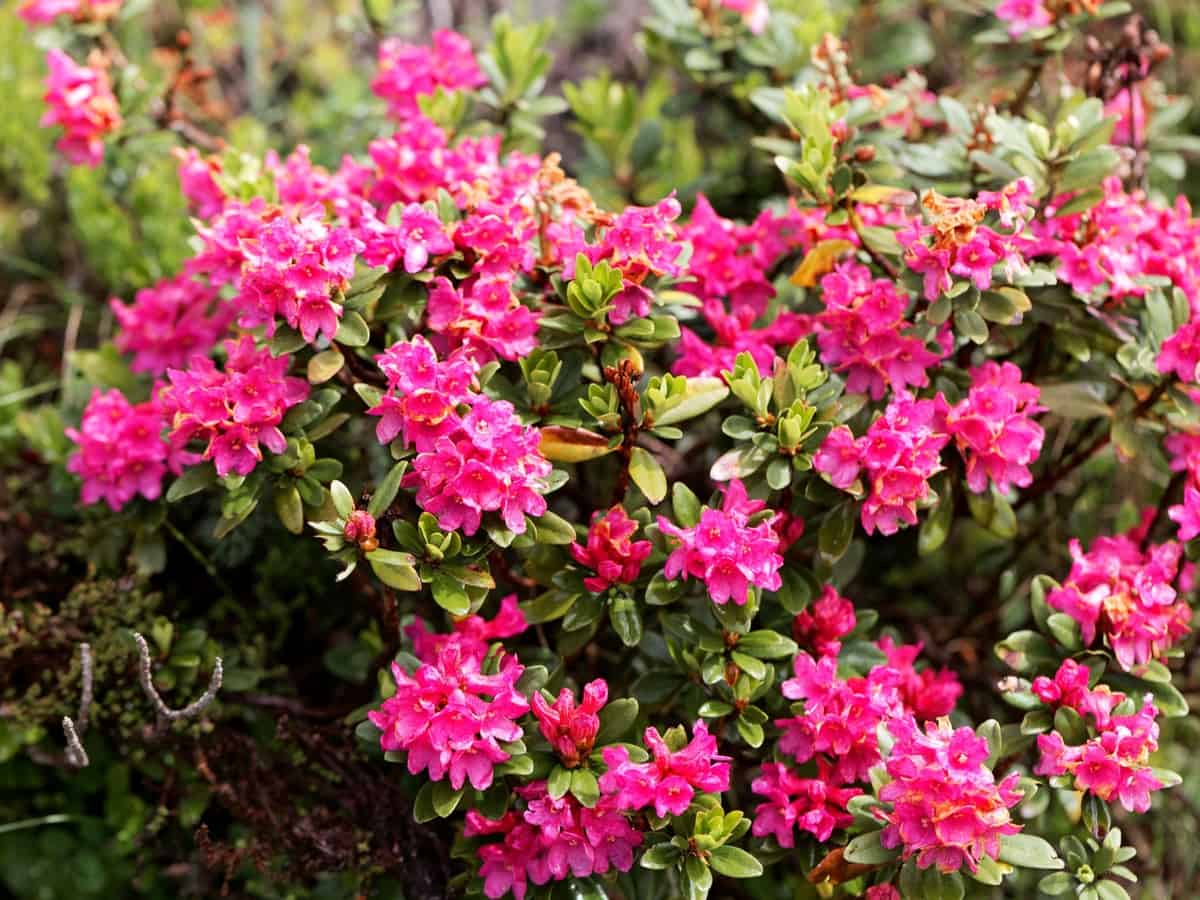 Native to the slopes of the Alps, the Alpine rose is one of the most beautiful small evergreen plants you could choose for your garden. It grows up to just over 3 feet, making it great for small spaces. In the summer, it produces lovely clusters of bell-shaped, pink-red flowers.
The Alpine rose needs moist soil to thrive but does not do well with too much water. If you notice the leaves twisting or curling, that means it is too dry. It works well in hardiness zones 4 through 8 and can survive in open woods or rocky slopes.
Japanese Skimmia (Skimmia japonica)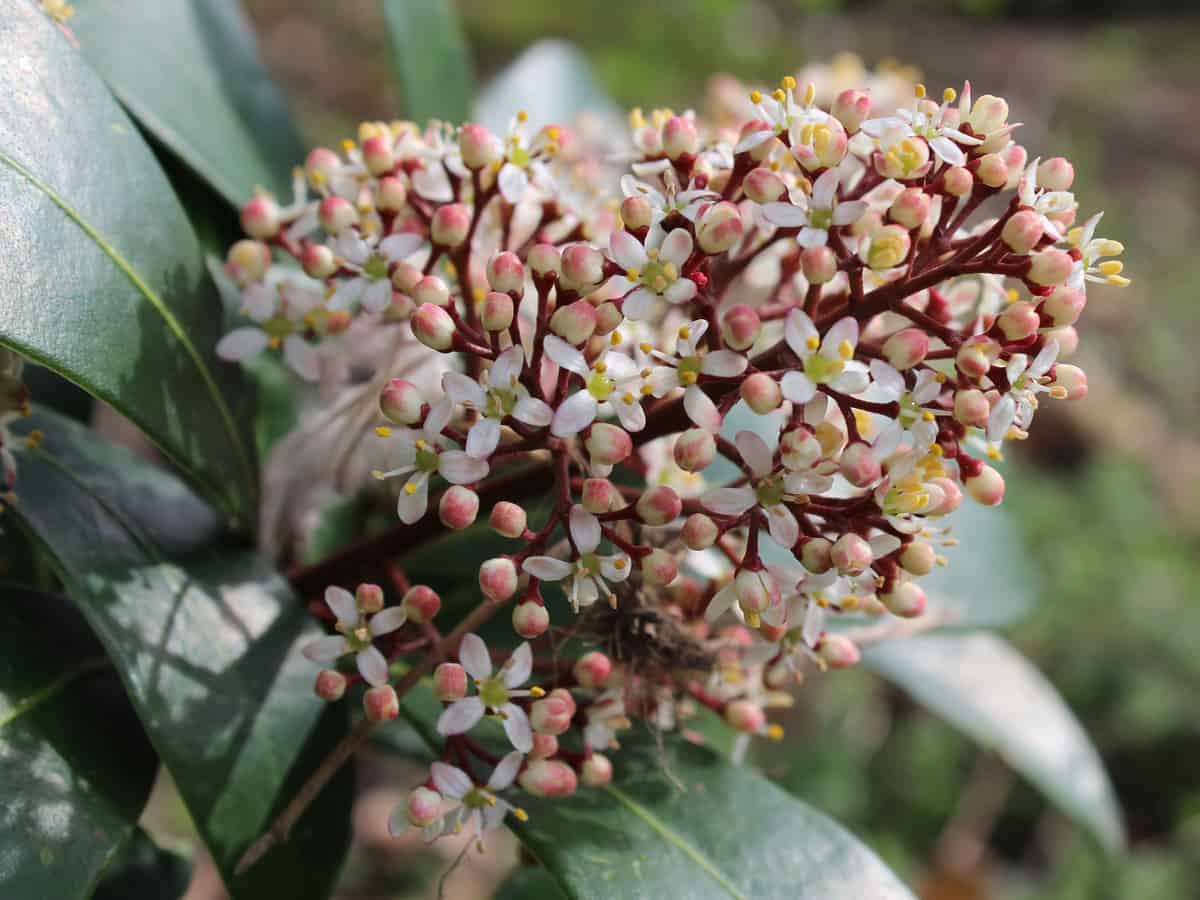 This shade-loving evergreen shrub produces beautiful flowers, leaves, and fruits that give off a sweet scent. They grow in a dense mound, with white flowers with a pink tinge blooming in mid-spring. In fall and into late winter, the plant produces bright red berries, though only the female plants grow these.
Japanese Skimmia is slow growing and reaches 4 feet tall and 5 feet wide. It prefers partial to full shade and can grow in moist, well-drained soils. It tolerates pollution so is suitable for urban settings and can be planted in woodland gardens, as one of the shrubs for small hedges, in containers, or as shrub borders.
Flaky Juniper (Juniperus squamata' Blue Star')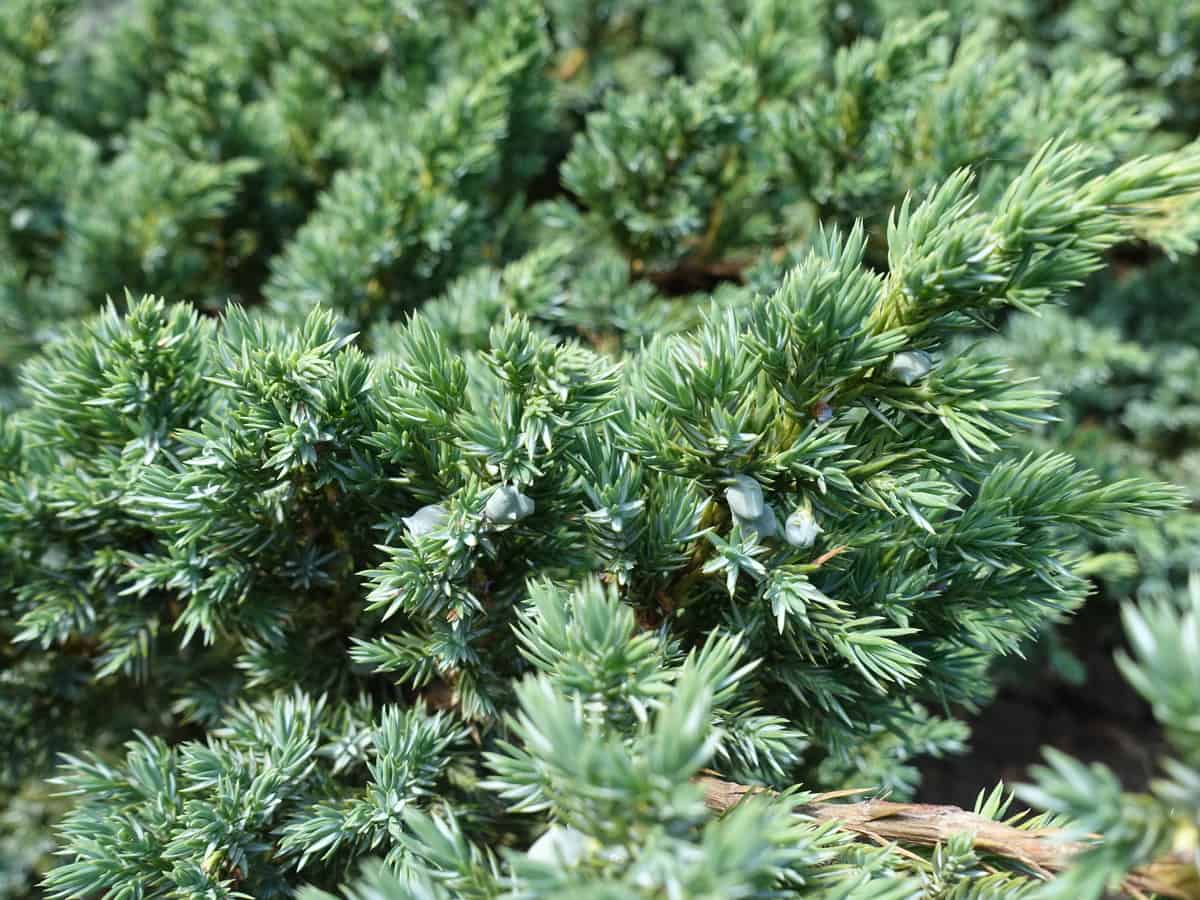 One of our favorite miniature green shrubs, flaky juniper is dense, globe-shaped, and produces silver-blue foliage that turns to purplish-blue in winter. The changing evergreen foliage keeps this shrub looking lovely year-round. It is a slow grower that makes an excellent ground cover and works perfectly in any rock garden.
The flaky juniper prefers full sun and is drought tolerant once mature. It is easy to grow in medium moisture, well-drained soil and grows up to 3 feet tall and 4 feet wide. It is low maintenance and doesn't require any pruning.
Dwarf English Boxwood (Buxus sempervirens 'suffruticosa') – Classic Perfect Dwarf Evergreen Shrubs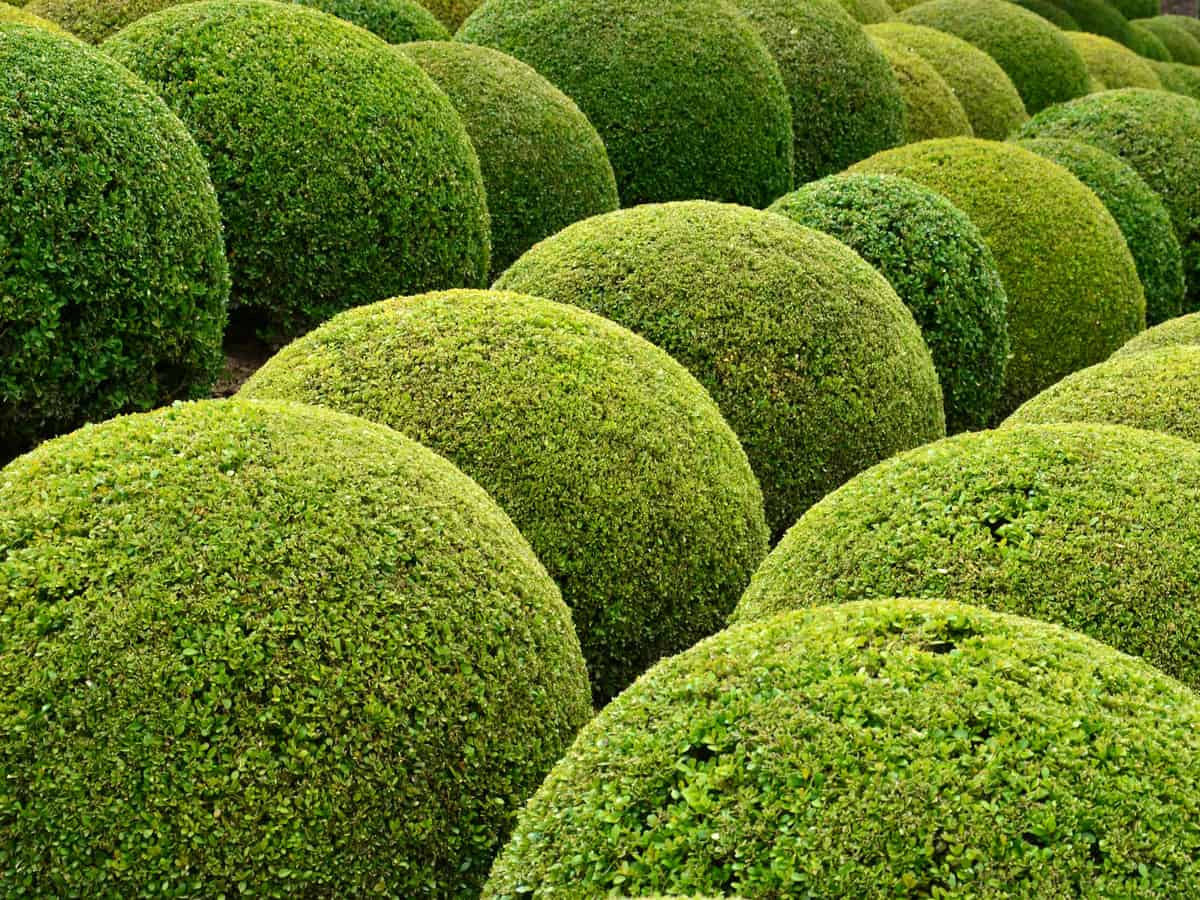 This small, slow-growing evergreen shrub has soft, glossy bright green foliage that keeps its color year-round. It is hardy and easy to grow, reaching a typical height of 2 to 3 feet and a width of 2 to 4 feet.
This boxwood is very versatile and can survive in beds, containers, borders, formal gardens, and foundation plantings. With pruning, it can also work for hedges and ground cover and is perfect for smaller spaces and gardens.
The dwarf English boxwood works best in partial to full shade and thrives in well-drained, evenly moist soils. Avoid planting in full sun, as it can scorch the foliage. It is drought tolerant but requires watering through dry periods.
Rosemary (Rosmarinus officinalis)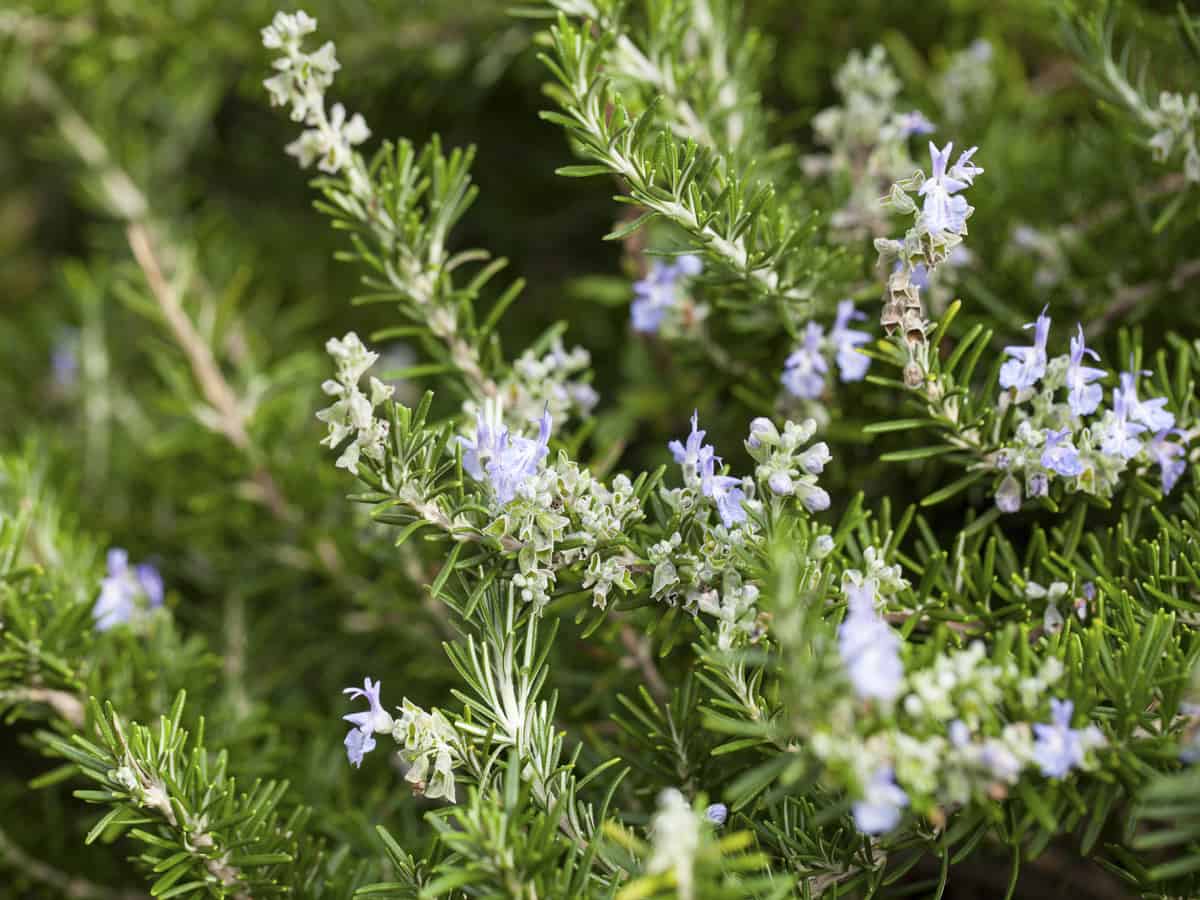 If you're looking for herb garden ideas, look no further than this evergreen shrub. Rosemary has needle-like leaves that give off a strong scent and grow blue to white flowers in winter and spring. Flowers may bloom sporadically through summer and fall if trimmed after its late winter bloom, making it beautiful year-round.
Rosemary is one of the fast growing evergreens and is most suitable for hardiness zones 8 through 11. It grows up to six feet high and five feet wide but you can keep it trimmed if you want a smaller plant. This herb makes a delicious accompaniment to all types of chicken dishes and other foods. Pluck the needles to use as needed.
This plant thrives in full sun though it can also tolerate light shade. They are easy to grow in sandy, slightly acidic, poor to moderately fertile and well-drained soils.
Now that you know about some amazing evergreen shrubs and you have a few to choose from, you can start planning your own small garden for your home. No matter whether you're a novice at gardening or what your weather conditions are, there is a shrub that will thrive for you! Follow our planning and planting tips, and your garden will be looking better than ever, all year long.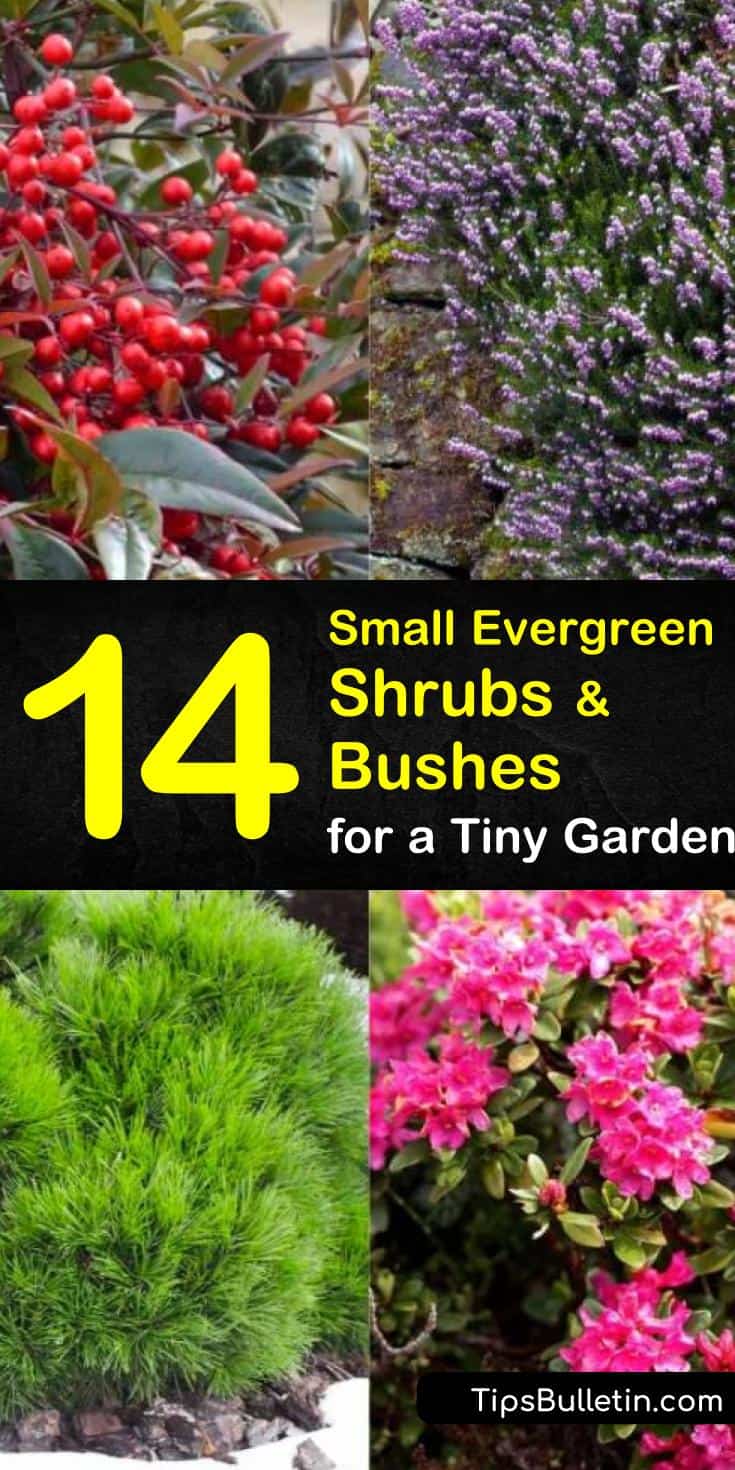 If you found this list of the best dwarf shrubs helpful, then share these gardening tips with your friends on Pinterest and Facebook!