Do you dream of planting a tree border around your home or garden, but feel that you simply do not have enough space? Just because you have a small yard doesn't mean you can't fill the area with beautiful plants and trees. There are many small evergreen trees for landscaping that are perfect for small spaces.
The beauty of planting evergreen trees around your yard is that they are low-maintenance, and provide the area with green foliage all year round. They also come in a variety of shapes, colors, and styles, which allows you to create a beautiful garden landscape, even in the smallest locations.
Dwarf varieties are the perfect choice for a small yard, whether you desire a columnar shaped tree or a low growing evergreen shrub for groundcover.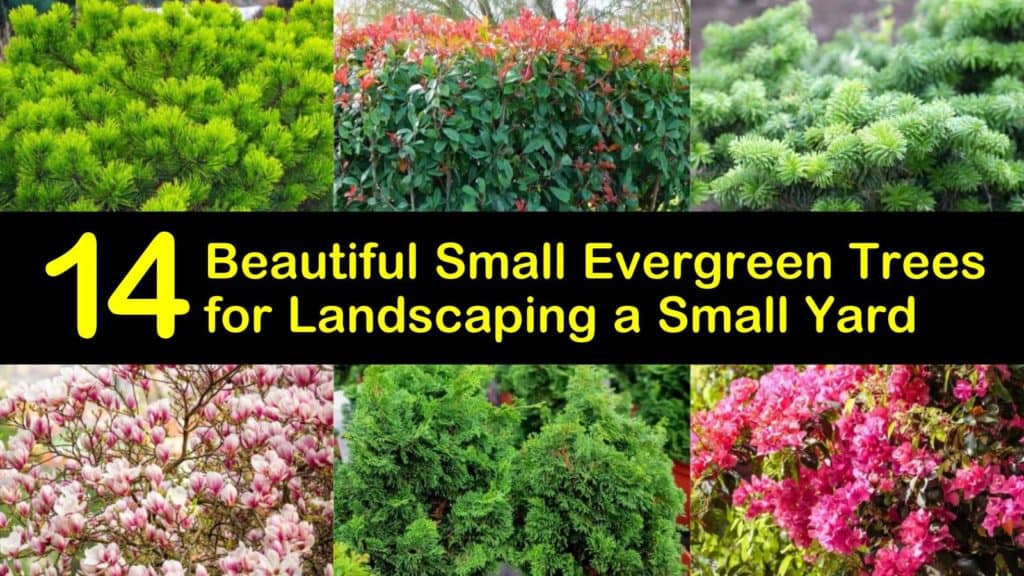 Landscaping the Yard with Dwarf Evergreen Trees
Dwarf plants define tiny spaces with natural beauty and are available in many different types. There are needled evergreens and broadleaf evergreens, as well as trees that produce spring-time flowers or stunning fall color.
What is an Evergreen Tree?
What are evergreen plants and trees? There are two distinct types of trees and plants – evergreen and deciduous. Deciduous trees lose their leaves each fall, while evergreen trees keep their foliage throughout the entire year.
There are also conifers, which are cone-bearers and fall in both the evergreen and deciduous groups. While most people associate an evergreen with trees such as the pendula or Colorado blue spruce, there are two types of foliage – needle-like, and broadleaf.
Broadleaf plants have a relatively flat and broad surface. Some evergreen species produce flowers and berries, giving them extra appeal in the yard.
How Much Space Do Dwarf Evergreen Trees Take?
Small evergreens are either slow growers, giving you a chance to keep them in check, or are naturally small in size. Generally, they reach a mature height of 12 feet or less. Check the plant's care tag before purchase to determine how tall and wide it grows and how much space it requires. Use clever landscaping to prevent snakes and other unwanted visitors from creating a habitat in your yard.
To determine how much spacing each tree needs, cut the mature spread in half, and place the tree in an area where it receives that amount of space on all sides. For example, narrow trees such as arborvitae have an average spread of 4 feet and need 2 feet of growing room on all sides to flourish.
Why Should I Plant Small Evergreen Trees in My Yard?
Not only are small evergreen trees ornamental, but they are easy to maintain. They have a relatively small root system, and this makes them an ideal choice for small spaces.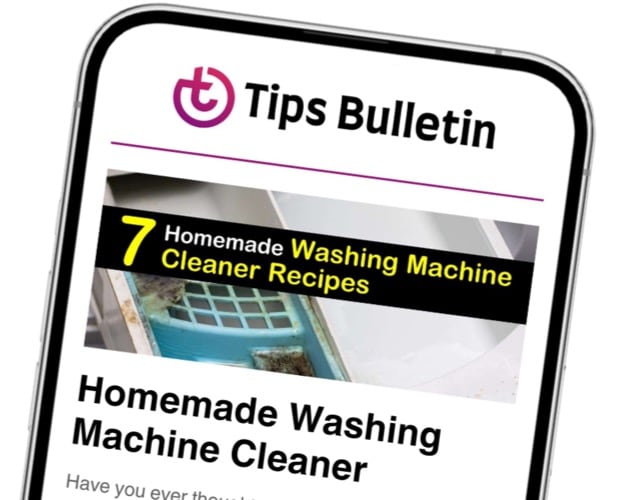 Finally, an email that Transforms Your Home.
Get the latest home and garden tips from our experts, delivered straight to your inbox.
They have a diminutive stature, making them easier to plant, and they require very little pruning. Evergreens keep their lush green foliage throughout all seasons, offering you greenery all year round.
Are Small Evergreen Trees Hard to Maintain?
No, evergreen trees are relatively easy to plant and care for, especially the small varieties. Most evergreens require full sun and consistent soil moisture to help them withstand drought and winter conditions. Occasional pruning is necessary if you have a fast growing variety or if you want to keep your tree at a certain height and width.
Arborvitae (Thuja)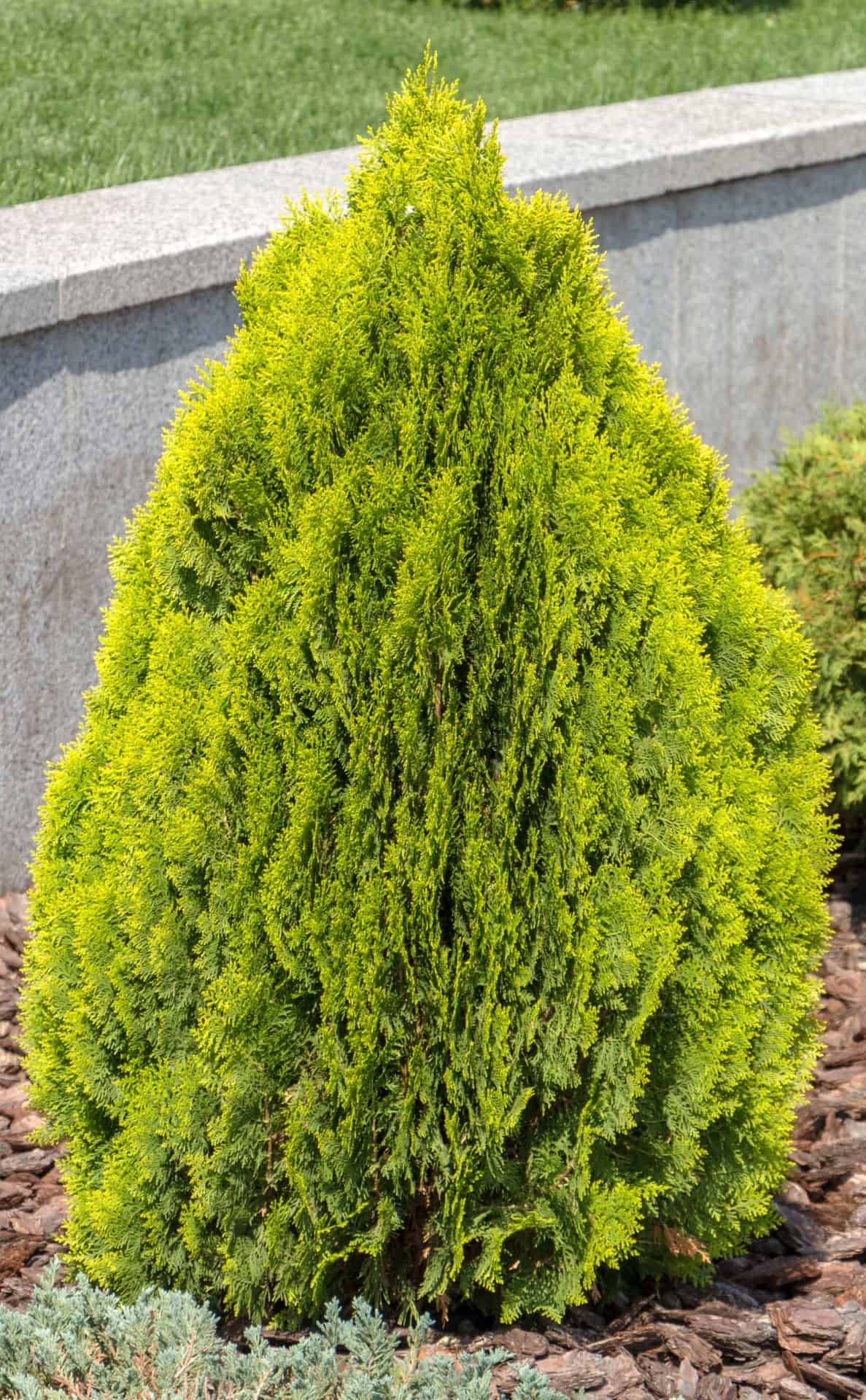 This slow-growing, dense evergreen tree is an excellent specimen for creating a small privacy fence in the yard. There are many varieties of arborvitae, and some have an appealing bronze cast during the fall and winter months.
Arborvitae is a popular tree for pruning into topiary shapes of desired heights. It is low maintenance and grows best in hardiness zones 2 through 7. The blue-green foliage reaches a height of up to 20 feet but is easy to maintain as a small tree. It thrives in part to full sun and provides winter interest to the yard.
Japanese Plum Yew (Cephalotaxus harringtonii) – Attractive Evergreen Foliage with Edible Fruit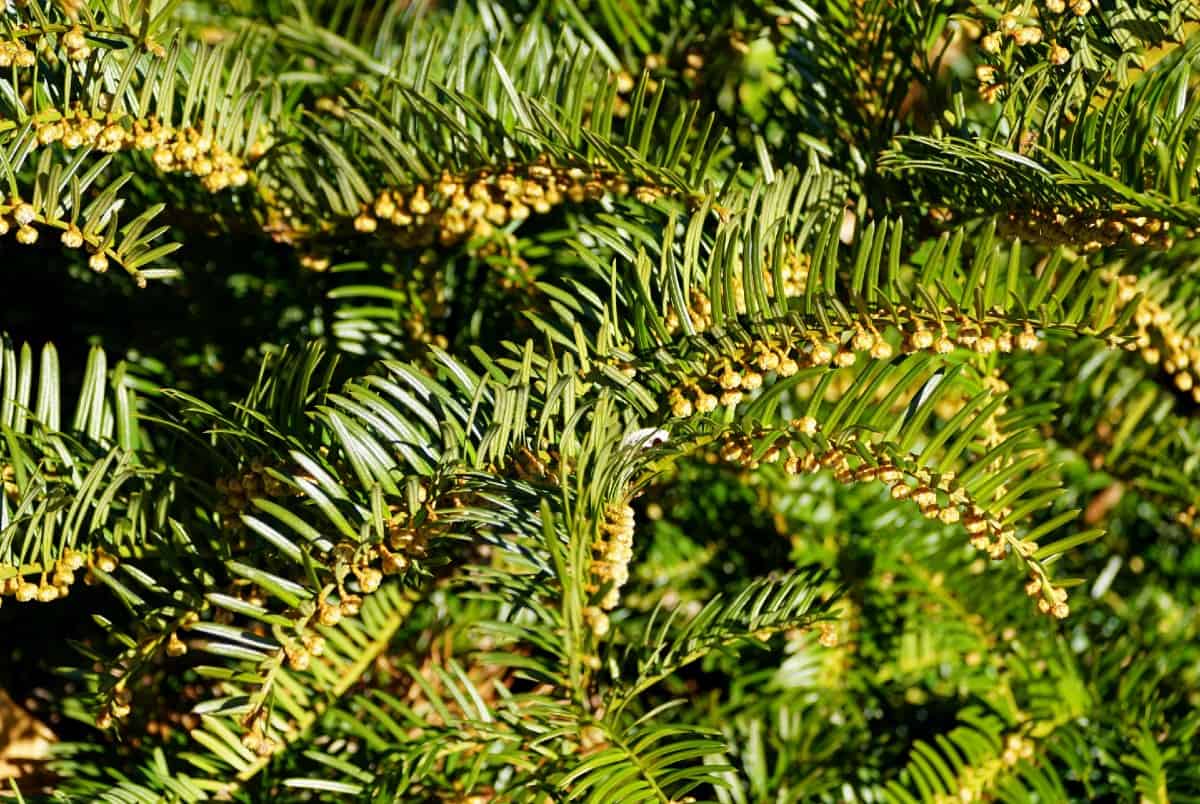 The Japanese plum yew has attractive foliage and is easy to care for in the yard. These beautiful dwarf trees produce edible fruit, but the seeds and leaves are poisonous so be wary about planting it if you have pets or young children. It spreads in a rounded form that is wider than it is tall.
This tree prefers part shade but tolerates full shade or sun as well. Japanese plum yews thrive in zones 6 through 9 and are easy to train as small trees. They reach an average height of 2 to 3 feet with a spread of 4 feet or more.
Pencil Point Juniper (Juniperus communis)
This dense, multi-stemmed evergreen has a narrow columnar shape. It has lime-green foliage in the spring that turns to a bluish-green shade in the summer and produces blue berries from spring to winter.
This relatively low maintenance tree prefers sunny locations and is adaptable to dry and moist conditions. It has a mature height of 5 feet with a spread of 12 inches. The pencil point juniper is highly tolerant of pollution, making it ideal for city growing circumstances.
Norway Spruce (Picea abies) – Christmas Tree-Style Evergreen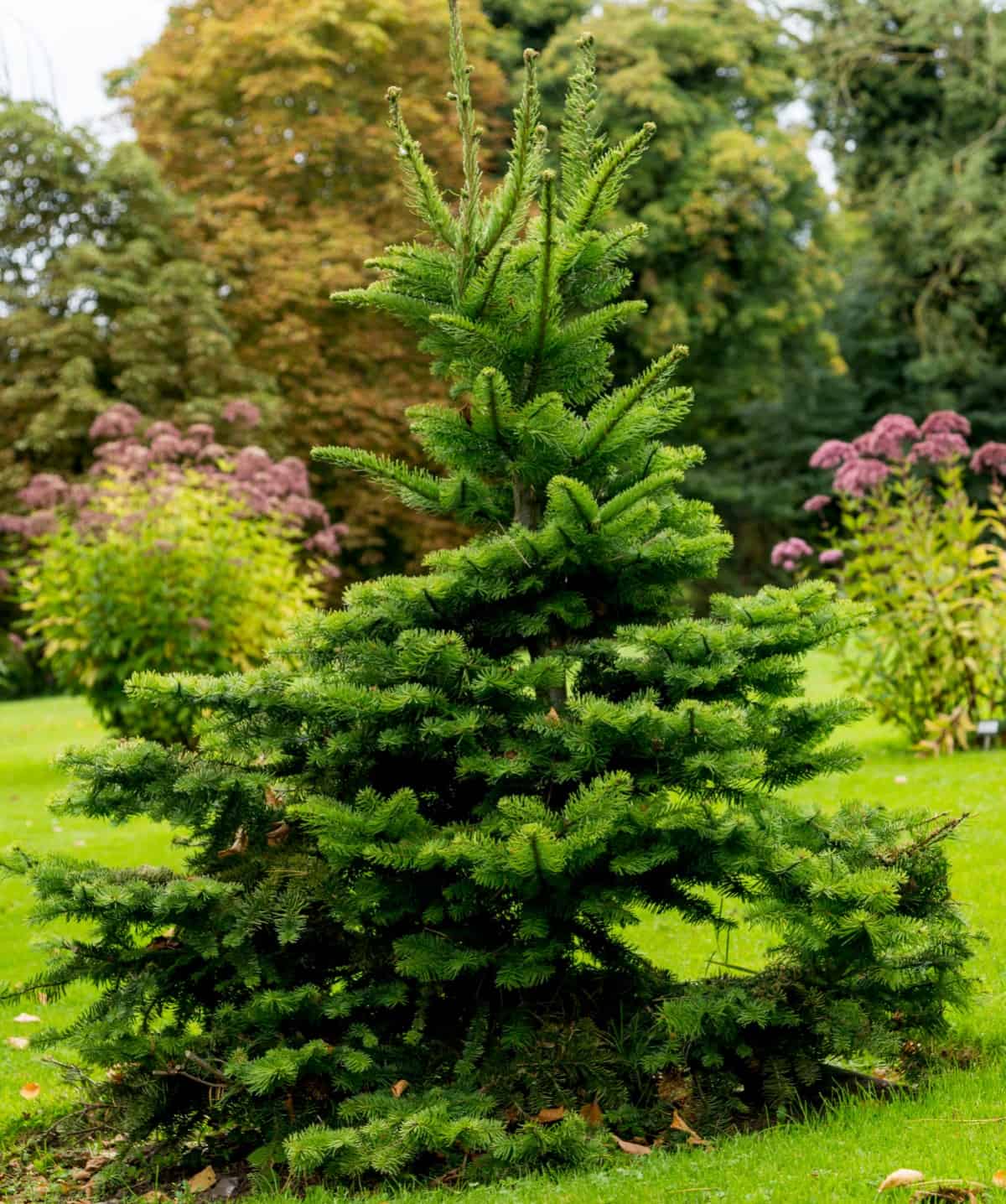 The Norway spruce is common as a Christmas tree and has a durable spire shape. It emerges with light green foliage in the early spring that turns to a vibrant dark green for the rest of the year. This robust and hardy tree is suitable as a windbreak in the yard.
This popular evergreen adds a touch of vertical accent with its mature height of 60 feet, but it is easy to maintain it as a small tree. It has a medium growth rate and thrives in zones 2 through 7.
False Cypress (Chamaecyparis)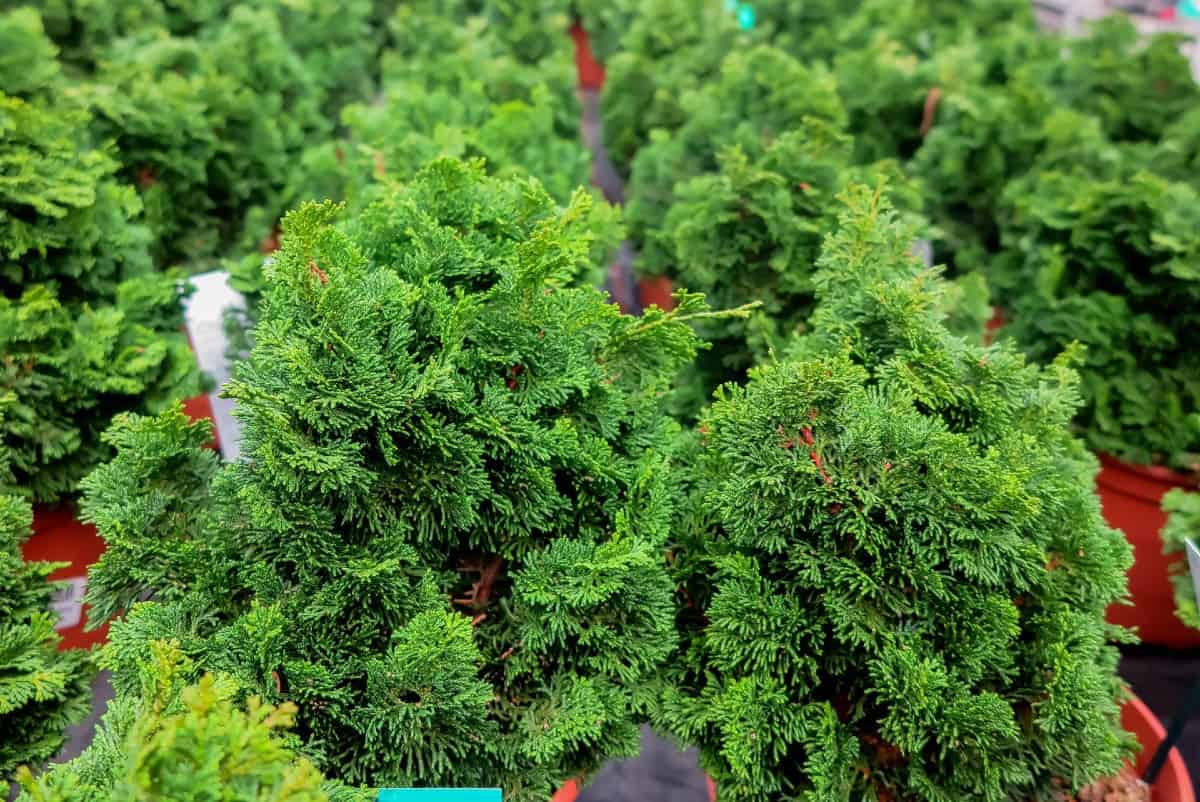 This evergreen tree has color intensity and texture that makes it a stunning small tree for landscaping as a hedge or screen. The false cypress varieties range in color from deep green and gold to blue-gray. It has fan-like boughs of soft-needled branches that resemble ferns.
This tree does not tolerate high winds or heat and grows best in hardiness zones 5 through 9. It prefers partial shade to sunny locations and attracts birds to the yard. The false cypress reaches a mature height of 20 feet, but it's easy to maintain the desired height.
Mugo Pine (Pinus mugo) – Evergreen Conifer for Small Yards
While the mugo pine is not one of the fast-growing pine trees, this needled-evergreen conifer has a broad, spreading form and grows wider than it does tall. It stays relatively short in height, making it ideal for use in small yards.
The mugo pine is deer resistant and does not tolerate overly hot summers so watch where you plant it. This evergreen enjoys full sun to part shade and thrives in zones 3 through 7.
It has a mature height of 3 to 5 feet with a spread of 10 feet. The mugo pine is tolerant of most soil types and is moderately drought tolerant. It looks great in rock gardens.
Dwarf Blue Spruce (Picea pungens)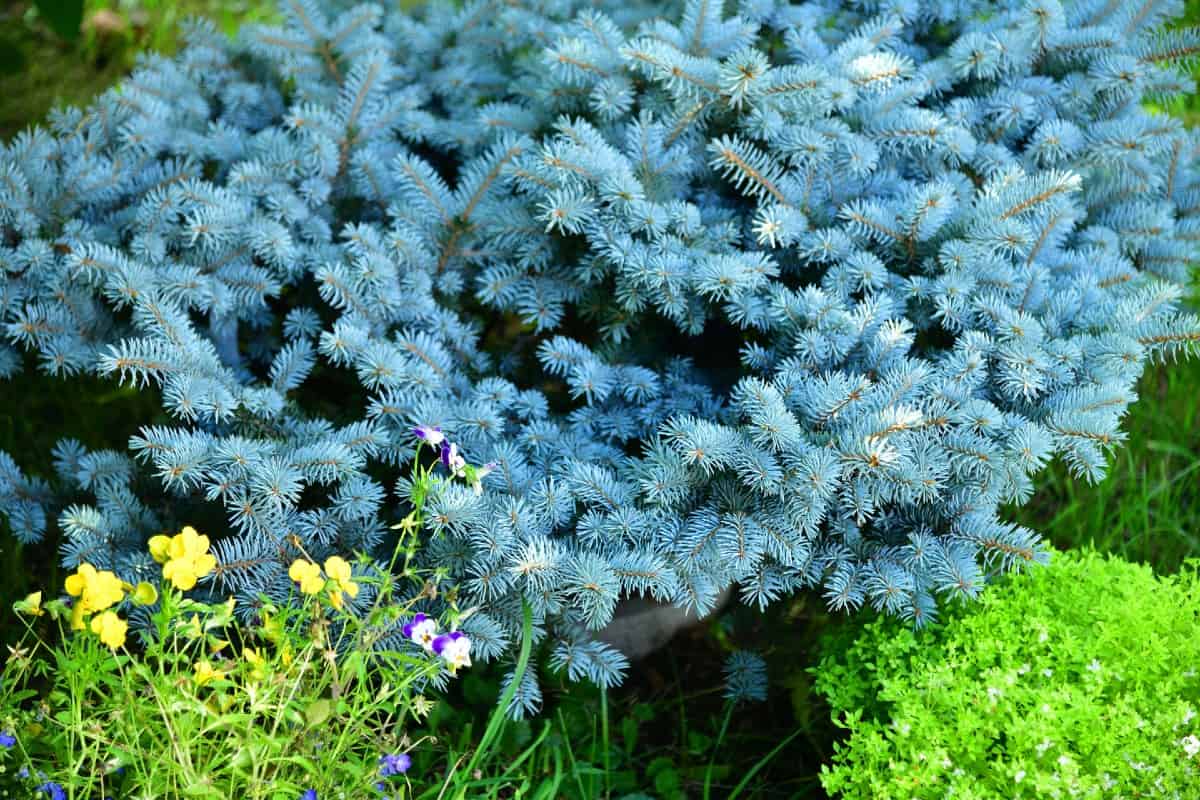 The dwarf blue spruce is an attractive choice to use as a living fence. As one of the best evergreens for privacy, this striking tree has bright blue-green needles and a narrow, upright pyramidal form.
The needles are highly ornamental and appear silvery blue in the spring. Its rough, gray bark adds visual appeal to the landscape.
The dwarf blue spruce is a relatively low maintenance tree that adds a vertical accent to the yard. It has a mature height of 15 feet with a spread of 4 feet and tolerates part to full sun.
Tulip Magnolia (Magnolia liliiflora) – Tree with Fragrant Blossoms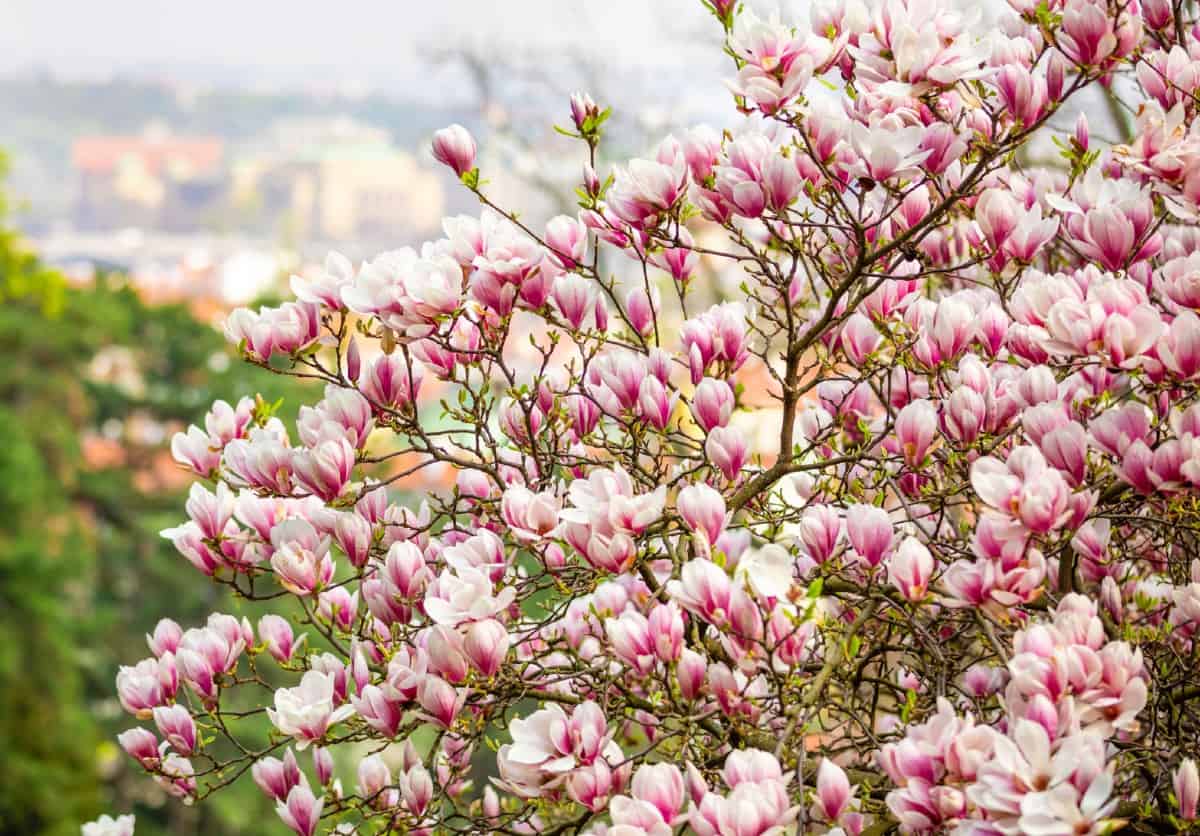 The magnolia is a stunning tree produces fragrant yellow, purple, pink, and white flowers in the early spring before it sprouts foliage. The underside of the leaves is copper-colored and fuzzy in appearance.
While this particular species is not evergreen, it is stunning in bloom and provides the yard with spring and summer interest. This magnolia has a mature height and spread of 20 feet, but regular pruning keeps the tree in check. It enjoys part to full sun and thrives in zones 5 through 9.
Dwarf White Pine (Pinus strobus)
This compact garden tree produces new growth that is brilliantly light green in contrast to the small blue-green needles. It forms a dense and tight mound, and its foliage has a relatively fine texture, giving it unique appeal in the yard.
You can use this pine tree as one of the small desert trees to place in your yard if you need a relatively drought-tolerant one.
The dwarf white pine requires full sunlight for optimal growth and occasional maintenance and pruning. It grows to 4 feet tall at maturity, with a spread of up to 5 feet. The pine has a slow growth rate and lives up to 50 years or more.
Azalea (Rhododendron) – Evergreen Tree with Showy Blooms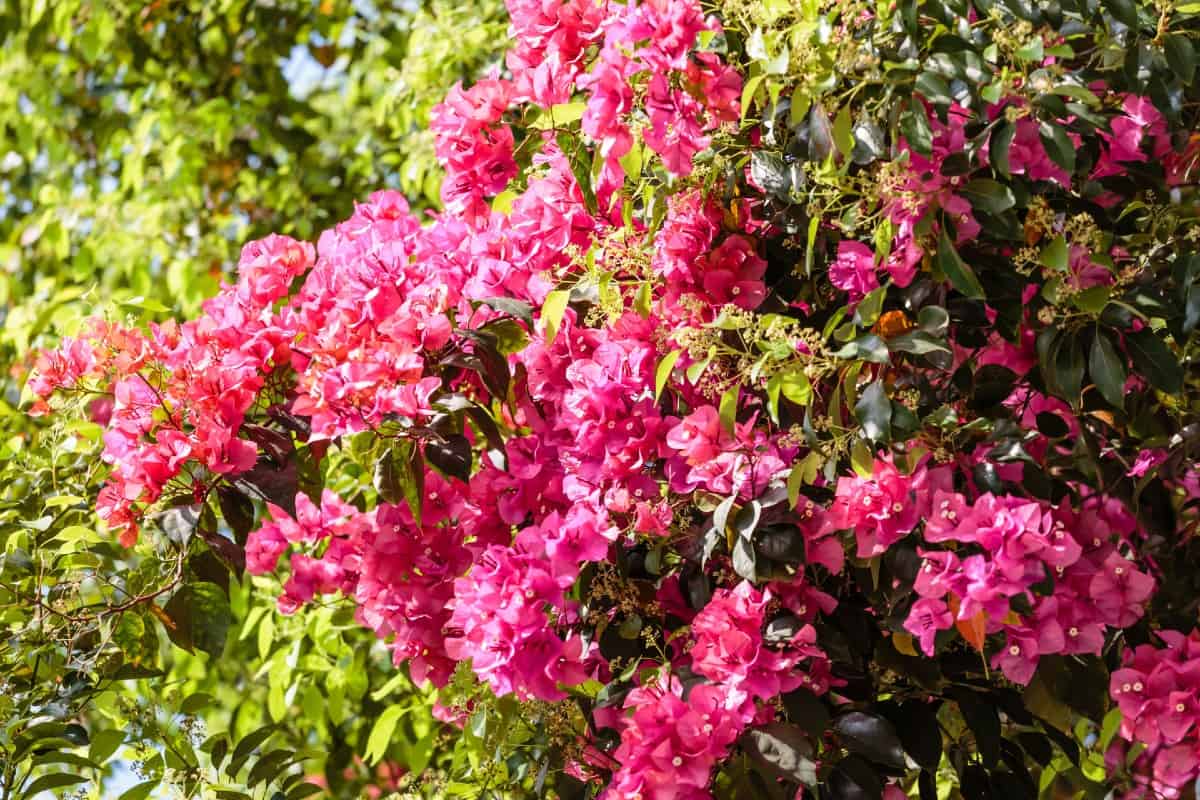 This broad-leaved evergreen tree produces lush and fragrant blooms in colors ranging from purple, red, and orange to pink, yellow, and white. The large clusters of showy flowers are set against a backdrop of dark, blue-green foliage.
Azaleas are low-growing dwarf shrubs that enjoy shady or partially shady areas of the yard and grow well in containers or as a landscaping plant. This flowering tree thrives in zones 3 through 9, and the smaller varieties reach an average height and width of 8 feet.
Dwarf White Spruce (Picea glauca)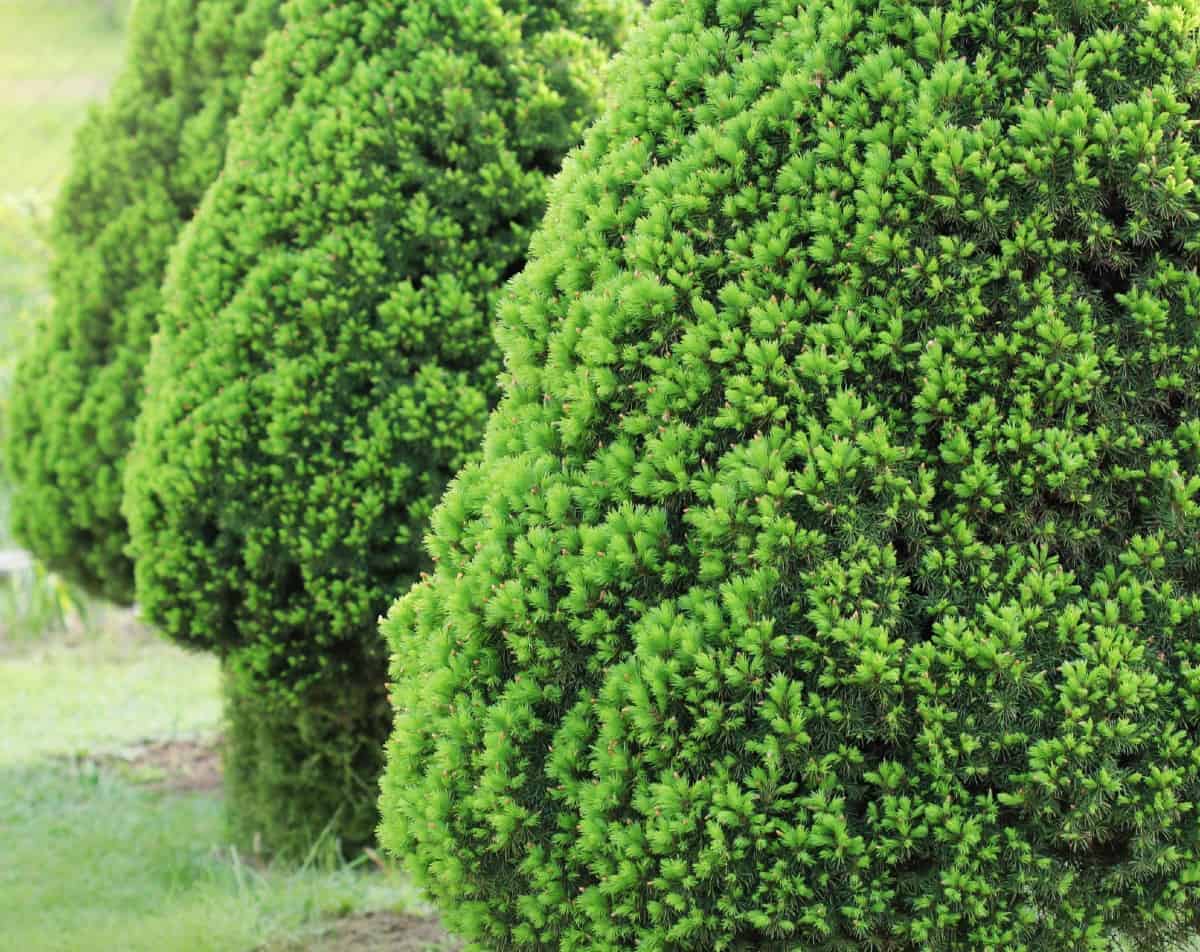 The dwarf white spruce has the classical Christmas tree shape and has a very slow growth rate. This evergreen conifer tree has aromatic green needles and a tight growth habit, giving it a fuzzy-look.
While the giant varieties of spruce reach heights over 100 feet, the dwarf white spruce has a mature height of 10 to 13 feet with a spread of 7 to 10 feet. This dwarf spruce grows best in full sun but tolerates partial shade and thrives in zones 2 through 6.
Red Tip Photinia (Photinia × fraseri) – Small Tree with Striking Red Leaves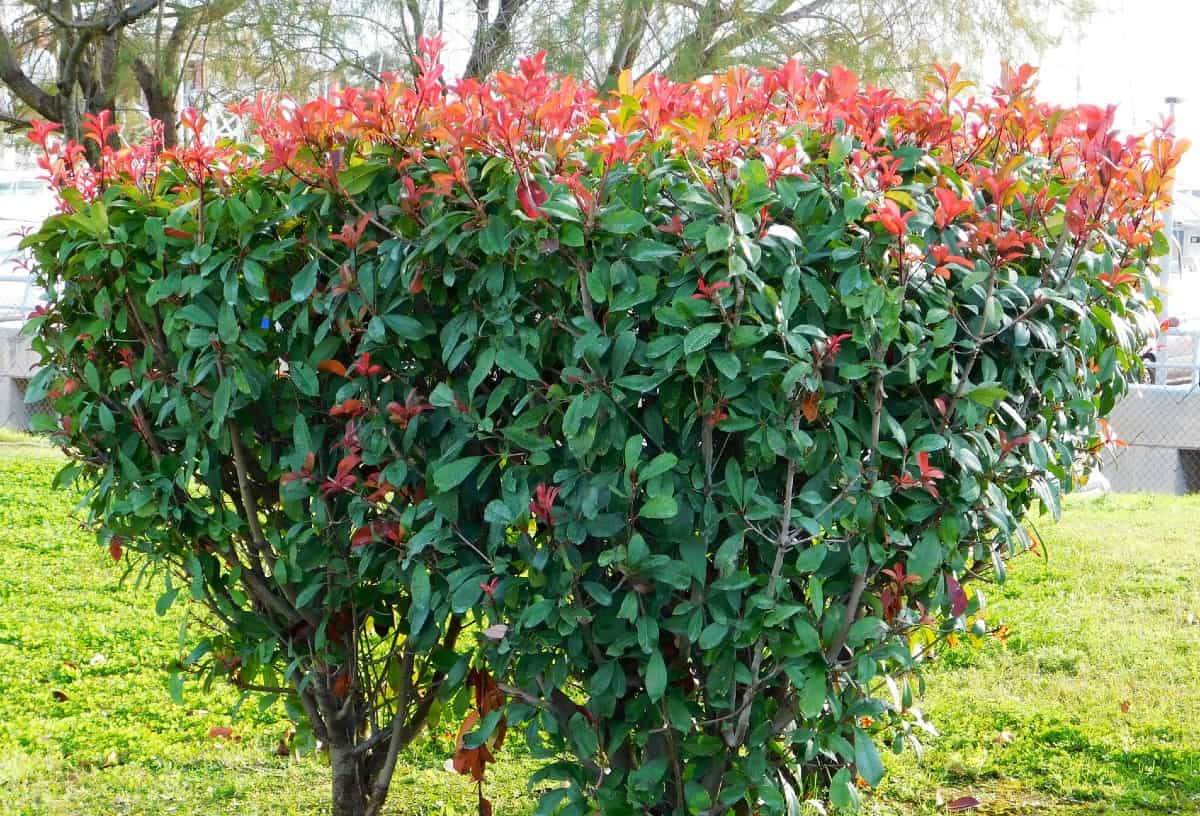 This ornamental tree produces new leaves that are a striking red color and change to dark green after they mature. Red tip photinia is a low maintenance plant that is easy to shape as a small specimen tree. It produces white and creamy flowers that cover the foliage during the peak of bloom.
The red tip photinia grows best in well-drained, loamy or sandy soil and prefers part shade to full sun. It has a mature height and width that averages 12 feet and thrives in hardiness zones 7 through 9.
Hinoki Cypress (Chamaecyparis obtusa)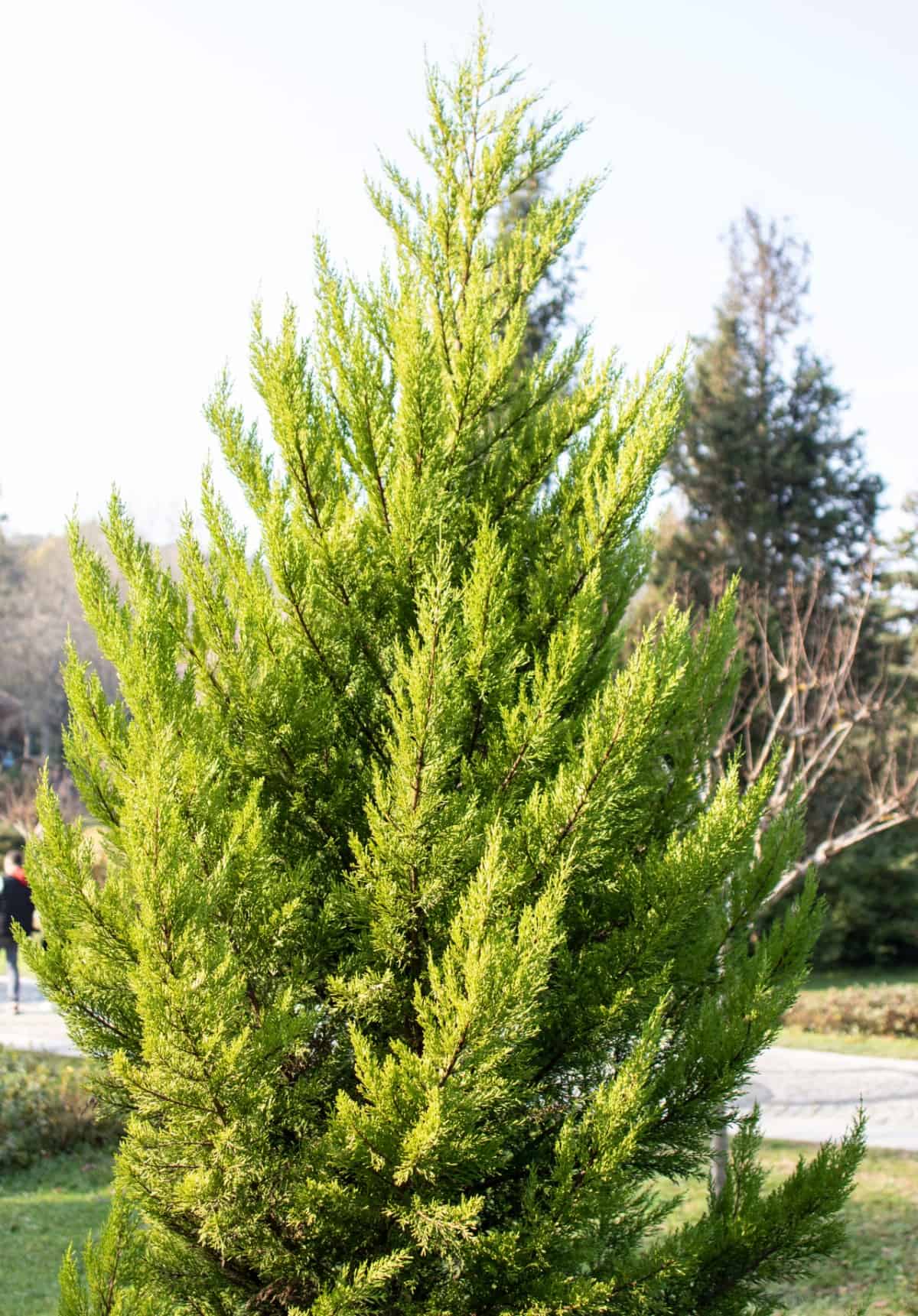 The dwarf form of the Hinoki cypress tree is an ornamental plant and is common in a bonsai garden. It requires regular pruning to maintain its desired shape and adds a unique appeal to the yard.
The Hinoki cypress generally reaches a height of 115 feet tall, but the dwarf variety only gets a couple of feet tall. It thrives in partial shade to full sun and prefers moist and fertile soil. This tree grows best in zones 5 through 8 and enjoys a humid climate.
Dwarf Balsam Fir (Abies balsamea) – Small Evergreen Trees for Landscaping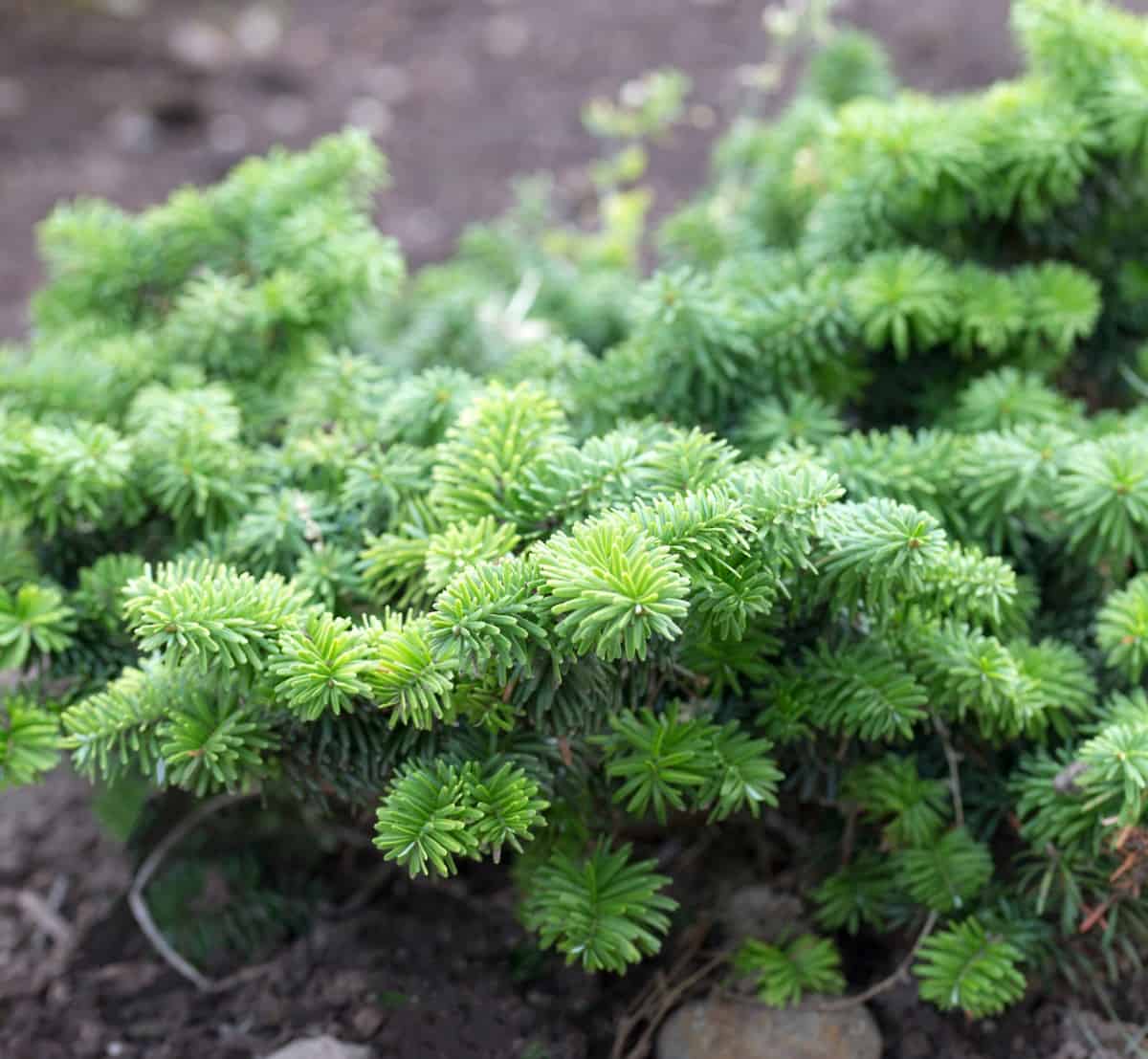 This dark green evergreen tree has a dense mounded habit with dark green foliage. It is a low growing tree that makes it suitable for landscaping in very small yards as a border or ornamental plant.
The dwarf balsam fir prefers moist, acidic soil and thrives in both shade and sun. It is relatively low maintenance and only reaches a height of up to 2 feet with a spread of 3 feet. It is tolerant of urban pollution, making it an excellent choice for city-growing.
A small yard doesn't limit you when it comes to landscaping, as long as you know which types of trees are suitable for your space. Not only are some of the best trees the compact variety, but they are easy to maintain and require very little pruning. Their low growth rate means that you can enjoy the benefit of trees, even in small spaces.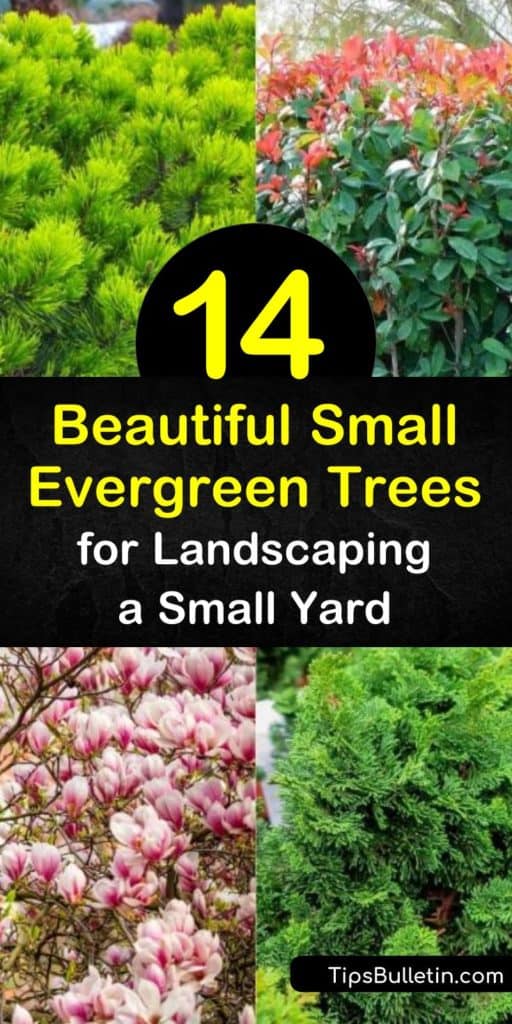 We hope that you plant some of your favorites from our list of small evergreen trees for landscaping and fill your small space with natural beauty, and we'd love it if you'd share our compilation of dwarf landscaping trees with your friends and family on Facebook and Pinterest.