Spiders are usually friendly and don't cause any harm to humans, but some spiders can invade our homes and pose a dire threat to our families and us. Wolf spiders, brown recluse spiders, black widow spiders, and other poisonous spiders common in the United States can set up camp in your house.
When you discover a spider infestation in your house, it's essential to have a reliable plan you can reach for to deal with the issue. When you're prepared and know how to get rid of a spider nest, you'll be able to deal with any home spider issues you encounter and avoid spider bites.
This article provides you with tried-and-true recipes and actions you can employ the next time you discover spiders in the home. In this guide, we demonstrate how to get rid of spider infestation troubles in any room of your home.
Spider Infestation in the House
You'll learn how to take steps to keep spiders from gaining a foothold, and we also let you in on methods to kill spiders who have already gotten inside your house. A fear of spiders shouldn't stop you from keeping a clean and spider-free home, and we'll help you get there.
It's hard to decide which is worse – a bed bugs infestation or a spider problem. Both need immediate attention.
The most effective means of spider control around your home is not to allow spiders to make themselves comfortable. If you deny spiders a place to live or a steady food supply, you won't have to worry about killing them in your home because they won't move in.
When you have an effective method to keep spiders outside and away from your home, you've already gotten the upper hand.
How to Get Rid of a Spider Nest – Prevention
This section looks at how to prevent spiders from getting into your home. We give you some fantastic and proven methods you can use to keep your home spider-free, and they're all easy to implement. Our spider-proofing practices will do more than prevent spiders from sharing your home, too. When you proof your home against spiders, you also guard against yellow jacket infestation problems and other insect invasions.
Seal up Your Home
The odds are pretty good that your home is full of leaks and avenues insects can use. If you want to deter spiders and other creepy crawlies, begin by sealing up any unauthorized entryways into your home. Giving your house a once-over and ensuring that you don't lay out the welcome mat for any spiders goes a long way toward preventing infestations of spiders, egg sacs, and more.
Be sure to check both the interior and exterior of your house. Use the tape to seal up any holes you find in the walls and baseboards of each room in your home.
Look for spider eggs, cobwebs, spider webs, and other marks of spider infestations, and seal up any nearby entry points using tape and caulk.
Repair any torn window screens, and touch up around the windowsills if you find cracks and crevices. Make a home walkthrough and sealing part of your seasonal cleaning tasks.
Clear Away Vegetation
The insects that comprise a spider's diet need green leaves, grasses, and weeds to thrive, and spiders love to hide in plants near your house. When you need to know how to get rid of spiders, begin by clearing out any plant life that supports their prey. Knock out the green, and you'll deprive spiders of a tasty meal.
Don gloves and dig out any plants by the roots. Get every bit of the underground growth, as many plants can come back from a single piece of root.
If needed, lay plastic sheeting on the ground for a few weeks to kill any growth around the home. Repeat as necessary to discourage further growth.
Turn off the Outside Lights
Outdoor lights are fantastic tools for preventing theft or vandalism and help keep our homes safe, but the lights also attract the insects that house spiders love to eat. To keep your spiders down to a minimum, avoid keeping the outside of your home brightly lit at all day and night to remove the spiders' food source.
Motion-triggered lights are just what you need in these sorts of circumstances. A motion-controlled light will allow your home's exterior to stay dark unless something large enough to trigger the motion sensor enters the yard. The darkness will keep moths and nighttime fliers out of your yard, and any spiders in your home will give up and seek greener pastures.
How to Get Rid of Spider Infestation Woes
Taking preventative steps when you want to know how to get rid of spider infestation issues in your home is crucial, but you'll likely still encounter some spiders in your living room or den from time to time. If you want to have a spider-free life, you need a guaranteed spider killer recipe or two ready to go.
Having a reliable method for dealing with spiders gives you flexibility and lets you act immediately to resolve the infestation. It's an essential tool for pest management.
Killing the Spiders
This section covers how to get rid of a spider nest and the spiders that maintain it inside your home. We give you some fantastic recipes you can use to deal with all manner of spider infestations. Some of our recipes kill the spider species, and some drive them away, but all of the methods are effective and will help you gain the upper hand over your spider foes.
Drive the Spiders Away with Essential Oil
Essential oil is much more than a way to make things smell better. Essential oils have scents that repel spiders, which makes them perfect ingredients for spider repellents.
Use our peppermint oil and vinegar recipe to keep spiders at bay and prevent them from living in your home. Use it whenever you want to keep spiders out without harming them.
Fill a bottle with the ingredients. Spray all areas where spiders might live or travel inside your home, and spray down all potential entry points on your home's exterior.
Look for cobwebs and other signs of spiders as clues as to where you should spray. Repeat weekly to keep spiders away. This recipe is a fantastic blueprint to make a homemade fly spray, as well.
Knock Out the Spiders with Diatomaceous Earth
Using diatomaceous earth is a safe and effective method when you need to know how to get rid of spider infestation issues in your home. The diatomaceous earth contains tiny, sharp fossils that tear open the spiders and dry them out. DE is also ideal for getting rid of an ant infestation, too.
Diatomaceous earth is safe to use near your family and pets and will deal with any spider or other insect problems in a hurry.
Sweep any areas, both inside and outside, where you intend to sprinkle DE. To use diatomaceous earth to kill spiders and other bugs, sprinkle the powder on traffic areas and near any webs or spots where you've seen the pests.
The diatomaceous earth stays active as long as it doesn't get wet. Add new powder regularly if you live in a humid climate or after it rains outside.
You can use diatomaceous earth against termites and other pest problems as well as spiders. It's inexpensive and very handy to eliminate unwanted bugs in and around your home.
Lay Down Glue Traps
Glue traps allow you to deal with insects and spiders without having to expose your family to harsh chemicals. Place glue traps anywhere spiders might travel. A glue trap also works well to take care of a gnat infestation inside the house.
The traps will keep spiders, gnats, and other bugs from making themselves at home inside your bedroom, kitchen, or garage. They're great against cockroaches, too.
Boil the corn syrup and water until the mixture cooks down to a sticky paste. Cut heavy paper into long strips, and coat one side of the paper with the paste.
Lay out the glue traps wherever spiders and other insects travel and weigh them down with coins to prevent the sticky side from flipping over. Replace the traps when they gather too much dirt and dust or accumulate a lot of bugs.
Use Long-Lasting Pesticides
Nothing lets the spiders know you're not fooling around like pesticides. If you want to keep the spiders away from your home and can deploy it without risking your family, pesticides are a fantastic way to control your inside spider population.
Pesticides help you deny spiders either their next meal or hiding spots. Hiring a pest control professional such as an exterminator is a good step, or you can take care of deploying the pesticides on your own and be your own pest control company. Residual insecticides will kill spiders for a long time and can help keep your arachnophobia at a manageable level.
Use a fogger or spray pesticide that specifies effectiveness against spiders. There are lots of foggers that won't touch spiders, so be sure to check before you buy them.
If you're using a spray, make sure to spray under appliances, in crawl spaces, and cluttered and hard-to-reach hiding places if you want the treatment to be effective. Repeat the spray or fog as needed to control spiders.
We hope you enjoyed our suggestions on how to get rid of spider infestation troubles in your home. Spiders are usually beneficial and good for the environment, but a venomous spider infestation in your house is a threat you need to address. Our guide shows you how to get rid of a spider nest when you find it and keep it from returning.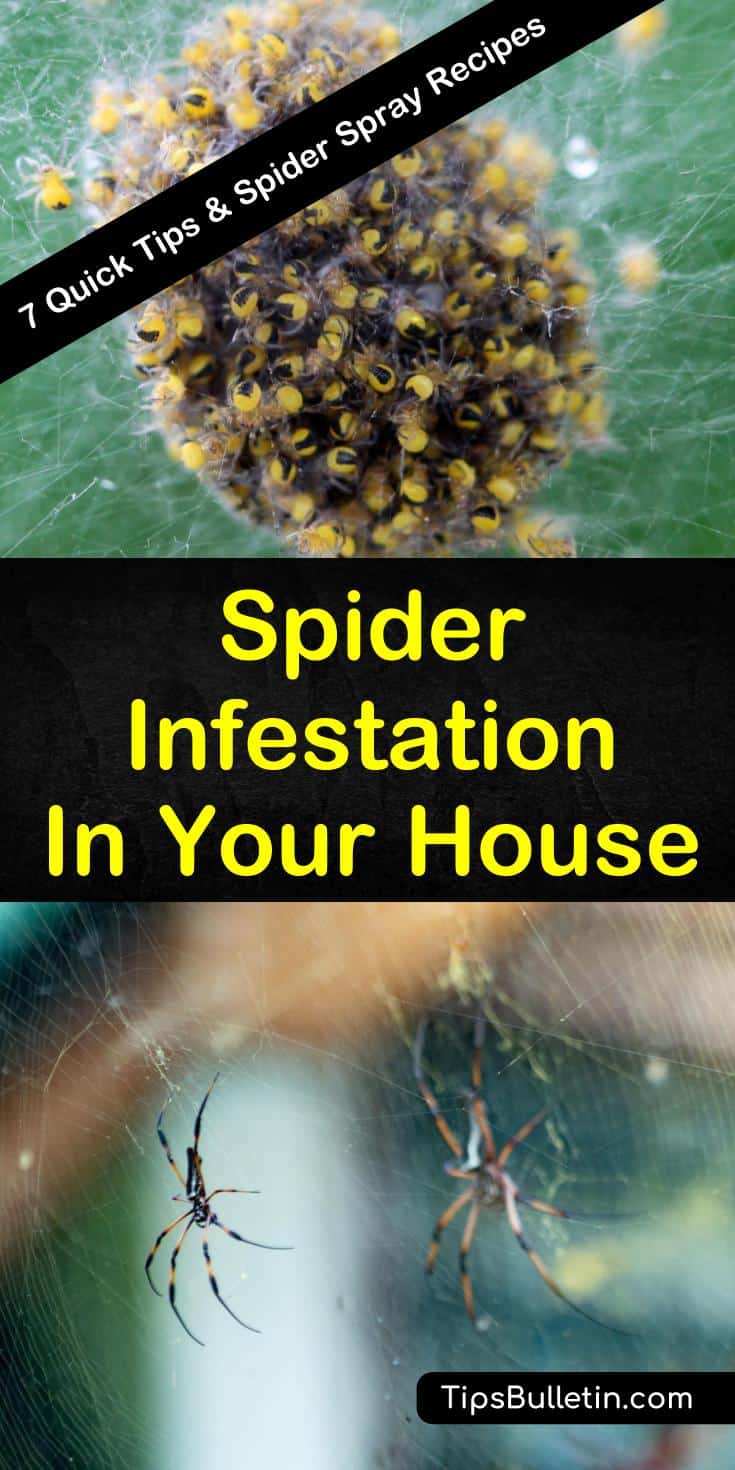 Thanks for reading our spider eradication tips. If you found our ideas on how to deal with a spider infestation in your house helpful, please share these spider control tips with your family and friends on Pinterest and Facebook.