When it comes to your garden, you spend countless hours cultivating the perfect mixture of flowers and grasses to balance its allure. In addition to teaming up the ideal combination of plants, finding specimens that provide interest for every season is tantamount to a beautiful garden year-round. One way to spruce up your springtime is with a fabulous host of spring flowering grasses.
Many landscapers highly prize ornamental grasses for their vibrant foliage, with many being brought over from Europe and other exotic locations centuries ago to add color and texture to the American landscape.
Some even handle common pests much easier than native species and are relatively easy to maintain.
Plus, you have the added benefit of enjoying a lovely spread of flowers starting in spring, with some varieties extending their bloom time into the summer months. For the best selection of blooming grasses for your spring garden, try these stunning species.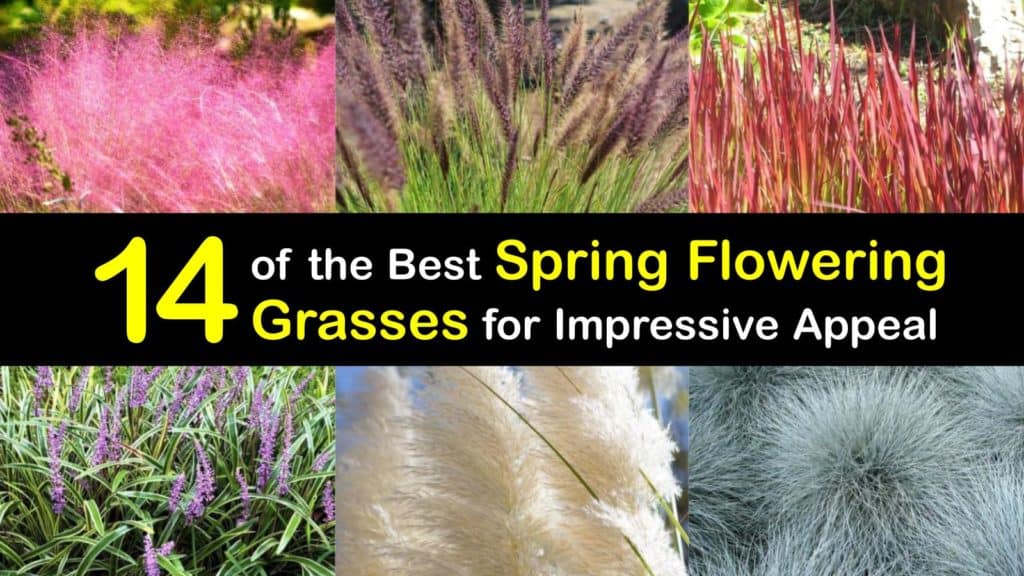 Gorgeous Grasses Perfect for Remarkable Results
One thing to consider before planting your grasses is the location. Whether you live in a colder or warmer climate also determines whether your grasses sprout gorgeous flowers in spring, summer, or even the winter months.
Always keep location in mind when planting and consider your placement in the USDA hardiness zones.
Pampas Grass (Cortaderia selloana)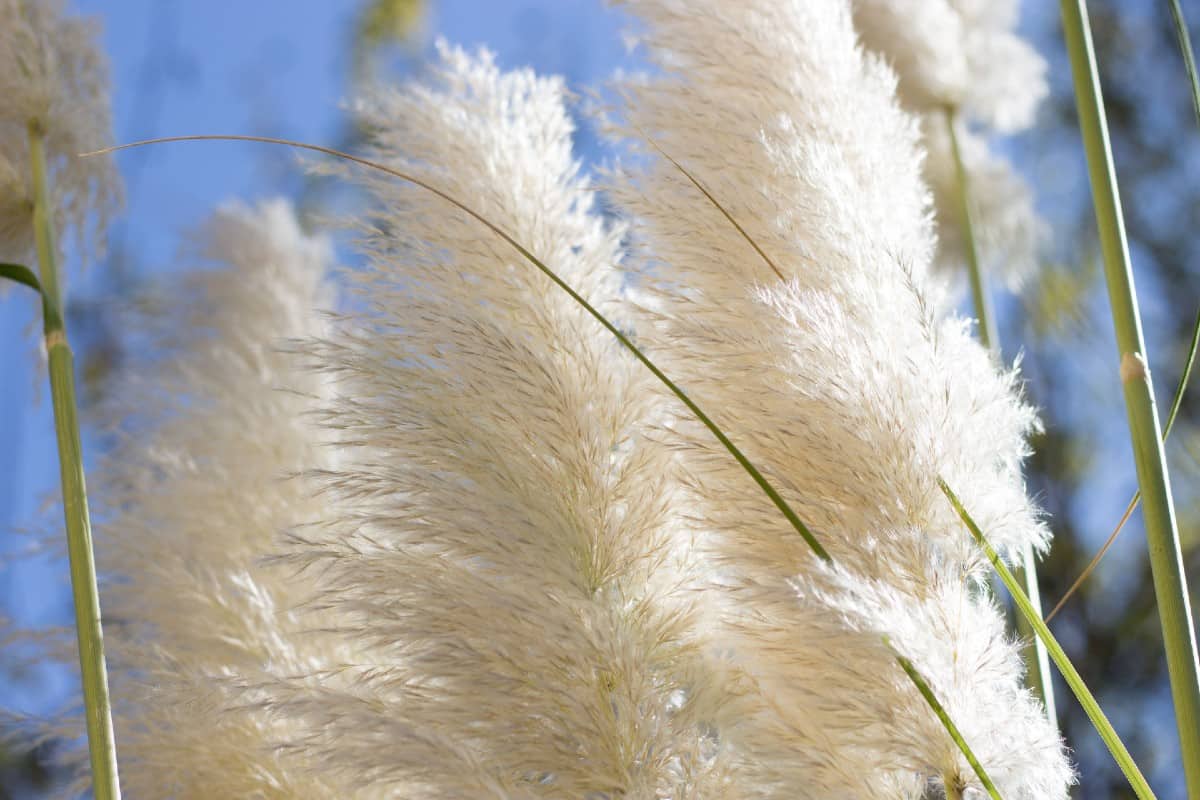 A phenomenal place to start on your journey for incredible flowering grasses is with Pampas Grass. This warm-season grass loves hot summers and sustains mild winters well. In fact, leaving it in the shade prevents the plant from sufficiently blooming.
Since this plant grows up to 12 feet tall, give it plenty of space to spread out once fully mature.
Little maintenance is required to keep non invasive Pampas Grass happy and healthy, though the occasional dividing of flower clusters allows them to thrive more extensively. The most beneficial season of the year to prune these grasses is either in late winter or early spring.
Sedge (Carex): Easy to Care for Ornamental Grass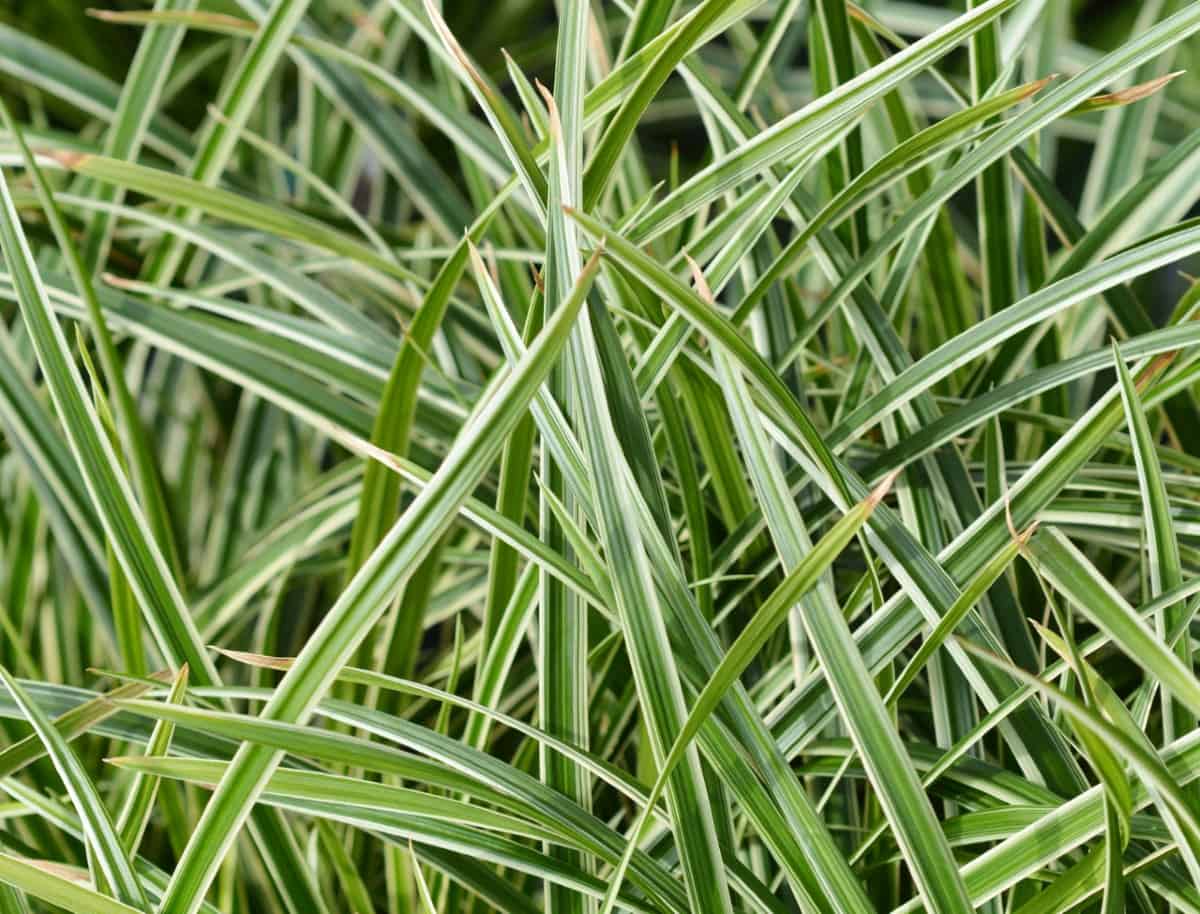 Another popular grass seen in gardens is a sedge, a triangular plant with round, solid stems. They remain green in the winter, then start to bloom in the spring through the early summer.
Sedge flowers produce tiny seed heads that birds love to munch on, along with foliage that many other creatures use to create nests. The sedge plant is low maintenance and rarely begs for supplements like fertilizer to flourish.
Its ability to spread quickly and effortlessly makes it a regular replacement for turfgrass, which often requires the addition of nitrogen to develop.
This specimen is not too particular about whether it receives sun or shade, though colder locations benefit from affording the grass more hours of sunlight.
Fountain Grass (Pennisetum setaceum)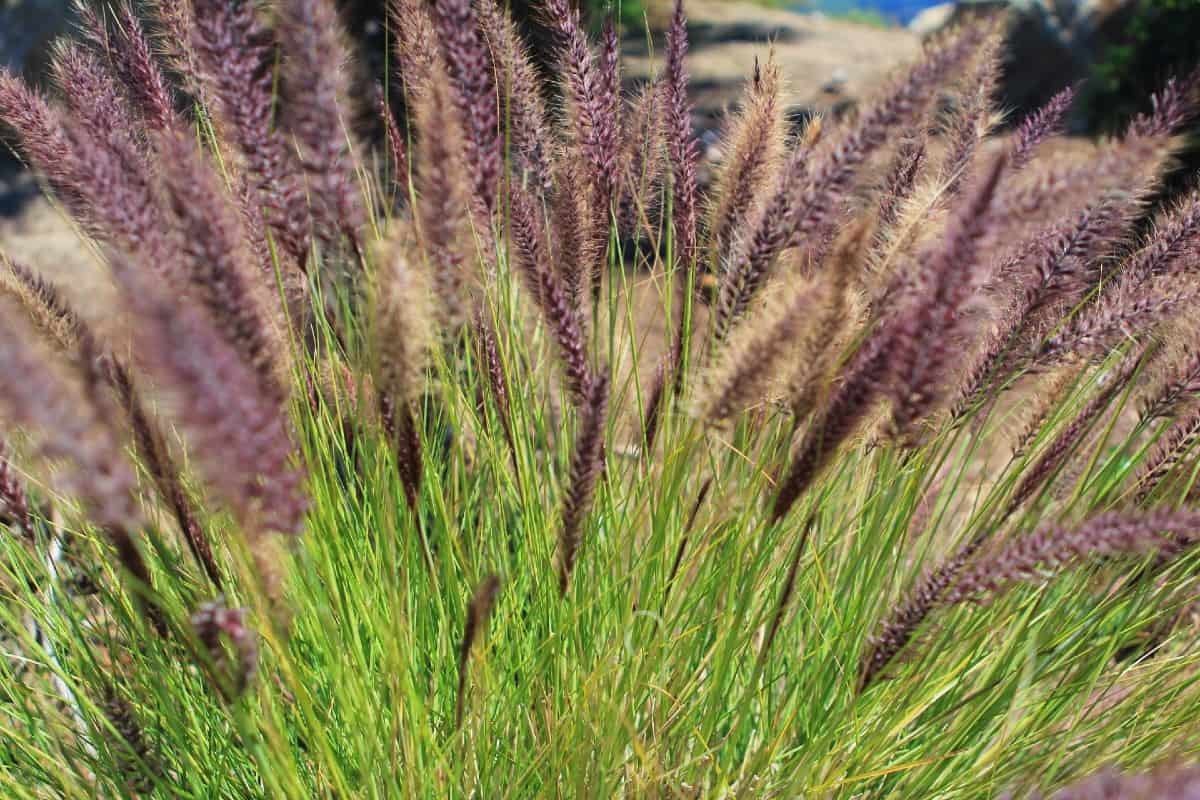 A native of Africa, Fountain Grass first appeared in 1880 as one of the ornamental grasses to dress up lawns. It forms a mounding habit with lovely flowers and spikes that look similar to the bristles of brushes.
It looks similar to other flowering plants like foxtail, blooming as far in the year as late summer.
Fountain Grass provides a fantastic appeal year-round, not just during the flowering months. When in bloom, small flowers display flashes of tan, pink, or purple. In the fall and winter, the purple perennial grasses act as a statement piece for the seasons.
Blue Oatgrass (Helictotrichon)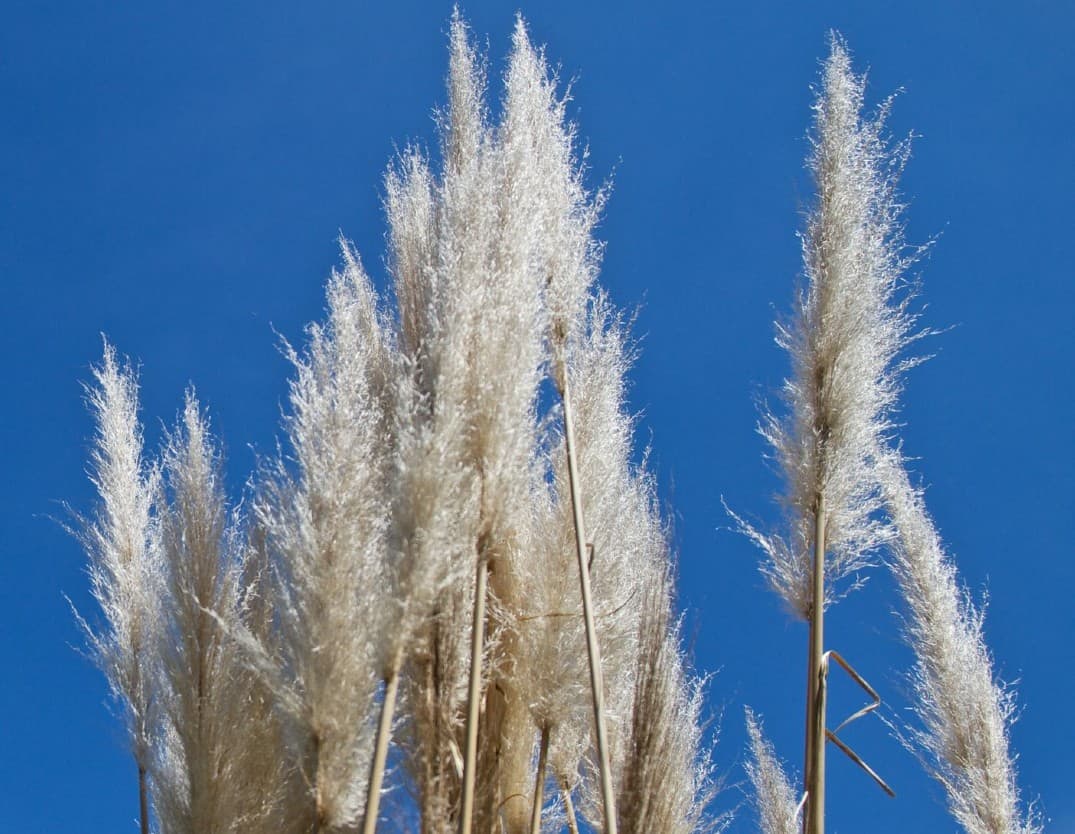 Blue Oatgrass is a perennial with silvery-blue foliage in the shape of tiny spikes. The overflowing effect of the blades resembles a water fountain that spills over the sides.
It reaches up to 40 inches in height, with the only pruning for maintenance being a comb through the dead leaves with your hand. A native plant to the Alps in Europe, this grass loves cold weather and is amenable to higher altitudes.
It also tolerates most soil conditions and situations, typically thriving best in full sun. In warmer climates, the plant flowers in spring, while cooler summers in other areas make perfect bloom conditions.
Japanese Forest Grass (Hakonechloa): Shade-Loving Groundcover for the Base of Trees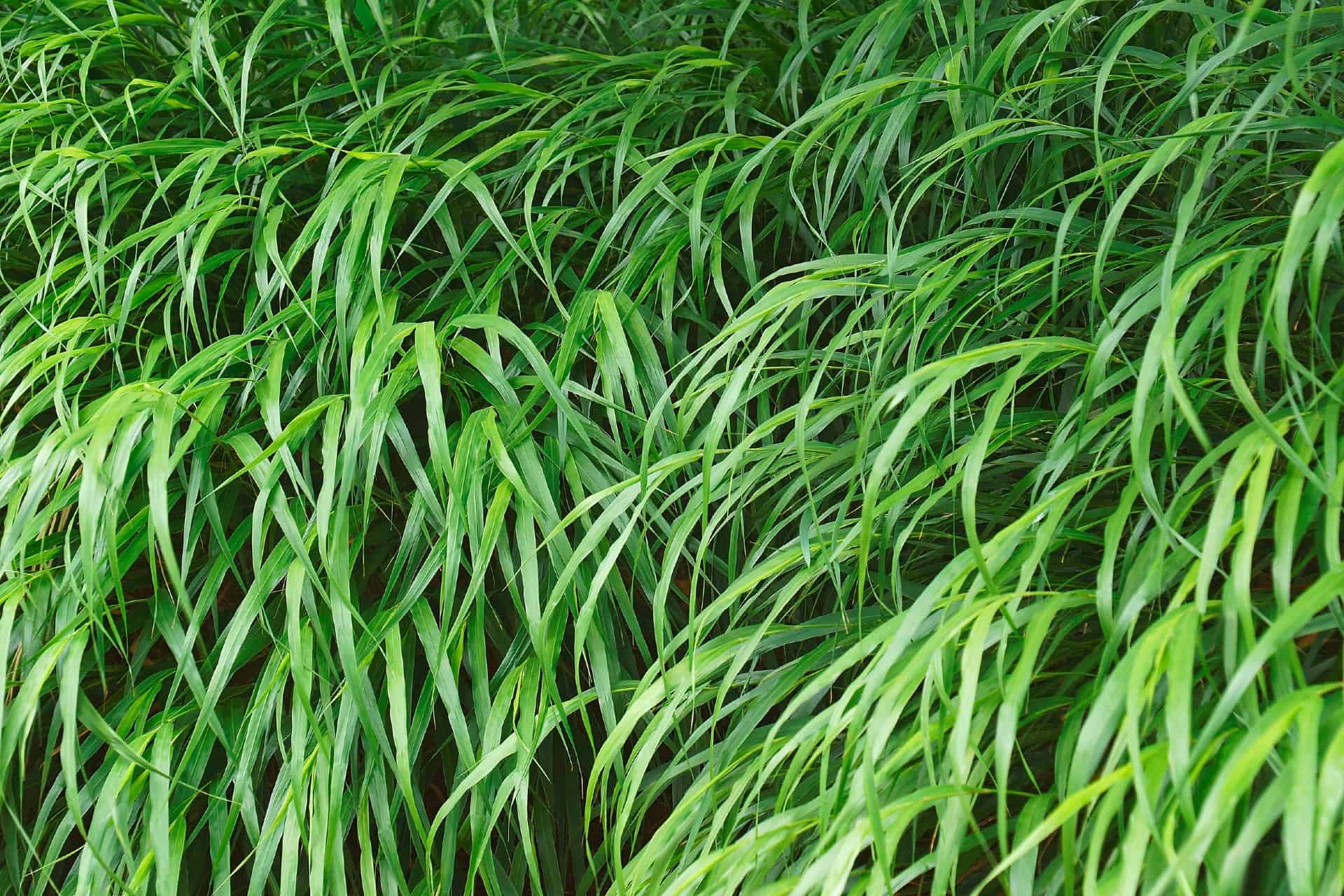 A gorgeous shade-loving species, Japanese Forest Grass provides a bright array of colors in the dark spots of your lawn. Its stunning leaves alternate between yellow and green stripes, taking on an appearance similar to bamboo leaves.
It also possesses fabulous pink accents every fall season. In addition to its ease of maintenance and dramatic hues, it is also resistant to common issues like pests and disease.
With only a moderate need for sunlight, this species of fountain grass works perfectly for groundcover around tall flowers or trees, as well as making a splendid container plant. Some other shade-friendly plants to pair this grass with are hydrangeas and hostas.
Muhly Grass (Muhlenbergia)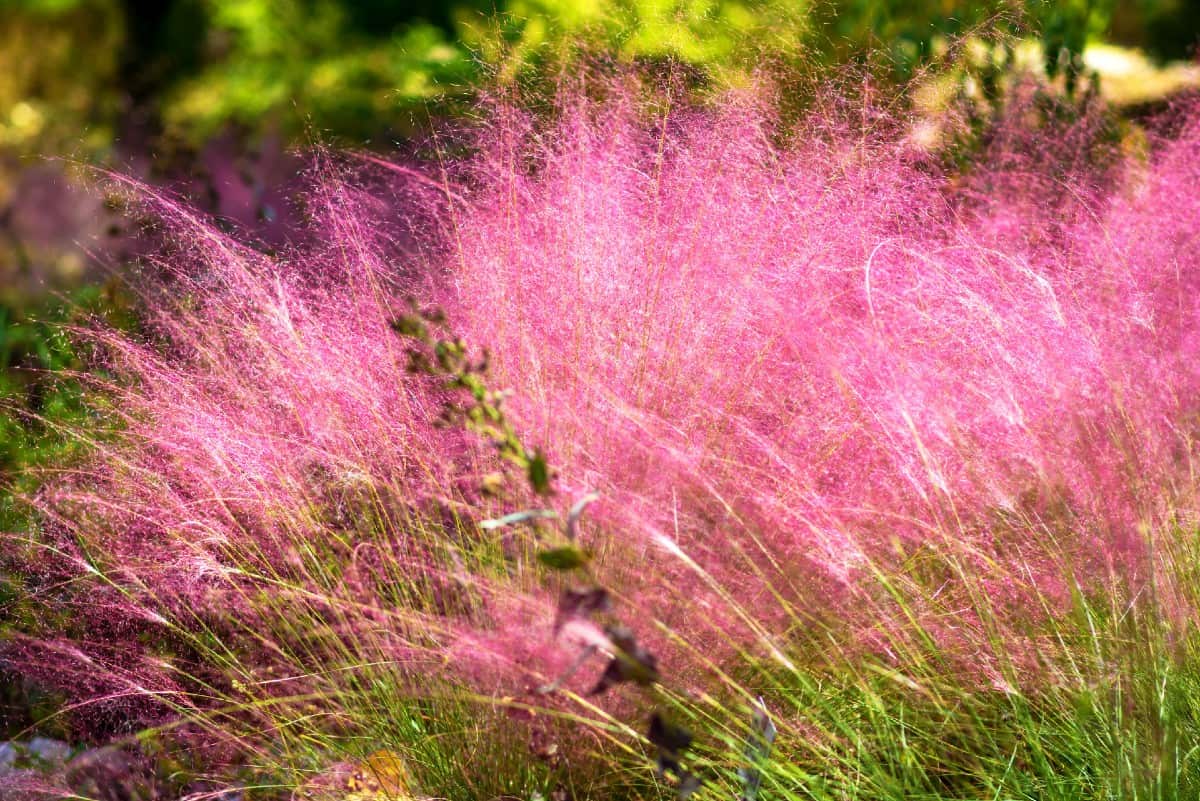 Muhly Grass is an intriguing specimen, especially for those wanting to add color and style to their yard. When in bloom, giant showy plumes of pink and purple extend above the grass like fancy feathers.
The hardiness of this grass and its curb appeal make it a common highway plant. While Muhly Grass thrives in numerous environments, recreating its natural habitat is key to its success.
As a native to Florida and the eastern part of the United States, it is accustomed to drier soils, even sand, and does not like wet roots. When planting, space them out at least two feet apart to allow them enough space to expand.
Blue Fescue (Festuca glauca): Evergreen Grass with a Lovely Fountain Effect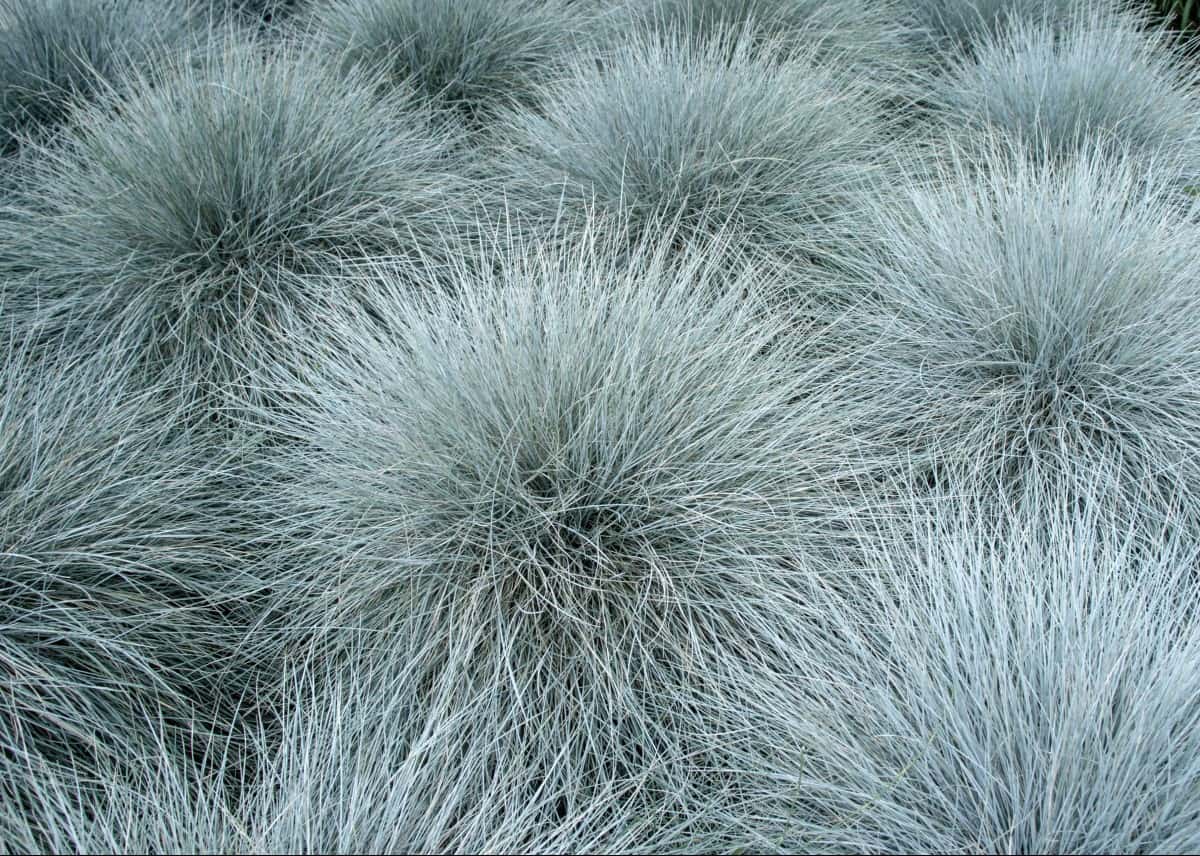 Beloved for its impressive blades of blue grass, Blue Fescue is a popular grass in many landscapes. Its evergreen, arching habit provides a lovely cascading effect that appeals to most gardeners.
Its small size of only about 10 inches makes it ideal for groundcover and borders. When flowers sprout in late spring, the blooms add to the height for a total of one and a half feet tall.
The flowers look similar to other feathery grasses, with tall stalks and bright colors that accent places like rock gardens. Find a pretty sunny location for this grass to flourish.
Karl Foerster (Calamagrostis acutiflora)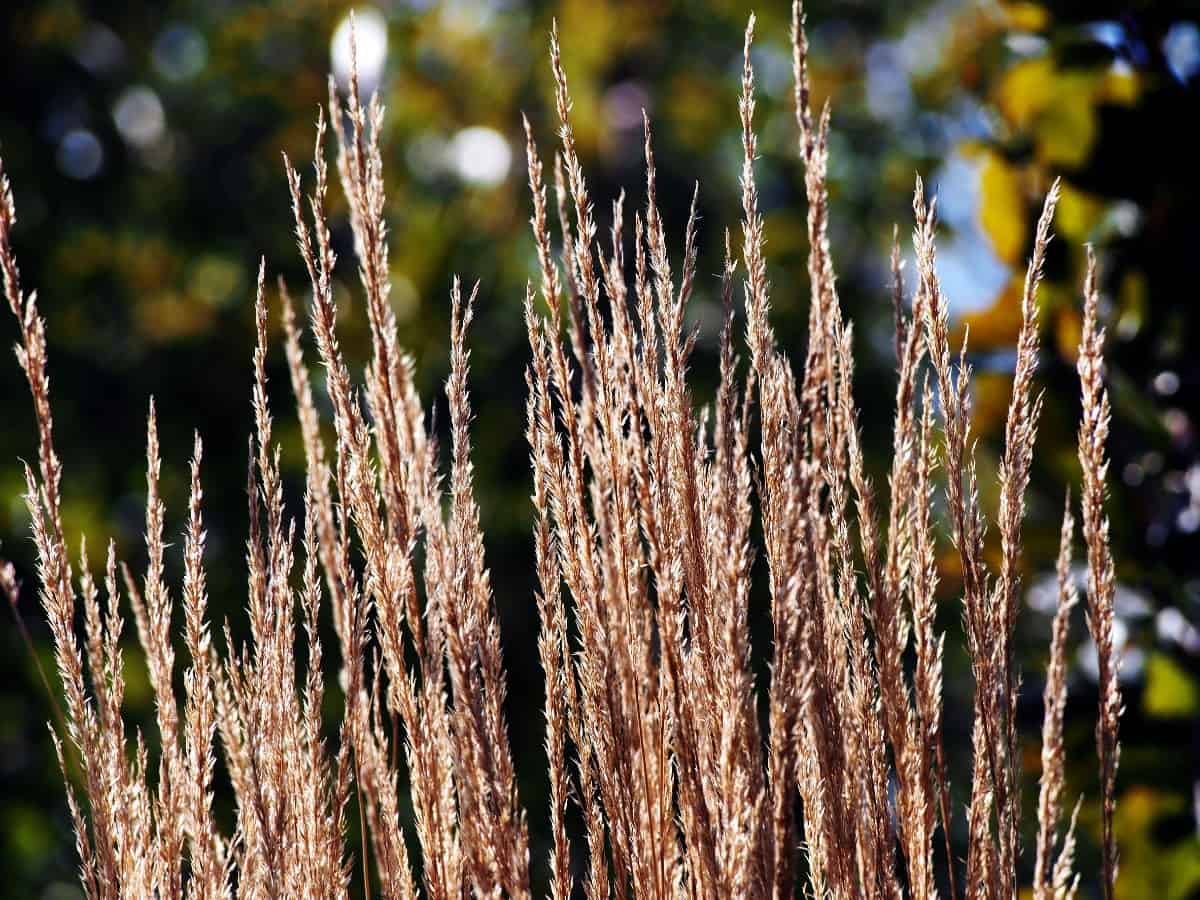 One of the best known cool season grasses for gardeners is Karl Foerster. An additional name the plant goes by is Feather Reed Grass, which applies to the fluffy appearance of the specimen's flowers.
These gorgeous flowers begin to bloom starting as early as May and last as long as February in certain locations.
There are approximately 250 different species of cool season reed grasses, most of which are fantastic for those seeking a naturalist or rustic look in their yards.
Even as the cold winter approaches in the northern states, the plant generates a fair amount of winter interest. In warmer areas, it typically remains green, while colder climates cause the reeds to turn a bronze or tan color.
Chinese Silvergrass (Miscanthus sinensis)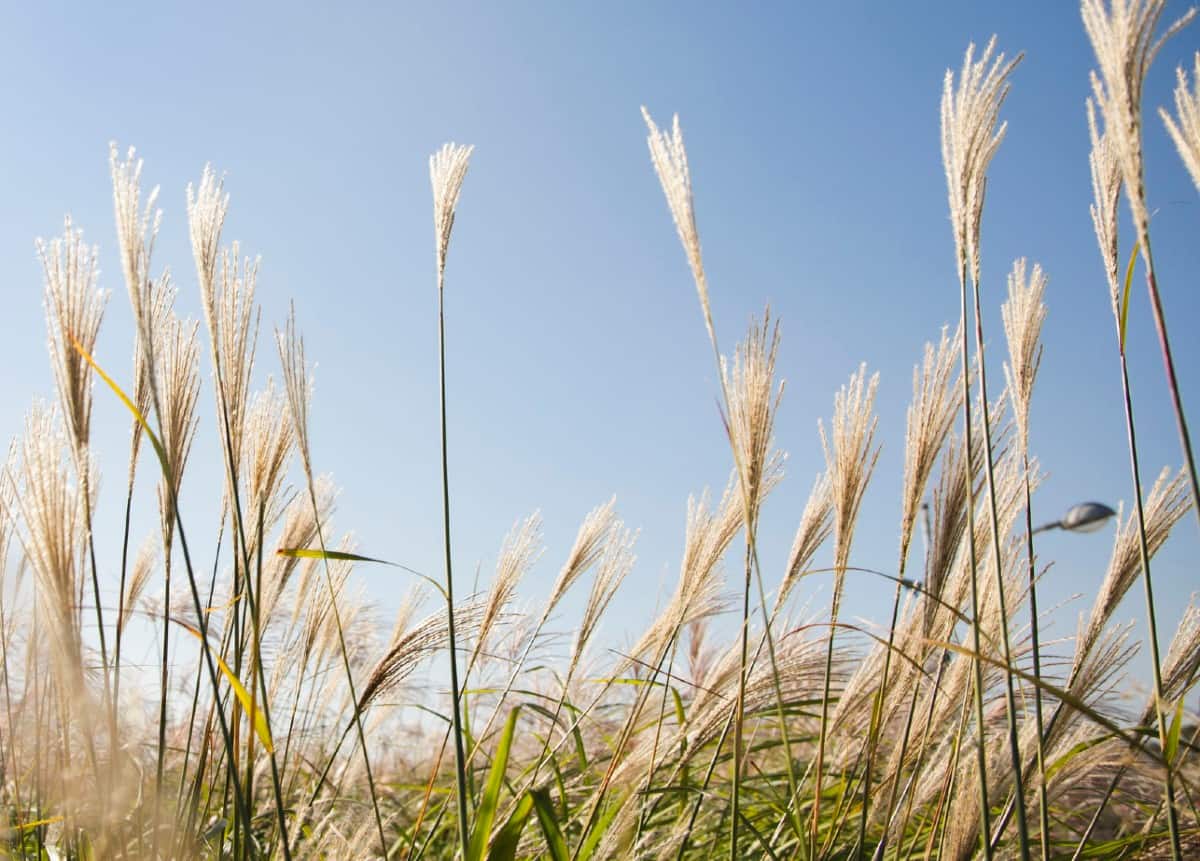 Many homeowners love Chinese Silvergrass, also referred to as Maiden Grass and Zebra Grass, for its easy-to-care-for nature. Bright green and even yellow stripes decorate the leaf exteriors, providing vibrant colors starting in early spring.
Warmer climates see lovely flowers in springtime, where cooler locations may bloom as late as summer or early fall.
Surprisingly, the best time to plant this type of ornamental grass is either in the summer or fall months so that they develop deep, sturdy roots by the time the following growing season arrives.
Some species of silvergrass tolerate dry or wet soils, though most prefer a nice balance to prevent complications. Place it in an area of the yard where it receives plenty of sunlight to thrive.
Northern s (Chasmanthium latifolium): Intriguing Spring Flowering Grasses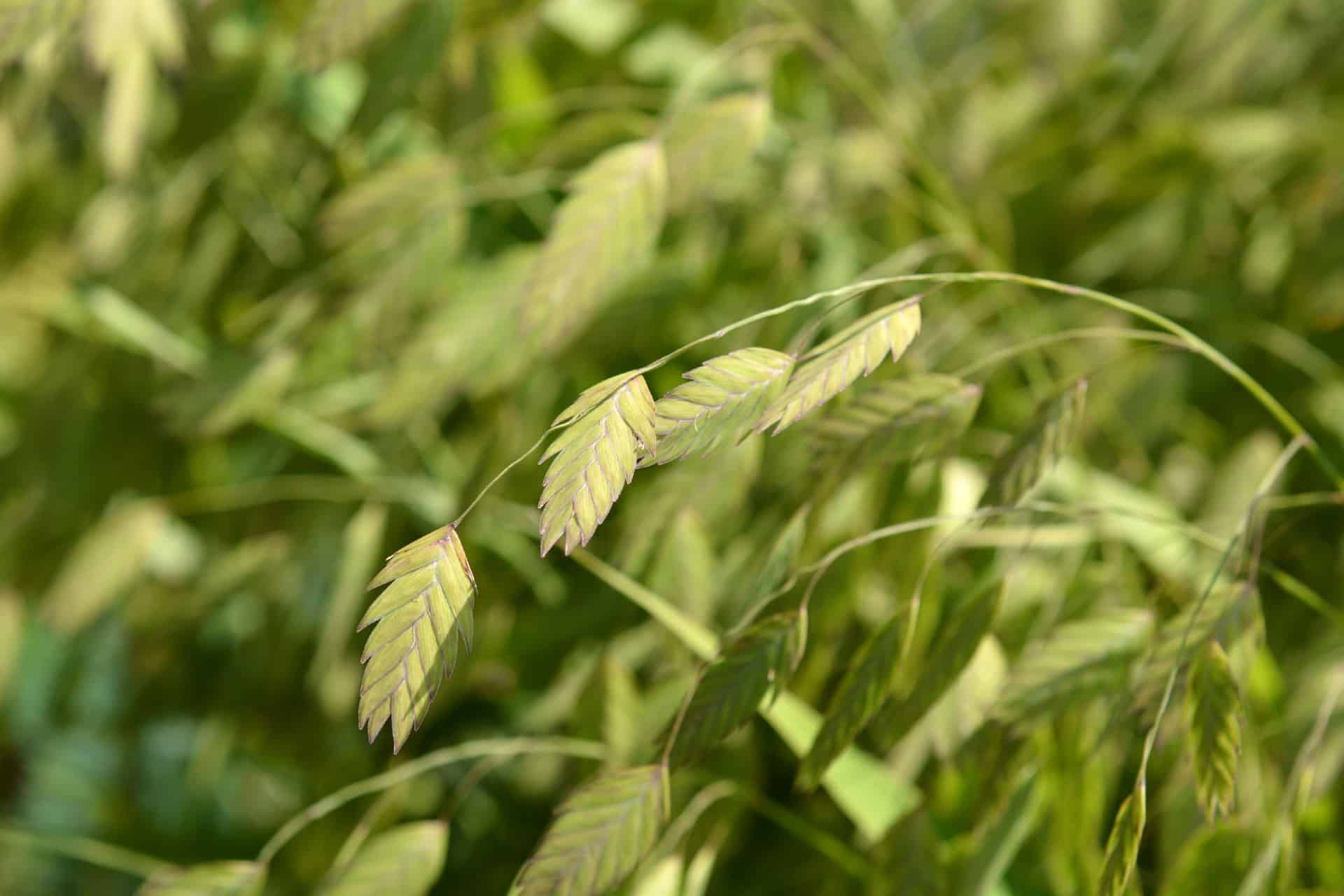 If a warm-season grass is what you're looking for, then the Northern Sea Oats is a specimen that does not disappoint. Native to the southern and eastern parts of the country, it's amenable to numerous ranges of growing conditions, such as full sun or partial shade, including being one of the grasses for seaside landscaping.
To encourage the best spring blooms, shear back dead leaves in winter. This perennial receives its name from the flat foliage that looks similar to oat stalks.
The flowers that emerge, and last for multiple seasons at a time, also possess characteristics like little wheat plants that dangle from loose strips.
Northern Sea Oats are potentially invasive, spreading through even the smallest pieces of rhizomes, so taking care when trimming is imperative.
Lily Turf (Liriope muscari)
The next type of flowering grass to adorn the list is not actual grass at all. However, the stunning blossom-producing species of Lily Turf remains an essential tool for that exact purpose, especially as ornamental grass and evergreen groundcover.
It stretches as high as 16 inches with a similar spread in width. The deep green foliage is not the only statement piece of this plant, which generates both fruit and flowers throughout the year.
Bell-shaped flowers that are purple form tall spikes similar to other flowers like Grape Hyacinth or even Lilac. In fall, black or dark-blue berries make the perfect treat for birds or create new plant life but are not a tasty treat for humans.
Switch Grass (Panicum virgatum): Perfect Species for a Rustic Feel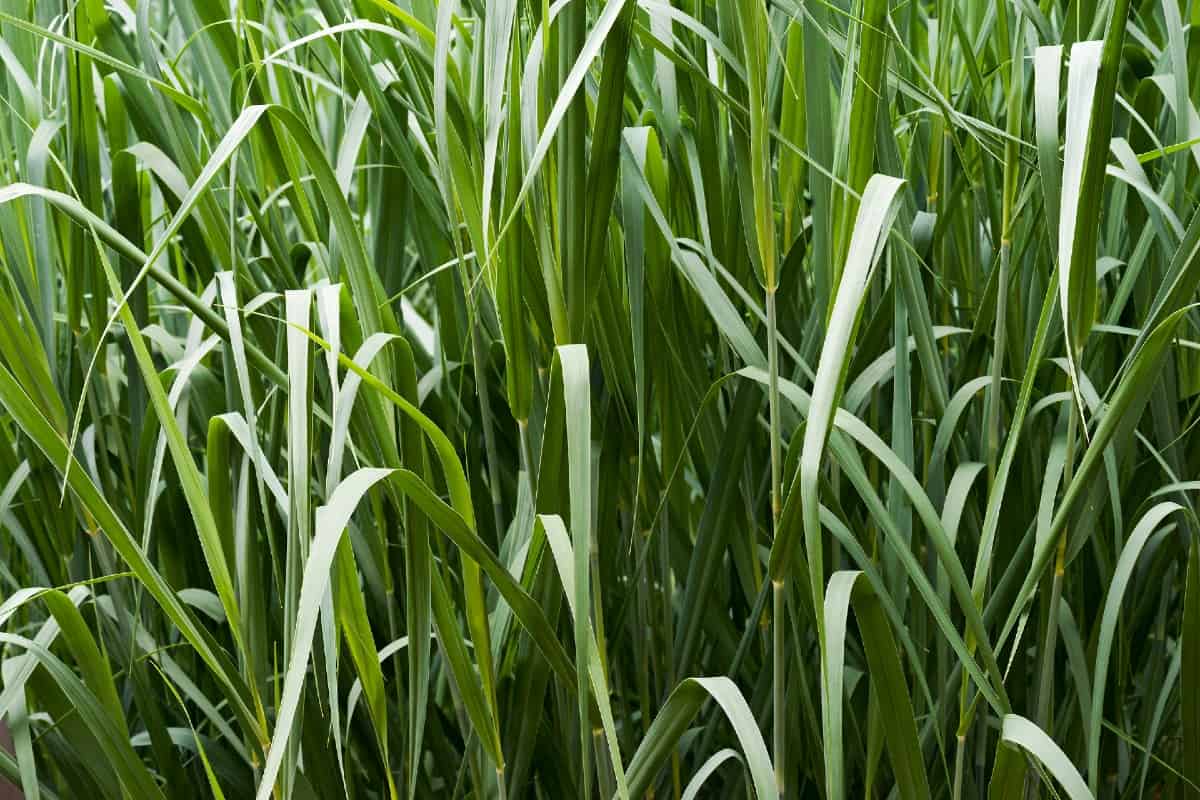 For a species with a slightly different feel and appearance, try Switch Grass. This plant often graces yards as a type of prairie grass, giving a more rustic or western aesthetic to your garden.
Despite its unique look, Switch Grass appears throughout most of the United States, enduring conditions along roadsides, dry prairies, and even wet marshes.
This warm-season grass displays eye-catching colors at all times of the year. After the pinkish spikes of flowers finish blooming, the leaves of these desert grass plants turn red and yellow in fall. By winter, the color is an attractive beige, offering an array of colors all year long.
Cogon Grass (Imperata cylindrica)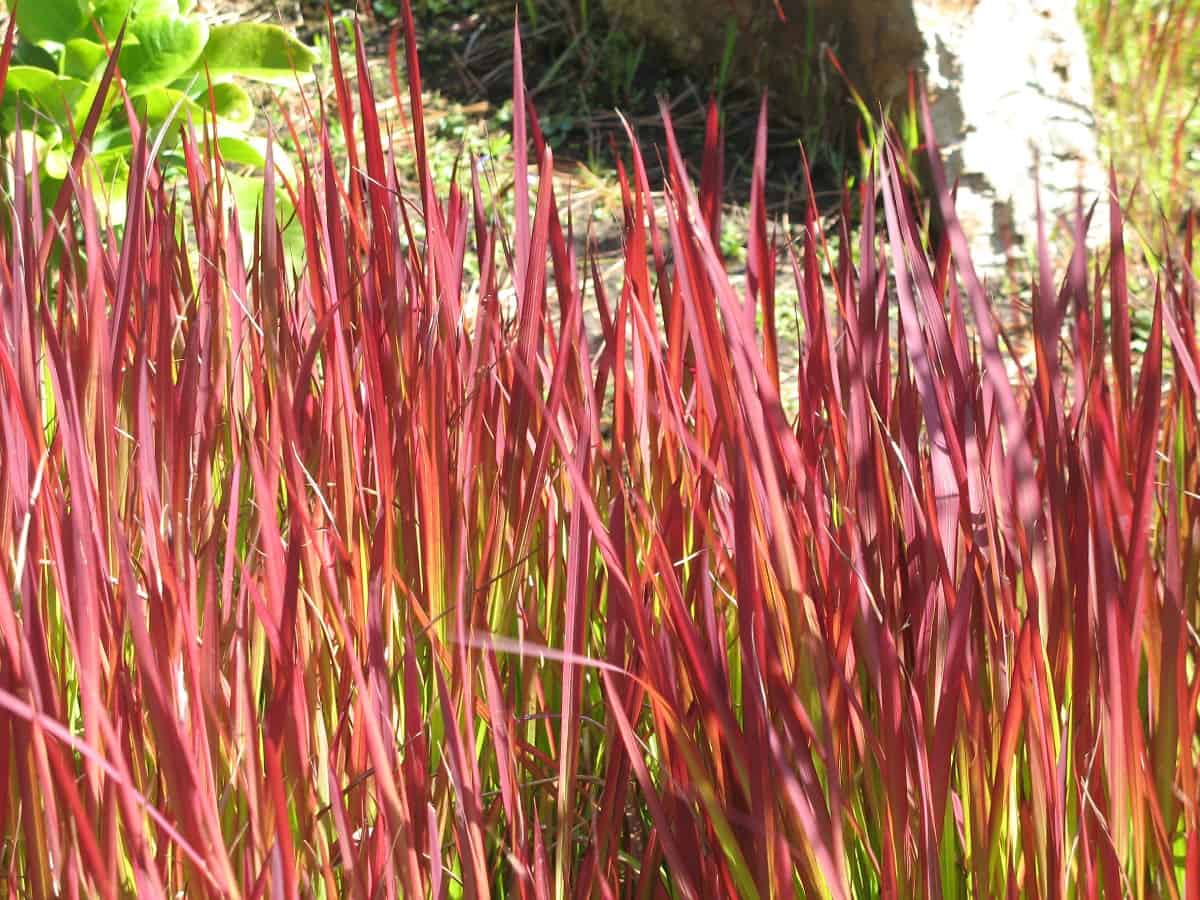 Cogon Grass is a tricky plant to grow in your garden. Also known as Japanese Bloodgrass, the plant is invasive if not tended to regularly, though a welcome addition for anyone willing to entertain moderate trimming.
It spreads effortlessly across wide-open spaces or when bits of the rhizomes remain in the soil. Cogon Grass originally traveled to the United States from parts of Africa and Asia by accident as a packing material.
However, it was intentionally introduced several decades later, with many favoring its effectiveness in regulating erosion. This plant stands approximately 5 feet tall maximum, with bright yellow or green foliage.
European Meadow Rush (Juncus inflexus)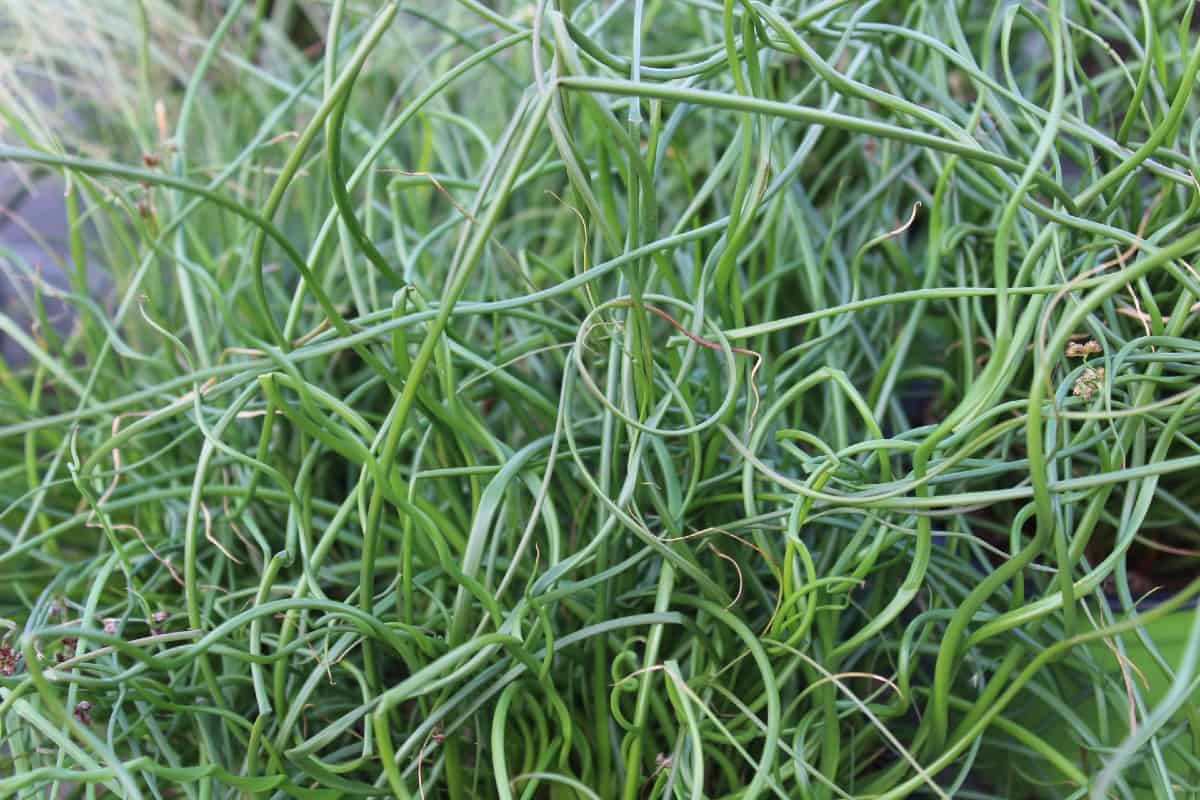 A semi-evergreen grass perfect for mild climates, European Meadow Rush not only adds texture to gardens but also comes with a variety of uses. The versatility of this perennial makes it ideal for borders, poolsides, and to assist with controlling erosion.
When it comes to pairing them with other incredible specimens, flowering vines like Creeping Jenny or shrubs like Bee Balm make excellent partners. Depending on your location, these grasses bloom in either late spring or early summer.
Areas with higher temperatures during the year often expose Meadow Rush to intense periods of sunlight, causing fading or wilting of the flowers and blades.
As a plant whose natural habitat is along wetlands and creeks, ensure it receives plenty of moisture in the soil.
Now that you have seen some of the best flowering grasses for springtime blossoms, the possibilities of what you might do with your garden are limitless.
While these are by far the most appealing options, there are still plenty to mix and match with when it comes to creating the landscaping design of your dreams.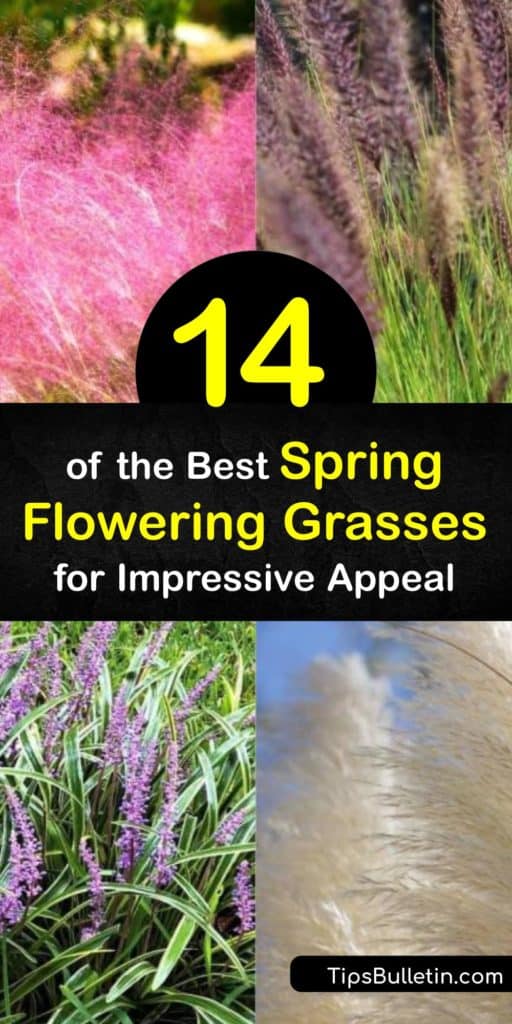 If these gorgeous blooming plants have inspired you and your next gardening project, remember to share which spring flowering grasses are your favorite on Facebook and Pinterest.