When spring rolls around, and the last frost disappears, we often expect our gardens to light up with life and color. If this doesn't happen, your garden beds may require a little bit of love. Planting spring flowering shrubs is the easiest way to ensure that your yard comes to life each spring and fills your home with pleasant sites, colors, and scents.
The great thing about planting spring flowering shrubs is that it's easy to choose options that not only provide color at the beginning of the growing season but that show off pretty fall color as well.
There are endless plants to choose from; some have stand-out variegated foliage, some showcase the most vibrant colors you've ever laid eyes on, and some fit your planting space and environment better than any other.
When choosing which shrubs for spring are right for you, take note of precisely what you're looking for, so it's easier to narrow your options.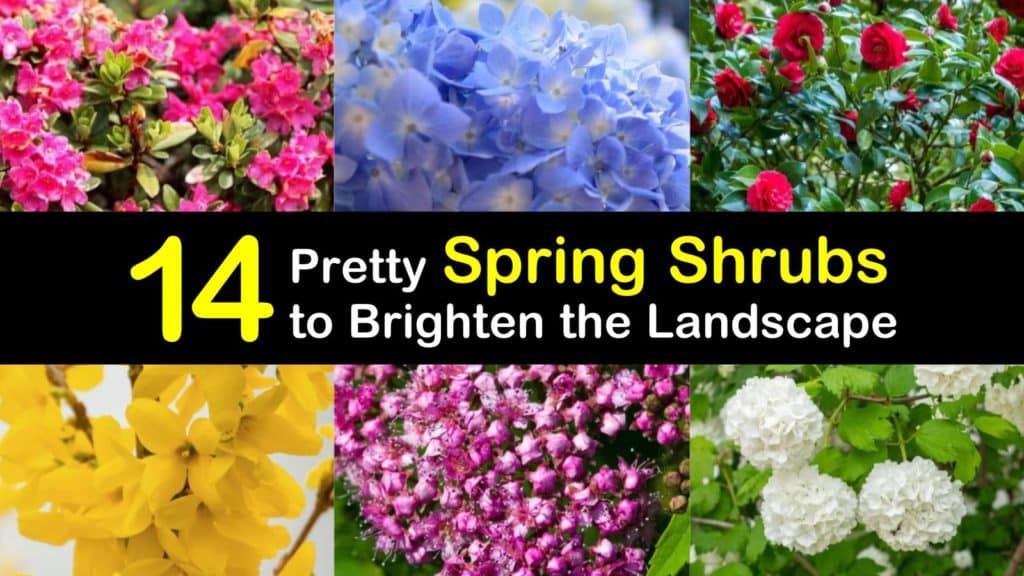 Planting Shrubs for Spring
Whether you're adding a dozen spring flowering shrubs or a single plant, allow at least 30 minutes of work for each one that you're planting.
Ensuring you have enough time to get the required work done means that the plants have a better chance of living and more time to adjust to their new environment. Before planting shrubs, double-check that the spot meets the light and soil requirements.
Prepare the sight you wish to plant by raking away pre-existing mulch or clutter. Dig a hole that is both twice as wide and deep as the container that the shrub is in. Remove the chosen shrub from the container and loosen the roots to help it adapt quickly.
Gently place the roots into the hole, add compost or fertilizer if necessary, and fill in the remaining dirt. Pack the soil around the bottom of the plant and give it a deep watering. Continue to water the plant throughout the first few months and add mulch to retain moisture.
For extra interest, add some spring-flowering vines, perennials, and annuals. Color will explode in your yard and garden.
Popular Spring Flowering Shrubs: Viburnum (Viburnum opulus)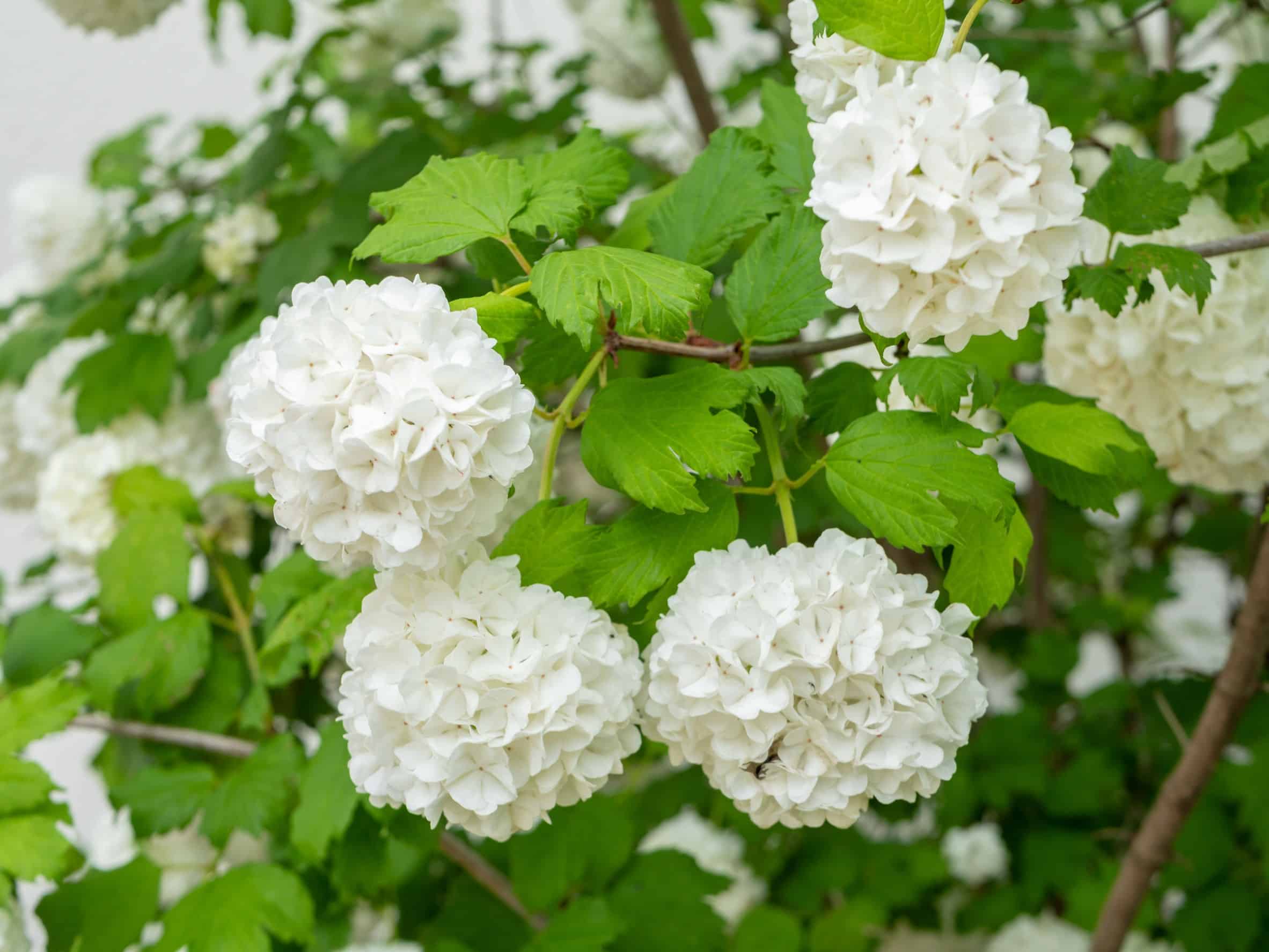 Viburnum is one of the best spring flowering shrubs because of its unique, tooth-shaped foliage with bright red berries. They usually grow six to ten feet tall and wide.
Once they reach maturity, viburnum shrubs form dense, rounded shapes with exaggerated, arching stems. Viburnum leaves are dark green during the growing season and transition to yellow and red shades during the fall.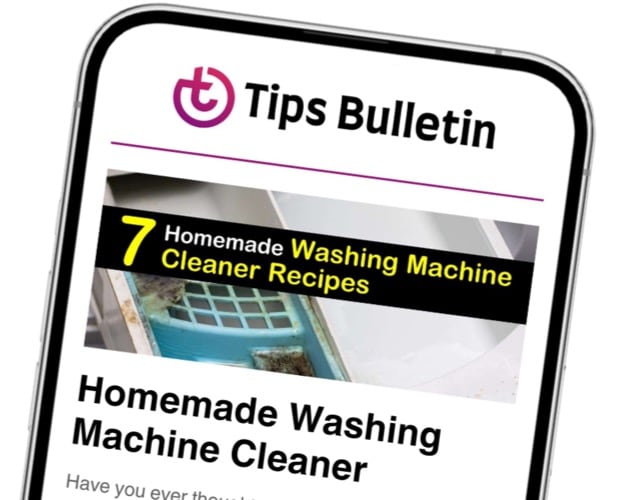 Finally, an email that Transforms Your Home.
Get the latest home and garden tips from our experts, delivered straight to your inbox.
Viburnum is so hardy that it grows in USDA hardiness zones two through eight. Grow viburnum shrubs in areas with partial shade that receive about four hours of sunlight every day. Water new plants regularly until well established.
Lilac (Syringa vulgaris)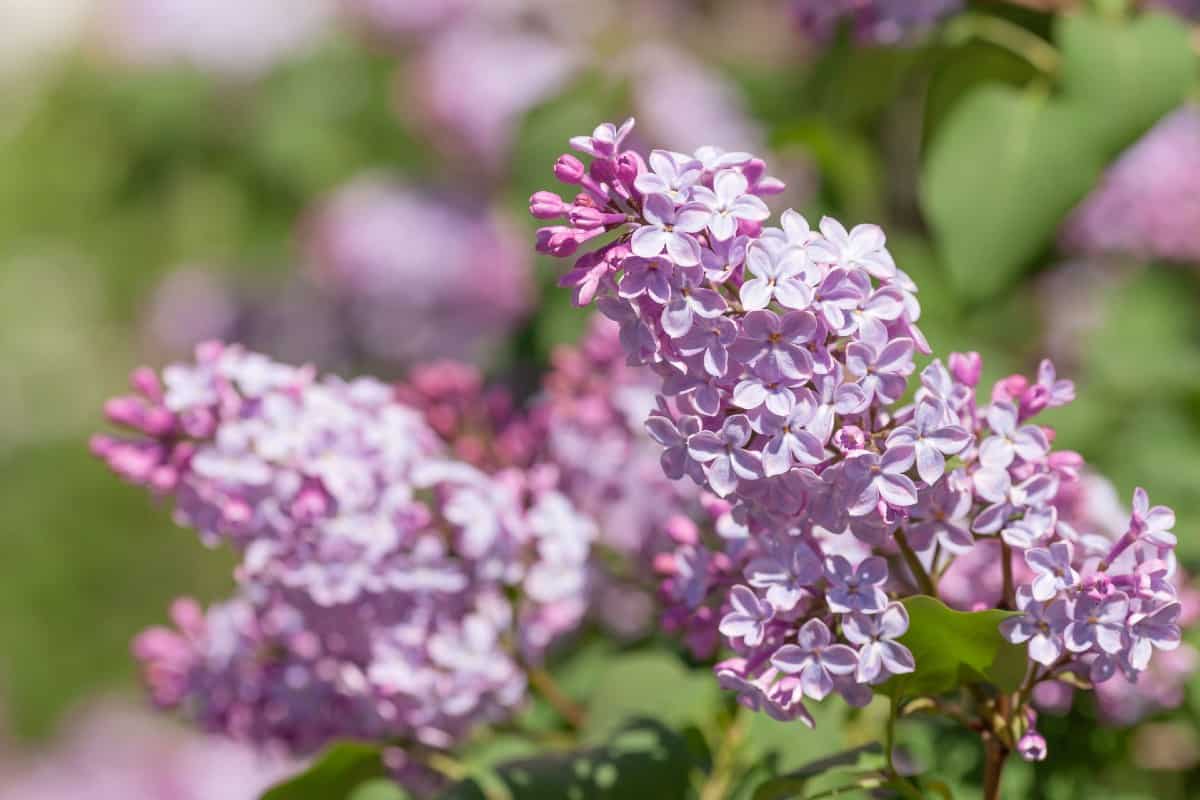 Lilac shrubs emit some of the strongest aromatics and colors throughout their late spring blooming season. The panicles of flowers range from pinks to purples and attract pollinators like bees and butterflies.
Dwarf species of lilacs grow to be around eight feet tall, with larger varieties at 30 feet tall. Plant your short shrubs or tall ones in the early spring or fall once the risk of frost is gone. If planting more than once shrub, make sure they are at least five feet apart.
Choose locations with plenty of afternoon sunshine and put them into well-draining soil. Add a thick layer of organic mulch around the plant to prevent weeds from growing and retain soil moisture.
Flowering Quince (Chaenomeles japonica)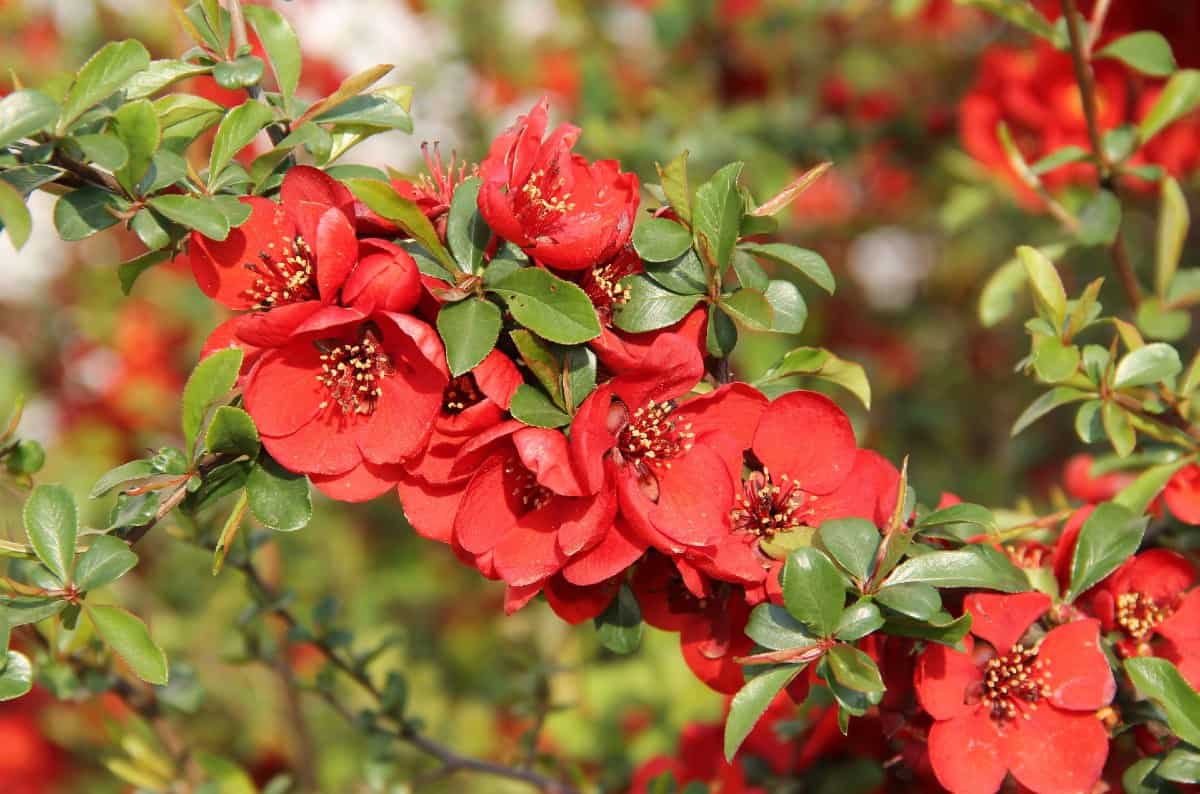 Flowering quince has a somewhat messy growing habitat, but this shrub is worth the time to trim if you love bright flowers in the spring. This plant is a deciduous shrub with red, orange, pink, or white blooms that stand out against the dark green foliage.
These plants are thorny because they're closely related to roses and hardy in zones four through nine. Flowering quince typically reaches six to ten feet tall and wide.
Quinces are flowering shrubs for sunny spots but grow well in partial sun as well. They like having loamy, well-draining soil and become drought-tolerant once established.
Witch Hazel (Hamamelis virginiana) – Yellow Spring Flowering Shrubs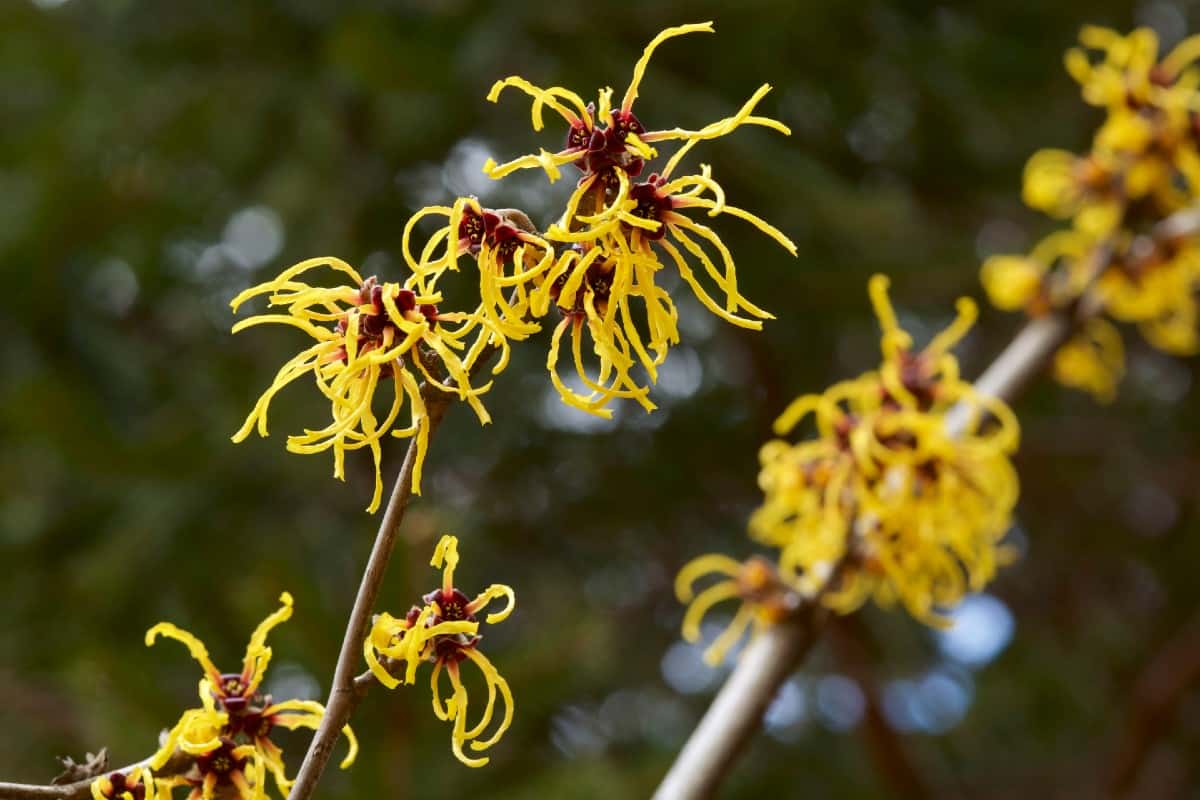 Witch hazel is one of the most unique spring flowering shrubs on the list. These bushes grow in hardiness zones five through nine, and they have bright yellow flowers that shine against their bark and foliage.
Witch hazel is one of the yellow blooming shrubs that grows to 20 feet tall but is easy to prune after it flowers. Water witch hazel regularly during the summer. Mulch around the bottom of the plant every year with organic mulch.
Mulching helps retain moisture and gives witch hazel plenty of nutrients. Place it somewhere with plenty of room to spread into maturity.
Camellia (Camellia japonica)
Camellias are an evergreen shrub with spring-blooming flowers and dark green foliage. They bloom for several weeks during the fall and spring months and display a wide range of pink, yellow, white, and red flowers.
If placed in the right locations, these shrubs thrive for years. Camellias enjoy soil that is evenly moist and slightly acidic.
Adding organic compost once every year helps them do even better. They thrive in part shade and spots where they have protection from early morning and afternoon sun.
Witch-Alder (Fothergilla gardenii)
Whether you call it witch-alder or fothergilla, these plants produce unique, fringe-like flowers every spring that add tons of texture to your flower beds.
These plants are native to the lower coasts of North Carolina and are easy to spot by their white and yellow petals. Dwarf sizes reach around eight feet tall, and they are hardy in zones five through eight.
Witch-alder doesn't only have fantastic spring and summer color, but stunning fall foliage that turns piercing orange and red. Plant them in full sun for the best year-round color, although part shade is okay too. Water them regularly until they are well-established.
Go-to Shrubs for Spring – Hydrangea (Hydrangea macrophylla)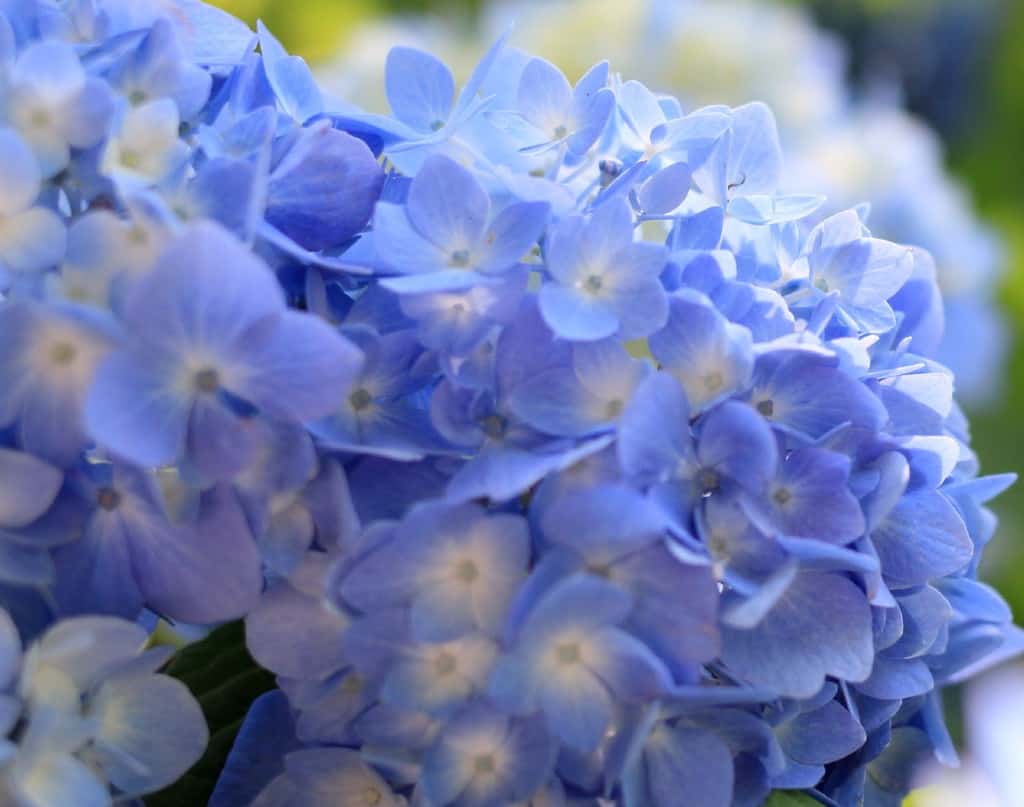 Hydrangeas are a go-to in most people's garden beds. These colorful shrubs are simple to grow and showcase large snowballs of pink, blue, or white flowers.
The hydrangeas start to bloom in the spring, and some varieties last as long as late summer. Use some of these tall bushes for privacy around your yard's perimeter for added color and interest.
Most hydrangeas aren't overly picky about soil type, but well-draining soil is a necessity. Make sure to water them well for the first two years until more mature. Prune them in the late fall to encourage new growth.
Forsythia (Forsythia oleaceae)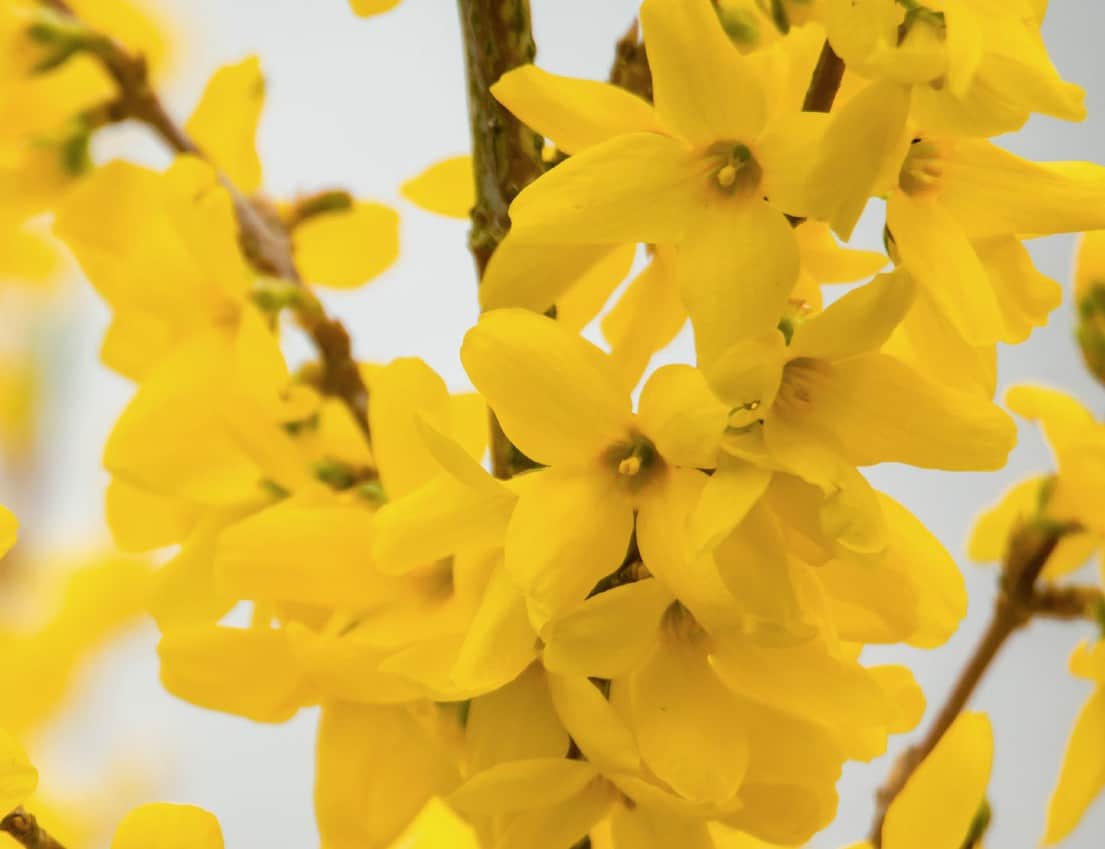 Forsythias are one of our favorite spring flowering shrubs that have the added attraction of being deer resistant plants if you have issues with wildlife. These plants add some drama around your beds in the early spring with their vibrant yellow, star-shaped flowers.
After the flowers fall in the early summer, these plants provide light green foliage until their leaves fall in autumn.
Forsythia bushes like having at least six hours of sunlight, which helps them provide better blooms. These shrubs also prefer lots of drainage. Soil that is overly wet may cause root rot.
Korean Spice Viburnum (Viburnum carlesii)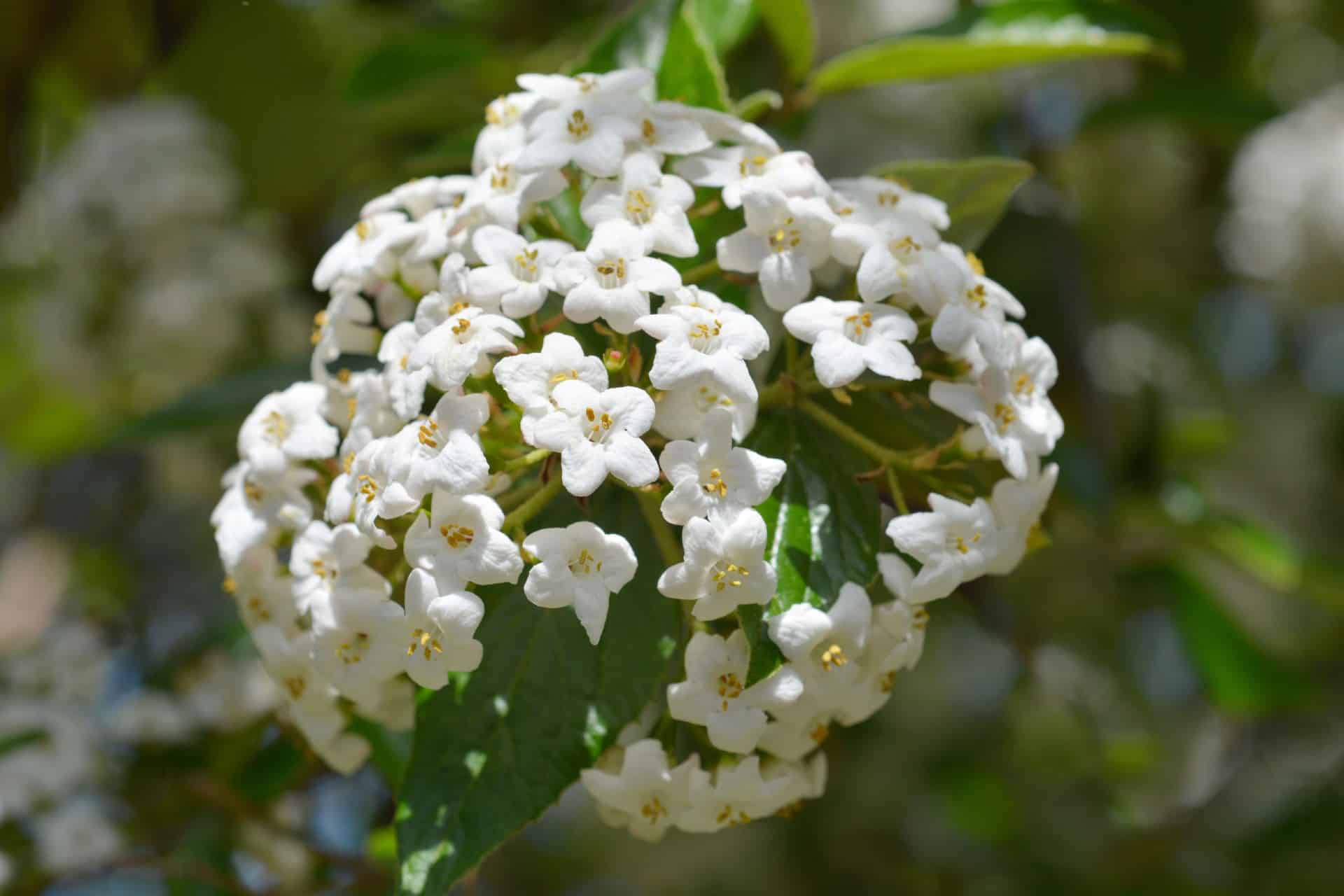 This plant is another type of viburnum that most people overlook. Korean Spice viburnum is a medium-sized shrub. The flowers are smaller than traditional viburnum, but they are flowers with strong scent.
Although smaller, these plants reach 30 feet tall under ideal conditions, but most stay around five feet, both tall and wide. They produce clusters of pink and white flowers that last until mid-spring, and they have jagged green leaves.
Korean spice viburnum requires full sun and well-draining soil. Aside from that, they don't have many other care needs. These Korean plants are hardy in zones four through nine.
Weigela (Weigela florida) – Romantic Flowering Shrubs
Weigela bushes are known for their romantic charm. These are old-fashioned shrubs that only require a little pruning and watering throughout the growing season.
They have tubular-shaped flowers that attract lots of essential pollinators like hummingbirds and butterflies. The shrubs also come in an array of sizes and colors that fit any homeowner's desires.
Weigelas are hardy in USDA zones four through eight. Most have an arching habitat, and their sizes vary. Give weigelas full sun or partial shade and plant them during the colder fall months before the frost sets in.
Rhododendron (Rhododendron ferrugineum)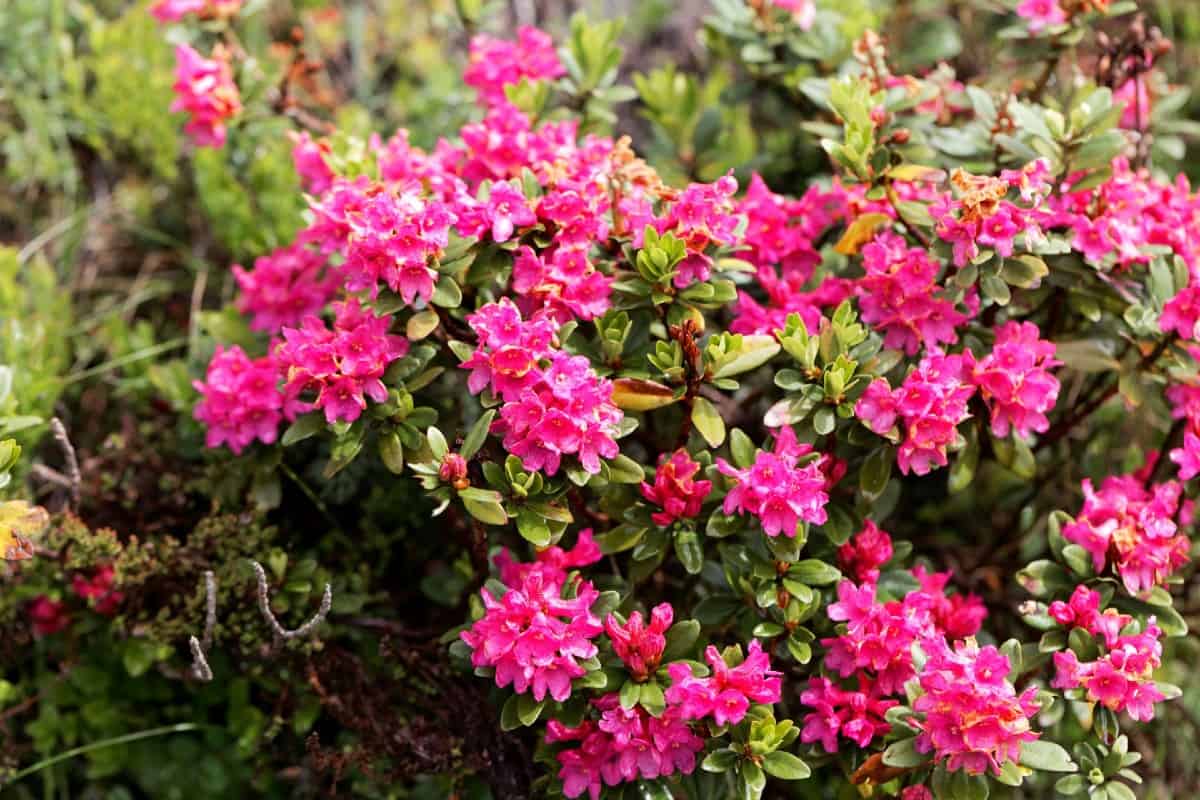 Rhododendrons are a shrub that people come back to time and time again because of their outstanding beauty and low maintenance.
Depending on the variety, they mostly have tube-shaped, funnel-shaped, or bell-shaped blooms with leathery pointed leaves.
Rhododendrons enjoy moist climates, but there are varieties that fit all conditions. Pick the right type of rhododendron for the zone you live in and give them a place with morning sun for the healthiest plants.
Azalea (Rhododendron indicum)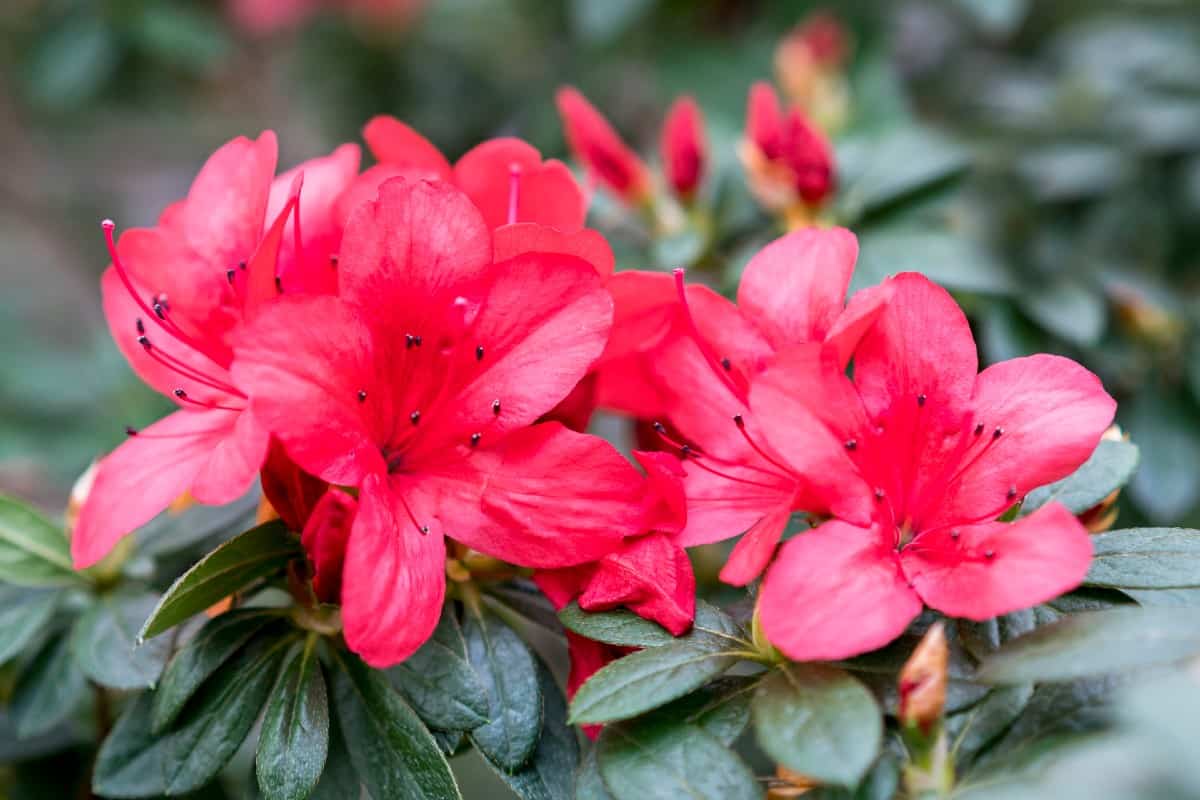 Azaleas are closely related to rhododendrons, and they also have a reputation for being hardy and low maintenance. The flowers of azaleas encompass the whole bush, meaning they look stunning when planted either alone or in mass plantings.
Plant your azalea bushes in the early spring in areas that are lightly shaded. They have shallow roots that require well-draining and slightly acidic soil. Add compost or fertilizer before planting and spread a two-inch-thick layer of mulch around the base.
The Hardiest Shrub for Spring: Spirea (Spiraea japonica)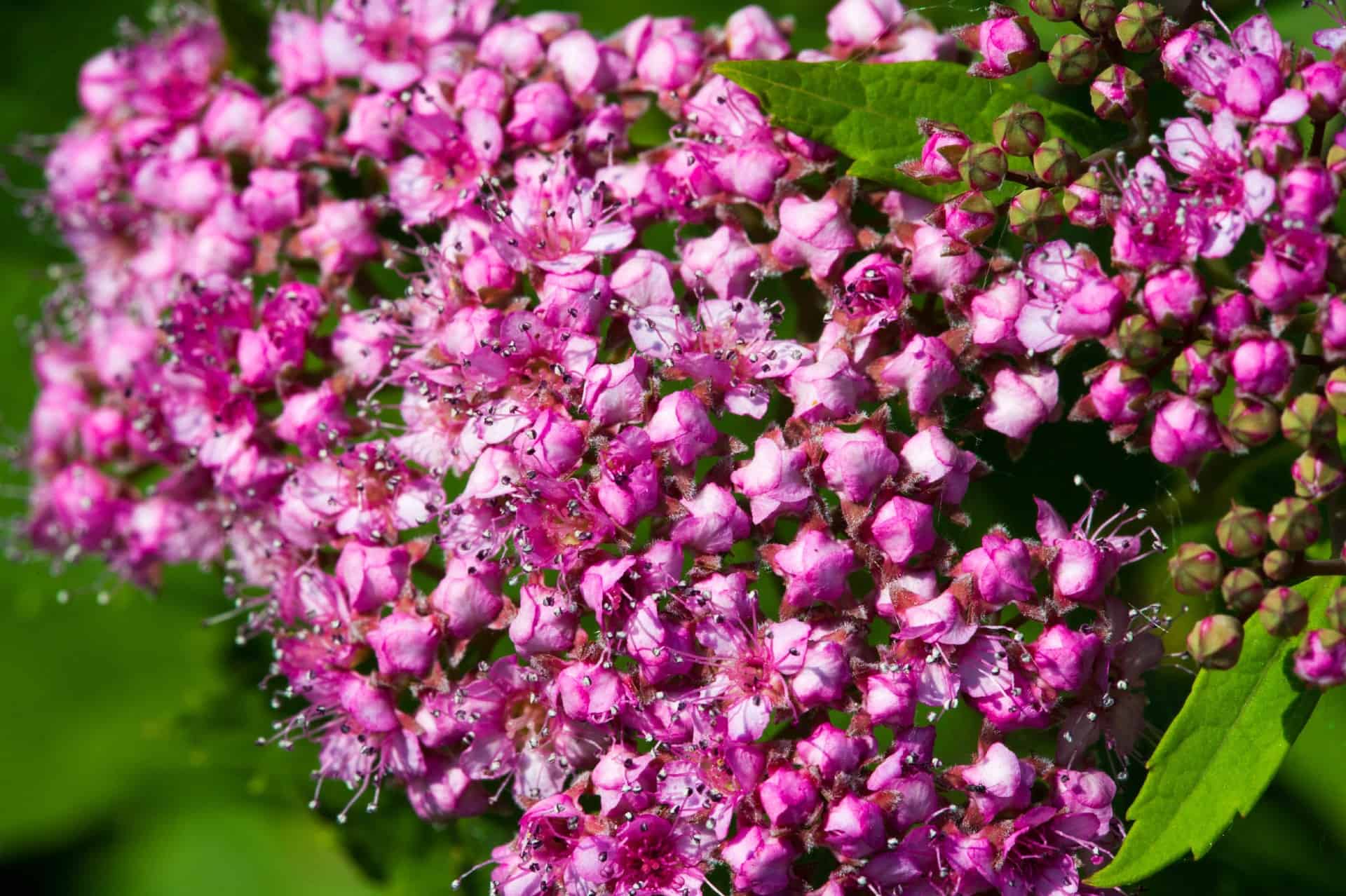 Spireas are the bread and butter of the shrub world. These shrubs are chosen for home and commercial landscapes because they are so easy to care for and have beautiful spring flowers.
These early bloomers last from early spring to late summer. Most of them are hardy in zones four through eight, and they often reach six feet tall and wide if not pruned.
Giving spireas lots of exposure to light makes for the best blooms. They grow quickly and may require pruning once or twice every growing season. Some of these species are considered invasive, so make sure they're safe where you live.
Ninebark (Physocarpus opulifolius)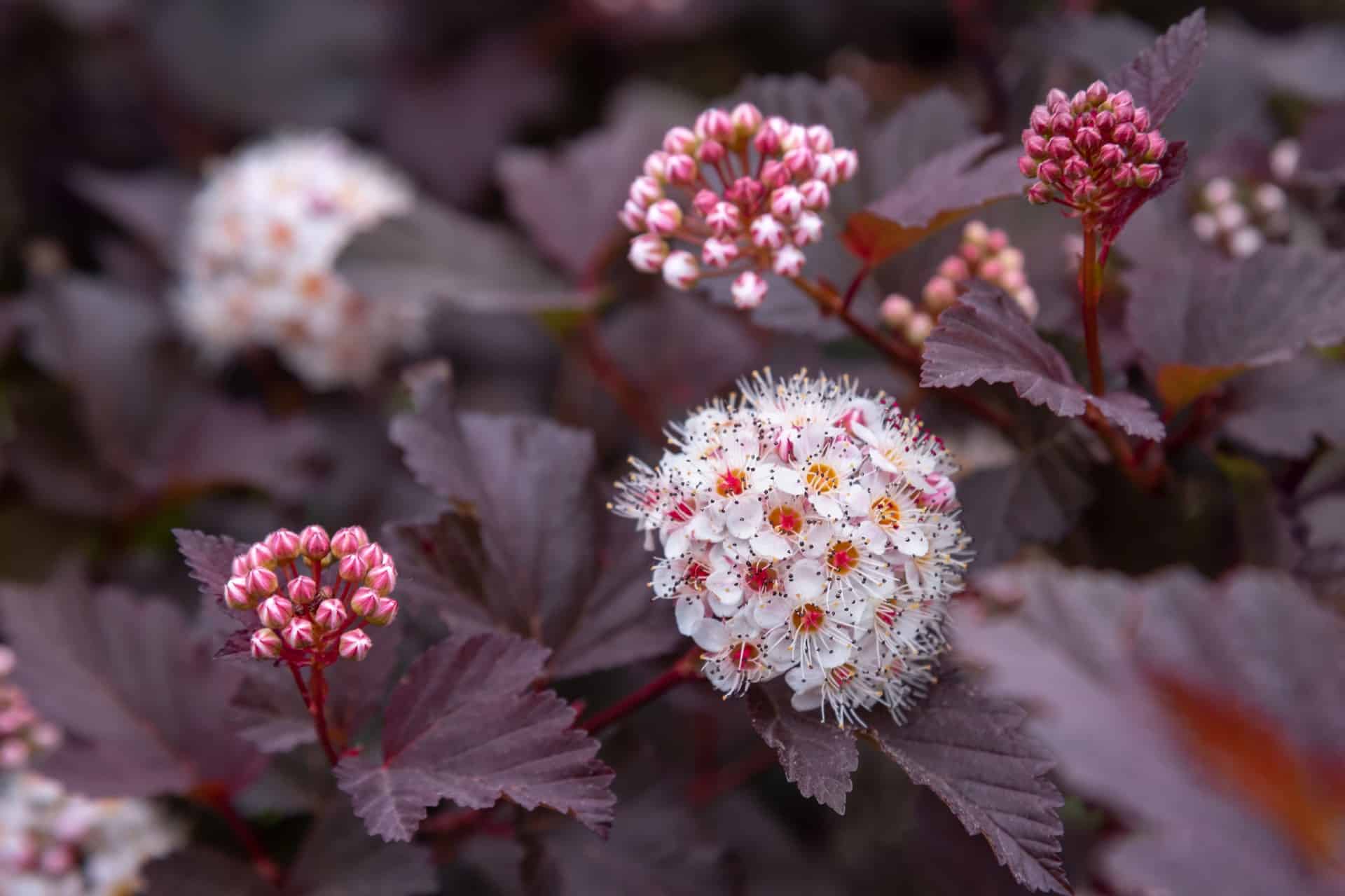 Ninebark is a perfect choice for a spring bloomer if you like extra dark foliage and white and baby pink flowers. These are an especially smart choice for gardeners in colder climates because they are so hardy and reliable.
The clusters of flowers often give way to red seedheads and its infamous, peeling bark that lasts through late winter.
Ninebark shrubs are hardy from USDA hardiness zones two through eight, making them one of North America's best shrubs. Give them lightly shaded or sunny environments with lots of well-draining soil.
Who doesn't want to wake up on a spring day to realize that their garden is coming back to life after a long, harsh winter?
Planting shrubs that are guaranteed to bloom every spring is a great way to get your garden kick-started again by attracting important pollinators and making sure your yard is fertilized and pollinated for another year of life.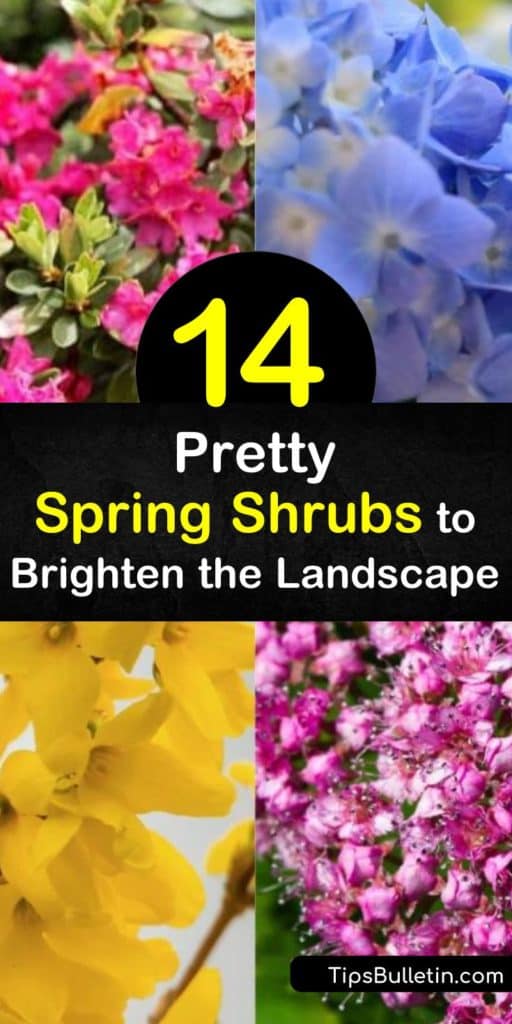 If you found the perfect spring flowering shrubs for around your home, share these shrubs with spring color on Facebook and Pinterest.