If you grow your own food, you've probably come across a variety of insects in the garden, and some of them, like the squash bug and stink bug, look strikingly similar. While they may look the same, these are different bugs. Learn about the difference between squash bugs vs stink bugs, their life cycles, and ways to control them around the home.
Many insects hang around the vegetable garden, from the cucumber beetle, squash vine borer, assassin bug, and western conifer seed bug to the kissing bug, parasitic wasp, adult squash bug, and brown stink bug.
While some are insect pests that lead to a bug infestation, others are beneficial to have around. Unfortunately, stink bugs and squash bugs are not beneficial insects.
Differences Between Stink Bugs and Squash Bugs
You're working outside in the veggie garden when you spot a bug with a hard shield-like shell on your squash plant. squash bug. Are squash bugs and stink bugs the same insect, and do they both cause the same bug damage?
One of these bugs destroys plants like zucchini, pumpkin, and squash, and the other spreads disease from plant to plant – they both emit a foul odor when crushed.
While they have a similar appearance and dining habits, there are some differences between them, and telling them apart goes a long way when eliminating them.
How to Eliminate These Bugs
Discover the difference between stink bugs and squash beetles to help you understand each species. Learn about their life cycles, eating habits, and how to tell them apart in the garden.
Find tips for controlling pests and ways to attract and kill stink bugs and squash bugs around your home.
Are Squash Bugs and Stink Bugs the Same Bug?
You discover a couple of bugs with backs that look like shields while weeding your garden, and they look nearly identical with only a few differences. Since they look so similar, are squash bugs and stink bugs the same insect?
Squash Bugs and Stink Bugs
It's easy to understand why squash bugs and stink bugs are mistaken for each other since they both have the same basic shape and release an unpleasant smell when you squash them.
However, these insects are not the same bug. A stink bug is rounder and wider than a squash bug, and they each have their own method of destroying plants.
The Difference Between Stink Bugs and Squash Beetles
While a glance at these insects makes you think they are the same bug with their brown-colored shell, a stink bug is not a squash bug.
Explore the difference between stink bugs and squash beetles to help you identify them correctly in the garden.
Squash bugs (Anasa tristis) are common pests of pumpkins, squash, and other Cucurbitaceae family plant members.
They are flat, large bugs that measure five-eighths of an inch long and are usually dark gray or dark brown with alternating orange and brown stripes on their abdomen.
They have a hard-shell back resembling a shield, and you find them throughout North America.
The adults can fly but usually spend time walking from plant to plant. Squash bugs are common bugs on zucchini plants. They overwinter in plant debris and sheltered places like rocks and wood piles.
The stink bug (Halyomorpha halys) goes by many names, including shield bug and soldier bug, and there are more than 200 species throughout North America.
One of the more common types is the brown marmorated stink bug, an invasive species from Asia. This pest is brown with a body shape that resembles a triangular shield.
It's about three-quarters of an inch long with six legs, and crushing it releases an unpleasant odor thought to protect it from predators.
The adults have wings folded over their backs and tend to head inside your home as the weather gets colder in the early fall, searching for a place to overwinter.
Squash Bugs vs Stink Bugs – Eating Habits
Squash bugs and stink bugs have similar body shapes, and they are both a nuisance in the garden.
However, stink bugs vs squash bugs have different eating habits, and understanding what these insect pests eat goes a long way to protecting your garden from an infestation.
Both stink bugs and squash bugs are plant eaters. However, stink bugs eat the flowers, leaves, fruits, and crops of various plants, and some species even consume insects like caterpillars.
Squash bugs prefer to eat squash and pumpkin plants by hiding out on the bottoms of leaves and feeding on the leaf sap.
While a squash bug has particular tastes, a stink bug is not picky about which plant it devours, eating everything from weeds and crops to apples and ornamental plants.
A Stink Bug's Life Cycle
All insects have a life cycle, and they cause different types of destruction during the varying periods of their growth. Learn about the three stages of a stink bug and what they feed on as they develop from an egg to an adult.
The life cycle starts with the female stink bug mating with the male, followed by a deposit of egg clusters in the spring. She lays the egg masses on leaves and stems of plants, and nymphs emerge from the bug eggs four to five days later.
A stink bug nymph is orange or red, and the young nymphs remain clustered until they molt. They are wingless and tick-like in appearance until they reach adulthood in roughly two weeks.
As an adult, the stink bug eats just about anything you grow, from houseplants to fruits and vegetables. The first generation of bugs enjoy eating grasses and weeds, and the adults migrate to landscapes and orchards.
When the adult stink bug feeds on fruit, it pierces the skin with their mouth, injecting toxic saliva into the fruit. This process damages the fruit's cells and causes scarring that resembles a cat's face.
This behavior is what leads people to call these bugs cat-facing insects. Unless they encounter natural predators or you are treating stink bugs with insecticides, adult stink bugs tend to live between six to eight months.
The Life Cycle of a Squash Bug
Squash bugs go through a growing process, and part of it is often unseen. Discover the life cycle of a squash bug, from egg to adult, and how their feeding habits cause plant destruction in the garden.
The entire life cycle of a squash bug lasts roughly six to eight weeks, with one generation of bugs per year in northern areas and two to three generations in warmer regions.
The females lay eggs on the lower surface of leaves, with 20 eggs in each cluster. The eggs are tiny and flattened with a bronze color, and the stage lasts seven to nine days before they hatch into nymphs.
Squash bug nymphs start light green before turning light gray and dark gray. Young nymphs are smaller than a bed bug and hairy until they molt, eventually becoming dark grayish brown to black-colored adults.
The average surviving age of adult squash bugs ranges from 75 to 130 days, depending on their food source.
Squash is their favorite host plant, but they are adaptable to other cucurbit plants. They secrete toxic saliva into the plant leaf while feeding on the foliage, which causes it to wilt, blacken, and die.
Anasa wilt is proportional to the number of squash bugs on the plant, and squash bugs may transmit a bacteria that causes cucurbit yellow wilt disease. No one wants cucumber plant diseases from bugs.
How to Kill Squash Bugs and Stink Bugs in the Garden
Once you understand which type of insect you have in your vegetable garden, it's time to take action to eliminate them. There are a variety of natural ways to get rid of squash bugs and stink bugs that are inexpensive and simple.
Find out how to kill squash bugs and stink bugs using simple solutions to ensure your plants grow healthy and productive.
The easiest way to kill squash bugs and stink bugs in the yard, or as a way to get rid of kissing bugs and other pests is to use a commercial pesticide, and there are many different types on the market.
However, these products often contain harmful chemicals that we'd rather not apply to our fruits and vegetables. Not only that, but they also kill off the beneficial insects our plants need for pollination.
The best way to eliminate these garden pests and the way to kill stink bugs and squash bugs is to spray the plant leaves with soapy water during the warm months or remove the bugs by hand and drop them into a bucket of water and soap.
If you decide to use an insecticide, consider using one with natural ingredients to protect your environment. Another great way to eliminate harmful insects is to introduce natural predators to the outdoor space.
While few known predators go after squash bugs and stink bugs because of the foul odor they emit, the parasitic wasp and tachinid fly are useful at keeping their population in check.
These two predators lay their eggs inside the bugs, and the larvae use the insect as food when they hatch.
Ways to Prevent Stink Bugs and Squash Bugs Around the Home
Unfortunately, what works to kill harmful insects like squash bugs and stink bugs, sometimes harms beneficial insects as well.
It's a great idea to prevent them from infesting your yard in the first place. Here are some garden tips to help keep these pests away from your plants and repel kissing bugs so you don't have to worry about disease.
Garden maintenance is key to preventing insects like squash bugs and stink bugs from becoming problems.
These pests overwinter in plant debris, and cleaning the garden at the end of the growing season removes their hiding places and encourages them to seek other areas to hang out during the winter.
Rake the garden to remove leaves and other plant material, and avoid placing rocks and logs near the bed.
When your young plants begin growing in the spring, consider installing floating row covers to discourage squash bugs and stink bugs from eating your plants and cucumber beetles from spreading bacterial wilt.
The covers are made of a material permeable to air, light, and water while keeping the pests from having easy access to squash, pumpkin, and other plants.
Another way to deter these bugs from the garden area is to grow companion plants.
Catnip, tansy, radishes, mint, bee balm, nasturtiums, and marigolds deter the brown marmorated squash bug and vine borer, while garlic, lavender, and thyme drive the stink bug away.
Homemade Insecticide for Squash Bugs and Stink Bugs
While your local garden center has a variety of commercial insecticides in stock, there are many home remedies to eliminate squash bugs, stink bugs, and other garden pests.
This homemade solution uses soap and Neem oil to kill the eggs, nymphs, and adults.
Pour water into a garden sprayer and add the Neem oil and Castile soap or dish soap. The soap is necessary since it bonds with the oil for even distribution.
To get rid of stink bugs on tomato plants and other garden vegetation, shake the container gently and spray the natural insecticide on the top and bottom of the affected leaves to kill the bugs.
While stink bugs and squash bugs look almost identical and are both garden pests that smell nasty if you crush them, there are some key differences between them.
Fortunately, both insects are easy to control with companion planting, garden maintenance, and natural insecticides.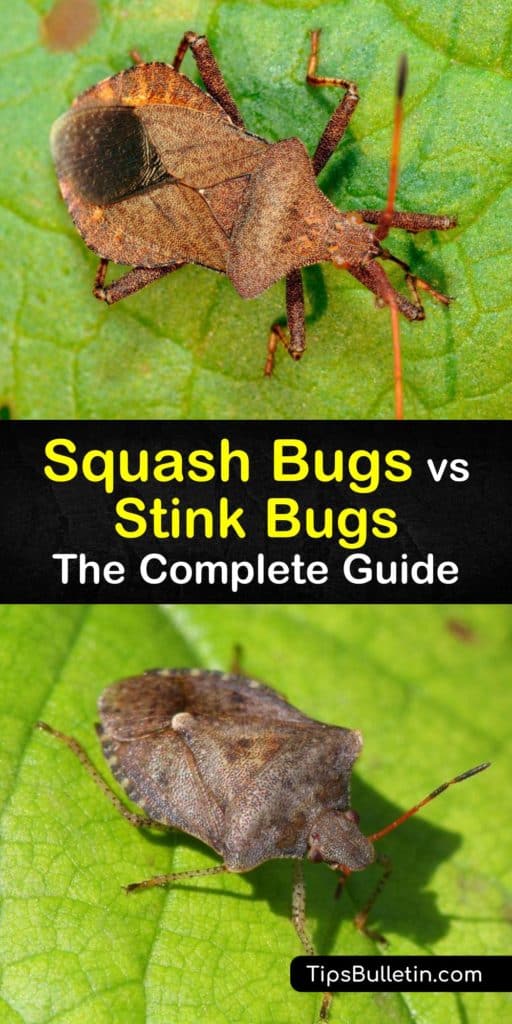 Now that you understand the differences between squash bugs vs stink bugs to keep your garden safe from an infestation, why not share our squash bug and stink bug guide with the gardeners in your life on Facebook and Pinterest?