Each year, thousands of Americans till their gardens and plant vegetables to harvest throughout the growing season, but there aren't as many home growers willing to tackle fruits. Fresh strawberries are one of the easiest fruits for people to grow. Finding the right strawberry varieties is one of the most important steps if you want to bring these bright red berries into your garden.
There are over a hundred types of strawberries grown around the world. Most have a deep red color and an excellent flavor. This red fruit has a sweet taste, but it only gets sweeter when you grow them at home.
Grocery store berries are fine, but the sugar in the berries turns to starch quickly after they're picked, meaning the sooner you eat them after harvest, the more delicious they will be.
What are strawberries, and what kinds should you grow at home? Skim through this list of popular strawberry varieties to see which one appeals to you most.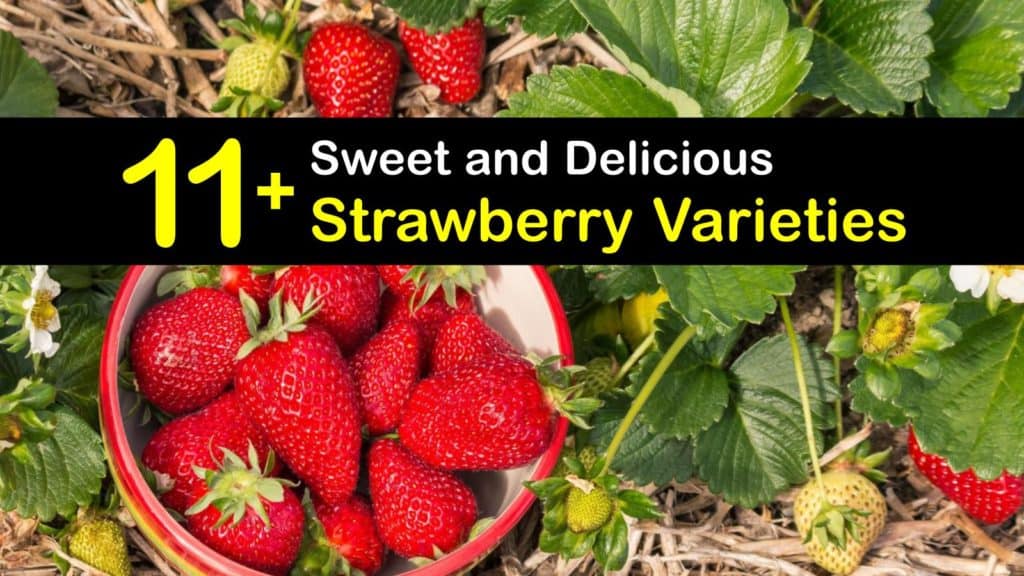 What are Strawberries?
The strawberry isn't a large fruit, but strawberry plants produce high yields that allow you to preserve some and eat the rest throughout the summer.
Strawberries originated in Europe during the 18th century, and the ones we have come to know and love are a hybrid between a North American and Chilean species.
People often consume them raw, but they are mouthwatering when turned into jams, jellies, and other sweet desserts. Strawberries consist mostly of water and carbs and have no fat. Four ounces of raw strawberries only contain around 30 calories.
They are full of beneficial fiber to improve digestion and essential vitamins and minerals like vitamin C, manganese, folate, and potassium.
Eating strawberries increases heart health, regulates blood sugar levels, and even helps protect your body's cells against cancer. If the health benefits weren't enough to convince you to grow a few different types of strawberries, the taste of them surely will.
To manage pests, grow companion plants for strawberries like onions or marigolds. They also grow well with garlic and basil.
Types of Strawberries
Of all the strawberry varieties, they fall into three different categories. Browse through the different types of strawberries to determine which grow most successfully in your region and what level of care you're willing to provide.
The first strawberry type is the everbearing strawberry. Everbearers produce three crops: one in the spring, one in the summer, and one in the fall.
The summer crop produces less fruit than the other two, and many growers try to remove the blossoms during the first round so that more develop in the later harvest.
June-bearing strawberries are the second category of berries. June-bearers produce one large crop in the early season over the course of a month.
If you plan to use these berries, remove the blooms during the first year so that the plants devote their energy to establishing a robust root system.
Day-neutral strawberries are the last kind and are similar to indeterminate tomatoes in that they flower and fruit during the early season, mid-season, and late season.
You have to be strategic with your harvest because sometimes the late summer heat prevents them from producing during the last stretch of the season.
It's easy to propagate strawberries from plant runners but you can also grow strawberries from seed – it just takes longer.
Strawberry Varieties
This list contains strawberry varieties names and information that help lead you to make the best decision for growing. Strawberry plants are relatively easy to grow no matter what cultivar you pick.
Albion Strawberries
Albion berries are day-neutral berries that have a higher sugar content than other types. They were developed at the University of California and have been around since 2006.
These berries have good disease resistance to verticillium wilt, anthracnose brown rot, and other leaf diseases. They also have a high yield and produce up to three pints per plant.
Albion berries do best when grown in full sun in USDA hardiness zones four through eight and have fragrant white blossoms that attract essential pollinators.
Allstar Strawberries
Allstar strawberries are one of the most reliable strawberry plants. They have large fruiting bodies with a sweet yet mild flavor. Can you freeze whole strawberries of the Allstar type? Definitely. Their firm texture helps them hold up well in the freezer.
They are a June-bearing variety that is resistant to red stele and verticillium wilt. They even grow in clay and sandy soil types. Allstars are an excellent choice for growers in zones six through eight.
Alpine Strawberries
The Alpine strawberry is an heirloom variety with tiny berries and distinct flavors and textures. They often grow as ground cover plants and enjoy having plenty of room to spread. Plant each one at least 18 inches apart and give them full sun in zones six through eight.
Chandler Strawberries
An excellent mid-season cultivar is the Chandler strawberry. They have the classic conical shape that most of us are used to.
Each plant reaches six to eight inches tall and spreads up to 18 inches wide. Southern states love this adaptable plant, but it is susceptible to anthracnose disease, so keep a close eye on them while they're growing.
Earliglow Strawberries
Earliglow berries are one of the earliest cultivars to date. These are early-season, June-bearing plants. They produce large yields, with each berry being medium-sized and cone-shaped.
These strawberries are best grown in hardiness zones four through eight, and they have exceptional resistance to root rot.
Fort Laramie Strawberries
If you live in colder regions, Fort Laramie strawberries are probably the species for you. These are vigorous plants that produce huge, scarlet fruits.
Their smell alone is enough to make your mouth water, and they produce fruit through the entire growing season. Plant each one at least 12 inches apart and in hardiness zones four through eight.
Honeoye Strawberries
Honeoye berries were bred in New York and were a top seller for decades. They remain popular with strawberry growers because of their high yields and bright colors.
These common types of strawberries have a firm texture perfect for canning and are hardy from zone three through nine. They are incredibly adaptable but put them in loamy soil for the best results.
Jewel Strawberries
A great June-bearing variety is the Jewel berry. These have a solid red hue both on the outside and inside the fruit and are great for freezing because they resist rotting when stored.
They are winter-hardy plants but susceptible to powdery mildew, leaf spot, root rot, and verticillium wilt.
Ozark Beauty Strawberries
As a best-selling cultivar since 1955, Ozark Beauty strawberries are a perfect choice for growers in USDA hardiness zones four through eight. These fruits are extra-large, juicy, and sweet, and some even grow up to four inches in size.
Ozark Beauties are highly adaptable, especially to northern climates and higher elevations. Because they are cold-hardy, they are easy to care for.
Some of these strawberries survive temperatures as low as -30°F. These berries require at least 90 days of growth before harvesting and are almost always available at your local garden center.
Seascape Strawberries
Seascape strawberries are a day-neutral plant, and each berry grows to weigh about two ounces each. They were released to the public in 1991 and ripen in August and September.
They sometimes start fruiting only three months after they are in the ground, no matter what date you planted them. Keep this in mind before you plan your harvest.
Seascapes do best in full sun in zones four through eight. California and northeastern regions of the United States both love these varieties, despite being prone to leaf rot.
Sparkle Strawberries
If you're a jam lover, Sparkle strawberries are the best choice. These berries are known for their high-quality and flavorful fruits. The crop size is good, and the medium-sized berries have a sweeter taste.
These strawberries are also excellent for beginners or those in northern regions. Grow Sparkle strawberries in zones three through eight and make some of the best jam and jelly you've ever tasted.
Surecrop Strawberries
Surecrop strawberries bloom from June to September and come in green, white, and red. The bodies are medium to large, and they are firm and glossy.
These berries have a slightly tart bite that pairs well with desserts and for freezing. They are one of the most low-maintenance strawberry varieties and hardy from zone three through eight.
Tristar Strawberries
If you can't wait to get your hands on fresh berries, Tristar might be the one for you. These berries ripen in the spring and produce firm and fresh fruits. They are great when eaten raw or when frozen.
They are self-pollinating and have built-in disease resistance. Bakers tend to gravitate towards these types of strawberries for their sweet flavor.
The plant's white flowers look fabulous in a landscape, and their small root systems make them ideal for growing container strawberries or putting them in a hanging basket.
What to Make with Fresh Strawberries
If you've grown your own strawberries and have a surplus, try making a strawberry syrup. This berry recipe is super simple yet packed with flavor. Drizzle it over pancakes, ice cream, or any other dessert type for a fresh and sweet bite.
Bring the berries, lemon juice, sugar, and half the water to a boil in a medium-sized saucepan. Stir the mixture frequently until all the juices are extracted from the berries, and they are soft, about five minutes.
Whisk the remaining water with the cornstarch in a small bowl until it is smooth. Pour the cornstarch and water mix into the berries and continue to stir them while boiling for another minute.
Remove the hot saucepan from the heat and let it cool slightly before putting the syrup in an airtight container and storing it in the fridge for up to three days. Freeze the syrup for up to six months.
What are strawberries? Think of them as little bites of juicy goodness that are sweet and tart at the same time.
Vegetables might be what home gardeners gravitate toward, but growing strawberries at home is easy to do and delicious in the long run.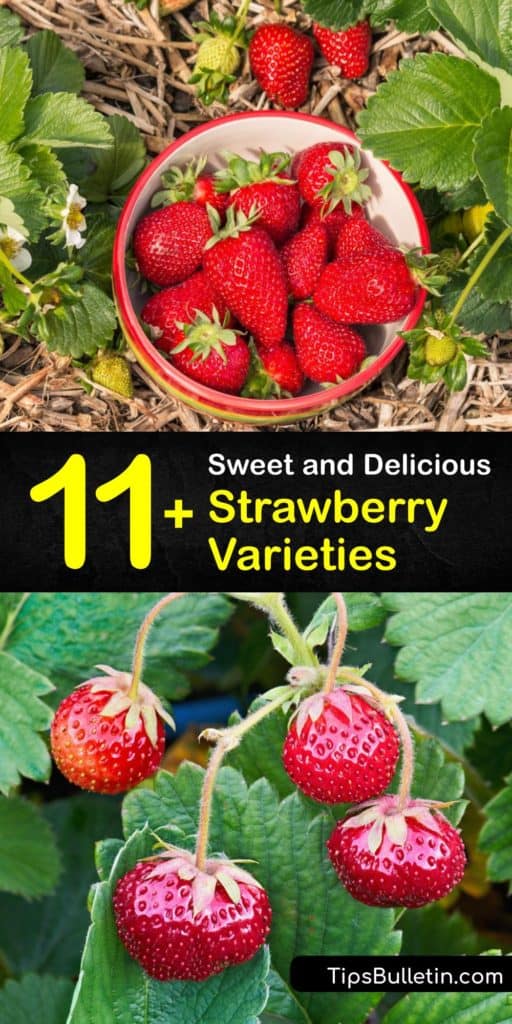 If this list of low-maintenance strawberry varieties has brought more sweetness into your cooking, share these types of strawberries for beginner gardeners on Facebook and Pinterest.