Basil is an ingredient that is vital to Mediterranean cooking. It is the star of basil pesto and crucial to pasta sauce, dressings, stir fry, and our favorite dressings. Finding a substitute for basil seems challenging because many other common herbs don't reasonably represent the taste.
However, as you experiment with these new herbs, you find that matching the flavor profile of basil isn't so hard after all. What is a substitute for basil, and how much should you add? An excellent fresh basil substitute is likely going to be with other fresh herbs.
If you prefer to substitute dried basil for fresh, then you'll have to reduce the amount of basil you use. If an online recipe calls for one teaspoon of fresh herbs, use about 1/3 teaspoon of dried herbs.
Dried herbs have a more robust flavor, and if you used an equal amount, the taste would likely become overwhelming. If you've been on the lookout for a good substitute for basil leaves, you are in the right place.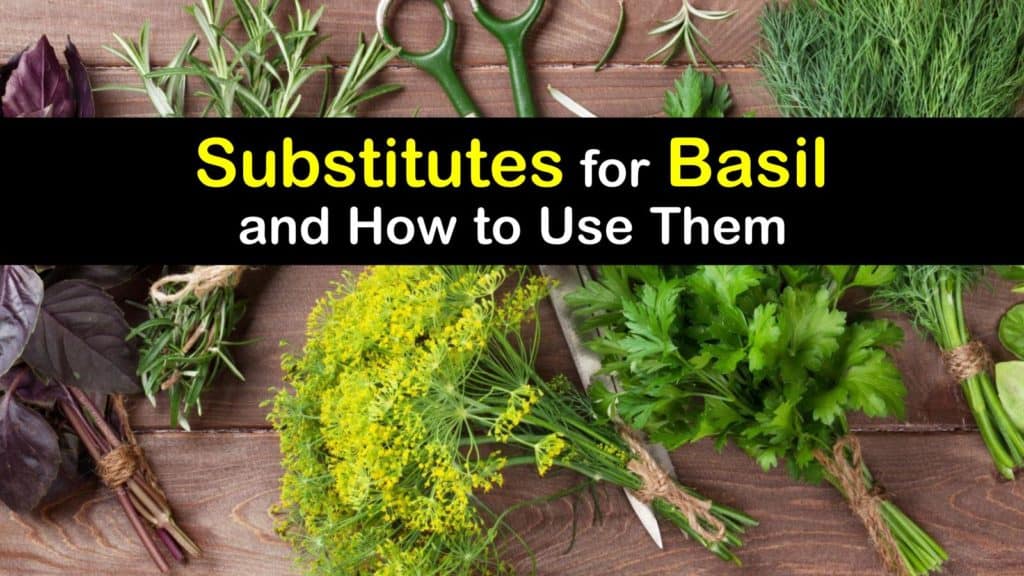 About Basil
Most home cooks tend to use sweet basil in their kitchens. Fresh basil leaves aren't one-size-fits-all. There are several dozen of types of basil that you could experiment with.
Some of the most popular basil types are Thai basil, Licorice basil, Bush basil, and more. This leafy herb is most frequently used in Italian, Vietnamese, and Mediterranean cooking.
Basil comes from India and is one of the herbs that people love to keep in their kitchens. It complements meats, fish, sauces, salads, and teas.
Basil plants have glossy, oval-shaped leaves on top of square stems. The kinds we use are usually green, but there are white and magenta varieties as well.
Basil does best in warm climates because it is sensitive to frost. Some people prefer growing them indoors in a sunny windowsill during the summer so it is always only an arm's reach away. Whether you are growing basil in containers, in a garden, or buy it, basil makes an excellent addition to many recipes.
Depending on the kind you use and how you are storing basil leaves, basil ranges from savory to sweet and is a flavorful way to brighten up a meal. Finding a substitute for basil becomes easier once you start to use it regularly in your cooking.
You will soon learn what herbs make a good fresh basil substitute and which don't belong. Skim through this list of herbs to find a sub for basil that works best in the dish that you're cooking.
Finding a Substitute for Basil
If you have been freezing fresh basil but run out, it's easy to find a suitable replacement. Don't feel too overwhelmed when you start the process of looking for a similar-tasting substitute for basil.
Replacing fresh basil is always best when done with other herbs with subtle flavors that won't overpower the rest of the ingredients. Is there a difference between basil and Thai basil? Thai basil has more of a spicy flavor than regular basil and smells a little like licorice.
How to Substitute Dried Basil for Fresh
When looking for any herb replacement, know that dried and fresh herbs are not the same. Fresh herbs aren't as potent as dried ones. If a recipe says to use fresh basil, but you only have dried, cut the amount by a third and only add more after tasting it.
The reverse concept also applies. If a recipe calls for dried basil, but you only have fresh since you have been growing basil from cuttings, multiply the amount listed by three. Remember that it is easier to add more than to take it back once you've already put it in the pot.
Italian Seasoning
We have an easy life hack for you if you've been on the search for a fresh basil substitute. Italian seasoning includes a variety of herbs like parsley, black pepper, oregano, thyme, and of course, basil.
Since this seasoning already has basil in it, the other herbs will only complement the food, and you still get to taste that sweet basil flavor.
If you decide to use Italian seasoning, make sure to check all of the ingredients listed on the bottle. Ensure that each one works with the food you're making and does not overpower it.
A Fresh Basil Substitute: Oregano
Fresh oregano is often found alongside basil because it is also used in Mediterranean cooking. Oregano has a stronger, more floral flavor than basil, but they have similar profiles overall.
Start by using less oregano than what the recipe calls for, and add more to taste if necessary. Use oregano in casseroles, pasta sauces, or meat marinades.
Celery Leaves
We often discard the leafy parts of our celery and stick to using the stalks, but celery leaves are another fantastic option if you're desperate for a basil-based sauce without the basil.
Celery leaves are perfect for making pesto and eliminate food waste in the process. Use the same amount of celery leaves as the basil for a similar look, flavor, and texture.
Wash the celery leaves under cool water and pat them dry with paper towels. Add everything but the olive oil to a food processor and pulse it until it resembles a thick paste.
Turn the processor on the slowest speed and slowly add the olive oil until everything is combined. Season the celery pesto with a pinch of red pepper flakes and salt and pepper to taste. Serve the pesto over crostini or toss it with fresh pasta.
Cilantro and Coriander
If you don't already love cilantro, you might try using it as a fresh basil substitute instead. This herb offers a similar flavor profile to basil but with a more lemony, minty bite.
Use this as a basil replacement if you plan to make a sauce or dressing. It works great in Thai cooking and curries with lots of strong flavors.
Tarragon
Another great substitute for basil is tarragon. Tarragon has a flavor similar to anise, which is great if you usually use Licorice basil. The taste won't be quite the same as regular basil, but it works just fine if you're in a pinch and can't make a trip to the grocery store.
Arugula
Arugula is a leafy green with a slightly more peppery taste. The texture and overall flavor of different types of arugula are similar enough to basil that it works as a garnish, like in Caprese, or turned into a sauce like pesto.
Because arugula is a bit stronger, use it sparingly and taste as you go to ensure everything is in balance.
Add the arugula to a bowl and toss it lightly with a little bit of olive oil, balsamic vinegar, salt, and pepper. Add the fresh mozzarella balls and cherry tomatoes and toss everything together once more. Divide the salad onto individual plates and serve right away.
Does Basil Work as a Substitute for Other Herbs?
What happens when you only have basil on hand and are missing ingredients for other dishes you're cooking? Basil makes a great substitute for a variety of other herbs.
If you're using a recipe that calls for chervil, marjoram, chives, or leeks, then basil could be your saving grace.
Add a little basil, fresh or dried, if you're out of these herbs and are looking for a way to keep the dish tasting fresh. You can also combine a large variety of these dishes to make a delicious dinner.
Whisk the olive oil with lemon juice, basil, oregano, parsley, garlic, rosemary, and thyme. Season the herby marinade with salt and pepper to taste. Put your boneless skinless chicken thighs in a gallon-size plastic bag and pour the marinade over the meat.
Rub the marinade into the chicken and seal the bag, making sure you press out as much air as possible. Marinate the raw chicken in the fridge for up to eight hours. Heat your grill to 425°F.
Remove the chicken from the back and set it directly onto the hot grill. Cook the chicken until it reaches 165°F on the thickest part of the thighs.
Allow the thighs to rest for five minutes before garnishing them with more fresh basil and serving. For a full dinner, add roasted potatoes, rice, or asparagus as sides.
Basil is hard to replace because there is no other herb delicate enough not to overpower a dish while remaining pungent enough to really taste the leaves. There is a reason that basil is used so often in Vietnamese, Italian, American, and Mediterranean cooking.
People have grown a deep respect for this fresh herb. Even when you don't want to replace it, sometimes finding a fresh basil substitute is your only option.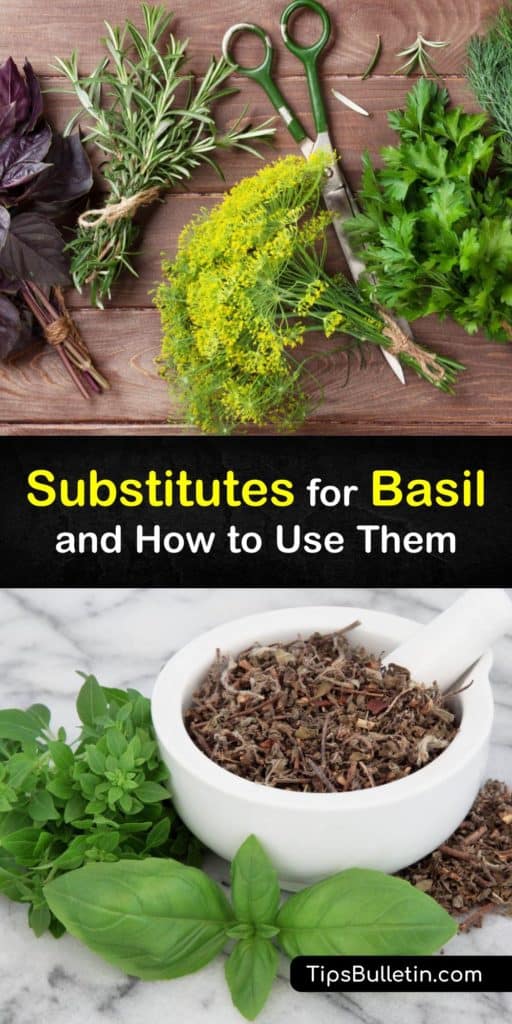 If this article helped you find a substitute for basil, share these tips for how to substitute dried basil for fresh on Facebook and Pinterest.