Fresh ginger has a distinctive, spicy aroma that adds a unique taste to a dish. It is commonly used in Asian and Caribbean recipes. If you run out or you don't enjoy its pungent astringency, there are several options to use as a substitute for fresh ginger.
Ginger is a flowering plant that's native to Southeast Asia. Its rhizomes, commonly referred to as ginger root, have been used as a culinary spice and herbal medicine for centuries.
Ginger, or Zingiber officinale by its botanical name, is in the same plant family as cardamom, galangal, and turmeric. As such, all three of these spices make an adequate fresh ginger substitution.
Unless you use a different form of ginger, such as ground ginger or candied ginger, the dish will have a different flavor than the original.
If you're out of fresh ginger and don't have time to run to the grocery store for more, or you don't enjoy the spicy essence, don't worry. Substituting with another ingredient that you already have on hand isn't as hard as it may seem.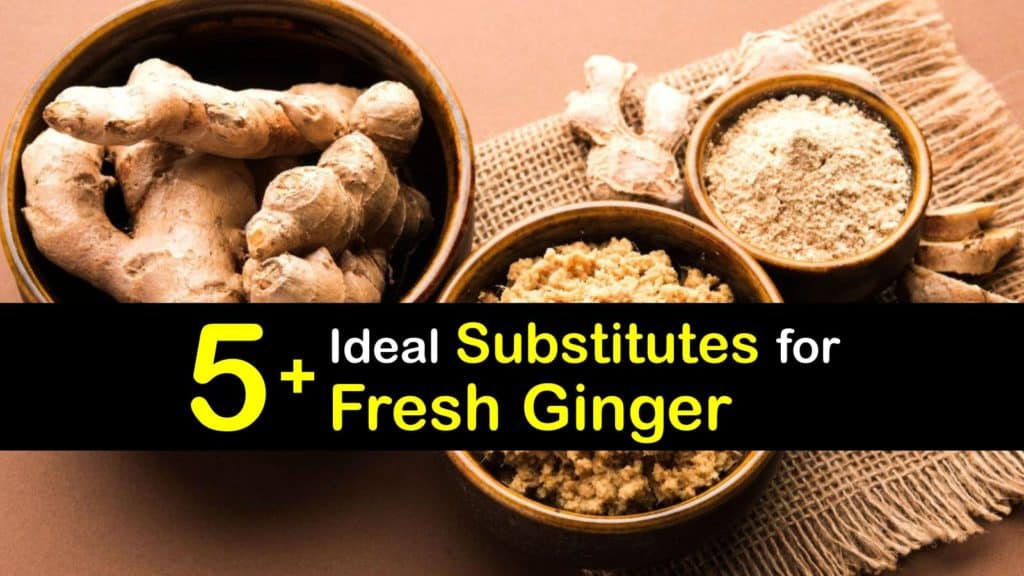 Fresh Ginger Substitution Ideas
If you're planning to use ginger in a recipe, you need to learn how to know if ginger is bad or if it is safe to use. Whether you need a substitute for fresh ginger to make a savory recipe like stir-fry or sweet baked goods, we have a solution for you. In a pinch, it's possible to achieve a similar and complementary zing with various substitutions.
In addition to its vibrant tartness, ginger has numerous health benefits. Gingerol is one of the main essential oils that gives ginger its aromatic flavor and its anti-inflammatory and antioxidant properties.
It's also proven to have potent antibacterial and antiviral capabilities. For this reason, drinking ginger tea helps keep your mouth healthy by preventing oral bacteria growth.
It also calms nausea and indigestion, lowers blood sugar and cholesterol, and improves brain function.
The closest match for a fresh ginger substitution is a different form of ginger. If that's not available or you want to create a different taste, there are a variety of similar spices to choose from. Preserve grated ginger, ginger root, or dry it to have whenever you need it. If not, here are a few other ideas.
Ground Ginger vs Fresh Ginger
The best way to replicate the tang is to substitute ginger powder for fresh ginger. The flavor of ground ginger vs fresh ginger isn't identical, but it's close. To always have fresh ginger, learn how to grow ginger root at home.
During the cooking process, gingerol transforms into zingerone, giving it a milder and sweeter essence. When dried, gingerol is converted into shogaol, which is twice as intense. Hence, ginger powder has a stronger spice level than fresh ginger.
For most recipes, use a quarter-teaspoon of ground ginger per tablespoon of fresh ginger. For a milder spiciness level, use less.
However, this substitution doesn't work the other way around – fresh ginger isn't usually an adequate substitute for ginger powder, especially for baking.
If you're into healthy eating, try this guilt-free recipe for delicious gingerbread cookies. You'd never know it from your first bite, but they're paleo-friendly, vegan, and gluten free.
Preheat your oven to 350℉. If you're using fresh ginger, mix it with the wet ingredients. For ground ginger, mix it with the dry ingredients.
In a large mixing bowl, combine the almond flour, starch, baking soda, salt, and spices. Pour in the melted coconut oil, maple syrup, molasses, and freshly grated ginger and stir until a sticky dough begins to form.
Cover the dough with plastic wrap or foil. Place it in your freezer for 30 minutes or refrigerate overnight before shaping your cookies.
When you're ready to bake them, sprinkle a large sheet of parchment paper with a bit of flour or starch to prevent the dough from sticking. It's also helpful to coat your rolling pin.
Roll the dough into a large sheet that's about a quarter-inch thick. Use cookie cutters to form your cookies, then roll the leftover dough back out.
Repeat, using all the dough, or skip the rolling pin and use a spoon to make one-inch dough balls. Coat them in a bit of coconut sugar if desired, and use the back of a spoon or your hand to press them flat.
Bake them for about ten minutes for soft-centered cookies or 15 minutes for crispy cookies. Allow them to cool completely before serving. Refrigerate leftover cookies in a sealed container for up to two weeks, or freeze them for up to three months.
Crystallized Ginger as a Substitute for Fresh Ginger
Crystallized ginger, sometimes referred to as candied ginger, has a much sweeter and milder zest than fresh ginger root. It comes from fresh ginger cooked in sugar water and then rolled in sugar crystals.
Using crystallized ginger as a fresh ginger substitution works exceptionally well for making baked goods since the sweetness isn't as noticeable.
Use three times as much crystallized ginger as how much fresh ginger the recipe calls for. For example, substitute three tablespoons of crystallized ginger for one tablespoon of fresh ginger.
Replace Ginger with Turmeric
Turmeric is a flowering plant that's closely related to ginger. Its flavor is earthy and slightly bitter with a peppery kick. While it's not an identical match, turmeric creates a complementary taste that works well in most recipes that use fresh ginger root.
Keep in mind that turmeric has a vibrant yellow color that affects the entire dish when incorporated.
Decide if the yellow tint suits your recipe before using turmeric as a substitute for fresh ginger. Substitute equal amounts of turmeric powder for ginger powder.
Cardamom as a Ginger Substitute
Cardamom also comes from a plant in the ginger family, but it comes from the plants' seeds rather than their rhizomes.
This warm, rich spice lends an earthy, nutty sweetness with light hints of citrus to savory dishes and baked goods. Use the same conversion as you would for ground ginger.
Swap Allspice for Fresh Ginger
Allspice is a richly zesty spice made from the dried berries of the Pimenta dioica tree native to Jamaica. It's in the myrtle family and is closely related to cloves.
Allspice boasts a sweet, warm spiciness that's like a combination of cinnamon, cloves, nutmeg, and pepper.
Even though it's not an identical match, adding allspice in place of ginger gives your dish a richness that it would lack if you omitted the spice altogether. Use equal amounts of allspice as you would when substituting ginger powder for fresh ginger.
Substitute Galangal for Fresh Ginger
Sometimes called Siamese or Thai ginger, galangal comes from a flowering plant in the ginger family native to Southeast Asia.
Although it looks similar to ginger, there are a few important distinctions between the two spices. It has smoother skin and firmer flesh than ginger, as well as a slightly more potent spiciness that's sharply peppery and citrusy-sweet.
Galangal can be used similarly to fresh ginger root in most cases. Substitute grated or minced galangal in equal amounts to the ginger the recipe calls for, or slightly less for a milder pungency.
When it comes to finding an adequate ingredient to use as a fresh ginger substitution, it's essential to consider your goals for the result. If you're trying to stay as close as possible to the original essence of the recipe, using a different form of ginger works best.
If you'd like to make a similar dish without ginger's zing, several other spices provide complementary aromas for your marinade or pumpkin pie.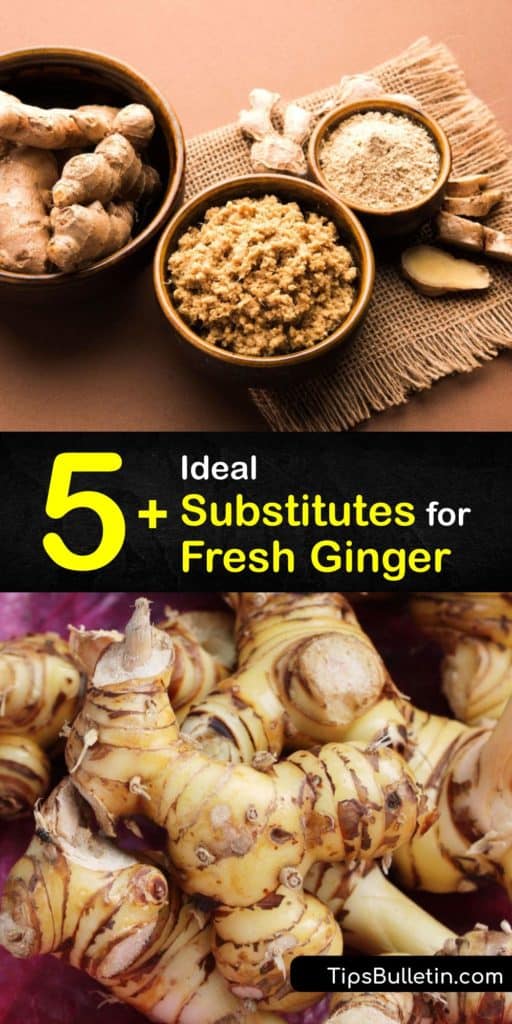 If you enjoyed learning about ground ginger vs fresh ginger, please share this article about what to use as a substitute for fresh ginger with your friends and family on Pinterest and Facebook.