The backbone of a garden is perennial plants. Perennials are any type of plant that lives for several years, while annuals survive one growing season and require replanting each year. Summer blooming perennials add bright colors in the heat of the summer and are some of the hardiest plants due to their ability to withstand scorching high temperatures and lack of water.
Most summer blooming perennials die back at the end of autumn and remain dormant through winter. When the Earth warms and the days get longer, the sun helps flowering plants reemerge to showcase their blooms for the world and wildlife to appreciate.
Because these plants survive for years, you'll save time spent outside working as well as money on buying plants every year. If those weren't reasons enough, most perennials only require trimming and pruning once or twice a year.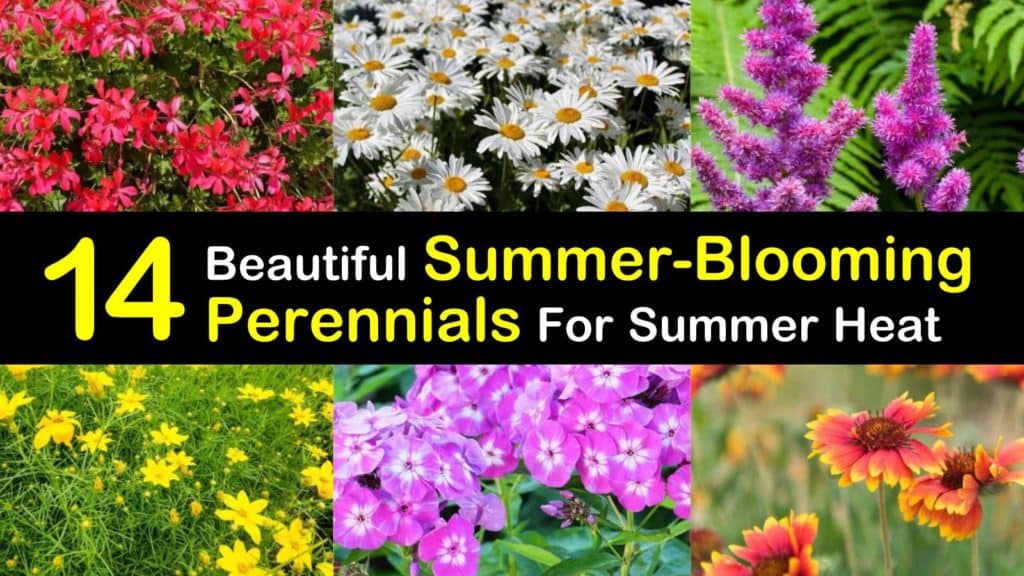 Flowering Plants that Return Every Year
While fragrant annuals do have their appeal, you have to replant them every year. Save time and money with perennials.
Hardiness is one of the most critical characteristics of summer blooming perennials. The hardiness of a plant depends on the ability to survive unfavorable weather, soil, and water conditions.
These conditions include factors such as wind, droughts, temperatures, floods, elevation, and more. Most countries are split into different hardiness zones that allow gardeners to find quick answers on a species ability to survive in their home location.
Summer blooming perennials may appear to be content in the hot summer heat, but they've developed adaptations that make living more tolerable.
After all, would life be considered life if everything around you were always picture-perfect? The flowers and shrubs offer gorgeous summer blooms and a fighting attitude against all of mother nature's twists and turns.
A Gardener's Preferred Summer Blooming Perennials: Black-Eyed Susans (Rudbeckia fulgida)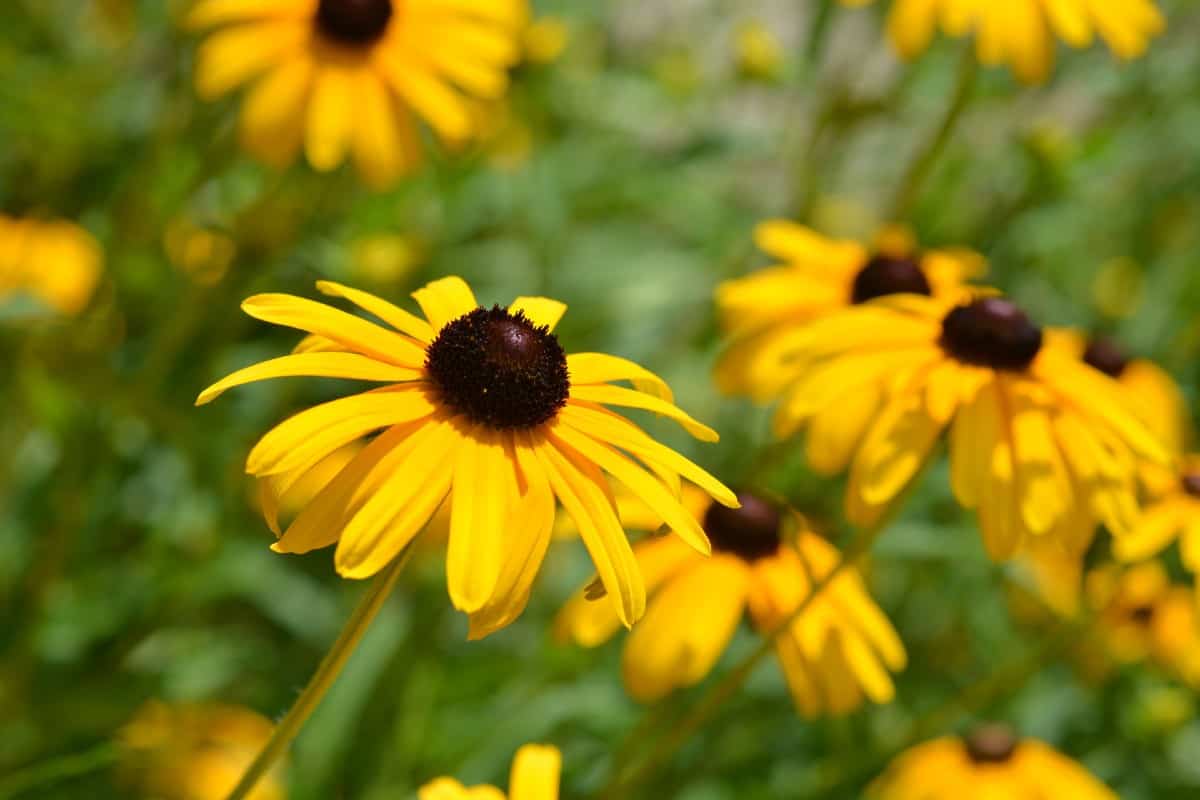 Black-eyed Susans are a must-have for a perennial garden. They have cheerful, yellow flowers that look similar to daisies. They also attract essential pollinators to your yard like hummingbirds, butterflies, and birds.
A black-eyed Susan grows best in areas with at least six hours of sunshine per day. Place them in a location where you don't mind them spreading from re-seeding themselves.
Be sure to check the tag when you purchase these flowering perennials. Some species reach only 18 inches while others grow as high as six feet tall. Plant them in the early spring or early fall and well-draining soil.
Grow these plants in the garden or as container flowers that bloom all summer. They add cheer to any area.
Blanket Flower (Gaillardia aristata)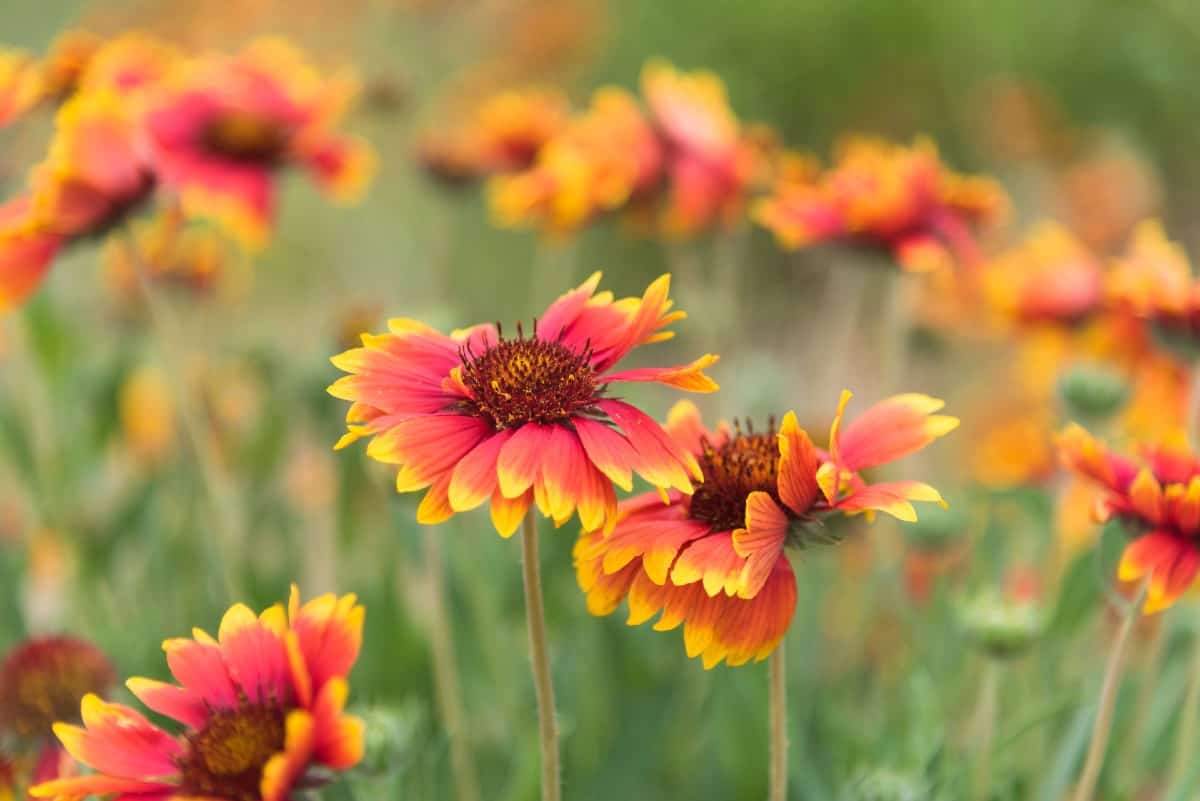 Blanket flowers are short-lived bloomers with fiery orange, red, and yellow flowers. Their name comes for their ability to act as a groundcover that blankets an area.
These gorgeous flowers bloom from early summer to early fall and grow 18 inches high and 24 inches wide. Blanket flowers grow best in full sun, although it easily handles partial shade as well.
They required well-draining soil and moist conditions. Water them every other day when first planting, and then reduce it to once or twice a week.
Autumn Joy Sedum (Hylotelephium telephium)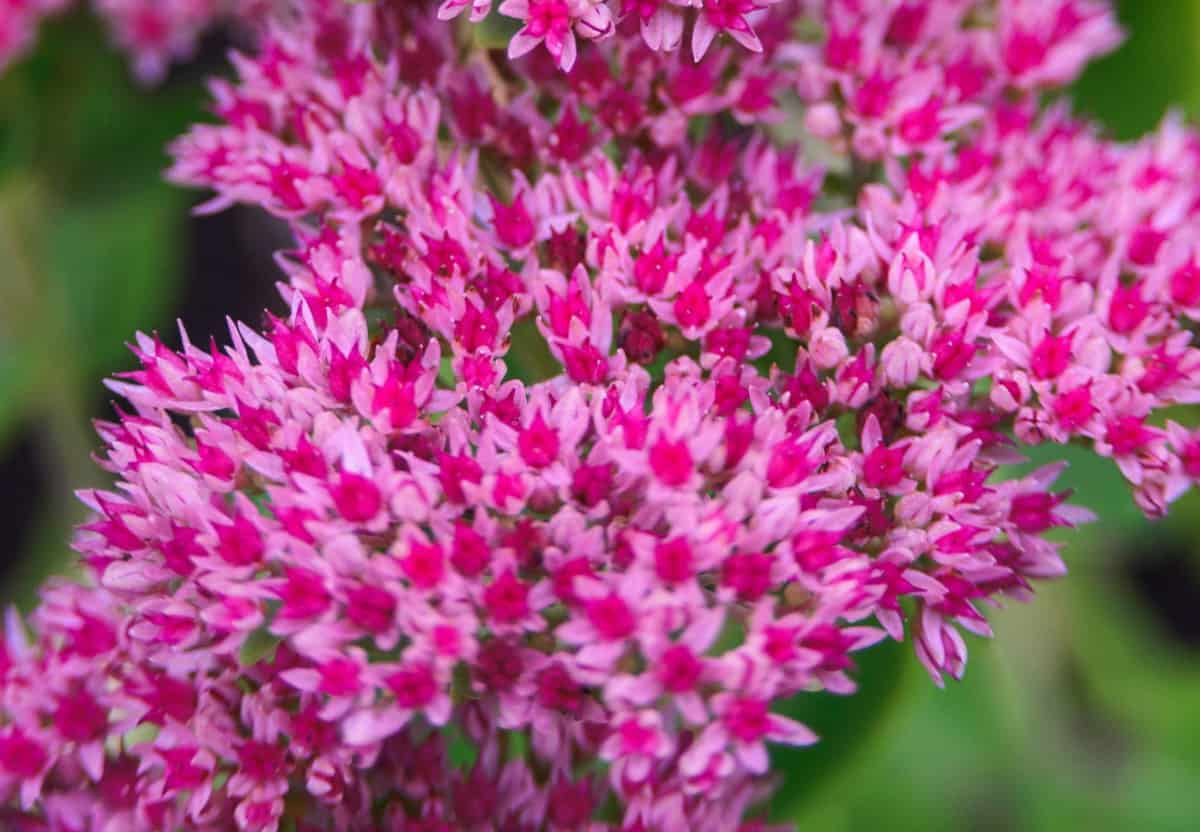 Sedum is a hardy perennial with succulent leaves and fleshy stems. It forms large clusters of star-shaped flowers that pollinators love. Their bloom time is from early summer to late fall, although the green foliage makes its appearance in the spring.
Transplant sedum in the early spring, but not before the last frost. Sedum prefers fertile, well-draining soil and full sun, although they tolerate partial shade as well.
If the plant gets too much water, it is prone to root rot, so make sure not to overwater. Place each plant at least six inches apart. Once established, these are low-maintenance plants that require little care.
Salvia (Salvia officinalis)- A Perennial with Multiple Summer Blooms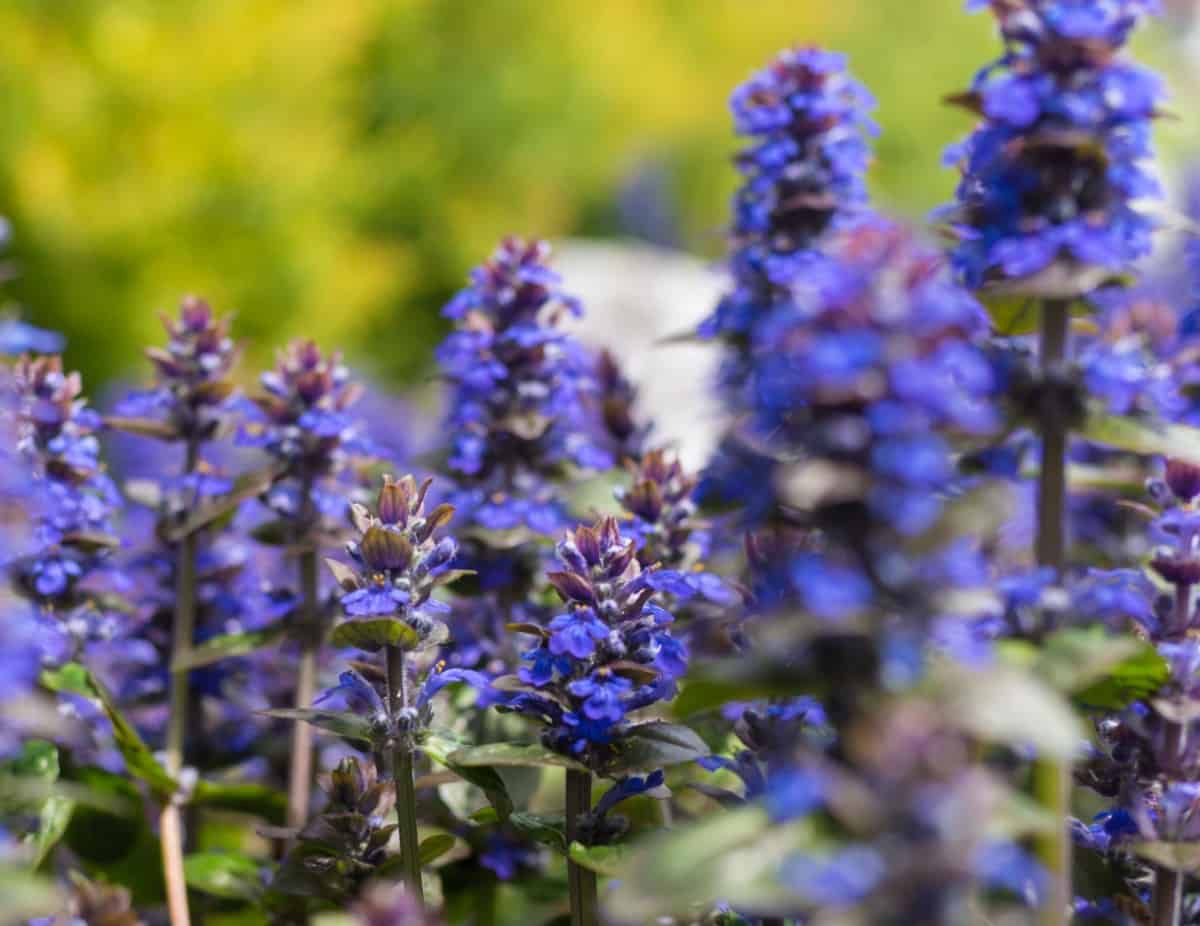 Salvia is a favorite among gardeners and homeowners. They are aromatic with tubular blossoms of purple and blue flowers and velvety green leaves. They are flowers that bloom in spring and last through fall.
Depending on the species, they grow from 18 inches to five feet tall. All species of salvia appreciate full sun, but some do fine in part-shade. Add compost to the ground when planting to provide essential nutrients. Place each plant one to three feet apart.
Salvia looks best when planted in groups of three. Add a one or two-inch layer of mulch around the base to control the soil temperature and moisture level. Deadheading the flowers throughout the growing season encourages new growth.
Purple Coneflower (Echinacea purpurea)
Coneflowers are another beloved plant of all the summer blooming perennials because of their toughness and ability to attract butterflies, birds, and bees. They are native plants to North America and grow two to four feet tall.
The flowers have cone-shaped centers with colorful, downward-pointing petals. The purple coneflower is the most common color. Coneflowers prefer full sun and well-draining soil.
They tolerate almost all soil qualities but appreciate added organic matter as well. Once established, these bright flowers are drought-tolerant and require little effort to maintain.
Pair these beauties with summer flowering grasses to make a statement in a back or front yard garden setting.
Daylilies (Hemerocallis lilioaspholdelus)
Daylilies originated from Asia and were once used in both the garden and the kitchen. The foliage, buds, and flowers are edible and were used raw and in cooked dishes.
A daylily has orange and yellow flowers as well as other colors, and they are hardy in USDA zones three through nine. There is a large variety of daylilies. These blooming perennials for spring burst into color until early fall.
They reach from six inches to three feet tall. Plant each daylily in moist and well-draining soil and a location with at least six hours of sunlight. Divide each clump of flowers after four to five years.
Geranium (Pelargonium peltatum)- A Perennial with a Pop of Summer Color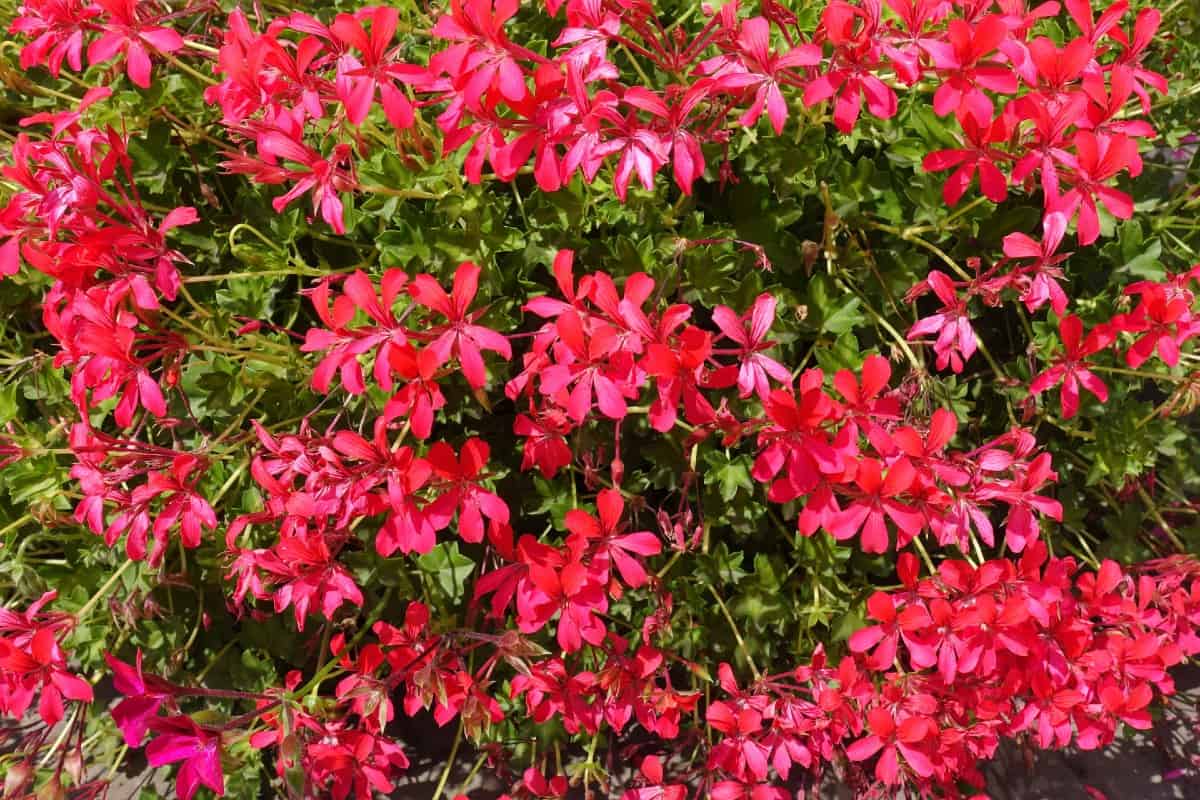 Geranium is a beautiful perennial. They have pointed green leaves and form clusters of flowers with colors of white, purple, red, and pink. They are most commonly grown indoors and in hanging baskets but do great in flower beds as well.
When planting geranium, add potting soil to the hole. Place them in a location with full sunlight. They do not tolerate the cold, so make sure the last frost is over before planting them.
Set each plant about a foot away from each other to help retain moisture in the soil. Water them once per week and add compost to the ground throughout the growing season.
Shasta Daisy (Leucanthemum x superbum)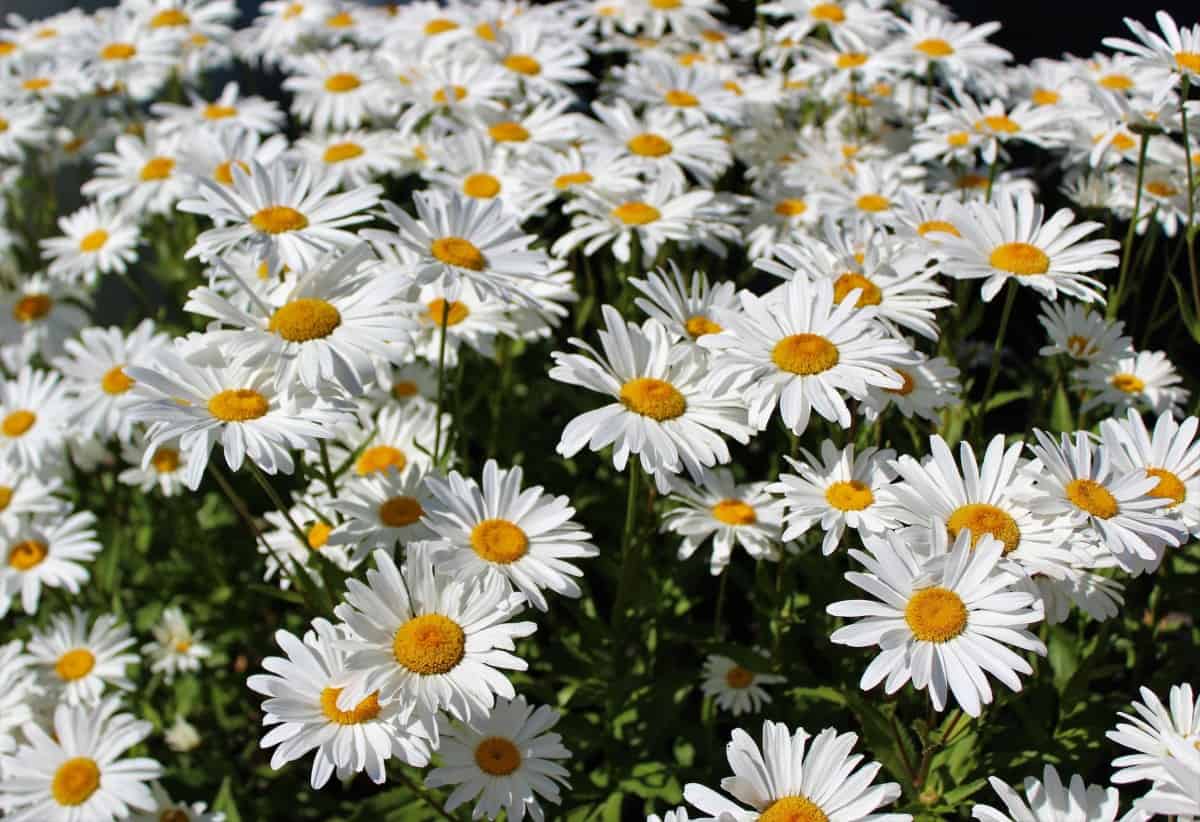 Shasta daisies are a perennial garden classic. They are similar to regular daisies, but with much more abundant blooms. The plant forms clumps that reach three feet tall and roughly two feet wide.
The petals are white with a yellow center and are highlighted by glossy, dark green foliage. They have a bloom time between early summer to late summer and make fabulous cut flowers.
Place Shasta daisies in full sun and moderately fertile soil. Add a four-inch layer of compost when planting and space each plant about two feet apart. Water them during the summer only and divide them every three years in the late summer.
Tickseed (Coreopsis grandiflora)
Tickseed is native to the Americas. The blooms emit vibrant whites, reds, pinks, purples, and yellows with toothed petals and wiry foliage. This plant is part of the aster family and gets its nickname from the dark seeds that look like ticks.
It thrives in hardiness zones four through ten and grows to be about a foot tall and wide. Deadhead spent blooms to keep the tickseed flowering.
Tickseed requires no fertilization, but adding some to the soil doesn't hurt either. They prefer full sun and flower from spring to mid-summer.
Sweet-smelling Summer Blooming Perennials: Phlox (Phlox paniculata)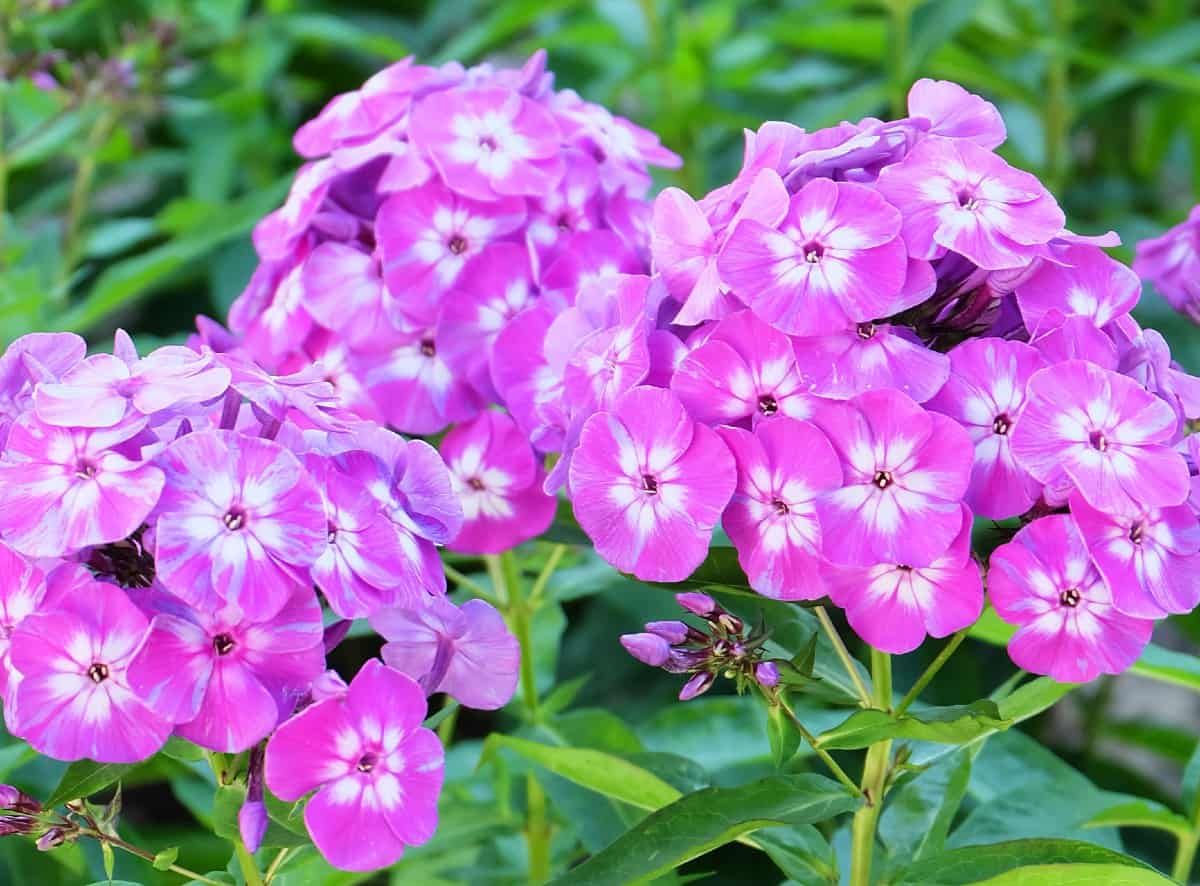 Summer blooming perennials like phlox fit a majority of gardener's needs. Purchase phlox as a ground cover plant or as tall, flowering plants that bloom from mid to late summer.
The star-shaped flowers come in a variety of colors and have a subtle, sweet fragrance. Plant phlox in the spring with a two-inch layer of compost once the frost is over. It requires fertile, moist, and well-draining soil.
Water them so that they receive one inch of water or rain per week. Remove the dead flowers and cut the stalks back after the first fall frost. Keep an eye out for powdery mildew, usually caused by overwatering.
Yarrow (Achillea millefolium)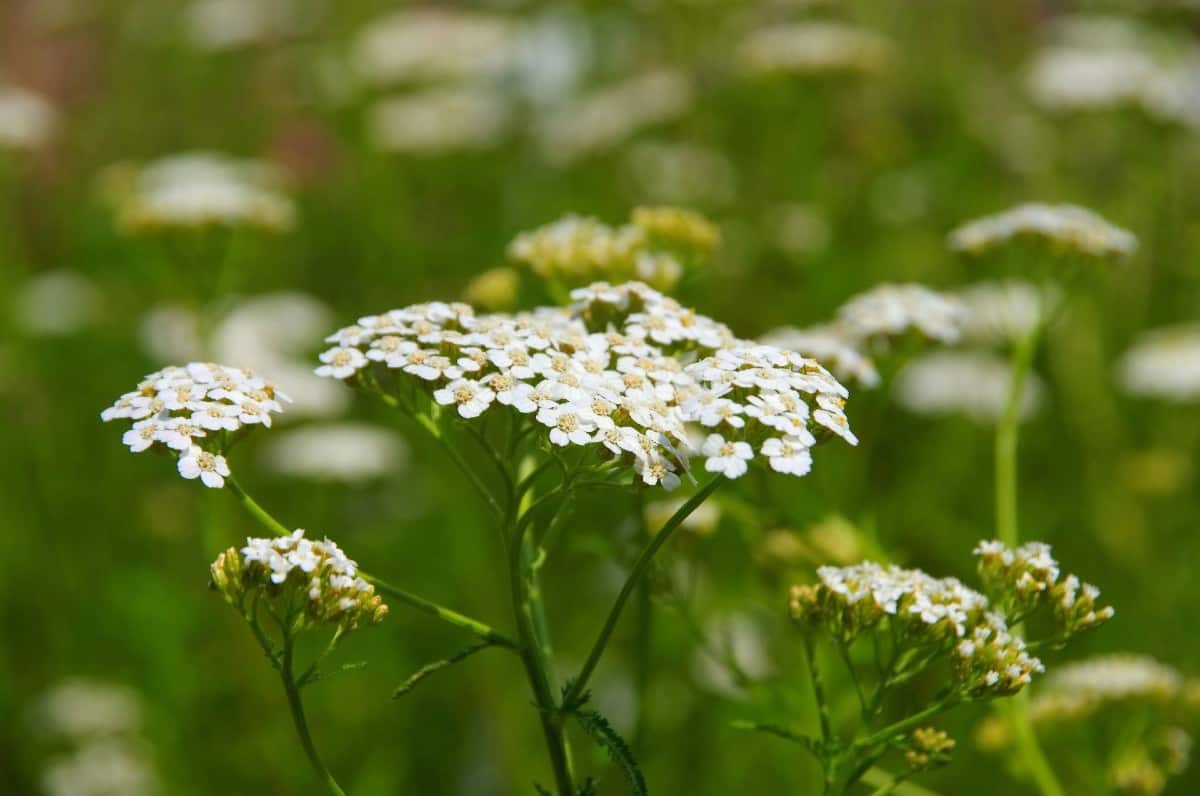 Yarrow is a care-free plant native to North America. It is excellent to use on borders, for groundcover, or in open garden beds. It has clusters of tightly-packed, tiny flowers that come in bright yellow, pink, or red.
It is pest-resistant, drought-resistant, attracts pollinators, and makes beautiful cut flowers. Plant yarrow in the late spring or early summer.
They prefer areas with full sun, as partial sun makes it leggy. It likes hot conditions with well-draining soil. Space yarrow plants about 15 inches apart and add a layer of compost to the ground.
False Goat's Beard (Astilbe x arendsii)
Astilbe is one of the most eye-catching summer blooming perennials. The flowers grow in massive clusters with foliage similar to a fern. They grow up to five feet high, depending on the species.
The blooms add unique color and texture and can survive in areas where other plants won't. False goat's beard prefers a location with moderate to light shade.
Be careful where you place astilbe as they burn in full sun. Astilbe prefers light moisture and well-draining soil. Divide plants in the spring or fall once every four years. Remove the flower heads to gain new blooms throughout the season.
Catmint (Nepeta sibirica)- Unique Flowers for Summer
Catmint is a cool-weather loving perennial. The blue, trumpet-shaped flower clusters add a one-of-a-kind look to the garden, especially with the grey-green foliage and minty aromatics.
This plant grows three feet tall and often spreads to create a beautiful ground cover. It profusely blooms in the late spring and early summer, stalls in mid-summer, and blooms once more in the fall. Pollinators love catmint flowers.
Water catmint frequently throughout the first year until established. Once mature, catmint is drought tolerant. It prefers part sun or full sun and humus-rich soil. Space each plant one to two feet apart in your garden beds.
Although it is a perennial rather than one of the annual plants that repel mosquitoes, the annoying bugs don't seem to like this mint relative either.
Hosta (Hosta lancifolia)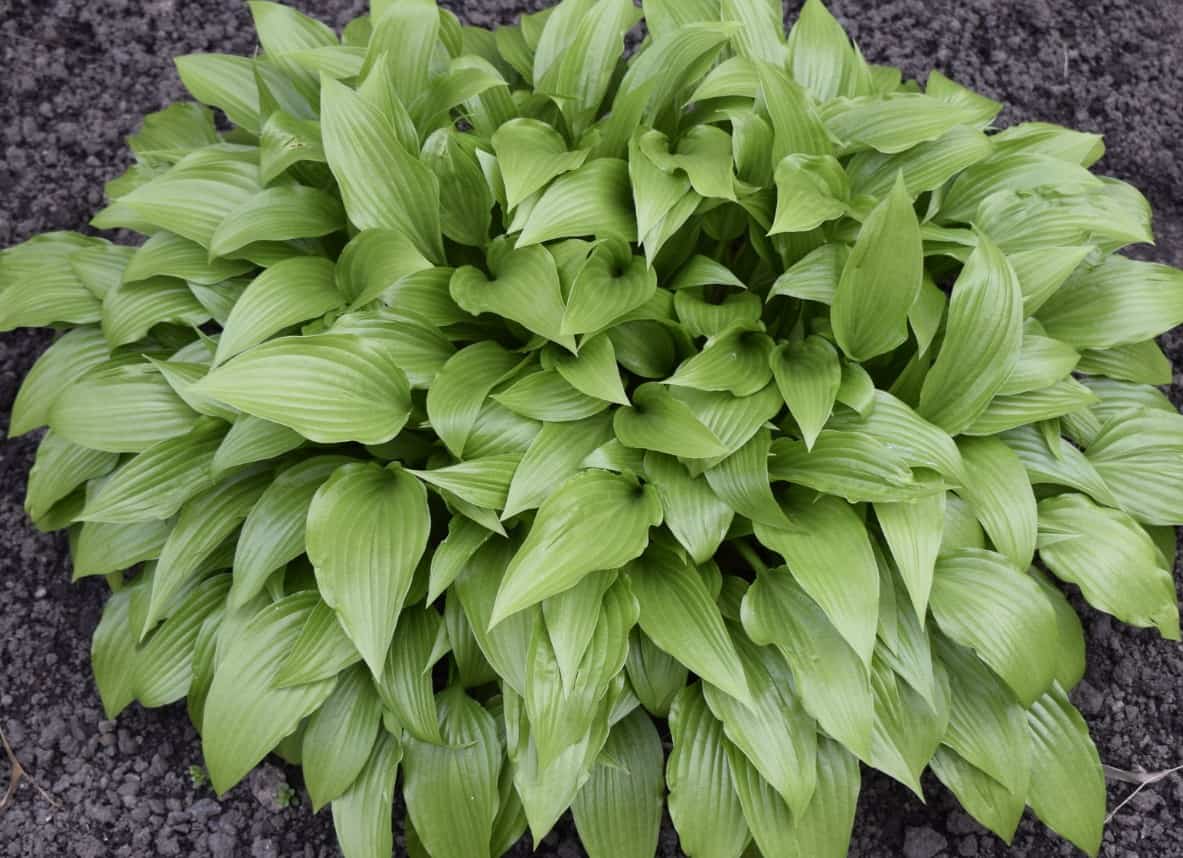 Hostas are an amazing perennial for summer because of their hardiness and long life span. There are so many varieties that you can get different sizes, heights, textures, shapes, and colors.
They are best known for their attractive, variegated foliage but blooms tall white, lavender, and pink flowers that hummingbirds love. Keep hostas in moist, well-draining soil and part-shade.
Spread a layer of mulch around to the base of the plan to retain the soil's moisture. Remove flower stalks after their blooms begin to fade to encourage new growth. Transplant and divide them in the early spring before their leaves emerge.
Some of the toughest summer blooming perennials are also the most beautiful. This article provides lots of options for adding color around your home, but the list doesn't stop there.
There are tons of species of flowering plants, all with unique characteristics and mesmerizing flowers that you may have never even heard of. We hope that this list sparks some inspiration for a new and improved summer garden.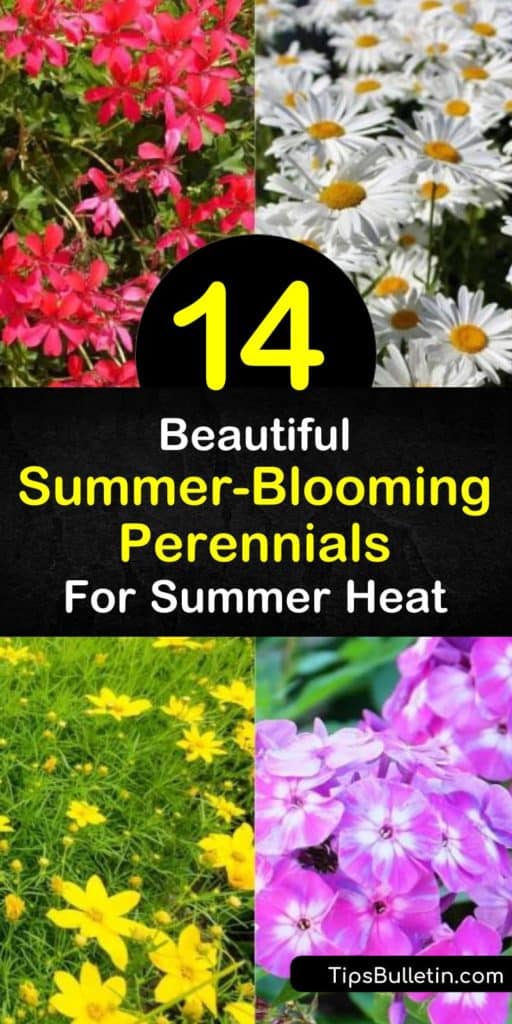 If you think these summer blooming perennials are perfect for your landscaping, share these flowers that withstand the summer sun with your friends on Facebook and Pinterest.