Vines are unlike any other flowering plant. They completely transform a home's aesthetic, boost curb appeal, welcome essential pollinators, and provide shade while remaining fragrant and beautiful. For most summer blooming vines, flowers appear only briefly at the beginning of spring and lose their vibrancy for the rest of the growing season.
That's far too long without flowers if you ask us. Putting together a flower garden takes a lot of planning to find the perfect balance between colors and blooming time. This process becomes much easier when you incorporate plants that show off their vibrancy all summer.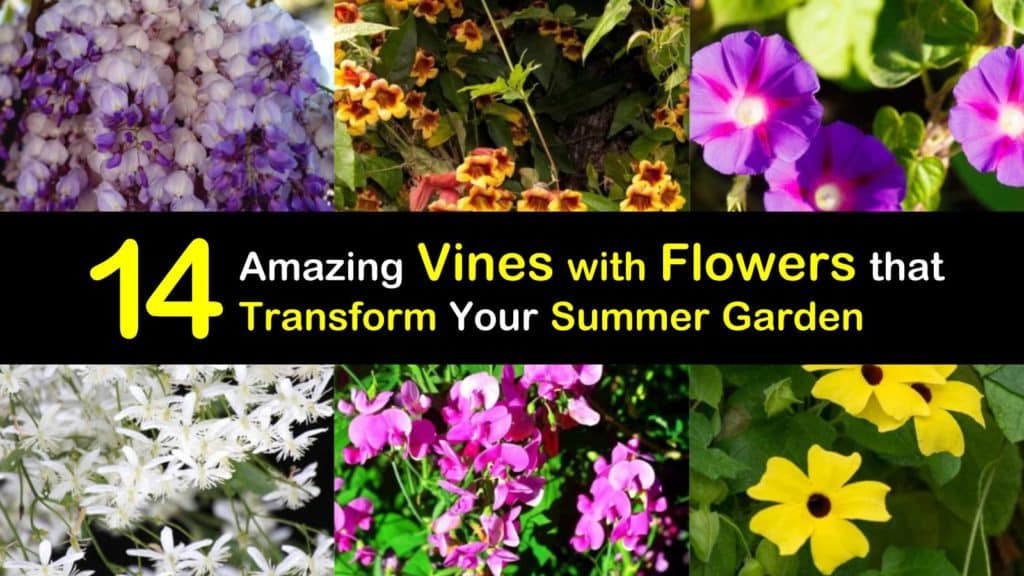 What to Know about Vine Plants
Almost everyone enjoys evergreen fast growing trees, but summer blooming vines add different shades and dimensions to structures like walls, fences, trellises, and pergolas and work well as ground cover plants.
Vines are plants with thin stems that use the structures around it for physical support. They rapidly climb and sprawl both horizontally and vertically. Regardless of their ability to stand on their own, they are remarkably durable and resistant.
Vines have become so successful due to several evolutionary traits. The plants send out shoots that are similar to our fingers. Their shoots and tendrils are touch-sensitive and latch onto sturdy supports surrounding them.
Once they make contact, the shoots coil around or hook onto that object. A lot of summer blooming vines contain large vessels containing water in their stems, which help them be drought tolerant bushes and plants that survive during the harshest conditions.
Before choosing vines for your yard, ensure that they are not an invasive species. You don't want to have to worry about what kills kudzu vines or other vining plants that try to take over. They are more trouble than they are worth.
Floral Summer Blooming Vines: Honeysuckle (Lonicera periclymenum)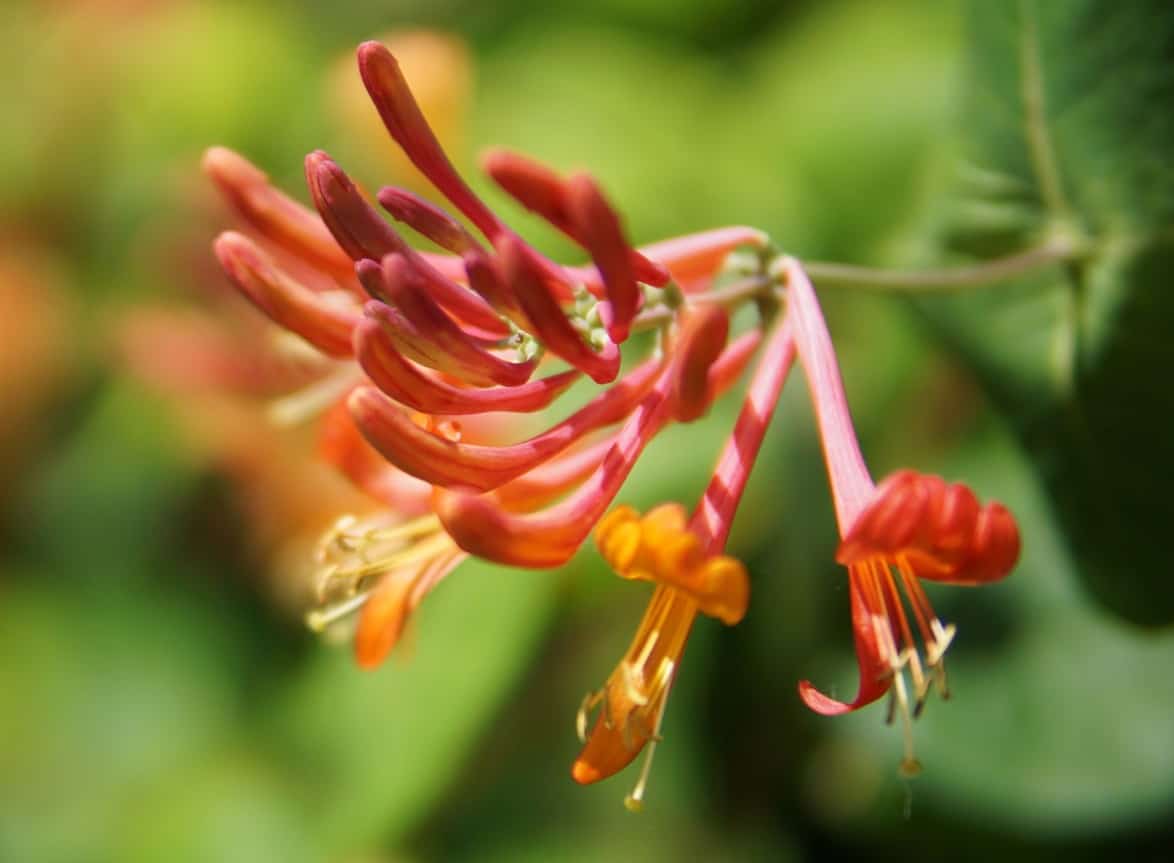 Honeysuckle vines are shrubby climbing plants. They have a pleasant fragrance emitted from tubular yellow, pink, and white flowers. Honeysuckle is used as a detoxifier and to treat infections and inflammation.
The vines bloom from July to September and quickly spread across a wall, pergola, or trellis. To get the best blooms and spread, plant honeysuckle in good-draining soil.
These plants enjoy the dappled shade or areas where their roots stay shaded, and the sun hits the foliage. Plant honeysuckle in the early spring and watch hummingbirds, bees, and butterflies flock to your garden.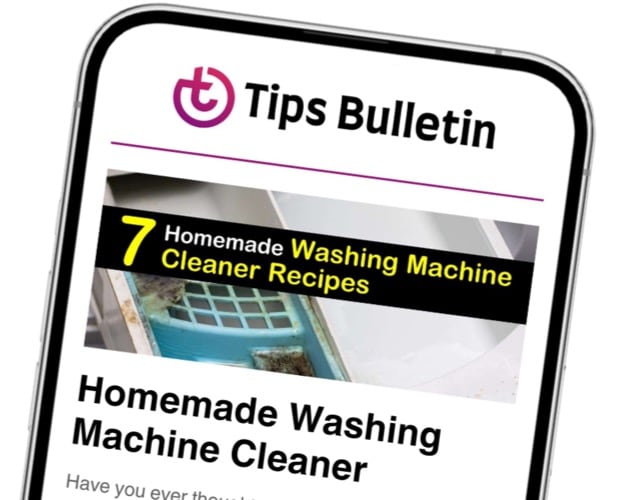 Finally, an email that Transforms Your Home.
Get the latest home and garden tips from our experts, delivered straight to your inbox.
Sweet Pea (Lathyrus odoratus)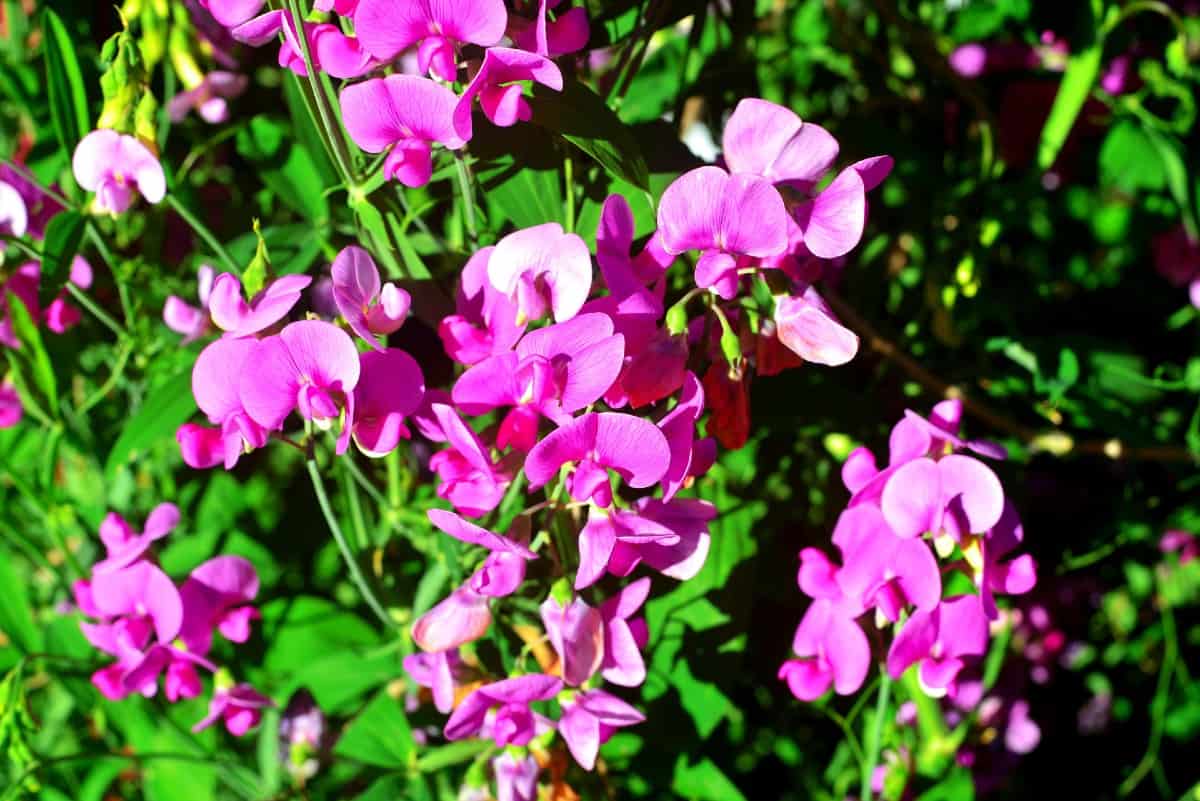 This delightful vine is hard to forget with its signature honey and orange fragrance. Sweet peas are low-maintenance climbers. These plants grow eight feet in one season and have every pigment of the rainbow to choose from.
Have your trellises in place before planting these vines to avoid causing damage to the roots. The seeds of sweet peas have a thick exterior that makes germinating more difficult. Soaking the seeds in warm water for a day helps to soften the coat.
Plant sweet peas in the early spring or late fall after the frost is no longer a danger. Ensure that these vines for sunny areas or light shade have the amount of light they need and add compost to the soil to improve drainage and fertility.
Morning Glory (Ipomoea purpurea)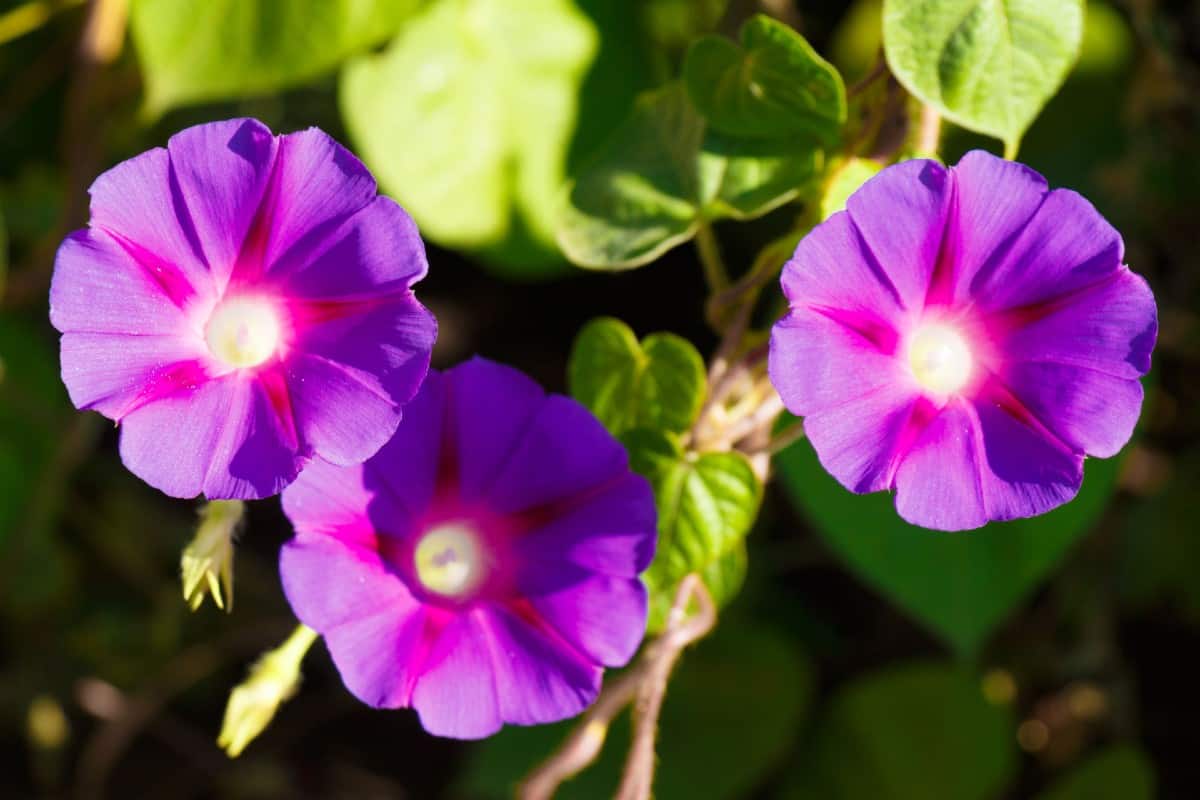 Morning glory vines are old-fashioned favorites. They are quick-growing with bright, trumpet-shaped flowers that bloom from early summer to early fall. These flowering vines grow ten feet tall and spread ten feet wide.
Morning glories make an excellent addition to your garden if you're interested in deer resistant climbing plants that still attract hummingbirds. These are non-invasive plants and are native to North America. Grow them in full sun and moist, well-draining soil.
Sweet Autumn Clematis (Clematis terniflora) – Vines for the End of the Season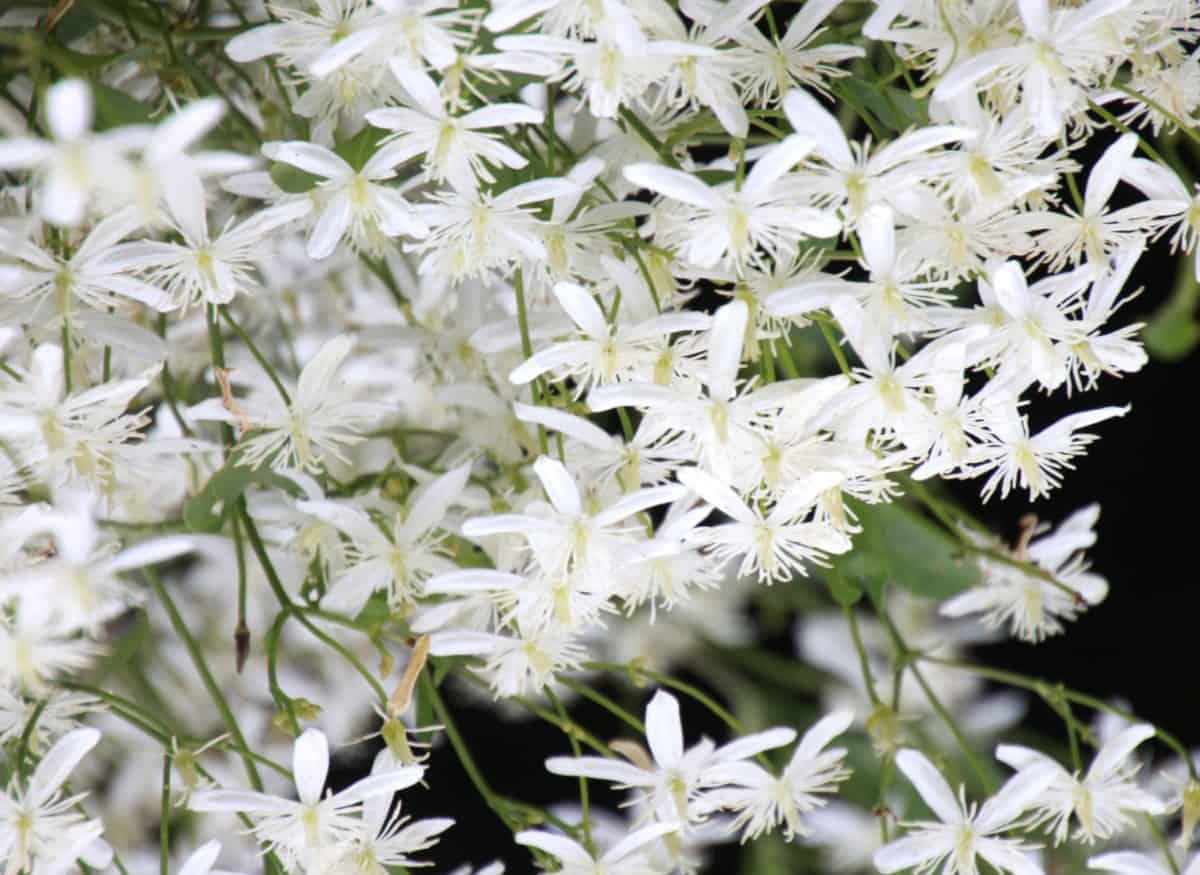 Sweet autumn clematis plants are perennial vines that bloom from late summer to early fall. The vines grow 30 feet long and 15 feet wide. The leathery green foliage and small white flowers make a statement just when the other flowers in your garden start to die.
Sweet autumn clematis is a vigorous grower. It chokes out other plants and reseeds itself if you don't use caution. Put these full sun vines in open areas or locations with part shade and slightly acidic soil. They are hardy in USDA hardiness zones four through nine.
Climbing Hydrangea (Hydrangea petiolaris)
The shrub form of hydrangeas is frequently chosen for flower beds, and their climbing types are just as beautiful. These vines have clusters of creamy white flowers that pop against their heart-shaped, dark green leaves.
They climb columns, trees, trellises, or whatever supporting structure you want to add interest to. These hydrangeas use either a twining vine or tendrils to help cling to support structures and climb upward.
They are hardy in zones five through seven and tolerate full sun to partial shade. When choosing a location for them to grow, provide either northern or eastern exposure.
Prairie Climbing Rose (Rosa setigera)
This particular variety of climbing roses is popular for its light pink flowers with five petals, yellow stamens, and pointed leaves. The branches grow 15 feet long and eight feet high, and the flowers begin blooming in May and last through midsummer.
Prairie climbing roses prefer having dryer conditions. These roses tolerate partial shade to full sun and either clay, sandy, or loamy soils. Do not overwater these vines, or they drown.
Vines with Unique Flowers – Trumpet Vine Creeper (Campsis radicans)
Trumpet creepers are summer blooming vines that are easy to grow with the right care. They have beautiful, trumpet-shaped flowers flashing in yellow, red, and orange. The flowers bloom throughout the entire summer and into the beginning of fall.
Trumpet creepers reach up to 40 feet in length over one growing season. Prune them regularly to keep their size under control. The trumpet vine likes lots of sunlight but handles partial shade well, too. Because these all summer blooming flowers are so hardy, they adapt to nearly all soils.
Wisteria (Wisteria sinensis)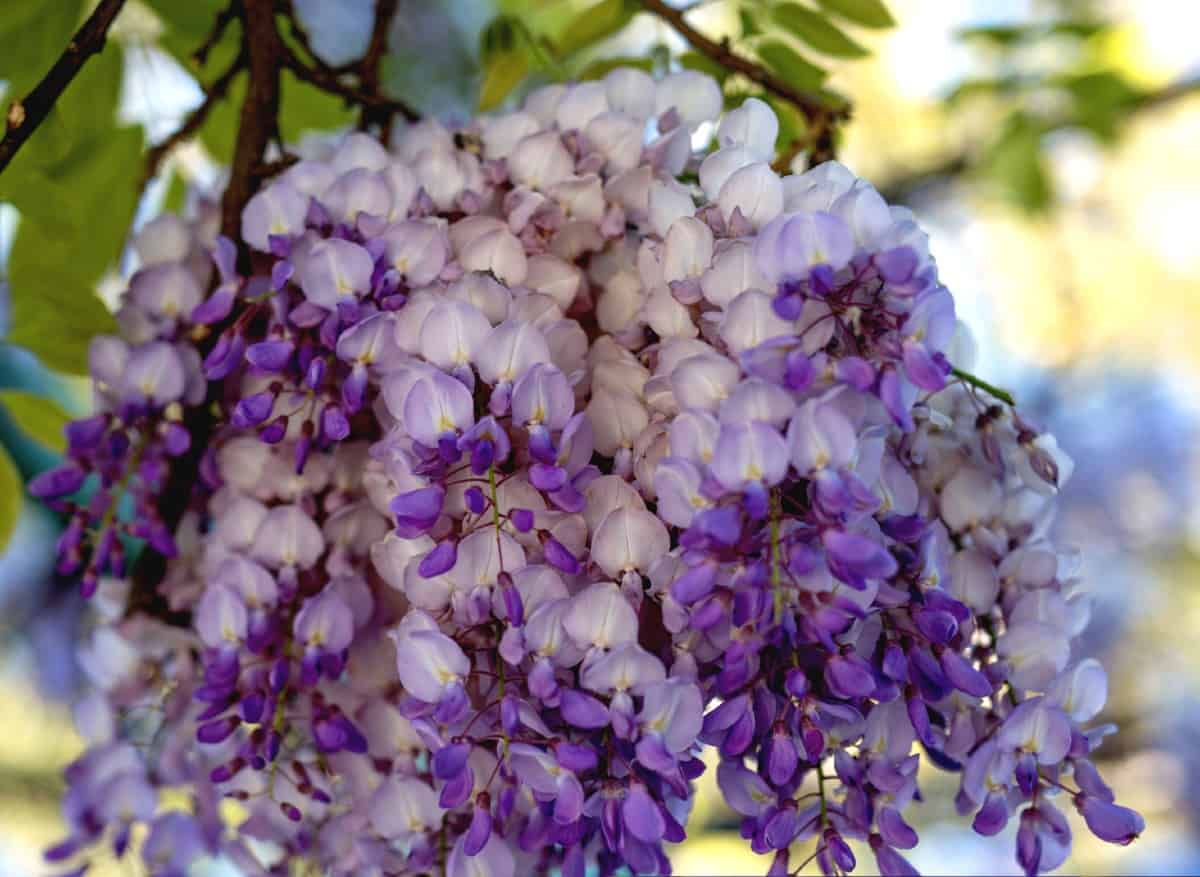 Wisteria has unforgettable lilac-purple and blue flower clusters that droop from the stems. The blossoms vigorously bloom from the spring to the early summer.
These aggressive growers reach over 30 feet long and take over every nook and cranny they find. Because wisteria contains a substance called lectin, which is toxic when consumed, keep these plants away from animals and children.
Plant wisteria in the spring or fall and supply them with lots of sun to have abundant flowers. These plants enjoy fertile, moist, and well-draining soil. Wisteria takes over a location quickly, so place them somewhere where other plants won't be affected.
Passionflower (Passiflora incarnata)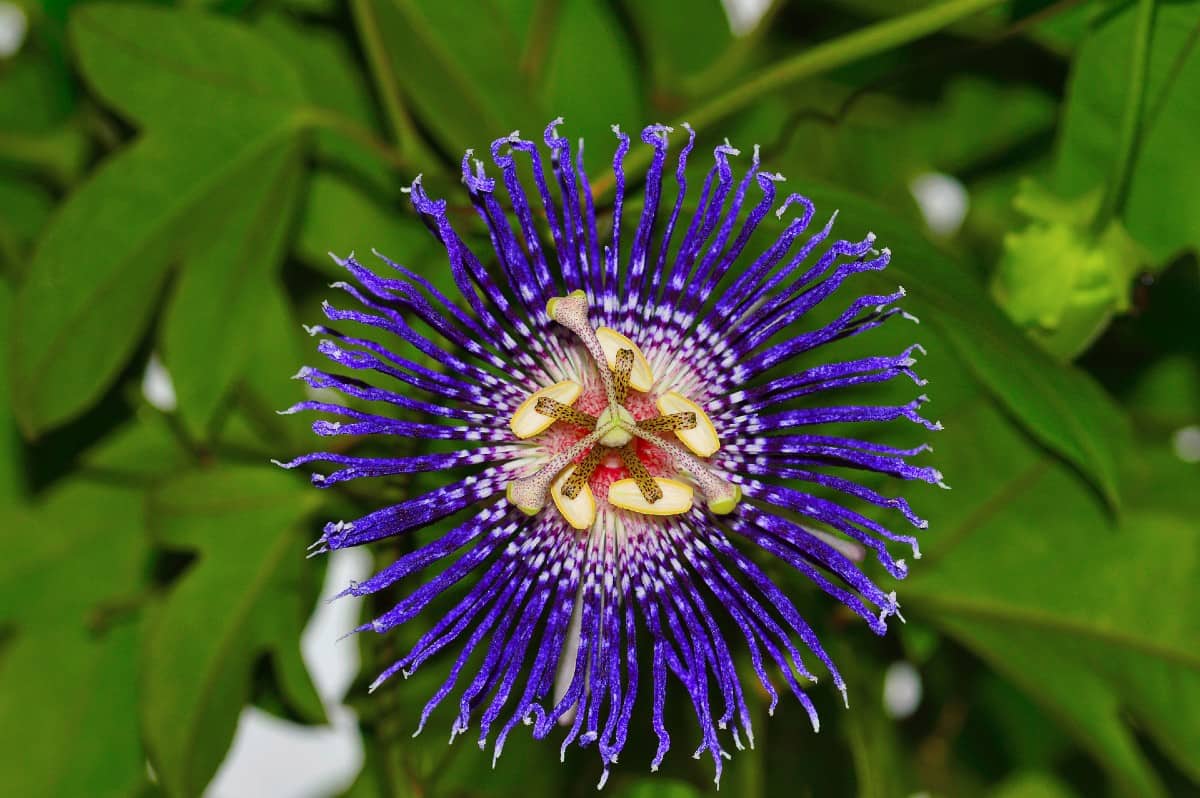 Passionflowers look like they belong in the tropics, but these hardy vines grow all over. The flowers are indeed one-of-a-kind. They have a circular base with petals growing around it.
The stamen and ovary grow atop a tall stalk surrounded by purple filaments. Their blooms make them especially attractive to butterflies and other essential pollinators.
Give your passion flowers full sun to partial shade. In hot regions, afternoon shade is a welcome treat. The soil requirements are minimal, so long as it is well-draining and watered regularly.
Brazilian Jasmine (Mandevilla sanderi) – Vines that Make a Statement
Brazilian jasmine is often used to make a statement on the patio. The large pink flowers are part of tropical vine plants with lush greenery. The vine stretches eight feet long and proliferates on walls and fences. This plant is a hardy perennial in USDA zones nine through eleven.
Brazilian jasmine likes to be in sandy soil mixed with lots of organic material or compost. They require some shade with indirect or filtered sunlight. Provide plenty of support for the jasmine to grow on or use it as a ground cover plant.
Chocolate Vine (Akebia quinata)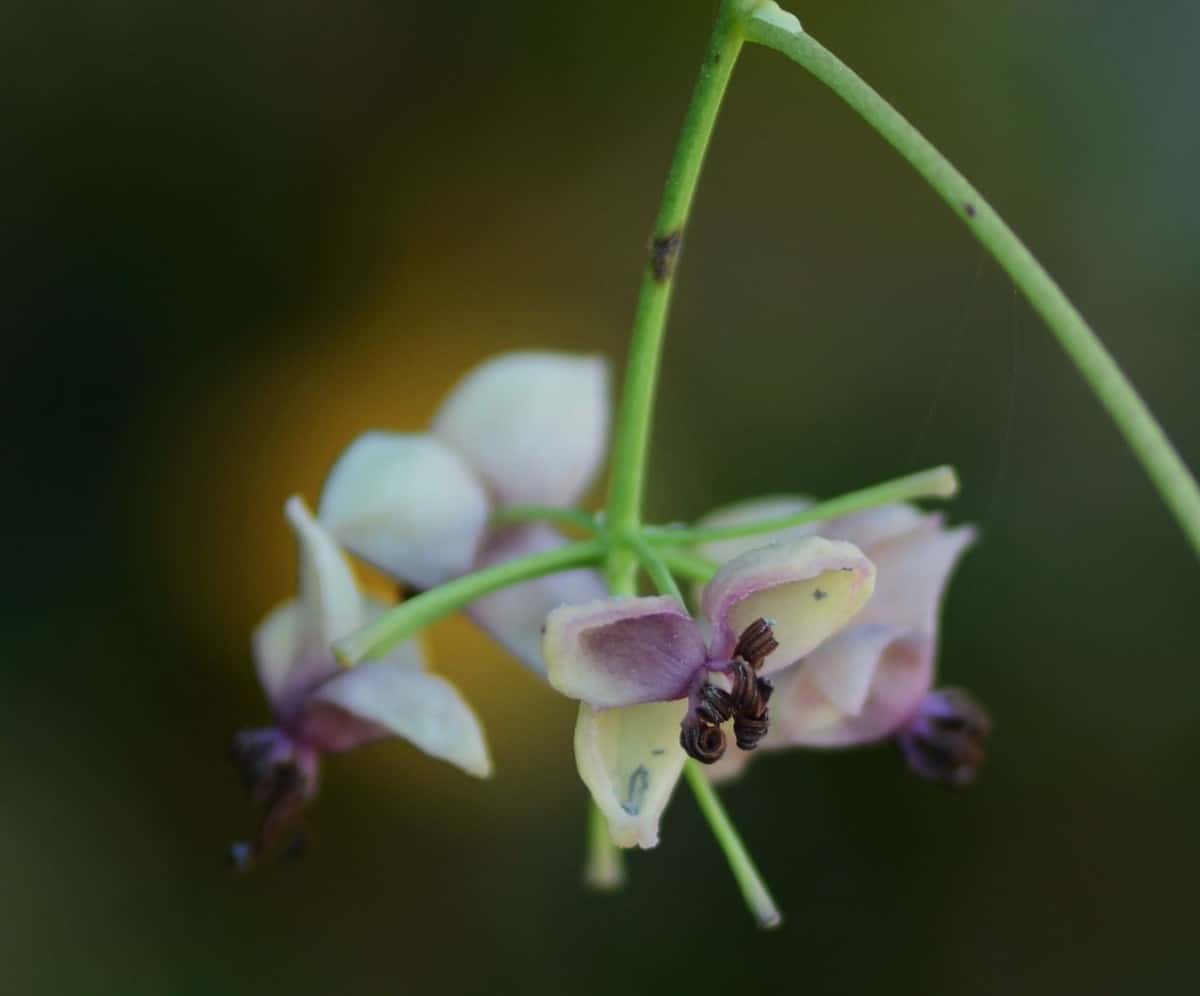 Whether you call it the chocolate vine or the five-petal vine, these summer blooming vines are extraordinary. These climbers are best for warmer regions since they are prone to frost damage.
They have maroon and chocolate-colored blooms with waxy, cup-shaped petals. The clusters produce a spicy smell with a touch of vanilla. Flowers appear in the early summer, and, in mild winters, some leaves last throughout the entire winter.
Grow chocolate vines in moist and well-draining soil. They enjoy full sun and partial shade. They can face any direction for proper growth and grow 30 feet tall and 15 feet wide.
Tangerine Crossvine (Bignonia capreolata)
Crossvines are extremely large – growing up to 50 feet tall. It has stunning clusters of orange, red, and yellow, trumpet-shaped flowers that contrast with the 6-inch long, glossy leaves.
As new leaves appear throughout the growing season, they emerge as light green, adding even more visual interest. Plant crossvines in full sun.
Water them regularly and apply fertilizer to the ground before and after the plant flowers from mid-spring to late summer. Prune for your desired size or choose not to prune at all if it fits your needs.
Summer Bloomers with Large Flower Clusters: Carolina Jessamine (Gelsemium sempervirens)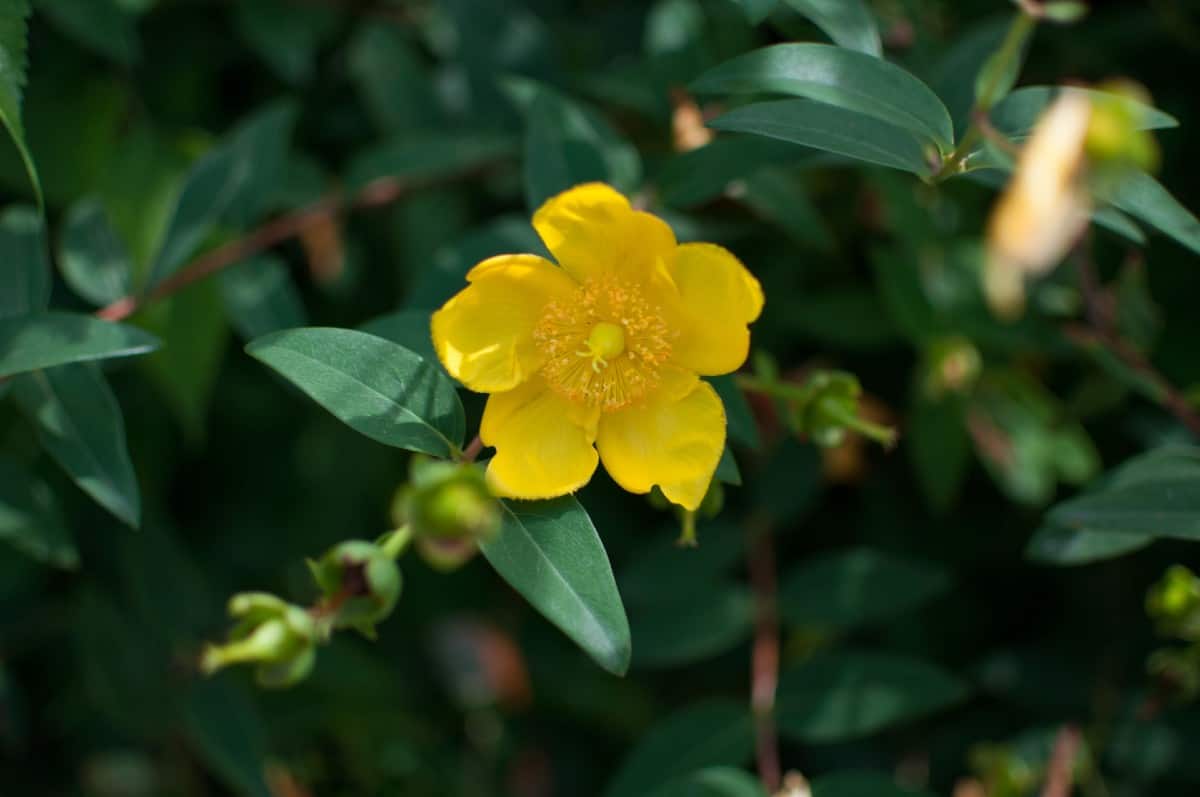 Carolina jessamine is covered in clusters of yellow flowers that bloom until the early summer. They reach 20 feet in length and climb over anything they can get their wiry stem around. These fast growing evergreen vines keep their glossy leaves all year and have dense coverage.
Carolina jessamine is hardy in USDA zones seven through nine. They tolerate partial shade but put on their best show in full sun. Choose soil rich in organic material and fertilize the vines every spring.
Black-Eyed Susan Vine (Thunbergia alata)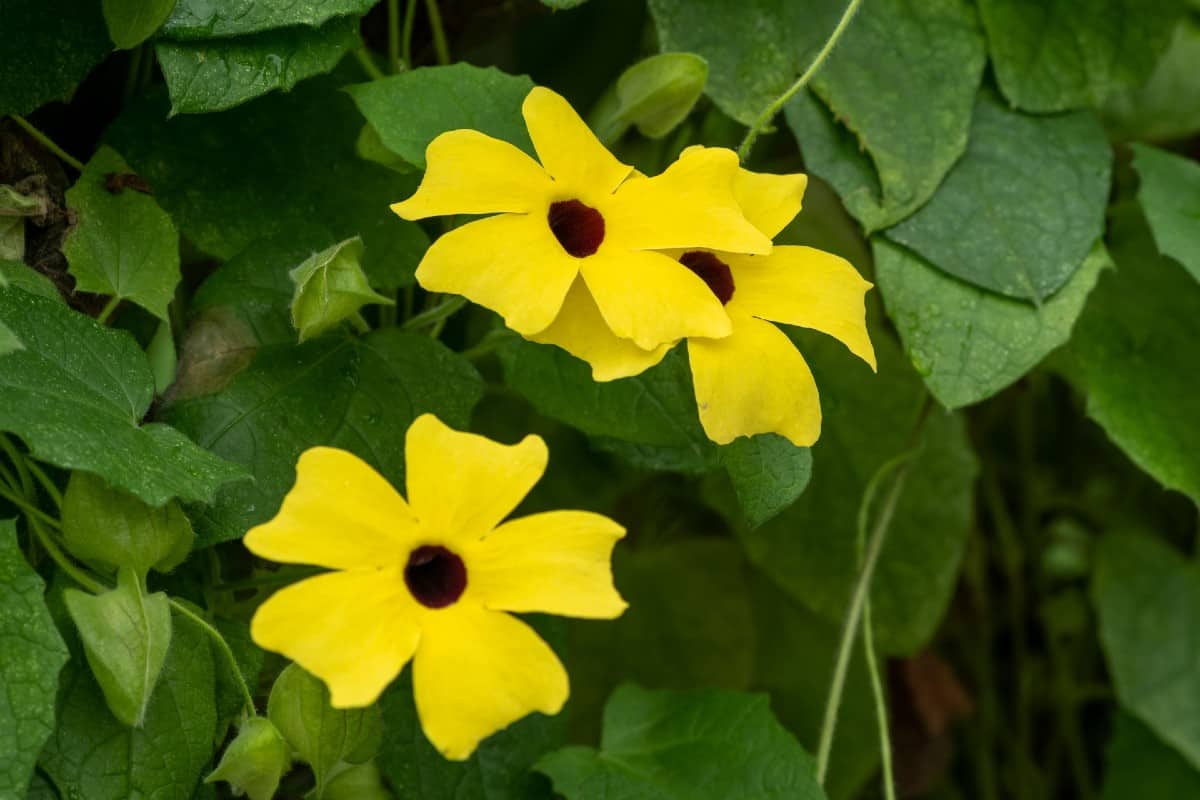 Everyone's favorite perennial flowers also come in vine form. Black-eyed Susan vines grow around eight feet long, making them perfect for smaller areas requiring coverage or bringing them indoors.
Black-eyed Susan vines are native to Africa and require warmer temperatures. The vines like well-draining soils because they wilt in dry conditions. Keep the ground moist but not soggy.
Deadhead the spent blooms once they begin fading. For best-looking results, prune the vine lightly when necessary to keep it looking clean and maintained.
Adding summer blooming vines to your garden and flower beds is a foolproof way of ensuring that you have picture-perfect beauty that lasts throughout the entire growing season.
They are underutilized, one-of-a-kind plants. Adding these plants to structures around your home takes your landscape design up a notch and showcases your home in a brand-new light.
If you want these summer blooming vines to transform your home's look, share these vines with long-lasting flowers on Facebook and Pinterest with friends and family.