While you spend your summer mowing the lawn to keep the grass short, ornamental grasses are meant to grow tall and full. These plants add visual appearance to the landscape, whether they are a backdrop or focal point in the yard. We've created a list of summer flowering grasses to help you choose your next favorite plant.
Flowering grasses bring form, texture, movement, and sound to the yard, and their presence is appealing all year round. These plants come in a wide range of shapes, sizes, and colors, and look stunning in containers or rock gardens.
They are also the perfect plant for edging or a focal point. Not only are ornamental grasses beautiful to admire, but they are easy to maintain.
There are also practical purposes for growing these plants. The tall varieties are an excellent choice for creating a natural wall and windscreen and are a great backdrop to enhance your flowers.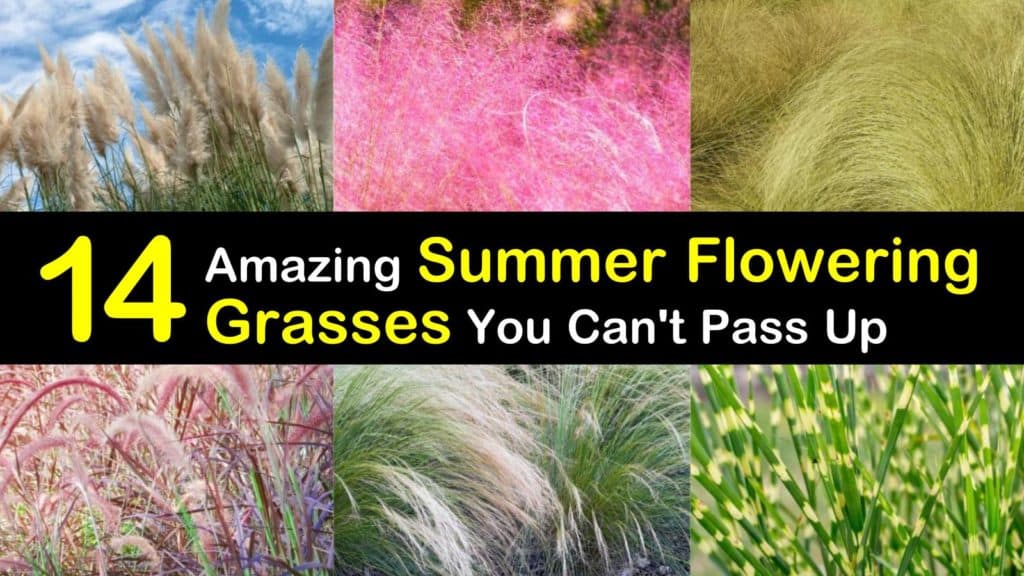 Growing Ornamental and Flowering Grasses for Your Landscape
There are so many varieties of ornamental grasses that choosing your favorite is a challenge. Whether you prefer spring flowering grasses or those that bloom in the summer – or both – your yard can explode with color.
Growing lemongrass provides you with some fresh herbs that also repel mosquitoes.
Some grasses are tall and arching, while others are modest, some have large plums of flowers, while others have striking foliage. We'll help you narrow your choices to find the right grass for your garden.
Are there Different Types of Ornamental Grass?
Ornamental grasses have either a spreading or clumping habit, and it's essential to know the difference before choosing the right plants for your yard.
Clumping grass, such as little bluestem (Schizachyrium scoparium), form low mounds while spreaders, such as blue lyme grass, are tall with a dramatic appearance. Some grasses are loved for their striking foliage and others for their stunning flowers and seed heads.
Which Type of Flowering Grass Should I Grow?
There are a few things to understand when choosing your ornamental grass. There are also grasses you don't ever want in your yard – like nutgrass and quackgrass. These invasive grasses quickly take over – usually where you don't want them.
What kills quackgrass? Employ some DIY strategies to eradicate this unwanted weed and others.
Note that not all grasses are hardy in all growing zones. Comparing the hardiness zone of the plant to your location helps you make your selection.
It's also important to decide whether you want to grow a clumping or spreading grass. Do you want the grass to have winter interest? Are you looking for a plant with height?
Is the ornamental grass going to be a specimen plant? Consider these questions while shopping for your new plant and read the plant care guide to find a perfect match.
What is the Difference between Cool-Season and Warm-Season Grasses?
Cool-season grass grows in early spring once the temperature is above freezing. These grasses often have vibrant color during the growing season and flower at the beginning of summer.
Warm-season grasses are slow at making an appearance in the spring and flower late in the summer into the fall months. These types of plants are heat, humidity, and drought tolerant.
Are Flowering Grasses Hard to Maintain?
Flowering grasses are tough perennials that require very little care to thrive. Most types are drought tolerant and resistant to pests such as deer. They are also not finicky about the soil, but they do require good drainage.
Let the grass sit through the winter and then trim them back in spring before new growth appears. If the grasses outgrow their space, divide them in early spring and replant the sections in a new area of the yard.
Mexican Feather Grass (Nassella tenuissima)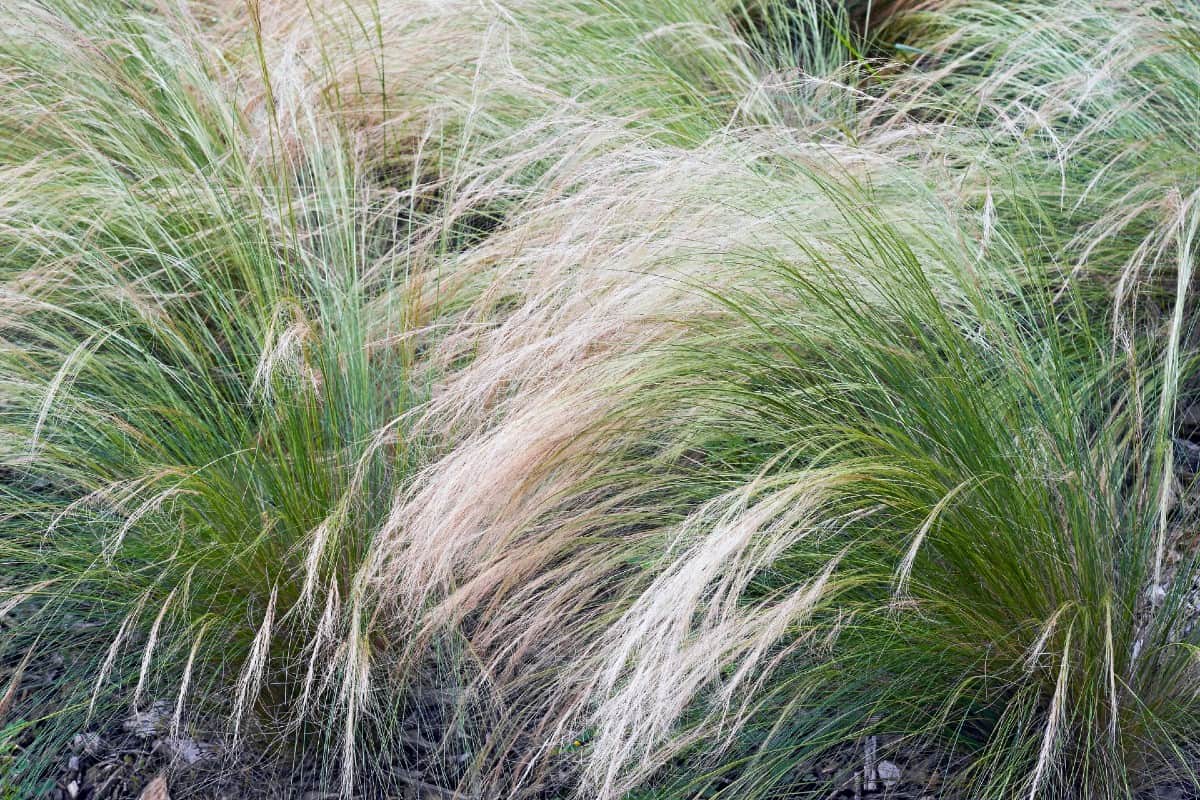 The thin, feather-like blades of Mexican feather grass dance gracefully in the slightest breeze. The silvery green leaves grow in early summer, with seeds at the very tips, and it bears feathery panicles all summer long.
Mexican feather grass enjoys full to part shade, is rabbit, deer, and drought tolerant, and pest and disease-free. This low maintenance grass is hardy in zones 6 through 10 and has a mature size of 1 to 3 feet wide and tall.
Growing grasses in a desert climate doesn't have to be a challenge if you choose the right ones. Mexican feather grass will fit right in.
Pampas Grass (Cortaderia selloana) – Summer Flowering Grasses with a Bold Statement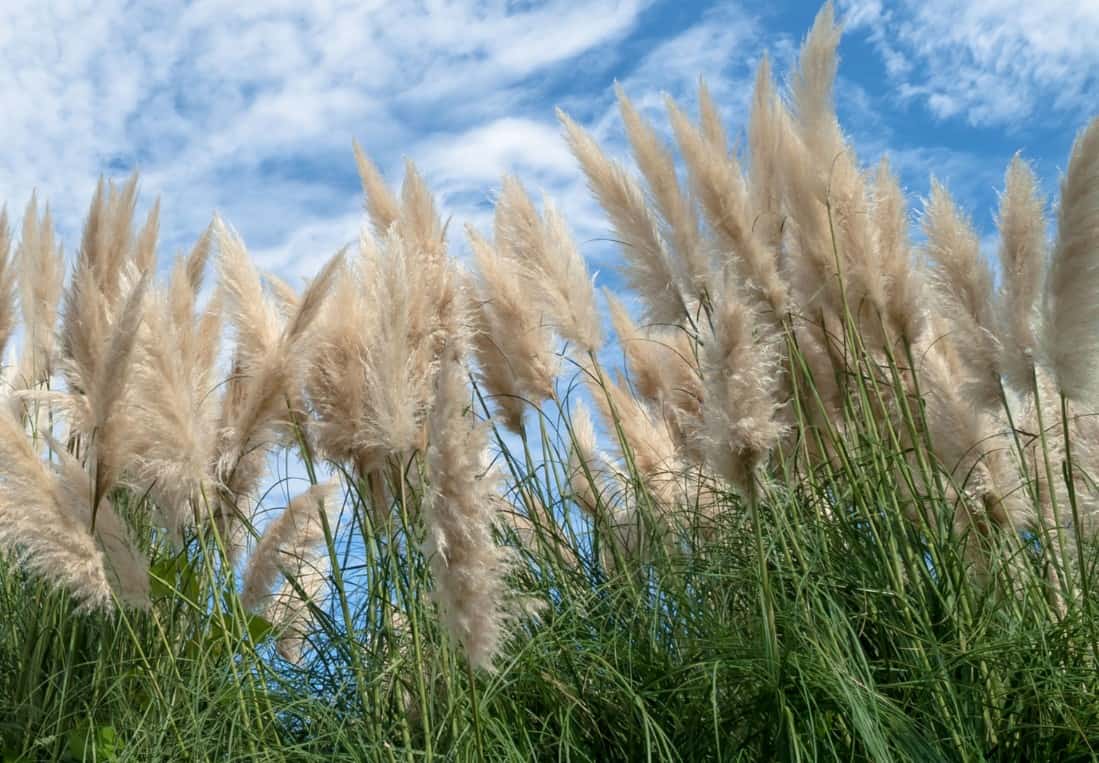 This flowering grass provides the landscape with a bold statement with its staggering height and showy flowers. It has narrow and arching gray/green leaves and creamy white plumes that open in August and last through September.
This tough perennial requires very little care and is one of the most cold-hardy of grasses. Pampas grass grows 4 to 6 feet tall and spreads 3 to 4 feet wide. It thrives in zones 7 through 10 and is drought tolerant and deer resistant.
Pampas grass also makes one of the best options for everlasting plants. Cut off some stems and use indoors in flower arrangements after they dry.
Purple Fountain Grass (Pennisetum setaceum rubrum)
Purple fountain grass provides striking color and graceful movement to the yard with its rich, burgundy foliage and long arching plumes in shades of crimson. This fast growing grass is an excellent plant for a container or focal point.
This plant is an annual in cold winter areas but is hardy in zone 9. It thrives in full sun and well drained soil, grows 3 to 5 feet tall and spreads up to 4 feet. The flower plumes reach up to 1 foot in length.
Blue Fescue (Festuca glauca) – Low Growing Accent Grass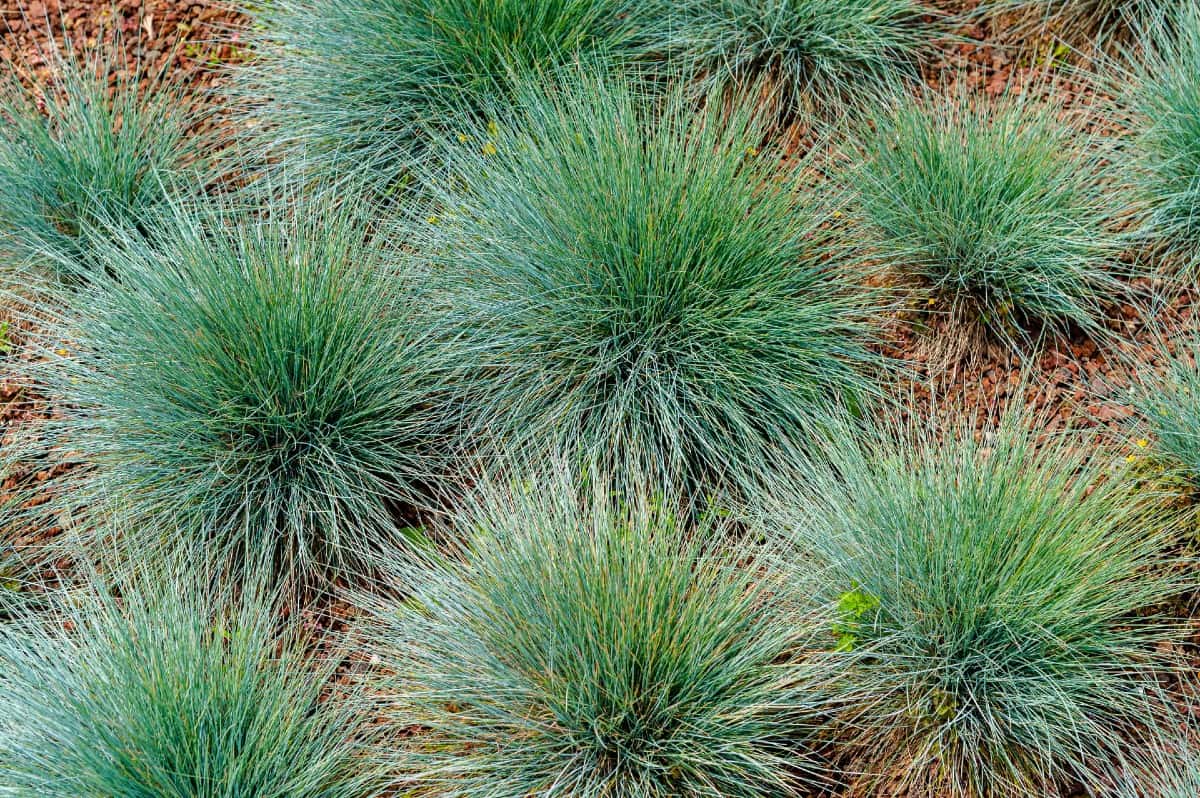 This low growing accent grass is a favorite for use in borders, edgings, rock gardens, and groundcover. It is a versatile grass in a beautiful shade of blue with a clump-forming habit.
This low maintenance grass is deer resistant and drought tolerant. It enjoys part to full sun and is hardy in zones 4 through 8. Blue fescue has a mature height of 1 to 3 feet tall with a spread of up to 18 inches wide.
If you need to kill clover without killing grass like blue fescue, the best way to do it is to hand-pull the weeds, ensuring that you get the entire root.
Blue Oat Grass (Helictotrichon sempervirens)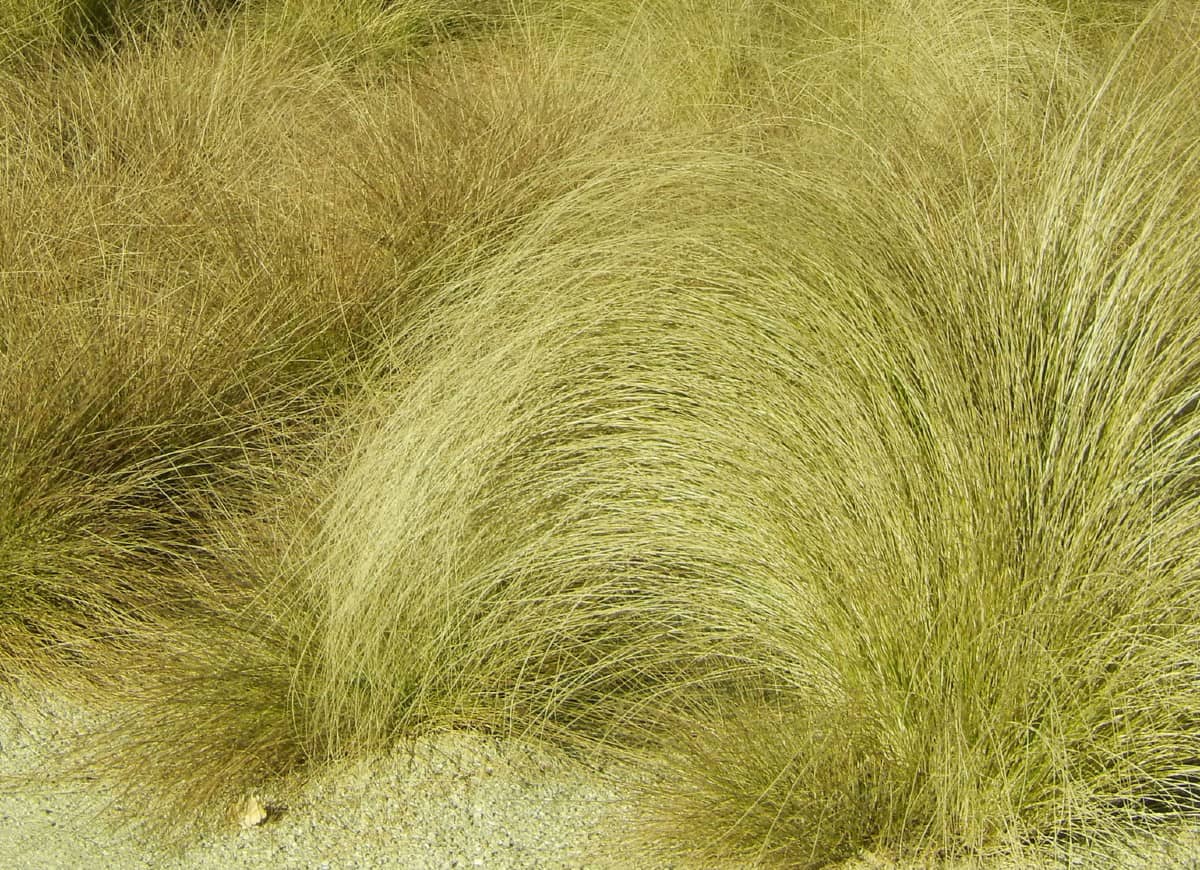 Blue oat grass is a well-behaved plant with charm. It grows in round clumps of arching steel blue leaves, and resembles blue fescue but in a larger size. It develops delicate panicles of straw-colored spikelets in early to mid-summer.
This showy ornamental grass is semi-evergreen and grows easily in a dense fountain-like clump that is 2 to 3 feet in height. This cool-season grass is drought and salt tolerant, deer and rabbit resistant, and hardy in zones 4 through 8.
Japanese Forest Grass (Hakonechloa) – Deciduous Grass with Striking Foliage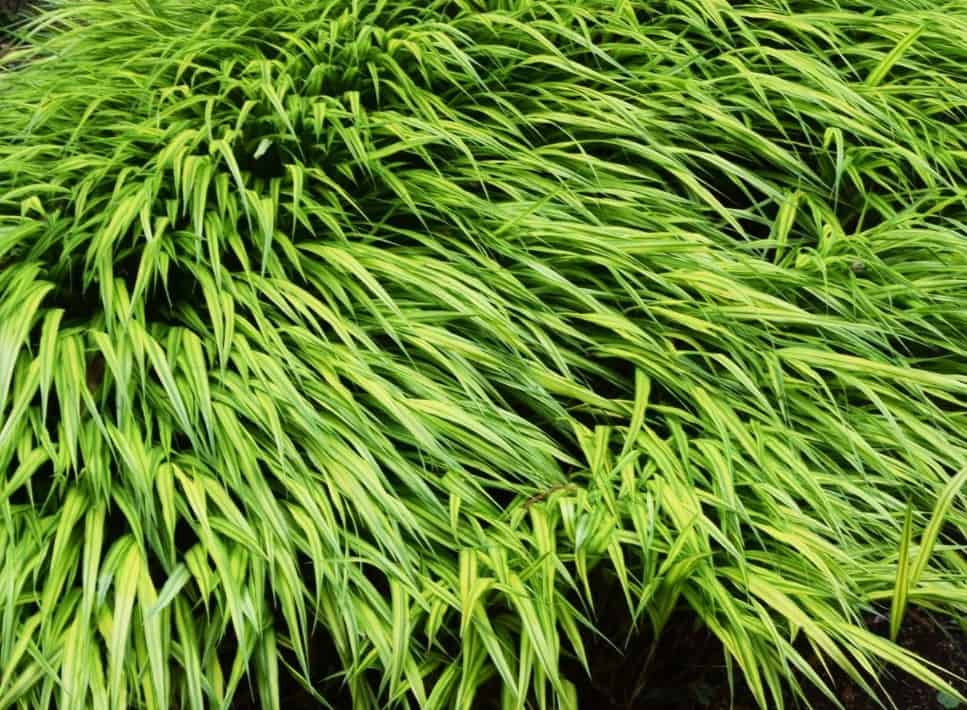 Japanese forest grass has an exotic clumping habit with variegated, green, or gold leaves that turn coppery orange during the fall months. It has tender stems that resemble tiny bamboo stalks.
This deciduous grass is deer resistant and drought tolerant. These grasses with colorful fall foliage thrive in shade or part sun and are hardy in zones 5 through 9. This low maintenance grass grows 1 to 3 feet tall and up to 2 feet wide.
Feather Reed Grass (Calamagrostis acutiflora)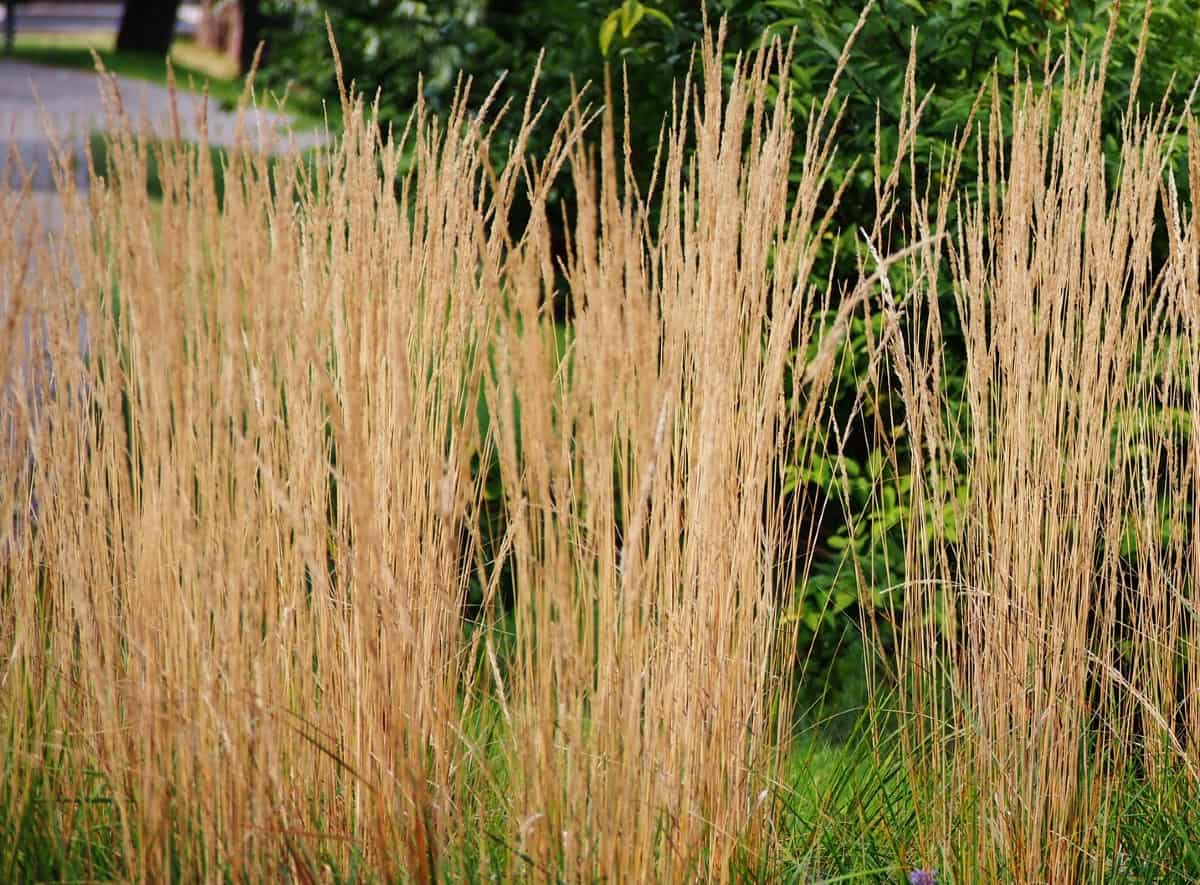 Feather reed grass 'Karl Foerster' is one of the most popular grasses to grow. This majestic ornamental grass is prized for its upright and feathery flower plumes in a pink/purple shade that move gracefully, even during a mild breeze.
This fast growing grass is care-free and versatile. It grows in a narrow clump of deep green and arching leaves that reach 2 to 3 feet wide and 3 to 6 feet tall, with 3-foot long plumes. It is hardy in zones 4 through 9 and prefers part to full sun.
Maiden Grass (Miscanthus sinensis) – Drought Tolerant Specimen Grass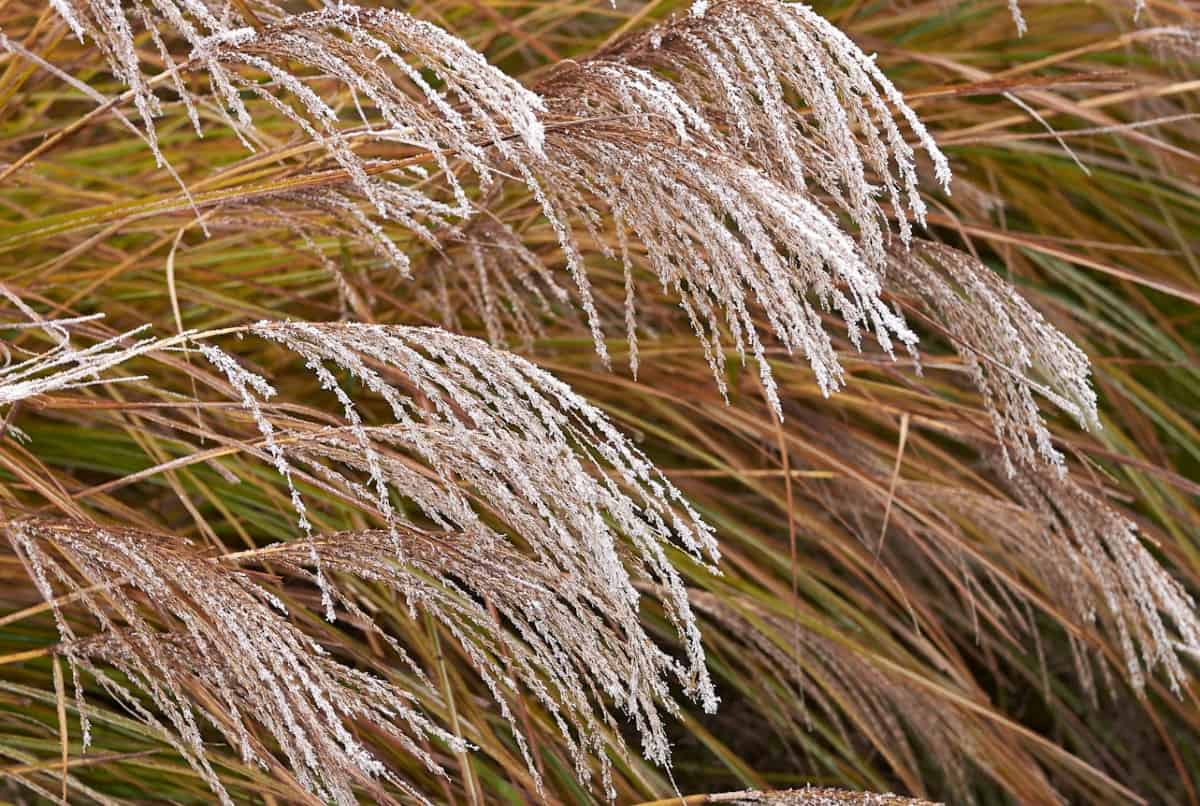 This garden specimen grass has a graceful vase shape with a soft and airy form. The blue-green foliage tops off with silvery, white, or pink seed heads, depending on the type.
Maiden grass is drought tolerant and deer resistant and thrives in part to full sun. Depending on the variety, this grass grows anywhere from 3 to 6 feet tall and is hardy in zones 4 through 9.
Chinese Fountain Grass (Pennisetum alopecuroides)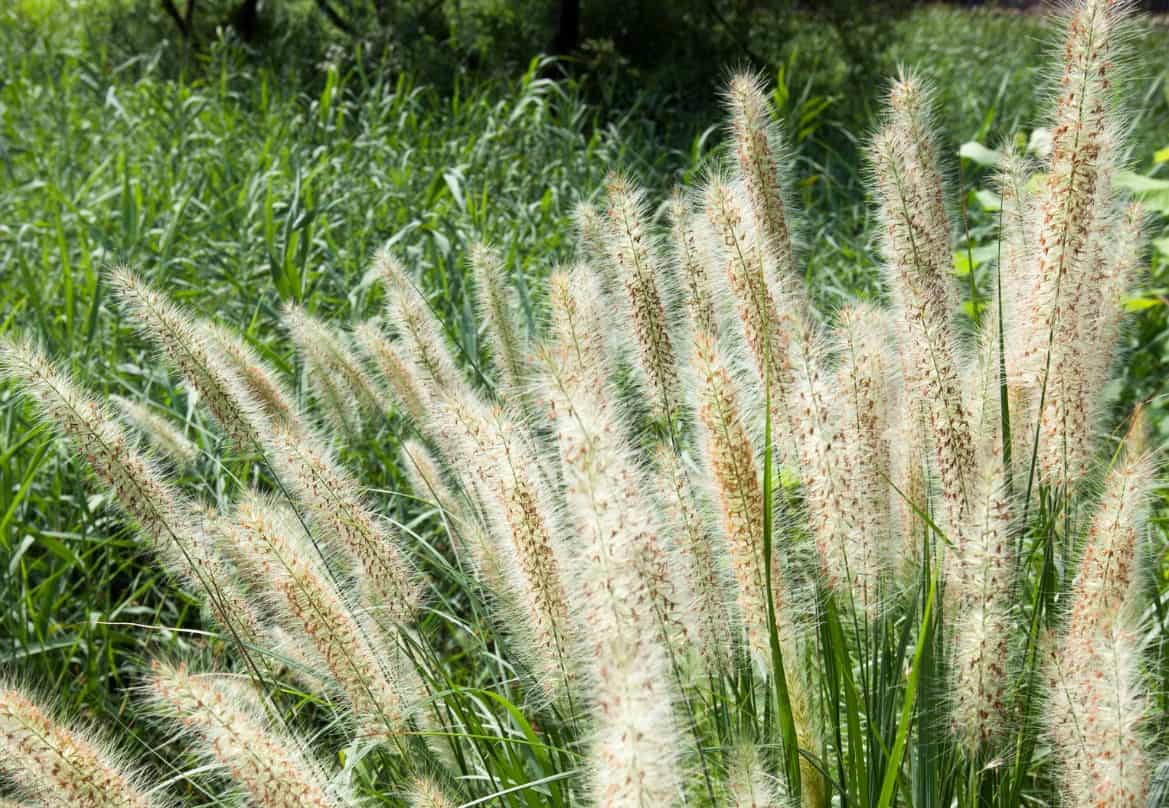 This handsome perennial grass forms a fountain of green leaves with pinkish flower spikes with bottle-brush ends. It is particularly striking in fall as the blooms turn beige and golden.
Chinese fountain grass grows best in hardiness zones 5 through 9. It prefers full to part sun and has a mature size of 2 to 3 feet tall and wide. This easy-growing grass is drought tolerant and flourishes in most soil types.
Zebra Grass (Miscanthus Sinensis zebrinus) – Ornamental Grass with Variegated Leaves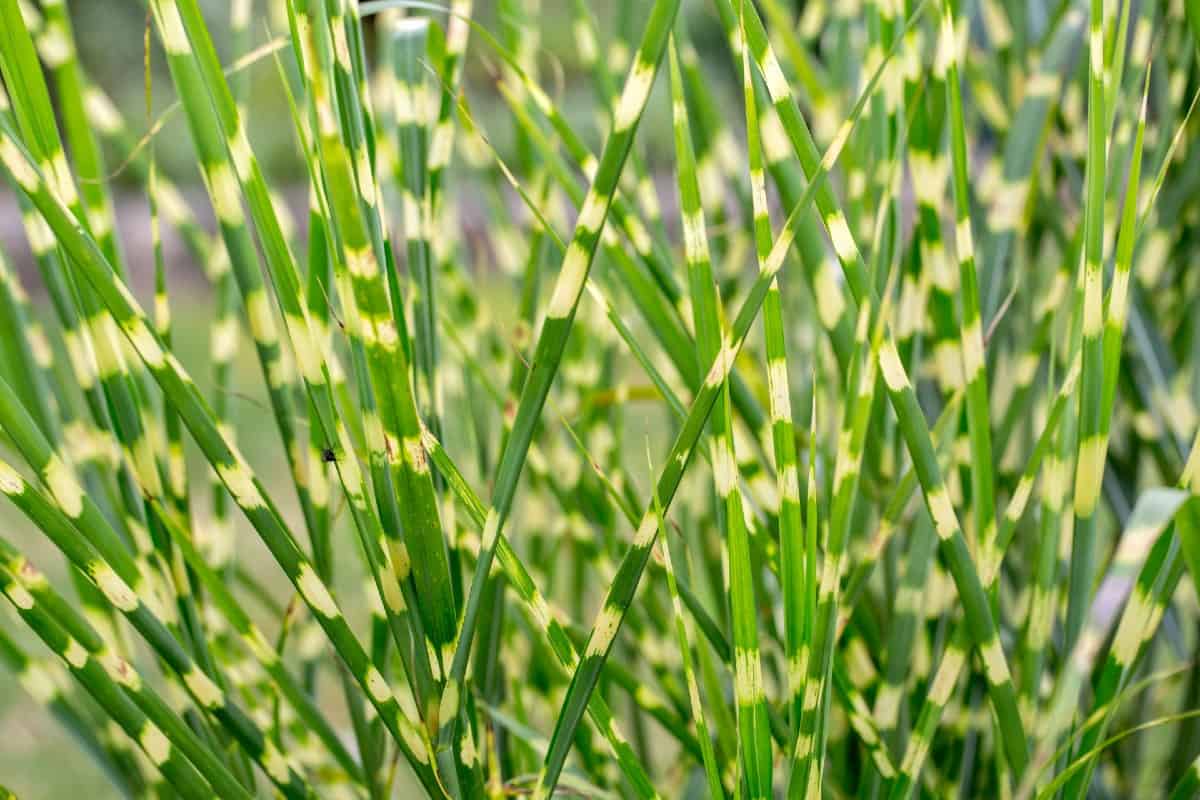 This ornamental plant has a tall-standing and arching habit with creamy golden strips cutting horizontally across green grass blades. It produces tiny silvery-white blooms, followed by seed head plumes late in the season.
Zebra grass prefers full sun and is hardy in zones 5 through 9. It grows 7 feet in height with a spread of 3 to 5 feet. This low maintenance plant tolerates many types of soil conditions.
New Zealand Flax (Phormium)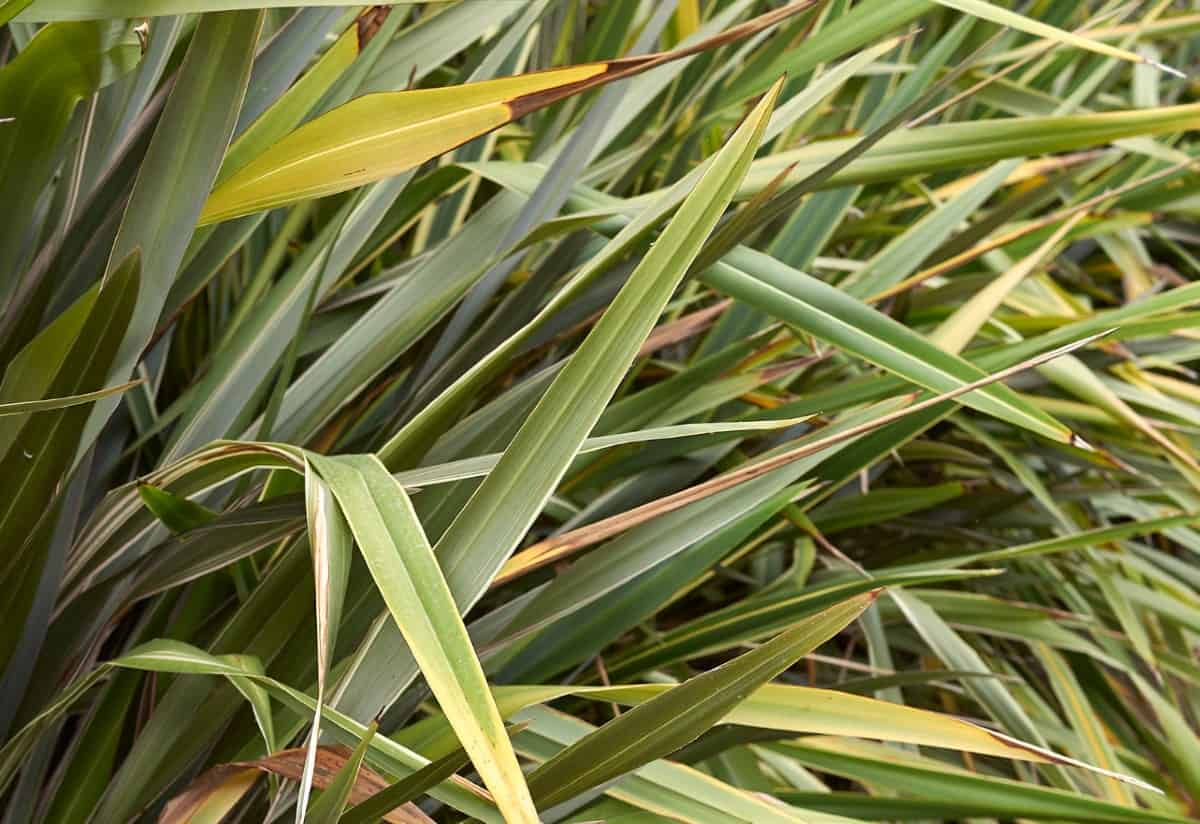 This large and colorful spiky plant is a striking focal point in the garden. Its sword-like leaves shoot up from the base, with flower stalks that rise above the leaves. The curving, tubular yellow or red blossoms are rich in nectar and attract hummingbirds to the yard.
New Zealand flax is perennial in zones 8 to 10, with several varieties to choose from. Some types grow 1 to 4 feet tall, while others reach up to 10 feet tall. This ornamental grass prefers part to full sun and moist soil.
Pink Muhly Grass (Muhlenbergia capillaris) – Incredibly Ornamental Grasses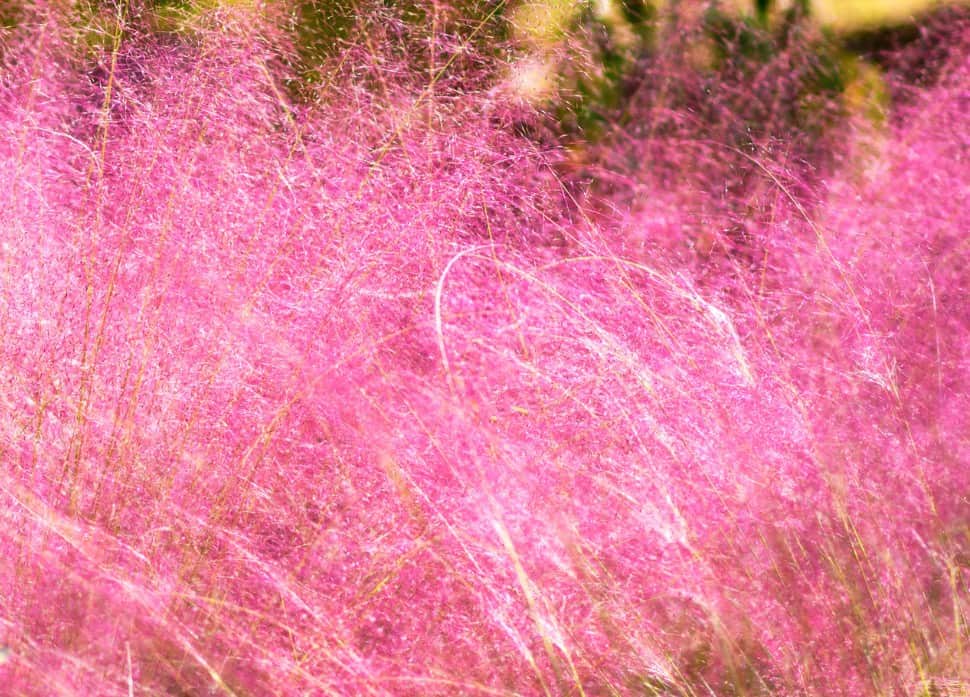 Pink muhly grass is a clump-forming perennial that is incredibly ornamental. Throughout the fall season, it forms clouds of vibrant pink flower panicles that resemble cotton candy.
Its dark green foliage and finely textured leaves are stunning against the open and airy inflorescences.
This striking grass has a mature size of 3 feet tall and wide and is hardy in zones 6 through 9. It prefers light shade or full sun and is drought, salt, heat, and humidity tolerant.
Switchgrass (Panicum virgatum)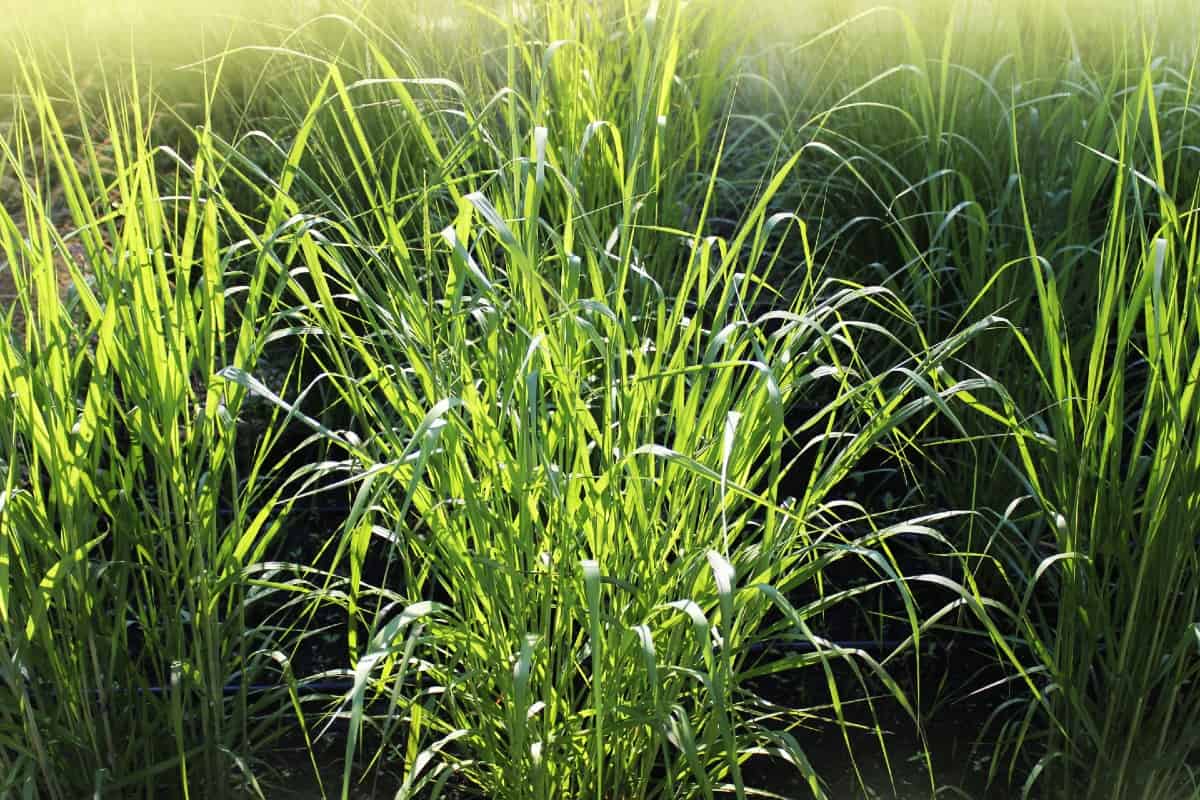 Switchgrass forms in large clumps and adds color and texture to the landscape. It is a warm-season grass with a blue/green and purple/burgundy color that blooms pink flowers in mid to late summer.
This tough plant tolerates the harshest conditions and is drought tolerant and deer resistant. It is low maintenance and thrives in full sun. Switchgrass has a mature height of 1 to 8 feet, and a spread of 2 to 3 feet, depending on the type.
Tufted Hair Grass (Deschampsia cespitosa) – Ornamental Grass that Tolerates Shade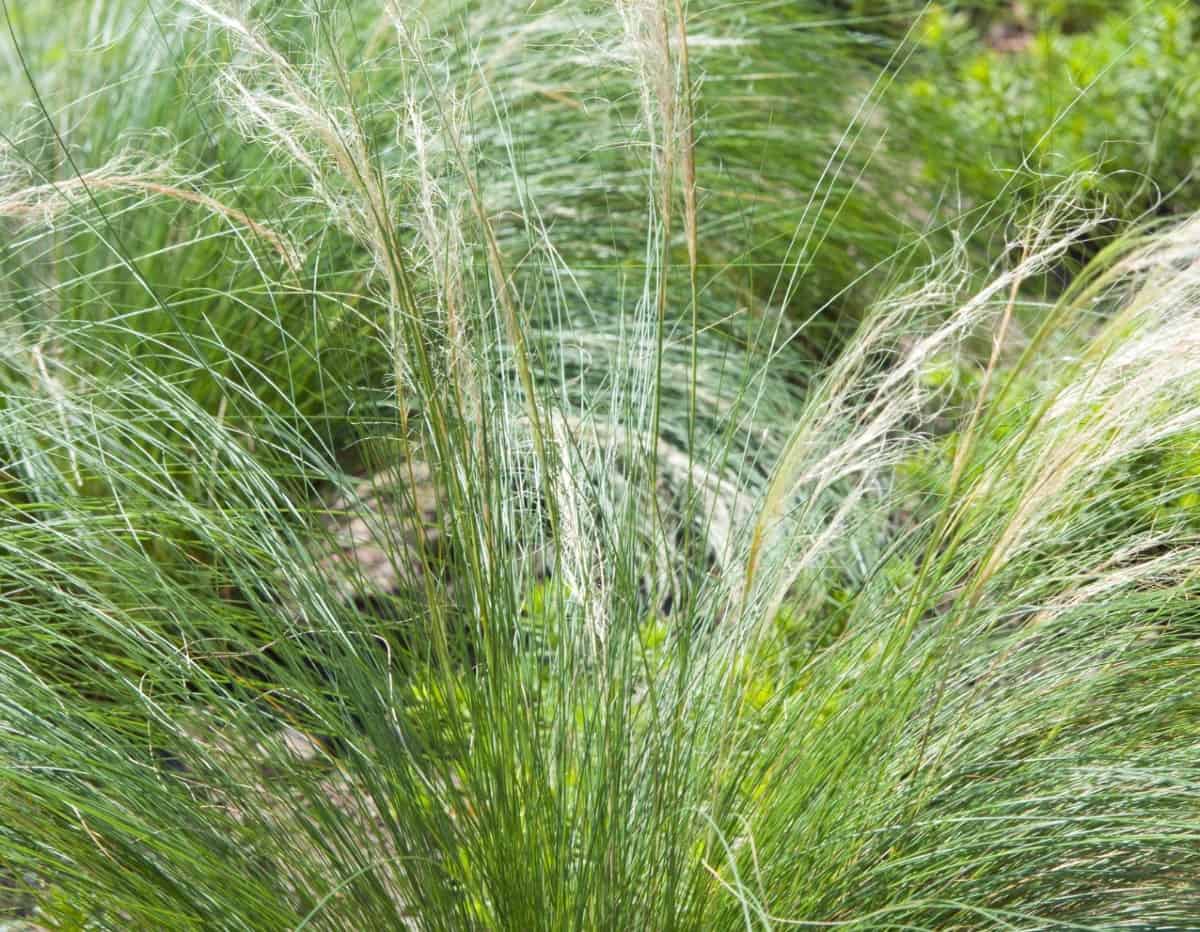 This clump-forming grass is one of the few grasses that tolerate moderately shady locations. It is a semi-evergreen, cool-season grass that grows in a dense tussock of dark green leaves. It produces feathery panicles of purple, green and gold flowers during the summer.
Tufted hair grass requires very little care and grows 2 to 3 feet tall and 1 to 2 feet wide. It is virtually disease and pest free, and rabbit and deer resistant. This grass is hardy in zones 4 through 9.
It's easy to grow a colorful flower bed in the yard, but we often overlook ornamental grasses. Grass doesn't have to be solely for groundcover that you mow each week.
Flowering grasses are a great way to enhance the yard with beauty, and they add a whimsical touch with their movement and sound.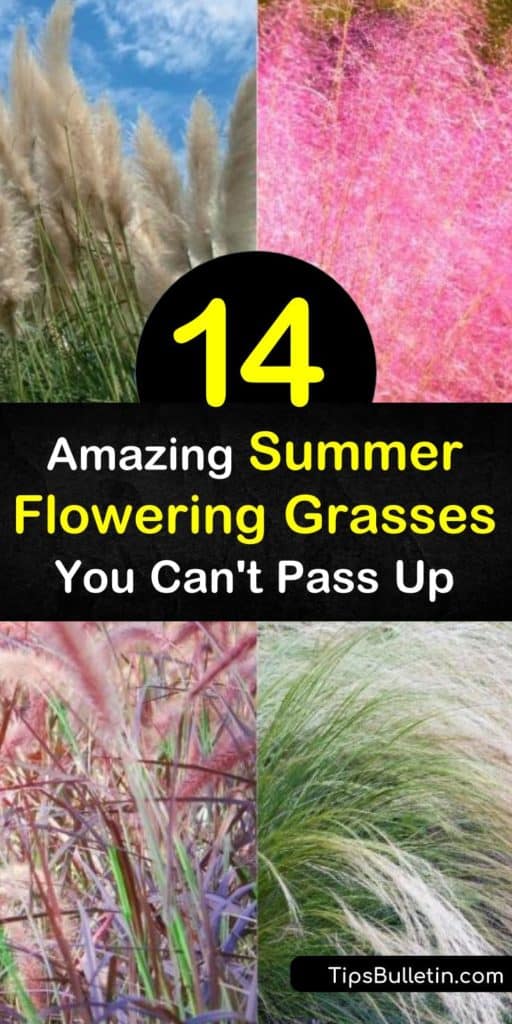 Summer flowering grasses are the perfect plant for creating a stunning focal point in the yard or a landscaping backdrop, so why not share our ornamental and flowering grass guide with your family and friends on Pinterest and Facebook?