The benefits of shrubs are endless, from vibrant foliage and natural privacy to fall berries and birds. But, did you know that some shrubs also fill your garden with summer flowers? Summer flowering shrubs add all of the above to your yard while filling the space with a consistent array of colorful flowers.
Flowering shrubs have more than one role to play. The most obvious benefit of growing shrubs in the yard is to fill the space with colorful blooms and floral scents. However, they also keep your yard sheltered from the wind and nosy neighbors and are a magnet for a variety of bird species, pollinators, and backyard critters.
Hummingbirds, butterflies, and bees are attracted to these bushes and are quite a sight to see on a lazy summer afternoon. Not only that, but birds love eating the berries that some of the shrubs provide, and small animals, such as squirrels and rabbits, seek shelter beneath the branches of leaves.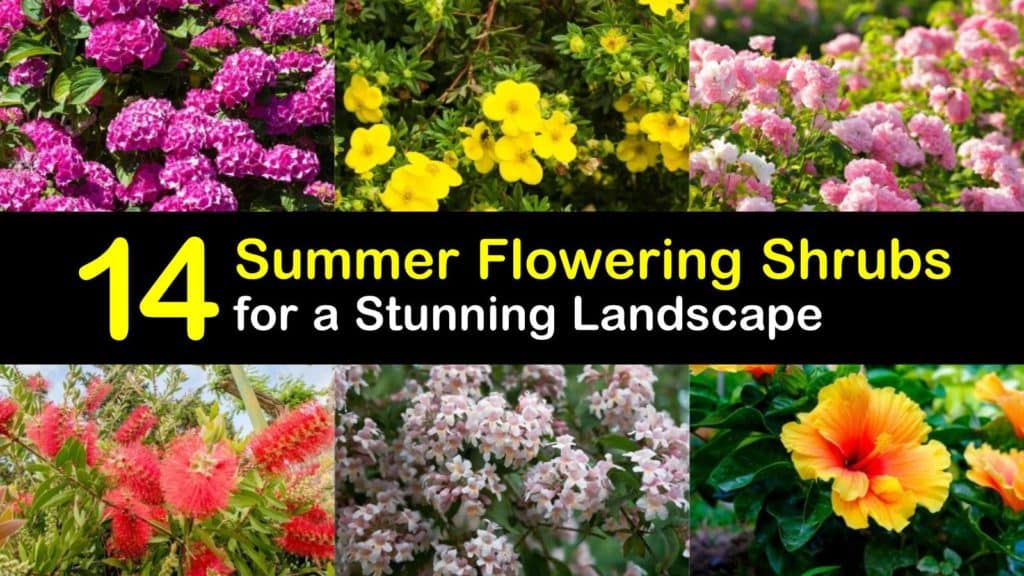 Creating a Beautiful Yard with Summer-Blooming Shrubs
There is a lot to think about when landscaping with bushes, including type, size, and placement. Not planting the right shrub for your area leads to disappointment.
We'll help you determine which flowering shrubs are ideal for your yard while answering a few common questions.
Consider growing size, whether the plants are evergreen or deciduous, flower and leaf color, whether the ones you like are flowers that have thorns, and how much care they need.
What are the Benefits of Growing Flowering Shrubs?
There are many benefits to planting shrubs in your yard, and some of them are surprising. Growing shrubs in the right location lowers heating and cooling costs, especially if they are evergreen.
They protect your home from the heat of the sun and act as a windbreak. Bushes are also a great way to form a natural fence around your property to give you private space from neighbors or a heavily trafficked road.
Flowering shrubs are a favorite among many pollinators and draw beneficial bees, hummingbirds, and butterflies. They are a form of wildlife habitat, offering critters a safe place to hang out while keeping cool, and creating the perfect space for nest-building.
Which Shrubs have the Longest Blooming Time?
There is a wide range of bushes that grow beautiful flowers, but some have longer blooming times than others and are perfect for a summer-blooming garden.
The butterfly bush and bluebeard shrub are excellent examples of long-bloomers, making them some of the best cool weather flowers. Another good choice is the endless summer hydrangea, which flowers from spring into late summer or fall.
Where is the Best Place to Plant Flowering Shrubs?
There are several things to take into consideration when deciding where to plant your new shrubs. The most important factor is sunlight.
Check the care tag for your plant and match up the sunlight requirements to your yard. Plant your sun-loving shrubs in an area with at least six hours of direct sunlight per day and partial-sun plants in a spot that receives three to six hours of light.
Try choosing areas of your yard where the bushes serve more than one purpose, such as an area of windbreak and privacy. Plant flowering shrubs where they are easily enjoyed, like the space around your patio or porch, or as a garden backdrop.
When is the Best Time to Prune Summer Blooming Shrubs?
Contrary to popular belief, it's not necessary to prune shrubs. Allowing them to grow naturally is often the easiest way to go. However, if you choose to prune them, the pruning time changes depending on the time they flower.
Spring-flowering shrubs produce their flowers from the buds they grew the year before, and it's important to prune them in the spring after blooming.
Summer-blooming shrubs produce flowers on the current year's growth. Pruning late winter or early spring encourages larger growth production and summer flowers.
Endless Summer Hydrangea (Hydrangea macrophylla)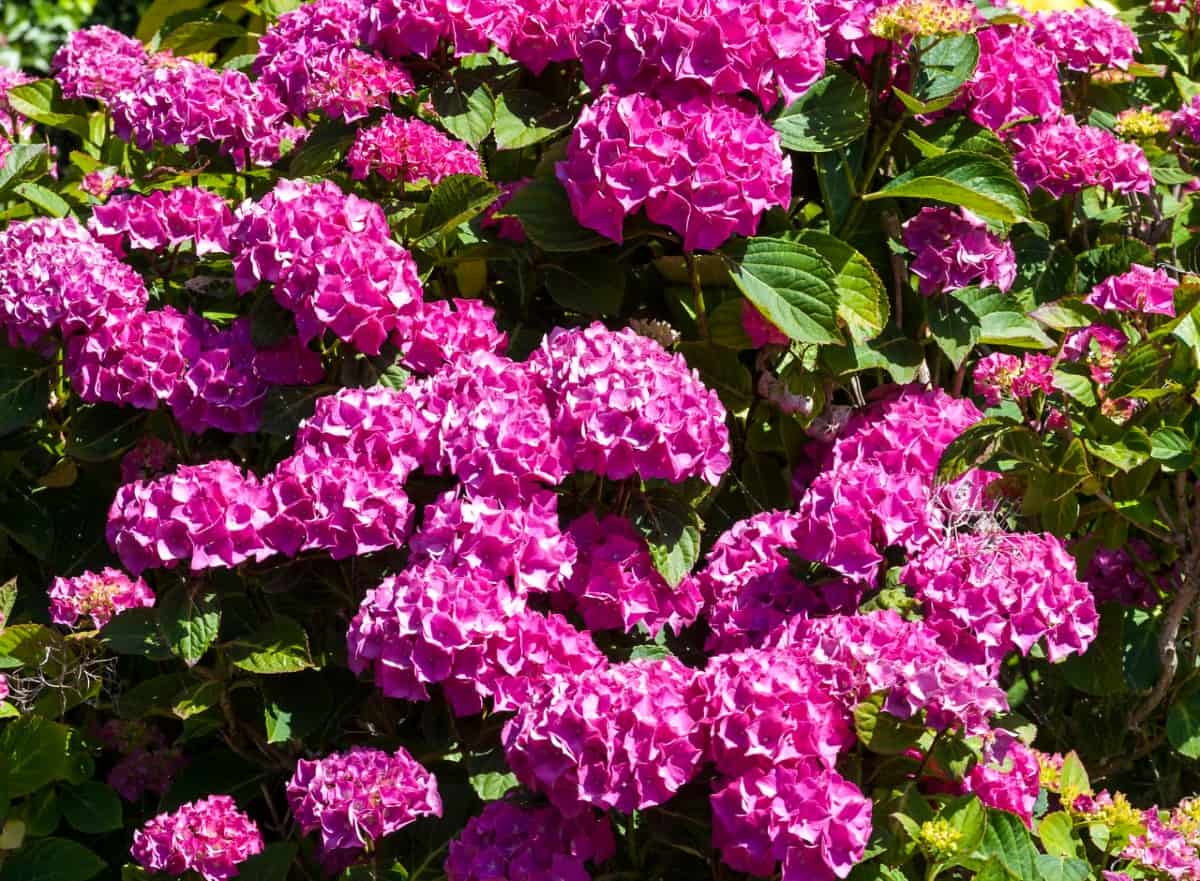 There is a wide range of hydrangeas, and the endless summer variety re-blooms throughout the summer for a constant display of beautiful round clusters of pink or blue flowers, depending on the soil's pH.
These hydrangeas are low flowering shrubs with a mature size of 3 to 5 feet tall and wide and have a rounded shape of bright green foliage with red fall color. They produce their flowers on the previous year's wood and thrive in hardiness zones 4 through 9.
Rose of Sharon (Hibiscus syriacus) – Summer Flowering Shrubs with Striking Blooms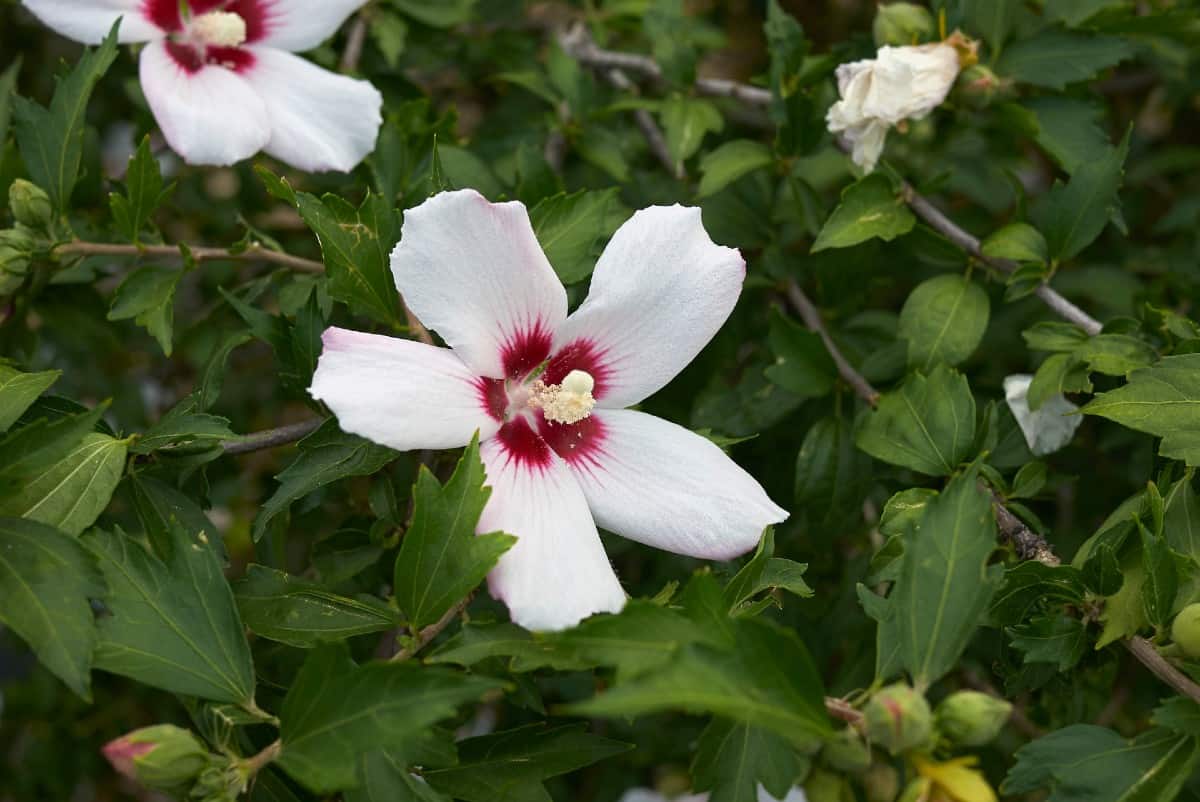 Rose of Sharon is one of the eye-catching summer perennials. This shrub has large, colorful flowers with a prominent stamen set against dark green leaves. While most plants are blooming in spring, this plant offers its flowers later in the summer in colors of white, light blue, lavender, and red.
This deciduous flowering shrub grows up to 10 feet tall and 4 to 5 feet wide. Rose of Sharon grows in full or filtered sun and is hardy in zones 5 through 9. It naturalizes well in many areas, is reasonably drought tolerant, and easy to grow.
Lilac (Syringa)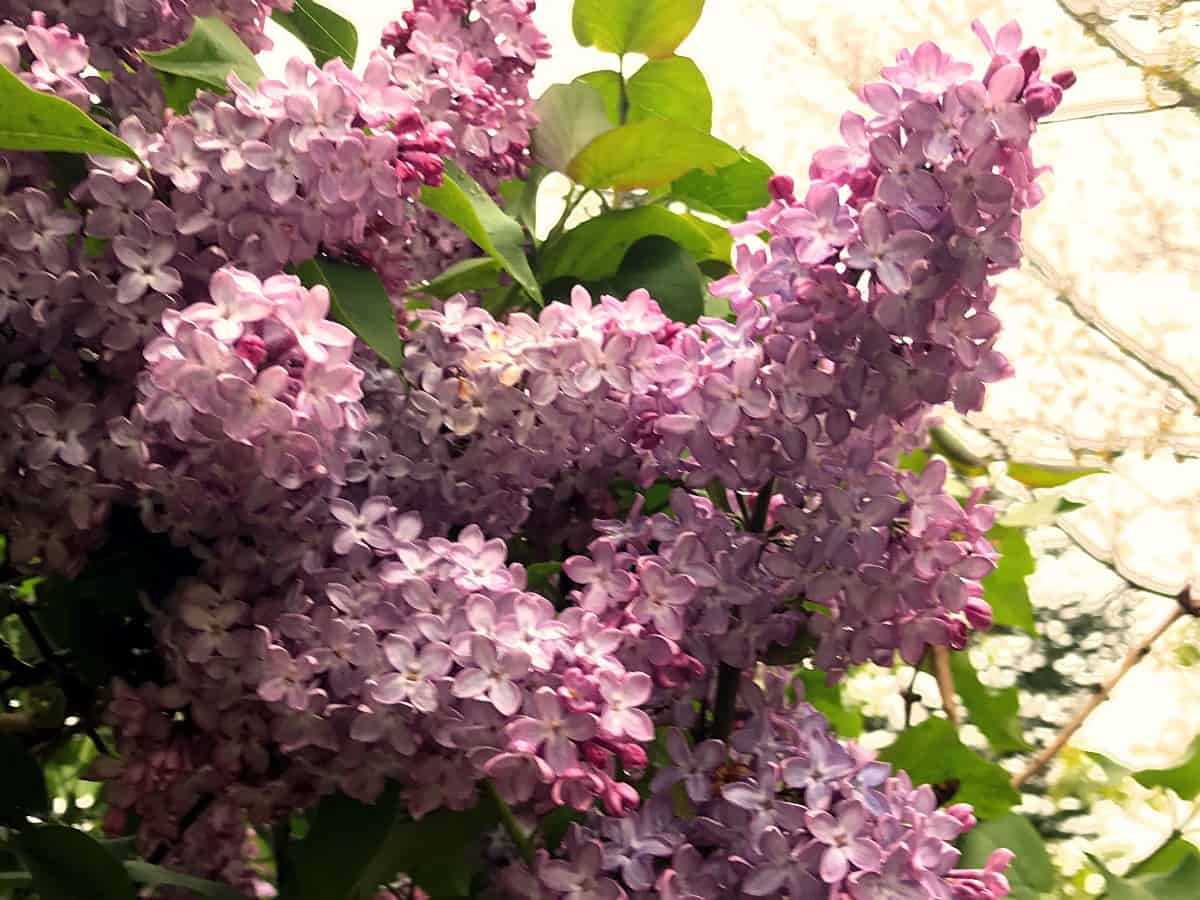 The heart-shaped leaves and highly fragrant flowers of the lilac shrub are enticing to both the gardener and pollinators.
These shrubs that flower in spring through the end of summer produce abundant clusters of flowers ranging from purple and pink to white and blue, with different scents. Lilacs thrive in part shade to full sun and are hardy in zones 3 through 7.
They are a low-maintenance and drought tolerant plant that is easy to grow in almost any area. These shrubs have a mature size of 3 to 20 feet tall and make an excellent cut flower for the home.
Potentilla (Dasiphora fruticosa) – Low Maintenance Summer Blooming Shrub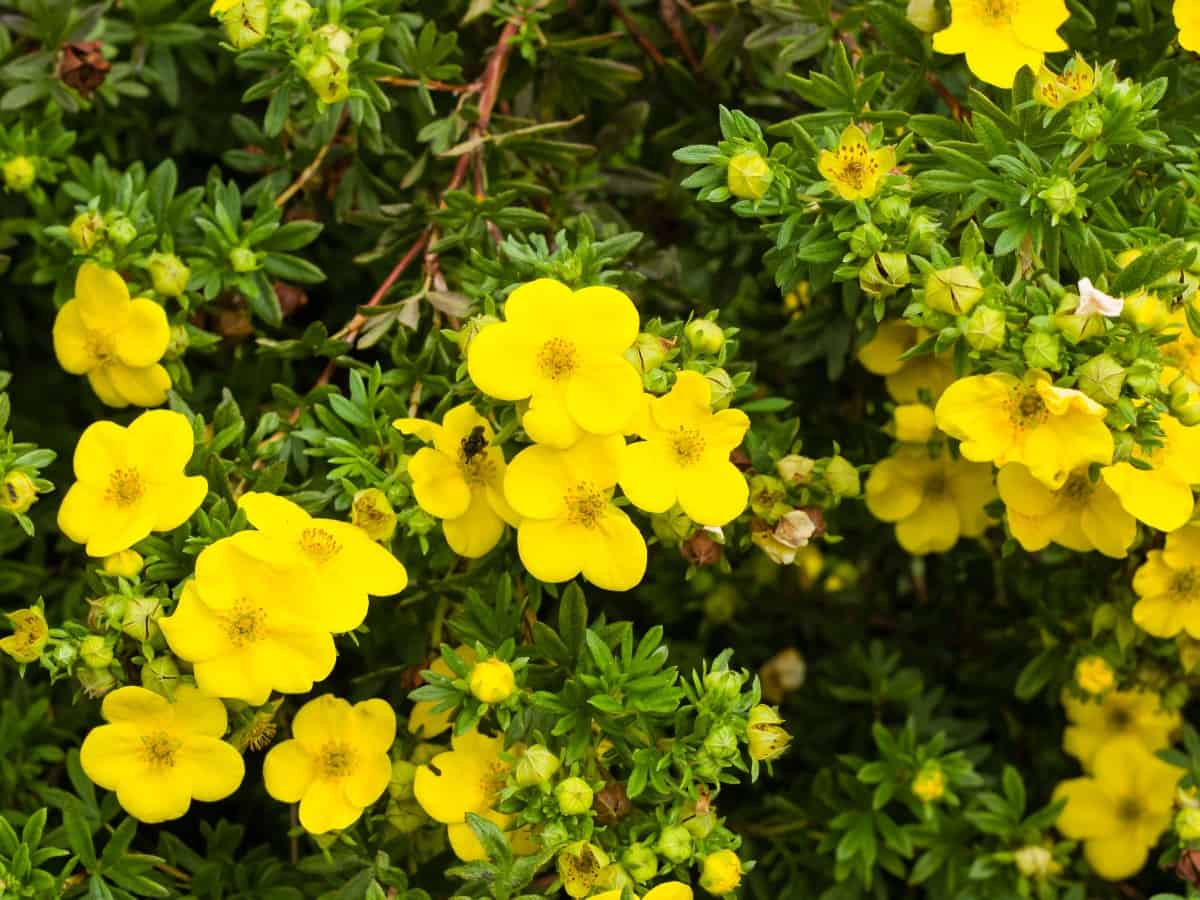 This flowering bush has an elegant appearance that fits perfectly in a casual garden. There are many varieties of this shrub, and they all bear white, pink, orange, or red flowers throughout the summer, with small dainty-looking leaves.
Potentilla lives in sunny areas of hardiness zones 2 through 7. They are a low maintenance shrub that is drought tolerant and grows to a mature size of 1 to 3 feet in height and width.
Sweet Viburnum (Viburnum odoratissimum)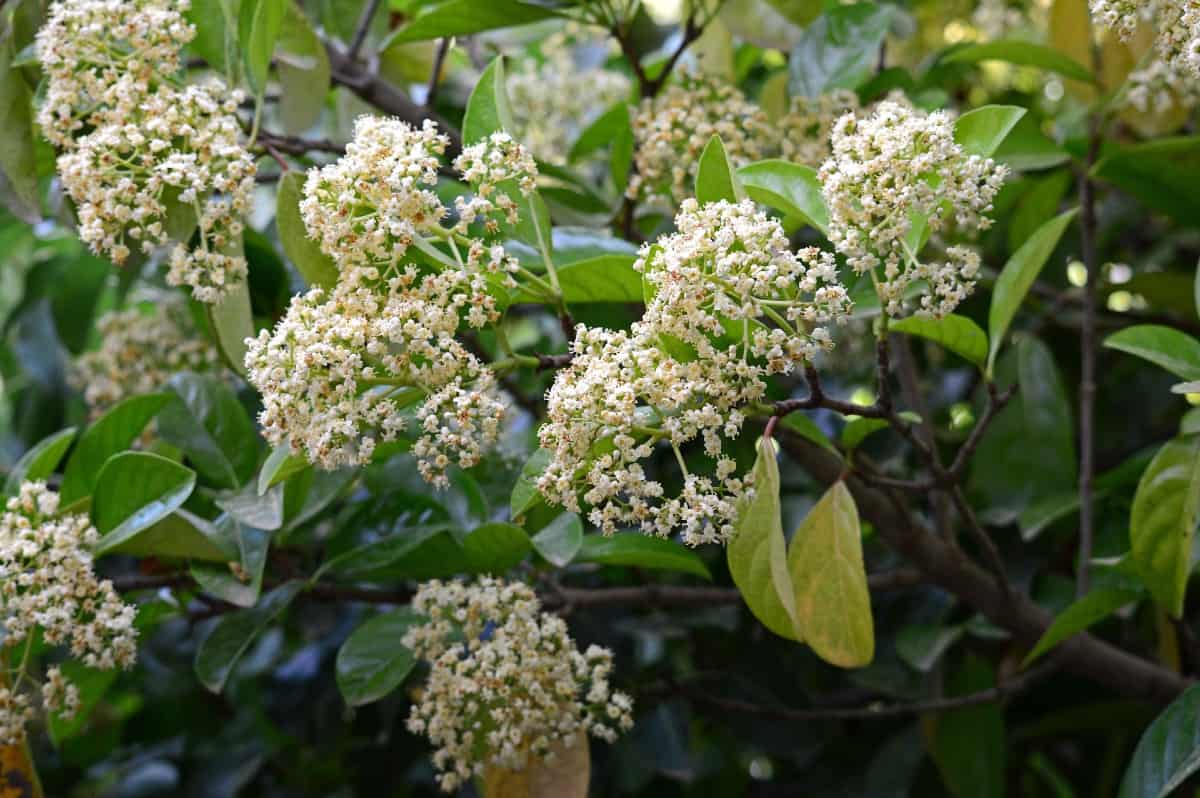 Sweet Viburnum has tiny flowers that are incredibly fragrant. The blossoms make an appearance during the late spring or early summer, filling its vast canopy of dark green and glossy leaves with white flowers.
This shrub grows best in warm regions in hardiness zones 8 through 10. It has a large mature size of 20 feet tall and is often grown as a small tree. Sweet viburnum loves full sun or partial shade and grows well in all soil types except salt.
Butterfly Bush (Buddleja) – Summer Bloomers that Attract Butterflies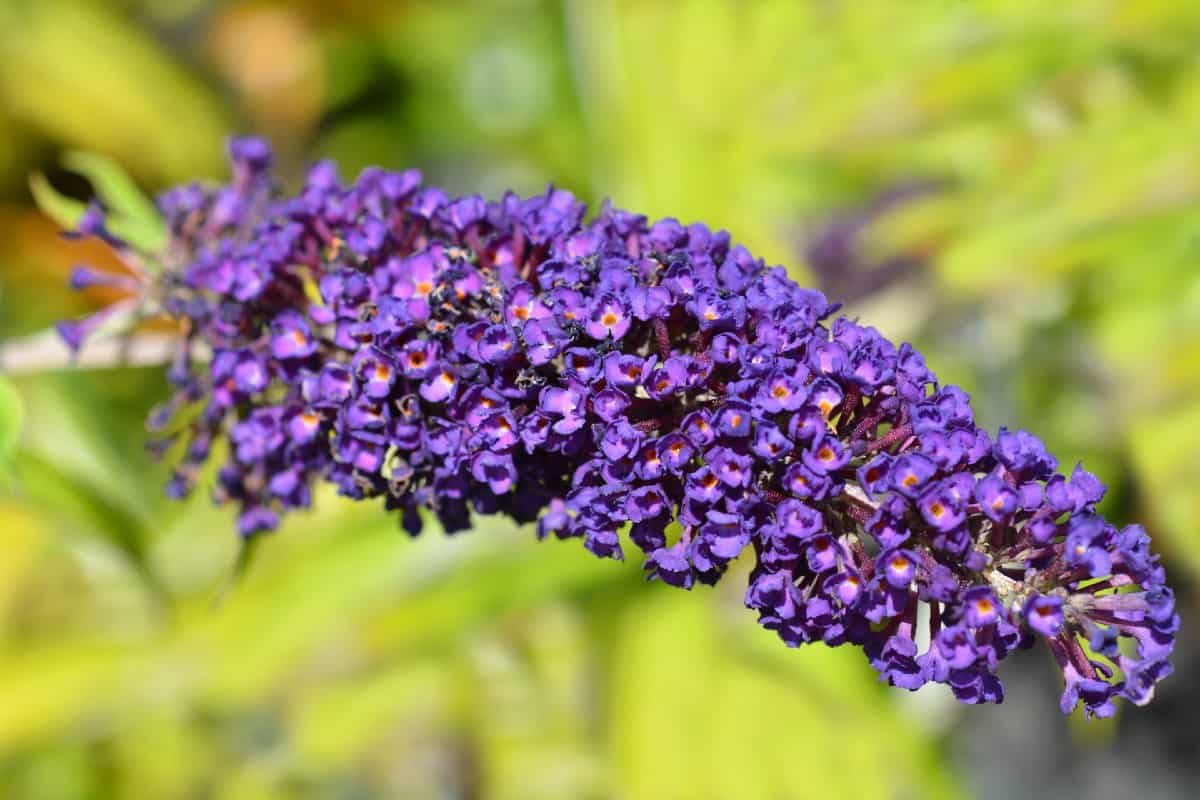 These shrubs that grow fast are butterfly magnets that create a stunning show in the garden with their profuse red, pink, blue, and white flowers all summer long. The arching green foliage of buddleia has flowers that grow on long spikes or large clusters, depending on the type.
The butterfly bush has an average size of 8 feet tall and wide and thrives in sunny areas of zones 5 through 10. This low maintenance shrub is both drought tolerant and deer resistant.
Spirea (Spiraea)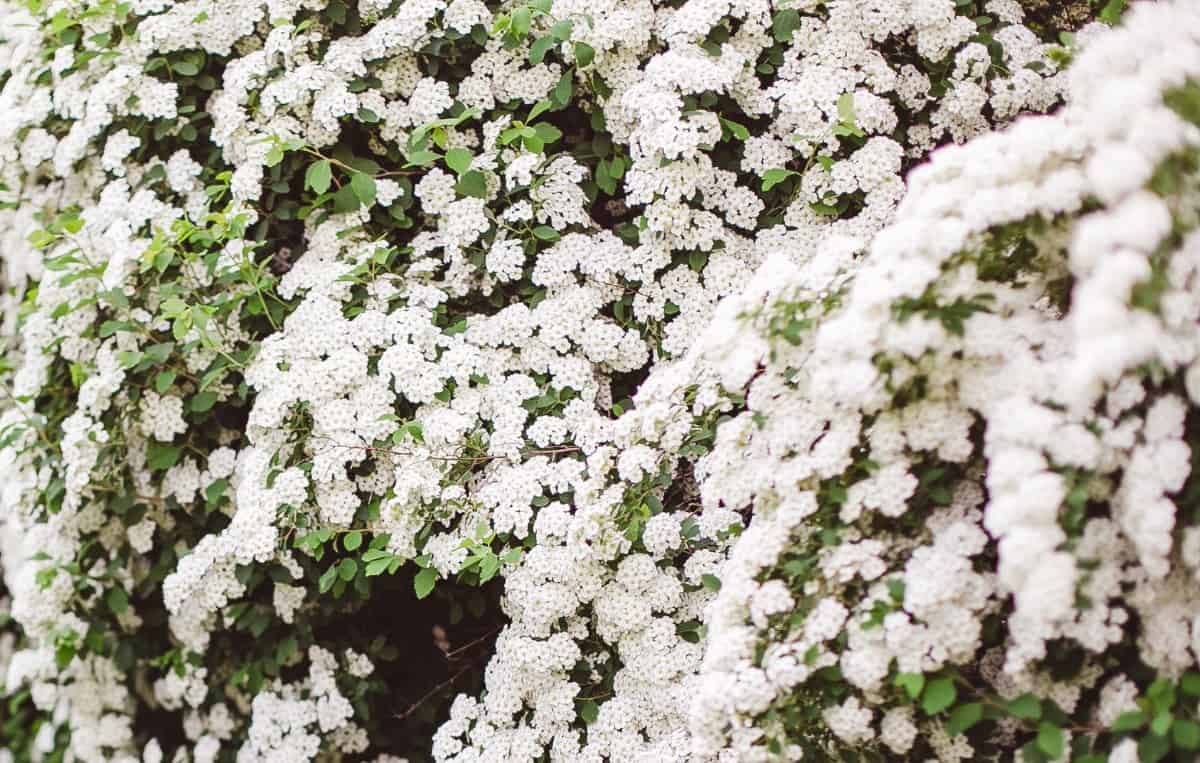 There are many spirea types, but the most common is the bridal wreath variety, with its delicate sprays of white flowers on arching stems of green foliage.
Other species have pink flowers and grow in an upright fashion. These shrubs attract pollinators to the area and bloom from spring through summer.
Most of these colorful dwarf shrubs grow to an average height of 3 feet but sometimes reach up to 8 feet tall. They have a spread of nearly 6 feet and colorful fall foliage. They are hardy in USDA zones 5 through 9 and prefer full sun.
Hibiscus (Hibiscus rosa-sinensis) – Flowering Bush that Attracts Hummingbirds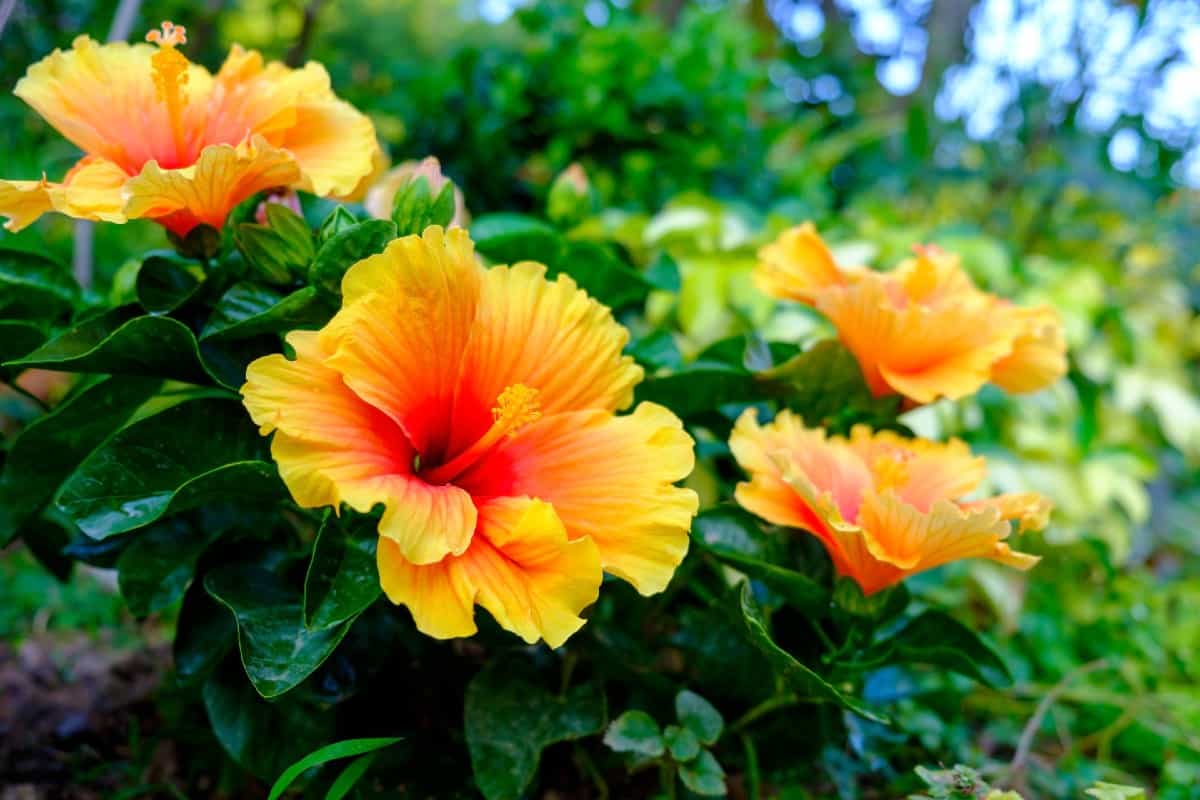 There are many types of hibiscus, including new varieties of hardy and tropical shrubs, and all of them produce large and stunning flowers that are a favorite among hummingbirds. They are the best flowering bushes to plant in your yard if you're looking to attract hummingbirds.
The flowers range in size and colors, from red shrubs, purple, and orange to white, pink, and yellow.
The hibiscus shrub has a mature size of 3 to 20 feet, depending on the type, and produces flowers from spring through fall. They are low maintenance, grow in full sun, and are hardy in zones 5 through 9.
Add some tropical annuals nearby and you will have an oasis of beautiful plants that transport you to the islands without ever leaving home.
Bluebeard (Caryopteris incana)
Bluebeard is a fragrant shrub that produces blue or pink flowers from summer through fall. It has long, graceful stems with small leaves, and each leaf section is loaded with blossoms. The foliage ranges in color from golden to silver-green.
This attractive bush grows best in sunny areas of hardiness zones 4 through 8. Birds love the flowers, and the deer resist them. Bluebeard shrubs grow 1 to 8 feet tall and 2 to 4 feet wide, and are drought tolerant.
Crape Myrtle (Lagerstroemia) – Flowering Shrub with Summer-Time Blooms and Colorful Fall Foliage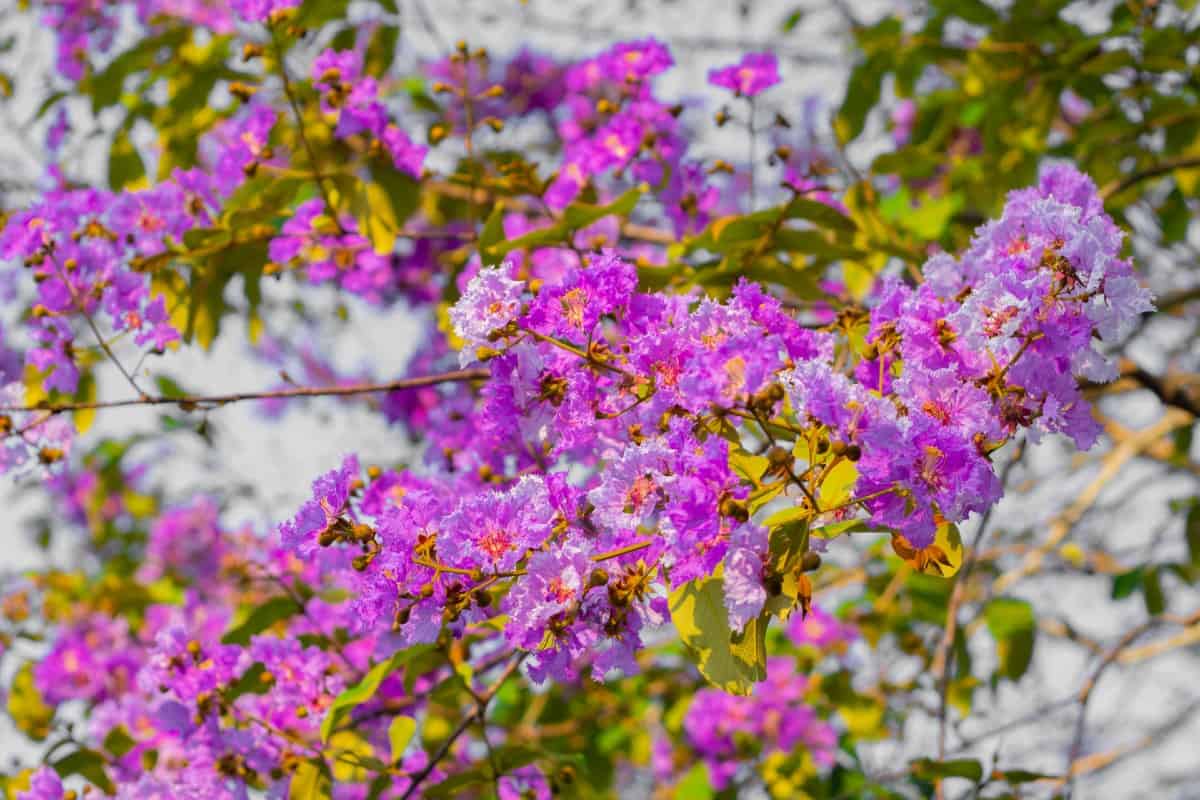 Crape myrtle has beautiful summer white, pink, purple, and red flowers and colorful fall foliage. It grows in many sizes, including dwarf varieties, and typically features multiple trunks, making it ideal for both large and small yards.
This sun-loving shrub grows in hardiness zones 6 through 9 and attracts birds to the garden. Crape myrtle has a mature size of 3 to 20 feet tall and wide, depending on the type.
Rose Bush (Rosa)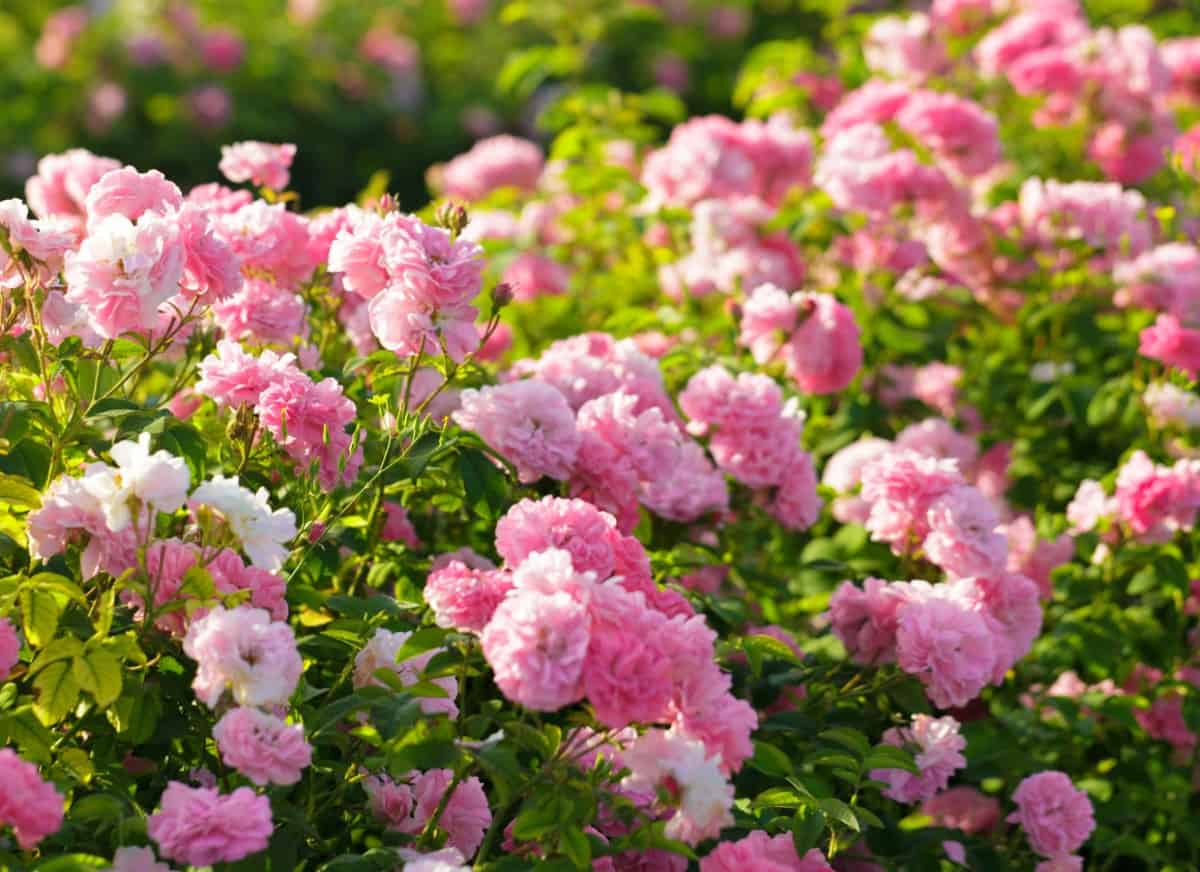 There are so many different rose bushes that it's challenging to pick just one favorite. They range in size, shape, and color, and are easier to grow than you think. You can even find some roses that are flowering fragrant vines to add to a trellis or railing.
These shrubs produce fabulous pink, white, red, orange, yellow, and purple flowers, and many of them are highly fragrant.
The size of a rose bush varies, from 1 to 8 feet or more, and they typically grow well in zones 4 through 9. Roses require a lot of sunshine to survive and are easily maintained under the right conditions.
Bottlebrush (Callistemon ) – Shrub with Unique Summer-Time Blooms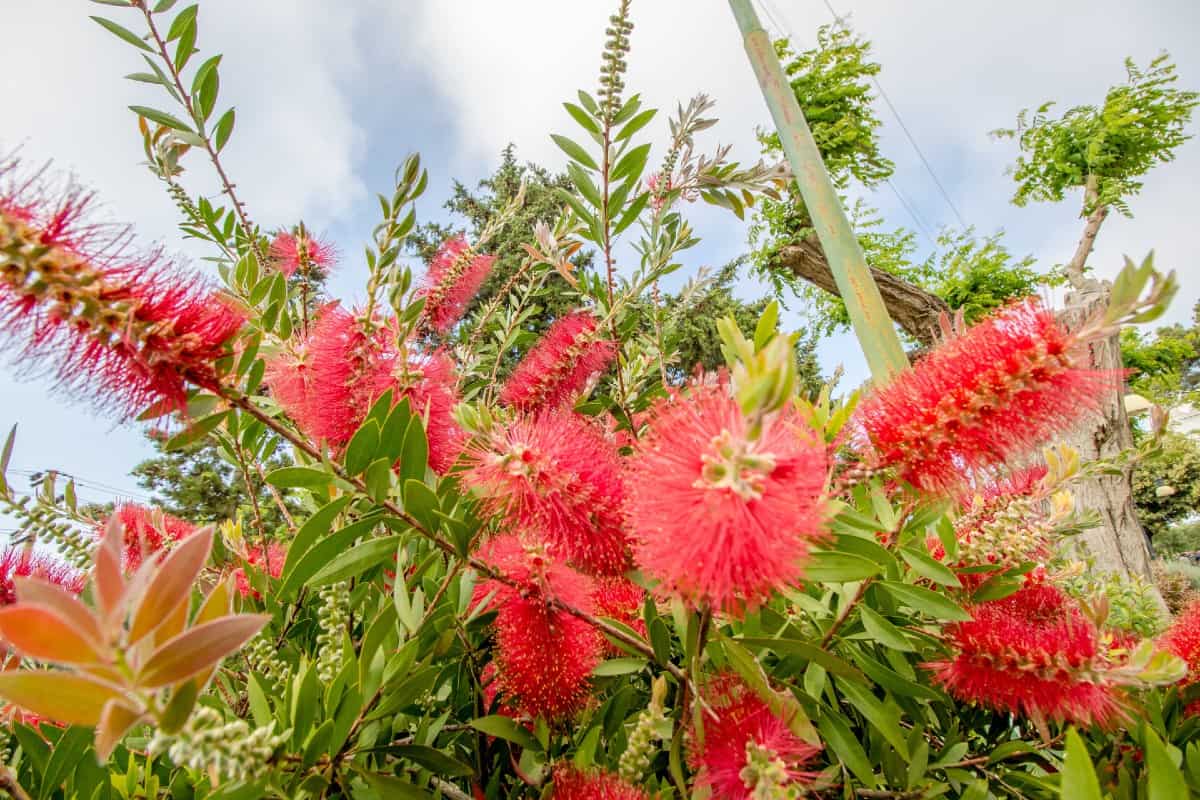 These bushes produce spikes of crimson flowers at the end of stems that resemble a bottlebrush. They have a long-summer blooming season and grow well as shrubs or small trees. Their unique flowers make them an ideal focal point in the yard.
They grow well in mild climates in zones 8 through 11 and require minimal pruning but produce suckers that need removing. Bottlebrush shrubs have a mature size of 3 to 5 feet tall and wide and are not finicky about the soil.
Abelia (Abelia x Grandiflora)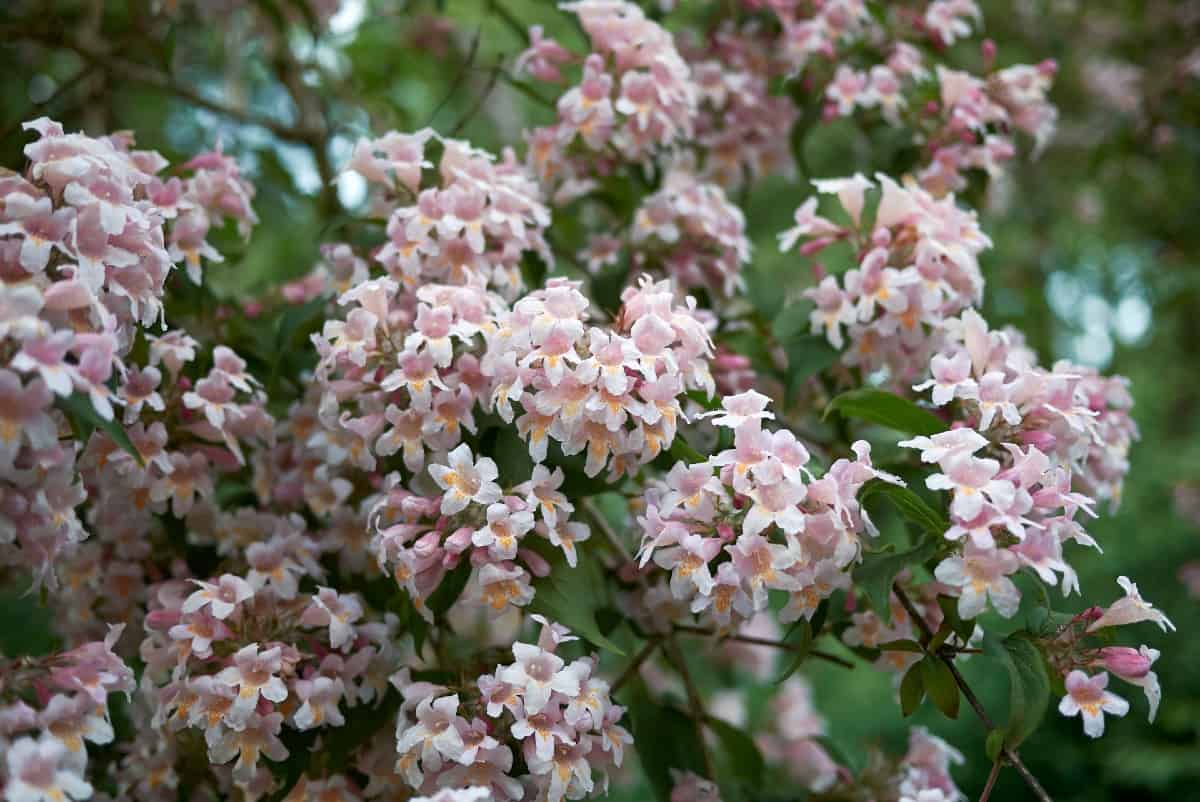 This shrub has arched branches and produces delicate, pink flowers in abundance during the summer months. Its green foliage turns to red, bronze, or purple, depending on the type, and the flowers are bell-shaped and mildly fragrant.
Abelia is an evergreen, or one of the shrubs with year round color, in zones 6 through 9, and deciduous in other locations. It has a rounded shape and grows 3 to 6 feet tall and wide. Grow this shrub in full sun to maximize flower growth.
Gardenia (Gardenia jasminoides) – Shade-Loving Summer Flowering Shrub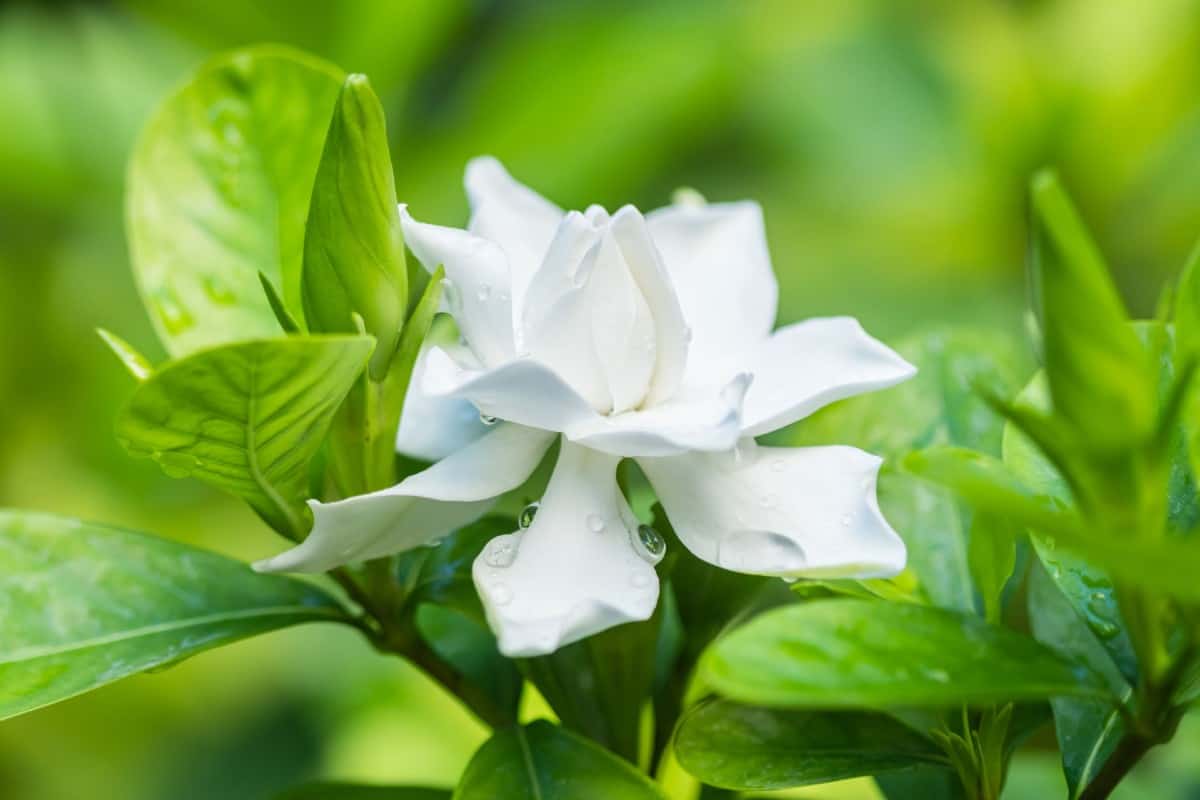 Gardenias are loved for their signature scent and thickly petaled flowers. These shrubs bloom in a wide range of shapes and sizes with both double and single varieties.
The flowers are crisp white and turn creamy yellow as they age, and the foliage is bright blue/green. These handsome shrubs bloom from spring through fall and reach an average size of 8 feet.
They are ideal for privacy and make an excellent cut flower for home bouquets. Gardenias love part sun to full shade and grow best in zones 8 through 10.
Shrubs are a great way to bring nature to your yard, and many of them reward you with vibrant flowers throughout the summer.
They are stunning to look at, heavenly to smell, and draw in all types of wildlife, from butterflies and hummingbirds to birds and fuzzy critters.
Creating a space of colorful blooms filled with summer flowering shrubs is an easy way to create privacy while attracting pollinators to the yard, so why not share our summer blooming shrubs with your friends on Facebook and Pinterest?