Of all the culinary herbs, basil is one of the most popular with its well-recognized scent and flavor. However, there are many varieties of basil, from American, French, and Thai to cinnamon, red, and lemon basil. Is there a difference between Thai basil vs basil, and can you use them interchangeably in recipes?
Basil is our top choice for planting at home, and it's so easy to grow that even a beginning gardener has no problems.
We love rubbing our fingers over the leaves of this herb and smelling the sweet fragrance they emit, and marinara sauce and pesto are not complete without it. However, there are different types of basil to choose from, and they each have a distinct aroma and taste.
Sweet basil, Genovese basil, and Italian basil varieties are well-known and used in Italian and Mediterranean cooking. Holy basil, Thai basil, and other cultivars are better suited for Vietnamese and Asian dishes.
Some types have a subtle difference, and others are more striking, and it's a good idea to know which one to plant for your personal preferences.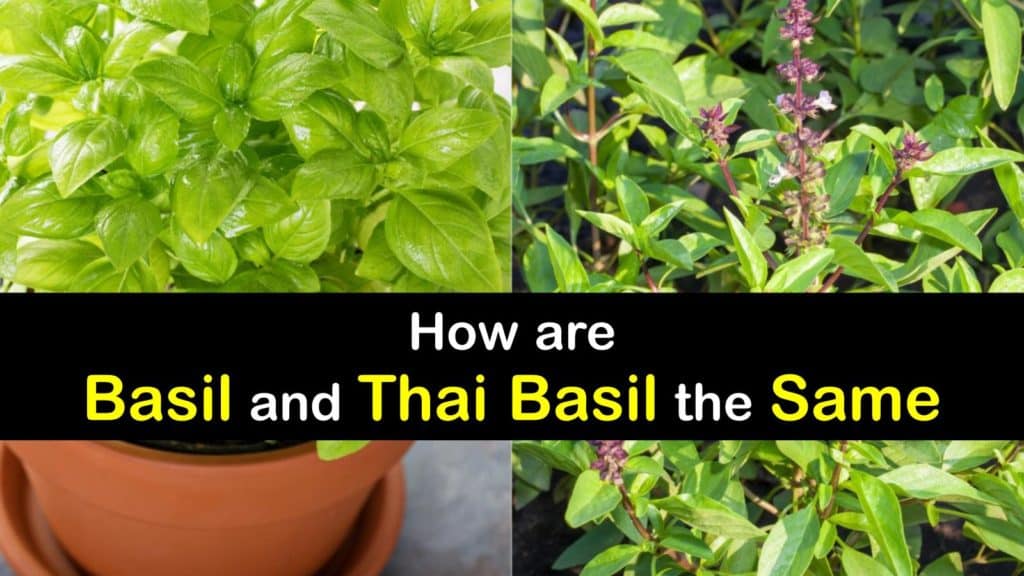 Differences between Basil and Thai Basil
Basil is the perfect herb for adding to everything from stir-fry and green curry to Thai basil chicken. However, some basil types have a mildly sweet taste, while others like Thai basil have a spicy flavor.
How can you tell them apart and which basil varieties are a suitable substitute for Thai basil?
While browsing your local farmers markets, you may notice various herbs, and sometimes telling one from another is confusing. Discover the difference between basil and Thai basil with taste and appearance and how to use them in recipes.
Learn about the nutritional benefits of these herbs and how to grow your own at home.
Appearance and Taste Difference between Basil and Thai Basil
One of the most important aspects of herbs is their flavor. There is a big difference between a spicy herb and a minty herb, and using the wrong type while cooking can ruin a meal.
Explore the difference between basil and Thai basil when it comes to appearance and taste.
The most common basil is sweet basil, and it's widely used for marinades, salads, and pestos. This is the type sold in many grocery stores, and the leaves are bright green with a rounded cup shape.
It is an annual plant that is sweet with a slightly spicy taste, and it grows four to six inches tall. Genovese basil is another popular variety, and its flavor is similar to sweet basil. It's an Italian basil with dark green, extra-large leaves that are flatter.
Thai basil is uniquely different in appearance from other basil plants. While it's grown for the fragrant leaves, it is also an ornamental plant. It has vibrant purple stems, purple-veined dark green leaves, and purple flowers.
Unlike sweet basil, it is perennial and grows back yearly for up to three years and reaches up to 18 inches tall. Thai basil leaves have a spicy licorice taste and are prevalent in Southeast Asian, Laos, Thailand, and Cambodia cuisines.
Which Basil is a Good Substitute for Thai Basil?
Since Thai basil has a unique anise flavor, are there any other basil types that are useful substitutes? Fortunately, there are so many types of basil that many are interchangeable for cooking. Learn which ones are similar in taste and suitable replacements in a recipe.
Can you substitute regular basil for Thai basil? Most basil types are interchangeable in recipes since they have a similar taste and aroma. However, some of them are mild, while others are stronger.
They also vary in appearance. In a pinch, use sweet basil as a substitute for Thai basil, but your dish won't have the same kick.
If you're looking for a basil alternative, consider using tarragon, oregano, or mint as a replacement. However, nothing quite beats the real thing. Use equal amounts of dried or fresh oregano for an Italian dish, tarragon for a slight anise taste, or mint as a garnish substitute.
Nutritional Uses of Thai Basil vs Basil
While there is not much nutritional difference between basil vs Thai basil, there are many good reasons to use them in everyday life. Discover the uses, nutrition, and health benefits of these aromatic herbs and how they improve your well-being.
Since basil is used in small quantities, the only substantial vitamin you receive is vitamin K. It contains antioxidants like beta carotene and lutein and a compound called eugenol, which helps fight free radicals in the body and blocks calcium channels.
The essential oils in basil reduce inflammation and protect against infection with antibacterial properties. Tulsi, or Holy basil (Ocimum tenuiflorum), is popular in Ayurvedic medicine for improving mental health.
Thai basil is a great herb for aromatherapy. Bruise the leaves and inhale the scent or rub the bruised leaves on your forehead to relieve stress.
How to Grow Basil at Home
Ocimum basilicum or basil is the most straightforward herb to grow both indoors and outside. It's a fast-growing plant that requires very little care to flourish. Learn how to grow your own basil plant by starting it from seed.
For growing basil in pots, fill a planter with potting soil and press the seeds into the dirt. Follow your seed packet instructions for depth and spacing since the different types have varying requirements.
Set it on a sunny windowsill and spray the dirt with water so that it's damp but not soaked, and do not let it dry as it germinates.
If you decide to plant your basil directly outside, wait until early spring after the last frost, make sure the soil is well-drained, and choose a sunny area where your plants get six hours or more of full sun.
Companion planting is a great idea when growing basil, and tomatoes, parsley, lettuce, chamomile, and oregano all love growing together.
When is basil ready to pick? Harvest time depends on the basil type. For most varieties, the seeds germinate seven to ten days after planting, and the basil leaves are ready to clip in three to four months. If you only need a small amount, remove the leaves as needed. To harvest a large batch, cut back the entire stem.
One way to keep basil leaves fresh is to stand the stems in a glass of water in the fridge. You can also freeze the leaves to use later.
Using Thai Basil to Make Pesto
We love keeping a jar of pesto on hand for adding to pasta and spreading on fish, chicken, and meat. While sweet basil is a common ingredient, we make ours with a different variety.
Thai basil has a unique flavor, and it's an excellent way to use up leaves fresh from the garden or use frozen basil leaves from prior harvesting or purchasing.
Combine the Thai basil, garlic, ginger, hot pepper, salt, black pepper, lemon juice, cashews, and sesame oil in a food processor and pulse the mixture a few times. Turn the blender to low speed and slowly drizzle in the olive oil until it reaches the desired consistency.
Pour the pesto into a container and refrigerate it for one to three days. If you'd prefer to freeze it, put it into an ice cube tray or storage container and set it in the freezer for up to four months.
How to Make Infused Oil with Basil
Basil infused oil brings integral ingredients in Mediterranean cooking together. It's easy to make and delicious for dipping bread or pouring over a Caprese salad. It takes only minutes to ma and is ready to enjoy in a week.
Remove the leaves from the basil plant and rinse them with water. Place the basil and olive oil in a blender or food processor and puree until smooth before pouring it into a pot and simmering on medium-high heat for three minutes.
Strain the mixture through a fine-mesh strainer into a sterilized jar, put the lid in place, and set it in a dark and cool area for up to one week.
While there are many uses for basil, the licorice flavor of Thai basil is perfect for spicy Thai basil chicken and other Asian cuisines.
Understanding the difference between basil varieties goes a long way in the kitchen. Fortunately, growing a basil plant is easy and a great way to harvest fresh basil leaves for all your favorite dishes.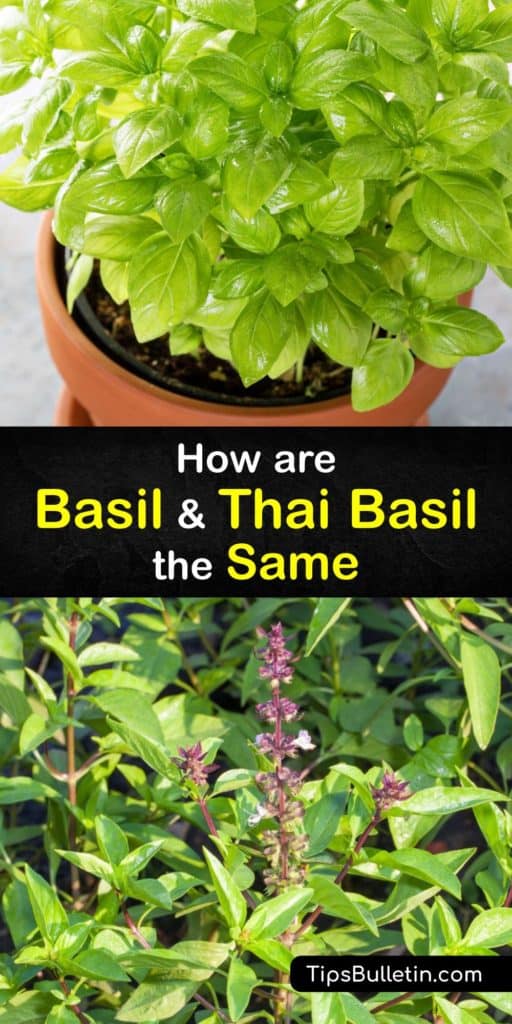 Now that you understand the difference between Thai basil vs basil and how to grow them in the herb garden, why not share our basil guide and growing tips with your family and friends on Pinterest and Facebook?