One of the ways to brighten your landscape on those crisp fall days is by planting the best trees for fall foliage. There are quite a few deciduous trees available to purchase whose leaves change from lovely green to brilliant purple, red, orange, yellow, or somewhere in between before they drop at the end of fall.
Don't just focus on choosing the best trees for fall foliage, no matter how tempting that might be. Look at what other features the trees have, including what they provide during the different seasons. A great example would be opting for a tree with colorful spring blossoms that give way to brightly colored fruits to attract a variety of birds in the summer.
Or, choose trees that produce brightly colored tubular-shaped flowers to attract hummingbirds and other pollinators. Even the best trees for fall foliage supply something notable that makes them the perfect addition to your yard.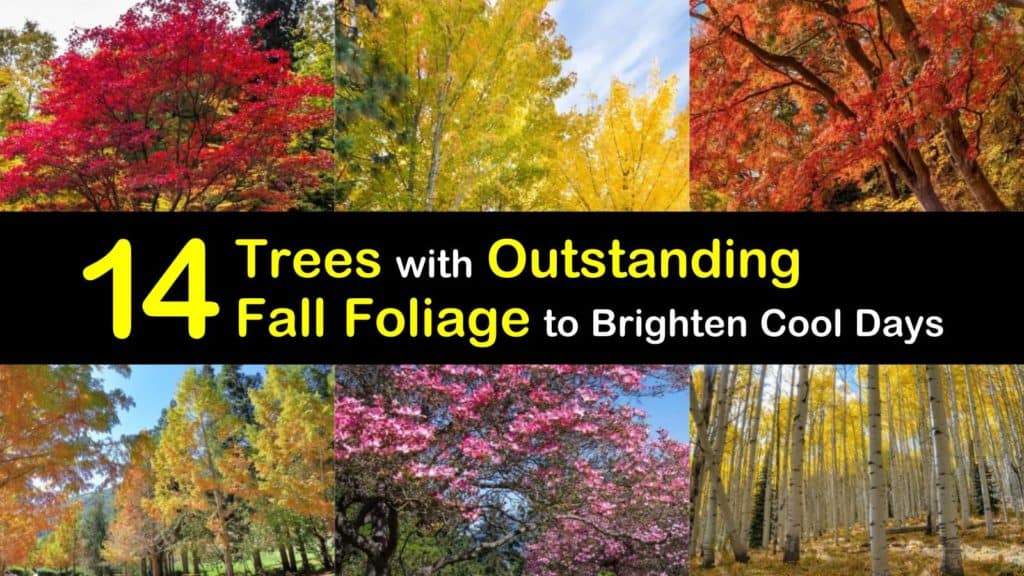 Choosing the Perfect Trees for Fall Leaves
We all know that trees come in different shapes, sizes, and colors, just like fall grasses, shrubs, annuals, and perennials. There are trees and plants for every purpose, whether you choose flowering annuals for shade or evergreen fast growing bushes for privacy. However, only some trees have spectacular fall color that we come to anticipate each year.
You don't want the fastest growing spruce tree for this purpose. You need deciduous trees for fall – the leaves' fall color is an important consideration. Different trees have different color leaves, so choose the ones with the colors you want.
For example, the Sugar Maple has red to orange leaves in the fall, while the American Sweetgum offers yellow, red, purple, or orange. Another vital consideration when picking out the perfect fall tree is what you are hoping to accomplish by planting it.
Are you only after it for the fall colors? Are you looking for one that also shades or is one of the cold climate trees? Even the best trees for fall or evergreen flowering bushes have other notable features that make them ideal for your purposes.
Something else to think about is where you are planting your trees, such as how much space is available, how close underground pipes are, how close to the street they will be, etc.
Trees are small when you plant them, so when considering your planting locations, consider their mature size. Most trees reach mature heights and widths in about ten years. If you plant it too near to the house or street, problems may occur.
Best Trees for Fall Foliage to Brighten Your Yard
Always consider the specific traits each tree has to offer when choosing the best trees for fall foliage and perennials and annuals for cool fall conditions. Chances are, more than one tree fits your needs, so to narrow down the choices, start by eliminating the ones that won't work due to certain physical constraints.
Trees with Brilliant Leaves – Sugar Maple (Acer saccharum)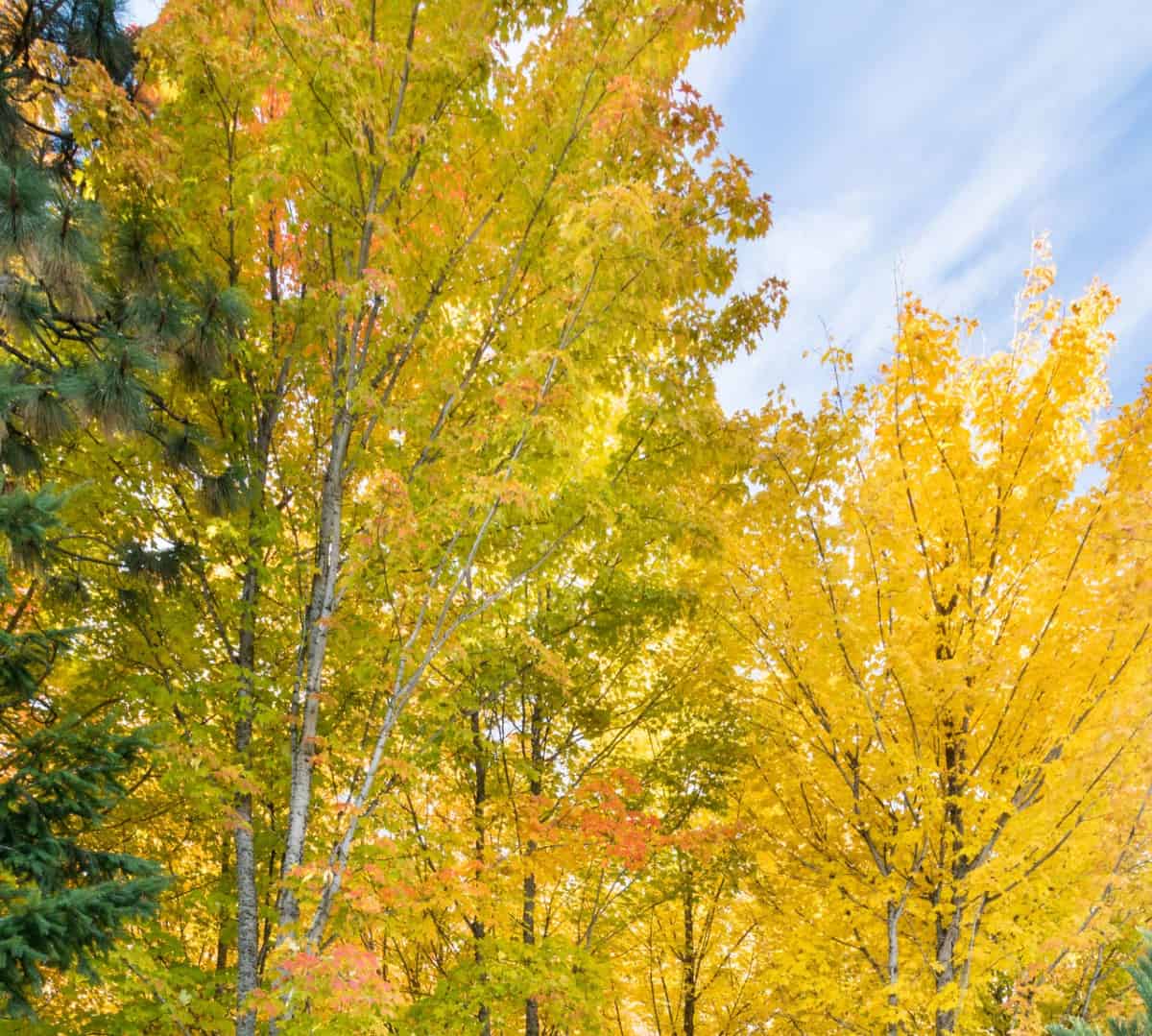 When it comes to beautiful trees for fall, nothing is more popular than Sugar Maple trees. In the summer, these beauties are excellent shade trees with their dark green leaves.
Green flowers appear on the Sugar Maple in April through May and give way to winged seeds. As the seeds mature, the foliage turns to bright colors of orange-red.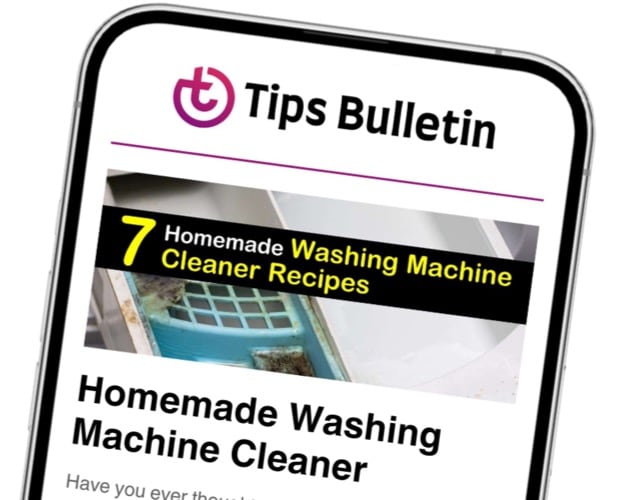 Finally, an email that Transforms Your Home.
Get the latest home and garden tips from our experts, delivered straight to your inbox.
Sugar Maples require a lot of sun for ideal growth, like many full sun shrubs, but do okay in partial sun as long as they receive around four hours of sunlight. Plant these tall trees deep in well-draining soil.
Red Dogwood (Cornus florida var. rubra)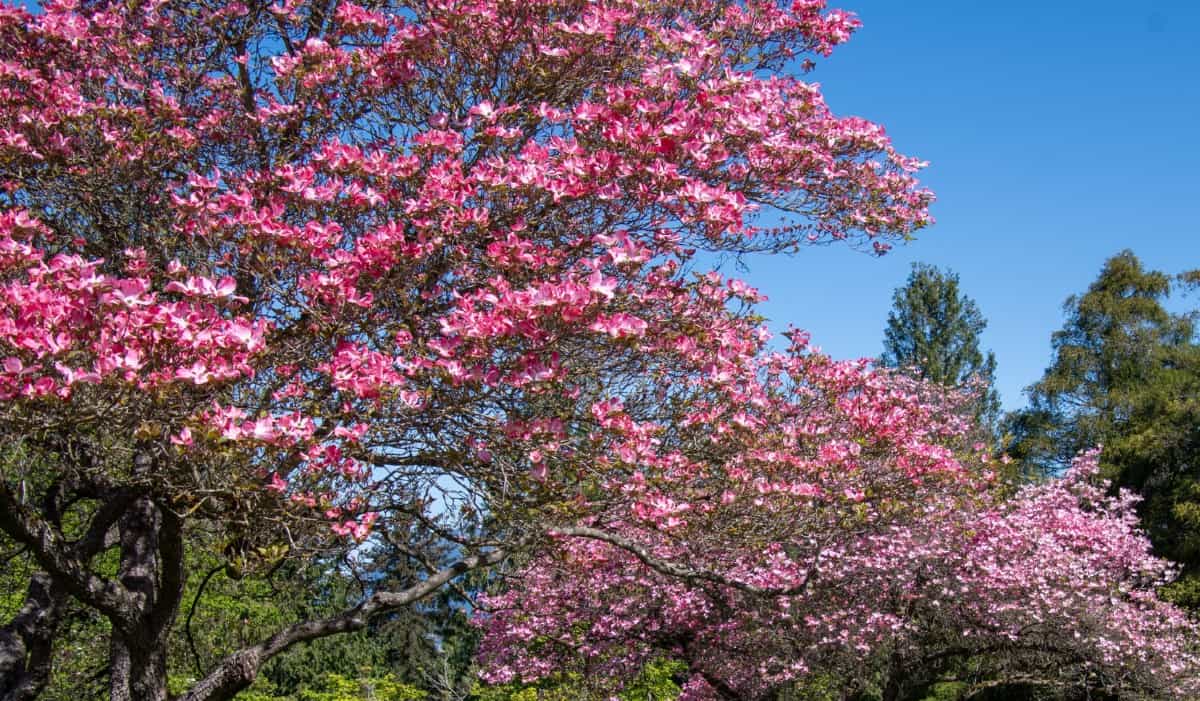 One great thing about the Red Dogwood tree is it provides color in all four seasons. In spring, the tree is covered with red blossoms, while in the fall, the leaves turn a lovely reddish-purple hue with shiny red fruit.
Red Dogwood supplies great contrast when planted among conifers. It grows well in zones five through nine and is planted as an ornamental and flowering tree.
Once mature, these trees measure up to 25 feet tall and 25 feet wide. They adapt to several soil types but require a minimum of four hours of sunlight and well-draining soil.
Add some fall annuals for shade beneath your dogwood trees for interest above and below.
Red Maple (Acer rubrum)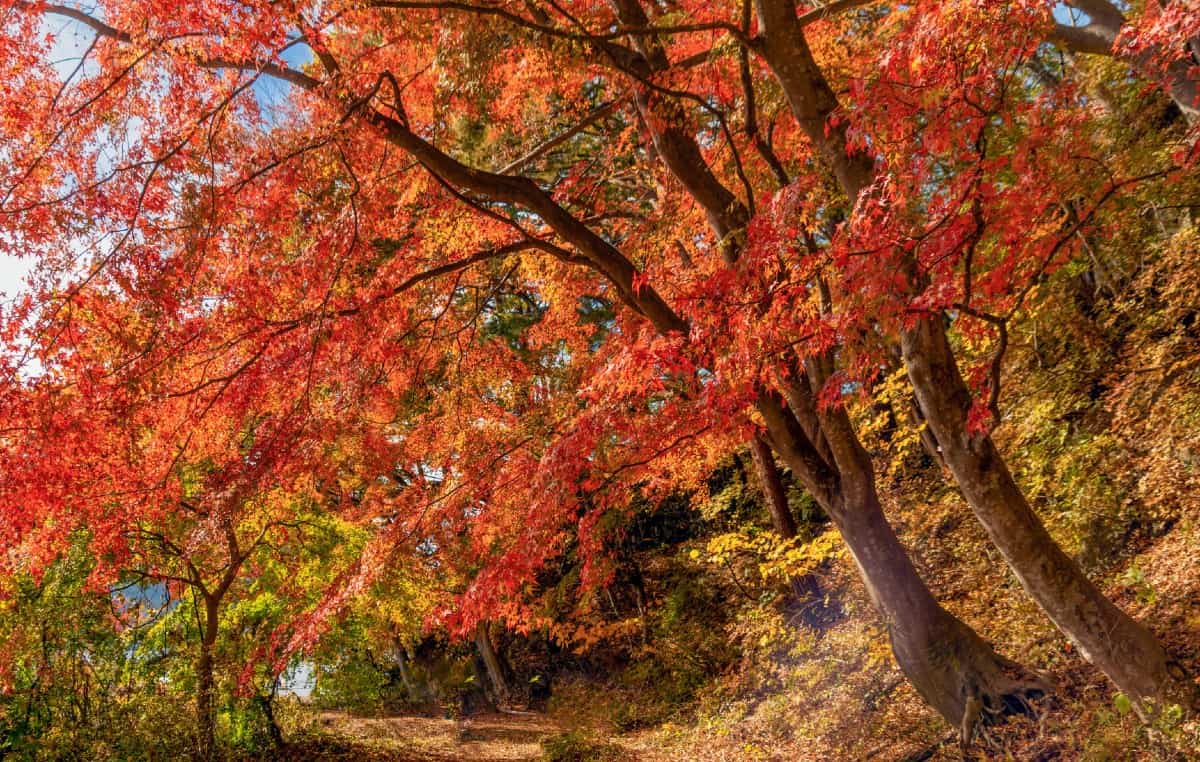 With the Red Maple, there is beautiful color all year long. The green stems of the Red Maple change over to red as the cold winter approaches. In the early spring, new leaves appear with a red-tinge and make their way to green.
These trees with yellow leaves can also have red leaves that appear at the start of the fall season. Measuring up to 60 feet tall with a spread of 40 feet, this tree grows abundantly in zones three through nine.
A faster-growing tree than other species, home gardeners see anywhere from 13 inches to 24 inches of new growth each year. Plant it where it receives at least six hours of sunlight.
American Sweet Gum (Liquidambar styraciflua) – Spectacular Trees for Red Foliage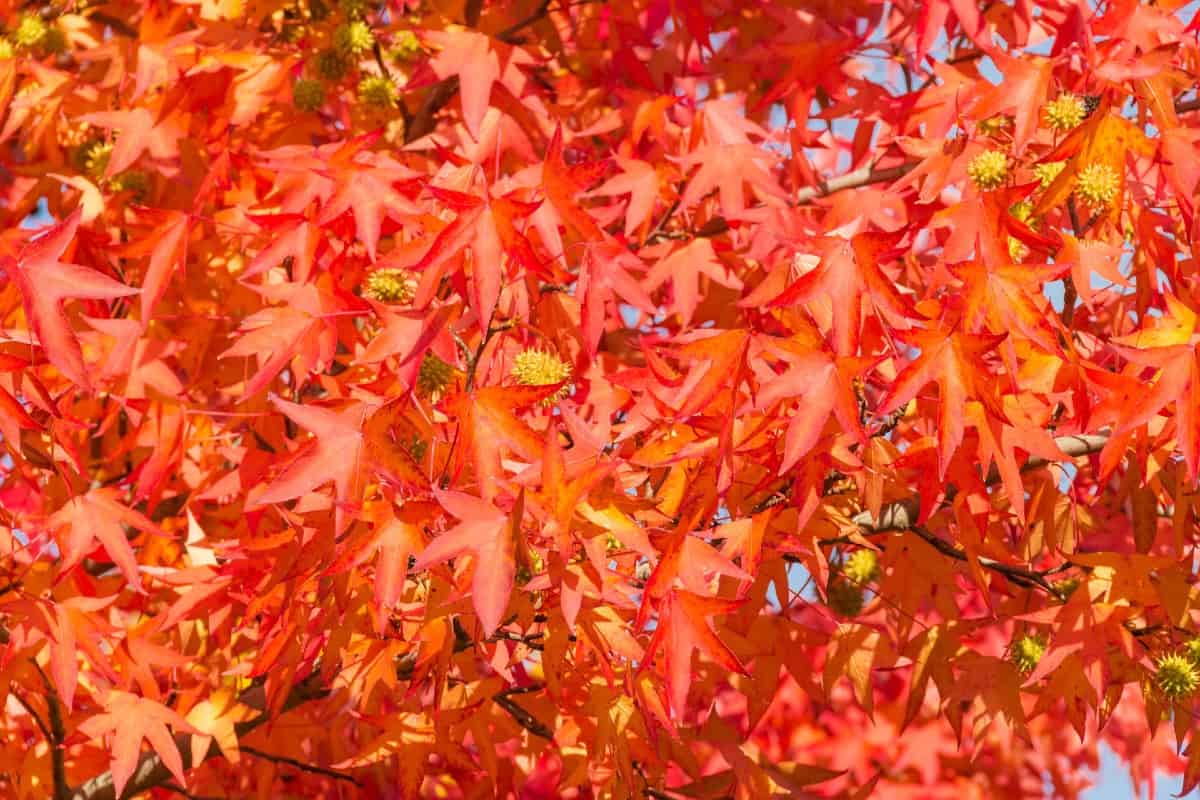 Most known for its star-shaped medium green leaves typically with five lobes, but sometimes seven, the American Sweet Gum starts growing in a pyramidal form but soon gives way to a roundish or oval shape.
In the fall, the once green leaves change over to brilliant hues of purple, red, orange, or yellow. Once mature, the American Sweet Gum grows up to 75 feet tall with a spread of 50 feet.
Homeowners in zones five through nine find the most success with growing this fall beauty, but most avoid areas prone to air pollution.
Black Gum (Nyssa sylvatica)
Black Gum, also known as Black Tupelo, is one of the trees gardeners use for beautiful fall color. This tree is native to the United States and is loved for its brilliant autumn color and the winter interest it provides.
The dark green leaves in spring measure up to six inches long and turn orange, purple, red, or yellow in fall. Plant the Black Gum tree in full sun in clay or loamy type of soil.
After they mature, they reach up to 75 feet tall with a 30-foot width. It is not recommended to transplant these trees as they have a long taproot, which makes things difficult.
Japanese Maple (Acer palmatum)
The Japanese Maple is a versatile tree, as it works as a focal point, does well in containers, and is frequently used as a bonsai specimen. What you do with your Japanese Maple depends on the variety purchased and planted.
Leaves range from variegated to orange, purple, or red and come in a range of shapes. The breathtaking fall colors of the Japanese Maple is directly affected by heat; these leaves may turn green in the summer if the temperature is too hot.
Be careful how much light they receive, as too much damages the leaves and not enough affects leaf color.
Flowering Trees for Pretty Fall Leaves – Staghorn Sumac (Rhus glabra)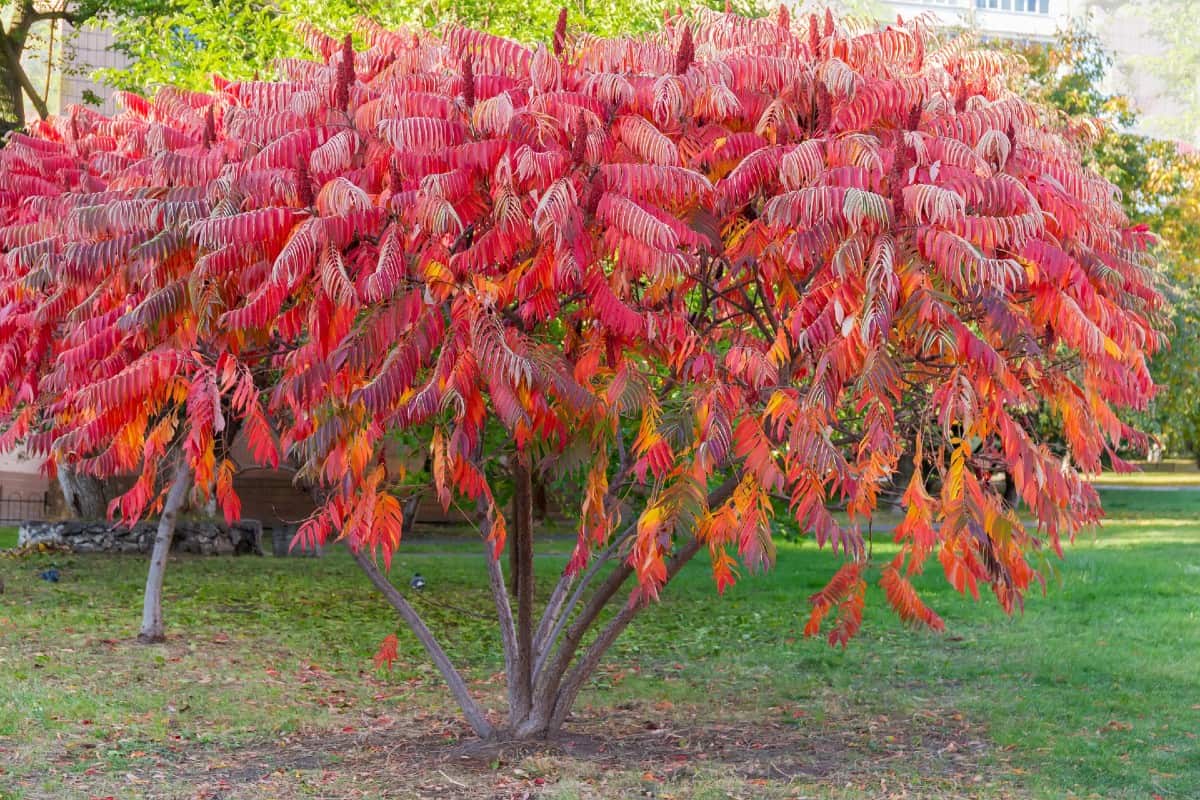 Thanks to its hairy stems and open habit, the branches of the Staghorn Sumac strongly resemble male deer's antlers, hence its name. This shrub/tree is one of the last ones to show new leaves during the spring.
The bright green leaves from spring give way to scarlet, red, or orange ones later in the year. Staghorn Sumac needs at least six hours of direct sunlight each day to grow.
These small space trees grow from eight to 25 feet tall and thrive in zones four through eight. Plant these trees in well-draining soil you keep on the slightly moist to dry side.
Northern Red Oak (Quercus rubra)
The Northern Red Oak is a popular choice for a few purposes, one being its ease of transplanting. The other reason why landscapers love the Northern Red Oak is for its beautiful fall colors.
The bristle-like leaves first turn a russet-red and eventually become bright red. Pale yellowish-green catkins appear at the same time as new leaf growth. The dense crown of the Northern Red Oak makes them an excellent choice for shade trees.
They thrive in zones three through eight, as long as they receive at least six hours of direct sunlight each day. This oak adapts to all kinds of soil conditions, including compacted soil.
Bald Cypress (Taxodium distichum)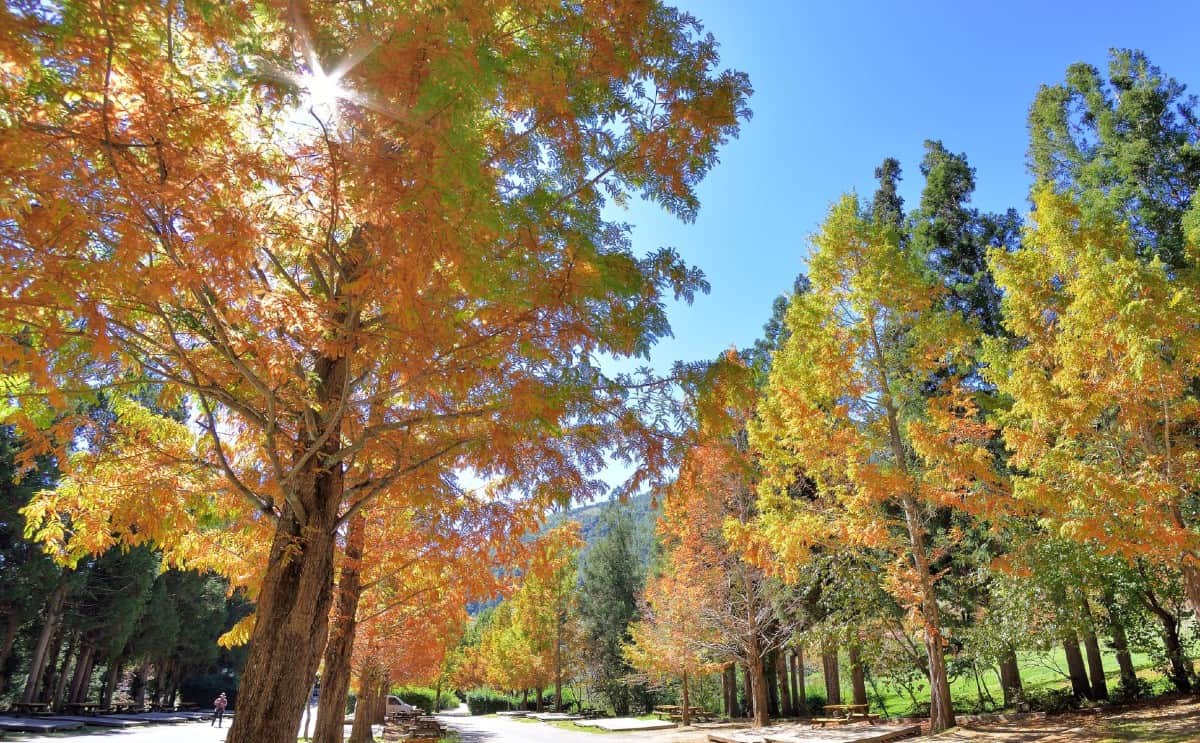 If you are after the perfect street tree, look no further than the Bald Cypress, which is typically found in the southern swamps. An interesting thing to note is the tree's conical shaped "knees" across its root system.
The spreading canopy of leaves on the Bald Cypress makes it an even better choice for urban areas, as it projects a large shady area.
The Bald Cypress grows up to heights of 70 feet with a width of 25 feet once it's mature. Always plant the Bald Cypress in full sun and well-draining soil. As a swamp tree, it adapts well to wet conditions and adjusts to dry conditions and different soil types, too.
Quaking Aspen (Populus tremuloides) – Pretty Fall Trees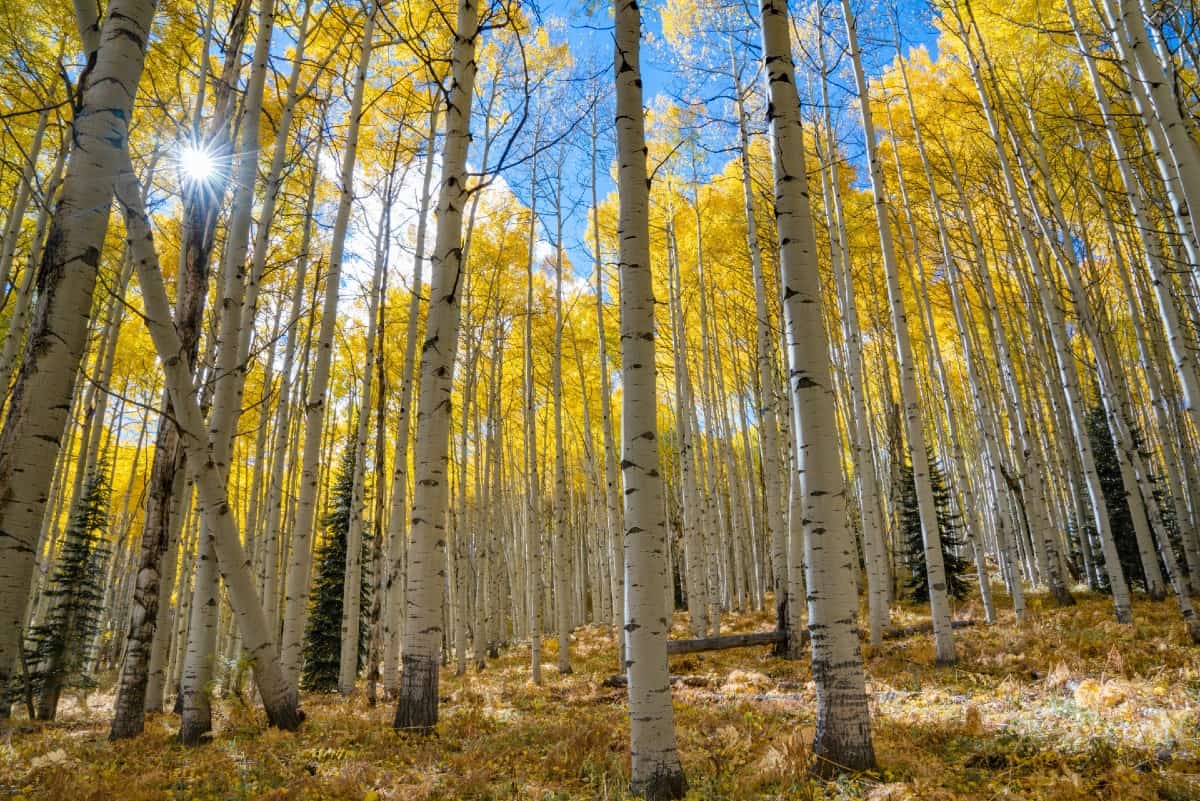 If you want a fast-growing tree with breathtaking fall colors, consider planting the Quaking Aspen. Classified as a shade tree and an ornamental, they grow up to 50 feet tall and about 30 feet wide.
The green leaves switch to yellow during the fall, but the beauty comes from the tree's sound and its leaves as it moves around in your yard.
Quaking aspens grow in zones one through seven, but even with their wide growing range, they are not ideal choices for every yard.
The leaves form a canopy to block out sunlight, which alters the plants and shrubs below. These trees require a minimum of four hours of sunshine each day but do best with at least six hours.
Sassafras (Sassafras albidum)
Sassafras is known for its beautiful fall colors, as well as its pleasant scent. In the summer, the leaves are a bright to medium green and change over to deep orange, red, scarlet, or purple in autumn.
The long leaves measure up to seven inches long and bear a striking resemblance to mittens with their three lobes. Plant Sassafras in full sun and well-draining soil.
For optimal growth, choose a planting site with dirt on the acidic side that you keep moist. Always prune back any shoots that grow out from the single trunk.
Bitternut Hickory (Carya cordiformis)
Belonging to the Walnut family of trees, the Bitternut Hickory grows well in zones four through nine. The tree does best in more open areas because of how large it becomes.
The Bitternut Hickory tree's compound green leaves change to a golden yellow once fall arrives. When planting this deciduous tree, know it works splendidly in vast landscapes and parkways and streets.
The Bitternut Hickory prefers full sun but adapts to partial and full shade planting sites, too. When choosing a planting area, look for well-draining and acidic soil you keep moist.
Best Trees for Fall Foliage – Maidenhair Tree (Ginkgo biloba)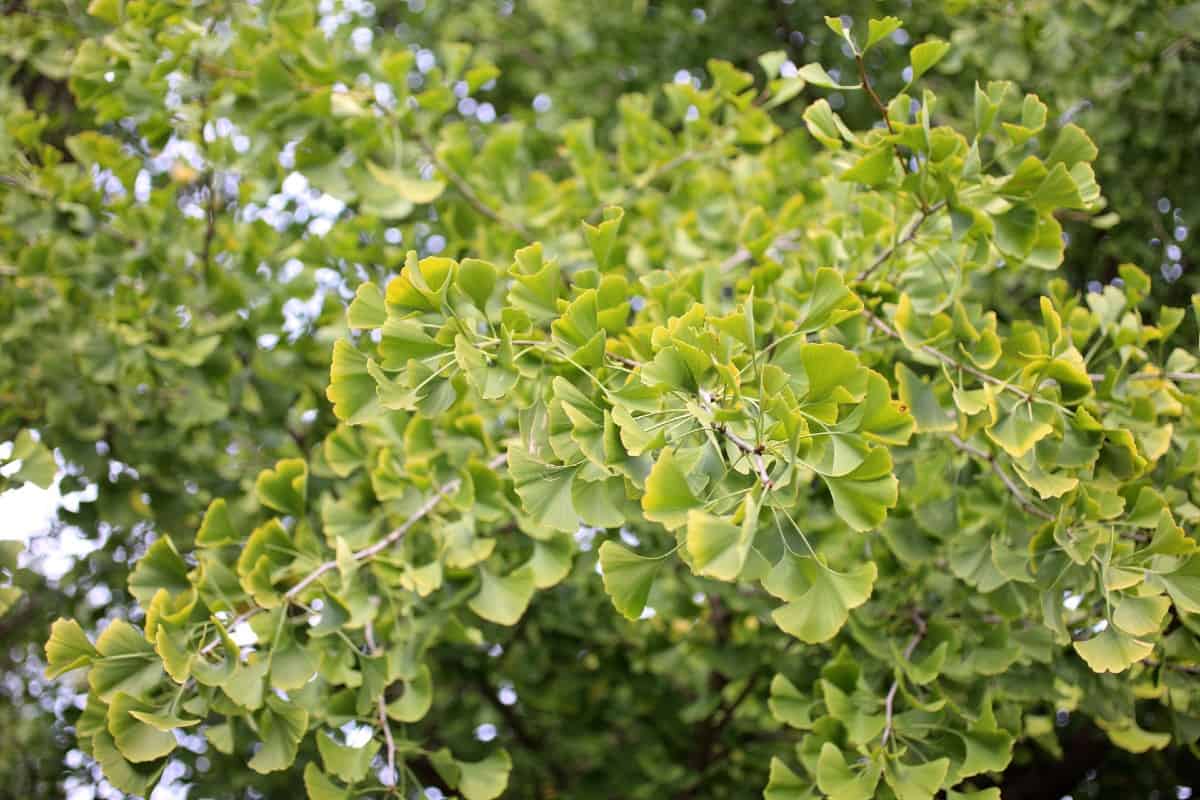 The Maidenhair Tree, commonly called by its scientific name Ginkgo biloba, is originally from China but is now found worldwide. Many landscapers opt for this tree because of its slim crown and gorgeous yellow fall foliage.
The fan-shaped gray-green leaves are also used pharmaceutically. Reaching heights of up to 82 feet tall, the Maidenhair Tree flowers in April to May followed by fleshy, yellow-green round stone core fruit.
Plant this towering tree in full to partially shady spots in sandy to loamy soil. Keep the soil slightly moist to slightly dry.
Washington Hawthorn (Crataegus phaenopyrum)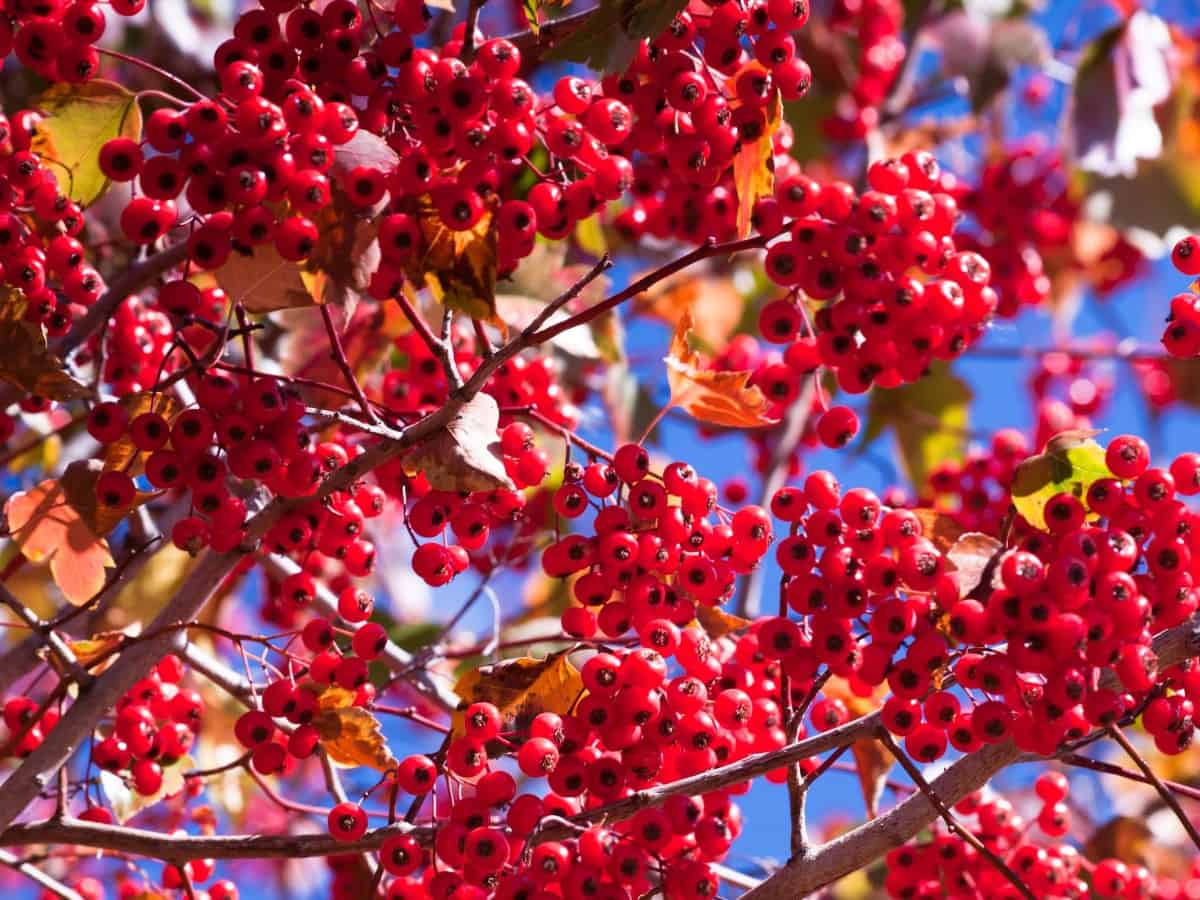 June is the magical month when the color show starts to happen with the Washington Hawthorn. During June, white flowers begin to appear against the red-purple leaves.
These early leaves soon change to dark green before finally turning to a purple, scarlet or orange in autumn. Grown in zones four through eight, the Washington Hawthorn stands about 30 feet tall and 25 feet wide once mature.
For optimal growth, plant these trees in full sun, so a minimum of six hours of sunlight. The drought-tolerant tree adapts to a variety of soil types but does require excellent drainage.
Thanks for reading about our ideas on the best trees with beautiful fall leaves. If you found our opinions on some of the best trees to use for autumn color helpful, please share these views on trees for fall foliage with others on Facebook and Pinterest.