During the warmer months, nothing beats a busy garden. One of the best ways to ensure you see lots of hummingbird activity is to use the best trees for hummingbirds throughout your yard.
Of course, trees for hummingbirds are only part of creating a haven for hummingbirds and other pollinators, but they play an essential role. When choosing the best trees for hummingbirds, remember they are naturally drawn to flowers with a trumpet or bell-shape, as they offer the sweetest nectar.
Hummingbirds' long, thin beaks are designed for reaching far down into flowers to suck out the nectar. Native trees are always a better choice than non-native trees, as the native ones require less care once they are established.
Opting for trees with little to no maintenance gives you more time to sit back and watch the activity in your hummingbird sanctuary.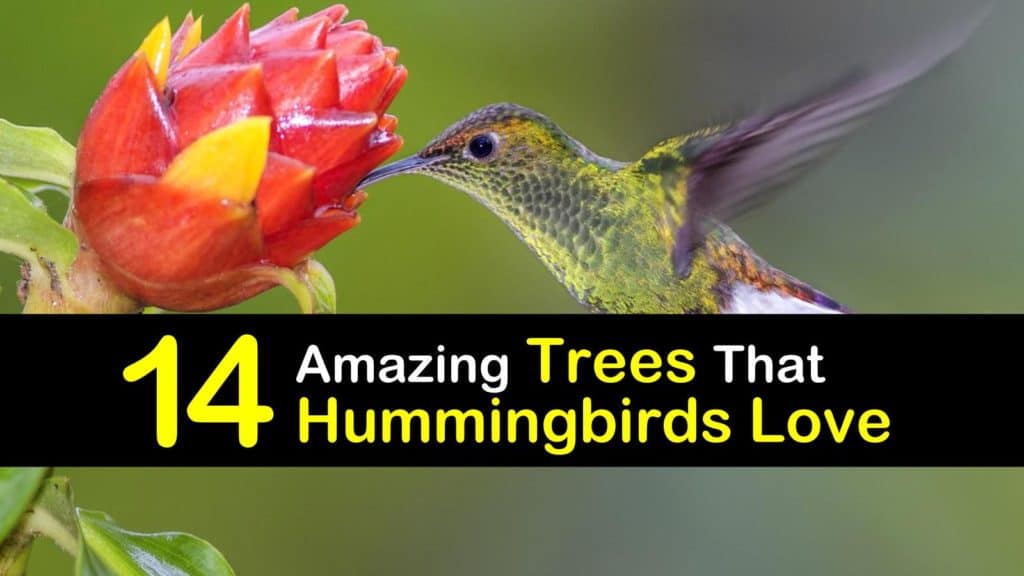 How to Keep Hummingbirds Visiting Your Yard
One of the great things about hummingbirds is once they discover your hummingbird sanctuary, the same birds are likely to return each year. When designing your retreat, one thing to keep in mind is hummingbirds are naturally drawn to forest areas.
Attracting hummingbirds with annual flowers as well as perennials and other plants is easy if you know which ones they like.
They enjoy yards that offer a mixture of shrubs, tall trees, flowering plants, and patches of grasses. They also like places that provide perching sites and food, water, and areas for nesting.
Plants for attracting hummingbirds include a mixture of native trees, annuals and perennials, and shrubs in your ideal location. Native plants require less care than non-native plants, plus are known food sources for the hummingbirds visiting your area.
Keep in mind that some cultivators might look good in pictures, but they aren't great at producing nectar. Planting non-natives also increases the risk of overcrowding of native plants, eventually killing them.
When choosing trees, shrubs, or perennials for hummingbirds, choose those with red, orange, or pink flowers as they are the most attractive to the tiny fliers. Yellow and white flowers are often passed by, as they aren't bright enough to catch a hummingbird's eye.
Common flowers that attract hummingbirds include crossvine, honeysuckle, and bee balm. Tubular, bell, or trumpet-shaped flowers are the first choices in terms of shapes, as they produce the most nectar. Other red flowers may attract hummingbirds but won't keep them as they don't produce enough nectar for a steady food source.
In addition to bright flowers and shapes, select some trees, plants, or shrubs that are fuzzy. Hummingbirds use the soft fibers to line their nests.
Prune back trees, shrubs, and plants to encourage flower production rather than branches and leaves. Provide several water baths throughout the garden, as hummingbirds love bathing.
Best Trees for Hummingbirds Visiting your Yard
When selecting shrubs and trees that attract birds like the hummer, as well as flowering plants, consider the different bloom times. Selecting ones with varying times of bloom ensure hummingbirds have nectar throughout the entire season.
Best Trees for Hummingbirds – Crabapples (Malus spp.)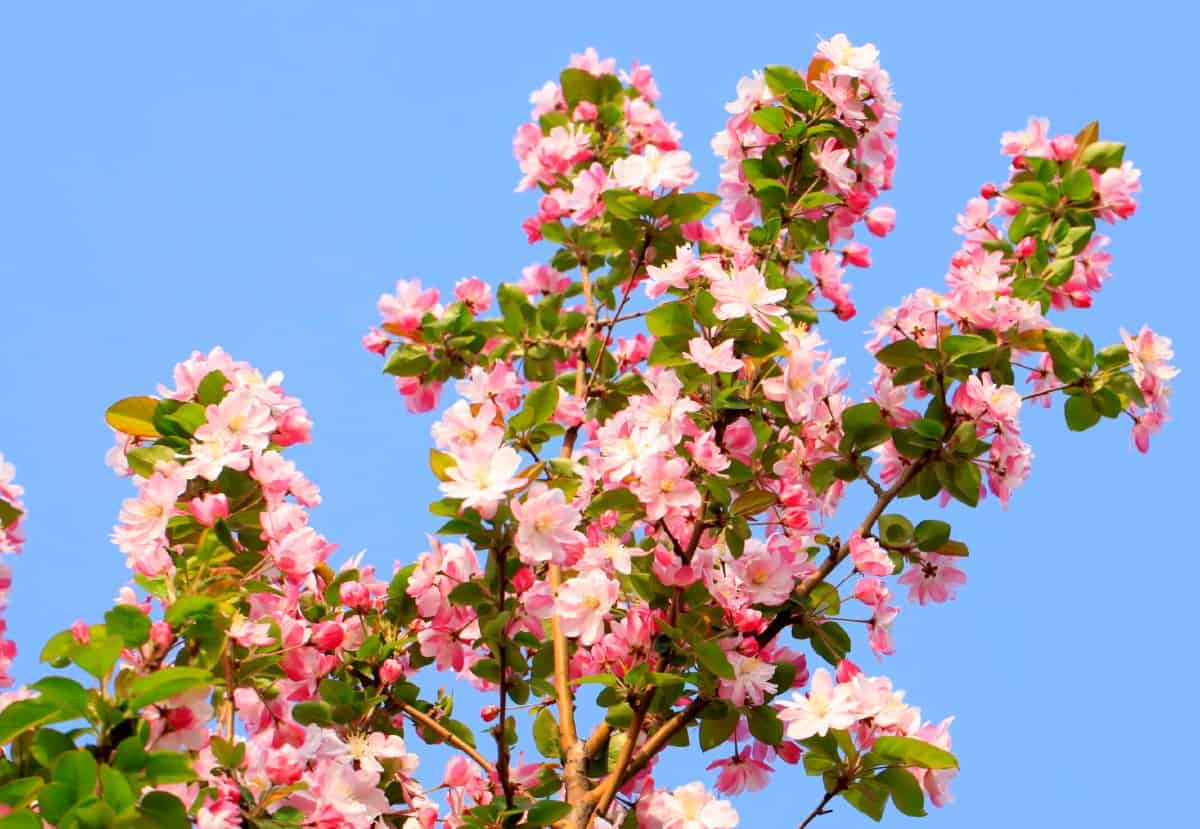 During the spring, the Crabapple tree produces blooms in pink, white, and red that attract hummingbirds, bees, and other pollinators. Crabapple trees can pollinate different kinds of apple trees if they are close enough.
How big they get depends on the type of Crabapple tree you plant. These trees grow well in zones two through eleven.
How well they do in each zone depends on the tree planted. These easy-to-care-for trees require little maintenance, just some occasional pruning, and regular watering until fully established.
Red Buckeye (Aesculus pavia)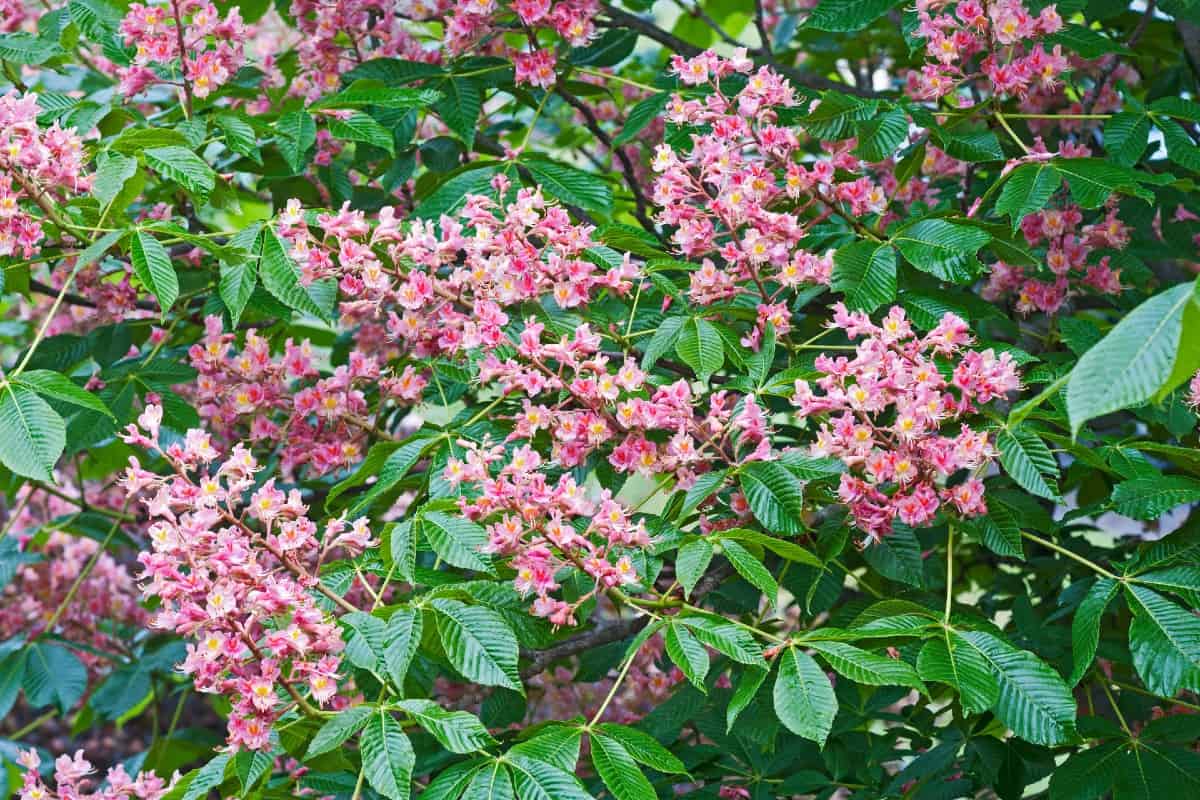 The Red Buckeye tree, also called the Firecracker Plant, is grown as small trees or as a shrub. It reaches heights between 10 to 25 feet with about the same width.
Hummingbirds love this tree as the red, bell-shaped flowers fuel them with sweet nectar. Adding these easy to grow trees to your landscape transforms it into a hummingbird retreat.
The tree requires full sun and does best in medium moist soil. The Red Buckeye prefers organically fertile dirt, so amend your ground with organic compost before planting.
Persian Silk Tree (Albizia julibrissin)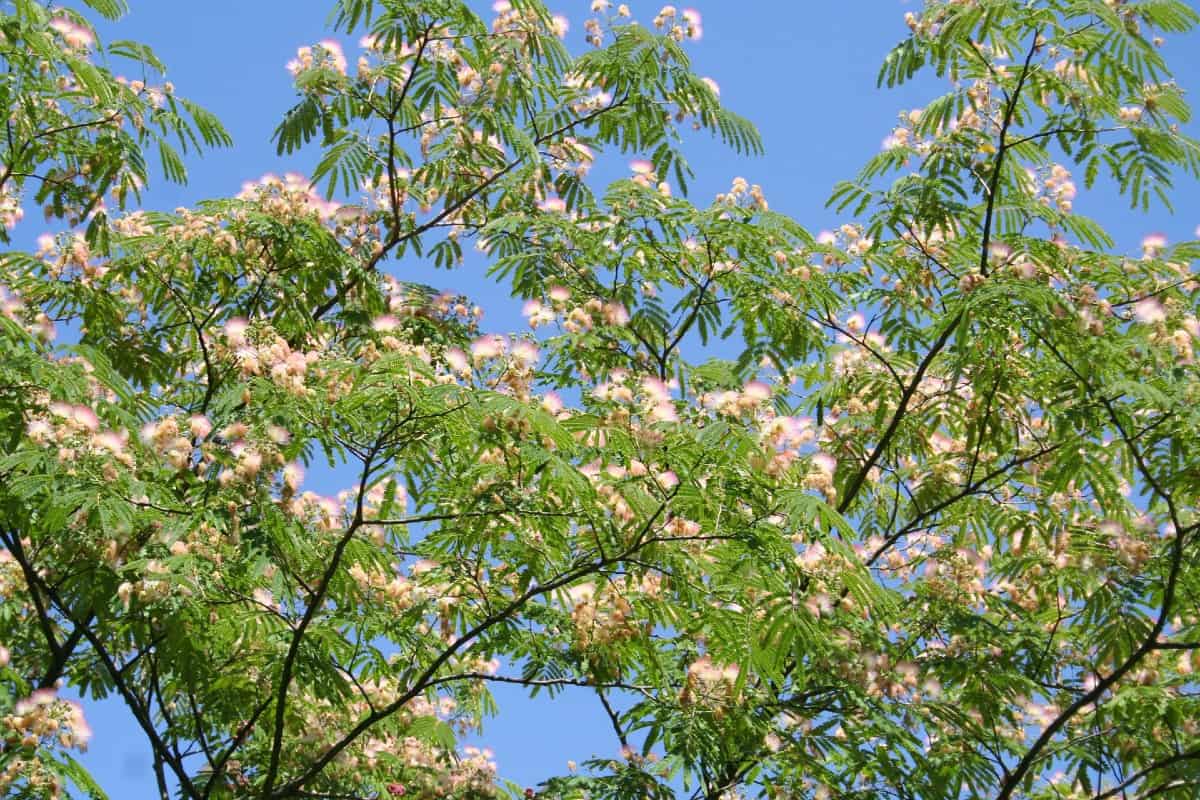 The Silk tree, otherwise known as the Mimosa or Powderpuff tree, is loved by hummers and sometimes hated by gardeners. These beautiful flowering trees feature fern-like looking leaves dotted with puffy pink blossoms that attract all types of hummingbirds.
Gardeners don't always care for it thanks to its sometimes invasive nature and for being one of the trees that make a mess after blooming, spreading flower litter everywhere. The Silk tree is a fast-growing tree that doesn't require much care.
It adapts to every soil condition; all it needs to grow is lots of sunlight. The downfall of this beautiful tree is it's prone to pest problems and doesn't always live long.
Eastern Redbud (Cercis Canadensis) – Fantastic Trees for Hummingbirds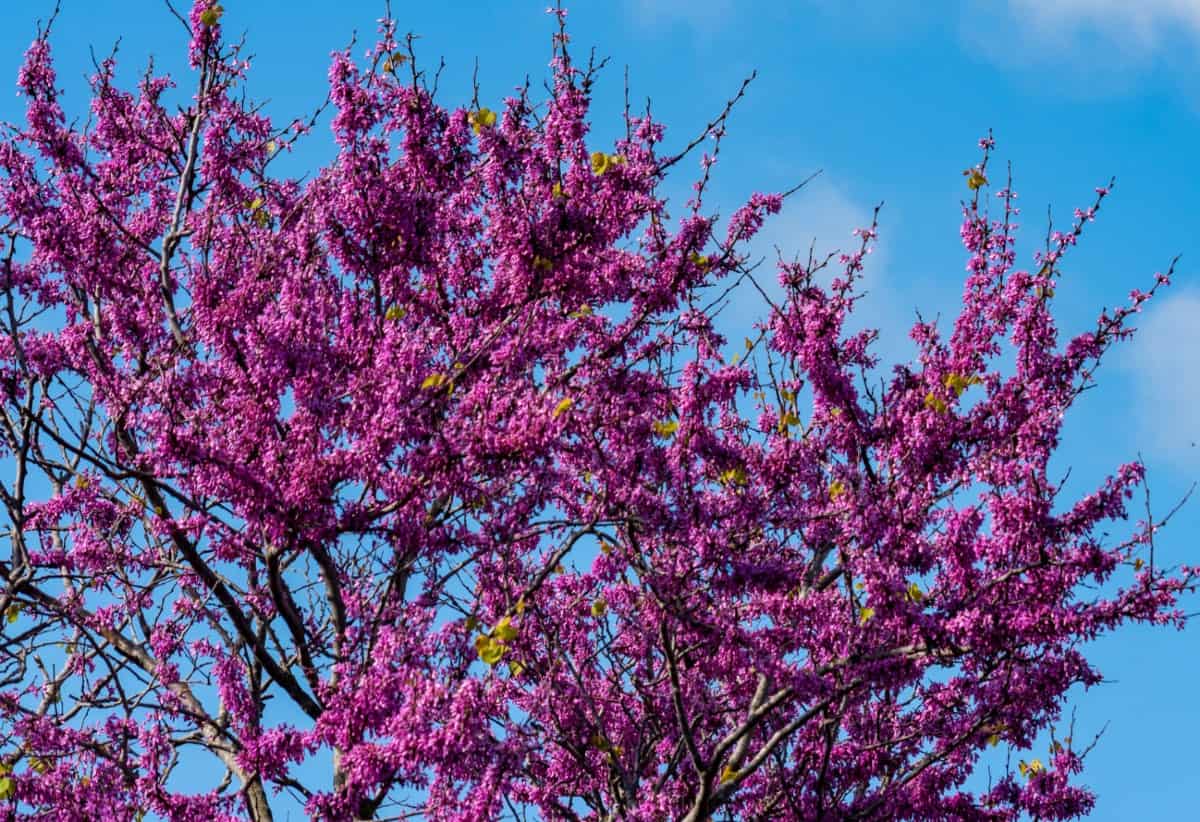 Sometimes referred to as the Judas-Tree, the Eastern Redbud is one of the earliest spring-blooming trees. In the early spring, the pink flowers appear before the heart-shaped leaves.
Some varieties produce green foliage, while the "Forest Pansy' is known for its purple foliage. The Eastern Redbud is hardy in zones four through nine and is native in the midwestern and eastern United States.
The small tree typically grows up to 30 inches tall and 35 inches wide to form multiple trunks. For best results, plant this tree in a location with full sun, although partial shade works.
Eucalyptus (Eucalyptus/Angophora/Corymbia spp.)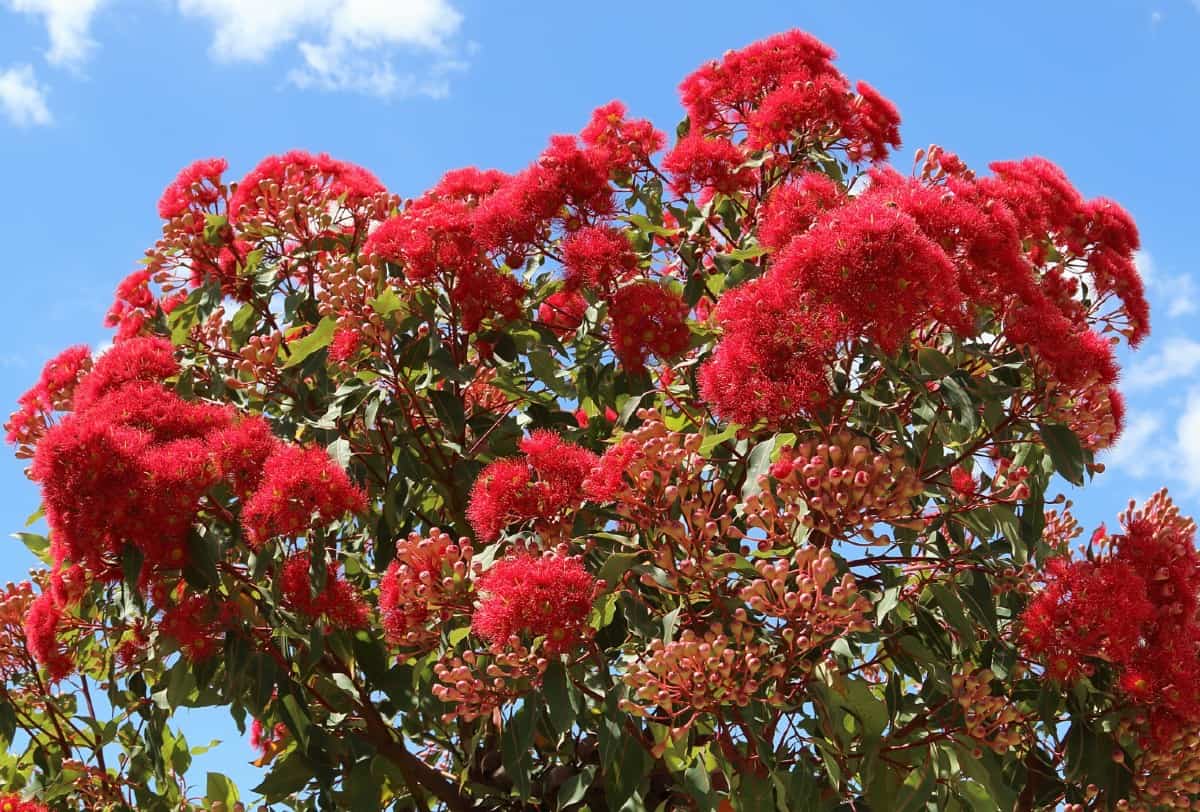 With Eucalyptus, most of us think of koalas rather than hummingbirds, but the tree attracts both. The secret to successfully growing these trees is the location; they only grow in the warmer climates.
To attract hummingbirds, plant the Corymbia species of tree, as they offer scarlet blossoms that draw in the birds. A fast-growing tree, Eucalyptus requires well-draining soil and full sun.
These trees adapt quite well to a variety of soil conditions, including dry and wet soil locations. Eucalyptus odes well in containers, as long as they are large enough to accommodate the tree's mature size.
For even more interest, add some annuals that attract birds at the foot of this and other trees. Pay attention to light requirements, as you may need varieties that prefer full to partial shade.
English Hawthorn (Crataegus laevigata)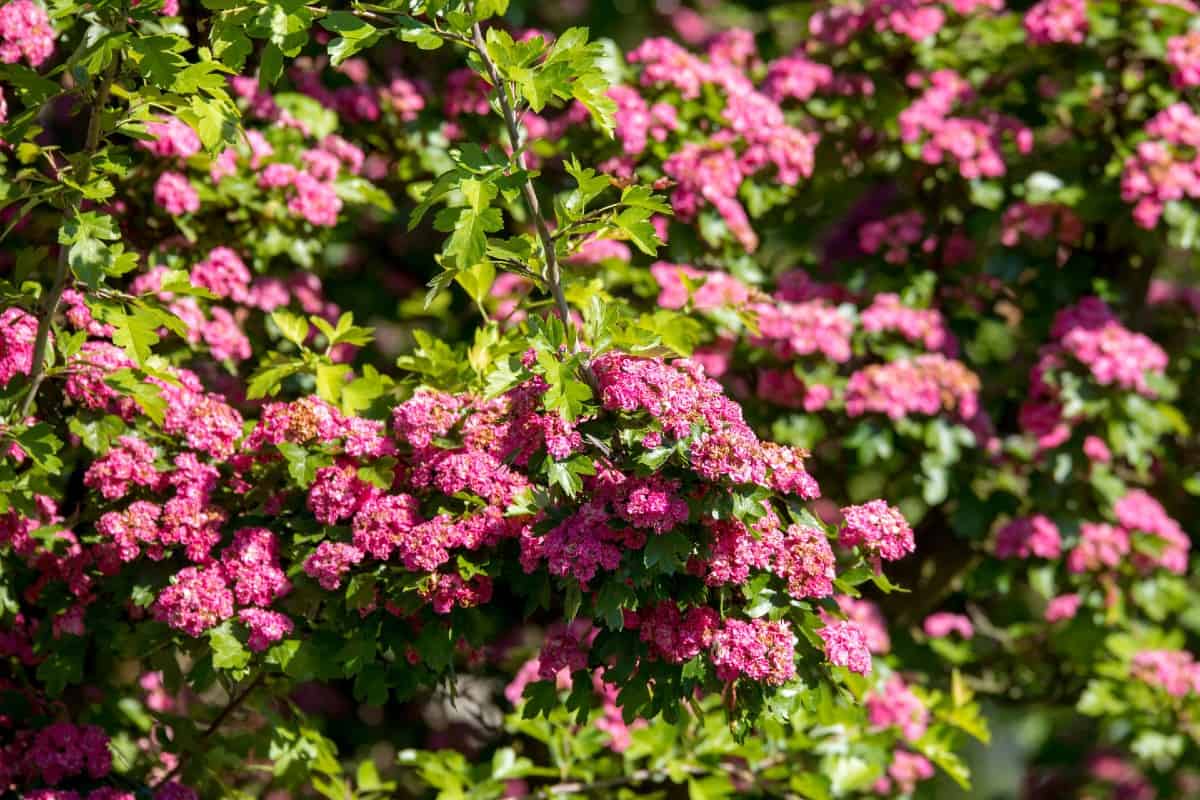 The English Hawthorn is related to Crabapple, pear, and apple trees, so it is no surprise that hummingbirds find it attractive. Red, pink, and white flowers are relatively prolific during the spring.
The sight of the small flowers covering a large portion of the tree is impressive. A small to medium-sized tree, English Hawthorn easily grows in conditions other trees won't.
The tree's bark is similar in attractiveness to the apple tree, and the green leaves sit along thorny branches. Hardy enough to grow in zones four through eight, these trees tolerate poor soil conditions, as long as they have full sun.
Trees for Hummingbirds – Horse Chestnut (Aesculus hippocastanum)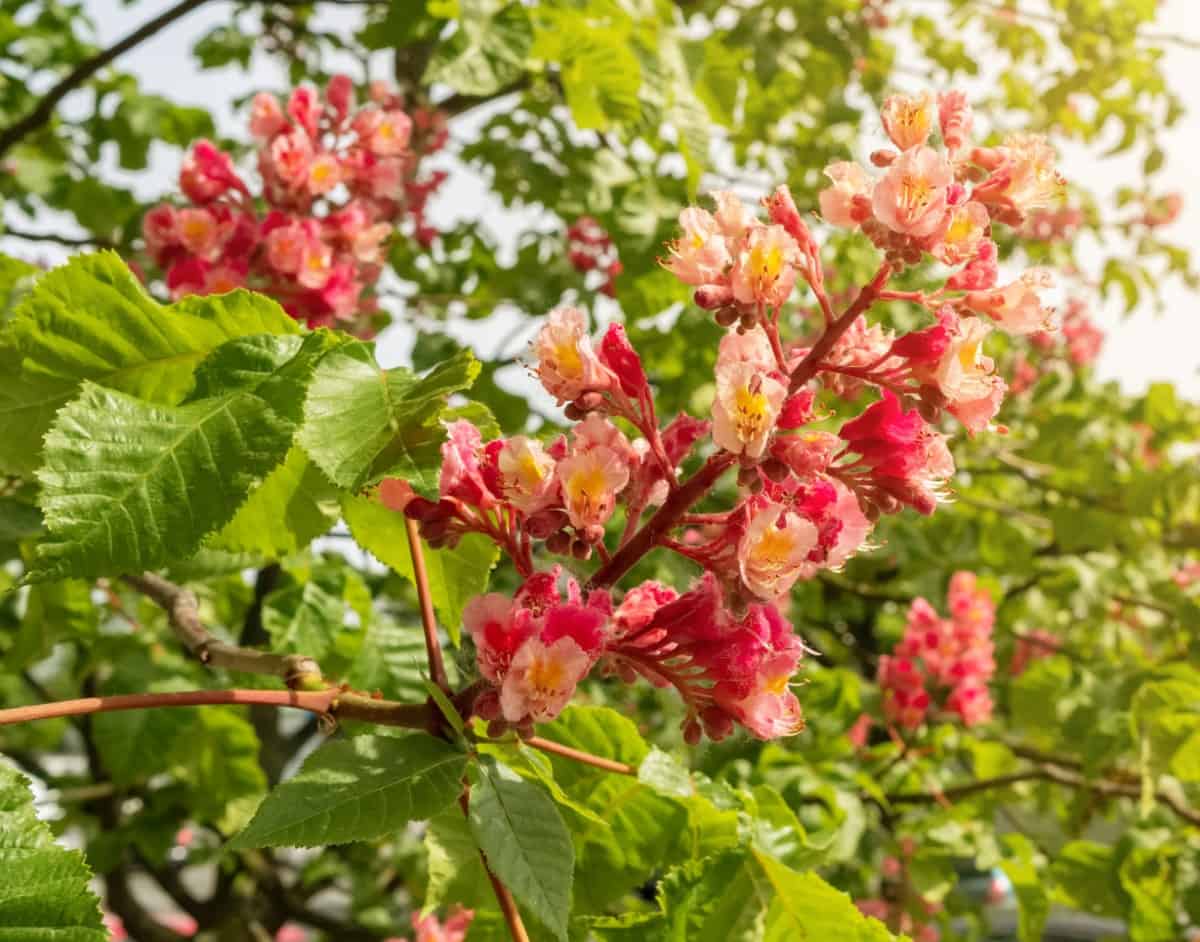 Horse Chestnut trees are very similar to the buckeye species, as they grow quite large and produce showy, white flowers during the spring. The flowers give way to spiny seed pods that last throughout the summer and into the fall. The fruit is not edible.
When growing, the Horse Chestnut tree location is the most crucial factor. These trees thrive in zones three through eight. Requirements for successfully planting and growing them are full sun and well-draining soil that is kept moist.
Northern Catalpa (Catalpa speciosa)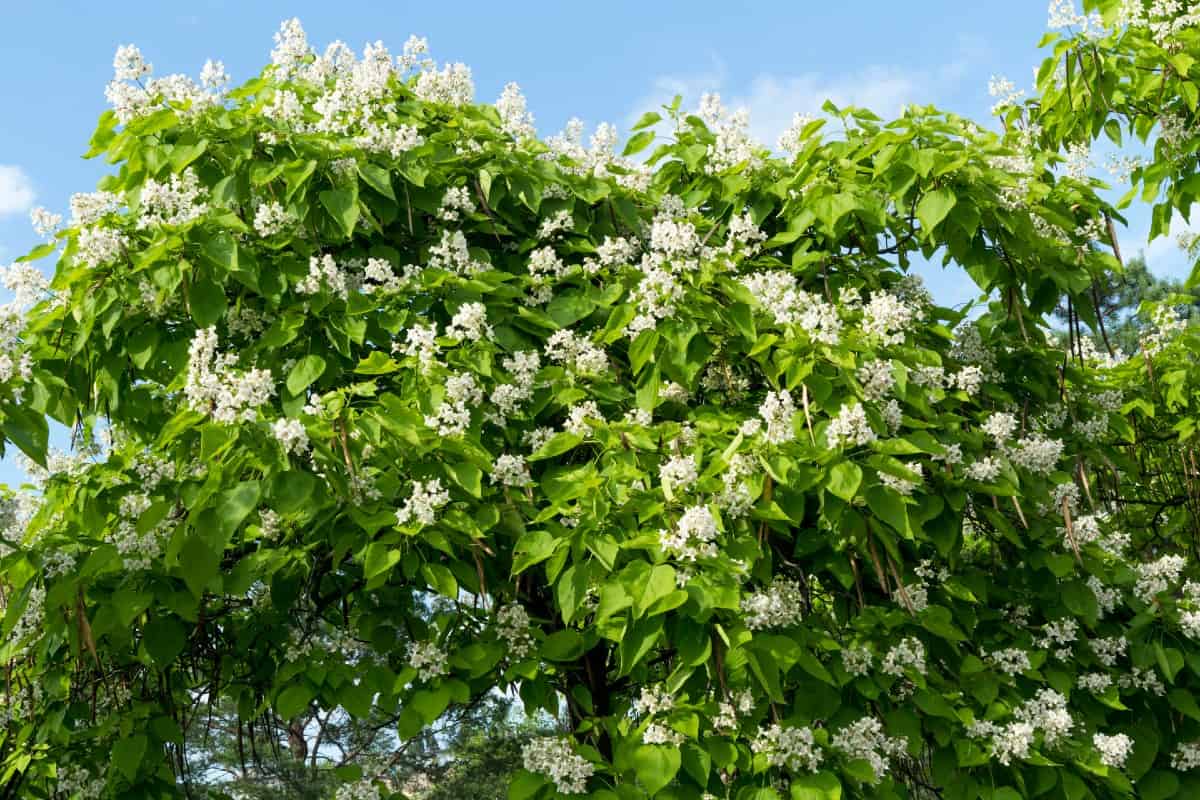 What attracts hummingbirds to the Northern Catalpa are the large groups of orchid-like flowers. The flowers on the ornamental tree give way to long seed pods. Both the northern and southern species attract hummingbirds – what one you choose depends on where you live.
These beauties may reach up to 70 feet tall, but typically top out at 50 feet. The northern species usually grows larger than the southern ones.
When choosing a planting location, select one that offers acidic soil with excellent drainage. These trees require minimal water once established.
Strawberry Tree (Arbutus unedo)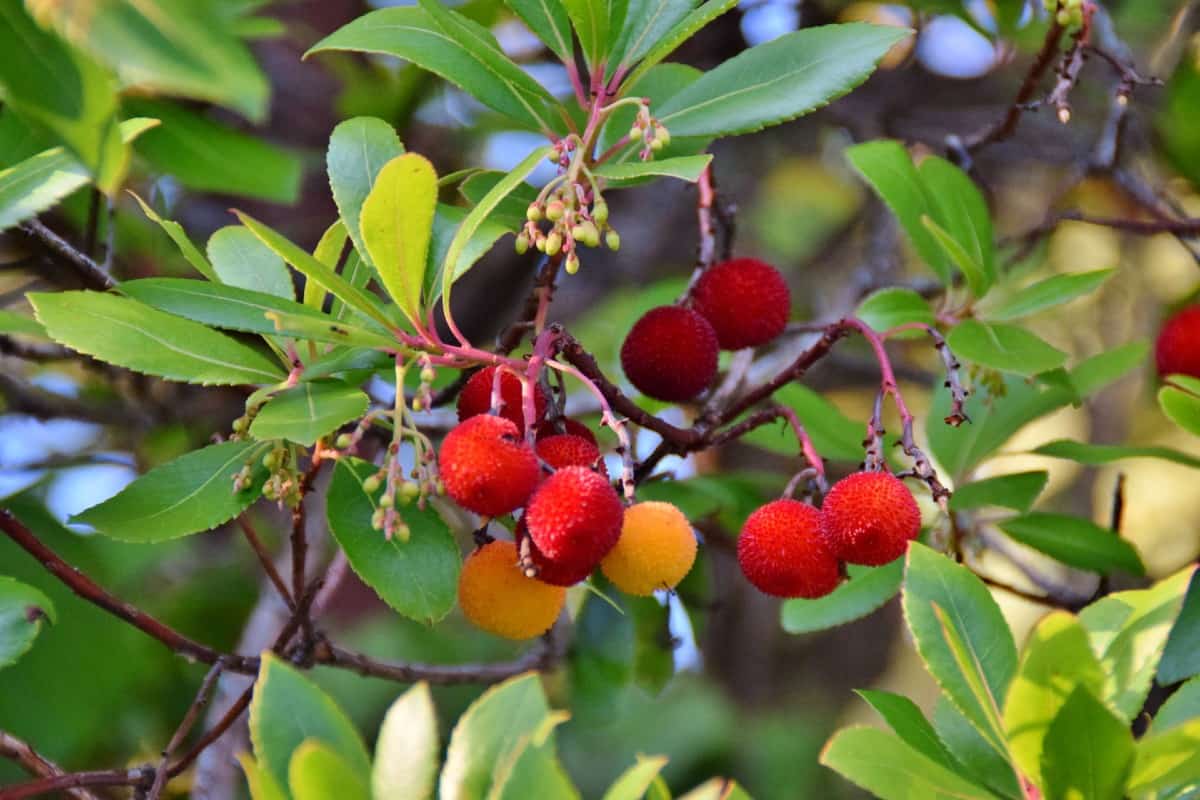 Sometimes called the Killarney Strawberry tree, this tree belongs to the Ericaceae family. The small white flowers form in clusters and look like bells, which draws hummingbirds in.
Round orange and red fruit follows the flowers and is edible. These slow-growing trees do best in acidic soil with excellent drainage. They prefer full sun but tolerate partial shade.
Once fully established, the Strawberry tree is drought and wind tolerant. Hardy to growing zones four through nine, this tree is an evergreen that keeps its dark green leaves.
Tulip Tree (Liriodendron tulipifera) – Favorite Trees for Hummingbirds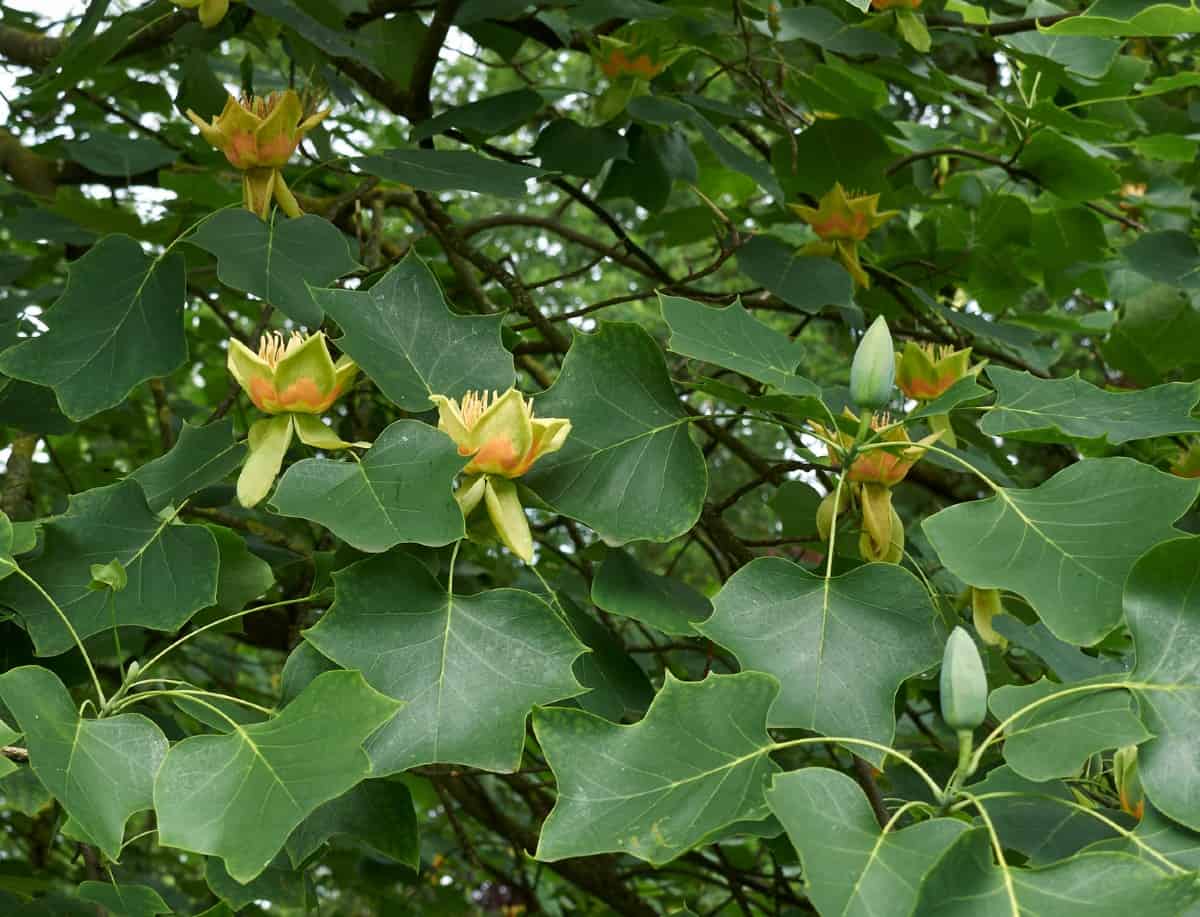 Sometimes called the yellow poplar or the tulip poplar, the blossoms on this tree greatly resemble the tulip flower. The orange and yellow-colored blooms pair with green leaves that also resemble the leaves found on the tulip flower.
The stems of the flowers are also aromatic. The Tulip tree is one of the fastest growing trees that is hardy to zones four through nine. When fully mature, they may grow as tall as 90 feet with a 40-foot width.
Expect a 24 inch per year growth rate when planting this tree in a location with a minimum six hours of sunlight and well-draining, acidic soil.
Black Locust (Robinia pseudoacacia)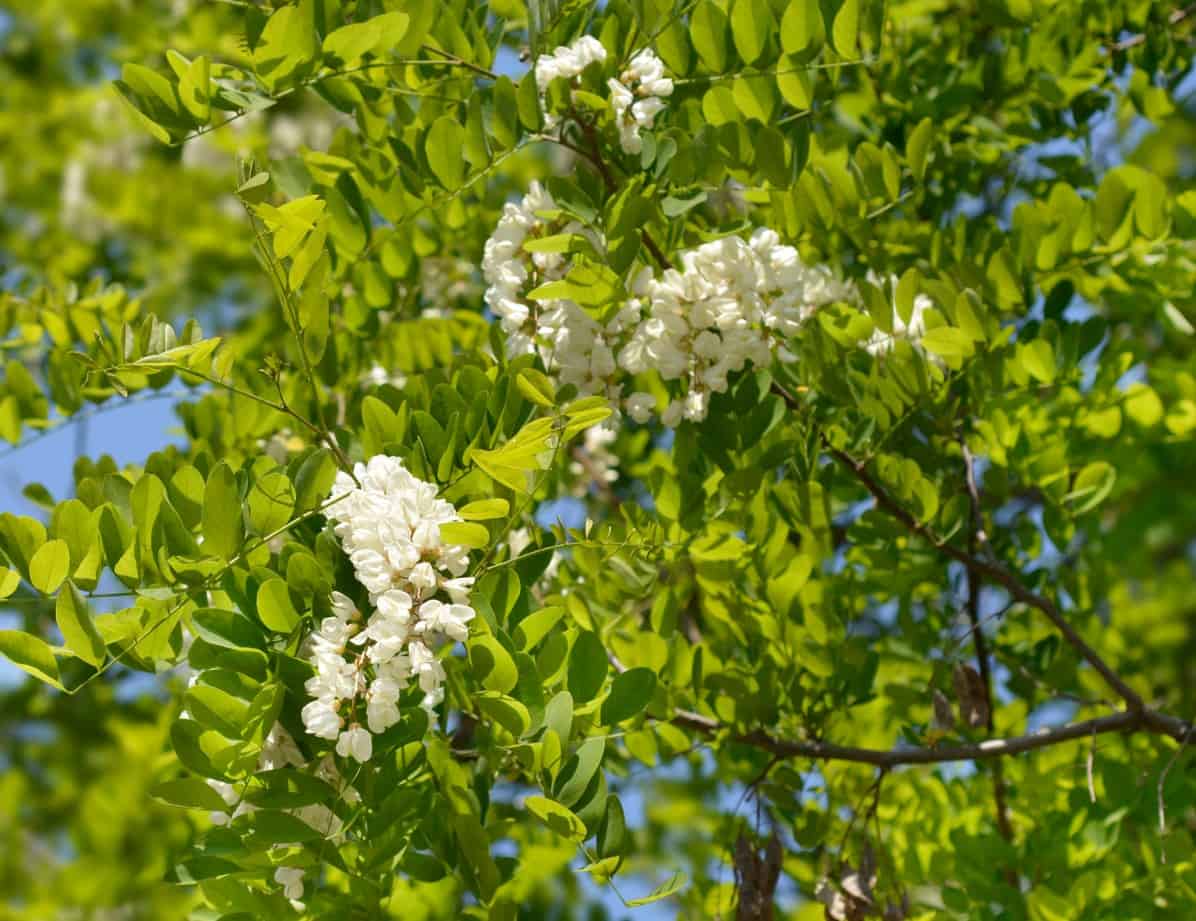 Black Locust trees are great for attracting hummingbirds, but not everybody enjoys planting them due to their invasive nature. These trees grow extremely fragrant hanging clusters of white flowers every spring.
Most people enjoy the tree for its beautiful bark and showy flowers. Sucker growth is excessive on these trees, and the suckers have sharp spines.
When planting Black Locust trees, they prefer moist and well-draining soil in full sun. They do tolerate partial shade but require a minimum of six hours of direct sunlight.
Black Locust is a hardy option as it tolerates a variety of poor conditions, including salt spray, salty soil, drought, and even poor drainage.
Desert Willow (Chilopsis linearis)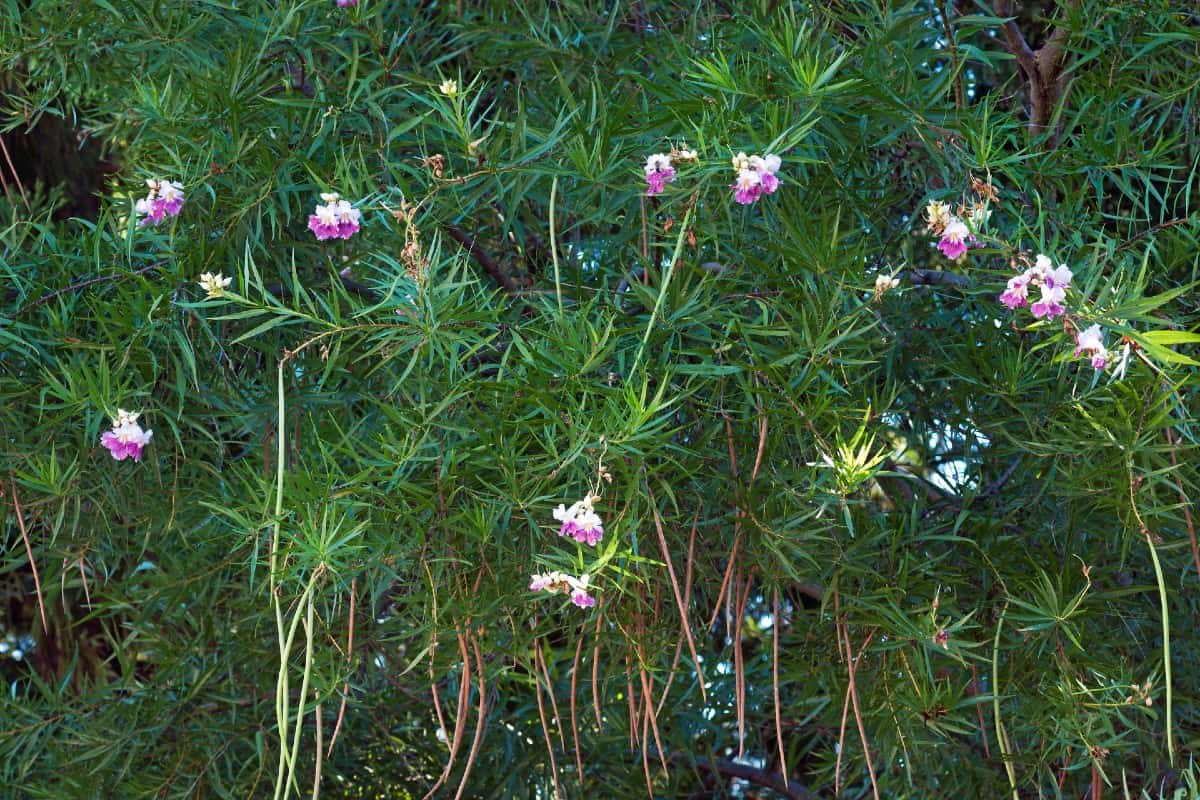 Desert Willow trees are so named for their resemblance to willows but are not a willow tree nor in its family. This tree draws in hummingbirds with its magnificent blooms of purple flowers.
Like other nectar-producing flowers, these offer a trumpet shape and are visually appealing to these pollinators. The tree's airy canopy adds to the visual appeal, along with the multiple trunks.
Hardy to zones seven through nine, most gardeners plant the Desert Willow for its flowers, but it also serves as a privacy hedge. Plant Desert Willows in a location that receives a minimum of six hours of sunlight in well-draining soil.
Nectar Trees for Hummingbirds – Whiteleaf Manzanita (Arctostaphylos viscida)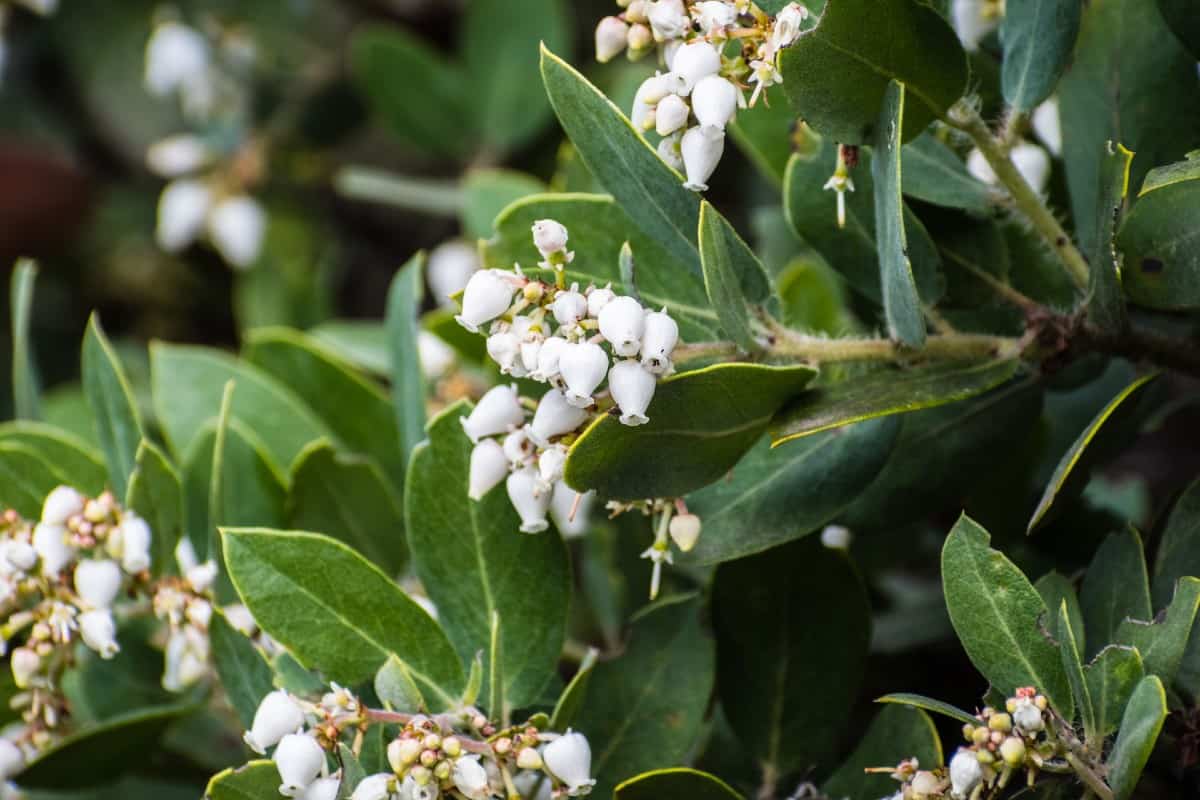 The Whiteleaf Manzanita grows in dry to semi-dry areas of the United States and not only attracts hummers but is used for decorative wood products. During the spring, the trees produce white and pink bell-shaped flowers that emit honey-like fragrance.
Squeeze the blossoms gently from the stem end to taste a drop of the honey-sweet nectar. Once the flowers drop, green berries that ripen to red start to grow.
The berries are edible and look like a tiny version of apples, hence the tree's name. Unlike other trees, Manzanita's bark is smooth rather than rough. These trees thrive in full sun.
Vitex (Vitex agnus-castus)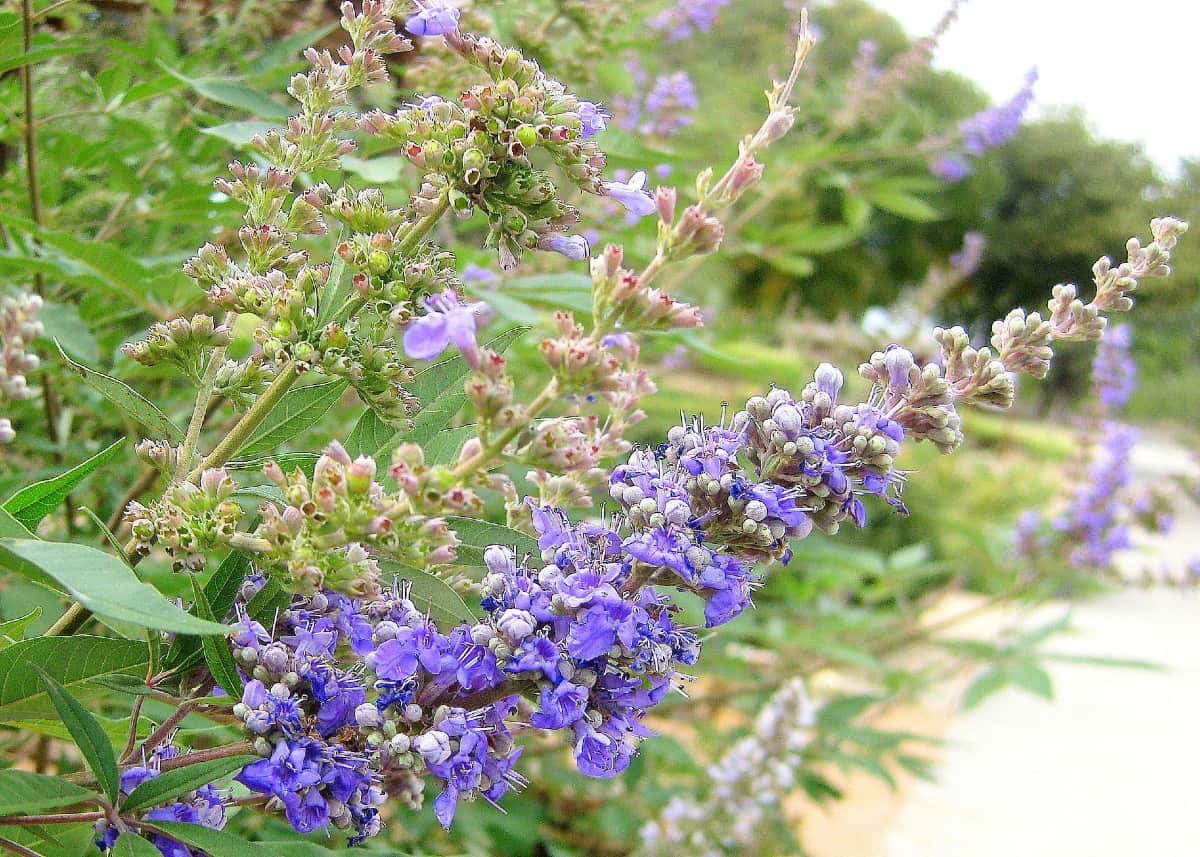 Vitex is most known for its multiple trunks and its long spikes of purple flowers. This hummingbird attractant produces blooms from late in the spring until nearly in the fall. The blooms offer a pleasant fragrance, as do the leaves.
The trucks of the tree twist upwards into the canopy giving it an appealing appearance. Vitex or Chaste trees are classified as a shrub or a small tree. They grow anywhere from 15 to 20 feet tall with a width of 10 to 15 feet.
When planting these in your yard, choose a location that offers full sun and the best draining soil. Avoid using fertile soil as it keeps moisture too close to its roots. These do better in xeriscaped areas.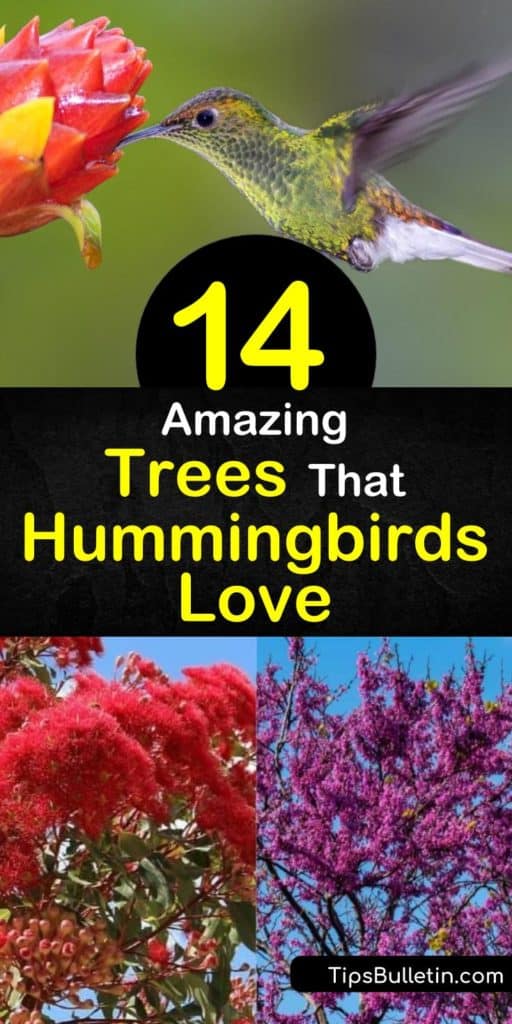 Thank you for reading our ideas on what trees attract hummingbirds. If you found any of our tree ideas useful for your hummingbird garden, please share the best trees for hummingbirds with others on Facebook and Pinterest.