Growing trees along the coast has many challenges that many types of plants do not tolerate. Not only is there the heat of the sun and sandy, dry soil to contend with, but the winds are also salty. Fortunately, there are many trees for the beach that thrive under harsh circumstances.
It takes a special tree to tolerate seaside conditions. Strong winds come off the coast, carrying salt spray on the breeze. If the coastal winds are strong enough, some trees and plants get drenched with seawater.
Therefore, it's essential to choose wind and salt tolerant plants or native trees when landscaping near the beach. The first type of tree that comes to mind when considering coastal plants is palm trees.
If you see a long stretch of sandy beach and ocean waves, there is sure to be a variety of these trees. However, many other types of trees handle the unrelenting conditions of coastal living, too.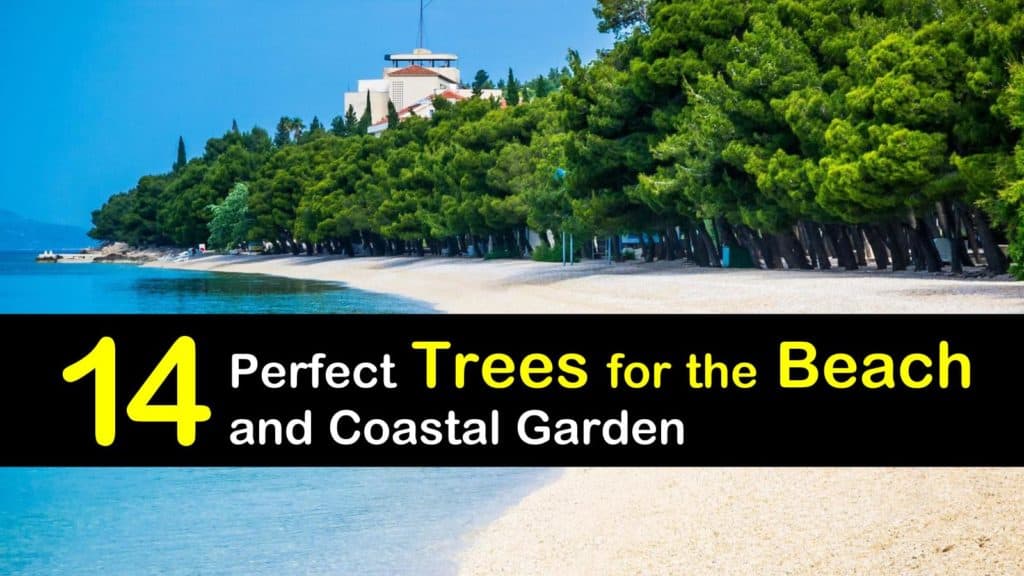 Growing Trees in Coastal Areas
Although it may take a bit of research, there are many plants you can grow near salt water. There are sun loving perennials, vines, shrubs, and trees that all do well in this type of environment.
Growing trees near the coast is easy as long as you choose the right types of trees for the area, and give them the TLC to get them started. We'll help you choose the perfect tree for your property and give you tips to get you started with your coastal garden.
Add a "little something extra" by adding groundcover for beachside planting beneath your trees and you will have a landscape you are proud to show off to guests.
Which Types of Trees Grow Near the Coast?
Coastal trees have a deep root system that enables them to get water from deep in the soil. They are also shorter than inland trees and have an asymmetric crown to help them withstand strong winds. These are drought tolerant trees, as well as being salt and wind resistant.
Many palm trees are adapted to coastal regions because they turn salty water into fresh water and are wind tolerant. Other varieties also grow in these conditions, such as live oaks, bayberry trees, and eastern red cedar (Juniperus virginiana).
What Should I Look for When Choosing Trees for My Yard?
When shopping around for trees to grow in your seaside yard, check the plant care tag and make sure the tree is drought, heat, and salt tolerant, wind resistant, and grows well in your USDA hardiness zone.
Choose trees with a mature size that is suitable for your yard. Pick a tree that has a good structure, with a straight trunk. Consider planting a variety of trees, such as berry or flower trees, to bring additional appeal.
How Do I Plant Coastal Trees?
Begin by digging a shallow and broad hole. The hole must be as deep as the root ball but two to three times wider. Planting the tree too deep prevents the roots from getting the oxygen they require to survive.
Set the tree in the hole, making sure that it is straight, and then fill the hole firmly and gently. Place a decent layer of mulch around the base of the tree and stake it if necessary.
Do Coastal Trees Require Special Care?
There are a few things to do when planting a new tree near the coast. Try planting a young tree near a barrier such as a fence or other structure to protect it from strong winds as it matures.
Make sure it has plenty of mulch around the trunk to retain moisture and prevent soil erosion. Water the tree deeply to promote the root growth required to keep it anchored during strong winds.
Cabbage Palmetto (Sabal palmetto)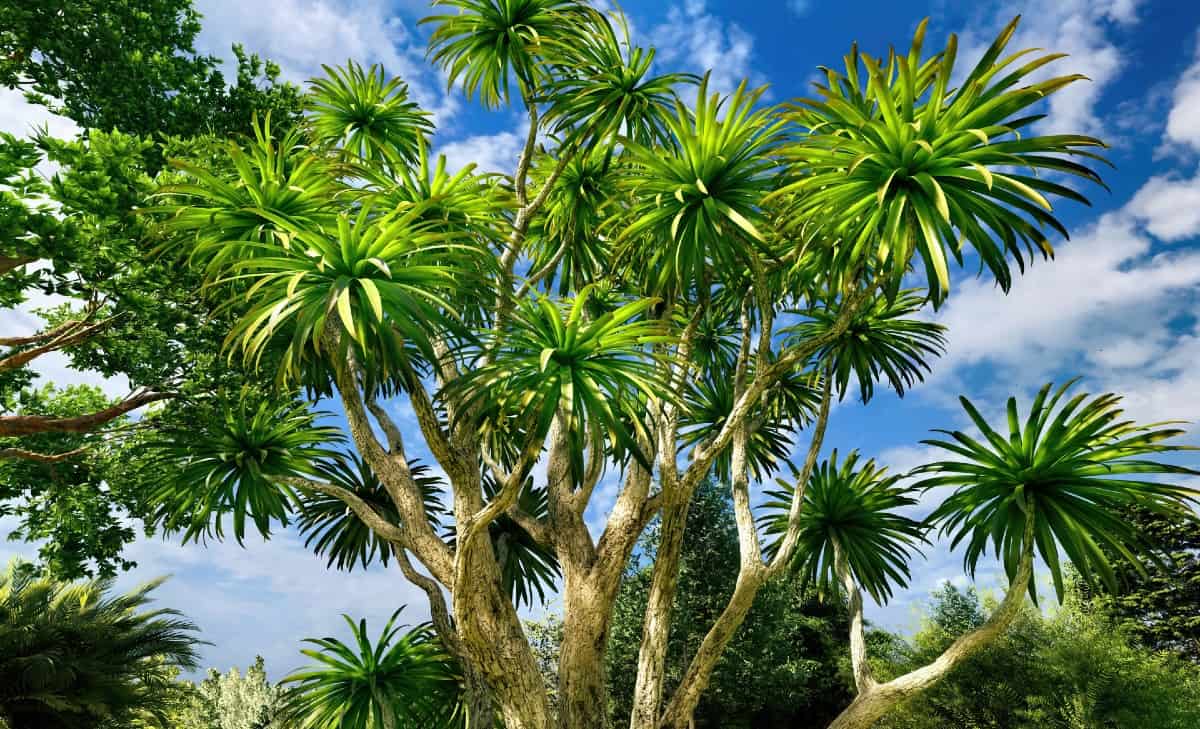 This robust palm has a tan-gray unbranched trunk and a large crown of fan-like leaves. The large leaves have drooping leaf segments that are medium green with a dull finish. This tree is drought tolerant and holds up well to harsh growing conditions.
The solitary trunk of the cabbage palmetto grows to 50 feet tall with a crown spread of 12 to 18 feet. This low maintenance palm grows wider in the shade and compact in full sun and attracts birds. It thrives in zones 7 through 10.
American Holly (Ilex opaca) – Coastal Trees with Year-Round Interest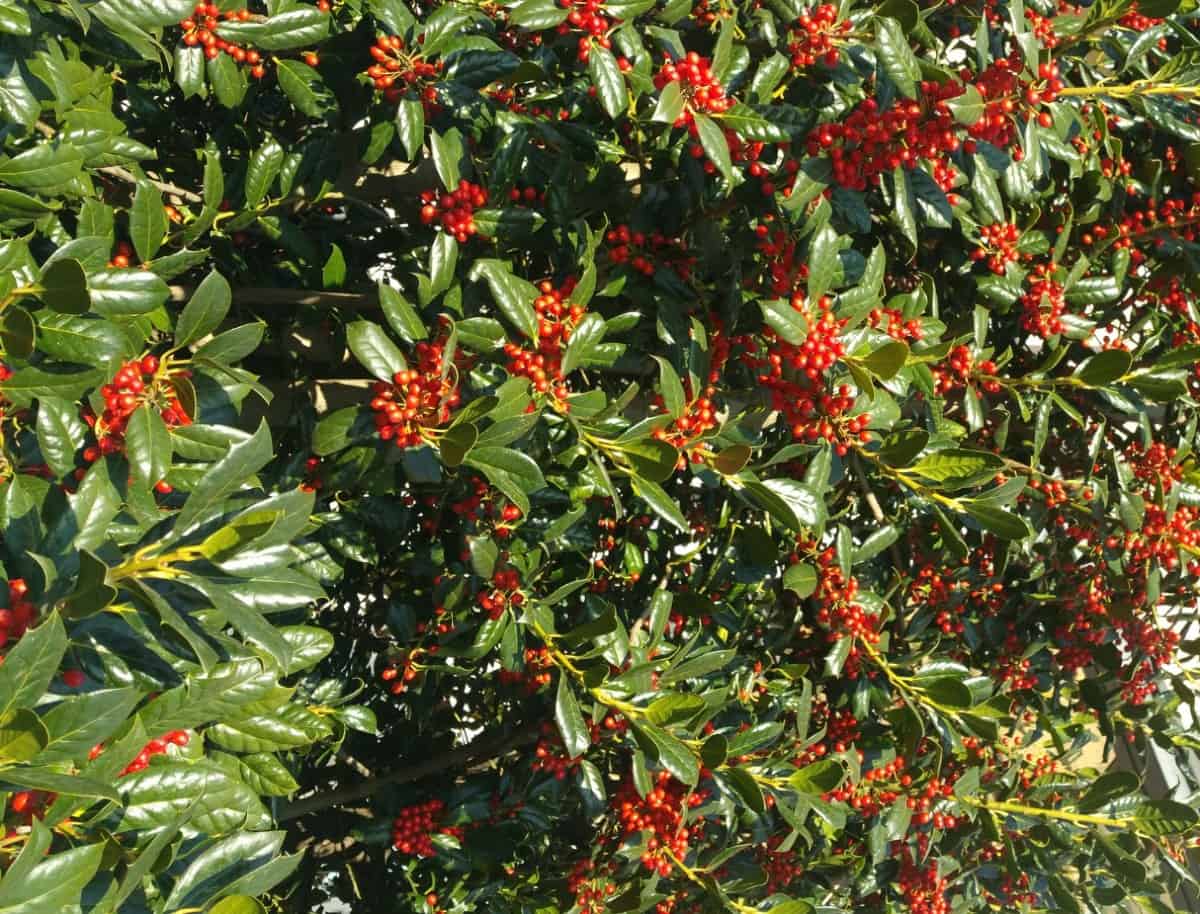 American holly grows as a tree, or it can be trimmed as an attractive hedge. It keeps its bright green foliage all year round and produces berry-like fruits through pollination and creamy white fragrant flowers.
This evergreen tree has a slow to medium growth rate with a mature height of 40 to 50 feet and a spread of 18 to 40 feet. It prefers partial shade or full sun and thrives in hardiness zones 5 through 9.
Live Oak (Quercus virginiana)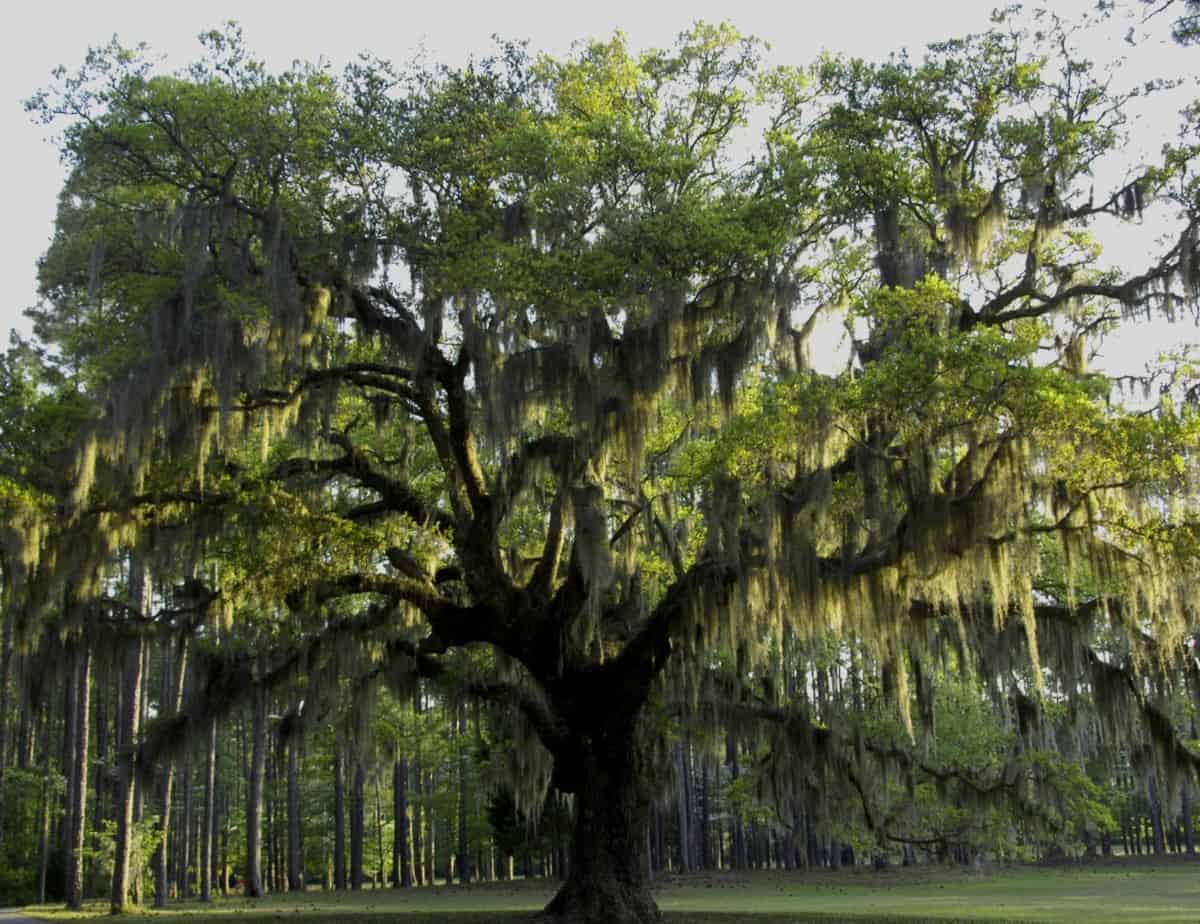 This broadleaf evergreen tree is a southern favorite and is frequently seen draped with Spanish moss. It adapts to any soil type, and is tolerant of salt spray, making it ideal for coastal gardens.
Live oaks have a rapid growth rate when young and often live for centuries. They have a mature height of 40 to 80 feet tall with an 80-foot spread. This highly adaptable tree thrives in full sun to partial shade in zones 7 through 10.
Canary Island Date Palm (Phoenix canariensis) – Tropical Trees for the Beach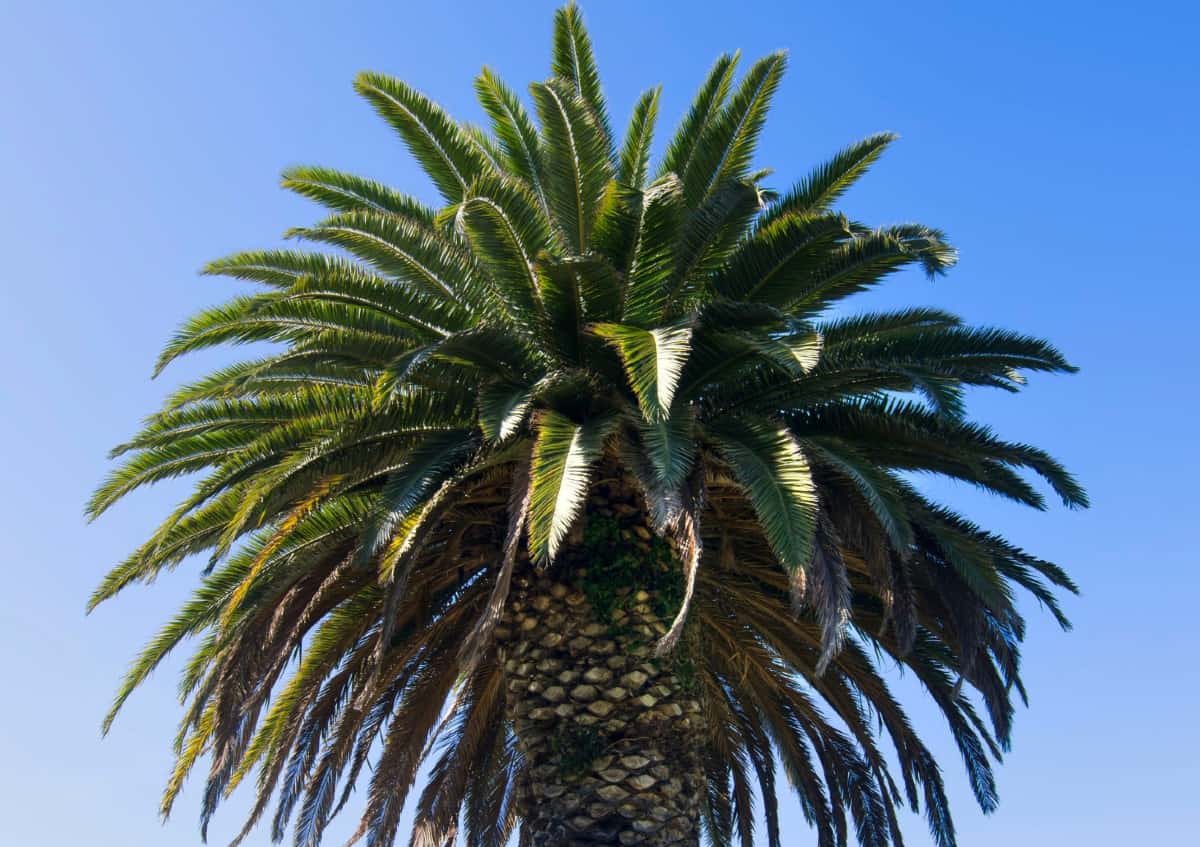 One of the most popular types of palm trees is the Canary Island date palm. This palm is native to the Canary Islands and has arching branches of shiny, feathery fronds and ornamental fruit.
It has long leaves that reach 8 to 20 feet long with sharp spines at the base of the fronds.
The Canary Island date palm grows best in hardiness zones 9 through 11. These hardy palm trees have a mature height of 65 feet tall, but a slow growth speed of only 10 feet during the first 15 years.
Italian Cypress (Cupressus sempervirens)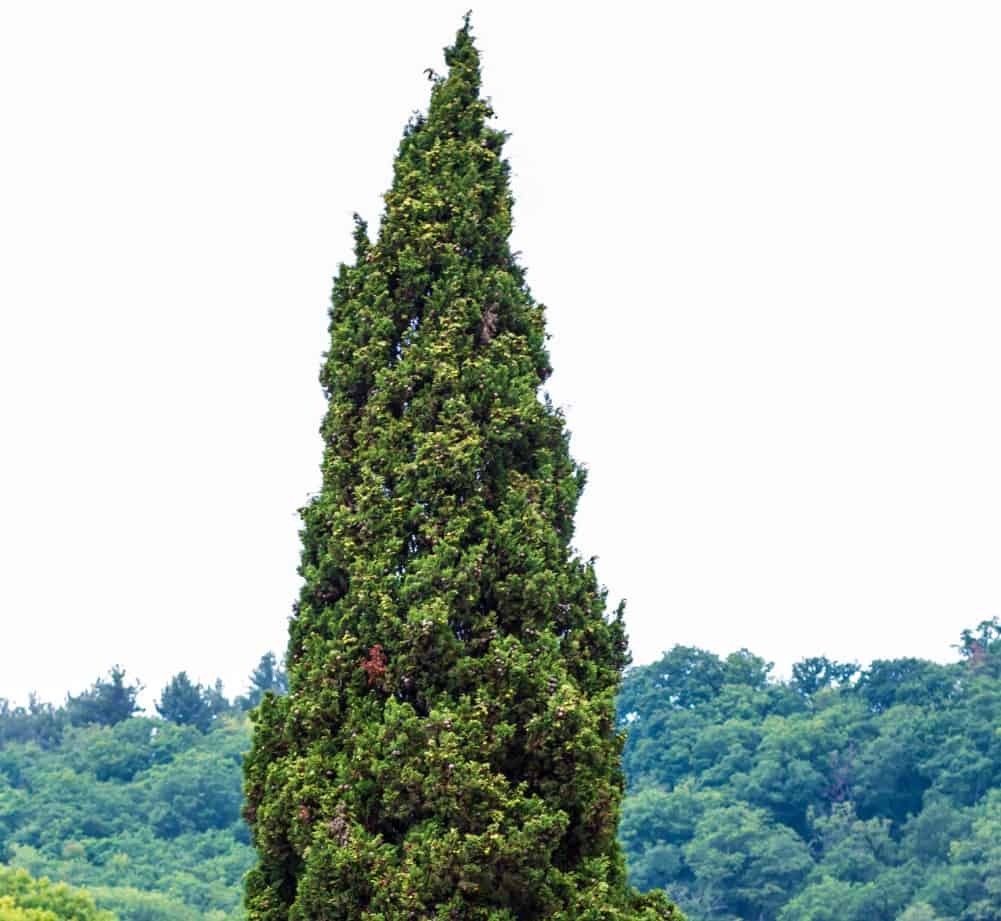 Italian cypress trees are fast growing resilient trees with an upright columnar shape. Its height and shape add a touch of formal elegance to the yard and grows well in tight spaces or up against the home.
This tall and stately tree grows 3 feet a year with a mature height of 70 feet or more and 10 to 20 feet wide. It thrives in zones 8 through 10 and is relatively care-free. The Italian Cypress enjoys well-drained soil and thrives in part to full sun.
Crape Myrtle (Lagerstroemia) – Blossoming Tree for a Coastal Garden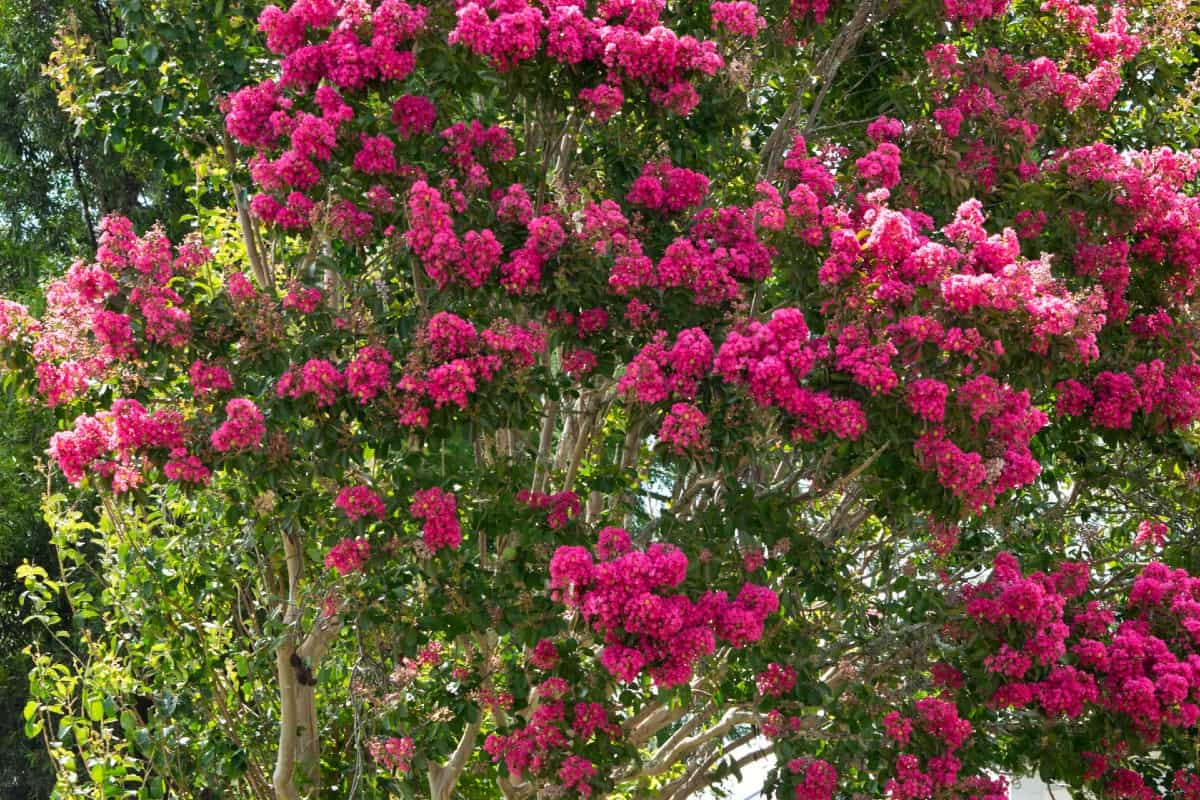 This deciduous tree produces an abundance of red, white, pink, and purple blossoms from July through September, followed by lush foliage that turns red, orange, and yellow in the fall.
Crape myrtle's trunk has a pinkish/gray bark that peels off during the winter for added interest. This sun loving tree attracts birds to the yard and grows best in zones 6 through 9.
It has a long life span and is a fast growing tree with a mature height of 3 to 20 feet and a spread of 6 to 20 feet, depending on the conditions.
Manna Ash (Fraxinus ornus)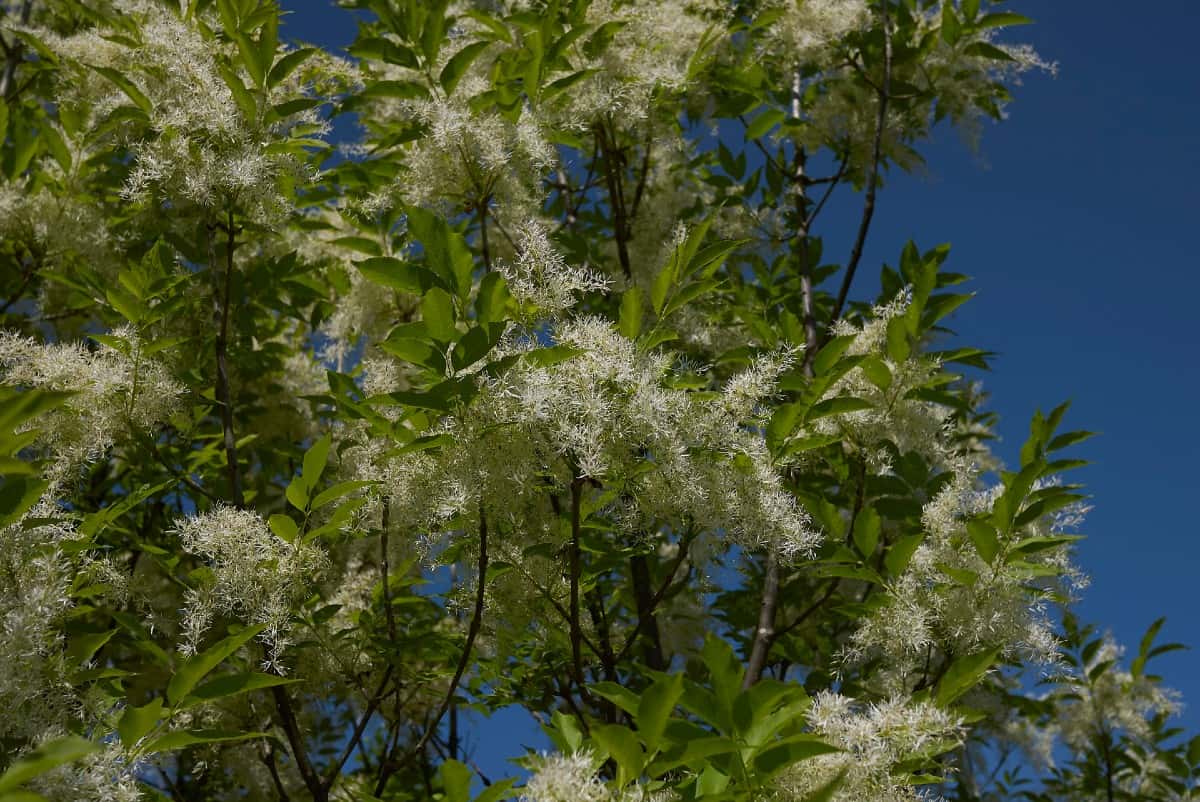 Also called flowering ash, this deciduous tree produces creamy white flowers from April to May. It has dark green and toothed foliage with showy and fragrant blooms that attract birds to the area. The real show, though, begins in autumn. These are trees with great fall foliage in colors like yellow and purple.
Manna ash trees are drought tolerant and deer resistant. They thrive in full sun areas in hardiness zones 6 through 9. This medium maintenance tree has a mature height and spread of 40 to 50 feet.
Juneberry (Amelanchier lamarckii) – Coastal Tree with Three-Season Interest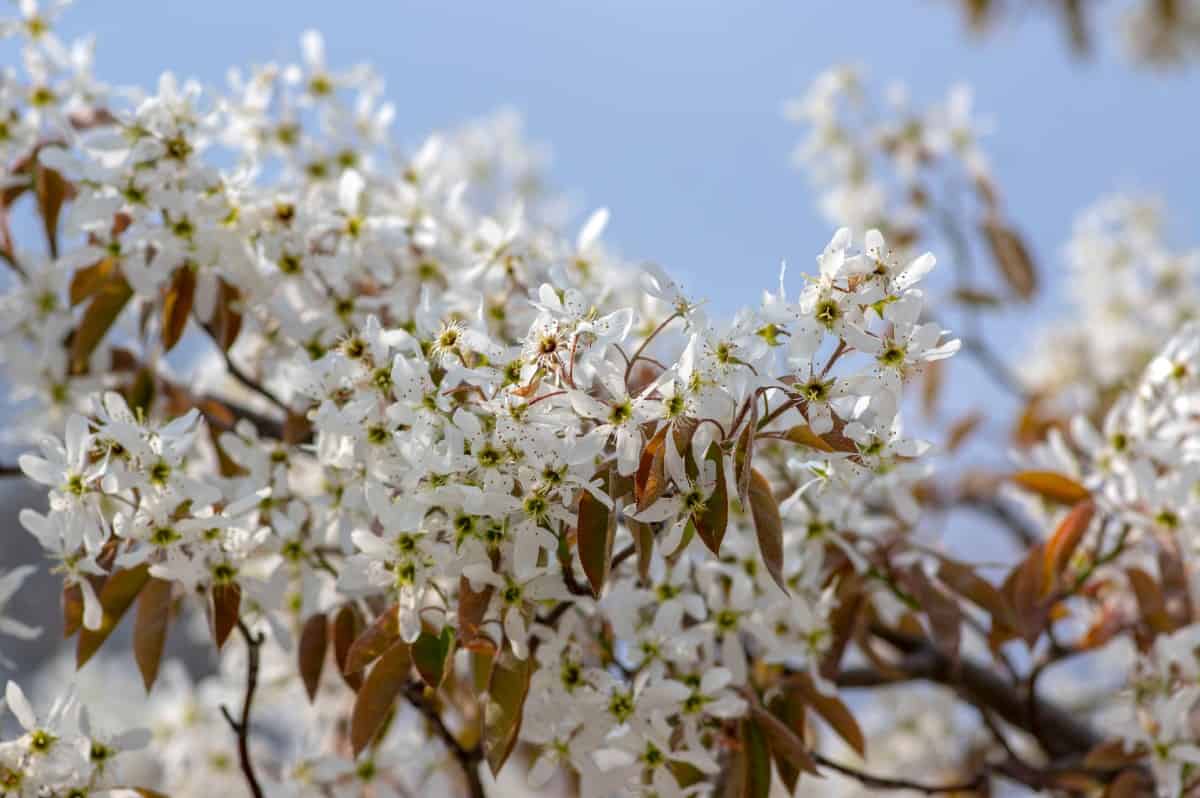 The petite size of this North American native tree makes it ideal for a small coastal garden. It attracts pollinators and birds with its white flowers in early spring, small purple-black berries in the summer, and golden-red foliage in the fall.
Juneberry is a deciduous tree that enjoys part shade to full sun in hardiness zones 4 through 9. It is a multi-trunked tree with a mature height and spread of 15 to 25 feet.
Little-Leaf Linden (Tilia cordata)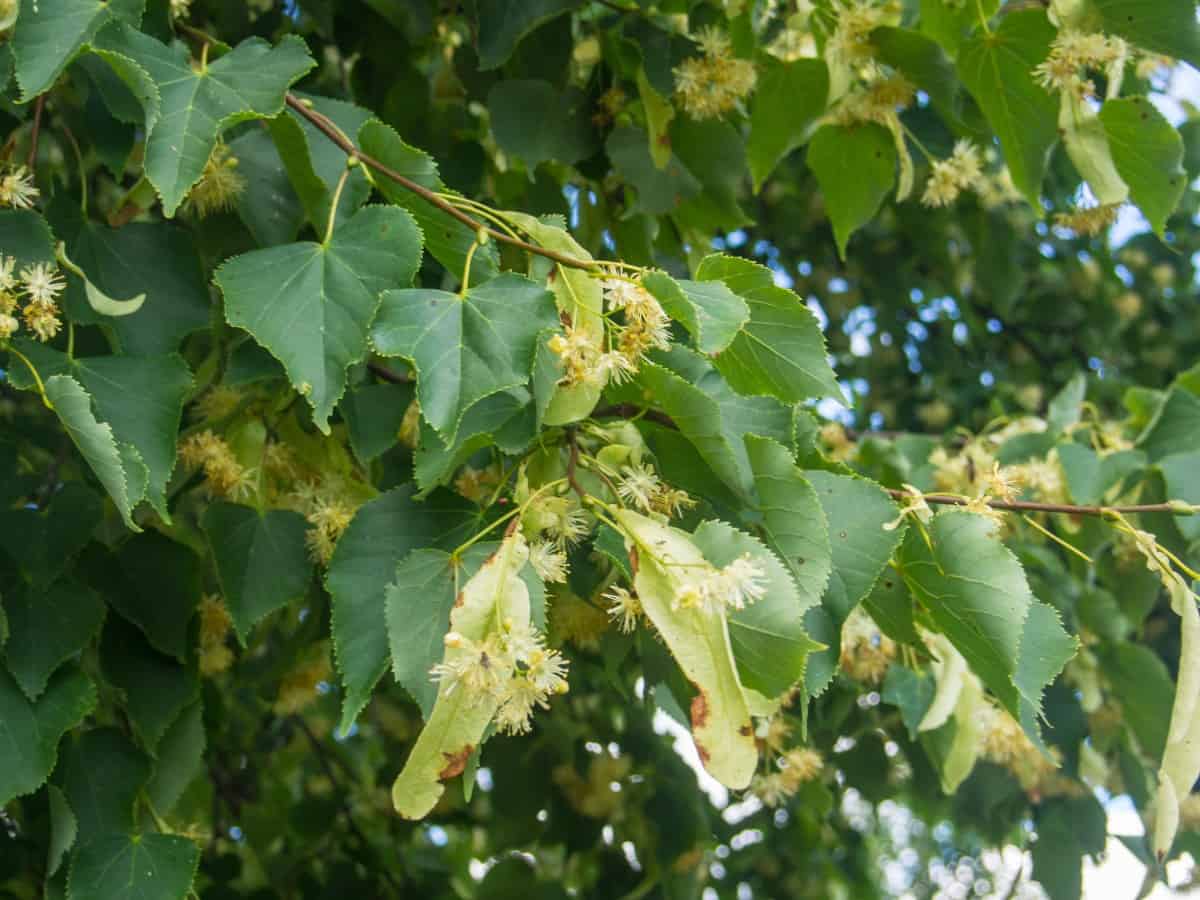 Little-leaf linden trees develop a perfect teardrop shape without pruning. They have small, heart-shaped leaves in shades of blue/green and chartreuse/gold and fragrant spring blooms.
These tolerant trees are great for slope and erosion control and have a mature height of 20 feet or more with a spread of up to 50 feet. The little-leaf linden tree thrives in sunny areas of zones 4 through 8.
Smoke Tree (Cotinus coggygria) – Coast Tree with a Big Impact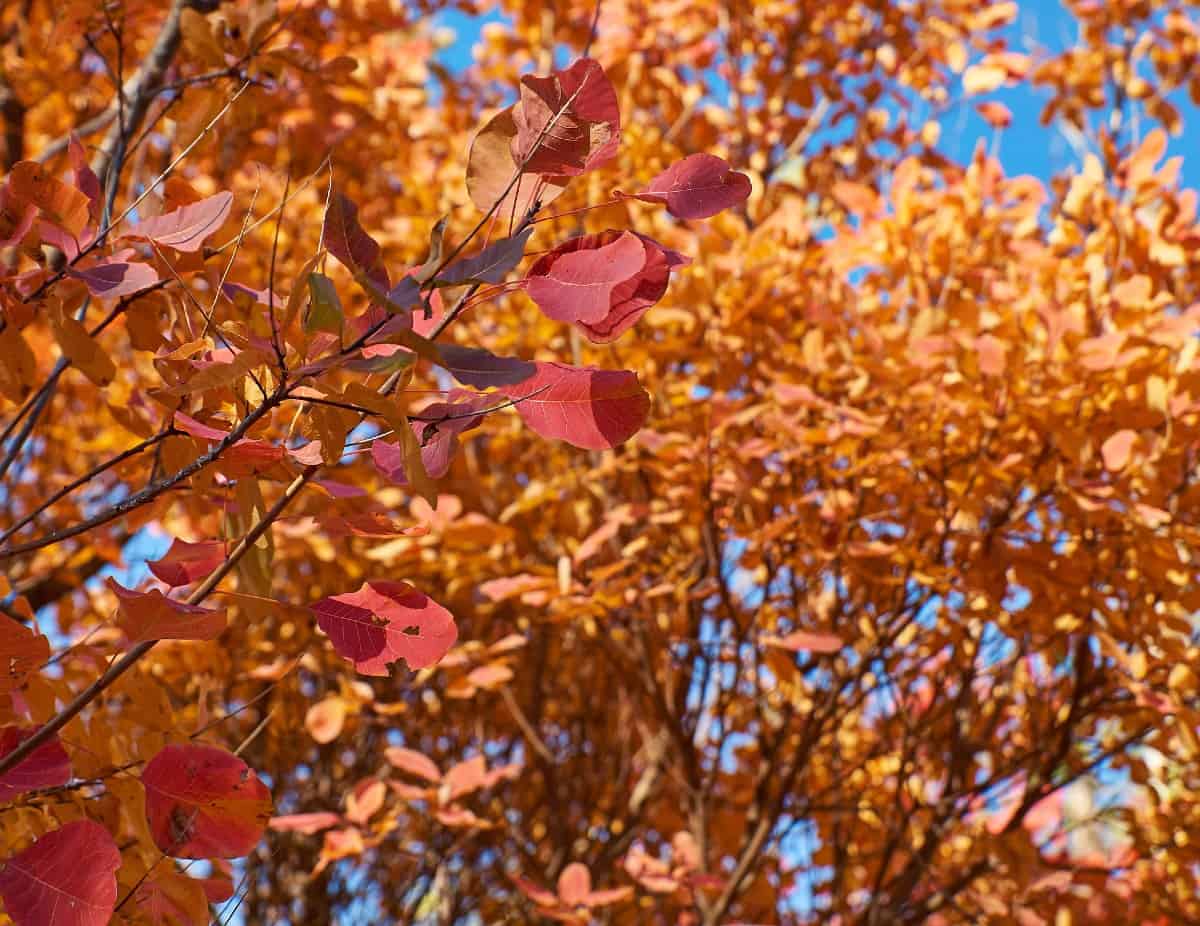 The smoke tree gets its name from its clusters of fluffy and frothy buff-pink summer-time blooms. It is a small tree with oval leaves in vibrant shades of green, gold, and purple that turn red, orange, and yellow in the fall.
These trees for dry summers are reliable performers. It is drought tolerant and deer resistant and thrives in part to full sun. The smoke tree has a mature height of 8 to 20 feet with a 15-foot spread, and it thrives in zones 5 through 8.
Take advantage of the shade produced by this tree to grow flowers for the seaside garden that don't need as much sun.
Beach Plum (Prunus maritima)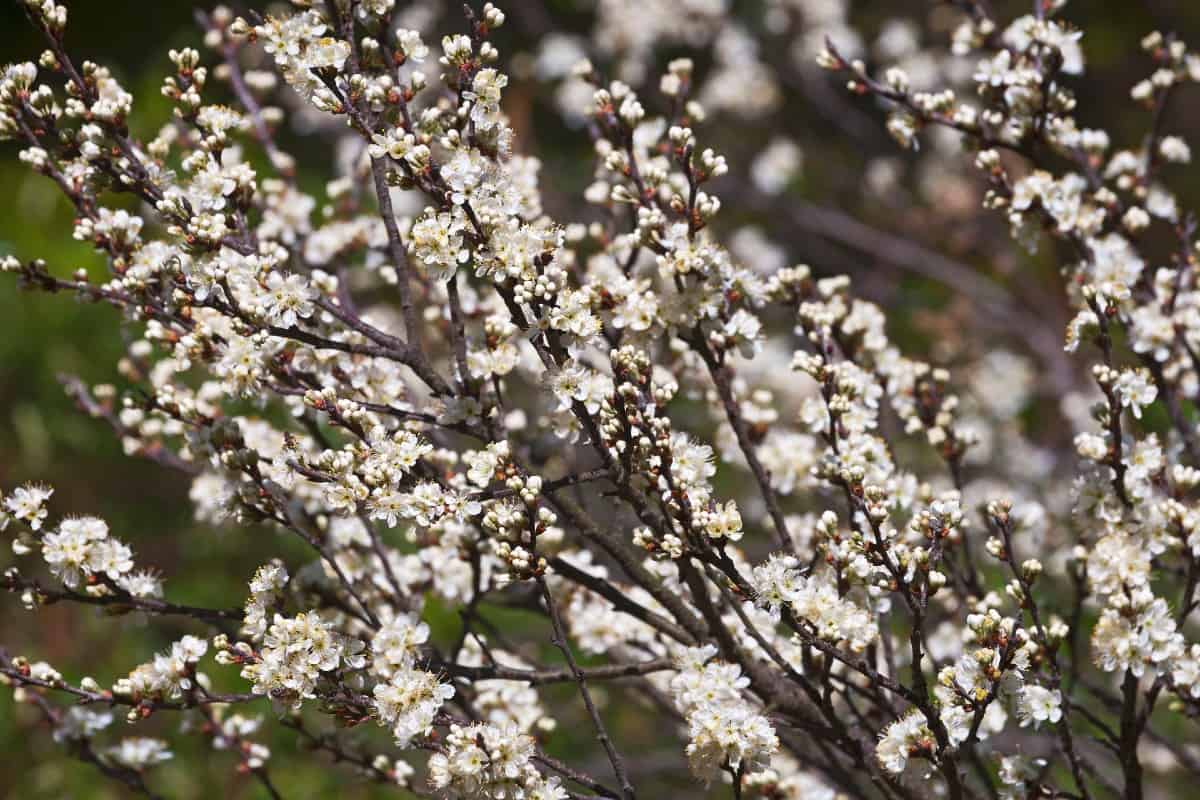 Beach plum is a rounded and dense shrub or tree that grows along coastal beaches with ease. It produces showy white blooms on dark branches in the spring and purplish-red fruit in the summer. The fruit of this tree is excellent for jams and sauces.
This coastal tree thrives in either poor sandy soil or well drained fertile soil and is salt tolerant. The beach plum has a mature height and spread of 6 feet and thrives in hardiness zones 4 through 8.
Cockspur Hawthorn (Crataegus crus-Galli) – Highly Tolerant Beach Tree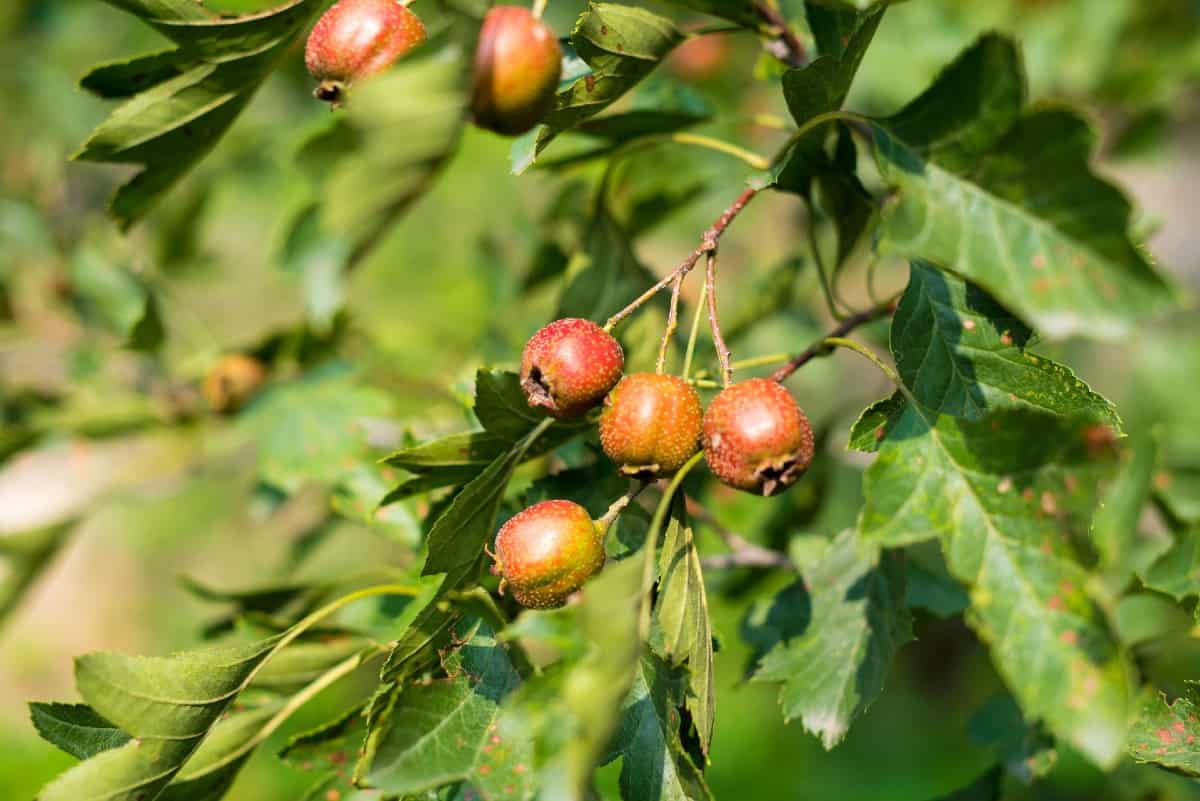 This deciduous tree produces small white flowers in the spring, glossy, dark green serrated leaves that turn a vibrant orange in the autumn, and dark red fruit. It has gray-green and scaly bark with reddish-brown branches and long brilliant thorns.
Cockspur hawthorn is a slow growing tree with a mature height and spread of 20 to 30 feet. It is adjustable to many soil types, drought, heat, and salt spray, and grows best in full sun in hardiness zone 4.
Bayberry (Myrica)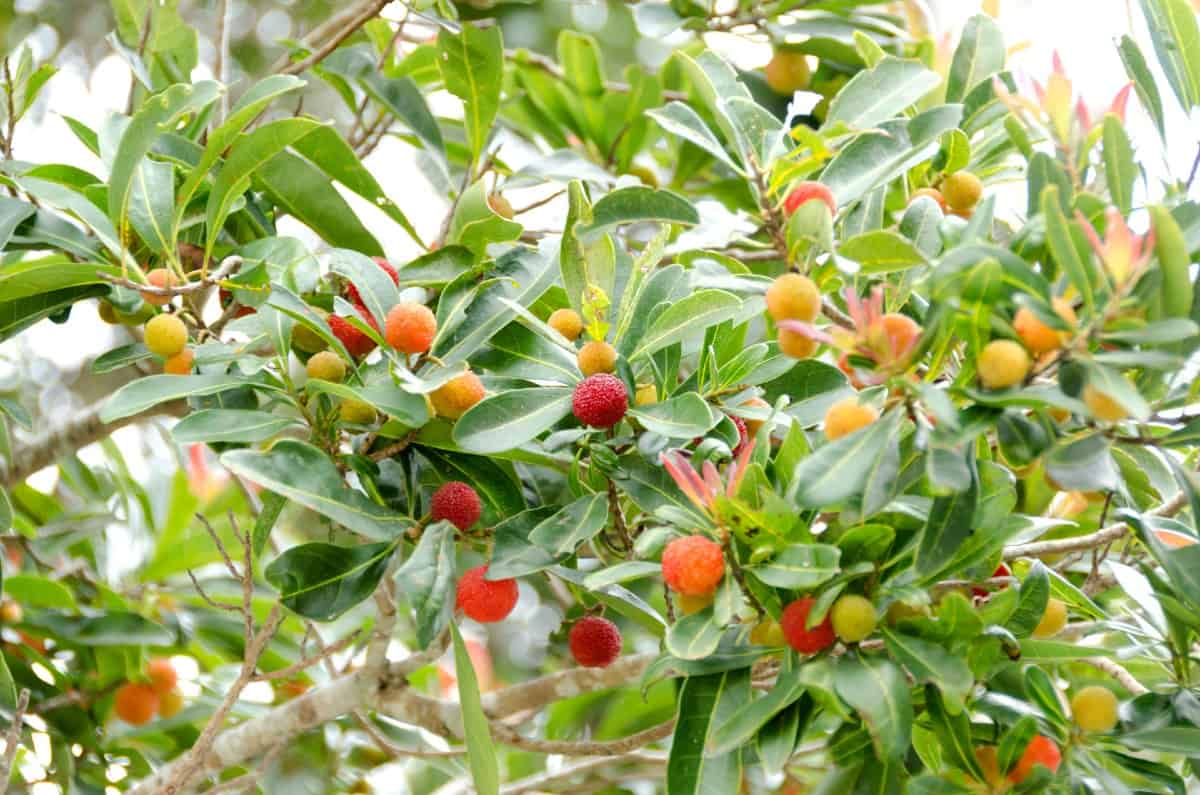 This semi-evergreen shrub or tree has fragrant waxy-gray berries that attract many songbirds to the yard and is common for making candles. It is highly tolerable to many conditions, including dry soil and salt spray.
Bayberry thrives in part to full sun and has a mature height of 3 to 20 feet with an 8-foot spread, depending on the conditions. This low maintenance shrub is drought tolerant and grows best in zones 3 through 7.
Japanese Black Pine (Pinus thunbergii) – Coastal Evergreen Tree with a Striking Form
This evergreen tree has an irregular and unusual form and lustrous dark green needles. It is highly tolerant to soil salt and salt spray, making it an ideal shade tree for a coastal garden or to accompany shrubs around the pool in the backyard.
The Japanese black pine has a mature height of 20 to 80 feet with a spread of 20 to 35 feet and prefers full sun locations. It is drought tolerant and handles just about any soil type. This tree thrives in zones 5 through 8.
While growing plants and trees near the beach is a challenge, it's not impossible. Choose attractive annuals and perennials, vines for beach erosion control, and shrubs that are suited to a saltwater environment.
The key is to pick plants and trees that can withstand high winds, sandy soil, salt spray, and lots of sunshine. Luckily, there are a variety of trees that not only tolerate these conditions but thrive in them.
We hope that you've enjoyed learning about the different types of trees for the beach to create a perfect coastal garden in your yard, and we'd love it if you'd share our coastal tree guide with your family and friends on Pinterest and Facebook.