When we think of city life, the first thing that comes to mind isn't typically trees and greenery. With poor soils, high heat, and pollution, there aren't many trees for tough urban sites that can handle everything going on around them.
Selecting the right tree for an area is crucial to the plant's survival. Trees that have already adapted to the surroundings are much more likely to remain standing than planting whatever you want and hoping for the best.
You'd be amazed at how good-looking some of the tree species are that have these adaptations. Most provide year-round color and come in tons of different shapes and sizes.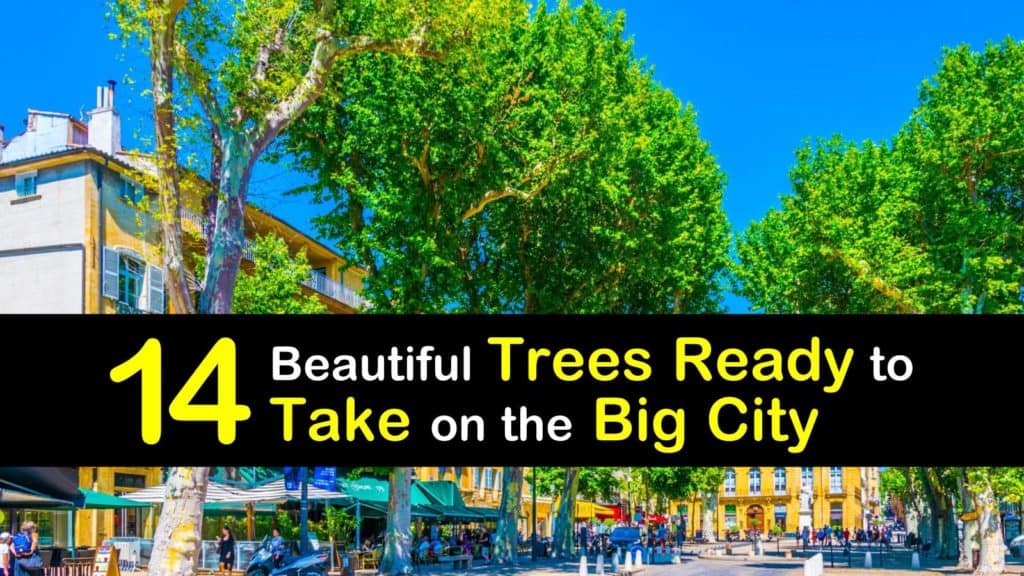 Planting Trees in Urban Settings
Over half of the world's population lives in cities, which means people are becoming even more disconnected from nature. Planting sturdy trees for urban sites is a great way to bring nature closer to you.
Shade tolerant evergreen trees and other species also help reduce air pollution and stormwater runoff and have an overall appealing aesthetic. Cities are harsh environments filled with construction, pollutants, diseases, insects, and limited space and soil.
There are some crucial considerations for bringing such large plants into the city. Make sure to site plan and that the tree has ample space. Make necessary improvements to the site if possible. You don't want a specimen that causes more problems than it is worth and have to resort to a tree killer after all your hard work.
Most importantly, plant each tree properly. Dig a hole more substantial than the root ball of the tree, add a small mound of fertile soil around the base, and spread a thin layer of mulch to support its survival.
Popular Trees for Tough Urban Sites: Dogwood (Cornus florida)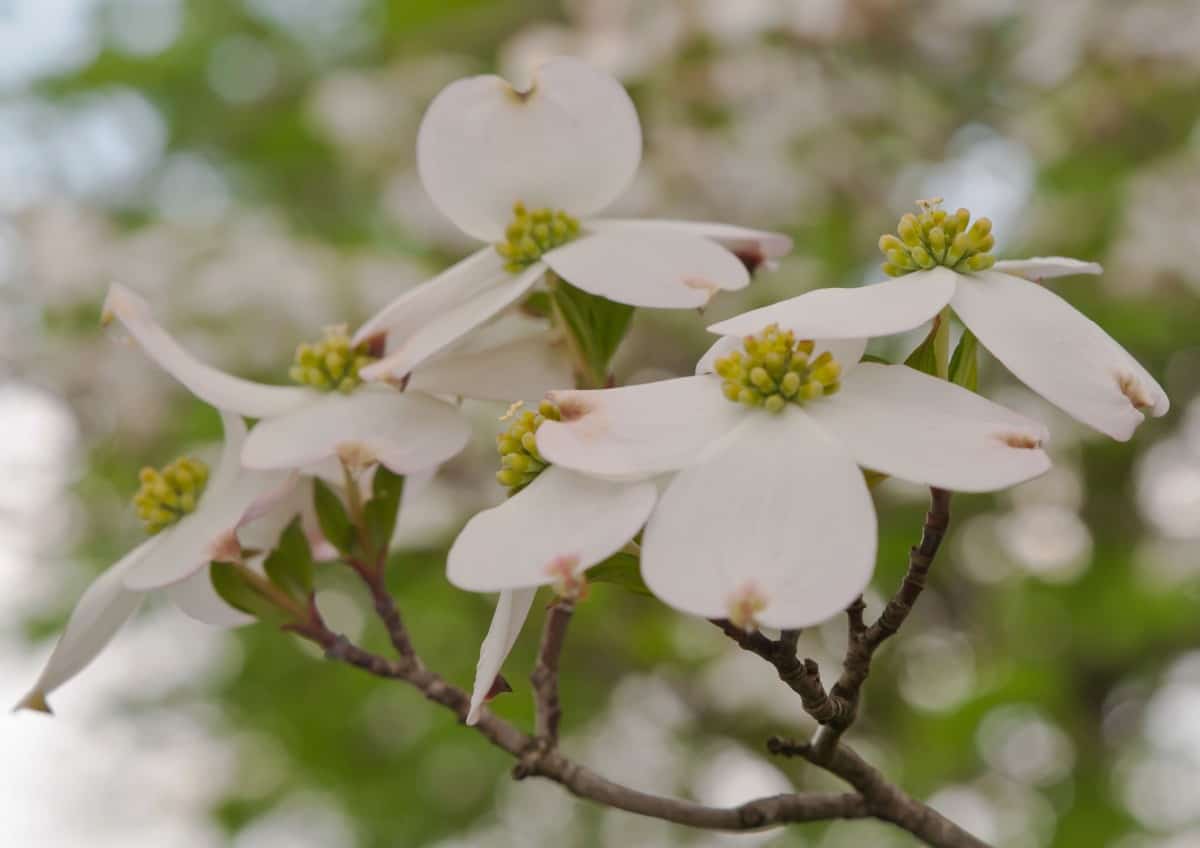 Dogwoods are one of the best trees for urban areas. These trees are native to the eastern United States and have year-round attractiveness. The flowers range in colors from pink, to red, to white and bloom for up to one month in the early spring.
They have vibrant green foliage in the summer and purple and red fall color. Better yet, some varieties produce bright red berries during the winter.
Dogwoods are perfect for cities because they are known as understory trees, meaning they typically grow in places where other trees or structures protect them.
Dogwoods grow best in partial shade but tolerate full sun as well. They require minimal pruning; however, removing dead branches helps them thrive.
Lindens (Tilia cordata)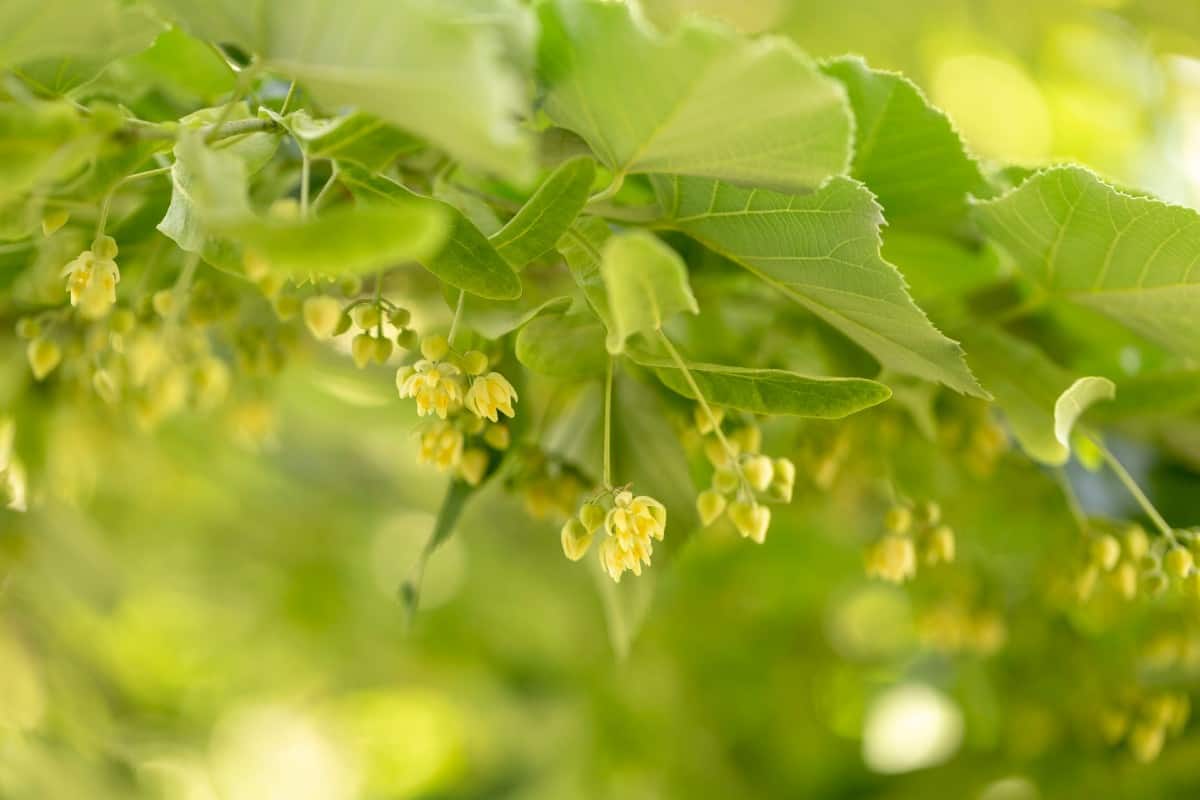 Linden trees are large trees that spread their branches to provide a canopy of beauty. Growing a linden tree is smart for an urban forest because they require little care once established. These attractive trees tolerate adverse conditions like pollution and insects.
Plant linden trees in the fall after the leaves of other plants drop. Locations with full sun or partial shade are best and give them moist, well-draining soil. If possible, linden trees appreciate neutral soil.
Honeylocust (Gleditsia triacanthos)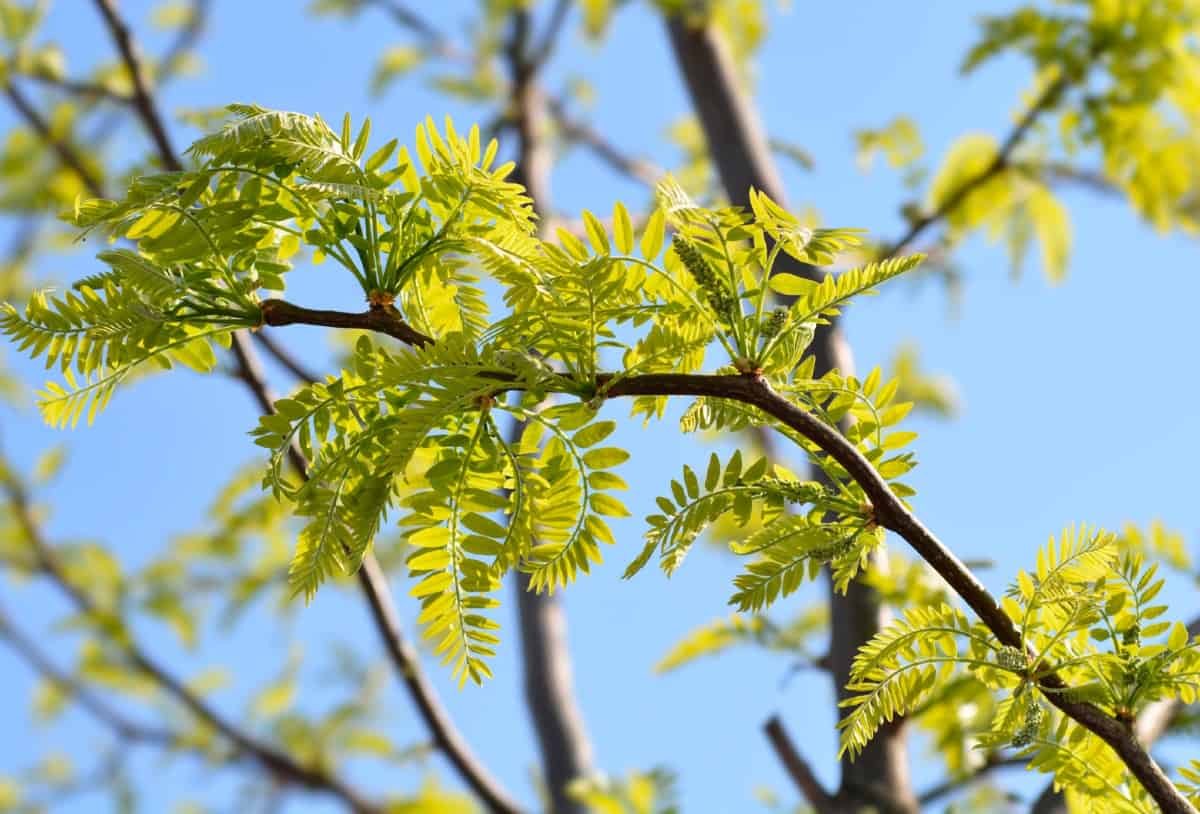 Honey locusts have been long admired. The original native species had thorns and seeds that fall, but now there are thornless and seedless varieties that make this the perfect urban tree.
Depending on the species, this tree grows 40 to 80 feet high. It has fern-like leaves that are yellow in the spring and turn green throughout the growing season. Their fall color returns to the same color yellow that appears in the spring.
The honeylocust is not a full shade tree, so make sure it has filtered shade or full sun. They enjoy having loamy soil but tolerate sandy, clay, or salty soils, too. They thrive in either moist or dry soil. These trees for wet sites should be watered weekly during the first year after planting.
Japanese Lilac (Syringa reticulata) – Urban Trees with Picture-Perfect Blooms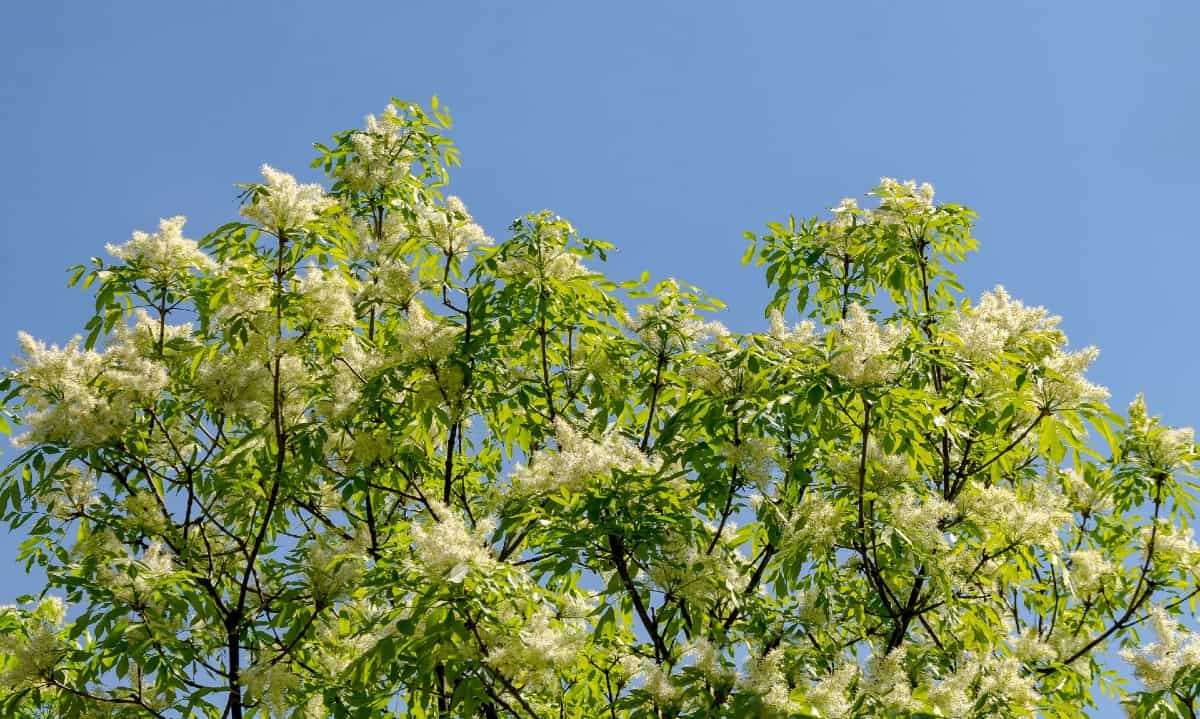 Japanese lilacs are very similar to the lilacs shrubs we all know and love. It has a moderate growth rate with a full, rounded shape.
This Japanese tree belongs to the olive family and has panicles of small, white flowers that bloom for two weeks at the start of summer. Plant Japanese lilacs in the late winter or early spring.
Space each lilac far apart to make sure they get enough air circulation to prevent powdery mildew. Japanese lilacs are happiest in full sun and well-draining soil.
Keep the ground around the tree evenly moist and mulch around the base to assist with water retention.
American Hornbeam (Carpinus caroliniana)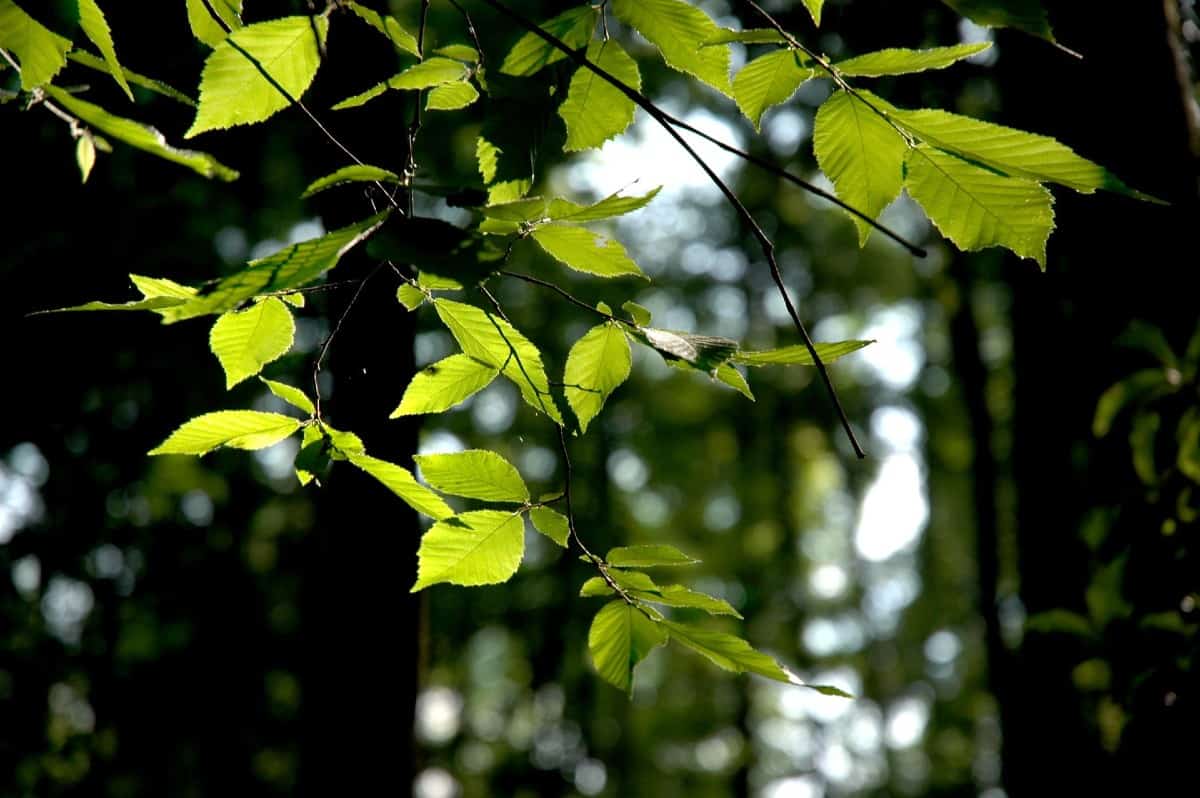 American hornbeams are found all over North America and are great trees for urban sites. These are shade trees with dark green foliage that turn a unique, variegated orange every fall. In winter, the blue-grey bark provides contrast and interest among the snow.
It is a medium-sized tree and resistant to many pests and diseases. Hornbeams are highly adaptable and hardy in USDA hardiness zones three through nine. They withstand both flooding and drought-like conditions.
Other than regular watering, these trees are incredibly low-maintenance. Give them full shade and slightly acidic soil, and they will be happy for years to come.
Buckeye (Aesculus hippocastanum)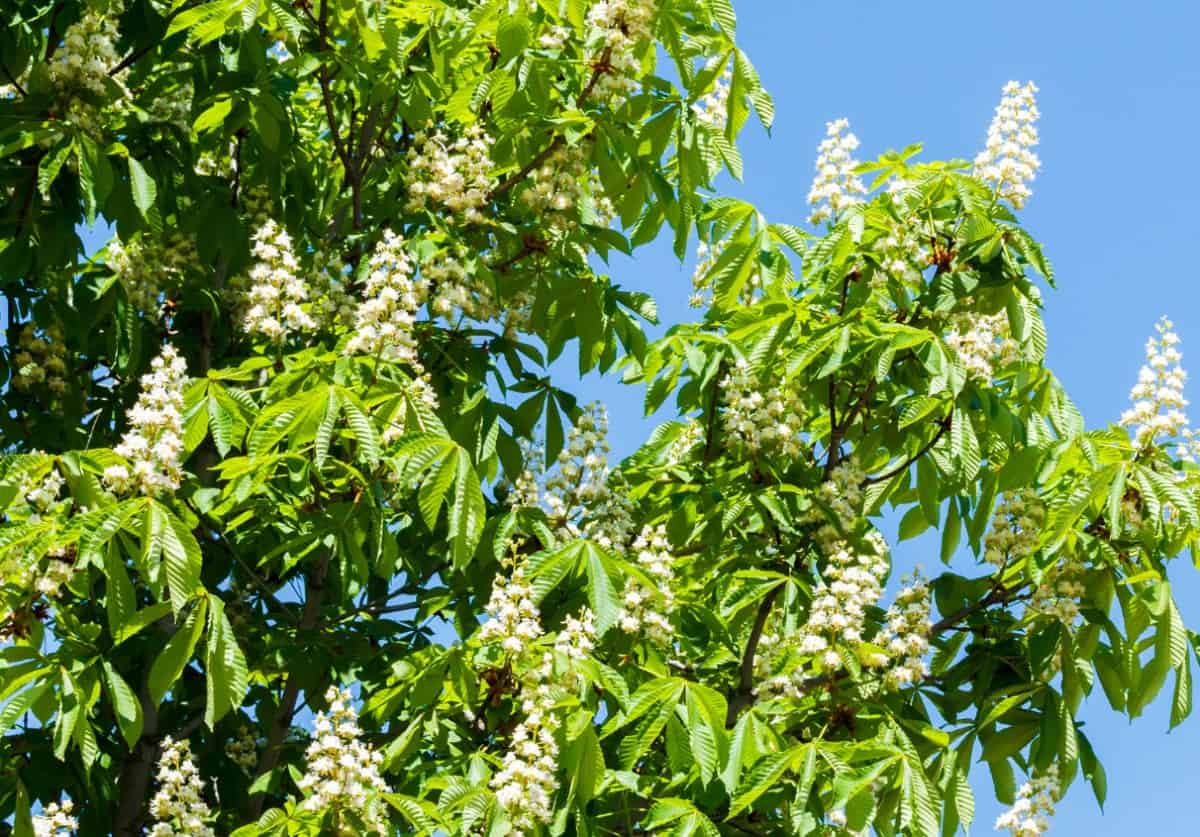 You may have heard buckeyes called the horse chestnut tree. These are large, deciduous trees with rounded canopies and huge, dark green leaves that reach ten inches long. Creamy-white flowers dappled with red and yellow markings appear in the spring.
The flowers transition to spiny capsules containing one or two horse chestnuts. It also has stunning, reddish-brown foliage in the fall. Buckeye trees grow up to 70 feet tall and 60 feet wide.
They thrive in average, well-draining soil with medium moisture, and they like location with full sun or part shade. Watch out for leaf spot and scale to keep the tree as healthy as possible.
One-of-a-Kind Street Trees – Hackberry (Celtis occidentalis)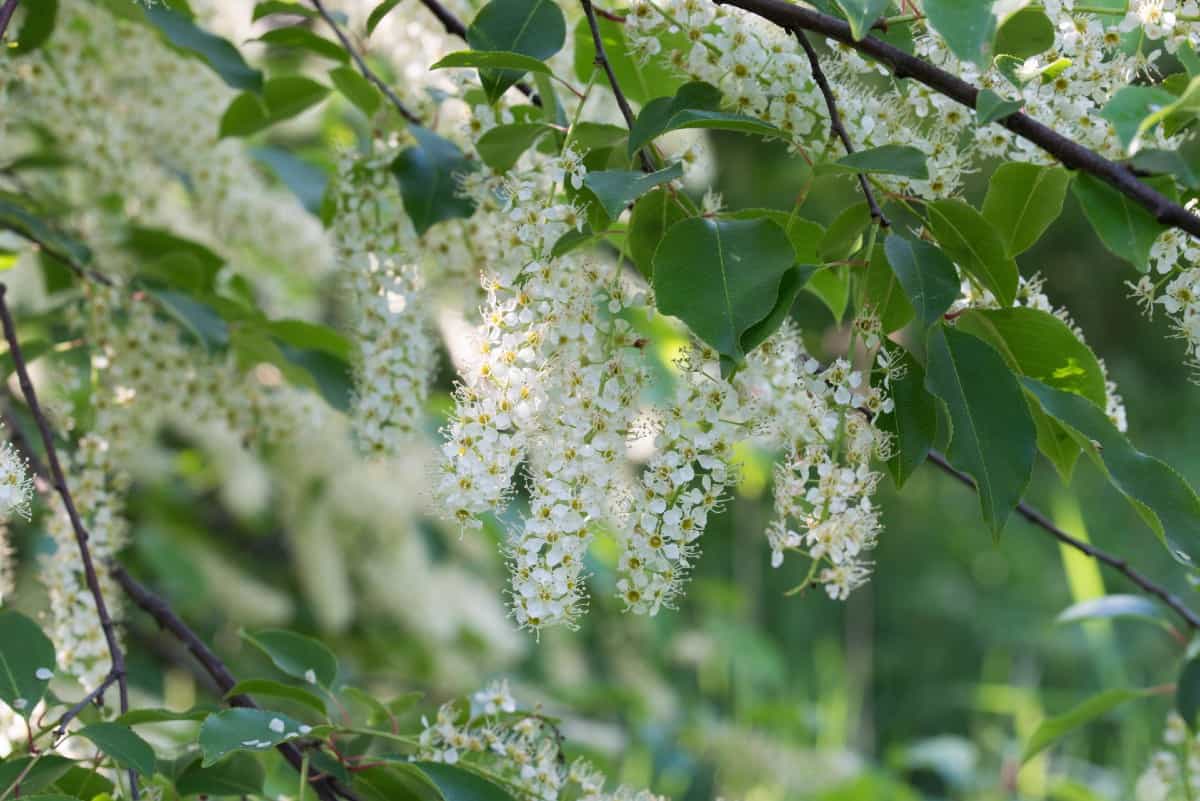 Hackberry trees come from the elm family and are easy to identify. They have distinctive bark with wart-like bumps. The leaves grow two to five inches long and are glossy and dull green with serrated edges.
These trees grow dark purple, pitted fruits that attract a large variety of birds. Hackberry trees are quick growing shade trees that reach 60 feet tall.
Hackberry trees can withstand strong winds and look alluring planted along highways and in parks. It is hardy in USDA zones two through nine. Hackberry trees prefer soils with a pH between 6.0 and 8.0 and thrive in full sun or partial shade.
Shadbush (Amelanchier lamarckii)
Shadbushes, otherwise known as serviceberry or juneberry, are award-winning trees. These are small trees with bronze and red leaves and fragrant, white flowers. The flowers transform into small, edible berries used in pies, jams, and jellies.
The foliage turns into vibrant shades of orange and red in the autumn and has unique, charcoal grey branches when the leaves drop. Although Shadbush grows up to 25 feet tall, they are also some of the best trees to grow in containers to keep them smaller. They are happiest in full sun or part shade and grow quickly in well-draining, acidic soil.
White Oak (Quercus alba)
The chances are high that you've heard of white oak trees. The leaves emerge as pink in the spring, transition to dark green, and turn red in the fall. The branches and trunk have an ash-grey bark and edible acorns appear for mammals and birds to eat.
White oaks are fast growers and provide ample shade for large, open areas. These are mildew resistant and live for as long as 600 years, making it destined to withstand urban settings. Grow them in full sun and fertile, loamy soil.
Add some shrubs or perennials for poor soil around the base of the trees for extra appeal.
Crabapple (Malus domestica) – City Trees with Fruits
Crabapples are a popular choice with tons of landscapers. They have unforgettable visuals during each season. The spring produces fragrant pink, white, and red blossoms.
The flowers begin fading in the summer and turn into small fruits that birds and squirrels eat. The leaves display vibrant colors in the fall that last well into winter.
Place a crabapple tree in full sun and good draining soil. Be sure to choose varieties with built-in disease and insect resistance. Add a two- to four-inch layer of mulch around the tree's base to retain water in the soil and roots.
American Elm (Ulmus Americana)
American elms are medium and large-sized trees that form flat-topped crowns. They have dark, leathery foliage that turns to the color of butter in the fall. These trees are commonly planted along streets and in lawns.
They grow to 80 feet tall and 70 feet wide, ensuring that they make a statement. American elms love the full sunlight. They easily grow in fertile and moist soil and appreciate loamy ground.
Thankfully, the trees adapt to most soil types and are drought tolerant once established. Dutch elm disease is a common threat, so be sure to look for infection signs.
Field Maple (Acer campestre)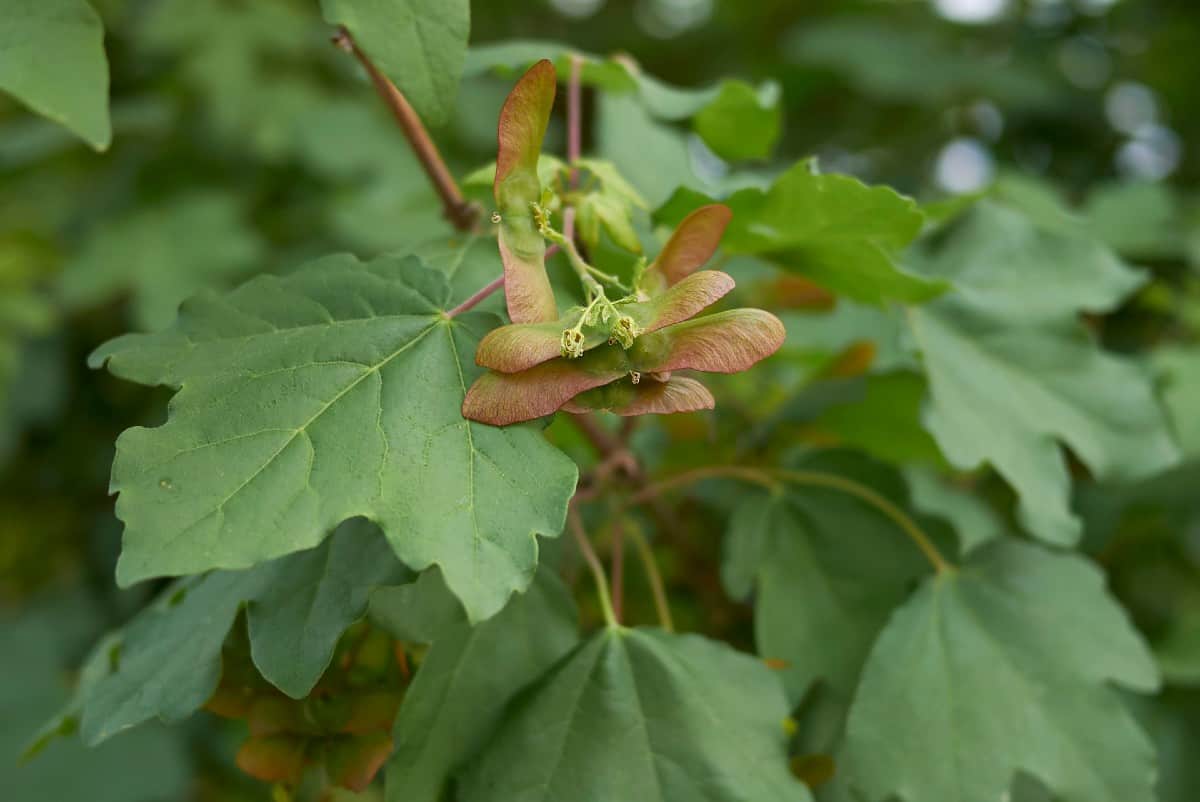 Field maples are destined to be trees for tough urban sites. These are fast-growing trees that reach up to 50 feet tall. They are hardy in zones three through seven. Field maples flower from May to June.
Field maple trees are suitable for all soil and acidity types. They prefer small amounts of shade or full sun and moist soil. These trees tolerate strong winds and pollution, making them an ideal street tree.
Trees that Bring History to the City: Maidenhair (Ginkgo biloba)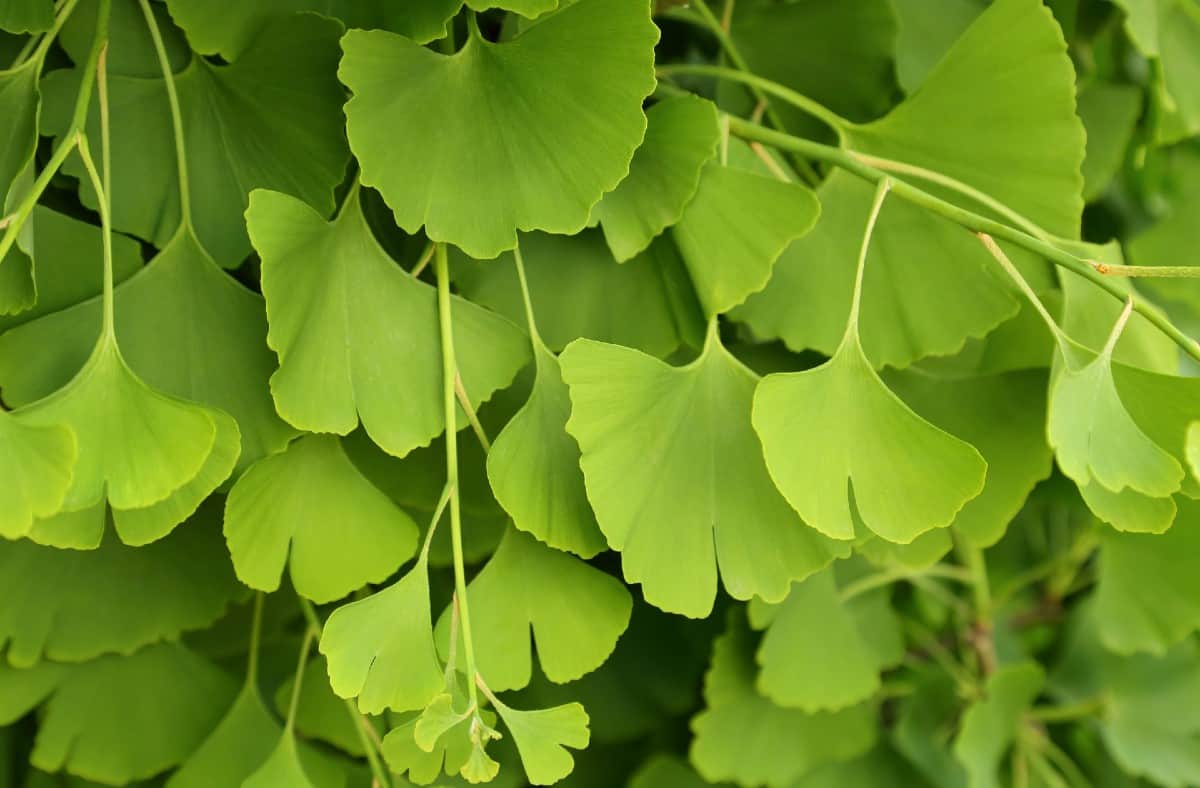 Maidenhair trees are the last surviving tree species from its genus. Surprisingly, their present-day forms are the same as they were millions of years ago. They are hardy in USDA zones four through nine and grow 50 to 80 feet tall.
They have vibrant yellow foliage in the fall and adapt to various growing conditions. Maidenhairs have unique, fan-shaped leaves. They grow best in full sun in northern regions and partial sun in the southern areas.
They are robust against city pollution and road salts, allowing them to be planted next to the ocean. They grow in most soil conditions but prefer sandy or loamy soil.
Callery Pear (Pyrus calleyana)
Callery pear trees are ornamental trees with showy white flower clusters that emerge in the spring. They have greenish-yellow fruits that attract several birds. The glossy green foliage turns into dark reds, maroons, and oranges in the fall.
These messy trees for your yard are considered invasive in some regions so be sure to confirm they are safe to plant in your area. Callery pear trees grow up to 50 feet tall and 35 feet wide.
They love full sun and humus-rich soil. Prune this tree in the winter and watch it thrive for years to come.
These trees for urban sites have all the necessary adaptations to survive in such unique conditions. Amazingly, these trees have year-round beauty.
It's like they were made to soften the city's hardness and bring vibrant colors and ease to a place that is always on the go. Planting a tree is a simple way to bring nature closer and provide greenery for generations.
If you bring these trees for tough urban sites to a city near you, share these trees for large cities with others on Facebook and Pinterest.