Swimming pools are fun and refreshing, and also add visual appeal to the yard with their shimmering, reflective surface. What better way to enhance a pool area than to surround its perimeter with a landscape of greenery? There are many trees to grow by the pool to create the perfect backyard oasis.
Picture your pool surrounded by trees with lush foliage and delicate flowers. Looks nice, doesn't it? Creating a beautiful pool area is easier than you think, whether you love the feel of a tropical paradise or prefer a Mediterranean landscape design.
However, not all trees are ideal for growing alongside a pool. Some fill spaces with so much leaf litter that you spend your days cleaning the pool rather than swimming.
Others have root systems that create havoc on nearby structures. While pool landscaping has its challenges, the final result is so rewarding that it's well worth the effort.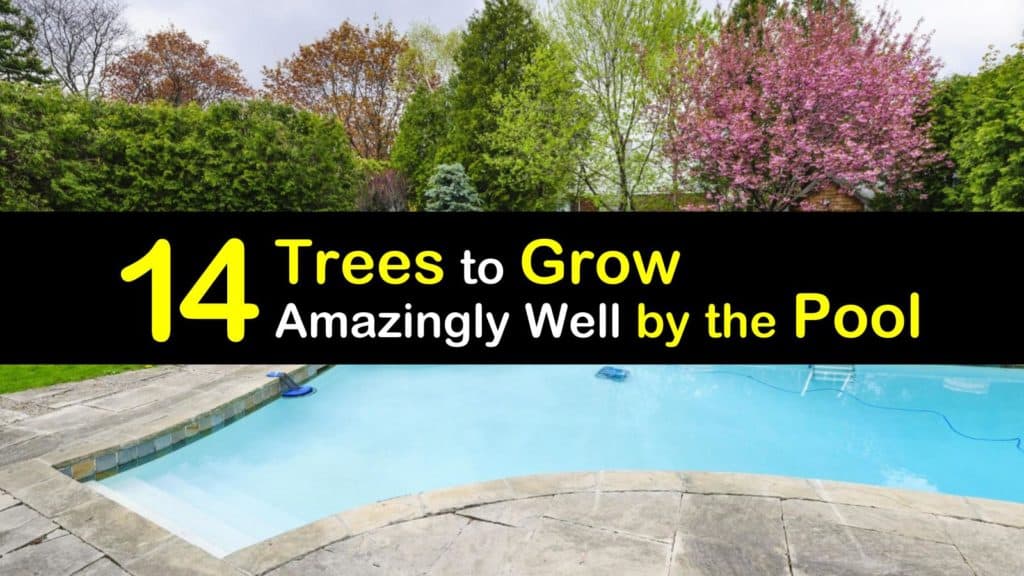 Landscaping a Pool with Beautiful Trees
A pool surrounded by a bare landscape is dull and unattractive. Some trees cause more problems for the pool area than realized, and it's essential to do a bit of research first.
We've developed a guide of some of the best trees for growing around a pool to help you make the right choice.
Does Pool Water Hurt Trees?
Your swimming pool's water contains chemicals, including chlorine. These chemicals are harmful to the roots of many plants and trees. Splashing water ends up on the bark and leaves of trees planted too close to the swimming area.
However, some trees are more susceptible to harm than others. Avoid planting ash, crabapple, horse chestnut, and box elder trees in areas that come into contact with pool water.
Which Trees Can I Grow by the Pool?
It's essential to choose chlorine-tolerant trees to incorporate into your pool design. These trees are generally very hardy and tolerate a variety of harsh conditions, including salt and chlorine.
Palms are an excellent poolside choice. Their waxy fronds inhibit chlorine absorption, so there is no fear of playful splashing harming them. Other good options are acacia, magnolia, crape myrtle, and evergreens.
How Close Can I Plant Trees Near a Pool?
When planting a tree near pool walls, the general rule of thumb is to plant it so that its drip line is away from the pool's edge. However, this isn't always possible if you have a small space.
Place the tree so that the base is roughly 15 feet from the pool or six feet from the pool deck. If you desire trees closer to the water, consider growing small trees in pots with wheels to move them easily as needed.
What Should I Consider when Planting Poolside Trees?
Choose poolside shrubs and trees with minimal leaf drop to avoid cleaning soggy leaves, flowers, and other tree debris from the pool filter. Avoid messy trees, such as arborvitae and bougainvillea, or trees with a shallow root system that causes plumbing problems and cracks concrete.
Think about the type of theme you desire before choosing trees. Do you want your pool area to have a Japanese theme, or do you prefer a tropical look?
Finally, check the mature size of the tree before planting it to ensure that it does not block views or inhibit desired sunshine.
Japanese Maple (Acer palmatum)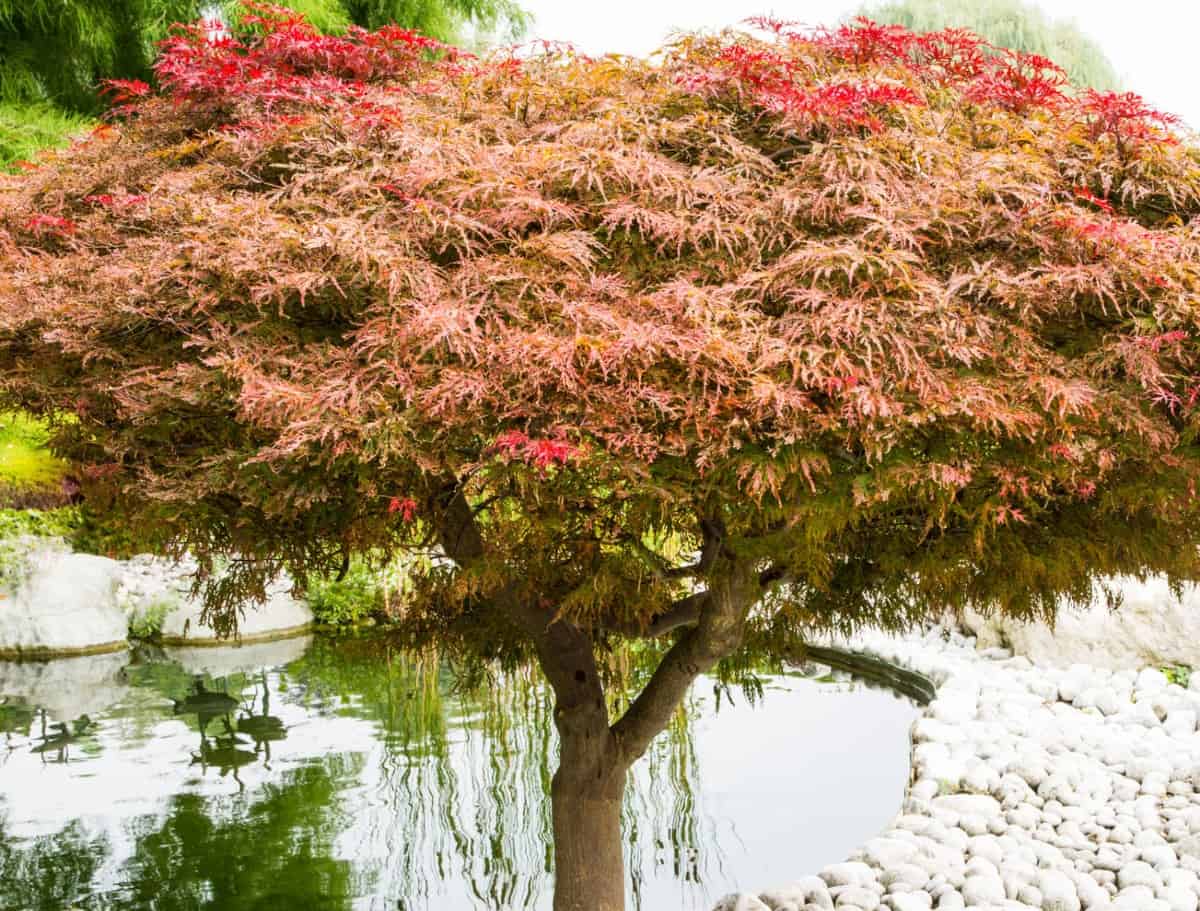 Japanese maples are small deciduous trees with a graceful growing habit. Their foliage and elegantly cut leaves are extraordinary during the fall months with colors ranging from golden-yellow to red-purple. The layering branch structure of these trees gives them a feel of elegance and whimsy.
These easy-growers are adaptable to most soil and climate conditions, look stunning in a garden setting or large pot, and are hardy in zones 5 through 9. Japanese maple trees grow 10 to 25 feet tall, and the dwarf species grows 4 to 15 feet tall.
Crape Myrtle (Lagerstroemia) – Sub-Tropical Trees to Grow by the Pool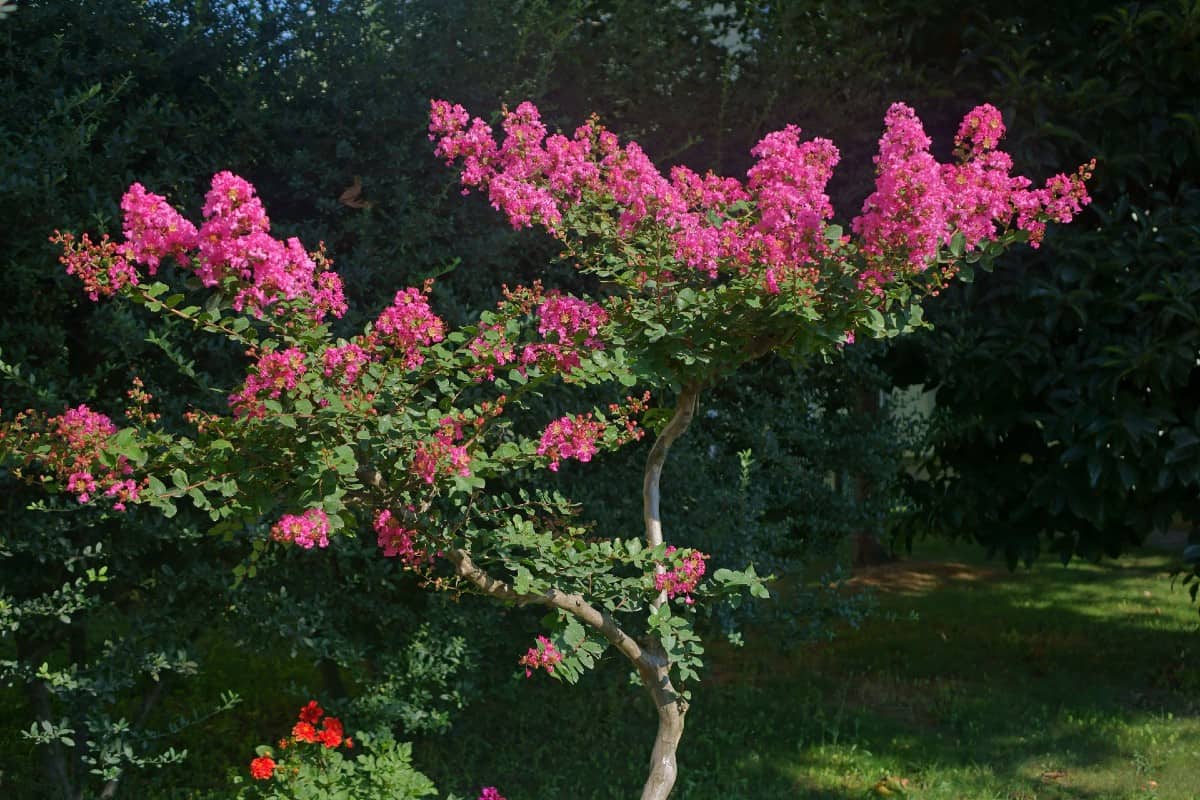 These sub-tropical trees have a stunning appearance with their pretty red, pink, and white flowers throughout the summer months. While they are a suitable tree for poolside patios, consider planting them far enough away to avoid flower litter.
Crape myrtle trees are drought tolerant and hardy in zones 6 through 9. They are fast-growing trees with a long life span and reach a mature height of 3 to 10 feet, depending on the type.
Sago Palm (Cycas revoluta)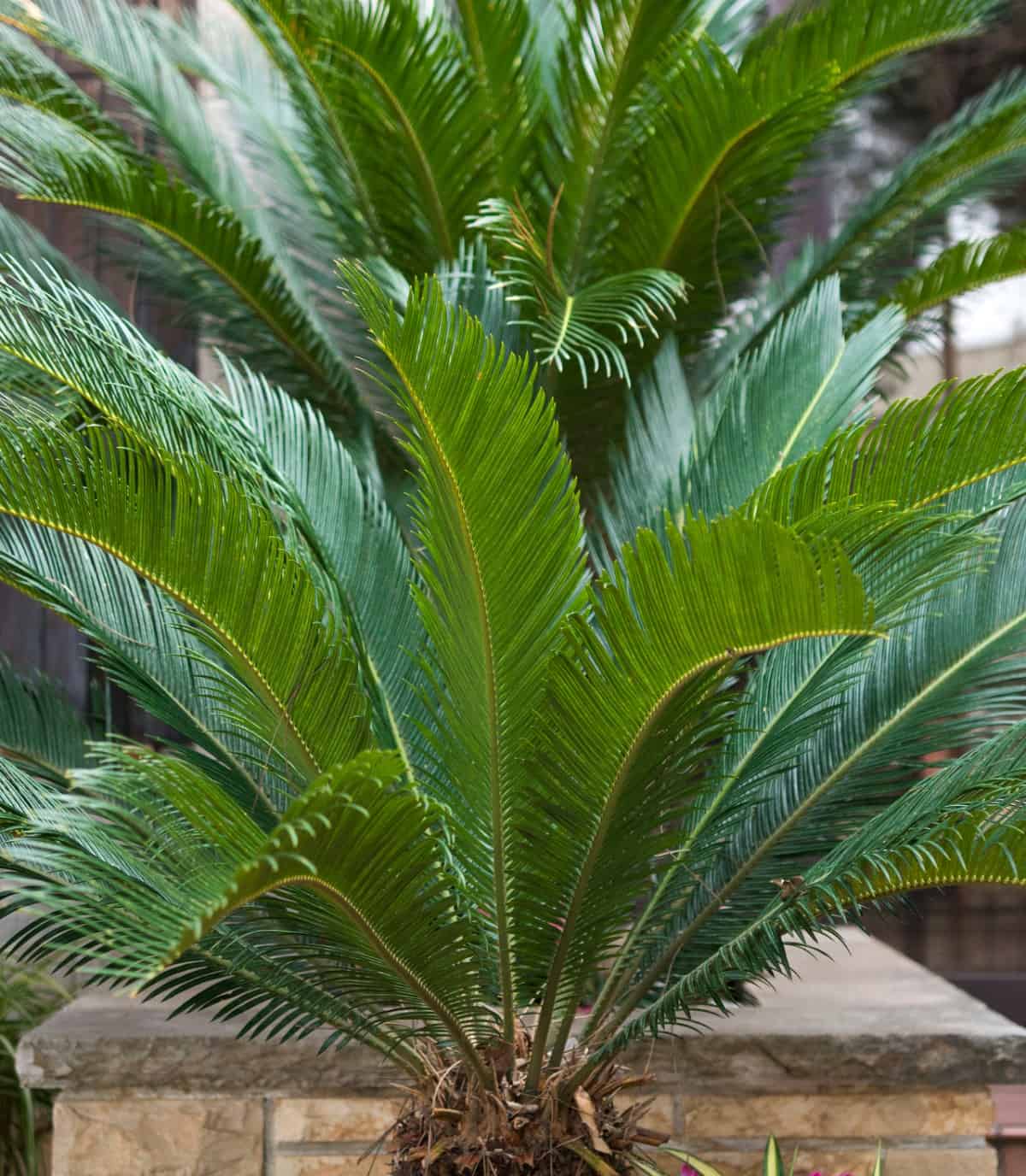 These slow-growing, long-living palm trees are evergreen with rugged, upright trunks. They have a palm-like appearance with arching pinnate leaves that grow 2 to 5 feet in length.
Sago palms look stunning resting at the side of a pool in a Mediterranean-style garden. These trees grow in an upright habit, reaching 3 to 10 feet tall and wide.
They resist salt and drought and have no serious pest issues or diseases. Sago palms are hardy in zones 9 through 12 and grow in both sun or part shade.
Magnolia (Magnolia grandiflora) – Easy to Grow Tree with Fragrant Flowers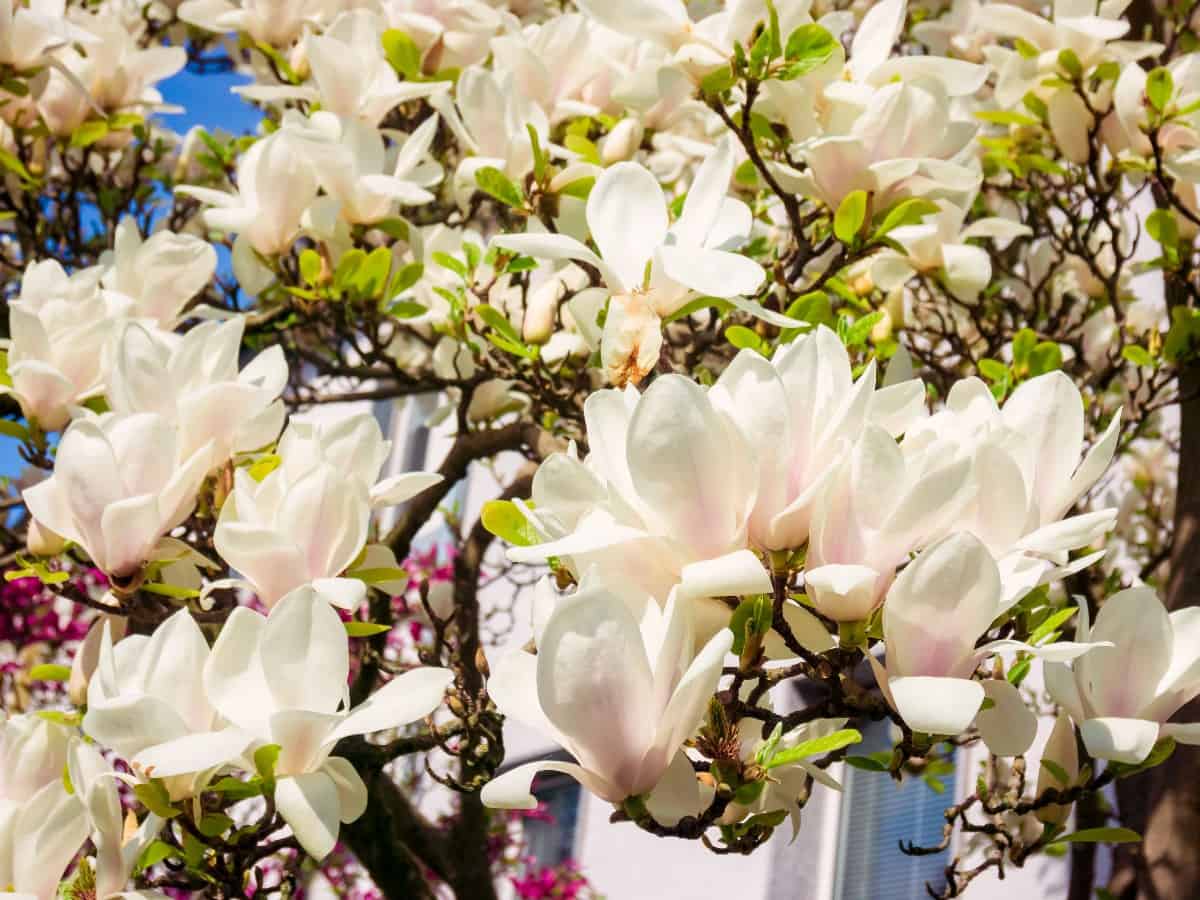 There are many types of magnolia, and they all produce lovely flowers in tones ranging from purple and white to pink and yellow. The flowers are highly fragrant, and the elegantly shaped trees grow well in a garden or containers.
Magnolias enjoy part to full sun in USDA hardiness zones 5 through 9. These flowering trees have a mature height of 20 feet or more, depending on the species. They are drought-tolerant and very easy to grow.
Fruitless Olive Tree (Olea europaea)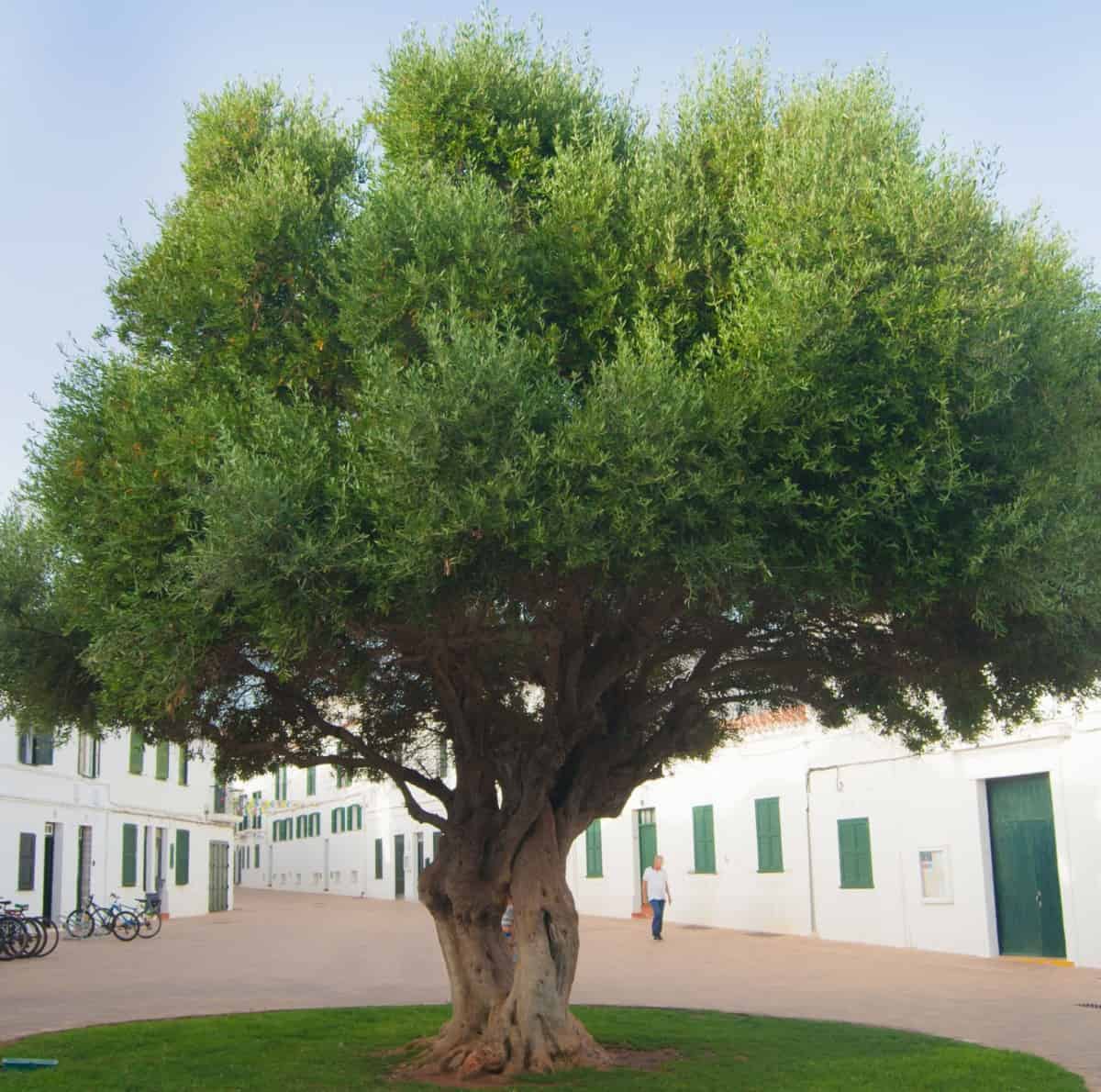 These attractive trees have elegantly twisted branches and an airy mass of silvery green leaves. They grow tubular flowers in the spring in clusters of yellowish-white and few messy fruits, making them a suitable choice near a pool.
The fruitless olive tree tolerates both cold and desert heat and likes full sun for optimal growth. These trees have a long lifespan and are hardy in zones 8 through 11, growing 25 to 30 feet tall and wide.
Windmill Palm (Trachycarpus fortunei) – Hardy Tropical Palm Tree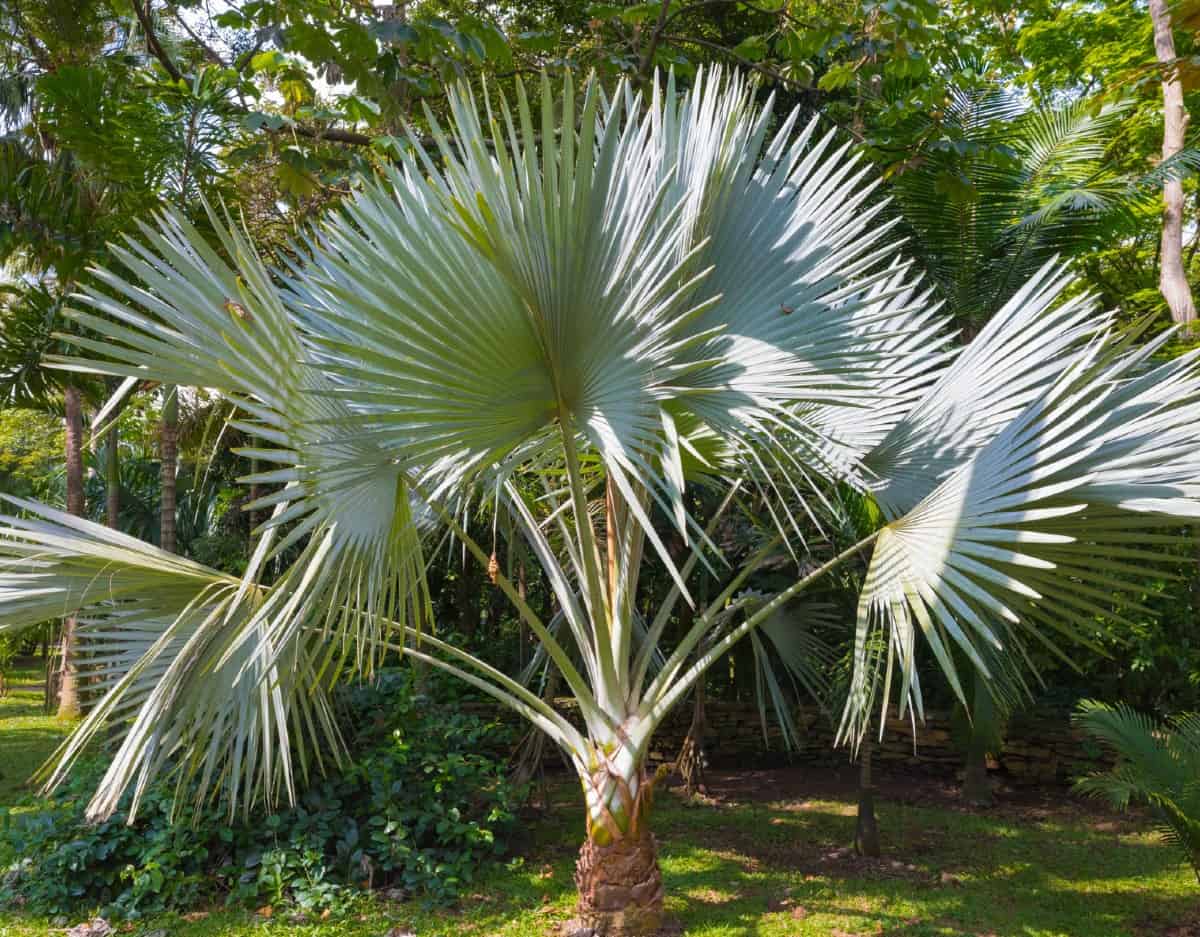 The fan-shaped, large leaves of this tropical palm are 3 feet in length and a sight to see, especially alongside a patio pool. Windmill palms are deciduous trees that grow yellow flowers with fragrant perfume.
This palm has a mature spread of 6 to 10 feet and a height of 40 feet but generally reaches 10 to 20 feet in a yard landscape. These trees prefer semi-shade conditions in zones 7 to 11 and are among the hardiest palms around, even surviving freezing temperatures.
Orange Trees (Citrus X Sinensis)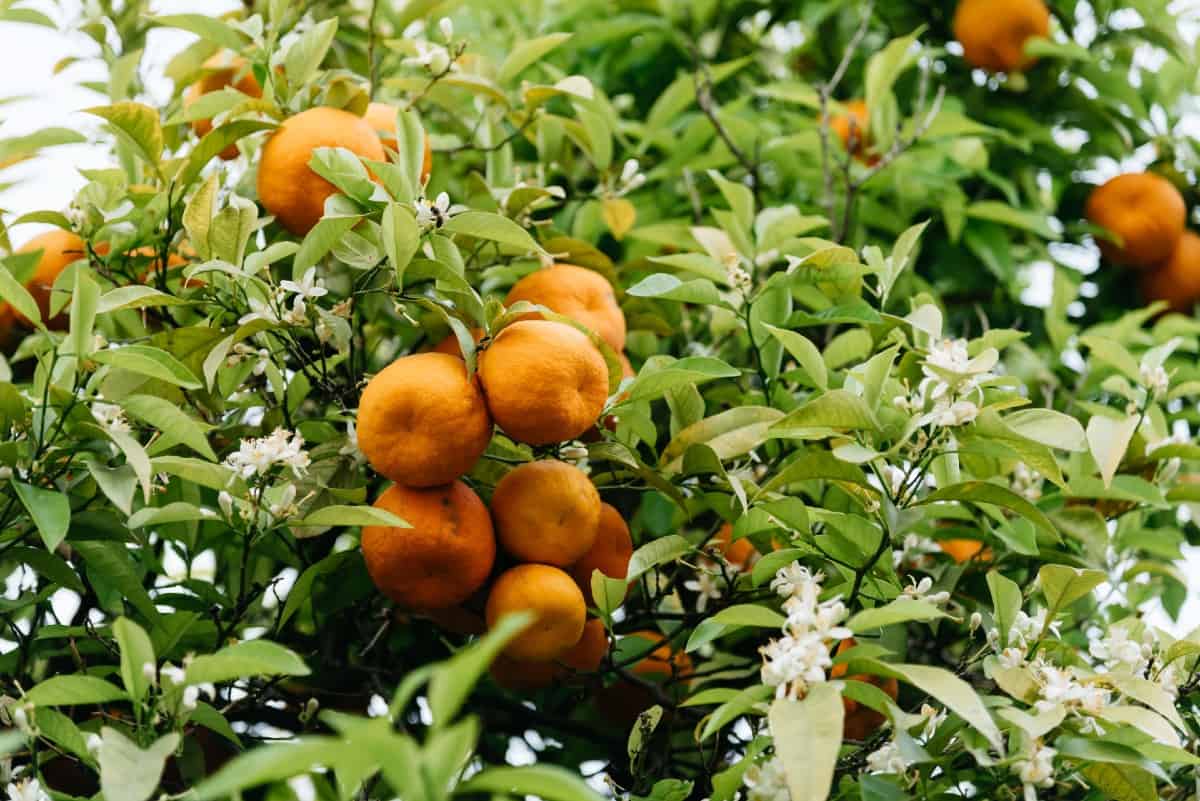 Citrus trees are optimal for poolsides, and the orange tree is one of our favorites. There are hundreds of varieties, from dwarf container trees to large landscaping trees, and they fill the space with citrus scents and fruits.
Orange trees tolerate full sun and live in hardiness zones 8 through 11. Their mature size ranges from 8 to 20 feet tall and 10 to 30 feet wide, and they demand very little pruning.
Banana Tree (Musa) – Fast-Growing Tropical Tree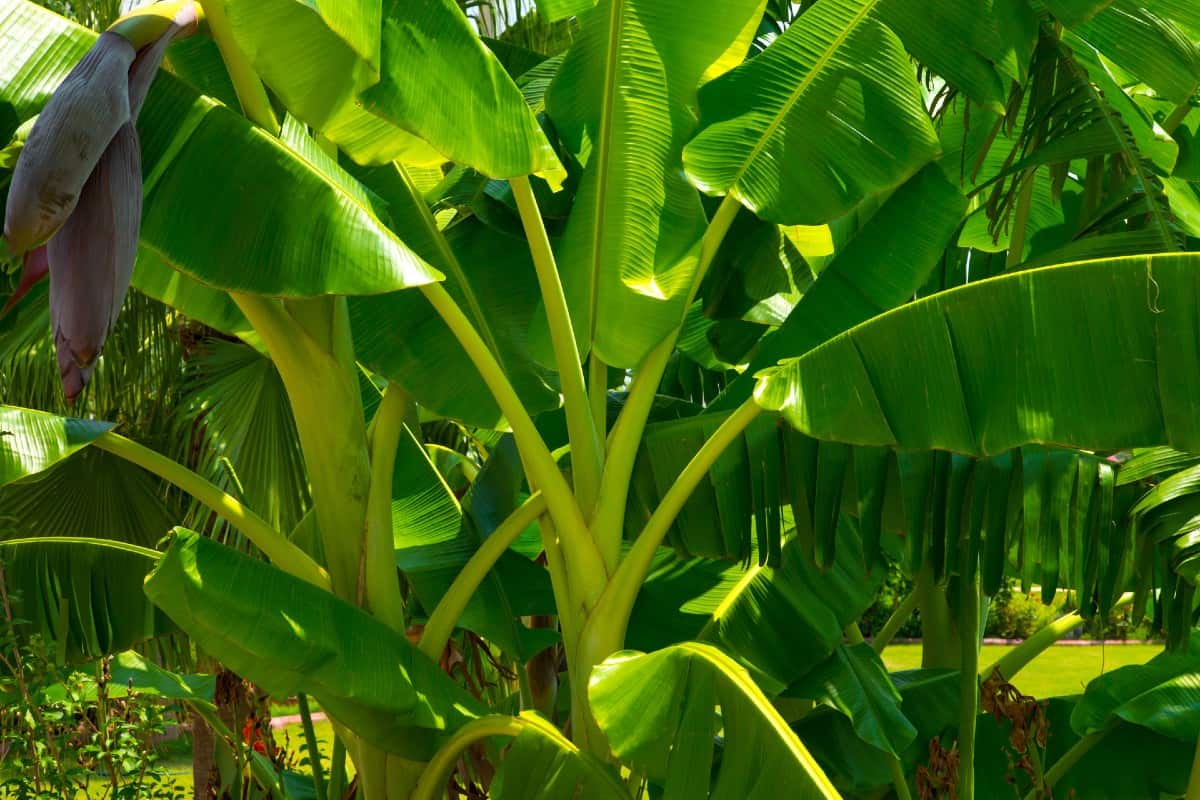 These fast-growing herbaceous trees have a tropical look that is perfect for around a pool if you live in a frost-free climate. Their long, broad leaves reach a length of up to 2 feet wide and 9 feet long, depending on the type, with a mature tree size of 2 to 25 feet tall or more.
Ideally, these plants grow best in hardiness zones 9 and 10, but it's easy to grow them in a pot and bring them in the home during cold months. Banana trees require wind protection to prevent damage to their leaves.
False Cypress (Chamaecyparis)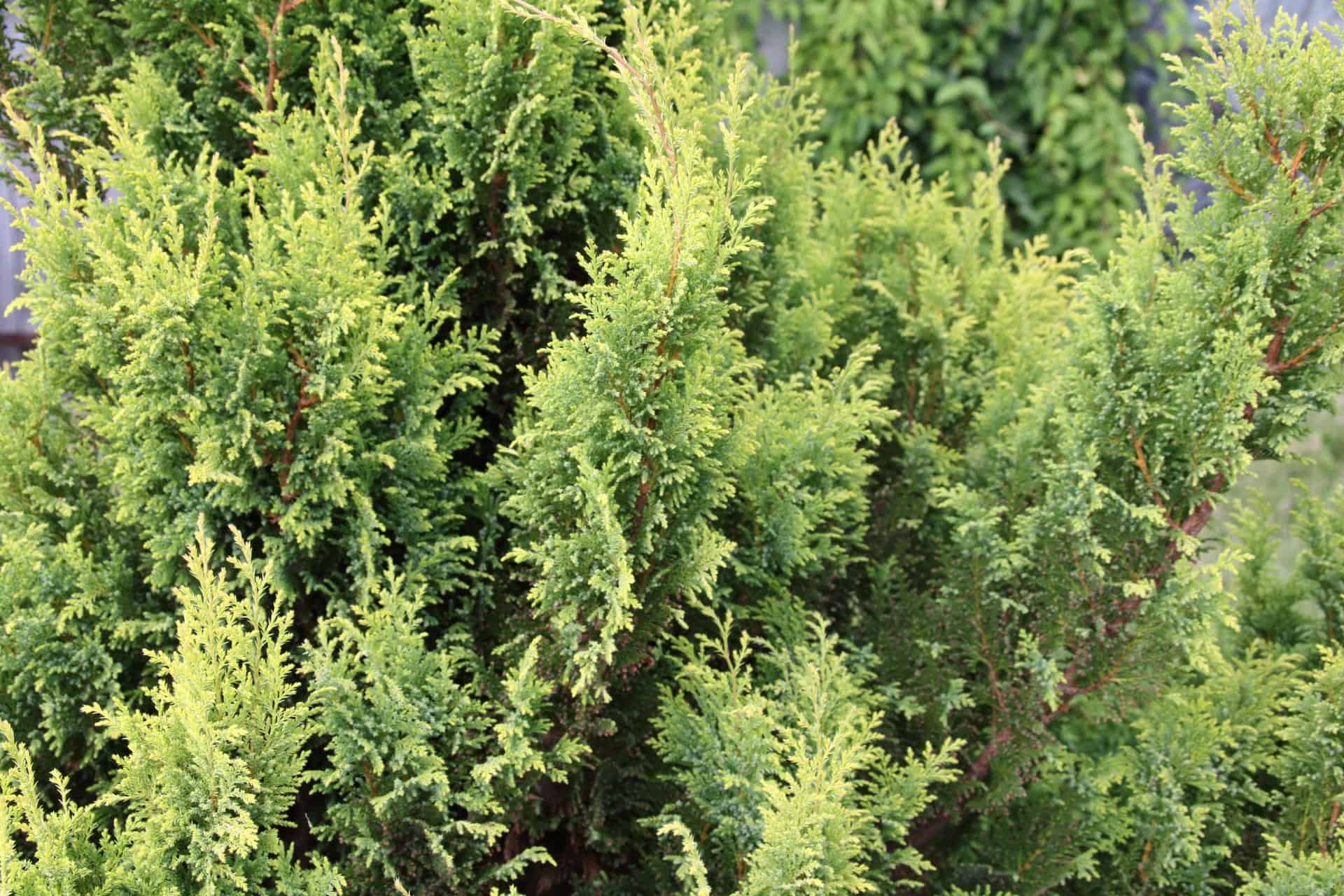 These medium to large evergreen trees have fragrant needle-like foliage in silvery-blue and green. Some types of false cypress trees grow relatively large, but the dwarf varieties are great for patio containers.
These pool trees range in size from 6 to 25 feet tall or more. False cypress trees grow best in hardiness zones 4 through 8 and enjoy partial or full sun. Fast growing cypress trees come in many shapes, from topiary and pompom to mop-like with mounding habits.
If you live at the beach, the false cypress also make perfect seaside trees.
Ironwood (Olneya tesota) – Flowering Evergreen Pool Tree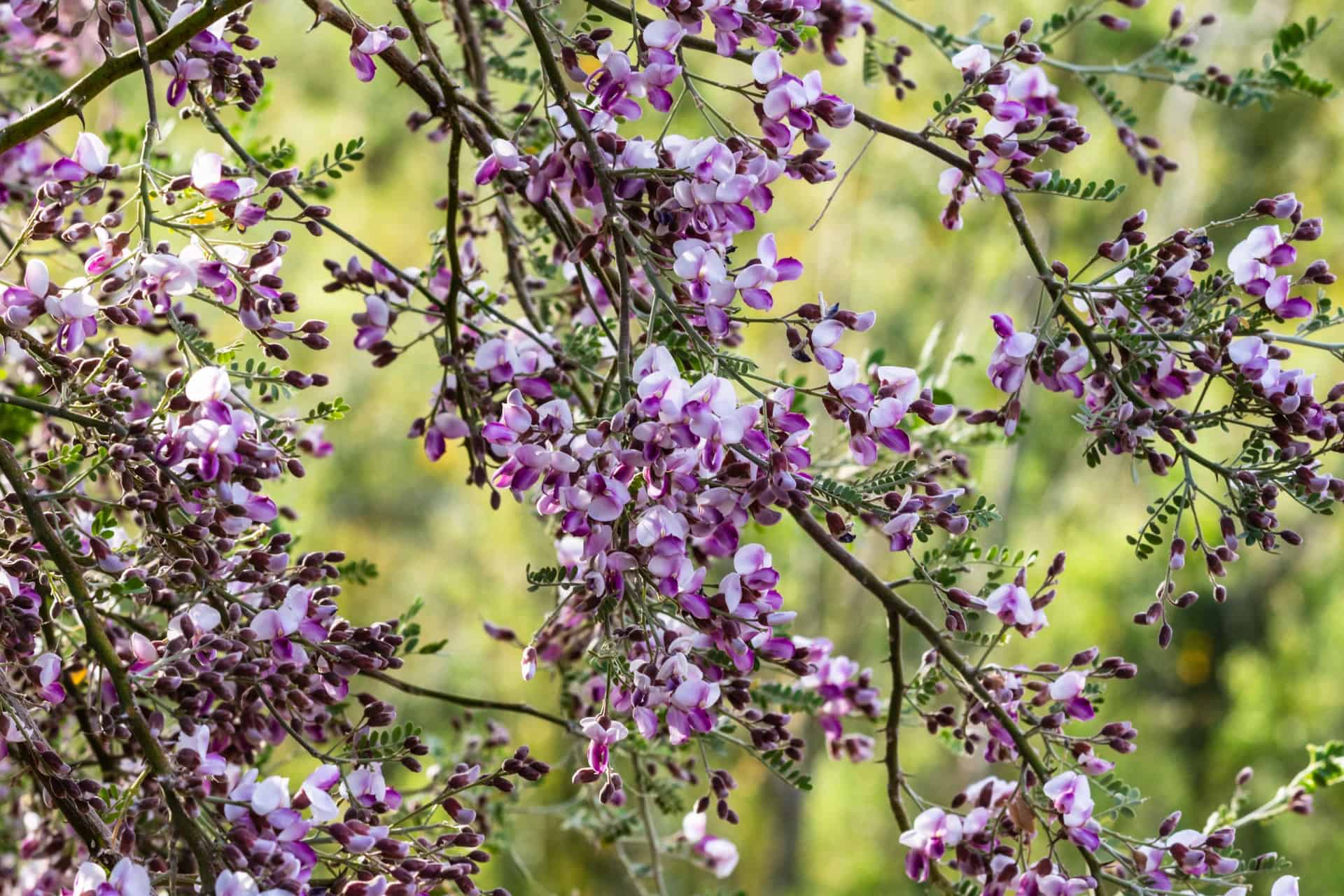 Ironwood, or hop hornbeam, is an evergreen tree with pale green, fine-toothed foliage and a slim trunk. The tree's sparse leaves have a tissue-like texture, and it produces pink or white flowers in late spring.
These trees require full sun and arid conditions for optimal growth. Ironwood trees are hardy in zones 9 through 11 and have a mature height of 25 feet. They are a slow-growing, sturdy tree that needs very little maintenance to thrive.
Leather Leaf Acacia (Acacia craspedocarpa)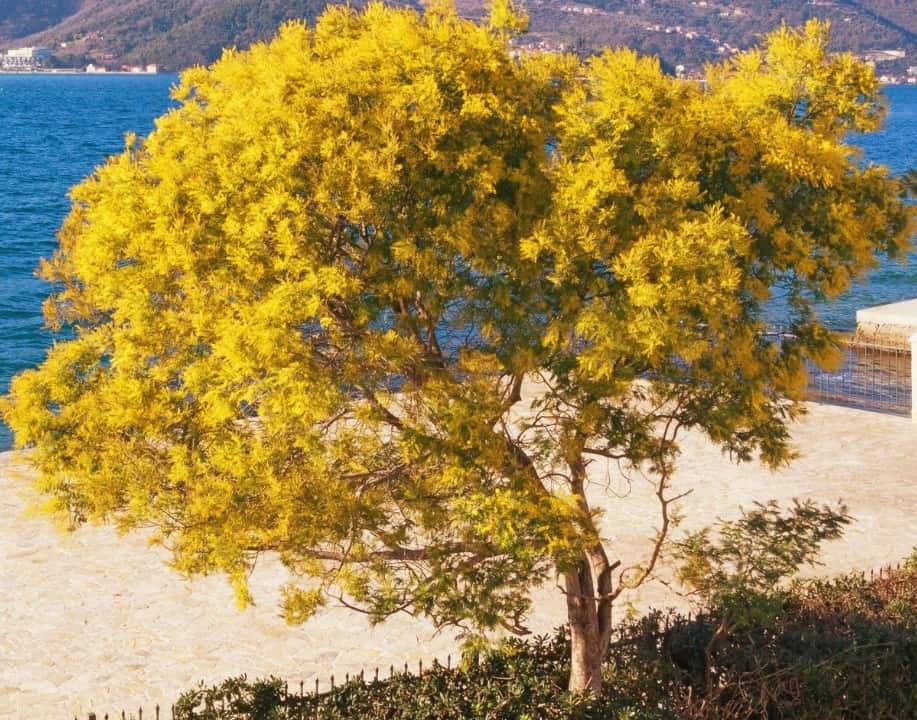 This acacia tree is an evergreen with a rounded shape. Its gray-green foliage looks stunning mixed in with the spring and summer yellow puffball flowers. These drought tolerant trees enjoy full sun and reflected heat.
Leather leaf acacias have slow to moderate growing habits and are easy to maintain once established. This small tree has a mature size of 10 feet tall and an 8-foot crown and is an excellent match for growing in a patio setting or if you want beach flowers for seaside locales.
Red Cap Gum (Eucalyptus erythrocorys) – Pool Friendly Evergreen Tree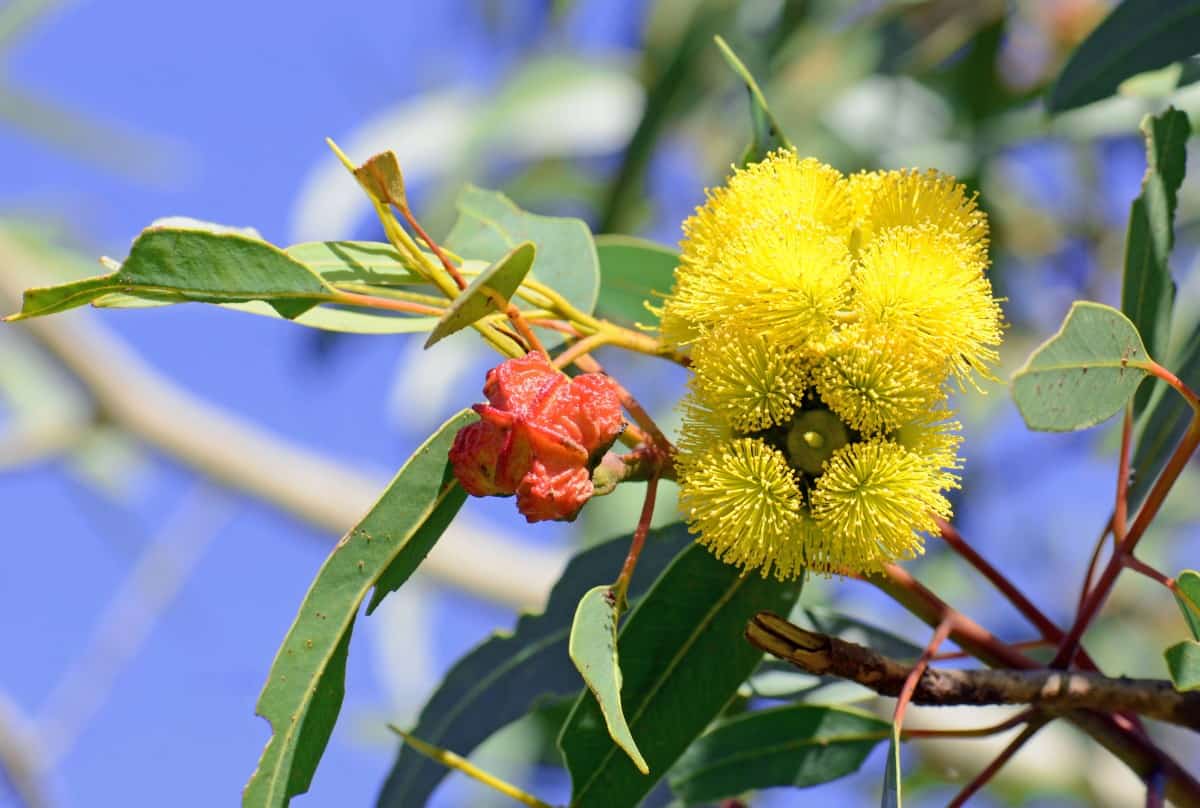 Red cap gum is a pool friendly tree that serves as an effective screen for backyard privacy. It has an upright mature form and grows redbuds followed by clusters of yellow flowers and has long, narrow and glossy foliage with a deep green tint.
This evergreen likes the full sun of pool areas and grows to a height of 25 feet tall. It requires little water to flourish and is hardy in zones 8 through 10. Red cap gums are trees with beautiful bark, as they are tan and white with a unique peeling habit.
Juniper Tree (Juniperus)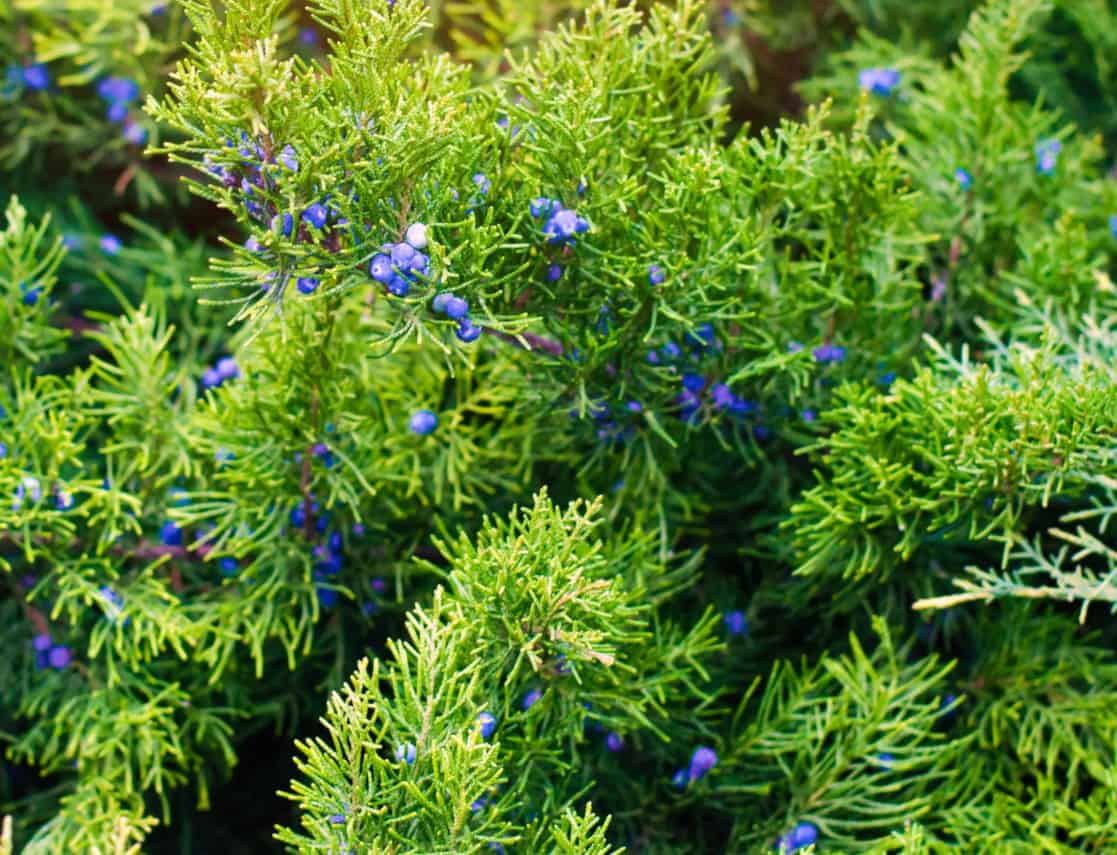 Juniper trees grow in a broad range of styles and sizes and have threadlike foliage in shades of gray to bluish-green. Depending on the type, these trees have a traditional or Mediterranean style and offer privacy and windbreak for pools and patios.
These evergreen trees have non-invasive roots, are drought tolerant and very hardy. They love growing in sunny areas of hardiness zones 4 through 9 and thrive in both loamy or sandy soil.
Plant several junipers in a row for a natural privacy tree fence along your property border or around the pool.
Cascalote (Libidibia coriaria) – Small Thorny Tree with Winter Flowers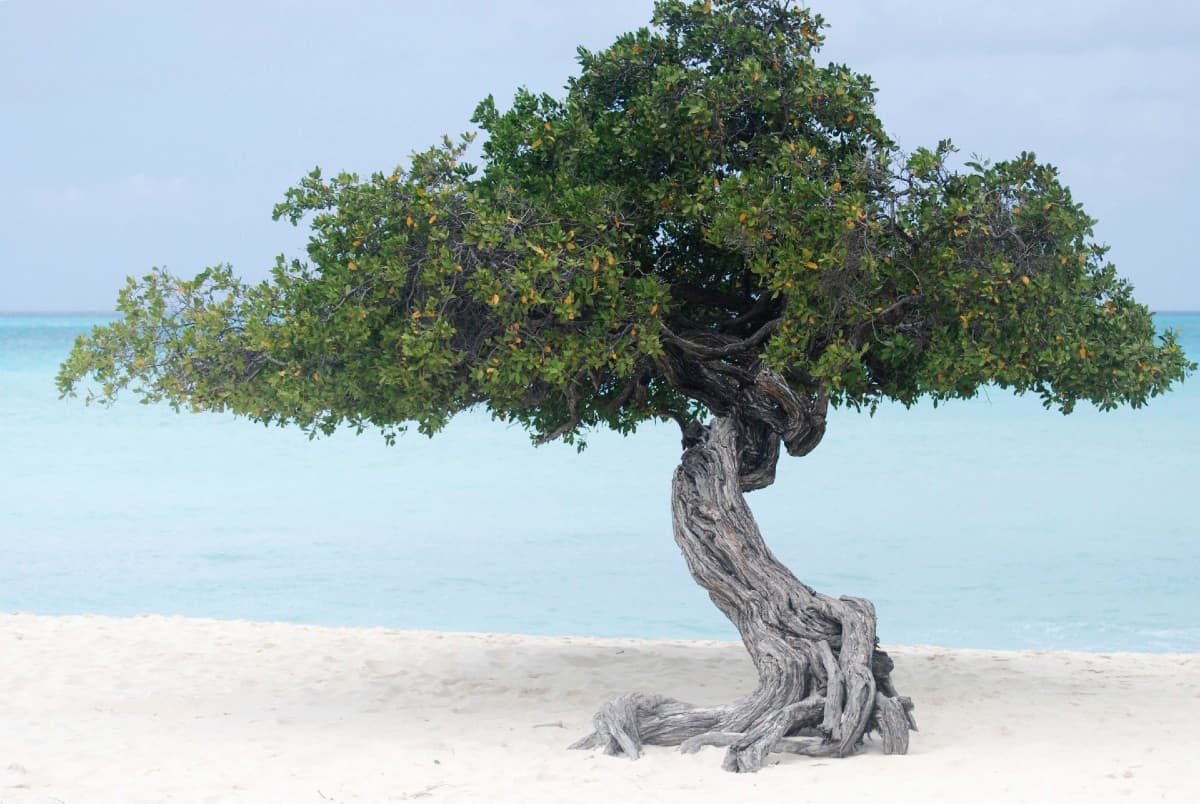 Cascalotes grow as either a small tree or shrub and are both semi-evergreen and deciduous. The trunk and branches have ornamental thorns with divided and rounded leaflets. It produces beautiful yellow flowers during the cool months and provides the pool area with winter interest.
This tree thrives in hot climates, is drought tolerant, low maintenance, and hardy to USDA zone 9. The cascalote tree is a fast grower with a mature size of 20 feet tall and wide.
A swimming pool surrounded by ground cover, succulents, and lush trees of varying shapes, sizes, and colors is a stunning sight to see, but growing the wrong plants creates a myriad of problems.
Some trees have aggressive roots with minds of their own, and others create a mess of scattering leaves. However, some trees are low maintenance and perfect for poolside growth.
Knowing which trees to grow by the pool is key to creating a lush and green landscape without causing problems to the swimming pool area, so why not share our poolside tree guide with your family on Pinterest and Facebook?