Vibrant colors possess the innate ability to bring joy and wonder to so many people. It is especially remarkable to behold when those colors appear in the most unusual places in nature, such as the Rainbow Eucalyptus trees. These trees with colorful bark are curious phenomena, though they are not the only species of tree on the planet that provide dazzling hues throughout the year.
If you've never seen these stunning rainbow trees, they are a visual delight that stays true to their name. When we think of tree trunks, we typically imagine dark brown and dull trees that are often forgettable.
Yet, there is a wide array of species that present colorful bark with shades of red, green, gold, and even white. Some also display brilliant textures and patterns that make their trunks noteworthy.
When set against a backdrop of winter, fall leaves, or just everyday settings, they make picturesque portraits that you cherish for a lifetime.
Trees with Unusual Bark Textures and Colors
While it may feel like these eye-catching trees belong in a museum, some actually retain very practical uses.
In certain parts of the world, the trees are best suited to street plantings due to their durability and a propensity to handle roadway dirt and grime. Others even get used as pulpwood to make paper.
Rainbow Eucalyptus (Eucalyptus deglupta)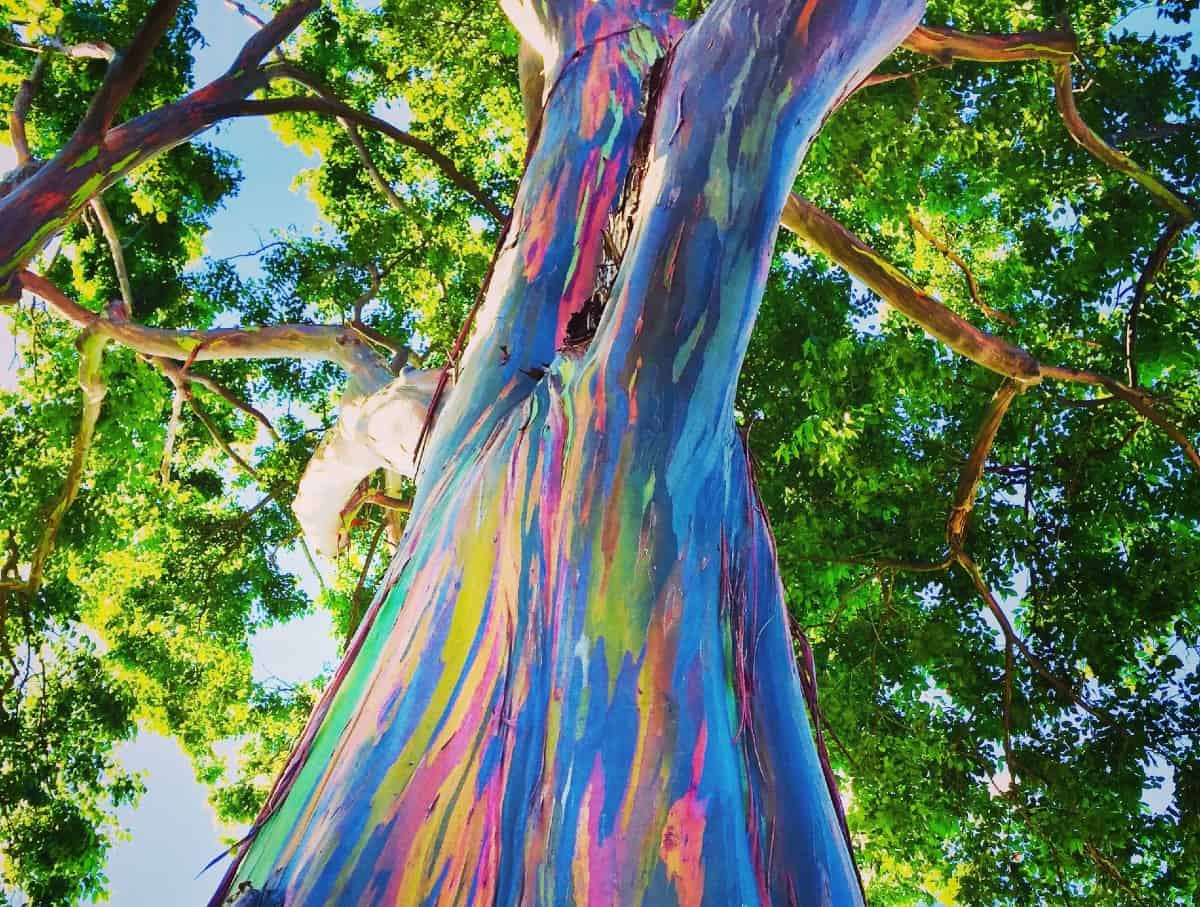 These gorgeous multicolored trees go by many names, including Rainbow Gum and Mindanao Gum. Native to places like the Philippines and Papua New Guinea, these are one of only four species of eucalyptus that grow outside of Australia.
They grow insanely fast and reach heights of up to 250 feet. These unique trees get their name from the vivid inner bark that appears after the smooth outer layer begins to peel back.
The tan exterior reveals shades of orange, blue, green, and reds, giving it the appearance of a rainbow.
While native to places like Indonesia, the Rainbow Eucalyptus also grows in the United States, primarily in warmer regions like Florida and Hawaii, and is one of the trees that grow on the beach in those areas. The most well-known grove of these exotic species exists in Maui, just off of the Hana Highway.
Chinese Red Birch (Betula albosinensis): A Lovely Tree with Coppery-Pink Peels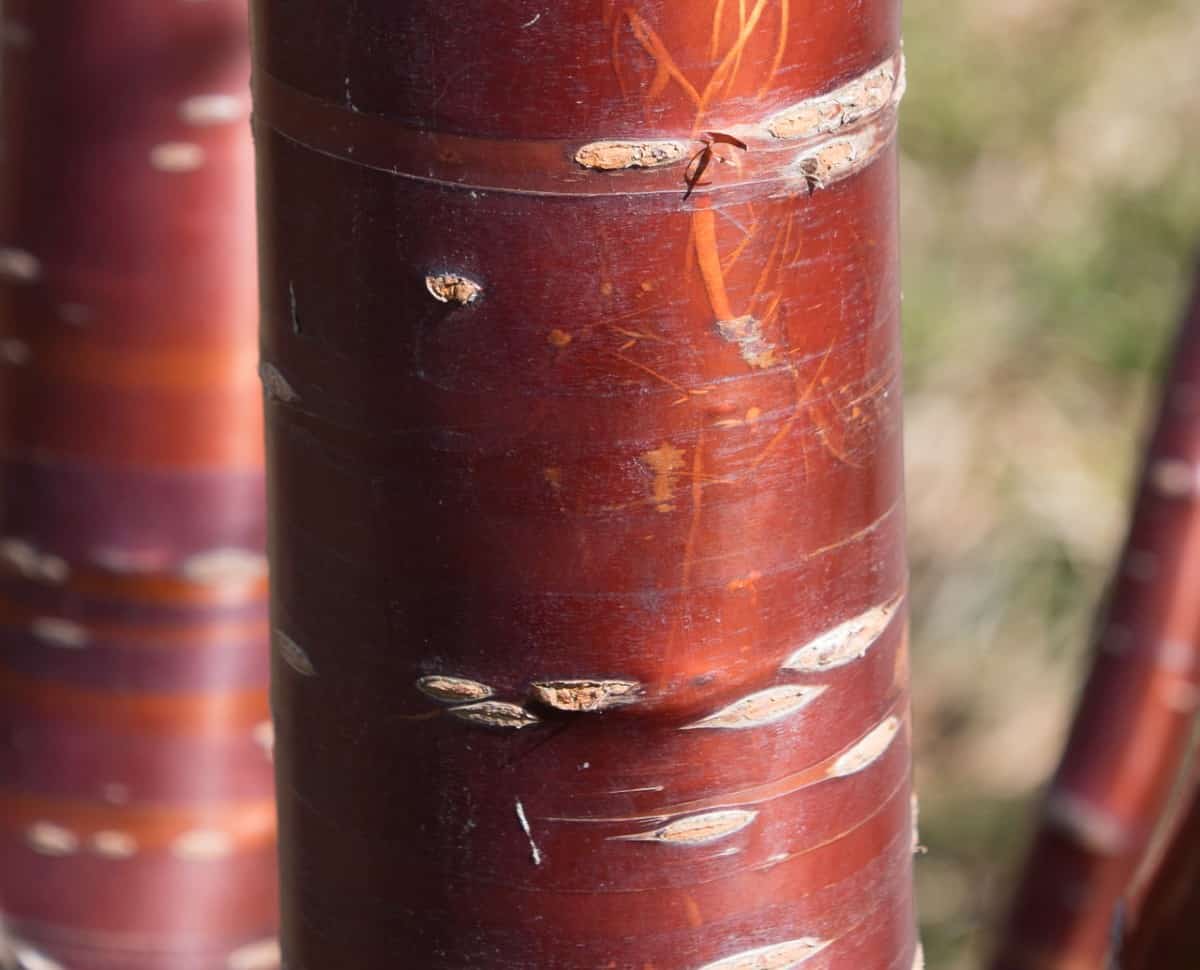 Not only eucalyptus trees bear the honor of being some of the most colorful specimens in the northern hemisphere. Chinese Red Birch also displays lovely snips of color as their bark peels in winter.
Throughout the year, the trunk retains its coppery-pink hue, which is often joined with streaks of honey and caramel to enhance the tree's beauty. Over time, the trunk also reveals thin, white bumpy lines or patches of brown that add texture to its appearance.
The deciduous tree grows up to about 50 feet tall and looks best when its golden-brown shades are set against the backdrop of sunlight. They are relatively low maintenance and don't need much pruning to stay healthy and thriving.
Japanese Stewartia (Stewartia pseudocamellia)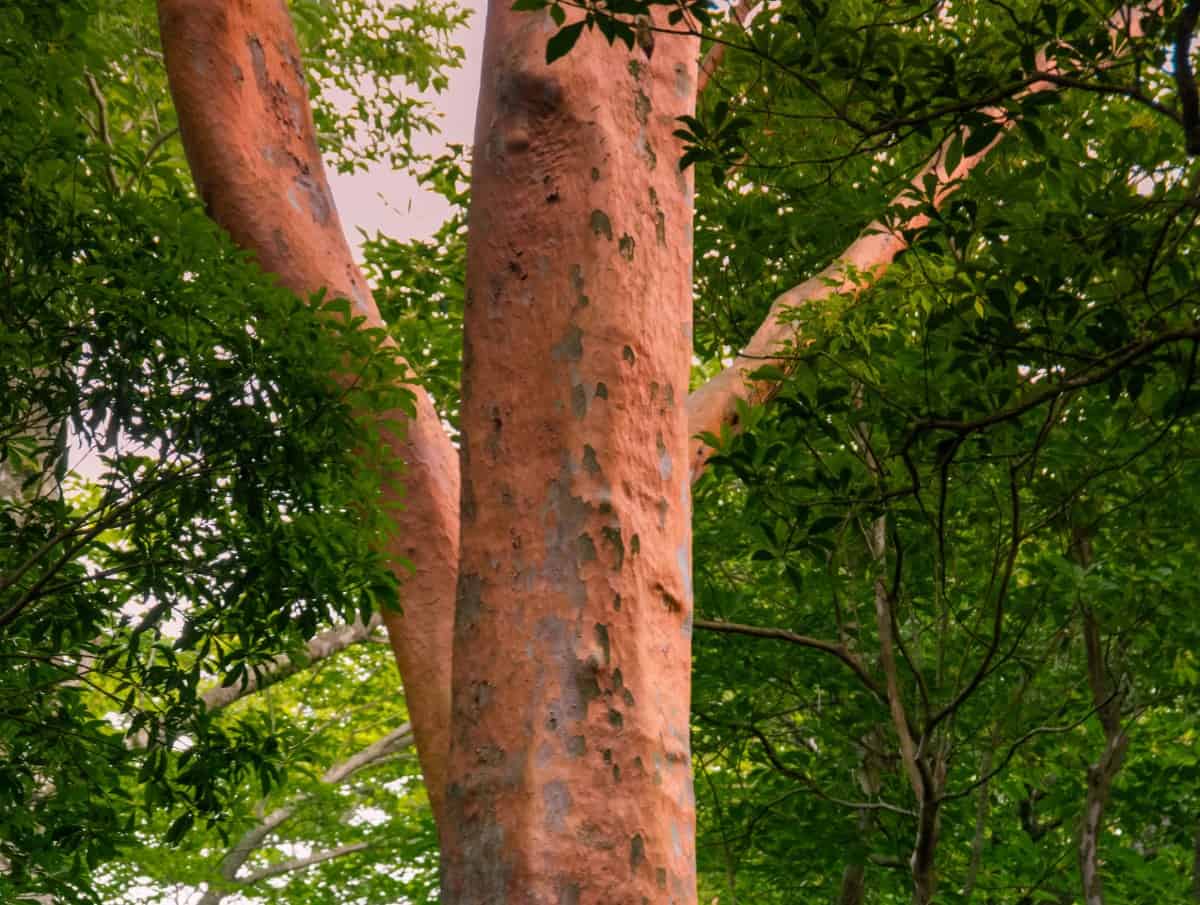 Another fantastic option to choose when it comes to adding color to your landscape is the Japanese Stewartia. The tree was introduced to the United States in the late 1800s and quickly earned its favor as one of the most beautiful trees for all-season interest.
It grows as far north as Maine and as far south as Texas. Japanese Stewartia reaches up to 40 feet tall, while the canopy spreads to around 30 feet.
In summer, the branches sport gorgeous Camellia-like flowers, while these trees with red leaves sometimes display yellow foliage in the fall.
The most beautiful part of the tree, however, is its mottled and patterned bark. While it is typically smooth in texture, aging trees develop patterns with bands of dull orange and greens along the surface.
Tibetan Cherry (Prunus serrula)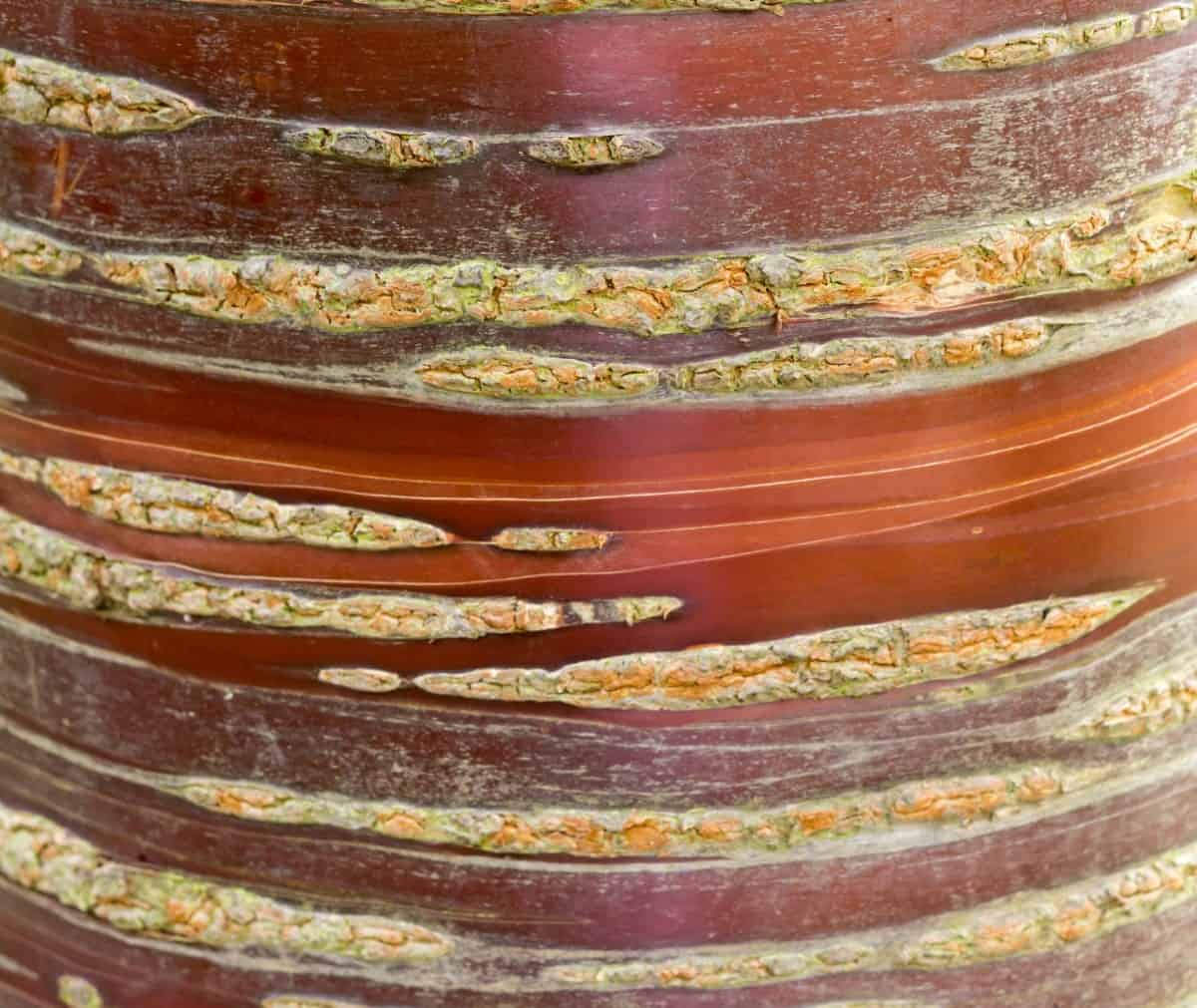 An ornamental tree that looks great in winter gardens is the Tibetan Cherry. With glossy maroon bark, it's no wonder why these plants make beautiful additions against a dull, grey backdrop.
The colors on the tree form in bright reddish bands along the trunk and sometimes exhibit little white ridges. In spring, small, white flowers form, though they are not as notable as the tree's trunk.
Originally from China, the Tibetan Cherry tree finds the ideal conditions in the mountain regions of North Carolina. They love full sun conditions and typically grow in either pyramidal or round shapes.
Shagbark Hickory (Carya ovata): Trees with Intriguing Textures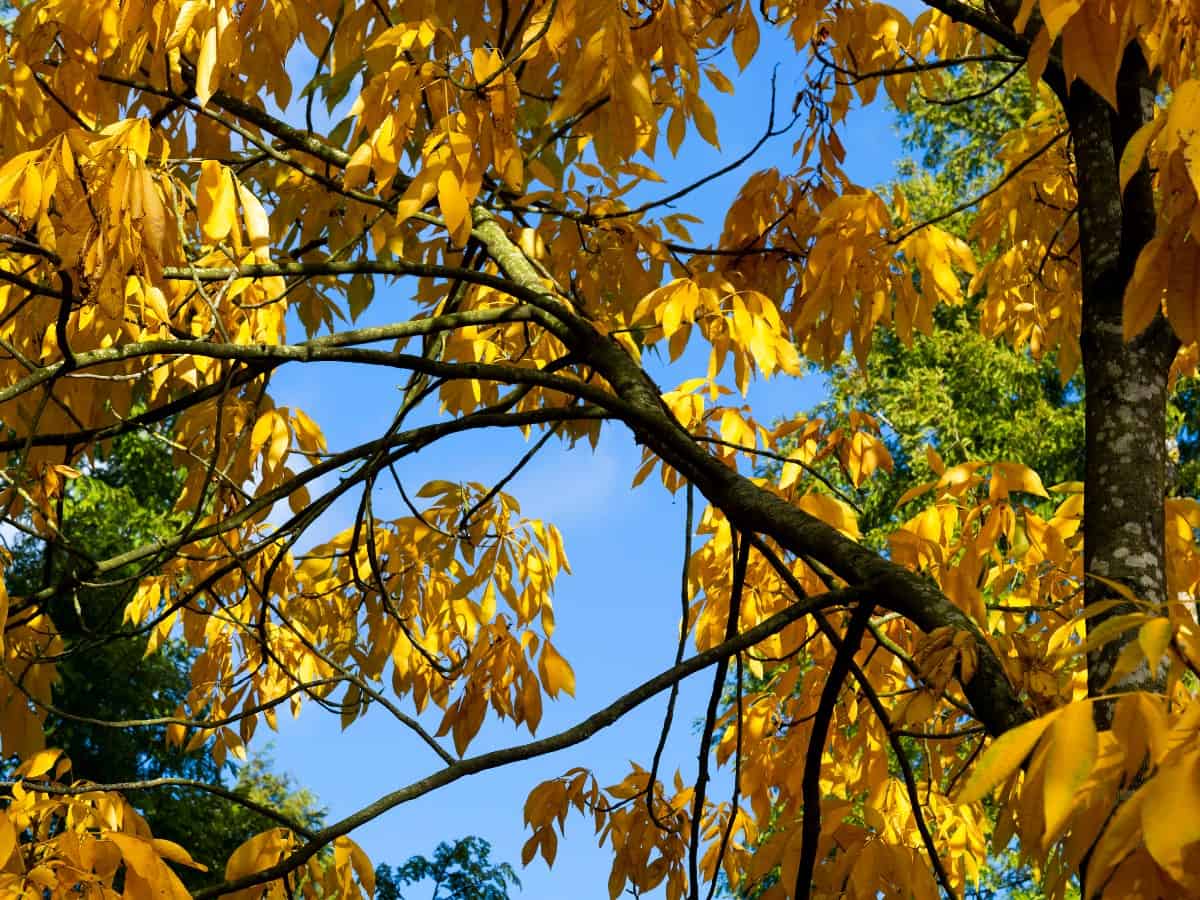 Many gardeners prize this next candidate more for the texture of the tree's trunk rather than its colors. It gets its name from the shaggy appearance of its bark, which peels away to reveal numerous shifting layers.
These strips of bark peel in large plates that curve at the ends, giving the tree compelling visual appeal. Shagbark Hickory grows across the United States, typically stretching from Georgia to Quebec.
It was cultivated in 1629 and is a native plant, though some species exist outside of North America. Shagbark is a member of the walnut family and produces deliciously sweet nuts that are often transformed into hickory milk.
Chinese Parasol Tree (Firmiana simplex)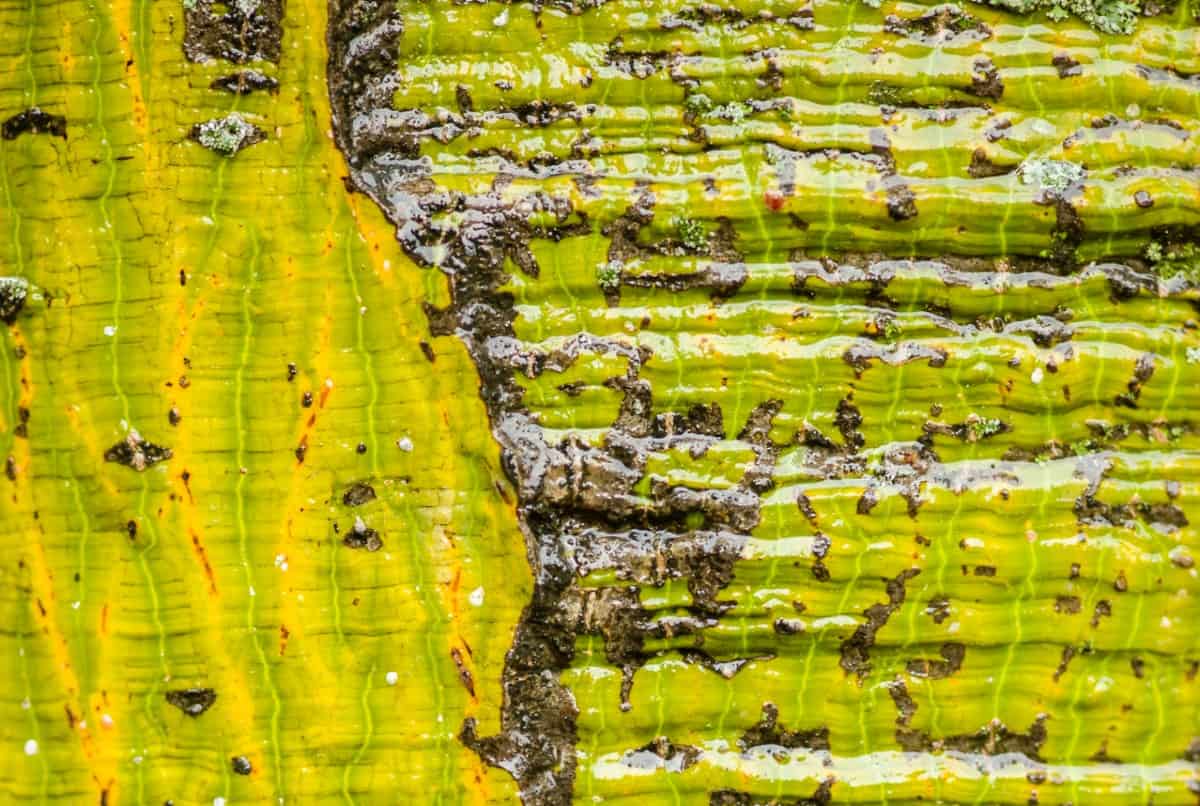 When you think of trees, green is an apparent first thought. However, you rarely expect the green part of the tree to be the trunk itself.
The Chinese Parasol Tree's attractiveness stems from the bright green inner bark and outer bark that sets it apart from the dull brown of other specimens. This deciduous plant is a member of the hibiscus family and thrives throughout most of the U.S.
In summer, it has small, green-tinged white flowers that group together in tight clusters. When established, the tree is also one of the best trees for hot dry climates and requires minimal maintenance.
Redwood (Sequoioideae): Iconic Trees Native to the United States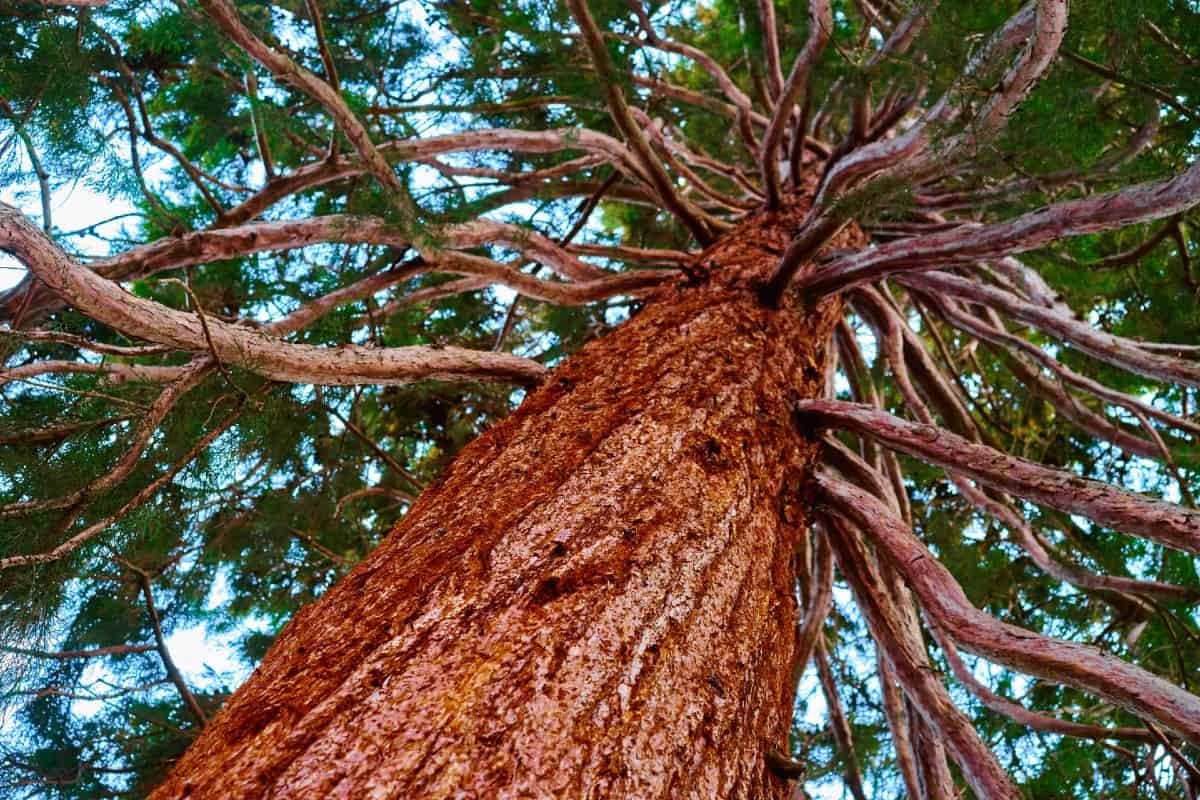 One of the most iconically American trees is the redwood. This proud species of plants is so beloved that instead of adorning botanical gardens, the trees get their own protected home within national forests.
This tree reaches up to 250 feet, with a diameter of 15 feet, which accounts for its desire for big spaces. The bark on redwood trees is both functional and beautiful to behold.
The outer layer is soft and stringy with bright reddish-brown hues. At times, the bark even grows up to 2 feet thick, which protects the tree from fire damage.
Despite its lovely appearance, much like the Rainbow Eucalyptus, some manufacturers use this colorful tree to make pulpwood for paper.
Chinese Quince (Pseudocydonia sinensis)
Chinese Quince is a lovely tree that offers a distinct appearance. Although it is not one of the dwarf trees for landscaping, it is smaller than some of the other trees on this list.
Usually, the tree trunk displays a smooth, dark brown bark. When it peels, however, is when the tree shines in terms of style.
Intricate patches of white and cream form amidst the dark brown as peeling reveals the lighter colored inner bark.
Other enjoyable attributes of the plant include fragrant pink flowers that blossom starting in April. After the flowers, these hummingbird trees produces yummy fruits that ripen in fall, typically by October. The fruits often find their way into tasty jams and jellies.
Paperback Maple (Acer griseum)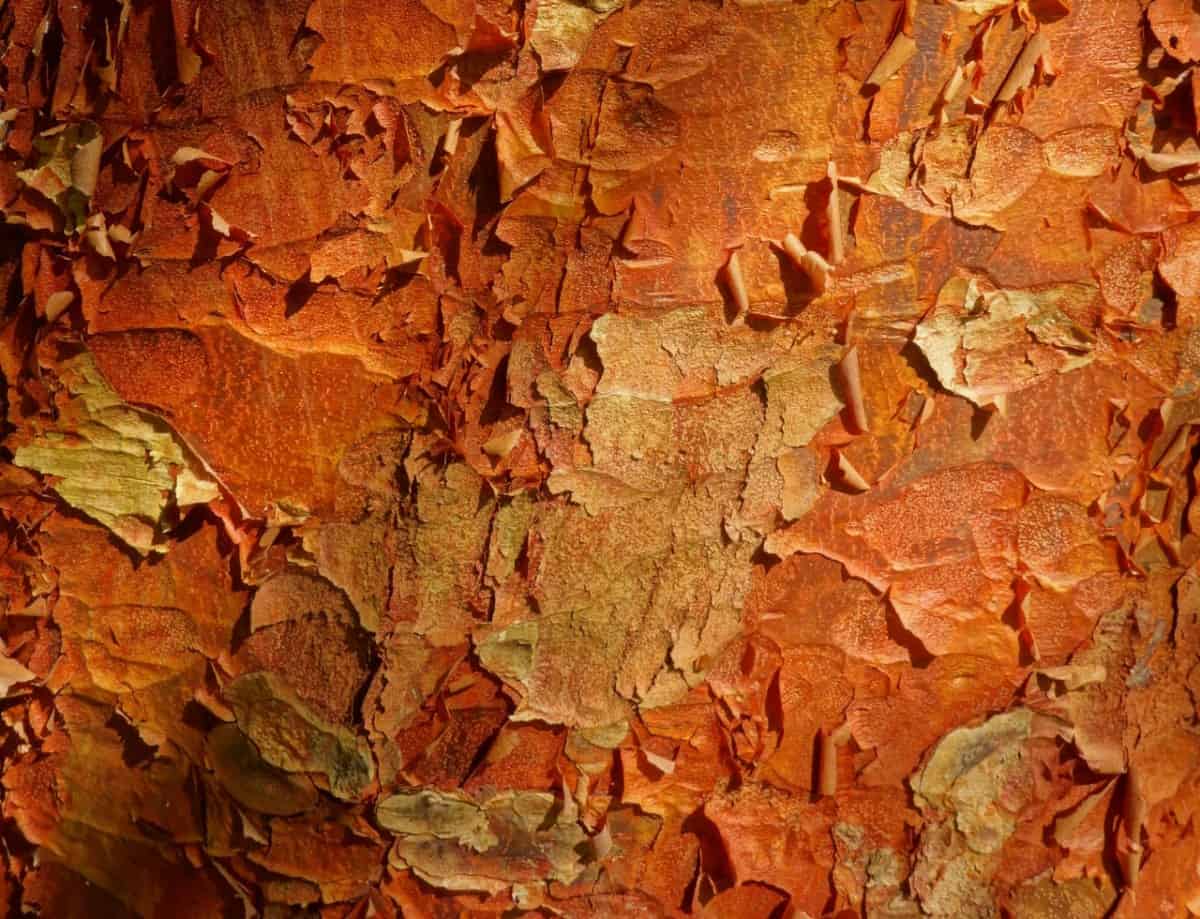 One of the best species of trees for winter interest is Paperback Maple. Against the winter landscape, these tree trunks look rather charming in a rustic sort of way.
These trees grow in small, round shapes and reach heights of about 30 feet. They are also very low maintenance. What gives the Paperbark Maple its rustic allure is its cinnamon-brown bark, which ranges in shades of red to coppery oranges.
The colors change with age as the bark peels away. The strips of bark are paper-thin, which is how the plant earns its name.
Lacebark Elm (Ulmus parvifolia): Street Trees with Colorful Bark
When it comes to trees that grow in less than ideal conditions, the Lacebark Elm is one best suited to the task. These attractive plants thrive even when exposed to dirt and fumes from cars, so they often make the perfect street trees.
They are so hardy that some locations consider them invasive. The Chinese Elm was brought to the United States after a shipment of lumber imported infected beetles along with its cargo.
These beetles introduced Dutch Elm disease, which is an ailment against which the Lacebark Elm is resistant.
Their near-invincibility, along with their mottled exfoliating bark, makes them cherished in landscaping projects. When exposed, the inner bark reveals shades of varying greens, oranges, and grey.
Coral Bark Maple (Acer palmatum)
If you're hunting for the perfect tree to add to your Zen garden, the Coral Bark Maple may be the plant of your dreams. Their spindling branches create a dramatic effect, but they also do well in compact spaces.
These trees are small compared to some of the other colossal giants on our list, stretching no further than 20 feet high, though some can be pruned back and developed in containers.
Also known as Japanese Maple, the stunning colors of this tree's bark present themselves during the cold winter months.
As the gold and orange foliage fades in fall, the tree slowly develops a reddish-pink bark that is just as lovely. The cold intensifies this color, providing a deeper shade with the more exposure the bark receives.
Sargent's Cherry (Prunus sargentii): A Tree with Plenty of Polish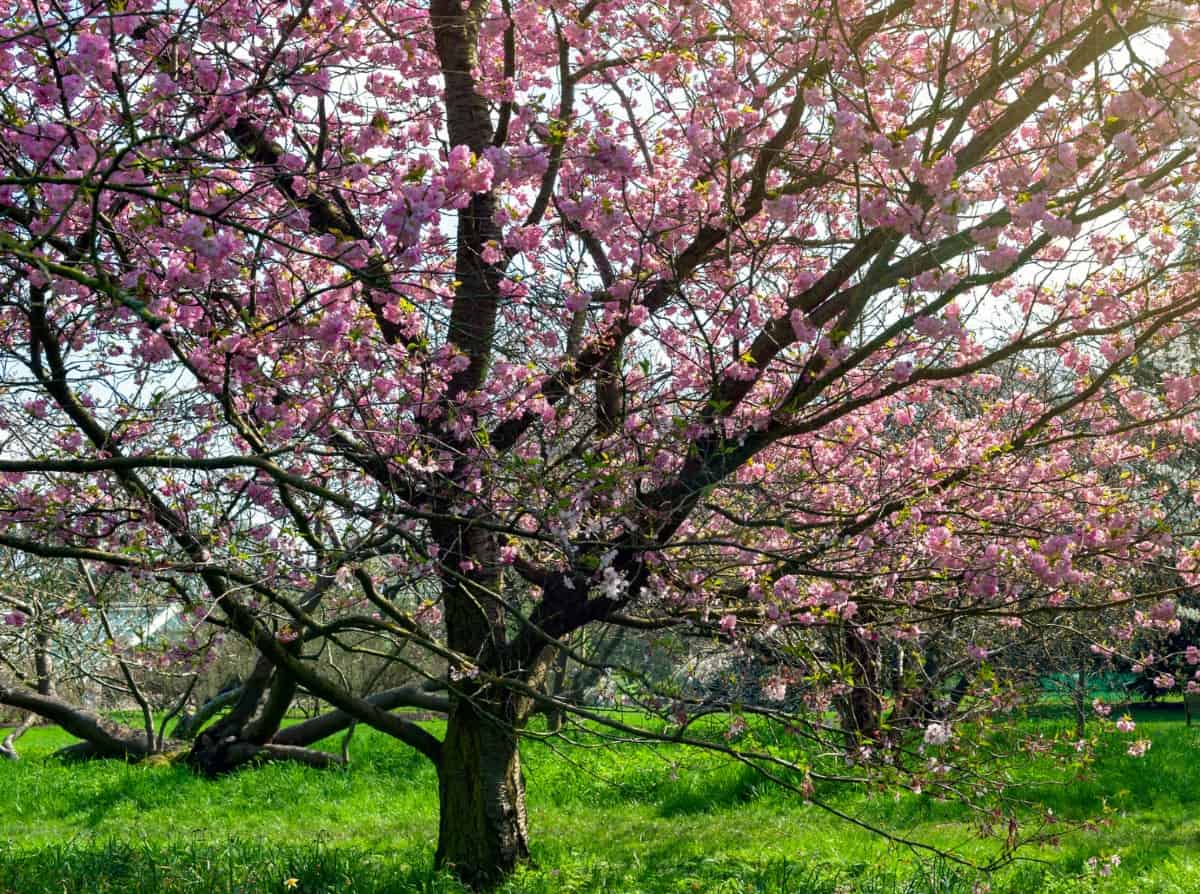 Another ornamental flowering tree that delivers year-round beauty is Sargent's Cherry. These trees grow up to about two feet each year, topping out at around 50 feet high and wide.
They are significantly more resistant to pests and disease than other cherry trees, making them easier to care for. What makes these tree trunks so special is their almost polished appearance.
The reddish cinnamon bark is stunning on its own but looks like it has also been buffed and shined. In late April, the bark of these pink and purple flower trees is enhanced by its blooms, while fall brings lovely shades of orange.
American Sycamore (Platanus occidentalis)
A North American native that brings eye-catching loveliness is the American Sycamore. Instead of bright colors, the sycamore has numerous scales that shift not only in color but also in texture. Some colors include white, grey, green, and brown.
Each ovalish scale's feel shifts from smooth to rough from one inch of bark to the next. The pattern on the bark creates a camouflage effect that is more intriguing to look at than other trees.
In addition to its visual allure, the tree is incredibly easy to maintain. The wood's sturdy nature makes it a favorite in architectural projects and high-end furniture pieces.
Paper Birch (Betula papyrifera)
Sometimes the most impressive color scheme on a tree is the absence of color altogether. If you've ever seen the snowy white bark of a Paper Birch tree, you understand the stunning optical display these trees afford throughout the year.
In many cases, the peeling strips of bark reveal bits of pink and black flair that look gorgeous in all seasons. Also known as White Birch, young trees maintain a smooth white bark, while the older trees develop dainty little black ridges along the trunk.
For centuries, the plant acted as the primary source of paper, dating as far back as Ancient Rome and making up Buddhist texts. Now, most enjoy the tree for its natural beauty, including the cascading catkins that droop down from its branches in spring.
You don't have to visit exotic locations like New Guinea or Indonesia to experience the lovely array of colors nature offers.
There are plenty of trees native to all parts of the United States that provide a similar visual experience of stunning patterns and vibrant hues.
Whether you decide to plant some of these festive trees in your backyard or plan on enjoying them through sightseeing, there are plenty of species to look for.
If you found this dazzling parade of unique plants interesting, please feel free to share your favorite trees with colorful bark with friends and family on Facebook and Pinterest.