If you consider what distinguishes one tree from another, chances are the leaf jumps to mind, along with any less-common features like flowers or fruit. Bark would likely not rank high on your list. However, trees with interesting bark prove that this protective coating can be more than a backdrop for other tree elements.
If you pay attention to the differences between trees, you'll find that it's not only birches with bark that adds interest to a winter garden. Other species have peeling bark, as well as beautiful bark in bold colors like green and red.
Bark has evolved in response to specific growing environments. The rougher outer bark is composed of dead tissue. The inner bark consists of phloem that carries sugars from the leaves to the rest of the tree.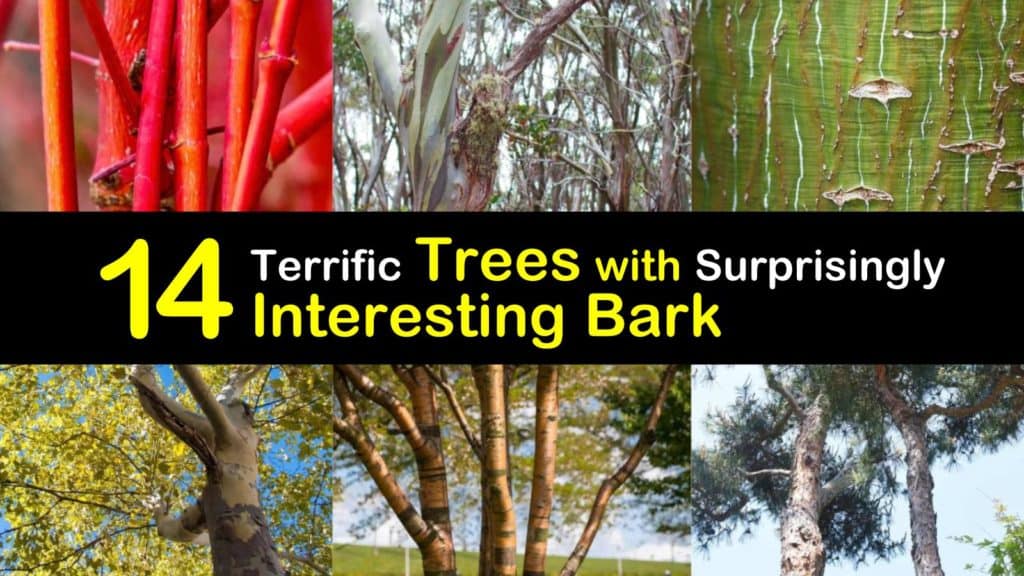 Trees with Eye-Catching Bark
Planting a tree requires commitment and care. For optimal results, treat white fungus on tree bark as well as other diseases and pests promptly to prohibit spread. Pick your site carefully, and you won't regret starting one of these beauties.
How to Plant Trees with Interesting Bark
Dig a hole that's two to three times wider than the root ball but has the same depth. Loosen the hole's sides and bottom slightly.
Slide a potted plant out of its container and into the hole. Place a balled-and-burlapped tree in the hole, then cut away the wire basket and burlap. Make sure that the tree is vertical.
Fill the hole with earth, packing it down until it's two-thirds full to remove air pockets. Pour in water, then allow it to drain before filling the hole with soil. Make a soil ridge to retain water, spread mulch and water deeply.
When to Plant Trees
Cool temperatures are ideal since hot weather causes increased water transpiration, stressing the plant. Although spring might seem like the perfect planting season, its weather is often unpredictable. Late snow or heavy rain can induce stress.
The fall is often the best time to plant a tree since the weather tends to be more stable. Just make sure that you don't wait too late.
If unwanted wildlife are an issue where you live, you may want to research how to keep squirrels out of trees if that bothers you.
River Birch (Betula nigra)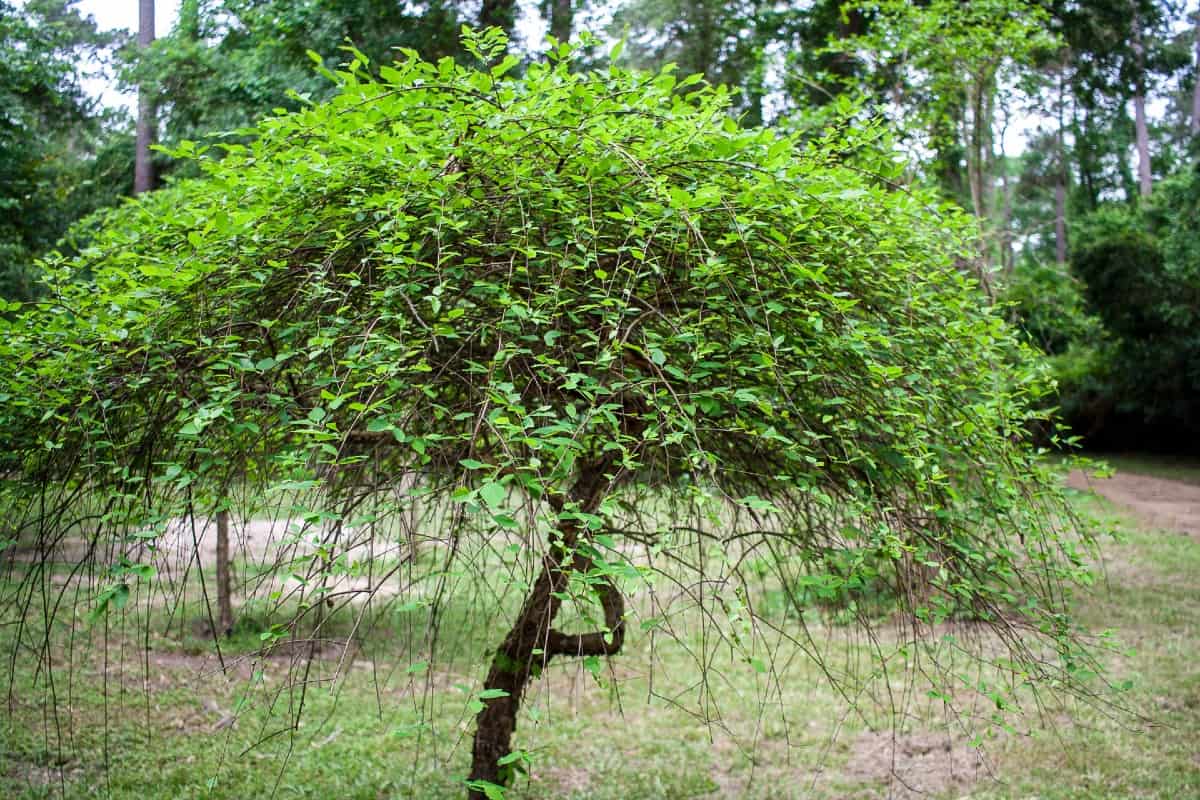 Like other birches, this tree's bark peels, a feature that's particularly noticeable in the winter when the rest of the tree is bare. The river birch shoots up alongside rivers and streams in the wild, making it an excellent choice for a wet part of the garden.
It also makes an effective specimen or shade tree. Grow the river birch from seeds or a sapling in slightly acidic to neutral soil that, preferably, is very moist.
This species thrives in full sun but survives in partial shade. Apply mulch and, if the tree is growing poorly, both all-purpose and granular fertilizer in early spring.
Paperbark Maple (Acer griseum)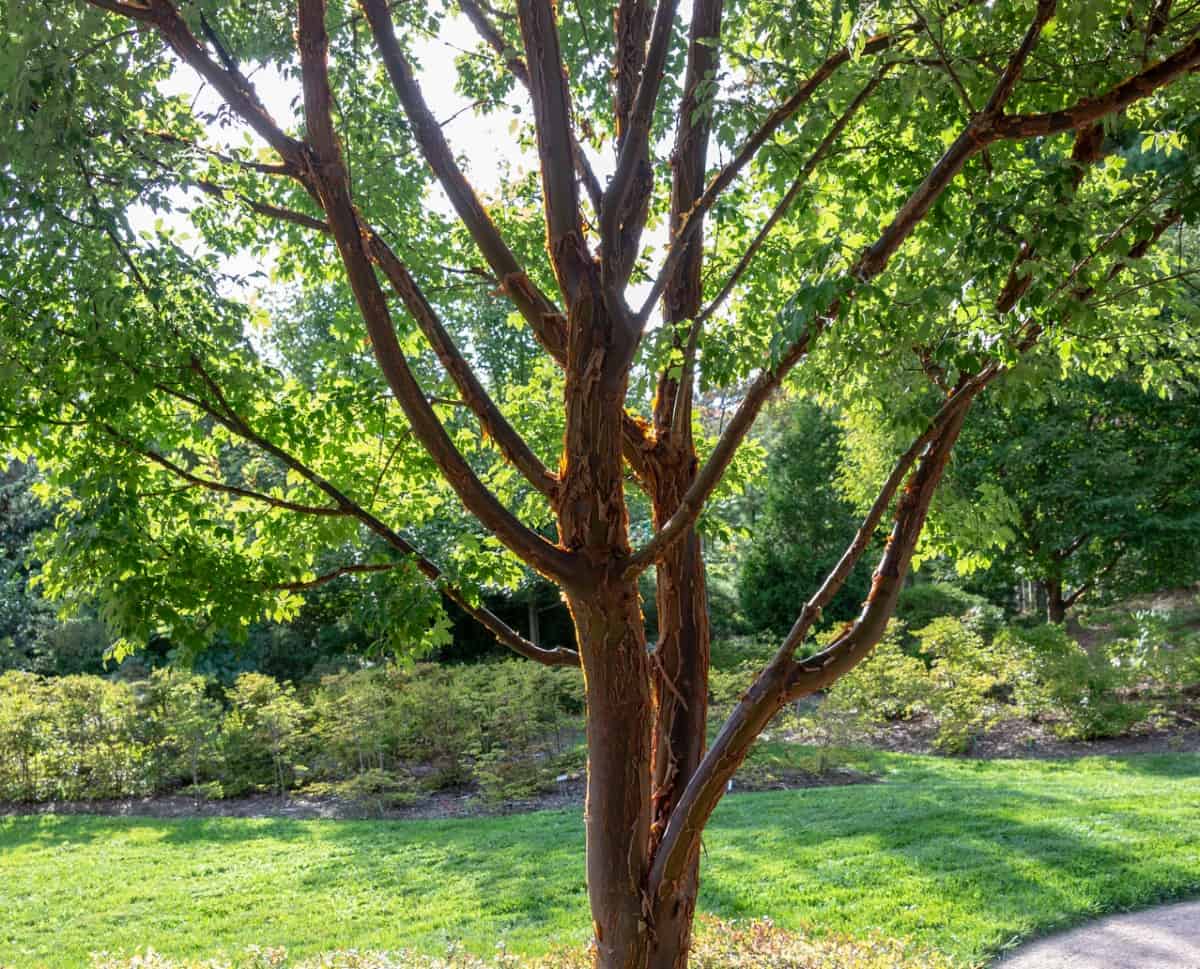 This maple is one of the trees with unusual bark. It has flaking, reddish-brown bark and insignificant greenish springtime flowers.
This orange leaves tree is relatively small and works well as an understory or specimen plant.
Propagate this slow-growing maple with cuttings, seeds, or grafting. This tree favors full to part sun and moist, well-drained, slightly acidic soil, although it handles various soils.
Strew organic granular fertilizer in early spring. Keep the roots moist during the first two to three growing seasons, then soak them weekly if conditions are hot and dry. The leaves may scorch in dry weather.
Crape Myrtle (Lagerstroemia) – A Flowering Tree with Striking Bark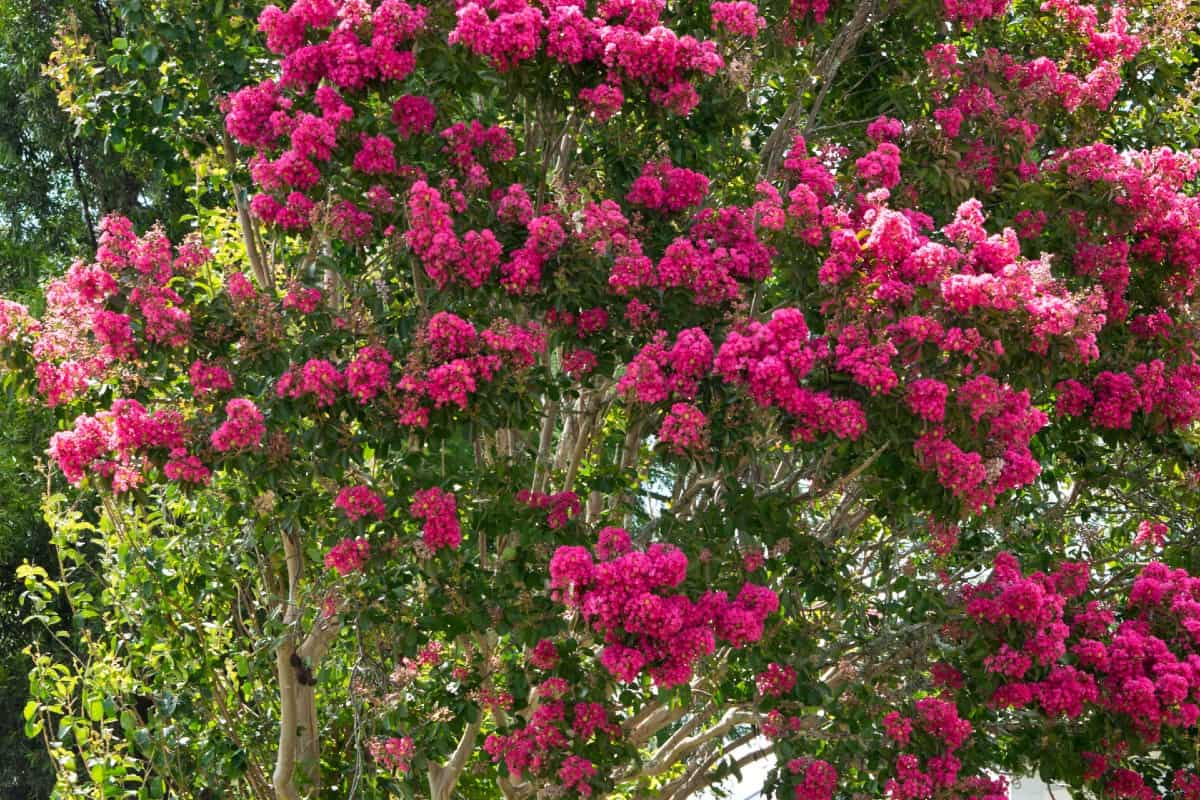 This tree displays stunning red, purple, or pink summertime blooms and it also boasts vivid fall leaves and exfoliating bark that reveals colors like cinnamon and gray-green.
Use crape myrtle as a specimen plant or place several close together to form a hedge. Plant this tree in the fall or early spring. Note that some varieties seed aggressively in parts of the United States. Find a sunny site with well-draining, non-alkaline soil.
During the first growing season, fertilize lightly once a month and water deeply once or twice a week. Established trees tolerate drought but appreciate slow-release fertilizer in early spring and light feeding twice a month during the spring and summer.
American Sycamore (Platanus occidentalis)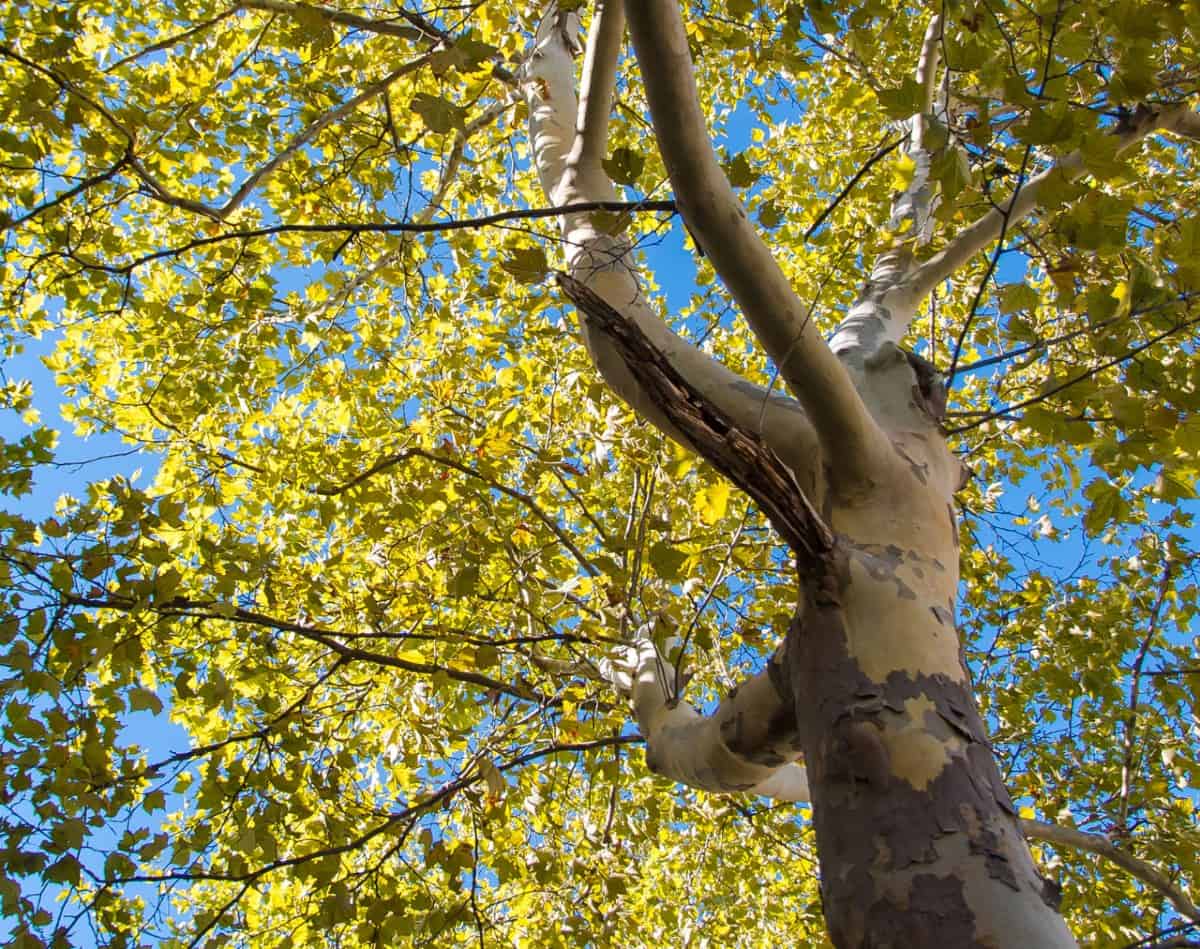 The gray-brown bark on this large deciduous tree comes off in patches to expose light-gray wood. Its roots are invasive, and its seed balls and leaves are covered in hairs that may irritate the skin.
This sycamore makes a good shade tree for a large space. Plant a container-grown tree anytime and a balled-and-burlapped one in the spring or fall.
This tree thrives in part or full sun and fertile, moist, fast-draining soil. Water young trees thoroughly, then soak them monthly if conditions are dry. If the sycamore is expanding slowly, fertilize it every other year.
Japanese Stewartia (Stewartia pseudocamellia)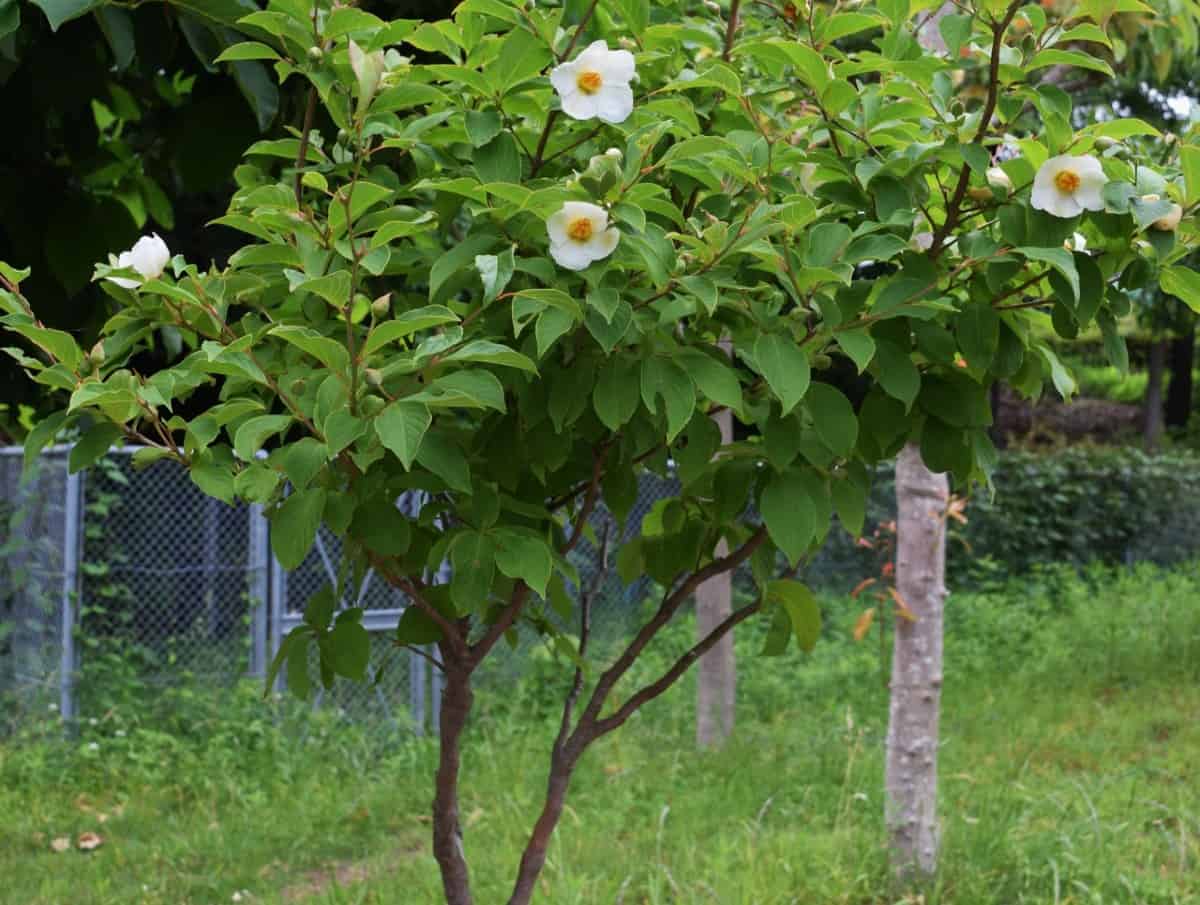 This fast-growing, long-lived tree has low-growing branches and peeling bark. It bears camellia-like blossoms in the spring and summer and red, yellow, or purple fall leaves. Put this ornamental near a patio or entryway.
Propagate it using greenwood cuttings in early summer or semi-ripe cuttings in mid- to late summer. This tree does best in acidic soil containing organic compost and full sun with afternoon shade in warmer regions.
Water your tree regularly, although it handles some drought. In the spring, spread an acidifying organic granular fertilizer.
Coral Bark Japanese Maple (Acer palmatum 'Sango Kaku') – A Tree with Striking Red Bark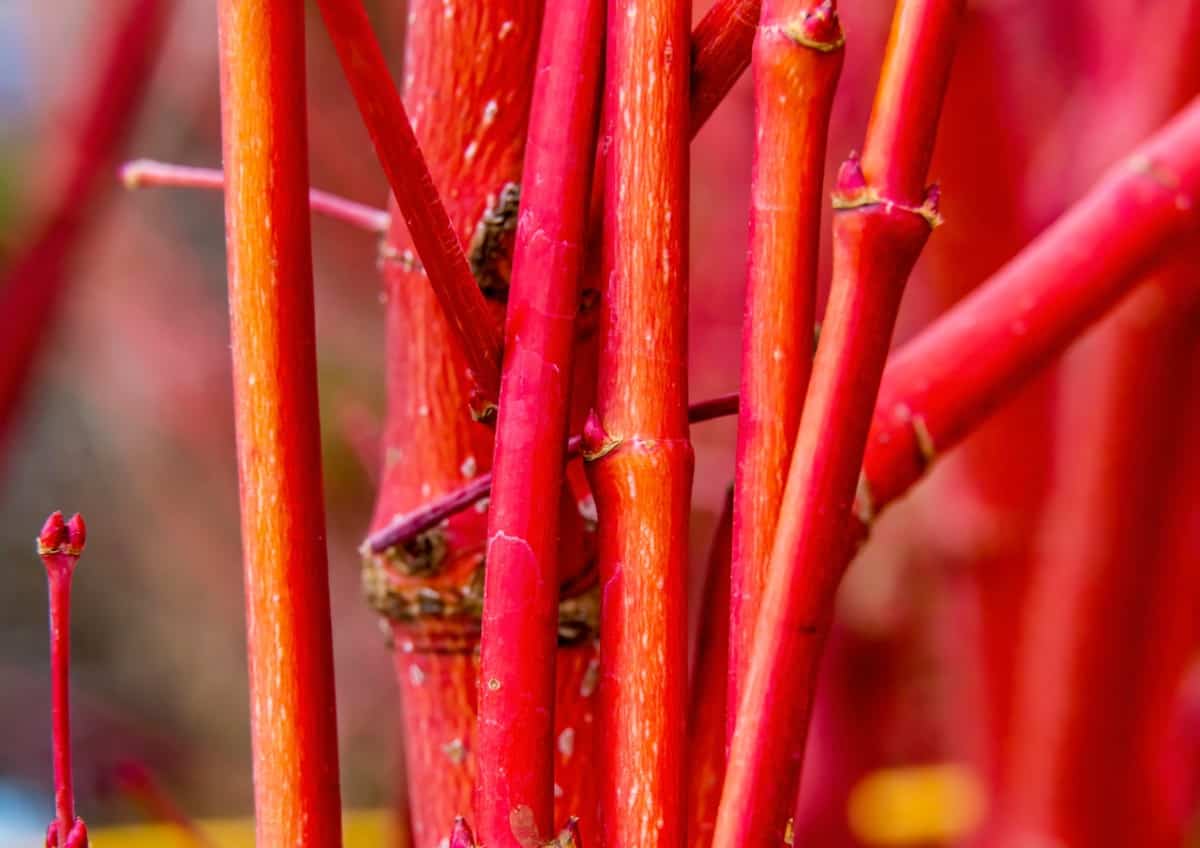 This maple's bright-green, seven-lobed leaves turn a deeper green in the summer and golden-yellow in the fall, while its bark turns reddish-pink in the fall. Use these unusual trees as an ornamental understory plant, planting them in the fall or spring in a spot protected from strong winds.
The site should also have light shade and moist, well-drained soil. Water this maple deeply and often after planting, then once or twice a week. Give it a balanced shrub or tree fertilizer in the spring.
Kousa Dogwood (Cornus kousa)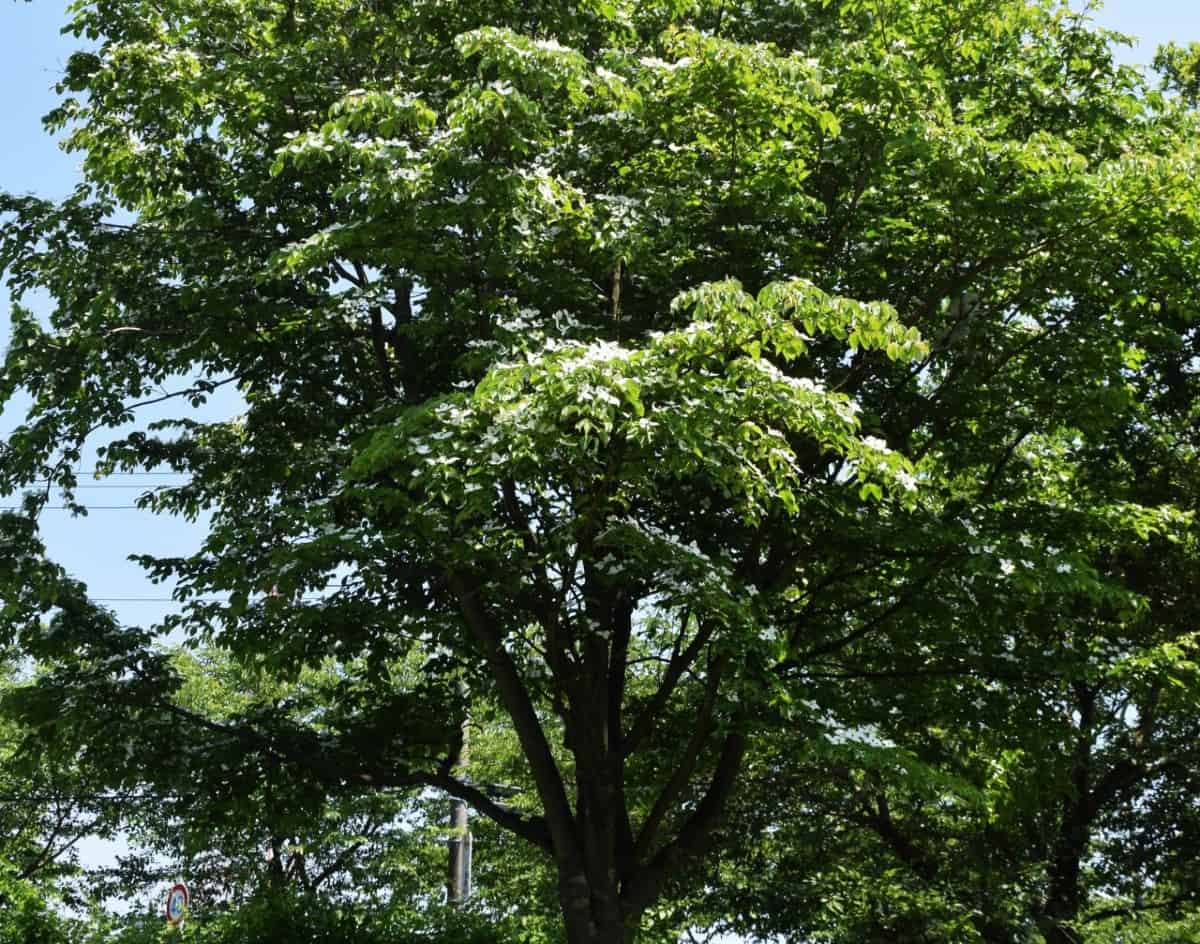 This specimen tree exhibits mottled peeling bark, a wide canopy, drifts of white flowers in the spring, and bright-red berries in late summer. Start it in the spring in fertile, moist soil and full to part sun. Distribute a layer of organic mulch.
Keep the soil moist throughout the summer, particularly for young trees. For soil that's low in organic matter, add nitrogen-rich fertilizer from April or May to early fall, or in early spring and midsummer for young plants.
Snow Gum (Eucalyptus pauciflora)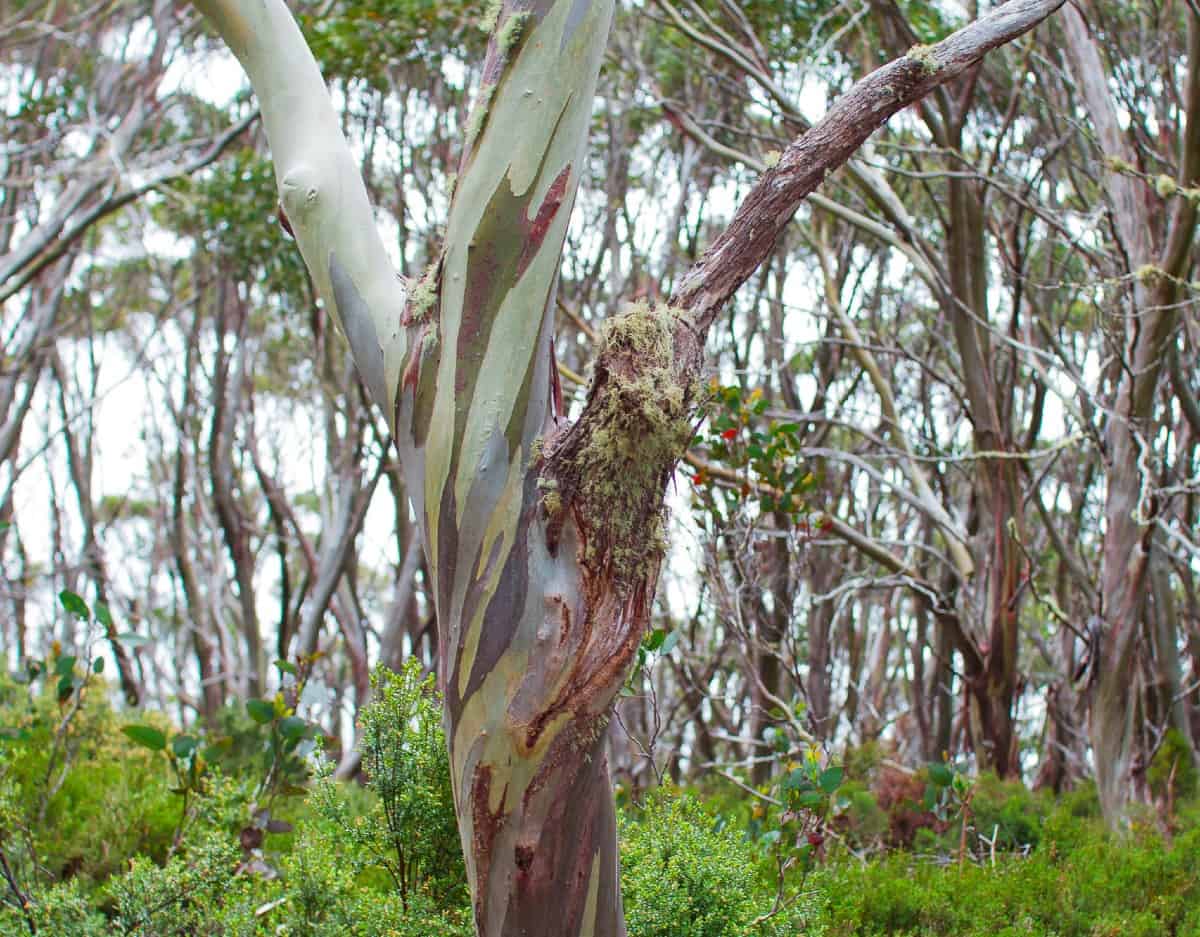 This tough evergreen, native to Australia, has brown or white bark mottled with gray and red shades. It also boasts many white flowers in the spring and early summer and long, glossy, pleasant-smelling but toxic dark-green leaves.
Sow snow gum's seeds in full sun, protection from wind, and slightly acidic to neutral soil. This plant tolerates drought. Feed young specimens phosphorus-rich fertilizer and established ones water-soluble fertilizer monthly during the summer.
Paperbark Cherry (Prunus serrula) – A Fruit-Bearing Tree with Interesting Bark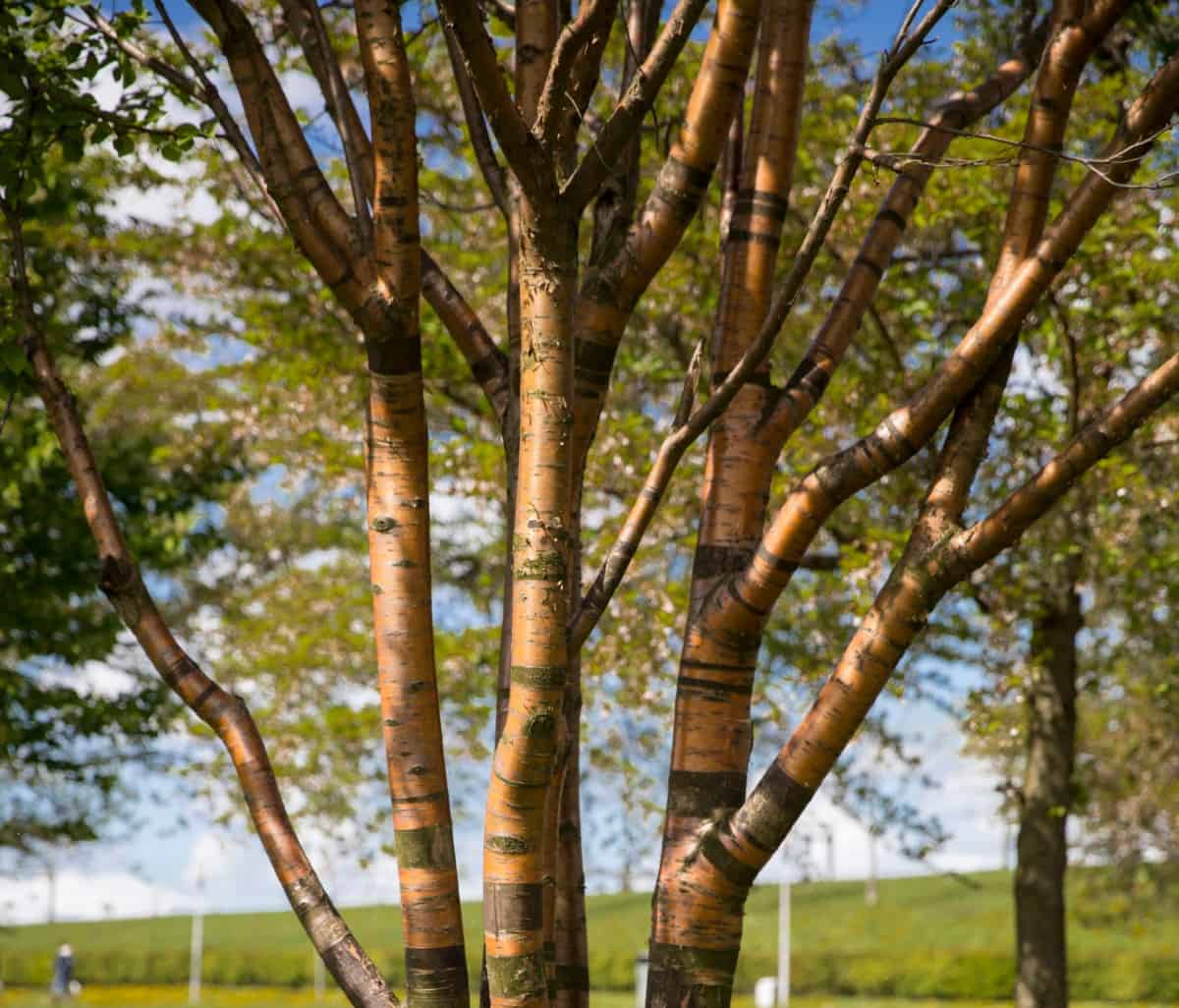 This cherry tree displays peeling reddish bark; white flower clusters in late spring; serrated dark-green leaves that turn yellow in the fall; and small, edible red fruit. It provides excellent winter interest and acts as a rootstock for other cherry trees, like the weeping cherry.
Propagate it with seeds, cuttings, or budding. Place the paperbark cherry in full sun and fertile, moist, well-draining soil. Apply fertilizer in early spring, and water the tree regularly. Prune dead or damaged branches just after blooming.
Japanese Red Pine (Pinus densiflora)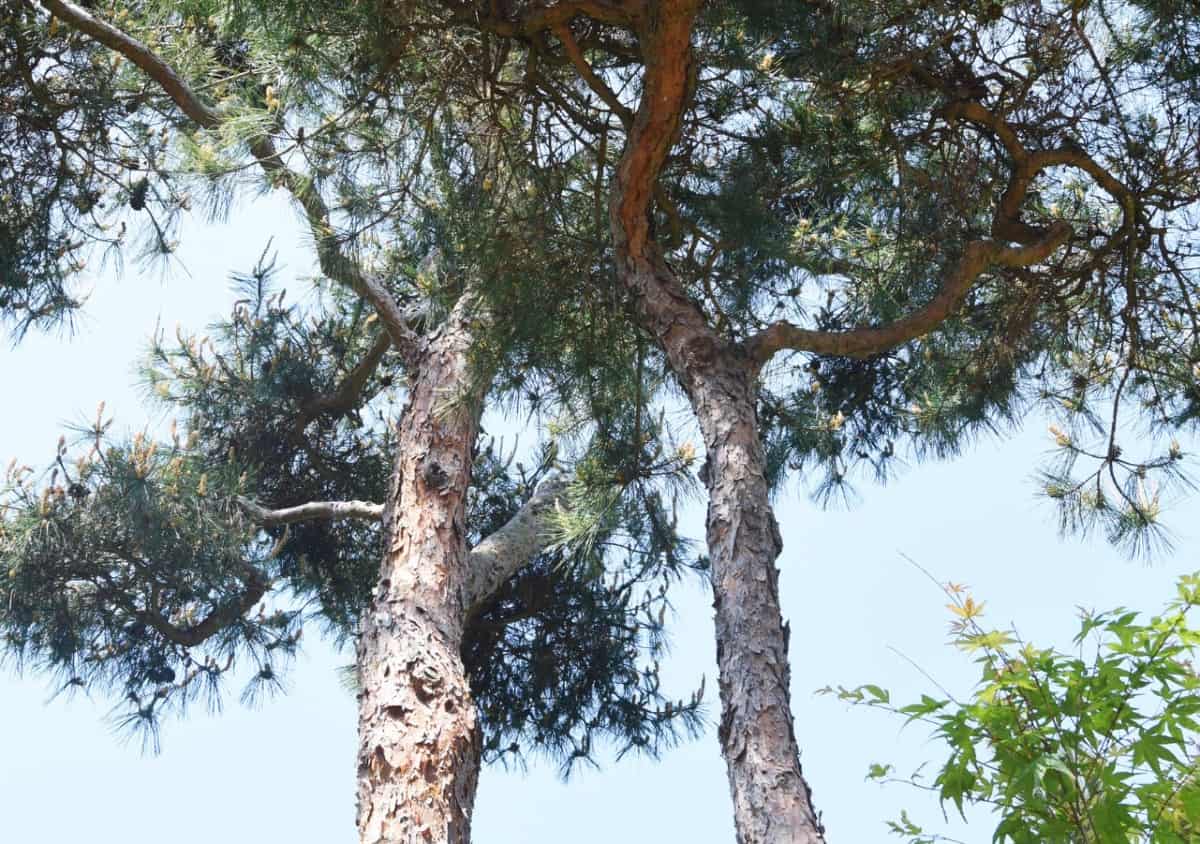 This tall evergreen conifer bears tufts of dark-green needles, yellowish flowers, and dull-brown cones. Its bark, which fades to brown or gray as it ages, comes off in scales to uncover a showy red.
It often develops at an angle with branches sticking out horizontally, making it look windswept. Try planting this pine as a specimen tree in the spring or early fall.
Grow it in full sun and, ideally, acidic, fast-draining soil. Do not apply any fertilizer, but water the tree regularly until it's mature.
Père David's Maple (Acer davidii)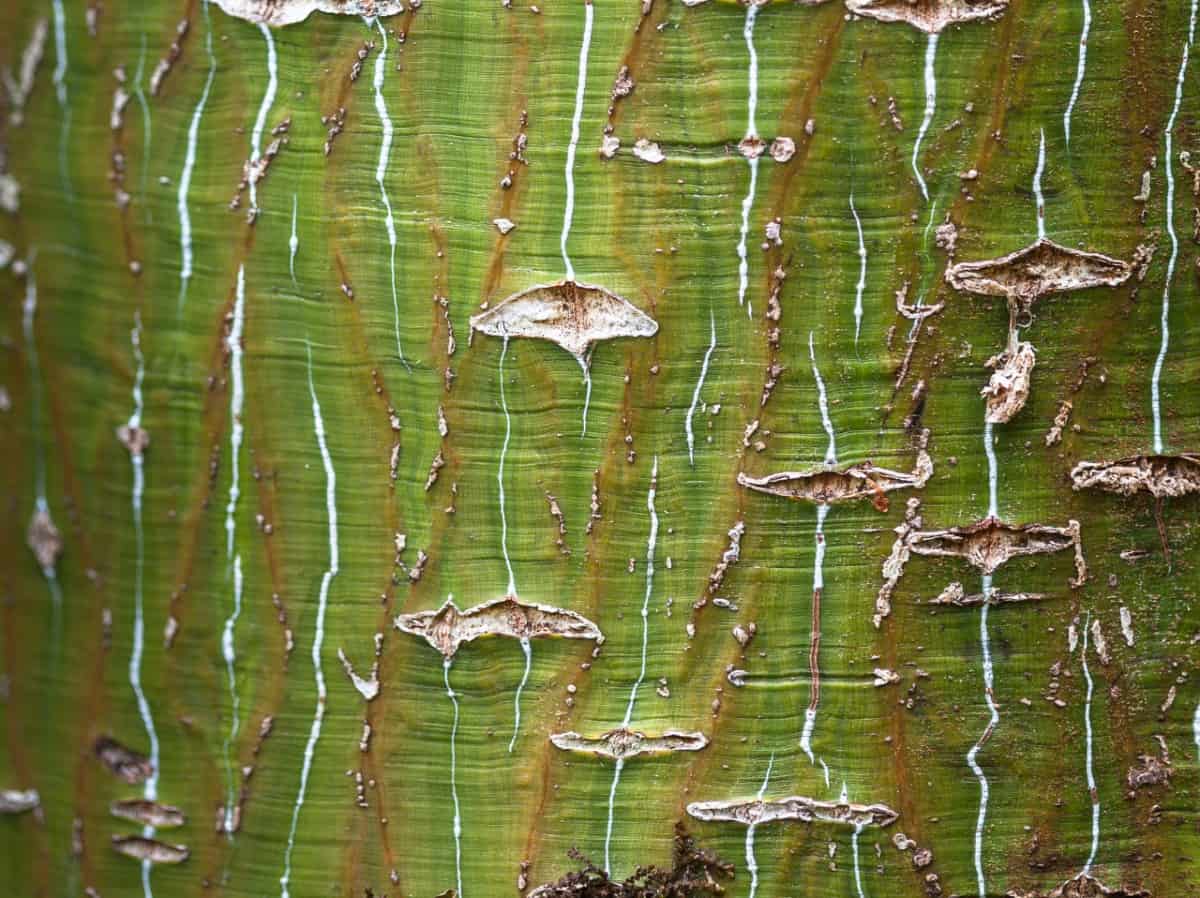 This maple has smooth, olive-green, white-streaked bark, insignificant yellow flowers in April, and non- or shallow-lobed leaves. Maples are some of the best trees for fall foliage, often shining brilliant red. This tree is often multi-trunked. Use it as a shade, street, or understory tree.
Propagate the Père David's maple using grafting or softwood cuttings. It prefers full sun or partial shade if summers are hot. Average, medium-moist, well-drained, acidic soil is best.
This tree benefits from regular watering. Give young plants phosphorus-rich fertilizer, and established ones nitrogen-rich fertilizer every few years.
American Persimmon Tree (Diospyros virginiana) – A Tree with Block-Like Bark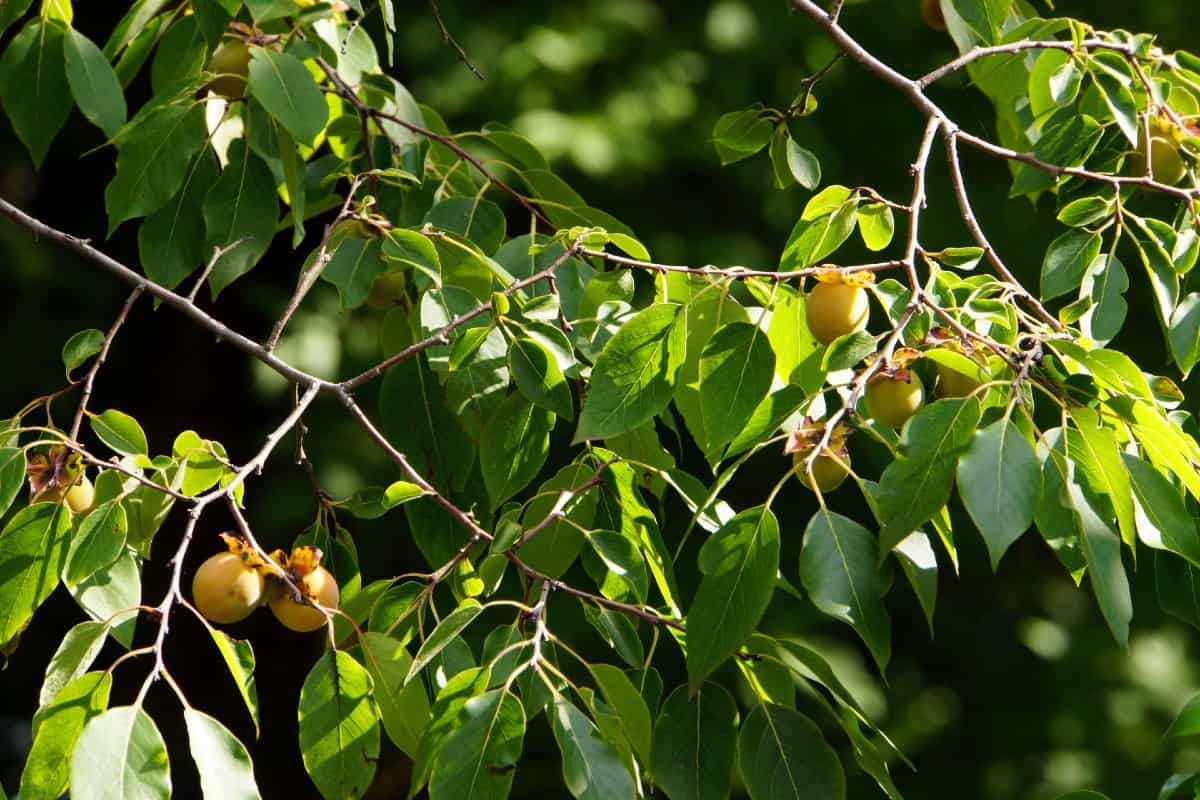 These cold-hardy trees boast thick, square blocks of bark; leathery green leaves that turn purple in the fall; and very sweet golden-orange fruit. The tree is dioecious, meaning that you need more than one tree to produce fruit, although there are a few self-fruitful cultivars.
Start it using seeds, cuttings, suckers, or grafting in a sunny spot with, ideally, well-draining, loamy, moist soil. Water young trees well, then only water during dry spells. Only fertilize your persimmon if it's doing poorly.
Shagbark Hickory (Carya ovata)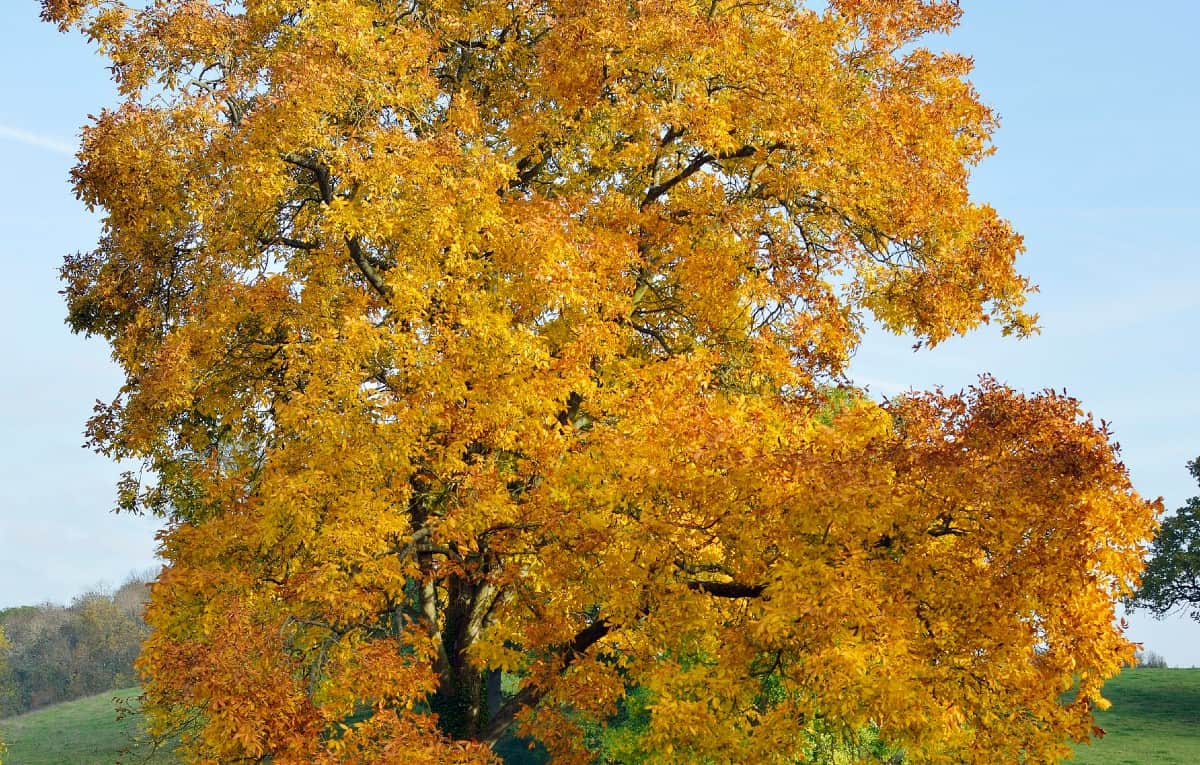 If you can wait for a while, these are great trees for privacy from neighbors. This tall, slow-growing, long-lived tree's brown bark hangs in long, loose strips. A relative of the walnut, its fruit is edible for humans and other animals.
Plant this tree in the spring as a specimen plant. It prefers sun but tolerates some shade. On the same note, it does best in fast-draining, fertile soil but handles almost any soil.
The shagbark hickory's strong taproot helps it survive droughts, meaning that the tree requires little water. It does not need fertilizer either.
Chinese Parasol Tree (Firmiana simplex)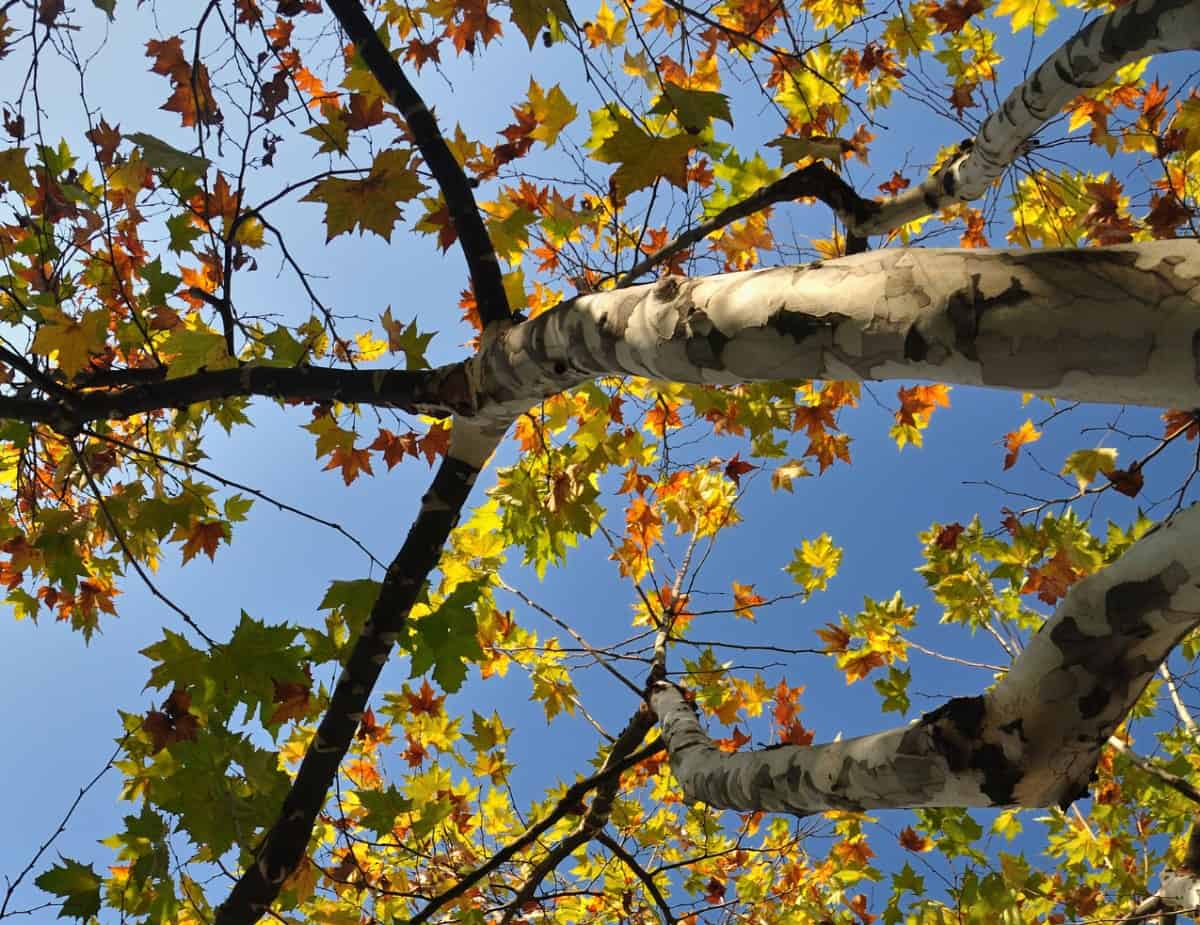 This fast-growing tree has smooth, thin green bark and lobed, bright-green leaves of up to one foot wide. It also bears panicles of fragrant yellow-green blossoms in the summer and attractive seed pods and yellow leaves in the fall.
Note that this tree may be invasive. Sow seeds indoors before the last frost, then put your tree in the ground in a spot with full or partial sun, adequate wind protection, and well-drained soil.
Water the Chinese parasol tree well when it's young, then it's drought-resistant. It benefits from a moderate amount of fertilizer and regular pruning.
Bark adds another dimension when choosing a tree for your garden. Leaves or needles, flowers, fruit, and the tree's height and shape are all standard features to consider, but pick a tree with ornamental bark to make your yard stand out.
Trees with interesting bark are particularly beneficial in the winter when most other parts of the garden are dull. With so many options available—from conifers with flaking scales to trees with mottled or colorful bark—you're sure to find a tree that appeals to you.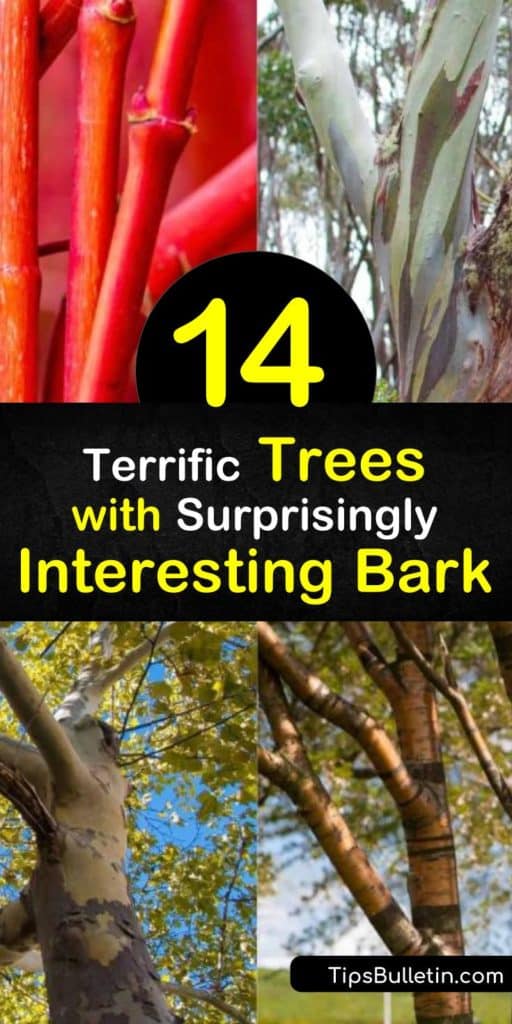 If you found these tree tips useful, please share these ornamental bark suggestions with your friends on Pinterest and Facebook.