Each season has its perks, and the changing leaves of fall are a sight to behold with their vibrant tones. Some trees turn from green to brown and are rather drab, but many varieties are the super-stars of autumn. There are fiery red trees, and those with bright yellow leaves; the trees with orange leaves are one of our favorites.
Nothing says fall more than a yard of brightly colored trees. They signal the change of seasons and stir up feelings of nostalgia. Orange hues bring warmth, happiness, and energy, and it's nearly impossible to feel gloomy in its presence.
However, not all deciduous trees have orange fall foliage. If your goal is to landscape using shade trees with fall leaves of orange, it's important to know the tree first. Planting trees for fall color and discovering they unenthusiastically turn from green to brown is disappointing.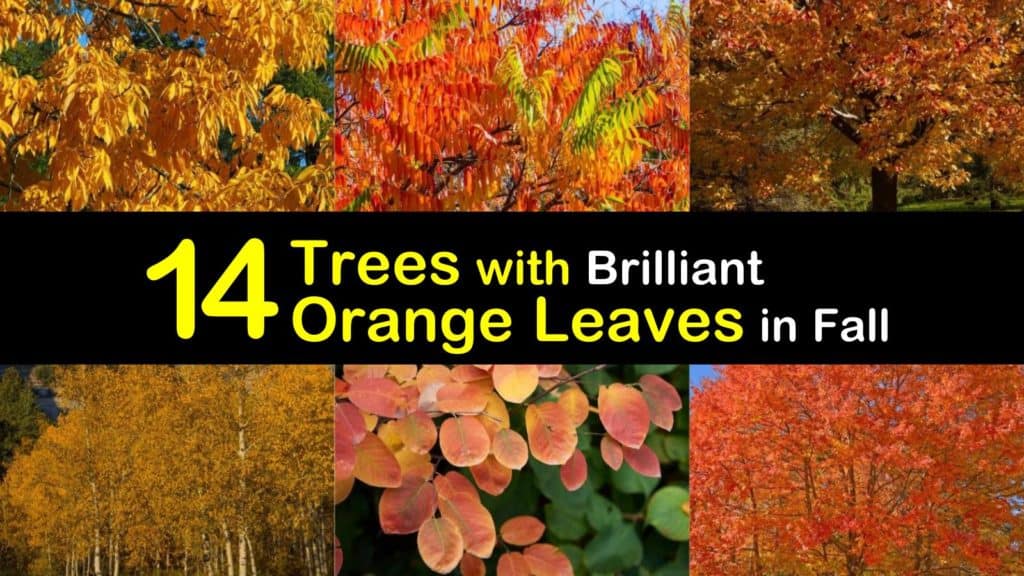 Creating Fall Interest with Orange Foliage Trees
If you intend to grow trees for fall foliage, there are several things to look for when choosing the right tree. First, determine the type of leaves you desire.
Some are orange or yellow, while others are famous for their red leaves. Decide which ones are your favorites and find the perfect spot in your yard to enjoy them.
Note that there are other plants you can add to your yard for fall color, too. Do ferns change color in the fall? Yes, ferns, shrubs, grasses, and some perennials have bright fall colors.
Why Do Leaves Change Color During Autumn?
During the summer months, trees manufacture their food in leaves. This process occurs in chlorophyll-containing cells, giving the leaves a green hue.
The changing temperatures and shorter days of autumn stop this process, causing chlorophyll to break down. The green tone diminishes, making yellow, orange, and red colors visible.
Do all Trees Change their Leaves in the Fall?
Not all trees turn color in the fall. Evergreen trees for landscaping stay green all year-round, although some types drop their leaves without going noticed.
The fronds of cold weather palm trees usually just turn brown and fall off. Most deciduous trees and some conifers change leaf color, but some are more striking than others.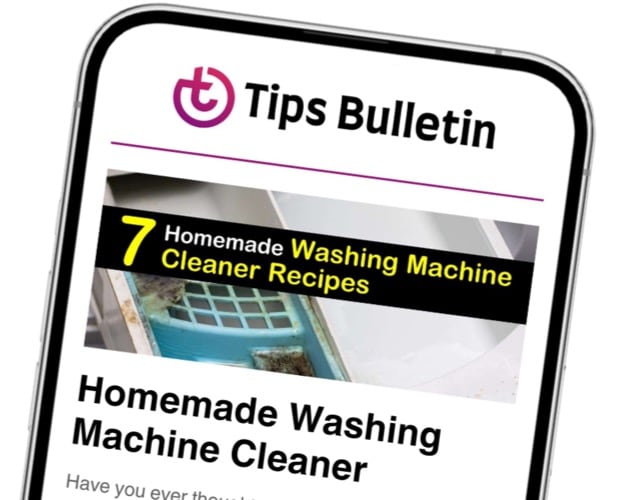 Finally, an email that Transforms Your Home.
Get the latest home and garden tips from our experts, delivered straight to your inbox.
Weather conditions play a big role in the vibrancy of leaves as they change during the autumn. Moisture and temperature, before and after the dwindling of chlorophyll in leaves, are two main influences.
Which Trees Turn Orange during Autumn?
Maple trees are famous for producing bright orange leaves, including the sugar maple, Japanese maple, and red maple. Many oaks are not particularly impressive during the fall and have leaves that turn brown quickly.
However, red oaks have late autumn brilliance in casts of orange after maple trees lose their leaves. Other good options are the hickory tree, serviceberry, black tupelo, and dogwood.
Which Trees are Best for my Yard?
The first step in picking a tree is to learn which USDA hardiness zone of North America you live in and compare it to your favorite trees.
Once you establish that, check the tree's mature size to ensure that you have enough space on your property without interfering with structures. Choose trees with a root system that doesn't disrupt underground pipes and space them according to height and spread.
When you add trees to your yard, you will make the wildlife happy. Birds, squirrels, and other creatures depend on them for survival.
If you live in an area where squirrels are prevalent, keeping squirrels out of trees will be challenging. If they are a problem, add a squirrel feeder away from your trees to encourage them to go elsewhere.
Smoke Tree (Cotinus)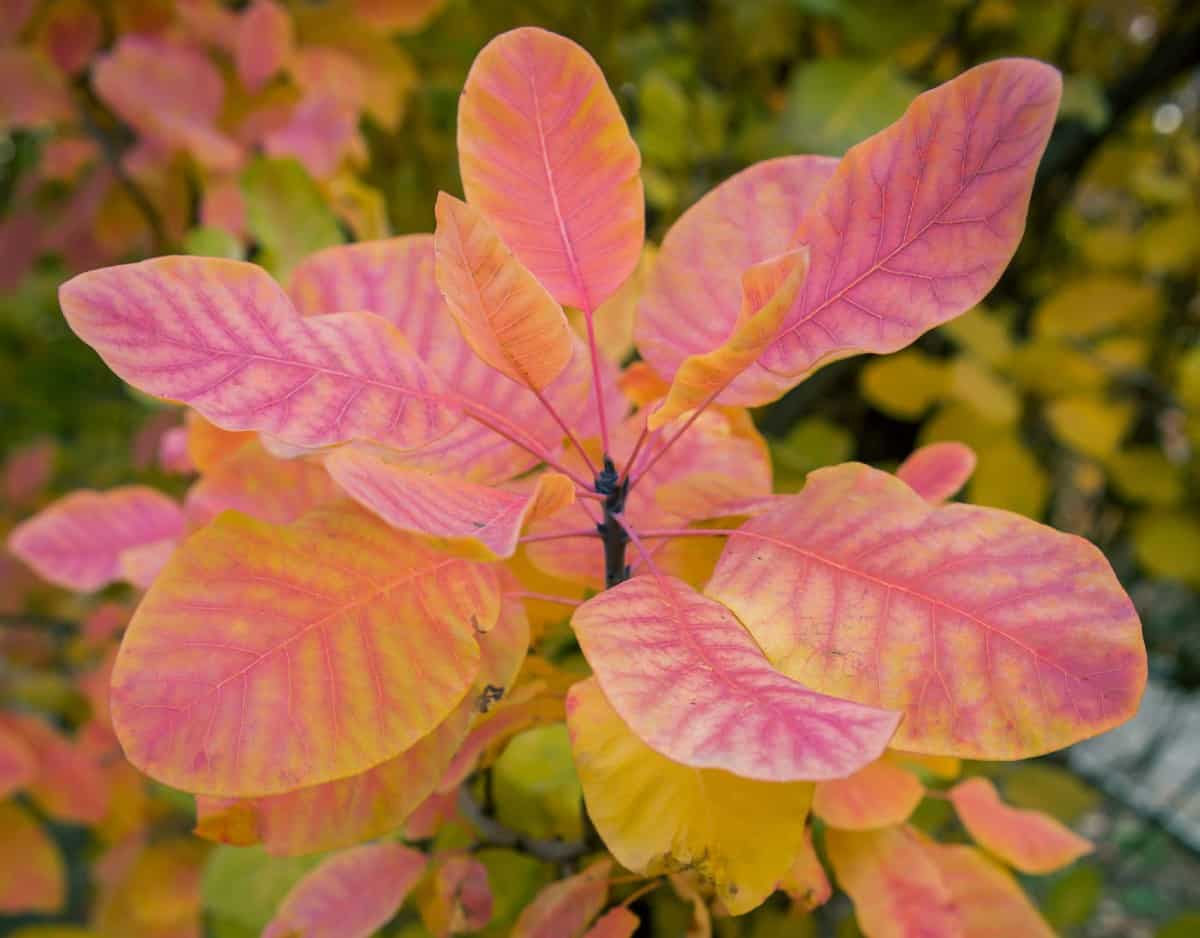 This small tree has decorative bark, airy pink flower plumes that give it a smoky appearance, and grows in a rounded or oval habit. Its large, round leaves start as pink in the spring, turn blue-green during the summer, and turn brilliant orange in the fall.
Smoke trees tolerate harsh conditions and have a mature size of 20 to 30 feet tall and wide. They are not particular about the soil type and perform best in sunny locations. These ornamental trees are hardy in zones 4 through 8.
Sugar Maple (Acer saccharum) – Trees with Orange Leaves and Beneficial Sap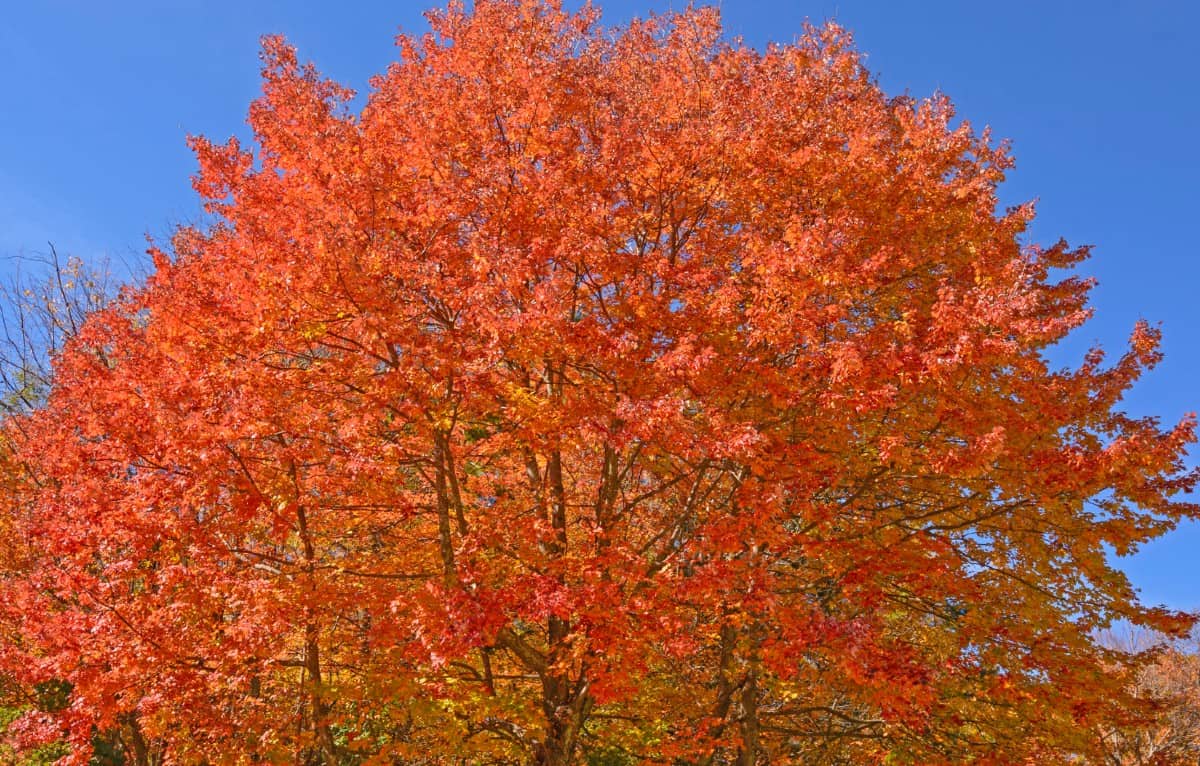 We love sugar maples for their maple syrup sap and medium green and shady foliage. However, they put on a fantastic show during the fall with a rounded crown and spreading branches of orange color.
These slow-growing trees have a mature size of 40 to 80 feet tall with a spread of 30 to 60 feet and grow well in full sun or part shade. Sugar maples thrive in hardiness zones 3 through 8 and grow with shallow roots.
Hickory Tree (Carya)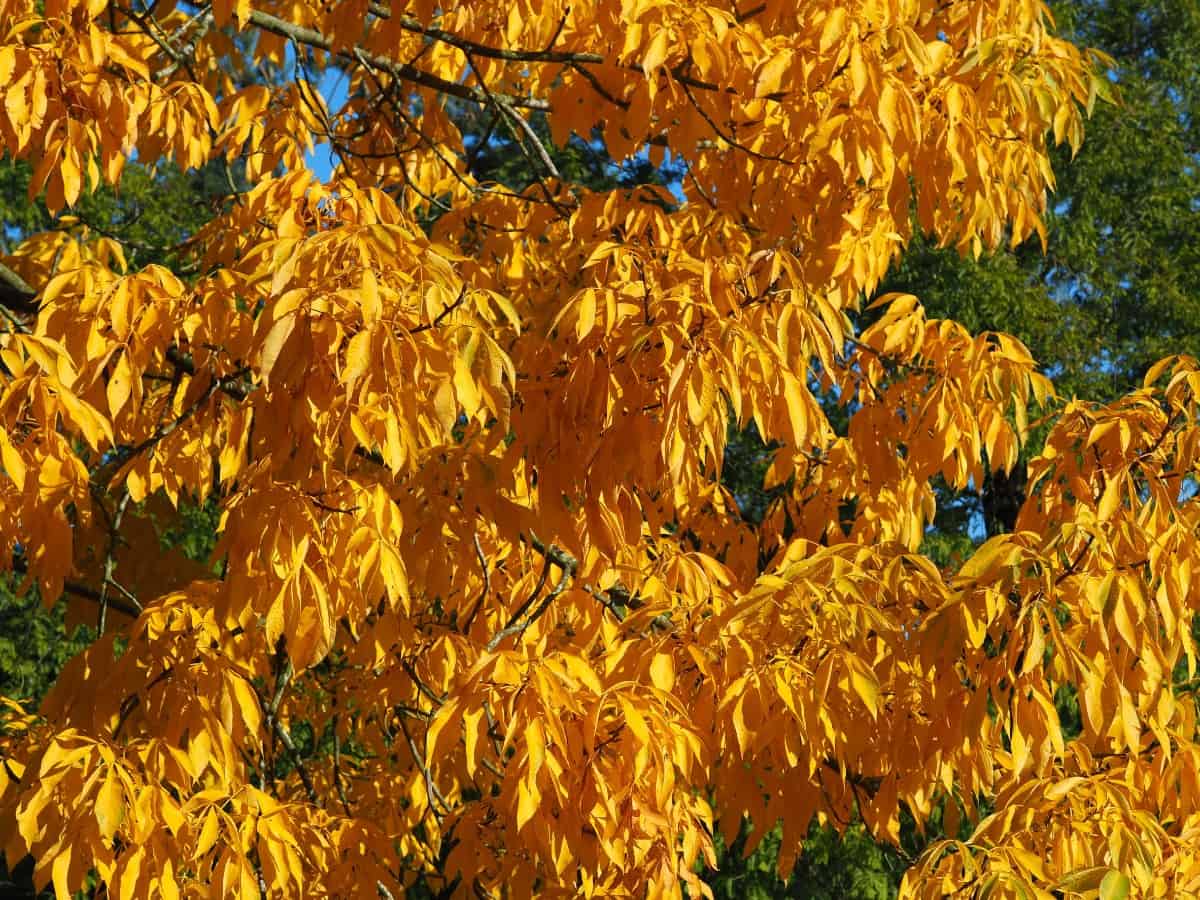 There are many types of hickory trees, and all of them have bright green leaves that turn to an attractive golden-orange cast in the fall. They are part of the walnut family and grow branches up to 25 feet in length, making them a good shade choice.
Hickory trees grow slow and steady, with a long lifespan, and have large taproots. These hardwood trees produce edible nuts, are hardy in 4 through 8, and grow up to 100 feet tall.
Japanese Persimmon (Diospyros kaki) – Orange Foliage Tree with Edible Fruit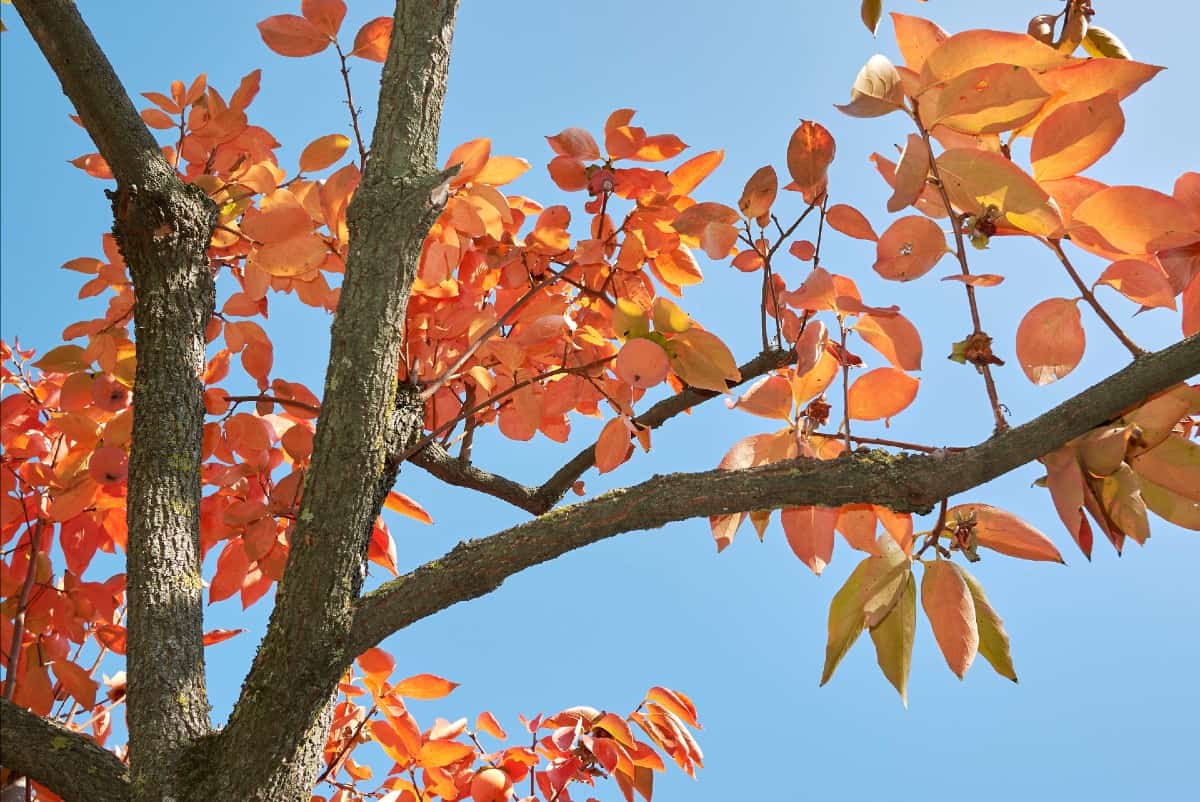 This beautiful tree has a spreading crown of glossy oval leaves that begin dark green and turn to a glorious display of orange in the fall. It has bell-shaped yellow flowers after the foliage emerges, followed by tomato-sized fruit.
The bright orange fruit is fully visible after the leaves drop and attract wildlife. Japanese persimmon trees are virtually pest and disease free and prefer sunny areas. They need little pruning and are hardy in zones 7 through 10.
Japanese Maple (Acer palmatum)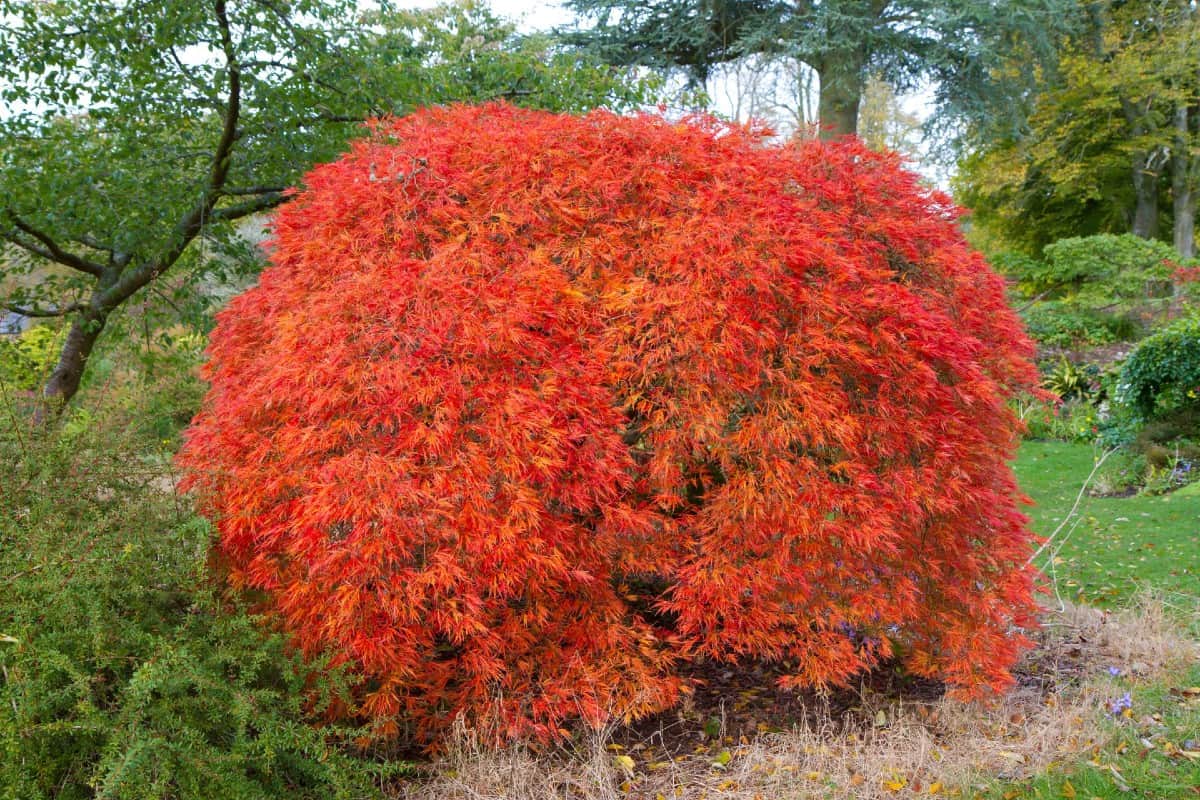 Japanese maples are native to Japan, China, and Korea, and have elegantly cut leaves of many tones that turn to orange, yellow, and purple/red, depending on the species. They have striking winter bark and coral branches for year-round appeal.
These graceful-looking trees grow in hardiness zones 5 through 9 and add drama to the yard. They are low maintenance, enjoy part shade to full sun, and have a mature size of 10 to 25 feet.
Serviceberry (Amelanchier) – Colorful Tree with Four-Season Interest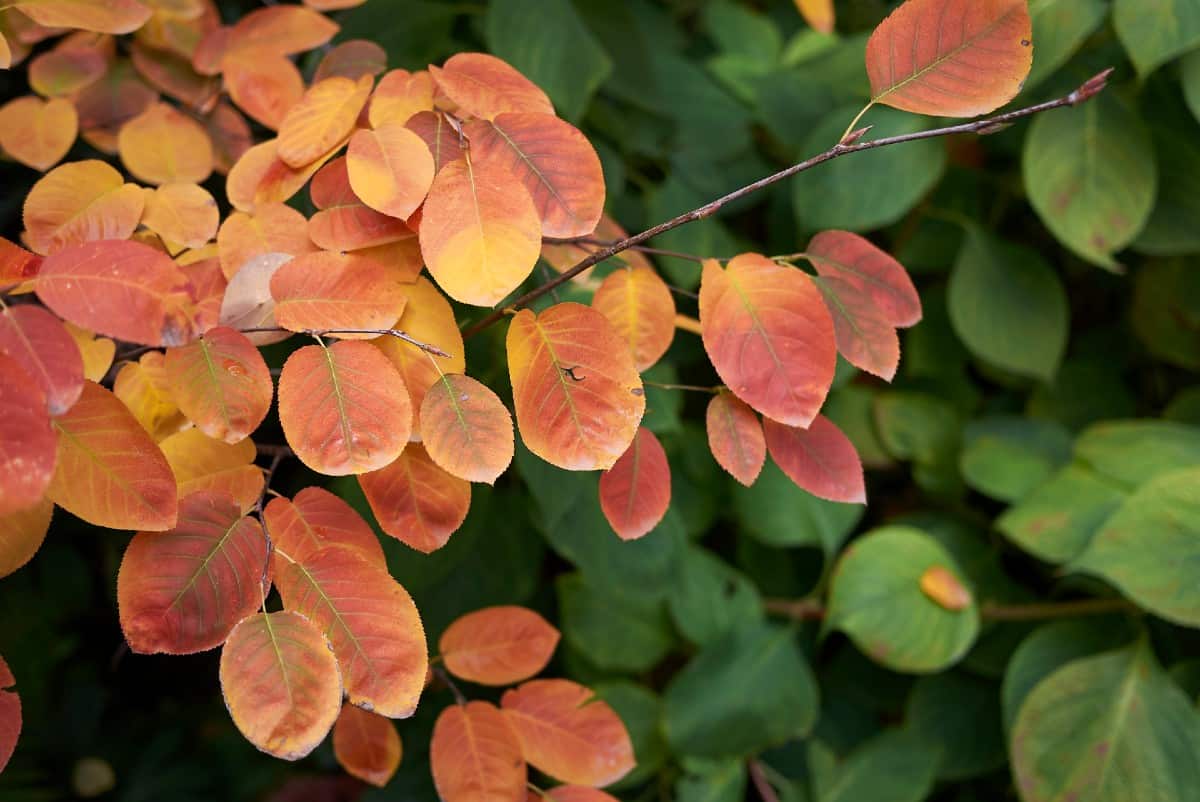 Serviceberry is a small tree with an open and loose growing habit. It displays five-petaled white flowers before the leaves emerge, followed by edible berries. The green foliage transforms into a vibrant orange/red that exposes silvery bark after shedding.
These four-season trees are drought tolerant and low maintenance. Serviceberry trees are hardy in zones 2 through 9 and grow 20 feet tall or more with a spread of 15 feet wide.
Red Oak (Quercus rubra)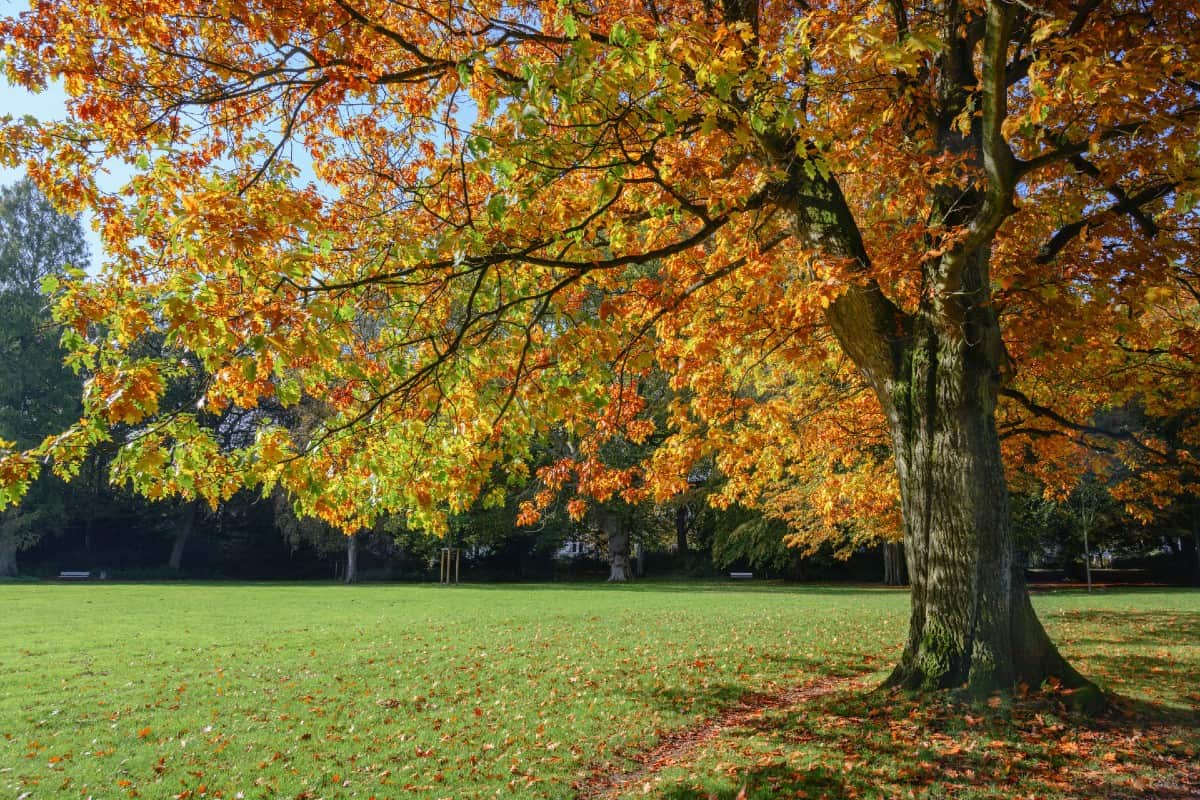 This tree's broad-spreading crown offers an abundance of shade with its lustrous green leaves that turn to orange/red in autumn. It has acorns that squirrels and small critters love and is excellent as a specimen tree for large areas.
Red oaks grow up to 70 feet tall and wide and are hardy in zones 5 through 9. They grow easily in full sun and dry to medium moist soil. These handsome and stately trees are drought tolerant but are sometimes affected by pests.
Black Tupelo (Nyssa sylvatica) – Specimen Tree with Unique Bark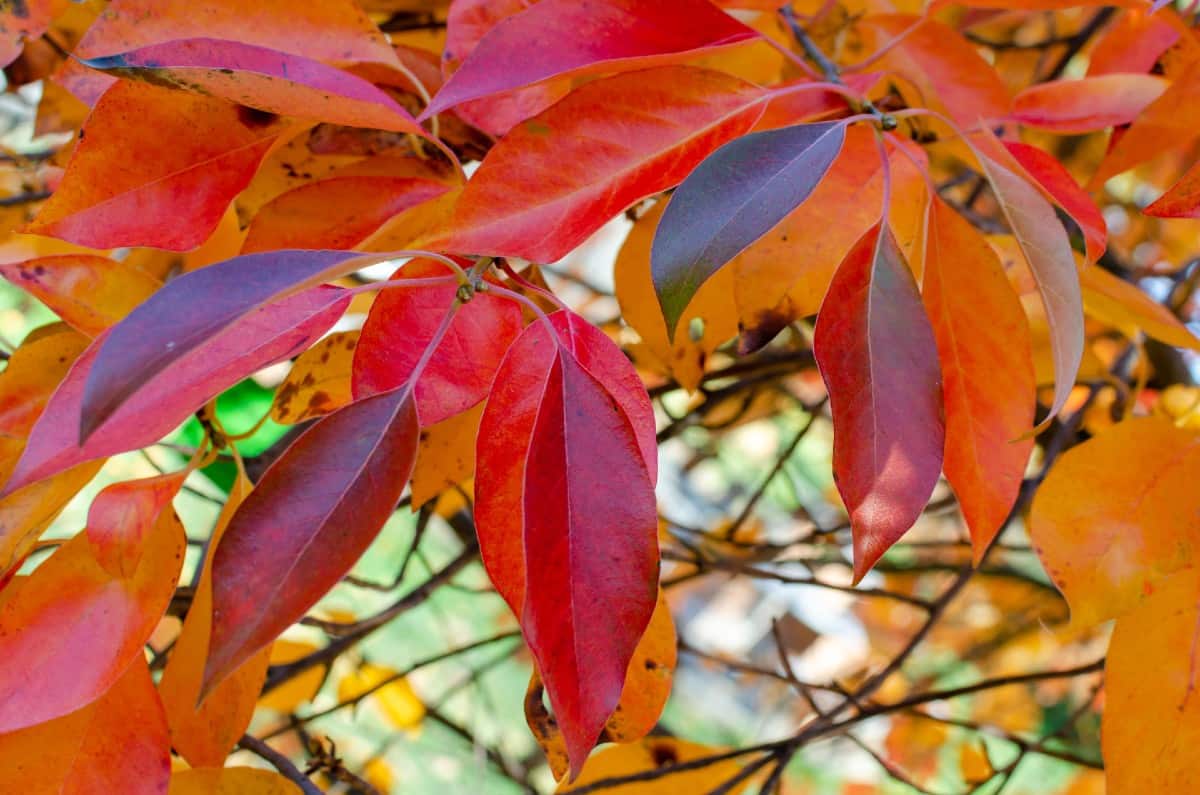 Black tupelo has dark green summer leaves with a high-gloss appearance that gives way to orange, yellow, and red in the fall. It produces bluish-black fruit for the birds, and as this tree matures, the bark resembles alligator hide.
This specimen tree has a 20 to 30-foot spread and grows 30 to 50 feet tall. Black tupelo is suited for growing in USDA hardiness zones 4 through 9 in part shade to full sun.
Red Maple (Acer rubrum)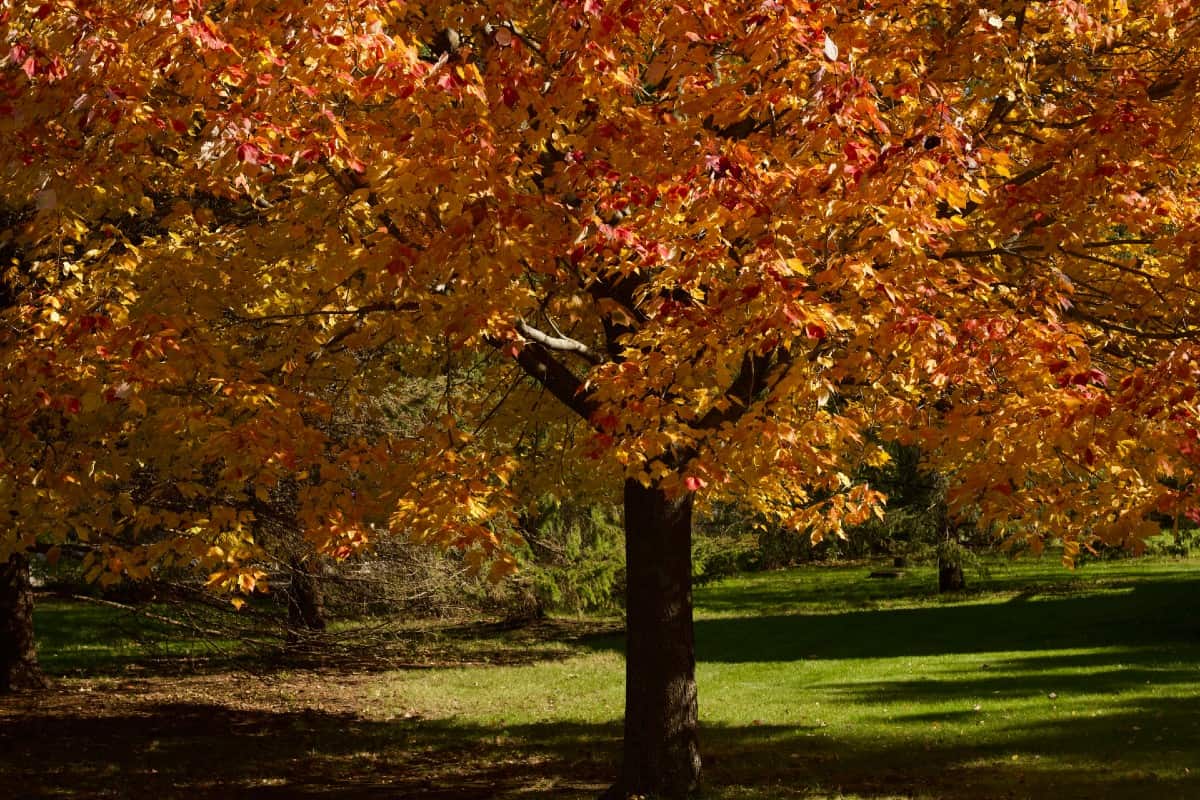 This fast-growing tree has a pyramidal shape and is notable for its lovely fall foliage. Tiny red flowers bloom in the spring along with red fruit. The red-tinged leaves turn dark green during the summer and take on orange, yellow, and red tones during the fall.
Red maples are a low maintenance plant that requires little pruning. They are happy with part shade or full sun and have a mature size of 40 to 70 feet t with a 30 to 50-foot spread.
American Sweetgum (Liquidambar styraciflua) – Shade Tree with Beautiful Foliage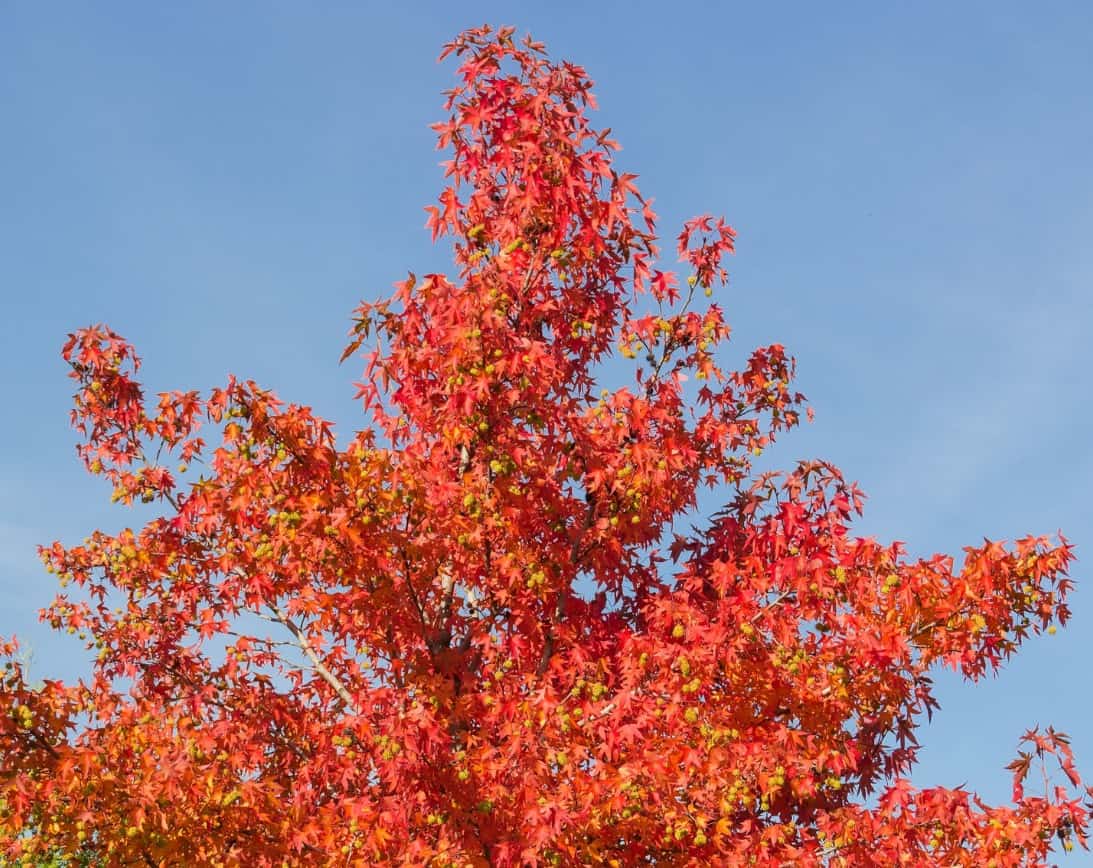 American sweetgum trees have large, dark green leaves that change with optimal weather and growing conditions, revealing orange, red, and yellow leaves during the autumn season.
This tree's star-shaped and glossy foliage adds character to the area and is a good candidate for shade. American sweetgum has a spread of up to 50 feet and grows to 80 feet tall in zones 6 through 10.
Dogwood (Cornus) – Tree with Pretty Spring Flowers and Fall Foliage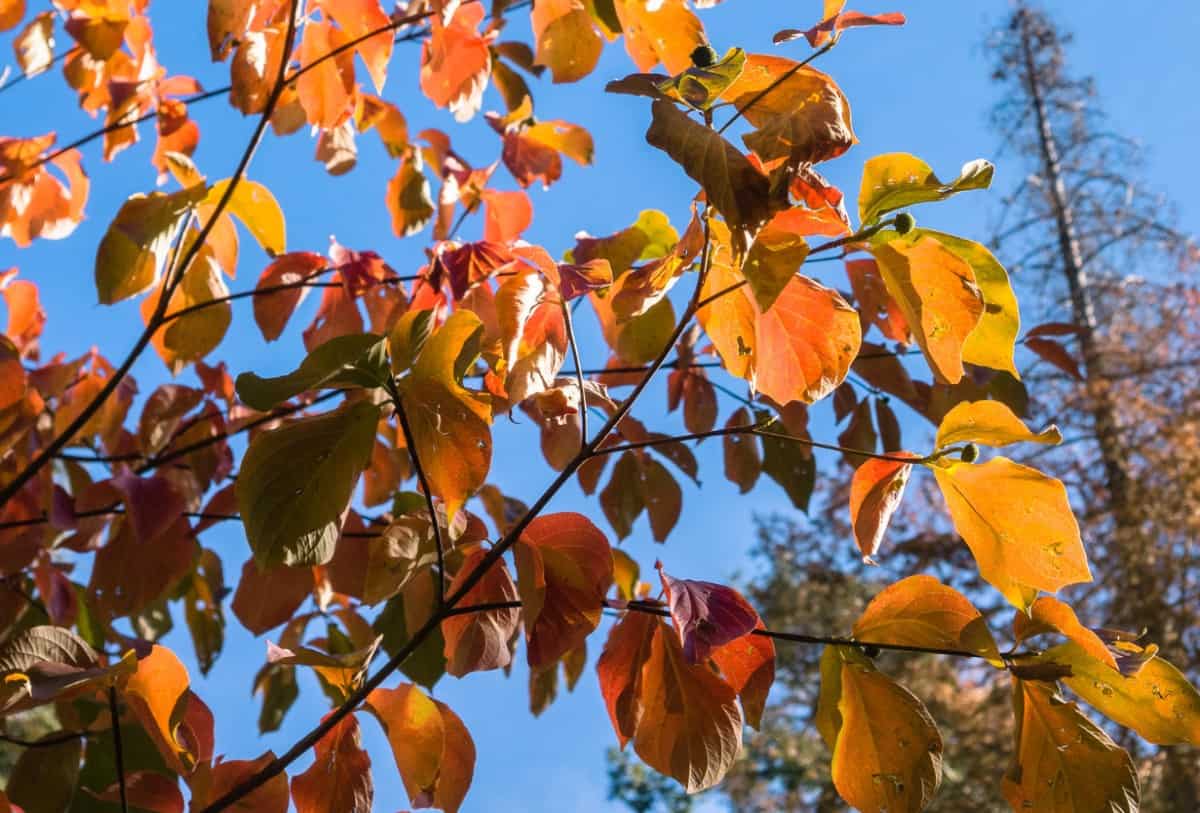 Dogwood trees grow in many sizes and shapes, and they all have four-petaled pink or white flowers in early spring. They bear fruit for birds and have dark green leaves that turn bright orange to red/purple in the fall.
These flowering trees grow in zones 3 through 8, depending on the type, and have a mature size of 25 feet. Dogwoods are low maintenance and prefer well-drained soil to thrive.
Quaking Aspen (Populus tremuloides) – Attractive Trees with Brilliant White Bark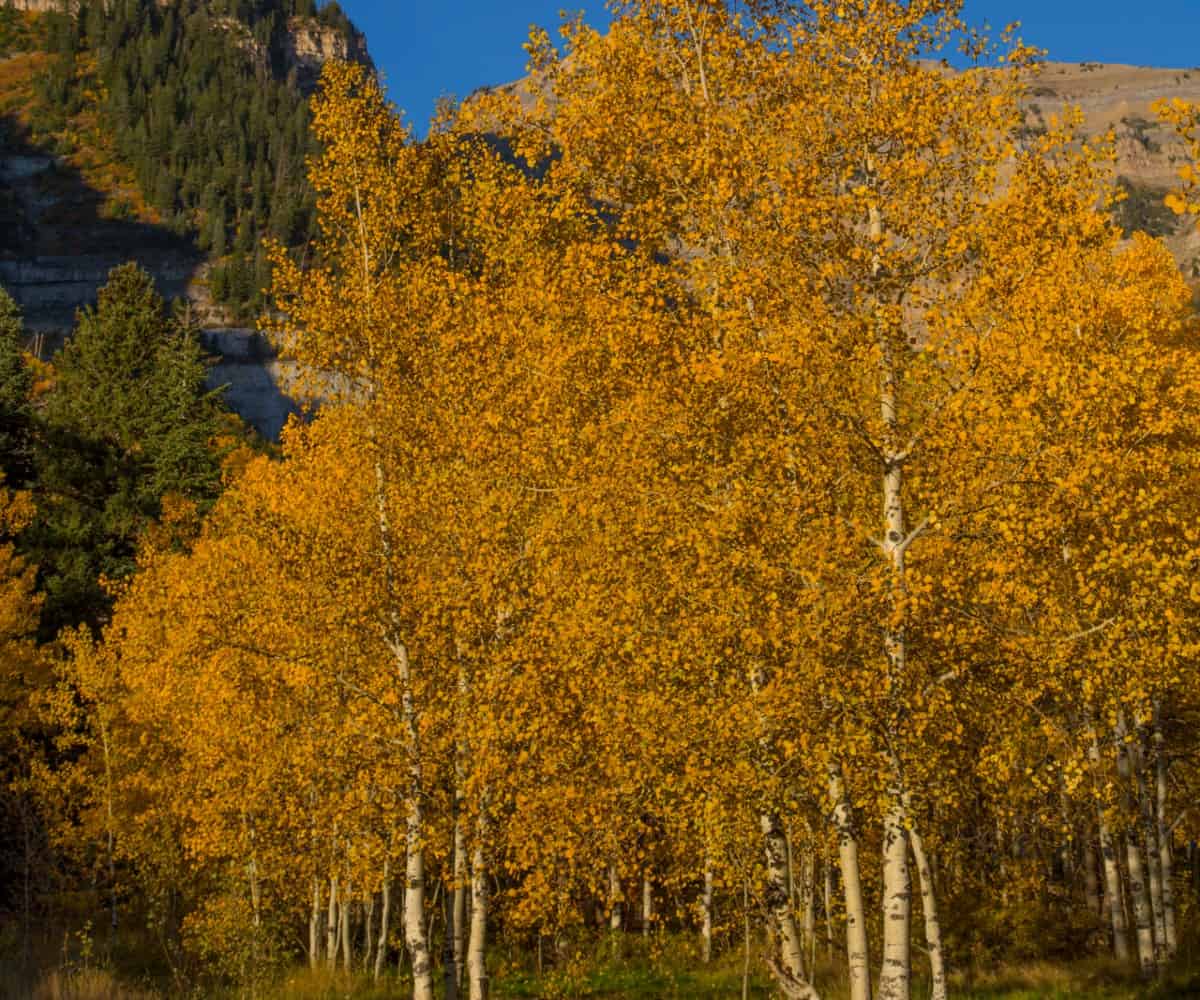 If you hear the gentle clapping of leaves on the breeze, you probably hear this aspen tree's shaking foliage. Quaking aspens have four-season interest with their deep green summer leaves that turn golden-orange in the fall and brilliant white bark.
These trees desire full sun and moist, well-drained soil. Quaking aspens are hardy in zones 1 through 6, have a canopy spread of 10 to 30 feet, and grow 20 to 50 feet tall. They are members of the willow family but are closely related to poplar trees.
Sumac (Rhus)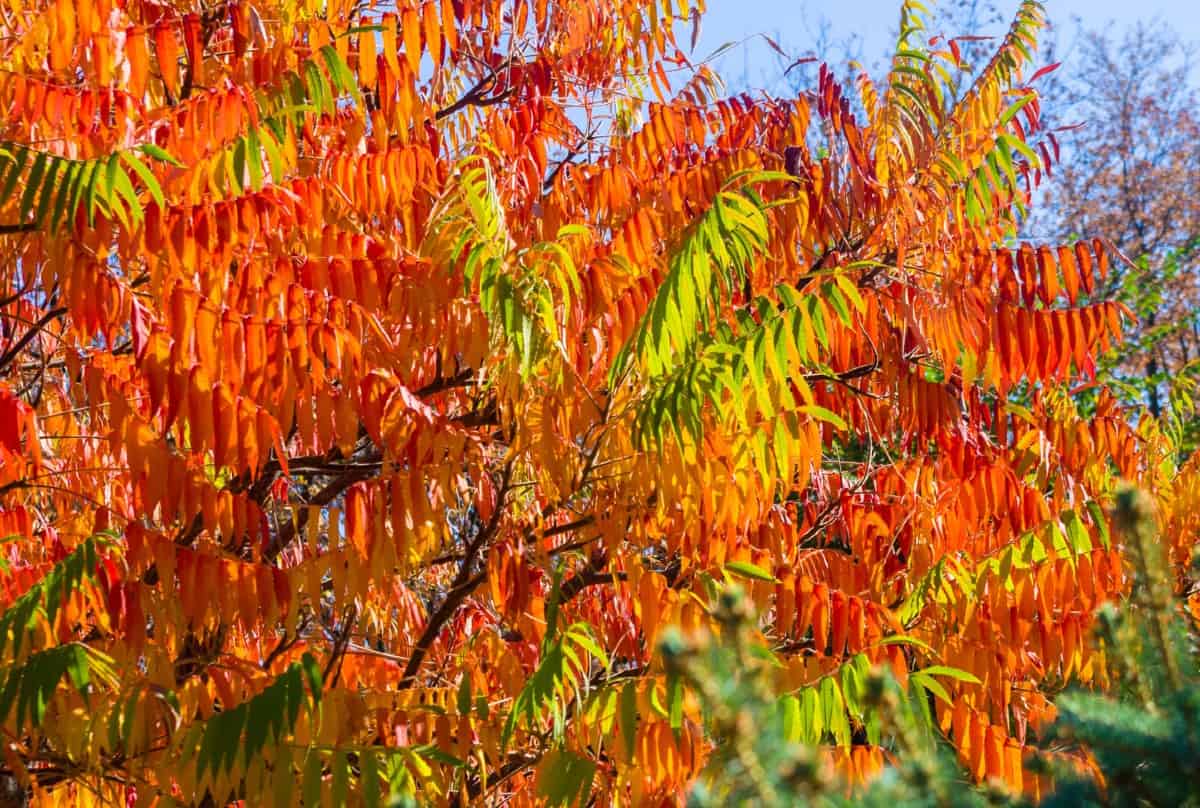 These trees often get a bad rap, but many non-poisonous types are great for landscaping with fall color. Sumacs have fern-like compound leaves that turn from green to vibrant orange and red in autumn.
Depending on the type of sumac, these trees grow anywhere from 10 to 35 feet tall. They are low maintenance and prefer growing in part to full sun. Sumac trees thrive in hardiness zones 2 through 9.
Amur Maple (Acer ginnala) – Gorgeous Tree with a Blaze of Color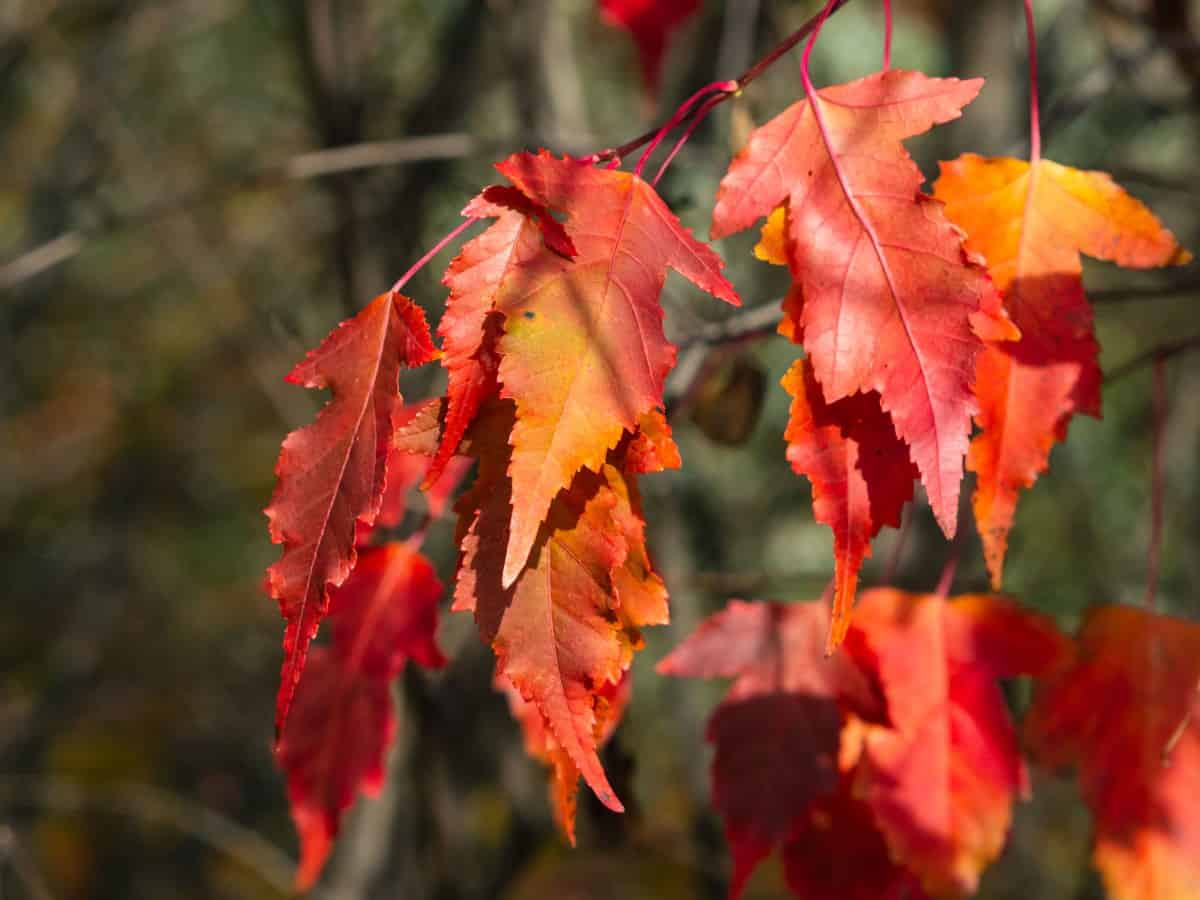 This small tree has a reputation for its distinct fall richness. The three-lobed, green leaves grow up to four inches long and seem to set the skyline ablaze with bright orange and red autumn colors.
Amur maple trees have small white flowers in the spring and winged seeds, or helicopter seeds. They control soil erosion and are excellent for a windbreak. This species of maple grows up to 30 feet tall and is hardy in zones 3 through 8.
There's nothing that says autumn more than walking beneath a canopy of orange and hearing the crunching of leaves beneath your feet as they fall gently from above.
While there are many autumn colors, orange is one of the most popular, and many trees are eager to fill your yard with these warm shades.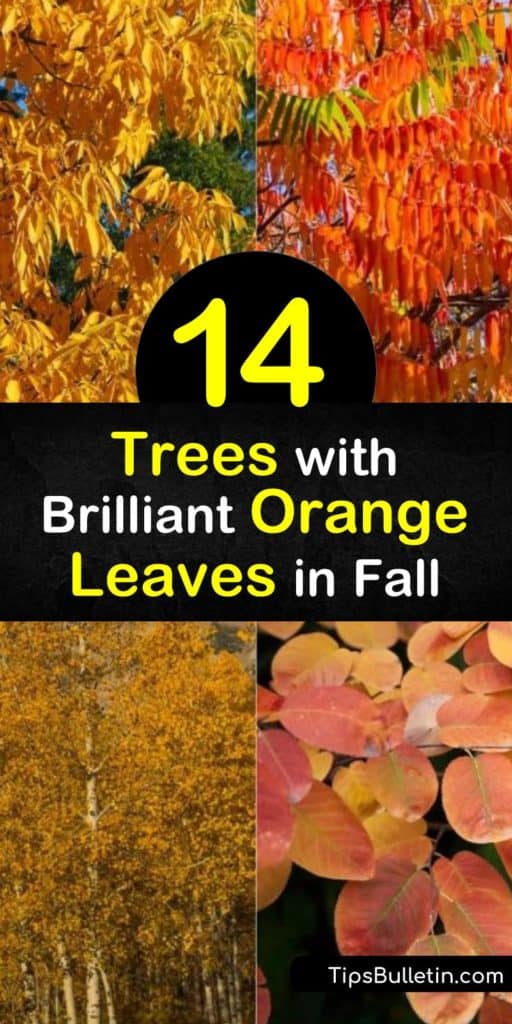 The best way to welcome the season's change is to plant trees with orange leaves, so why not share our orange foliage tree guide with your autumn-loving friends and family on Facebook and Pinterest?