Trees grow in a wide range of shapes, sizes, and colors and have much to offer the landscape. Some of them are popular for their flowers, while others are admired for their bright fall leaves. Trees with ornamental berries add interest to the space that many others lack.
Leaf tone is often the first thing to think of when picking trees for your garden. However, there are many other aspects to think of when planting for a four-season appeal.
The shape of the tree, flowers, foliage, and fruit all play an important role if you're looking to create a year-round landscape. The winter months are often drab and colorless, but a yard full of berry trees brings the space back to life.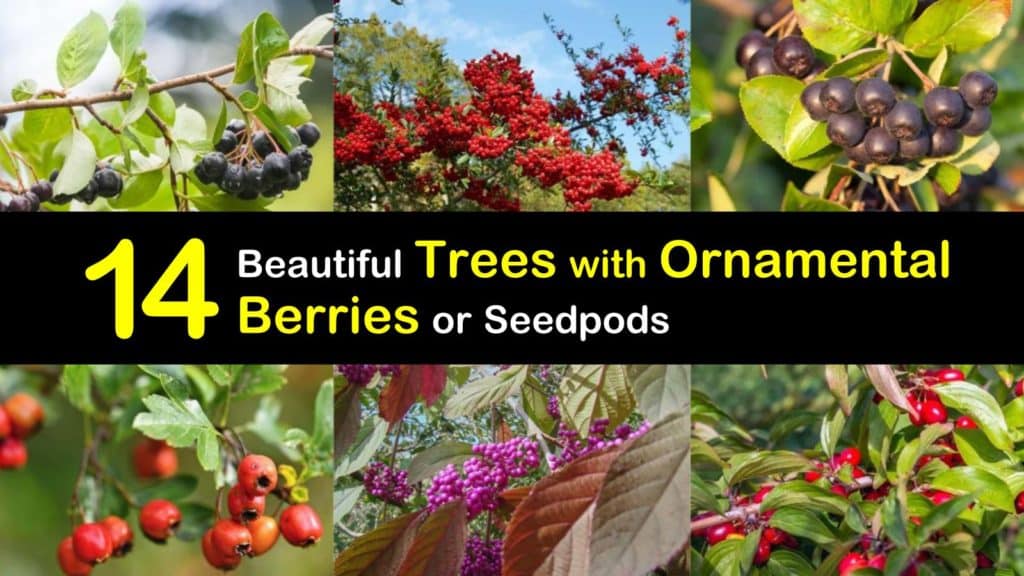 Ornamental Trees and Shrubs with Berries for Year-Round Interest
These trees have structural charm and bright fruits that are pleasing to look at and attract a variety of wildlife to the area. Birds and other critters snack on the berries through the harsh winter months.
There are many different varieties of trees with berries, and choosing the best ones depends on your home's location and yard size. Learn how to pick the perfect ornamental tree to appreciate all year.
Of course, there are also berries that are edible. Are bilberries the same as blueberries? They are both delicious. What about huckleberries vs blueberries? There are just as many tasty edible berries as there are ornamental ones. Pick a couple of each for variety in your landscape.
If you have issues with small critters, keep squirrels out of yard with carefully chosen trees. Pick ones that these mammals don't like and you'll have fewer problems.
Which Trees and Shrubs Grow Ornamental Berries?
Some trees grow fragrant flowers, and others produce nuts, but not every type of tree has ornamental berries. If you aim to landscape with berry trees, it's essential to know which ones bear fruit.
Many trees offer an assortment of berries ranging in intensity, from purple, pink, and white to red, orange, and blue. Depending on the species, growing fruit trees in pots and containers may also be an option if you have limited or no yard space.
Crabapples are famous for their fruits, and they grow in varying sizes and shapes. Another popular berry tree is dogwood, which has pink or white flowers in the spring and bright red berries in the fall.
Are Berry Trees Poisonous?
This is an important question, especially if you have children attracted to the bright and cheerful tones. The answer depends on the species of tree.
Most berry trees are not poisonous and taste great in pies, such as serviceberry and beautyberry. However, holly, winterberry, and other similar trees have toxic fruits, and some of them are harmful to humans but not animals.
What are pokeberries? These berries come on an attractive plant that is poisonous, as well.
How Large do Trees and Shrubs Grow and Where Should I Plant Them?
Many of these ornamentals are small trees and suitable for growing in a yard with limited space. Dwarf varieties range from 5 to 15 feet tall, and standard trees may grow 15 to 25 feet tall.
However, there are larger types that reach over 30 feet tall. The tree's mature size and the type of root system it has are two critical things to know before purchasing and planting your new tree.
As a rule of thumb, do not plant a tree any closer than 15 feet to your home or other structure. Another factor to consider when it comes to placement is berry dropping and staining.
What is the Difference Between Evergreen and Deciduous Berry Trees?
Deciduous trees have a cycle that they go through each year and lose their leaves at the end of the summer, while evergreens maintain their foliage all year round.
Both types have fruit-bearing trees for seasonal interest. Red chokeberry and crabapple are deciduous, and yew, holly, and firethorn are good examples of evergreen berry trees.
Winterberry (Ilex verticillata)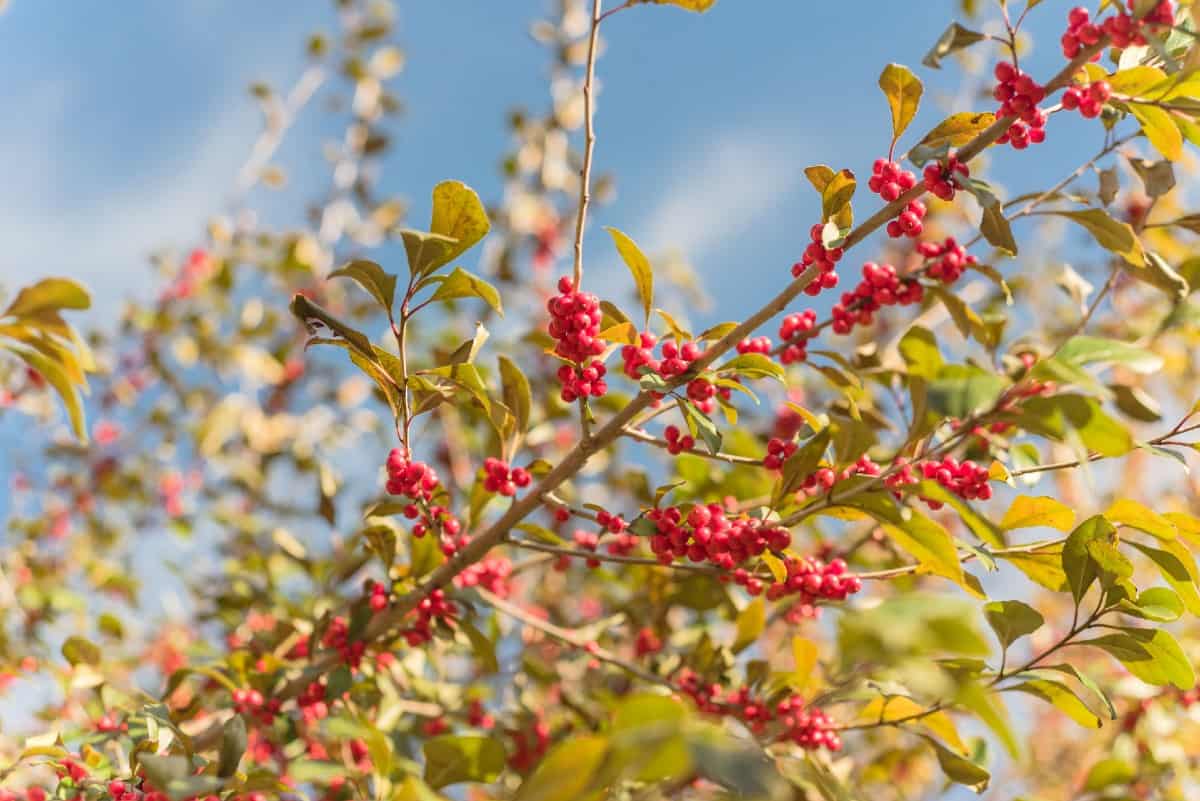 This deciduous shrub is multi-stemmed, with an upright, rounded growth habit. It fills with clusters of greenish-white flowers in early summer and cherry-red berries from fall through winter that persist through the months.
Winterberry shrubs have a mature size of 6 to 10 feet tall and wide and have leathery dark, green leaves that turn yellow and purple in the fall. They like growing in wet soil, prefer full sun or part shade, and are hardy in zones 3 through 9.
Japanese Flowering Crabapple (Malus floribunda) – Deciduous Trees with Ornamental Berries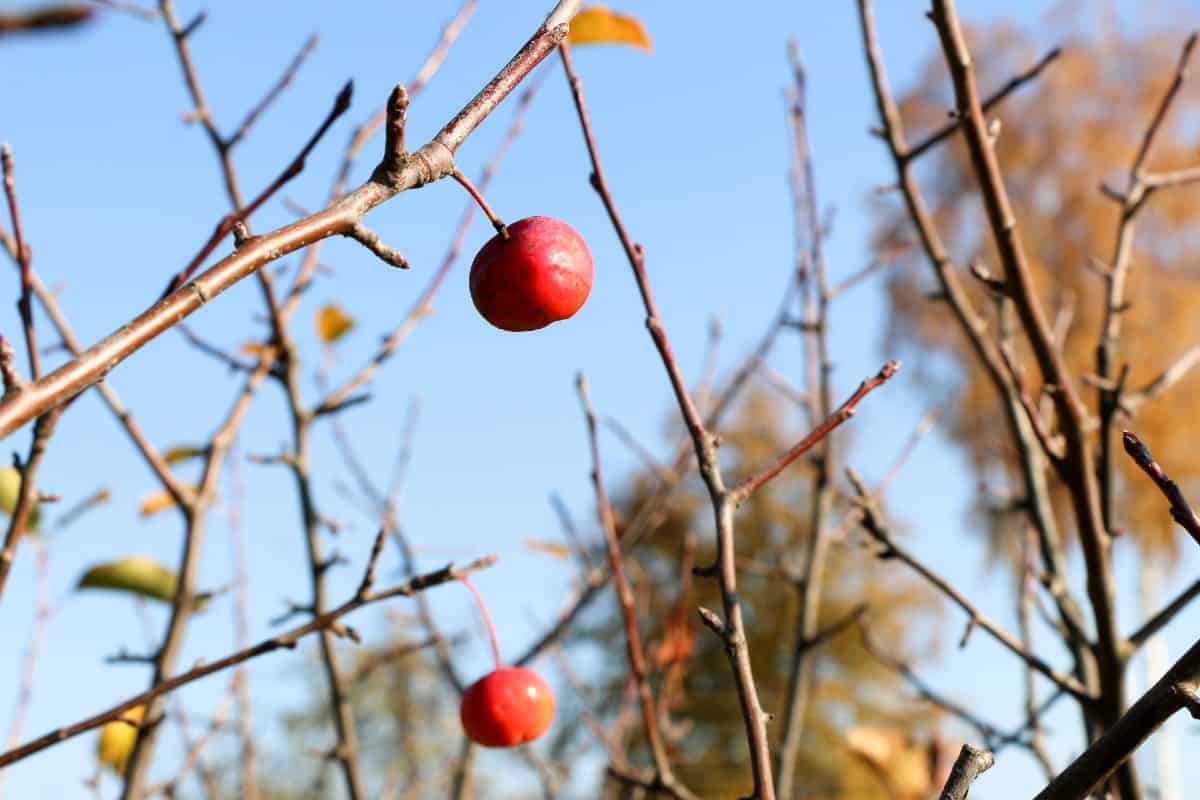 These stunning deciduous and easy to grow fruit trees have a densely branched canopy with a broad and rounded shape. Fragrant, pale pink flowers open in mid-spring, followed by small red fruits, tasty for making jelly or eaten by birds.
Japanese crabapples grow up to 20 feet tall and 30 feet wide and are the perfect specimen plant for your garden. They are sun-loving trees in USDA hardiness zones 4 through 8 and require minimal pruning in the late winter or early spring.
Serviceberry (Amelanchier)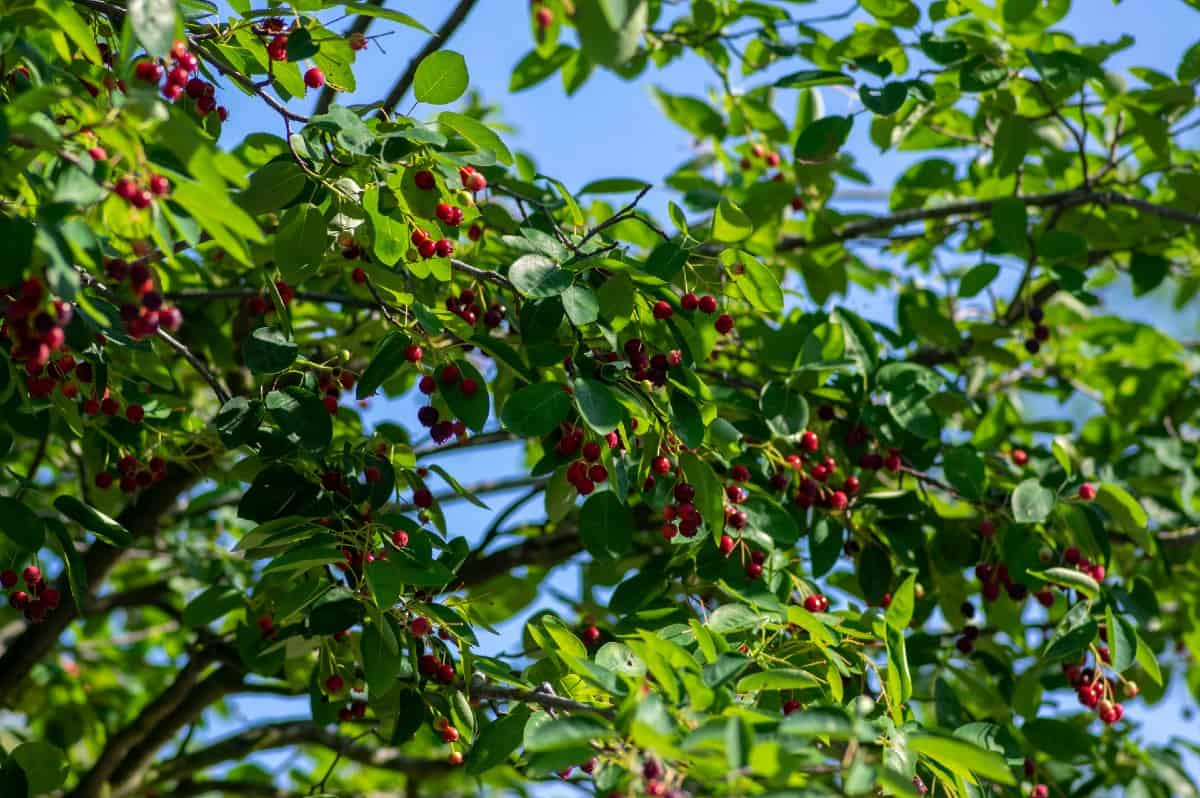 The serviceberry is a deciduous, suckering shrub with an upright appearance. Its four seasons of interest begin mid-spring with fragrant white flowers and lead to small, light green, oval leaves.
Sweet blue berries emerge in early summer, and the leaves turn red and orange during the fall. The berries of this plant are tasty in jam and jelly, and the birds love them as well.
Serviceberries have a mature size of 10 to 15 feet tall and wide and grow best in hardiness zones 2 through 7. These low maintenance trees are pest and disease free.
American Beautyberry (Callicarpa Americana) – Violet Berry Shrub that Attracts Butterflies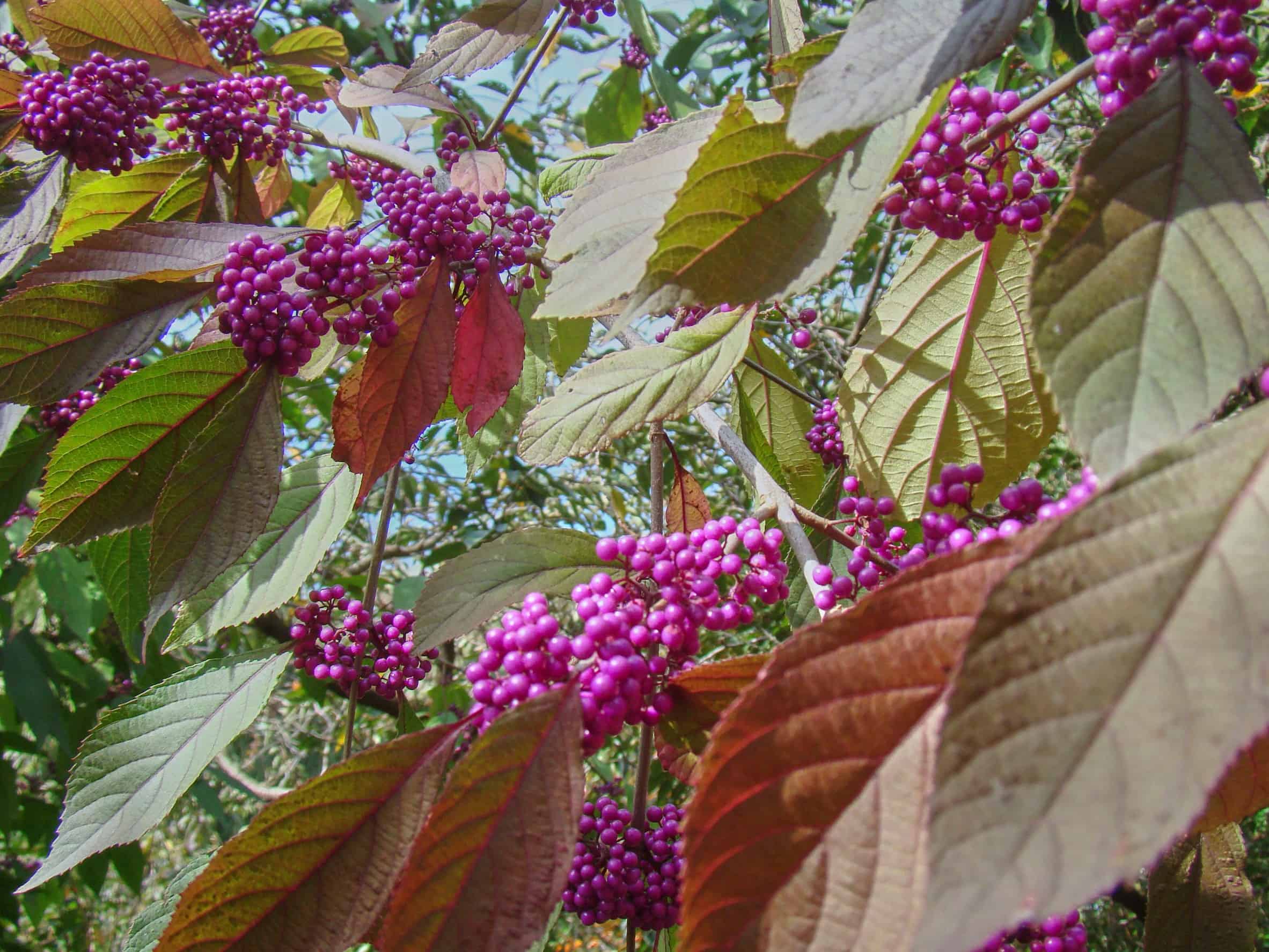 The American beautyberry delivers fantastic and striking clusters of magenta and bright violet berries in the fall and into winter. It is a bushy, deciduous shrub with long, arching branches of fuzzy, light green leaves that change to yellow in the fall.
This easy-growing plant is low maintenance and generally disease and pest free. Its mature size of 3 to 6 feet tall and wide makes it a good choice for small yards, and it is hardy in zones 6 through 10.
Dogwood (Cornus)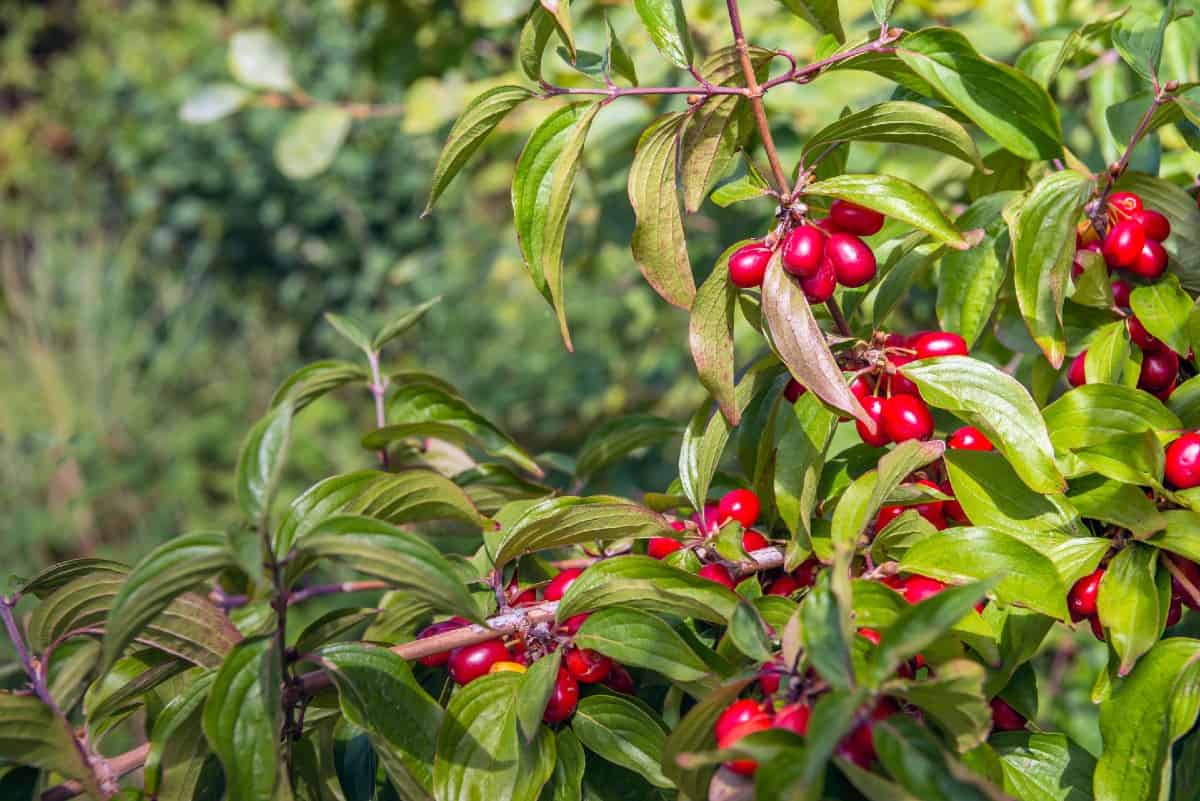 There are many species of dogwood, in both tree and shrub form. They grow pink or white flowers in the spring and summer, have blue-green foliage that turns red and orange in the fall, and bright red fruit in the winter.
Dogwoods grow 20 feet tall or more and reach 10 to 15 feet in width. They are low maintenance plants that thrive in hardiness zones 3 through 8. These deciduous trees grow well in both full and part sun.
Firethorn (Pyracantha coccinea) – Evergreen Shrub with Vibrant Red-Orange Fruit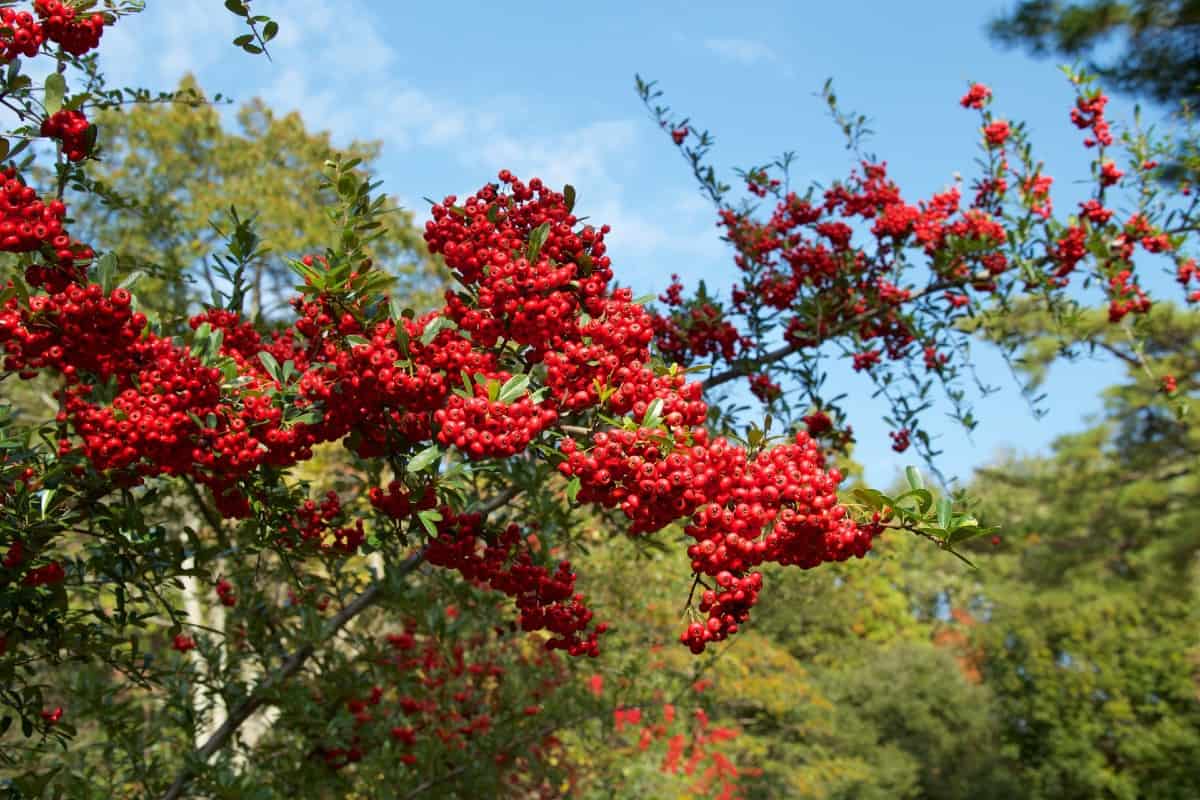 This fast growing evergreen tree has tight white flower clusters in late spring or early summer and dark green, lance-shaped leaves. Its thorny branches produce brilliant orange-red berries in the fall that remain through part of the winter.
These thorny shrubs and bushes are compact and dense plants that are suited for growing in hardiness zones 5 through 9. It is ideal as a privacy barrier in your yard and grows well in part or full sun.
Cotoneaster (Cotoneaster apiculatus)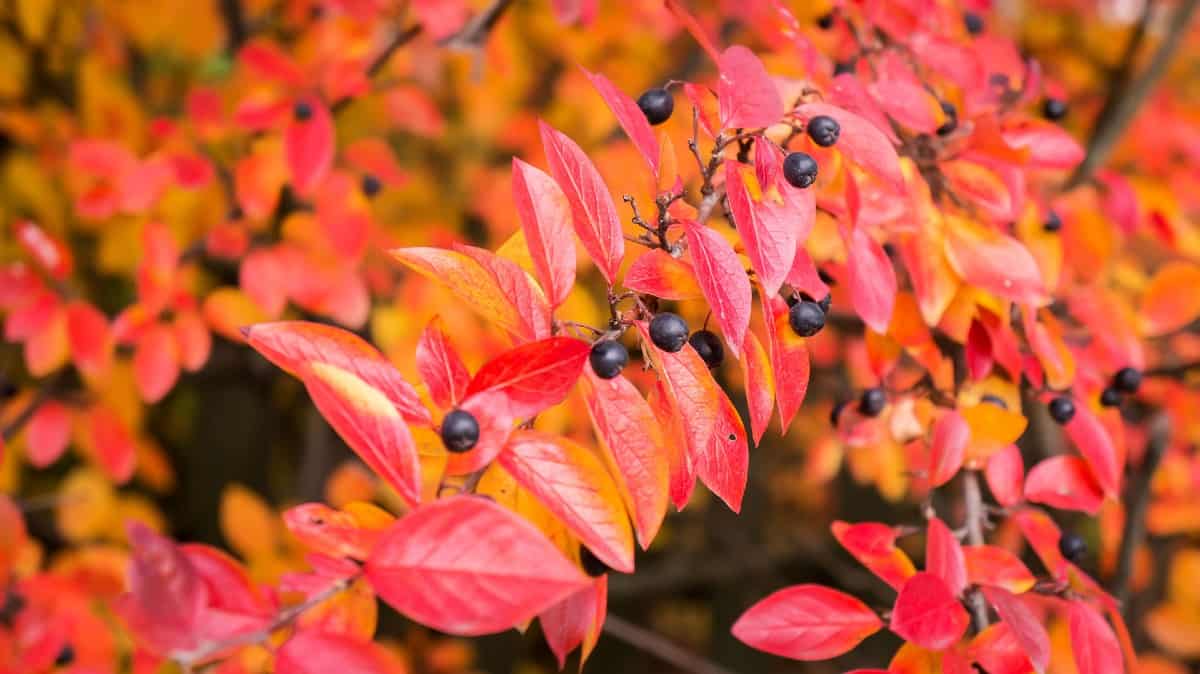 There are a few different species of this tree or bush, and the shrub form has an upright growth habit. Its rich, deep green leaves turn orange, red, and purple in the fall and red, pink, or white spring flowers and red berries that last well into winter.
Cotoneasters grow up to 20 feet tall, depending on the type, and perform best in hardiness zones 4 through 7. They are low maintenance, drought tolerant, deer resistant, and enjoy part or full sun. Use these attractive tall trees for privacy around your backyard to keep nosy neighbors from snooping.
Spindle Tree (Euonymus europaeus) – Large Shrub with Bright Pink Berries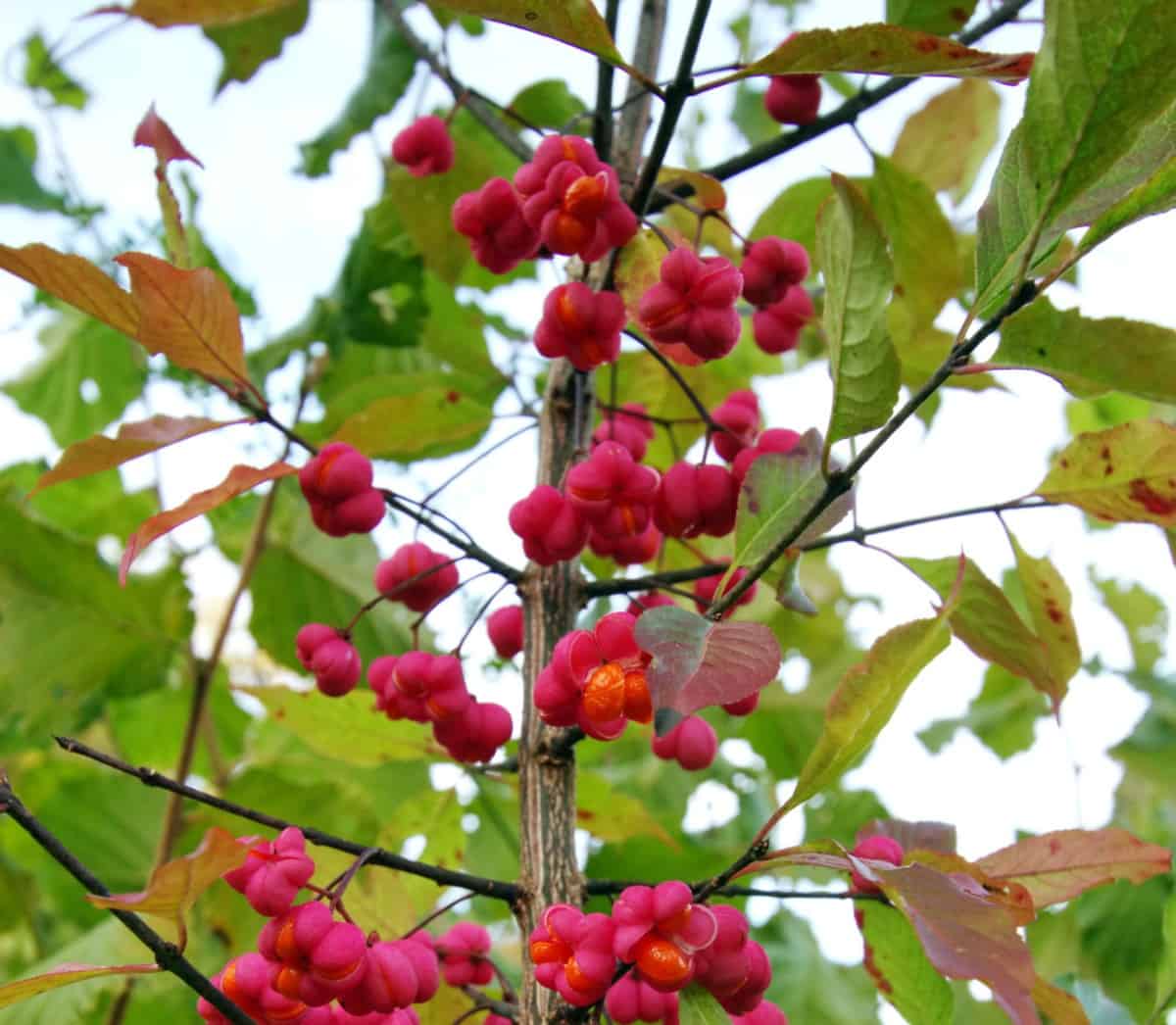 This large deciduous shrub or small tree is a treat in the fall and winter garden. It has huge ovate mid-green leaves that turn crimson in the fall, late spring star-shaped green flowers, and masses of crimson-pink fruit in the fall that split into orange seeds in the winter.
The spindle tree is easily grown in part or full sun in USDA hardiness zones 5 through 9. It has a mature height of up to 12 feet tall and 10 feet wide and attracts birds and wildlife to the area.
Red Chokeberry (Aronia arbutifolia)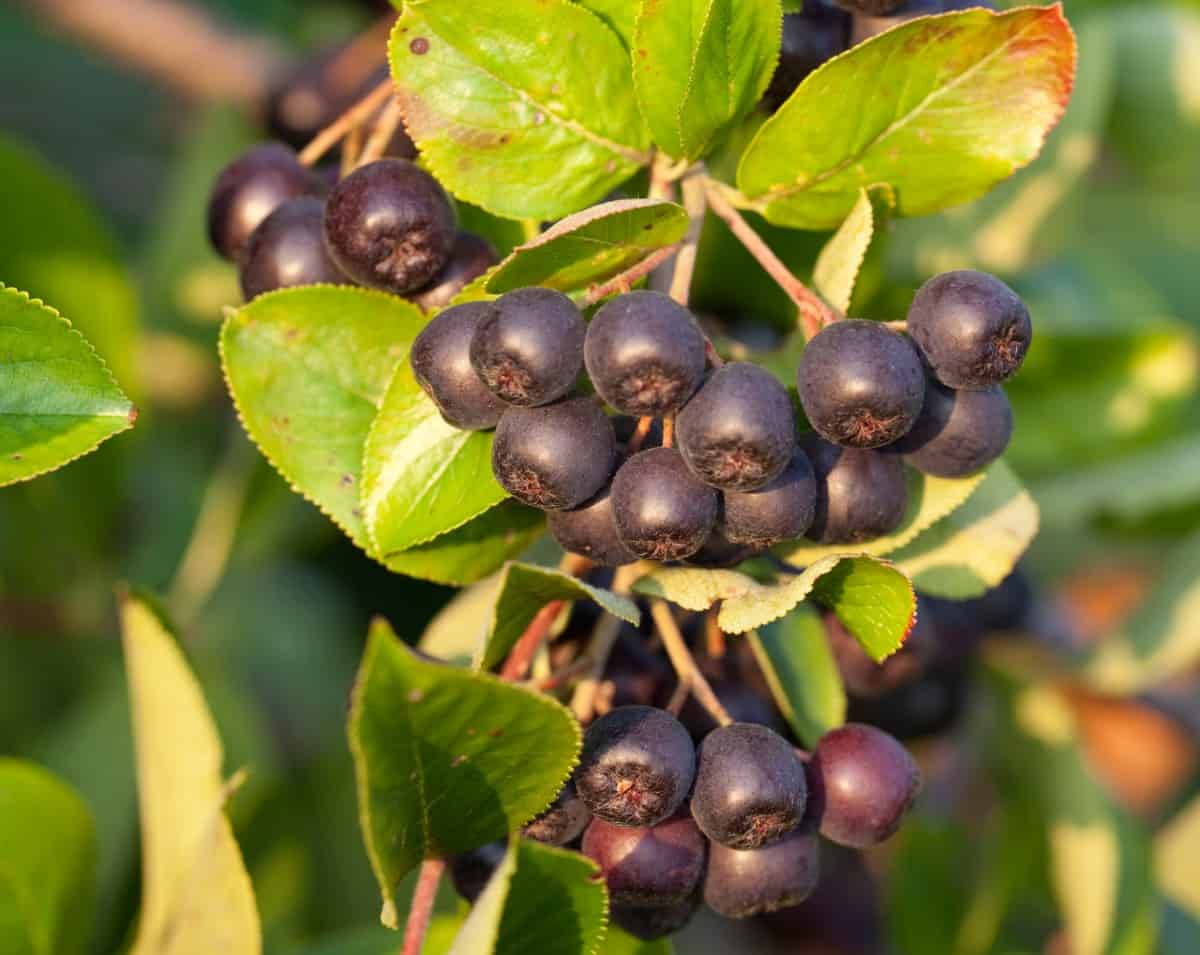 This multi-stemmed evergreen shrub grows white or light pink flower clusters along its branches that are attractive to butterflies and dark green, glossy leaves that turn bright red in the autumn.
Abundant clusters of shiny red berries emerge in late summer and remain through the fall and winter. Red Chokeberries like part shade or full sun and are hardy in zones 4 through 9.
They grow slowly in a bushy, erect habit, reaching a mature height of 5 to 10 feet, with a 3 to 5-foot spread. They are deer, pest, and disease resistant.
Korean Mountain Ash (Sorbus alnifolia) – Large Red-Fruiting Shade Tree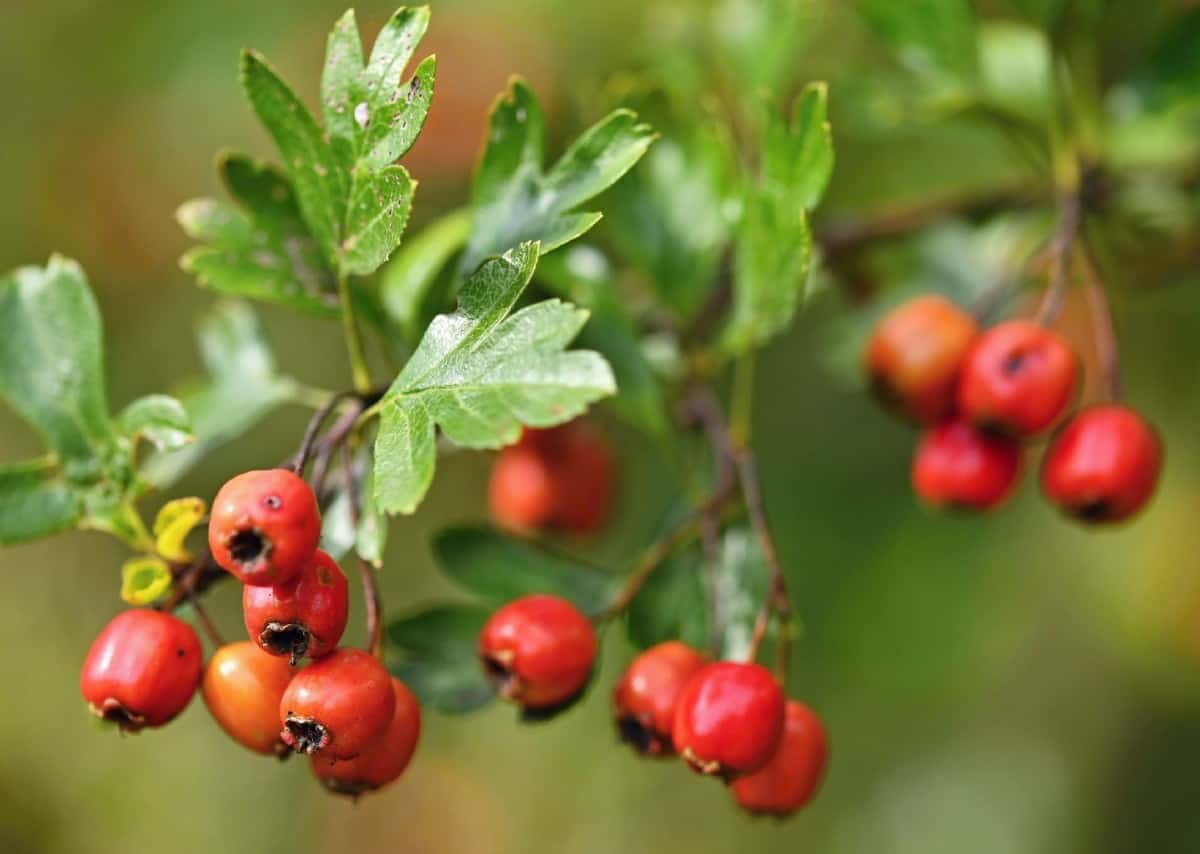 This specimen tree is deciduous and has a rounded canopy of dense, glossy, dark green foliage and tiny white flowers in late spring. The leaves turn golden-orange in the fall as orange to red fruits emerge.
Korean mountain ash trees are somewhat drought tolerant and happily grow in full sun or light shade. They require no routine pruning, grow 40 to 50 feet tall with a spread of up to 25 feet, and are hardy in zones 3 through 7.
Possumhaw (Ilex decidua)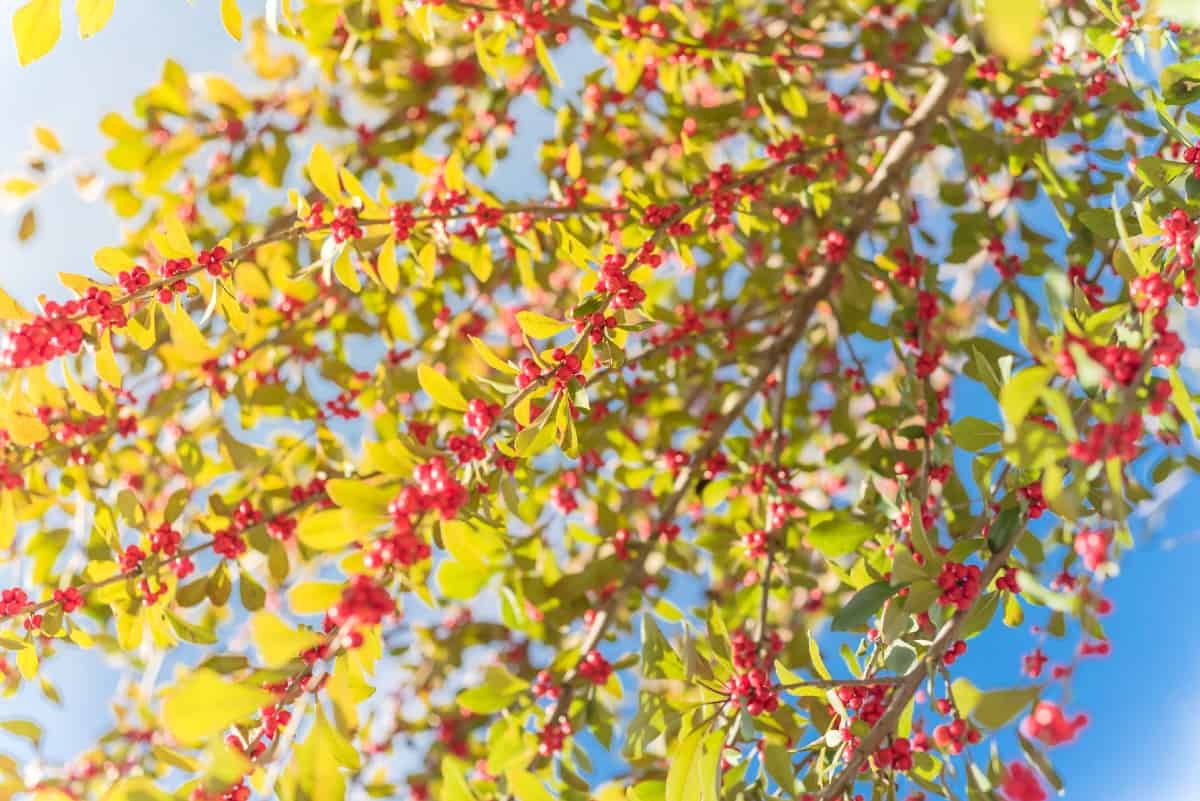 This large deciduous shrub has multi-stems that spread in a rounded fashion with toothed, oval dark green leaves that change to purplish-green and yellow in the fall.
It produces greenish-white flowers in the spring, followed by orange-red berries that persist through winter.
The possumhaw looks stunning as a landscape plant or informal hedge and is hardy in zones 5 through 9. It tolerates wet soil, is ideal for growing near a pond or stream, and grows 15 feet tall and 12 feet wide.
Black Chokeberry (Aronia melanocarpa) – Purple Foliage Shrub with Showy Black Berries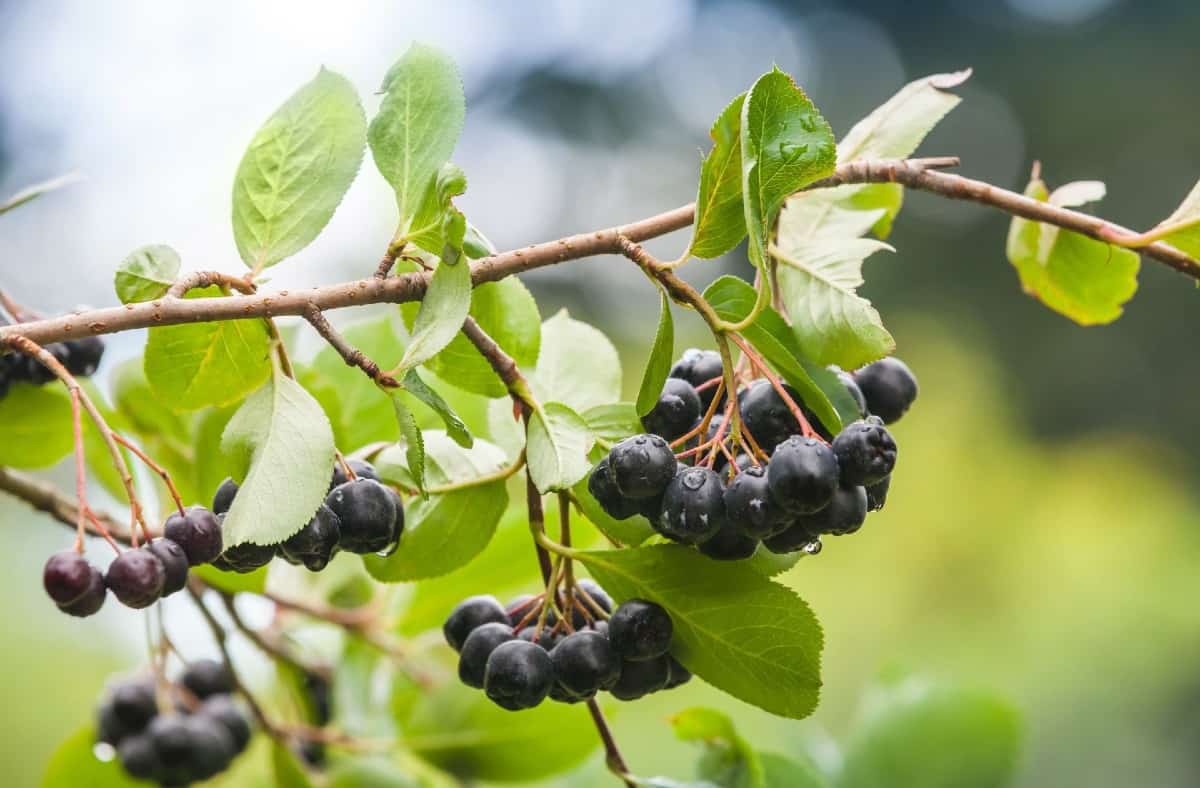 The Black chokeberry has a striking appearance with its pinkish-white spring flowers, purple-red foliage, and glossy, pendulous groups of black berries that hang around into the winter.
The fruits are delicious in jams and jellies and are a great interest to birds, butterflies, and pollinators.
These bushes grow 6 feet tall and wide and perform well in hardiness zones 3 through 8. These deciduous plants are very adaptable, generally pest and disease free, and deer resistant.
Northern Bayberry (Myrica pensylvanica)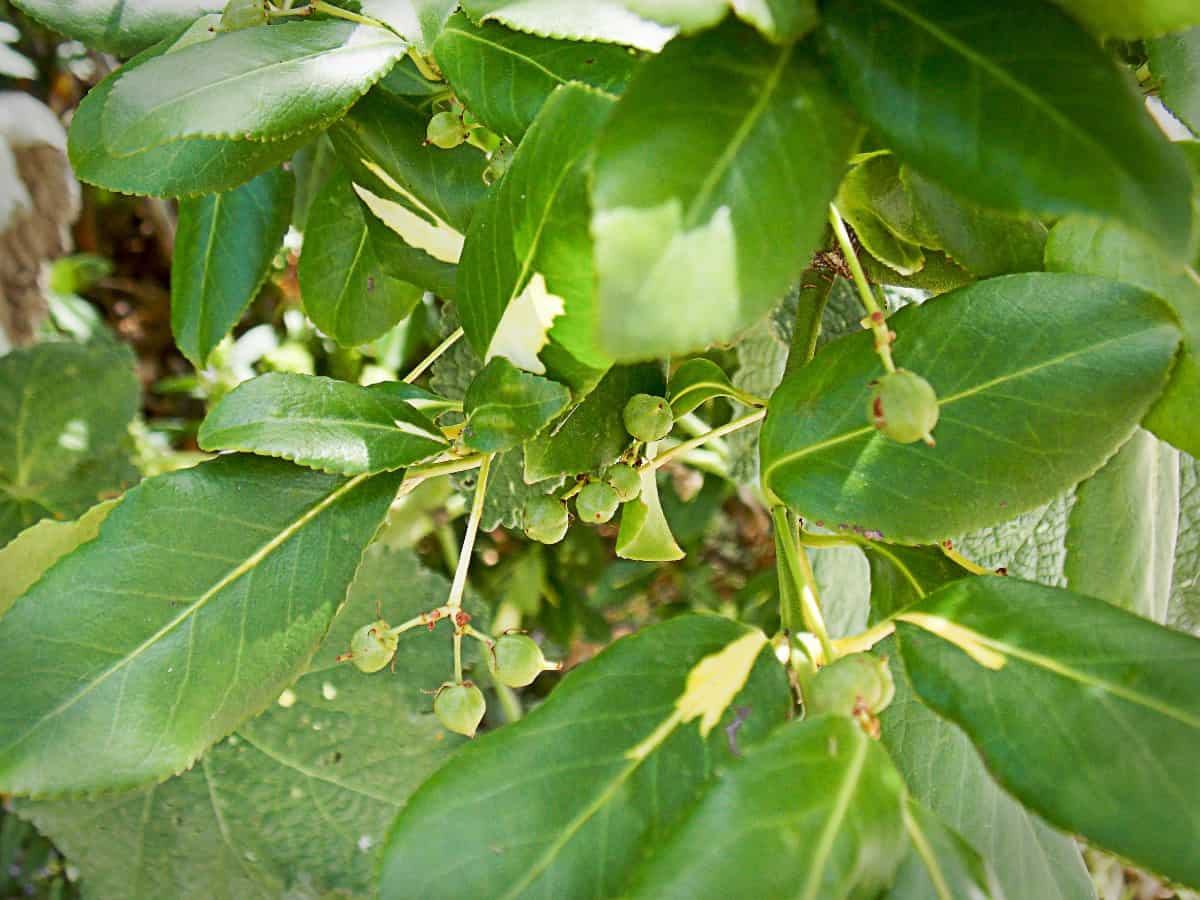 There are several types of bayberry, and this attractive shrub has a rounded growth habit of densely filled branches. It has insignificant flowers, but the leathery and aromatic foliage and silvery-gray berries are a sight to be enjoyed.
Northern barberry has a mature size of 5 to 10 feet tall and wide. It is native to the eastern area of North America and hardy in zones 3 through 7. This shrub is happy growing in part shade or full sun, and it tolerates both drought and wet conditions.
American Cranberry Bush (Viburnum trilobum) – Pollinator Loving Bush with Bright Red Berries and Leaves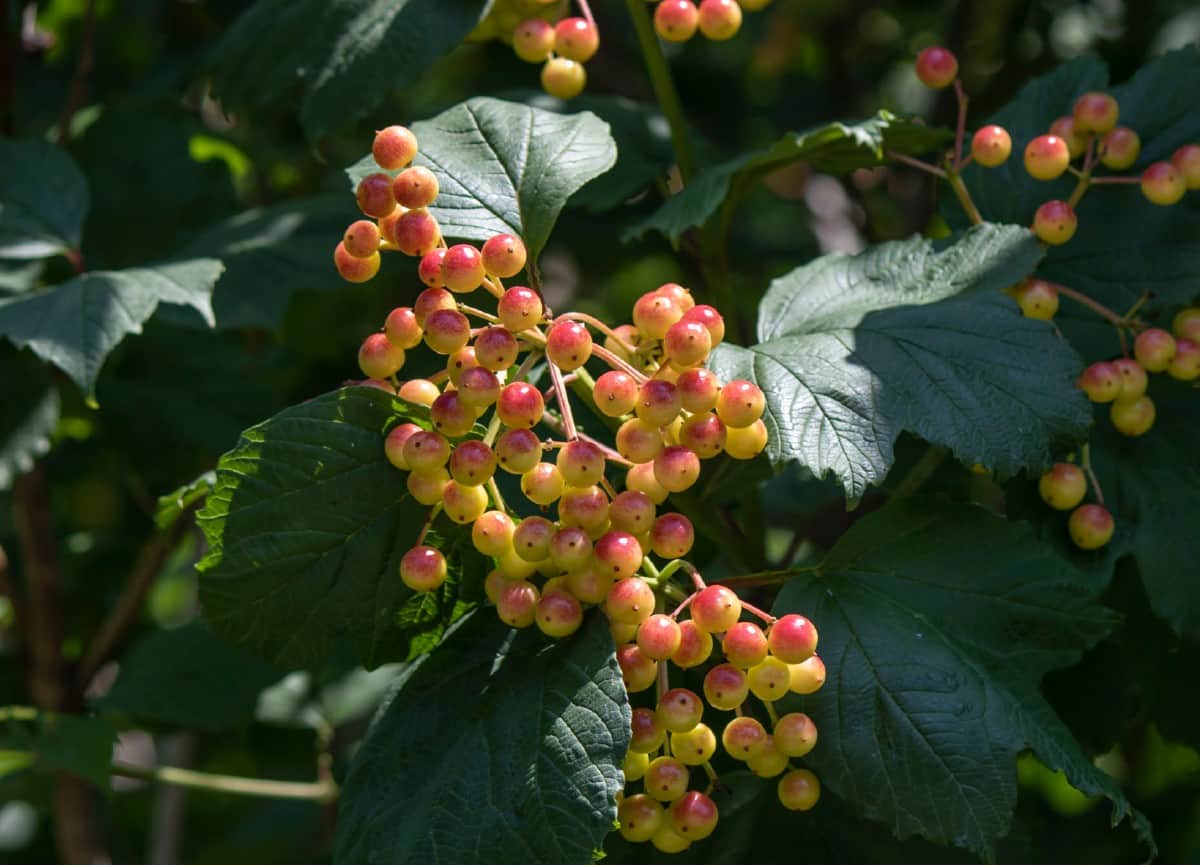 Although different from growing cranberry plants for eating, this lovely deciduous shrub is prized for its four-season appearance. Its dense branches have large, lacy white flowers in the spring adored by butterflies and bees, maple-like dark green summer leaves that turn brilliant red in autumn, and drooping clusters of bright red berries that remain until early winter.
Unlike when to plant cranberry seeds for harvesting, the American cranberry bush is hardy in zones 2 through 7 and grows up to 10 feet tall and 8 feet wide. It is low maintenance, drought, clay-soil tolerant, and no serious disease or insect problems.
It's easy to love trees simply for their bright green leaves and vibrant fall color, but some trees have so much more to offer.
Many of them are ornamental with their pretty spring flowers, unique shapes, and bright berries. Not only are they attractive, but they draw birds and wildlife.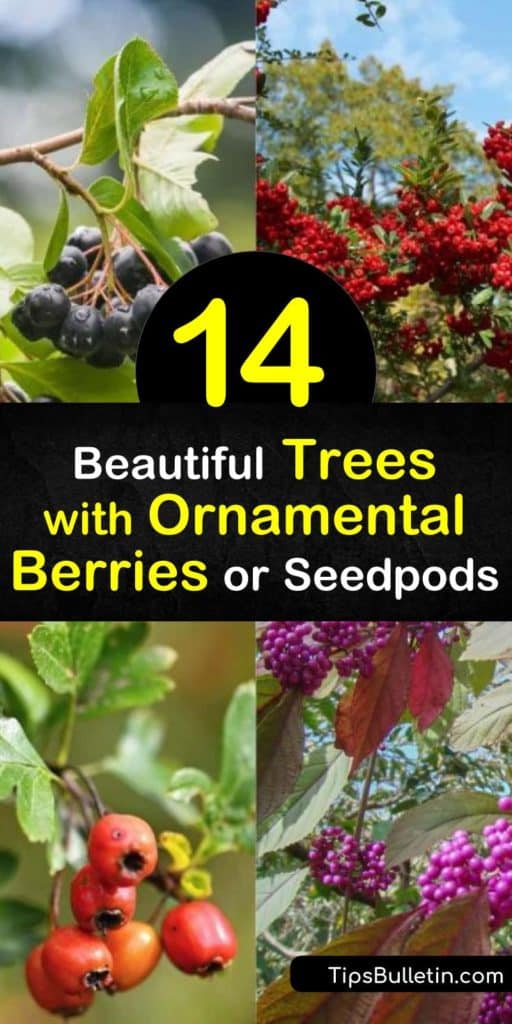 Creating a landscape of trees with ornamental berries is a great way to enjoy beauty all four seasons, so why not share our ornamental berry tree guide with your friends and family on Pinterest and Facebook?