Autumn is a magical time filled with crisp air, comfort foods, spooky movies, and the vibrant colors that transform the town's ambiance. If you're going to embrace the season for all it's worth, planting trees with unusual fall colors is the best way to turn your home into an eye-catching wonderland.
All plants go through transitions as the seasons change. While some are visually striking masterpieces, others are far less interesting to look at.
Choosing the right trees for your preferred location gives you the power to choose which colors you love and make your home stand out not only during the fall but throughout every season of the year.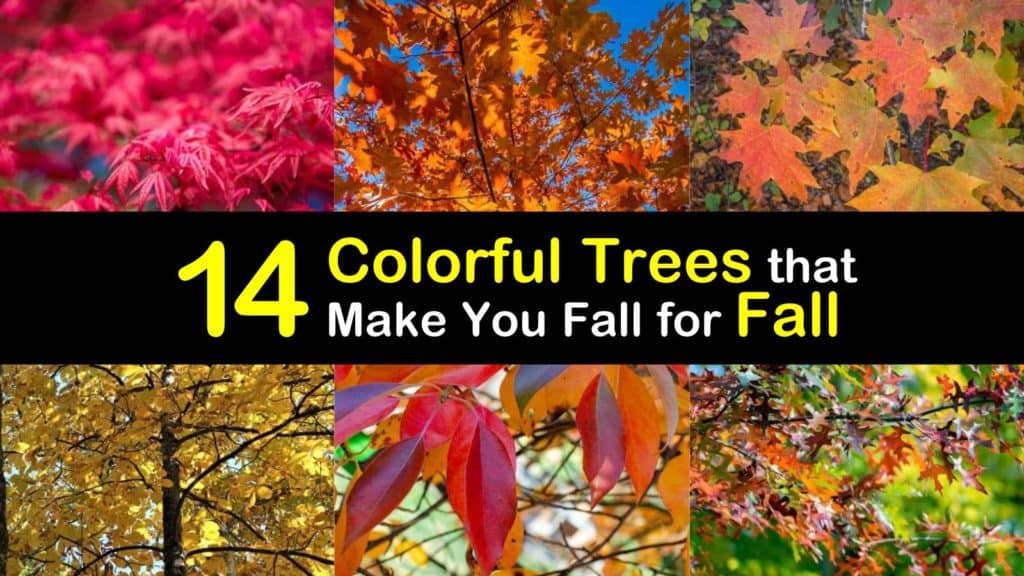 How Leaves Change Color
Autumn is overflowing with trees with unusual fall colors. It's exciting to watch the vibrant greens of summer turn to rich reds, purples, yellows, and oranges. Why does this change happen?
Summer is the peak time for plants to create food, and the chlorophyll in the leaves gives them their signature shade. Once fall rolls around, there are significant fluctuations in temperatures and the day's length, which stops them from making food.
The plants' chlorophyll soon breaks down, and the chemical transformations make the foliage turn color. Chemical reactions aren't the only changes happening. As the weather cools, the leaves' stems begin to sever the tissues attached to the tree.
Once the tissues entirely detach themselves, the leaves start to die and fall off the tree from the wind or their weight. It's strange to ponder how the death of something is so beautiful, but witnessing the life cycle repeatedly is a fantastic feat in itself.
There are a variety of trees, shrubs, grasses, and herbs for fall color that will not disappoint. The possibilities for brilliant autumn foliage are almost endless.
Plants with Different Colors all Year Long: Dogwood (Cornus florida)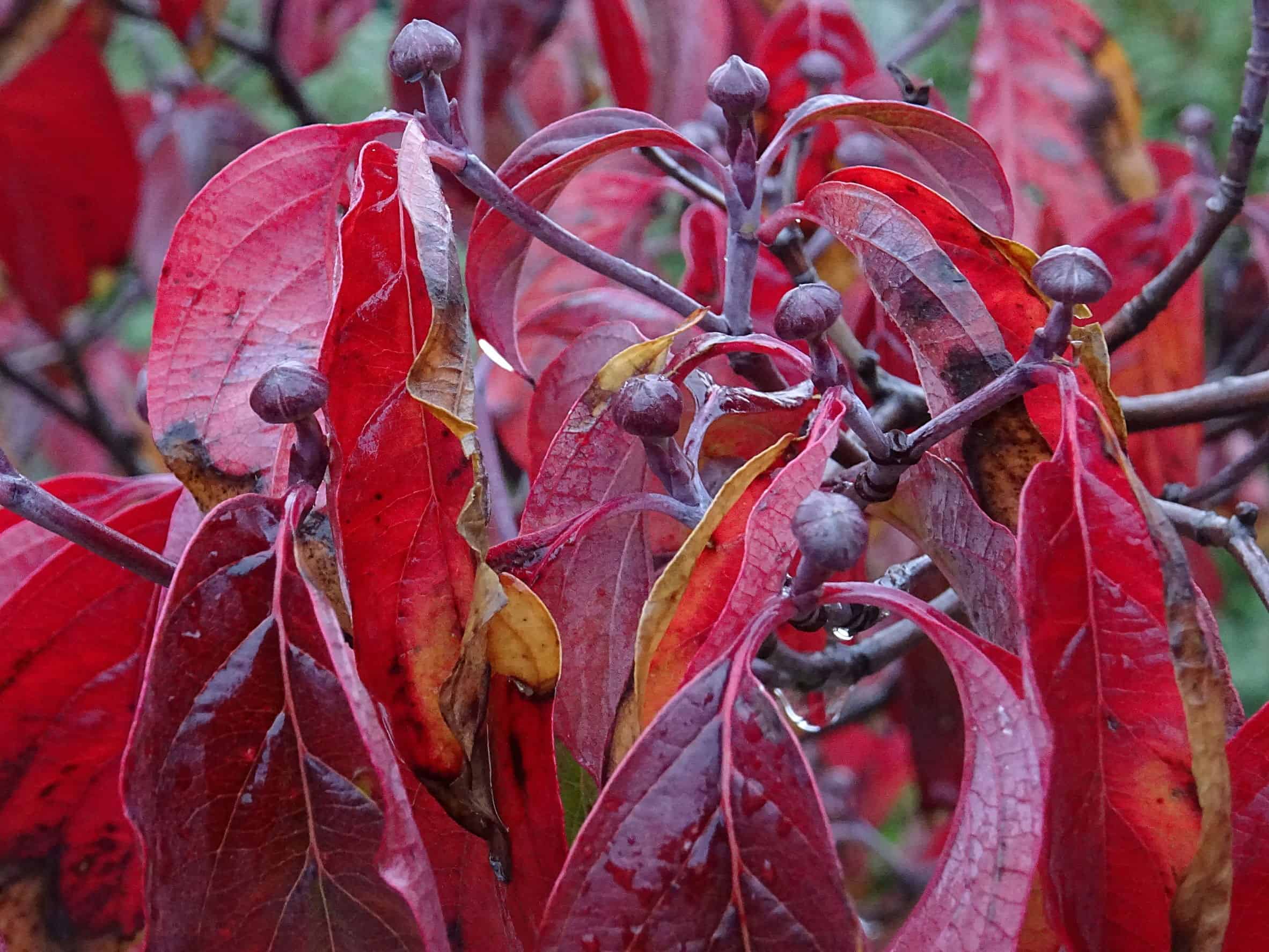 Dogwoods are some of the best ornamental trees with unusual fall colors. Every spring, dogwoods explode with pink or white flowers.
As summer approaches, the trees fill with bright green leaves, which then turn into scarlet red leaves in the fall. Their scaly bark makes them even more interesting to see. Many people consider dogwoods to be the most beautiful blooming trees.
Dogwoods prefer to have partial shade and do best in fertile, well-draining soil. Add compost to the hole before planting to ensure a healthy life for these picturesque plants. Water new dogwood trees regularly until they become established in their new home.
Maidenhair Tree (Ginkgo biloba)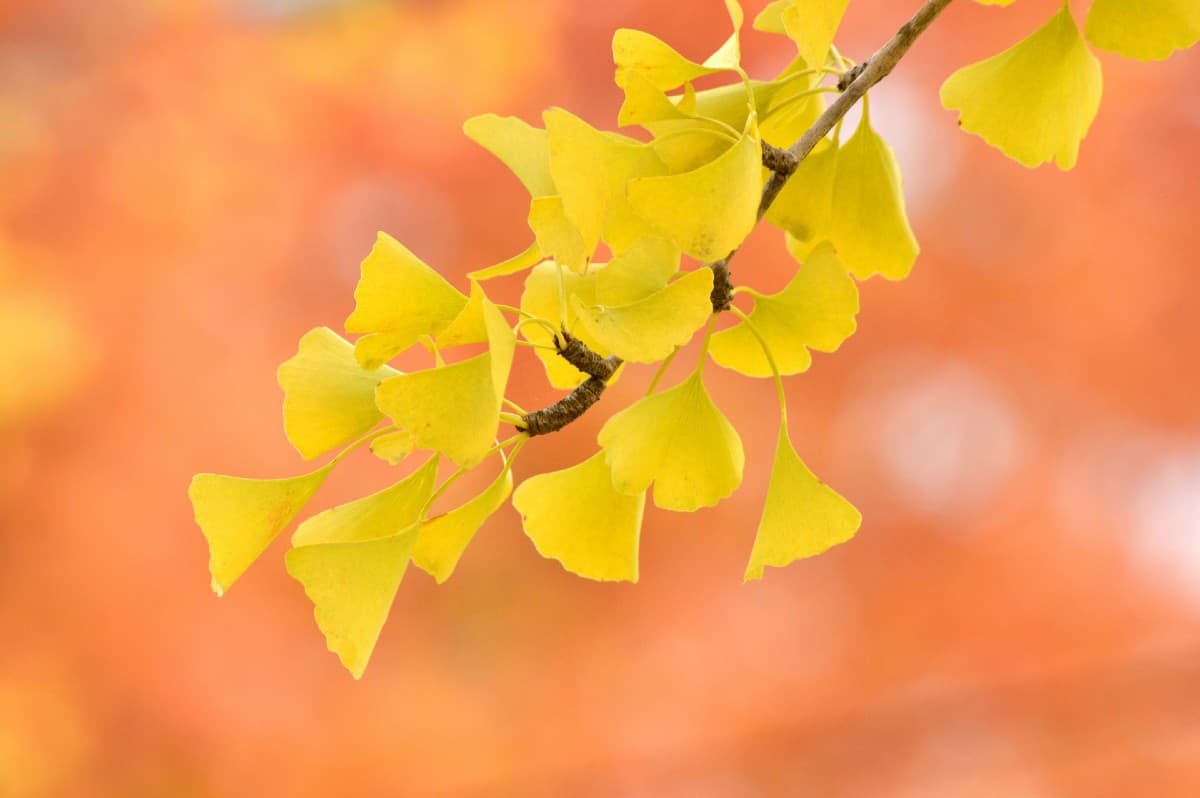 Maidenhairs are deciduous trees and have brilliant fall color with their golden yellow leaves that light up the yard. These yellowing leaves on trees are not only attractive but also make an excellent shade tree during the summer and are considered one of the oldest trees known to man.
They are hardy in USDA hardiness zones four through nine. Maidenhair trees often line city streets because of their tolerance to air pollution and road salt.
Saplings require staking until they are larger, and they mature to the size of 50 feet tall. Plant maidenhair trees in full sun or part shade and sandy soil for the healthiest foliage.
Red Maple (Acer rubrum)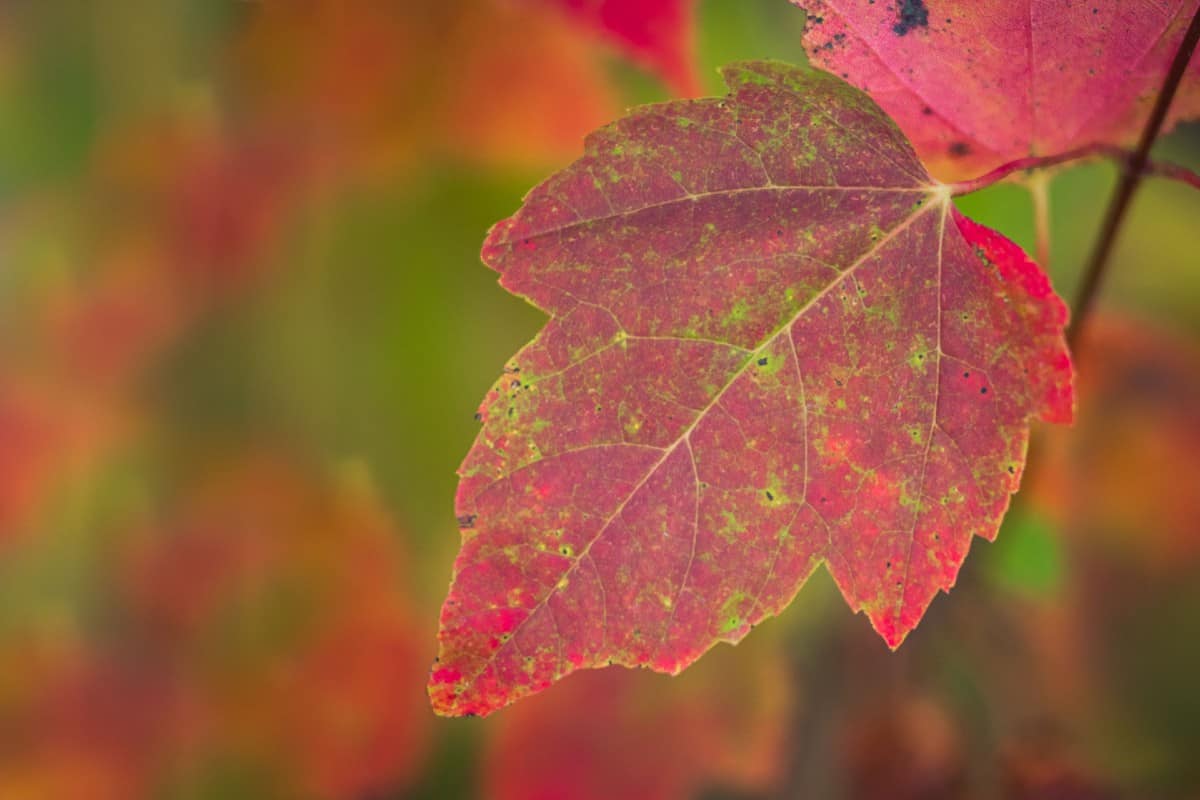 Maples are some of the privacy trees that grow fast that are known for providing striking fall colors. As the seasons change, red maples showcase green, yellow, and orange-red leaves.
Red maples are native to the eastern and central United States and commonly found in moist, wooded areas. They grow 70 feet high and are robust in USDA zones three through nine.
Red maples are spectacular trees that flourish in direct sunlight but thrive in partial shade as well. These trees prefer slightly acidic soils and moist conditions. Adding a general fertilizer every spring helps the tree have better blooms and a happy, healthy life.
Japanese Maple (Acer palmatum) – Classic Trees with Unusual Fall Colors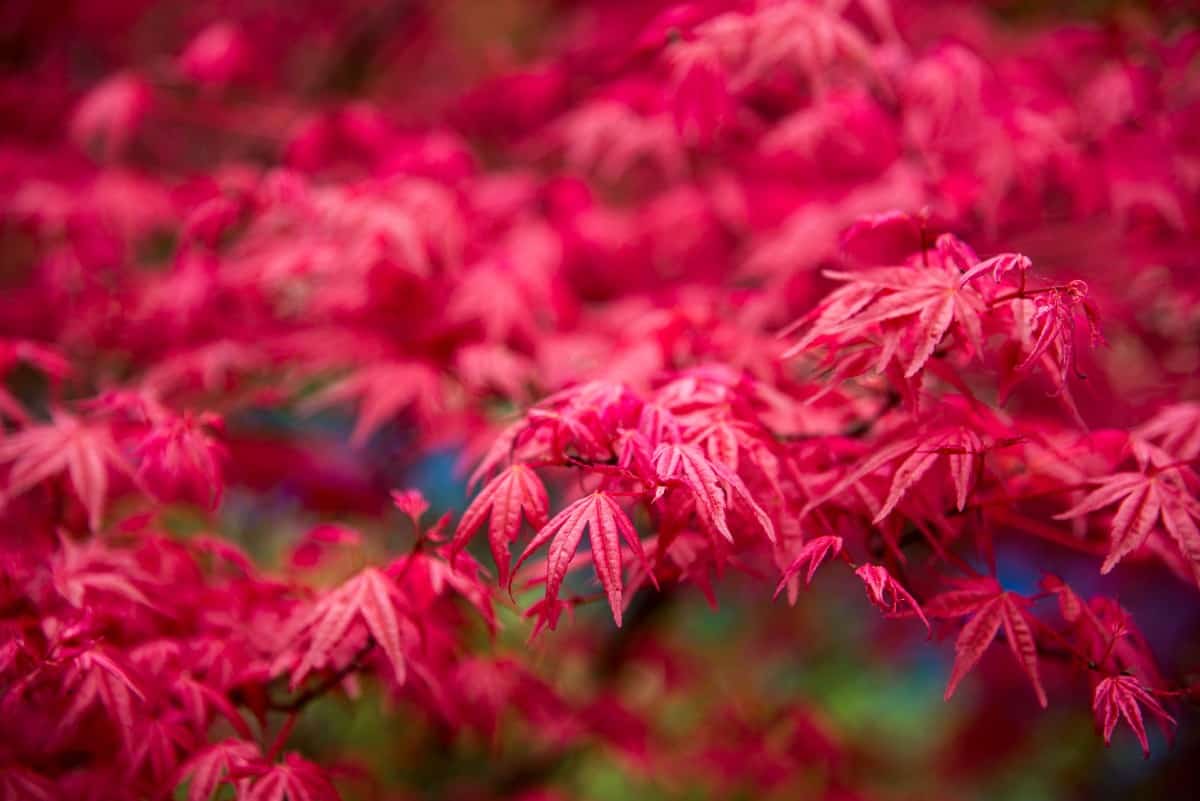 Japanese maple trees come in a vast array of sizes, leaf shapes, and colors. Most people like them as a small tree and they make an excellent addition around the home for their unforgettable fall foliage.
The most common Japanese maples have lacy red-purple leaves in the spring. Once fall hits, their autumn color turns into a bright, crimson red that catches the eye of anyone passing by.
Japanese maples make excellent lawn or specimen trees. These maples with red colored tree leaves require full sun to part shade, and any well-draining soil will do.
Add a three-inch layer of mulch around the plant to retain moisture and prune them in late winter or early spring before the buds begin to form.
Black Tupelo (Nyssa sylvatica)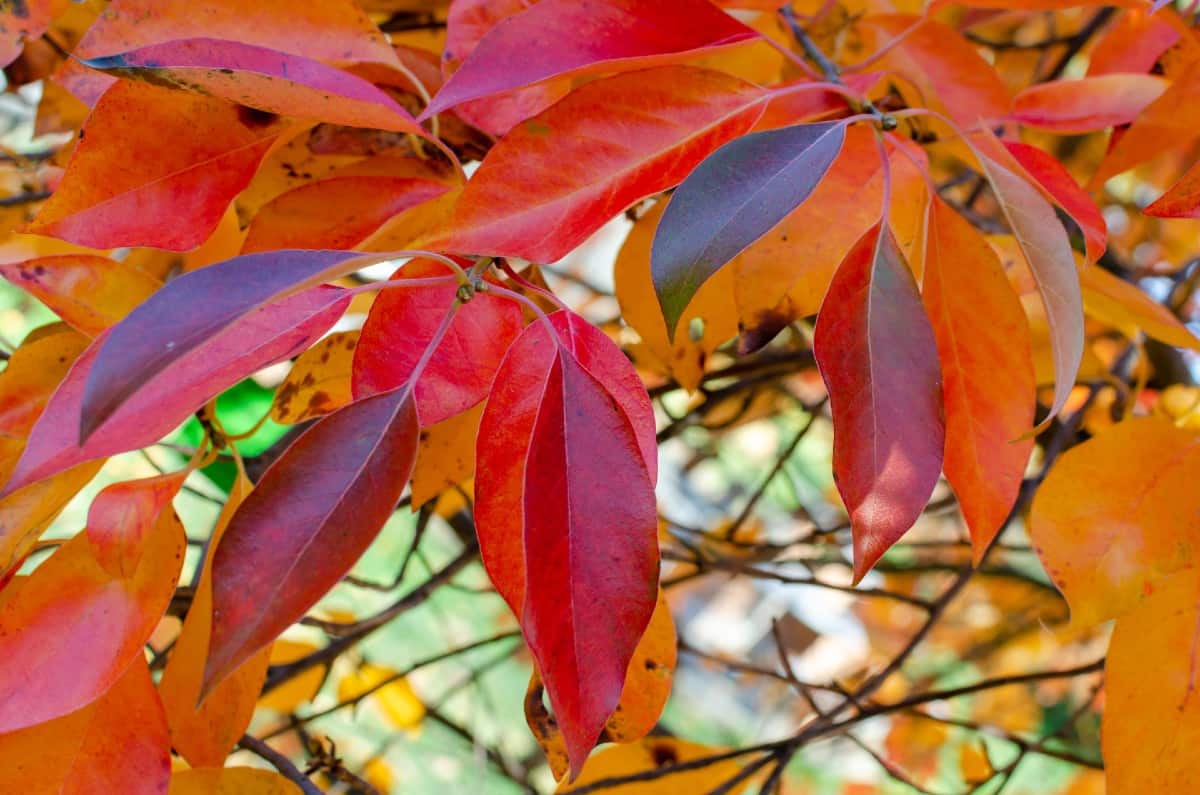 The bright orange and purple fall leaves of the black tupelo tree attract many people to plant these around their home. They have slender, horizontally spreading branches with various crown shapes.
They produce small, dark blue fruits that are edible and sour. Black tupelos are trees with fabulous fall colors that have won them a Cary Award, recognizing their adequacy for the New England area.
Tupelos grow 50 feet tall and 30 feet wide. Although they are slow growers, placing them in full sun and wet soil gives them the best boost possible.
Sweetgum (Liquidambar styraciflua)
Sweetgum trees have the best leaf color. The green foliage of summer turns to shades of scarlet, orange, purple, and yellow during autumn and lasts until the early winter.
These tall trees reach more than 75 feet tall and have large canopies that provide shelter, food, and nesting sites for wildlife.
Sweetgum trees have shallow roots that often lift sidewalks and curbs, so make sure you pick the perfect location for them to grow without ruining your concrete.
They require full sun and moist soil. They are hardy in USDA zones five through nine and require little care once mature.
Trees with Unforgettable Crimson Color – Red Oak (Quercus rubra)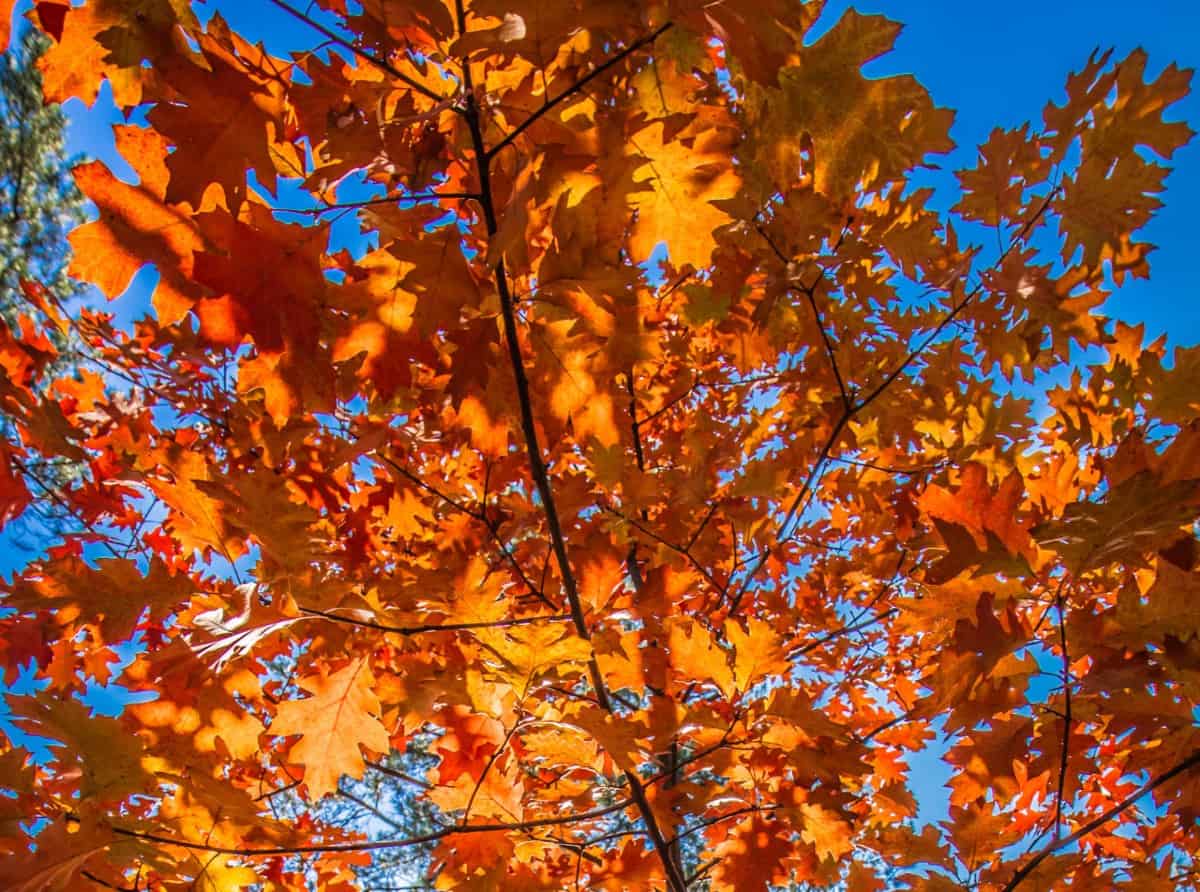 Red oaks are large shade trees that few other trees compare to. They grow over 80 feet tall in urban settings, with rural red oaks reaching nearly 100 feet.
The summer showcases these trees birds love with their glossy green leaves and bright red and orange foliage every fall. Acorns appear in the late summer and provide food for squirrels and other wildlife.
Red oak trees thrive in USDA zones three through seven. They are low-maintenance and live for long periods. Soils with a pH above 7.5 are preferred. Prune them every year to remove dead and damaged limbs.
Sugar Maple (Acer saccharum)
It's no secret that sugar maples are one of the most beloved trees around the world. They are the national tree of Canada and have become the state tree in New York, Vermont, Wisconsin, and West Virginia.
These beauties are some of the best trees for fall foliage and are grown commercially for their sweet maple syrup, but homeowners love them for their one-of-a-kind splendor. Sugar maple trees flower from April to May and produce helicopter seeds.
The leaves transition to bright colors like orange and red and bring the colder season to life in the fall. Plant sugar maples in full sun for the best color show and give them slightly alkaline soil.
Hickory (Carya tomentosa)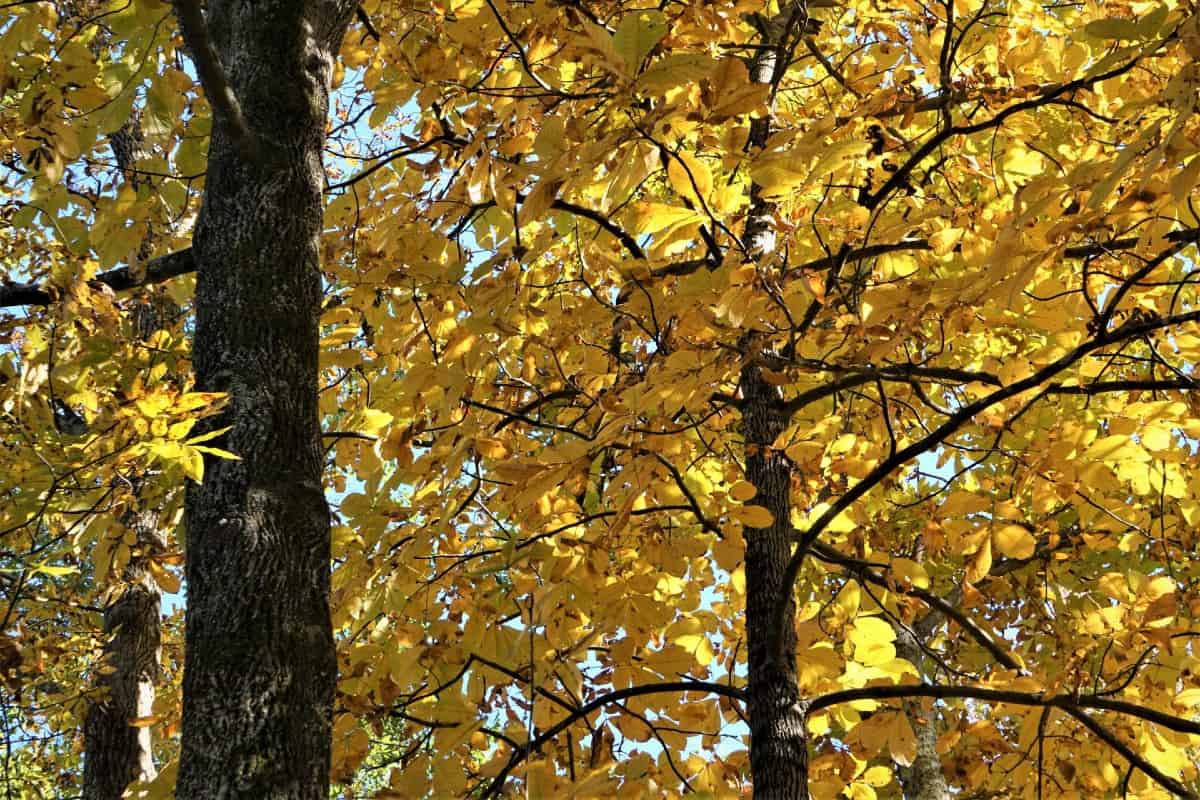 Hickory trees are large, healthy trees native to North America. They are incredibly hardy in zones four through eight and are known for making a statement during the fall months with their sunshine-yellow leaves and shaggy bark.
They grow 60 to 80 feet tall and spread about 40 feet wide. Don't place hickory trees where your property could get damaged from the falling nuts.
However, these slow growers take up to 15 years to start producing nuts. Giving them proper maintenance starts nut production sooner. Keep the soil lightly watered and add fertilizer to the ground at the beginning of each growing season.
Unique-Colored Trees for Fall: Serviceberry (Amelanchier lamarckii)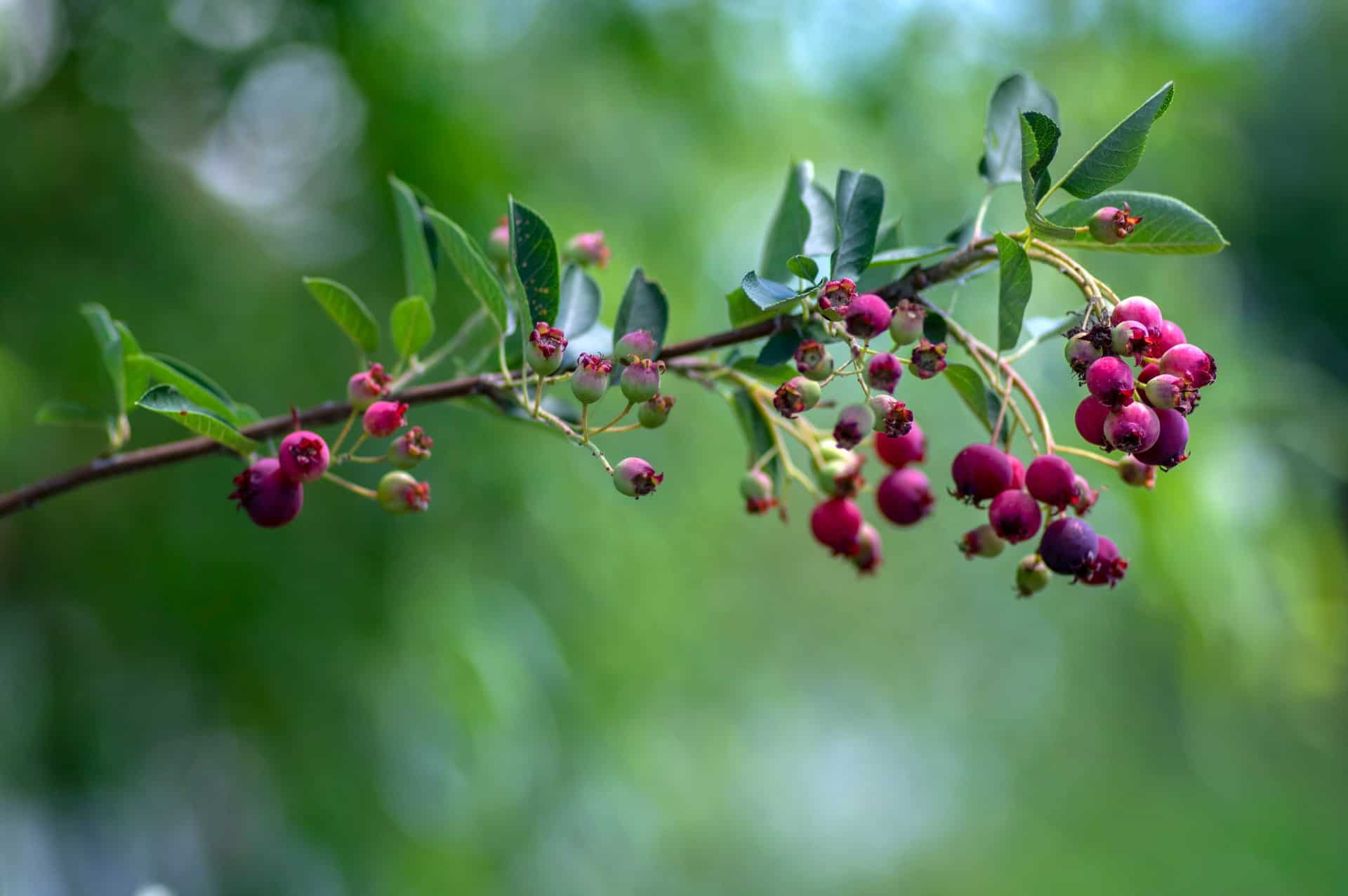 Serviceberries are considered to be a large shrub or a small tree. They have bronze leaves and fragrant white flowers in the spring that attract pollinators.
Dark purple berries follow this color in the early summer and then deep orange and red oval leaves in the fall. Even after the leaves drop, the gray bark supplies plenty of visual interest through the winter.
Serviceberry trees grow up to 25 feet tall. They love full sun or partial shade, although full sun gives them the best autumn color. They grow well in acidic, moist, and well-draining soils. As a very low maintenance tree, serviceberry is generally disease and pest-free.
Bald Cypress (Taxodium distichum)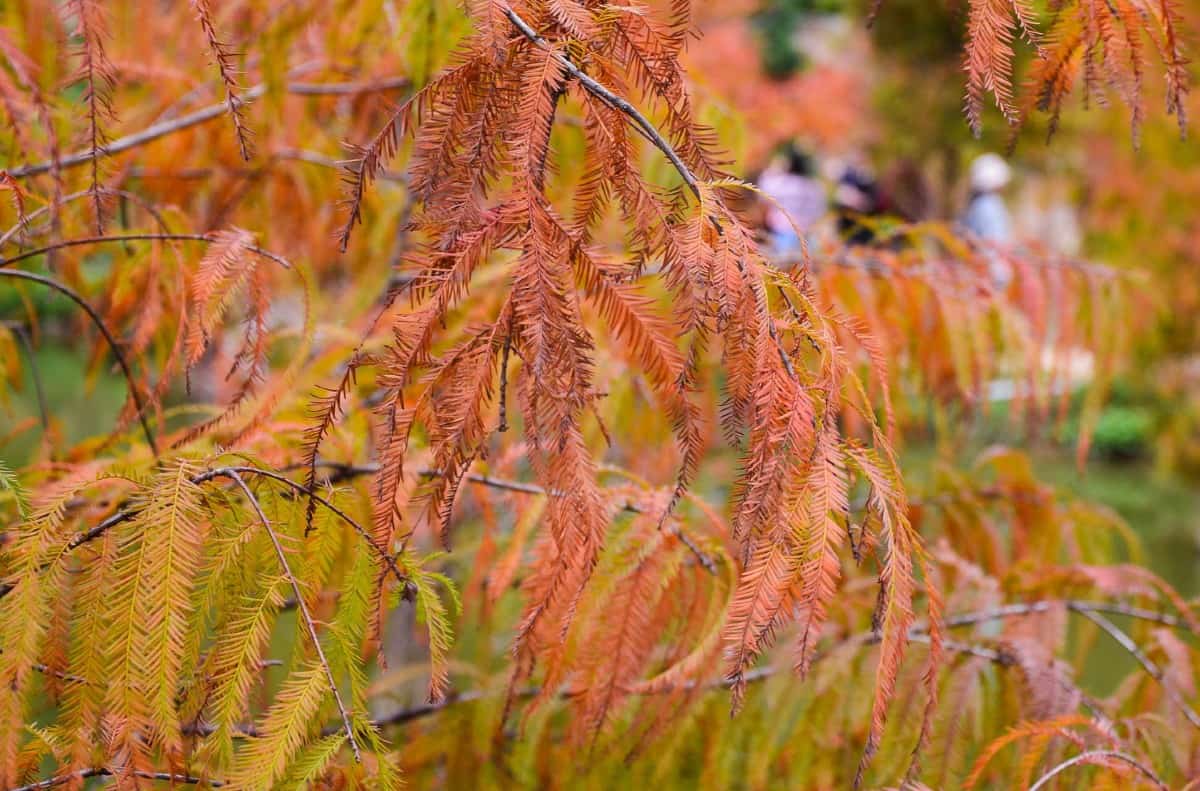 The bald cypress trees are conifers with needles instead of leaves. These needles are yellow and green every summer and then transition to rusty orange every autumn, before falling off in the winter.
The bald cypress is native to the swamps of the southern United States and the state tree of Louisiana. They grow best in zones four to nine and last for as long as 600 years, reaching 120 feet tall.
Bald cypress trees prefer soil with lots of drainage while holding onto moisture. Slightly acidic and sandy soils are ideal for them. Give cypress trees a spot with full sun and add a balanced fertilizer every fall.
Scarlet Oak (Quercus coccinea)
The scarlet oaks are trees with unusual fall colors that people adore. The large, dark green leaves appear in the spring and summer and turn numerous red shades in the fall that lasts for three or four weeks. Some trees produce acorns as well.
Scarlet oak trees are known for their distinctive fall color, tolerance of poor soils, and wind resistance. These factors make them a top landscaping choice for many people. The trees reach up to 70 feet tall and 50 feet wide with full sun and acidic soil.
Persian Ironwood (Parrotia persica): Colorful Trees for Urban Settings
Persian ironwoods are small trees commonly used in urban landscaping and are typically free from pests and diseases. The bark color varies from white, brown, gray, and green and peels off for unique texture.
They have red leaves displayed in the spring that transition to green in the summer and orangish-yellow in the fall. They are hardiest in zones five through eight.
Persian ironwood trees require sites with full sun or part shade. They adapt to various soil conditions but hate having wet feet. Prune the tree whenever necessary. Add some cool season annuals at the base for even more color and interest.
Sassafras (Sassafras albidum)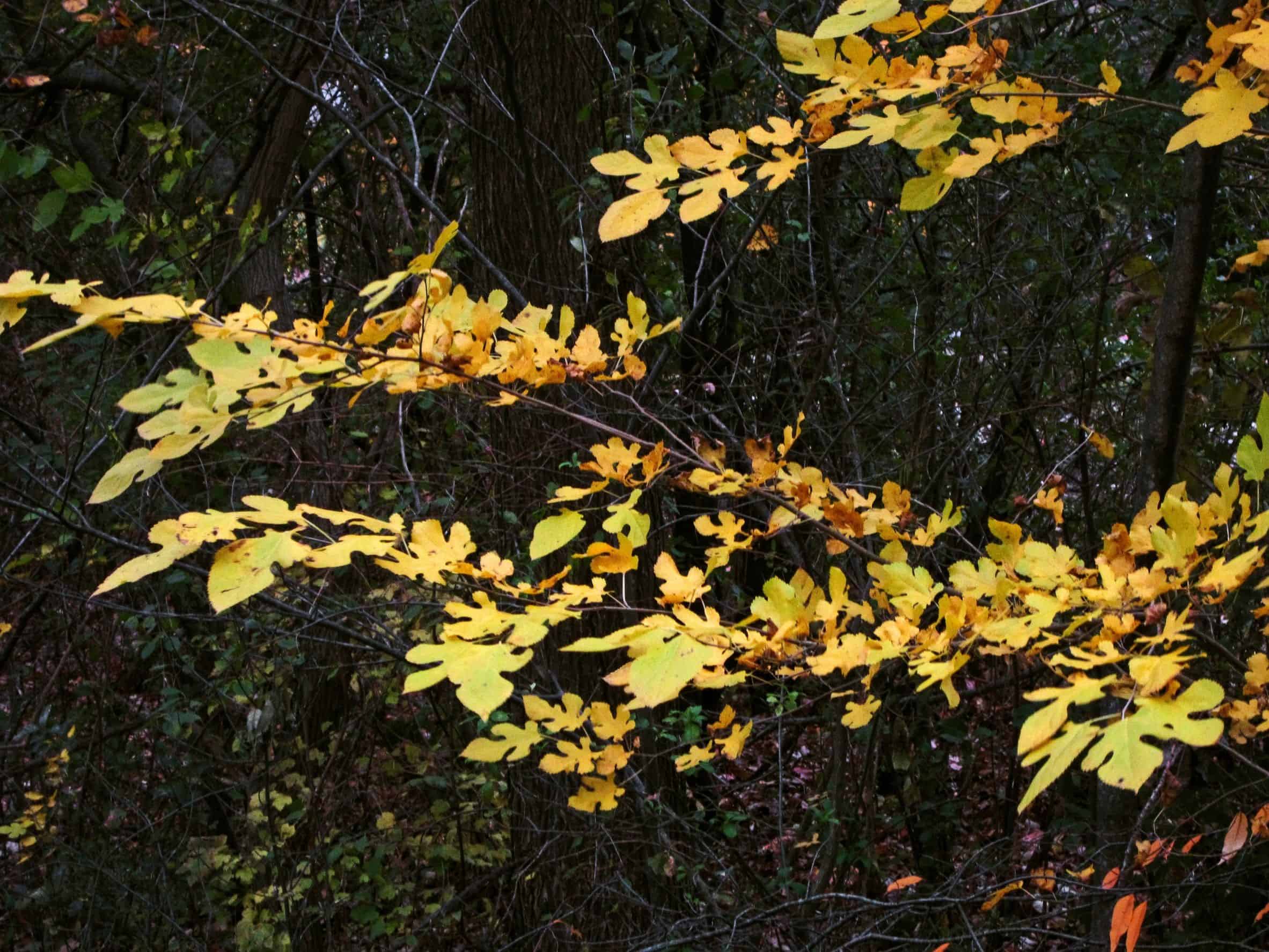 Sassafras trees not only provide pretty fall colors, but the leaves are ground up and used in several cuisines, including southern dishes like gumbo. These deciduous trees grow up to 60 feet tall and are native to North America.
The leaves are initially bright green but turn to orange, pink, yellow, red, and purple in the fall months. Sassafras grows well in USDA zones four through nine, and they like part shade or part sun.
They also don't mind clay, loam, acidic, or sandy soils as long as there is good drainage. Make sure you choose the perfect location for this tree since the extremely deep taproot makes it hard to transplant in the future.
It's truly extraordinary how nature fills with countless unforgettable and unusual colors. The greens, reds, yellows, and oranges all contrast with one another and turn a green skyline into a picture-worthy display that keeps us wishing fall would last all year.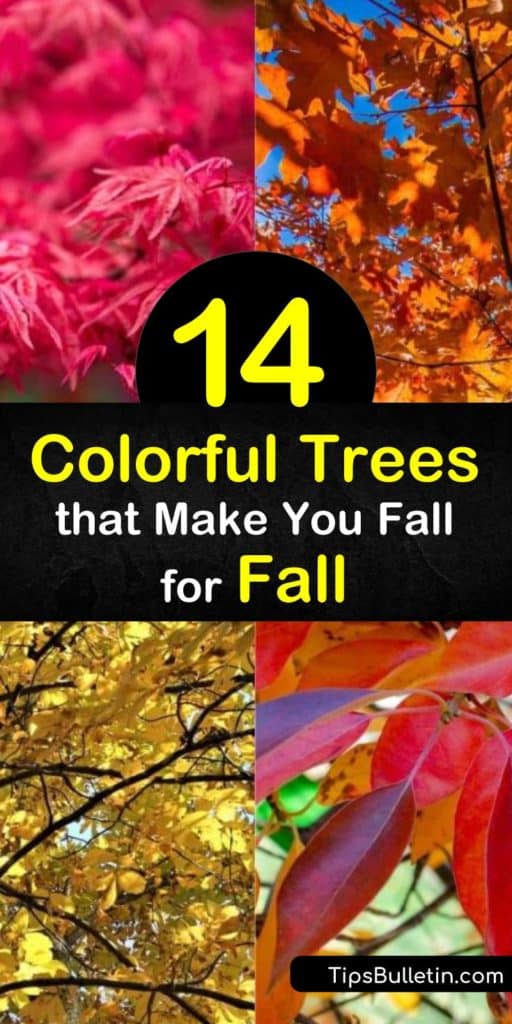 If these trees with unusual fall colors helped transform your yard in the fall, share these vibrant colored trees with tree lovers on Facebook and Pinterest.