Although trees with vivid purple, yellow, or pink flowers certainly have their appeal, nothing says spring like trees with white flowers. From pure white to pink-flushed, the blossoms are stunning yet refreshing, giving a classic look to your garden.
A solo plant or a group of white flowering trees creates a cool patch or a muted background for more-colorful plants.
Although the scope could seem limited, there's a species with white flowers to suit every garden and gardener, from simple single blooms to large panicles and clusters of bell-shaped blossoms. You'll find several fruiting trees with white flowers, as well.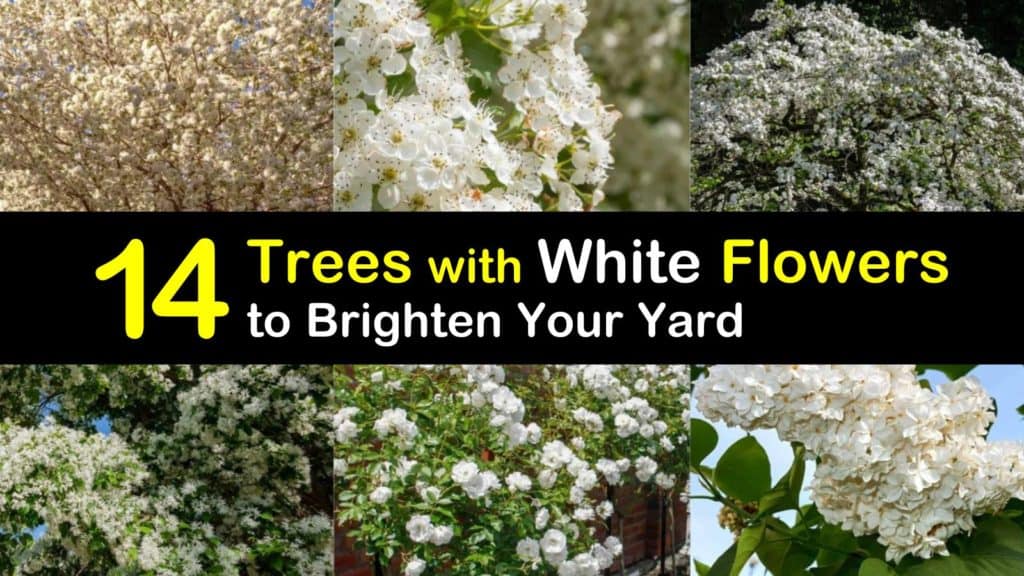 White Flowering Trees
Trees have unique planting requirements compared to smaller plants. Typically, you'll purchase a container-grown tree, a balled-and-burlapped tree, or a bare-root one, which is dormant and shipped soil-free.
How to Plant Trees
Dig a hole that's as deep as the tree's root ball but three times wider. Remove a container-grown tree from its pot. Holding the plant carefully by its root ball, lower it into the hole.
Remove a balled-and-burlapped tree's covering. Ensure that the tree is vertical and its trunk flare—where it branches into roots—is partially visible.
Fill the hole with removed soil, stopping partway to add water. Distribute mulch, leaving space around the trunk. Water the ground so that it's moist but not soggy.
How to Prune Trees with White Flowers
Pruning makes a tree healthier, safer, and more productive. Candidates for pruning include low-lying branches and broken, thin, or unhealthy ones.
It's also possible to influence a tree's growing direction with pruning. For example, if it has multiple stems, you can often prune it to have one trunk. With flowering trees, it's crucial to find out before pruning whether flowers bloom on old or new growth.
Flowering Dogwood (Cornus florida)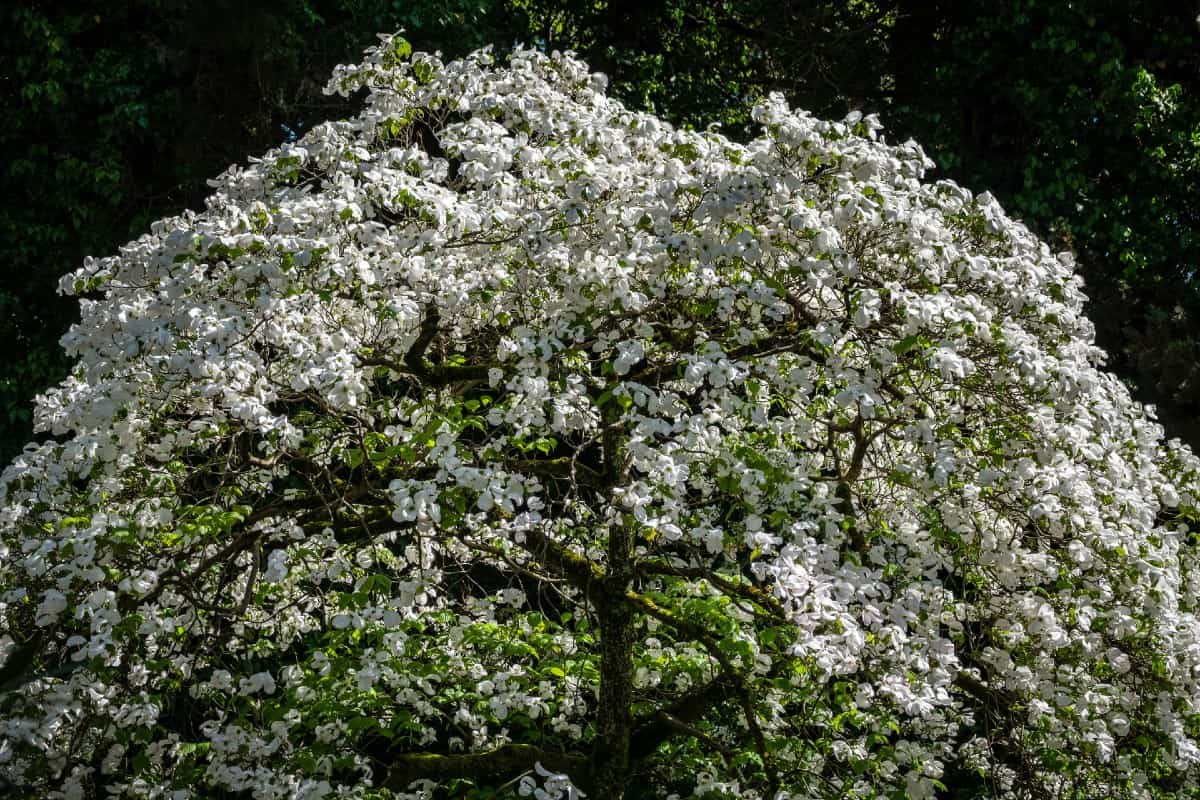 In the spring, this large shrub or small decorative tree boasts white bracts around tiny green flowers. It also has round red summertime fruit and gorgeous fall color.
Use the flowering dogwood as specimen trees that hummingbirds like or in a border or woodland garden. Propagate it with summertime softwood cuttings. Put this dogwood in a sheltered location with partial or full sun and fertile, moist, well-drained, acidic to neutral soil.
Add compost to poor-quality soil when planting, give some fertilizer in the spring, and spread mulch in the summer. Water until your plant is well-established, then only during droughts.
White Angel Crabapple (Malus 'white angel')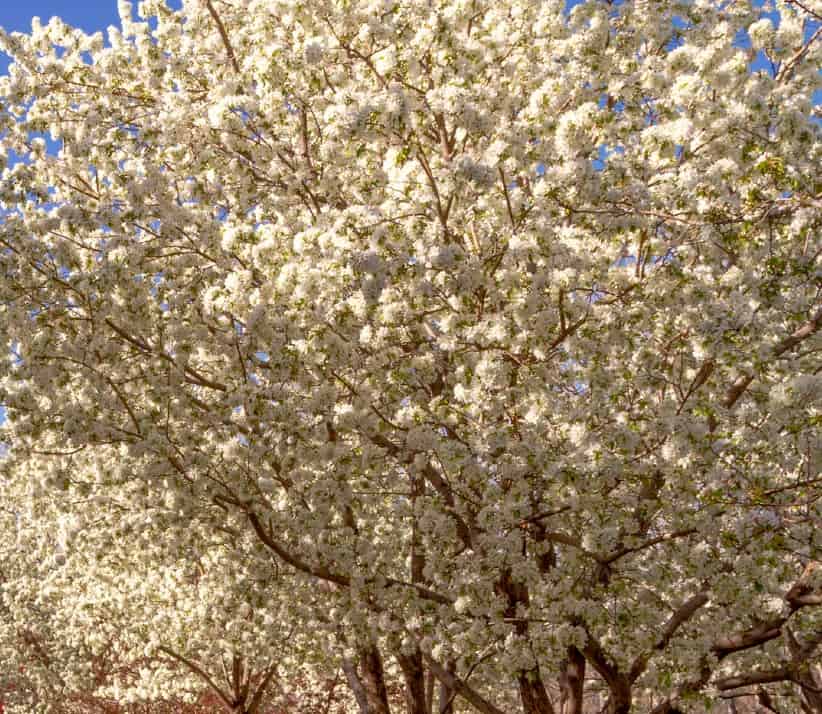 By mid-spring, this compact deciduous tree bears clusters of fragrant, pure-white flowers along its branches.
Its glossy red fruits mature in the fall, while oval leaves also turn golden-yellow in that season. Set up a container-grown or bare-root plant as a specimen plant in full sun.
Crabapple trees flourish in fertile, well-draining soil. This species is drought-tolerant once established but thrives with watering during prolonged dry periods. Add compost or organic mulch annually, and prune your tree in the winter.
Natchez Crape Myrtle (Lagerstroemia x 'Natchez') – A White Flowering Tree with Interesting Bark
This tree sprouts less vigorously in northern states. It has clusters of crinkly white flowers from mid-summer to fall, peeling reddish-brown bark, reddish-orange fall leaves, and brownish fruits that last into the winter.
Install a nursery-grown crape myrtle in cool weather. Enjoy this plant on its own, or use several trees as a border or privacy hedge. This tree thrives in full sun and fast-draining soil.
Water your plant thoroughly and often during the first two months after planting and during droughts. Feed it little fertilizer. Prune in early spring to increase air circulation, deadhead to encourage blooming, and remove suckers.
Allegheny Serviceberry (Amelanchier laevis)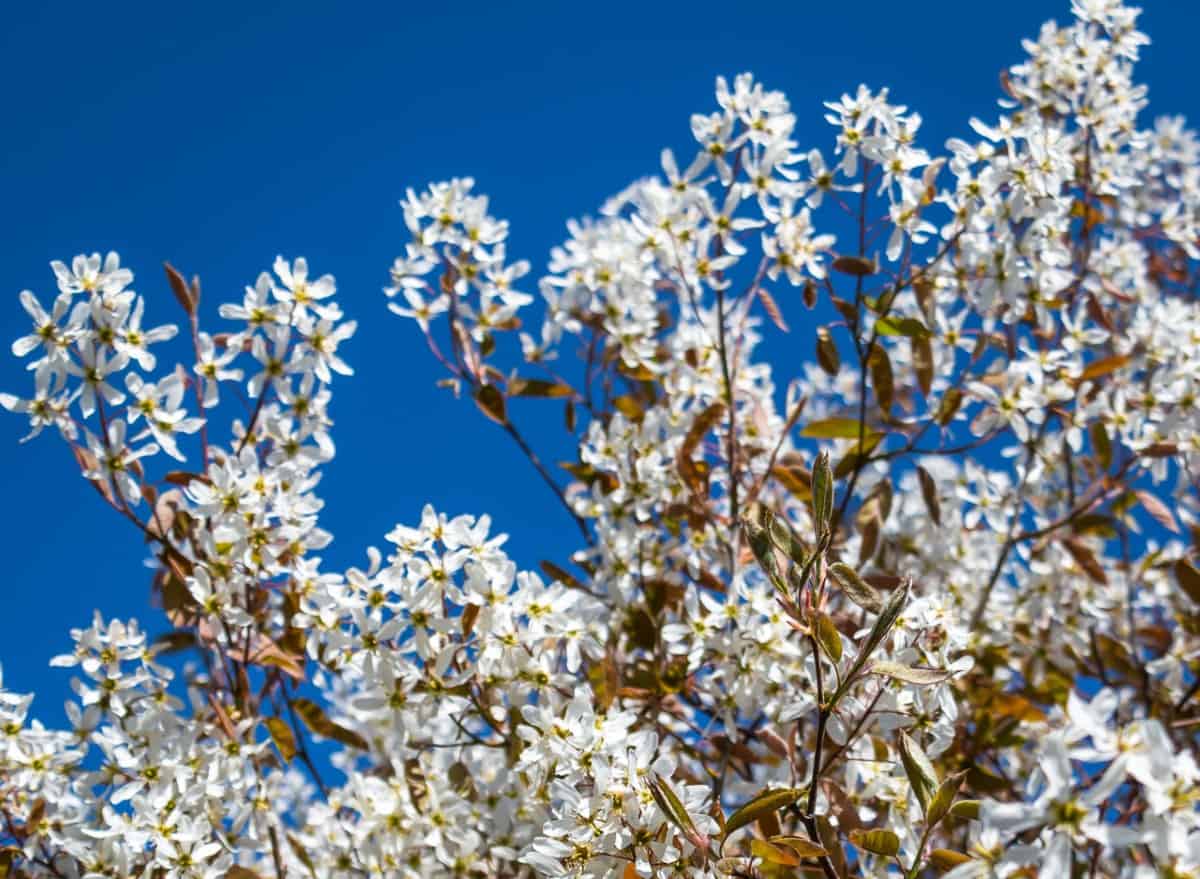 This hardy tree has drooping, white springtime flower clusters, sweet purple-black berries, and yellow-red fall leaves. Install a nursery plant anytime between spring and early fall to fill in gaps in your garden.
The site should have partial or full shade and loamy or sandy soil that drains well. This serviceberry is multi-stemmed, so you may prune it to encourage a single trunk.
These types of trees with berries do not handle drought well, so water them thoroughly while they are getting settled. Feed this plant balanced fertilizer occasionally.
Kobus Magnolia (Magnolia kobus)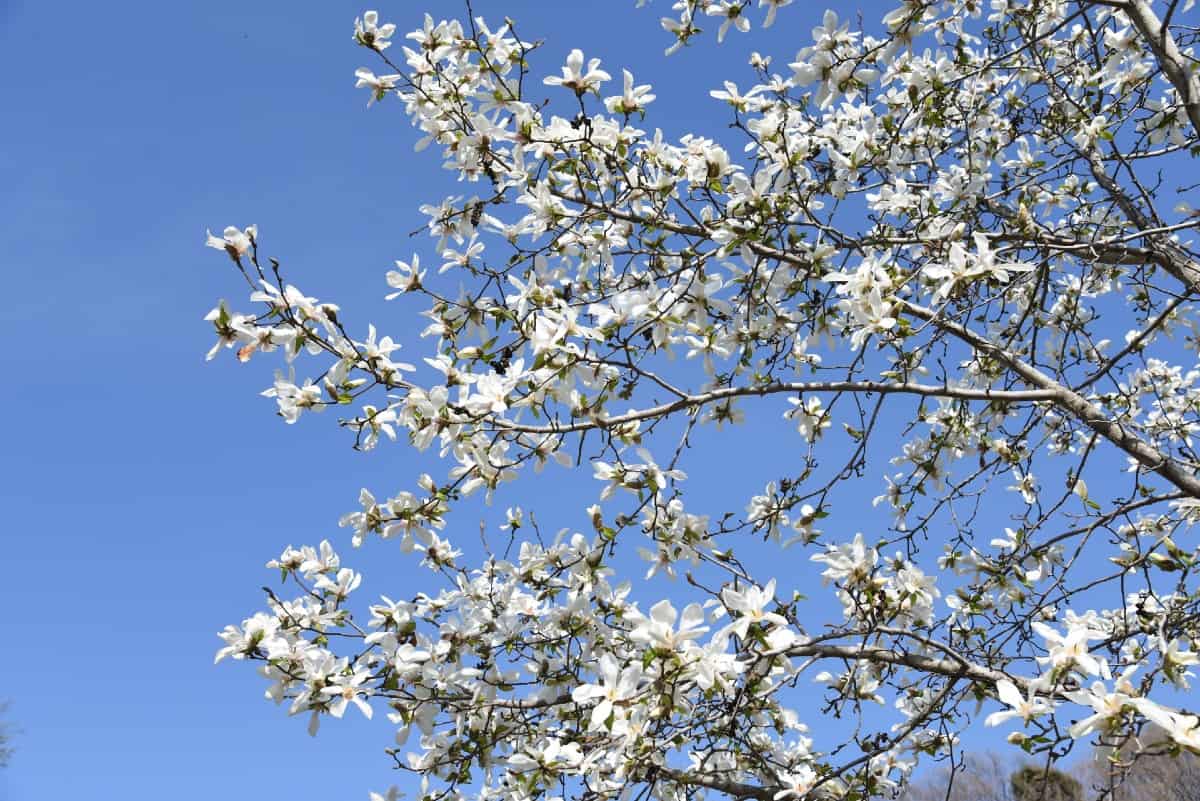 In early spring, mature Kobus magnolia trees produce fragrant white flowers. They also have large, dark-green leaves and aggregate, reddish-orange fruits. Use these trees as specimen plants or in informal hedges or woodland borders.
Propagate this magnolia with cuttings or seeds that you've placed in cold storage. It flourishes in full to part sun and moist, fertile, well-drained, neutral to slightly acidic loam.
It should enjoy protection from strong winds and receive one inch of water per week, either from irrigation or rainfall.
Give your magnolia balanced granular fertilizer every spring for its first three years. Consider pruning this multi-stemmed tree in midwinter while it's young.
Madame Lemoine Lilac (Syringa vulgaris 'Madame Lemoine') – A Tree with White Panicles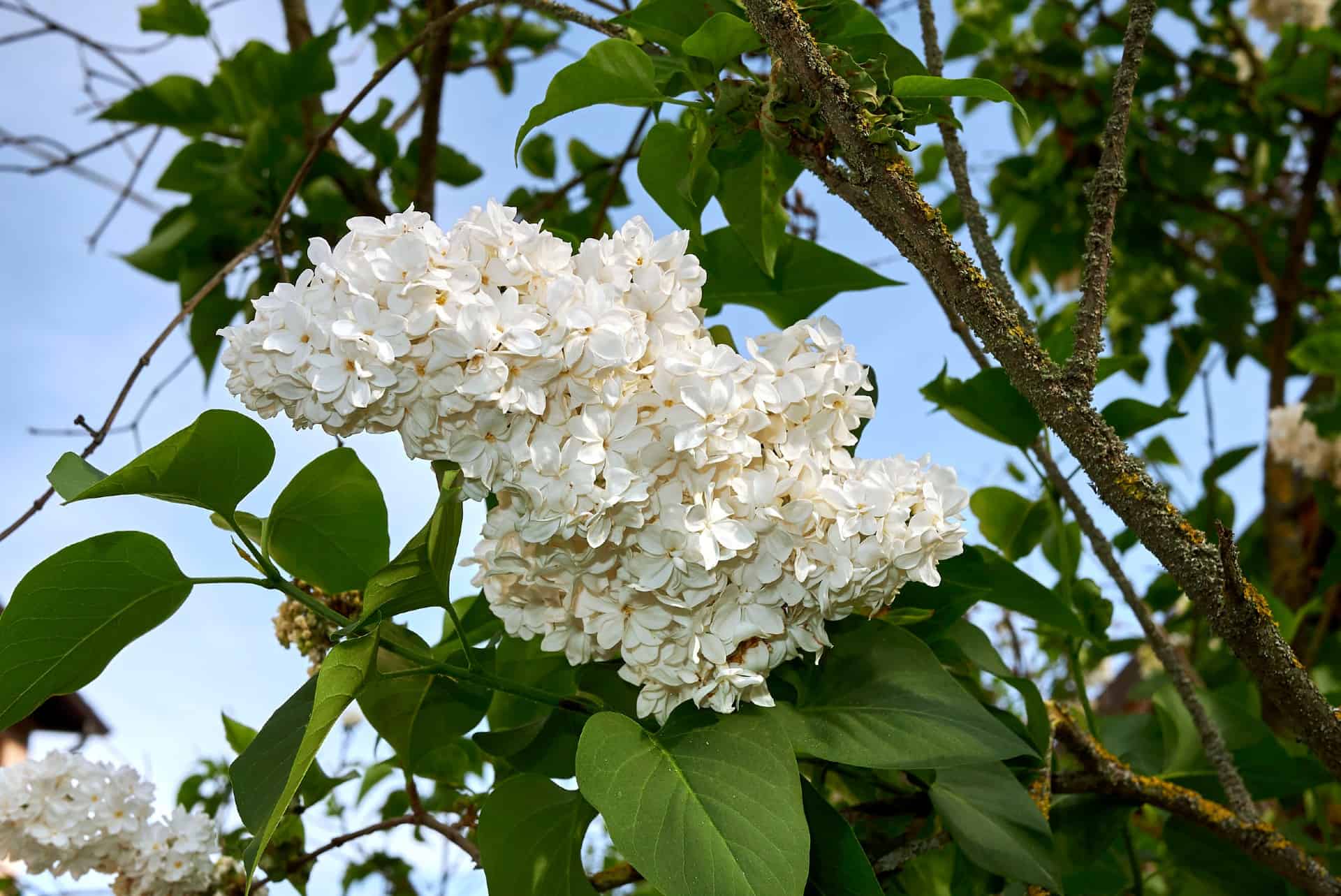 This popular lilac cultivar displays large, fragrant white panicles and heart-shaped leaves. It excels as a specimen or foundation plant or in a mixed border or flowering hedge.
Propagate the Madame Lemoine lilac with softwood cuttings or layering in early summer, grafting in winter, or chip budding in summer. It favors full sun and humus-rich, well-draining, dry to medium-moist, alkaline to neutral soil.
This lilac does best when there's good air circulation. Its water needs are low to average, and the tree requires little fertilizer but benefits from mulch. Prune your plant right after it flowers, and remove any suckers.
Lilacs are one of the shrubs and trees that attract butterflies and hummingbirds, so plant one or two to enjoy these beautiful fliers.
White Redbud (Cercis canadensis 'Alba')
This deciduous tree boasts pea-like white flowers in early to mid-spring. Its heart-shaped leaves start burgundy in the spring before turning green, then yellow in the fall. Use white redbud as a specimen plant or in a mass planting.
Set up your tree in early spring in a sheltered location with full to part sun and average to moist soil. Do not let the soil dry out. Distribute mulch and compost or manure for young trees.
For older trees, strew granular 10-10-10 fertilizer in late fall, or use 20-20-20 fertilizer spikes. Alternatively, add 20-20-20 liquid fertilizer three or four times between late April and mid-July. Prune your tree after it flowers.
Rainier Sweet Cherry (Prunus avium 'Rainier')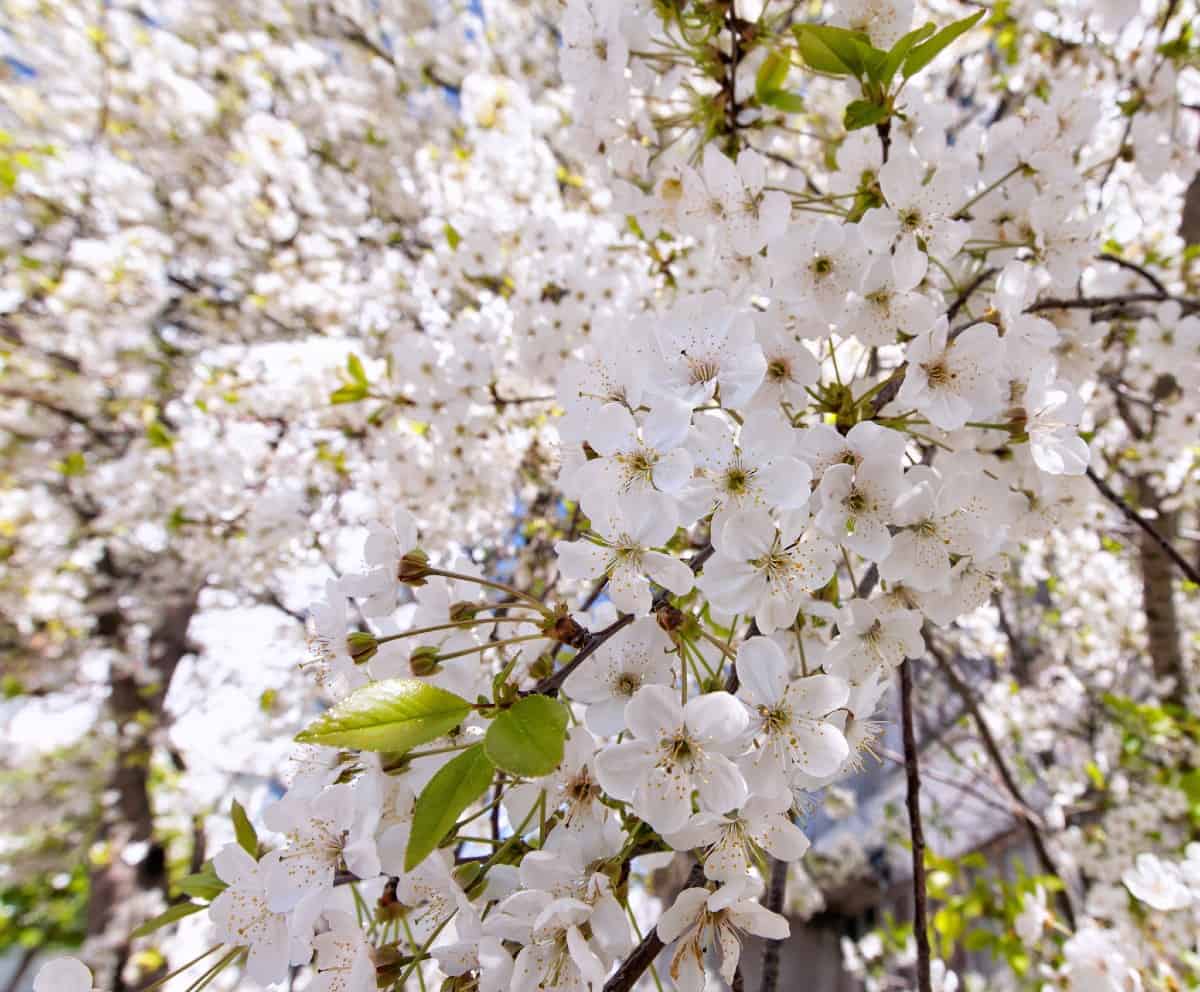 This flowering cherry has sweet-scented white flowers in mid-spring and golden-red cherries in early summer. For successful cross-pollination, raise another compatible variety, like Prunus avium 'Bing' or 'Stella.'
Propagate these beautiful blooming trees using chip budding or grafting on clonal rootstock. Place it in full sun and moist, fertile, fast-draining soil. This tree has average water requirements. Young trees may benefit from nitrogen-rich fertilizer three times after planting.
Mature cherry trees only need feeding if they're growing slowly or their leaves turn yellow in mid-summer, fall prematurely, or shrink from year to year. In any of those scenarios, apply nitrogen fertilizer in the fall.
European Pear (Pyrus communis) – A White Flowering Tree with Fruit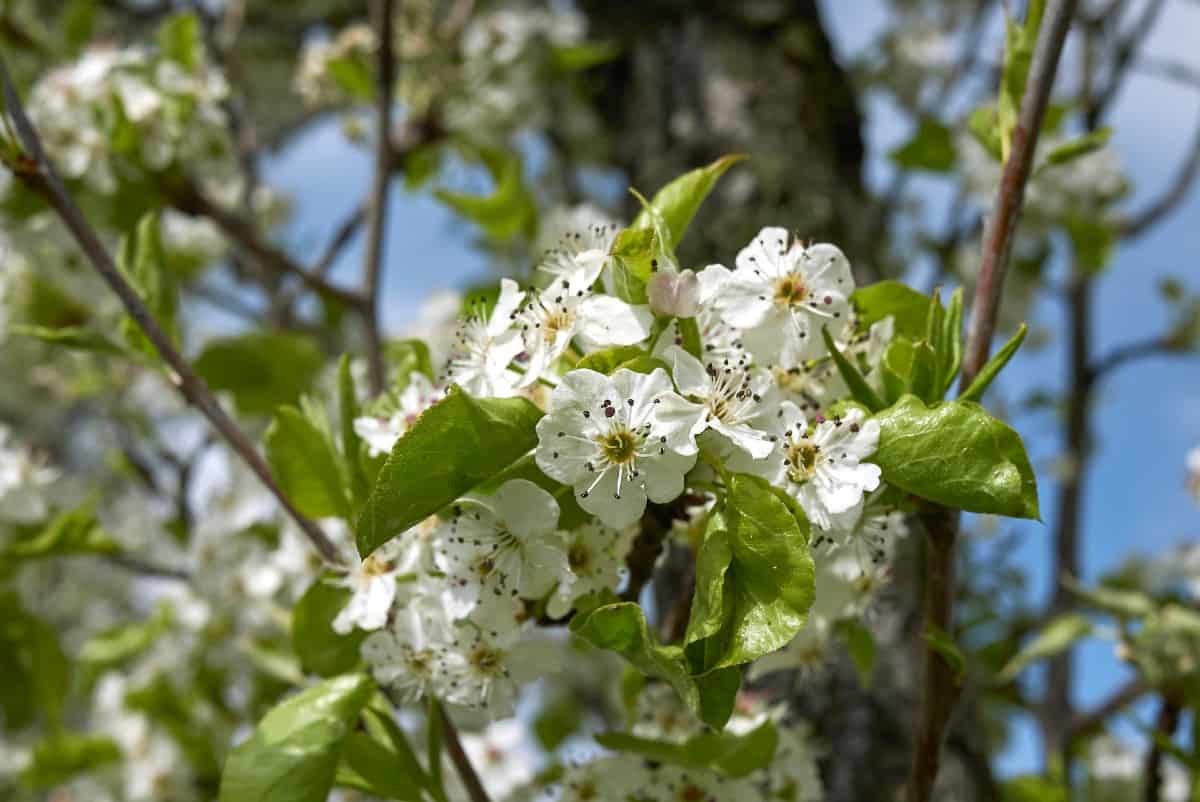 This tree displays clusters of white flowers and long, oval leaves. Pick your pears once they've reached mature size but are not yet soft. You'll generally need two different varieties of pear trees for cross-pollination.
Insert bare-root trees in the winter and container-grown ones in the fall, winter, or spring. The site should have full sun and soil that drains well.
During the tree's first month and any droughts, water it thoroughly but infrequently. Feed your pear tree slow-release or granular fertilizer in the spring, and spread mulch.
Carolina Silverbell (Halesia carolina)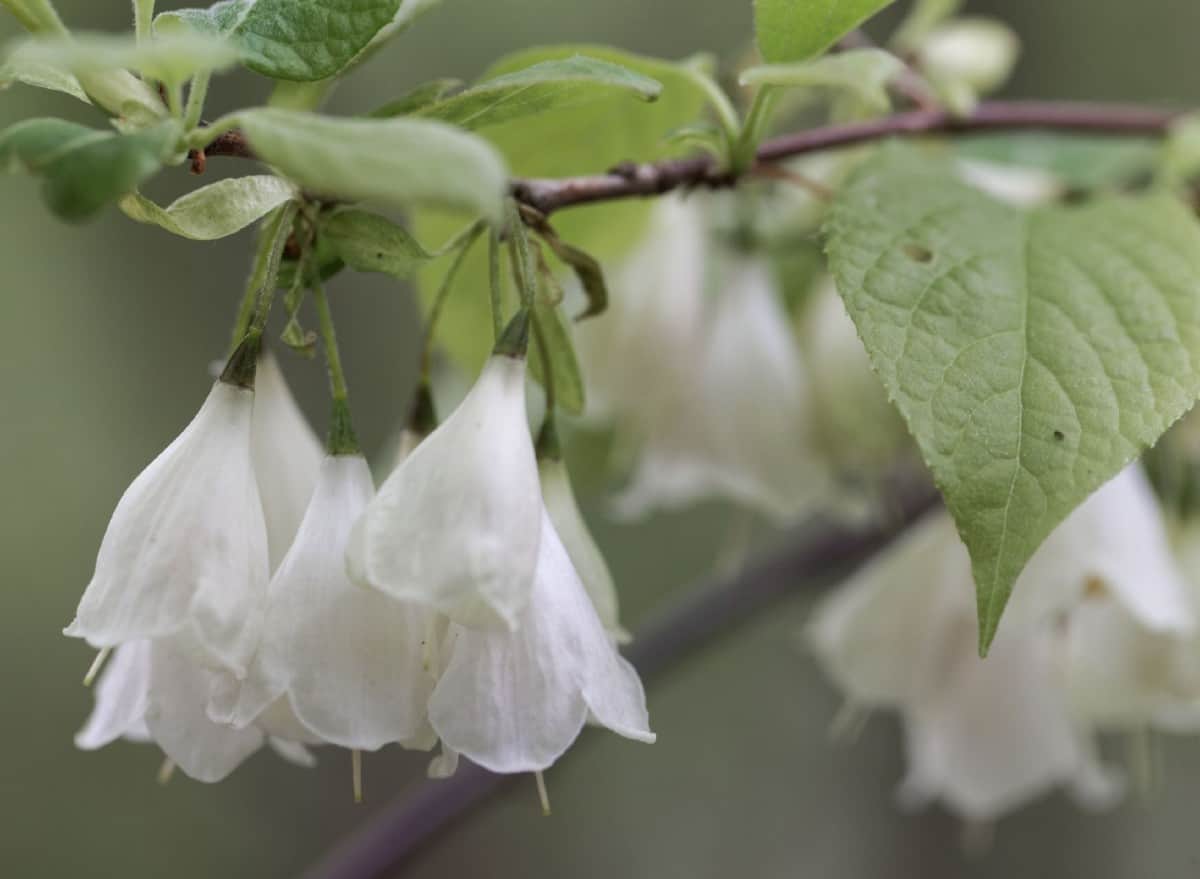 This deciduous tree or large shrub displays white, bell-shaped flowers in April and early May and yellow fall leaves. Its green drupe fruits turn brown as they mature. Use the Carolina silverbell as a specimen plant or in a woodland border.
Propagate it with a container-grown tree or softwood cuttings. The silverbell does best in a sheltered location with partial sun and acidic, medium-moist, well-drained soil.
Water young trees often if conditions are dry. Apply organic fertilizer upon planting and every spring until your tree settles. You may prune this multi-stemmed species to one trunk.
White Fringetree (Chionanthus virginicus)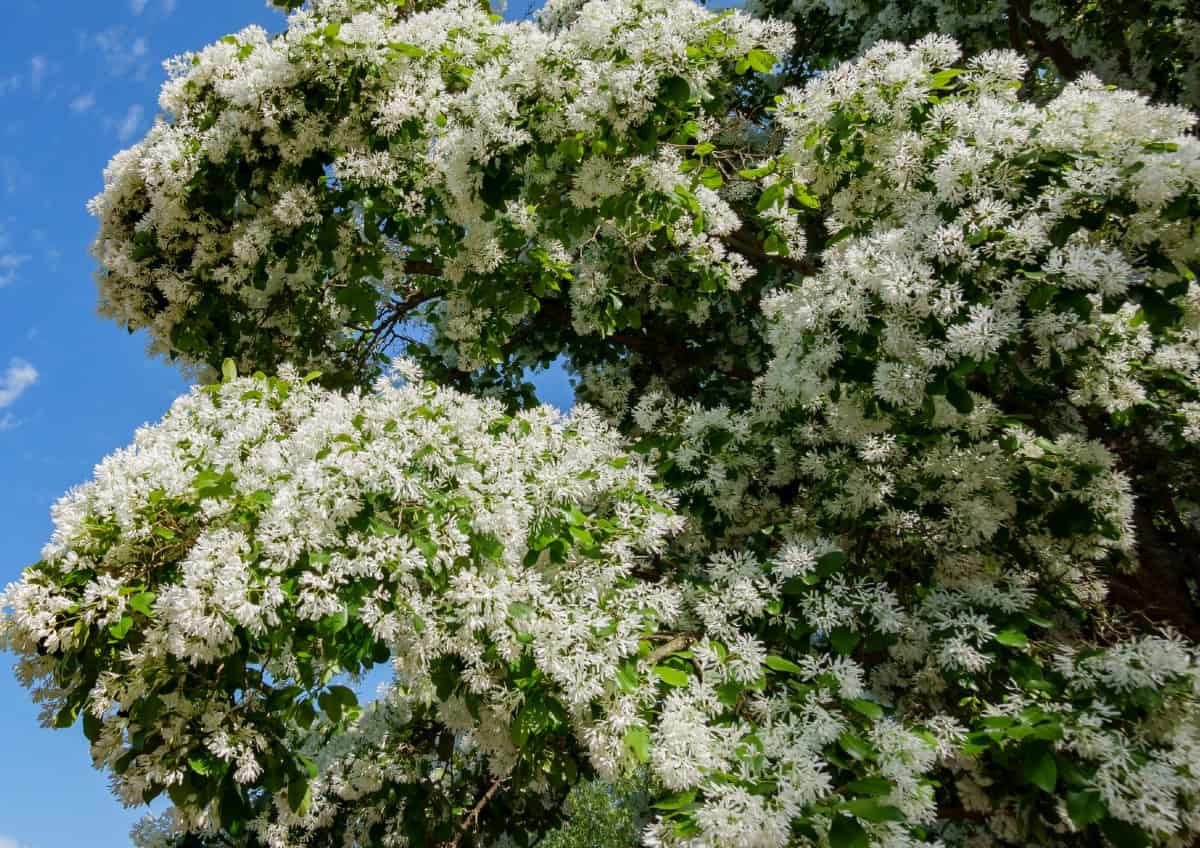 This tree has fragrant, tasseled, snow-white blossoms in early spring and yellow fall leaves. To enjoy blue or purple berries, start both a male and a female plant.
Install a container-grown fringetree in a sheltered location with full or part sun and moist, well-draining soil. Place several trees in a mass or border, or use a solo plant as a specimen tree.
Water your tree regularly since it does not tolerate prolonged drought. Add compost or complete balanced fertilizer annually.
Japanese Snowbell (Styrax japonicus) – A Tree with Bell-Shaped White Flowers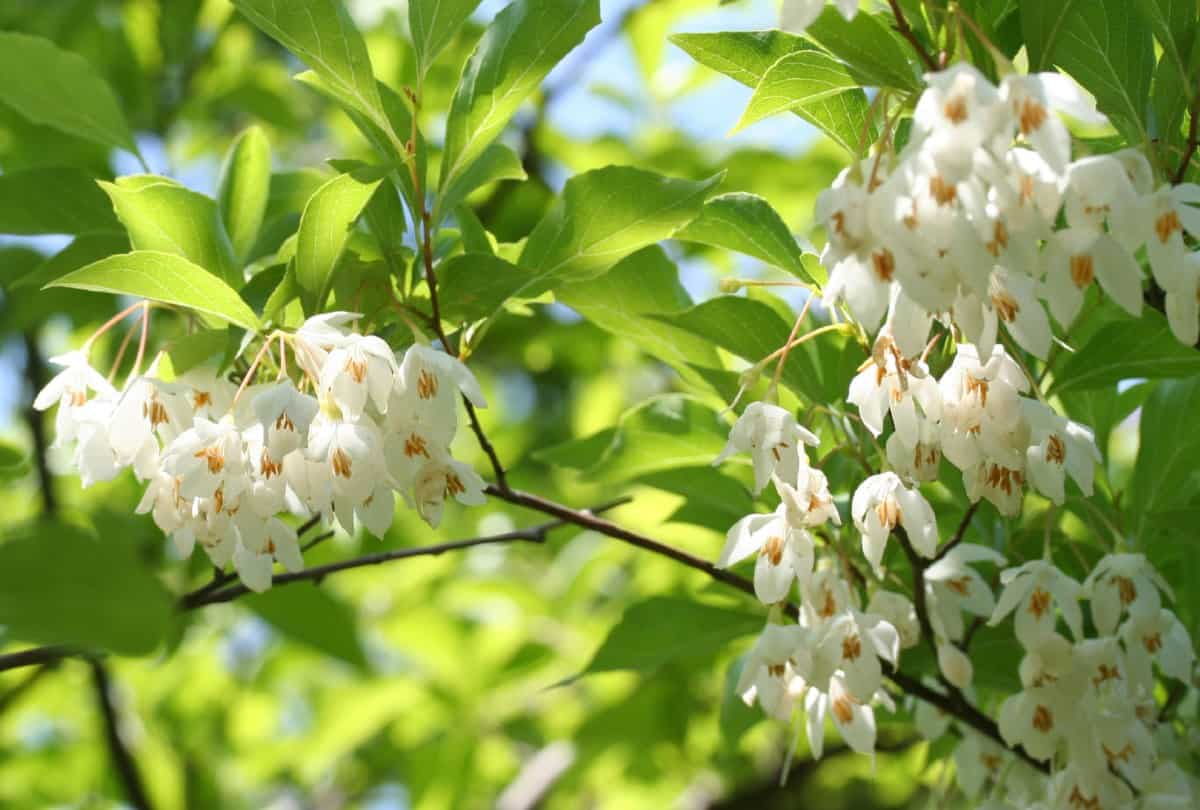 In late spring or early summer, this compact tree produces clusters of slightly fragrant, drooping flowers. In late summer, it yields green, olive-like fruits. Try placing the Japanese snowbell along a property border.
Propagate it with softwood cuttings or seeds if you have the patience. Choose a site with acidic, peaty soil, and partial shade. Water your tree frequently, but do not get the ground soggy.
Give all-purpose fertilizer just before new growth in the spring. Prune the tree's lower branches.
Iceberg Rose Tree (Rosa 'Iceberg')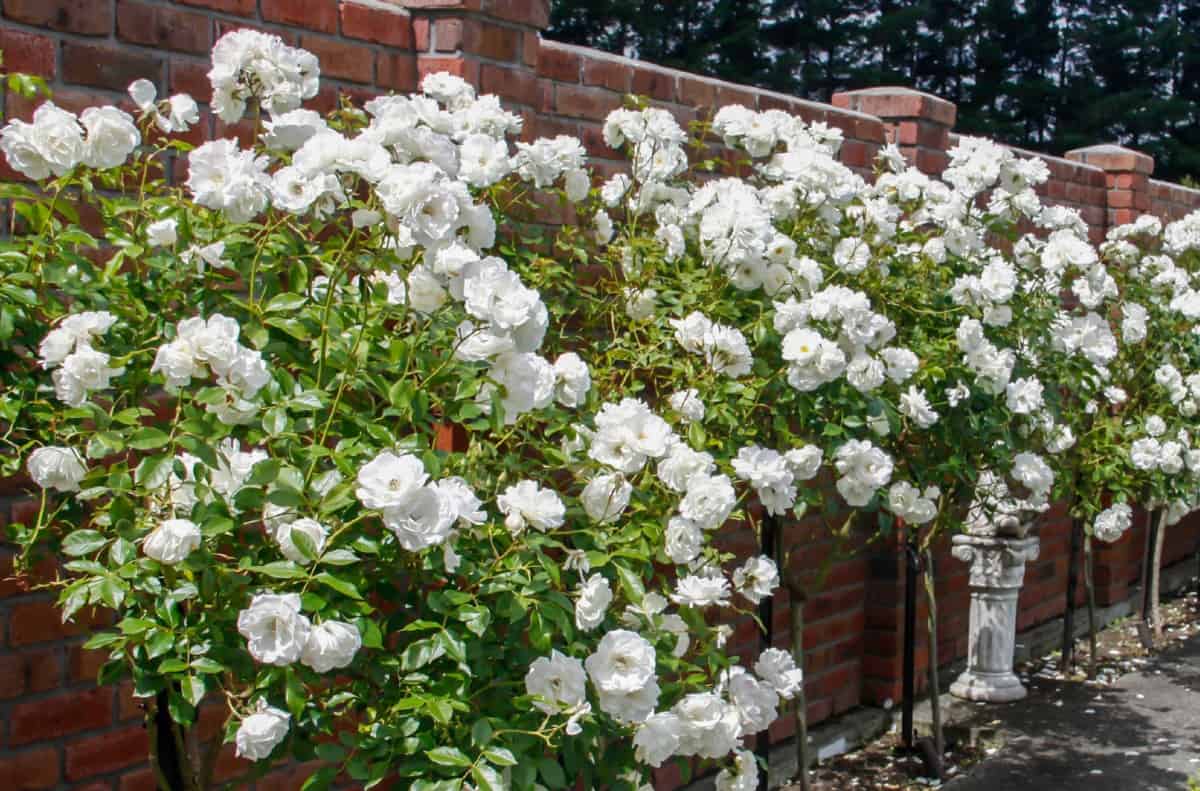 This rose produces lightly fragrant, double white flowers—sometimes with a pale-pink flush and glossy green leaves from late spring to fall. It's possible to raise this rose as a standard—a bush grafted on top of a stem.
Try using a standard iceberg rose as a specimen plant or in a bed or border. Full sun and good circulation are ideal, as is fertile, moist, fast-draining soil.
Water your rose two to three times per week in the spring and three to four times per week in the winter. Apply slow-release fertilizer occasionally between February and June and between September and mid-October.
Autumn Glory Hawthorn (Crataegus 'Autumn Glory')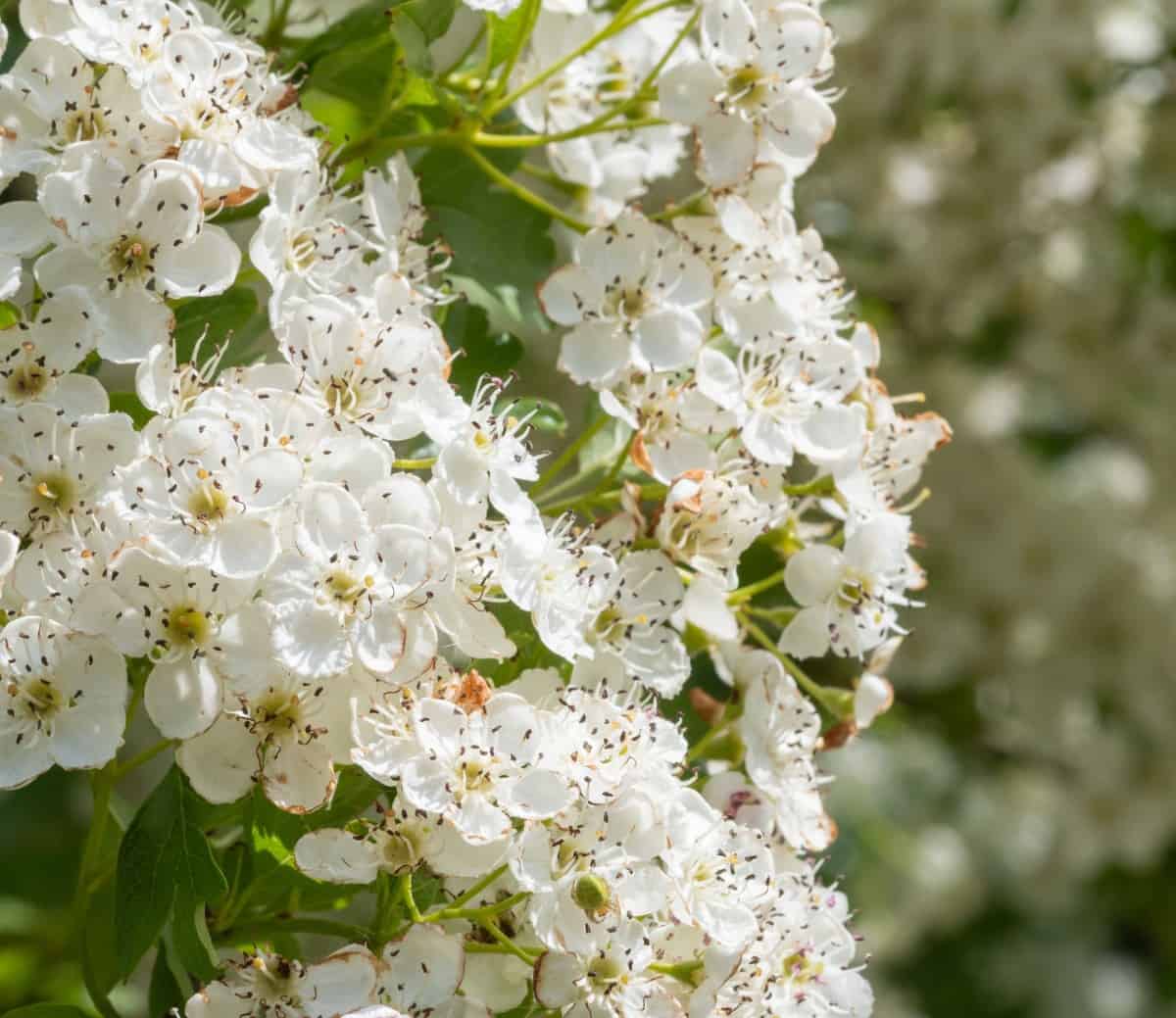 This tree boasts clusters of single, snow-white, springtime flowers and yellow-orange fall leaves. It bears glossy, bright-red fruits in the fall. Note that this hawthorn has some thorns.
Insert it in the spring in full to part sun and soil that drains well. Since it tolerates poor-quality air and soil, it makes an effective street tree. Water your plant regularly, but don't overwater it.
Distribute mulch, and add 10-10-10 fertilizer and fungicide in the spring. Prune your hawthorn during the winter.
In the garden, trees serve a variety of roles. Besides adding structure and shape, shade trees create a refreshing respite from the heat. Ornamental trees bring lovely blooms and fruit trees, tasty snacks.
Thankfully, trees with white flowers are so diverse that it's not necessary to limit yourself to one of these benefits of trees.
Consider what type of blossom you'd like, from simple to complex, and any additional features that appeal to you, such as fall color, fragrance, or fruit.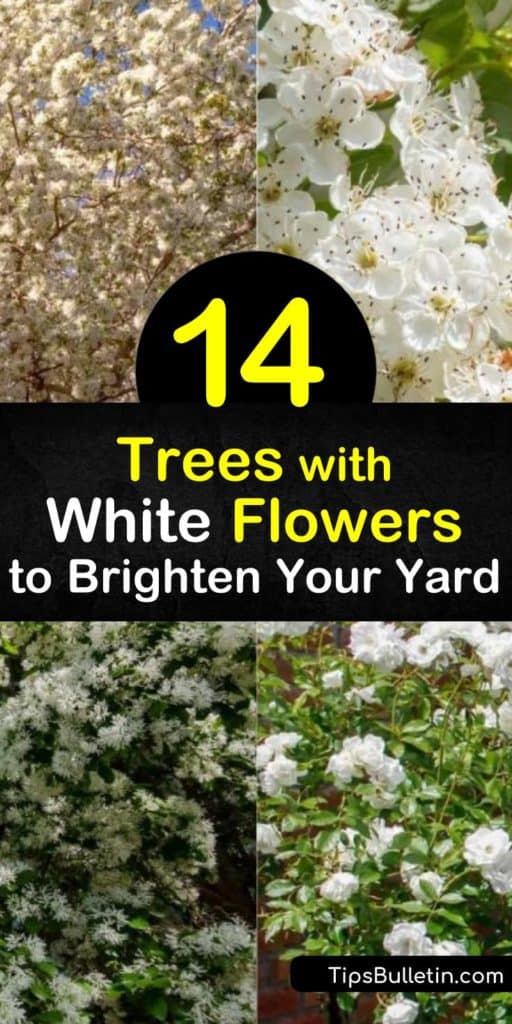 If you found these tree tips helpful, please share these white flower suggestions with your friends on Pinterest and Facebook.