The leaf color of a tree is one of the most highly valued characteristics when homeowners consider which trees to add to their yard. Trees with yellow leaves are among the easiest additions for a pop of color to your property and make it a little more interesting to look at throughout the year.
Most yellow leaves show up during autumn, but some produce yellow flowers and fruits in the spring and summer that add subtle color during the warmer months. We understand the need to add some vivid hues to a yard that feels like it's drowning in greens and browns.
There are many different verities of orange and yellow leaf trees, so when you find colorful trees for your front yard that speak to you, make sure you can give the plant the perfect growing conditions so you don't waste time, money, and labor on a plant that ends up dying. The more you meet their requirements, the more the trees reward you with sparkles of gold.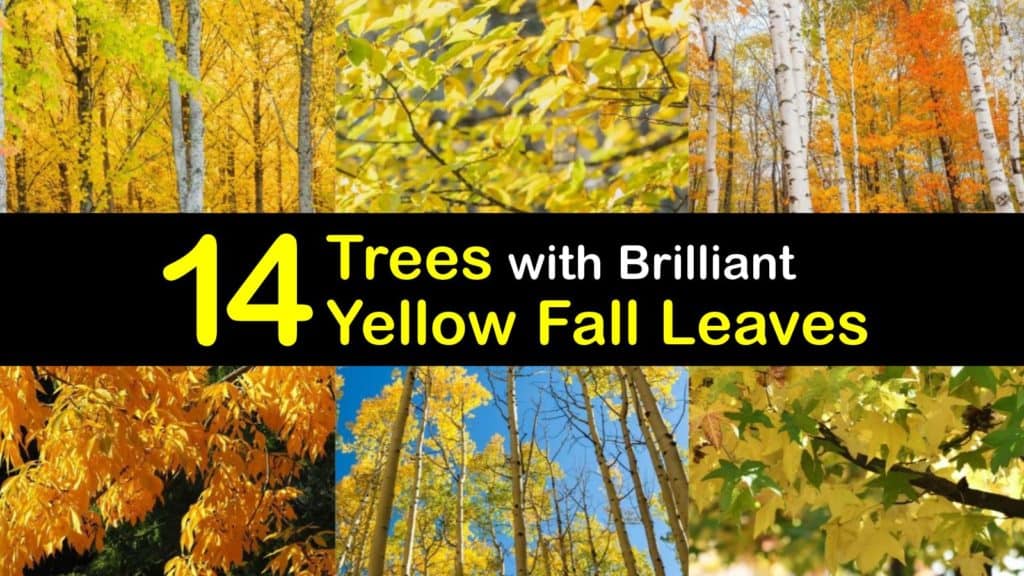 What Turns Leaves Yellow?
There are many opportunities to have bright spots of yellow in your yard. Choose from herbs to plant in fall, attractive flowers, or yellow shrubs and trees with yellow buds and leaves.
Having trees with yellow flowers is lovely, but what gives the leaves that unforgettable glow? Chlorosis is when leaves begin to turn yellow due to the lack of chlorophyll.
Chlorosis doesn't only occur when the seasons change – poor soil drainage, high alkalinity, damaged roots, or a nutrient deficiency can cause it, too.
One of the most well-known types of deficiencies is a lack of iron, but there could also be short amounts of zinc, copper, phosphorus, or manganese.
Whenever transplanting trees, make sure you choose the best location to accommodate their fully mature size. Dig a deep hole three times larger than the root ball and add fertilizer if necessary. Give all transplants a thorough watering for the first few weeks after planting.
After your leaves fall and dry up, rake and put leaves in your compost pile or bin as brown material. The finished compost will be ideal for your growing trees and other plants.
Trees with Yellow Leaves: Tulip Tree (Liriodendron chinensis)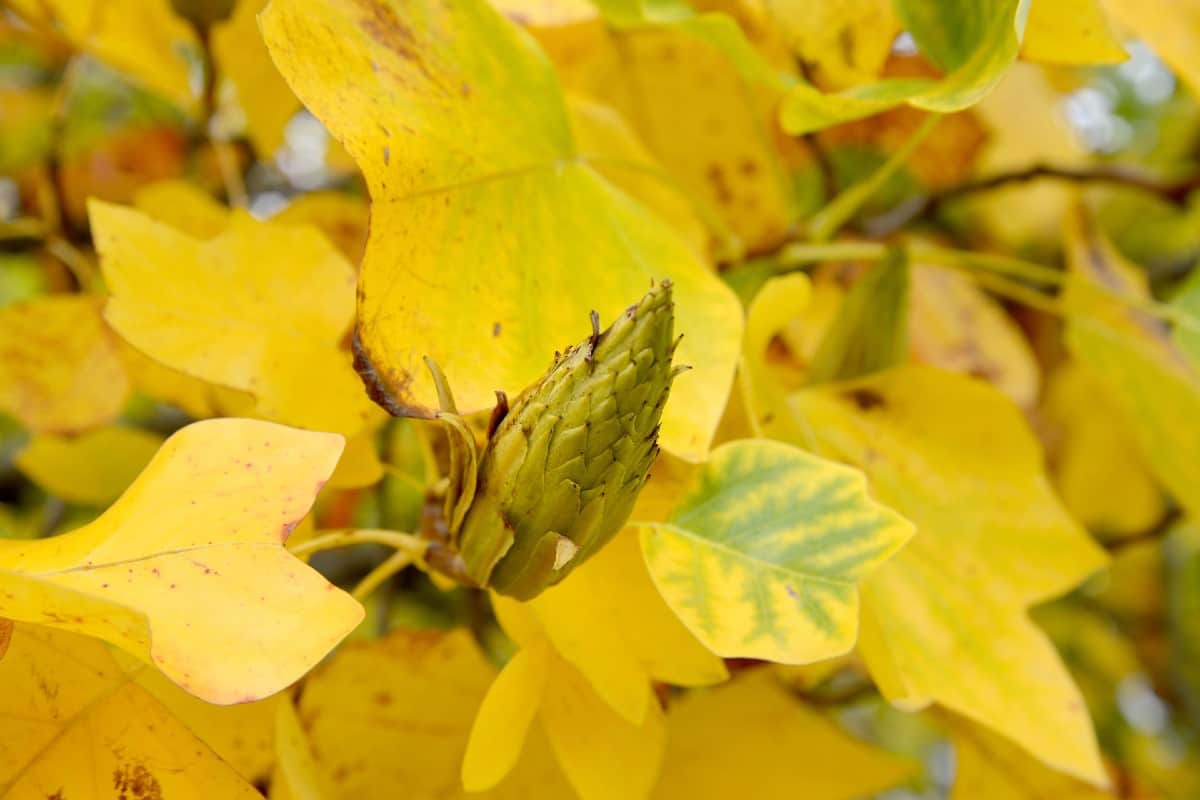 One of the most well-known trees with yellow leaves is the tulip tree. These trees are known for their golden-yellow fall foliage.
The tree leaves are an identifiable, concave shape, and yellow-green flowers bloom in the late spring. Tulip trees reach 60 to 90 feet tall and up to 50 feet wide.
They are hardy in USDA hardiness zones five through nine and draw in wildlife and essential pollinators like hummingbirds, bees, rabbits, and squirrels, along with pretty fall annuals like violets. Give them full sun and rich, moist soil with a neutral pH for the best growth.
Red Maple (Acer rubrum)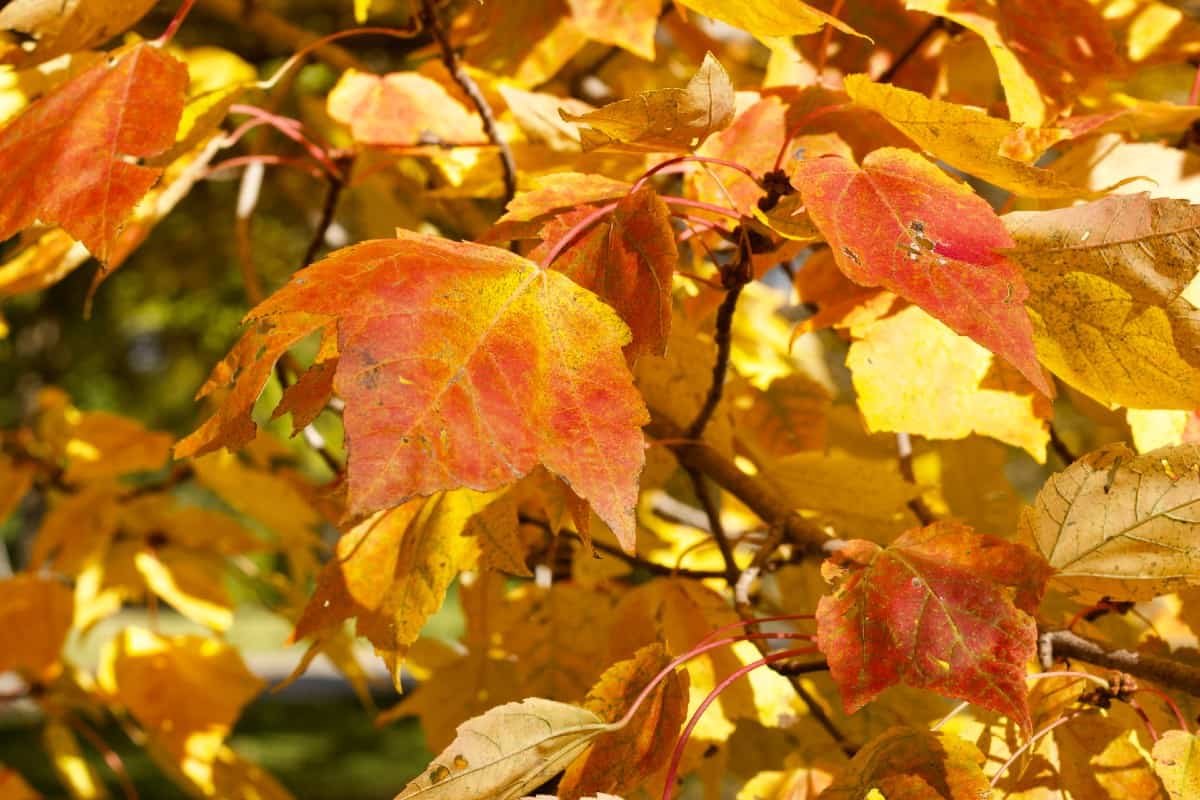 Although red maple trees are thought to only have vibrant red colors in the fall, they also showcase shades of yellow and orange that turn this tree into a burst of autumn-colored tie-dye.
They are perfect for most homeowners because they are hardy for USDA zones three through nine. Although red maples are beautiful, they have some issues.
Because their roots are so strong and thick, they grow near the soil's surface and pose a risk to lawnmowers and pavement.
Make sure to transplant it to an area where the roots have room to spread. These trees prefer sites with full sun or partial shade and slightly acidic soil.
Shagbark Hickory (Carya ovata)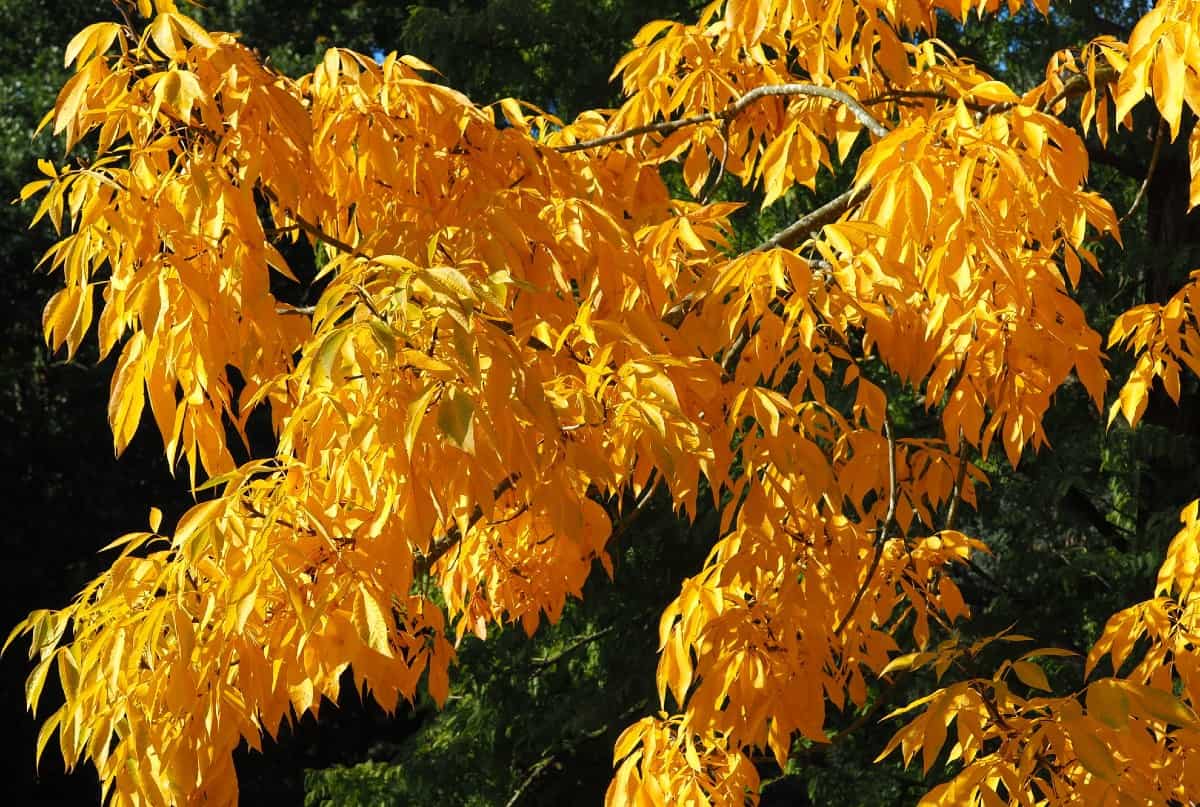 It's hard to look over shagbark hickory trees because the deep grooves in their silver bark stand out compared to other tree barks. These trees are native to eastern and midwestern parts of the United States.
They are slow growing but skyrocket to heights over 100 feet tall. If their thick bark and lofty heights weren't enough to make them shine, their brilliant, yellow fall color makes them truly one-of-a-kind plants.
Shagbark hickory trees produce nuts only after their first four decades of life. Although they are hardy from zones four to eight, they require a lifetime of care. Make that care easier by giving them ample space.
Quaking Aspen (Populus tremuloides)- Trees that are Truly Unique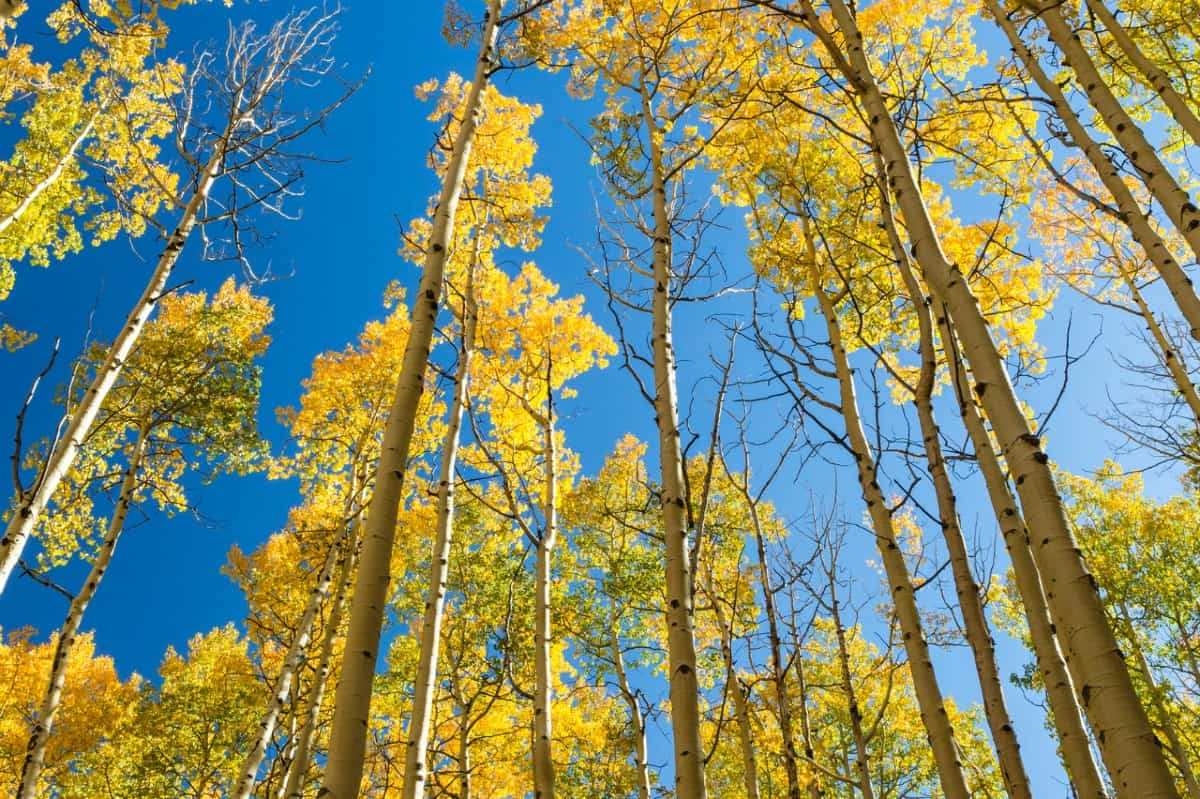 Quaking aspens are hardy, deciduous trees. Utah declared these trees as their state tree and has one estimated to be over 80,000 years old.
These plants prefer colder areas, like zones one through seven. They have flat leaves that are golden in the fall and make a beautiful addition to a spacious yard.
Plant quaking aspens in well-draining soil that is slightly acidic. They do best on the north or east ends of the house and cannot tolerate drought and hot soil temperatures.
Sugar Maple (Acer saccharum)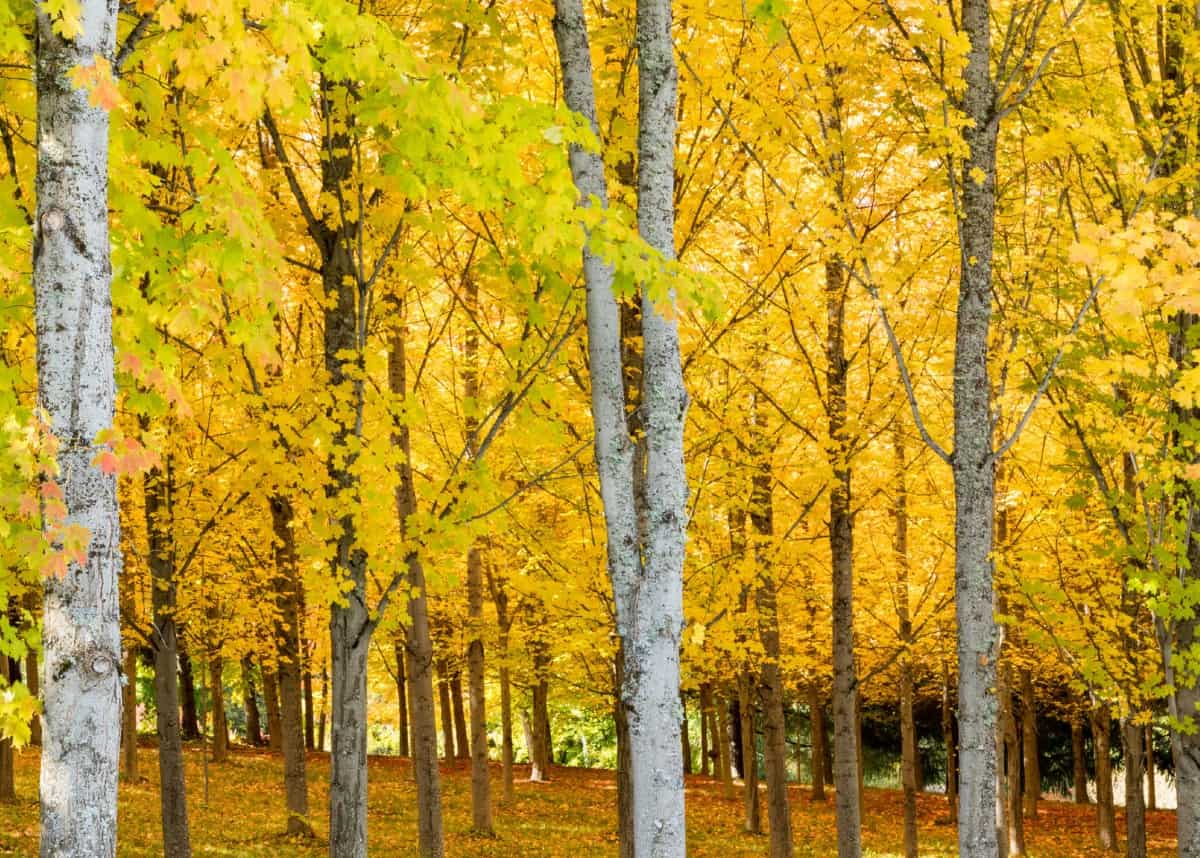 If you consider growing sugar maples, you already know that they are beloved by almost everyone across North America, similar to spring and fall blooming roses. Sugar maple trees produce sweet syrup but also have stunning yellow leaf color every fall.
They form a dense crown that provides tons of summer shade, and their helicopter seeds help them spread. Sugar maples thrive in sunny locations, but they require at least four hours of direct sunlight every day.
They grow best in well-draining soil that ranges from slightly acidic to slightly alkaline. They are somewhat drought-tolerant but giving them plenty of water is the best way for them to reach massive heights.
Japanese Maple (Acer palmatum)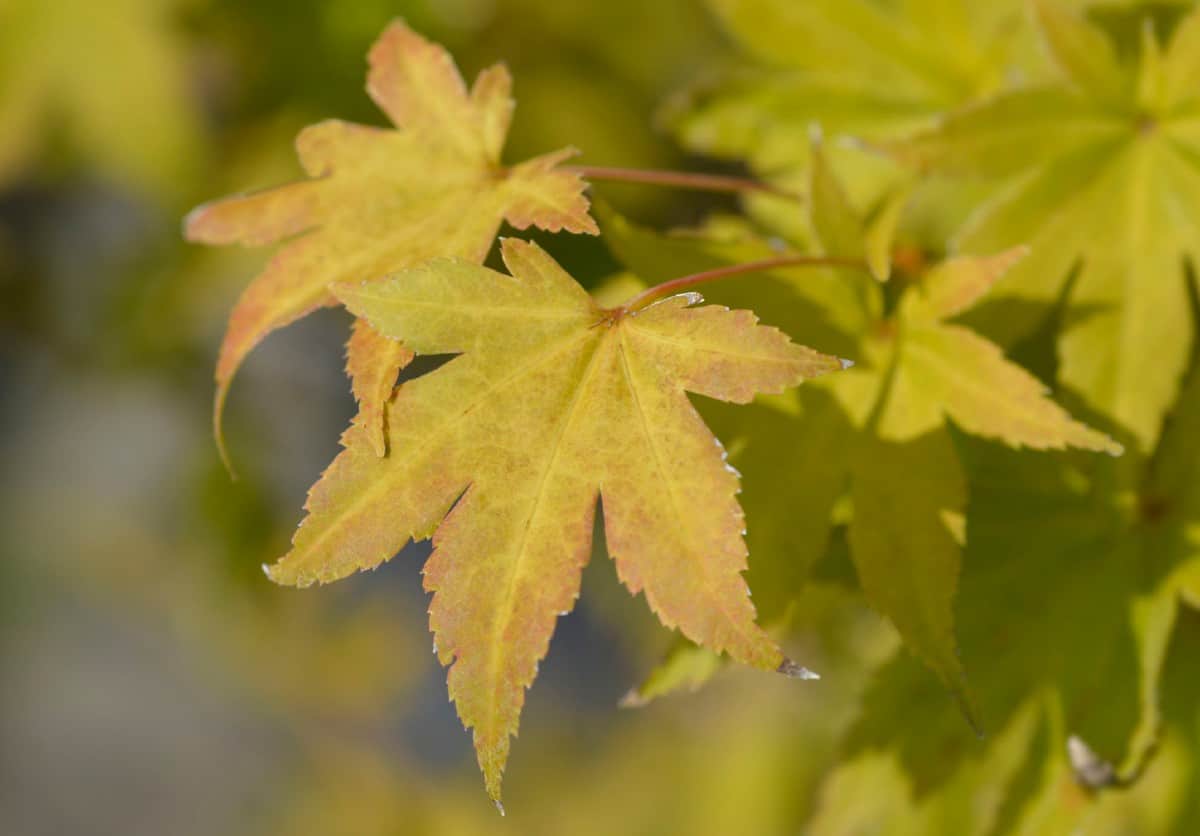 Japanese maple trees have dozens of varying sizes, colors, and shapes. They have varieties of dwarf trees for small spaces and larger specimens, as well. These maples are beloved trees and known for their lacy foliage with yellowing leaves in the fall and red leaves throughout the summer.
They are only hardy in USDA zones five through eight, so make sure you choose a kind that works best for where you live. Japanese maples are excellent small trees for yard and creating shrub borders.
They add loads of texture to a garden and catch the eyes of all your neighbors. Too much sun may scorch the leaves, though, so having some afternoon shade in the summer is ideal.
They grow in most well-draining soils and benefit from a three-inch layer of mulch around the base to retain moisture.
Trees with Yellow Seeds – Sweet Gum (Liquidambar styraciflua)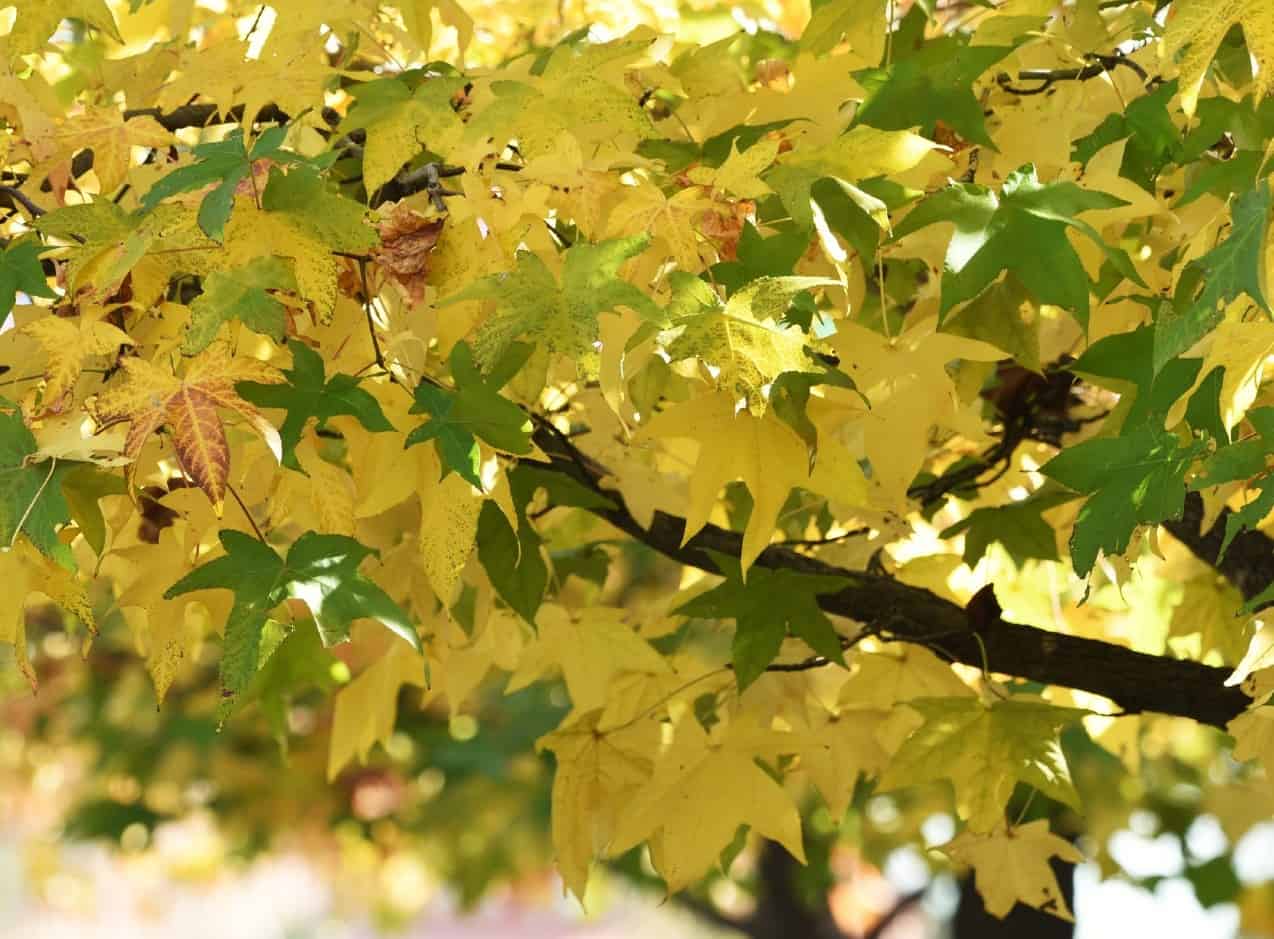 Sweet gum is a tree for those who love unique shapes and colors. These plants turn yellow, orange, and red in the fall and early winter. Their spiky seeds provide food to birds, chipmunks, and other small critters through the winter as well.
Sweet gum trees reach heights of 75 feet and have a pyramid-shaped canopy. Plant sweetgum grees at least ten feet away from a slab of pavement since they have shallow roots that tend to lift sidewalks and patios.
They require partial shade but tolerate lots of sun as well. Give them sandy or clay soil and a yearly fertilizer to make them healthy and happy.
Silver Birch (Betula pendula)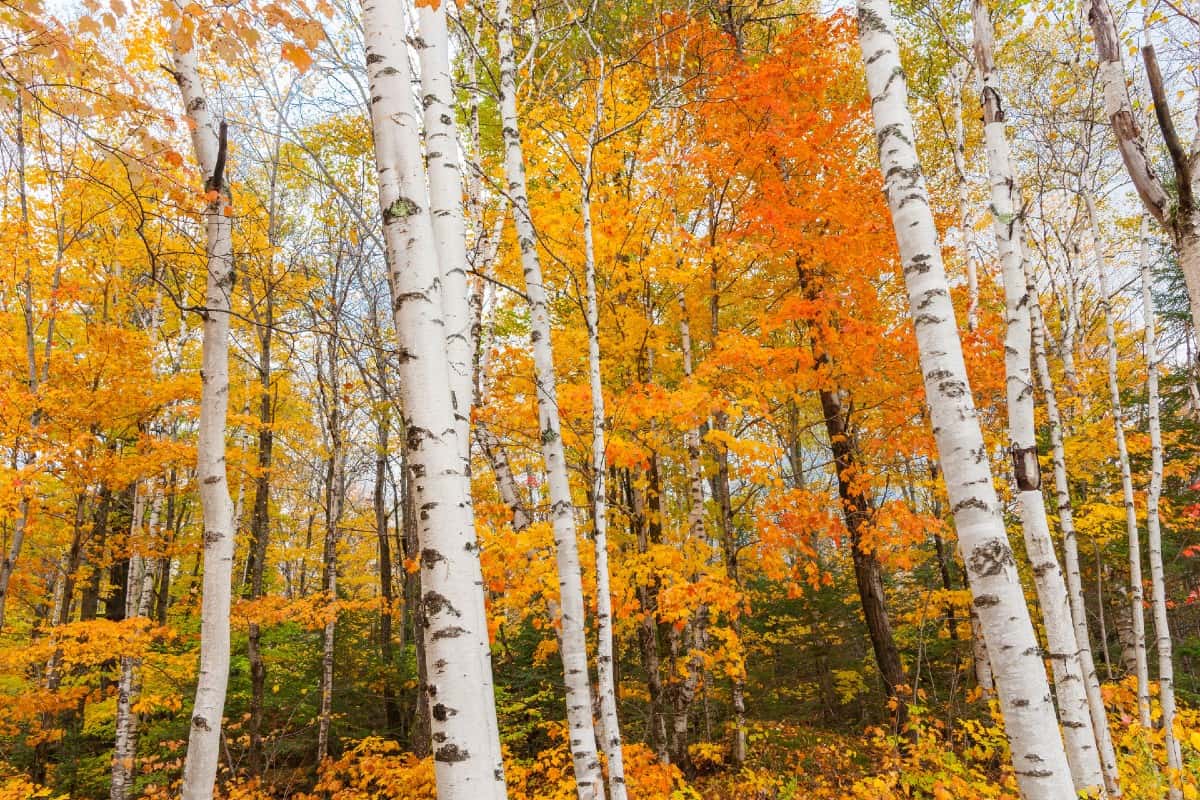 The unforgettable silver birch is a graceful tree with yellowish-green leaves that flutter in the wind. They have white and silver bark that peels to reveal darker colors, and they stand out all year long.
They are an overall low-maintenance plant and perfect for adding movement and texture to your property line. Silver birch trees are fall trees that like wet soil that is well-draining.
These trees love sunny locations. Add a very thick layer of mulch around the base to retain as much moisture as possible. Water them more frequently in outdoor temperatures above 75°F.
Cherry Dogwood (Cornus mas)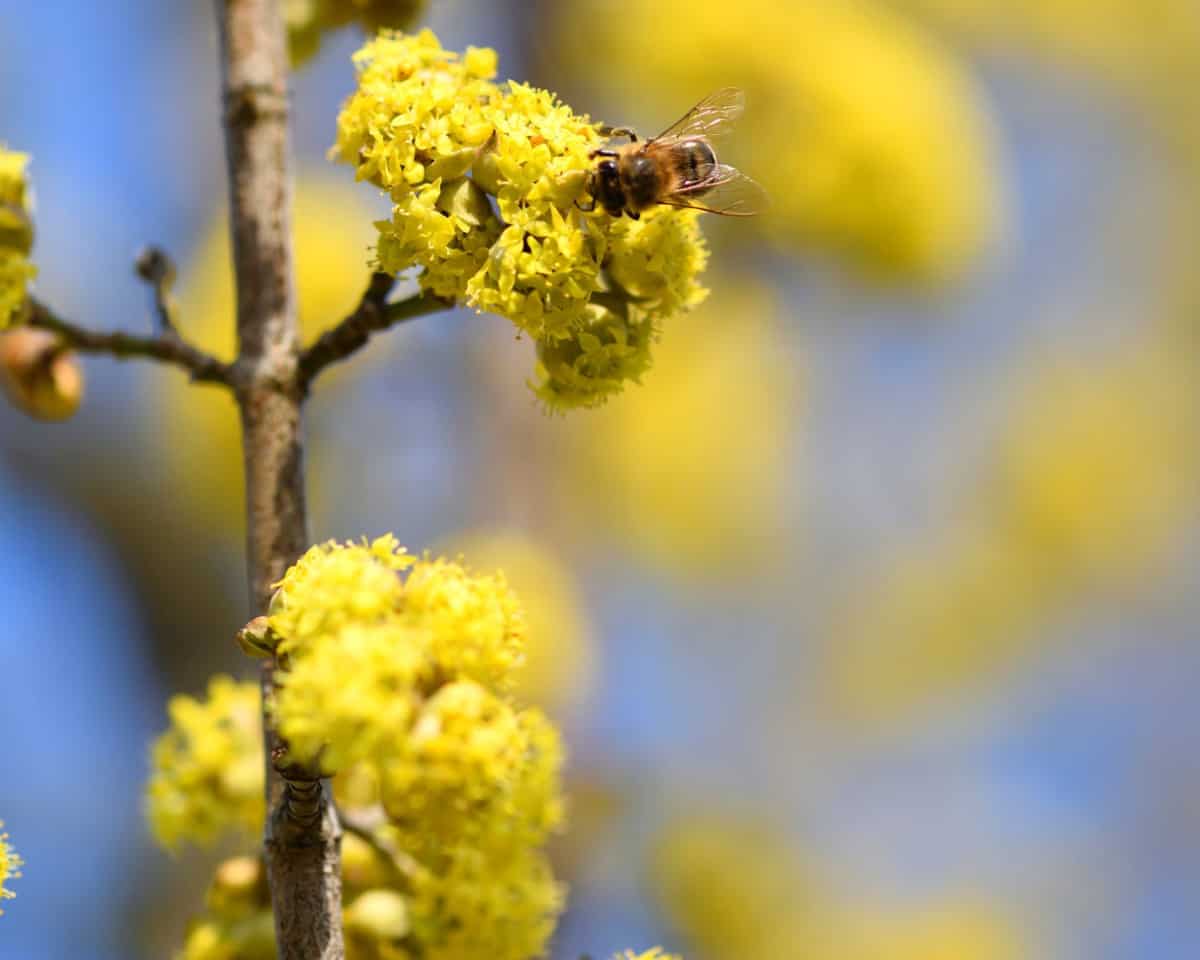 The cherry dogwood is a large deciduous shrub with a round growing habit. Each leaf is two to four inches long, and red fruits pop up in the early spring.
Clusters of yellow flowers bloom in the summer, and the green leaf color changes to soft yellow in the fall before falling off. The largest cherry dogwoods reach 25 feet tall and 20 feet wide.
They survive in either part shade or full sun and thrive in soil with a pH level from 5.0 to 8.0. They tolerate both drought and occasional flooding but won't survive in conditions where the ground is continuously soaking wet.
Beech Tree (Fagus sylvatica)- Plants with Silver and Yellow Colors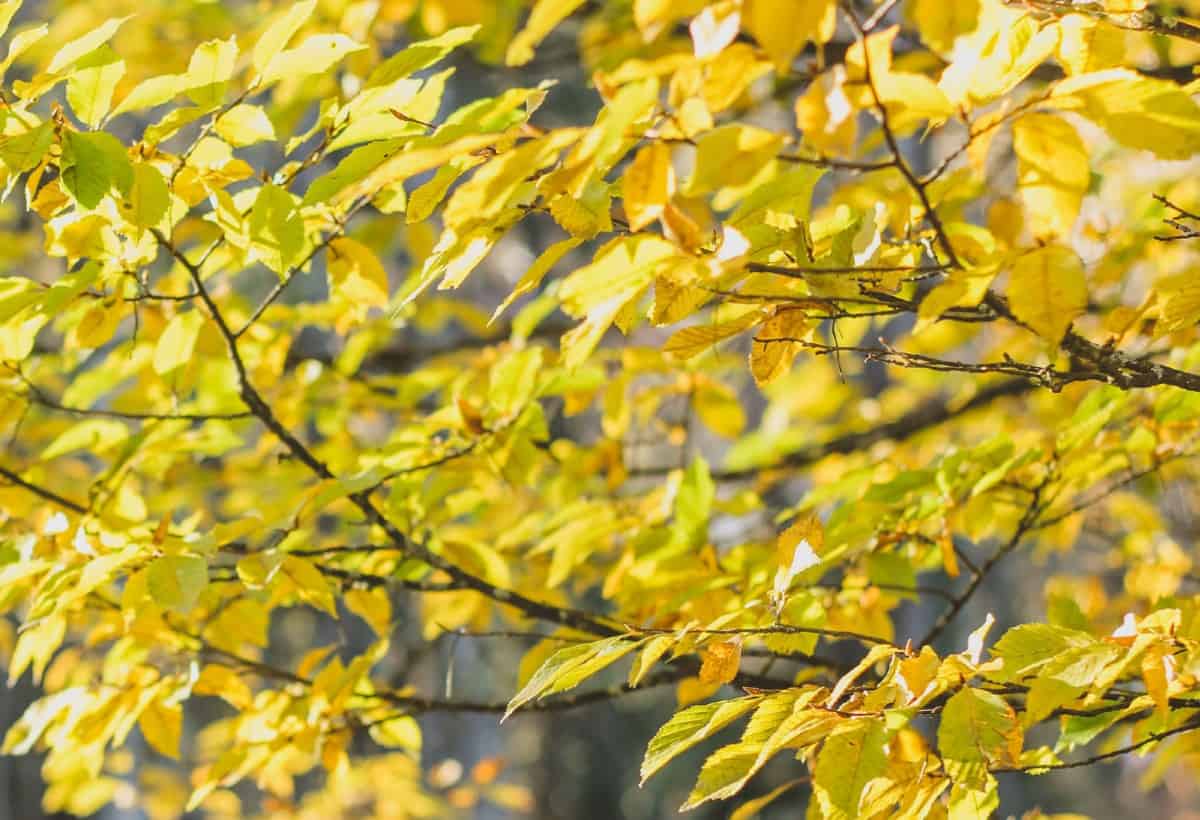 The American beech tree is more prevalent in the western regions of the continent. They have golden leaves and are hardy in USDA hardiness zones three through nine.
They tower over other trees at 80 feet tall and have a dense canopy of simple leaves with jagged edges.
Transplant beech trees in either the late winter or early spring and give them fertile, well-draining soil. Keep an eye out for beech bark disease and scale, or the tree may die.
Staghorn Sumac (Rhus typhina)
Also referred to as the vinegar sumac, the staghorn sumac is a beautiful, round tree that adds color to your yard.
Although they only reach 15 feet tall, they have bright yellow and scarlet red fall colors with smooth and furry leaves. Sumac trees grow in nearly all well-draining soils.
They are happiest in full sun or partial shade but have more colorful flowers and leaves with more sun. Water these trees regularly after planting them until they establish themselves in their new environment.
Honey Locust (Gleditsia triacanthos)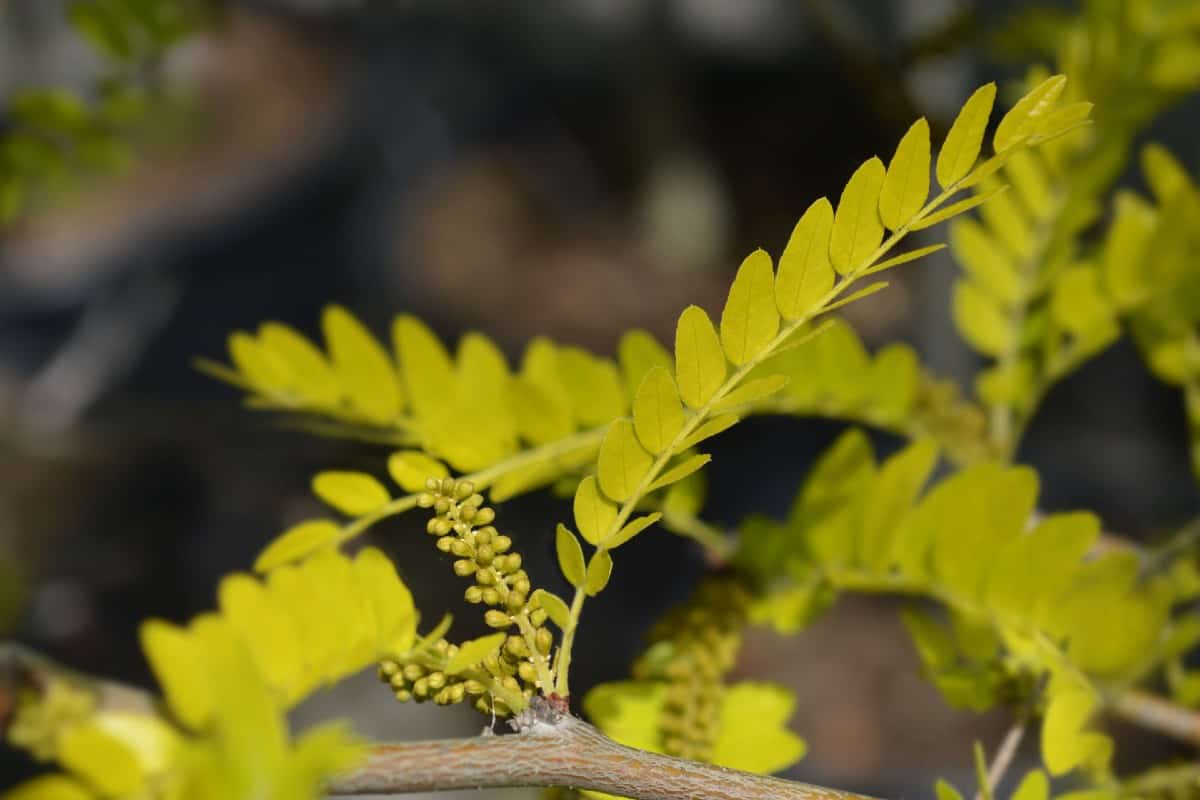 The sunburst honey locust needs no identifier. The name says it all with its bright yellow leaves and branches that reach toward the sky.
These trees have thorns and seed pods that fall and require some clean up, but the brilliant colors are worth the extra effort. Honey locust trees are hardy in zones four through nine and tolerate all pH levels and soil types.
Keep the trees well-watered, and be careful when mowing, so you don't damage the roots. Add shredded wood or bark around the base to prevent damage to the bottom of the trunk.
Trees for Adding Color to a Yard – Black Gum (Nyssa sylvatica)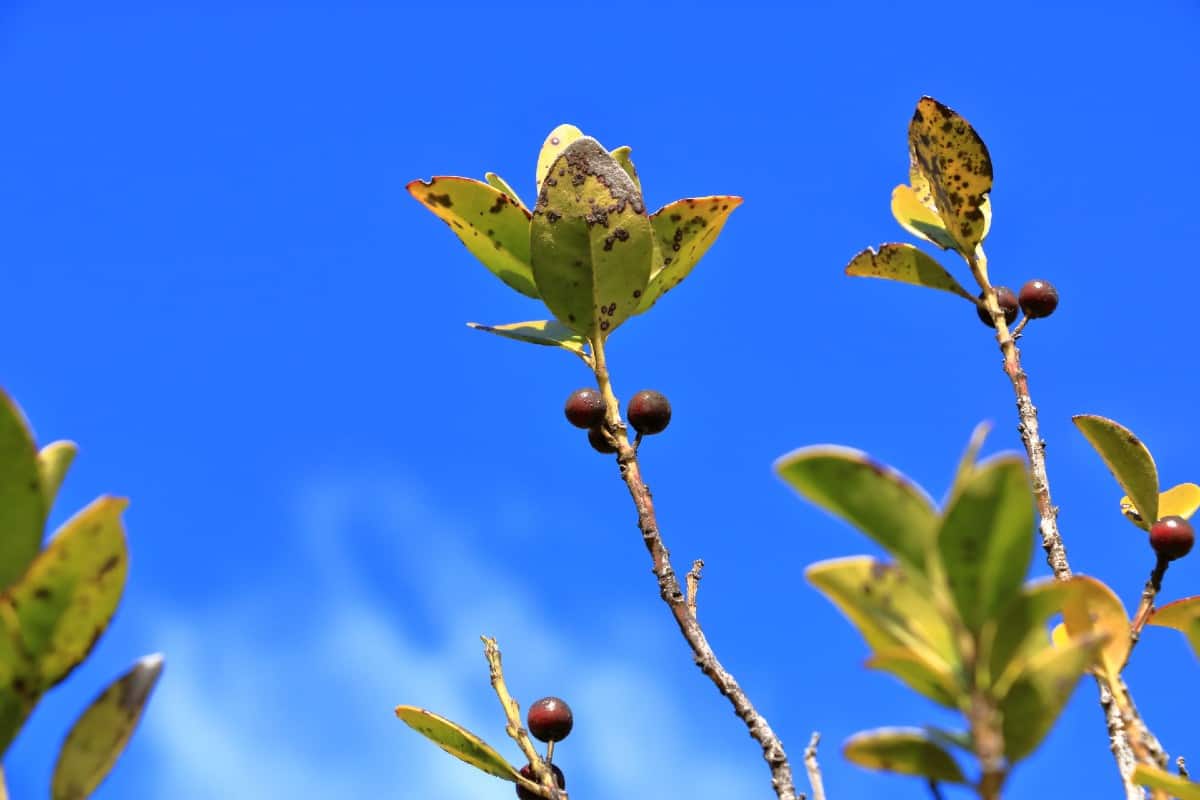 Black gum trees are North American deciduous trees with dark green, oval-shaped leaves that transition to yellow, orange, purple, and scarlet in the fall. They have light green flowers that bloom in the spring and small berries that last into winter.
Black gum trees are large, reaching 75 feet tall. They tolerate either full sun or partial shade and enjoy loamy or clay type soils that are acidic. Black gum is hardy in zones four through nine.
Larch (Larix occidentalis)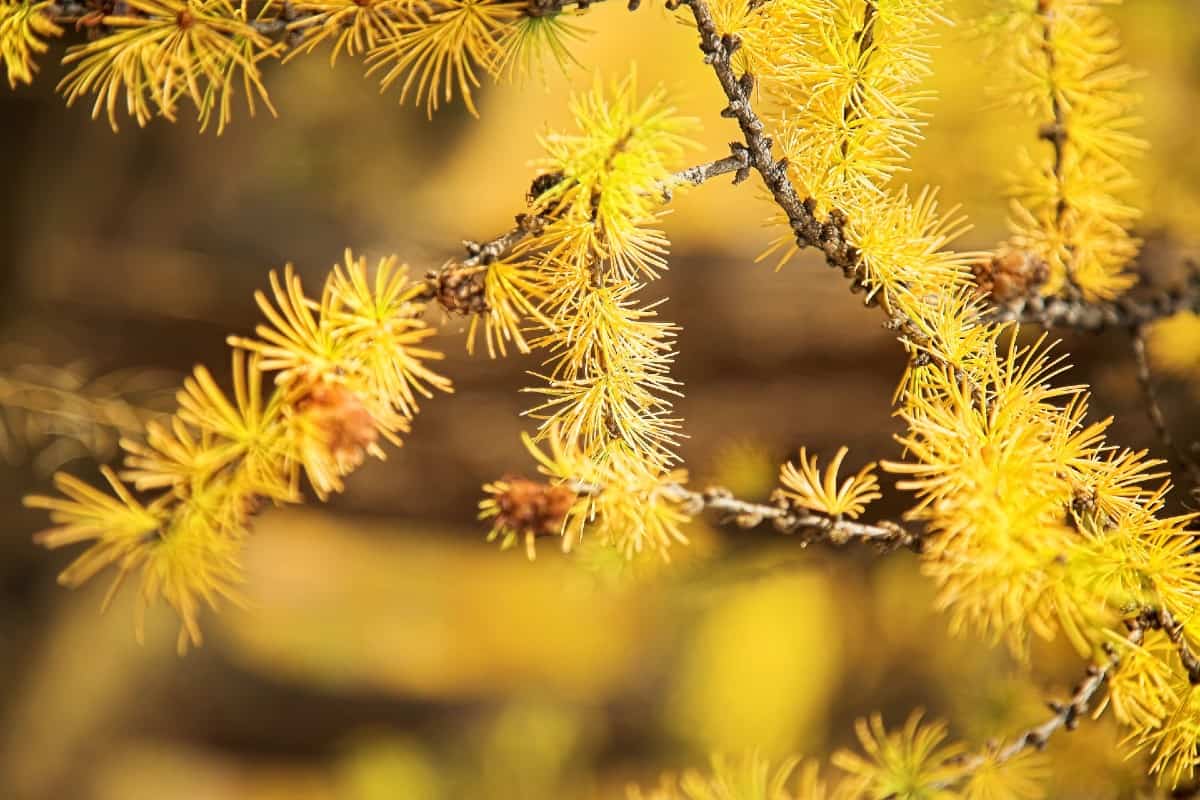 Larch trees are American conifers that soar over 120 feet high. These are cone-bearing plants that are hardy in even the coldest zones. Their needles are soft and green in the summer and transition to golden yellow in the fall.
They are hardy in zones two through six and relatively easy to care for. These trees with yellow leaves also produce pale yellow cones.
Larches require acidic soil rich in organic matter. They are most common in mountainous regions and require one pruning per year in the middle of summer to remove damaged or diseased branches.
Trees with yellowing flowers are some of the most beautiful. They make our yards glow during a season when everything else starts to fade away. Once you find the perfect tree for your home, you'll get to spend years taking in its perfection.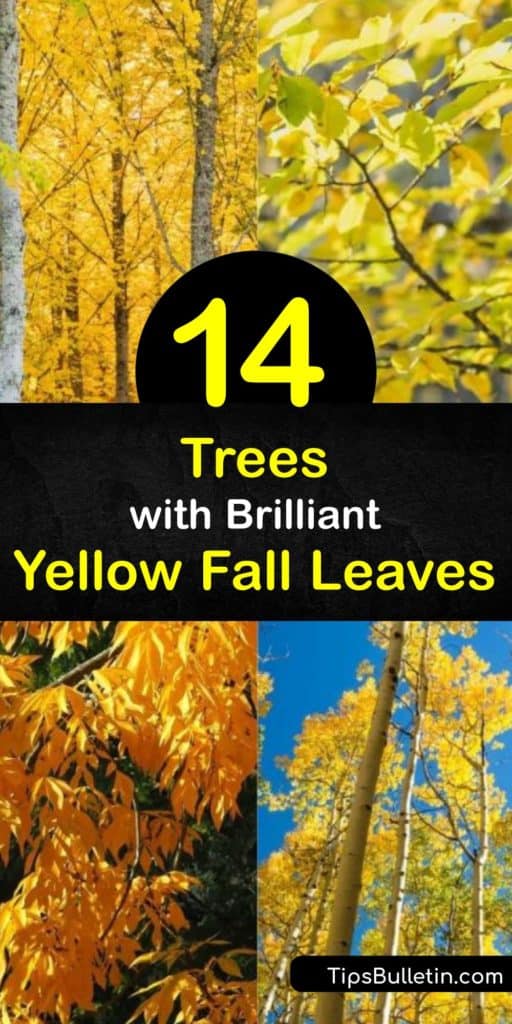 If this list of trees with yellow leaves added subtle beauty to your property, share these plants with yellow fall color on Facebook and Pinterest.