Ginger (Zingiber officinale) is a flowering plant grown from ginger roots. Within the family of the ginger plant, Zingiberaceae, there is another flowering plant called turmeric (Curcuma longa). Because these plants exist within the same family, they may seem interchangeable, but there are differences between the two, and the turmeric vs ginger debate has evidence on both sides.
The roots for these plants, known as rhizomes, are used as common spices in food and drinks and their medicinal properties in Southeast Asia. In Indian culture, turmeric and ginger are familiar spices, but their health benefits are studied worldwide.
As rhizomes, ginger and turmeric look similar. When found at the grocery store, both roots are brown and knotty-looking plant stems; however, the visual difference between yellow ginger and turmeric is evident in their powdered form. Ground ginger is tan or pale yellow, while turmeric powder is a golden orange.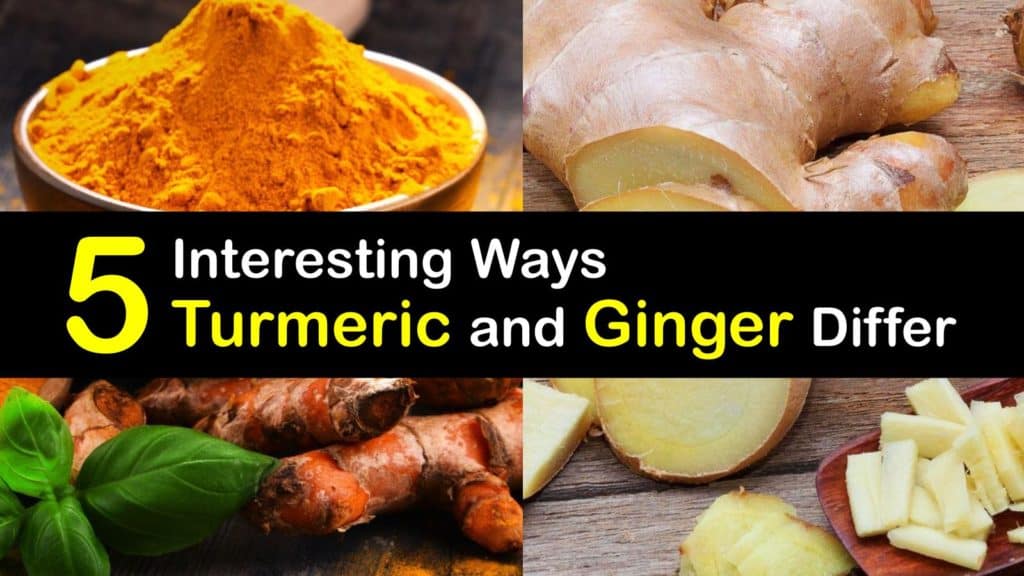 The Difference between Turmeric and Ginger
Whether you are growing and harvesting ginger root or turmeric, or you buy the roots, in terms of culinary use, ginger and turmeric differ. Although ginger is a spice, it is most commonly used to add a slight sweetness to baked items. Ginger is also used in drinks or as a side for sushi to cleanse the palate.
Turmeric, also known as Haldi, is cultivated in Asia, India, and China and has an earthy and somewhat bitter flavor used primarily in curry and mustards. In Ayurveda, an alternative medicine system, turmeric treats issues like hepatitis and jaundice.
Both have beneficial nutrients such as vitamin C and potassium, but their additional medical properties vary. It's possible to learn the way to grow turmeric at home, just as it is ginger. Harvesting does take a little while.
Curcumin, Gingerol, and the Difference between Turmeric and Ginger
Ginger and turmeric both contain the compound zingiberene. In ginger, zingiberene provides ginger with its unique flavor, while in turmeric, the compound is one of its essential oils.
How long does ginger last? As long as it is stored the right way, you can have ginger for a while.
Fresh ginger is also high in gingerol, a compound that activates the spice receptors on the tongue. Ginger's fragrance and flavor are traced to its natural oil, gingerol, responsible for some of ginger's medicinal properties.
According to research studies and alternative medicine, gingerol has antioxidant and anti-inflammatory properties that allow ginger to reduce oxidative stress.
Like ginger, turmeric possesses a vital compound, curcumin, that has antioxidant properties and aids in reducing inflammation. The difference is that turmeric is the less effective of the options.
While gingerol is the main component in ginger, turmeric has a low curcumin content, and curcumin is poorly absorbed into the human bloodstream to have any benefit. To help with absorption into the bloodstream, consume turmeric with black pepper as it enhances the absorption of curcumin.
Cancer Prevention
Cancer is characterized by uncontrolled cell growth, and studies highlight curcumin's ability to affect cancer growth. These studies have shown curcumin to contribute to the death of cancerous cells, reduce the development of new blood vessels in tumors, and reduce the spread of cancer.
Evidence that curcumin, and therefore turmeric, is effective at treating cancer does not exist, though studies show it may be beneficial in preventing colorectal cancer.
While studies show gingerol has similar effects on cancer development, the studies are inconclusive. Patients at average risk for colorectal cancer showed reduced inflammatory molecules after taking two grams of ginger extract per day; however, patients at a higher risk did not have the same results.
Some believe that ginger may be effective against other gastrointestinal cancers, but the research to support this is quite limited.
Drinking Ginger Tea to Cure Nausea
Steeping a sliced turmeric root in hot water for turmeric tea may boost your immune system due to curcumin containing antioxidants, but turmeric has no known effects on reducing nausea. Instead, consuming turmeric or taking curcumin supplements comes with side effects of gut discomfort and nausea.
On the other hand, ginger has an antiemetic effect on the human body. It aids in reducing nausea brought on by motion sickness, surgery, or chemotherapy through consumption.
Rinse any dirt off your ginger root and slice off a one-inch piece per cup of tea. Place it into your pan with water and bring to a boil before reducing the heat. Allow the liquid to simmer for five minutes before removing heat and pouring through a sieve or sifter into your cup. Add a slice of lemon to add acidity if you prefer.
Note: Some studies suggest pregnant women take ginger in small amounts to help with nausea, while others advise avoiding it altogether. Consult your healthcare provider first before making changes to your treatment.
Turmeric vs Ginger for Anti-Inflammatory Uses
Turmeric and ginger possess compounds that aid in treating inflammatory issues, but is turmeric and ginger the same in their usefulness?
Ginger and turmeric contain natural oils that contribute to their flavor. These compounds also provide anti-inflammatory benefits to help patients suffering from inflammation surrounding their joints. Rheumatoid arthritis and osteoarthritis are two common issues affecting joints.
A study of patients with moderate-to-severe knee pain showed that those who received ginger showed reduced knee pain, though they did also suffer from adverse gastrointestinal effects.
Similar studies using turmeric proved somewhat effective at reducing joint inflammation, but the science behind the reasoning is not clearly understood.
Using Turmeric and Ginger for Weight Loss
Research shows that ginger may affect weight loss. In studies, ginger supplementation reduced body weight and waist-hip ratio in overweight people and those suffering from obesity.
While additional information shows a correlation between ginger helping reduce your body mass index and blood insulin levels, further studies are required to confirm its effectiveness.
In similar studies, turmeric showed more promising results. Research shows that turmeric reduces inflammation, which contributes to obesity. This reduction helps further reduce high blood pressure, high cholesterol, blood sugar, and other metabolic conditions.
To best reap the benefits of turmeric and ginger to aid in weight loss, we recommend drinking golden milk. Golden milk is a favorite drink in India that has been making waves toward the west that combines the two roots in question as an active ingredient to aid overall wellness.
Combine your ginger and turmeric roots in a pot along with your milk over heat until it begins simmering. Cook for at least five minutes before removing from heat. Add coconut oil and honey and stir before topping with black pepper.
Is Turmeric and Ginger the Same?
Both spices have culinary uses and are essential in Ayurveda for alternative healing. When it comes to their use in modern medicine and home remedies, our vote goes to ginger in turmeric vs ginger.
While their effects on the body may read similarly, and you can use turmeric as a substitute for ginger in a pinch, we've found that ginger's overall effectiveness is the standout choice due to turmeric requiring an additive to help its bioavailability (the rate the human body absorbs a substance).
Whether you use turmeric or ginger, ensure that you preserve and store fresh ginger or turmeric properly to take advantage of their beneficial properties.
We hope that learning more about these two spices was insightful and helped highlight the difference between turmeric and ginger.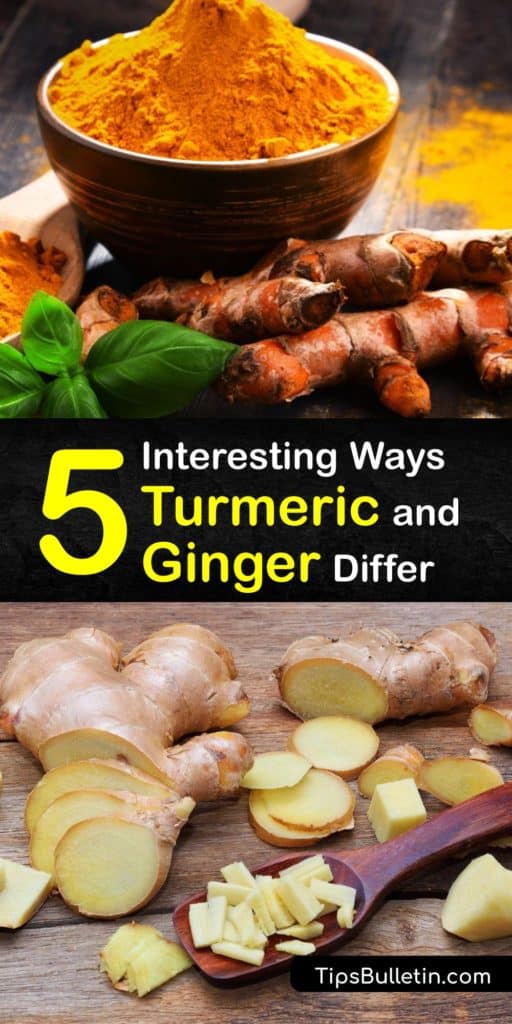 If you enjoyed reading our take on turmeric vs ginger, share this article with others on Facebook and Pinterest who might ask, "Is turmeric and ginger the same?"